Is it really that time?! Is summer really OVER?! I can't believe August is here and some of you already have kiddos back in school! I'm pretty lucky that my kids don't start till after Labor Day – so we get to enjoy this last month of the summer season as we rightfully should! I personally think it's a crime to start earlier!!!
So for those of you who are like me and not ready to say goodbye to summer quite yet we have this fun ABC's & Palm Trees party for you!! With tons of color and lots of cuteness, it will have you almost ready for school… ALMOST!!
Photos by Corrie Lynn Photo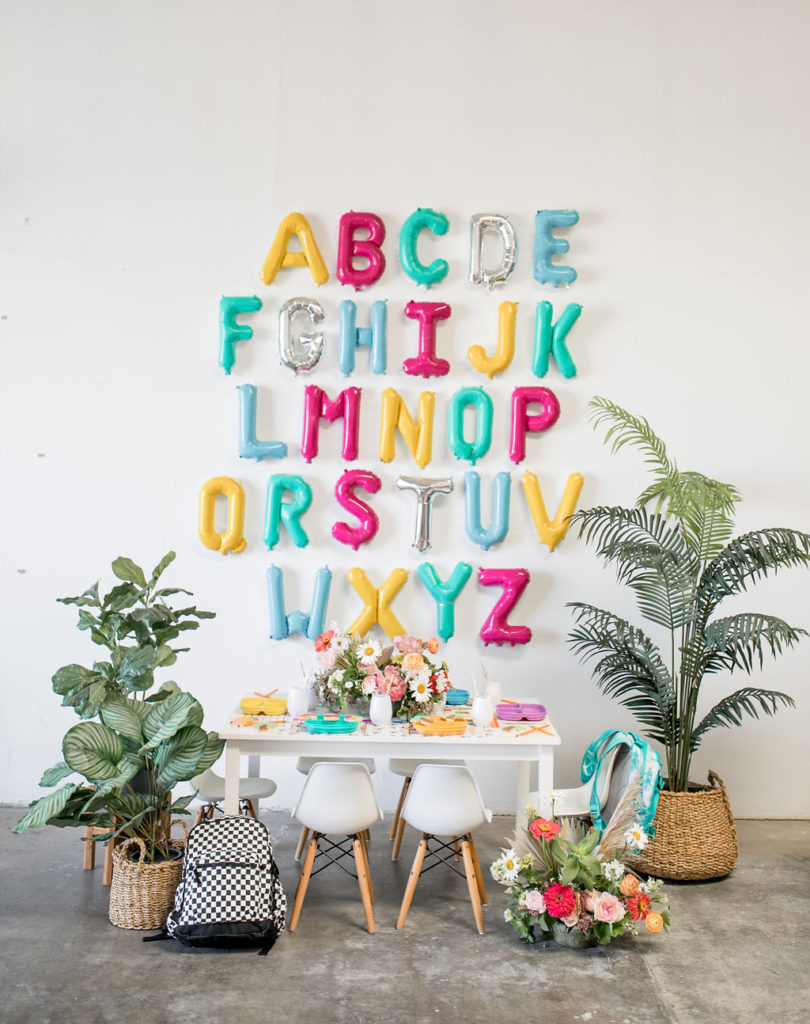 Gotta have a fun invite to set the tone for a fun party!! Thanks to River & Bridge this party was gonna be a great one from the start!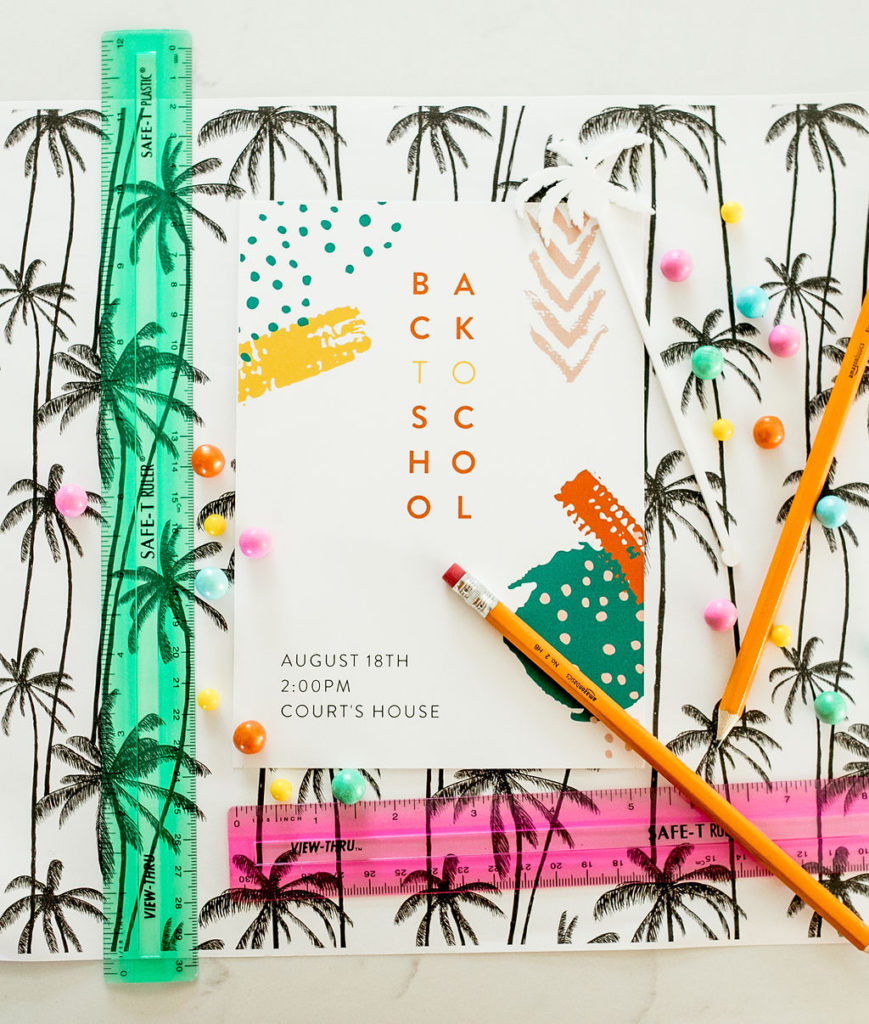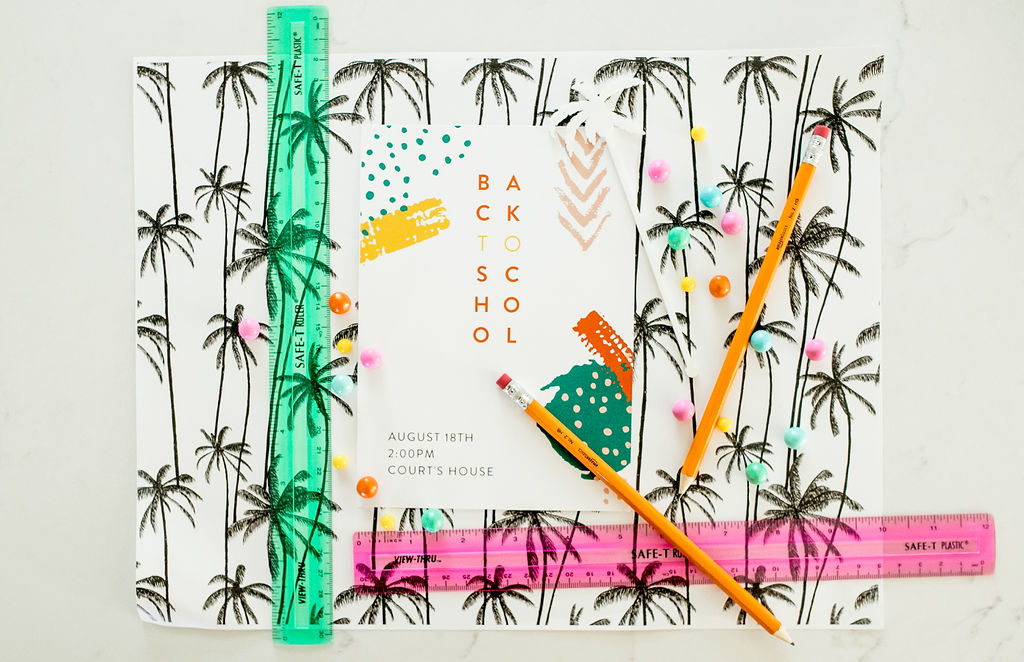 I went with lots of fun pops of color starting with these cute plates I fell in love with by Re-Play. They have amazing products that are all BPA free and made from recycled materials. They are in the most amazing colors too! Anything from plates to toothbrushes!! With my colorful base from the plates, I added in some fun black and white graphic palm trees courtesy of River & Bridge who created the placemats. I kept it simple with black and white napkins from Daydream Society and bamboo flatware. One more simple touch, the palm tree cocktail stirrers by The Roc Shop!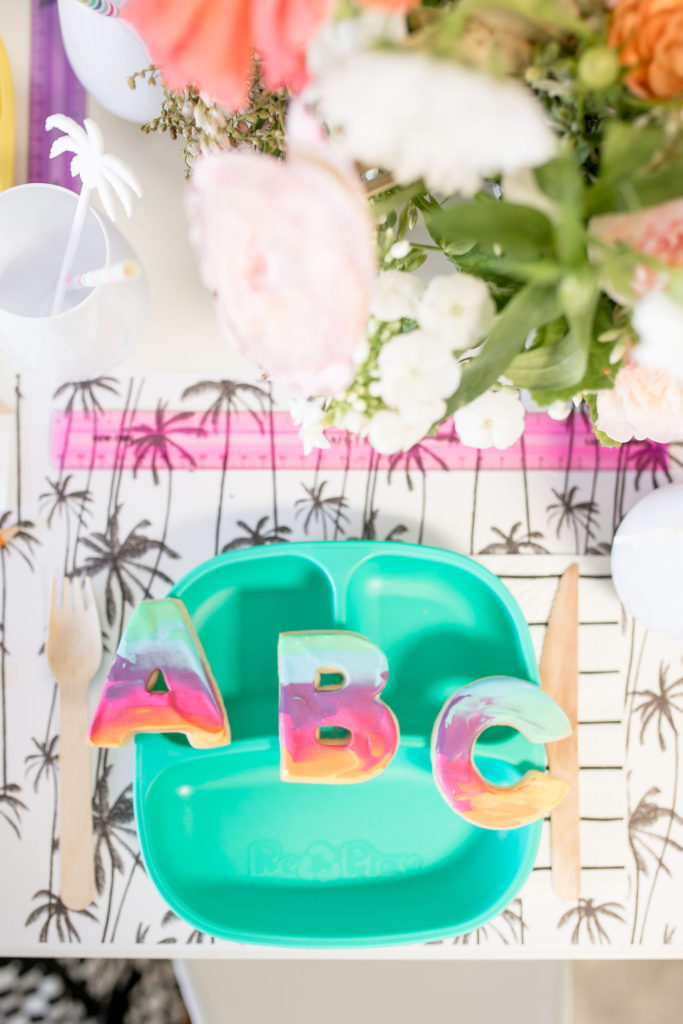 These whimsical and vibrant flowers are from my girl Alex of Third & Park. She always sees my vision and nails it!! I love how young and fun they are, always essential for a kids party, can't make things too serious. I also loved using the cutest cookies by Frost Your Cookie on our table, not only are they a nice treat for the kiddos but also adds some pretty fun color to our table!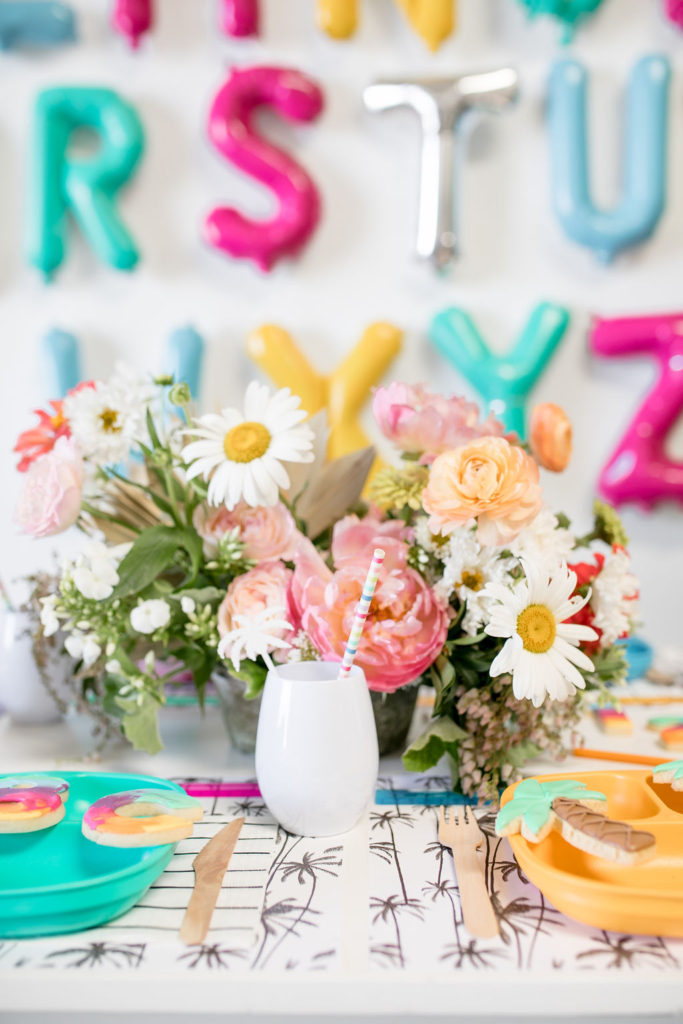 Of course we can't not talk about this eye catcher! So happy with how this fun alphabet wall turned out! From vision to conception it wasn't easy, but I made it happen and here you have it! I used North Star Balloons alphabet letters and spray painted them to create these fun colors!! Pretty fun, and super easy to recreate!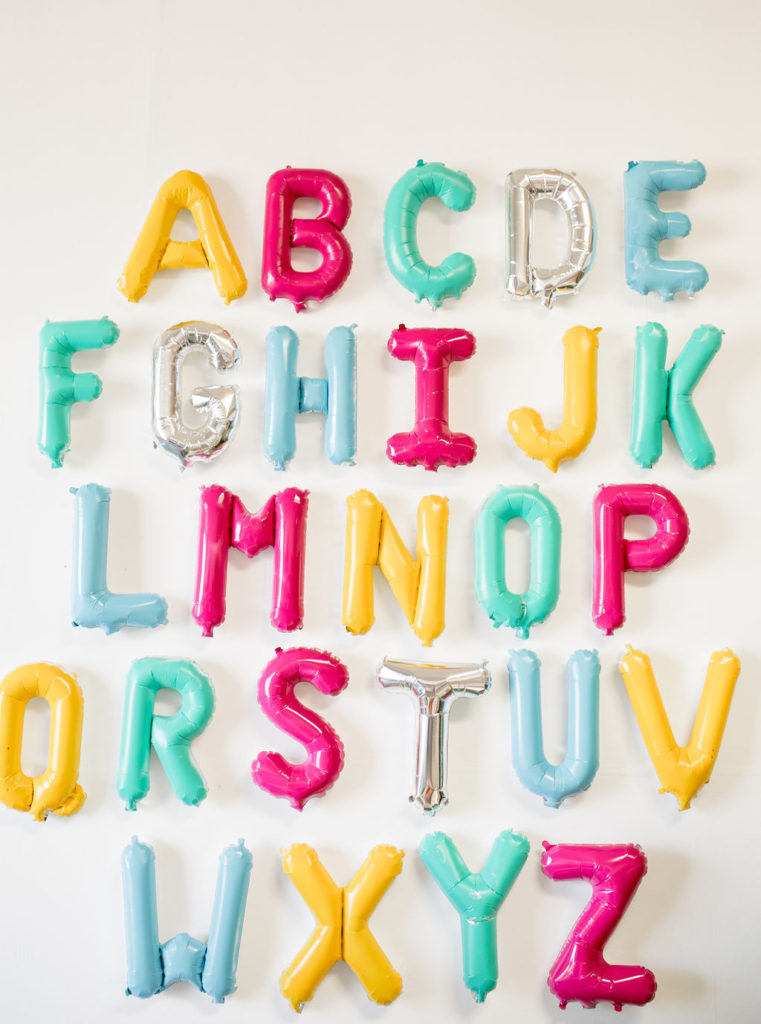 Gimme all the color!!!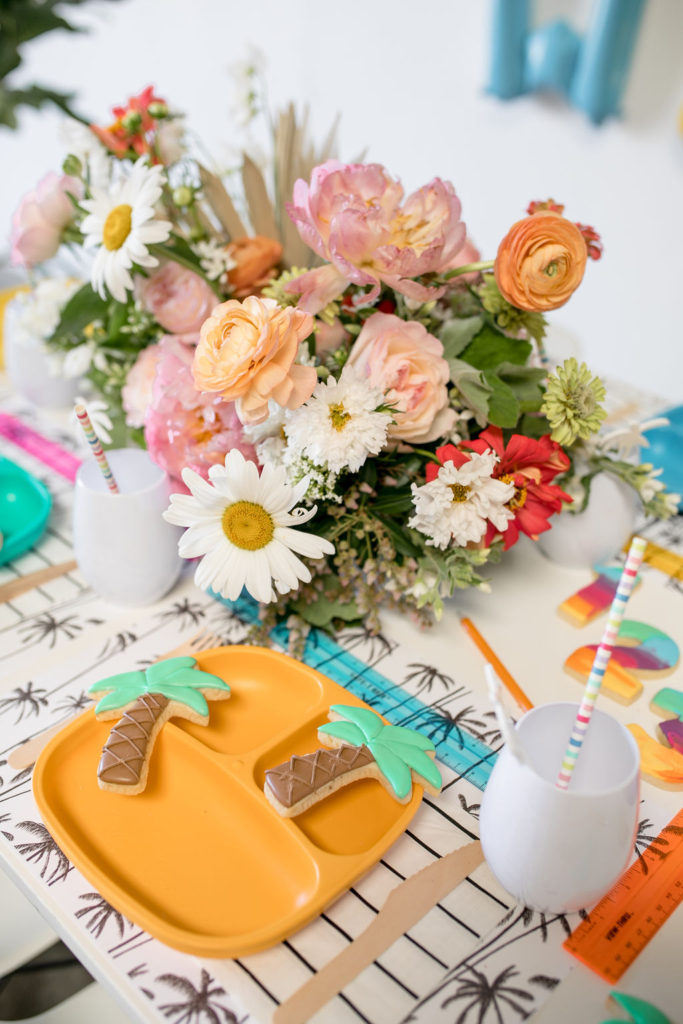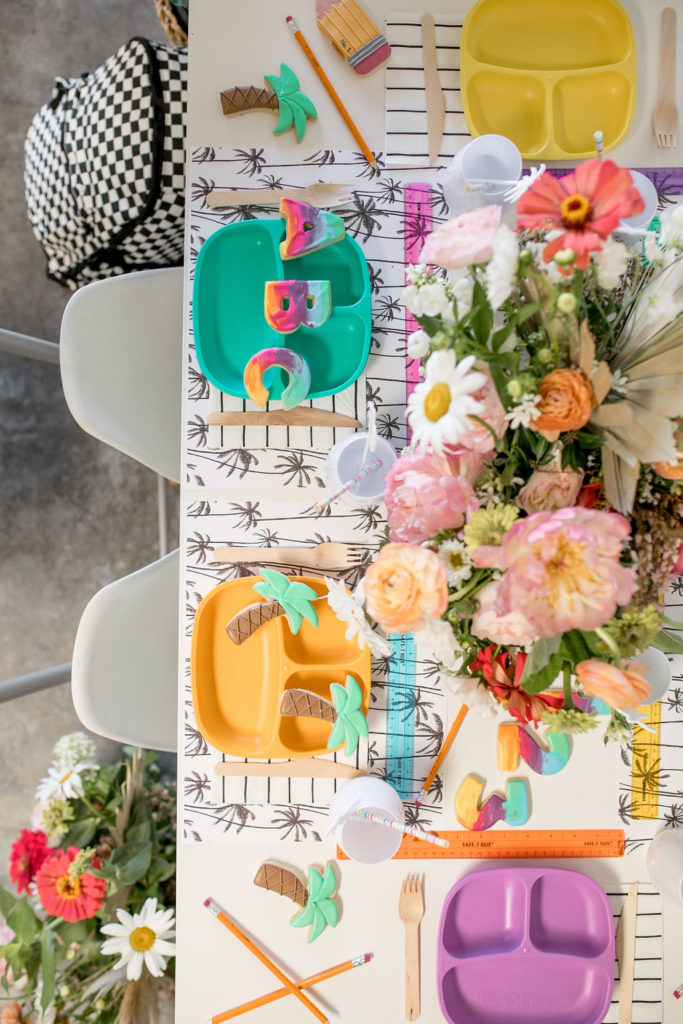 Here's the overall look! Isn't it fun?! Love it!!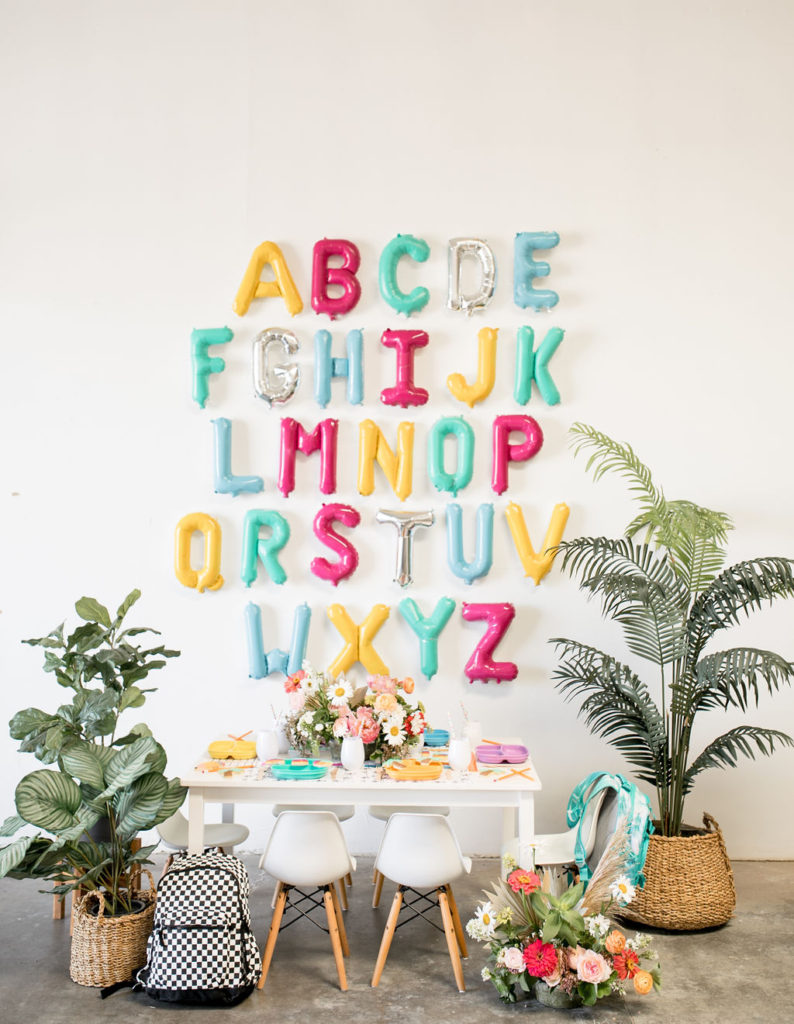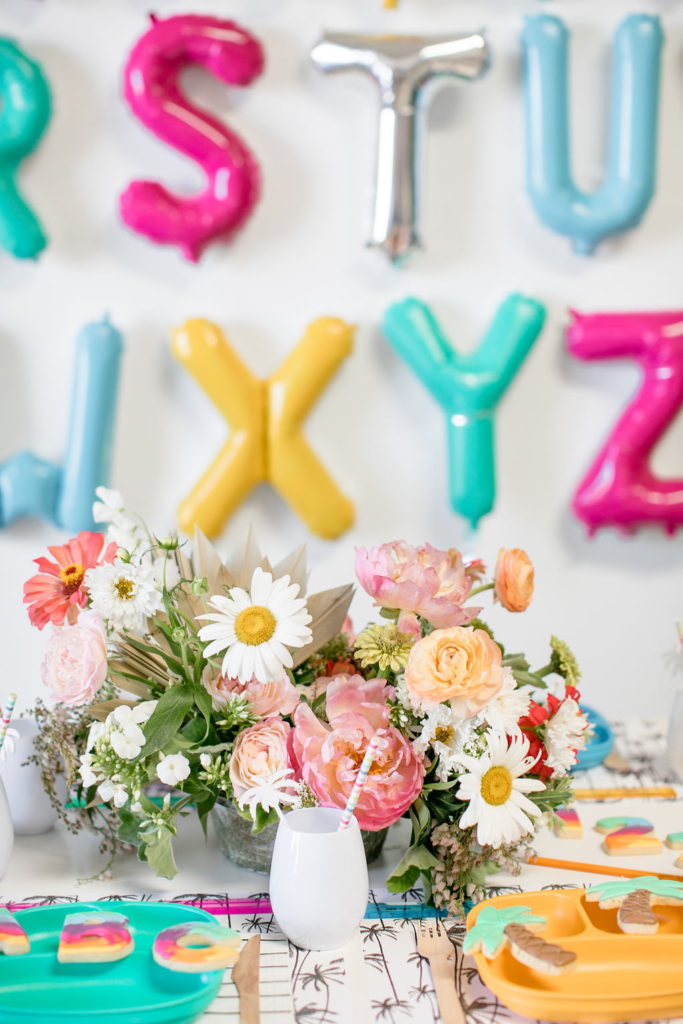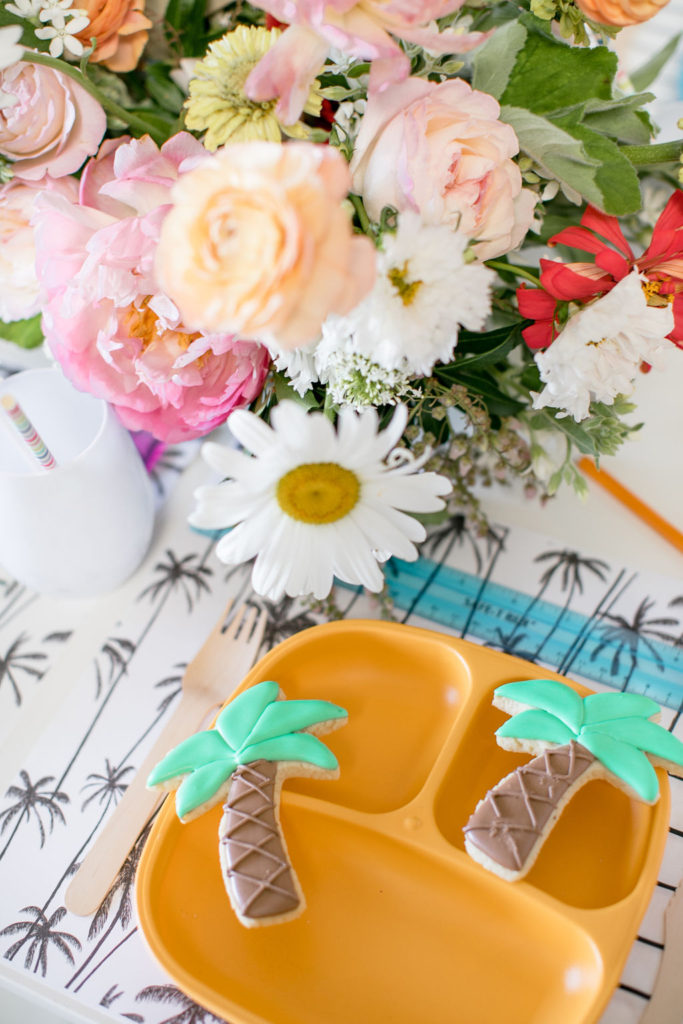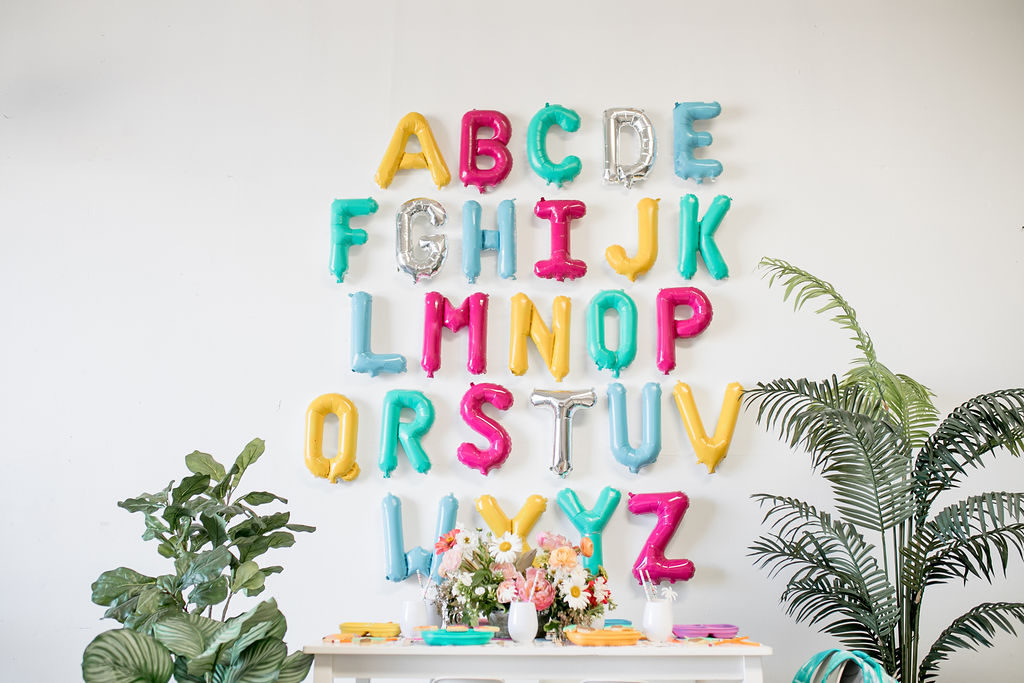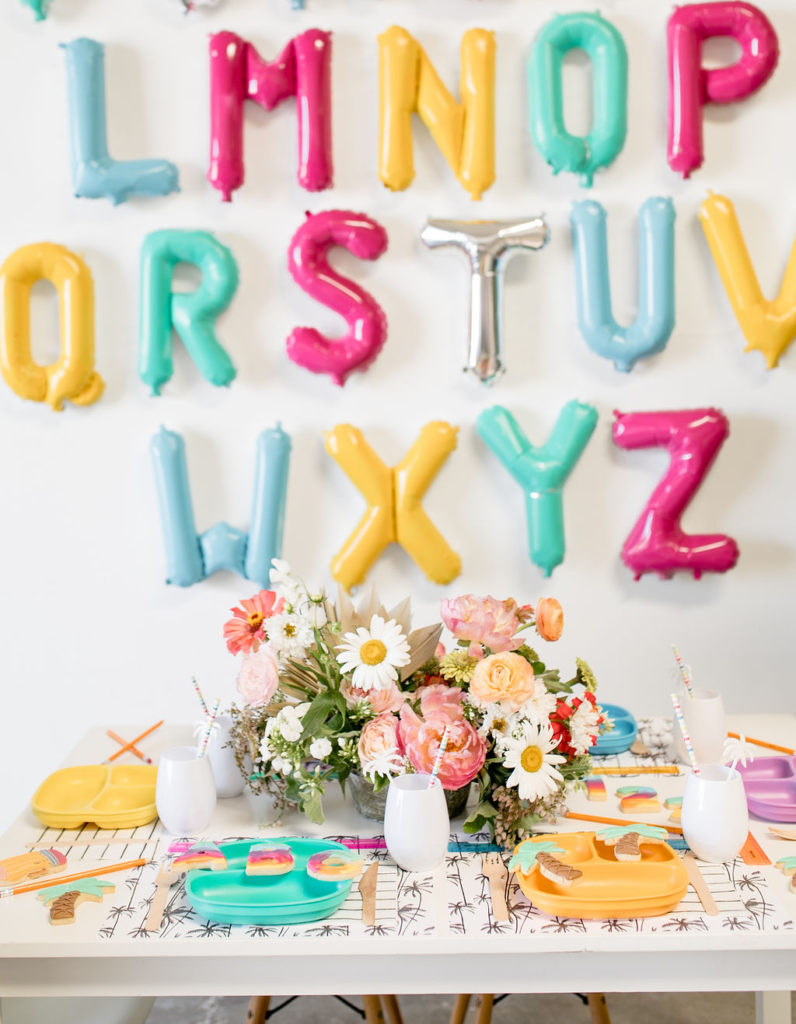 It's not just ABC's – we gotta have the 123's too!!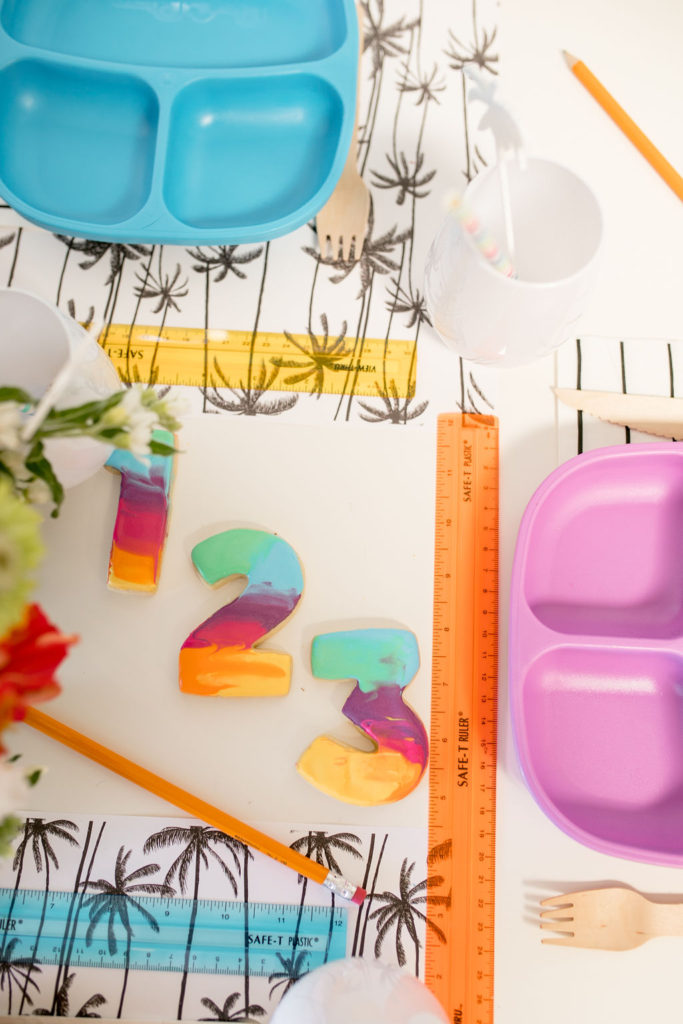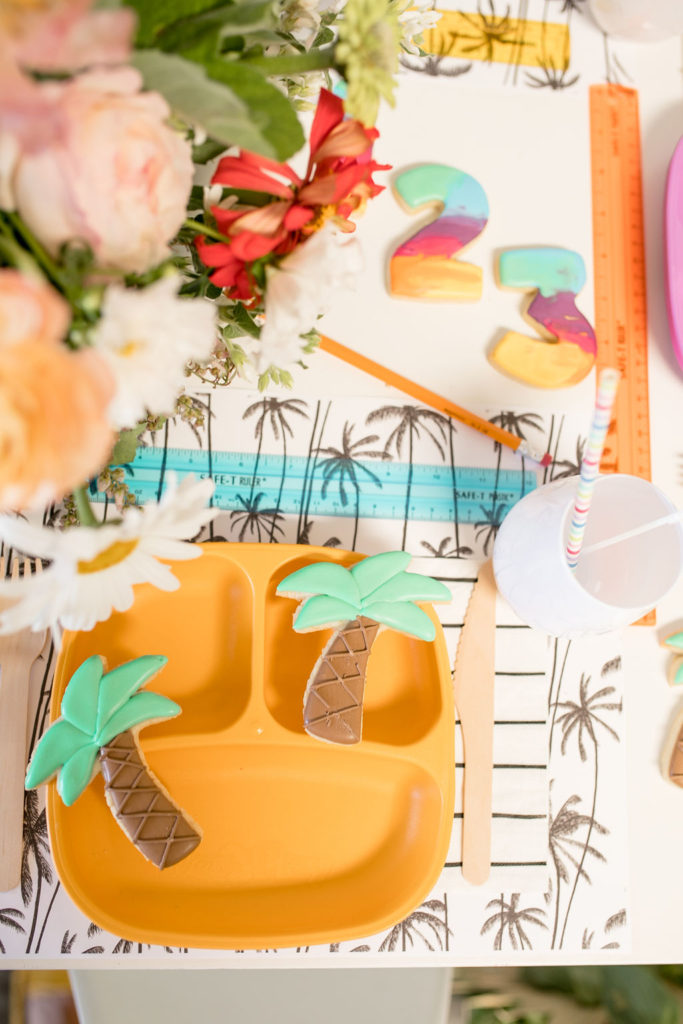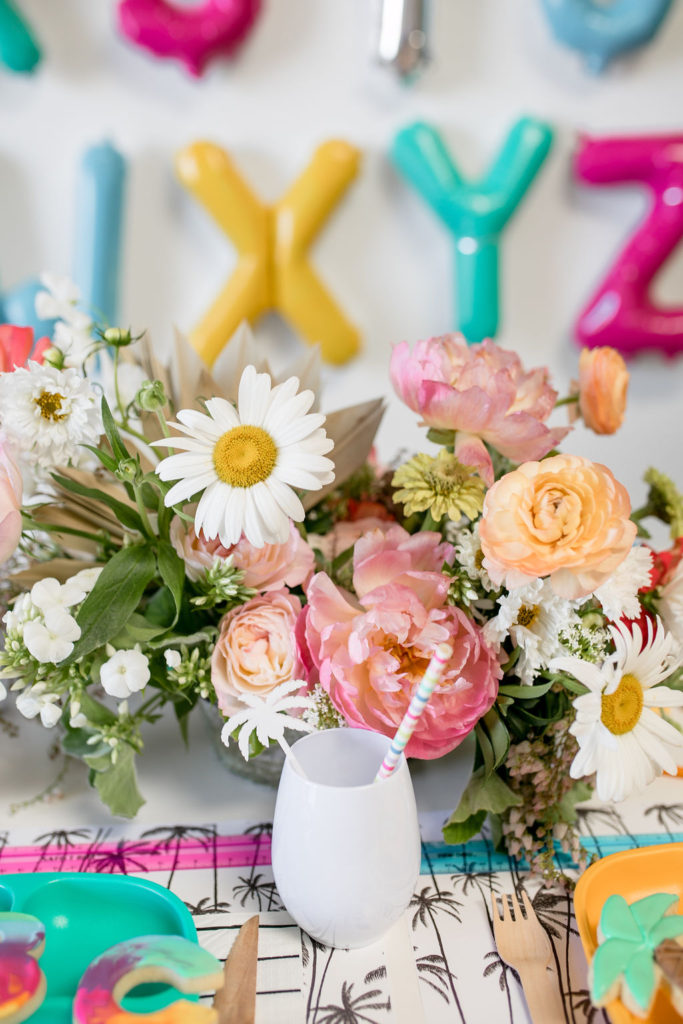 Added in some cute backpacks from Pottery Barn Kids too, because it's back to school, we've gotta!!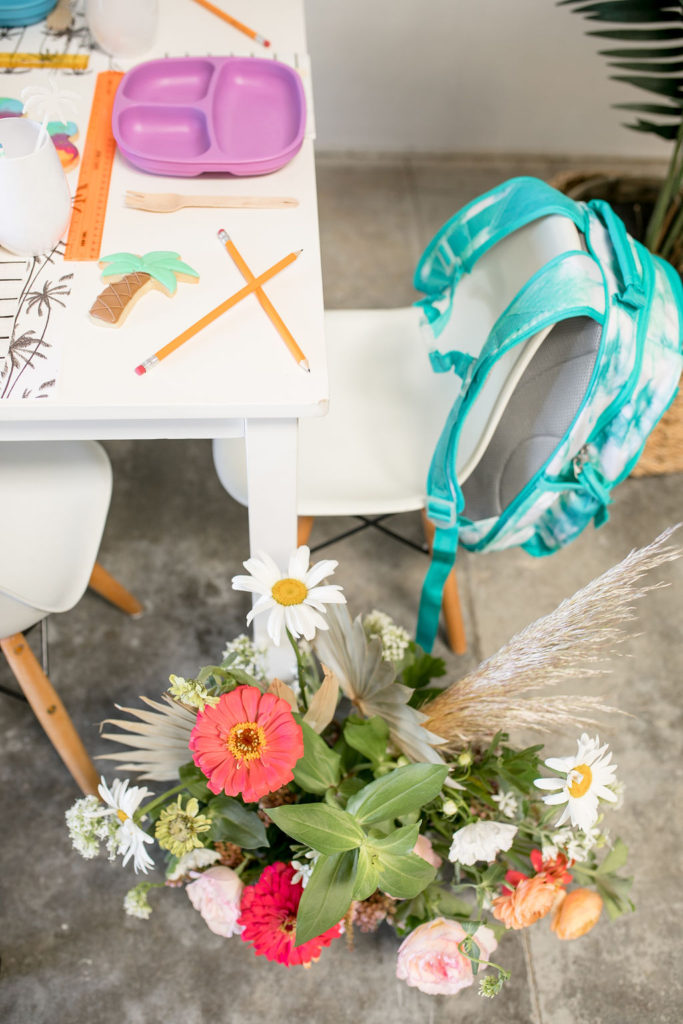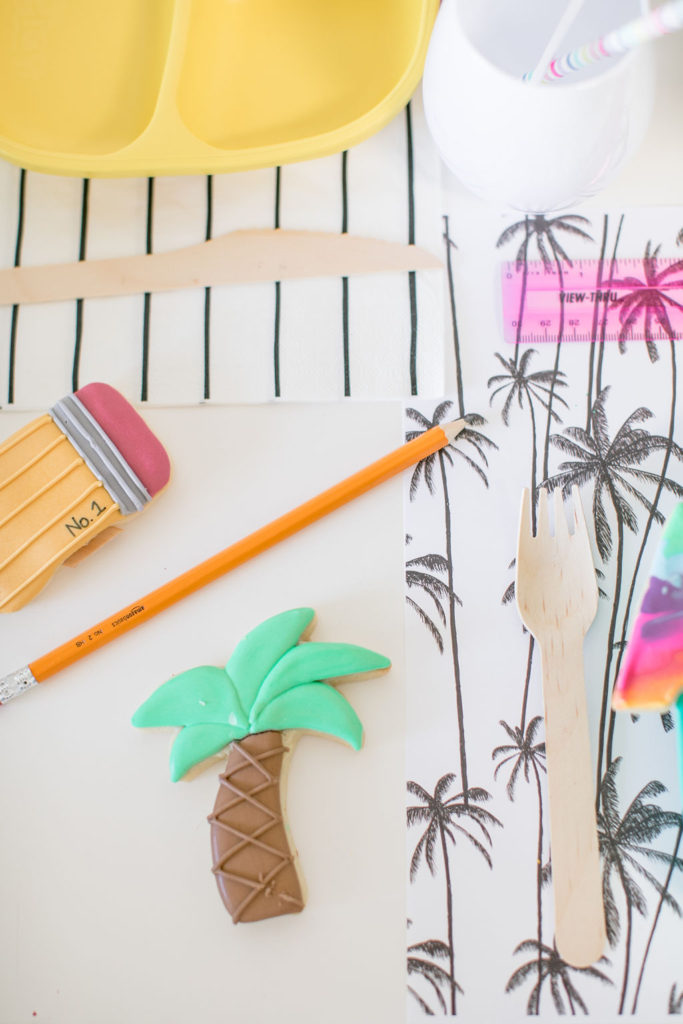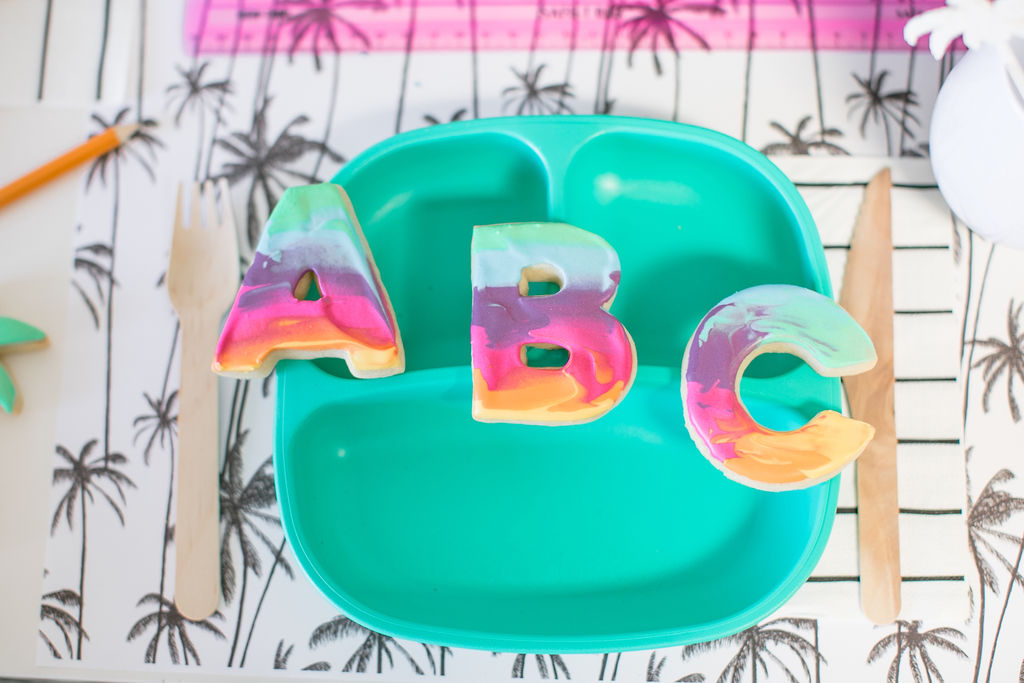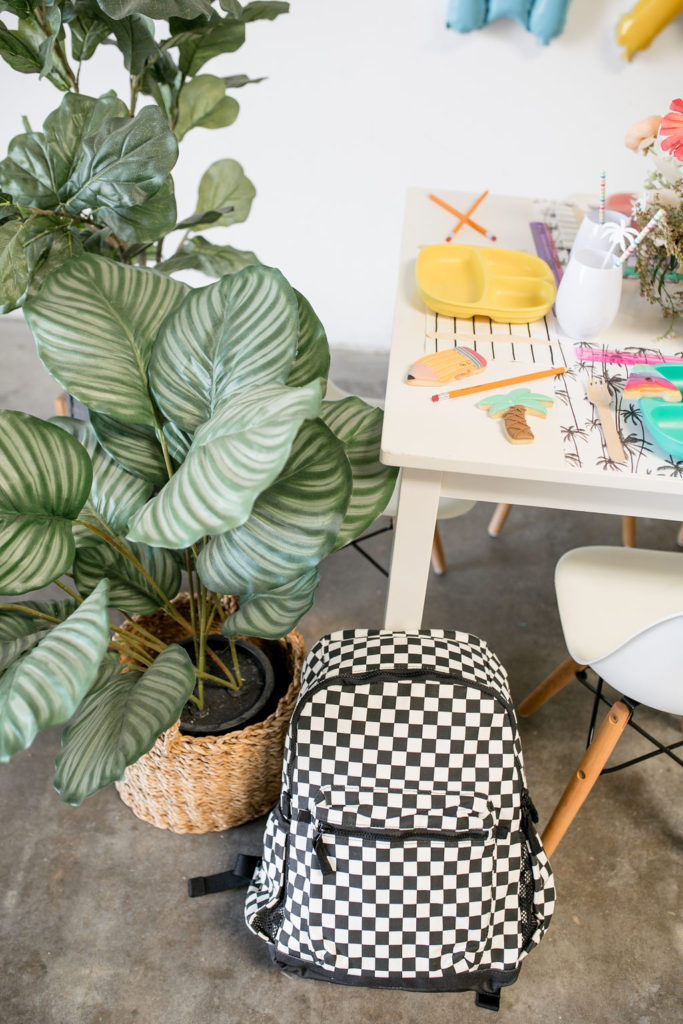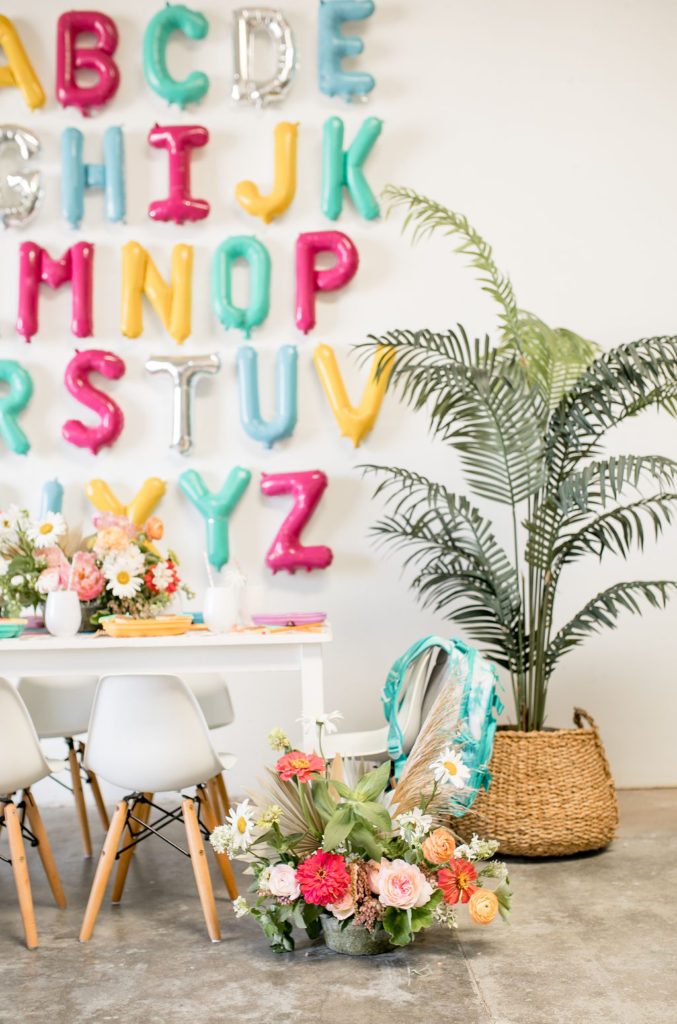 Now to add in some crazy kiddos!!! I had my boys and Leah had her girls in on the fun. Edie is now 7 and started 2nd grade on Monday and Isla is 4 and will be going into her last yer of pre school this month. My son Court is now 5 and starting kindergarten in the fall and Cruz will be going into his first year of pre school! I can't believe it! How does it all go so fast?!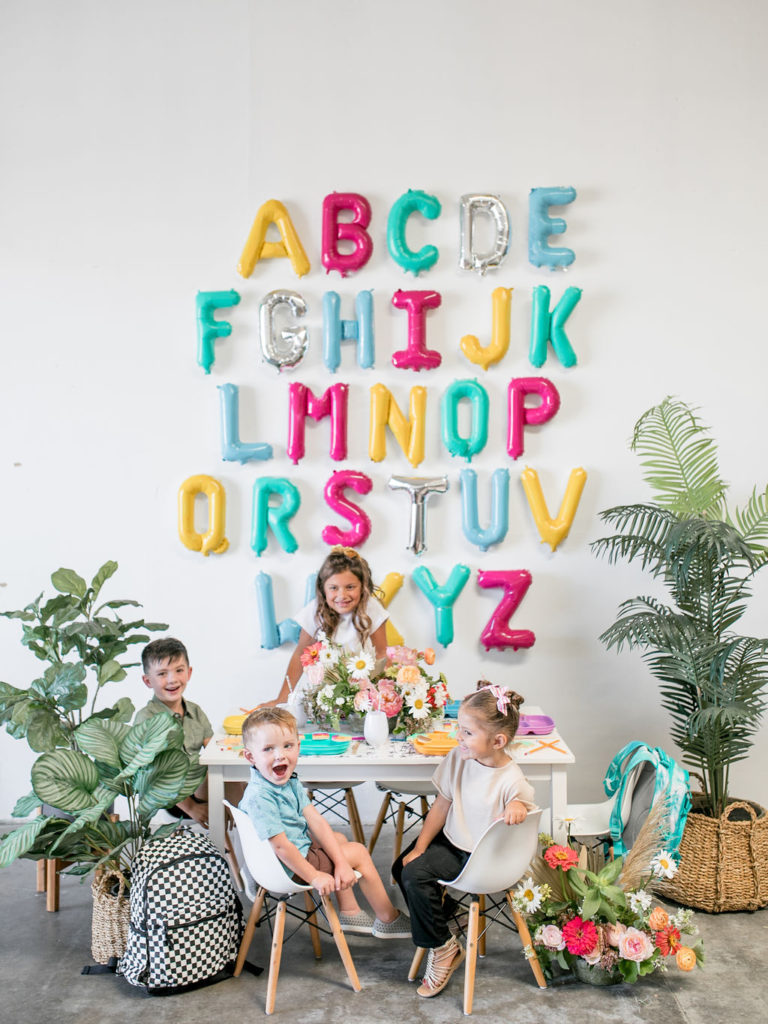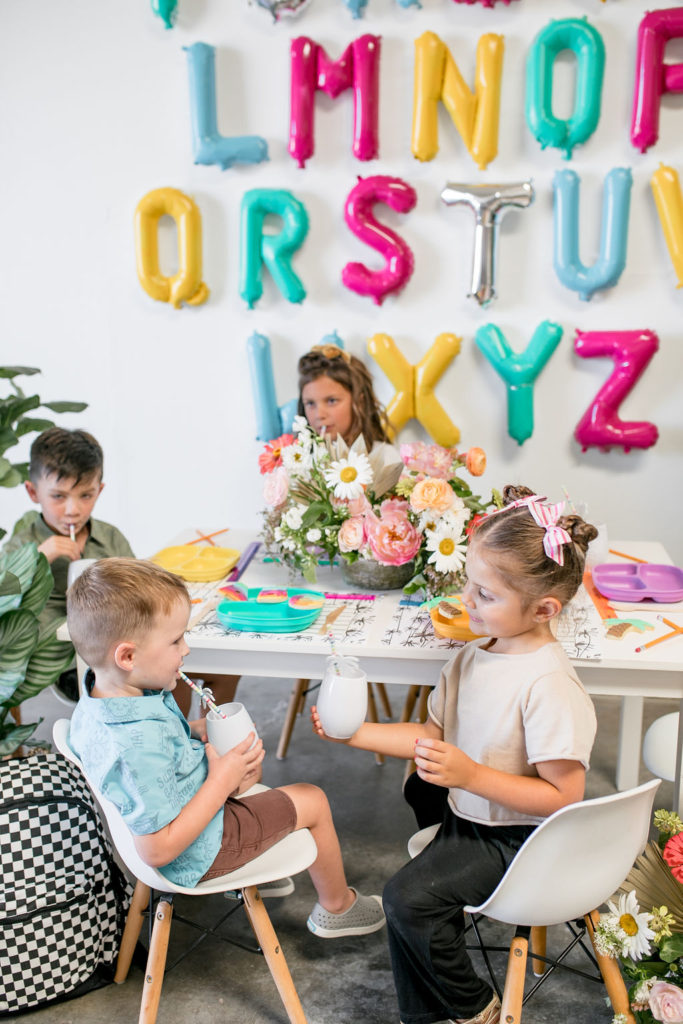 Cheers to back to school! Do kids say that?!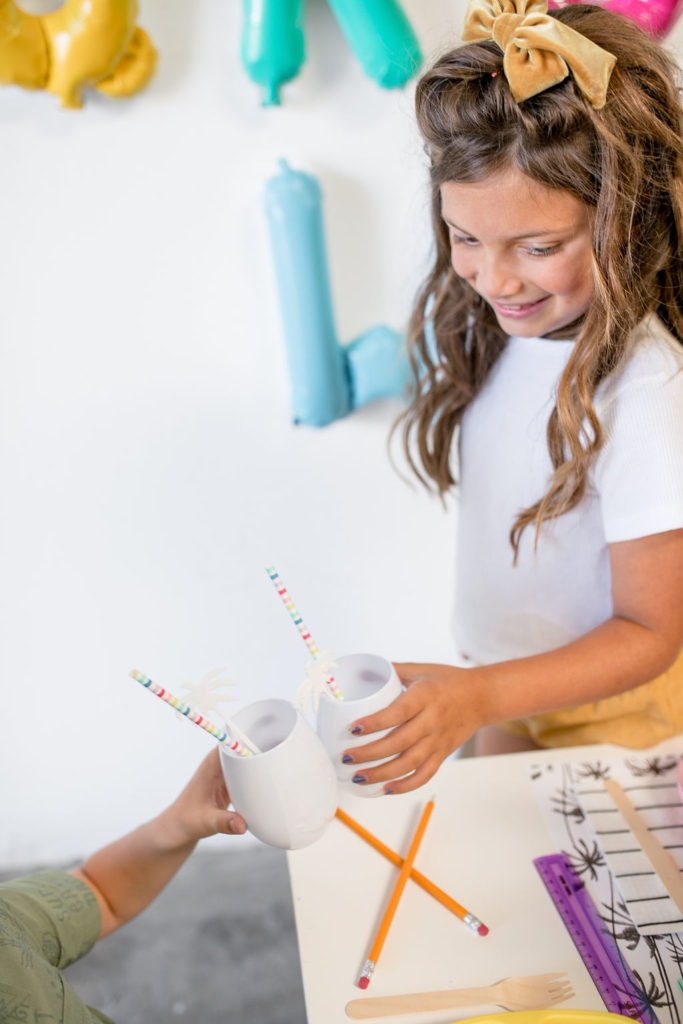 C for Cruzy and the biggest blue eyes!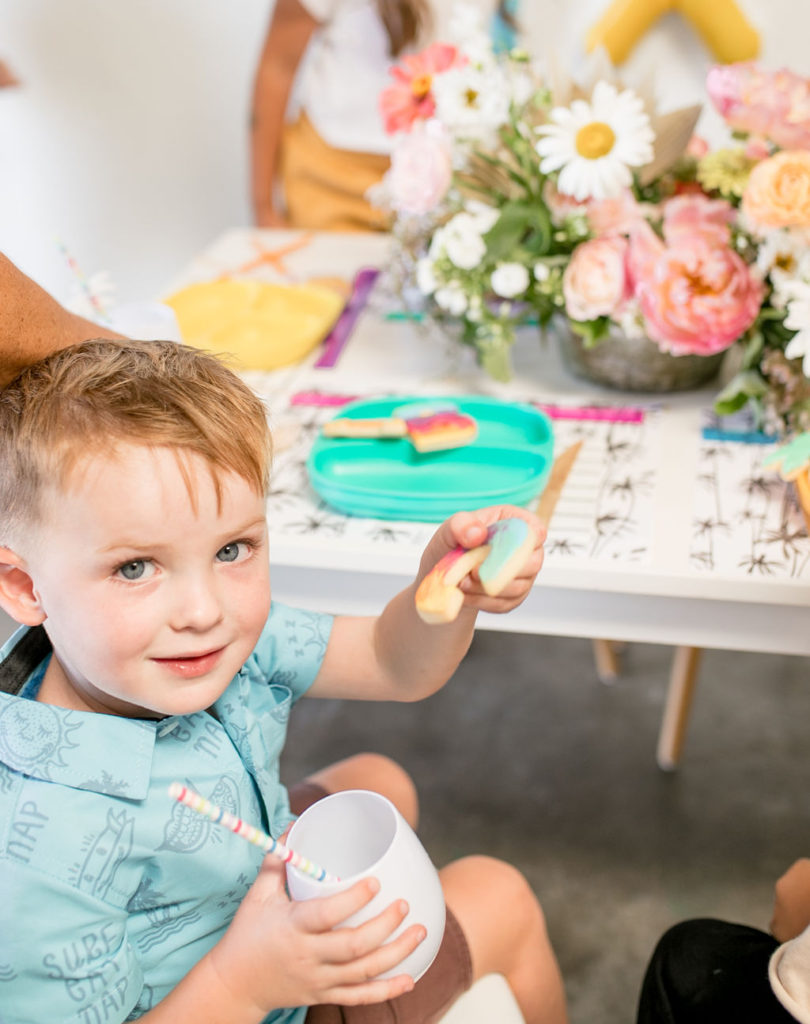 All smiles!!!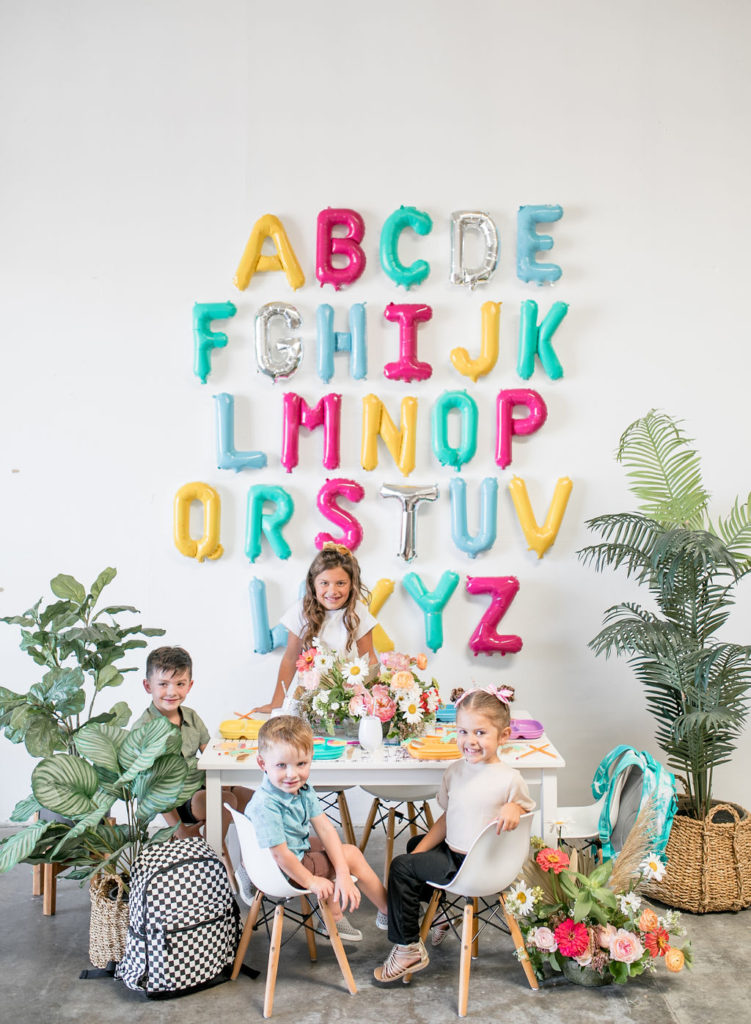 He looks so grown up! I can't even handle it!! I'm really loving Seaesta Surf's new ready to wear clothing line, both of my boys are wearing it! I mean, how cute do they look in those shirts?! And yes, totally obsessed with their new Pottery Barn Kids backpacks!! Court loves his because it matches his vans ;)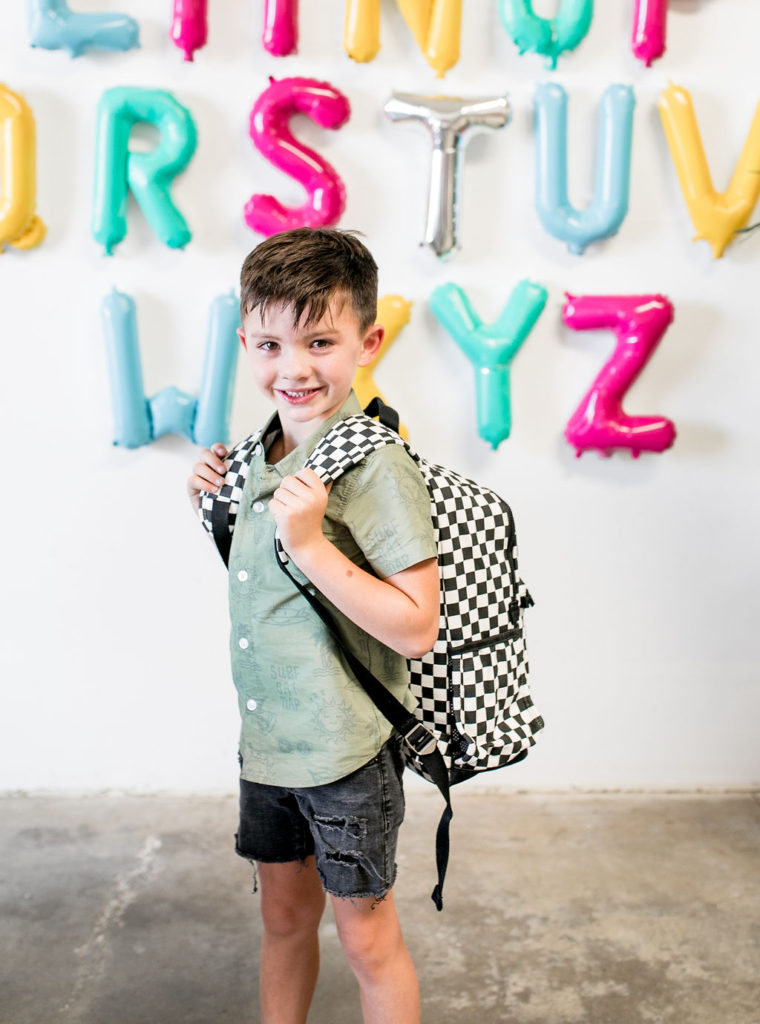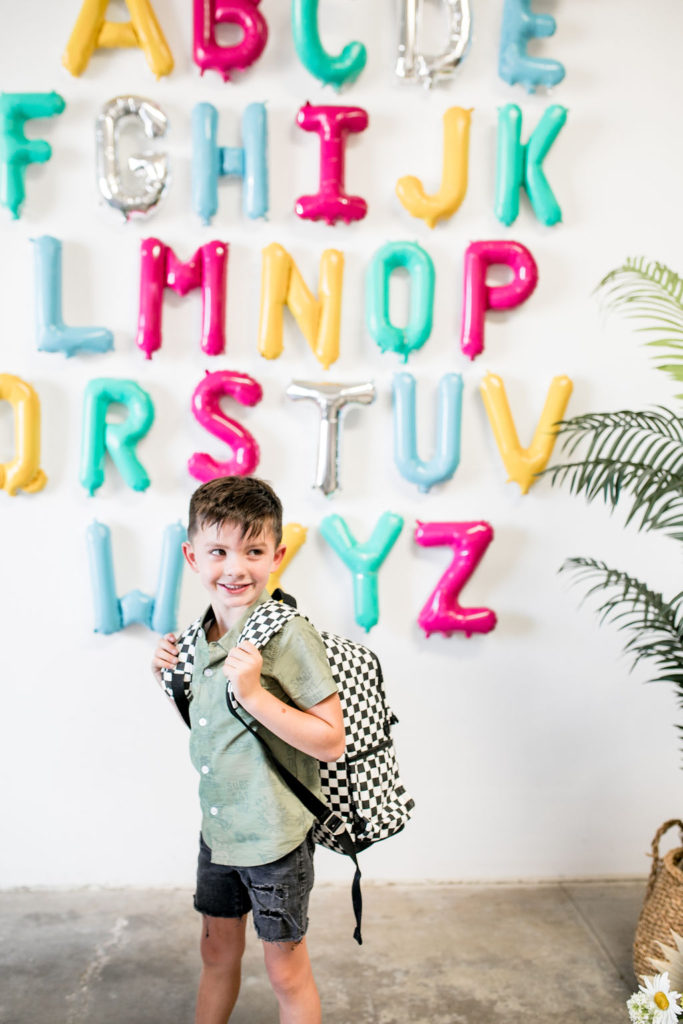 The girls wore the sweetest kid's line called Raised by Water. Made in Hawaii, these are the most adorable basics with a twist. The girls looked adorable in all of it of course! Edie is obsessed with kitty cats so this backpack was the best for her!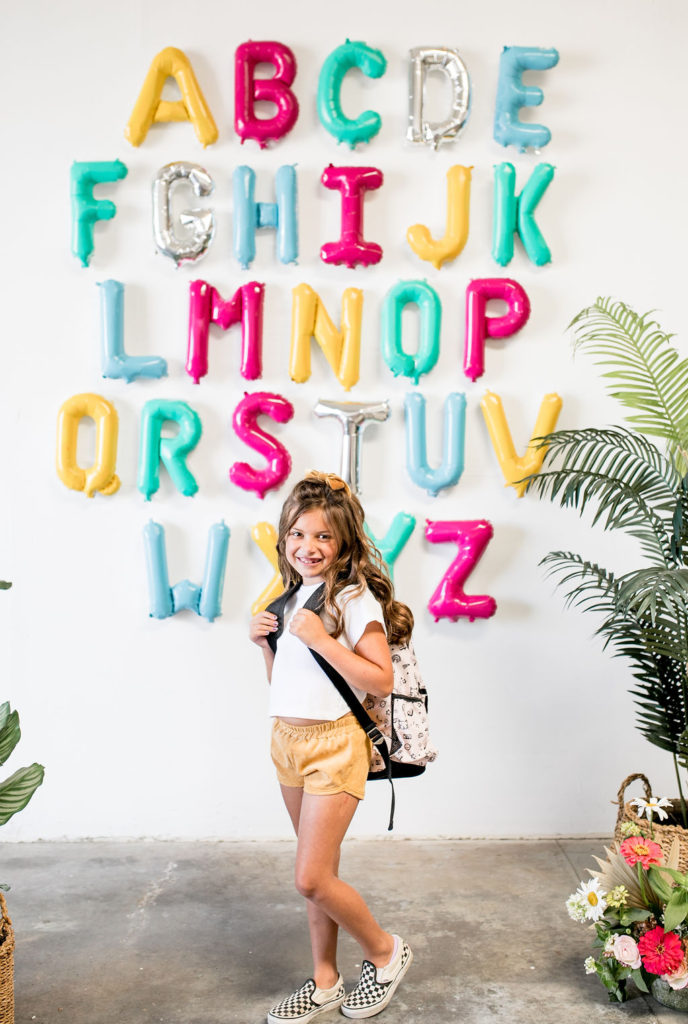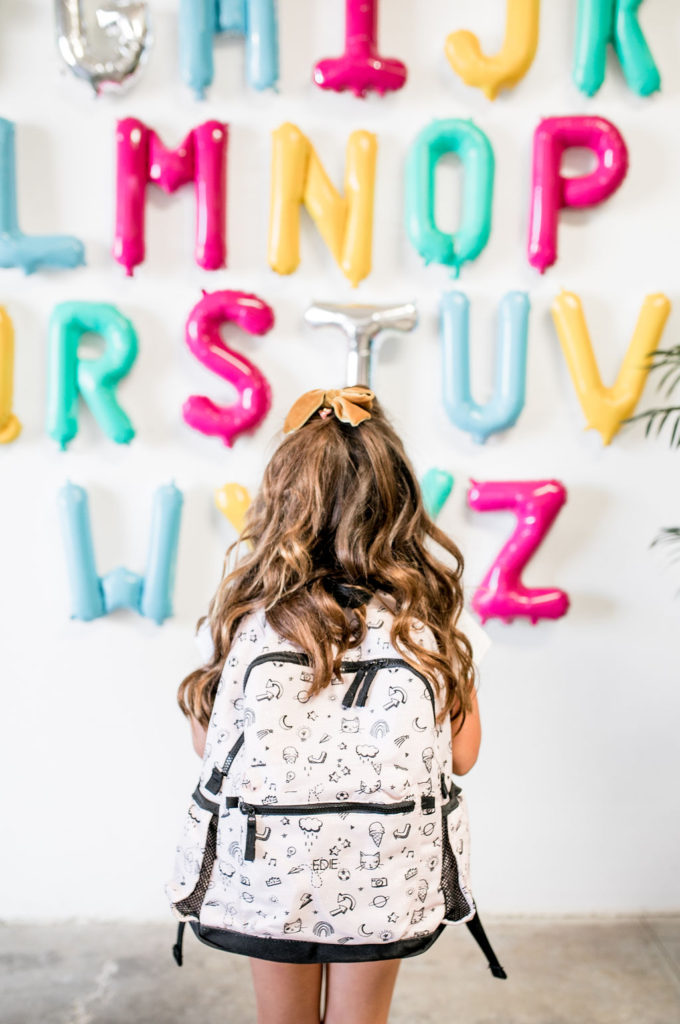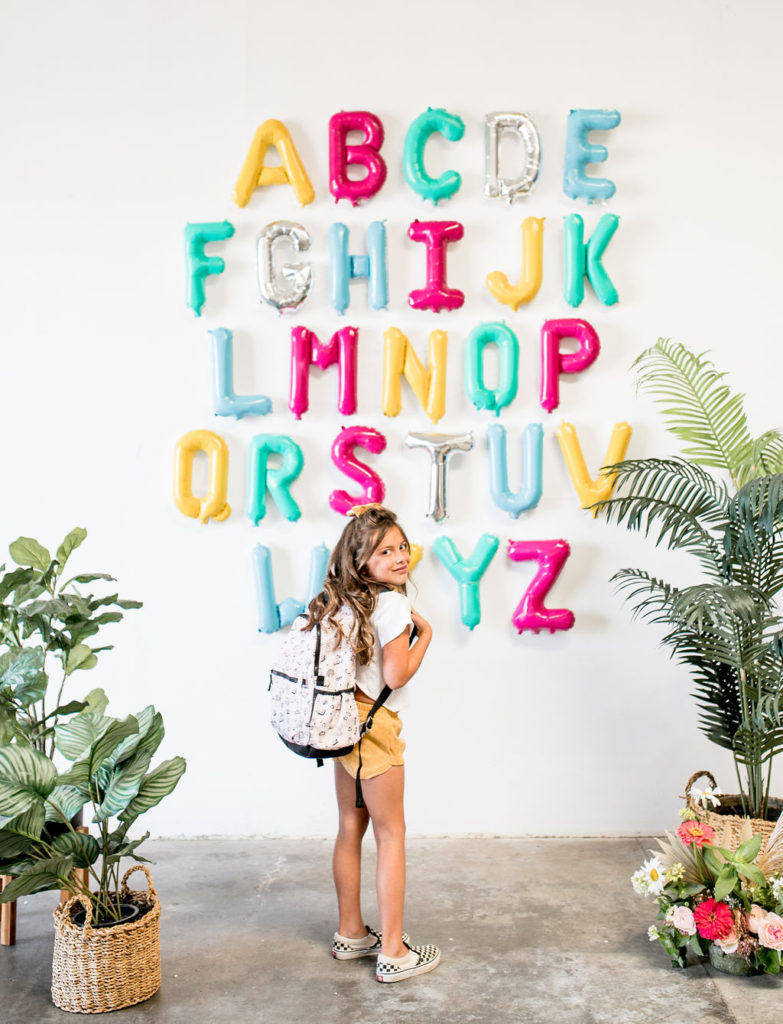 Can't believe our oldest are getting so big! They had a pretty good summer together!!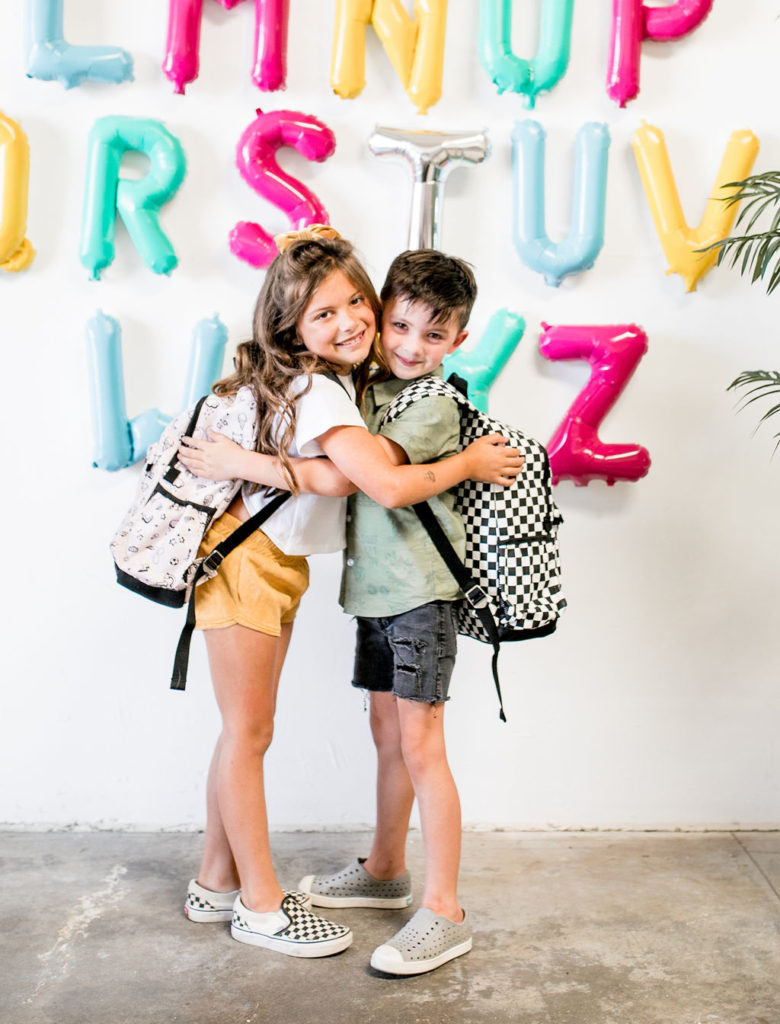 And now for the little ones!! These two have become quite the pals, they are missing their buddy Henry though! He's a little camera shy still… But these two are looking oh so cute!! I love seeing their friendships grow!! Both of these little ones give their mamas a run for their money, thank god they are cute!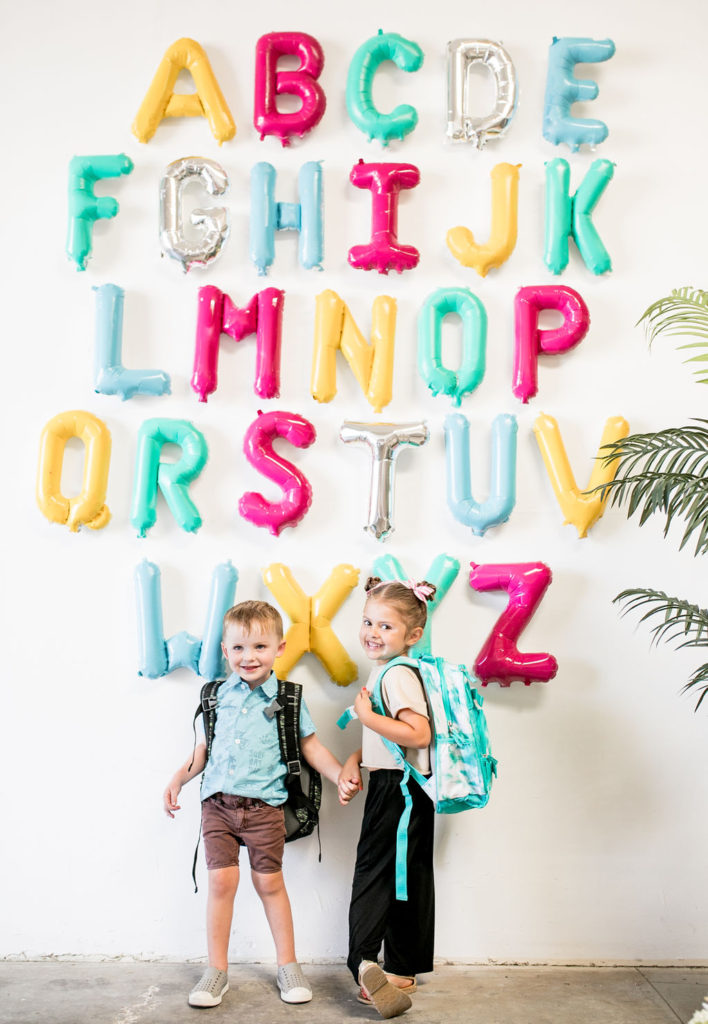 I think Cruz will be known at school as "Cruzy the Kisser Boy". Every school has one!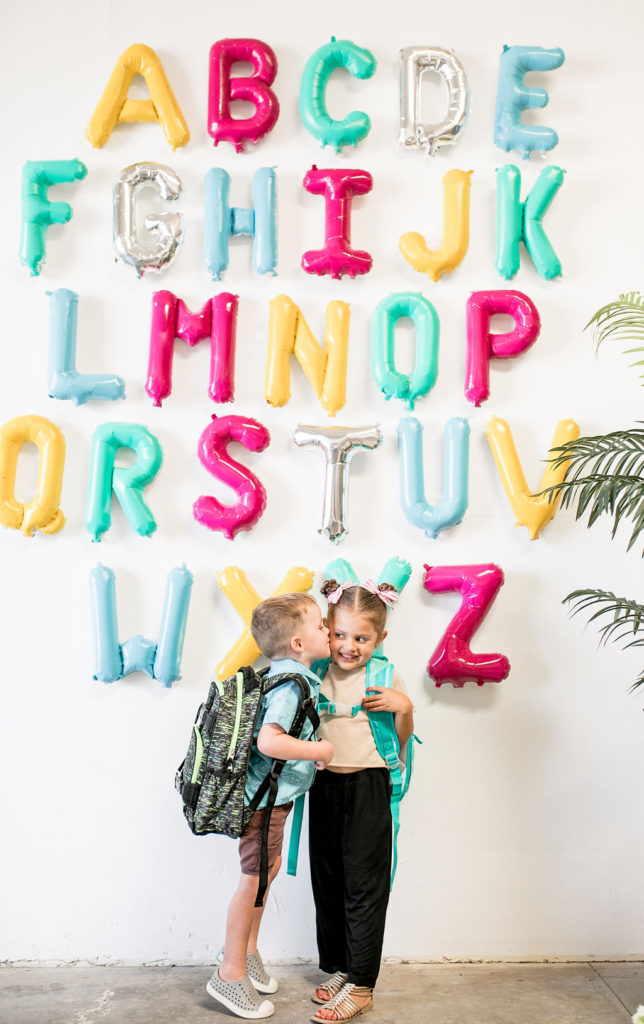 At least he gets them back though!!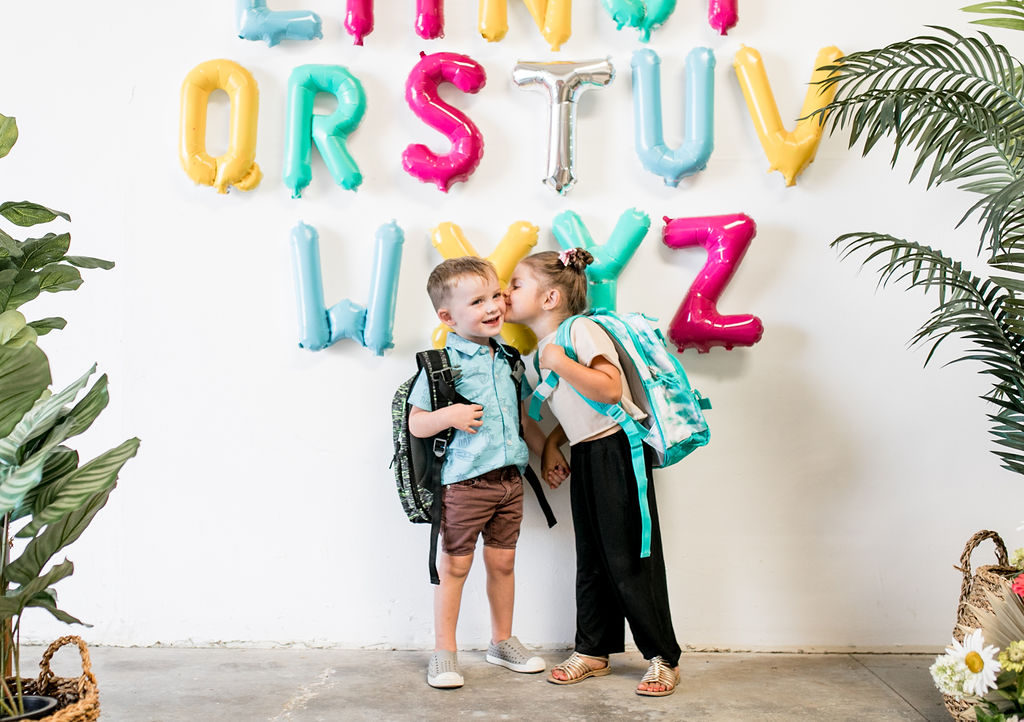 Cruz chose this cute backpack and Isla chose this tie dye one. They look so proud pointing out their letters!!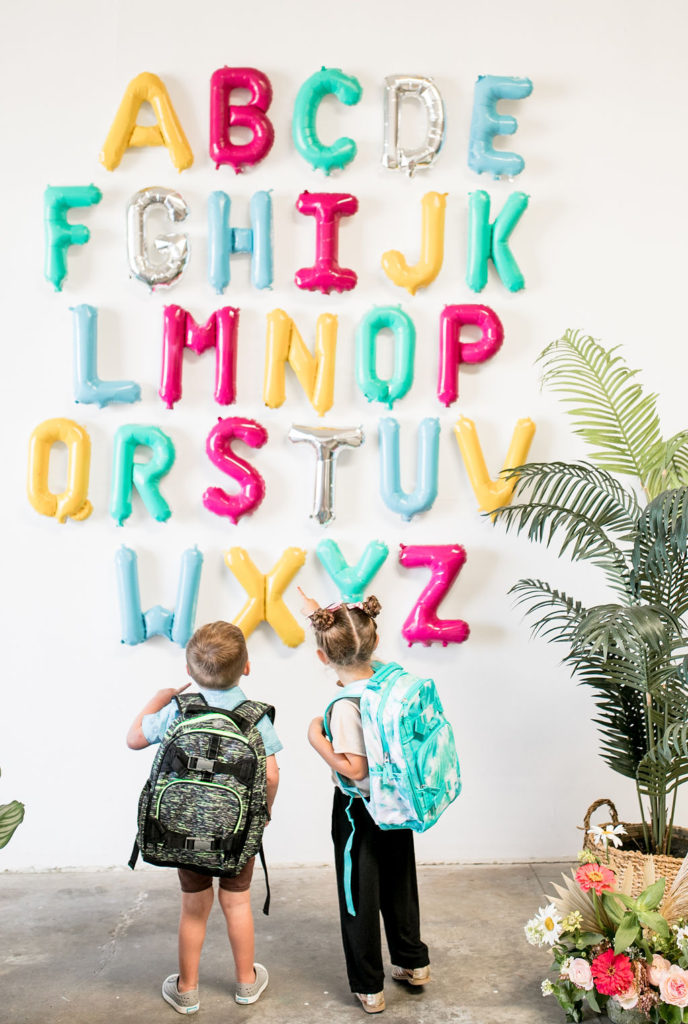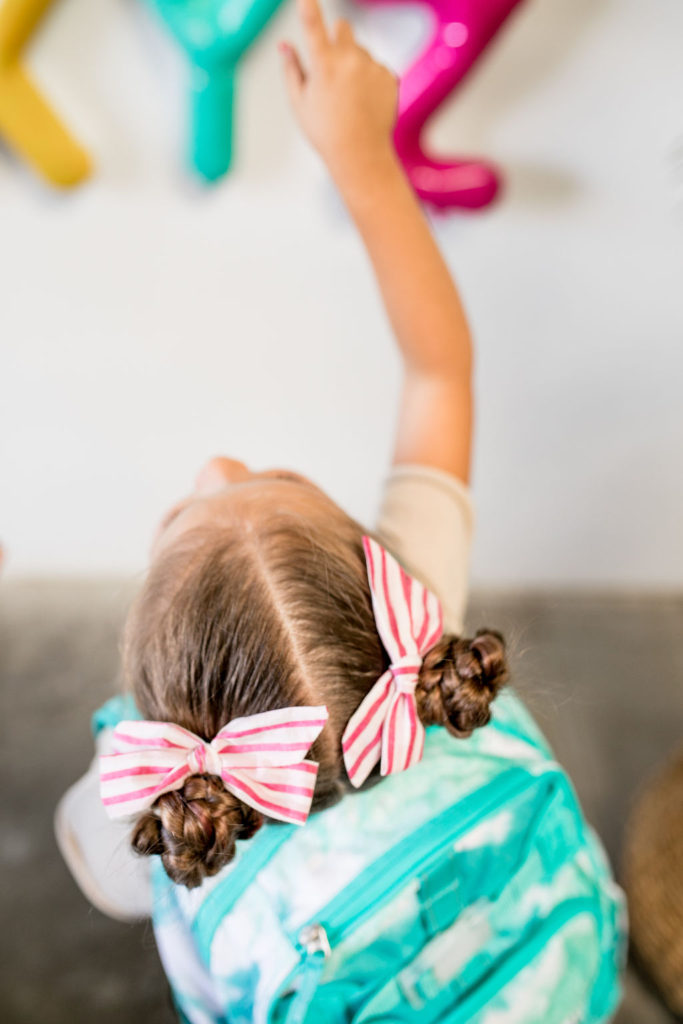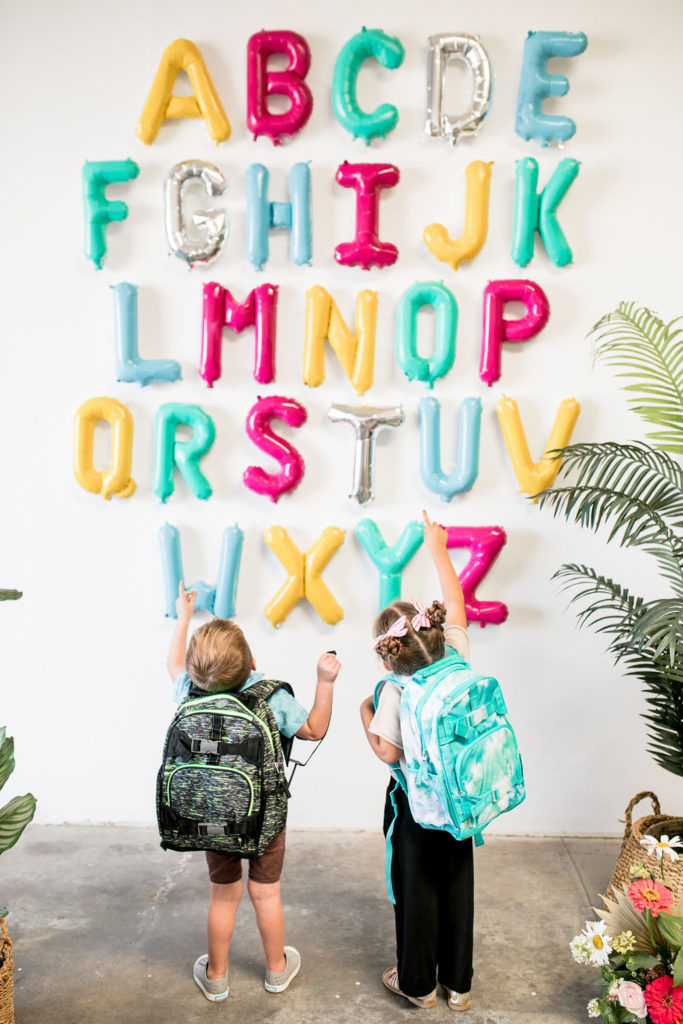 More cookies because, why not! Get out all the fun now! Love these back to school cookies on a stick from Frost Your Cookie!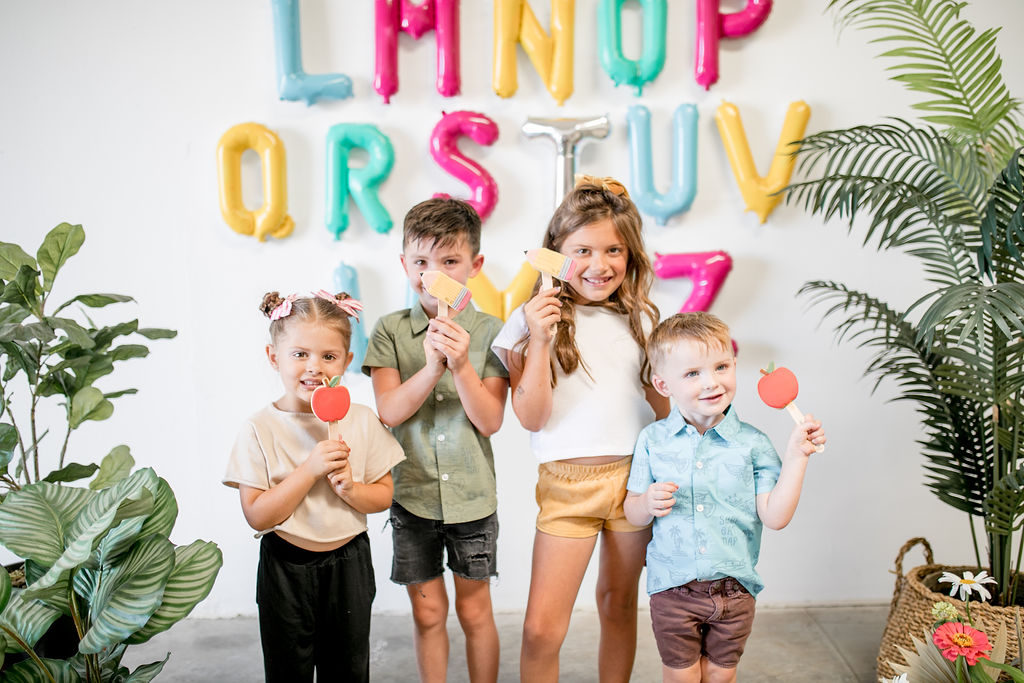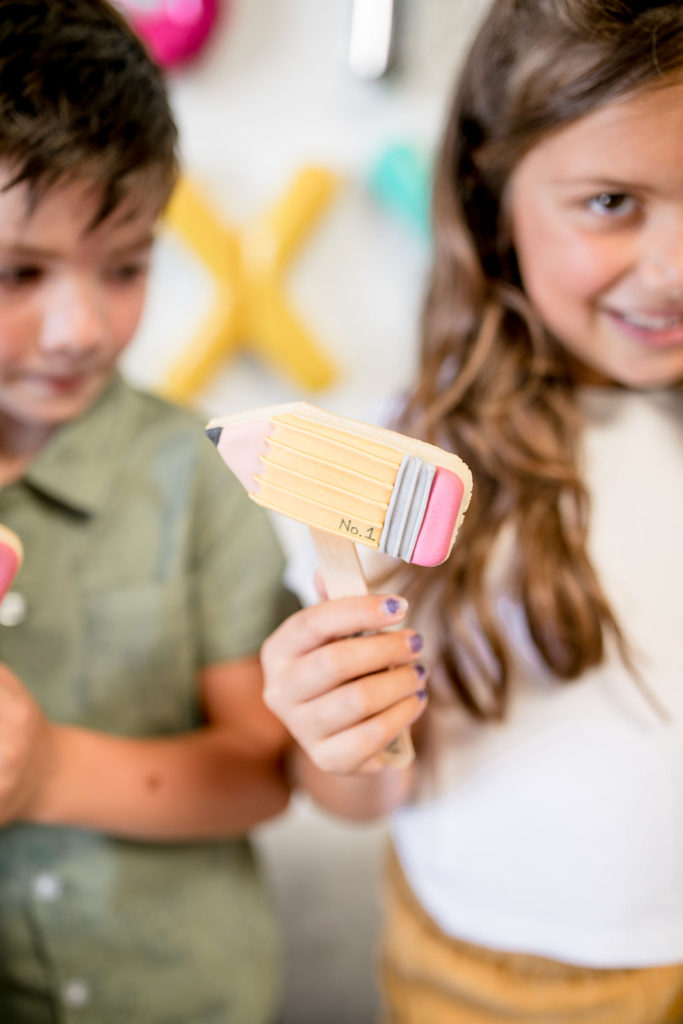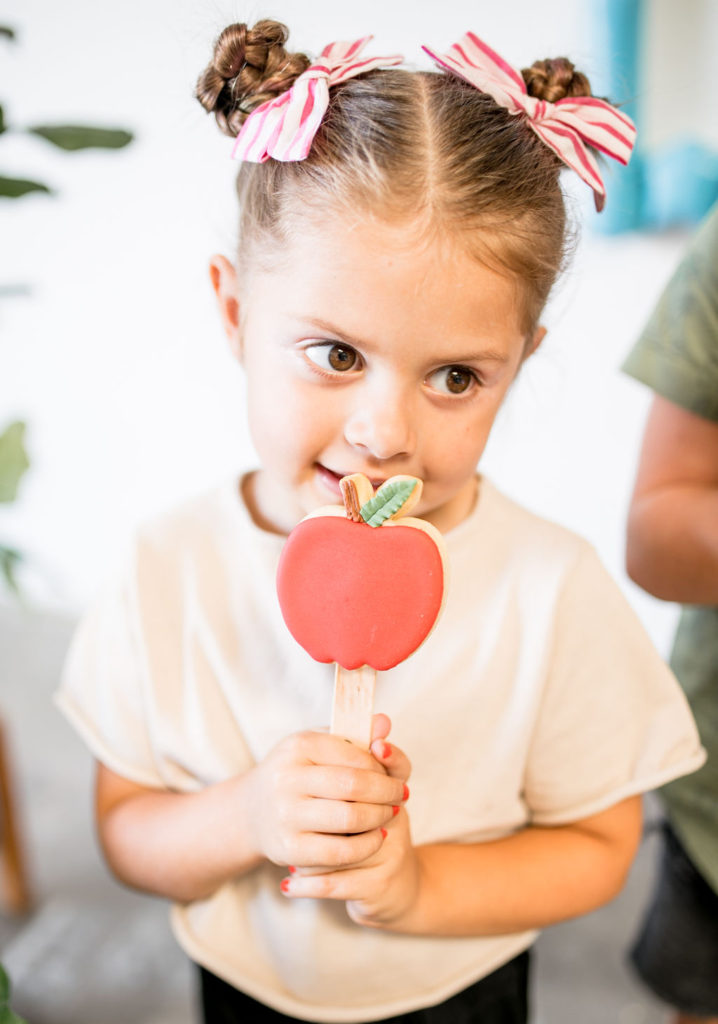 Now… 1, 2, 3, 4 – get those kids out of the door! It's time to go back to school!!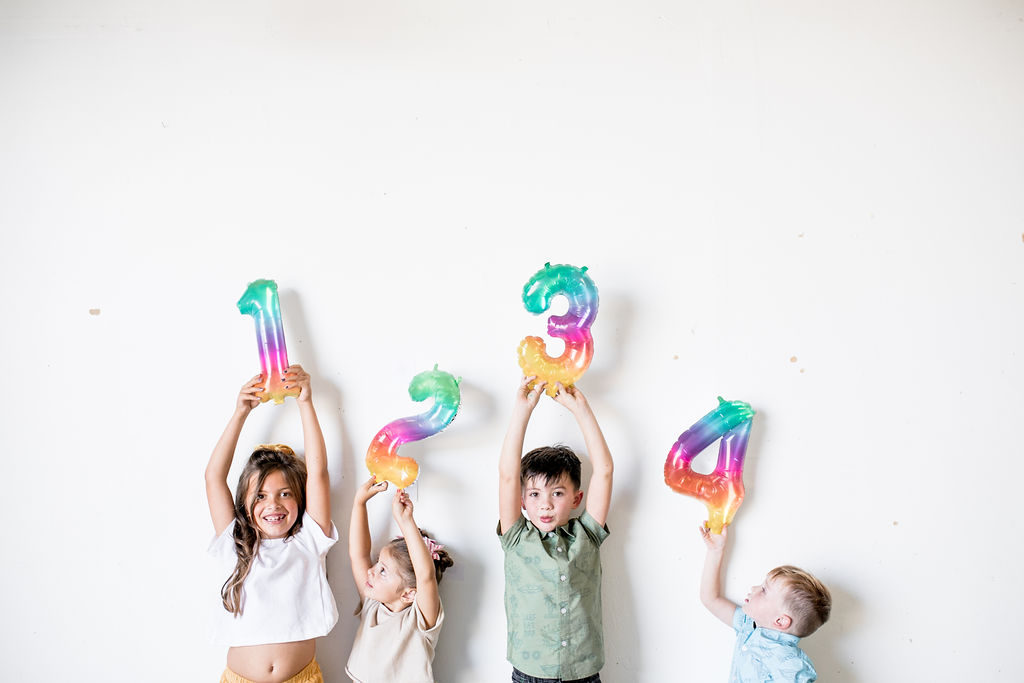 You can shop this post below!!

xx
Jacquelyn