Do you feel that? Yes! It's the slight, very slight, crisp in the air at night. Which means fall is here. Ignore the fact that it will be over 100 here in Northern California this weekend. With fall comes football. Well, the new kind of sports watching, such a bummer! But that does not mean your food game should be off. If anything, it should be on point these days! So, what's the number one favorite sports food we love around here? WINGS!
What's more fun than a chicken wing board. I twisted it up a wee bit, cause that's just what we do around here. I roasted most of my vegetables, added some yummy blue cheese, and some avocado dip. The roasted vegetables scream fall, the wings scream fall sports, and we love it. So what are you waiting for? Get out there and make yourself a chicken wing board cause there ain't no thing but a chicken wing!
Photos by Dayna Studios
---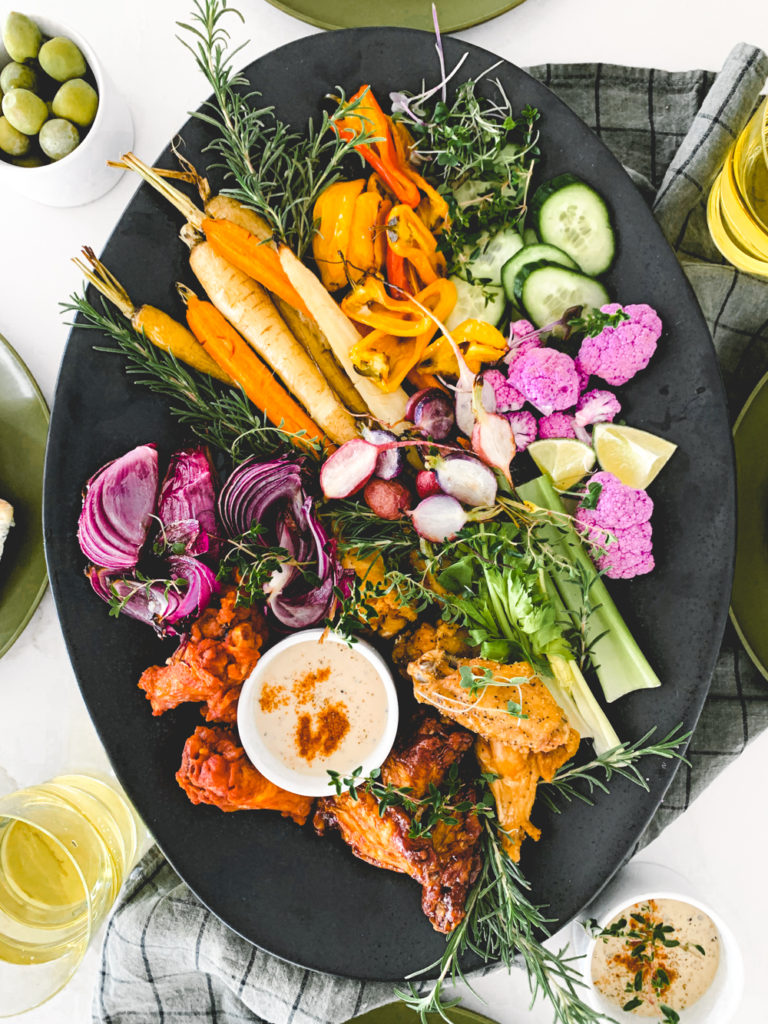 ---
CHICKEN WING BOARD
SERVES: 6-8 | PREP: 10 MINUTES | COOK: 35-40 MINUTES
W H A T Y A N E E D
Carrots
Red onion
Radishes
Small mini peppers
Celery
Purple califlower
Cucumbers
Blue cheese
Chicken wings
Fresh herbs: rosemary, thyme, and cilantro
Sauces: blue cheese sauce, ranch, avocado ranch,
B U S T   O U T
Serving Platter
Plates
More fun plates
Baking Tray
Olive Oil
Salt/Pepper

---
I N S T R U C T I O N S
Preheat your oven to 450º. Place all vegetables on a baking tray, and drizzle with olive oil; toss with salt and pepper to coat vegetables evenly. Spread in one single layer, and season with herbs, sea salt, and pepper. Roast at 450° for 20 minutes; stir vegetables, and roast another 15 minutes or until soft and edges are light brown. Remove from oven, arrange on a platter, and serve warm. And its totally if some are charred, the more, the better.
I order my wings from our local fav place, but you can totally make your own. Making wings just wasn't in the cards for me that day. I wanted a couple different versions, and I thought this would be totally easier! And its totally ok to do that! You roasted the veggies anyways, thats a win in my book! Assemble the tray by placing the sauces down and basically just layering your wings and veggies. I did the wings nearest the sauce, and then layered the veggies in rows. While you are layering, place rosemary in sections. Its adds some freshness to the plate, and makes it look pretty. Then garnish with some fresh thyme. Place your yummy blue cheese next to it, and you are set! Serve up with some beer, and you ready for Sunday football!
---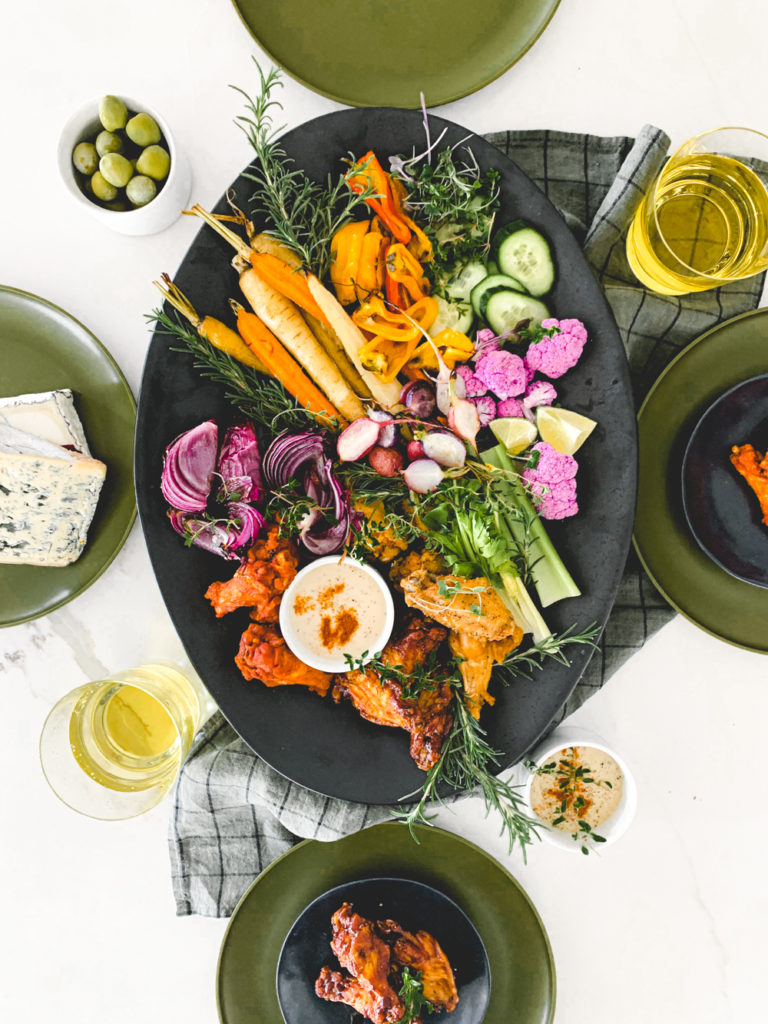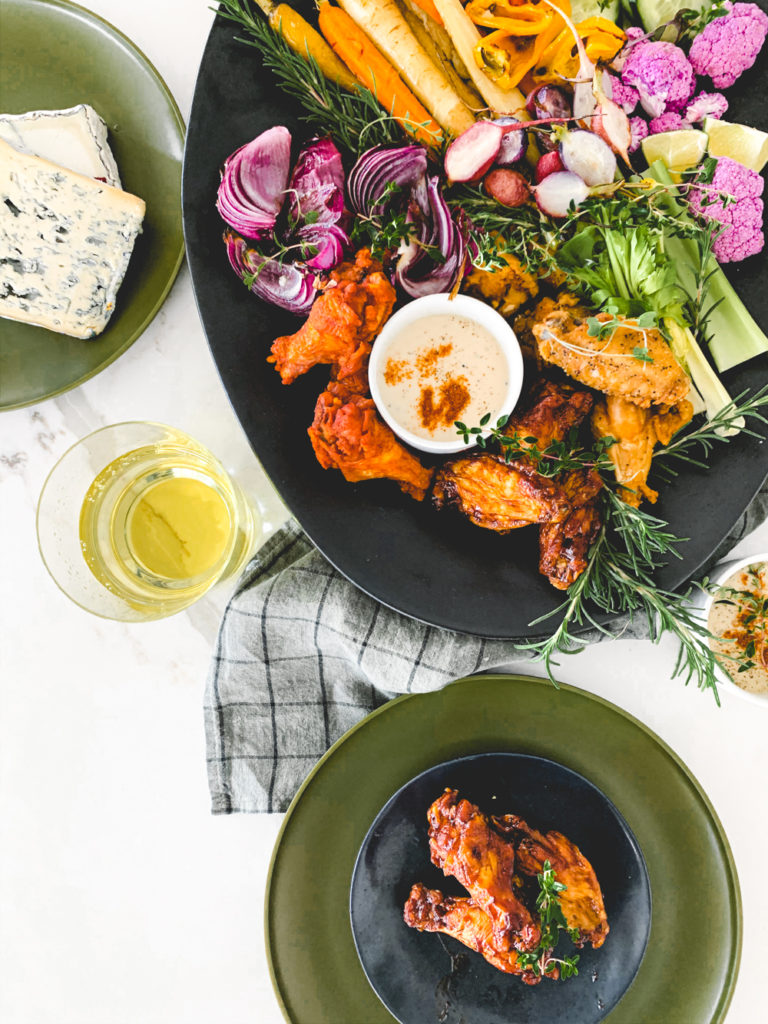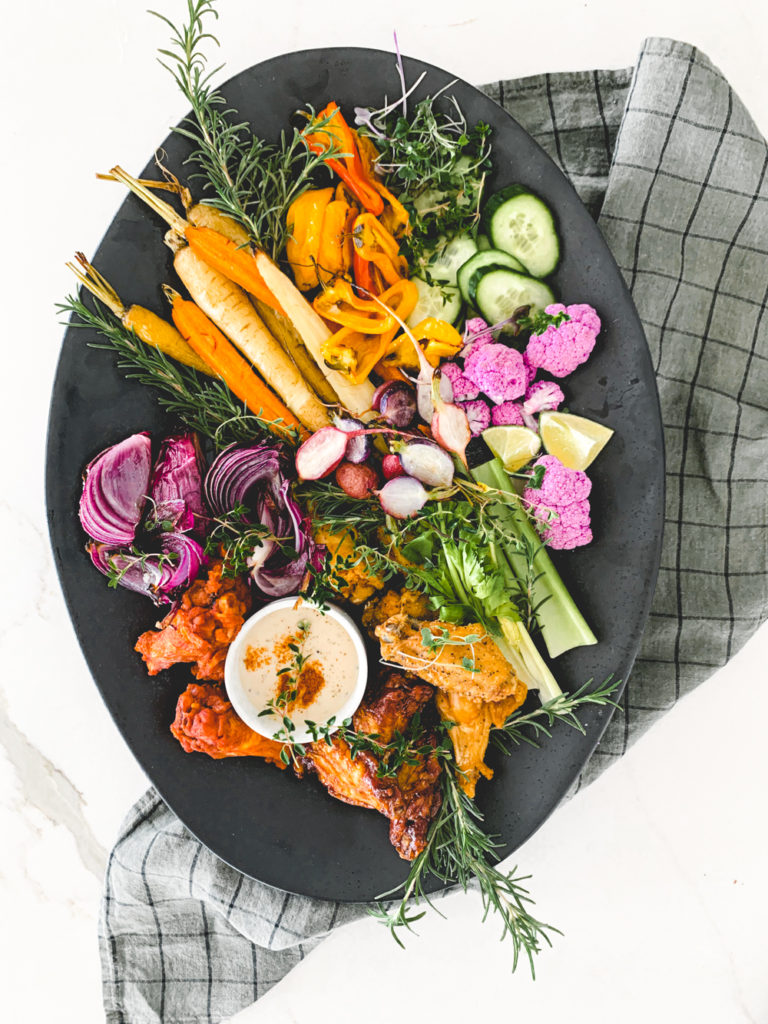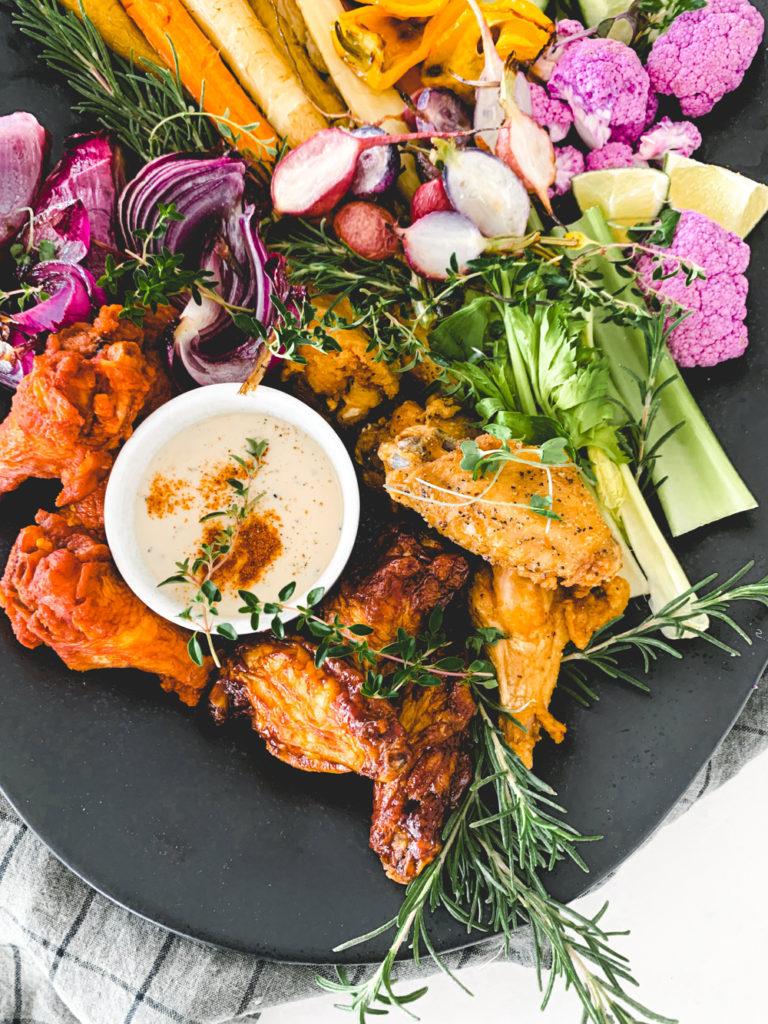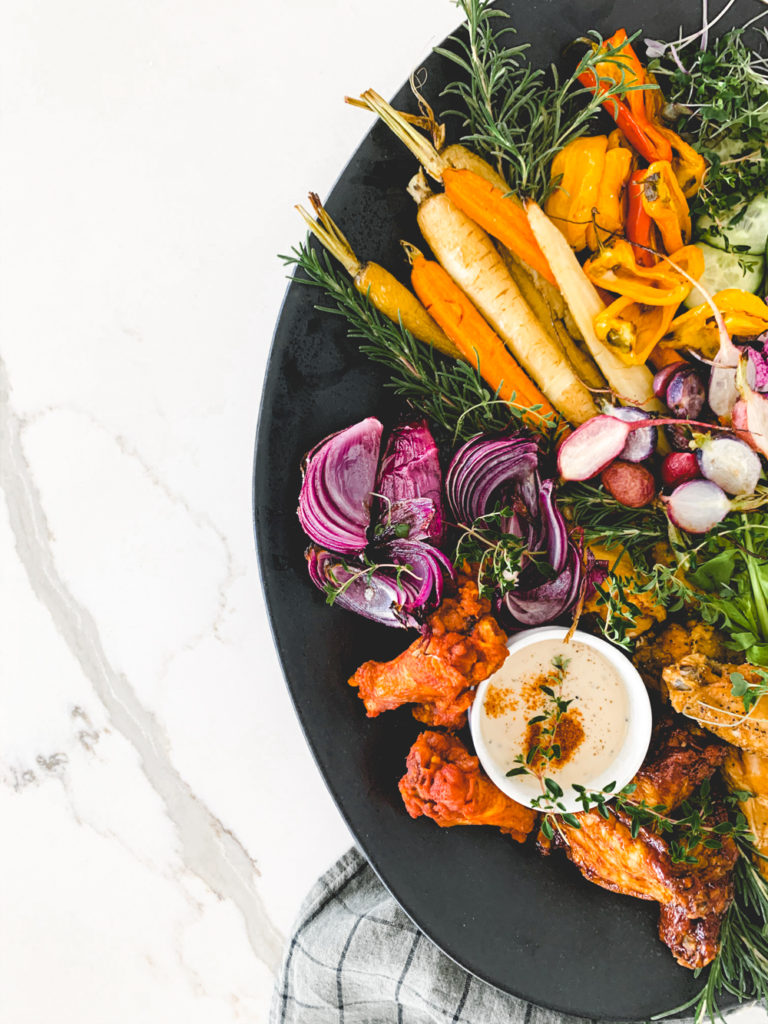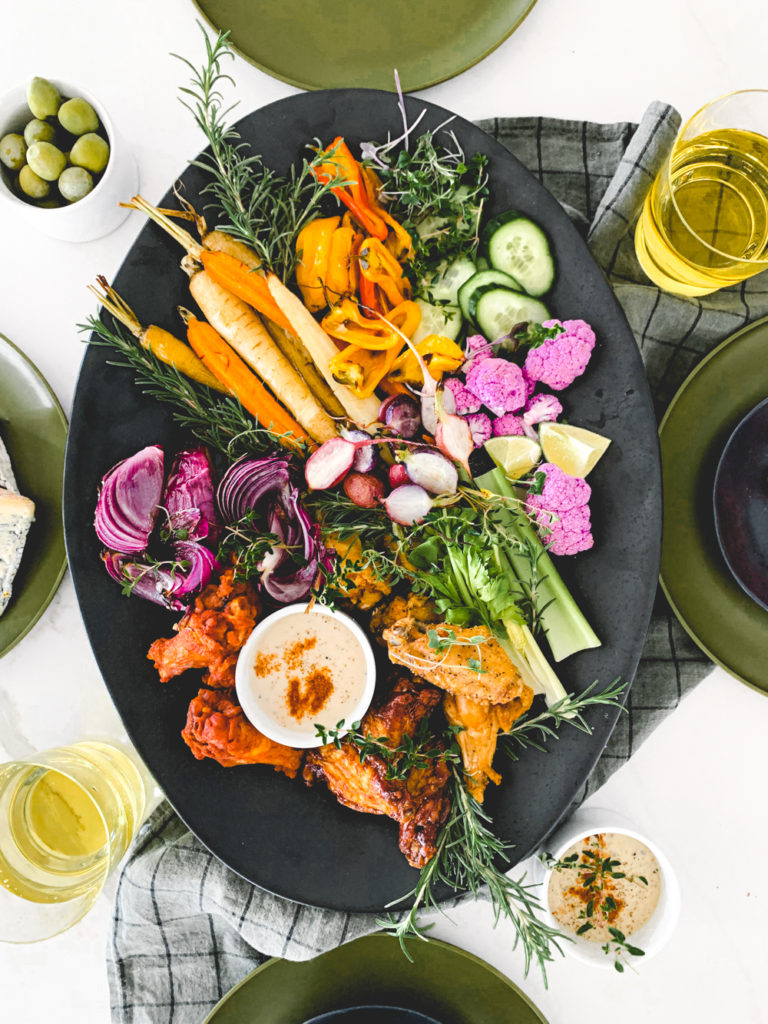 ---
B E I J O S K I T C H E N

xx
Abby