Leah and I have been dying to share this gorgeous wedding for a few months now. In August we were lucky enough to be a party of Ali & Bryan's San Luis Obispo wedding. It brought us back to one of our favorite venues, Biddle Ranch Vineyard. This place has upgraded since our last wedding there, they now have a gorgeous tasting room and the property's greens have flourished. It is such a gorgeous spot in one of the prettiest places in California.
Ali was a dream bride, organized, trusting and had a great eye for style. We loved working with her every step of the way and her family and friends were equally amazing. The day went off without a hitch and reliving it through Megan Welker's stunning photos makes me nostalgic. Think simple and clean style with a dash of rustic, keep scrolling to see it all, you'll want to get your pin button ready!
Also featured today on 100LayerCake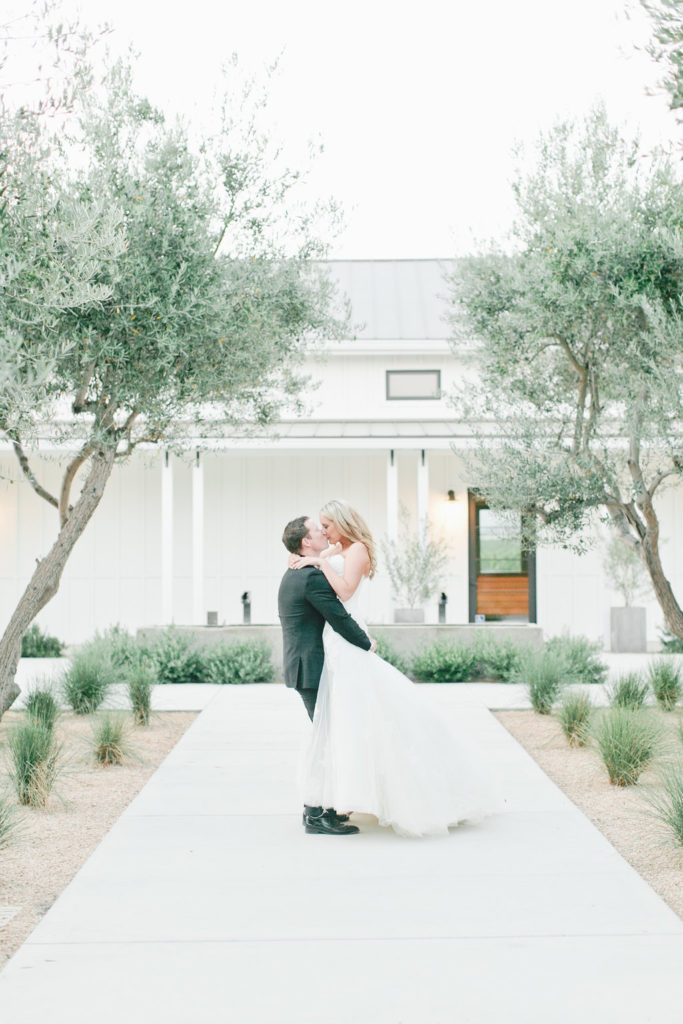 One of the many things I love about working with Megan Welker is her attention to detail and the fact that she over shoots. Meaning, you will not find one thing not shot by this woman on your special day… She covers EVERYTHING! It's honestly amazing! And she gets multiple shots of it all, so you really feel like you're in that moment.
I helped a bit on the styling, but she shot all of the details so perfectly for Ali & Bryan. And what pretty details they were….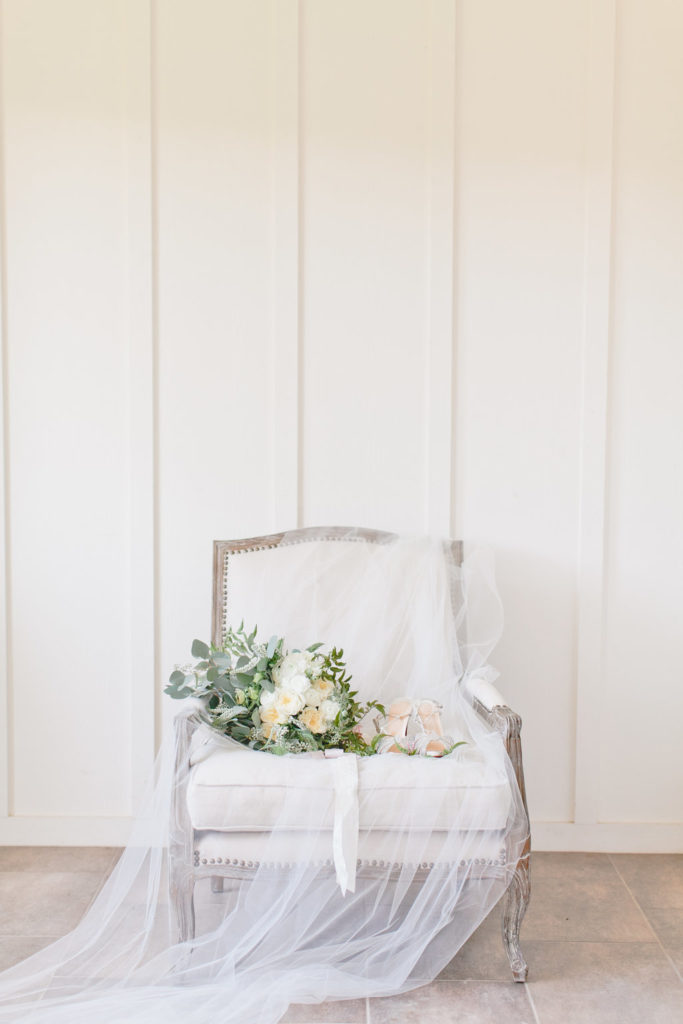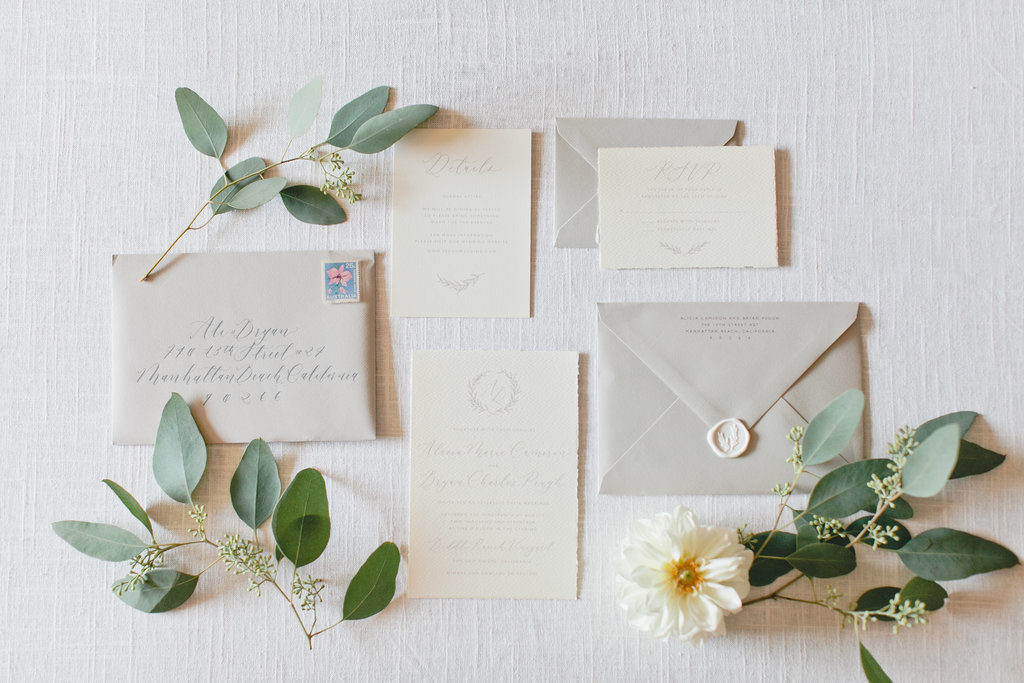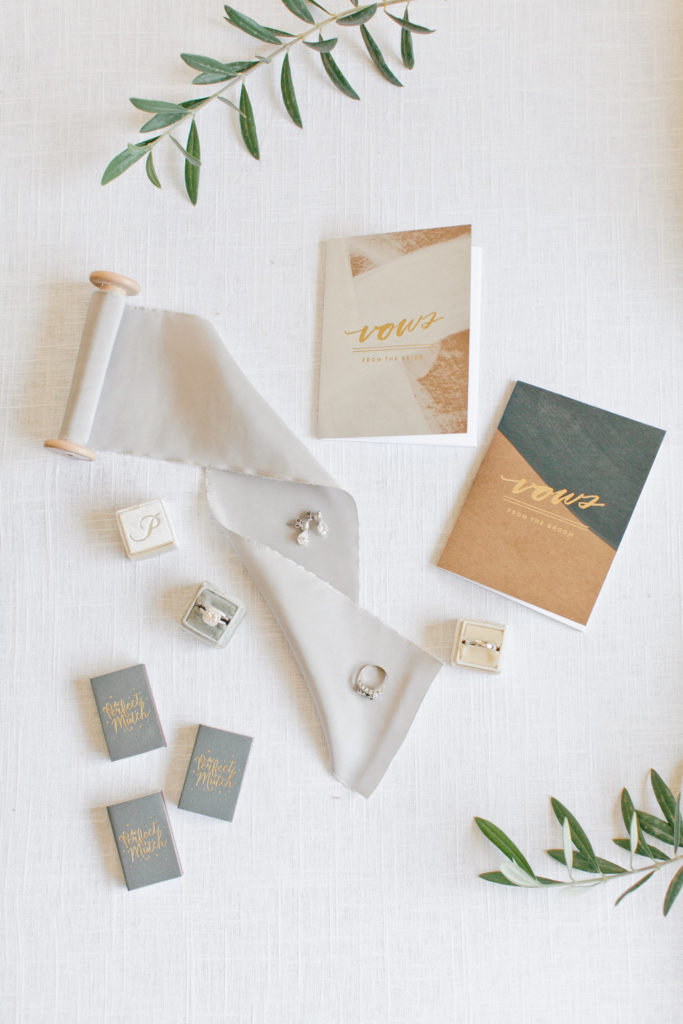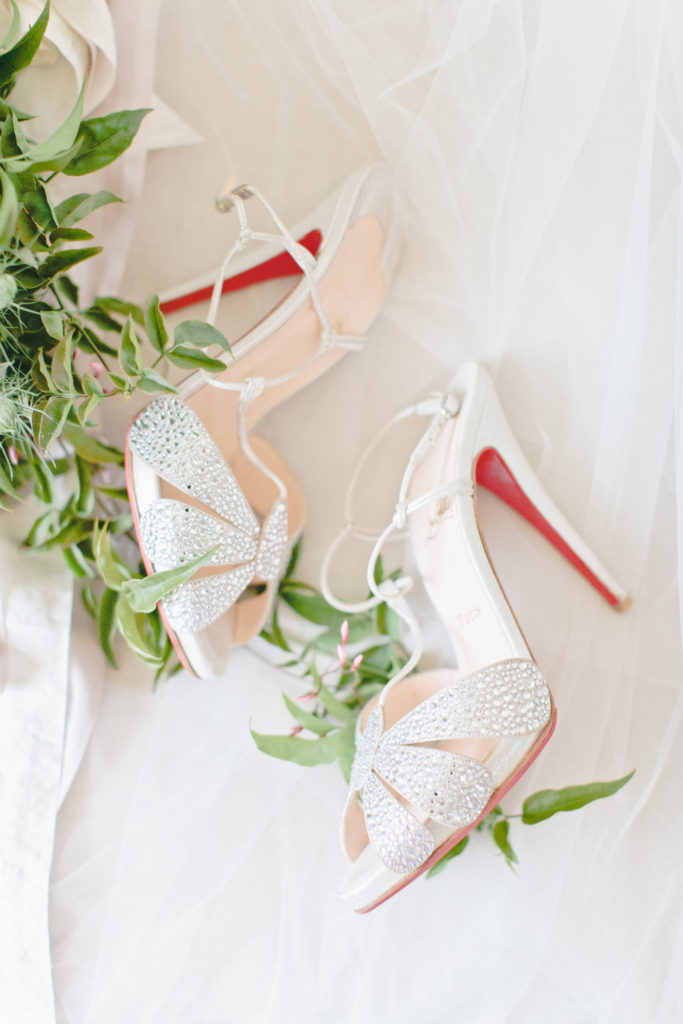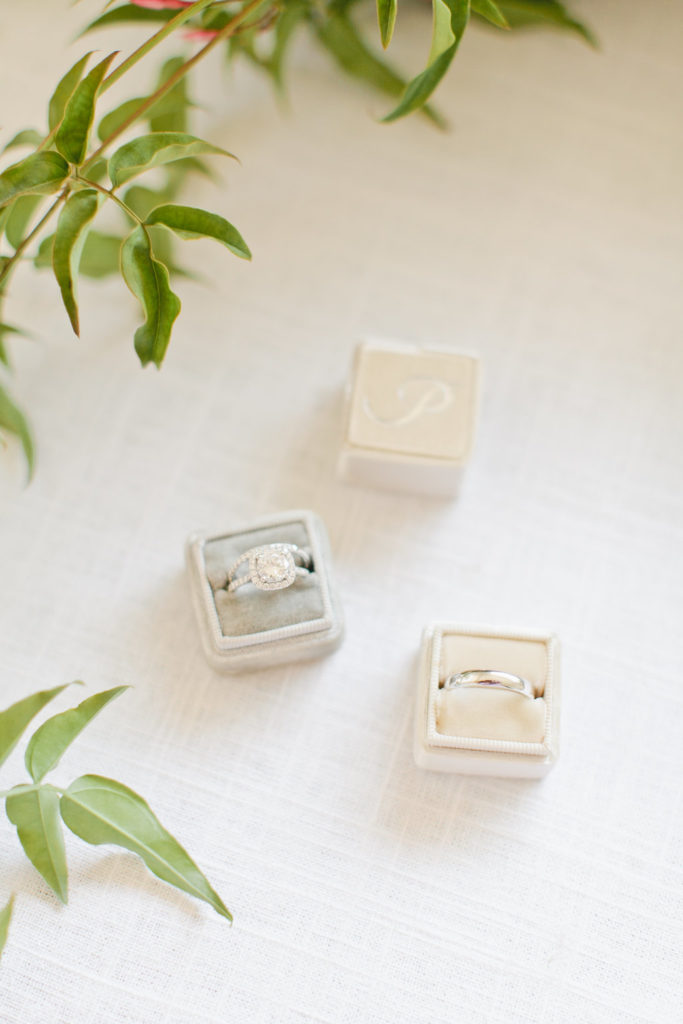 More on this piece of amazingness later… I am really loving that leather jacket trend for brides this year!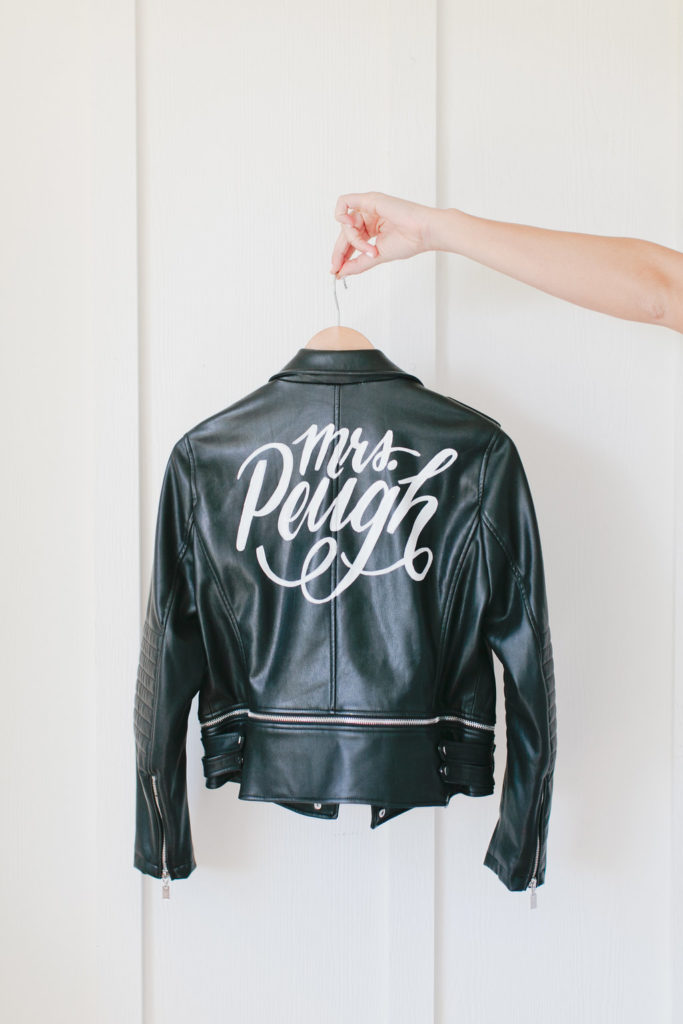 Getting ready for your big day is a big part of the fun! These are where big memories are made. All of those feelings of excitement are tingling in your body and all of the stress floats away. This is your time to celebrate with your wedding party and enjoy the day! Plus, it's such a special time with your immediate family. Ali had her mom and sister helping her get ready, their close bond can be felt through the photos of the day…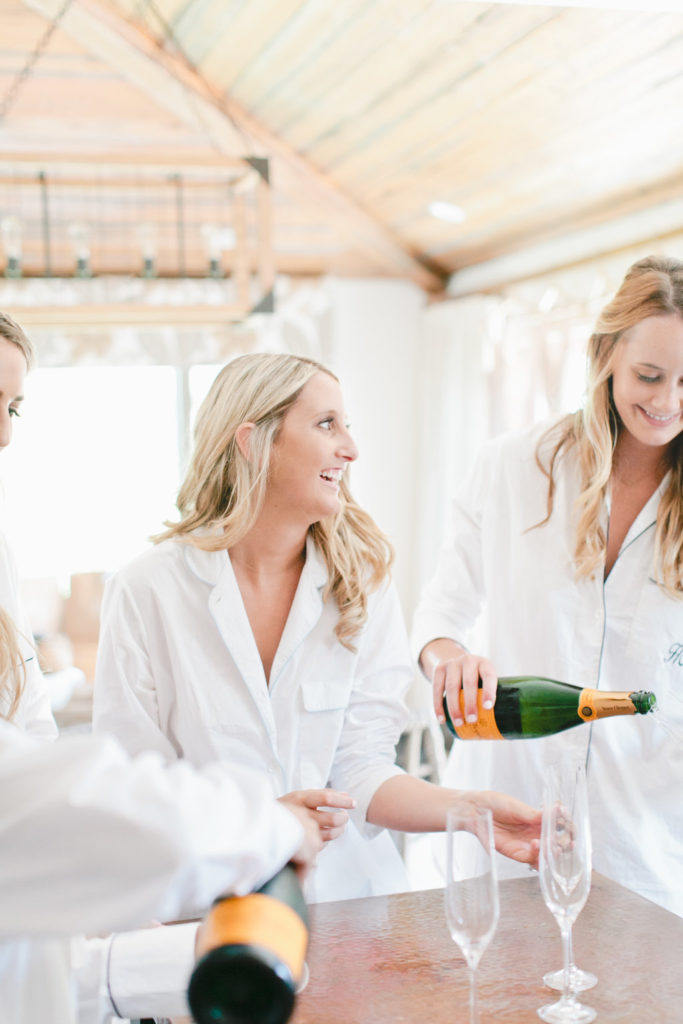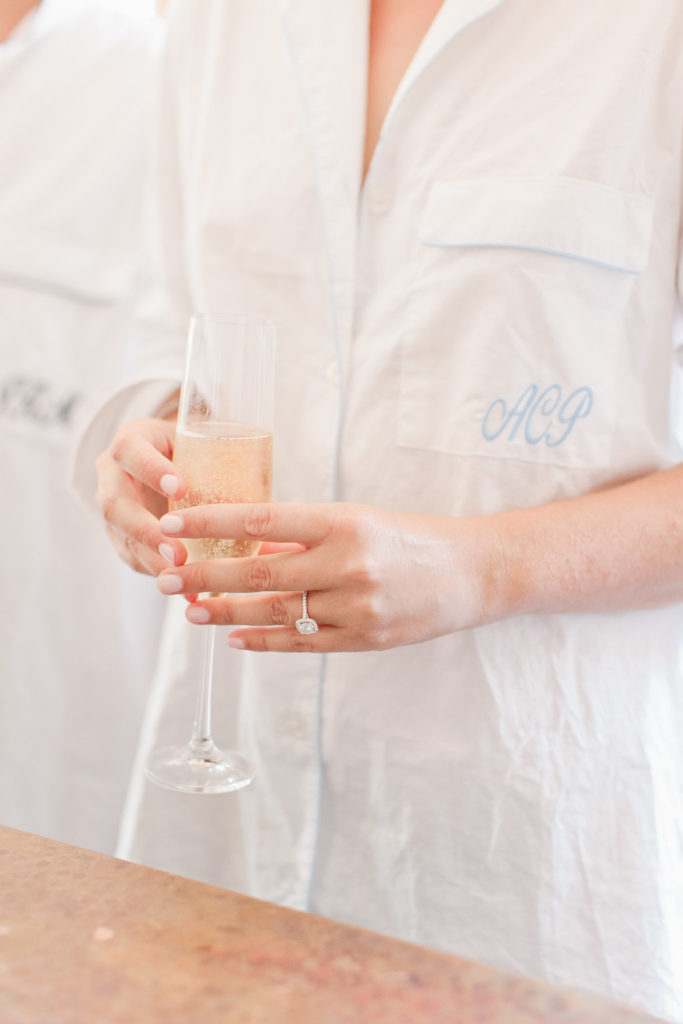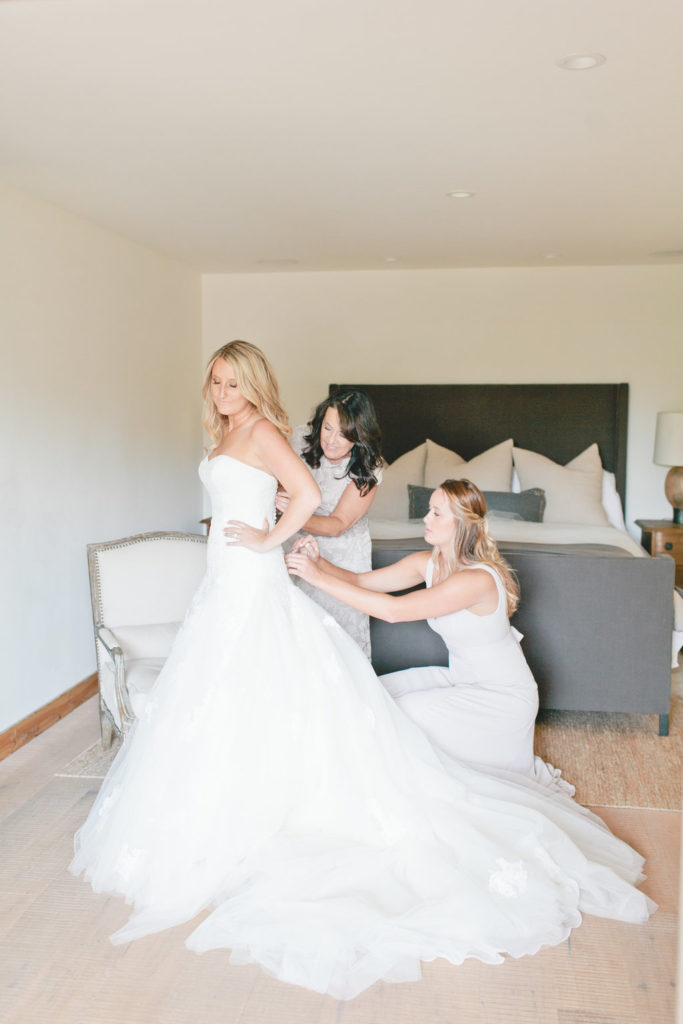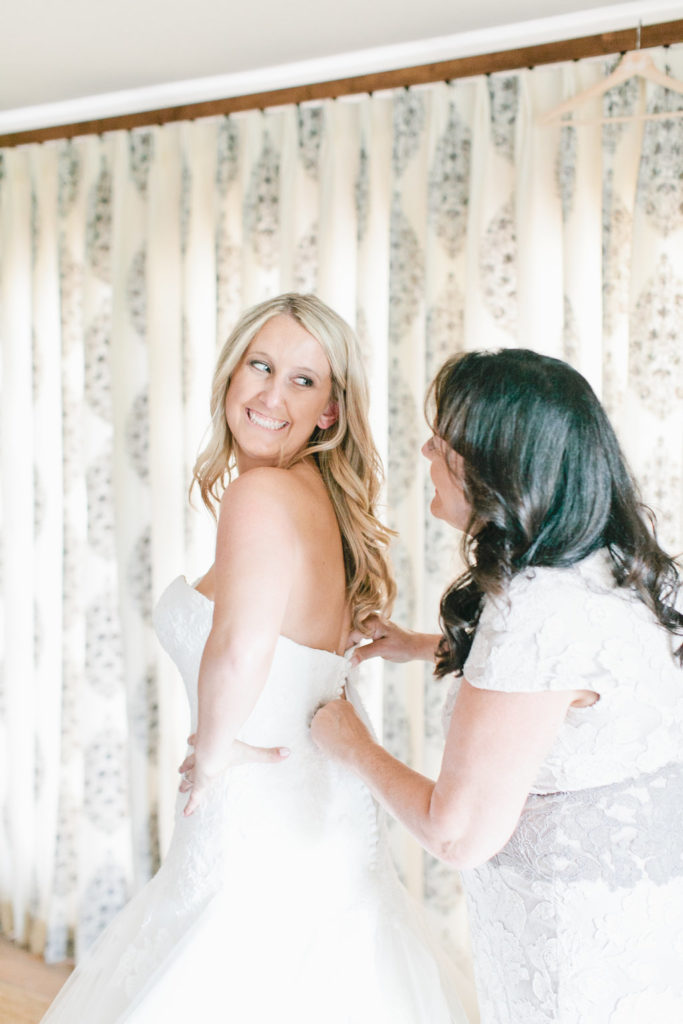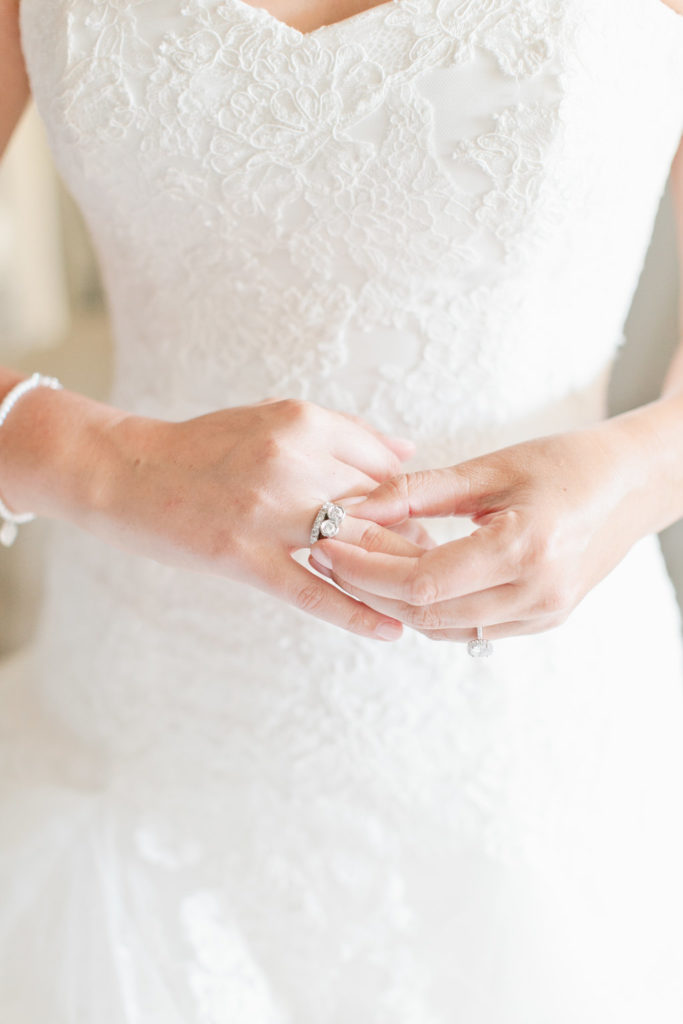 There's something amazing about a groom and his groomsmen in tuxes… They just look so dapper! Bryan played the part of the handsome groom quite well!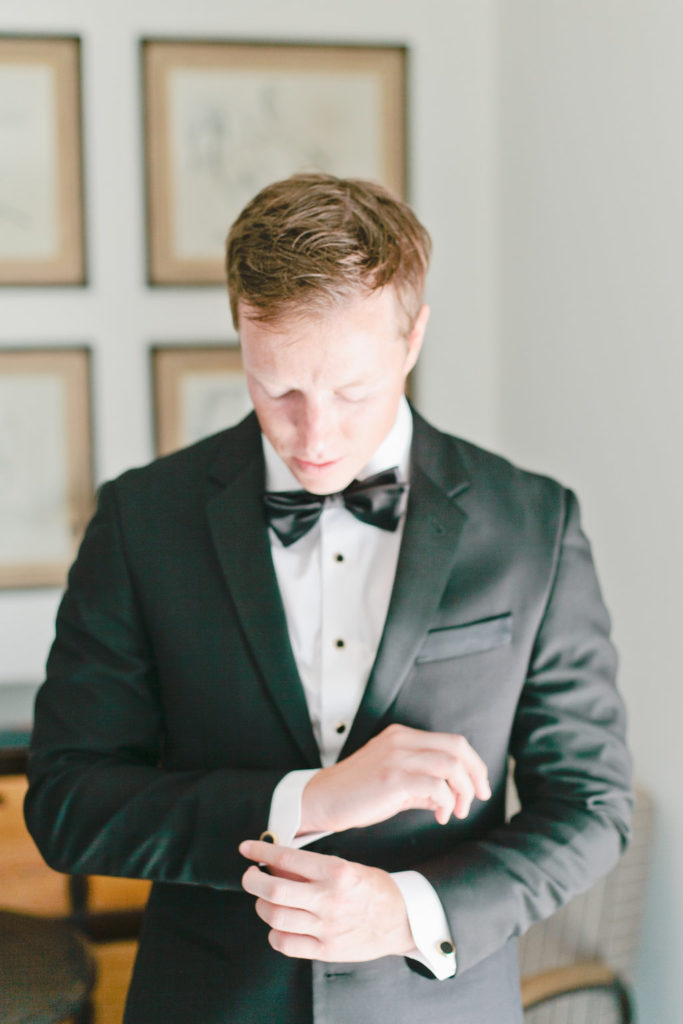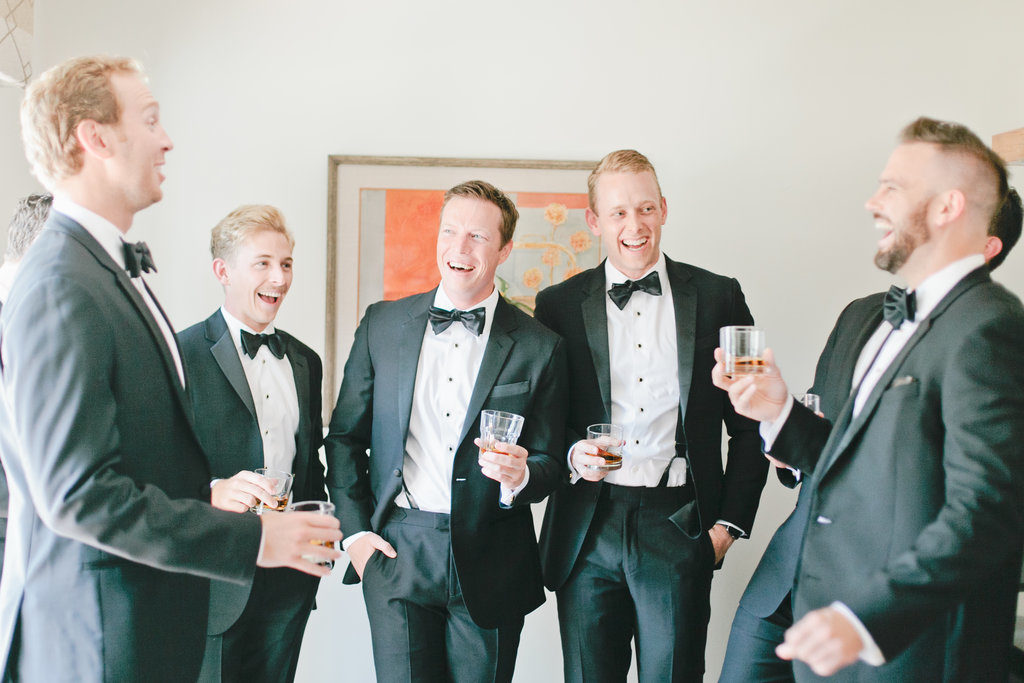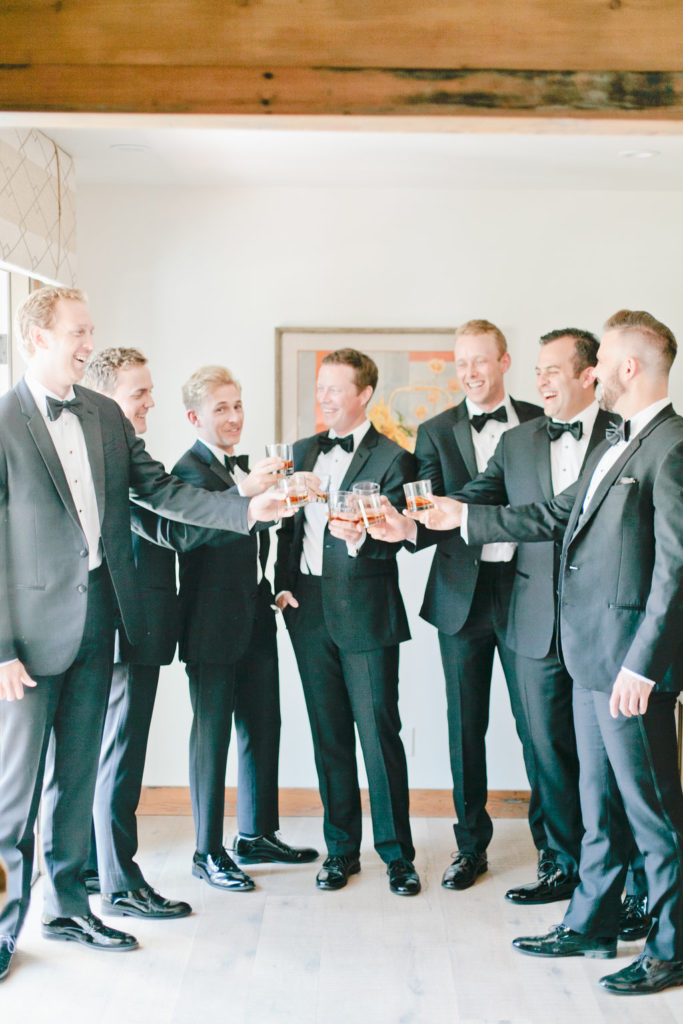 Aww, the first look. Another aspect of wedding photography that Megan is a master of. I love the way Bryan looks at Ali in these photos, he is in awe of her!! We can't recommend a first look enough, it's so amazing to have that private moment with your soon to be spouse in private. It always ends up being so special…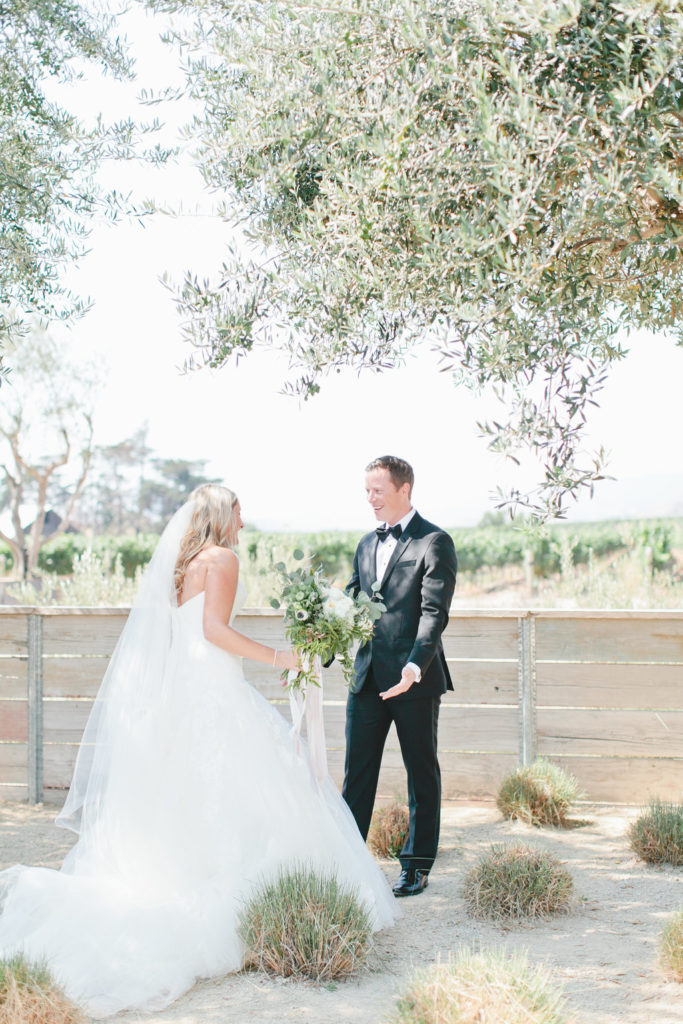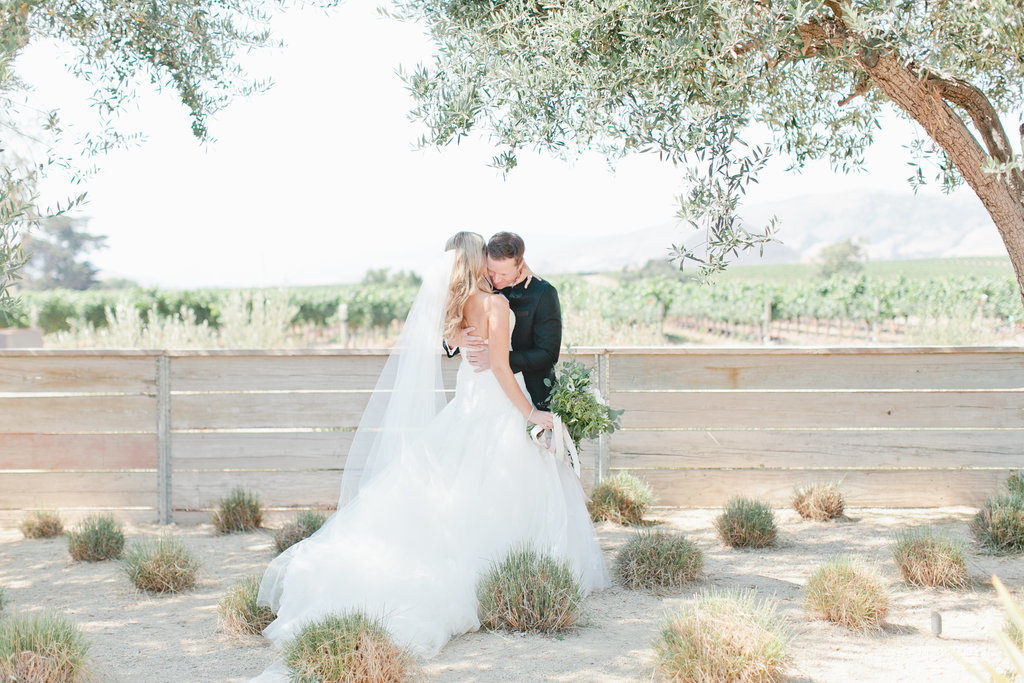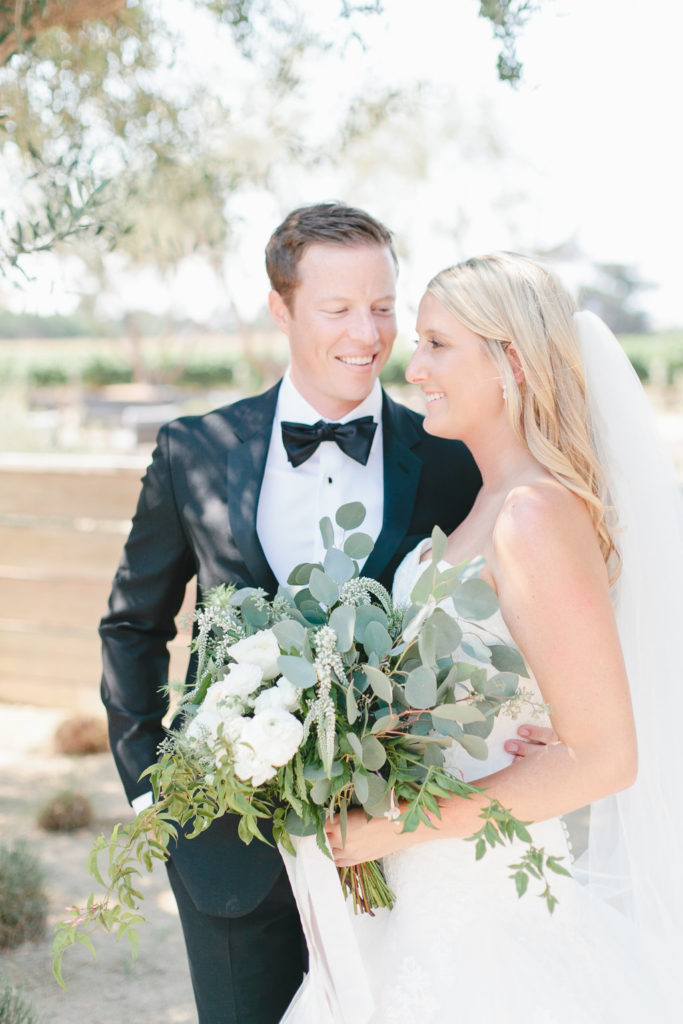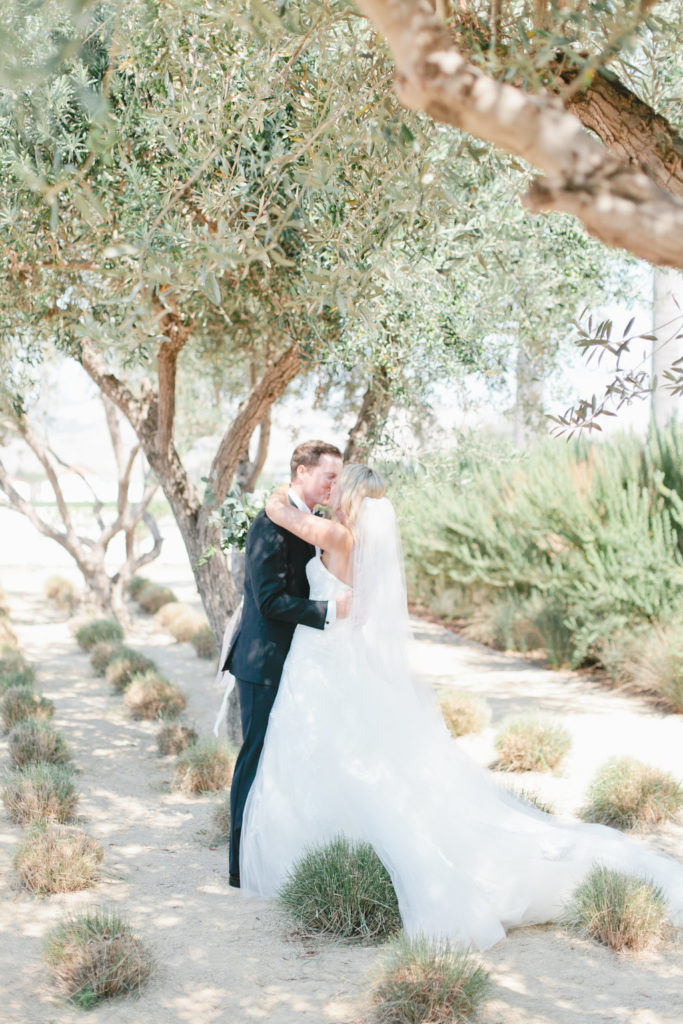 Clover & Branch is responsible for the breathtaking florals through-out the wedding. Ali's style was very classic and simple. We did greenery along with white florals and the look is just so elegant. This greenery trend is truly amazing, I wouldn't mind if it stuck around for a while…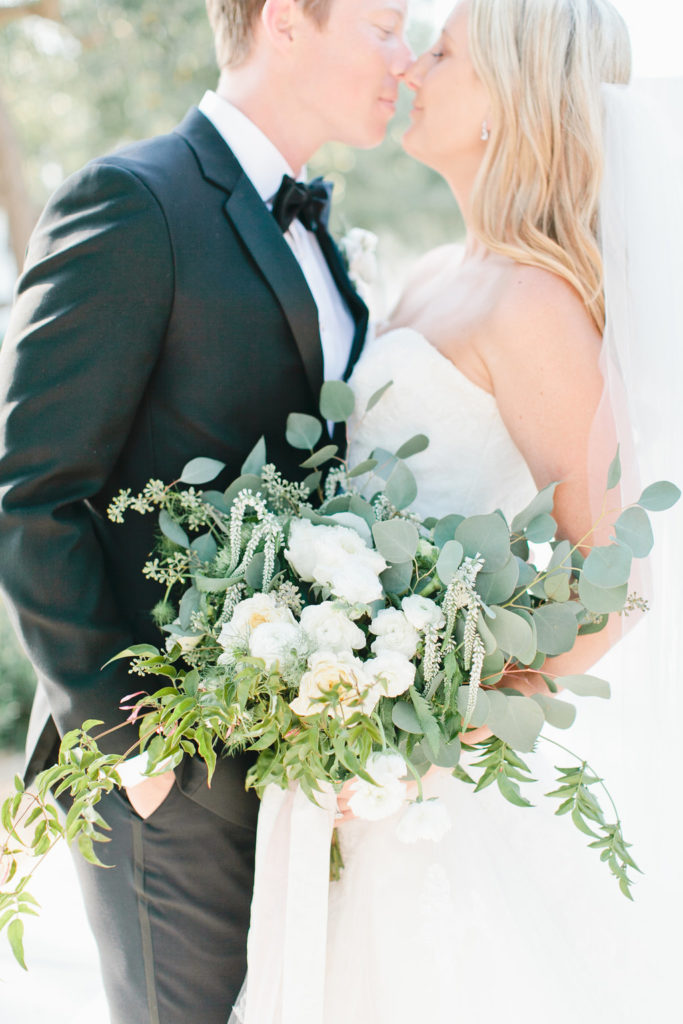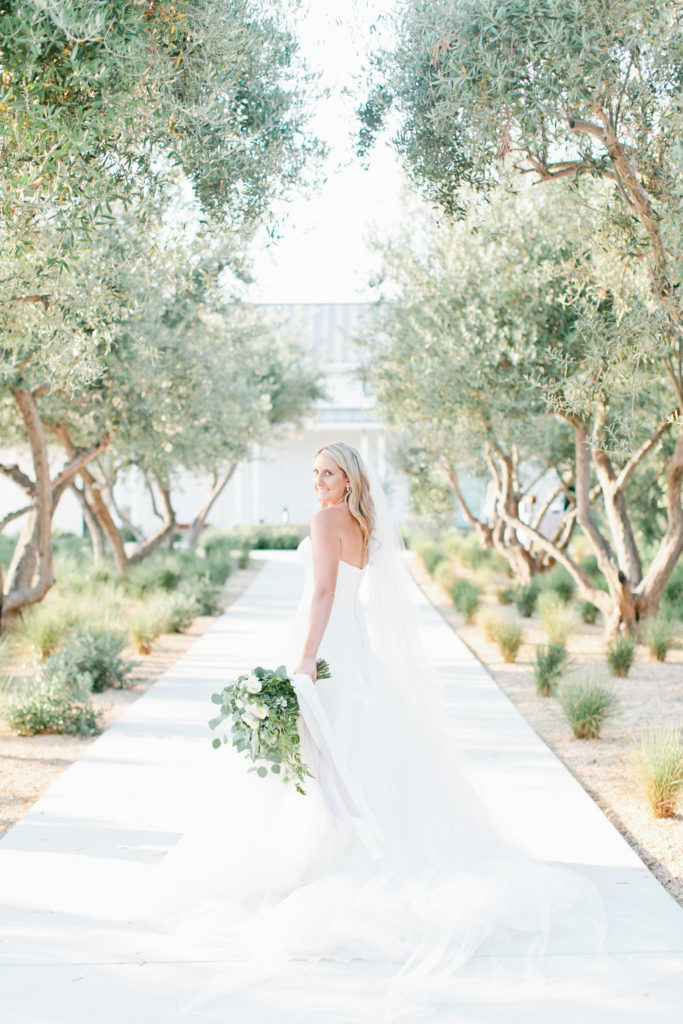 Here's Ali and her beautiful bridesmaids!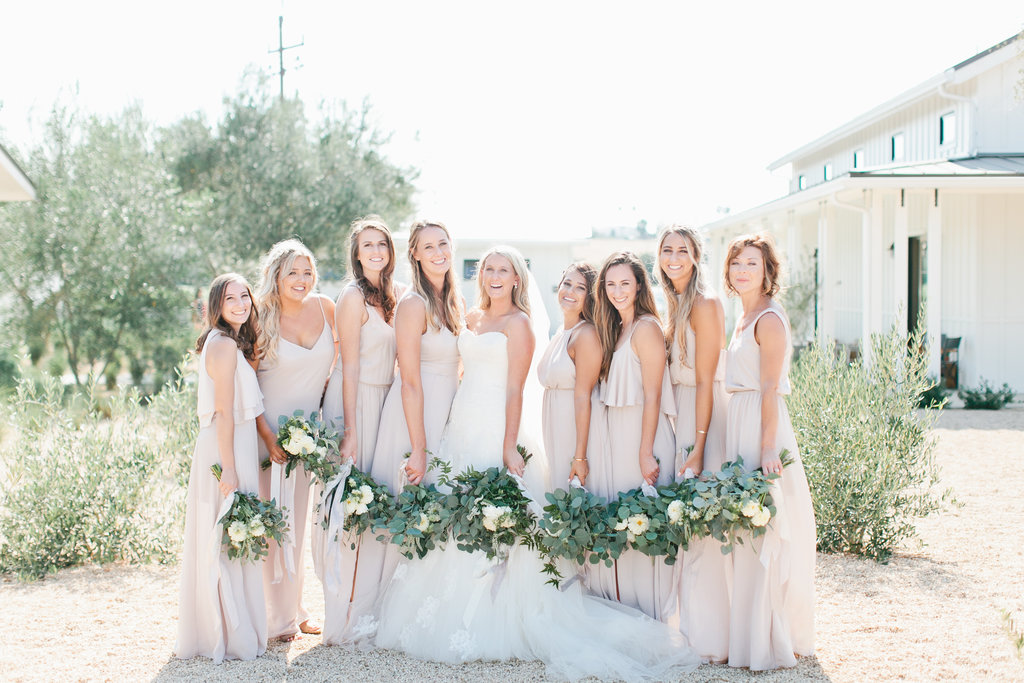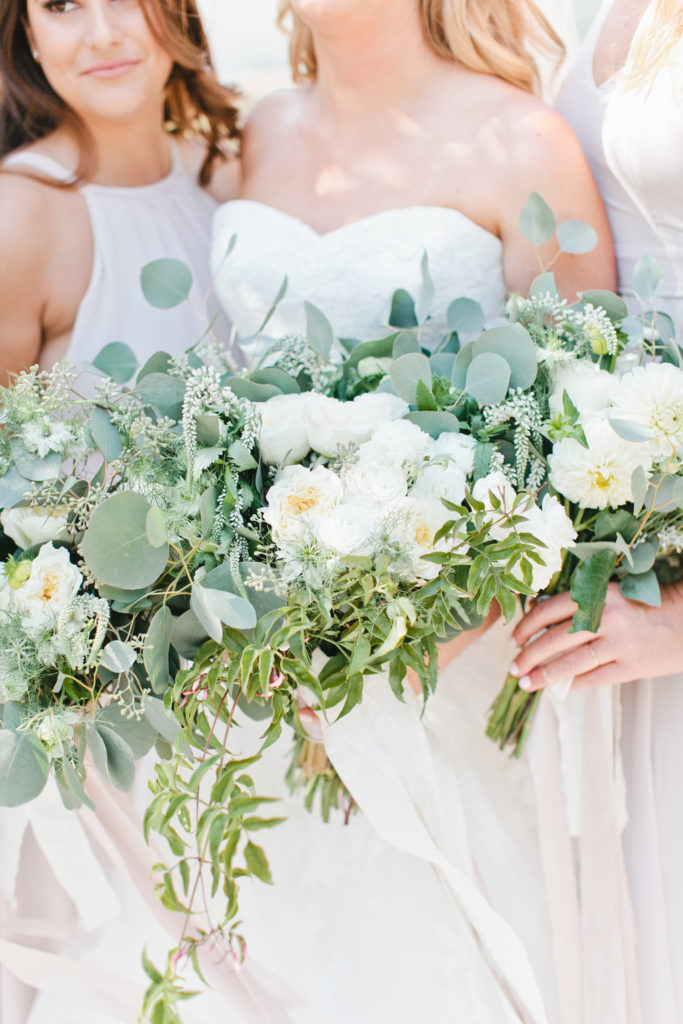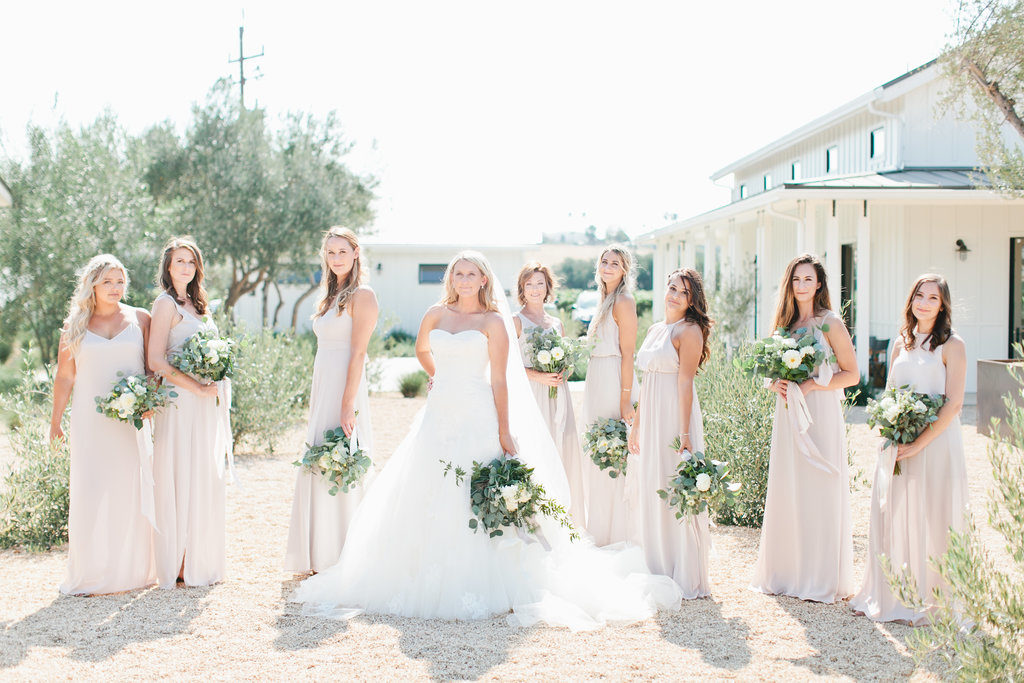 And can't forget the groomsmen! I always think groomsmen photos are so funny, guys can never make a straight face when they are all together. They just are having too much fun!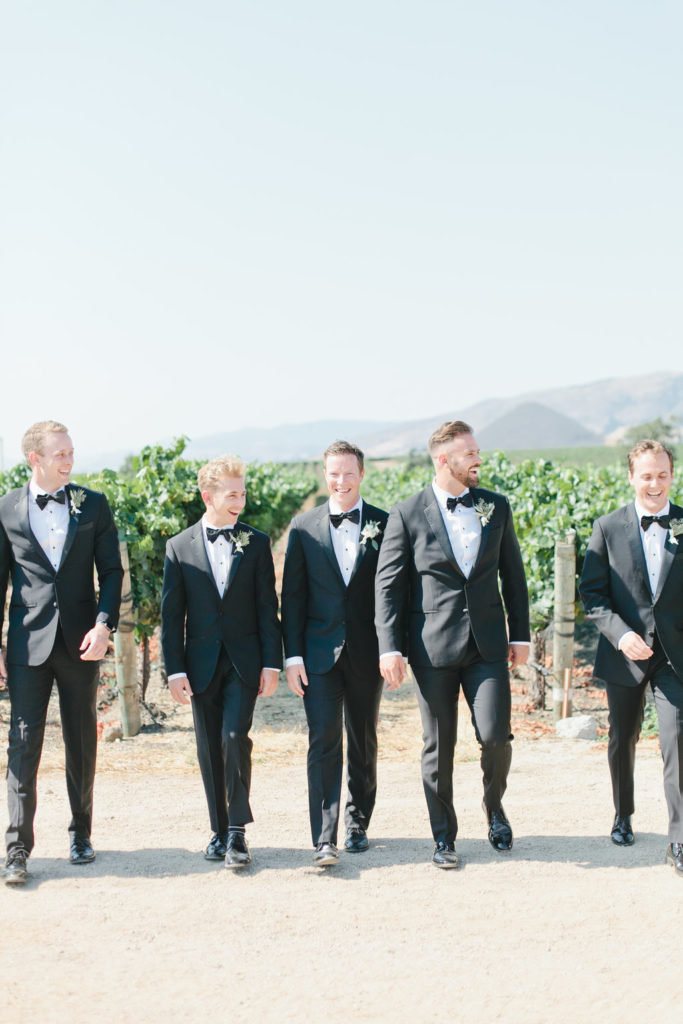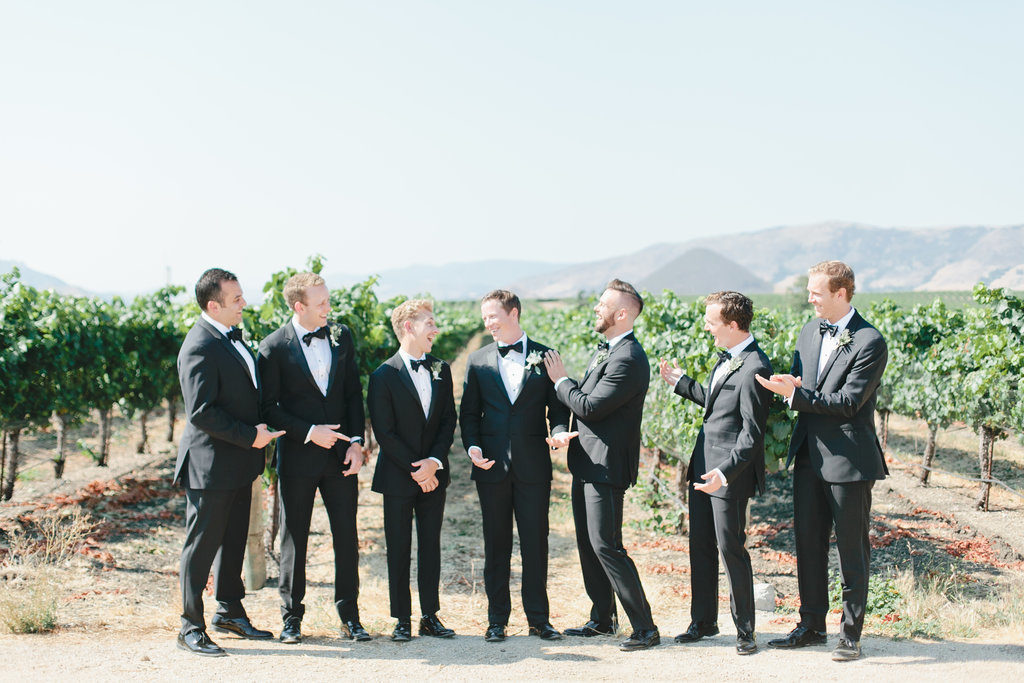 On to the ceremony! It was a really beautiful day, not too hot or cold at all, just perfect. The scene was set with gorgeous garland and guests were given white rose petals for the big exit. Which, when you see the photo below, you will definitely want to put in your back pocket for wedding ideas… Such an epic shot!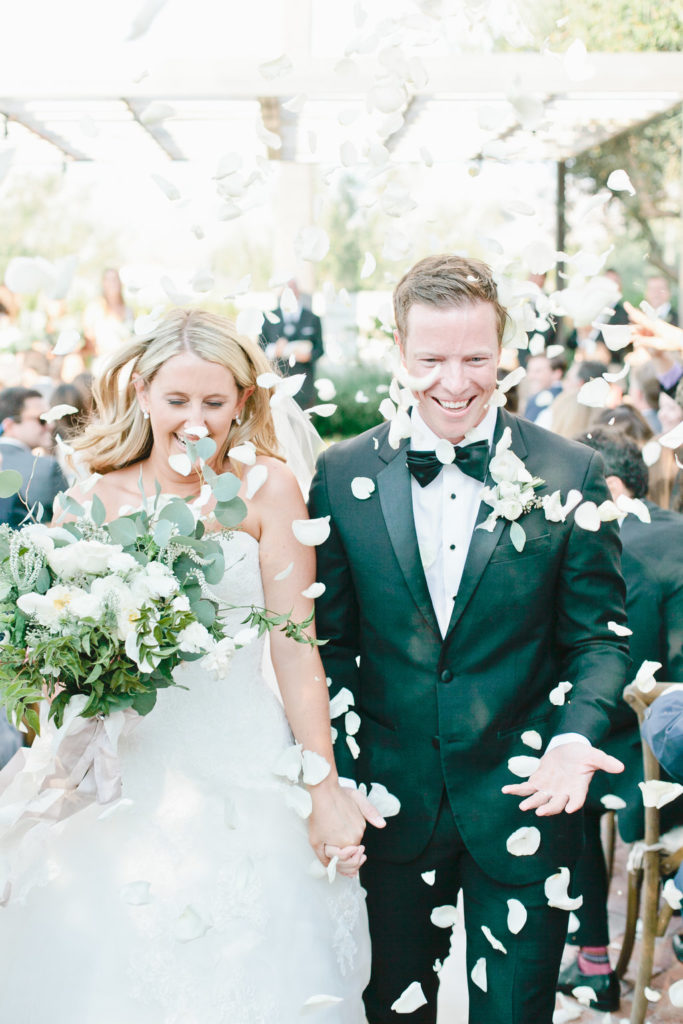 The table design was made for Biddle Ranch Vineyard. Doesn't everything just flow so perfectly?! The greenery, the clean whites, the rustic tables… It's just dreamy!! We loved the simplicity of the clear glassware, white china and the touch of metallic with the gold flatware. Votives were scattered through-out the tables for that romantic touch. Courtney from Poppy Jack did the calligraphy for the place cards and a sprig of olive branch was placed on each plate for a finishing touch!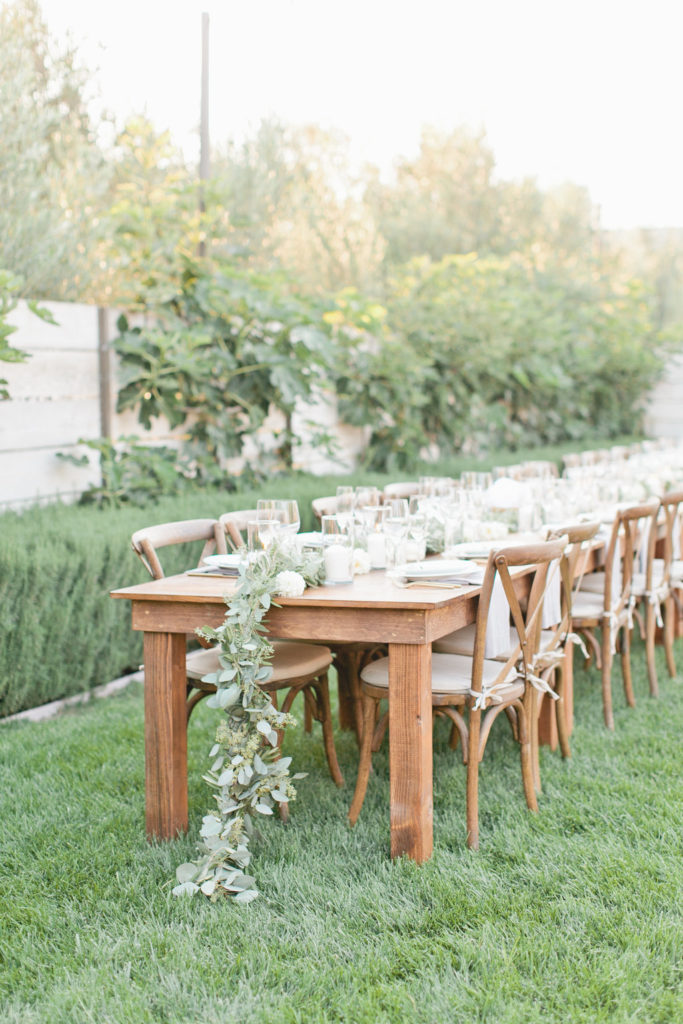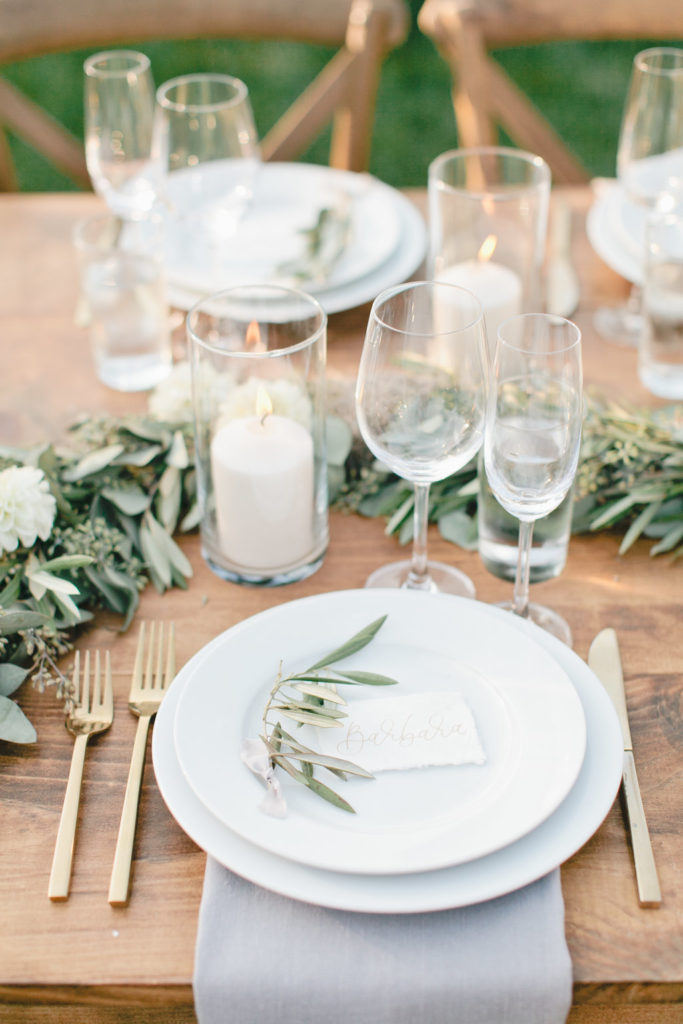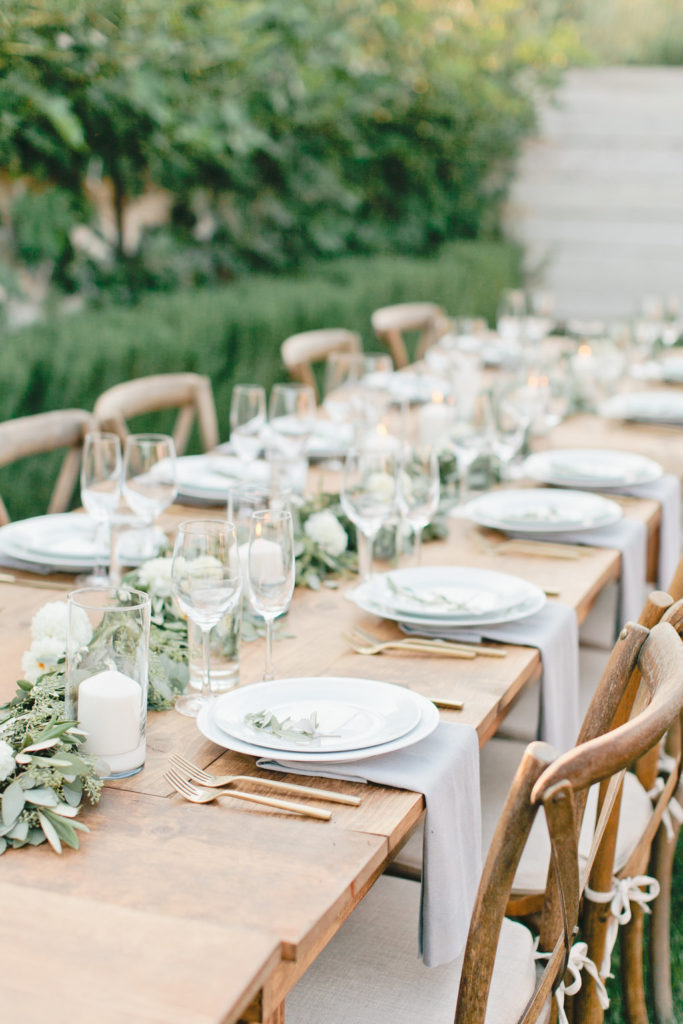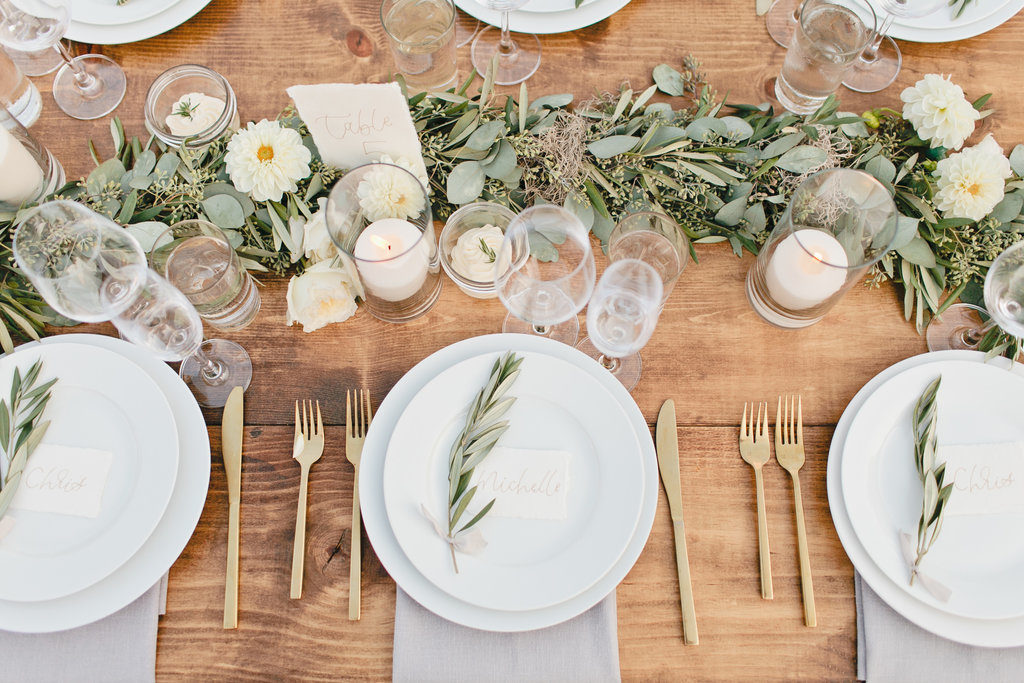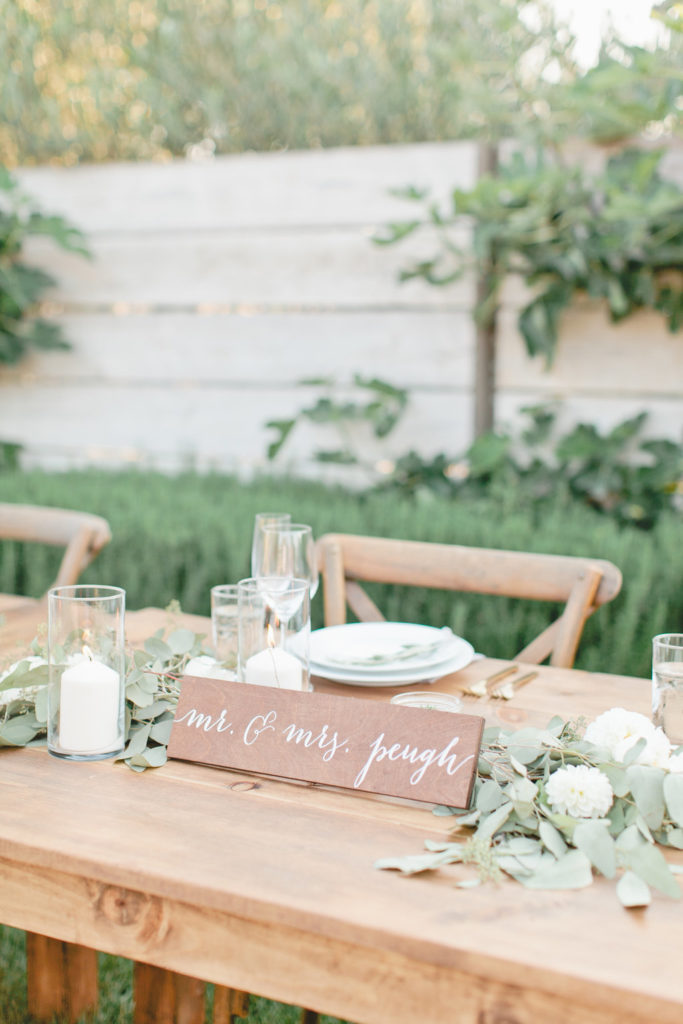 I seriously can't get enough of the olive trees…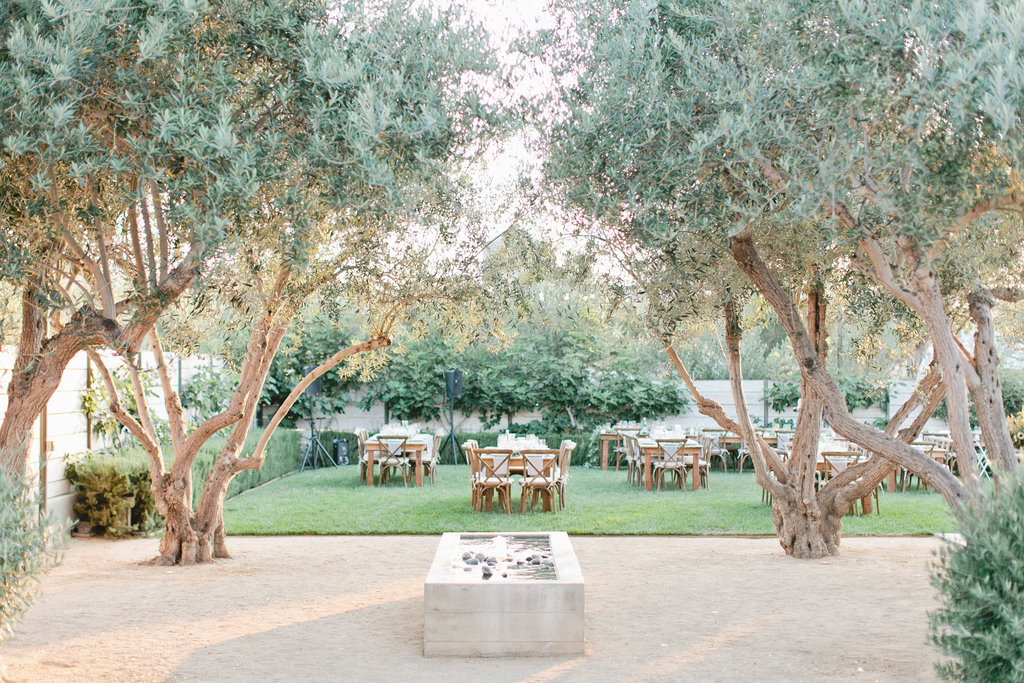 Ali's dad made this escort display board! Isn't that amazing?! He loves both of his daughters so much… Leah and I were so excited for his speech and it proved to be a tear jerker like we thought. There's nothing like that father/daughter relationship. Poppy Jack did the calligraphy again here…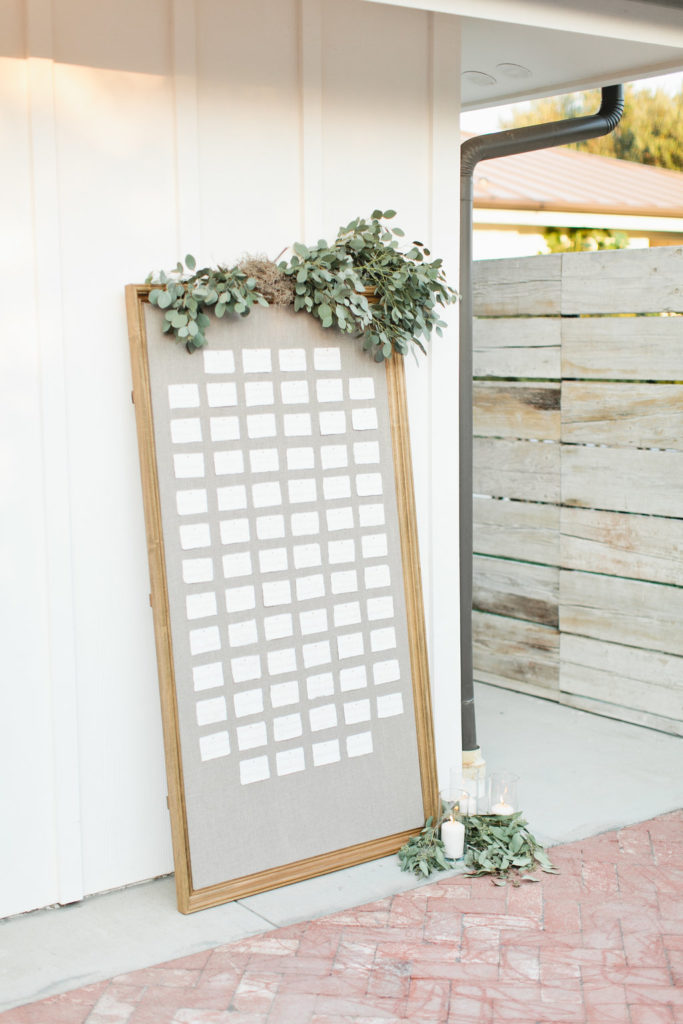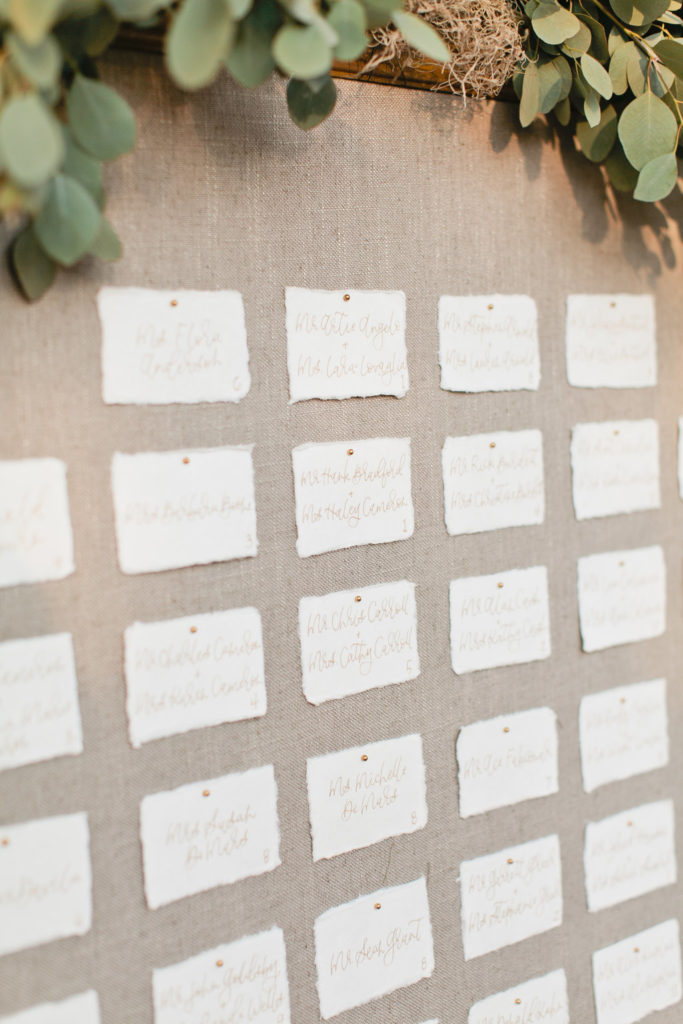 Ok, if you ever plan on getting married in the San Luis Obispo area you MUST use Paper Cake Events for your desserts. This girl is beyond talented and we loved everything that she created, plus it was delicious! I mean, those cookies… they are the prettiest!!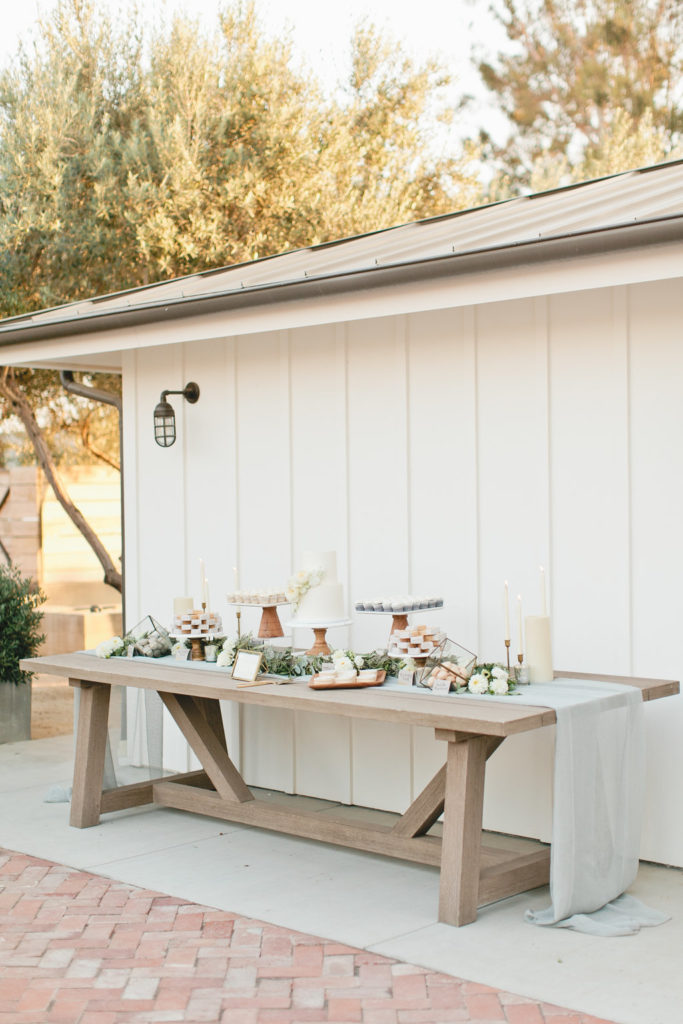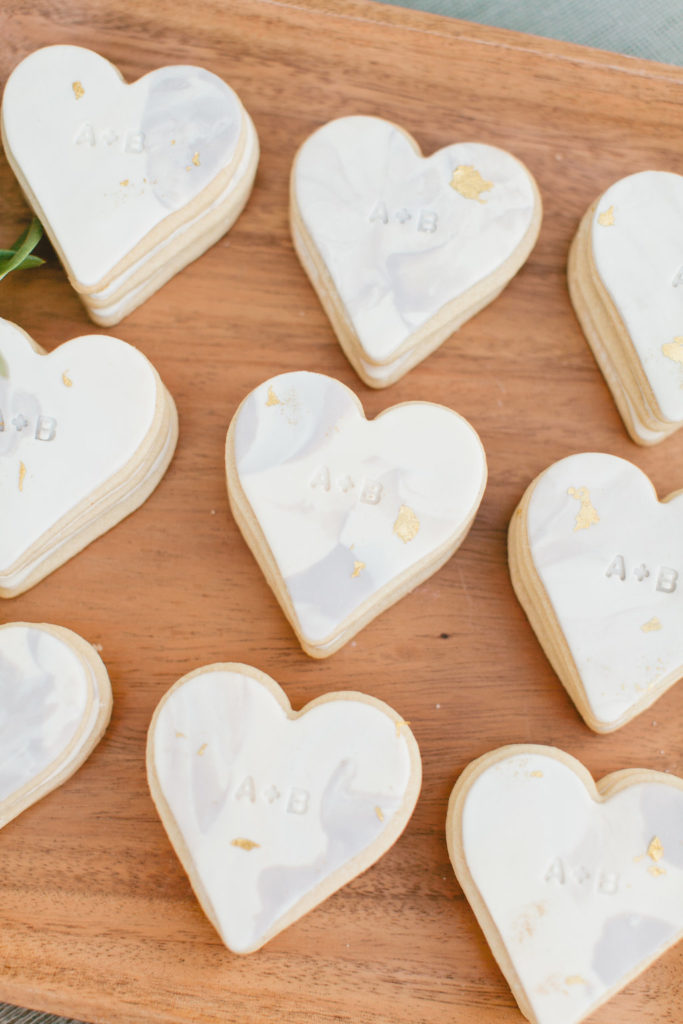 Kicking off an incredible night with some amazing toasts and lots of love and laughter!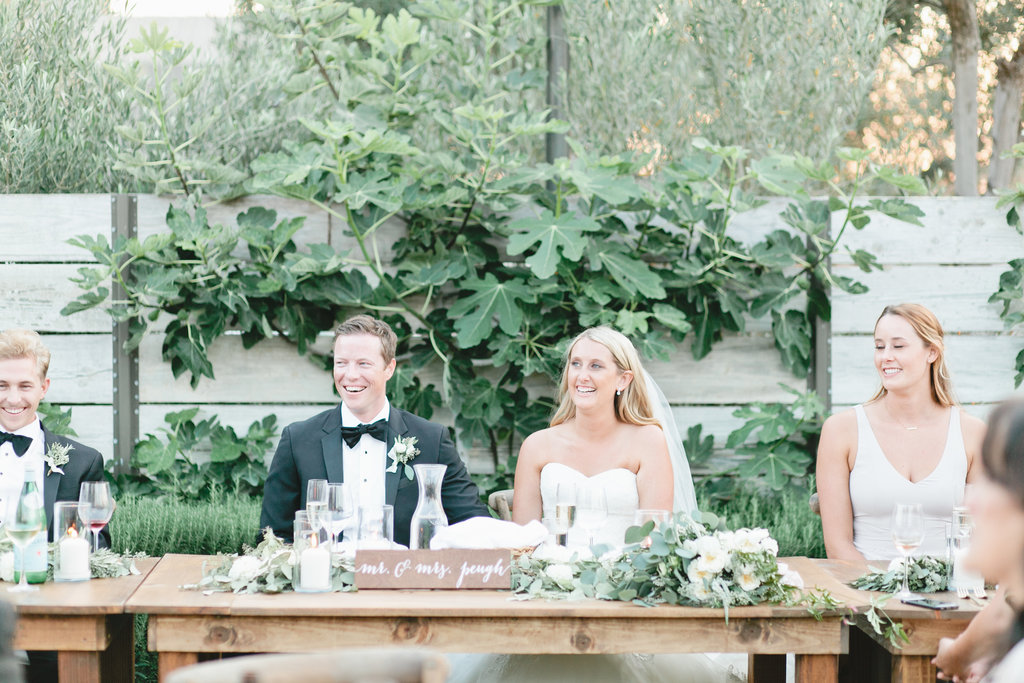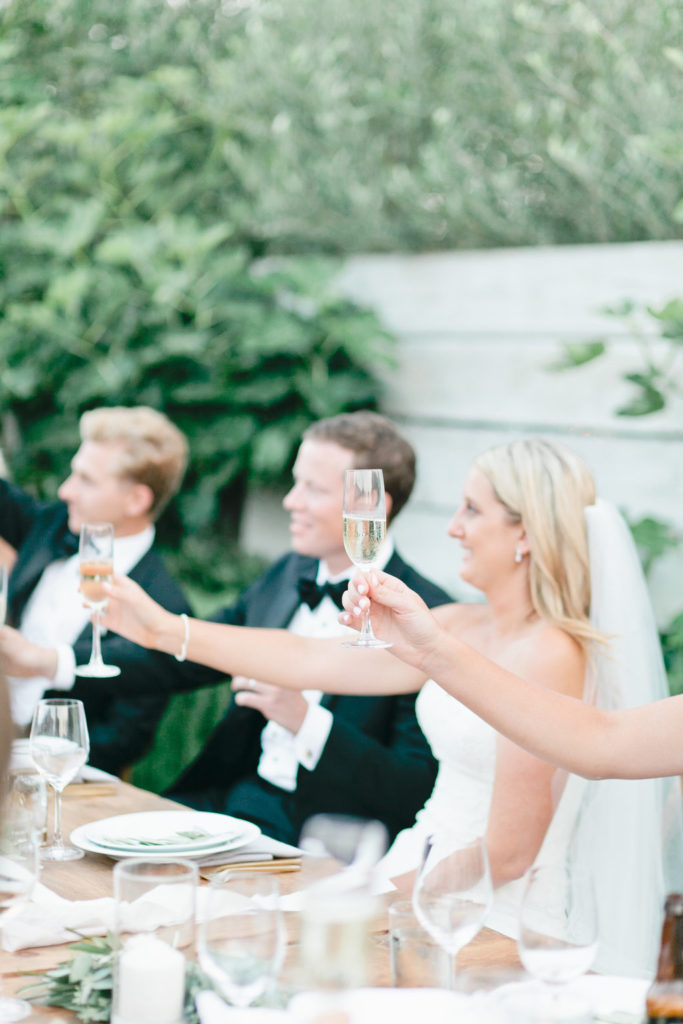 Sunset photos are key to any wedding, you get such pretty shots!! And the bride and groom are a little bit more relaxed and ready to party! Remember that amazing custom black leather jacket?! Well, here it is in all it's glory! Ali could not look more beautiful!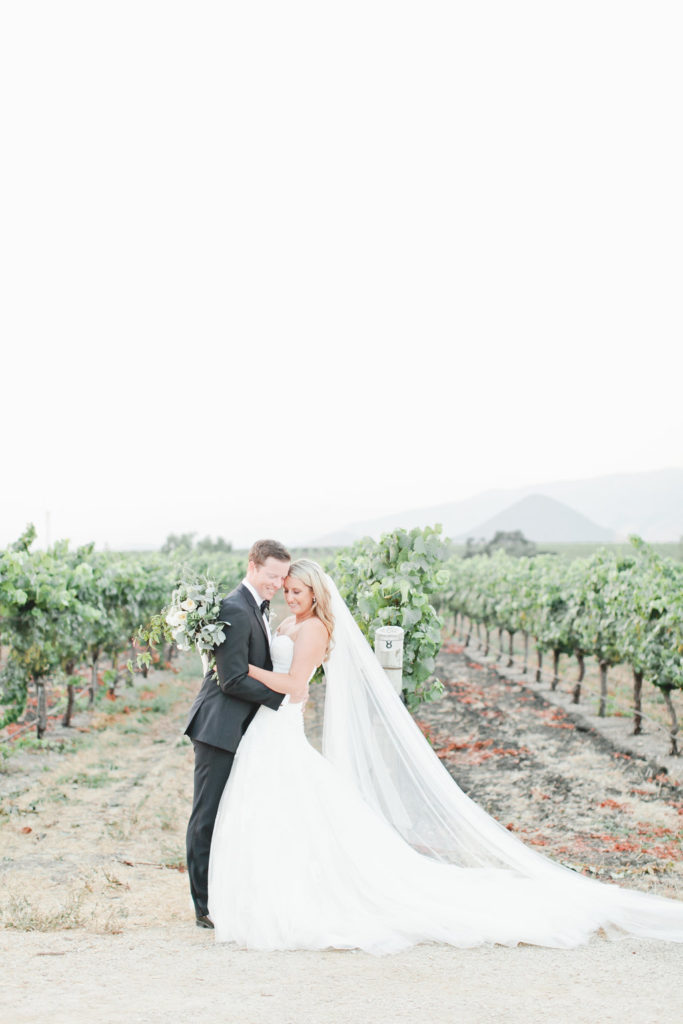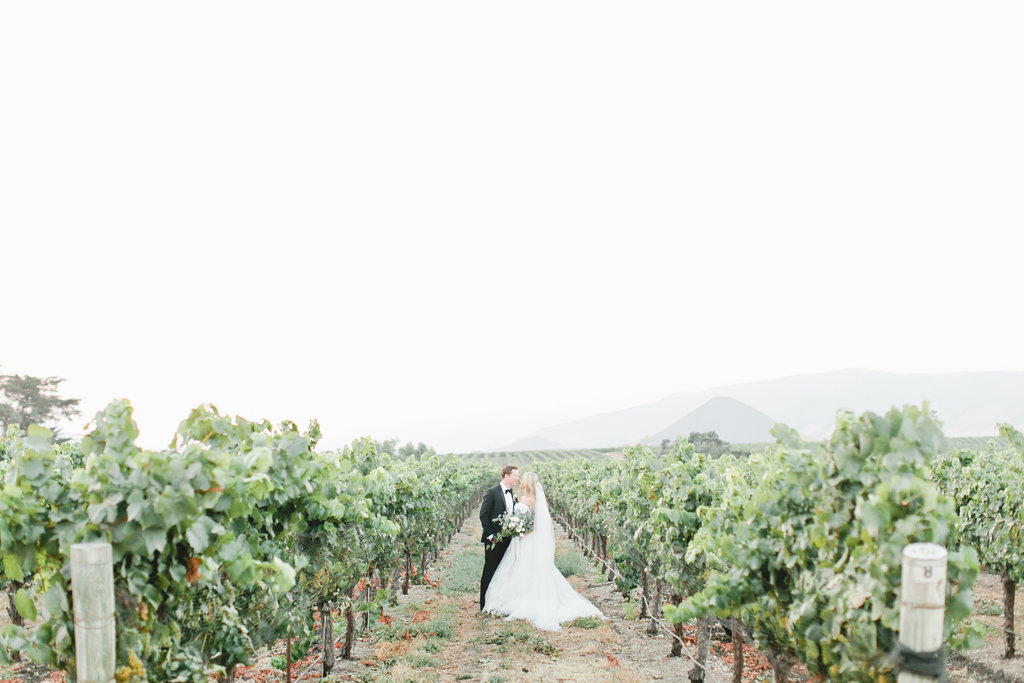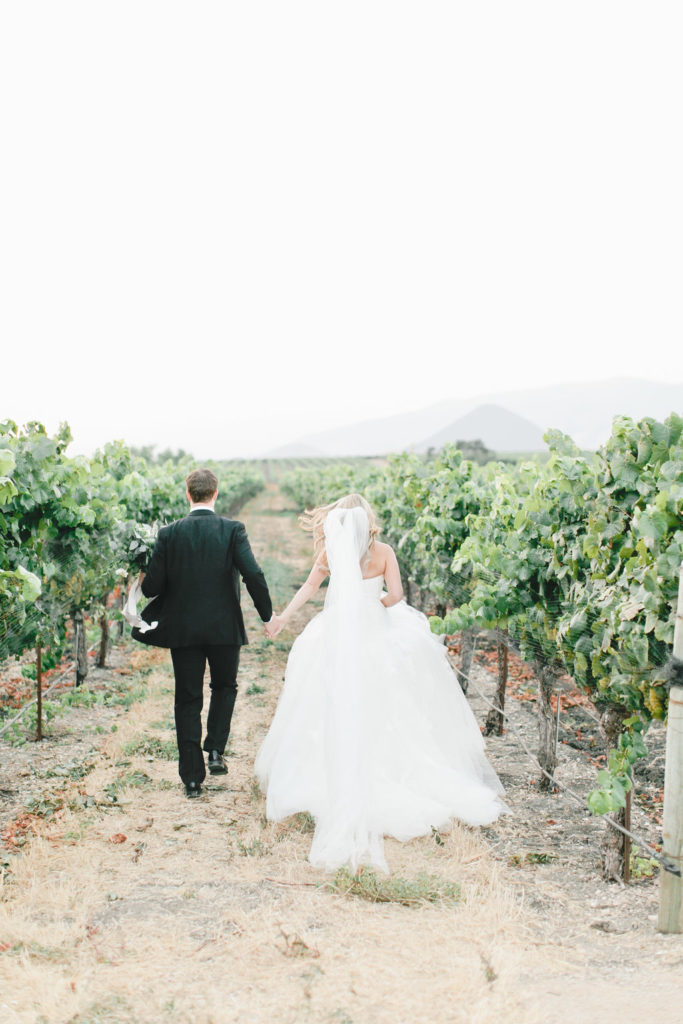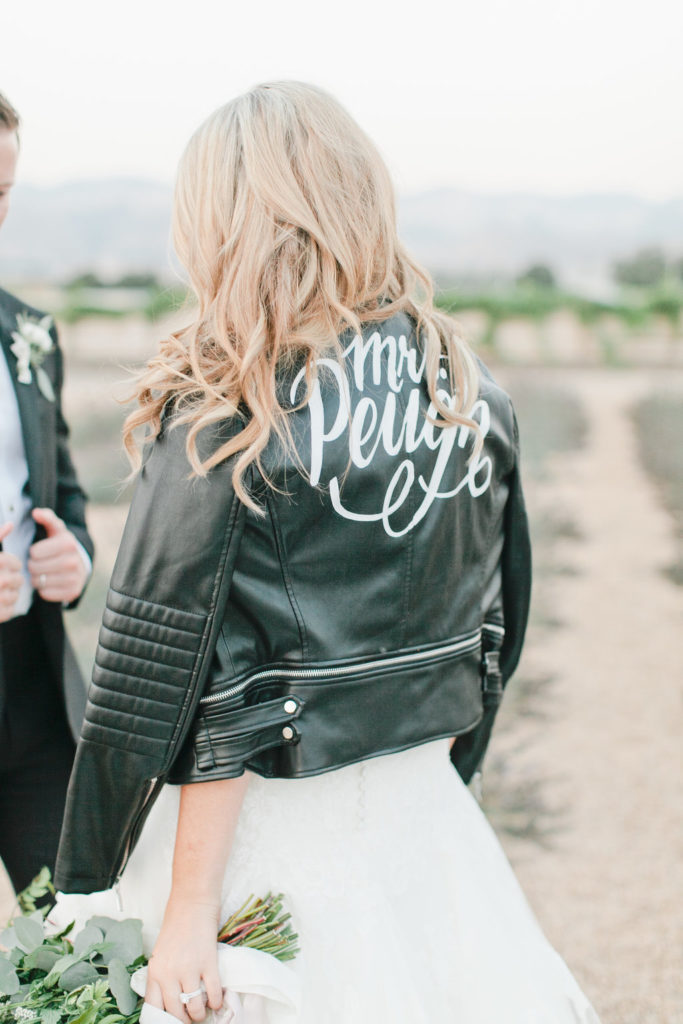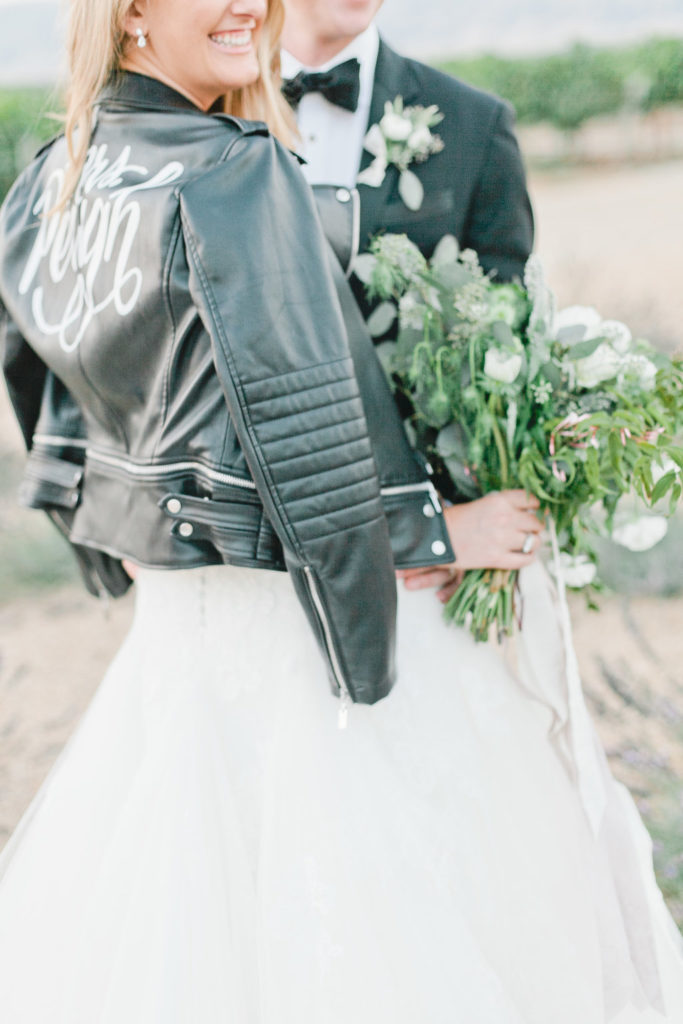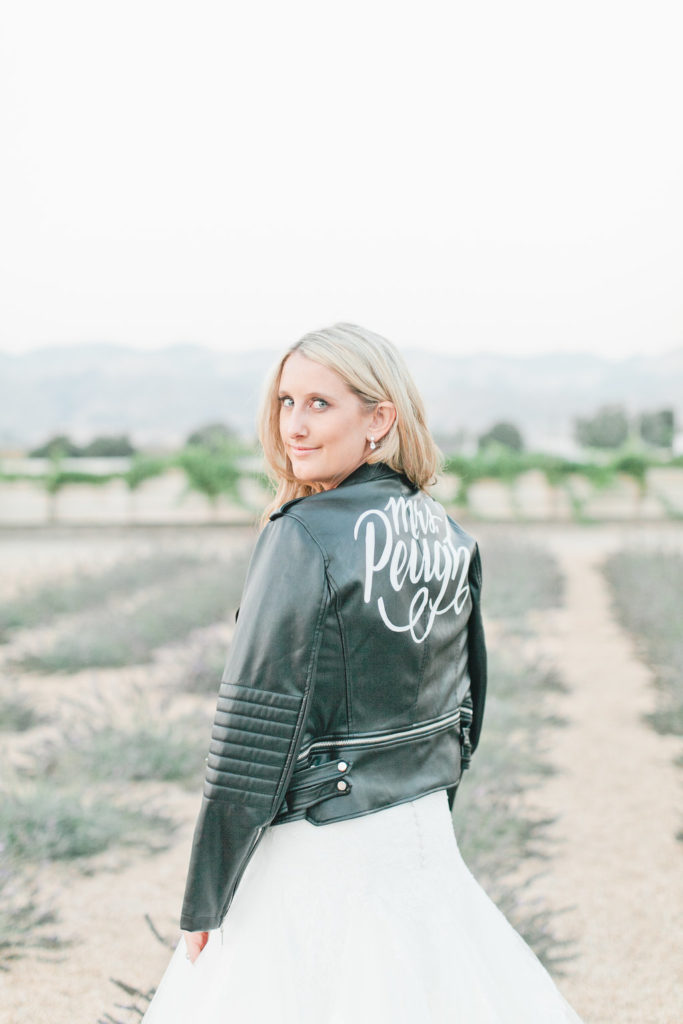 And now for the dance party!!! Dart DJ's had everyone dancing all night!!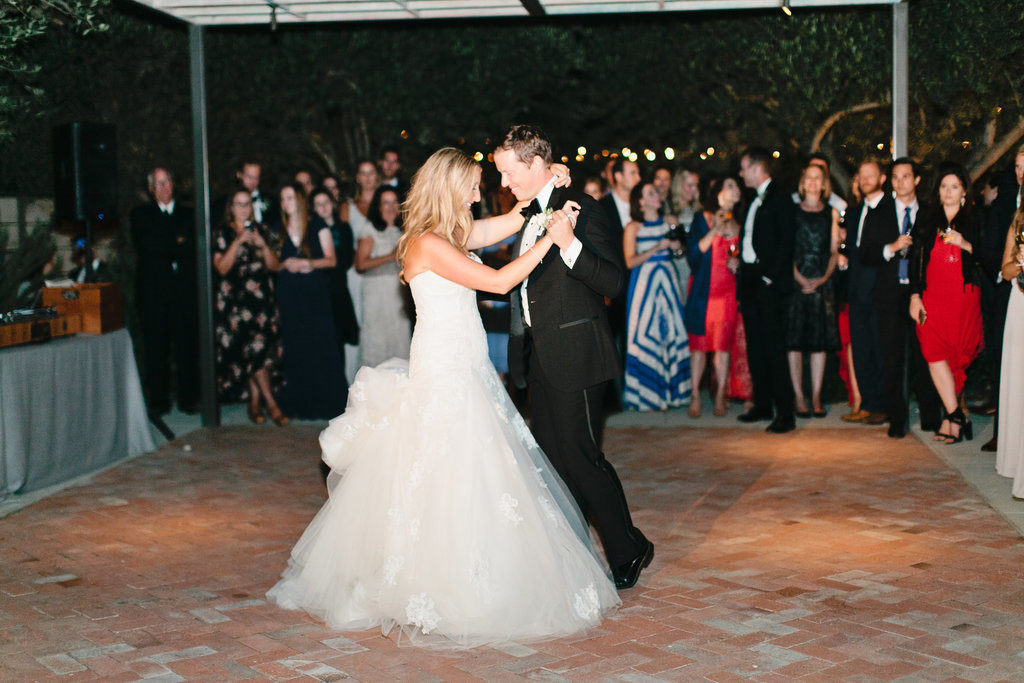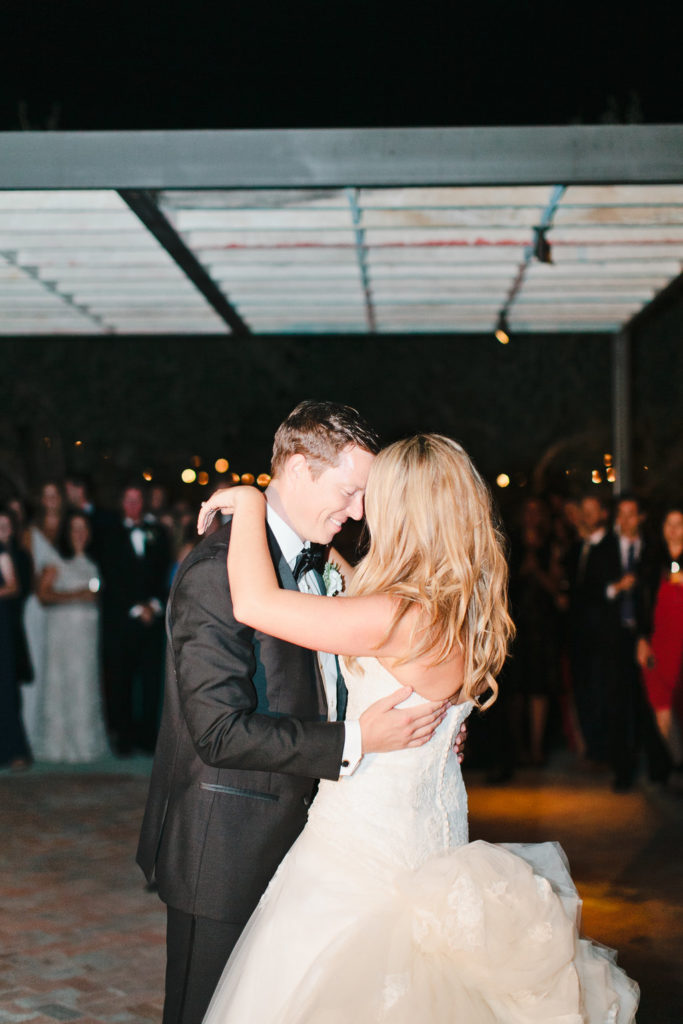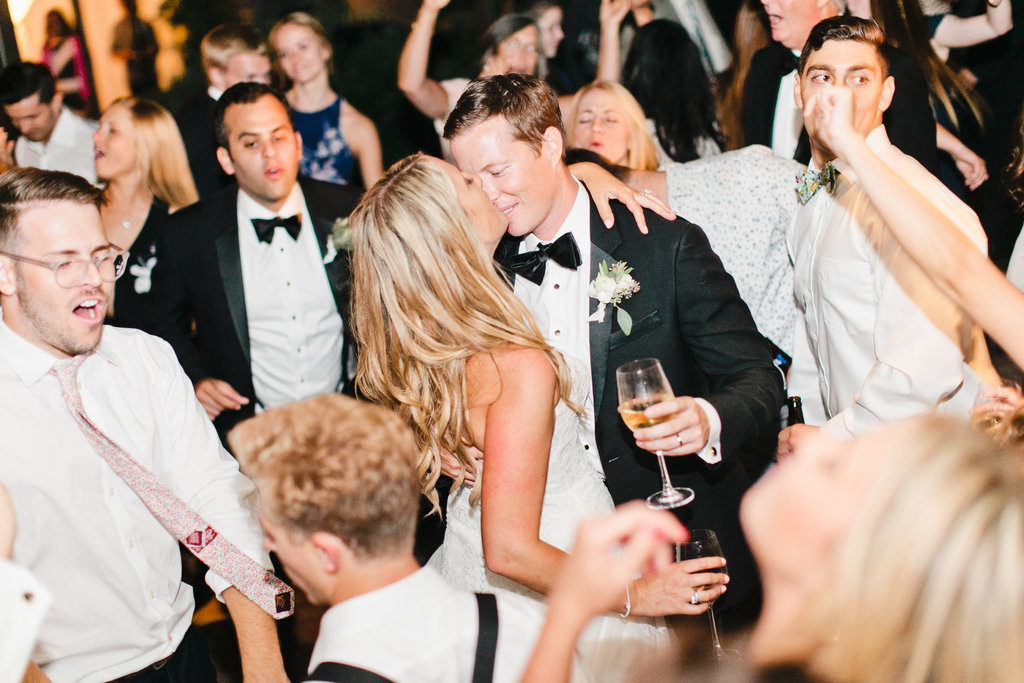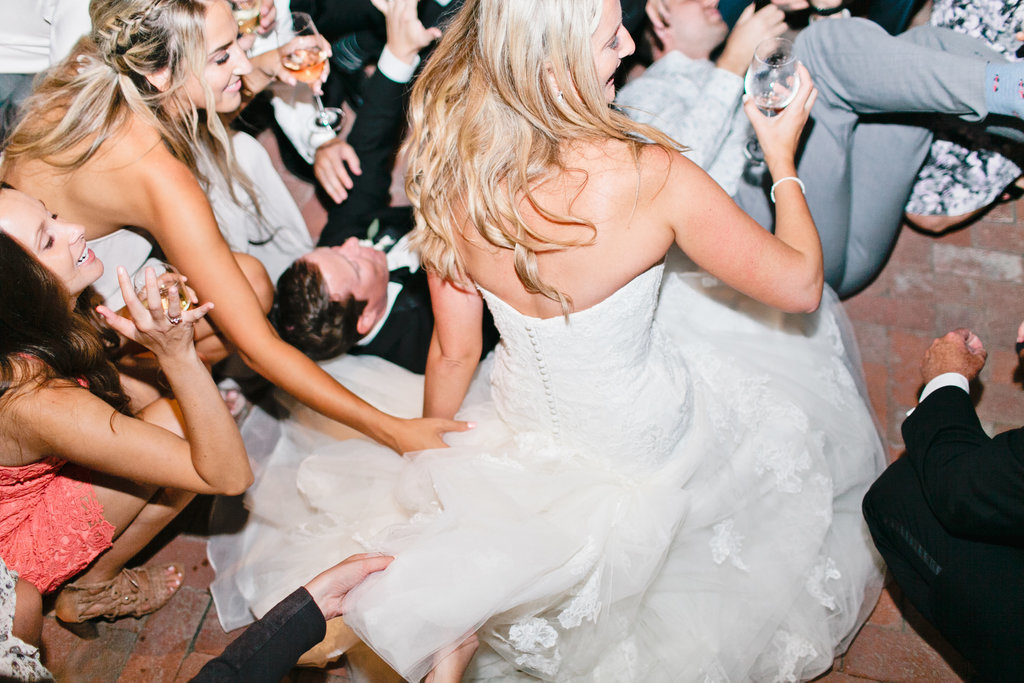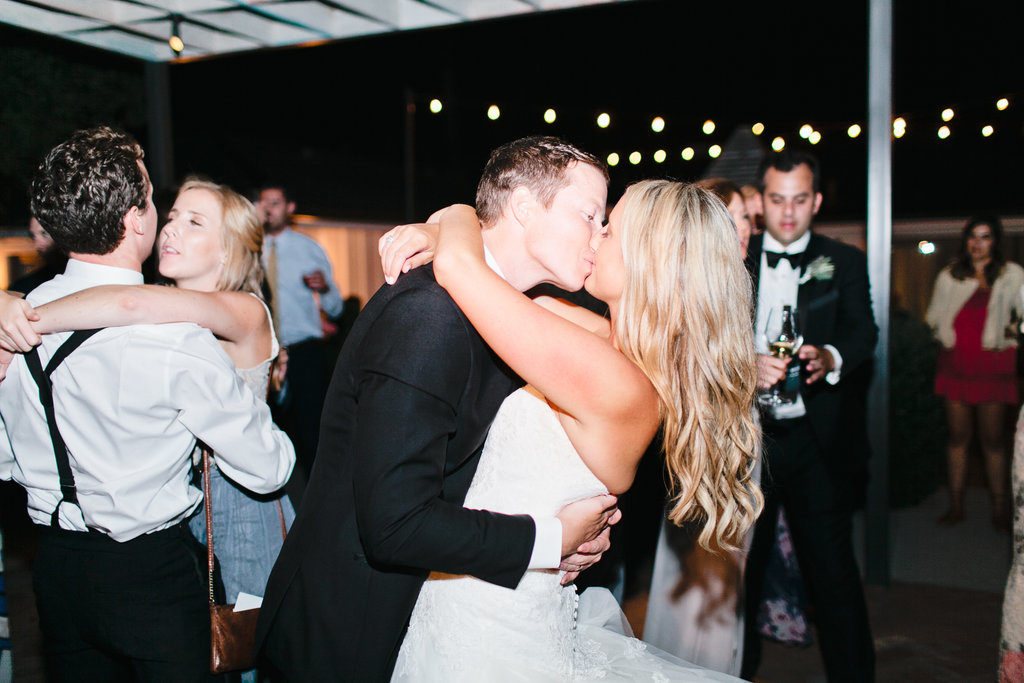 Such an amazing wedding! We are so lucky to be a part of these momentous occasions!! Thank you Ali & Bryan for sharing this day with us!!
xx
Jacquelyn
Vendors:
Rentals: