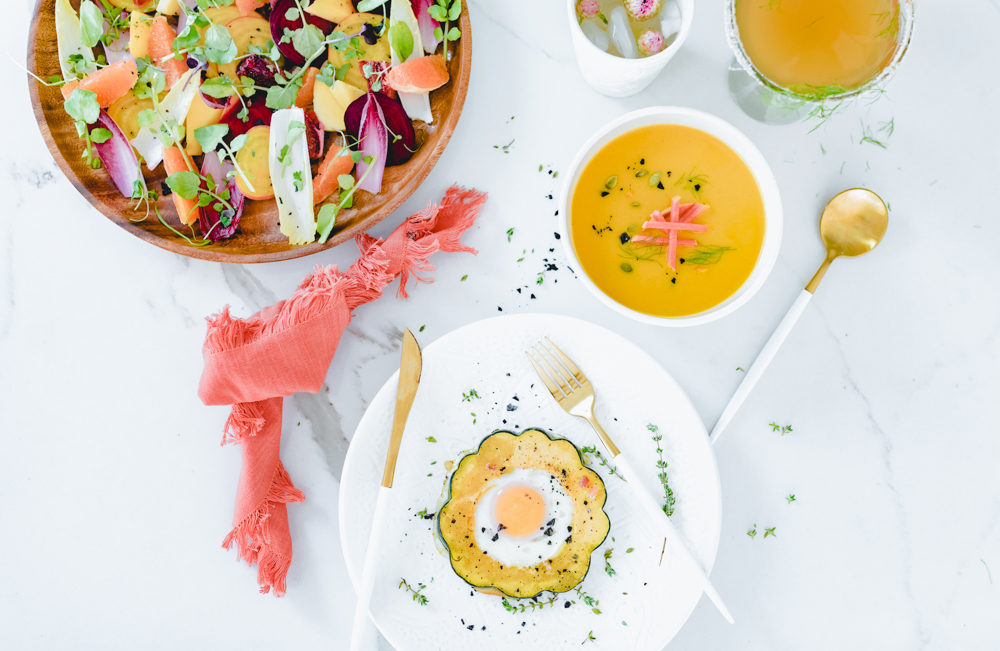 ---
We are in full swing of Fall, and with the weather just turning, it is that time to do a fall menu. This autumn menu is a go-to for me for any brunch, lunch, and even dinner for friends and family. See the recipes below, shop the goodies, and cheers to Fall gatherings with loved ones.
Photos by Dayna Studios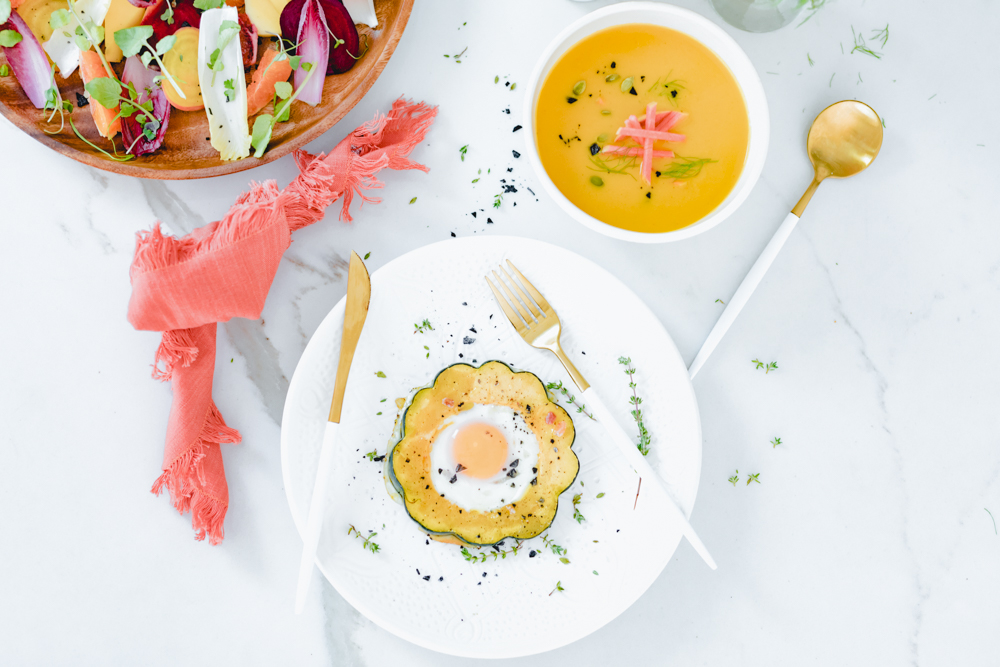 B R E A K F A S T   A C O R N   S Q U A S H
E G G   I N   A   H O L E
serves: 4 egg in a holes
W H A T   Y A   N E E D!

1 large acorn squash (about 1 1/2 pounds)
2 teaspoons coconut oil or vegetable oil of choice
Kosher salt
Freshly ground black pepper
4 large eggs
1 teaspoon chopped fresh thyme leaves or chives
B U S T   O U T:
Baking Sheet
Cutting Board
Small Pinch Bowls
Spatula

---
I N S T R U C T I O N S

Arrange a rack in the middle of the oven and heat to 425°F. Line a rimmed baking sheet with parchment paper.
Trim off about 1/2 inch from the top and bottom of the squash and discard. Slice remaining squash crosswise into 4 (about 3/4-inch-thick) rounds and remove the seeds and membrane in each slice with a spoon.
Rub both sides of the squash rounds with the oil and place on the prepared baking sheet in a single layer. Sprinkle each slice with a big pinch of salt and a grind or two of black pepper. Bake until the squash is just fork-tender, about 15 minutes.
Remove the baking sheet from the oven and reduce the temperature to 350°F. Gently crack an egg into the center of each squash slice and sprinkle each egg with a pinch of salt. Bake until the egg whites are just set, about 10 minutes more for runny yolks, and a few minutes longer for set yolks.
Using a wide, flat spatula, transfer the squash slices to plates. Sprinkle each with fresh thyme or chives and serve.
Beijos Kitchen Tip
Make ahead!
The squash slices without the eggs can be roasted up to 3 days ahead of time and stored in an airtight container in the refrigerator. Oh yeah! When ready to enjoy,  let the slices come to room temperature on a rimmed baking sheet covered with parchment paper as the oven preheats to 350°F. Crack an egg into each slice and proceed with the recipe.
---
---
R O A S T E D   C A R R O T   A P P L E
A N D
F E N N E L   S O U P
serves: 4 servings
W H A T   Y A   N E E D!
1 pound Carrots, cleaned and cut into 1″ pieces
2 Medium Apples, peeled, cored and cut into 16 wedges
1 Small – Medium Fennel Bulb, white part only, cut into wedges
Olive Oil
1 Clove Garlic, finely minced
1 Tablespoon Ginger, grated
Kosher Salt
3 1/2 Cups Organic Chicken Stock
B U S T   O U T:
Vegetable Peeler
Grater
Baking Sheet
Blender or Immersion Blender
---
I N S T R U C T I O N S
Preheat oven to 400 degrees Fahrenheit.
Place carrots, apples, and fennel onto a baking sheet and drizzle with olive oil. Make sure to coat pieces evenly with oil. Bake in the oven for 45-60 minutes. Carrots should still be somewhat firm, but apple and fennel will be soft.
Remove carrots, apple, and fennel from oven and put into a large saucepan (include the oil from the pan as well). Add garlic, ginger and large pinch of kosher salt to saucepan. Pour chicken stock over vegetables. Bring to a boil then simmer for 15 minutes.
Transfer contents of saucepan to a blender, in batches, and puree until smooth. (Be very careful blending hot liquids.) Add more chicken stock to thin out soup to desired consistency. You can also use an immersion blender, so you don't need to work in batches. This is my go-to way of how to puree veggies and fruit for soups and sauces.
Ladle into bowls and garnish with a sprig of thyme, sliced chives, fennel fronds, thinly sliced apples, and a drizzle of olive oil. Feel free to get creative when it comes to garnish, jazz it up or do nothing. Whatever your palette is craving that day.
* Vegetable stock may be used in place of chicken stock. For a thicker soup, use less stock…for a thinner soup, use more stock.
---
---
P E R S I M M O N  +  B E E T  +  C I T R U S   S A L A D
serves: 4-6 servings
(depends on how hungry you are!)
W H A T   Y A   N E E D!
---
I N S T R U C T I O N S
Preheat oven to 425 degrees. Wrap beets in parchment-lined foil (each color in a separate packet). Place on a rimmed baking sheet and roast until knife-tender, about 45 minutes. When cool enough to handle, rub beets with paper towels to remove skins. Cut into 1/4-inch-thick rounds.
Remove peels from citrus fruits with a sharp knife. Working over a small bowl to catch juices, carefully cut between membranes to remove segments. Squeeze juice from membranes into bowl.
Arrange beets, citrus segments, persimmons, endive, and watercress on a platter. In a bowl, whisk together three tablespoons reserved citrus juices and vinegar. Season with salt and pepper. Slowly whisk in oil. Drizzle vinaigrette over salad just before serving.
---
---
A P P L E   C I D E R   M O J I T O
serves: makes 1 cocktail
W H A T   Y A   N E E D!
2 oz. apple cider
1½ oz. blanco tequila
½ oz. honey syrup (1:1)
⅓ oz. fresh lime juice
Several fennel fronds, plus 1  for garnish
Cinnamon sugar (see recipe below)
Orange zest
Coconut sugar
B U S T   O U T:
shaker
muddler
strainer
cocktail glass
---
I N S T R U C T I O N S
Cinnamon sugar:
Combine 3 Tbsp. of ground cinnamon with 1 Tbsp. of orange zest and ¼ cup of coconut sugar in a food processor and mix until powdery. Combine the mixture with another ¼ cup of coconut sugar and store in an airtight container.
Apple Cider Mojito:
In a shaker, muddle the fennel fronds. Add the apple cider, honey syrup, lime juice, tequila, and ice and shake vigorously. Rim the glass with cinnamon sugar and fill with ice, then strain into the glass. Garnish.
---
---
Shop The Little Market Collection
Ceramic Line | Glassware | Wood | Linens
xx
Abby