Here is something that will set your little hearts a flutter!  This table has all the Fall colors I love, the most stunning floral arrangements and a lot of pretty details that I know you'll want to see.  There is just something about those warm Fall tones and that soft sunset light that works so perfectly well together.  And why not take your Fall dinner parties outside?  The weather is still somewhat warm but the air is nice and crisp!  One of my favorite things about Fall is it's the start of all of the holiday entertaining…
It's that time of year to get your real hosting skills out and make things pretty!  We collaborated with The Little Market on this table which is perfect as they are one of our favorites to shop for all things home.  Each of us Beijos ladies have their glassware and you can spot other fun items through out our homes.  So keep scrolling to see all the pretty, get some fun hosting tips, and we'll give you a play by play of what to buy to recreate it all at home!
Photos by Megan Welker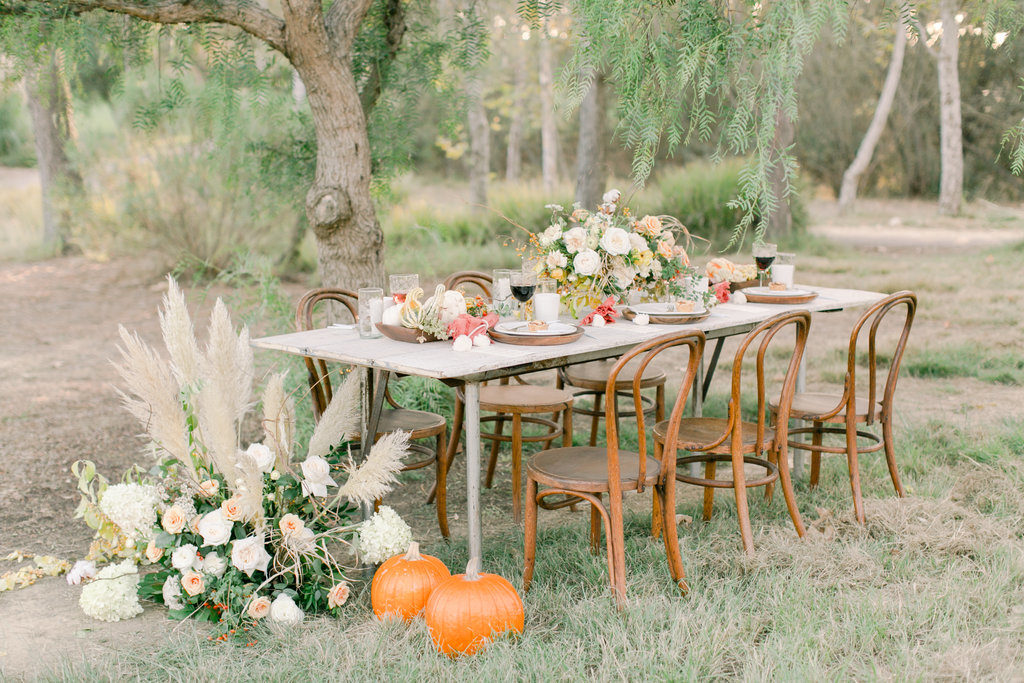 Even just a casual dinner party deserves a pretty invite!  And this one is no exception!  Bare Ink Co has such pretty handwriting and she made the most gorgeous paper goods for this little party.  Complete with gold leafing around the edges that was even prettier in person!  I always like to have an invitation for my guests, it sets the tone for the event and it's always nice to get something in the mail.  Your guests will know they are in for a special treat once they see the time and detail you've put into the invite, even if it's for a small dinner party, it's always a nice touch!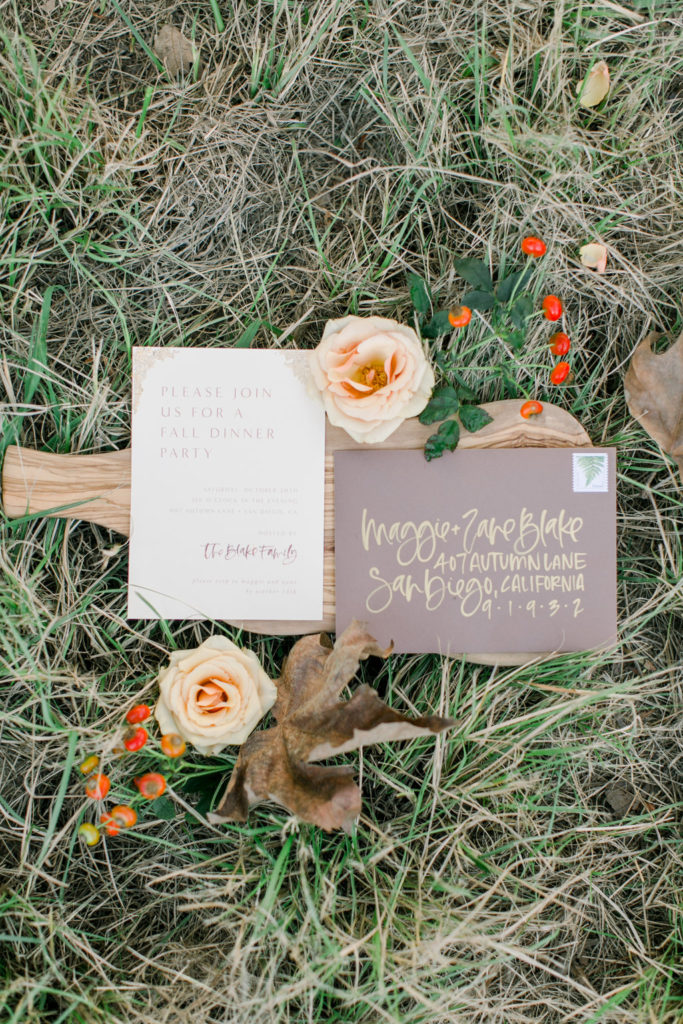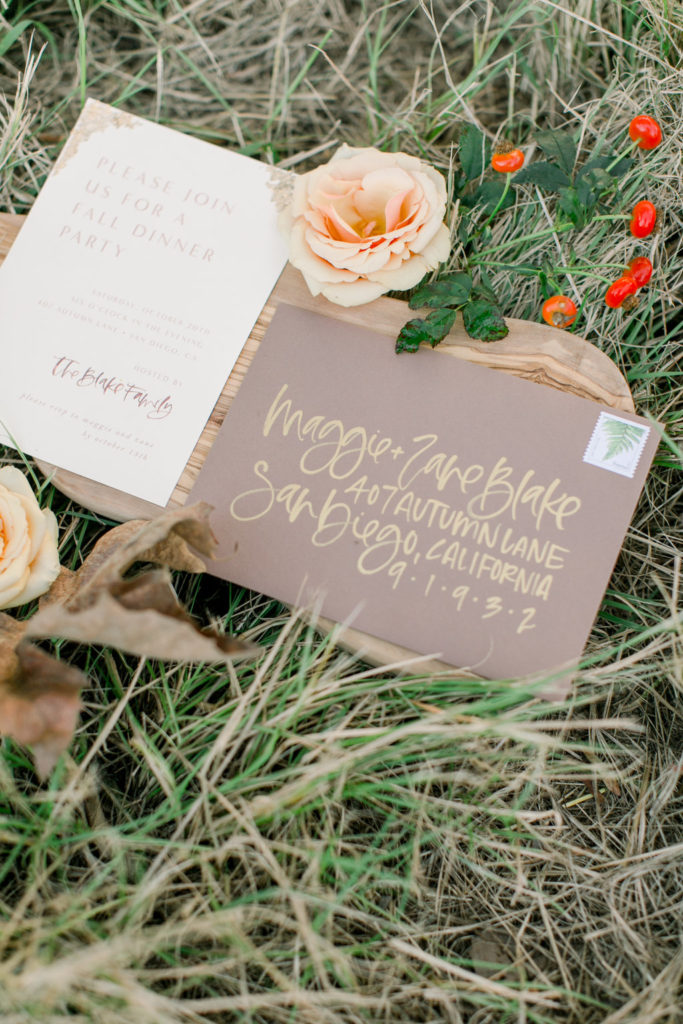 For me eating outside in the Fall is the most ideal… My husband and I have been eating our dinner outside in our backyard almost every evening.  I love this idea, being outside in nature is always nice, especially with the changing of the leaves and the beautiful colors all around.  The temperatures have cooled down from Summer and the air is nice and crisp.  Make sure you have some blankets for guests in case it gets chilly! Although, we're pretty lucky in Southern California, we can often eat Thanksgiving outside and maybe even Christmas!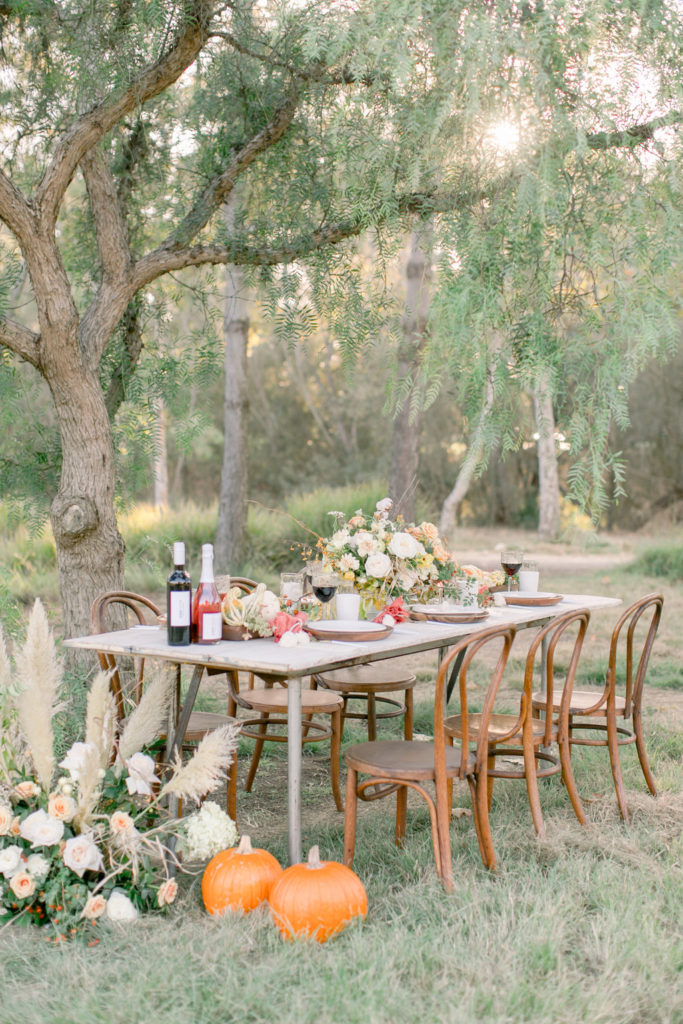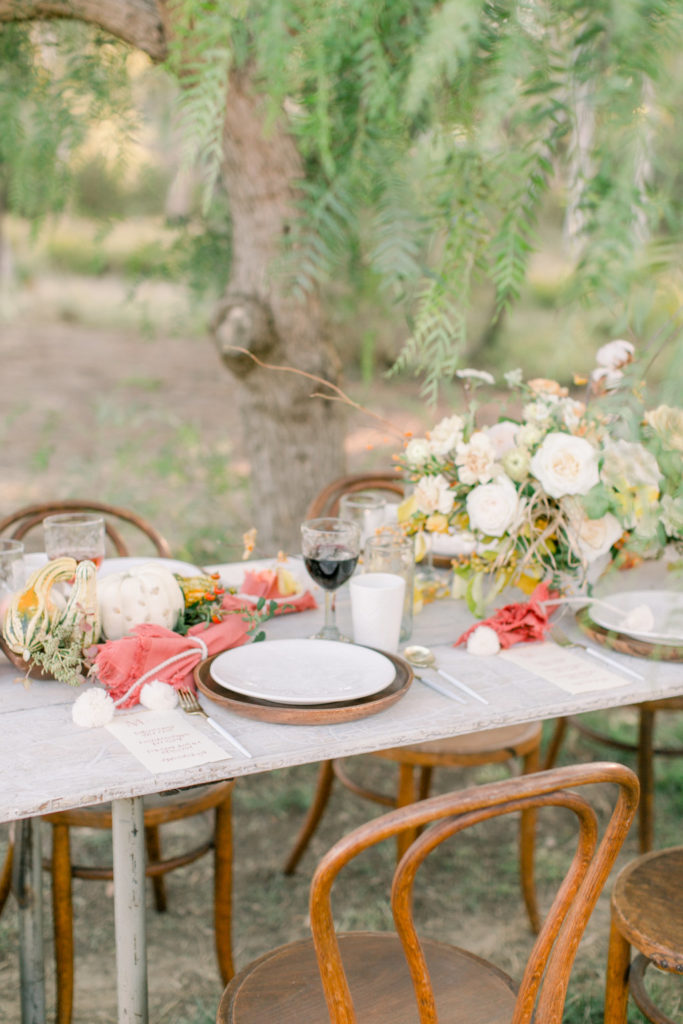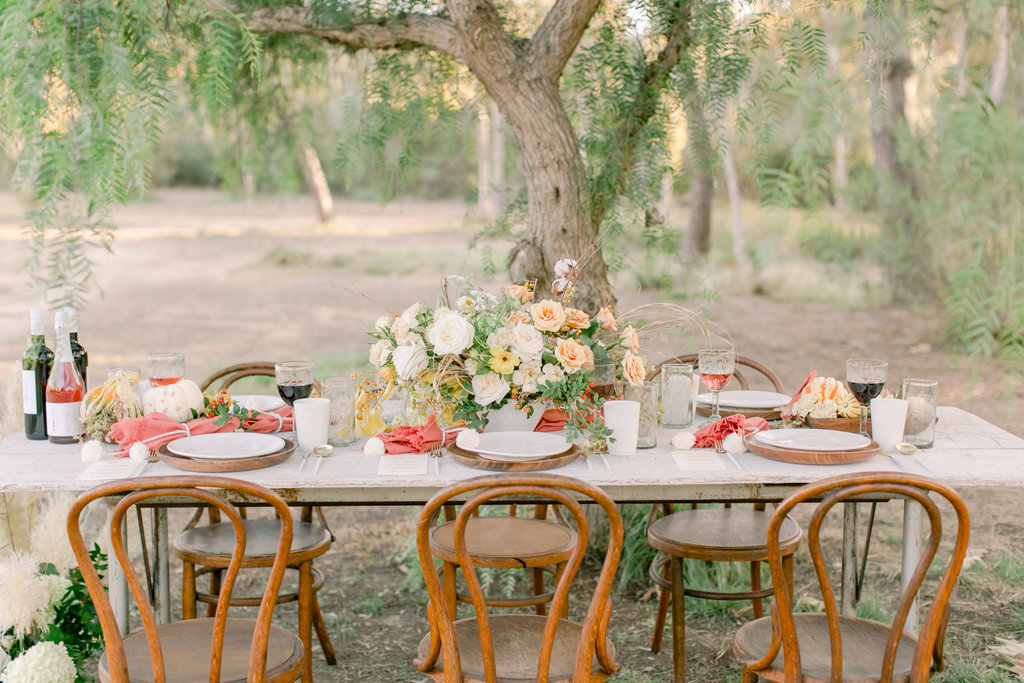 When getting ready for your dinner set the table the night before, or even the morning of.  This relieves a lot of stress later on during crunch time right before the dinner.  Get creative with your table, we used the beautiful white ceramic plates from The Little Market.  I love the detail on each plate, with different patterns and textures.  They play off the wooden table from Sweet Salvage Rentals so nicely, both pieces look like they have a story to tell.
To keep things interesting I mixed and matched glassware.  The wine and water are from the clear floral collection and the cocktail glass was from the white ceramic collection.  I love the way the three work together and play well so nicely.  The plate was placed on the wooden charger, which coincidentally matched our chairs perfectly!  Lastly, have fun with your napkin.  I did a pretty salmon color and added one of my favorite pieces from The Little Market right now, the macrame tie!  Such a sweet little detail which we are all about.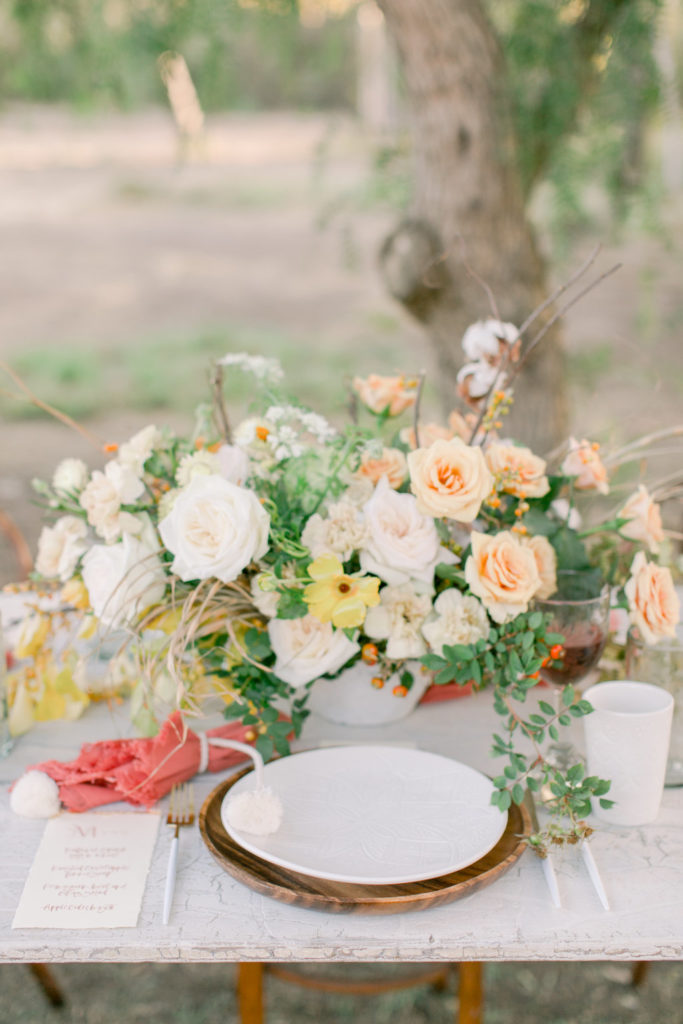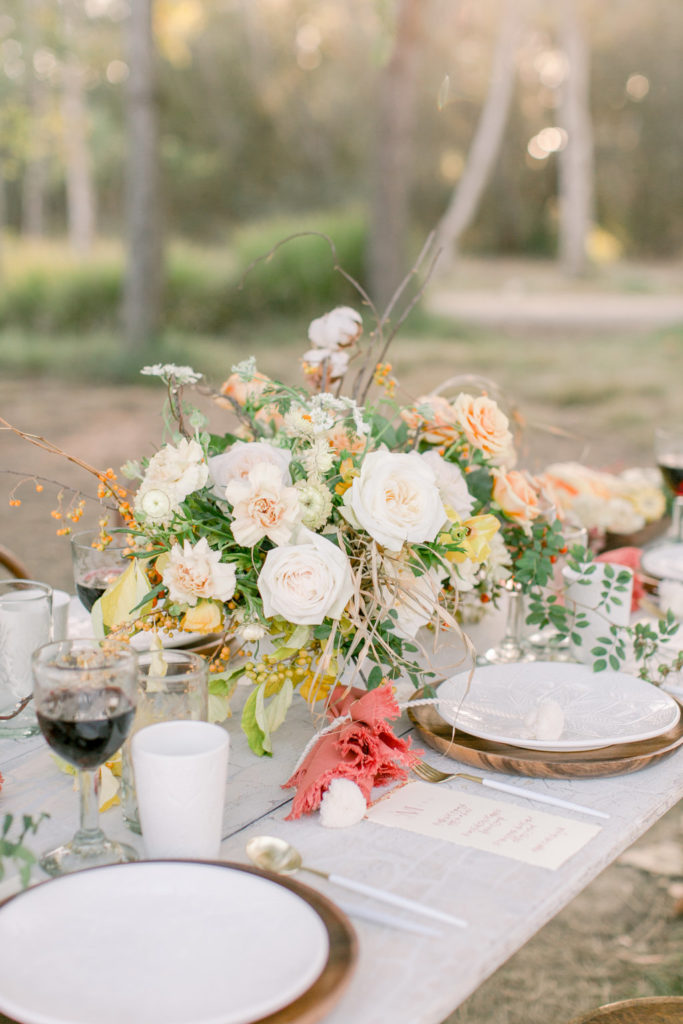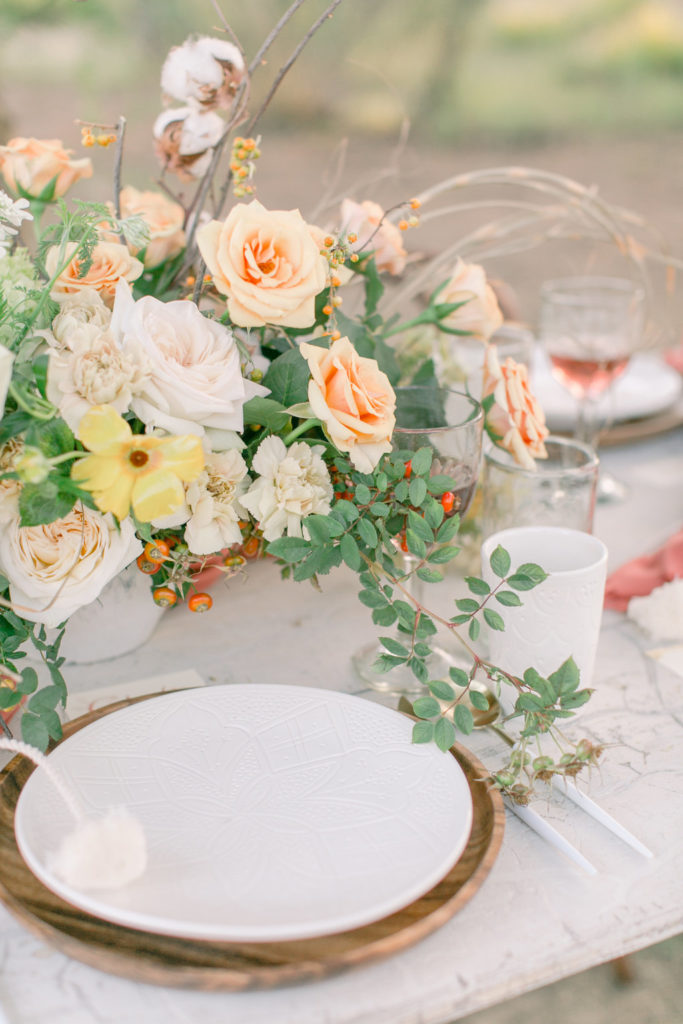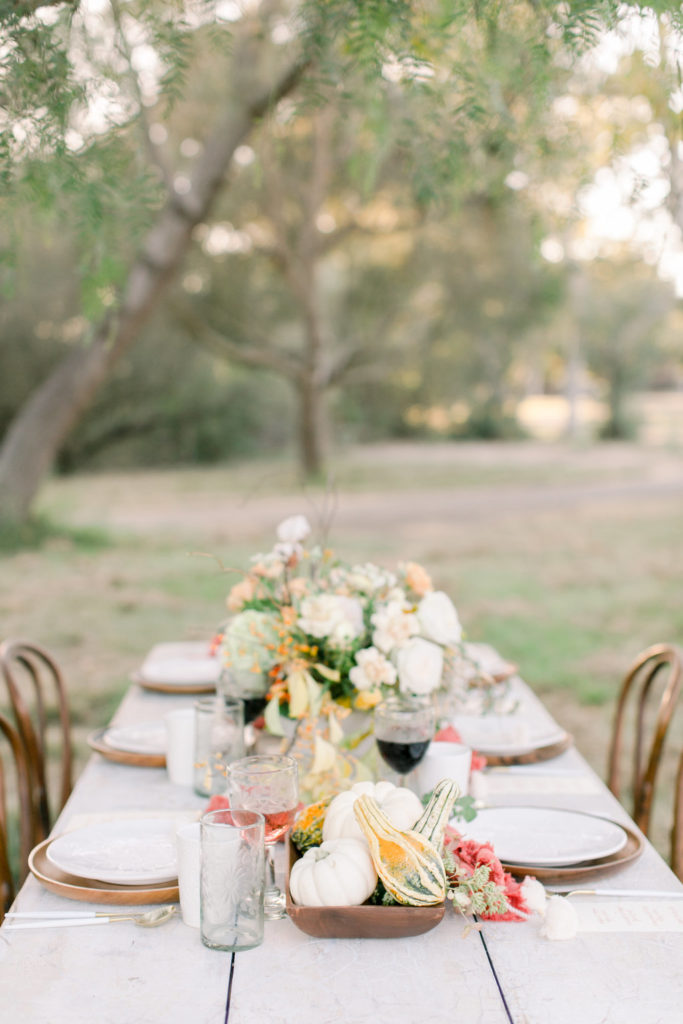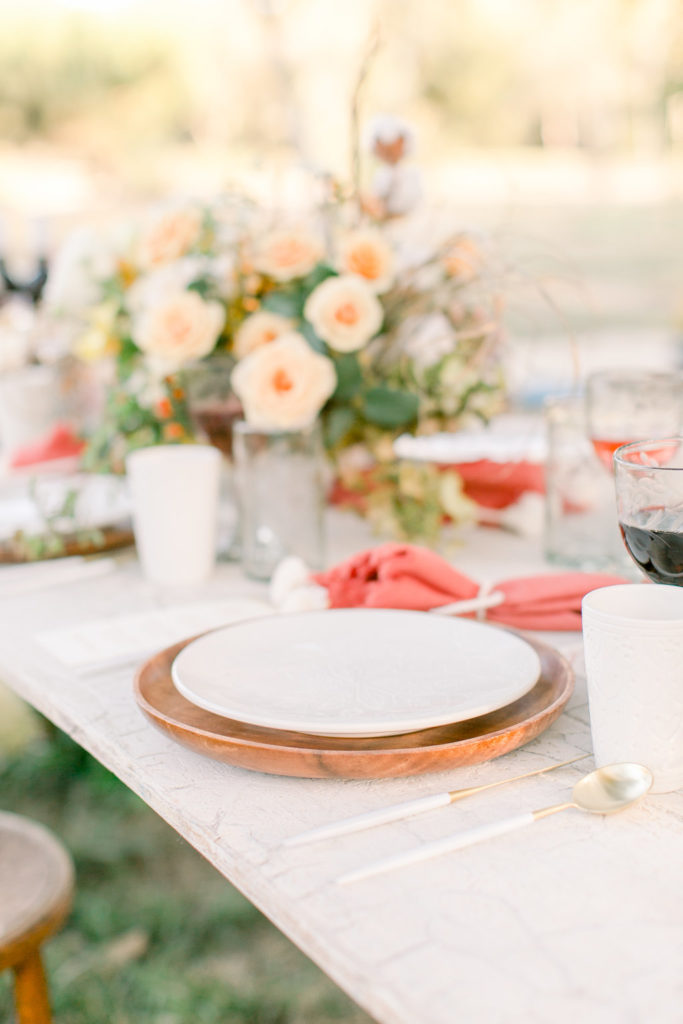 Speaking of details, have menus and place cards for your guests as well!  Aren't these ones from Bare Ink Co so cute?!  It's the little details that make an event, especially the thoughtful ones.  It's nice for your guests to have an idea of what they are eating, and having a place to sit is always a great way to bring people together without any awkwardness.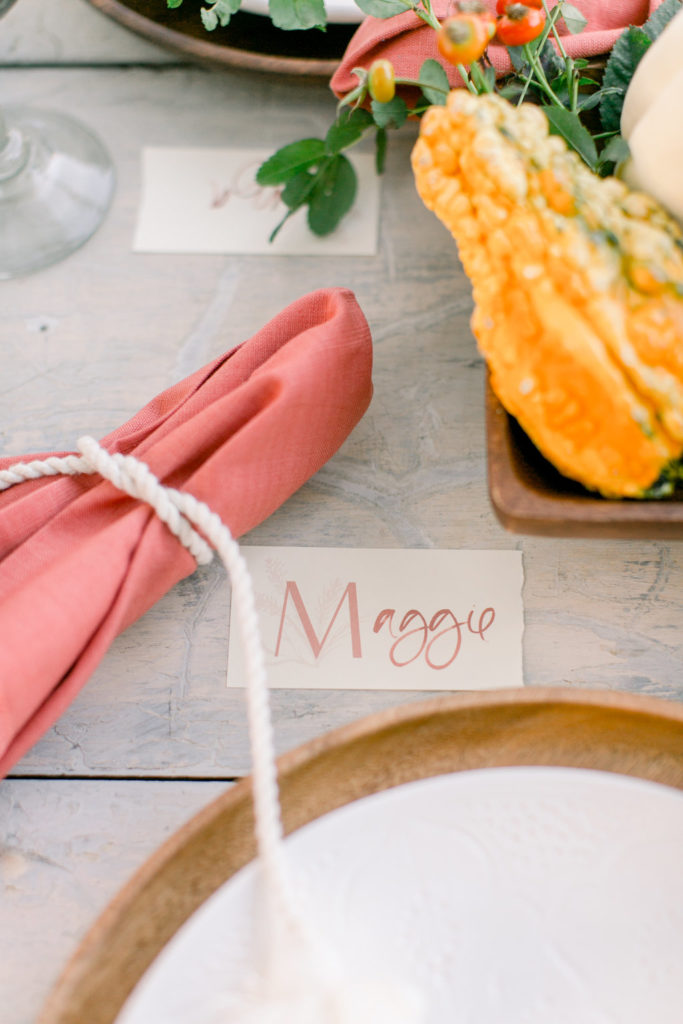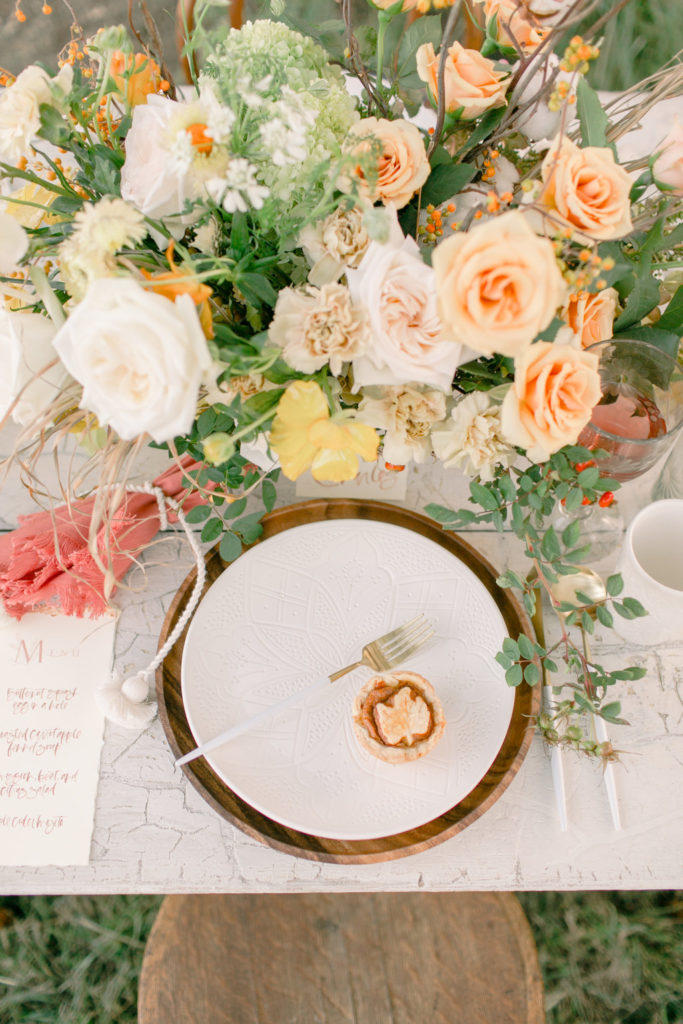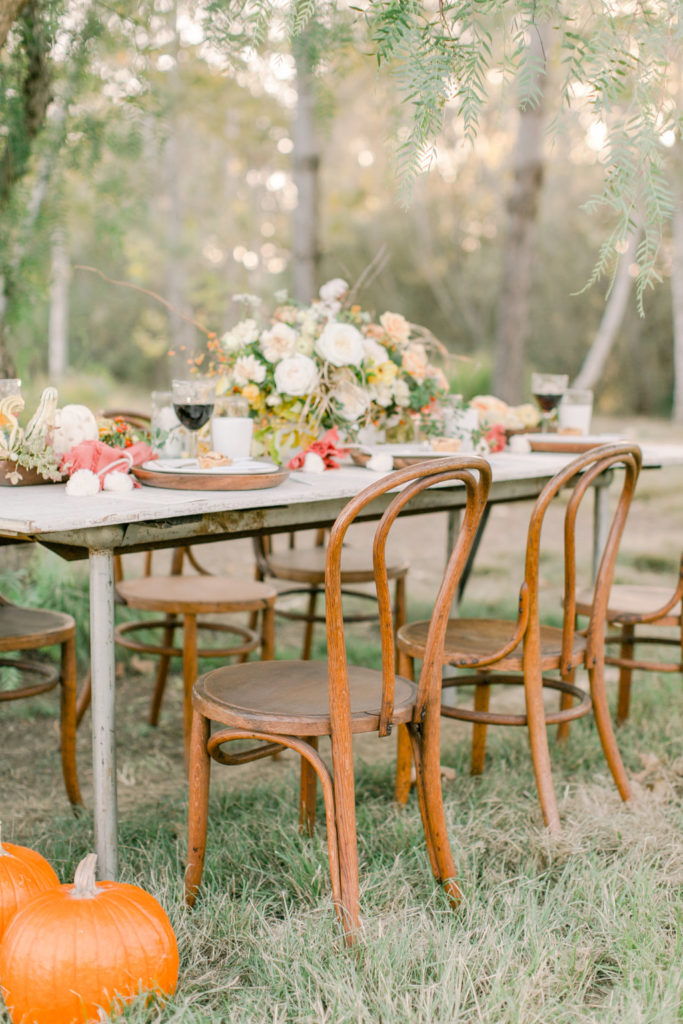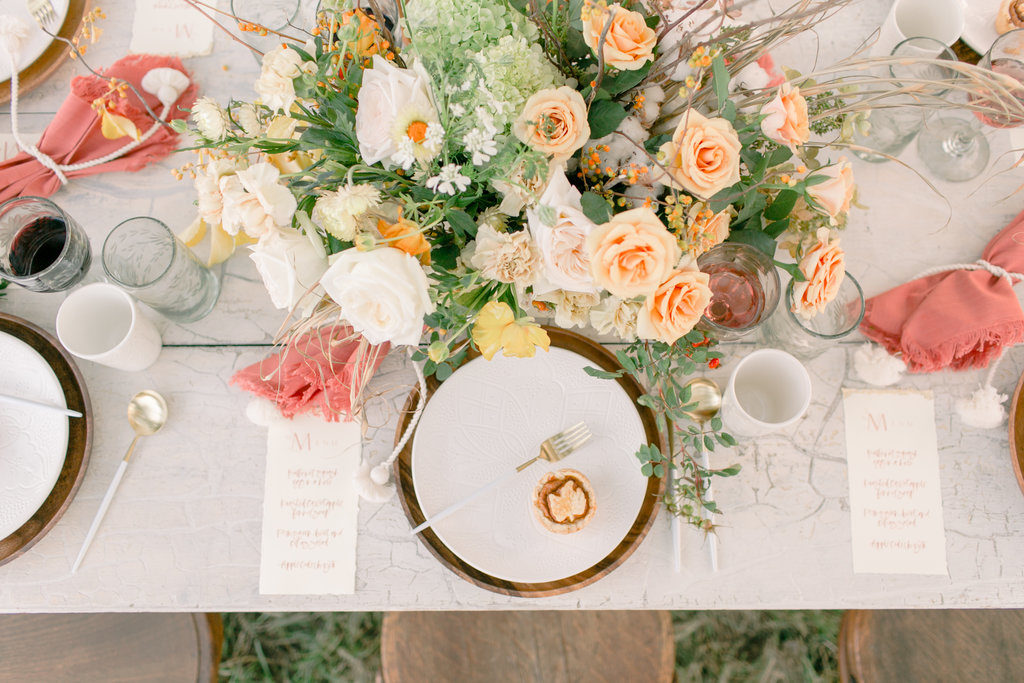 What can I say about flowers?  Mulberry and Moss knocked my socks off!!!  Well, they are a must, especially ones as gorgeous as these!  We had the florals on the table which would be a conversational piece in themselves, but we added a piece at the head of the table on the floor with two pumpkins.  This just brings the whole Fall season together and lets your guests know that you're ready to bring in the season.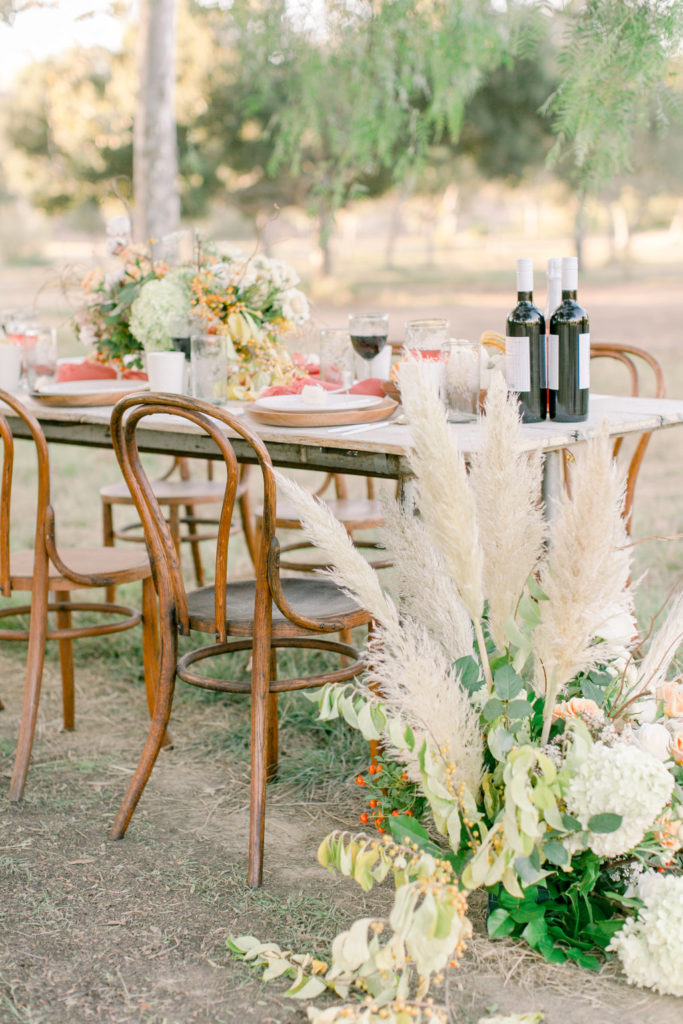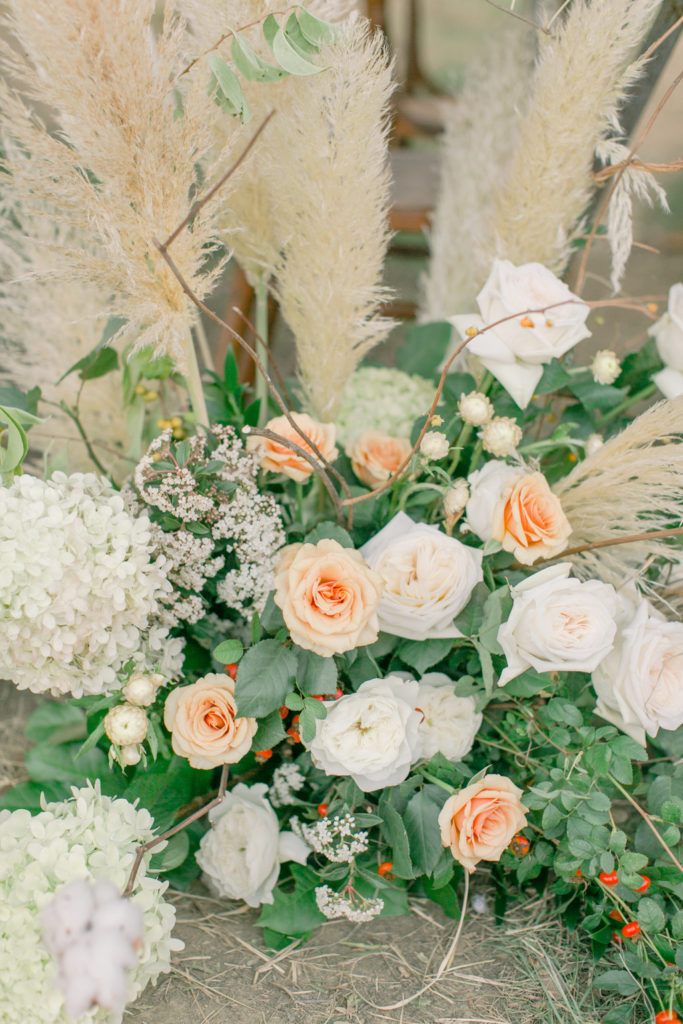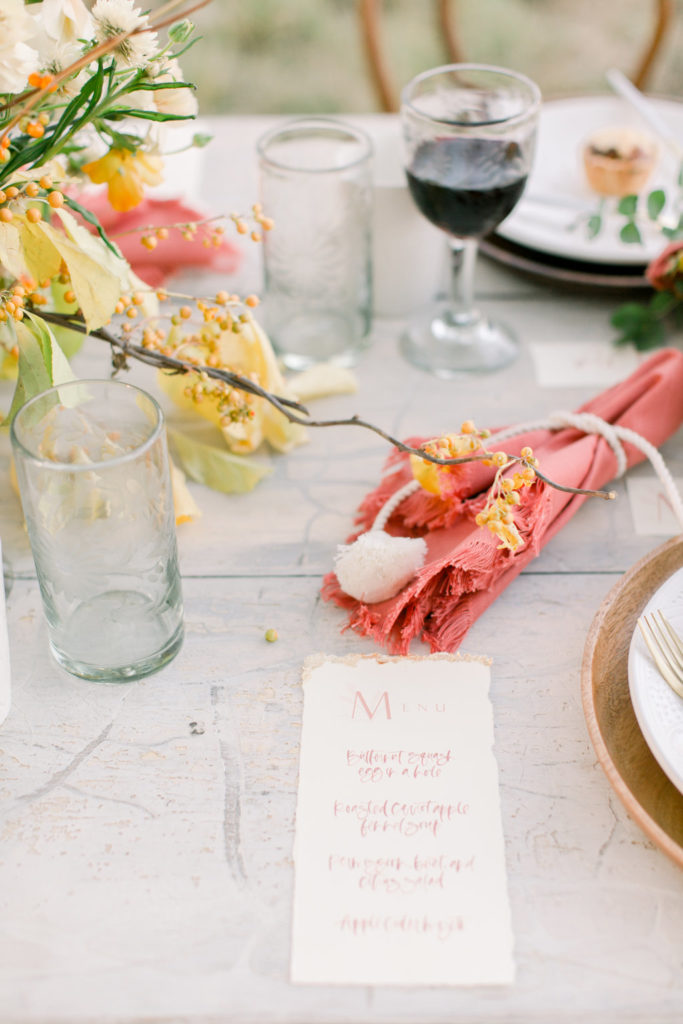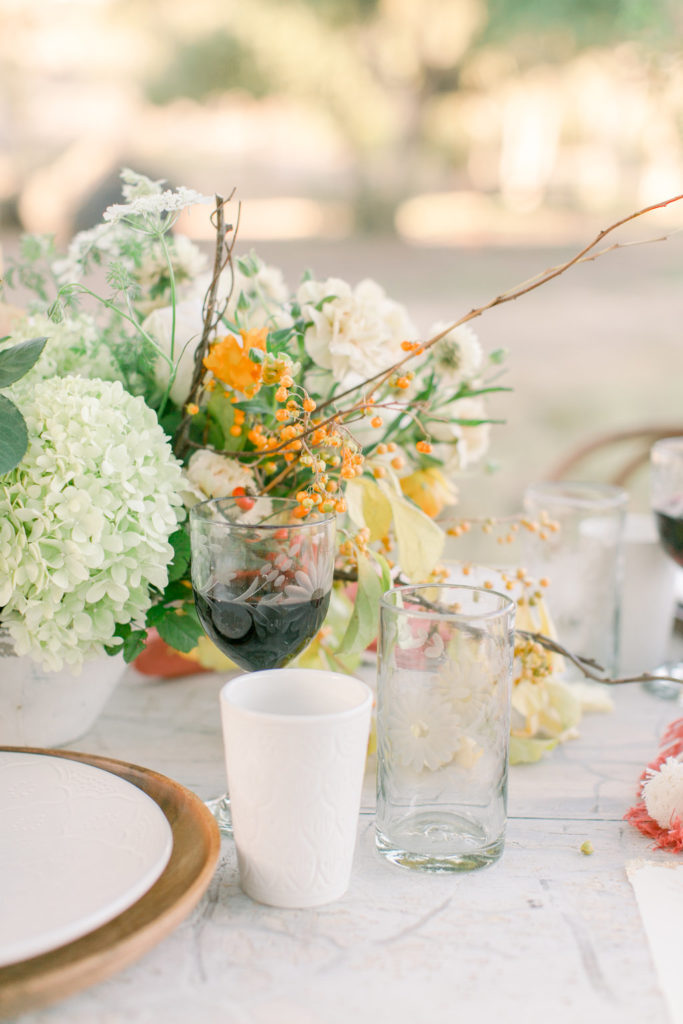 Lastly, it's all about the food and drinks, right?!  Having wine at the table is a must have!  You and your guests can share bottles, and pass the wine, creating a community feel to the table.  Our favorite is One Hope, and you feel good about drinking knowing a portion goes back to helping others!  We had mini fruit pies at each place setting.  Thank you The Sweet Lemon Bakeshop sure knows how to make my waistline grow… Those are great as a dessert or even an appetizer!  Why not?!  It's your dinner party so live it up!!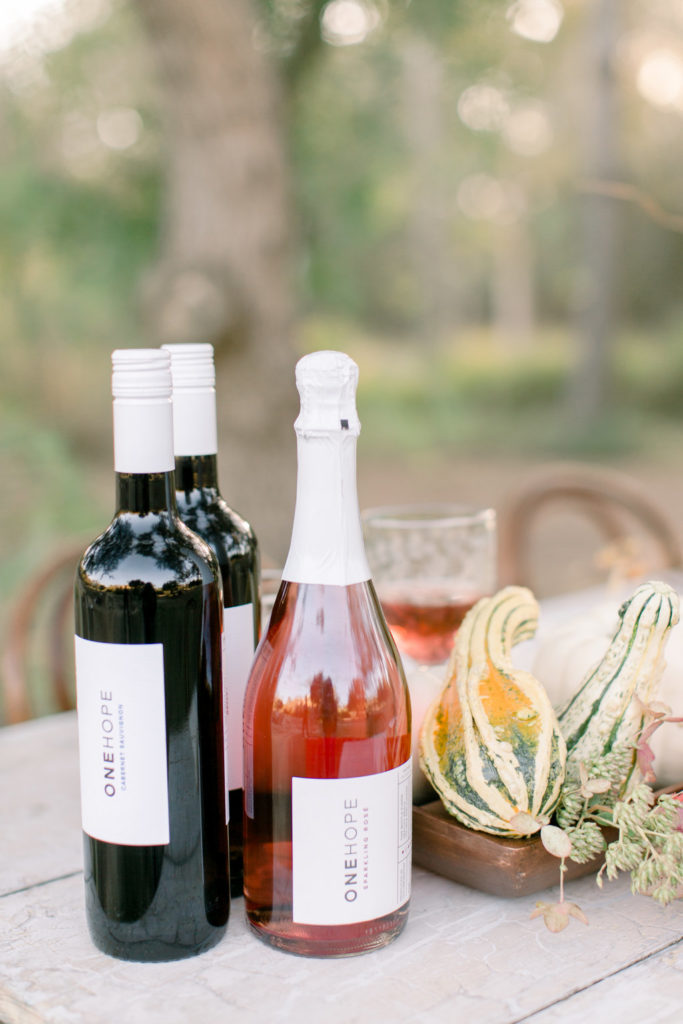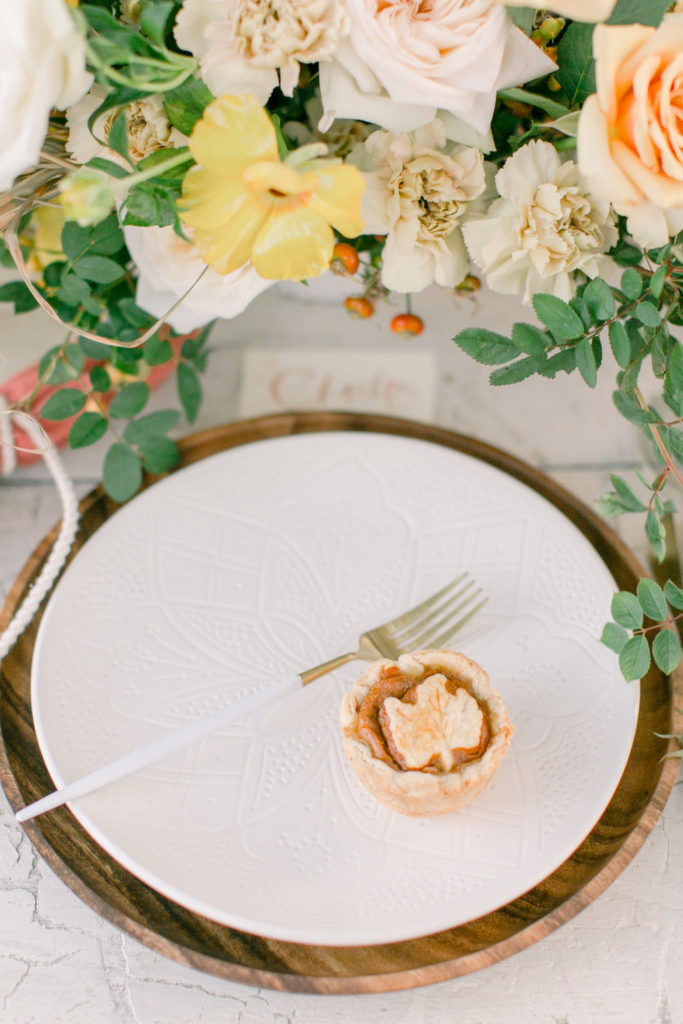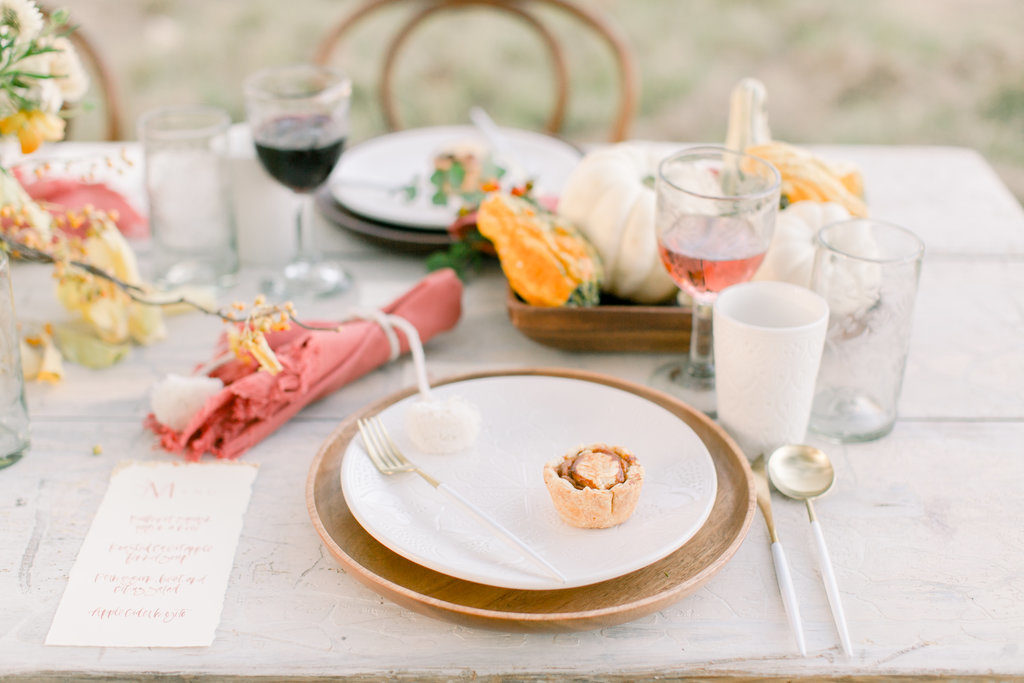 Again… Those flowers!!!  Mulberry & Moss, I die!!!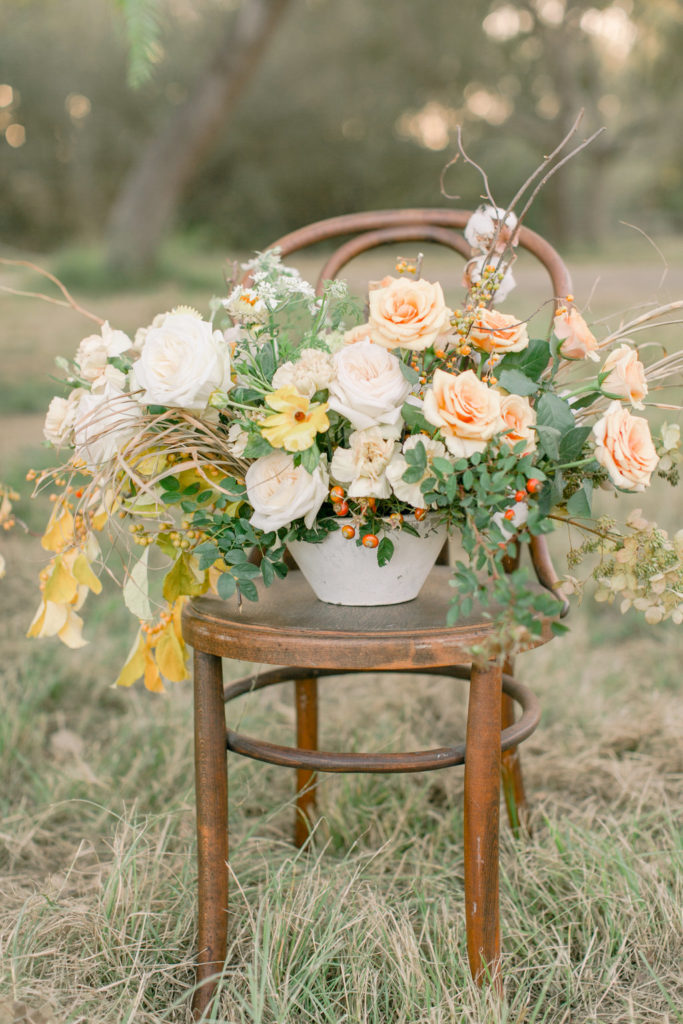 Hope this inspired your own autumn dinner parties!!!  Stay tuned for some delicious recipes that will compliment this table oh so perfectly!
xx
Jacquelyn