Ice cream nachos?!
Oh, heck yea! This is a fun recipe for the whole family! With Cinco de Mayo here this Sunday, this will be a crowd pleaser for all! There is something so fun about making something simple like nachos, and turn them into a dessert by using unusual ingredients like cookies and ice cream. You may be thinking avocado ice cream? Really Abby? Oh yeah guys, its a goodie. The mango and coconut milk rounds out the flavor to bring you a sweeter taste. Plus the addition of chocolate caramel, and it's just plain old GOOD!
Since this is fun for the whole family, it only makes sense to set up a fun table for the kids. This is where Witty Bash and Lula Flora come in! How adorable are these avocado pinatas?!? Add in bright colored plates and perfectly themed fringe napkins from Witty Bash, and this is a festive setup ready for some ice cream nacho eating!
Photos by Dayna Studios
---
W H A T Y A N E E D!
Avocado Mango Sorbet (recipe below)
Sprinkles
Chocolate Caramel Sauce
Reko Vanilla Pizzelle Cookies

B U S T O U T:
Platter
Fringe Cocktail Napkins
Blush Plates
Freezer-Safe Containers
Ice Cream Scoop
Blender
---
I N S T R U C T I O N S
Break up your cookies into chunks; this will be the "chip" for your nachos. Then scoop up your ice cream and pile on top of the chips. Drizzle on some chocolate-caramel sauce, and lastly, sprinkle on some fun bright colored sprinkles! Serve right away!
---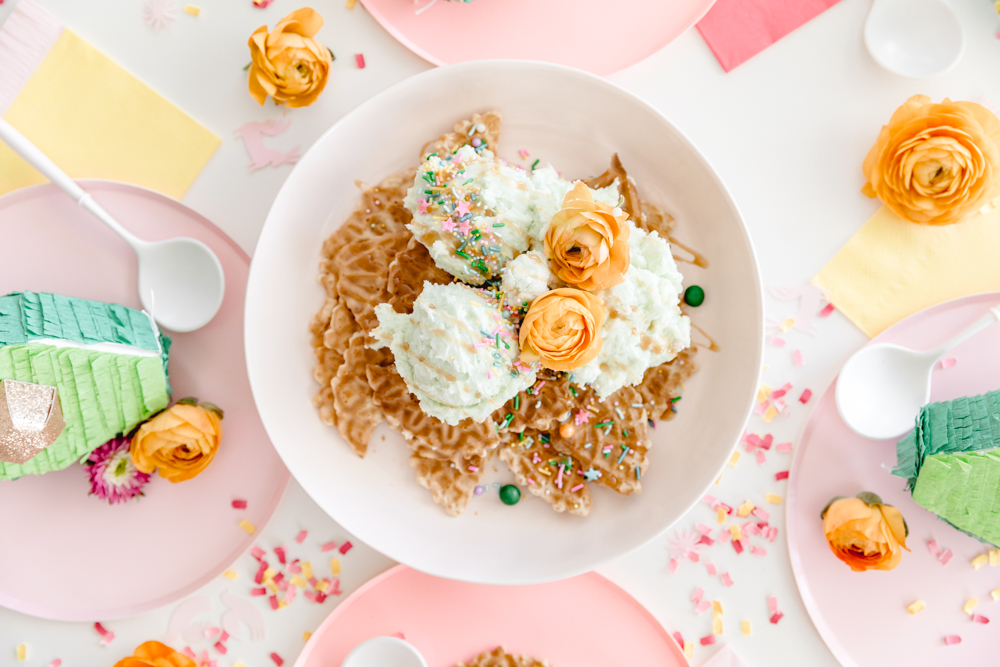 AVACADO + MANGO ICE CREAM
SERVES: 10 1/2 CUP SERVINGS | PREP: 45 MINUTES | TOTAL: 45 MINUTES
This mango + avocado sorbet is full of tropical summertime flavors that will leave your taste buds wishing they were on vacay. The creaminess from the coconut milk and fresh avocado along with the fresh, bright tropical mango to round it all out!
W H A T Y A N E E D!
3 cups packed cubed very ripe mango (you can use frozen as well)
2 large or 3 small-medium mangos
1 ripe avocado
1 cup full-fat coconut milk
1 cup of organic cane sugar
1 pinch sea salt
1 tsp lime juice
I N S T R U C T I O N S
Add all ingredients to a
blender
and blend on high until creamy and smooth – 2-3 minutes.
Taste and adjust flavor/sweetness as needed, then transfer to a mixing bowl and cover. Set in refrigerator to chill overnight (or for a minimum of 3-4 hours).
Transfer to a freezer-safe container and smooth top with a spoon. Cover and freeze for 4-6 hours, or until firm. Check on the ice cream and give it a couple stirs before it becomes firm.
Let thaw at room temperature for 10-15 minutes before serving to soften. Use a hot scoop to ease serving.
Can be covered in the freezer for 7-10 days.
---
---
B E I J O S K I T C H E N

xx
Abby