We have had the Big Green Egg for a while now, and we are still finding endless ways to whip up a fun meal with it. This time it's all about grilled pizza! My family loves spending time outside, and it's so fun when you can incorporate dinner into the mix. There is nothing better then watching them run around the yard with our dog while Mom and Dad enjoy a cocktail or two while making dinner. With having to stay at home, there has been quite a few fun dinners outside, and pizza is always the #1 request. The Big Green Egg has speciality components so you can grill up your favorite pizza right on the grill. You will never go back to oven-cooked pizza again.
The big debate in our house when its pizza night is what kind? I'm always the one that rambles off some gourmet style pizza. My husband wants everything spicy on top of his. The kids, well they are the boring ones! Ha! Its the usual pepperoni, olives, and cheese. So this time, since I'm still riding on the birthday and Mother's day celebration week, I got to pick what to grill up! You've got to take advantage of these times. We just got the expander for the big green egg so we can do more than one pizza at a time! Game changer! Scroll down to see today's pizza menu, and how you can easily set up an outdoor dinner date for the family!
Today's menu:
Artichoke pesto and burrata pizza
with lemony arugula
and
Pizza carbonara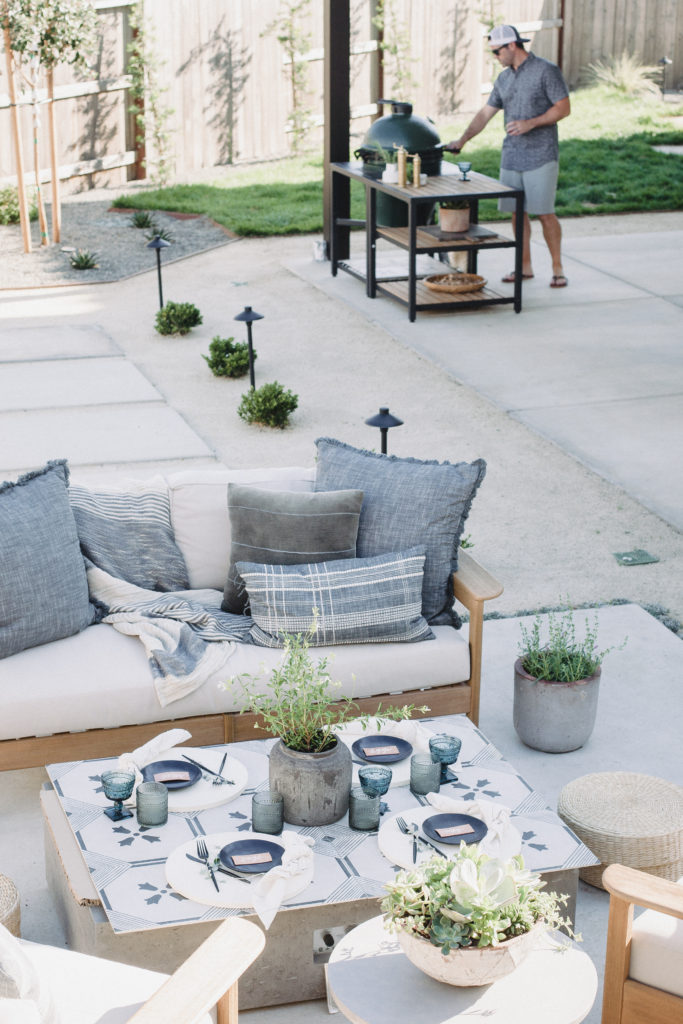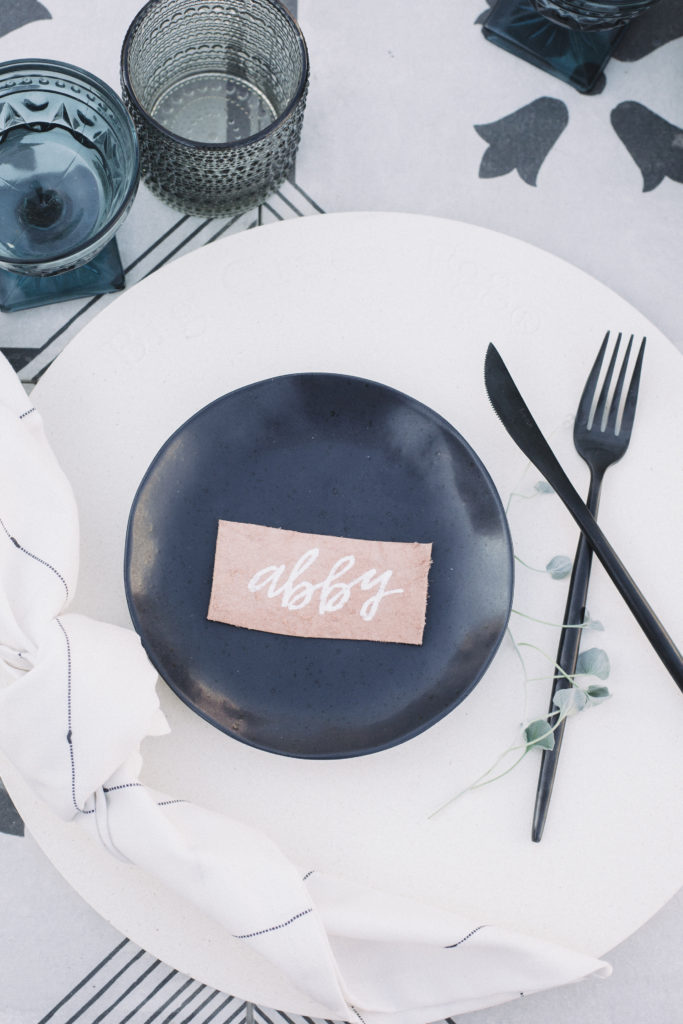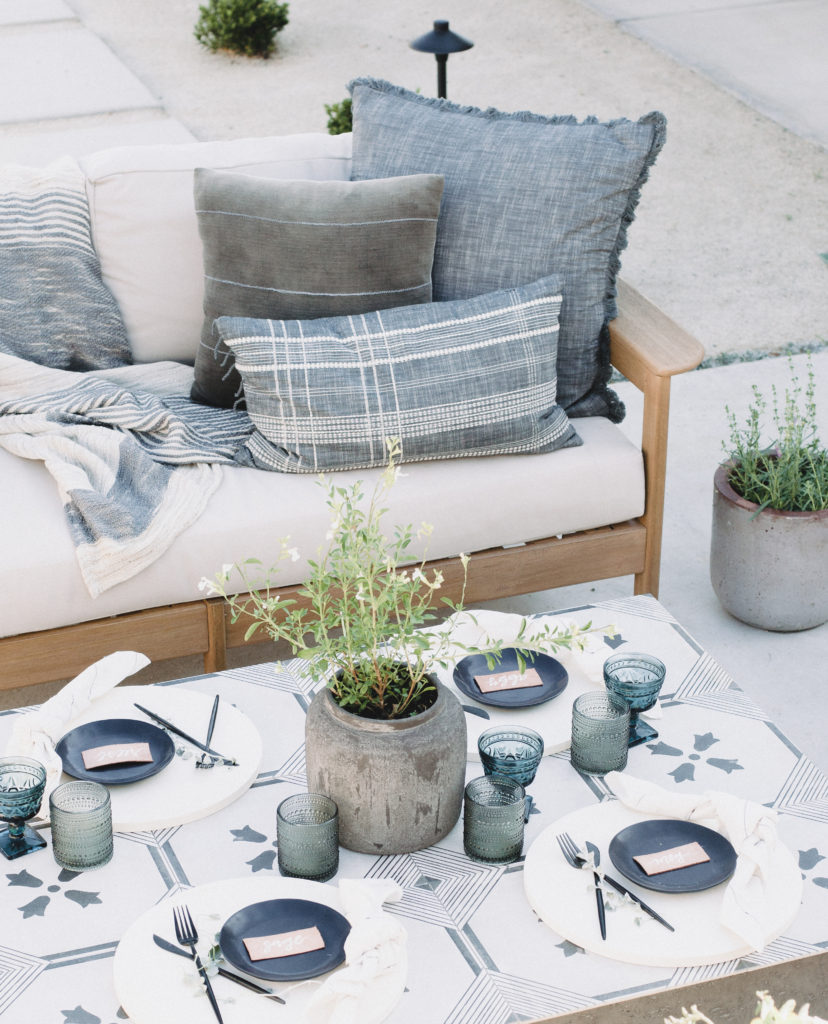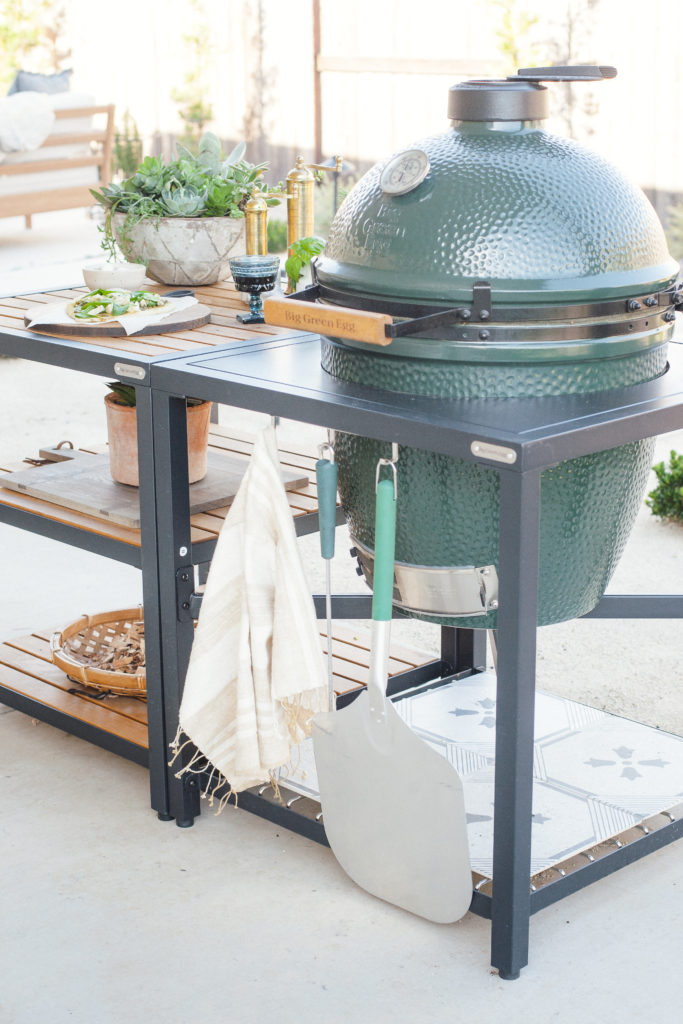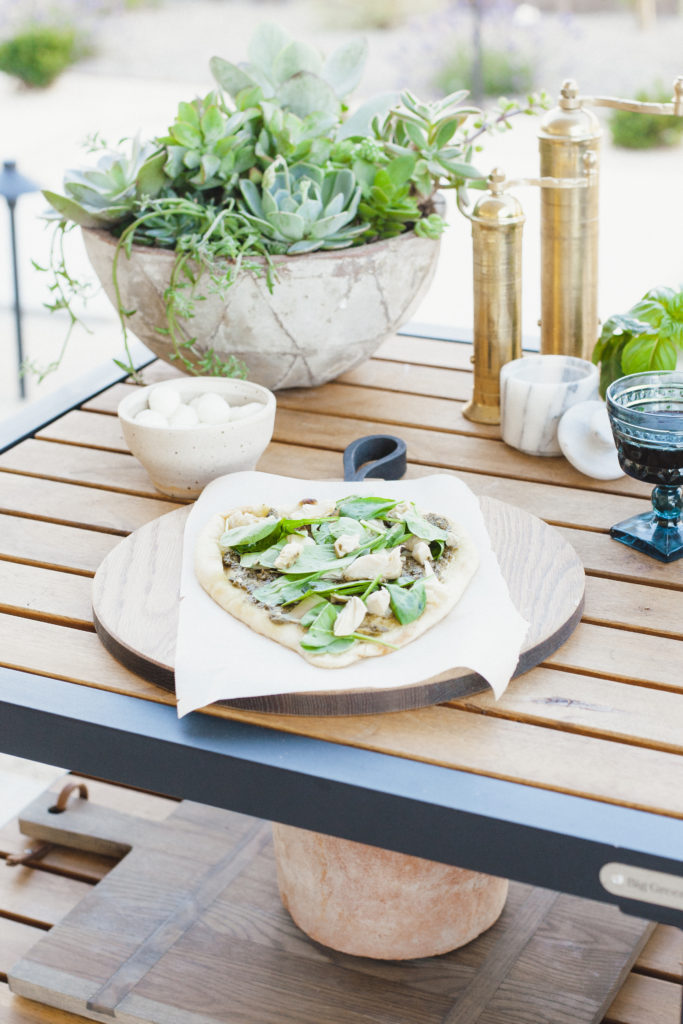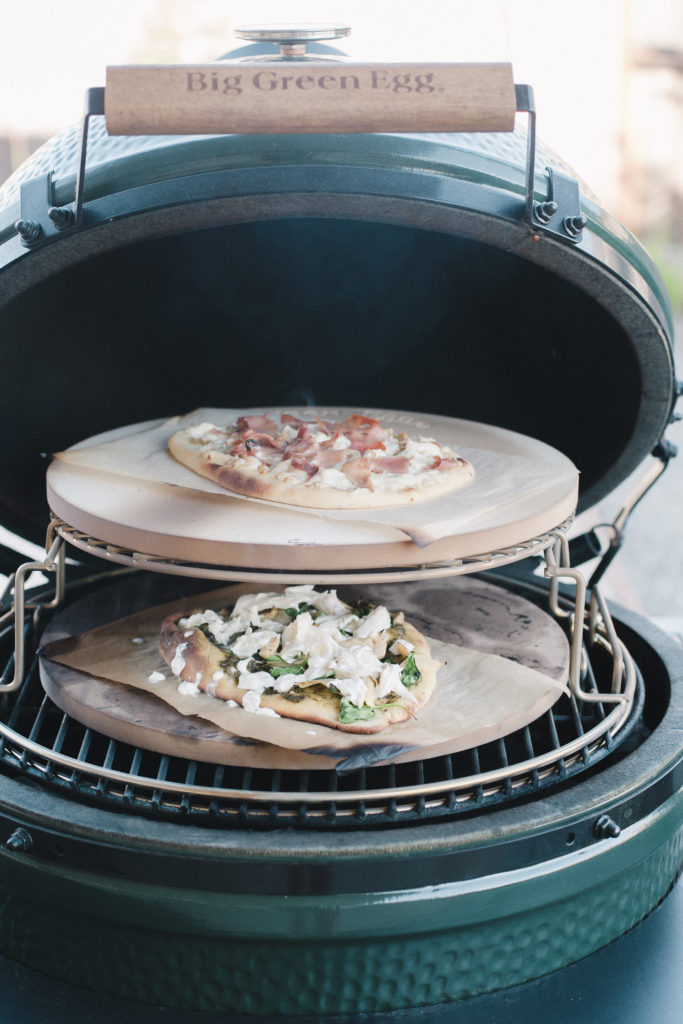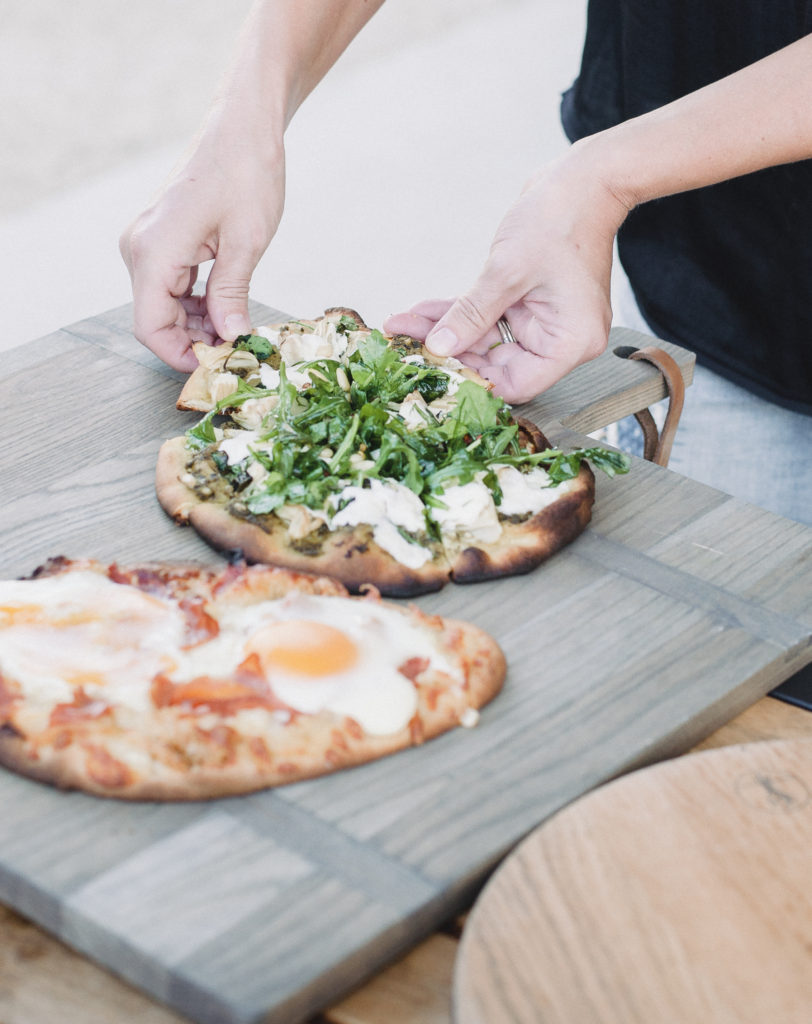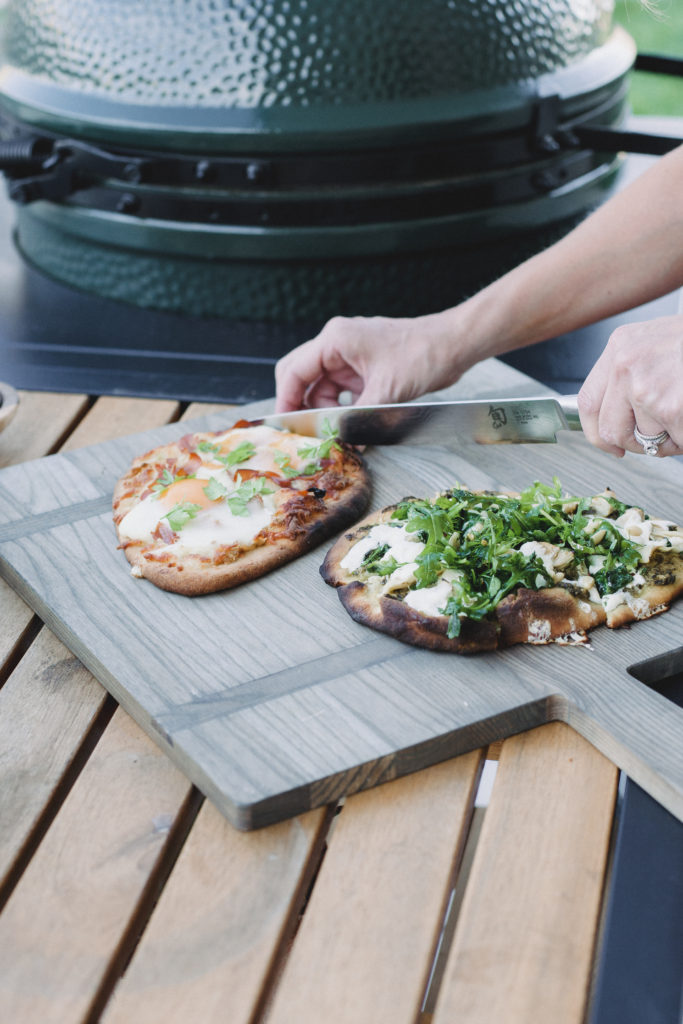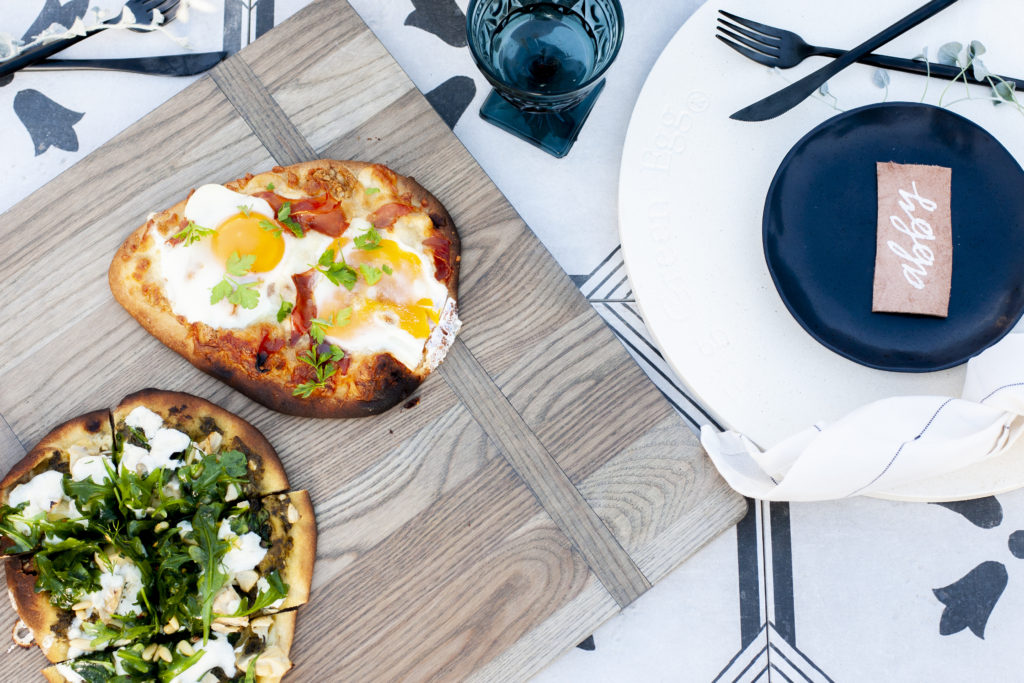 ---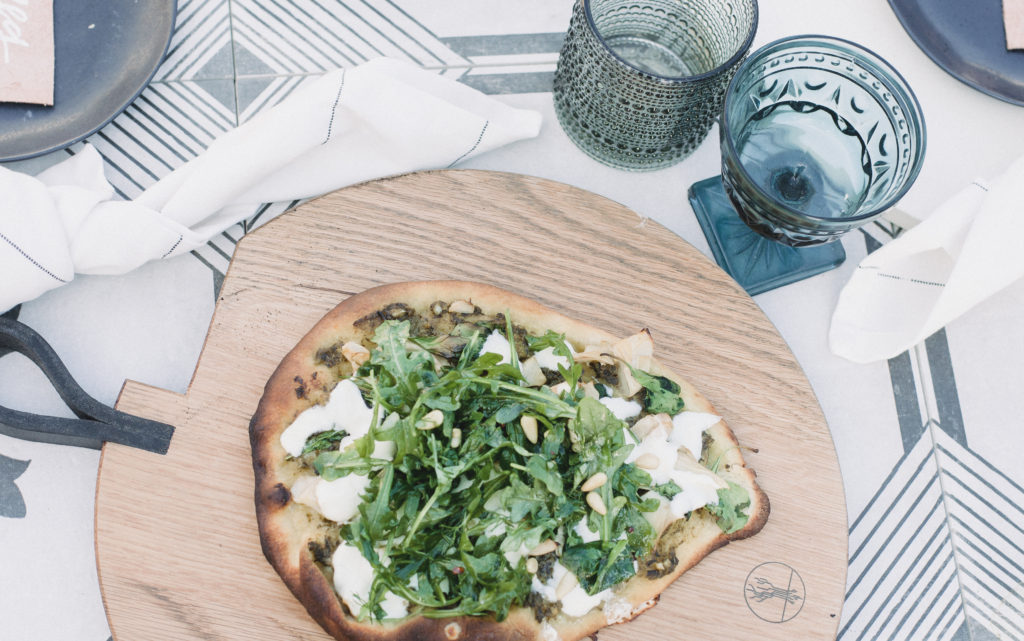 ARTICHOKE PESTO AND BURRATA FLATBREAD WITH LEMONY ARUGULA
SERVES: 1-2 FLATBREADS | PREP: 15 MINUTES | COOK: 10 MINUTES
W H A T Y A N E E D!

Flatbread or pizza dough, homemade or store-bought
1/3 cup basil pesto, homemade or store bought
1 cup baby spinach, roughly chopped
1 jar (12 ounces) marinated artichokes drained and roughly chopped
crushed red pepper flakes
2 tablespoons extra virgin olive oil plus more for drizzling
2 teaspoons lemon zest plus 1 tablespoon lemon juice
kosher salt and black pepper
2 cups baby arugula
1/2 cup fresh basil leaves, roughly chopped
2 tablespoons toasted pine nuts
8 ounces burrata cheese (about 2-3 balls)
B U S T O U T:
Pizza stone
Parchment Paper
---
I N S T R U C T I O N S
Preheat your grill or smoker to about 600 degrees.
I used already cooked flatbread to make it simple, but you can roll out your dough. I like to have as much free time to spend with the family on these nights.
Spread the flatbread or dough with pesto and top evenly with spinach and artichokes.

Transfer to the grill and bake for 10-15 minutes or until the crust is golden. For the flatbread, it will be less time, around 5-6 minutes. Take off when it's all heated through. Meanwhile, in a medium bowl, whisk together the olive oil, lemon zest, lemon juice, and a pinch each of salt, pepper, and crushed red pepper.

Add the arugula, basil, dill, and pine nuts and toss to combine.

Remove the pizza from the grill and top with burrata. Put back inside the grill until the burrata is warm through about 5 minutes. Top arugula.

Enjoy!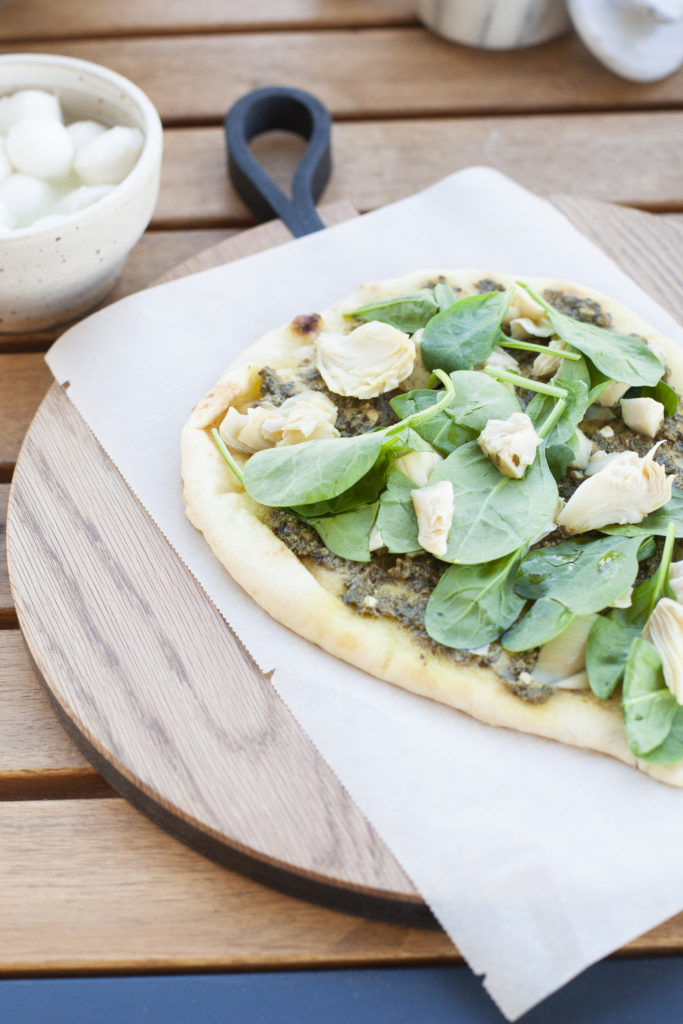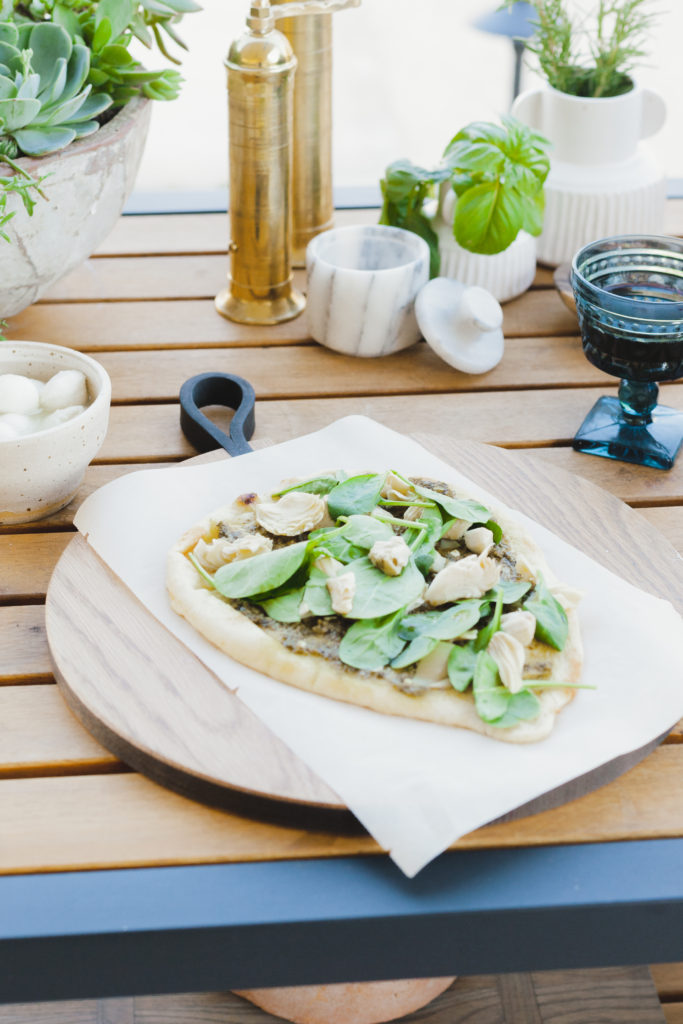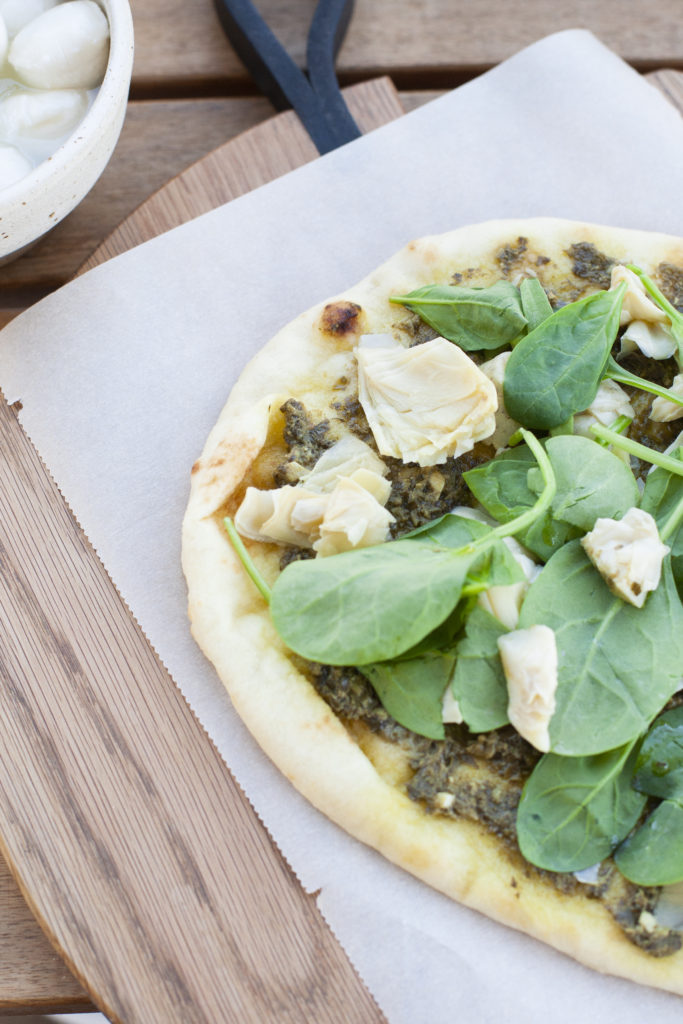 ---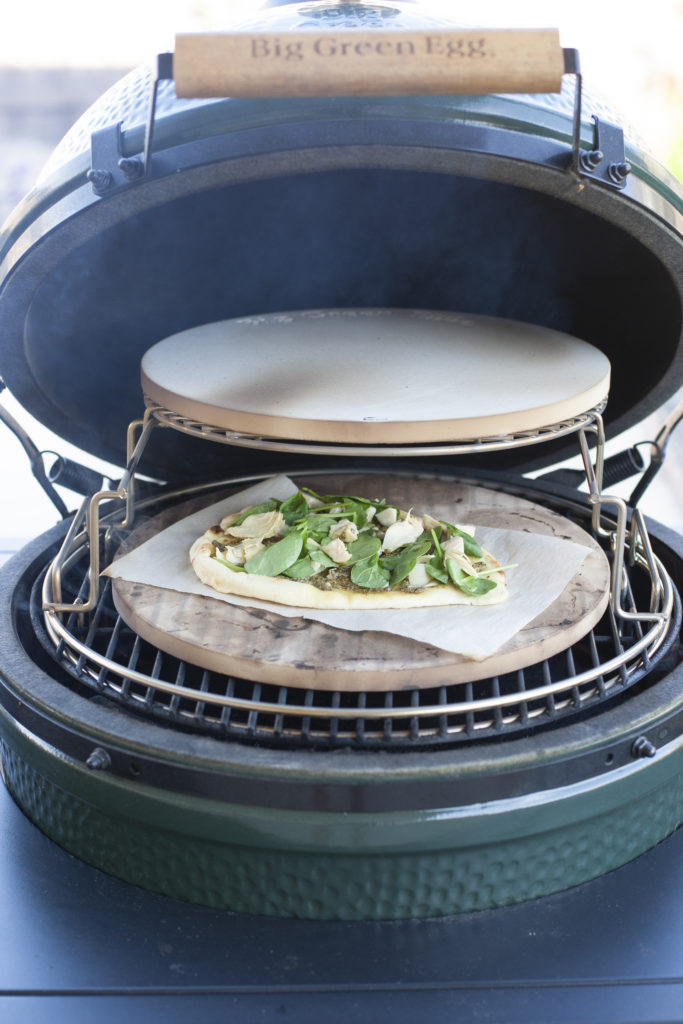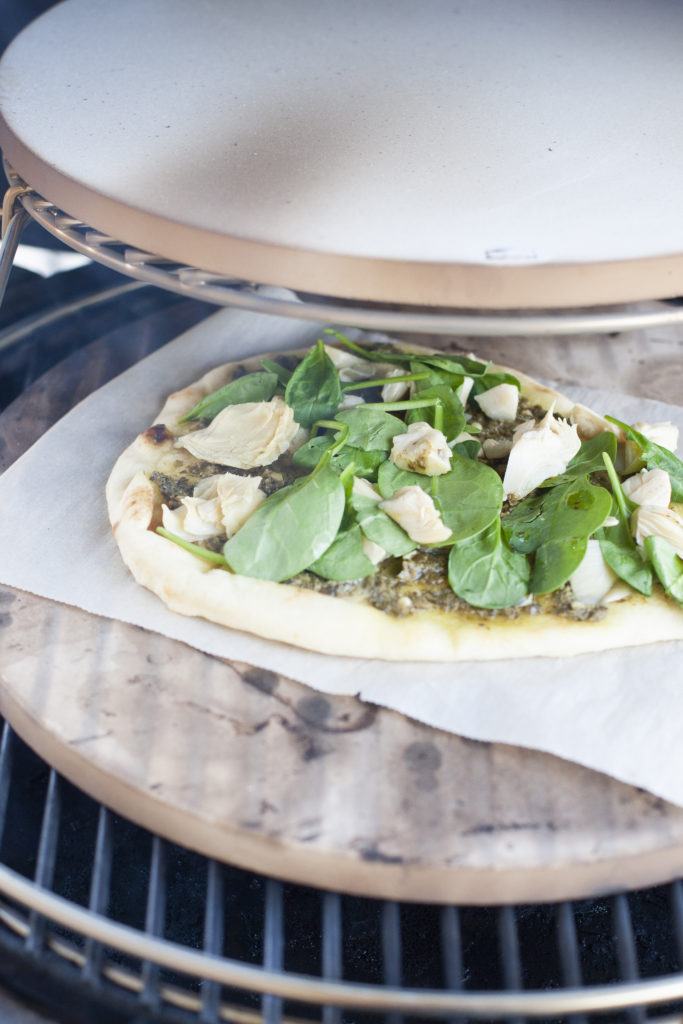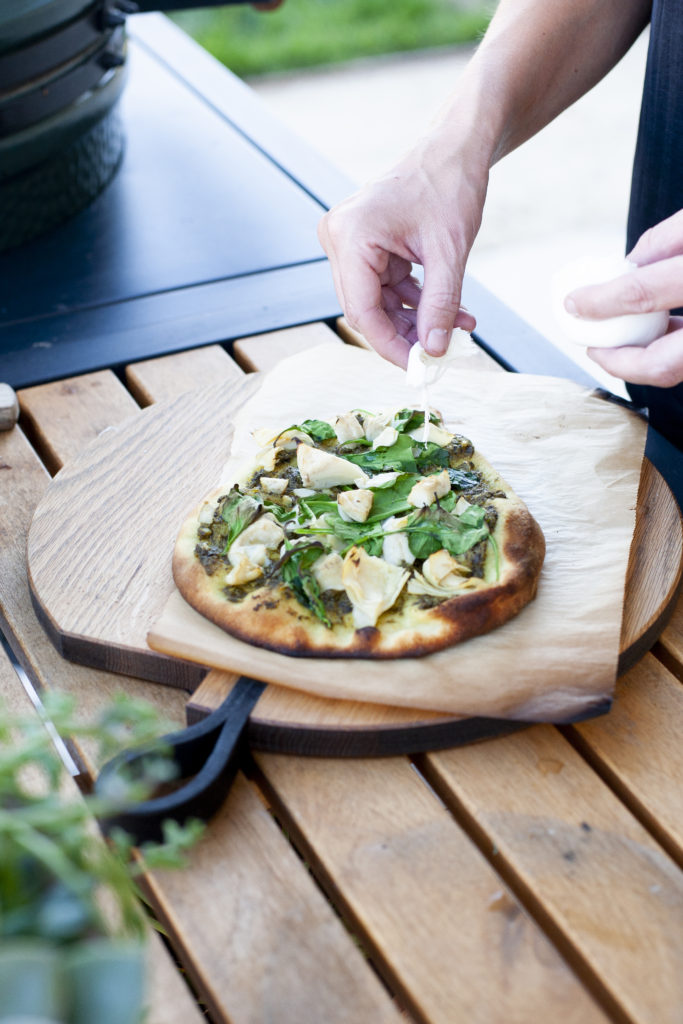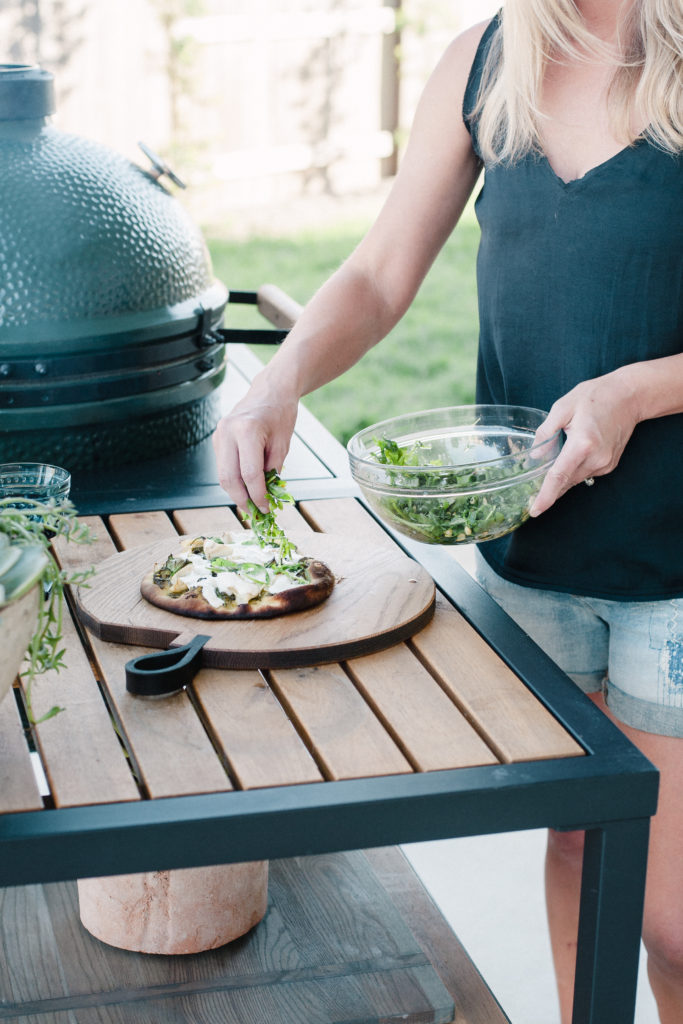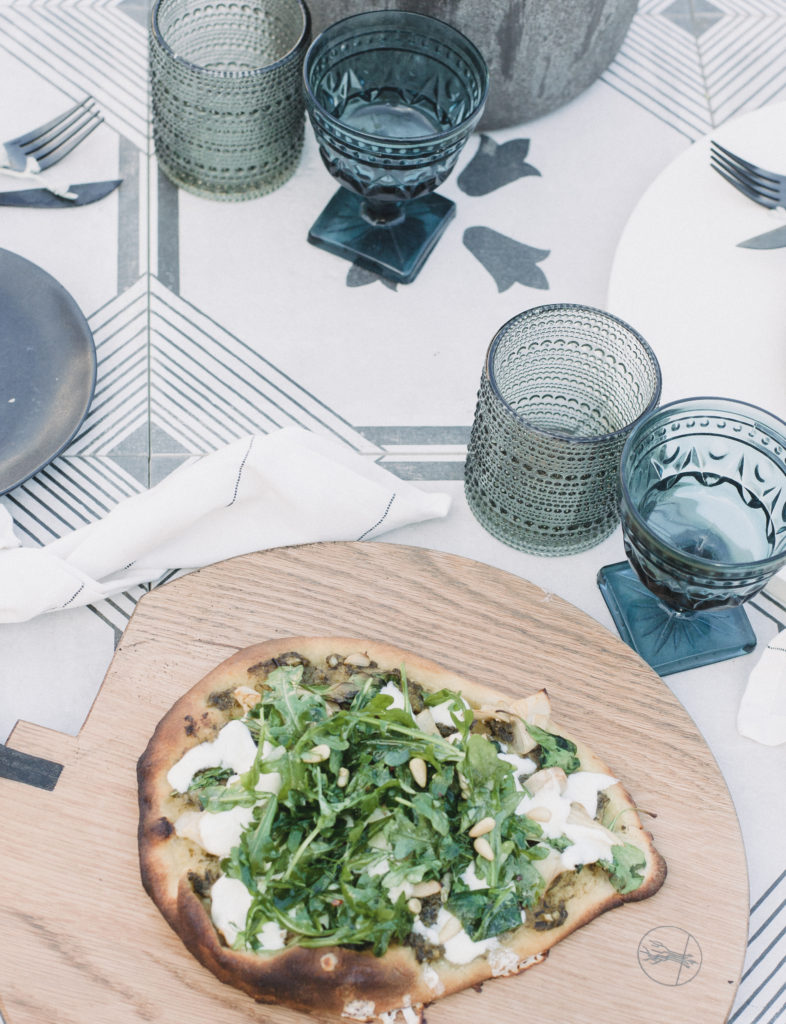 PIZZA CARBONARA
SERVES: 1 pizza | PREP: 10 MINUTES | COOK: 13 MINUTES
W H A T Y A N E E D!
1/2 bulb of garlic
2 tablespoons extra virgin olive oil, divided
Kosher salt
Freshly ground black pepper
2 flatbreads
½ cup shredded mozzarella
1 ball of mozzarella, torn
4 thin slices of pancetta, torn
4 eggs
Parmigiano-Reggiano shaved
3 tablespoons fresh parsley, torn
B U S T O U T:
Pizza Stone
Parchment Paper
---
I N S T R U C T I O N S
To roast the garlic, preheat the oven to 400 degrees F. Do not peel them, but slice ¼-inch off the top of the garlic cloves and set on a piece of foil. Drizzle with one tablespoon of olive oil and generously season with salt and pepper. Fold up the sides of the foil to create a tent. Place in the oven and cook for 40 minutes.
Once the garlic is cool enough to handle, squeeze the pulp out of the papery casings, into a small bowl and mash with a fork until you form a paste. Set aside until ready to use.
Heat your grill to about 600 degrees. You will want to put your pizza stones in there, so they heat up as well.
Spread the roasted garlic paste smoothly over the flatbread. Sprinkle the shredded mozzarella, torn mozzarella, and pancetta over the top.
Crack each egg (one of time) into a fine-meshed sieve. Let the excess egg whites run thru the sieve. Then gently place each strained egg into a separate cup or small bowl. This process will get rid of extra egg whites which will result in firm and no runny eggs for your pizza.
Transfer your pizza along with the parchment paper to the pizza stone. Cook until the cheeses are melted, about 4-6 minutes.
Remove the pizza from the oven and add the eggs. Take a measuring cup and twirl on top of the pizza where your eggs will go. This process will create a bit of a well, so hopefully, your eggs don't run all over the pizza. Mine still did a little bit, but it's still really yummy! Season the tops of the eggs with salt and pepper and place back in the oven. Cook for 3-5 minutes, until the egg whites are relatively firm and the yolks are barely set.
Remember the eggs will continue to cook a bit once out of the oven.
Remove the pizza from the oven and add the shaved Parmigiano-Reggiano and parsley.
Enjoy!
---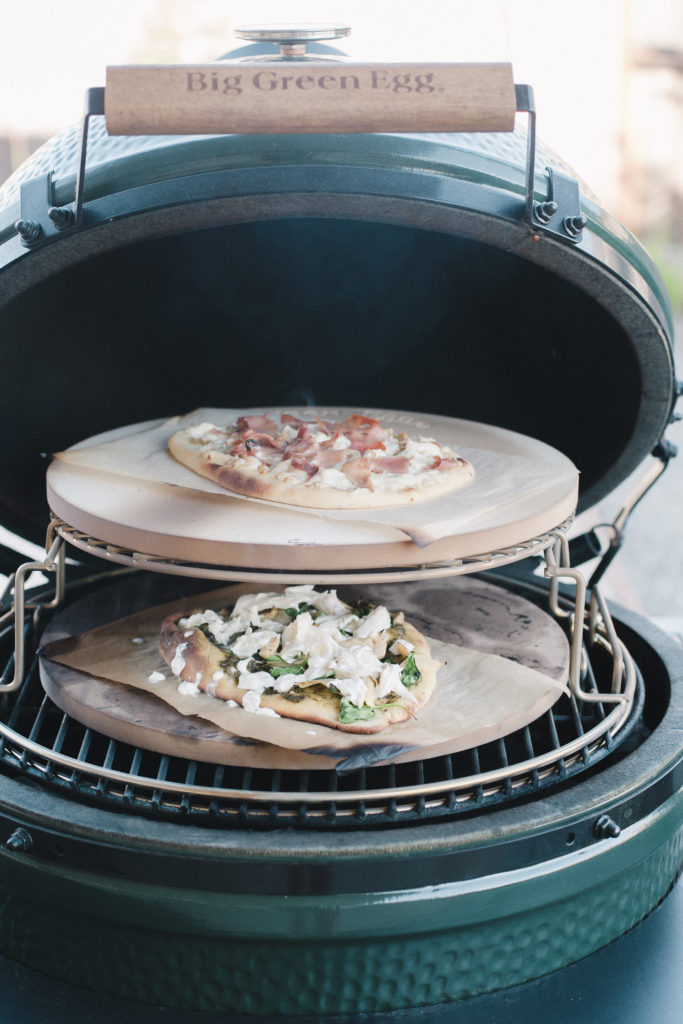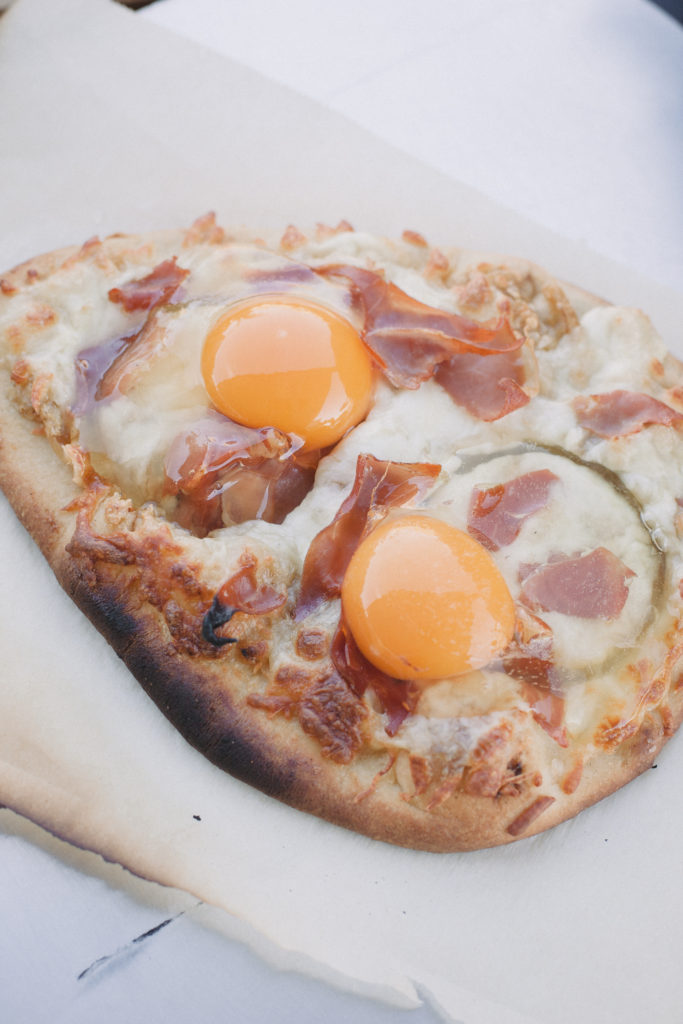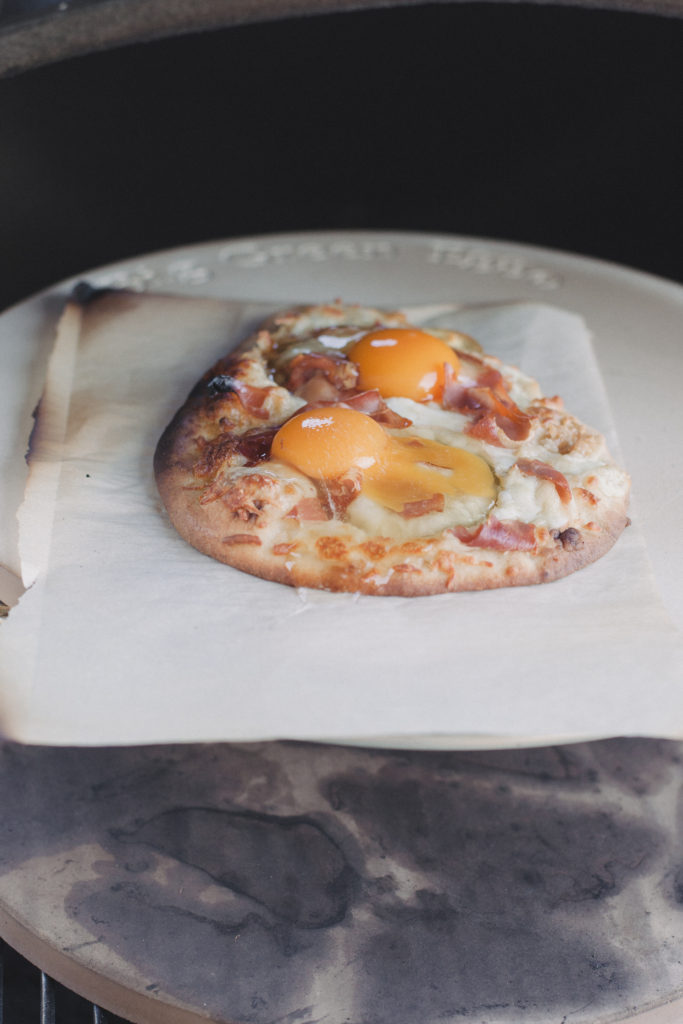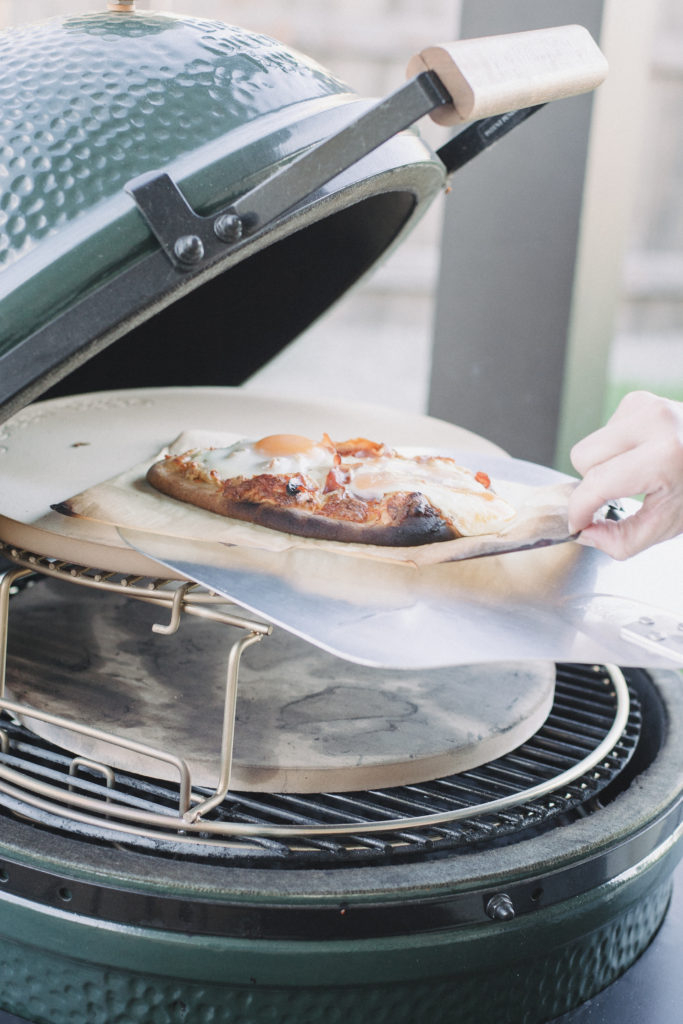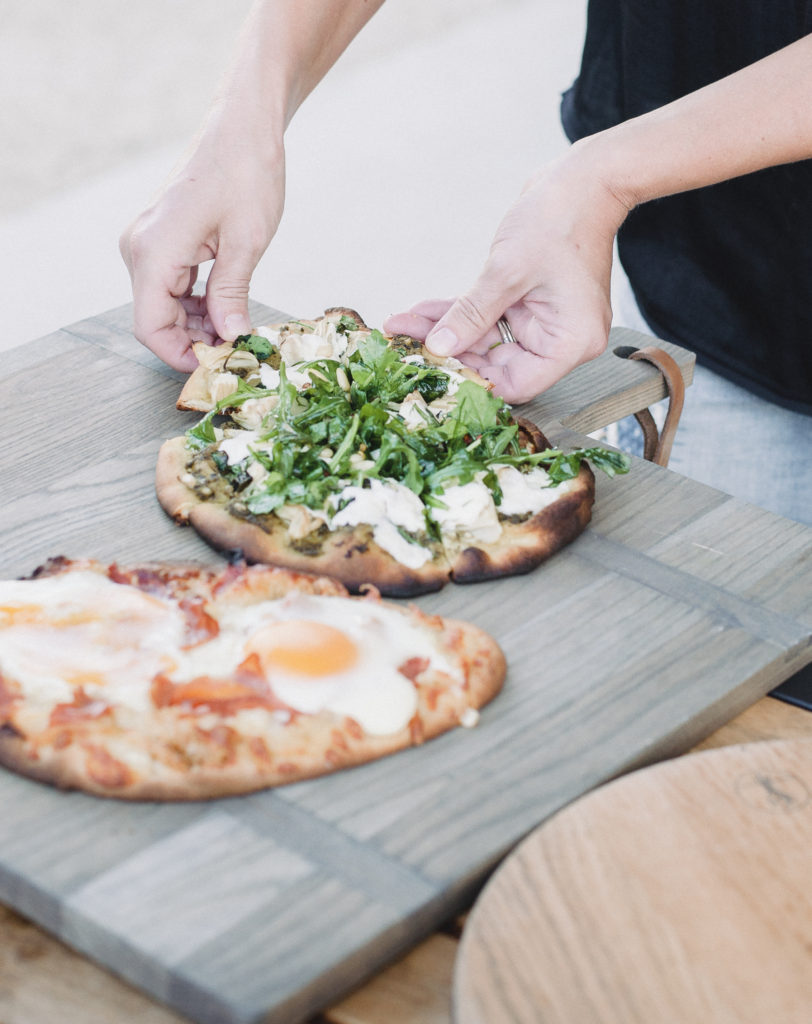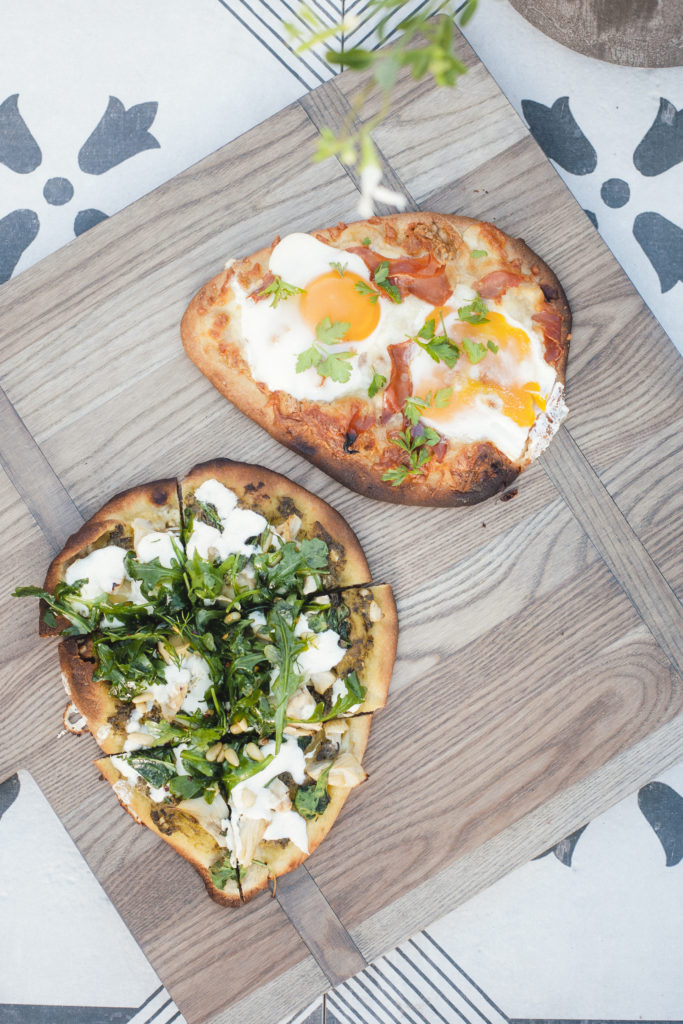 ---
The Backyard Setup
Now, no outdoor pizza night is complete without a little setup to dine al fresco. I covered our firepit up with some ceramic tile from Bedrosians. I love this decorative tile called Graphite Dynasty. We got it to create an outdoor wall that my husband is currently building. So I thought let's make a portable tabletop to match the wall. It's nice to take off and on the firepit when we need a table. Stay tuned for an update on our backyard design!
I used the Big Green Egg's pizza stones as chargers for the table. It's a fun way to add some modern grill-themed detail into your tablescape. I added some dark grey-blue vintage glassware that I have had for years that I found at a vintage shop in combination with the Fortessa Jupiter Double Old Fashioned Glass in smoke from Sur La Table—followed by these white and black napkins, Baird Appetizer Plates, and my black flatware.
Another fun way to incorporate flowers and greenery into a tablescape is to use plants! I potted a beautiful wildflower plant that I got at my local nursery into the Roma Round Terracotta Planter. This way, your florals will last longer!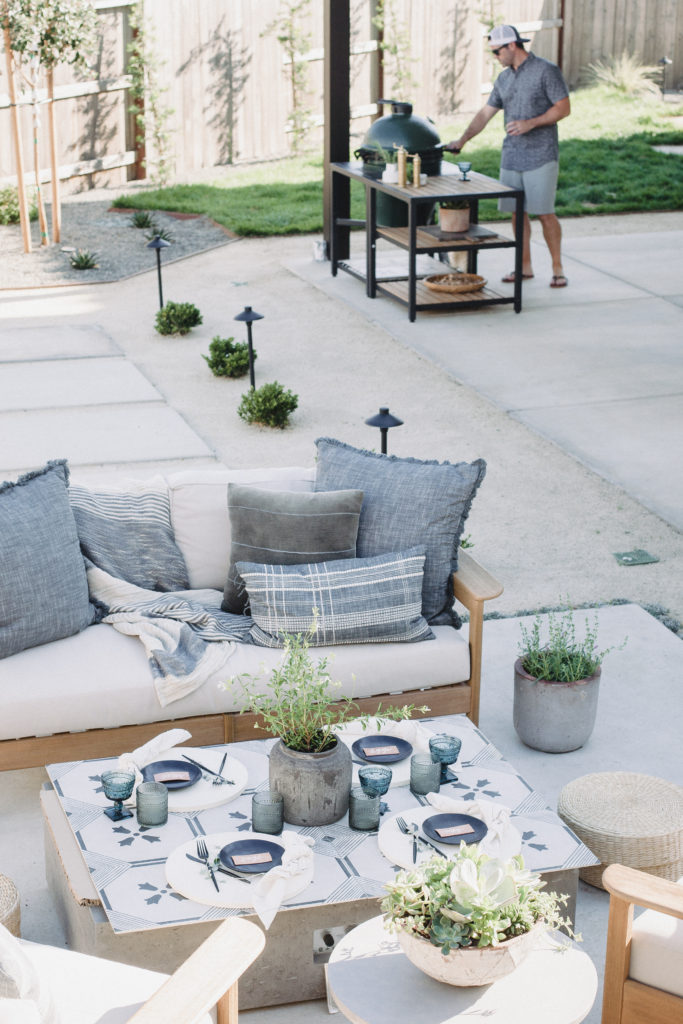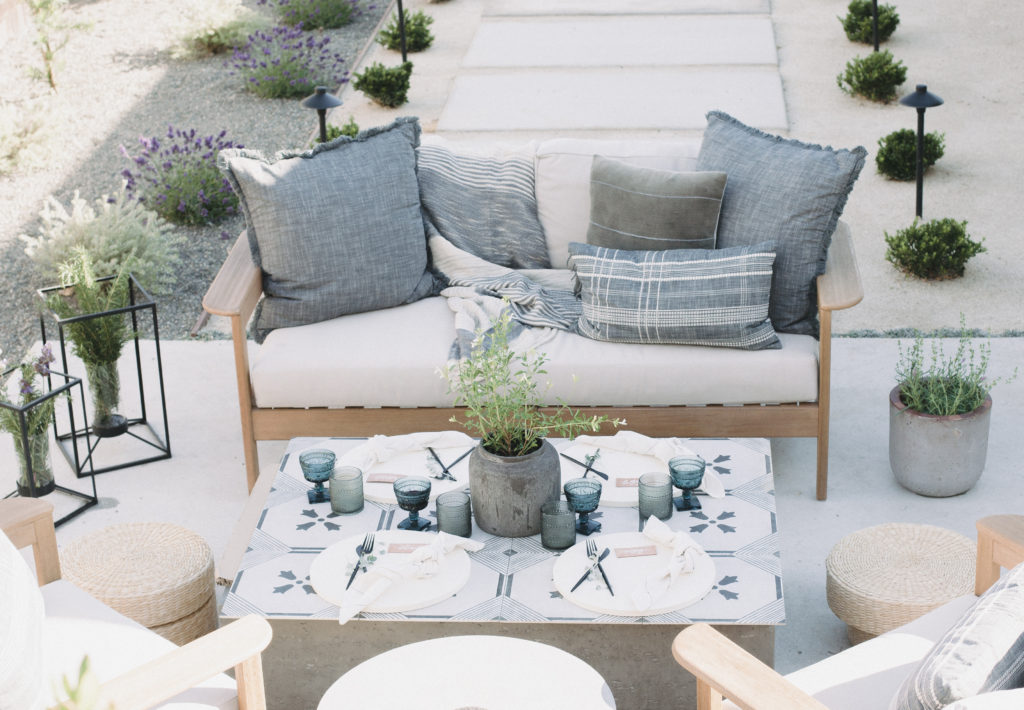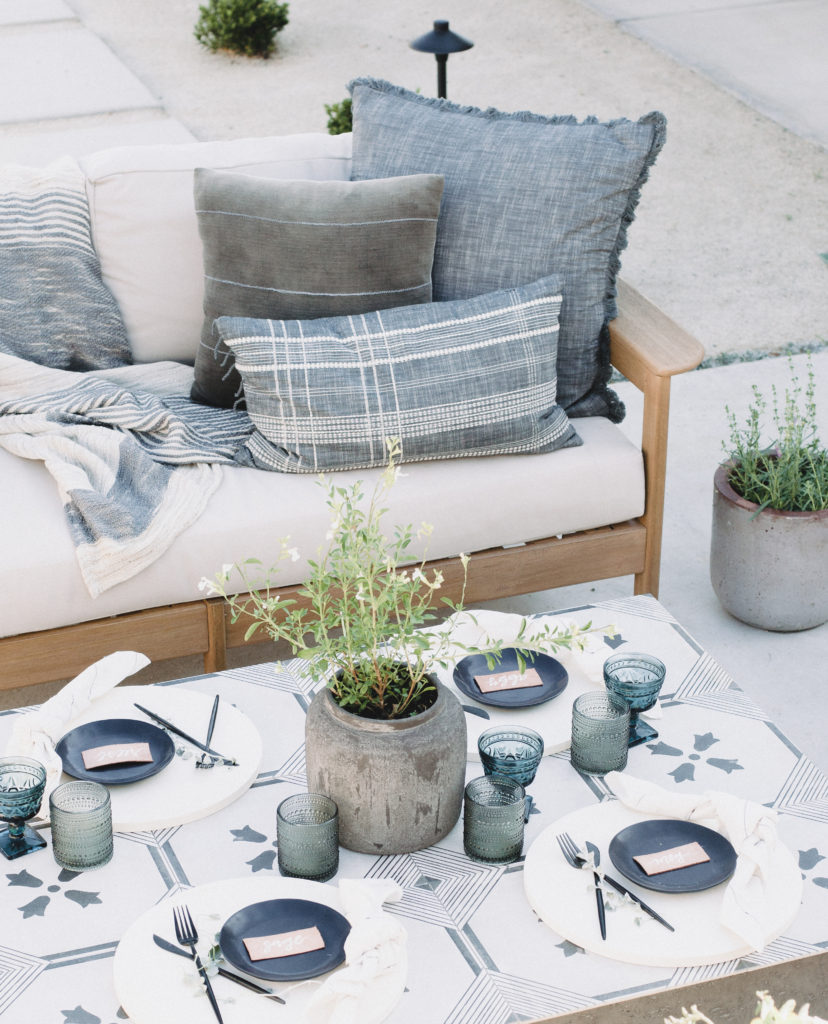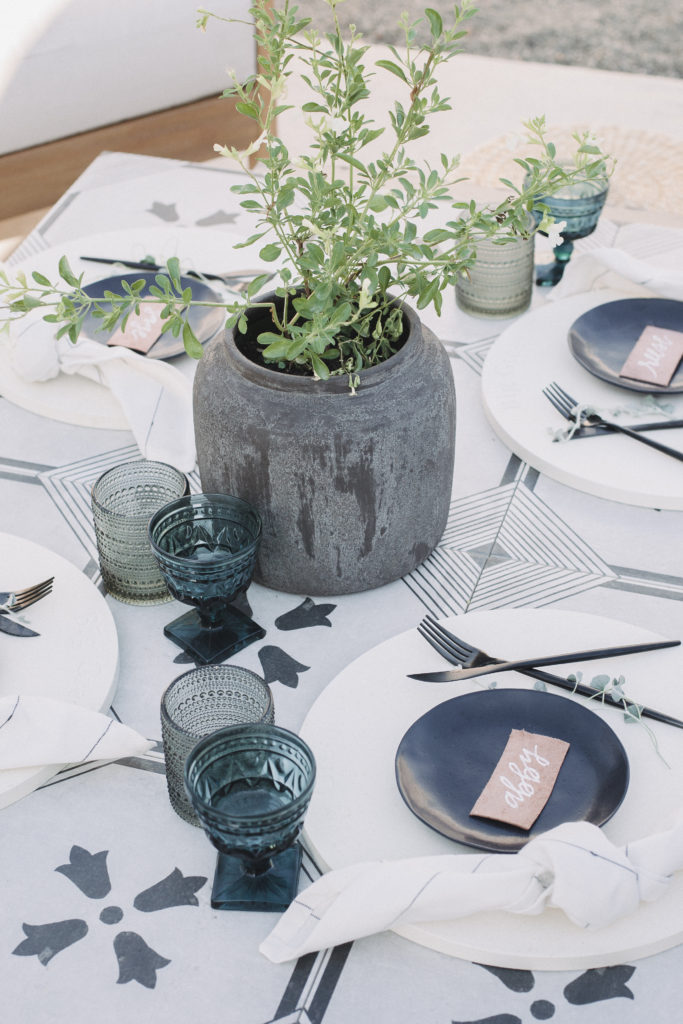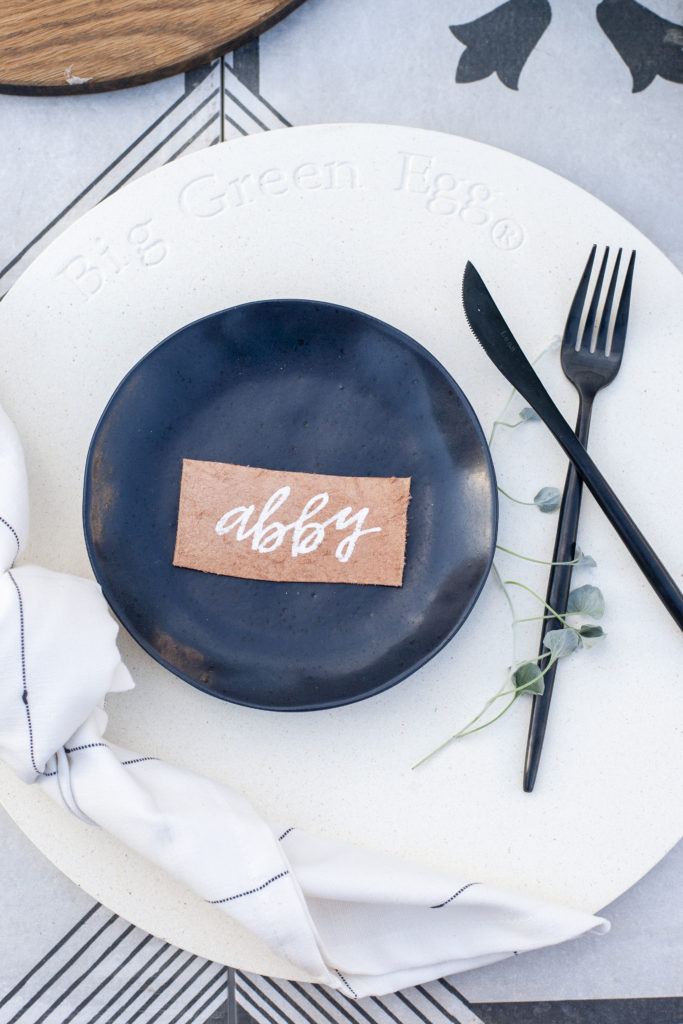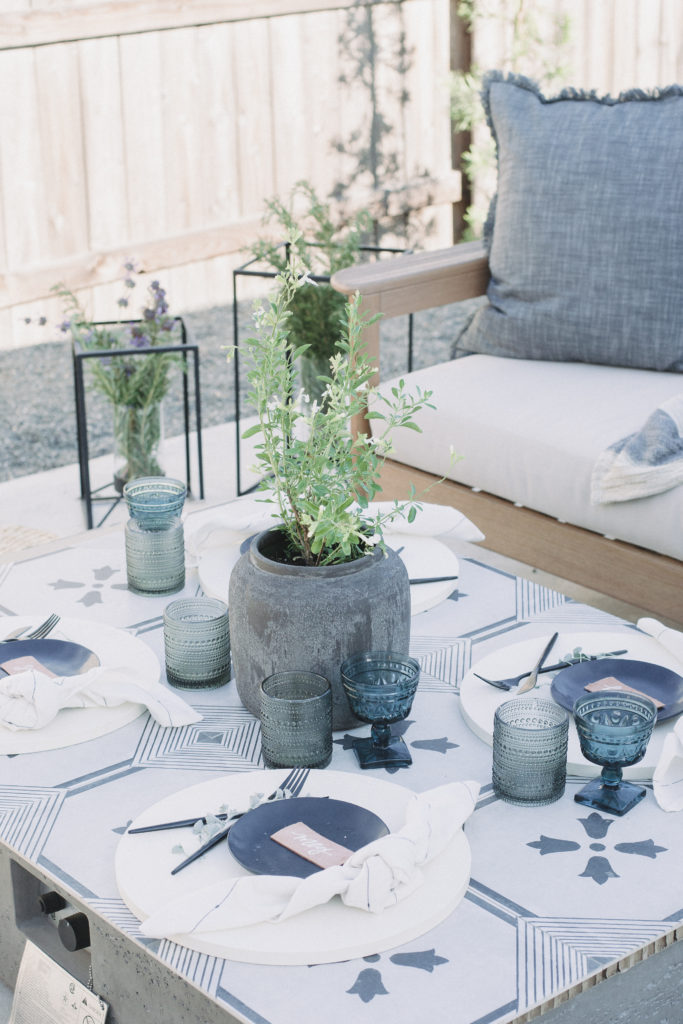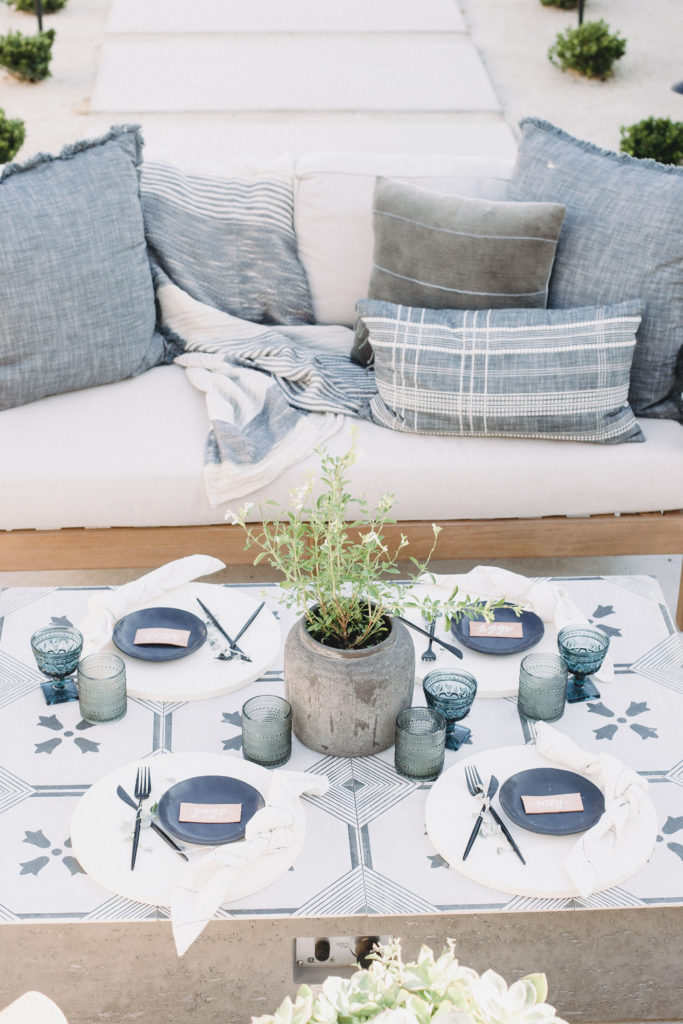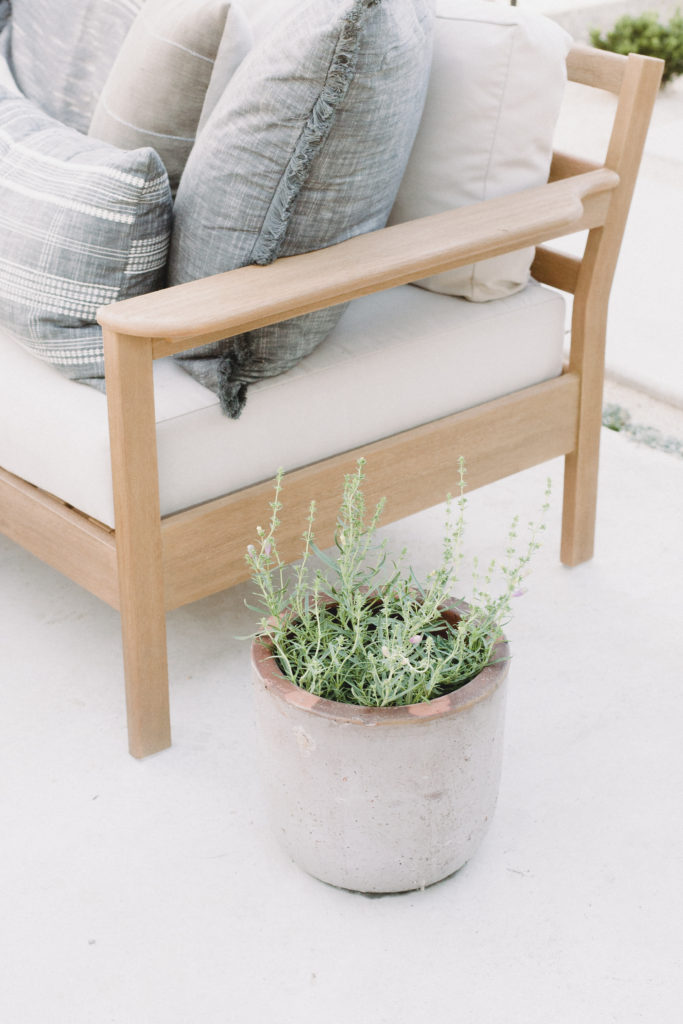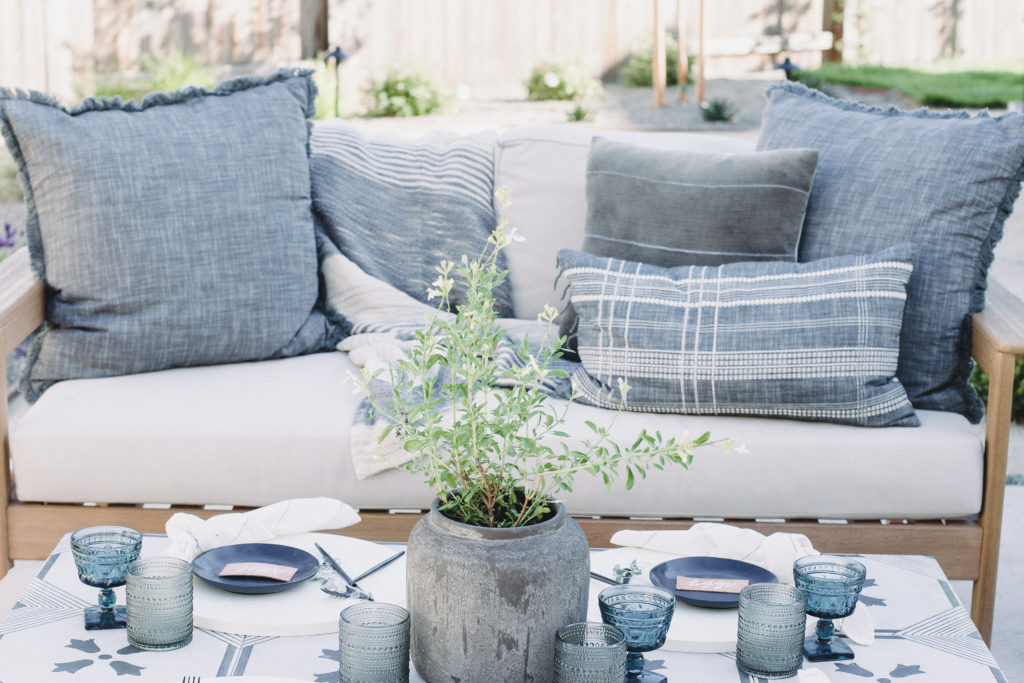 SHOP THE TABLESCAPE HERE

---
SHOP ABBY'S OUTDOOR LOUNGE AREA



Hope this gives you some inspiration for some fun warm nights with your family!

xx
Abby