We are continuing our quarantine features with some shopping, cause I mean who doesn't have full Amazon carts right now? Both of us have been able to get some time to finally do some things we usually don't have the time to do, like reading and cooking. We thought we would share with you some of the fun activities we have been doing for ourselves and with our families!
One of the things I set time to do weekly is to try new dishes out. I have a bit of a cookbook hoarding problem, and now is the best time for me to sit down and mark some recipes that I have wanted to make. The first month of staying in place, I became a crazy bread lady, whipping up bread like English muffins, sourdough, Nutella twists, the list goes on. I highly recommend the Bread Bible. It's my go-to for bread! Two new ones that came last week are, I got The Baja California Cookbook and Just the good stuff! SO maybe stay tuned for some fun recipes that were inspired by those books. See more of my favorite cookbooks that I use on the regular below. Not only are there amazing dishes in these, but they also act a pretty kitchen decor to style up your countertops.
xx
Abby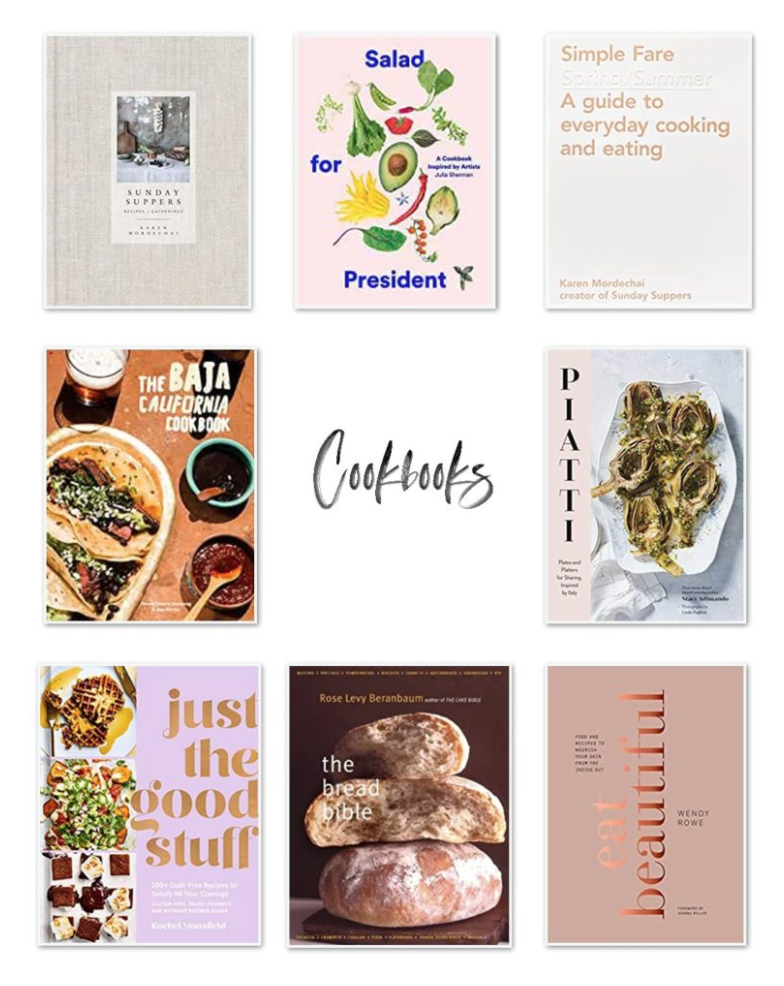 sunday suppers | salad for president | simple fare |
the baja california cookbook | piatti | just the good stuff | the bread bible | eat beautiful
Hi Guys! Jacquelyn here! Self-care is an important thing to ALWAYS remember, but us mamas really need to right now. Not only are we doing all the usual household upkeep, but also being a teacher as well! It's important to still take that time (however minimal it may be) and take care of ourselves.
Plus, with places still closed like nail salons, facial studios, etc – it's time to do a little upkeep ladies!! I rounded out some of my favorite products and a few that came highly recommended so your skin and your feet will still be in tip-top shape! I just got a delivery of Baby Foot yesterday and can't wait to try it – because mama's feet are NOT looking pretty right now… Really regretting that green gel pedicure I got for St. Patrick's Day, haha!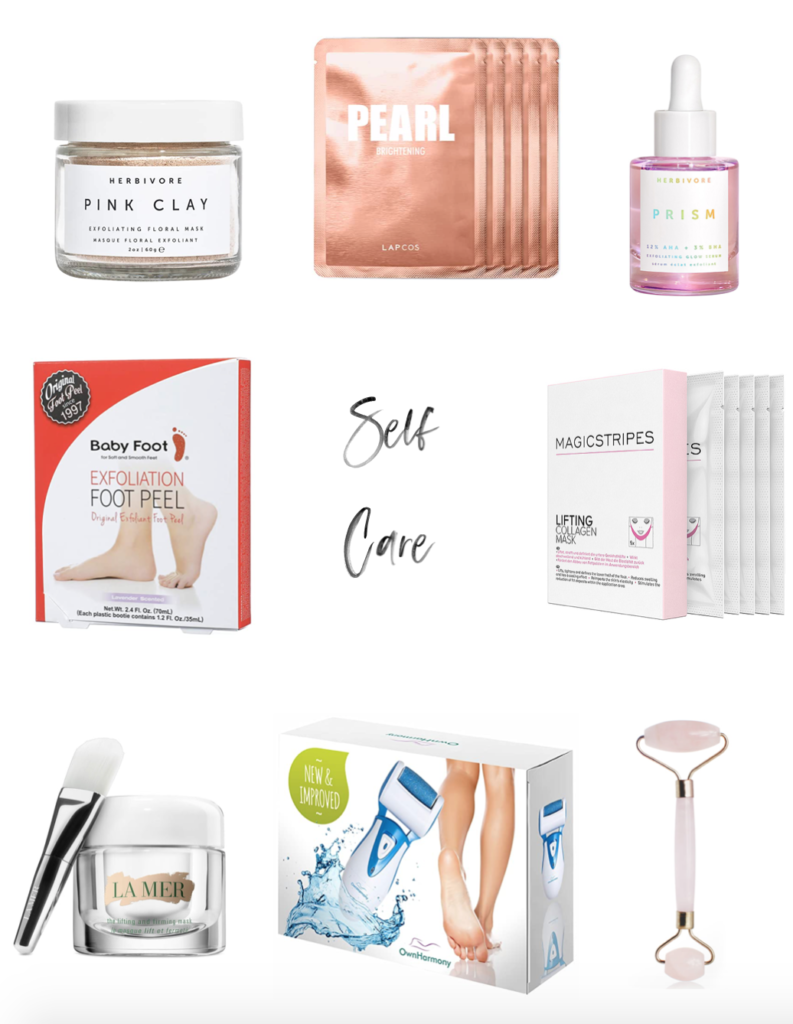 herbivore pink clay exfoliating mask | pearl brightening face masks | herbivore prism serum | baby foot exfoliation peel |
magic stripes collagen mask | la mer firming mask | electric callus remover
herbivore rose quartz roller
A deck of cards is essential for any household! We have been using ours a lot actually to help the kids with math facts. It's an excellent way for them to learn to subtract and add fast! And for me to relearn my math facts, haha! Of course, you can have the traditional set of bicycle cards, but what's the fun in that?!? Here are some of my favorites. There are ones for every style. We own the white ones you see in the 1st row. And how fun is the Queen and Radical 80's ones?!? And don't forget some waterproof ones that will come in handy for summer by the pool.
xx
Abby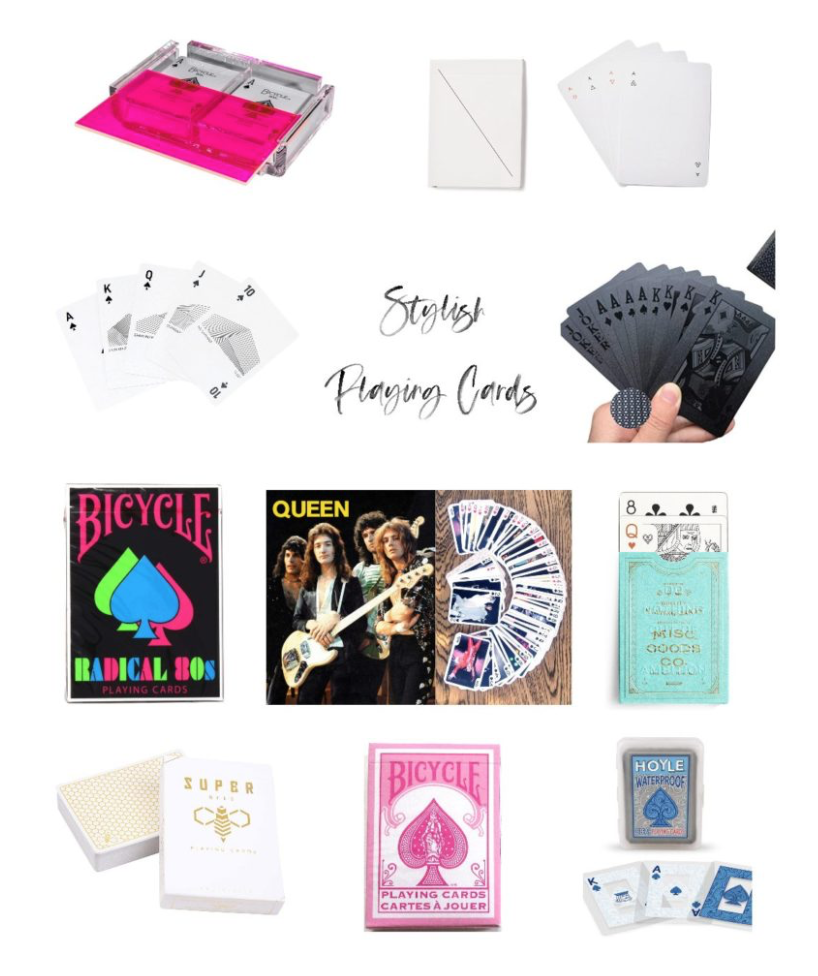 elegant pink playing cards | white playing cards | mountain playing cards | black diamond waterproof playing cards | radical 80's playing cards | queen playing cards | misc. goods co. green playing cards | super bees playing card deck | pink bicycle playing cards | hoyle waterproof playing cards
The weather is heating up, and that means more time in the backyard for us! Nothing better than hanging out, and getting some rounds of bocce or cornhole in. I can't wait for those summer nights sipping on some wine with friends and enjoying some fun outdoor games like the ones below!
One of my husbands and I favorite place to go to is a resort called Cordavalle, and it is located in San Martin in Nothern California. It's our happy place that we try to go once a year. We love to hit up the winery right next to it, and picnic and play bocce. So since we aren't able yet to go, we set up bocce outside to try to recreate the fun we would have. Hopefully, soon we can get back there!
xx
Abby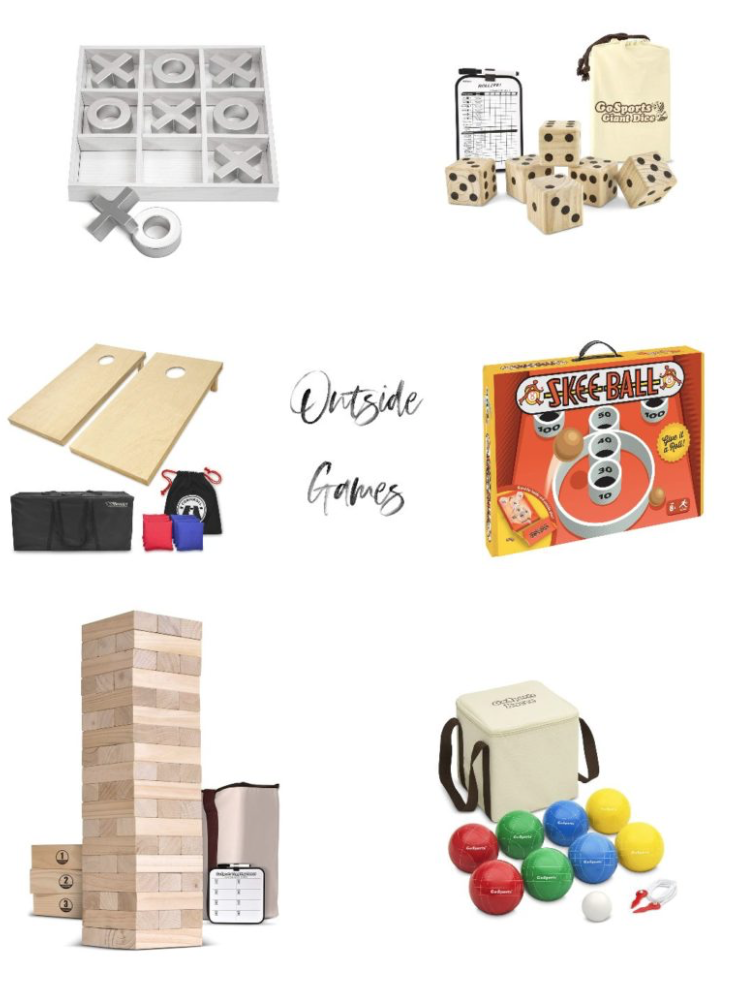 tic tac toe game board | wooden playing dice | cornhole set | skee ball | giant outdoor jenga | backyard bocce ball set
Do you remember when you were able to go to Target and spend hours going up and down each aisle without judgement or the fear of someone being to close to you? I'm hoping we can exercise those days soon! One of the things I loved looking for was the old school board games. Anytime, I would see one; I would grab it! Having games, I had when I was little for my kids to learn to play brings back all the fun I use to have with my sisters. Target online has a great selection, but Amazon has even more.
Please tell me you guys remember the game, Waterfuls?!?! It may not be a board game, but it was a favorite in my house growing up. Clue was another favorite game, I recently just bought this hoping the kids are old enough to understand it. Below, are some of my families favorites!
xx
Abby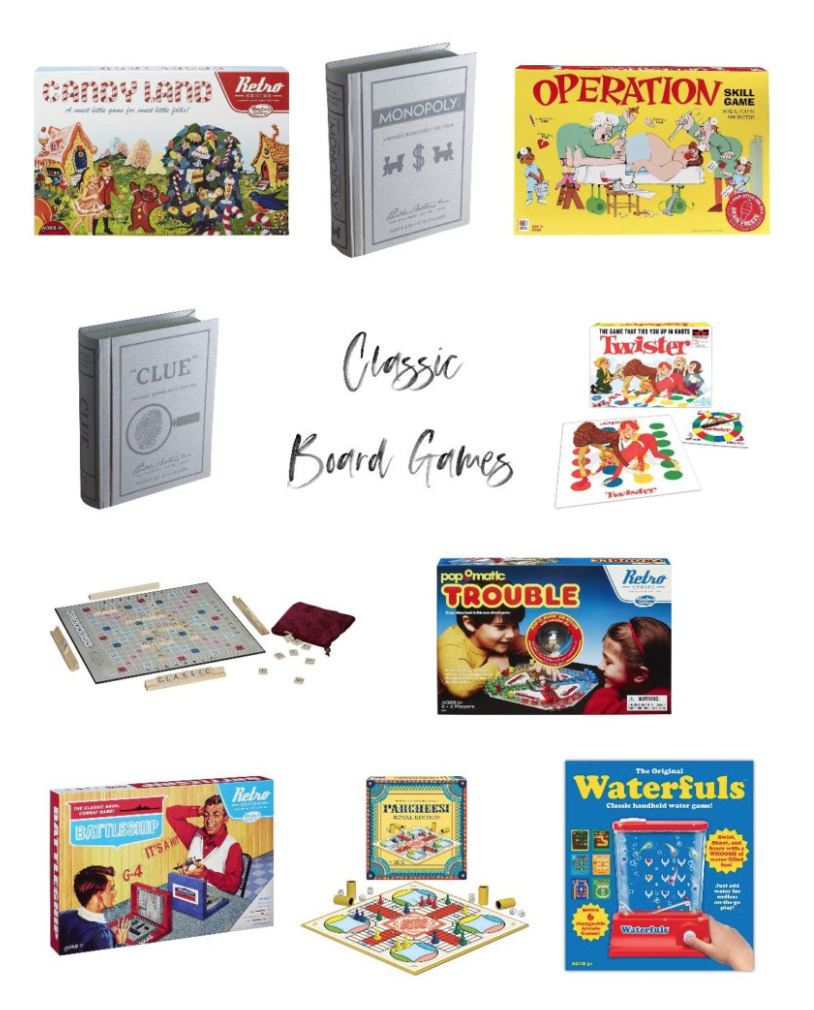 candyland | vintage monopoly | operation | vintage clue | twister | scrabble | trouble | retro battleship |
parchessi | waterfuls
I don't know about you but quarantine has really helped with my reading this year… Last year I made a goal to read one book a month – I read three, haha. This year I am on track and then some! I have loved diving into multiple books these past months. A big thanks to my Mom and sister who have been kind enough to pass many books along to me.
I've read half of what's on this list and the other half are on my list… I'd say my favorites this past year have been Where the Crawdads Sing and The Hamilton Affair. Question – should we start a Beijos book club?! I'm sort of dying to…
xx – Jacquelyn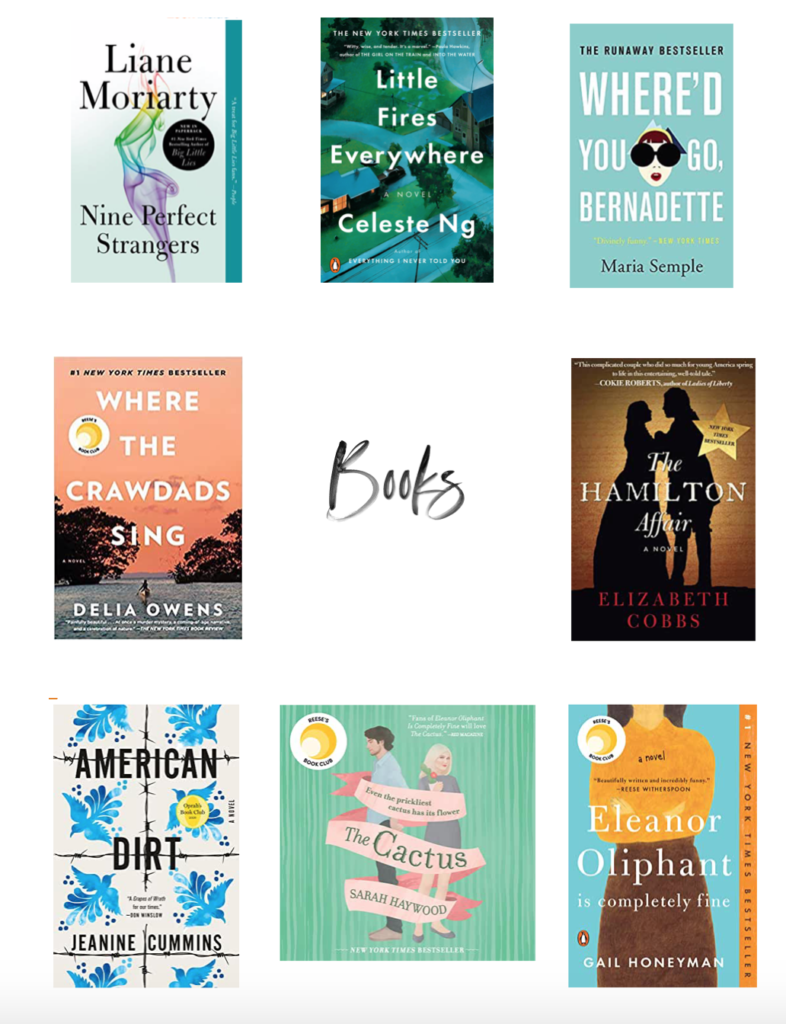 nine perfect strangers | little fires everywhere | where'd you go bernadette
where the crawdads sing | the hamilton affair | american dirt | the cactus eleanor oliphant is completely fine
I'm pretty sure everyone is looking for ideas to do as a family. With my kids being 8 and 10, our game nights are getting pretty fun! We love playing games where we are cracking up all night. We tried a few new ones out this month, and so far they are a hit! I highly recommend Kids Against Maturity. Below are some more fun options that you can order from Amazon, and will be here in a decent amount of time.
xx
Abby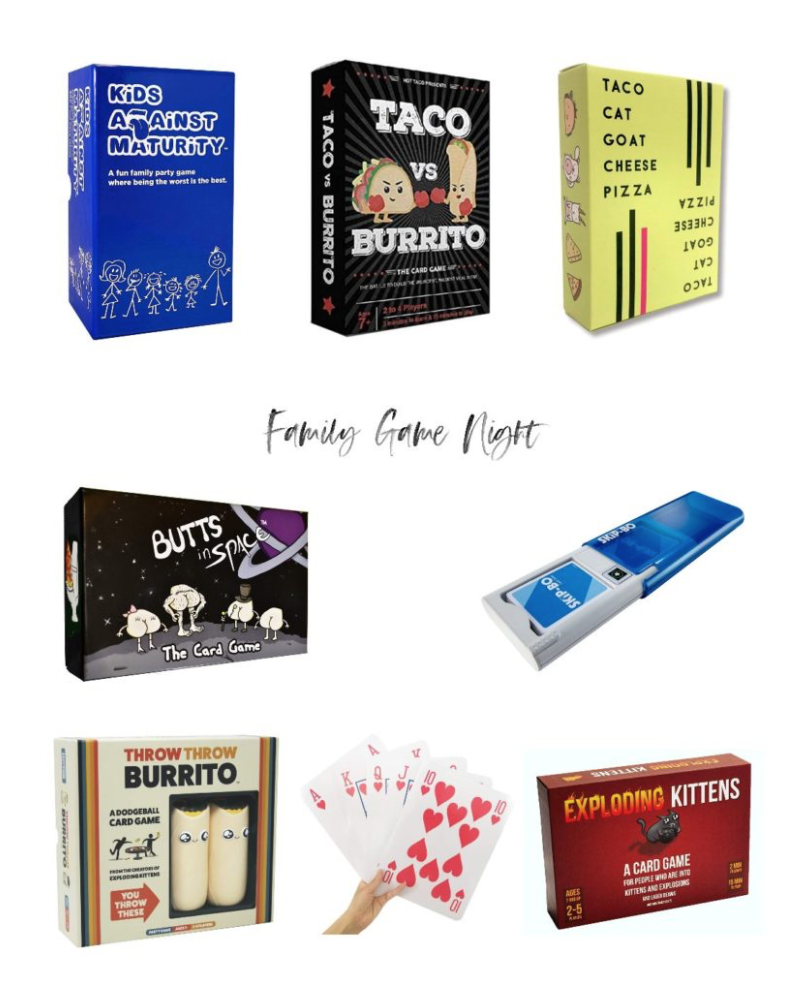 kids against maturity | taco vs. burrito | taco cat goat cheese pizza | butts in space | skip-bo | throw throw burrito | large playing cards | exploding kittens
Hope we didn't add too much more to your already full Amazon cart!

xx
Abby + Jacquelyn