It's everyone's favorite entertaining season, Summer!!! And who better to rely on for the season's best tableware than Sur La Table?! Their Summer collections are always fun and full of color perfectly paired with the fruits of the season. I loved using their gorgeous Fairground collection which was reminiscent of everyone's favorite Summer holiday, the 4th of July. With red, white and blues with a bit of a vintage touch I set two outdoor tables, an adult and kid's table. My favorite Summer memories are are with my close family and friends in my backyard with tons of delicious food, big laughs and lots of love which is just what we captured in this shoot. See it all below with the gorgeous photos by Alison Bernier along with a few hosting tips from yours truly…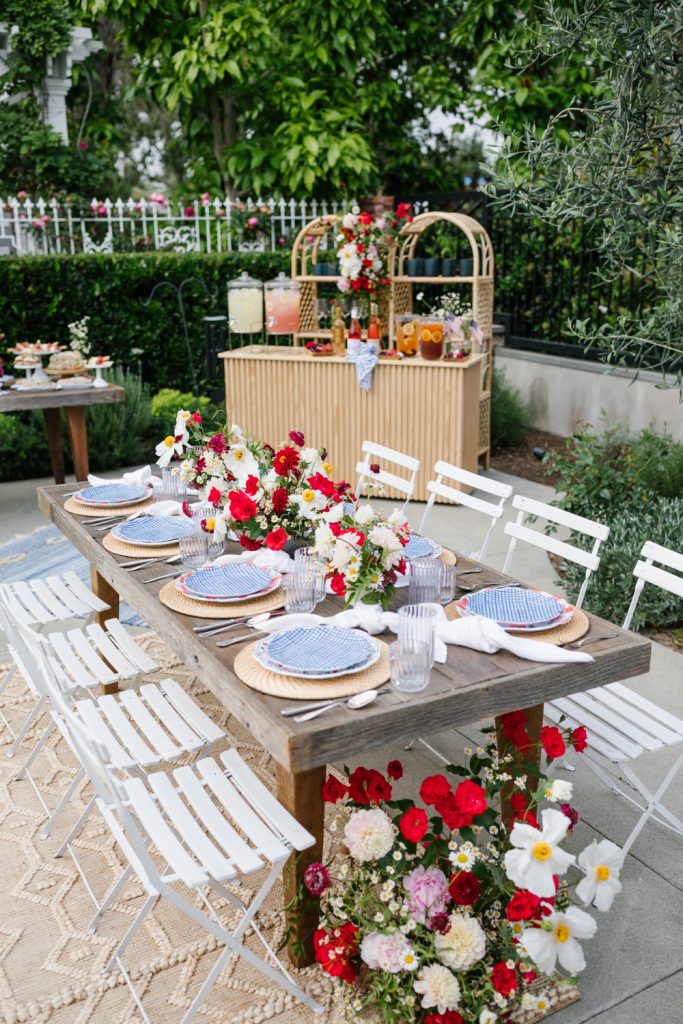 A beautiful invite is the perfect way to kick off this fun!!! Chelcea Creative designed this loveliness for me and I styled it all on a Chasing Stone mat with Sur La Tables summer towels and lots of fresh fruit & flowers. Pretty pretty and oh so perfect for a summer gathering!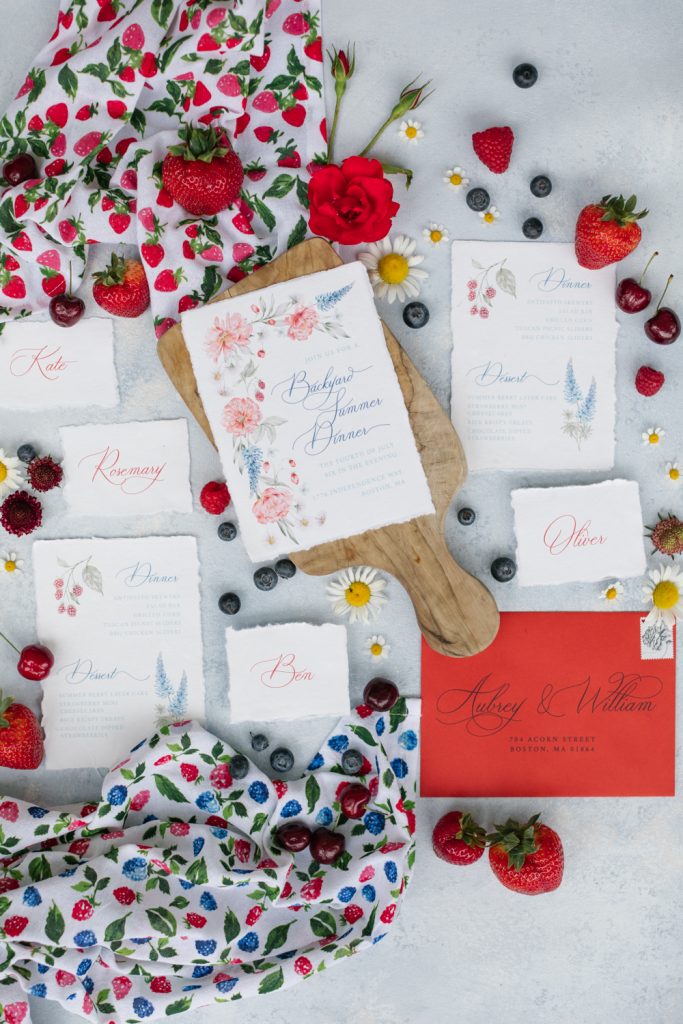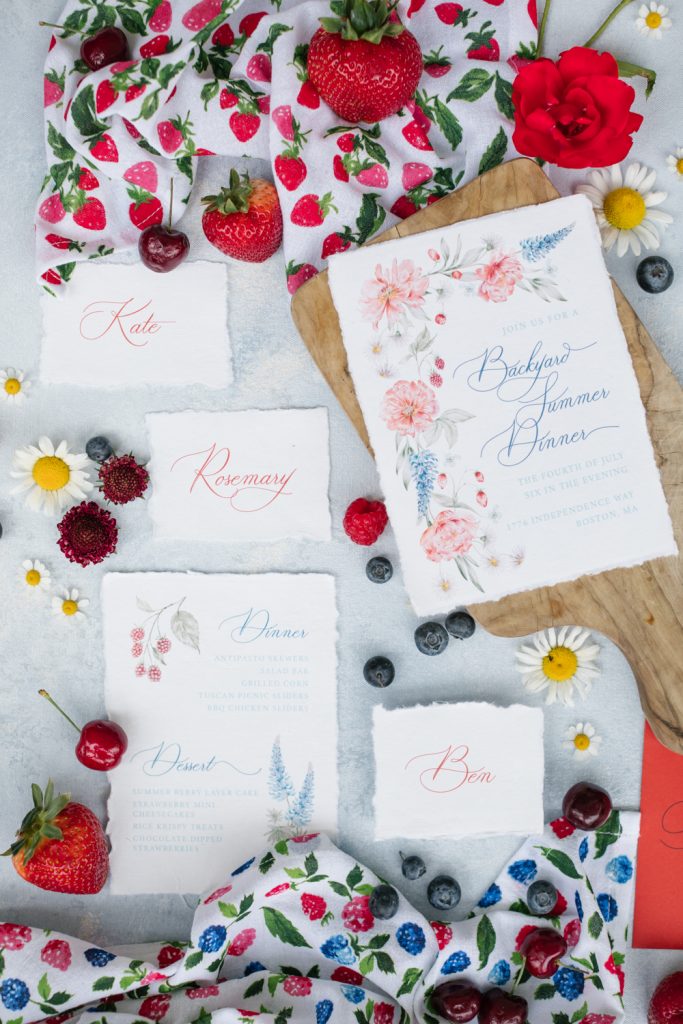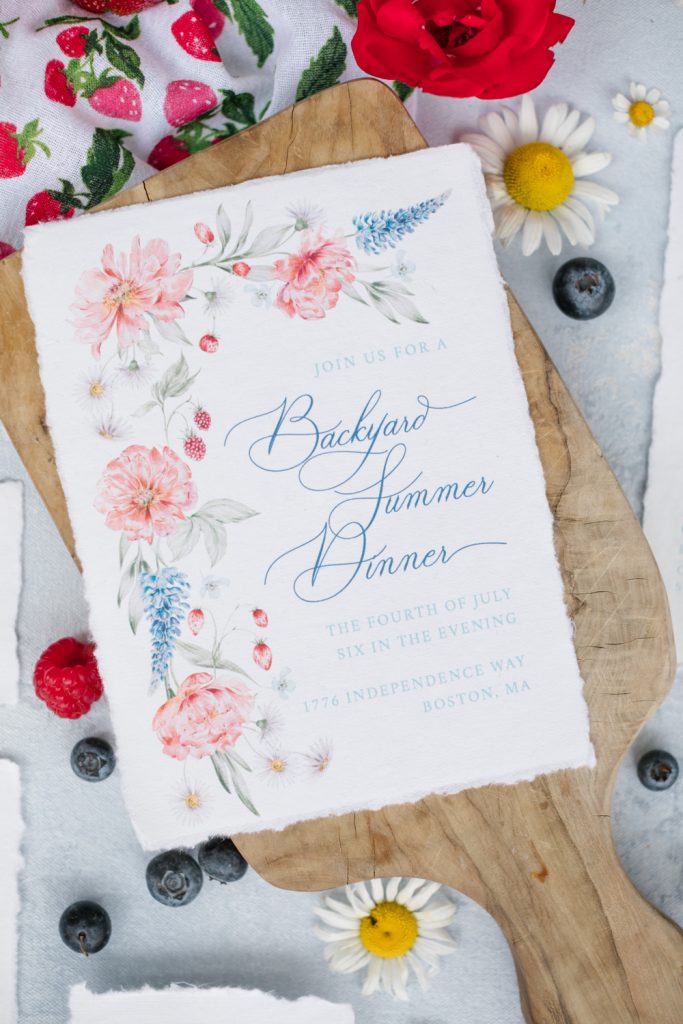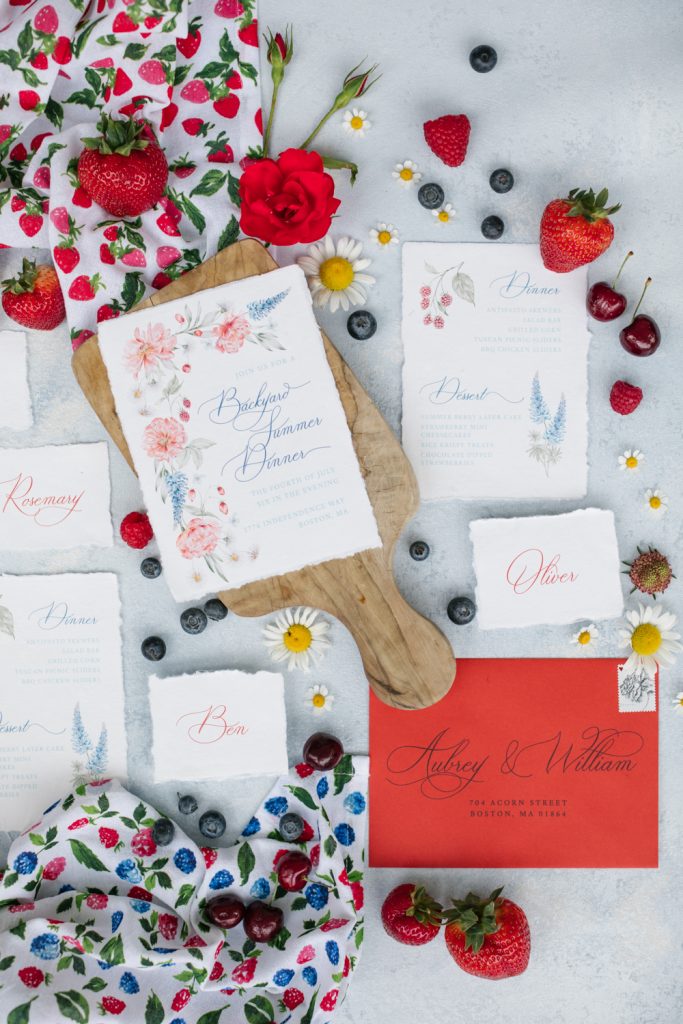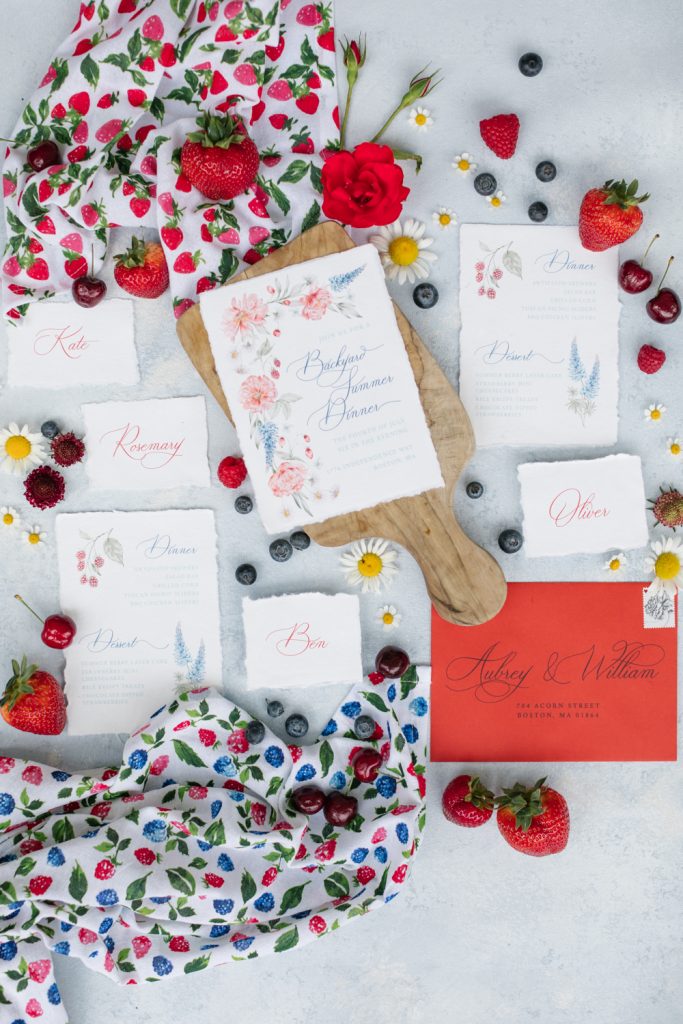 First up is our kid's set up and we brought the fun for sure!!! A beautiful white bounce house from What's Bouncing with lots of pretty balloons from The Pop Shop served as our stunner of a backdrop behind our super cute table. School's out and it's time to bounce!!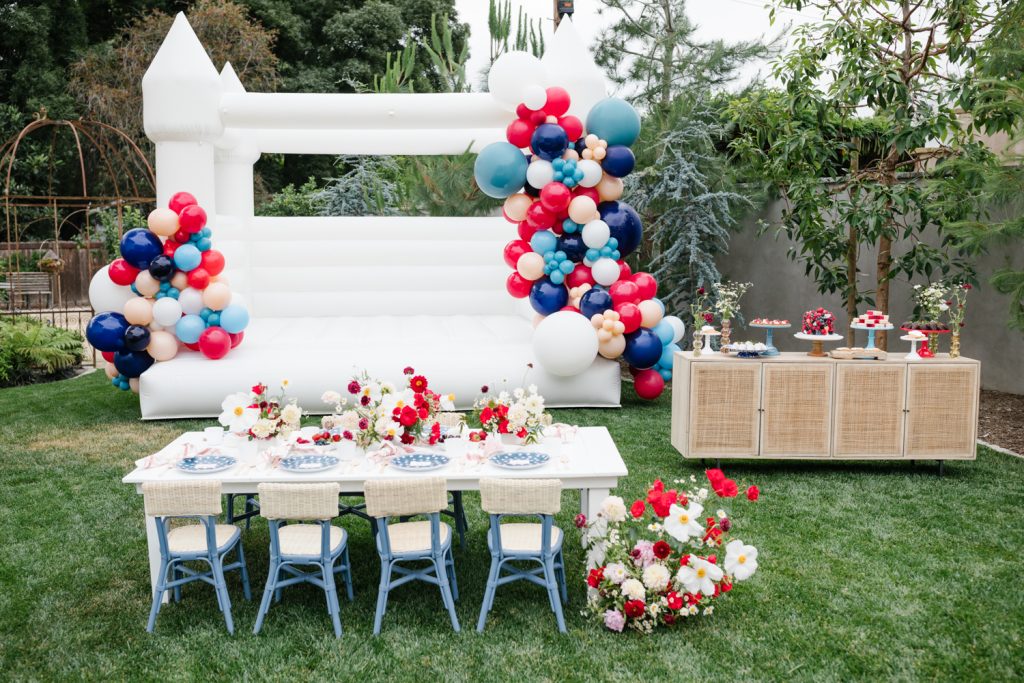 We had our friends from Sweet Salvage Rentals bring their adorable kid's table and chairs. Those blue rattan chairs are so adorable and go perfectly with our plates. I can't get enough of them!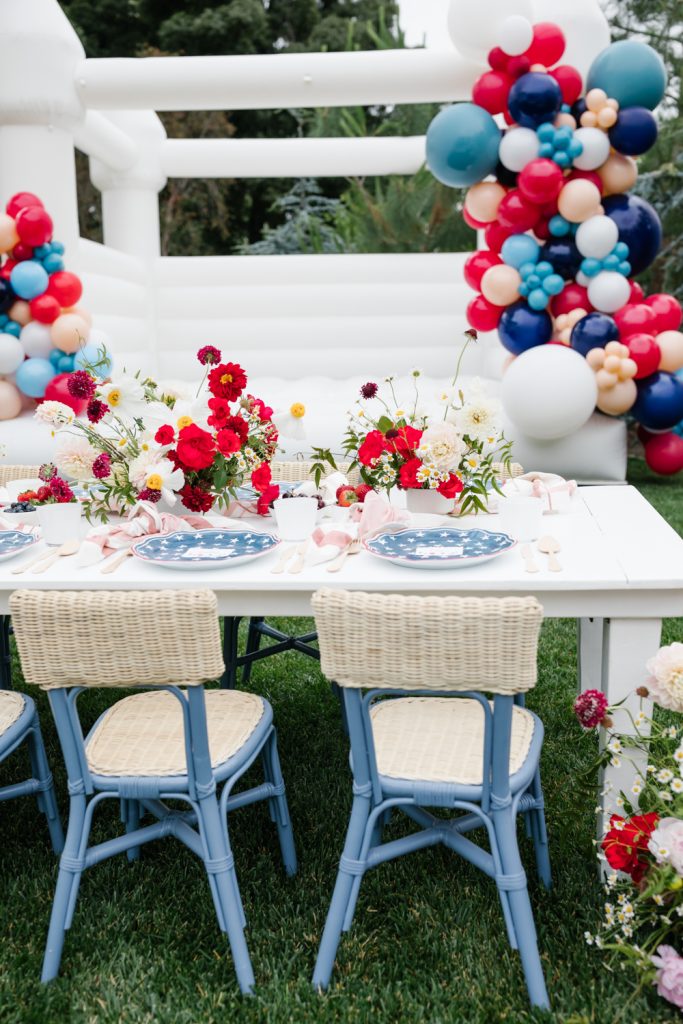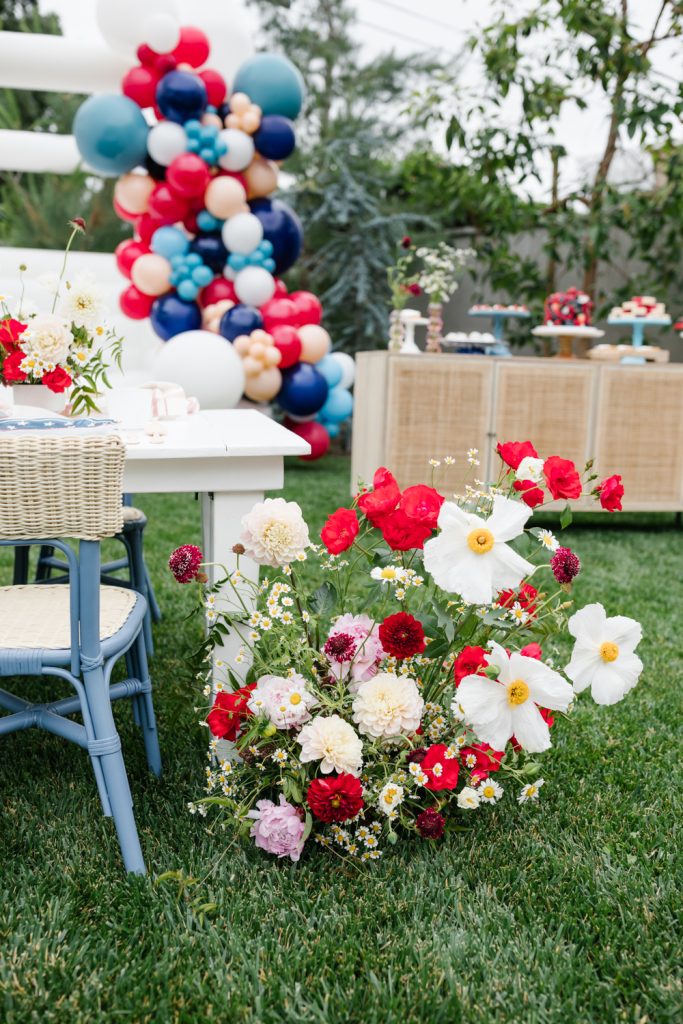 Speaking of the plates…. Sur La Table had these pretty blue and white stars plates with that red trim and I jumped on them! The perfect 4th of July plate doesn't exi… oh wait, yes it does! I added their red & white napkins and simple bamboo flatware and white cups. To complete the table Not Just in Novels added her stunning blooms – those white and yellow poppies are my absolute favorite!! Plus the cutest place cards by Chelcea. Gosh this is one cute table!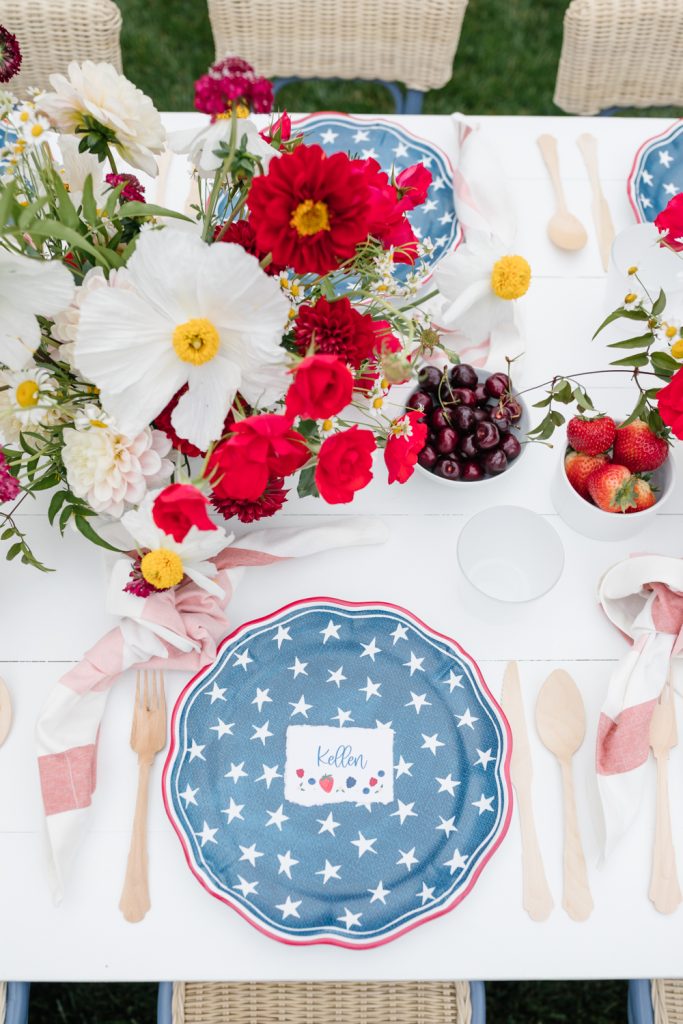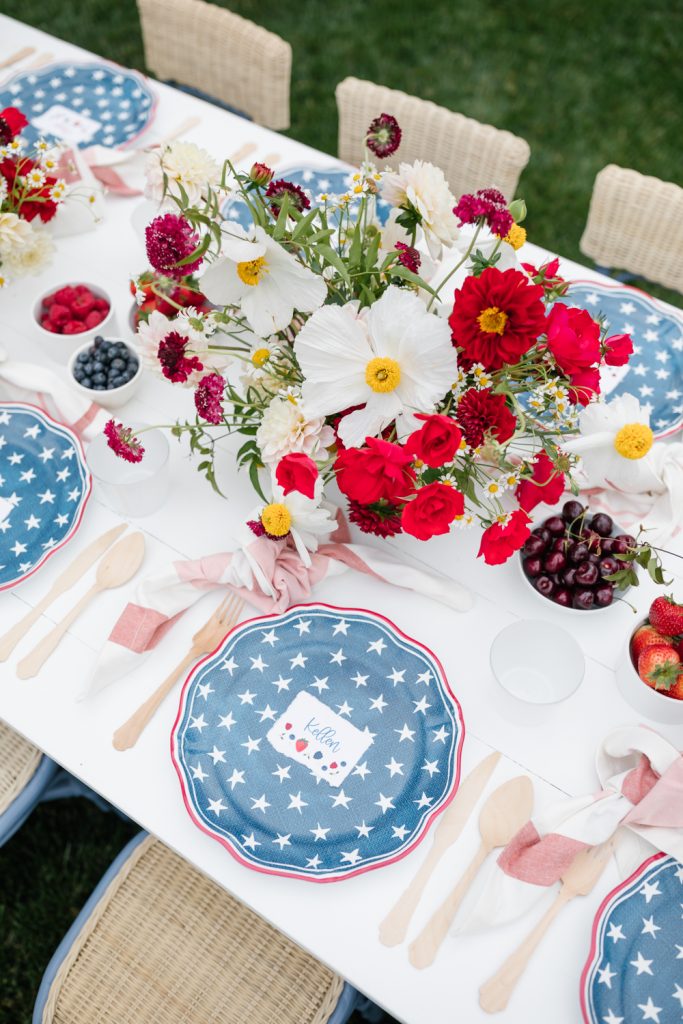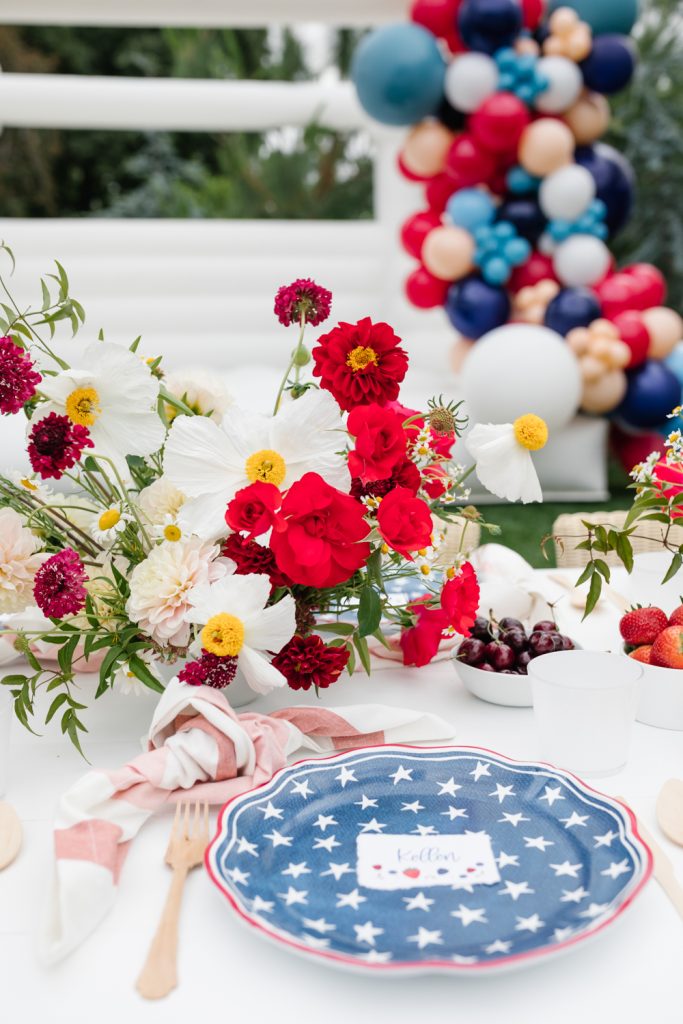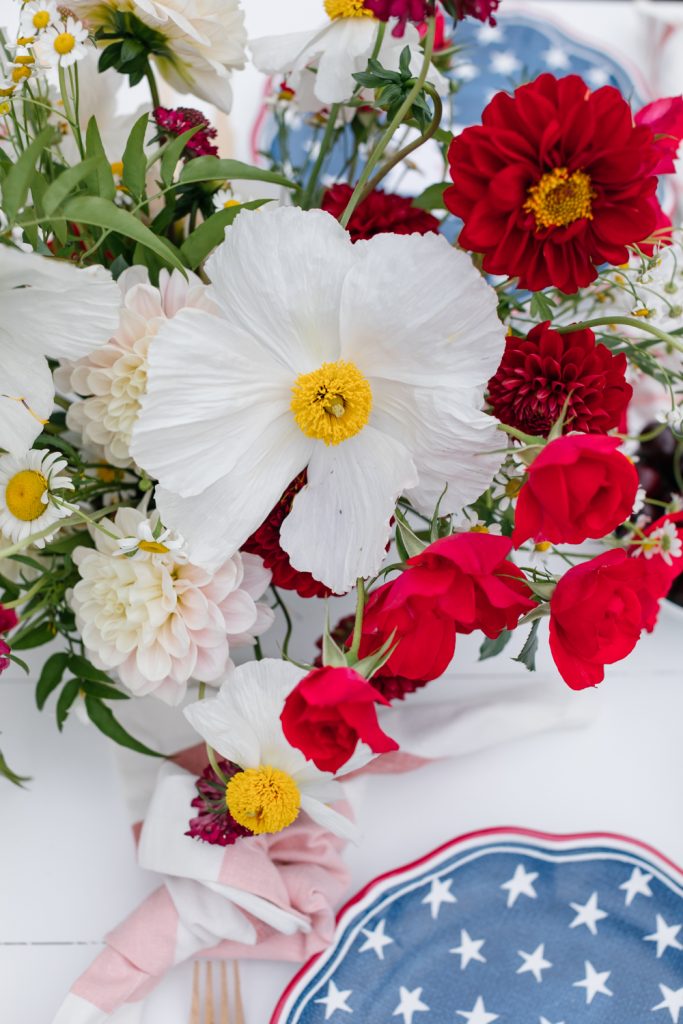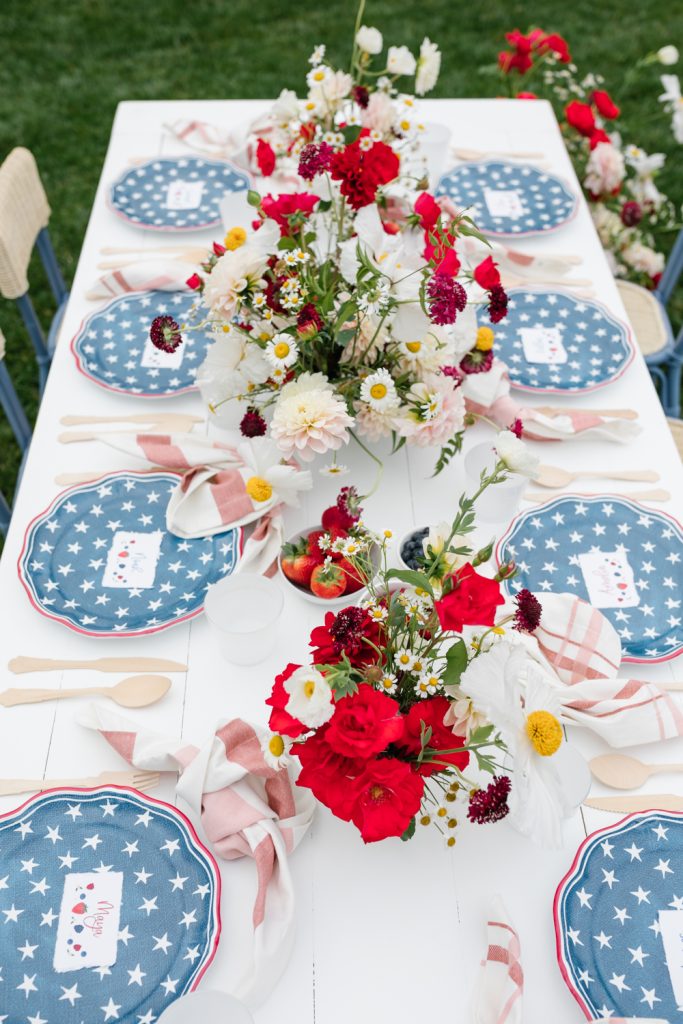 So much cuteness! As an extra treat I added lots of summer fruits in small bowls along the table. Nice and easy for little hands to grab and munch!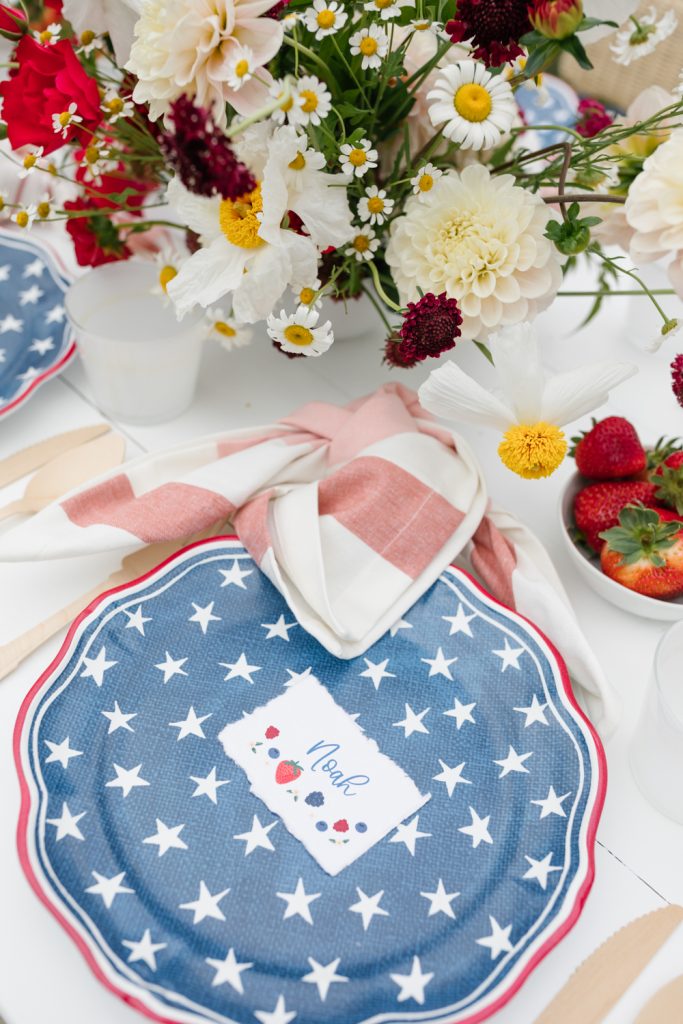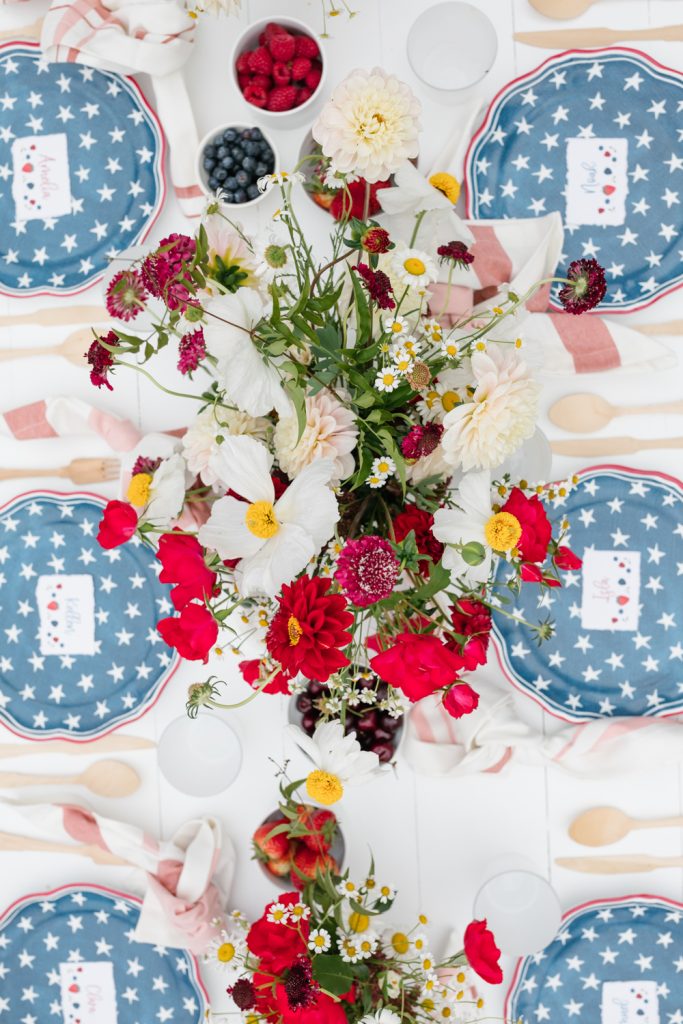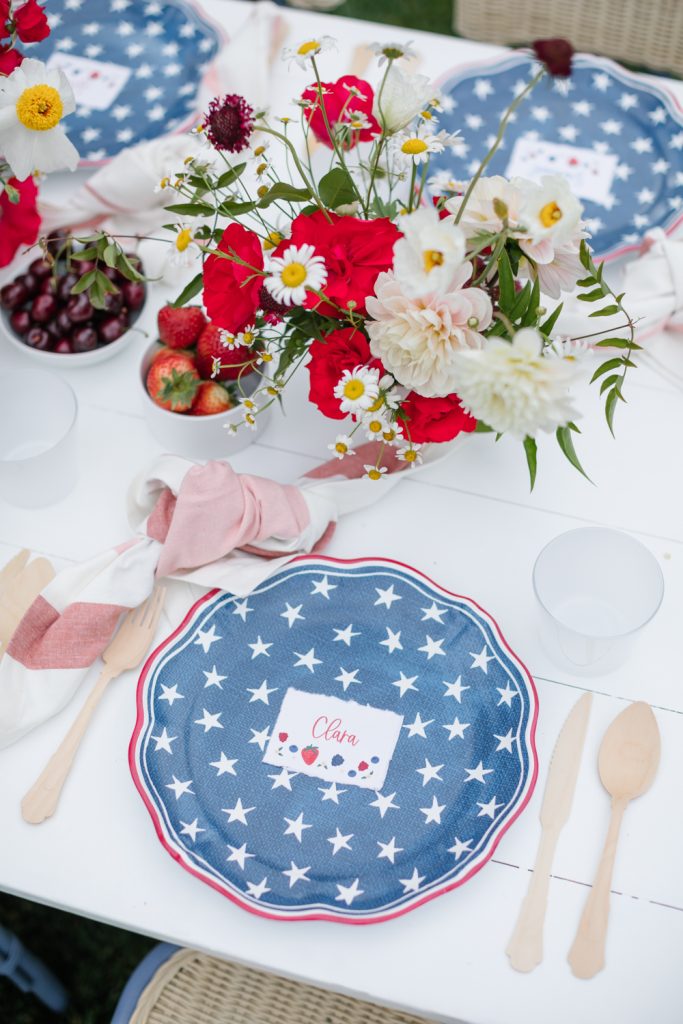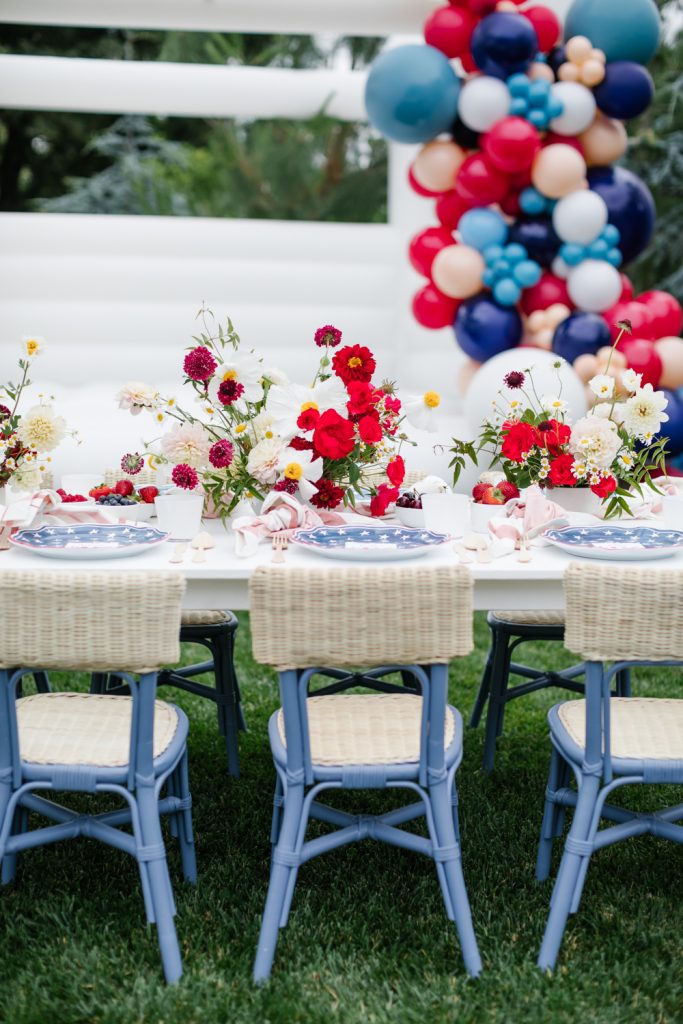 Major cuteness!!!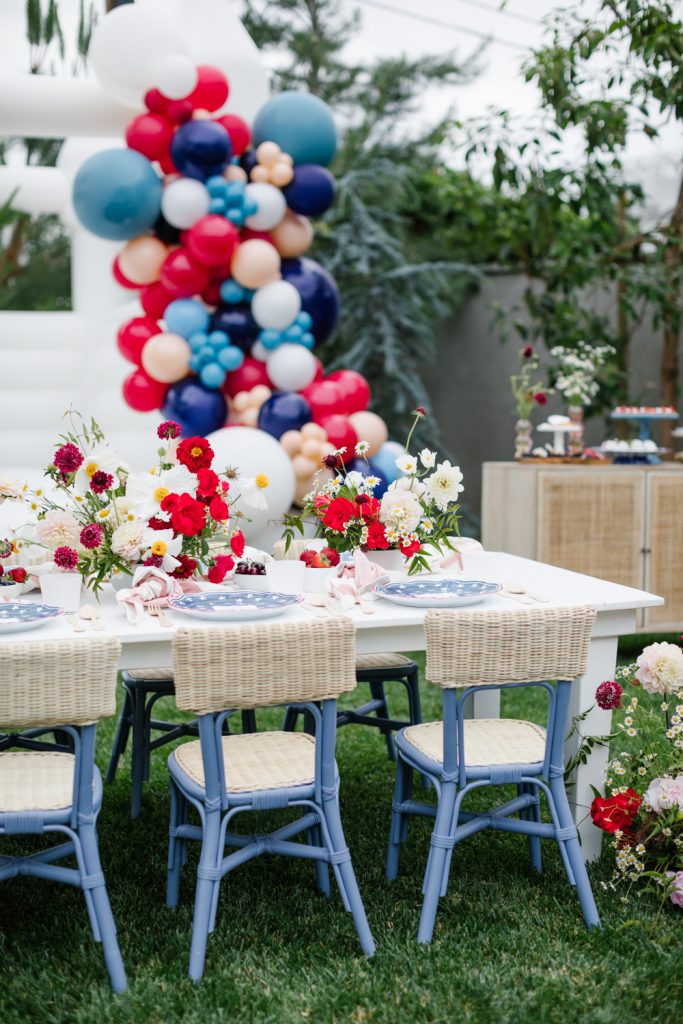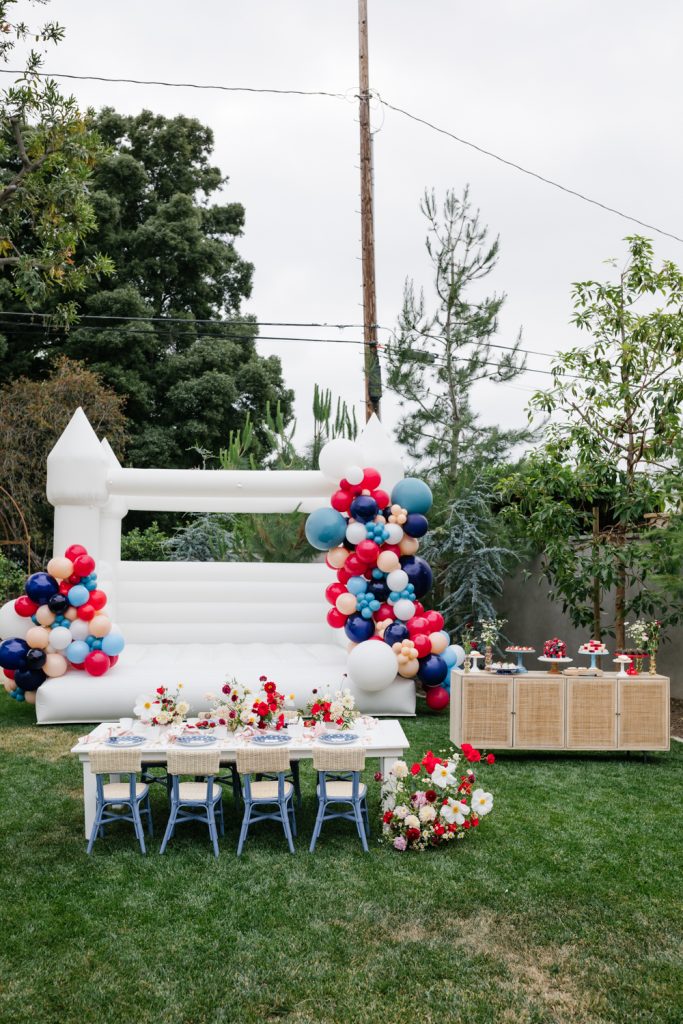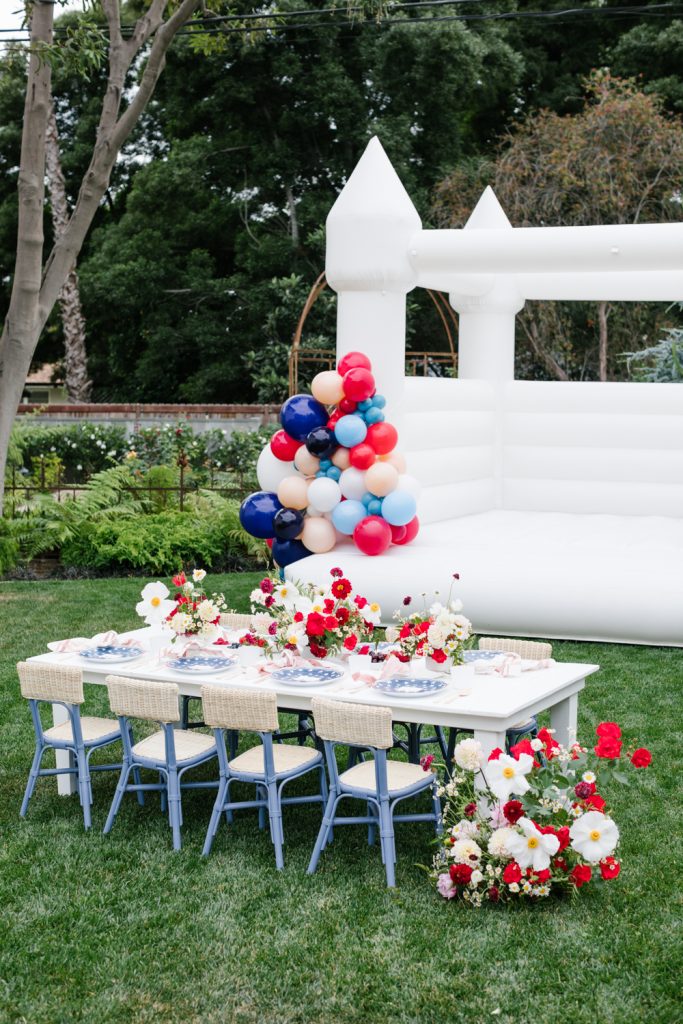 You may have noticed our dessert table peaking off to the side… That's always a go to spot for the kiddos! Taylor Made Catering brought lots of amazing treats for them to choose from, check out all the yummy and pretty!!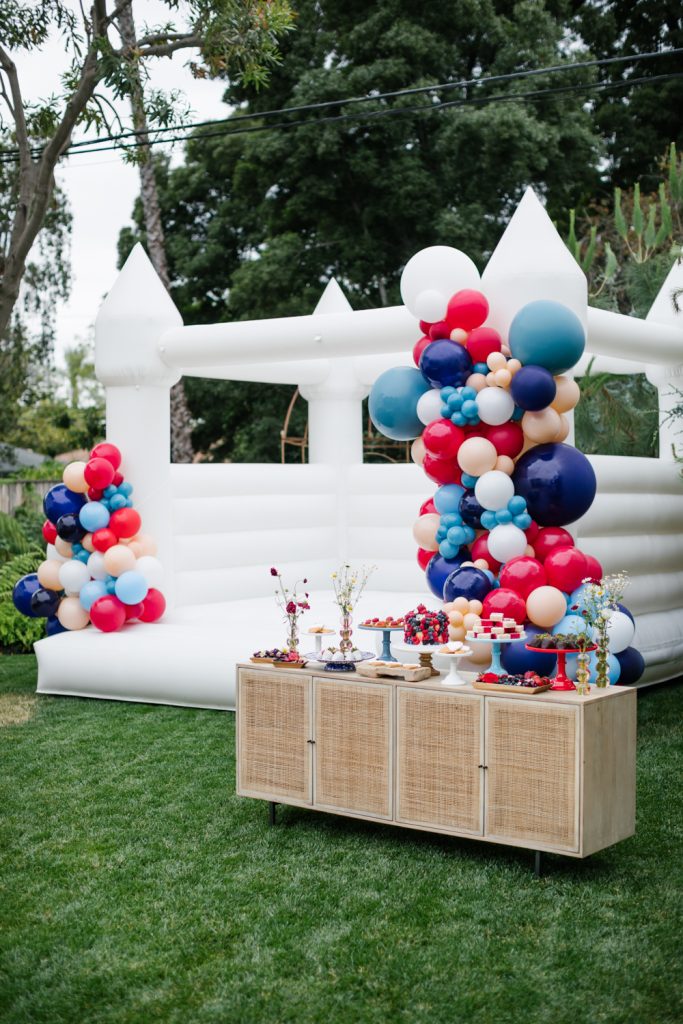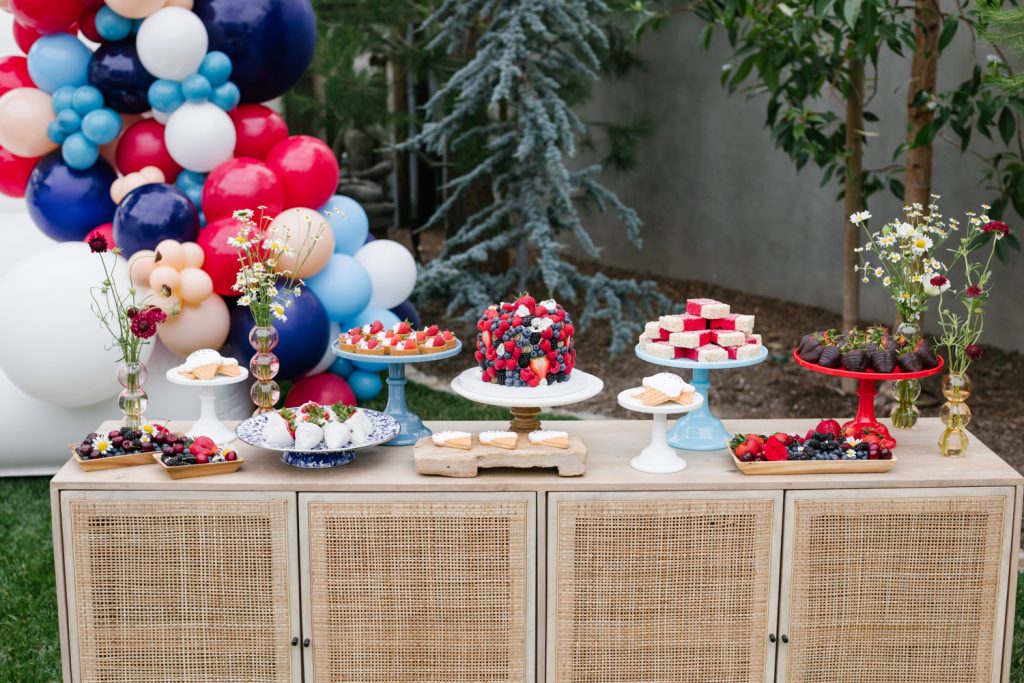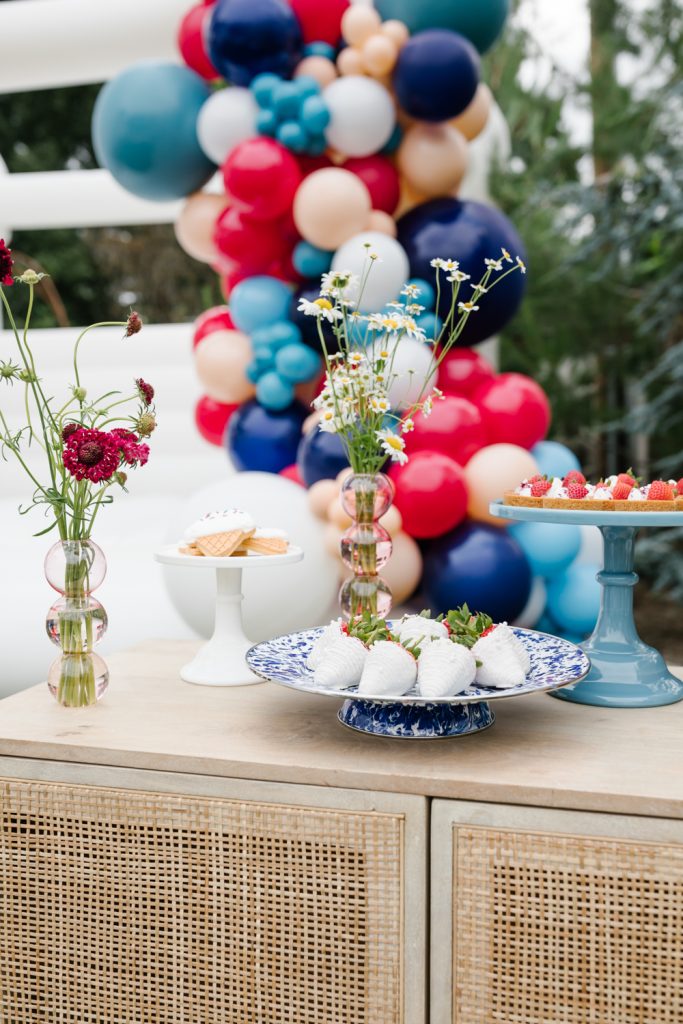 Chocolate covered strawberries are ALWAYS a good idea! Especially when they look so pretty on this Sur La Table cake stand! Red, white and blue and DELISH!!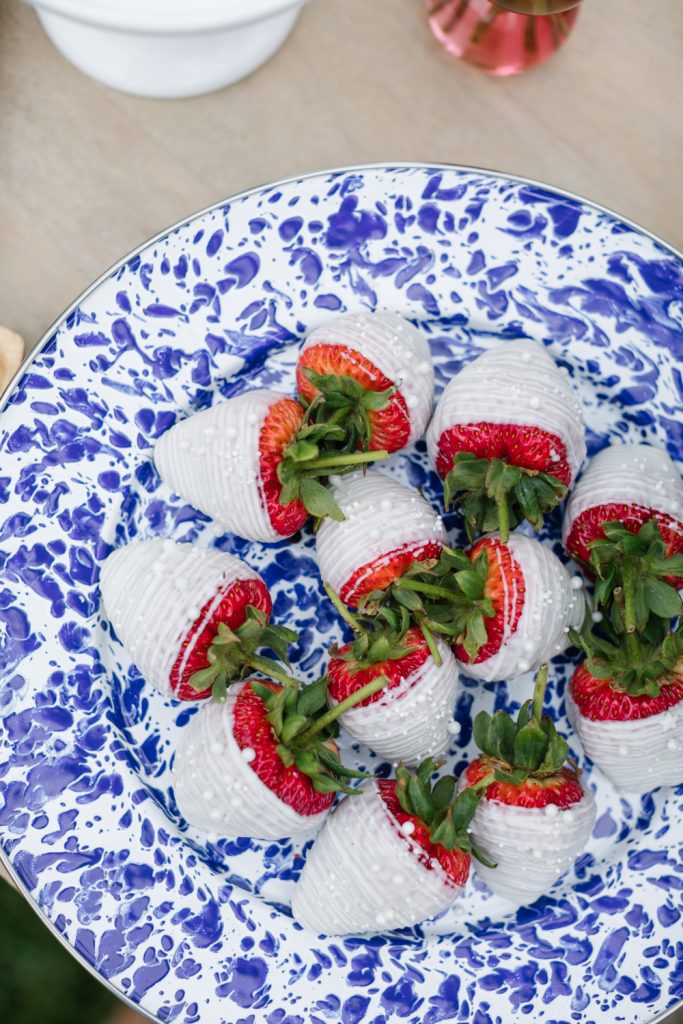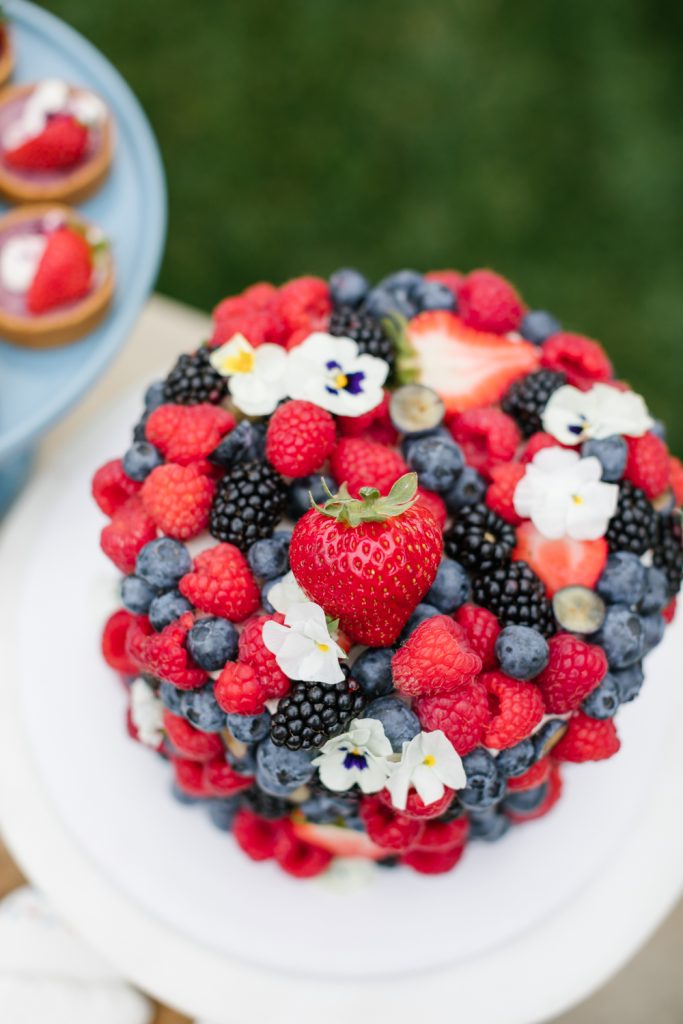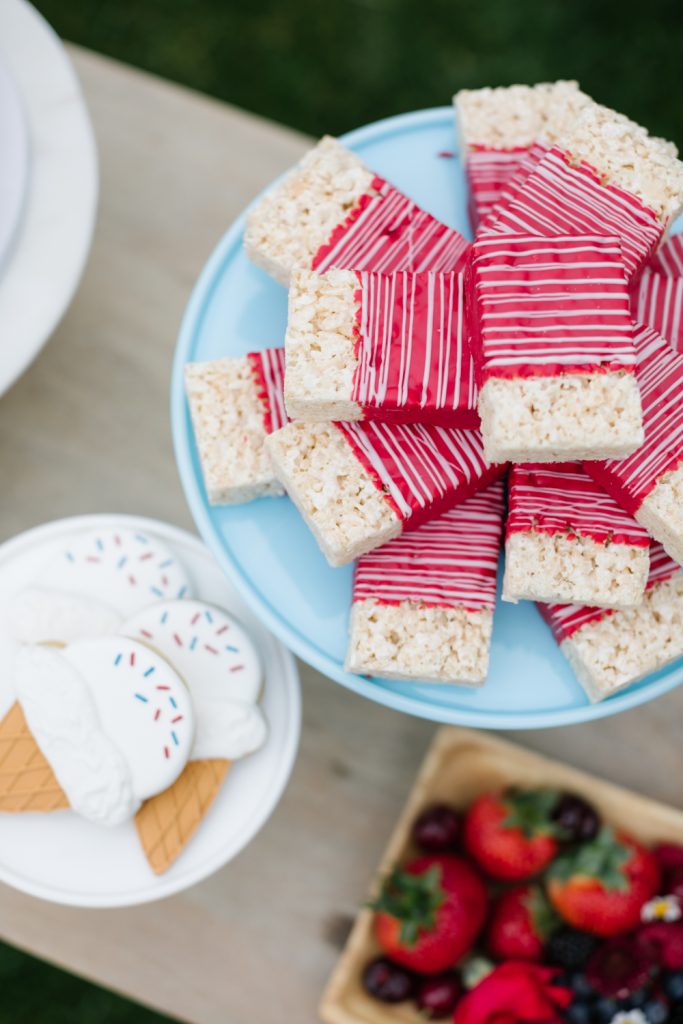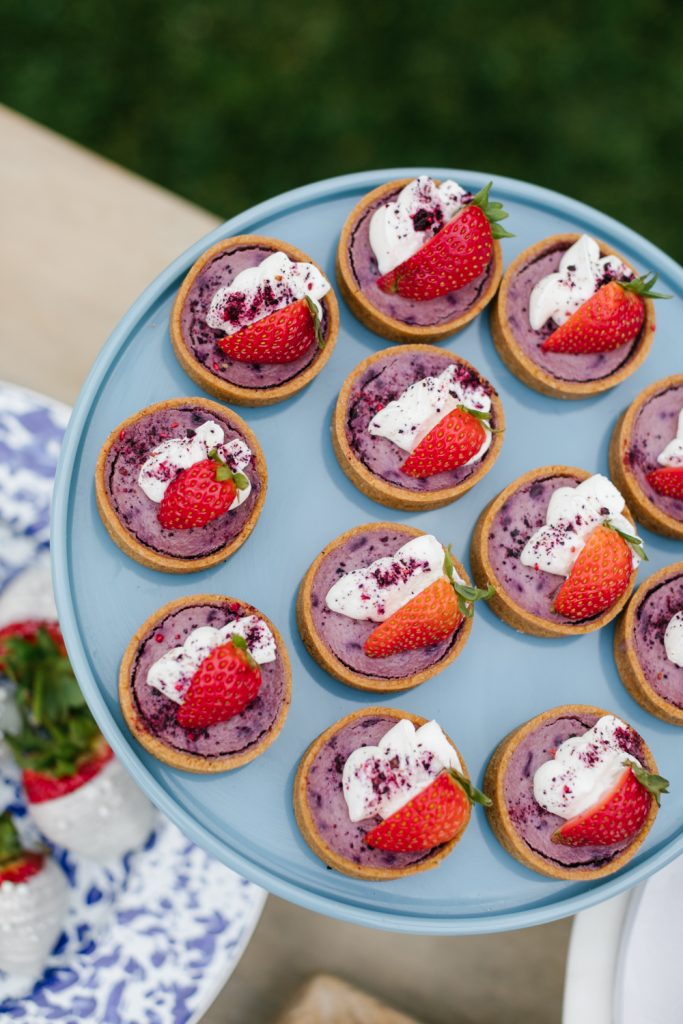 There's something about a berry cake in the summer time, so refreshing and tasty!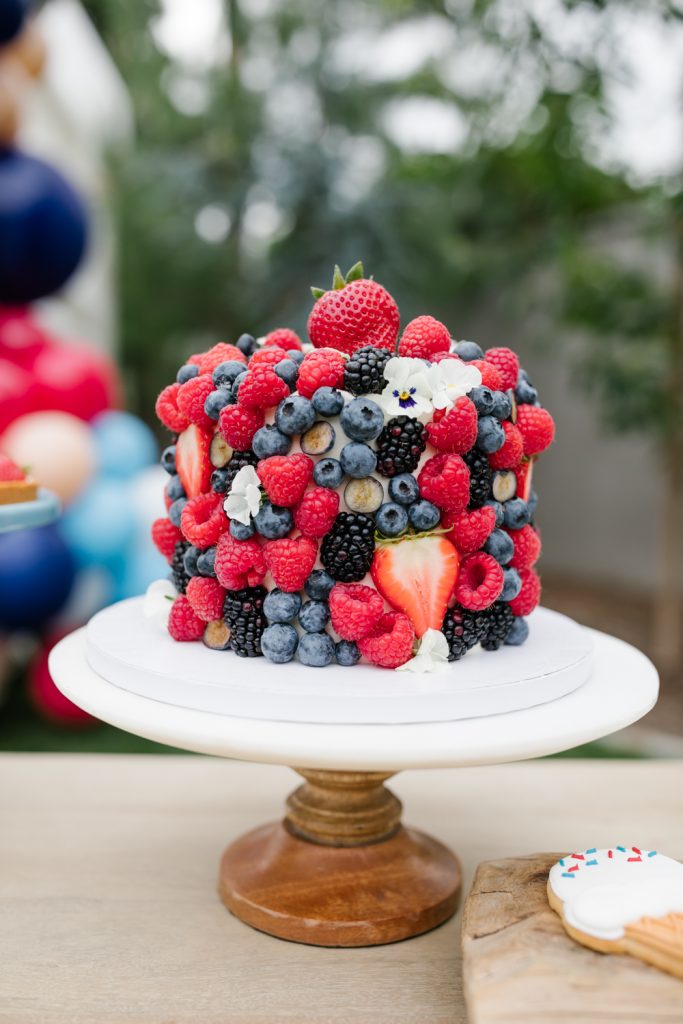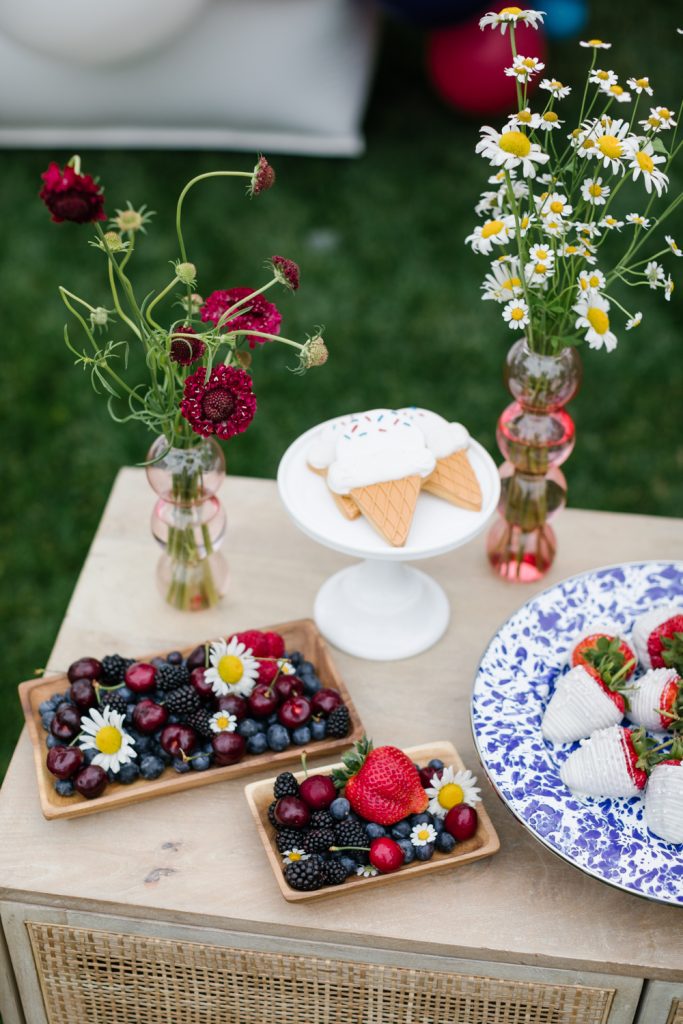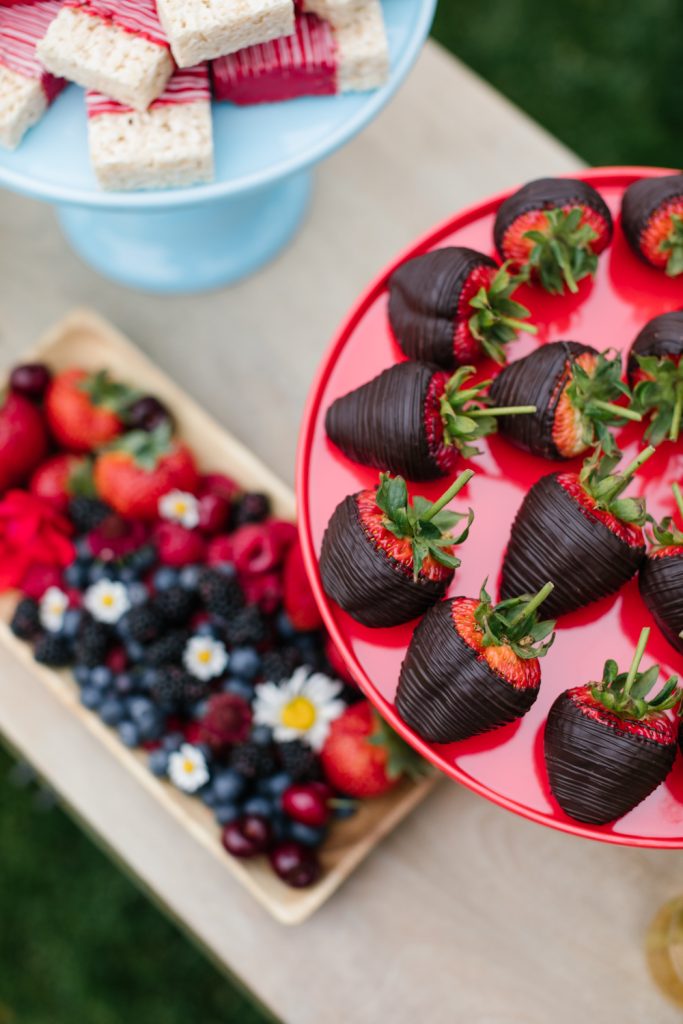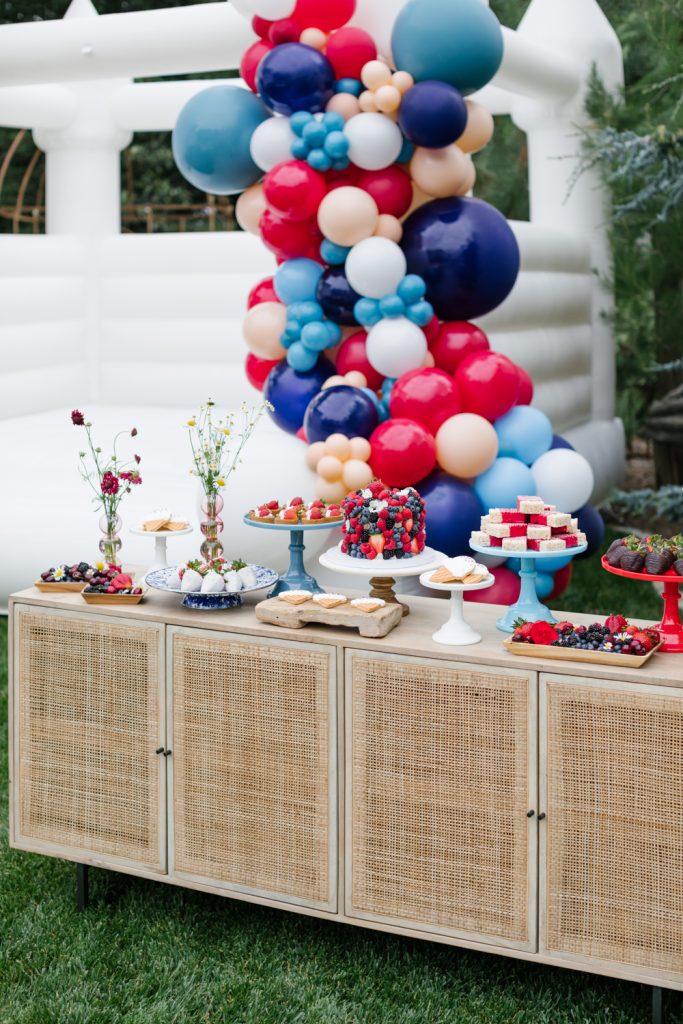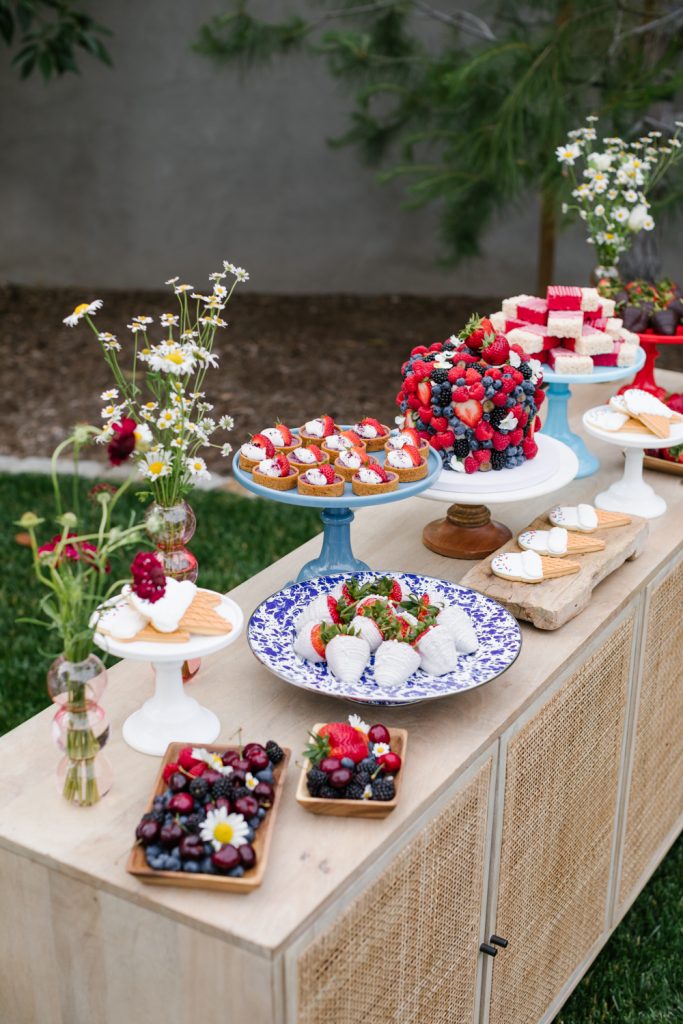 4th of July perfection!!!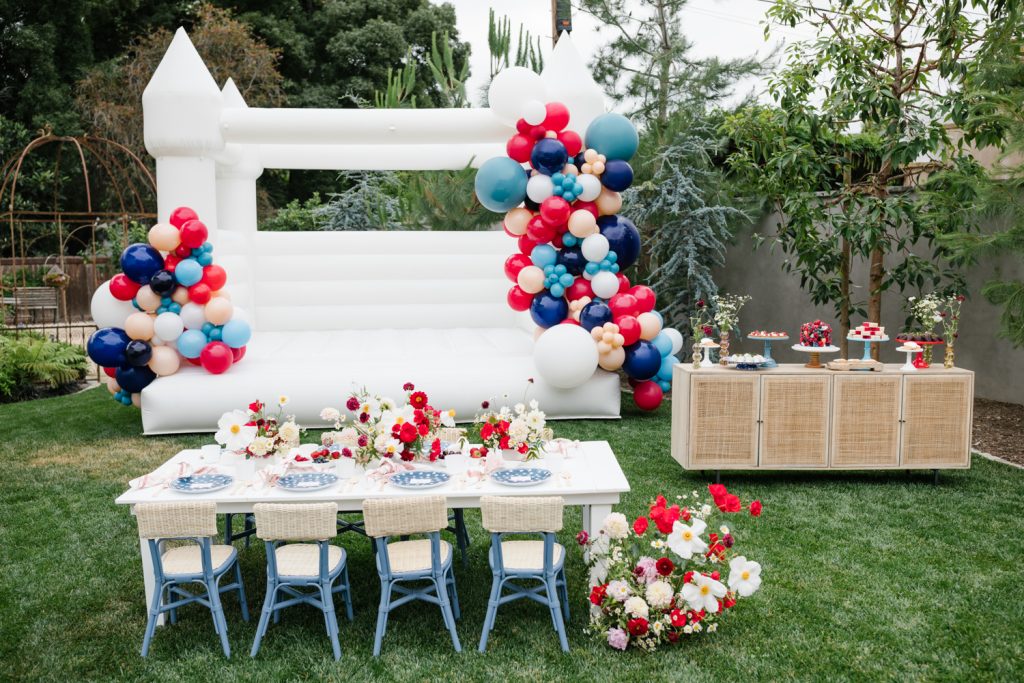 Now for our little guests!!!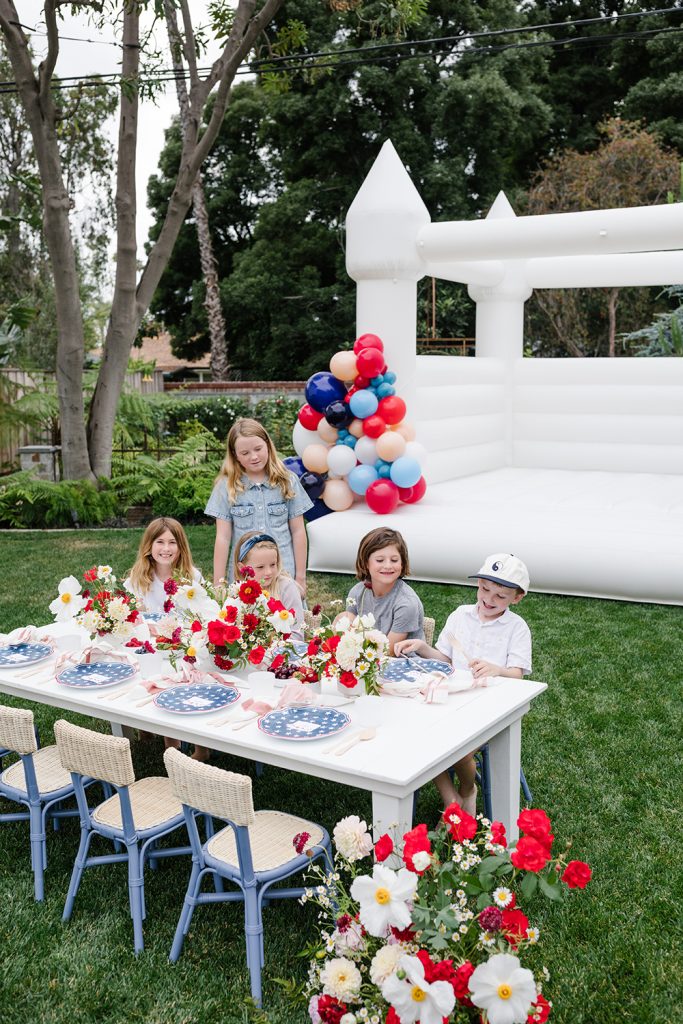 My little Cruz!!! Who just lost his first front top tooth!!!! I love that toothless grin!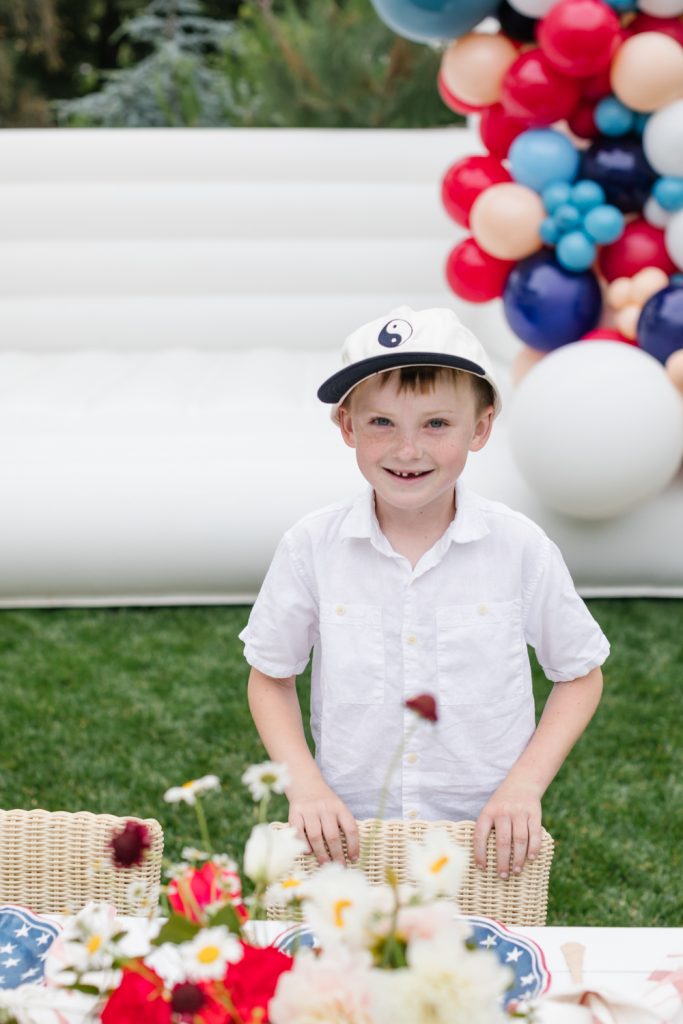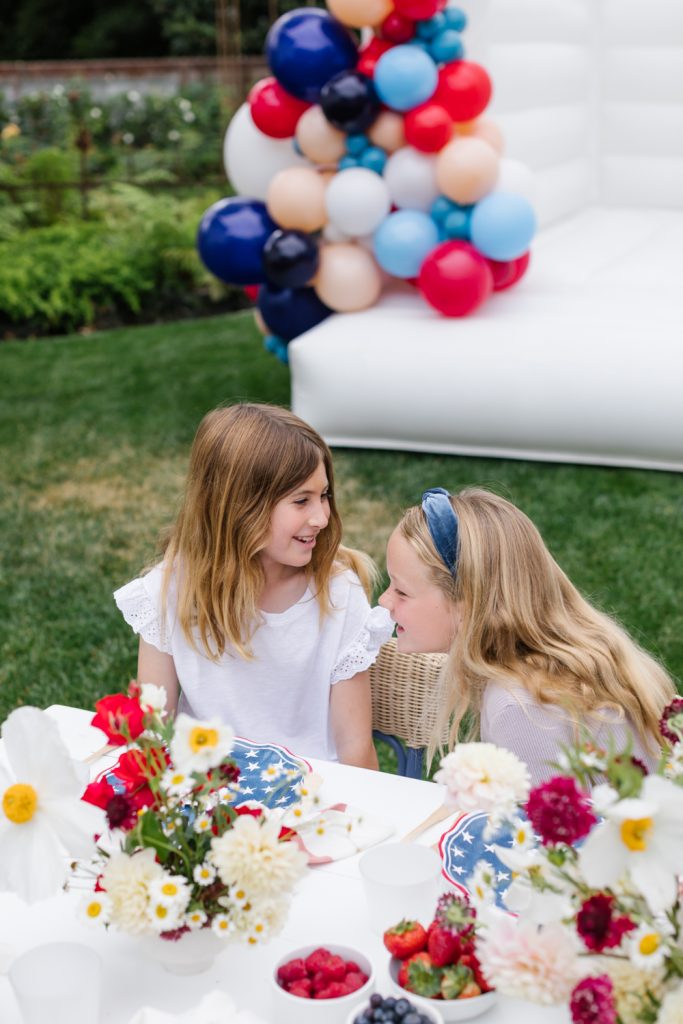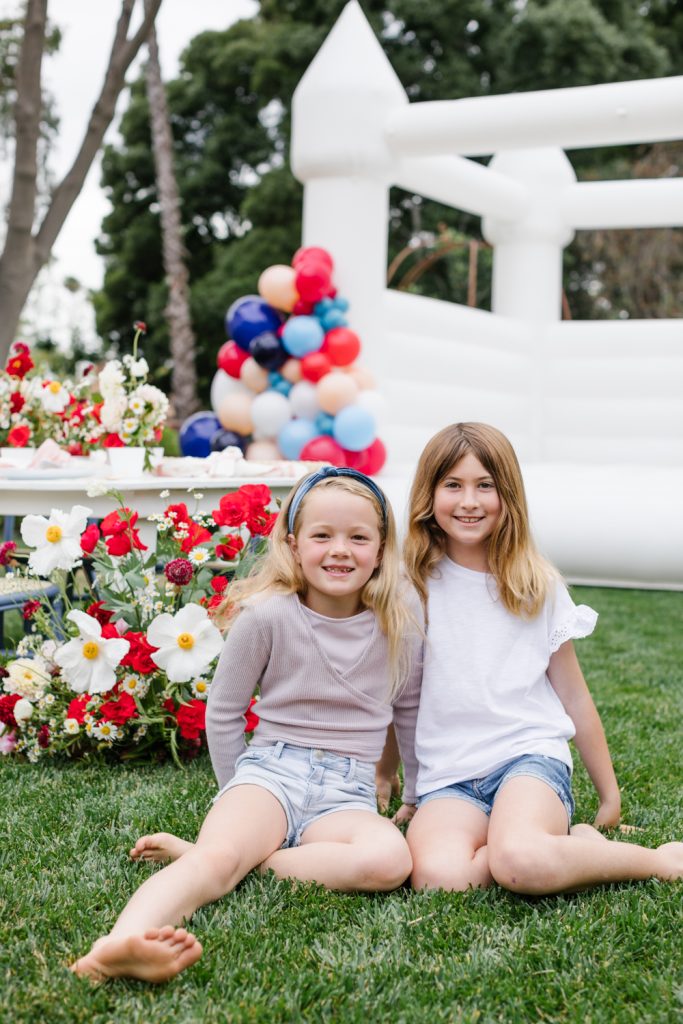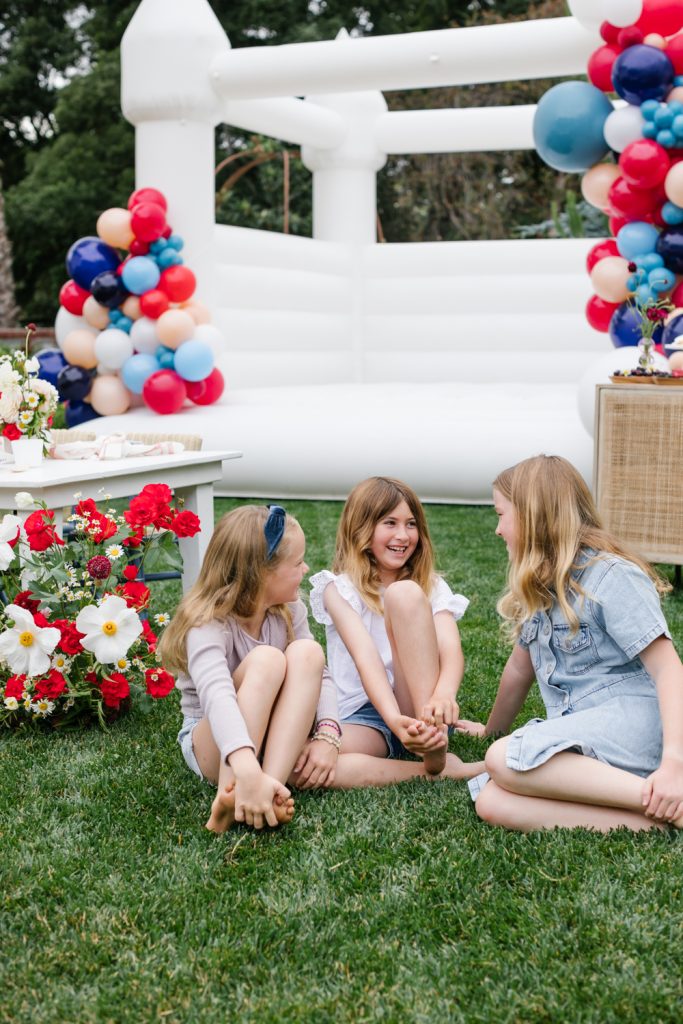 Summer neighborhood friends!!! Wish my older son Court could have been here for this one, baseball practice came first though!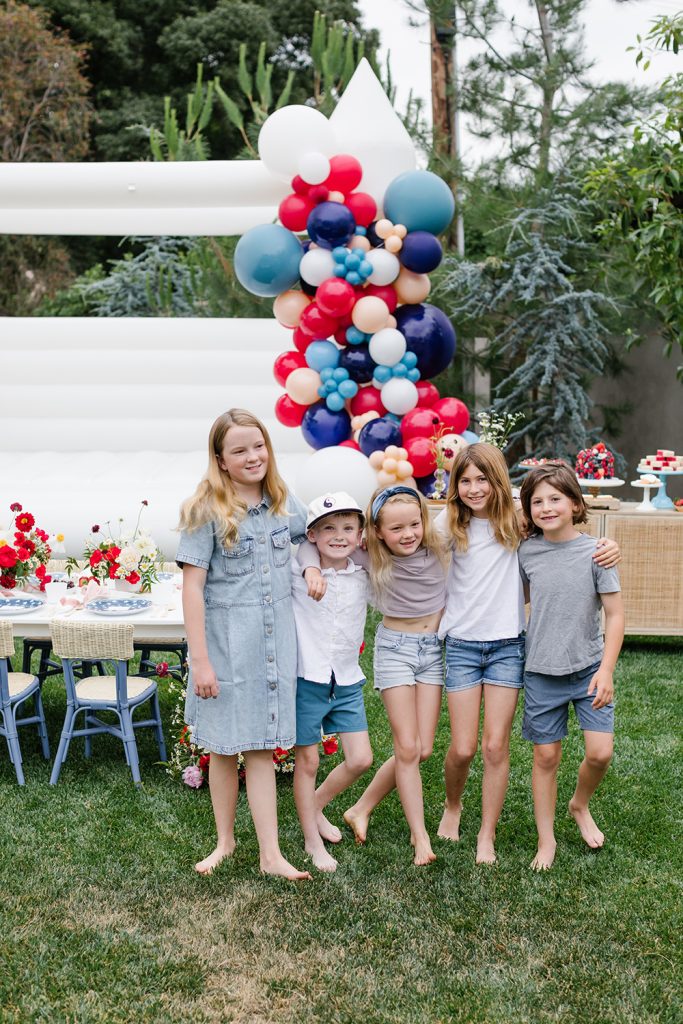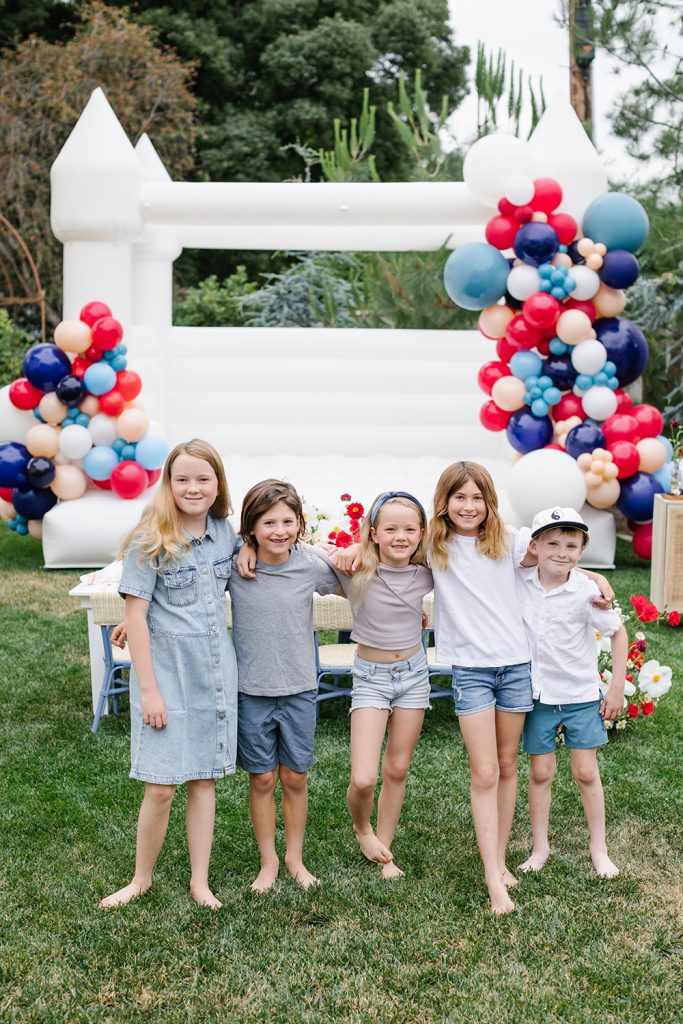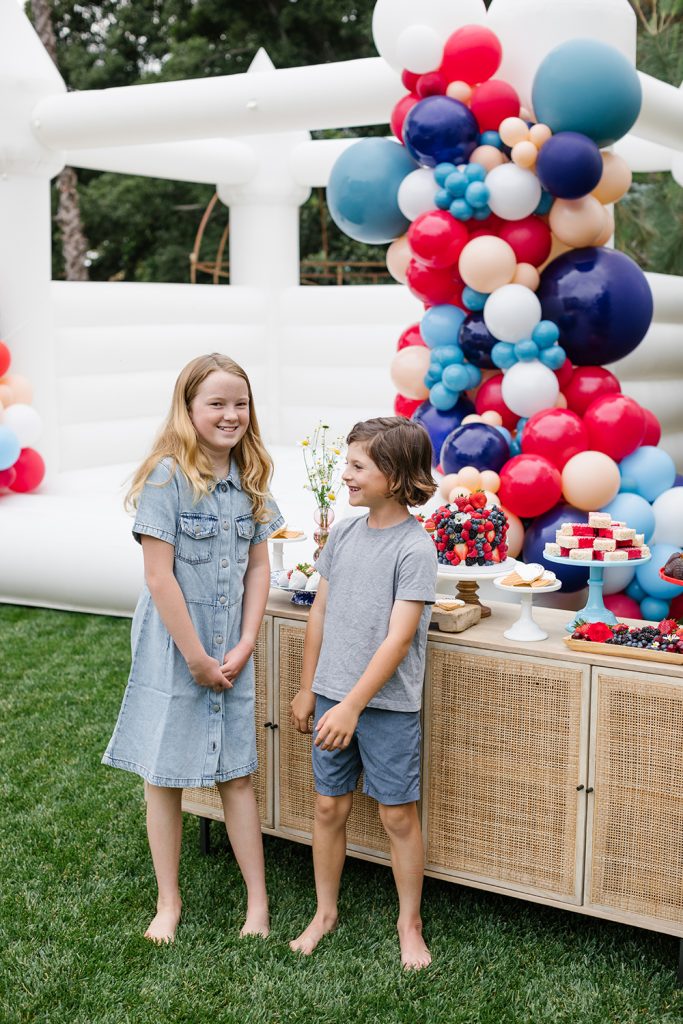 They fought over these Ice Cream cookies!!! Haha!!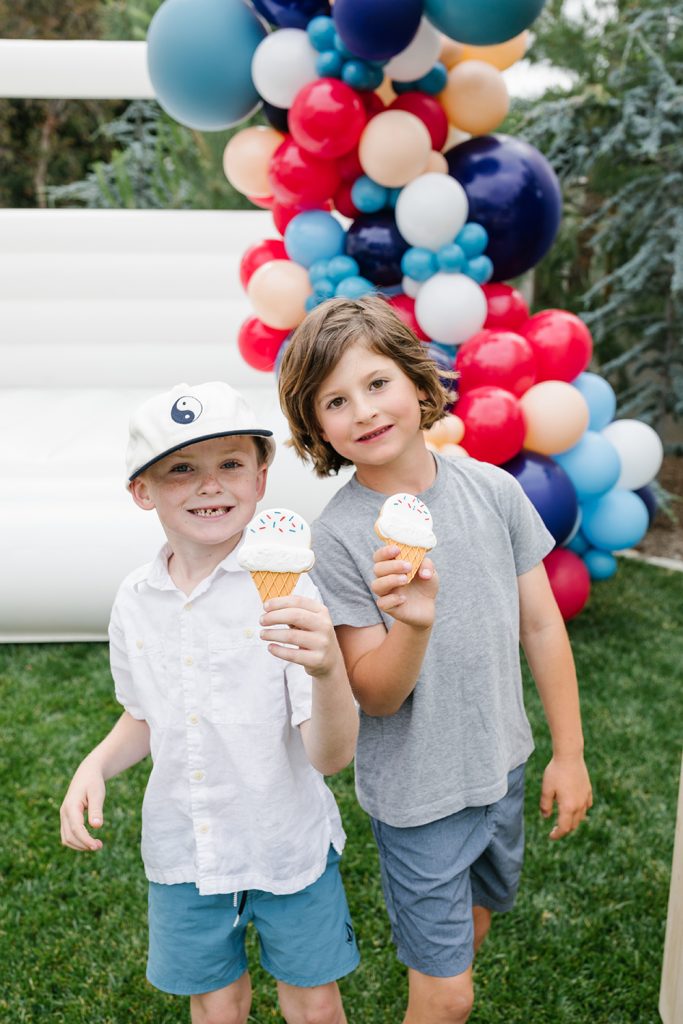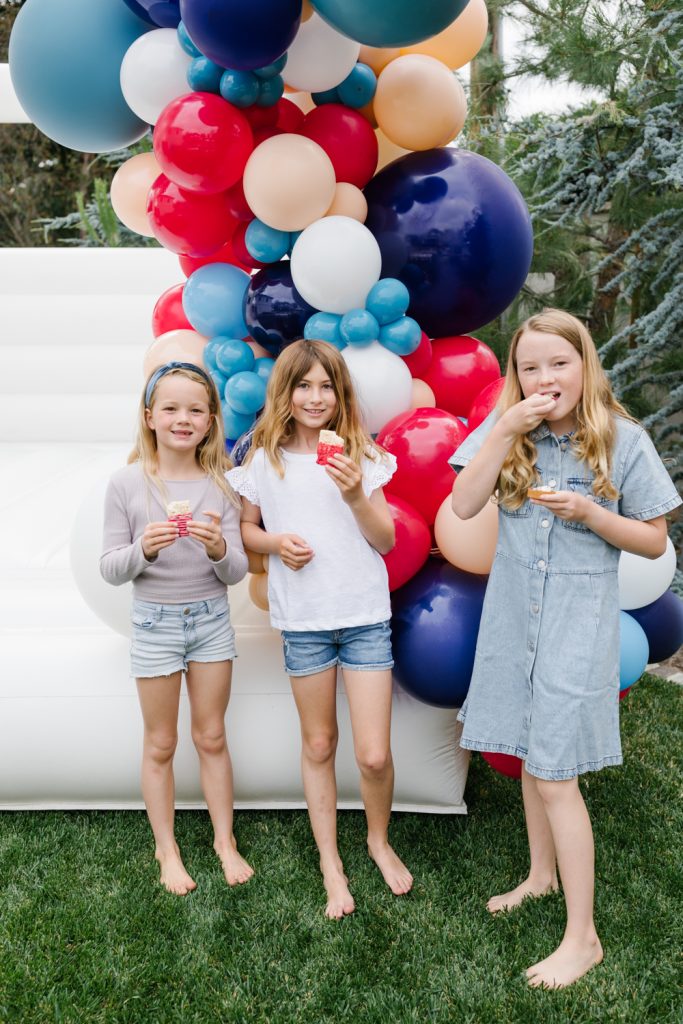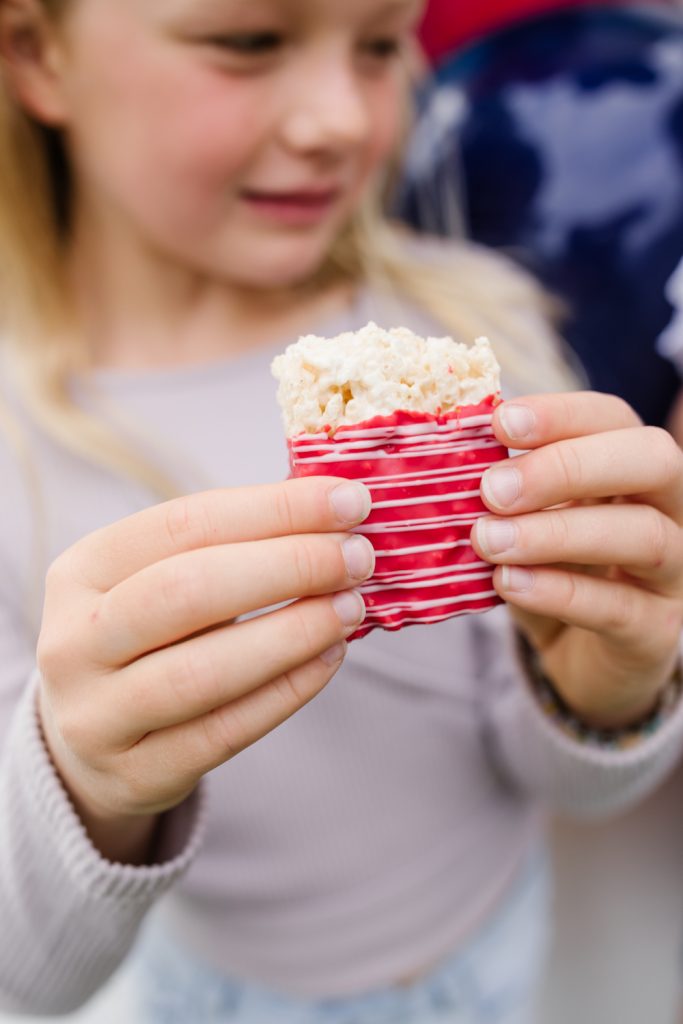 Now time to bounce!!! If you ever want hours of entertainment – What's Bouncing is who you call!!!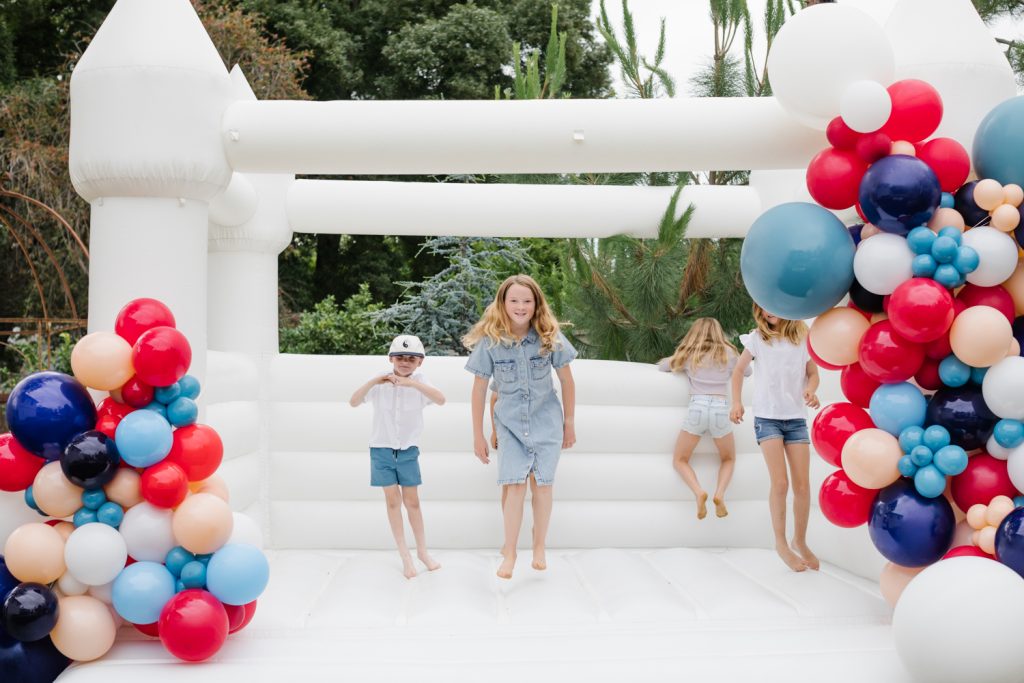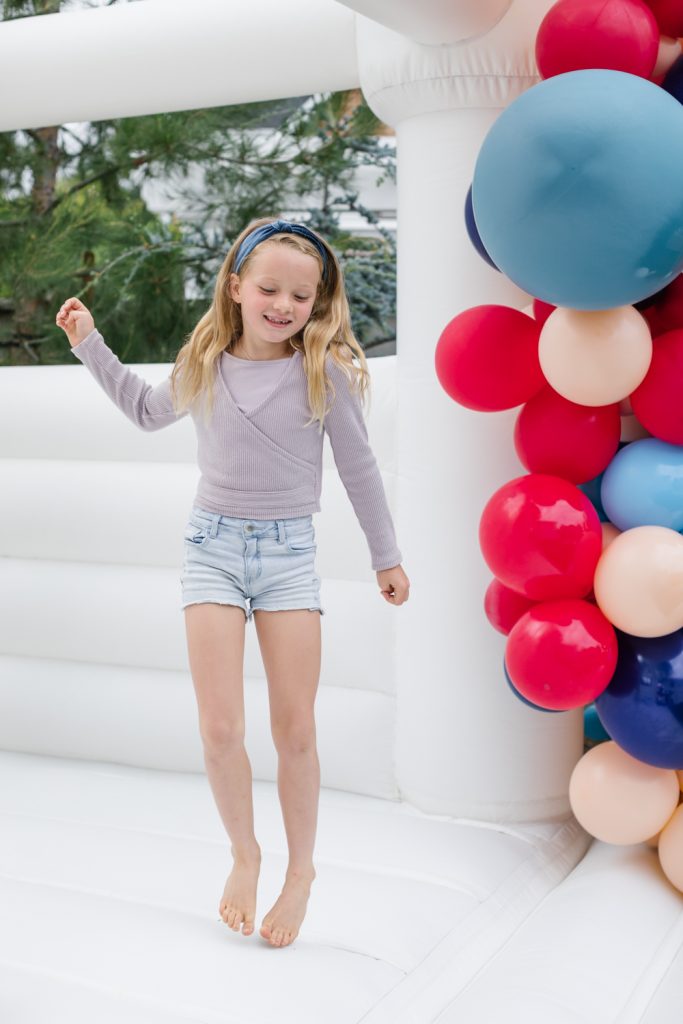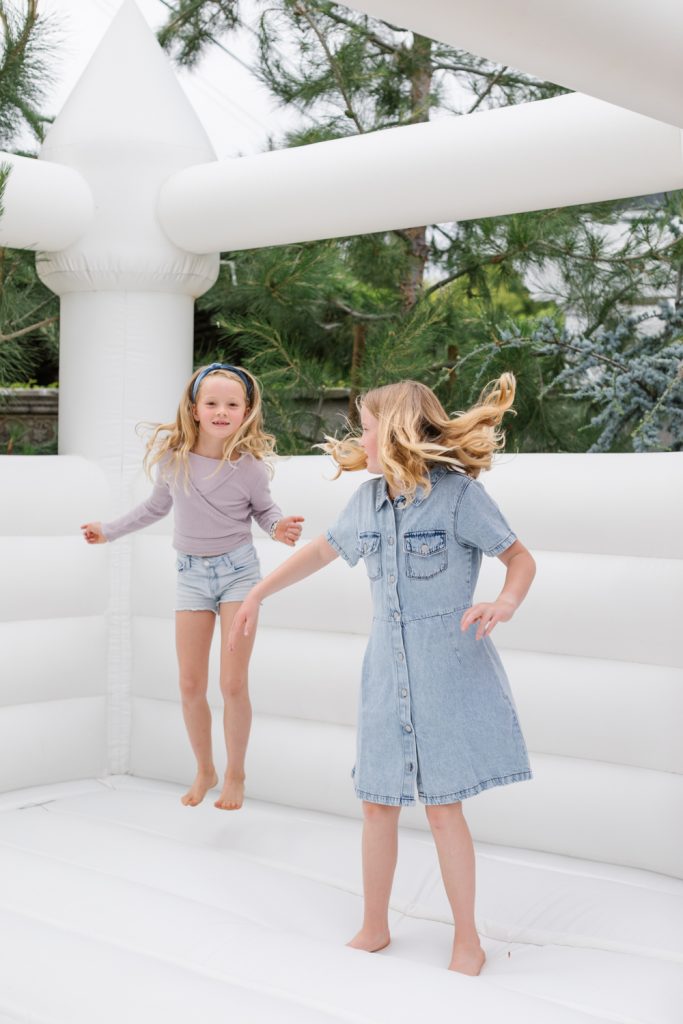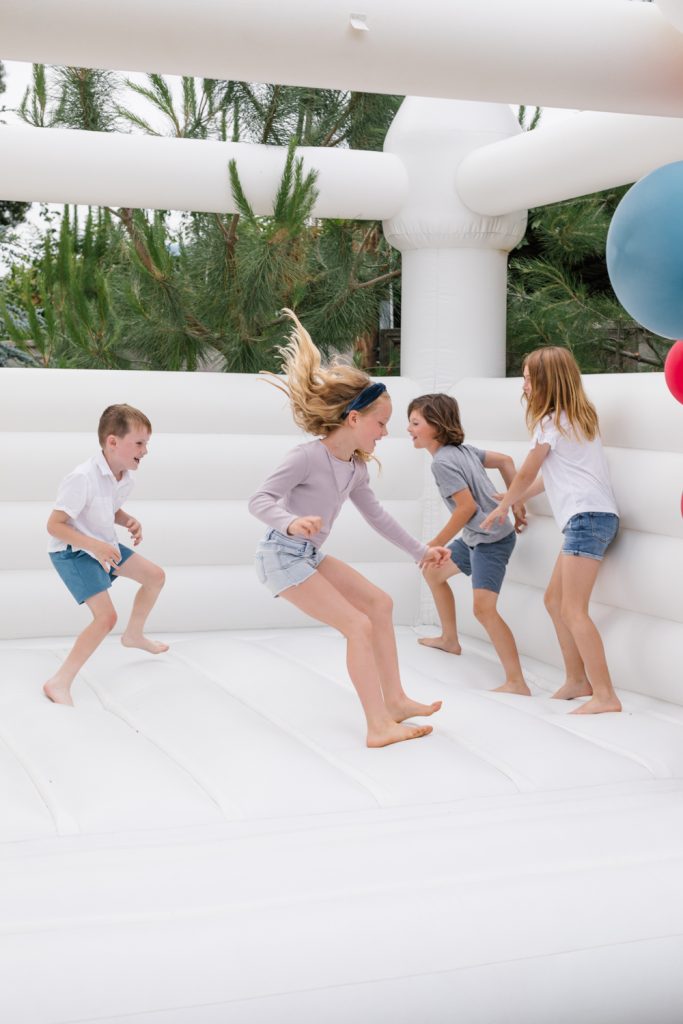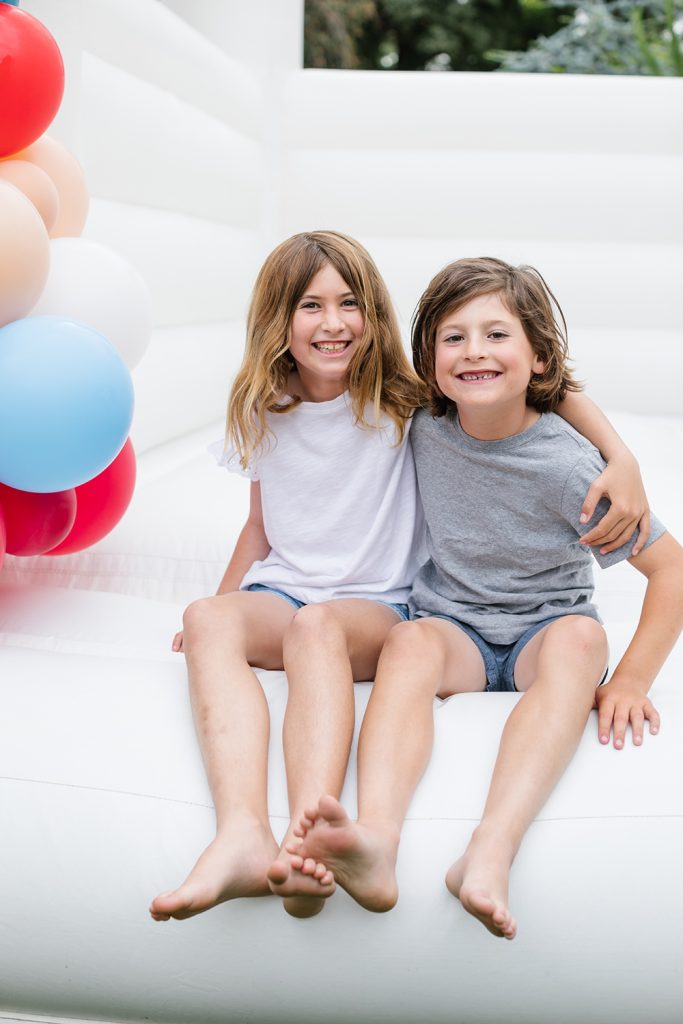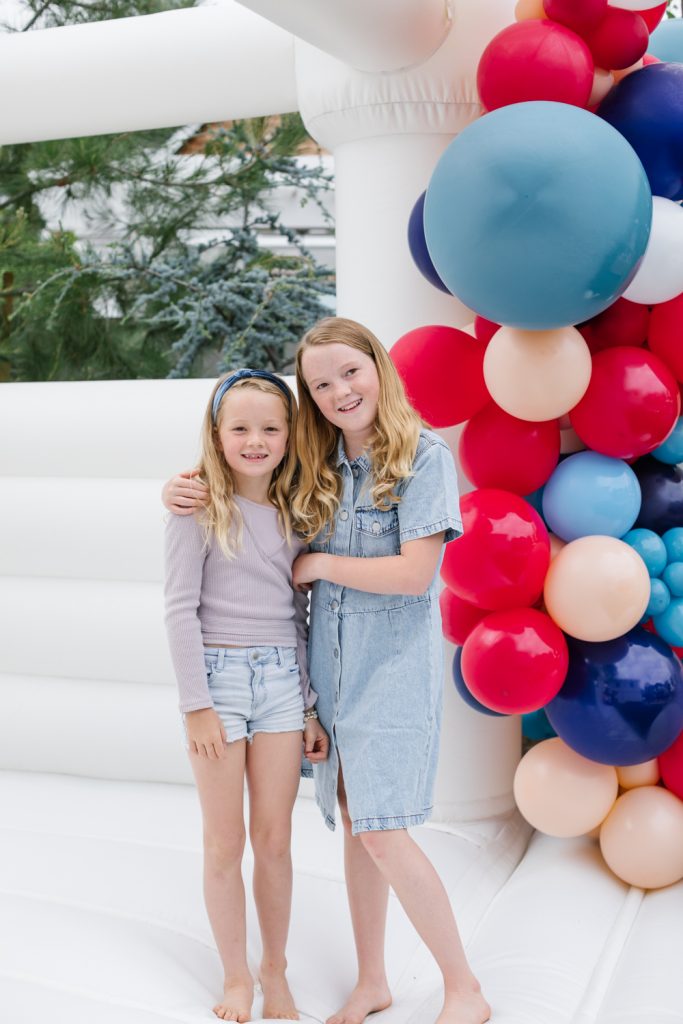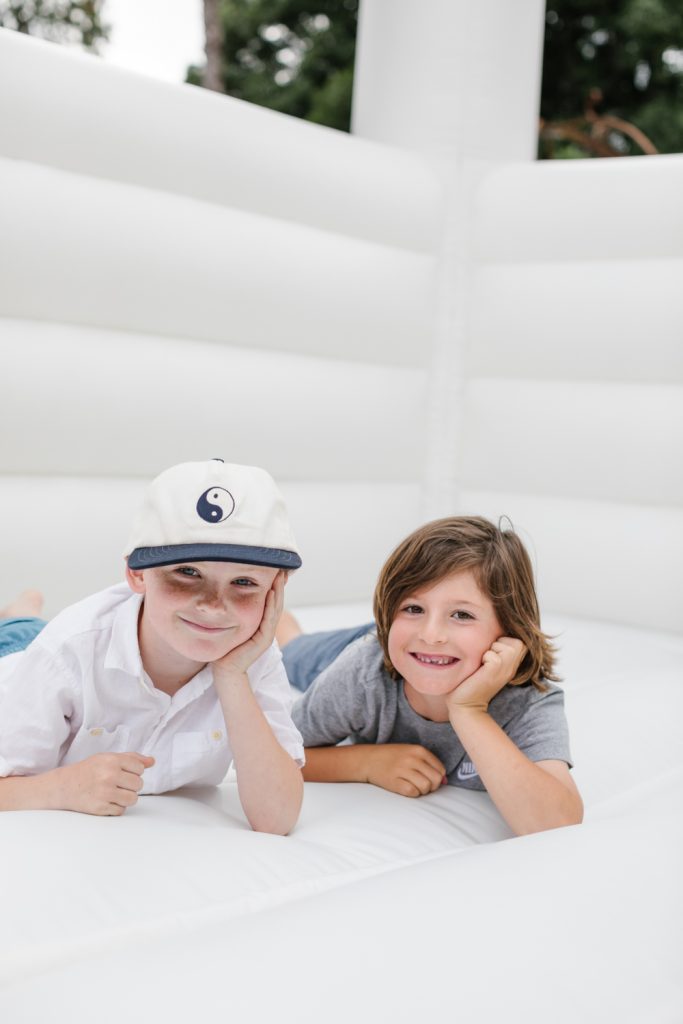 Get those sillies out!!!!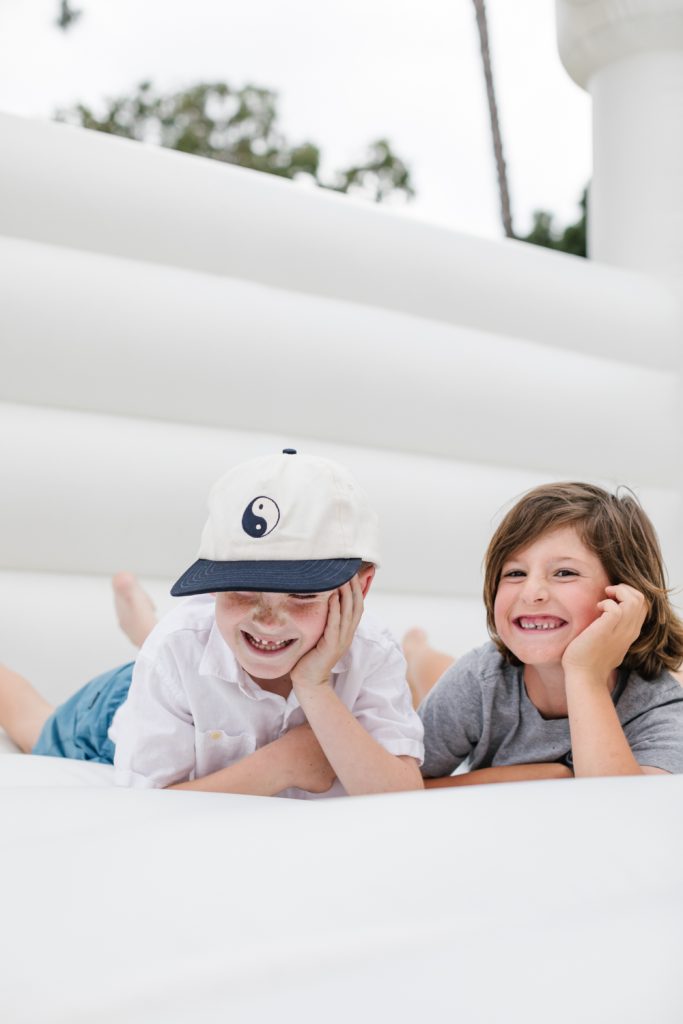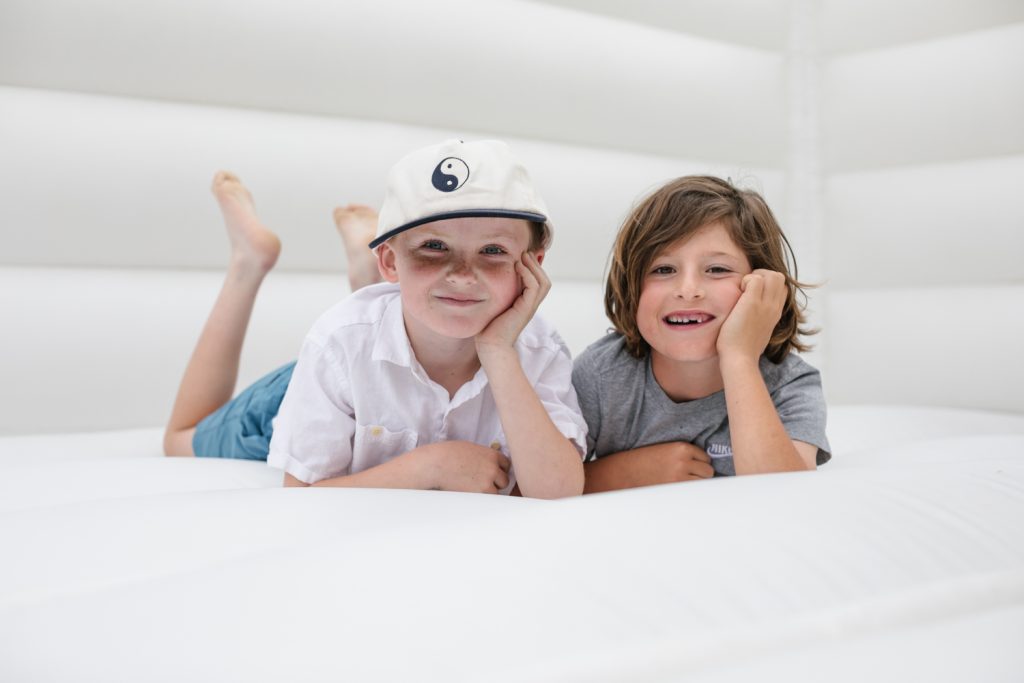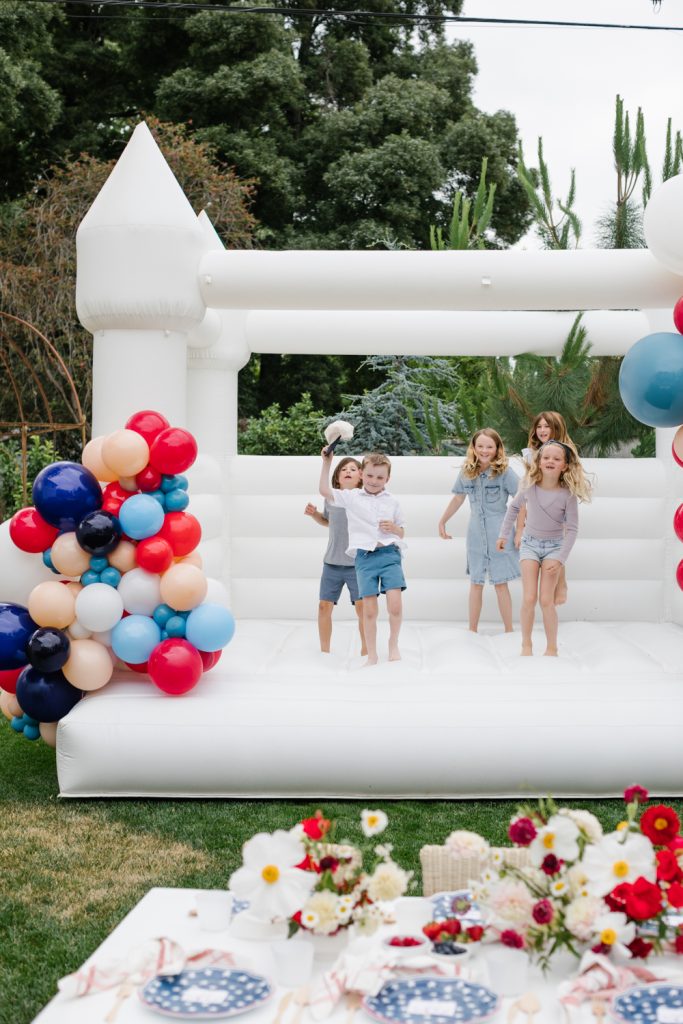 My heart!!!!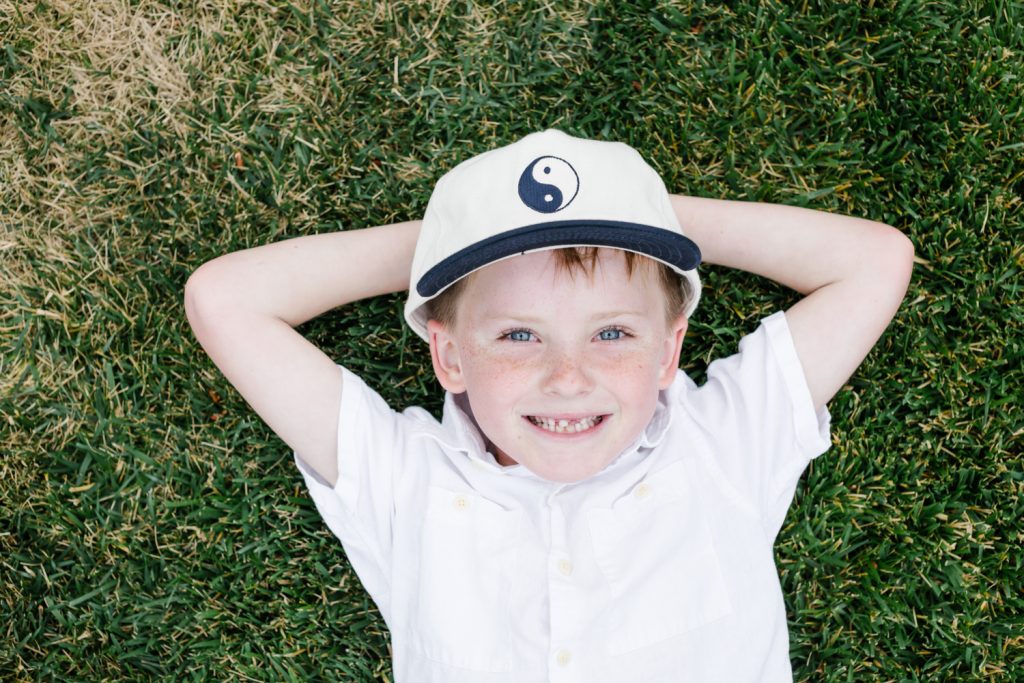 Now for the adult fun!!! This table was so fun to create and bring to life! Not only is Sur La Table's Fairground collection full of color and pop it's also melamine, so it's not just aesthetically perfect for Summer, practical wise it is as well! I layered their plates of blues and reds, checkered and flower prints, and the outcome was super cute. Everything went on top of their rattan chargers and had their white linen napkins and melamine glassware beside them and I used my own vintage silverware to go with it all.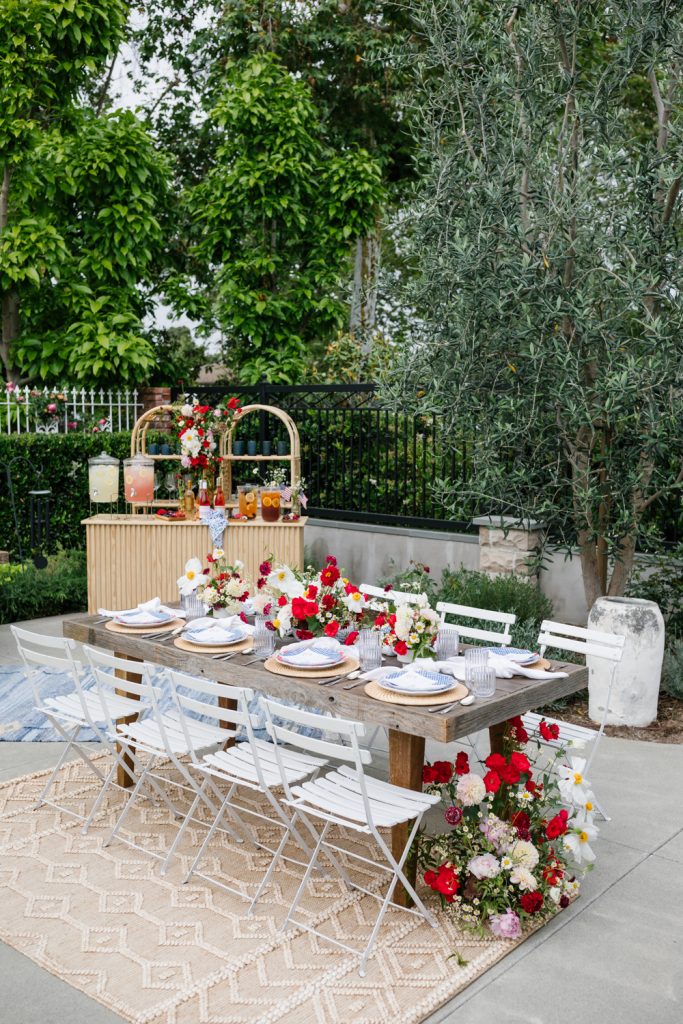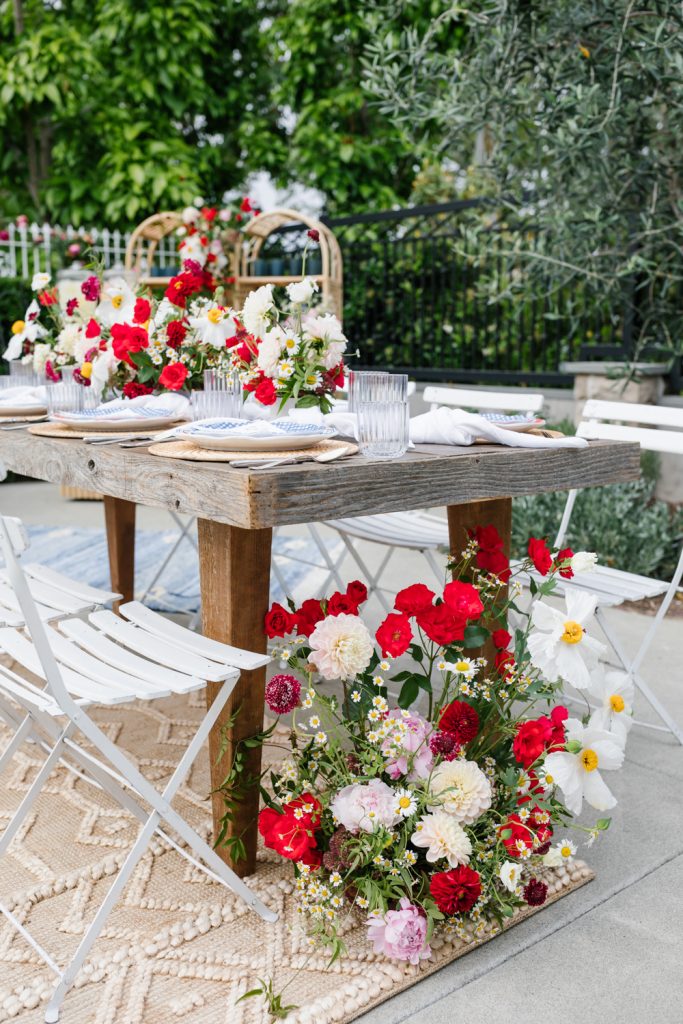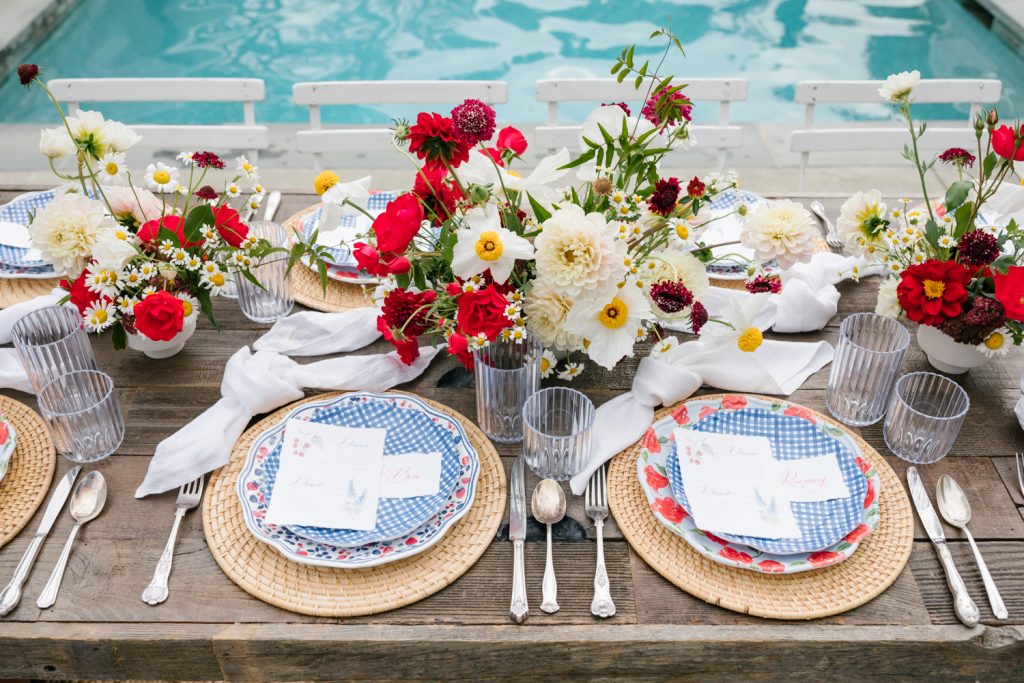 Of course we had Chelcea design pretty menus and place cards for the adults and added more stunning florals from Not Just in Novels for this amazing table. Sweet Salvage Rentals had the perfect table and chairs that had a vintage touch too, yay for the red, white and blue!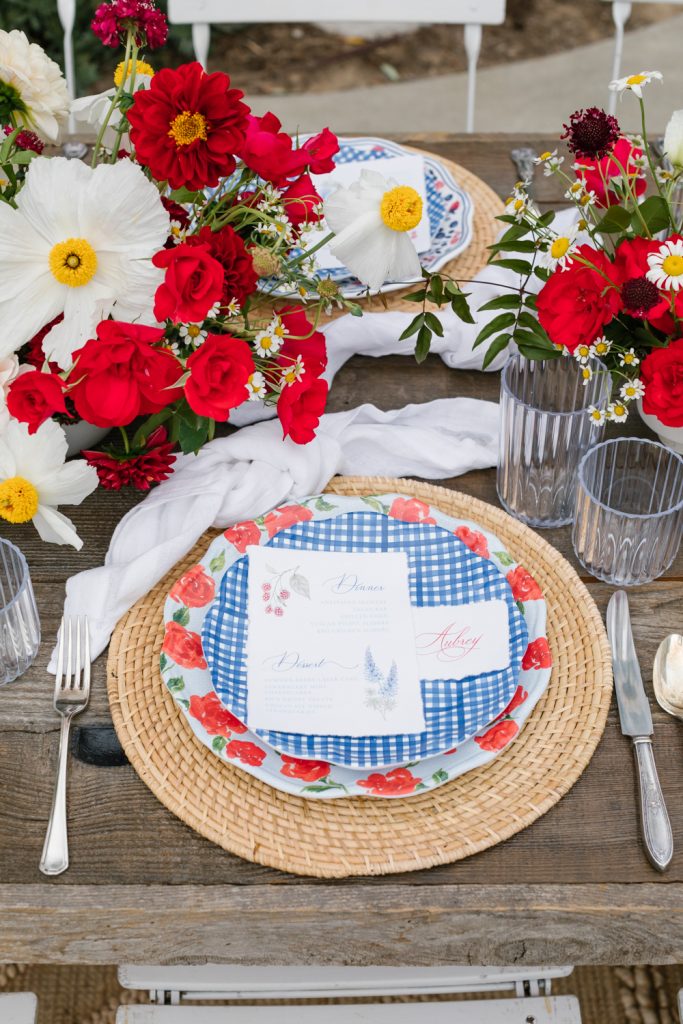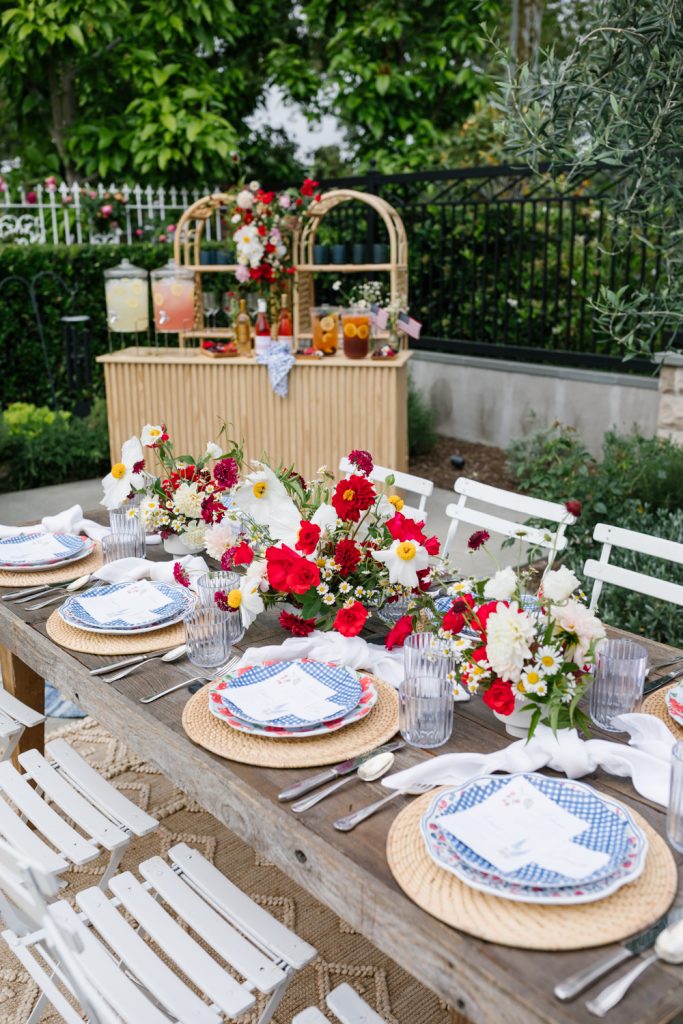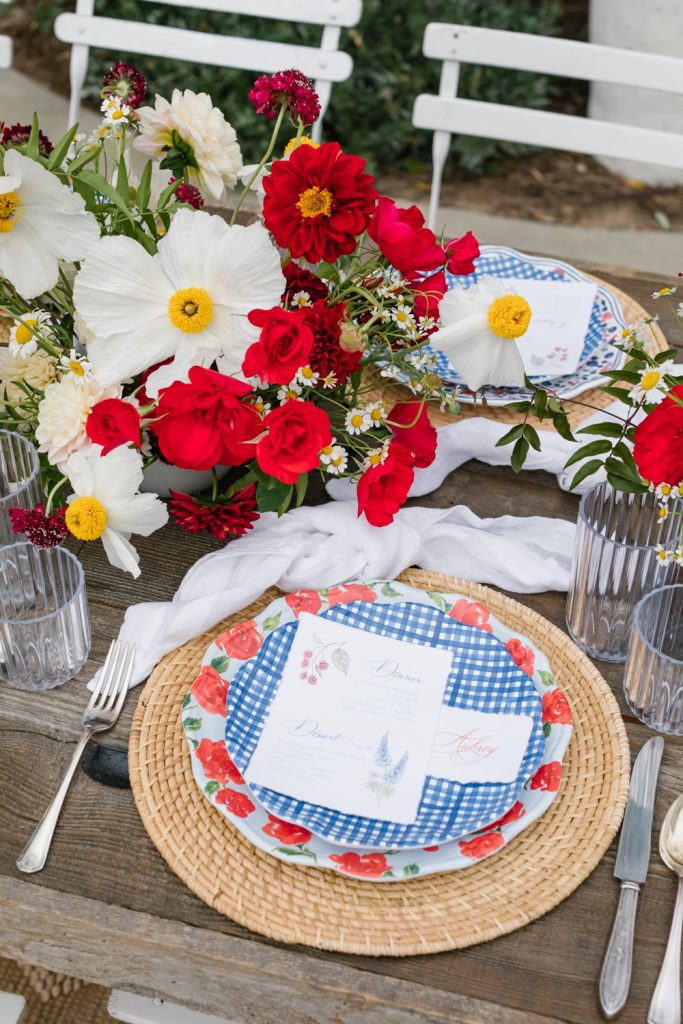 So much pretty!!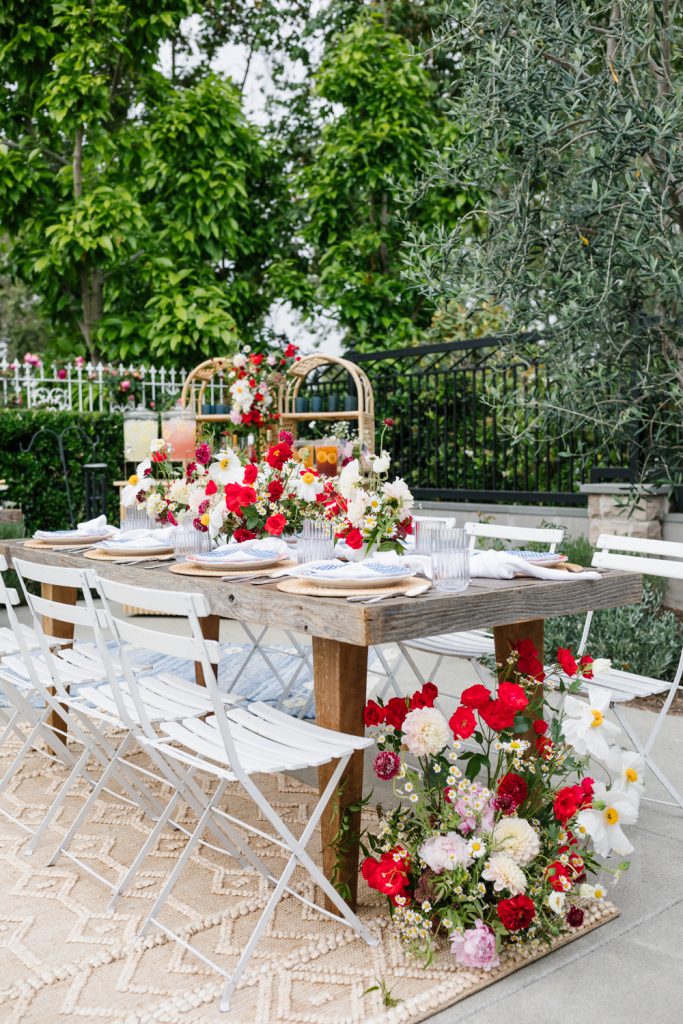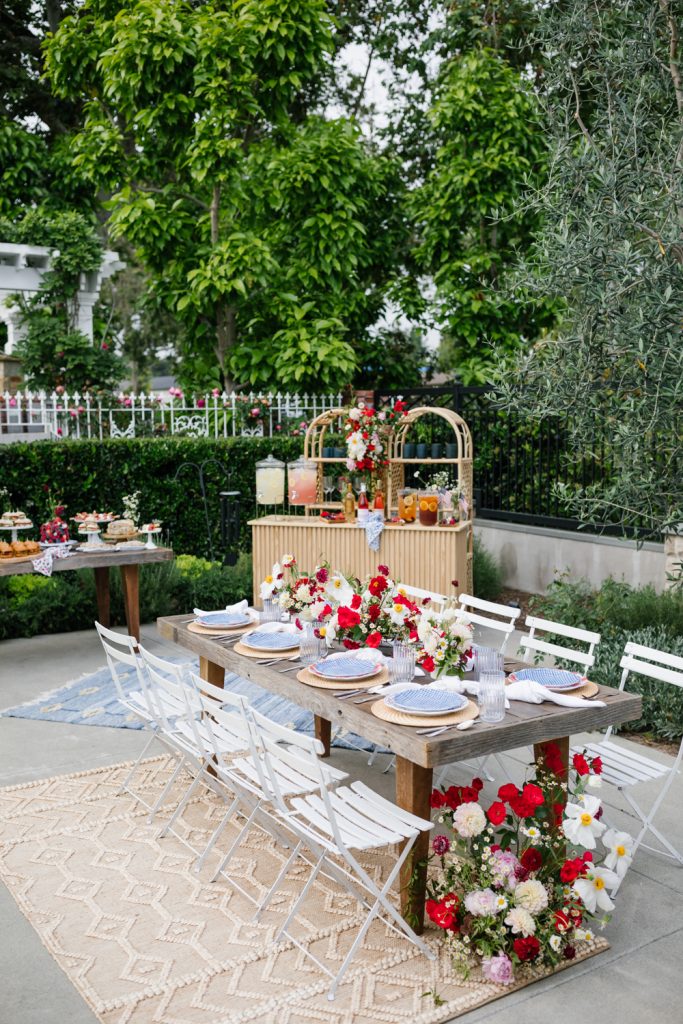 Setting that pretty table in my pretty blue checkered dress that matches the plates!! This dress is from Cleobella and it's truly perfect for Summer bbq's and the 4th of July!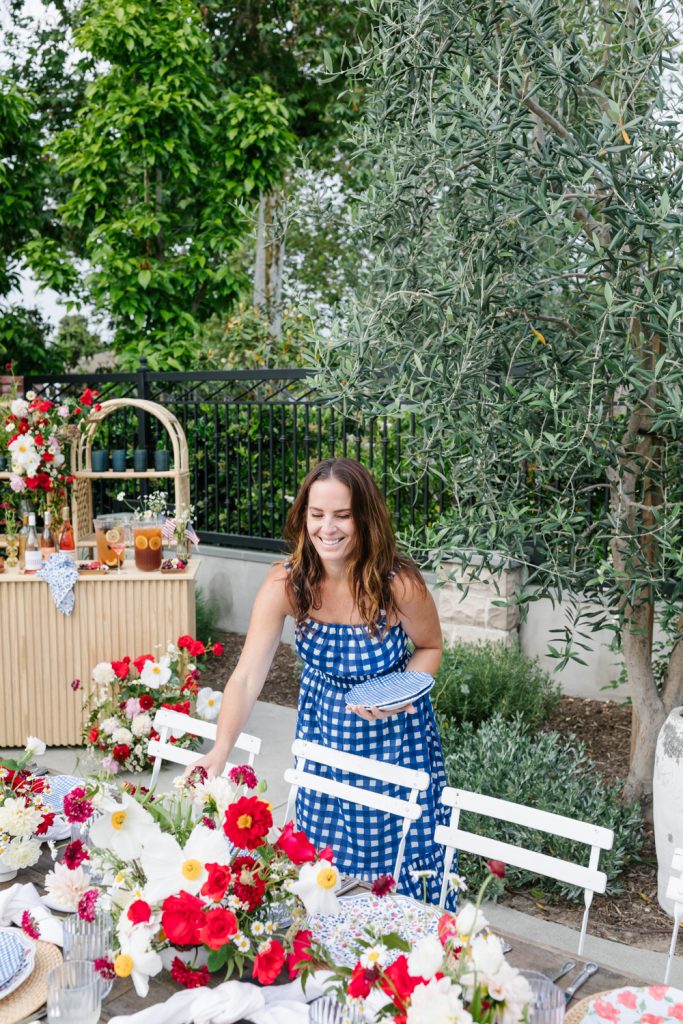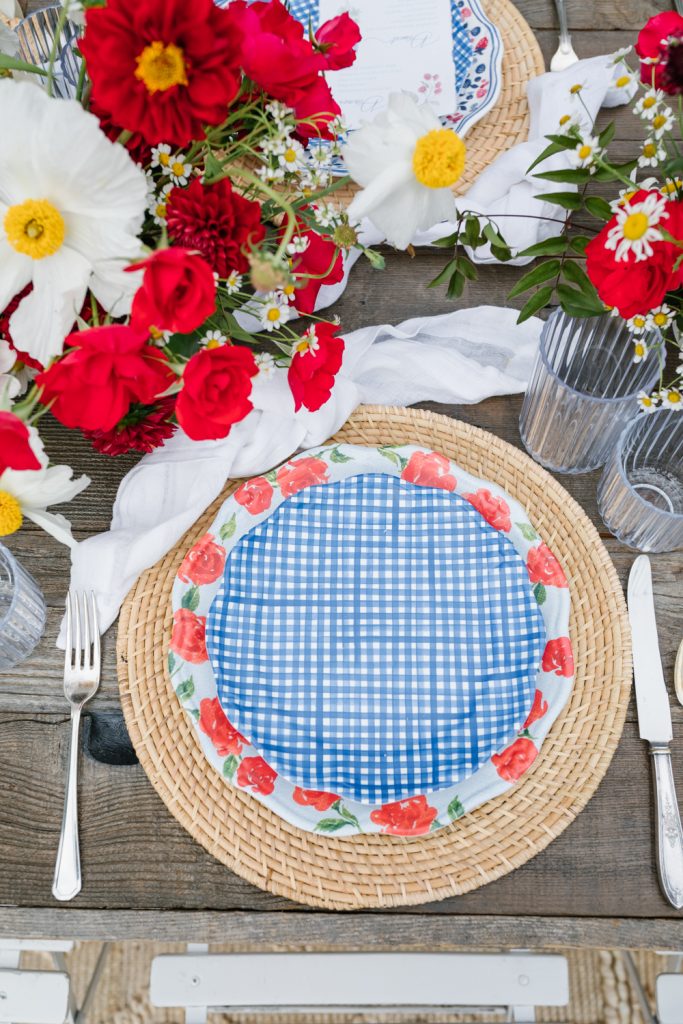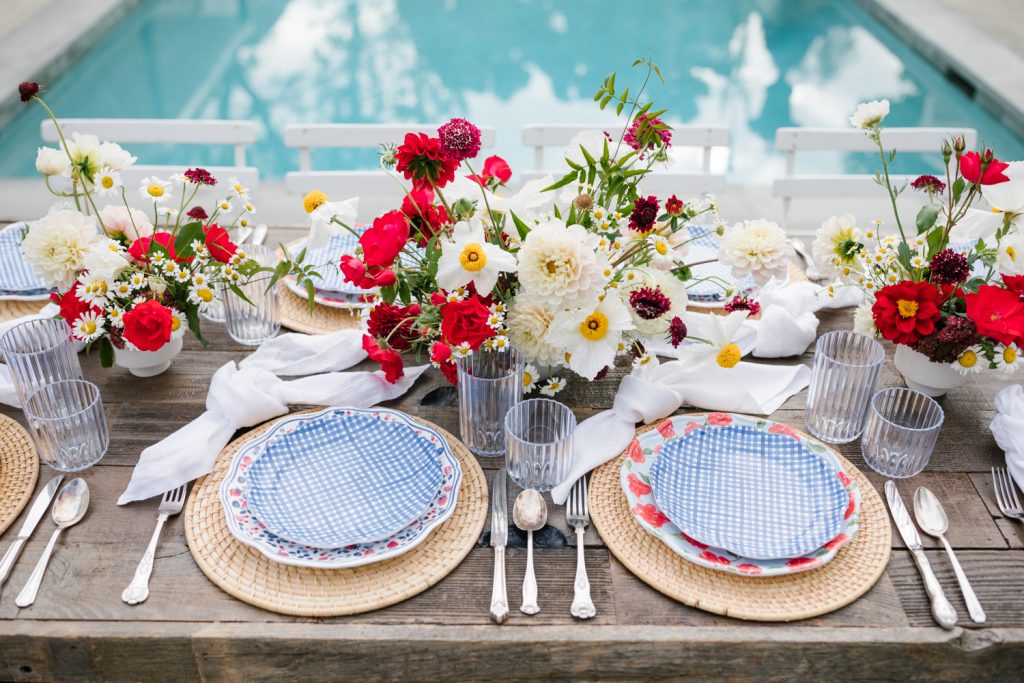 Wow, those flowers are just gorgeous!!!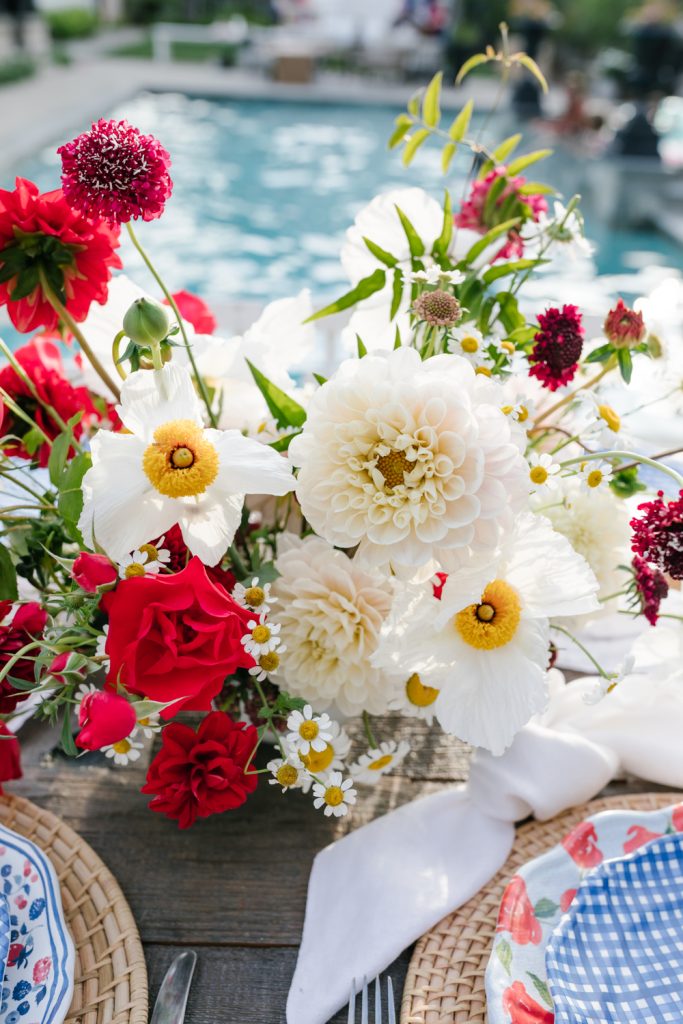 And the lady behind the flowers herself, the talented Krista of Not Just in Novels! Well, part of her face, haha!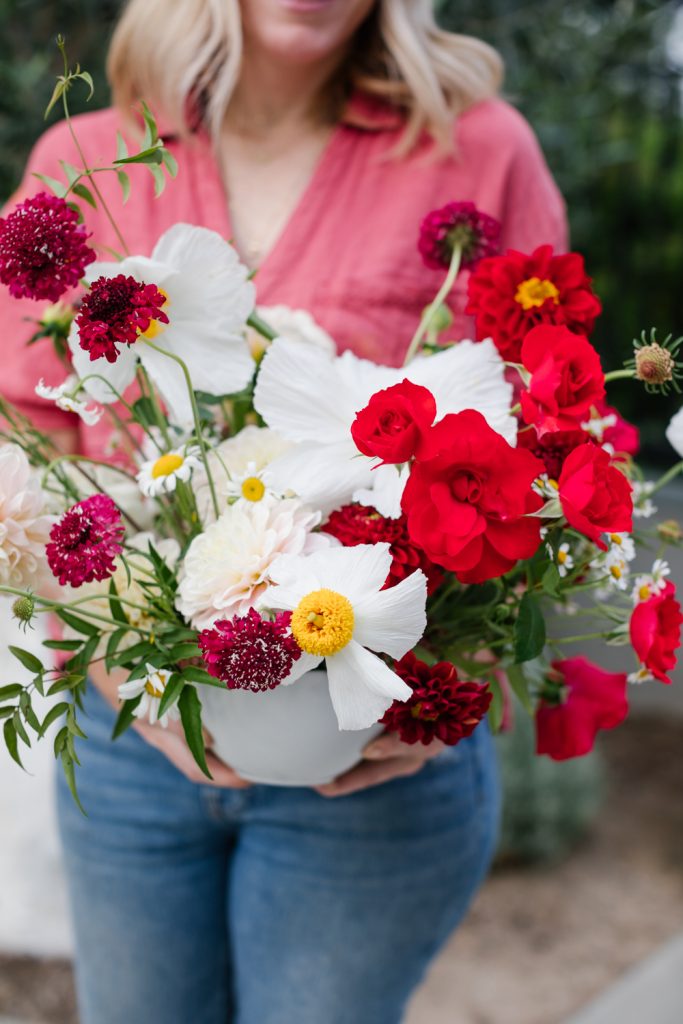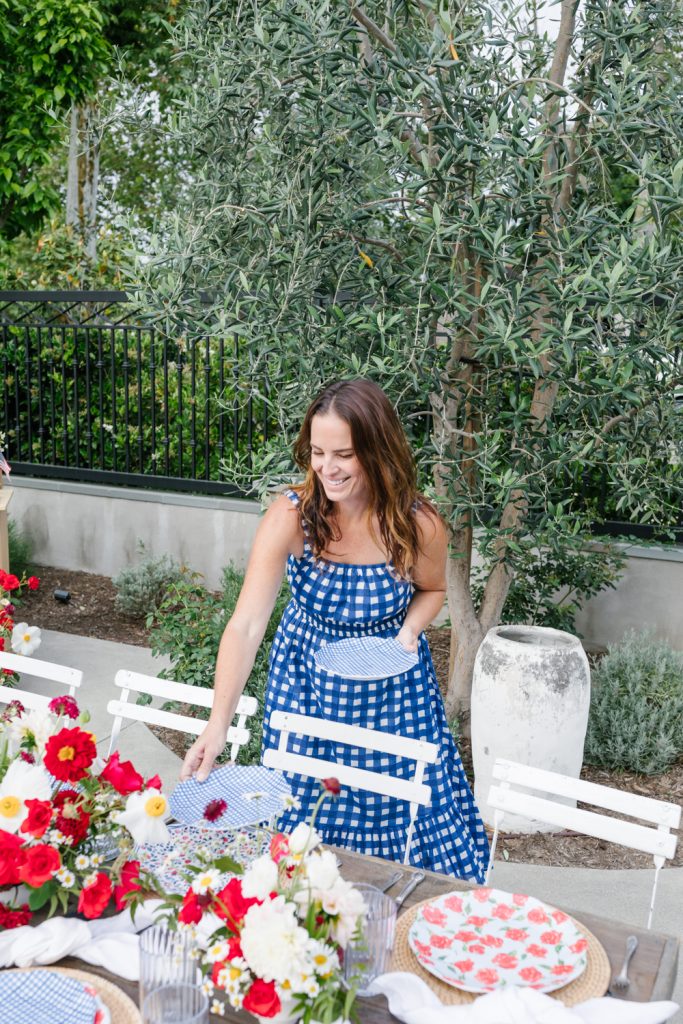 I love all of these plates, so we shot them without any of the details too – just so you could see how cute they are…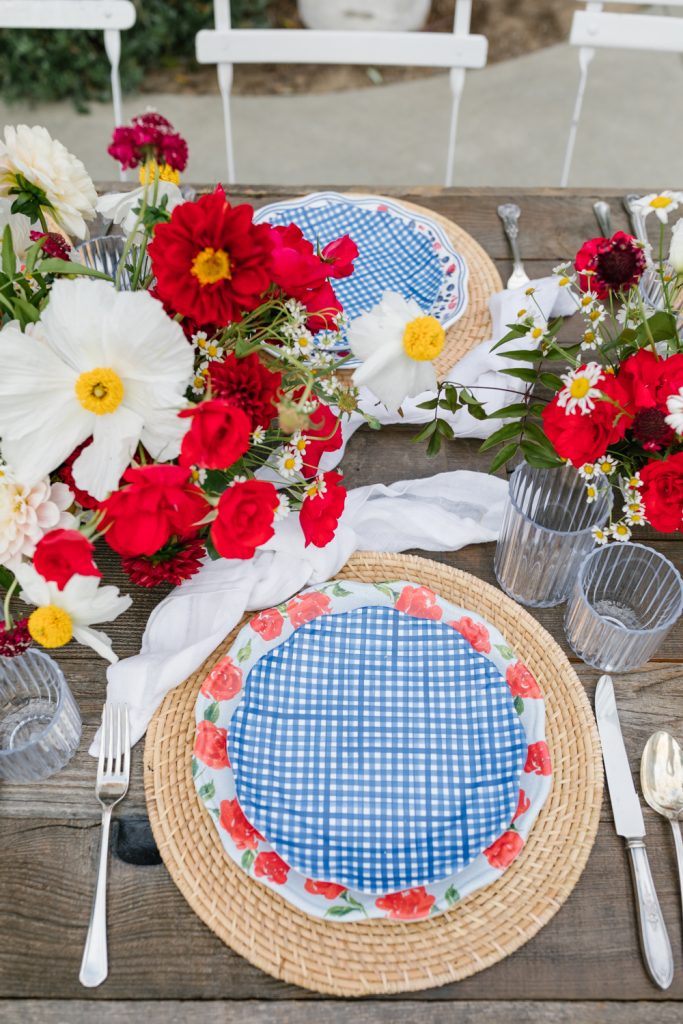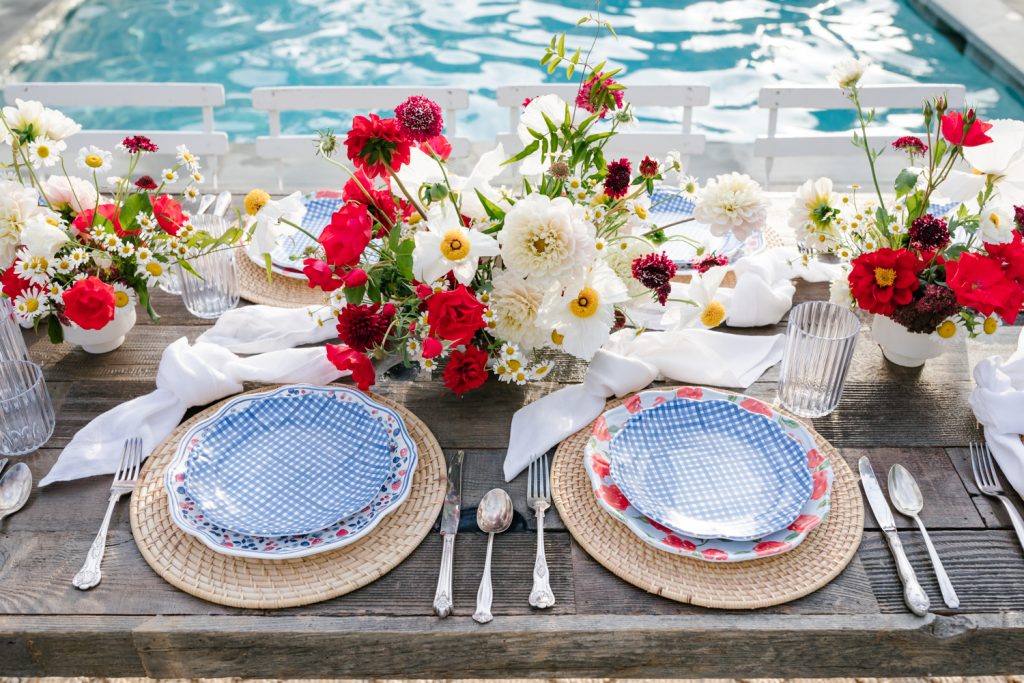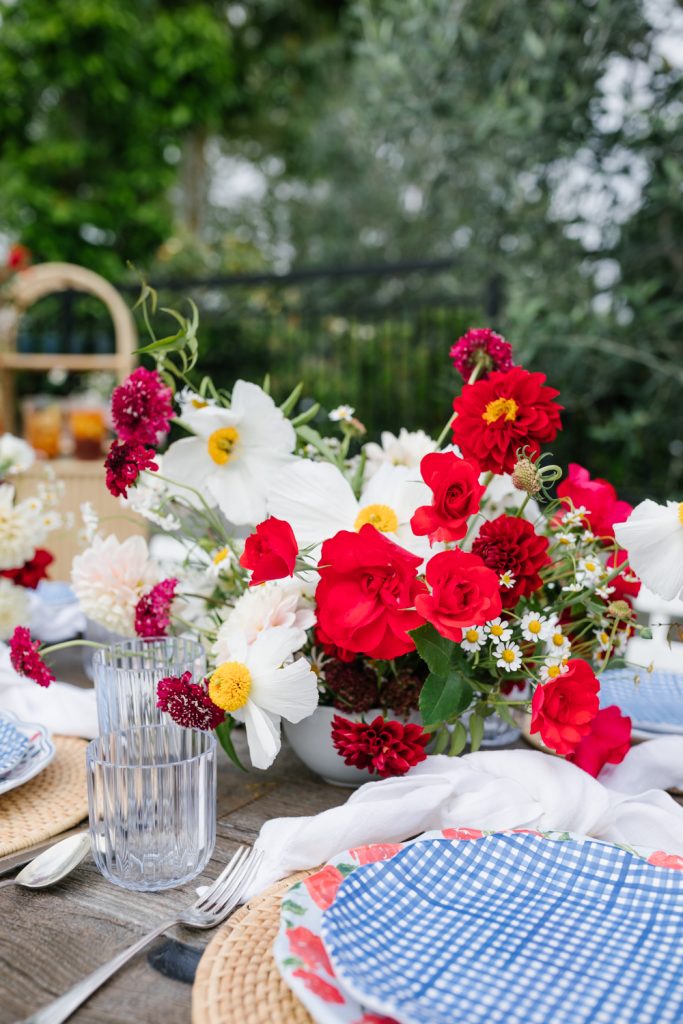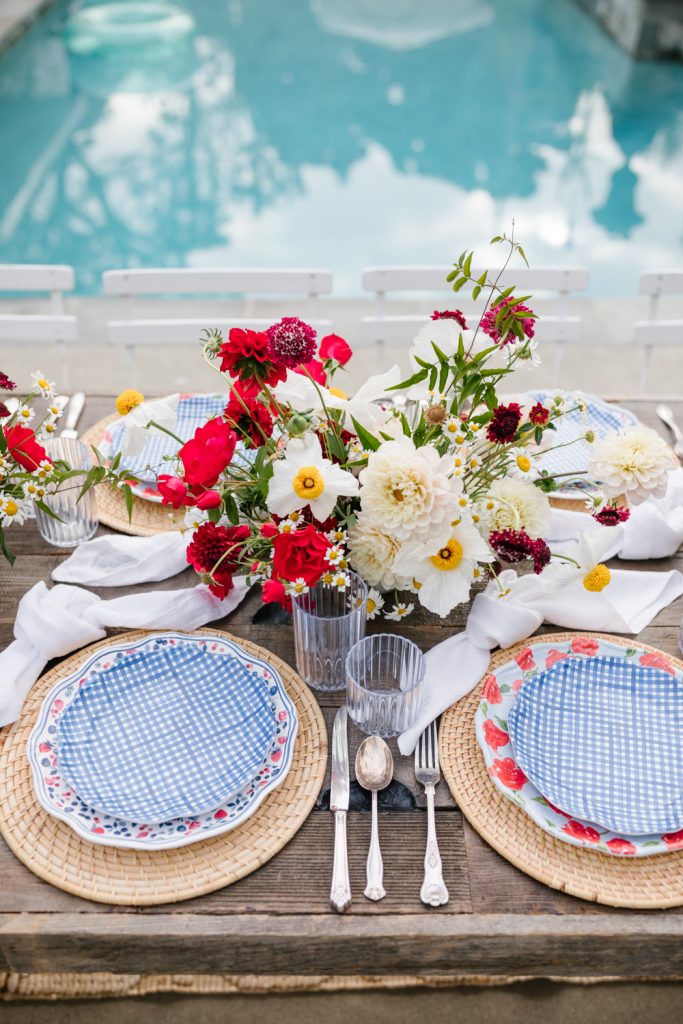 Berries and roses, which is your favorite? I couldn't decide so I chose both!!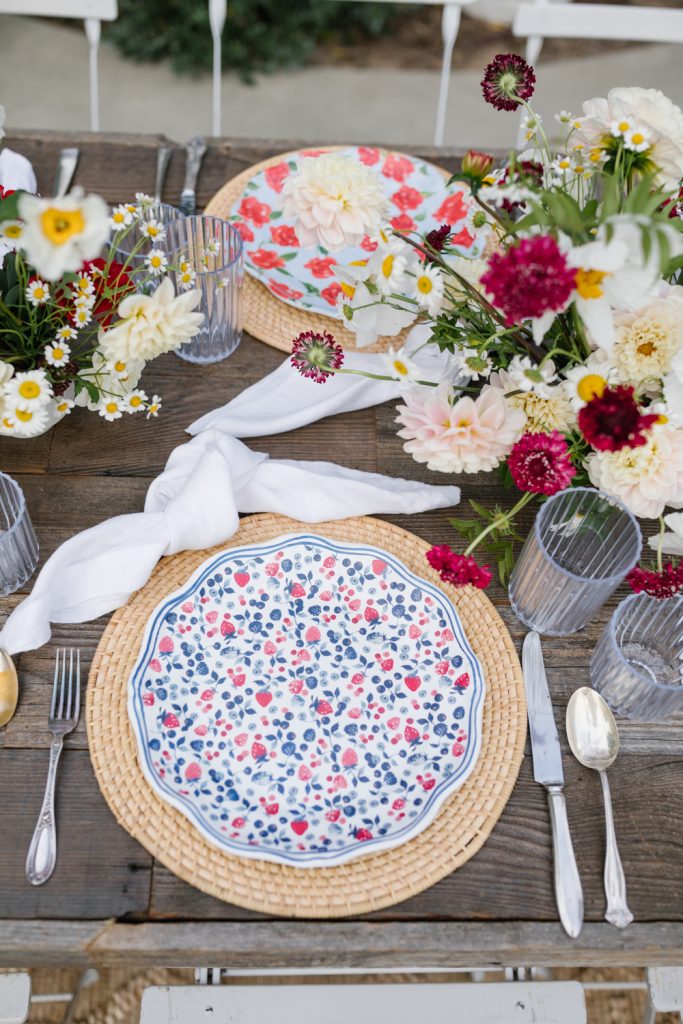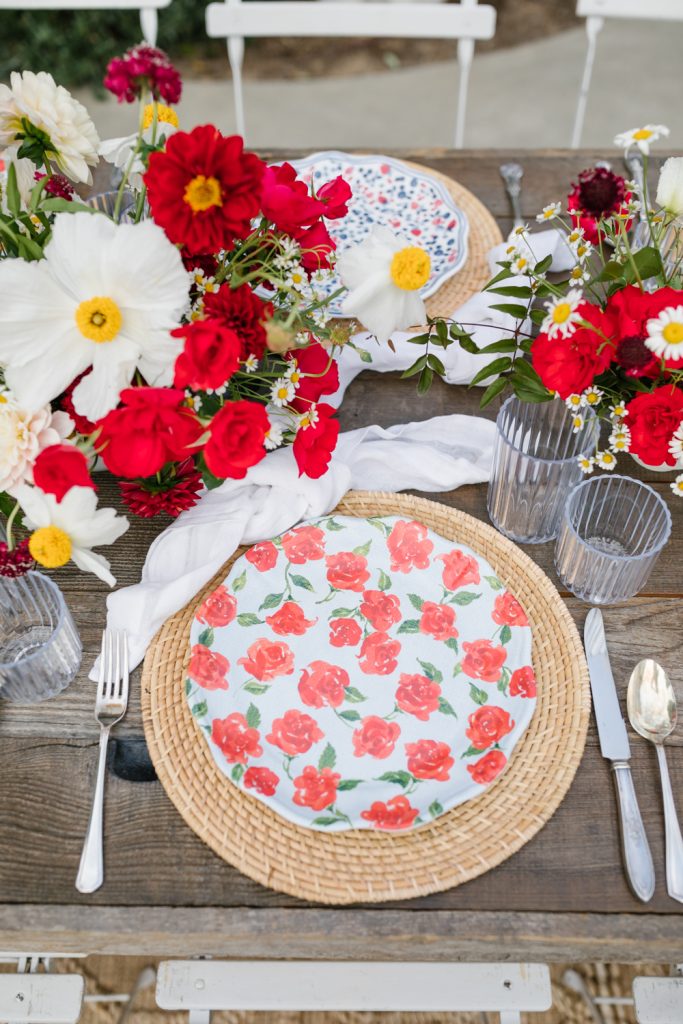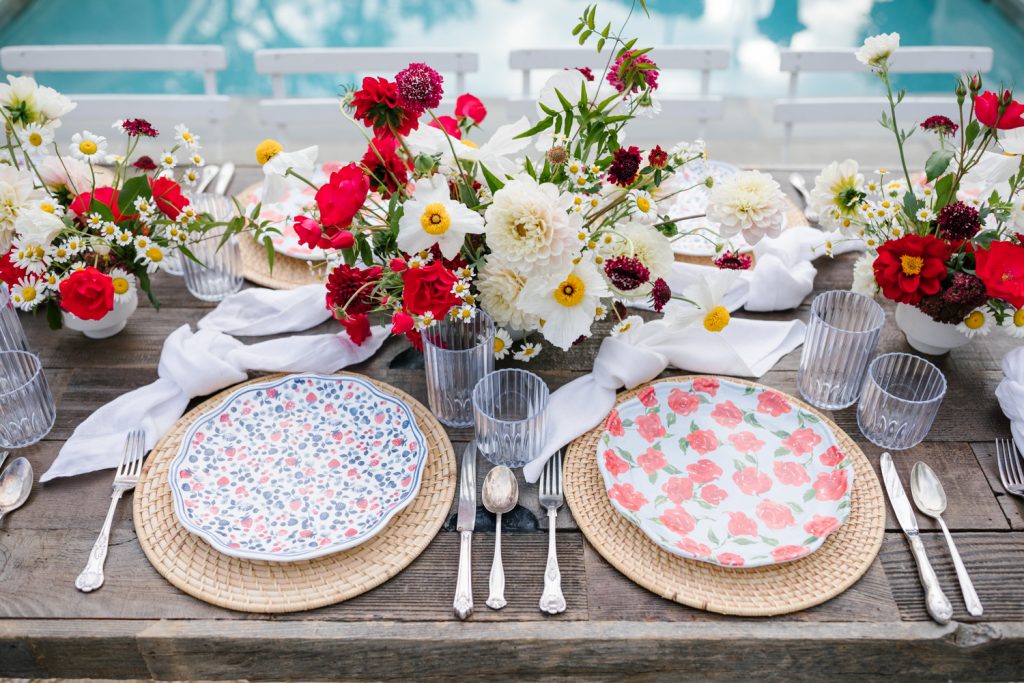 Cheers for Summer!!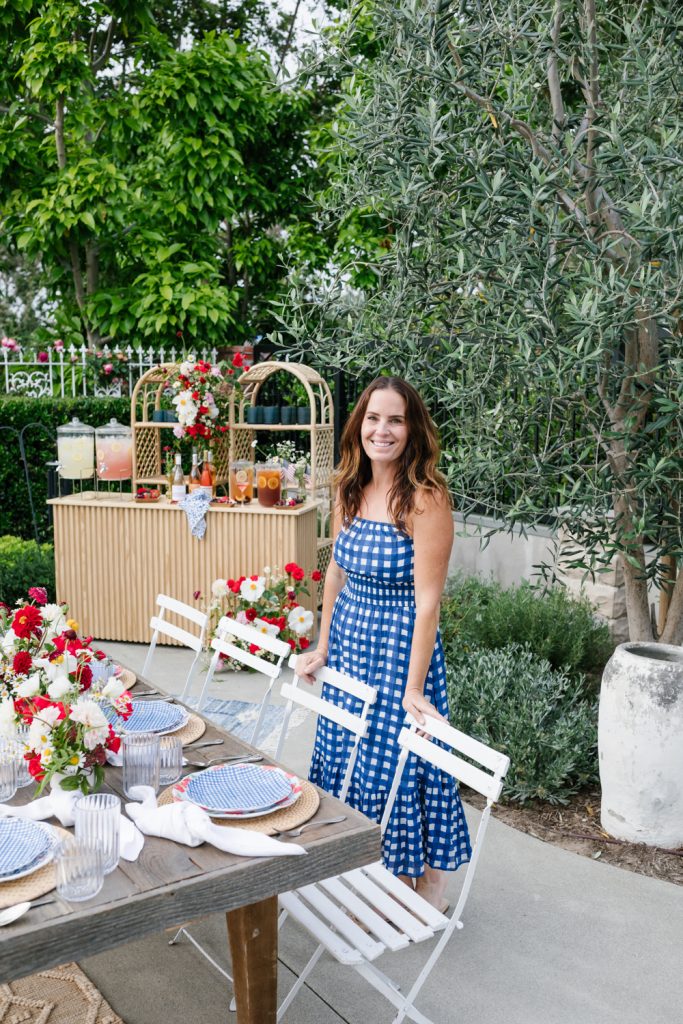 You better believe we had a bar for a Summer party! This serve yourself style bar is the perfect set up for a casual backyard soiree! Shelves of pretty Sur La Table glassware for guests to grab, dispensers of different flavored lemonades, pitchers of iced teas and lots of rosé!! Plus berry & floral toppers to add! Any occasion to pretty up a glass is a must!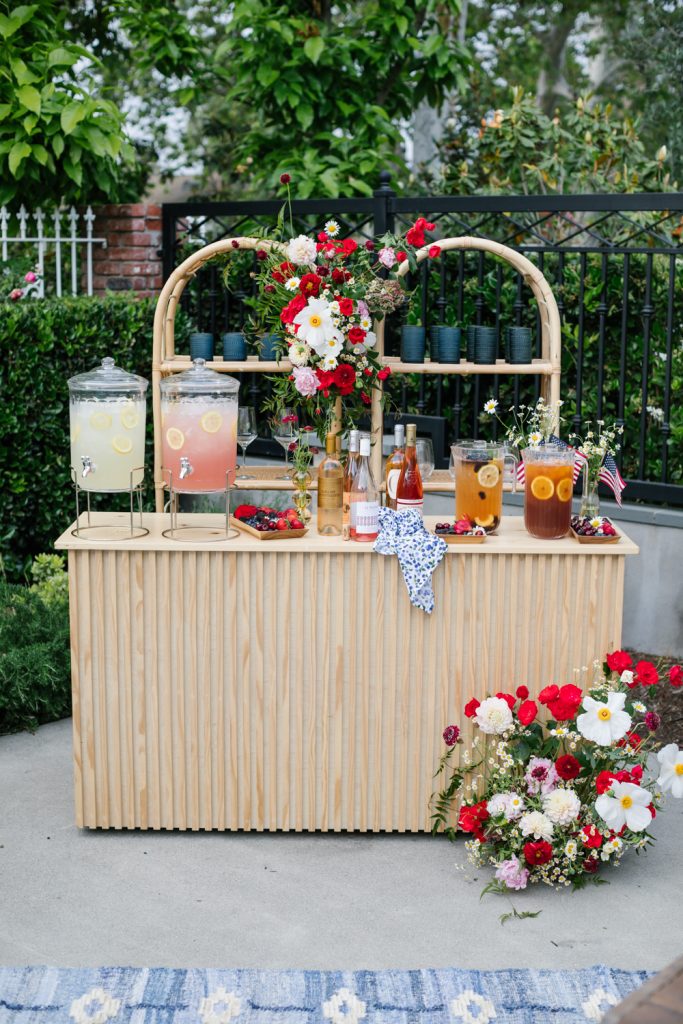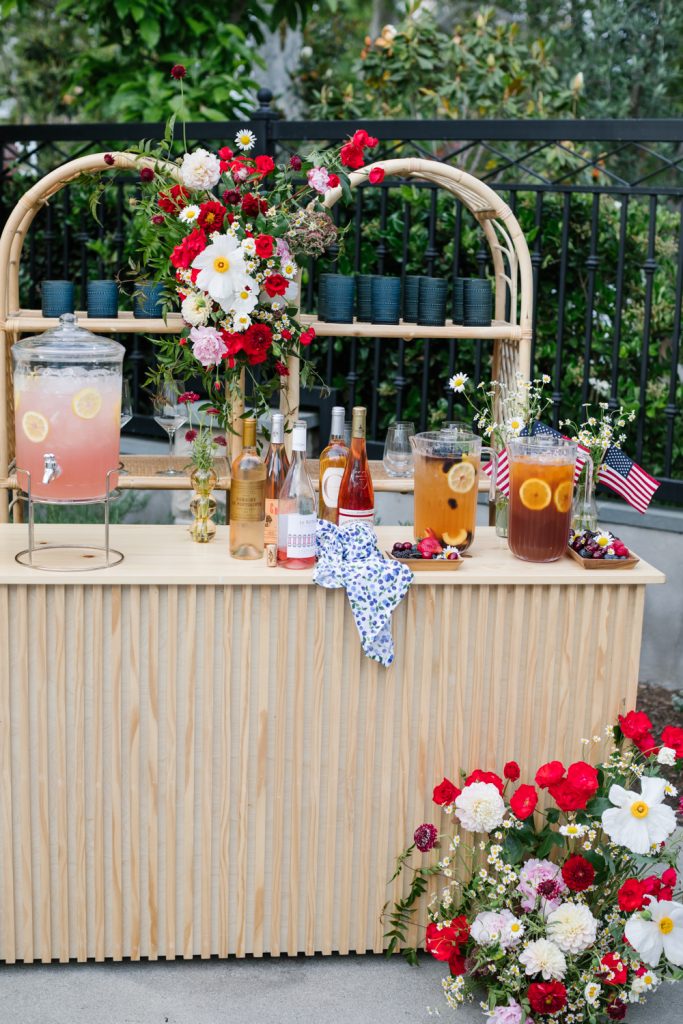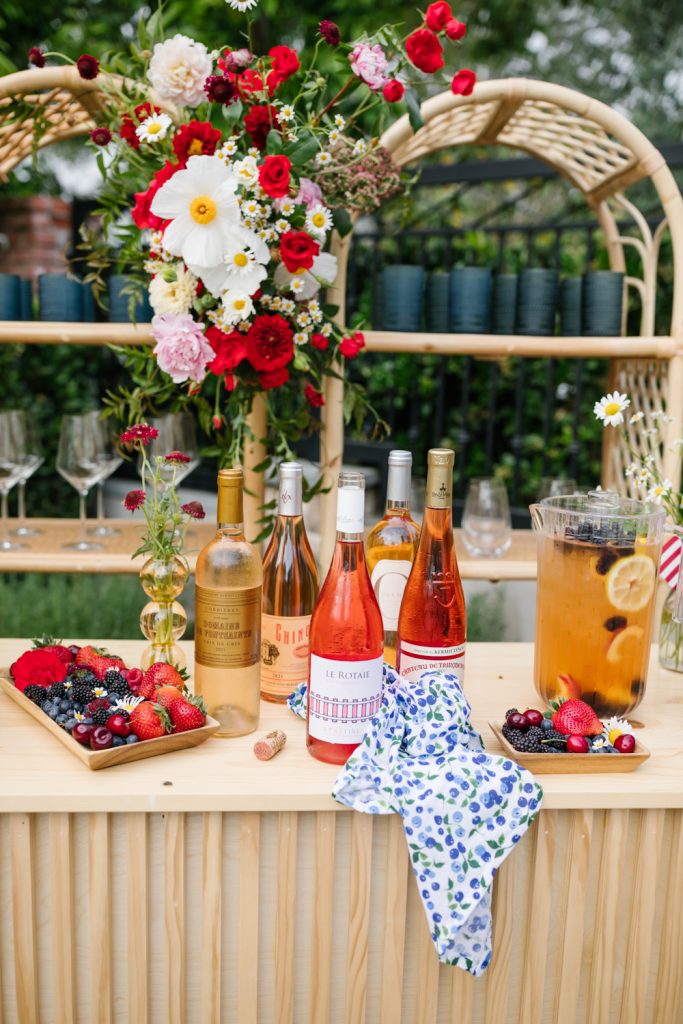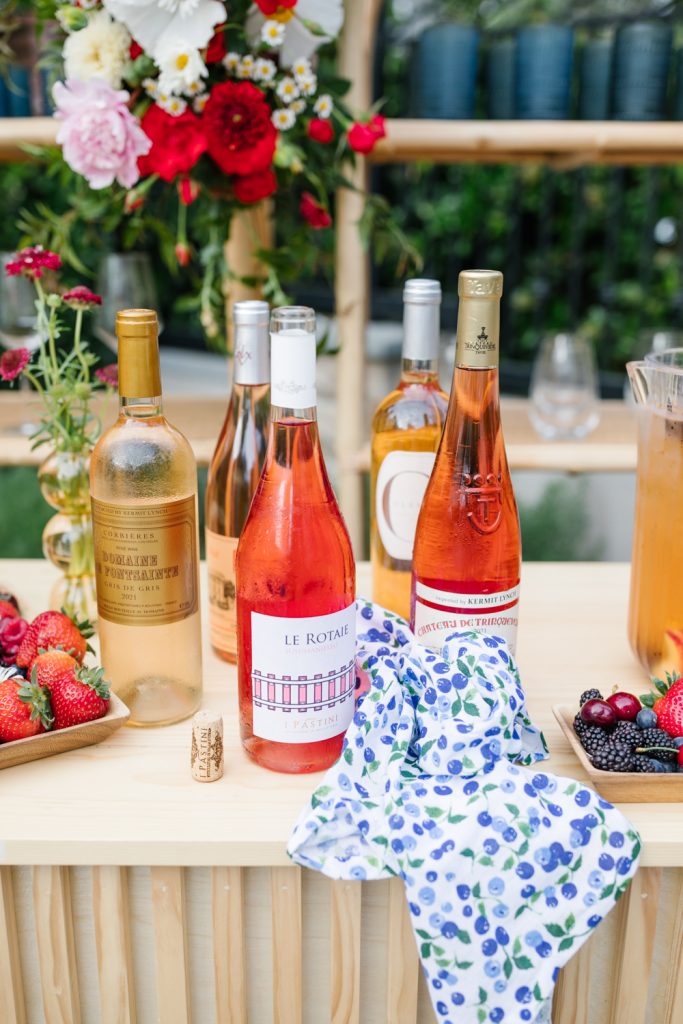 These kiddos love their lemonade!!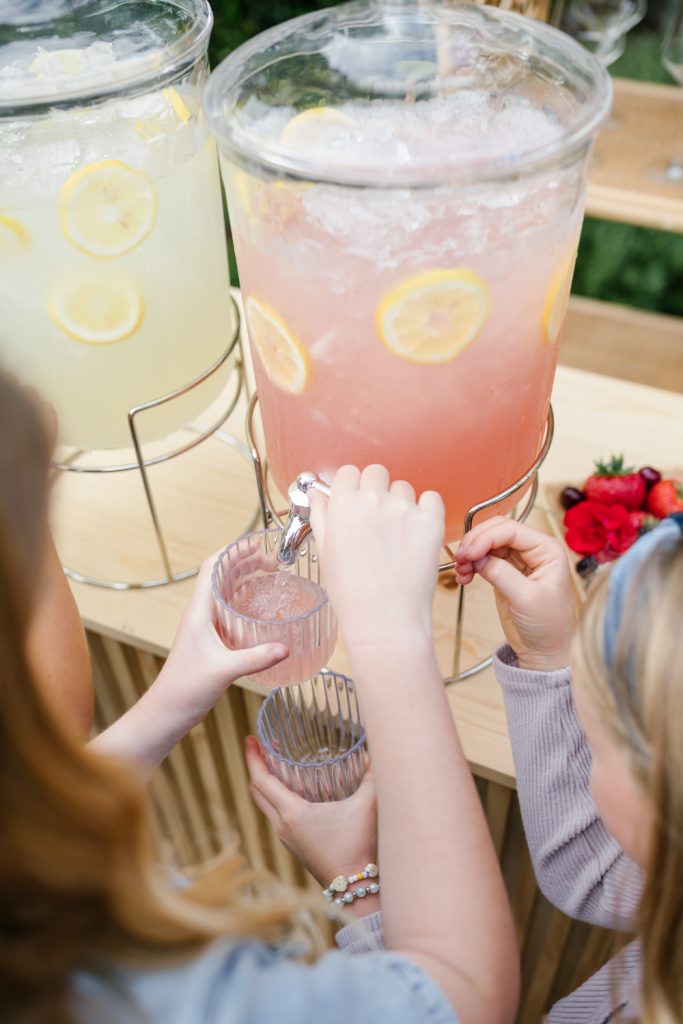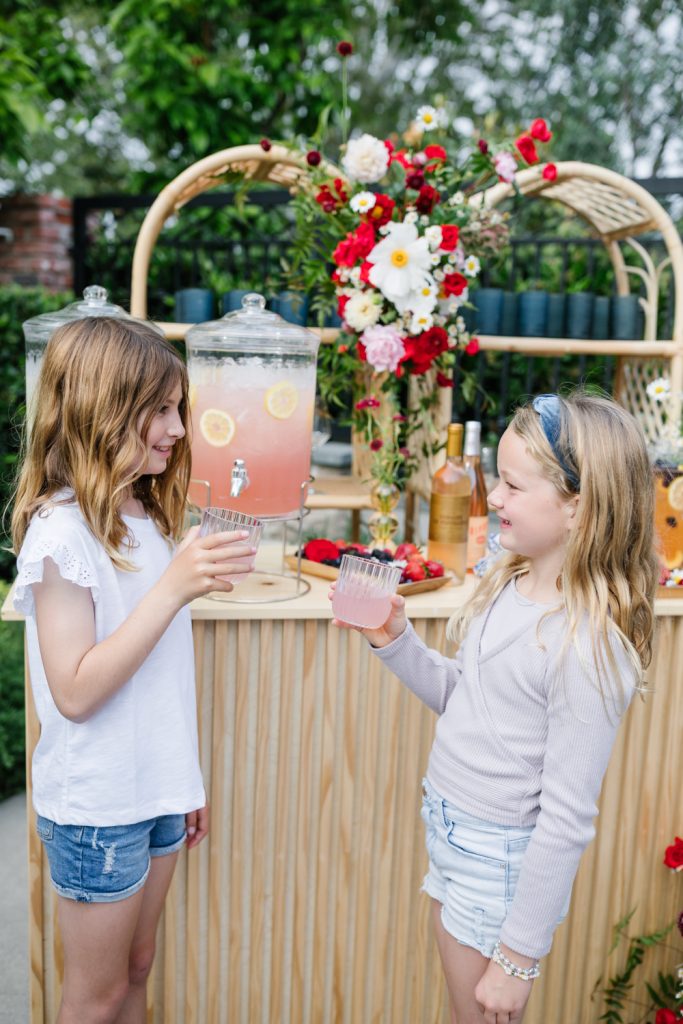 And we sure love our rosé! My beautiful, talented and kind partners in crime – Krista from Not Just in Novels and Marnie from Sweet Salvage Rentals.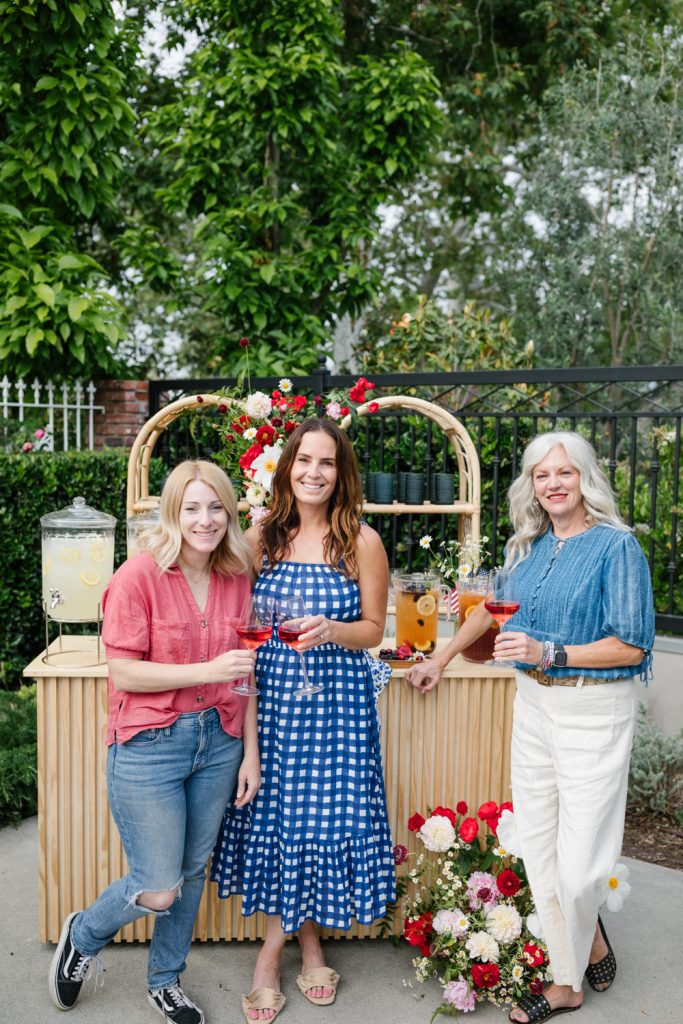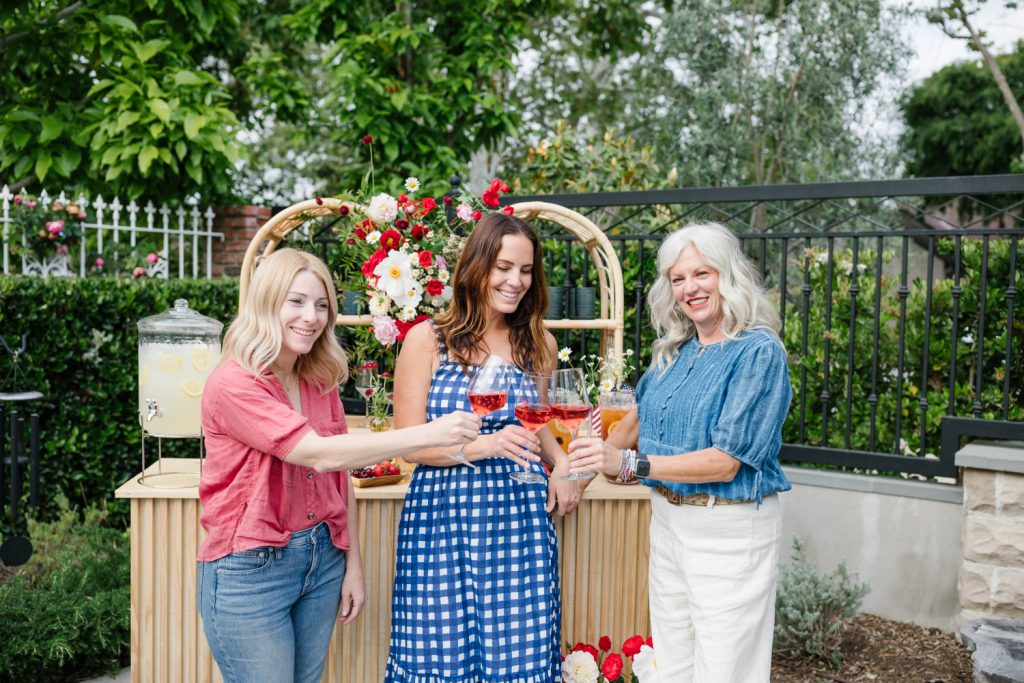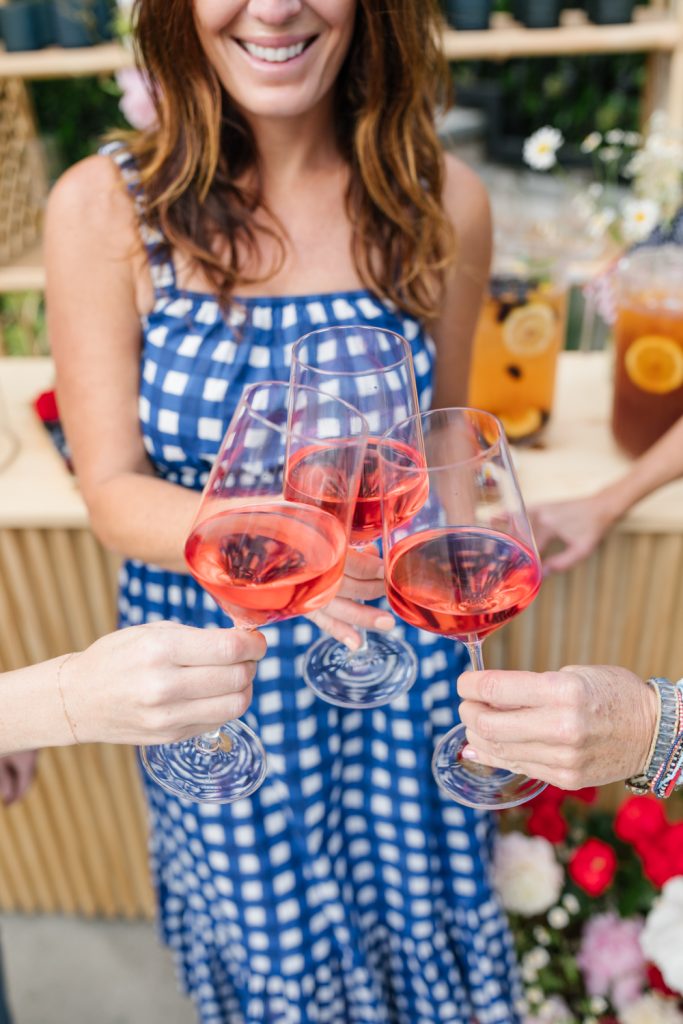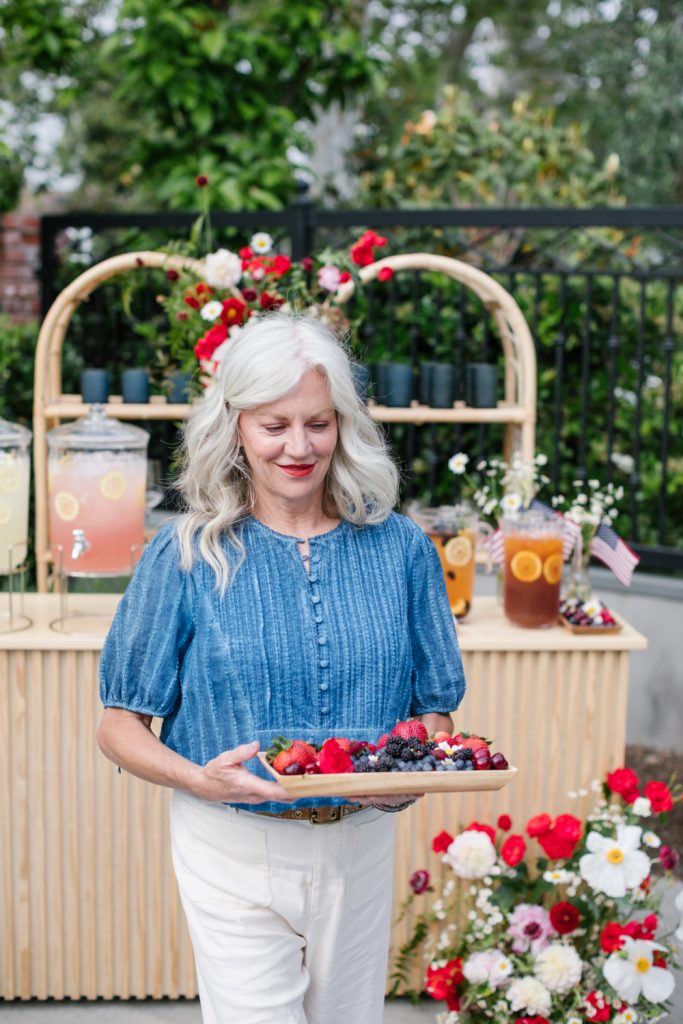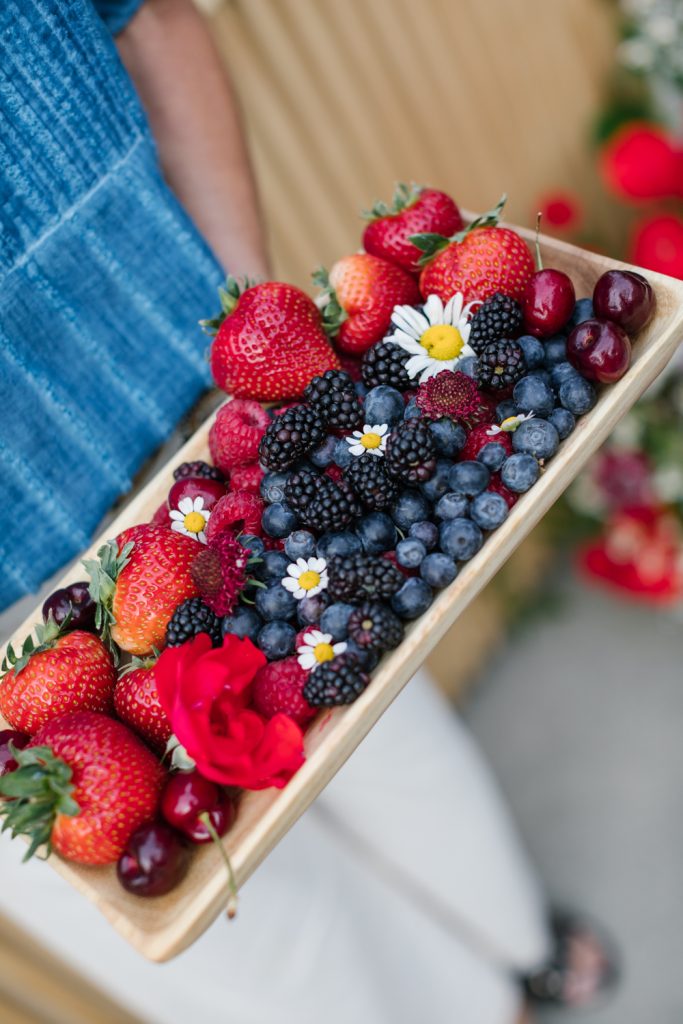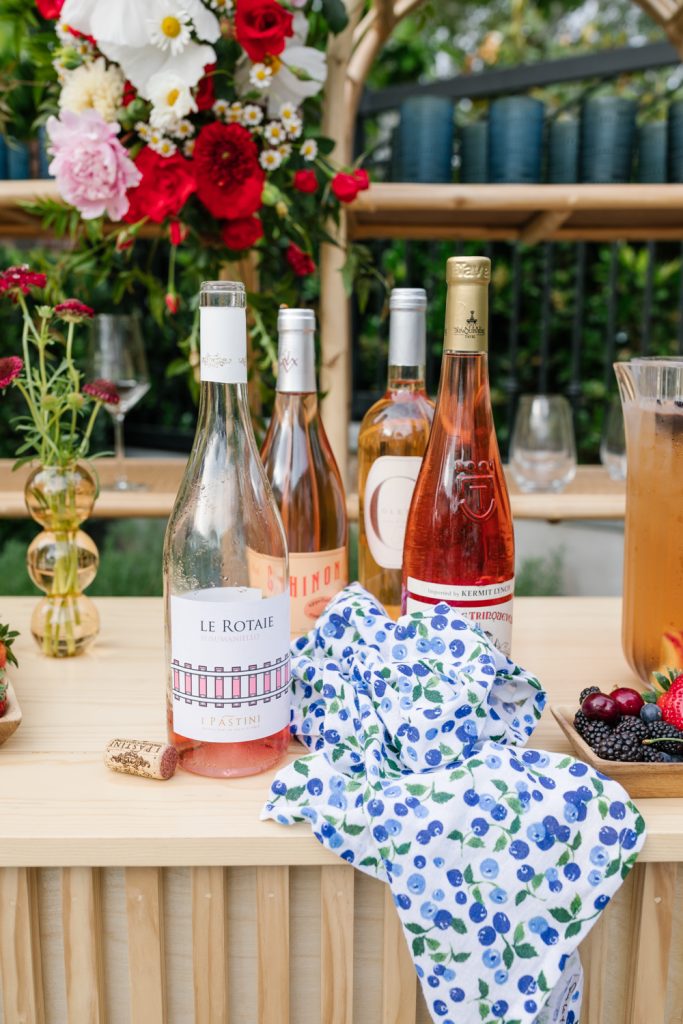 Loving this spread!!! All of the best for this Summer party from Taylor Made Catering. Sliders, grilled corn, caprese skewers, and an amazing salad bar. Along with more desserts for the adults! Doesn't get much better than this!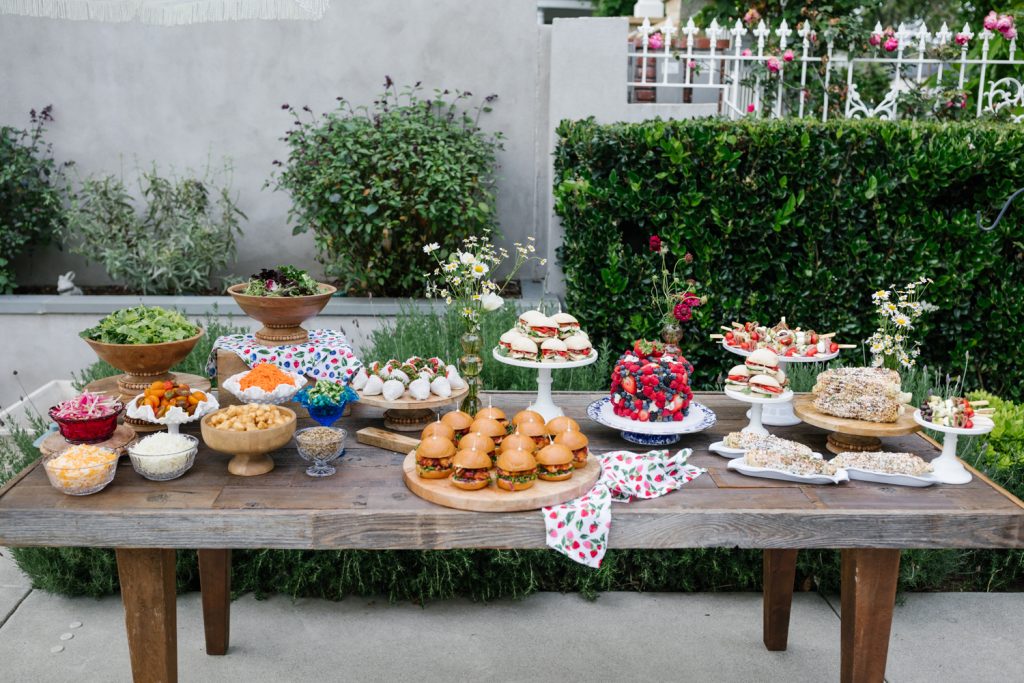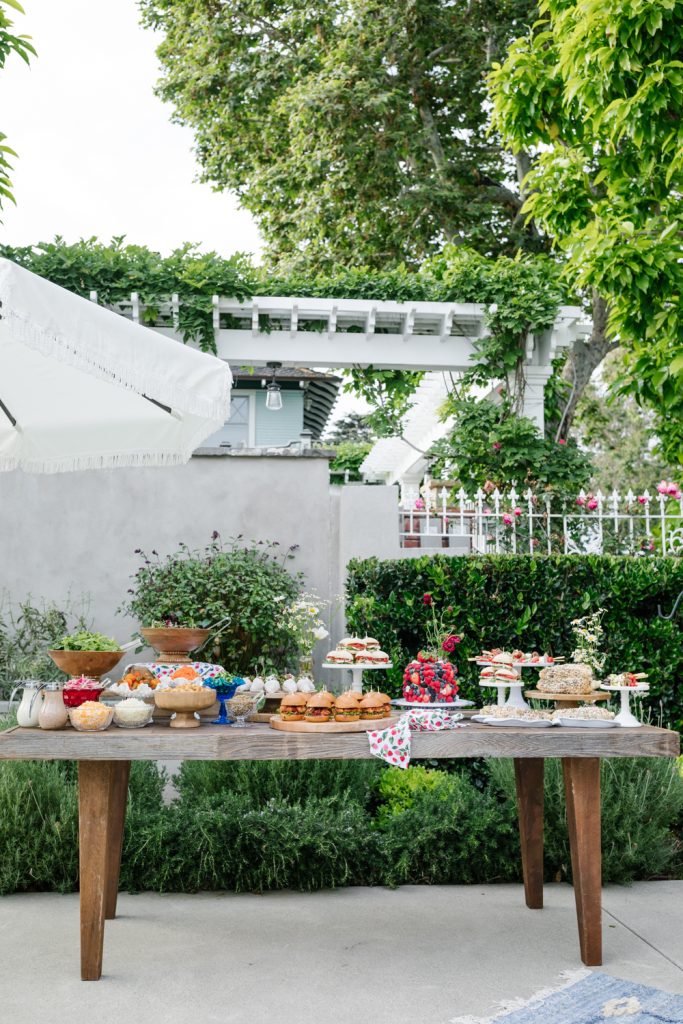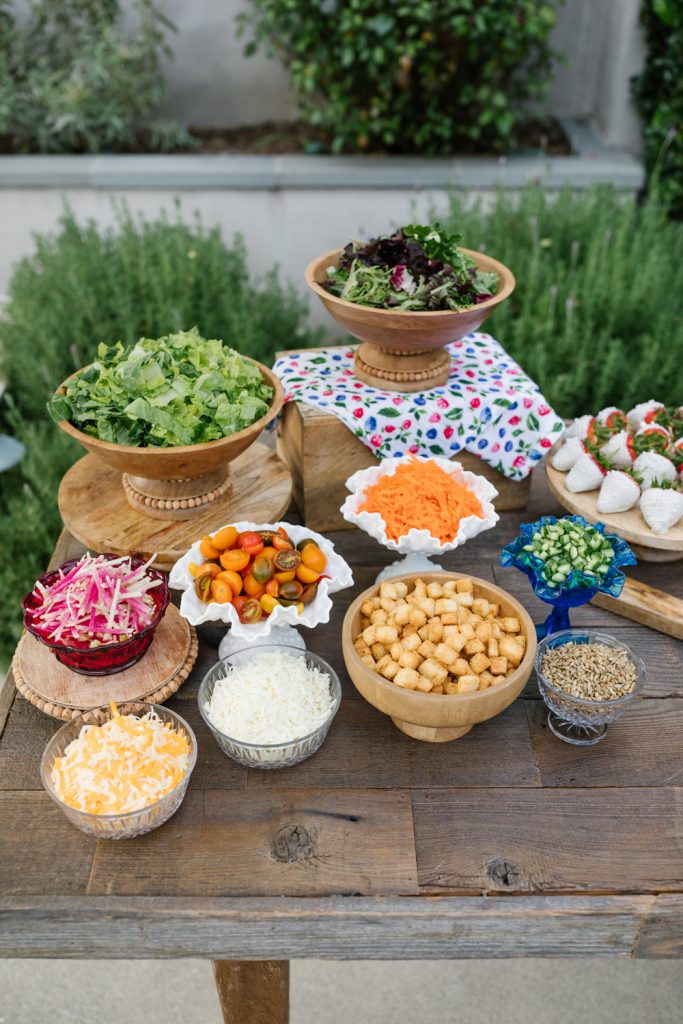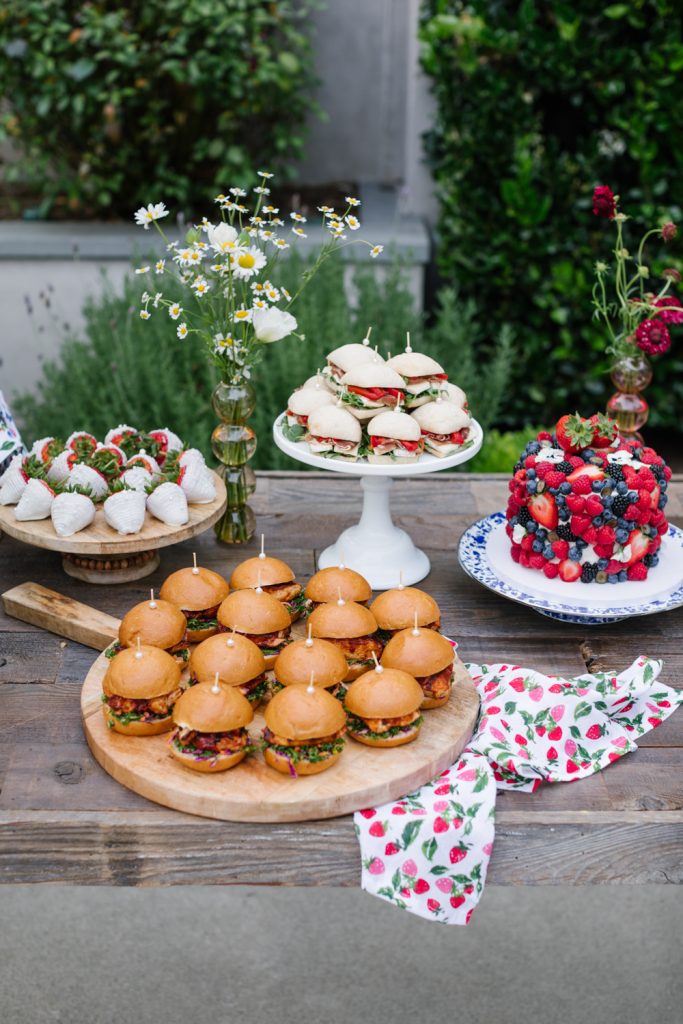 These were so delish!!!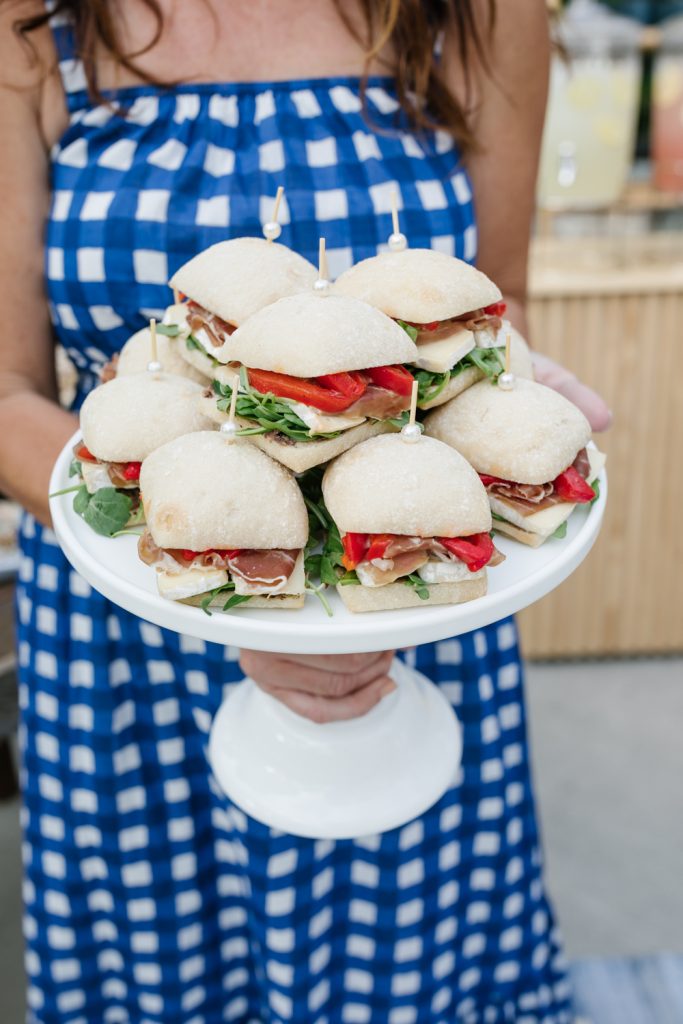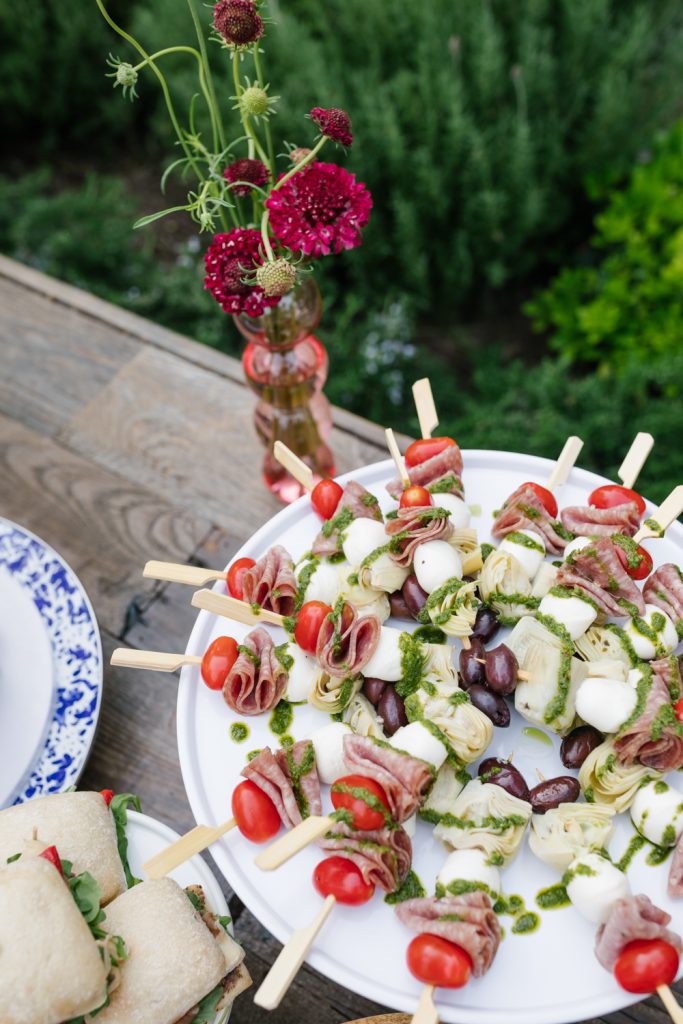 How cute are these individual corn plates from Sur La Table?! Perfect for Summer!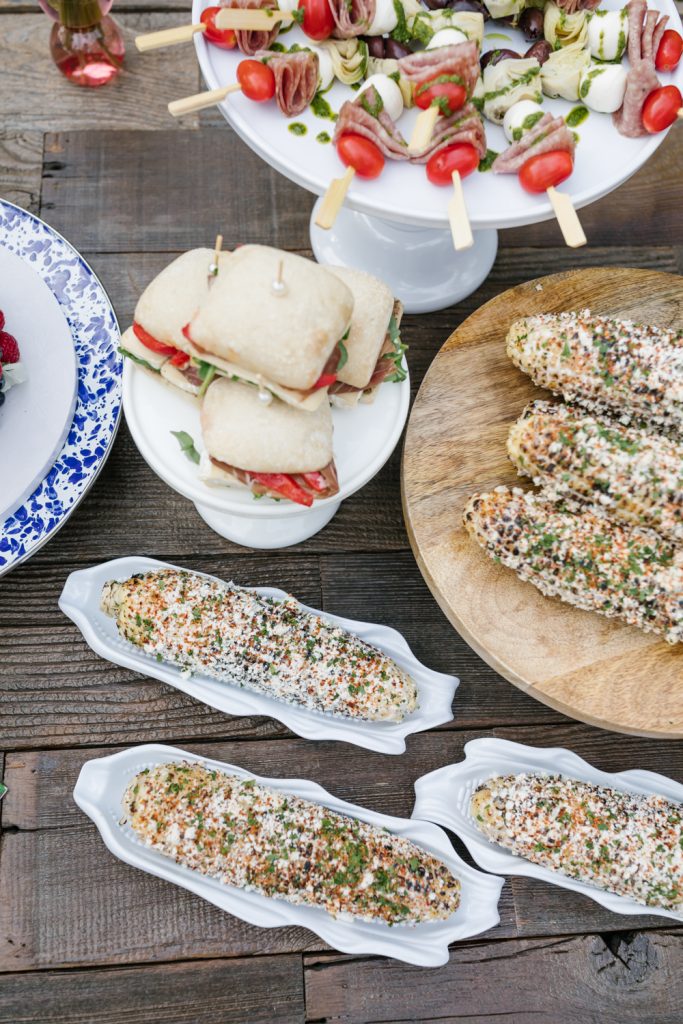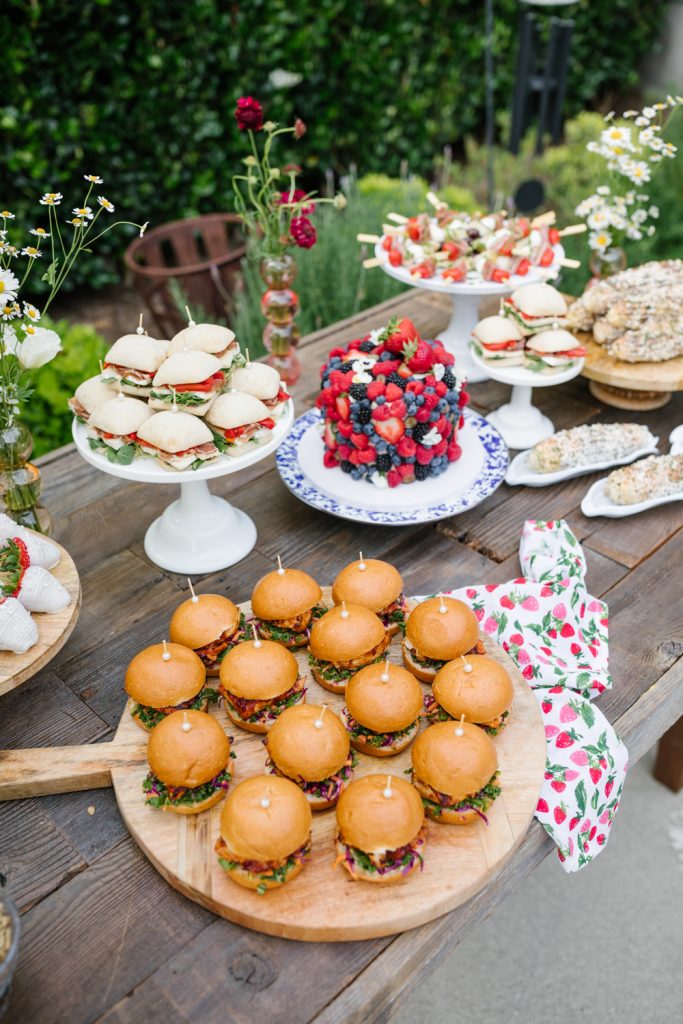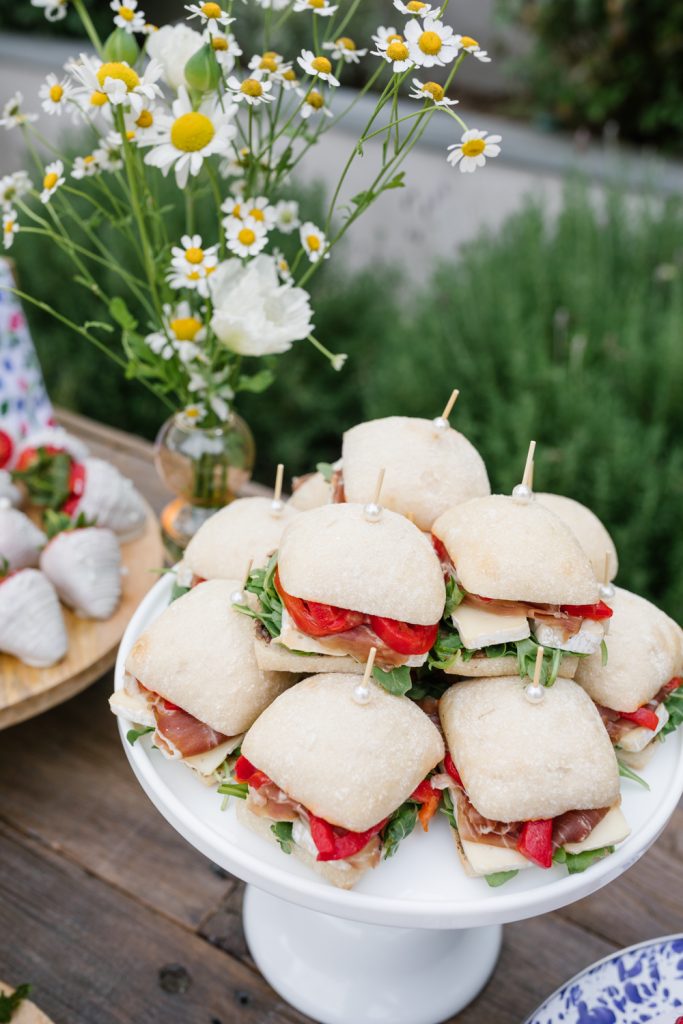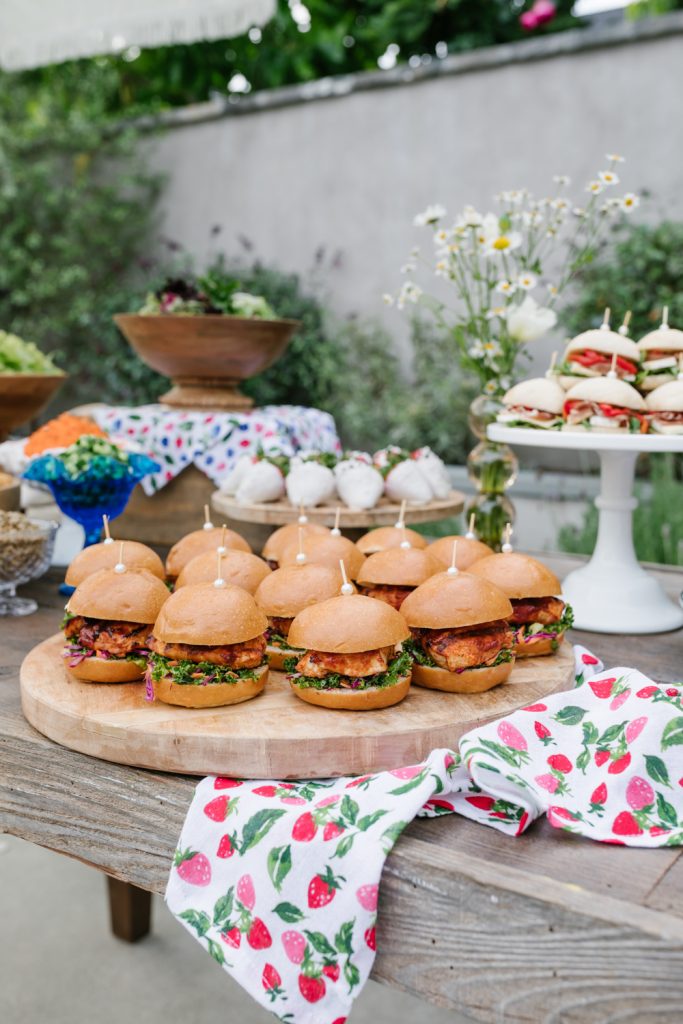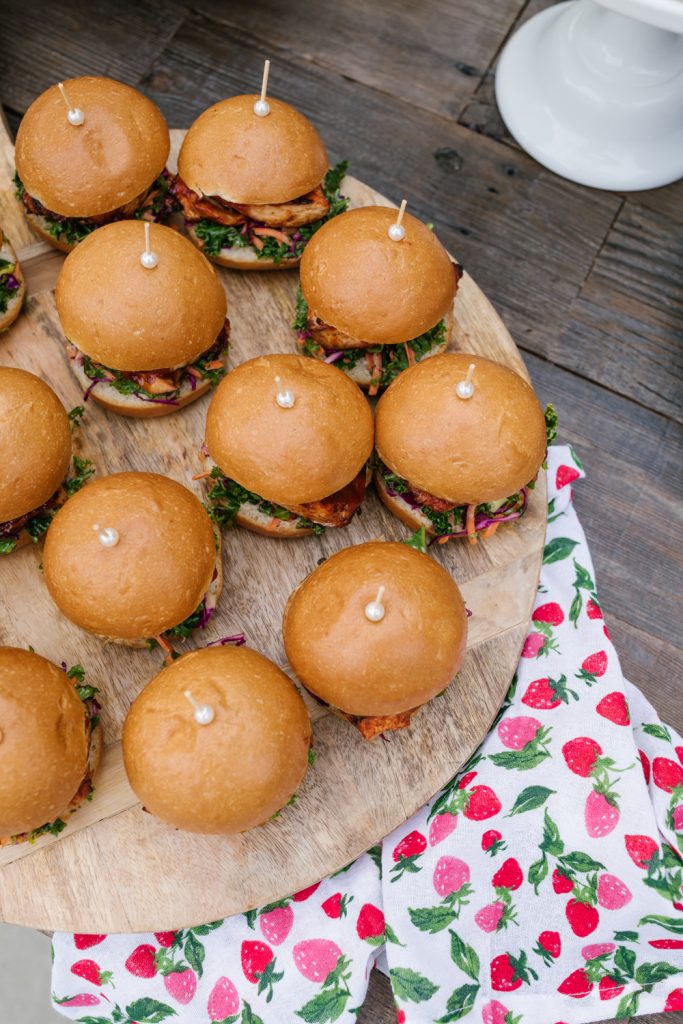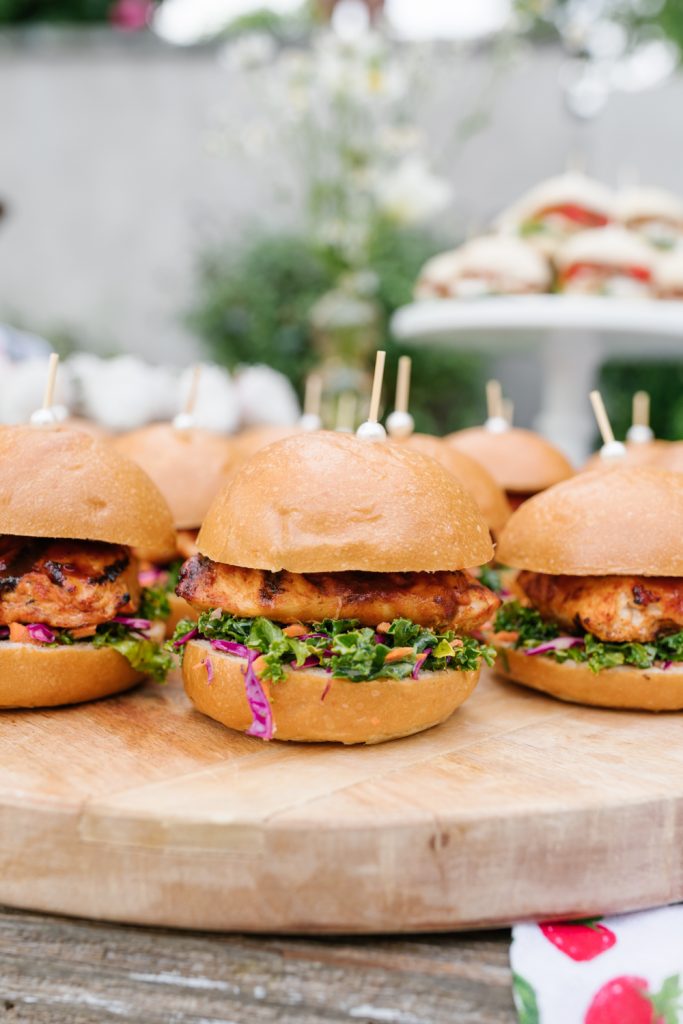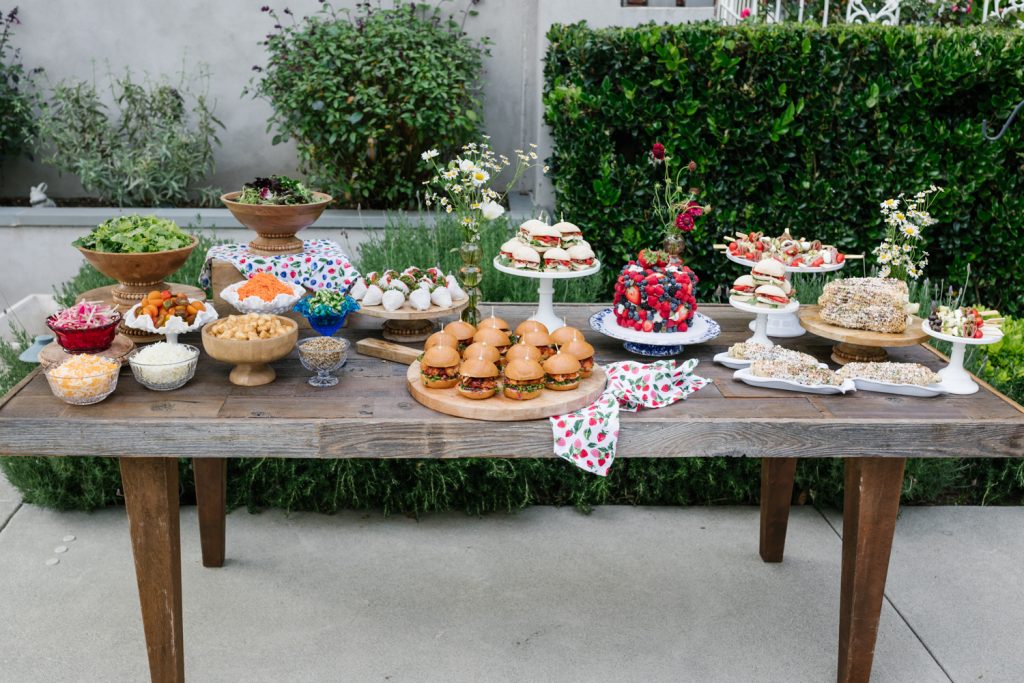 I just want to dive into this tasty cake! It's almost too pretty to cut!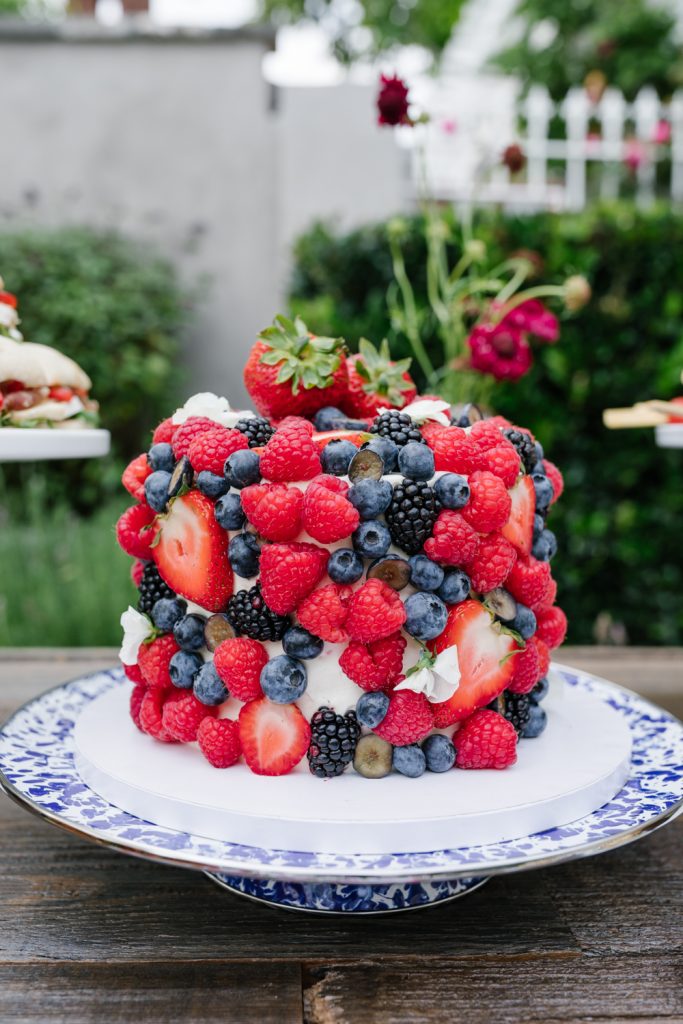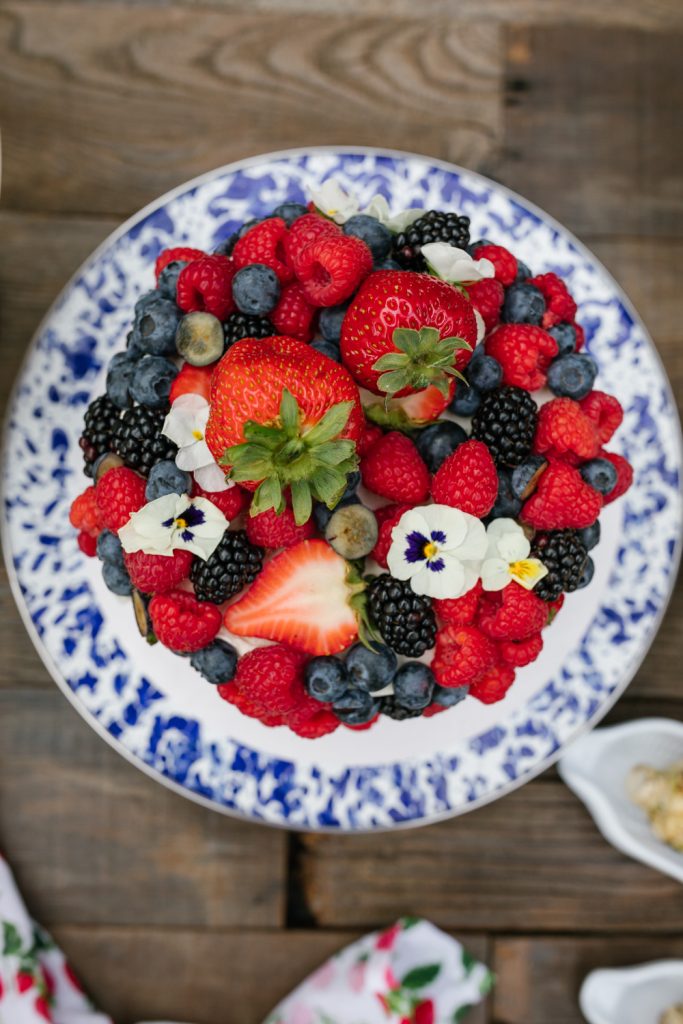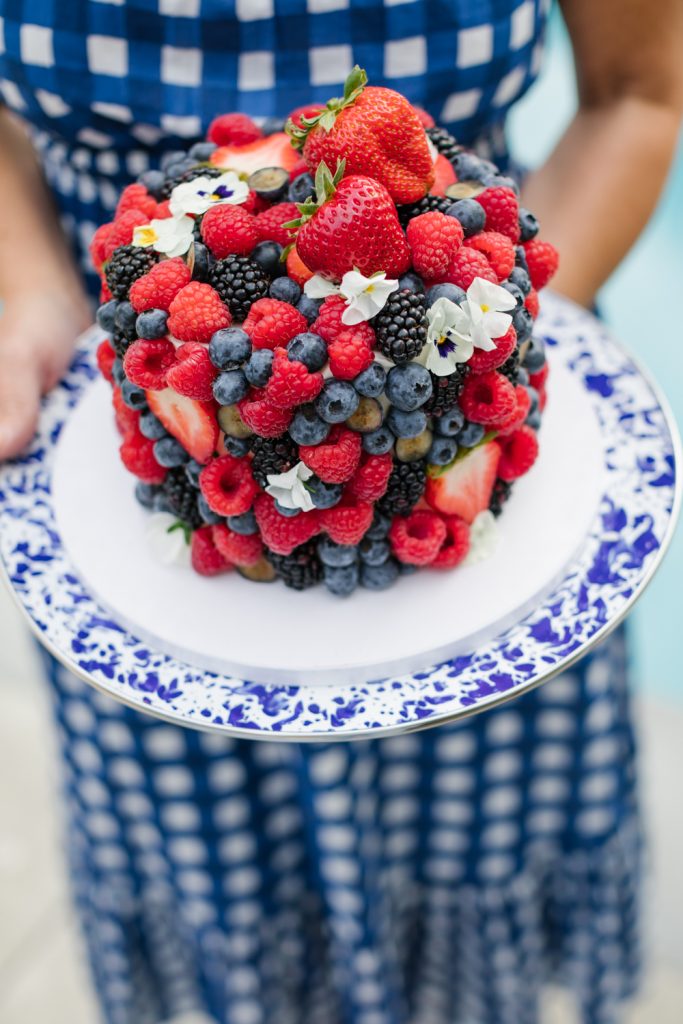 The perfect way to end the night – dessert and sparklers!!!! Look at those excited smiles!!!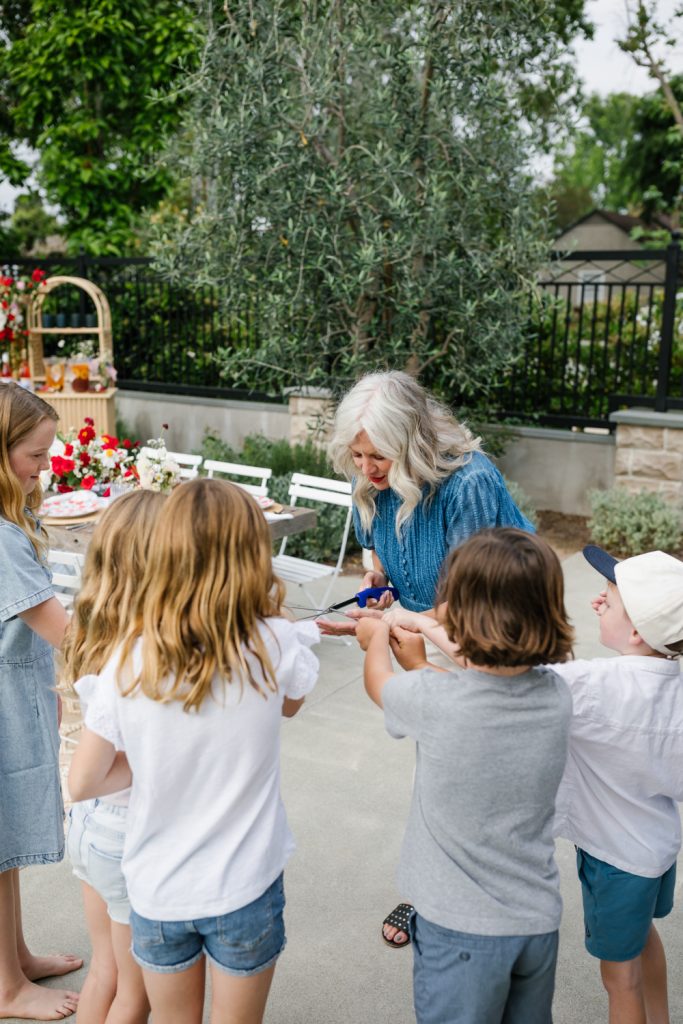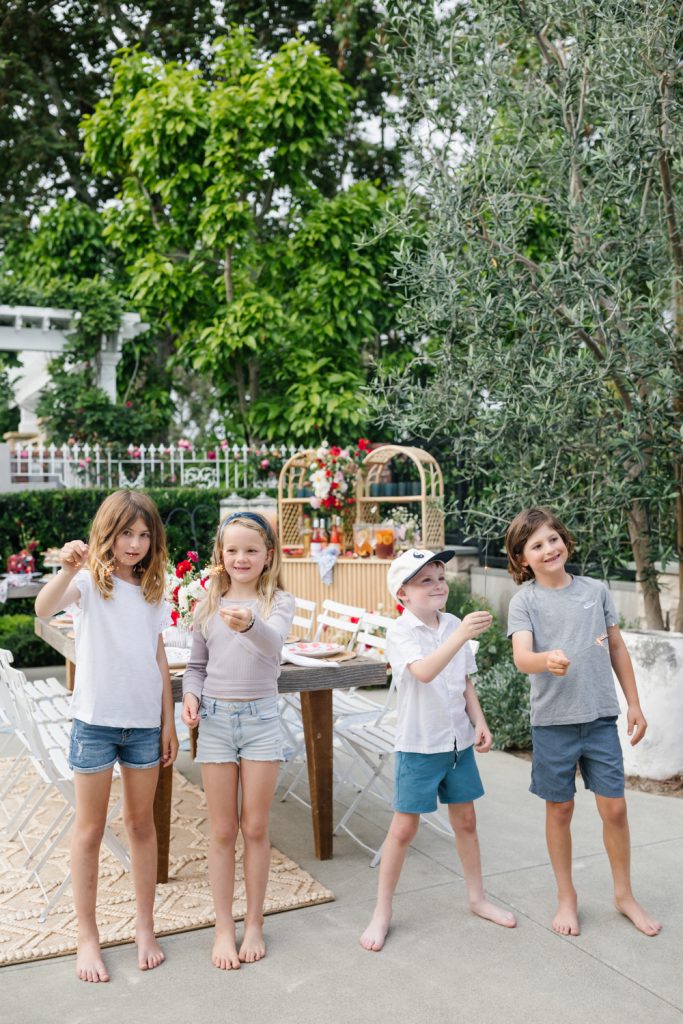 Hope your Summer is off to a great start! Shop Sur La Table's Fairground collection here so you can create this pretty at your next Summer party!
xx
Jacquelyn