With Easter around the corner, it's time to start compiling some ideas for Easter Sunday brunch. I always have been a lover of food and creating dishes for my family that hopefully, they love. That or they are really good at lying. Recently, my daughter has become a fan of the sunny side up egg and dipping her toast in it. I'm so proud that she opened her eyes up past the scrambled egg and found her love for that gooey yellow yolk goodness. I'm sure you can relate how hard it is to get a little one to try something new. I will totally admit, that I never was a fan until she tried it. What was I thinking this whole time insisting my yolk be cooked hard? So much of my life wasted! Geesh! In honor of my daughter's love for the gooey yolk, I created a twist on the classic eggs florentine. This baked eggs with arugula salad with hollandaise sauce is a lighter version and more kid-friendly. Best part, they are served in cute individual mason jars.
Photos by Erin Milnik
Food by My Organicopa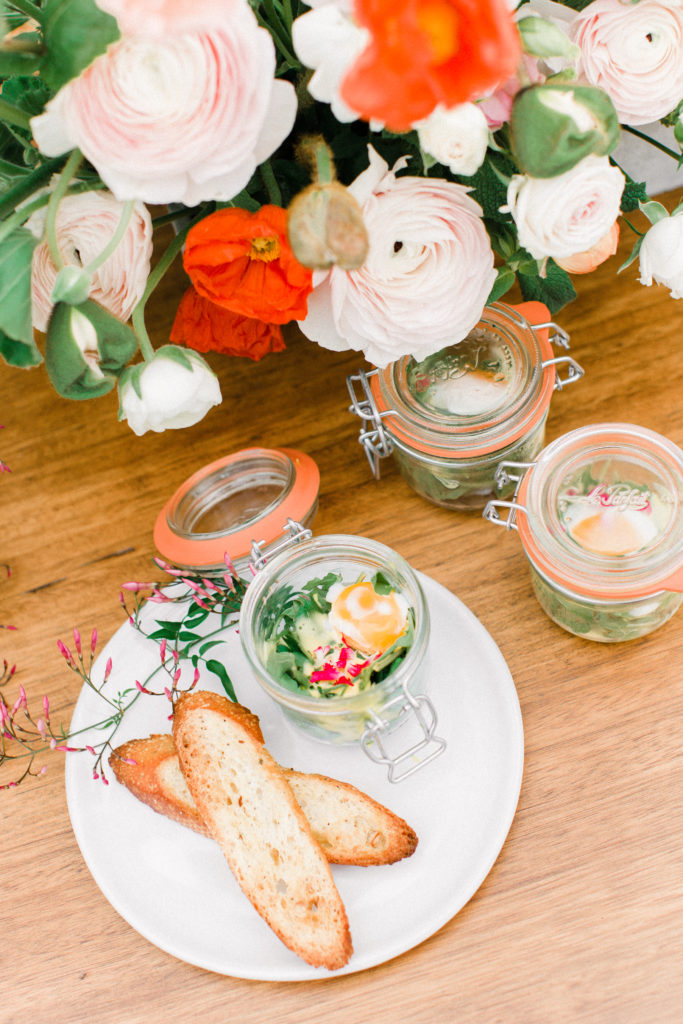 Baked Eggs with Arugula Salad and Hollandaise Sauce
Ingredients
Organic Arugula
Fresh Organic Eggs
(straight from the chicken's you know what or a good quality egg farm, trust me you will know the difference)
Favorite dipping toast
Salt + Pepper for taste
Olive Oil or Coconut Oil
Edible flowers
Hollandaise Sauce (see recipe below)
Le Parfait French Glass Canning Jar (optional)
Directions
Wash your arugula and set to dry. Once dried, mix arugula with a tiny bit of coconut or olive oil with salt and pepper. Place a handful in each jar.
*Now you can feel free to make a sunny side up egg, poached egg, or however you like it. I like to do sunny side up since my daughter prefers this way. Usually, I will do poached for the adults. Prepare your egg as long as it's runny you are all good! Make your eggs when you are ready to serve.
Next, season your egg with salt and pepper and carefully place on top of the bed of arugula. Then, place a small edible flower on top of the egg to add a spring touch. Finally, drizzle the hollandaise sauce on top.
Serve with toast and enjoy!
Hollandaise Sauce
Ingredients
2 egg yolks
2 tablespoons fresh lemon juice
1 stick of unsalted butter, melted
(I don't use dairy in my meals, but for this recipe, you gotta go with the real deal)
Kosher salt and a pinch of white pepper
Directions
With the blender running, add the yolks and lemon juice. Then, slowly add the butter in a steady stream. Next, season to taste with salt and pepper or more lemon juice if you like it tangier. If it's too thick a tablespoon or two of hot water to the running blender.
Abby