Do you have your 4th of July outfit ready!? I am still in shock that it's less than 2 weeks away!! If you've ever been to Newport Beach for the 4th of July then you know it's a BIG DEAL. Lots and lots of partying going on over here! But since I'm a mother of two now I won't be heading down to the peninsula with all the craziness, instead I'll be with my sweet family! Our new neighborhood in Costa Mesa has a parade for the kids and pets, a water balloon toss and other fun events, so that's where you'll find me.
Both are fun, my reality is just a little more family friendly nowadays. Either way I want to look my best though! Abby and I set out to find our favorite Red, White & Cute, I mean Blue outfits for the big day. Let's start with my outfits… So cute and easy to wear, perfect for the 4th of July.
Here I am soaking up the rays on Balboa Island in this amazing blue & red silk print Tularosa top. The perfect amount of red, white and blue in the print and I love the loose tie sleeves, such a great trend right now that is worth investing in. It's both feminine and on trend. For me, being comfortable on a holiday like the 4th of July is a huge factor. I'm passed the age of being in something uncomfortable but cute. I like the idea of just throwing on a cute top, jean shorts and my favorite sunglasses, done and done!
Photos of Jacquelyn by Megan Welker // Jacquelyn's Hair by 1011 Makeup
Photos of Abby by Susannah Gill
Here's Abby looking on fire in an all red outfit. She paired this really amazing body suit with a Band of Gypsies maxi skirt, both are sold out but this maxi in the same print is real cute too! You could also pair a cute swimsuit with a maxi skirt, such a great look for a pool party! Either way, I love that she's not afraid to wear that bright red… And her cute white Brixton hat will keep the sun out of her eyes.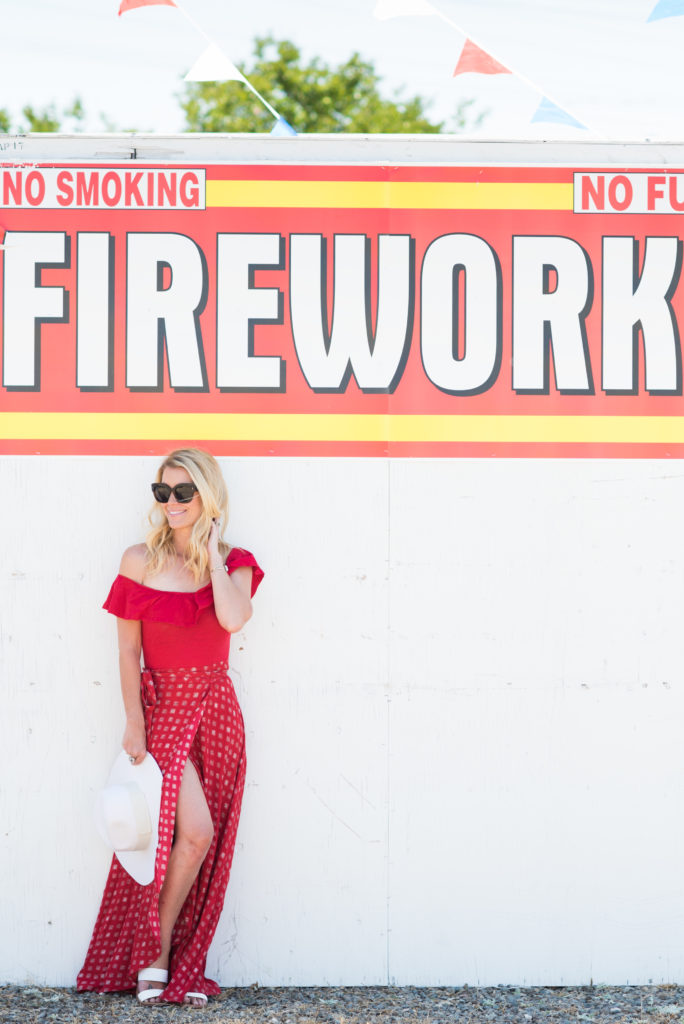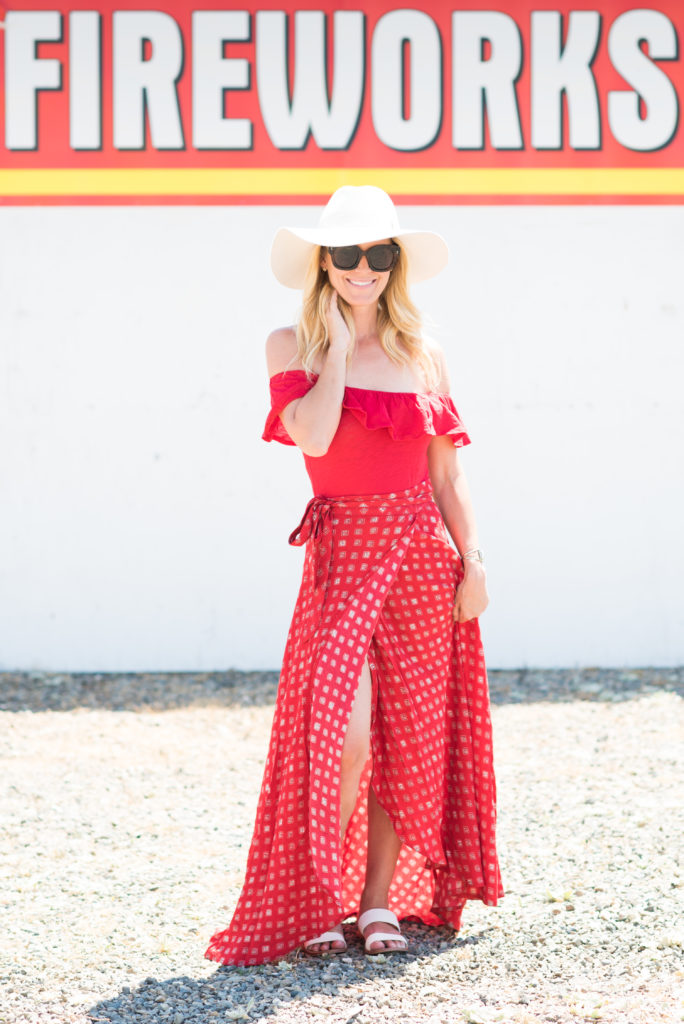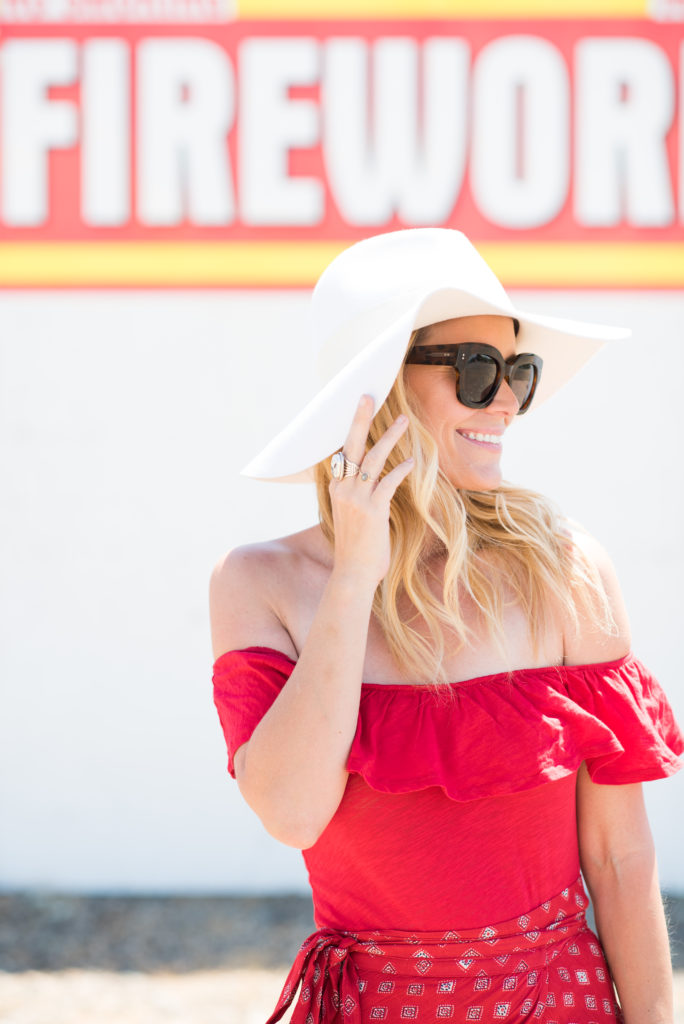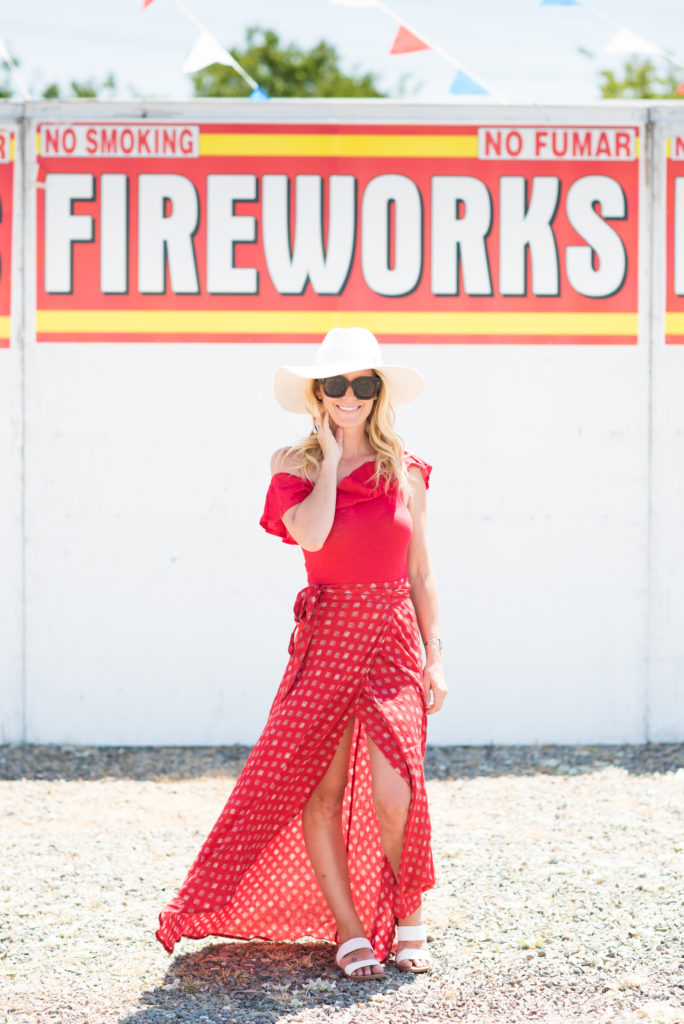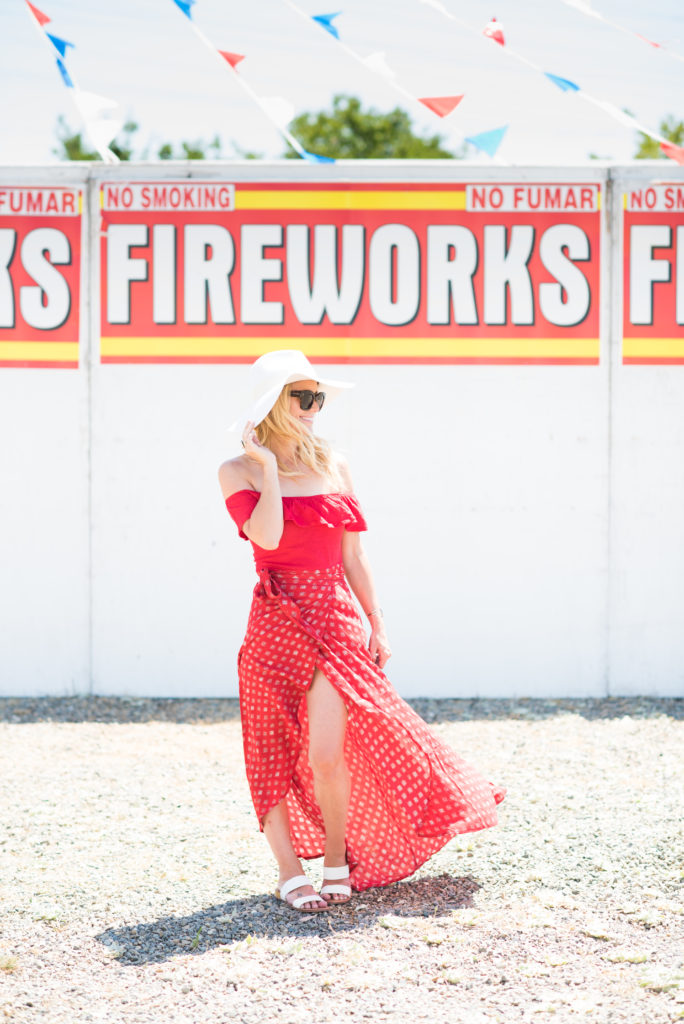 Next up, another red ensemble but a little more understated. When I saw this red and white Lovers + Friends top it just screamed 4th of July to me. I love how it sits off the shoulder and is so cute paired with shorts or even a pair of jeans, if it gets cold at night for fireworks. I like it with my white cut offs, a Summer staple for me! Perfect 4th of July outfit for me! I've also been wearing this Brixton straw hat so much already this Summer, if you don't have it you should get one, it's my favorite!!
Last up, a little more blue from Abby. She paired these super cute shorts she got on Amazon with a boho Tularosa top. I love this for a more sophisticated 4th of July outing, maybe if you're going somewhere a little nicer for the holiday. Or you could pair it with some flats to dress it down a bit for something more casual. And we're all still jealous of Abby's cute Cult Gaia bag, but Summer is still young! You can still get it, they were sold out for a while but now we've seen them in stock at our favorite stores!!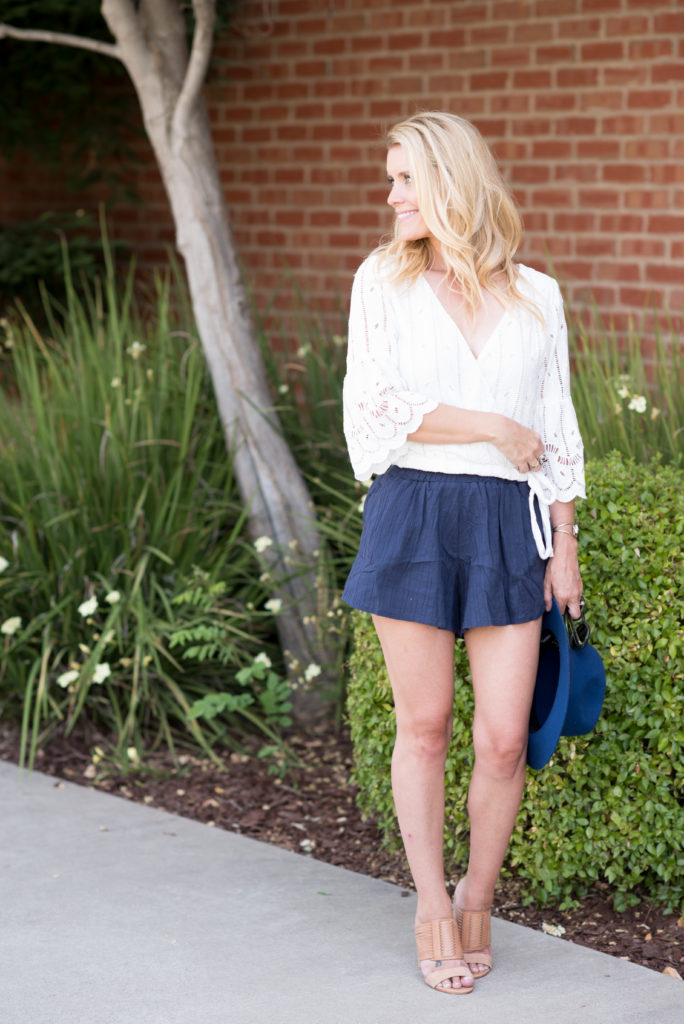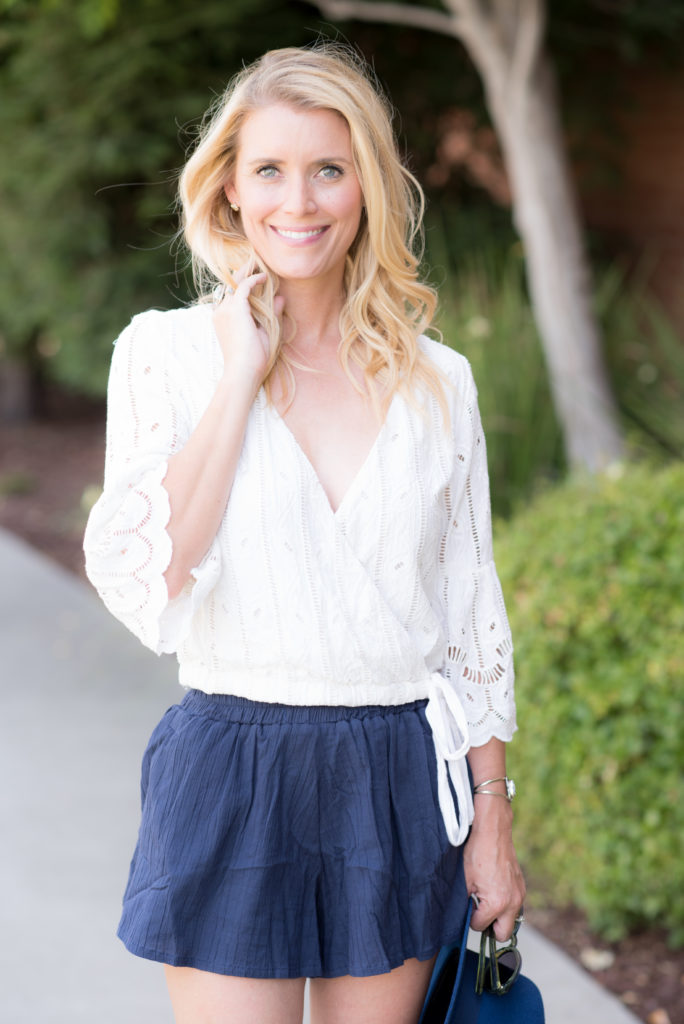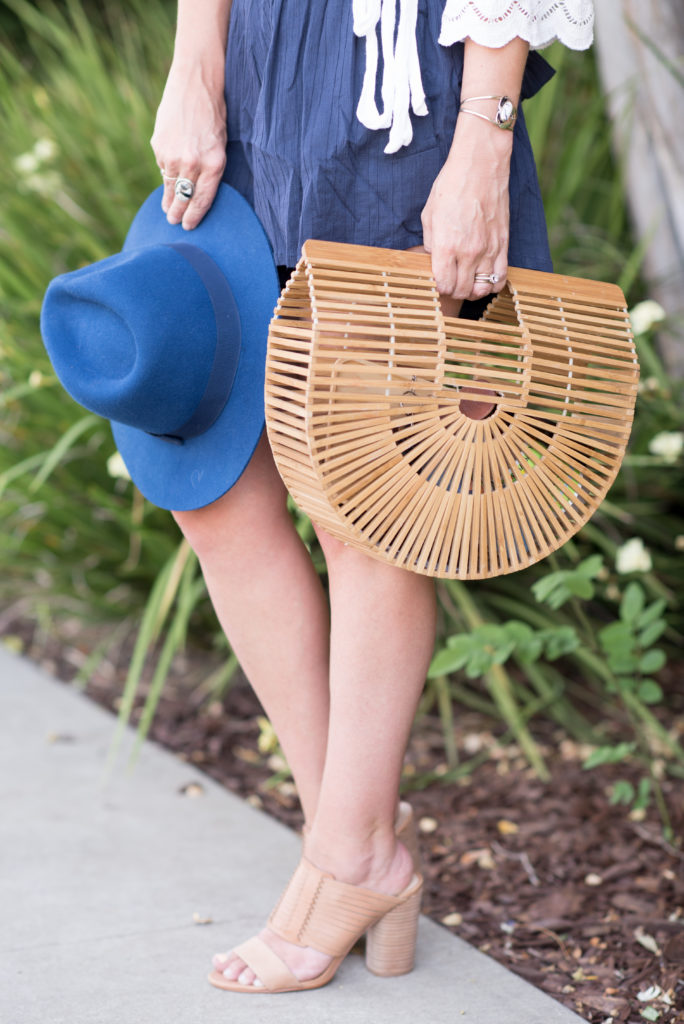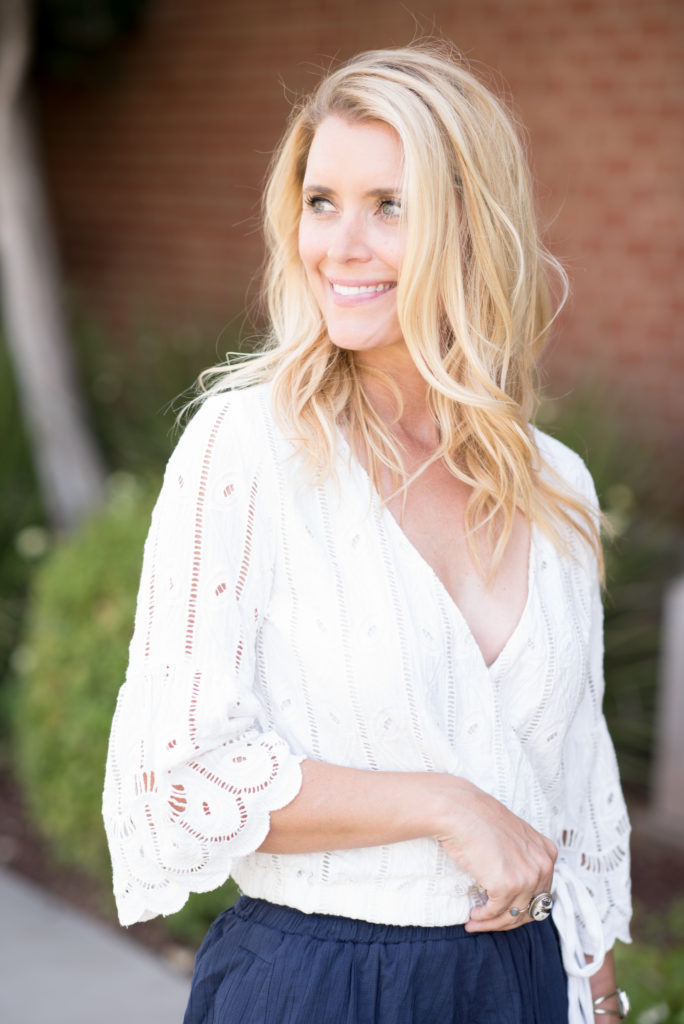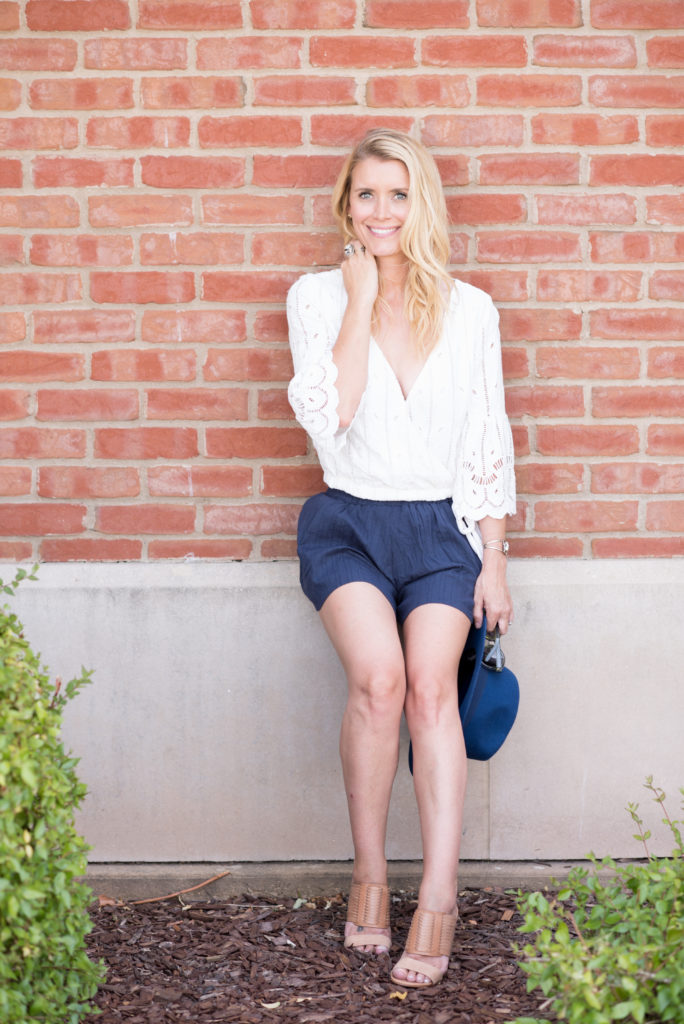 Feel inspired for your own 4th of July outfit?! Now get out there and make sure you get your outfit for one of the best holidays of the year!!

xx
Jacquelyn