When my friend Alatheia who recently launched her blog Art of Being Female reached out to me asking if I'd help her style and design a party for her dinner club group I was on board in a second. The story behind their ritual and the symbolism of their friendship really stood out to me. Plus, when she said she wanted to do a Summer Solstice dinner party on the beach, well, I was sold. Here is a little bit more from our host Alatheia on her dinner club ritual and why this night was so important to her…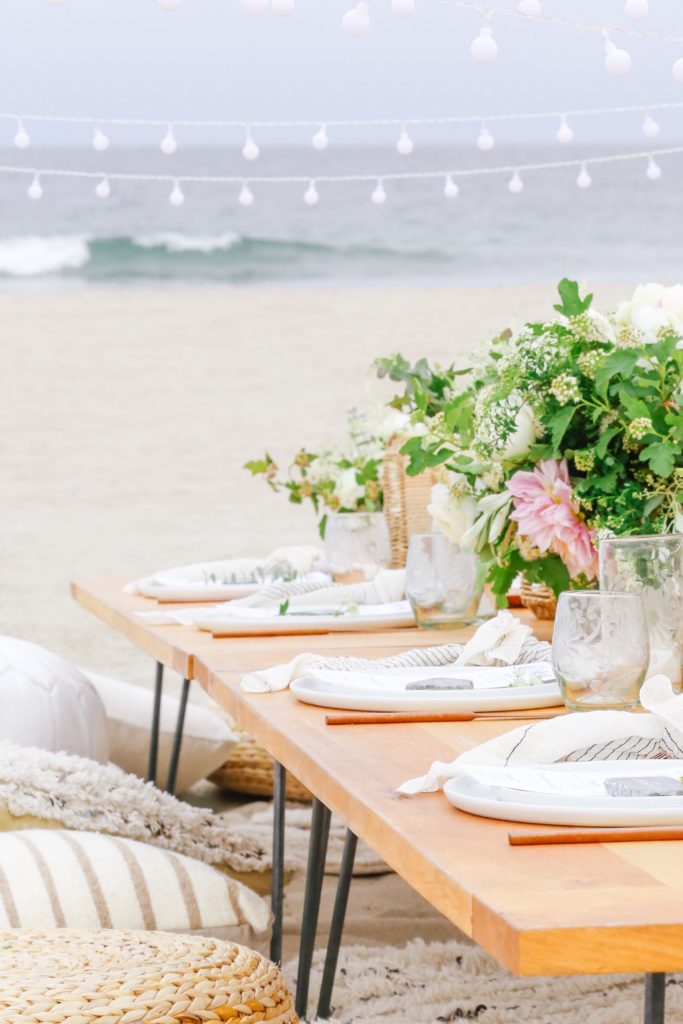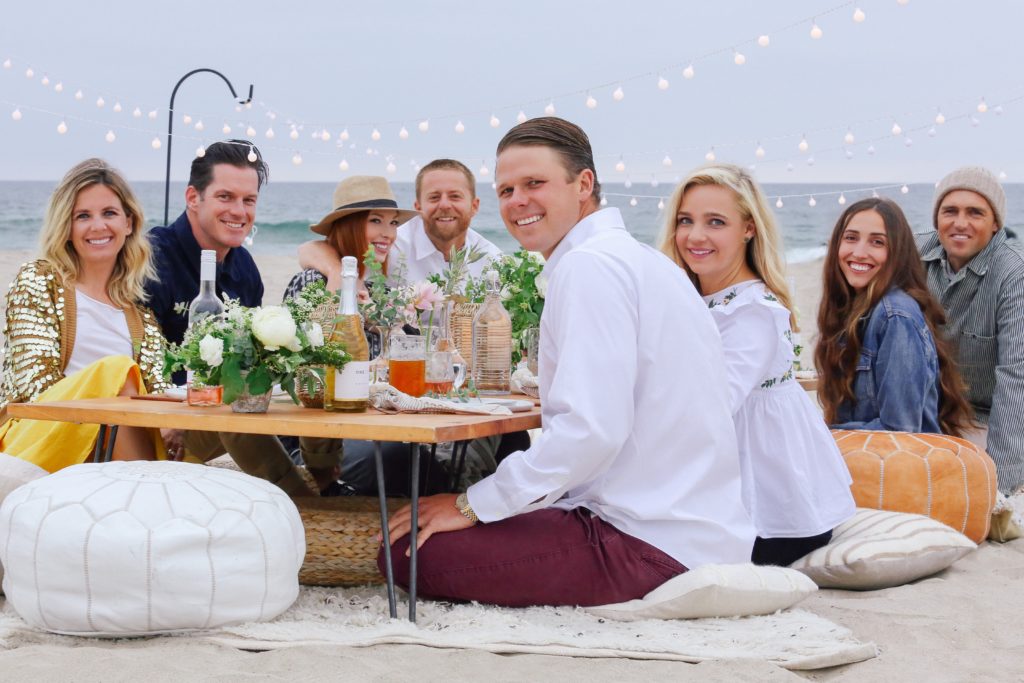 "I really wanted to celebrate the 6 year anniversary of our dinner club in a special way. Not only was it clear to me that a special dinner on the beach was in order, but also that there was only one person to help me live out my Pinterest dreams and that would be my talented friend, Jacquelyn of Beijos Events.
"Dinner Club" was born out of a desire to spend less time out at restaurants and more time honing our entertaining and cooking skills as young couples. We rotate homes and whoever is hosting takes care of everything from music to decor, tablesetting, food, drinks, dessert and interesting conversation starters.
I wanted to host a special dinner on the sand to welcome in the start of our favorite season. We live a block from the boardwalk and walking distance from each other. We have spent many summers on this exact beach over the last six years dating, surfing, getting engaged and married, being pregnant, nursing babies, laughing and laughing.
My aesthetic for the party was very neutral as I like most things. I told Jacquelyn I wanted to have a clean color palette even down to the florals which I wanted white with greens. We added pops of metallic flair from the rose gold speaker and flatware to the silver flecks in the moroccan wedding blankets. Jacquelyn nailed it as did all the vendors involved. I think my dinner club will agree that the night was magical and one to remember."
I felt so honored that Alatheia asked me to help out. Selfishly though, I have always wanted to style a table like this, the beach is such a special place to me so my mind ran away with so many ideas. Knowing Alatheia and her style I knew to keep it simple, classic and pretty with details, all things I know she cares about, along with myself.
Designing this table and putting this dinner together was so fun, but also really easy, anyone can do it! There are a few key things to making sure your dinner party goes off without a hitch, and I'm happy to share them with you! Also, you can shop items for your own dinner at the bottom of the post!
This party is also featured on Glitter Guide today and all of the pretty photos are by Meilani Cottrell.
Let's start with the tips to a successful Summer Solstice Dinner Party…
Thank you to all of the amazing vendors mentioned below for making this a reality!
Jacquelyn