Valentine's Day is around the corner and it's time to get your kiddos ready!! Every year we love helping our kids find the perfect little card to hand out to their classmates along with a treat to go with it. We try to get creative with finding fun candy or outside the box ideas to share at school. Our friends at Minted always have the best variety of cards and make it so fun for us moms! With their fun graphics, adorable puns, and personalization options it doesn't really get better! This year we have cards from as young as 2 to as old as 11! There's such a variety and something great for everyone. Check out our favorites and shop them all below!
Photos by Alison Bernier & Dayna Studios
E D I E
It's getting a little harder to choose valentines for Edie. Who is this emerging pre teen in the house?? She loves to be involved and has an opinion on what she likes, which I love seeing her independent little spirit come through in her choices. This year she liked the rollerskate, "I like how you roll"! from Minted. She also had fun choosing the color way, and loved the retro version of it, but ultimately decided to go a bit more neutral and girly for valentines day. Of course she had to add the adorable customized stickers! She chose one of her favorite chocolate candies to go with the cute pun, "Rolo's" and thought it would be cute to add the tic tac toe on the back so her friends can play along and use the candies as markers of the game.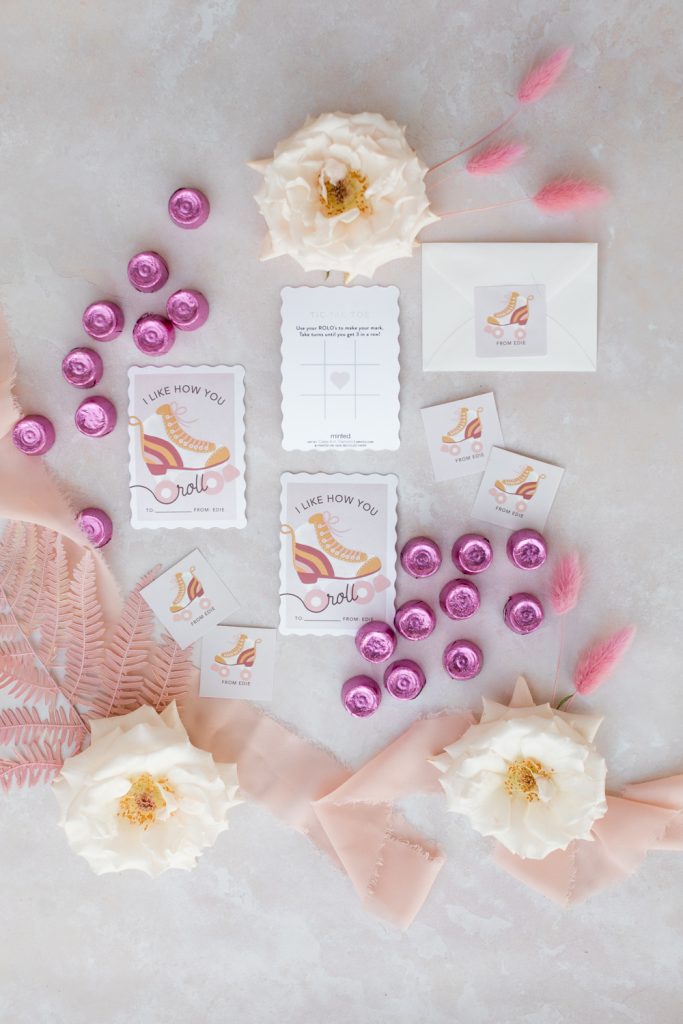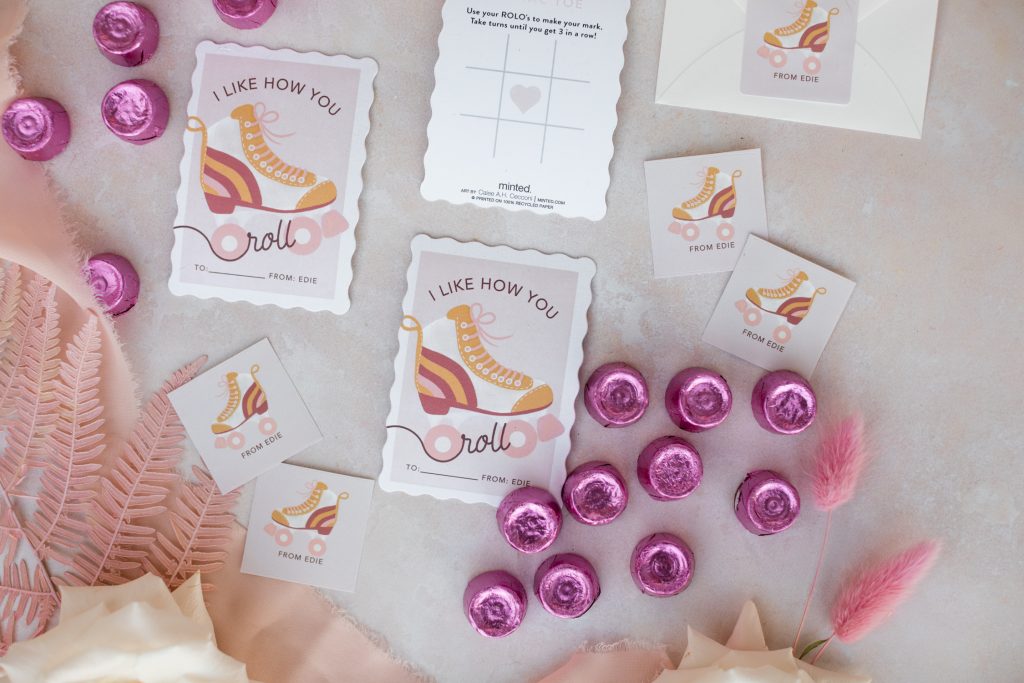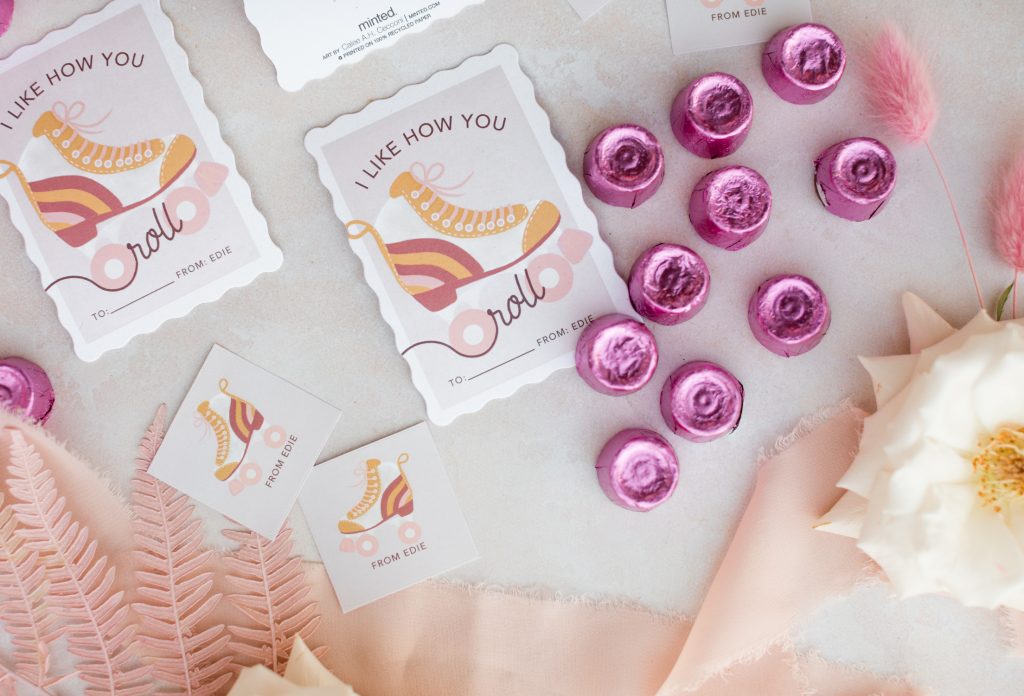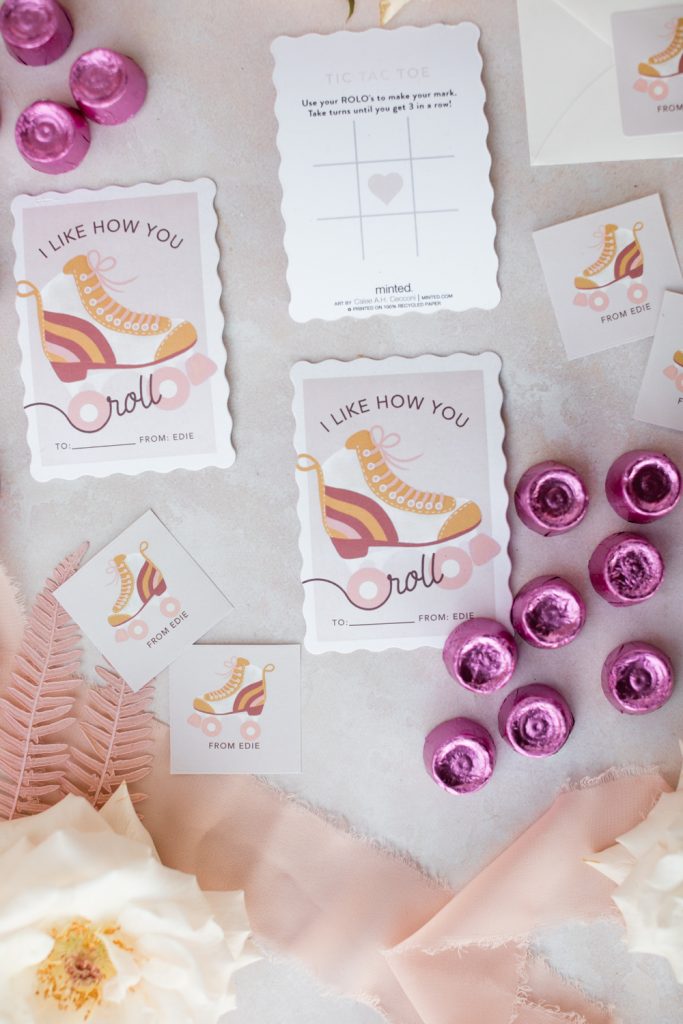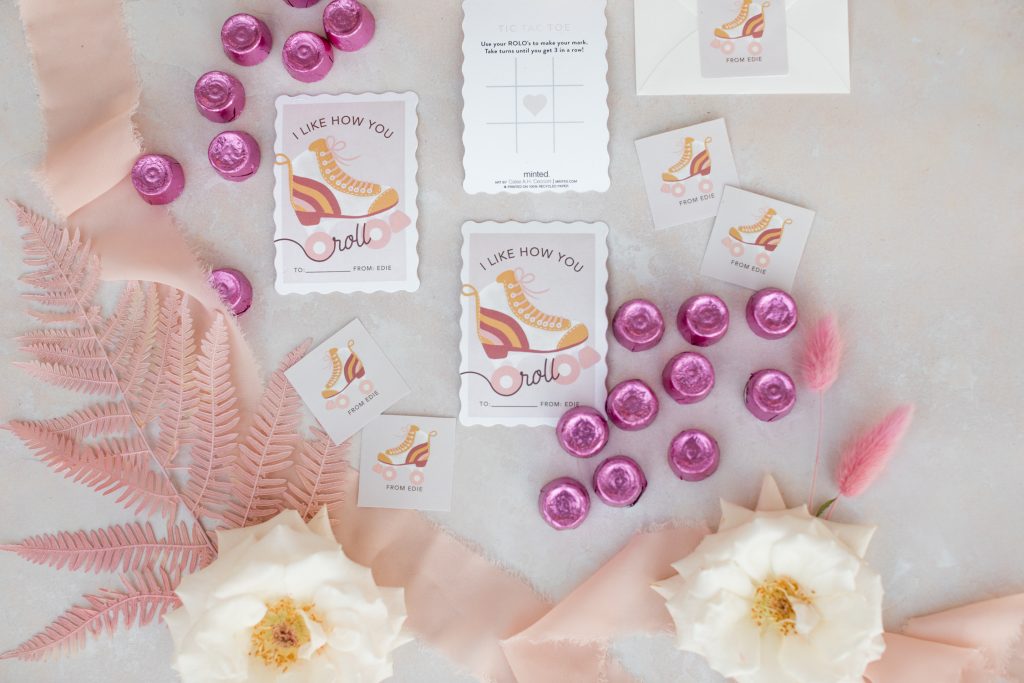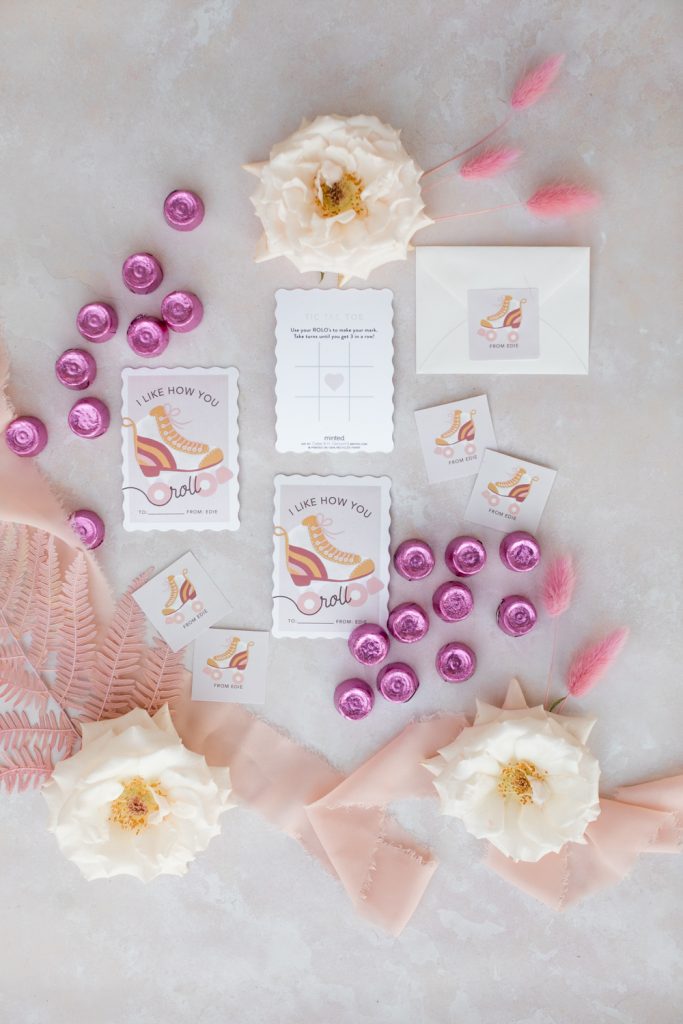 Shop Edie's Card & Stickers Below

---
C R U Z
My little Cruz is a big TK-er this year!!! He's 5 and ready to rumble!! When they are this little I try to fine non candy options and these cute heart sunnies were just the ticket. He recently shared the letter P at school and gave his classmates Pop-Its – another fun non candy hit at this age. But heart eyes are always fun and cute for Valentine's Day, don't you think? This card caught my eye right away with its adorable checkered print in a variety of colors. I went with the light blue and red combo – perfect for my blue eyed boy! And the happy face was just too cute, like my cutie Cruzy! I customized the back with an adorable photo of him and added the custom stickers, now he's ready for the big day of LOVE!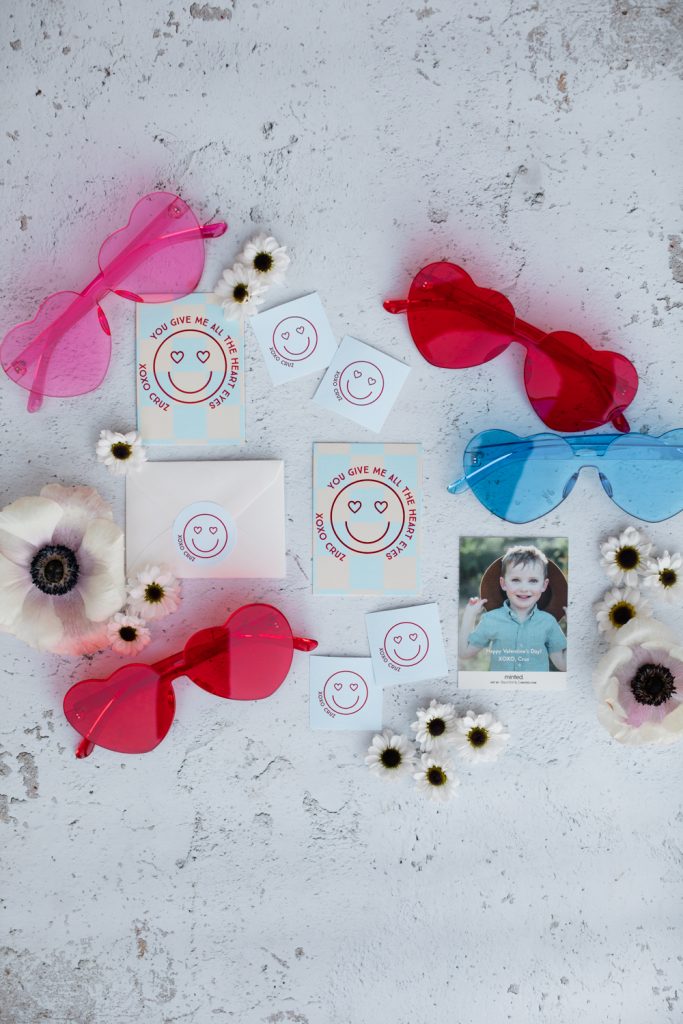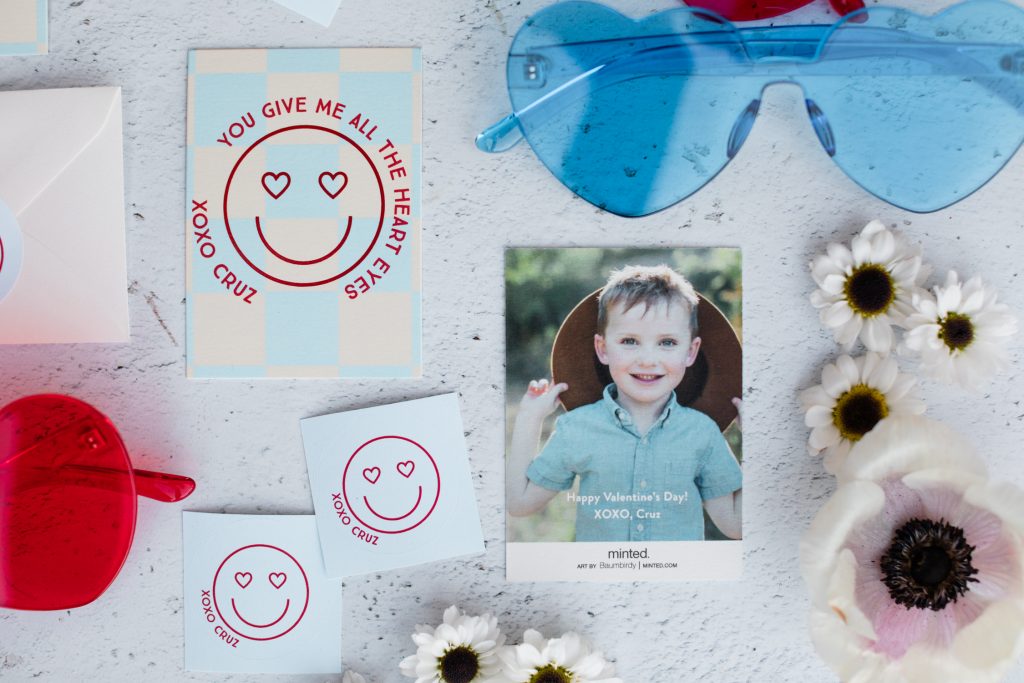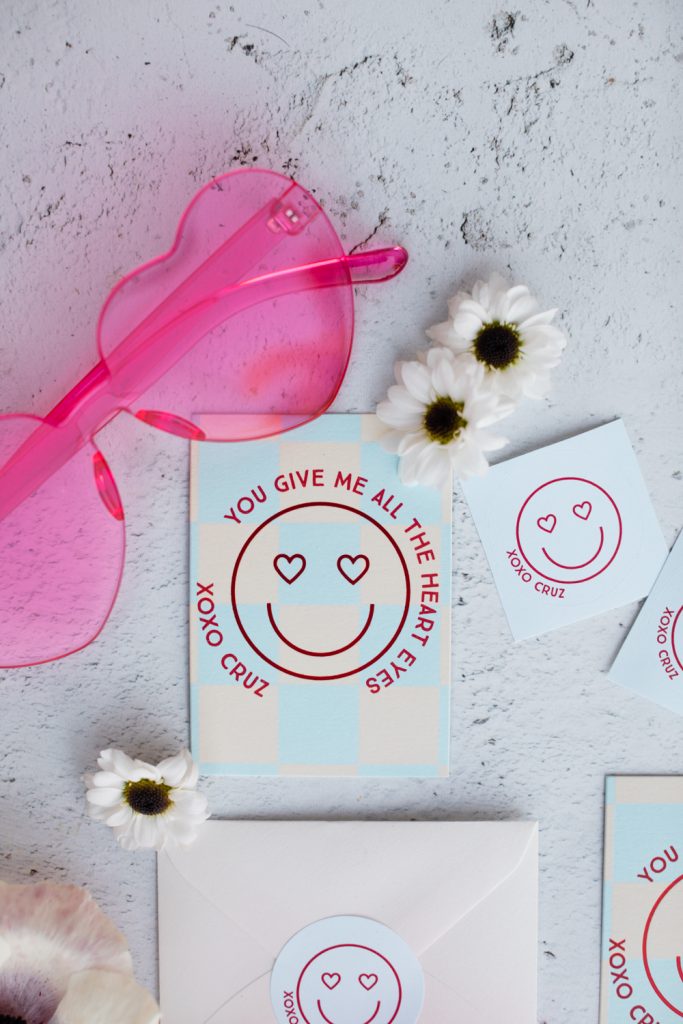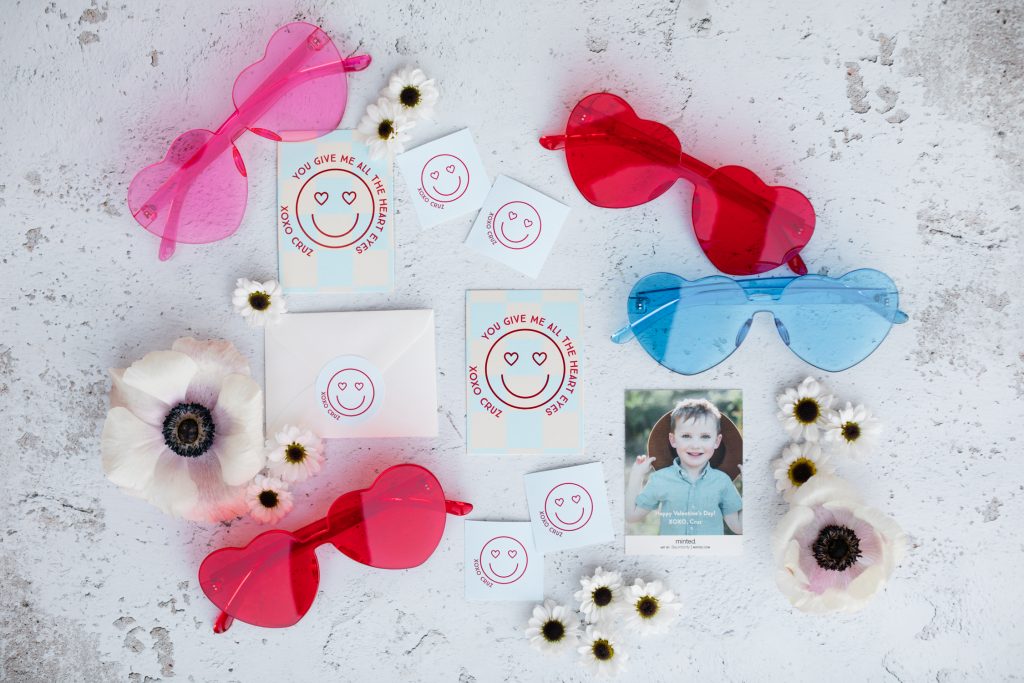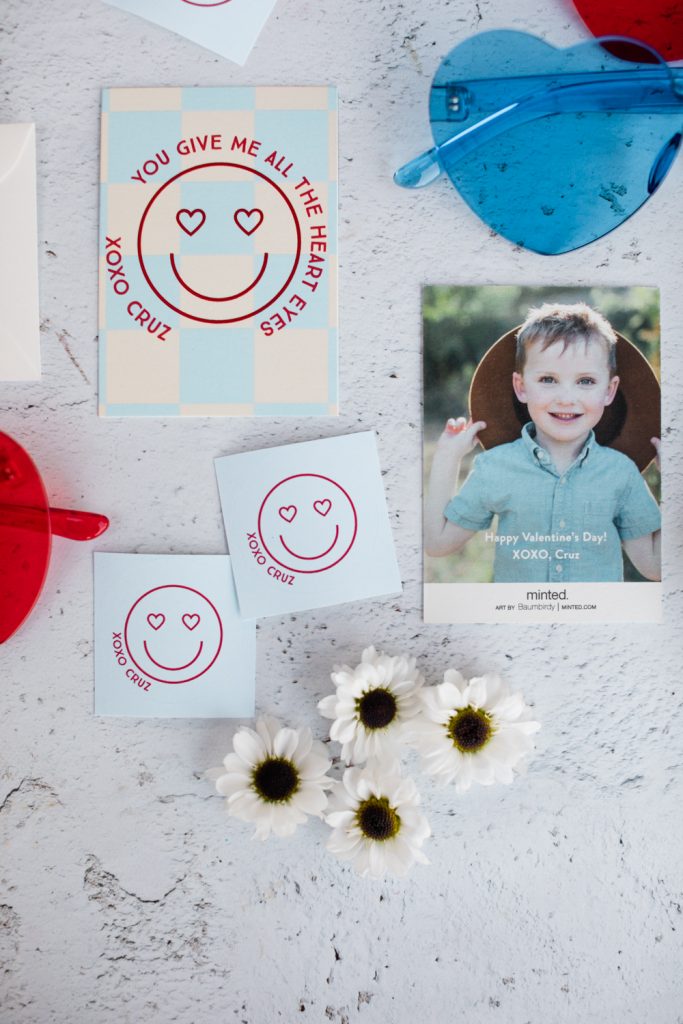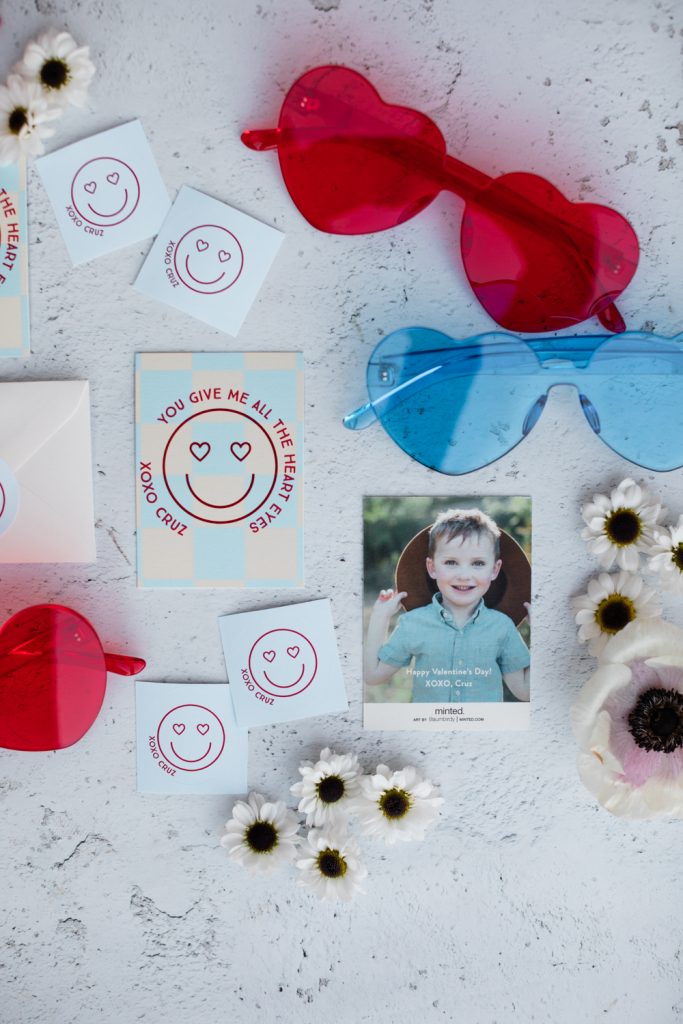 Shop Cruz's Card, Stickers & Sunnies Below

---
I S L A
My little first grader Isla picked the cereal valentine as her favorite from Minted, "You're cerealsly the best"! She is a real cereal lover and thought giving all her friends a little box of something she loves would be very appropriate for this love holiday. She of course wants everything to be pink, but picked the yellow version to be fun, bright and different from the normal valentine's day color palette. She also chose to do fun customized stickers and the back of the card with tic tac toe so her friends can play with their cereal as well!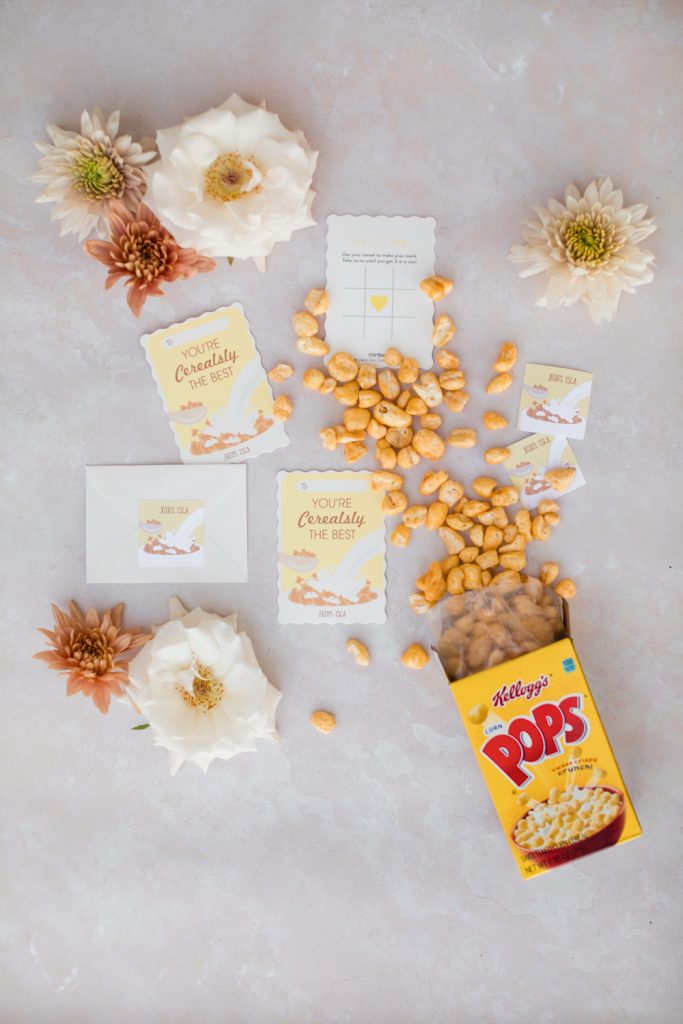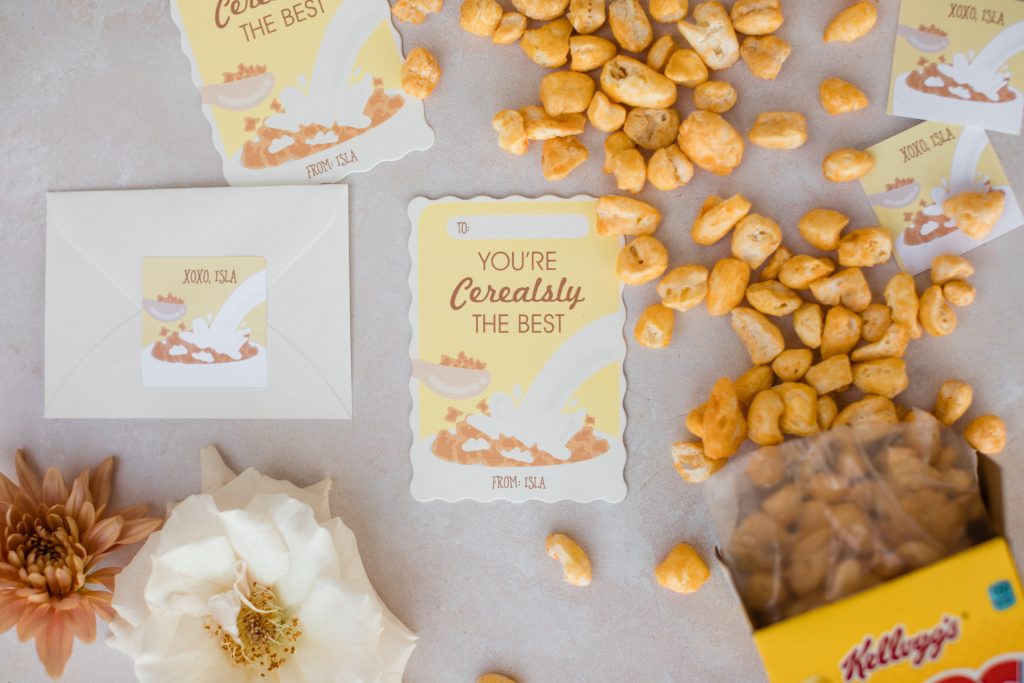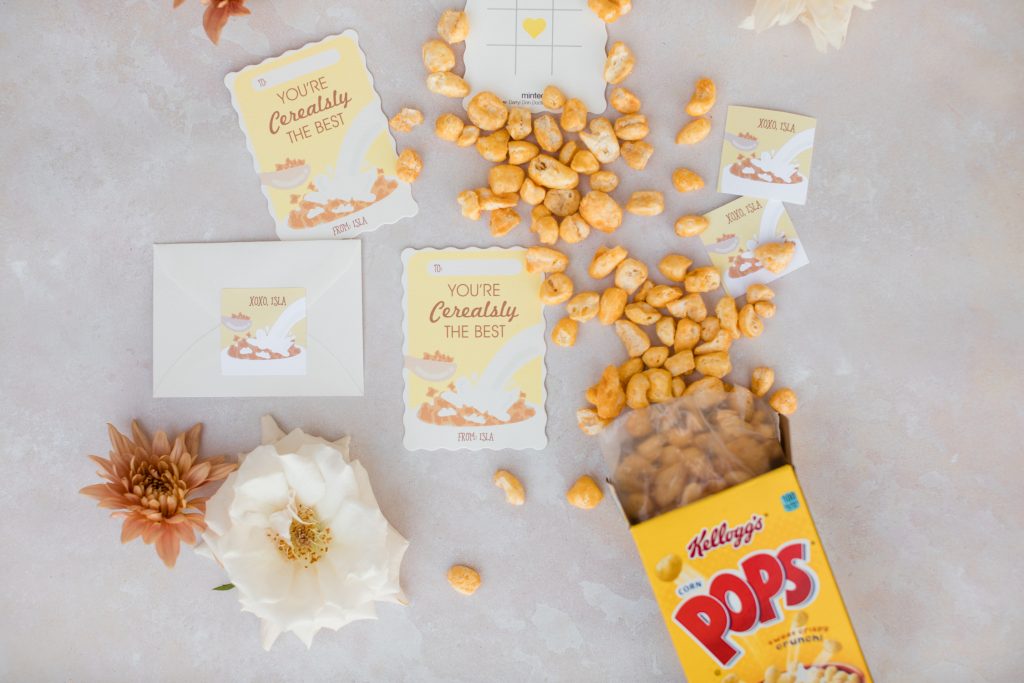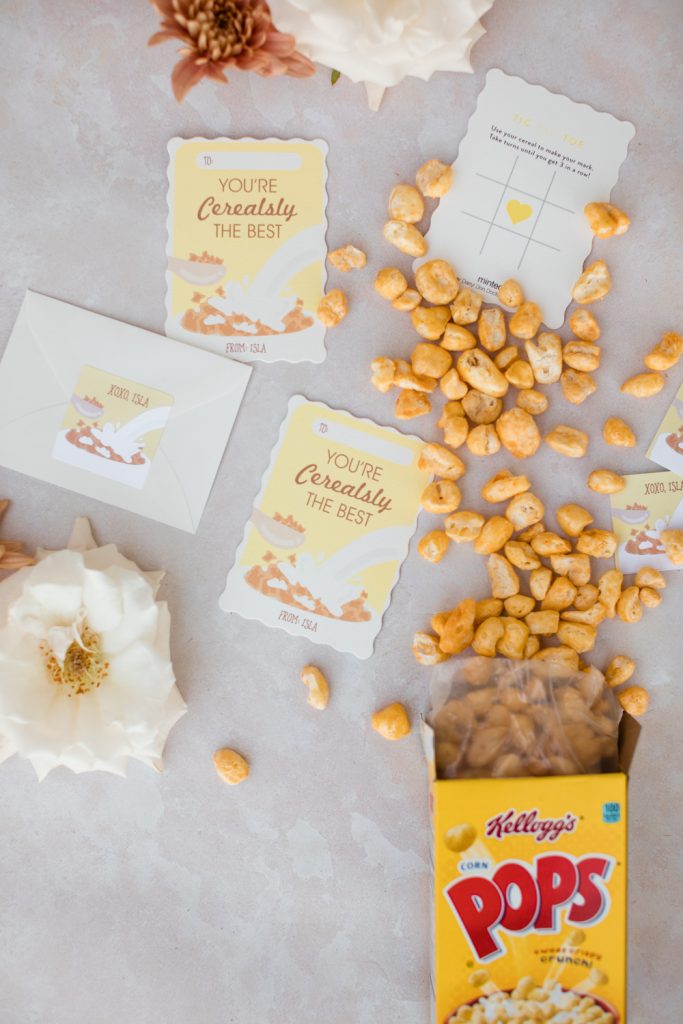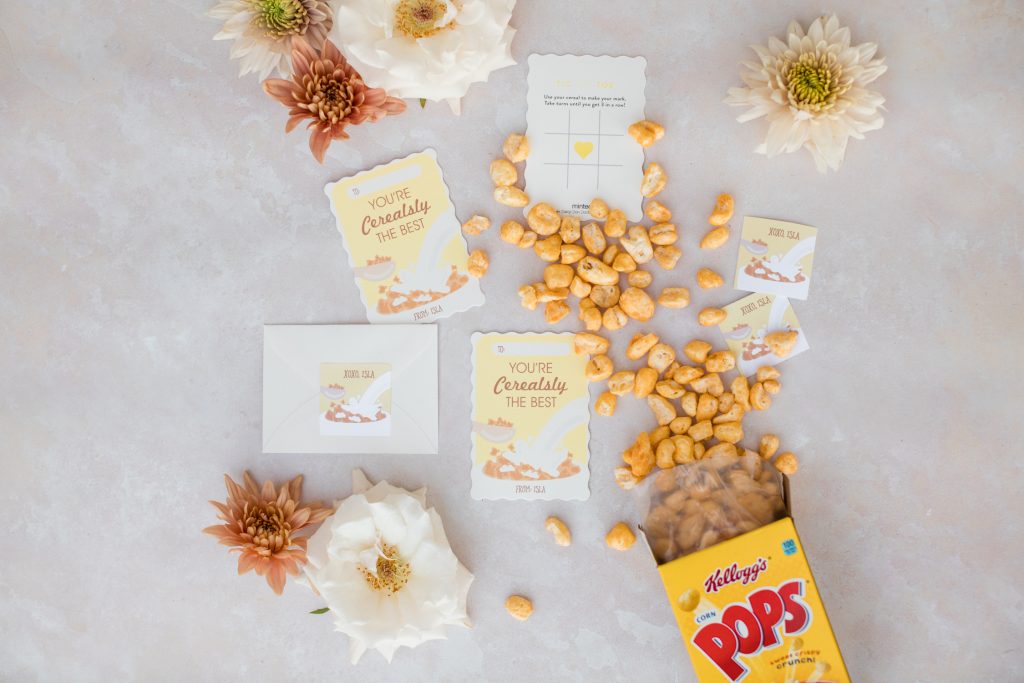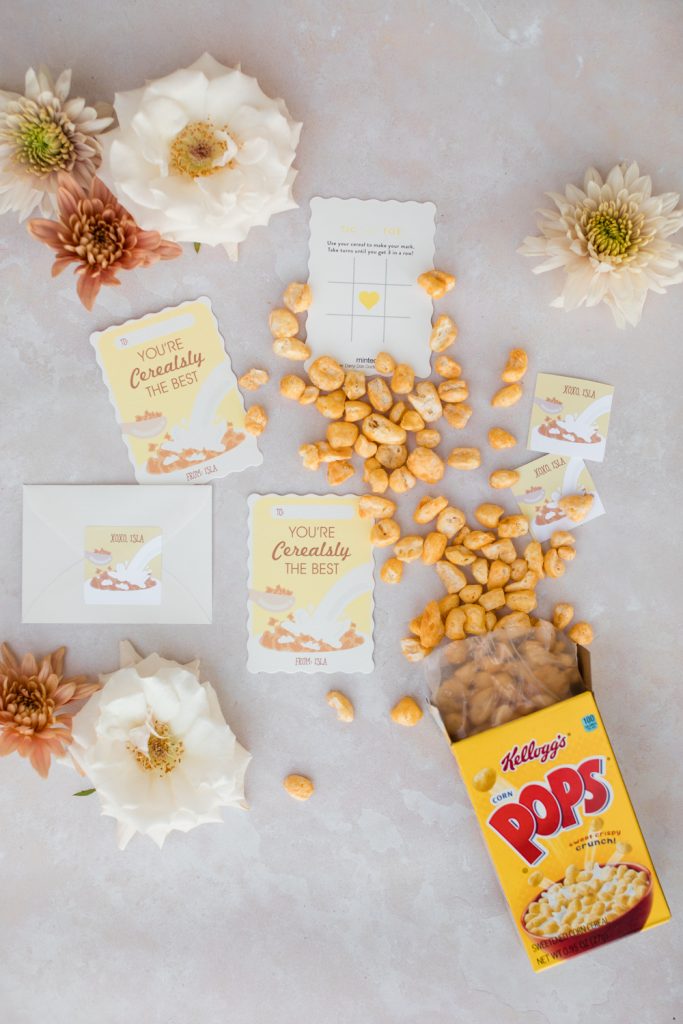 Shop Isla's Card & Stickers Below

---
C O U R T
Court is in 2nd grade this year and living his best life! He loves his classmates and his teacher even told me that she thinks he should run for president… like of the country, haha!! Well, he is our sports fanatic and loves playing multiple sports at a time. It has me running around quite a bit! Currently he's obsessed with basketball so these basketball cards couldn't be more perfect. They were a slam dunk for him and the chocolate basketballs will definitely be a win with his friends. Like Cruz's card I added a photo of him on the back and I love customizing those adorable stickers. I can't wait for him to pass these out!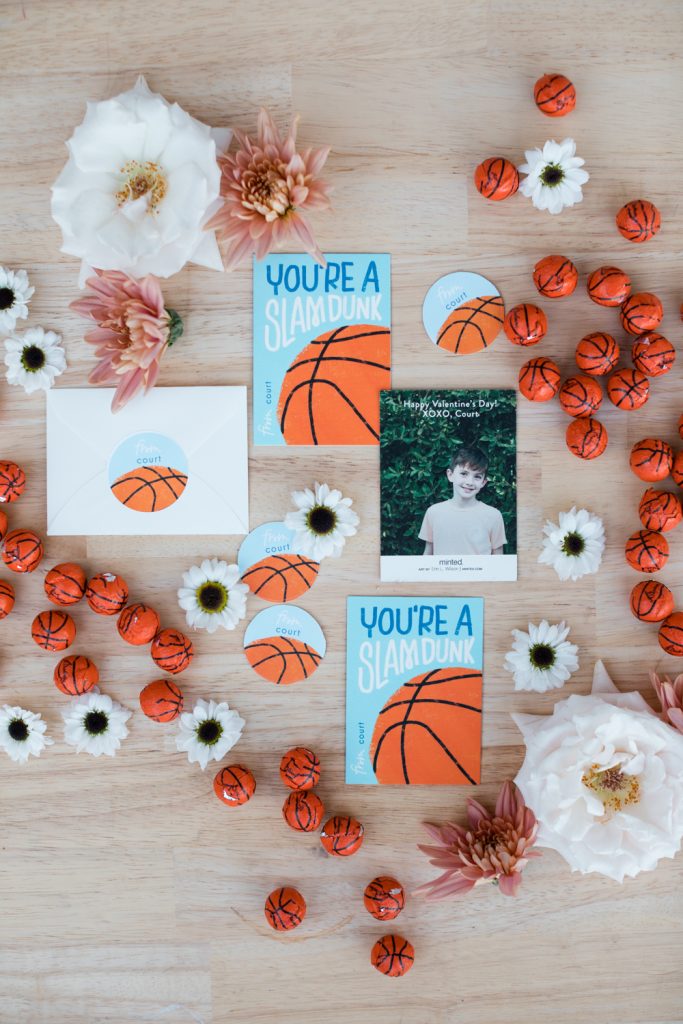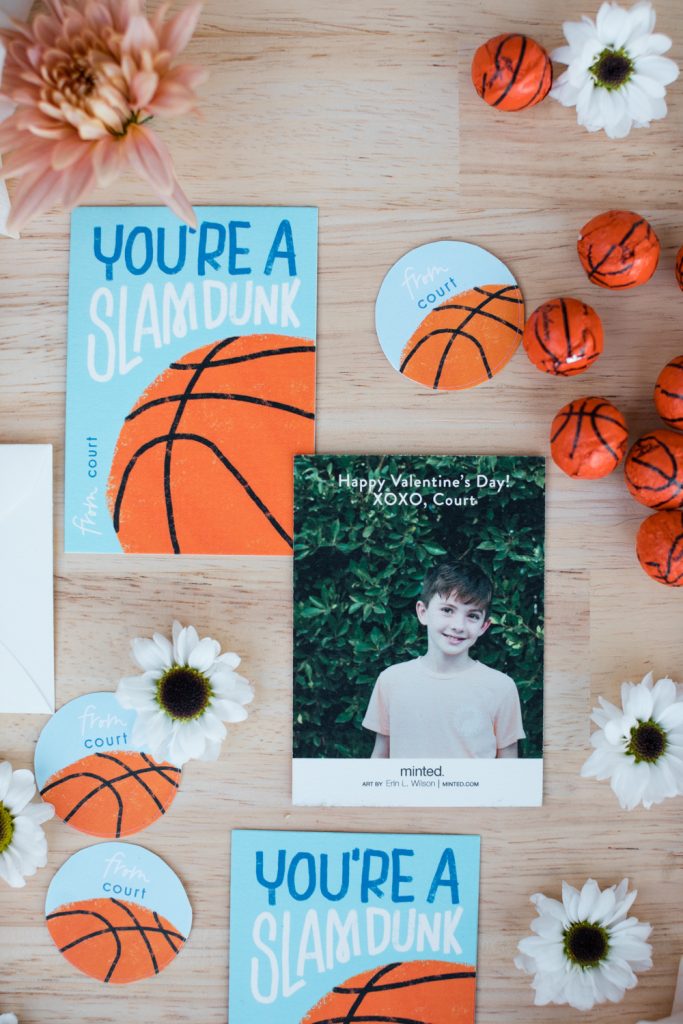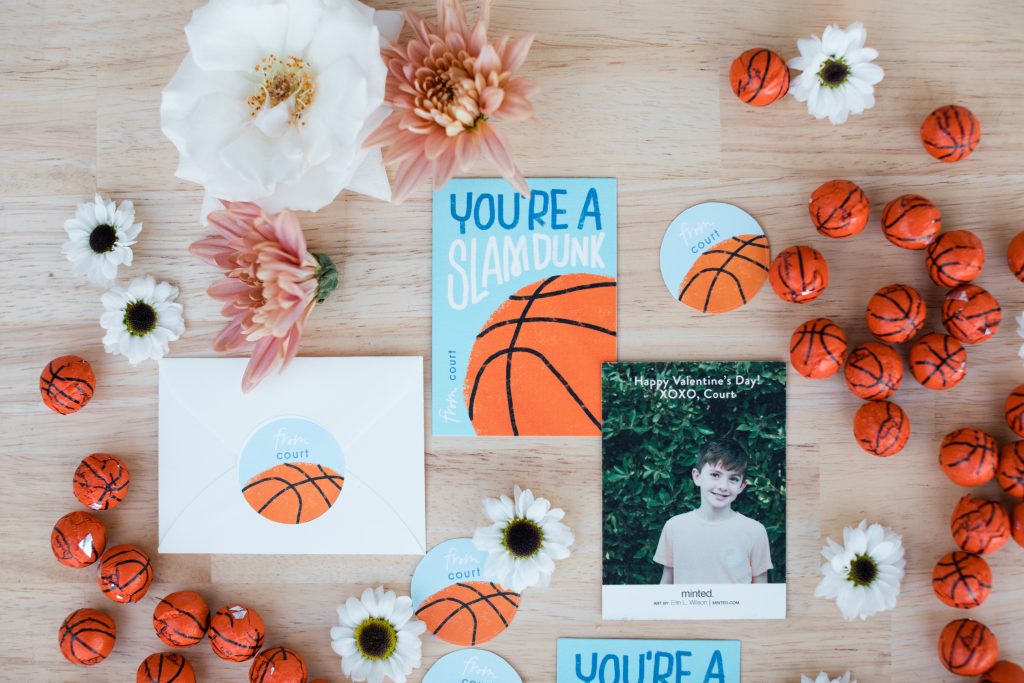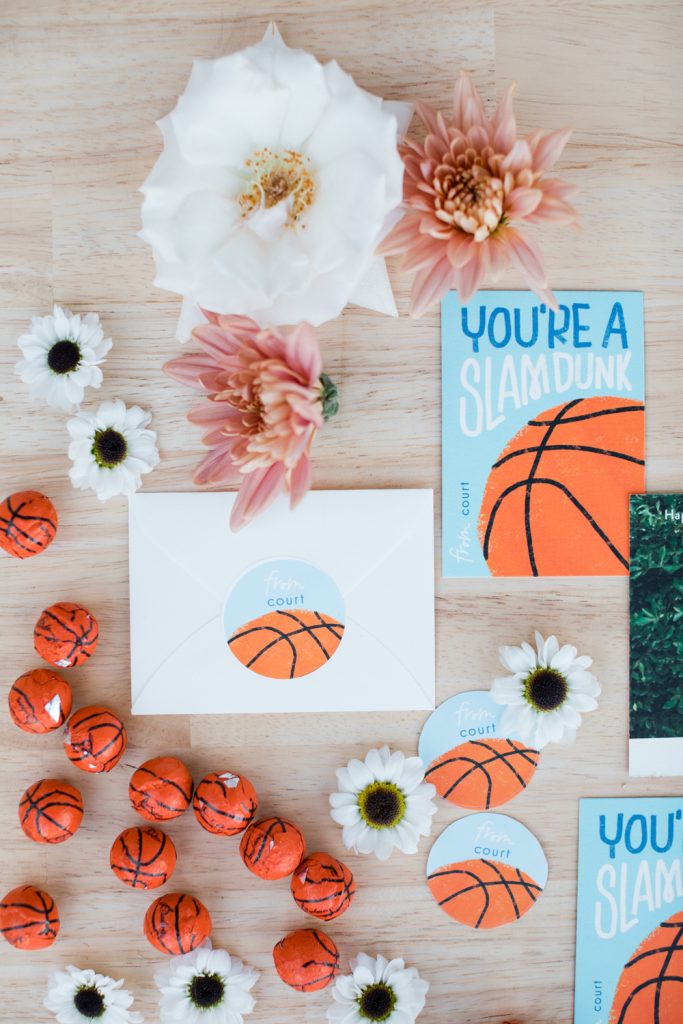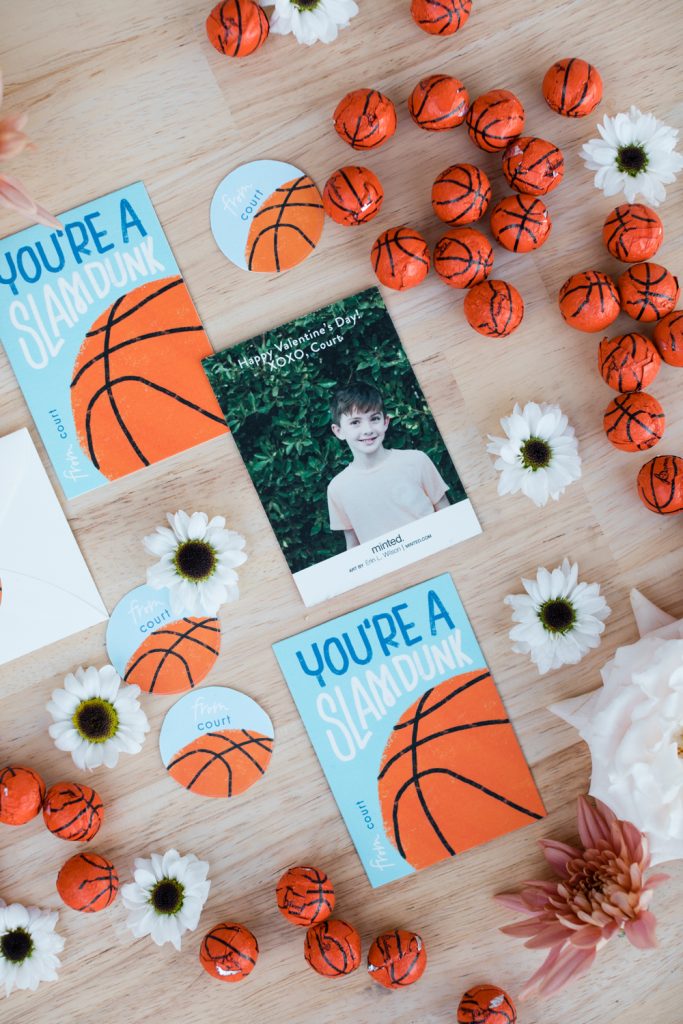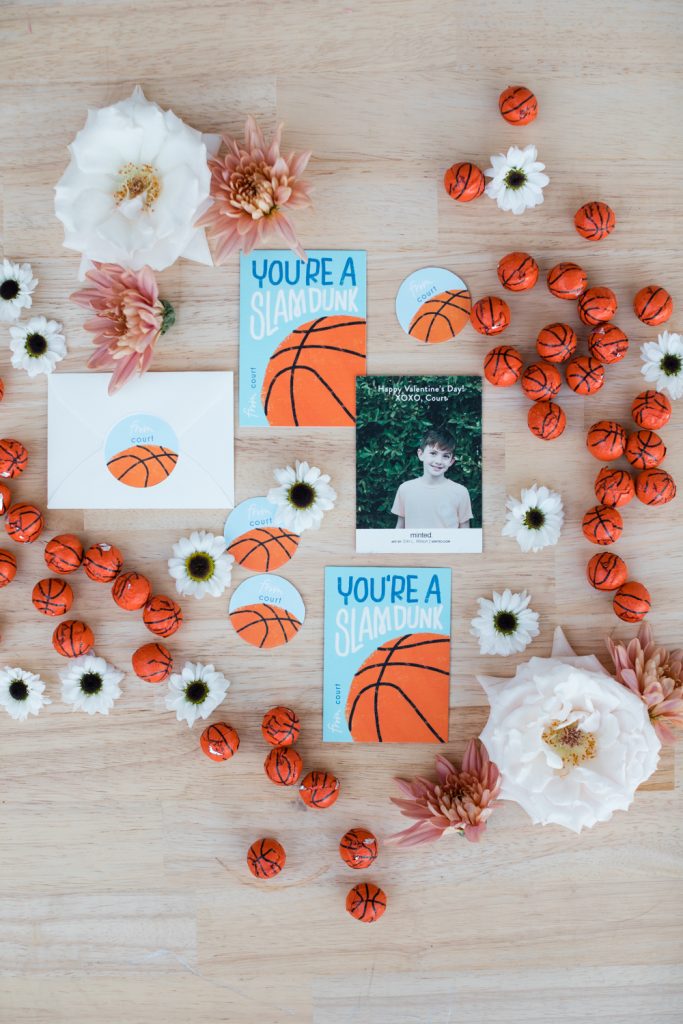 Shop Court's Card, Stickers & Treats Below

---
O L I V I A
Livi is in 4th grade this year and Valentines Day for her is more accurately described as "Galentine's Day". She chose the pretty daisy card with stickers and cutie daisy charms to give to all her best girls. The girlier the better for this flower girl!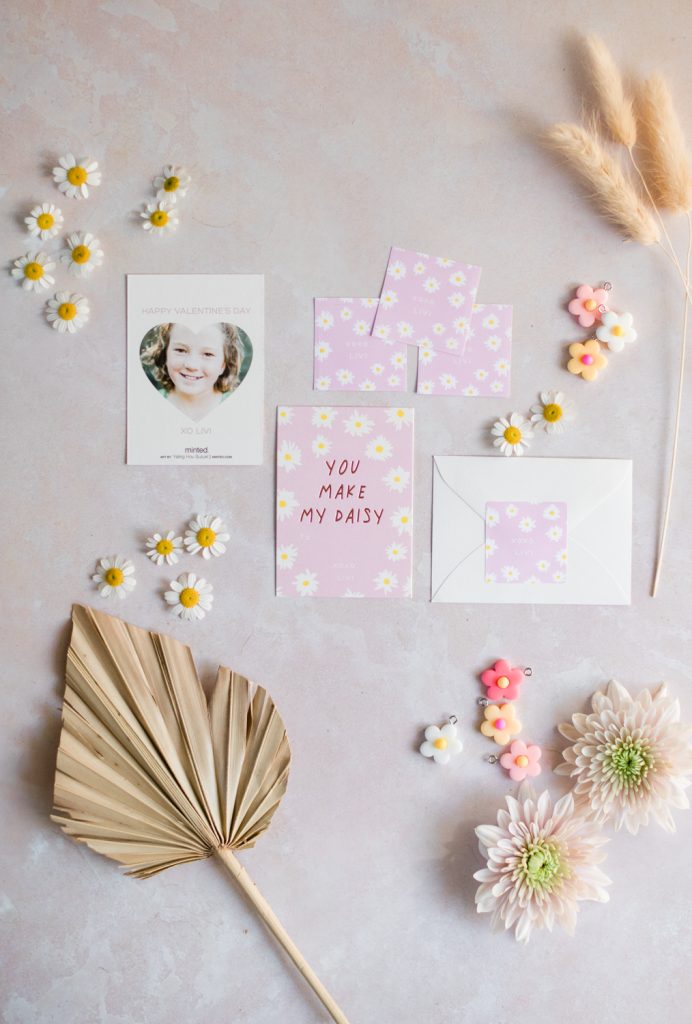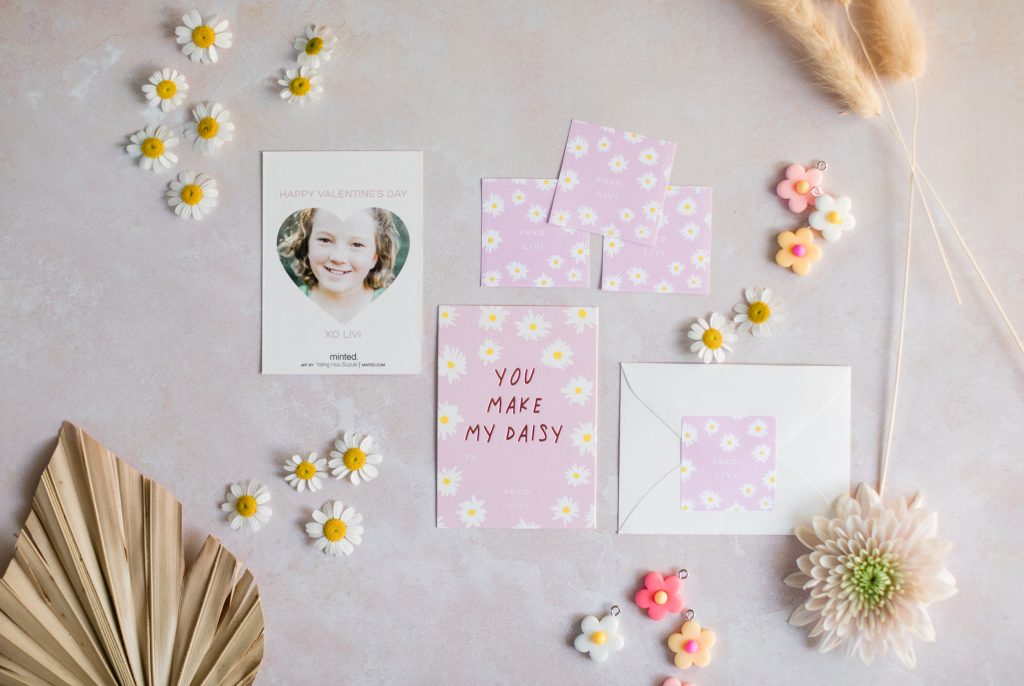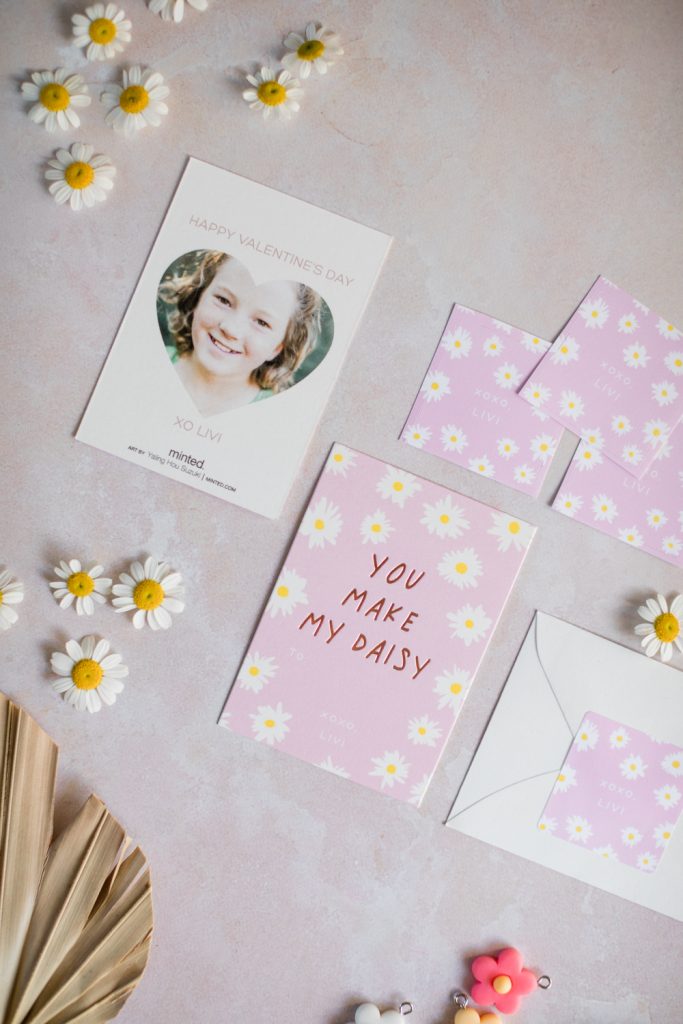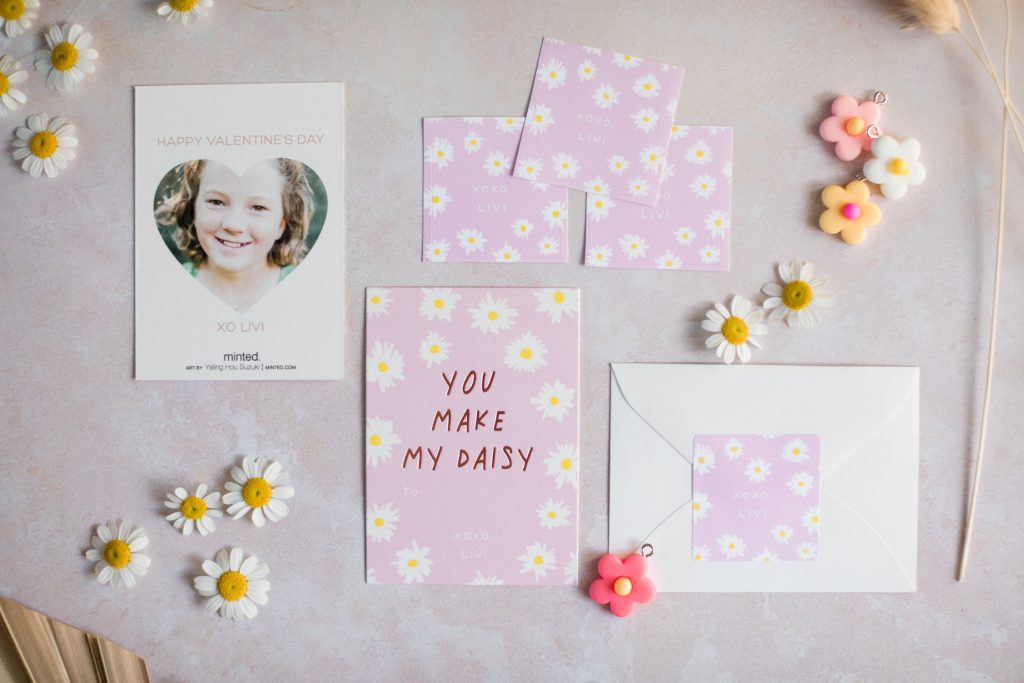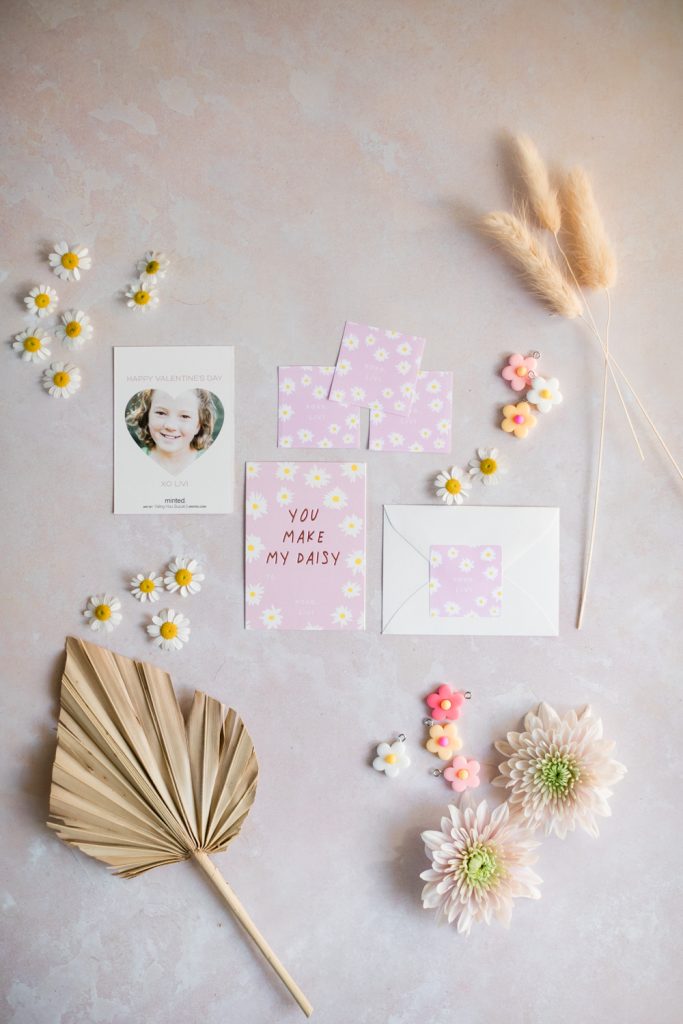 Shop Olivia's Card & Stickers Below

---
H E N R Y
Henry liked the popcorn valentine from Minted, "So happy you popped in my life!" This kid could eat popcorn everyday, and this card & stickers set was perfect for him. He liked the black background to make it more boyish and different, and he can't wait to give everyone he loves in class a piece of his favorite snack! He also liked the tic tac toe in the back of the card, so luckily the popcorn could be used as markers for the game as well!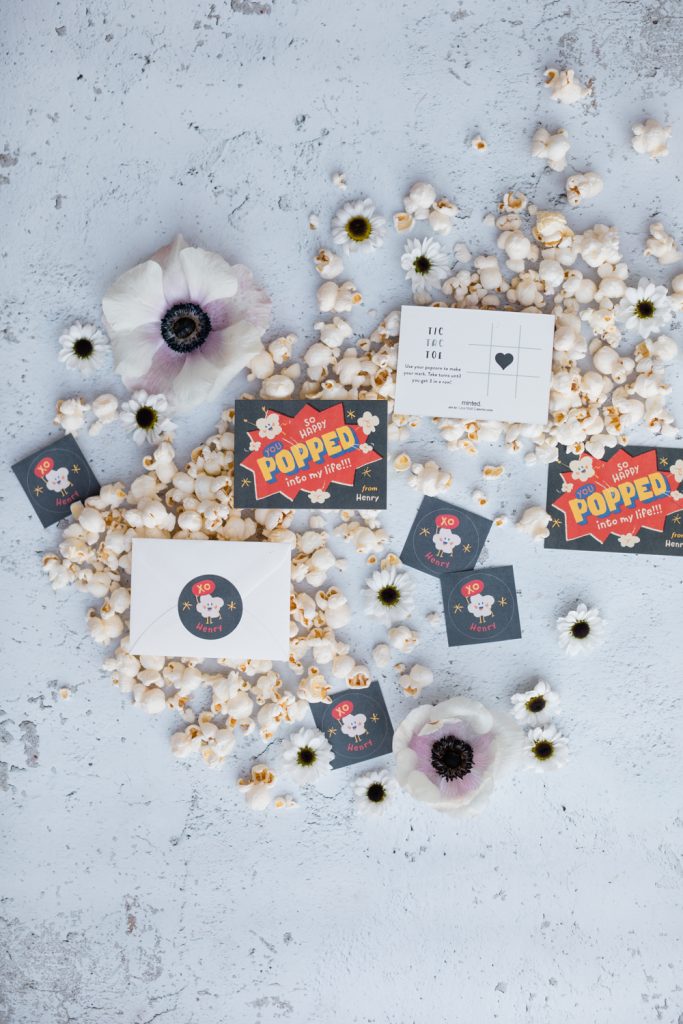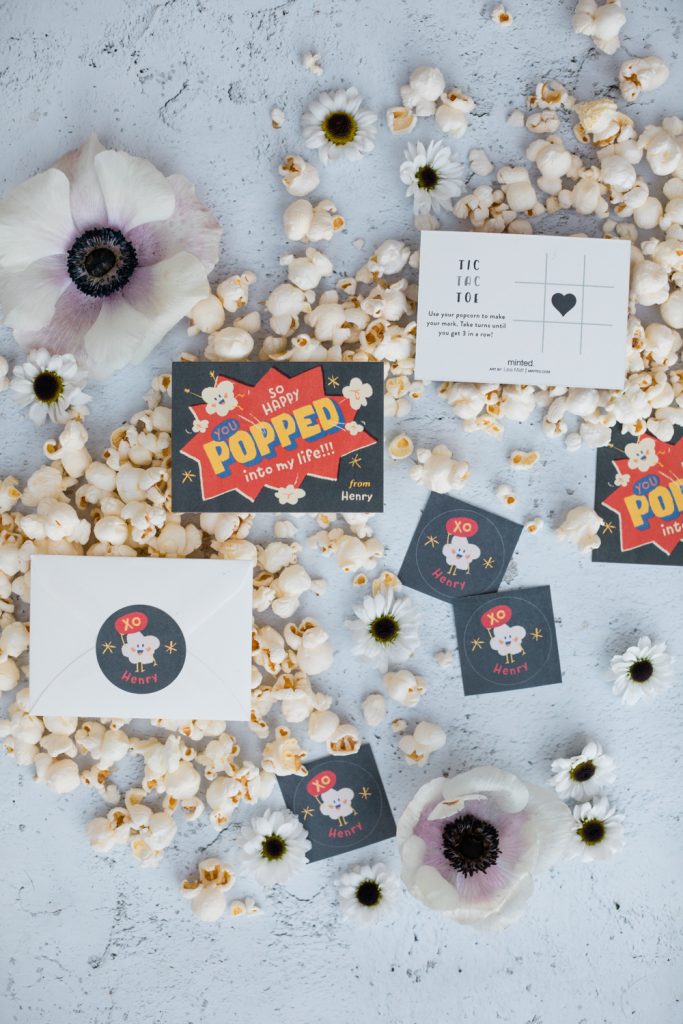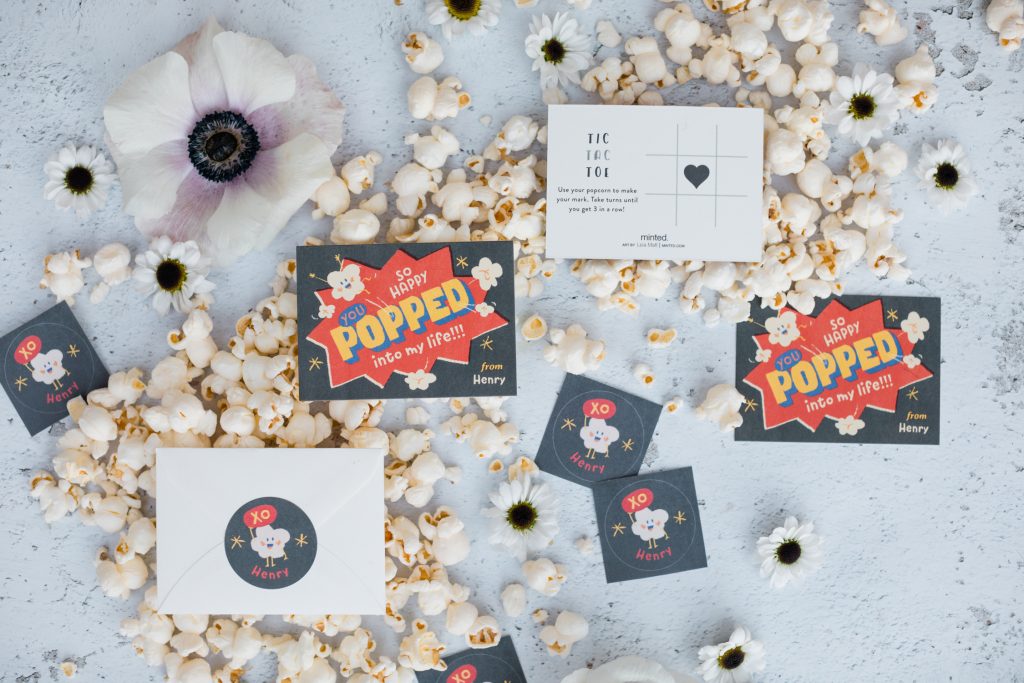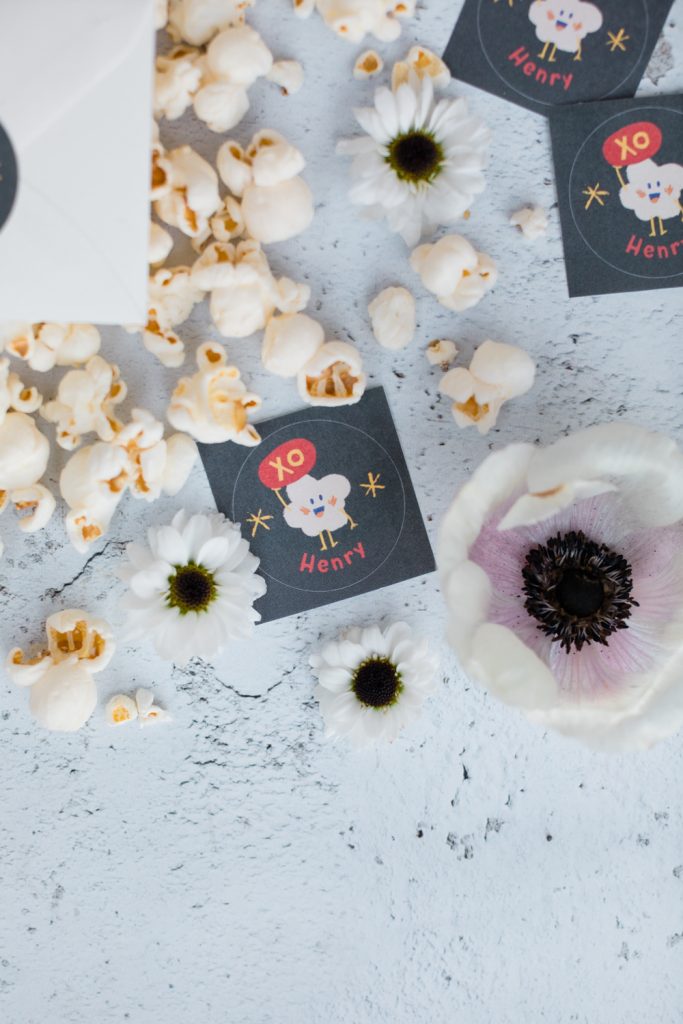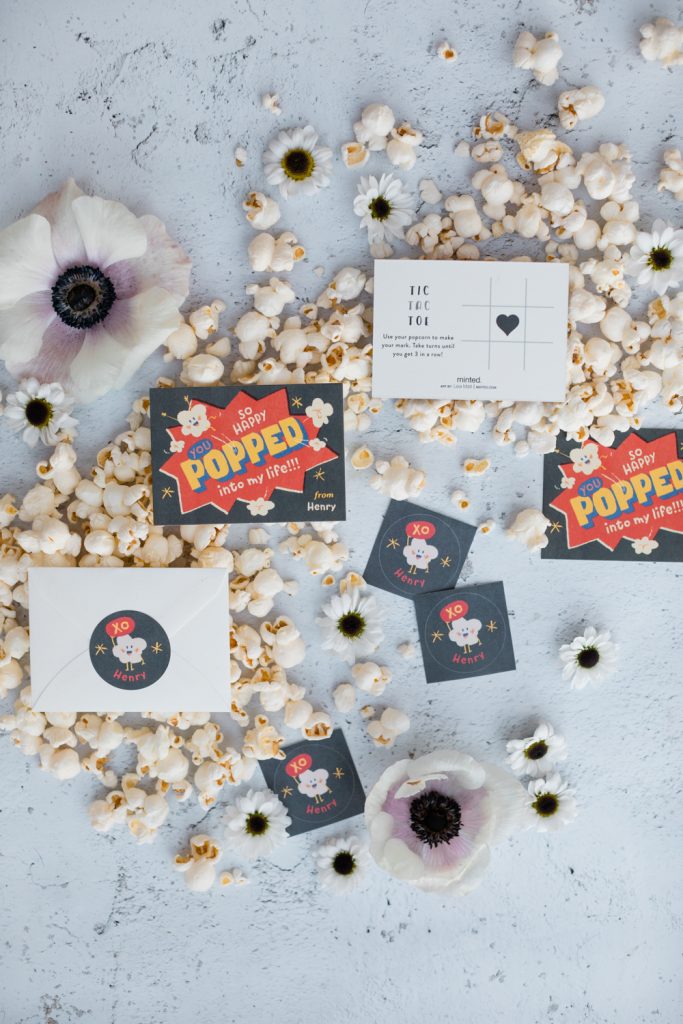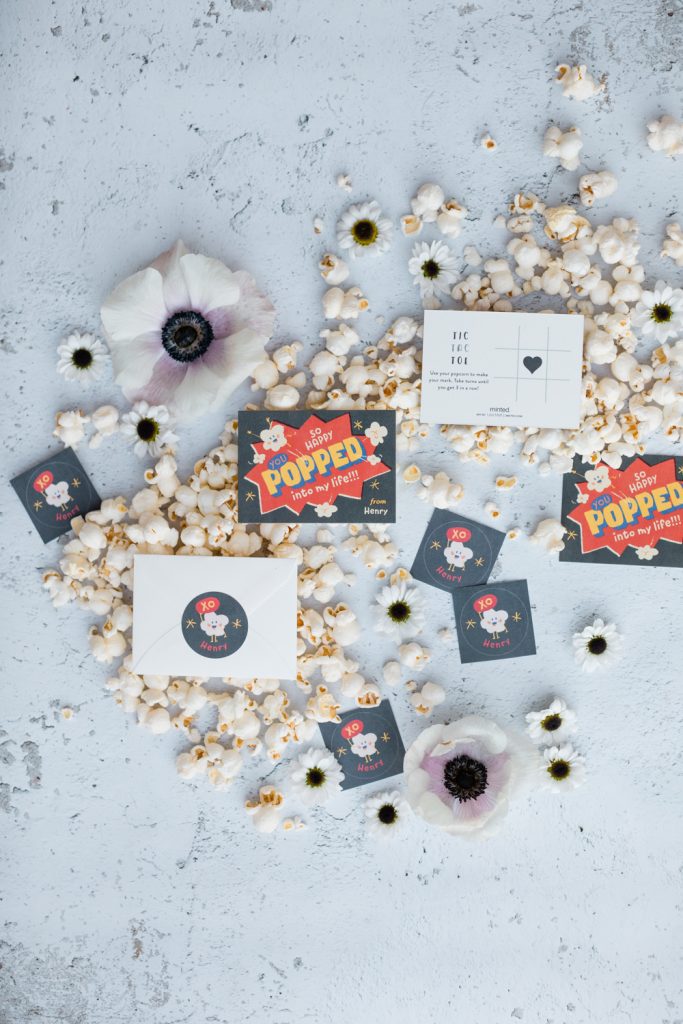 Shop Henry's Card & Stickers Below

---
P E N N Y
Penny is in kindergarten and loving being a social butterfly at school and is so excited to hand out her cards this year! For Christmas Santa brought her a skate board and ever since, the first thing she wakes up and asks for is to go skating. So clearly the skate board card and matching stickers were the perfect pick for our skater girl who is constantly on a mission to out do the boys in our neighborhood!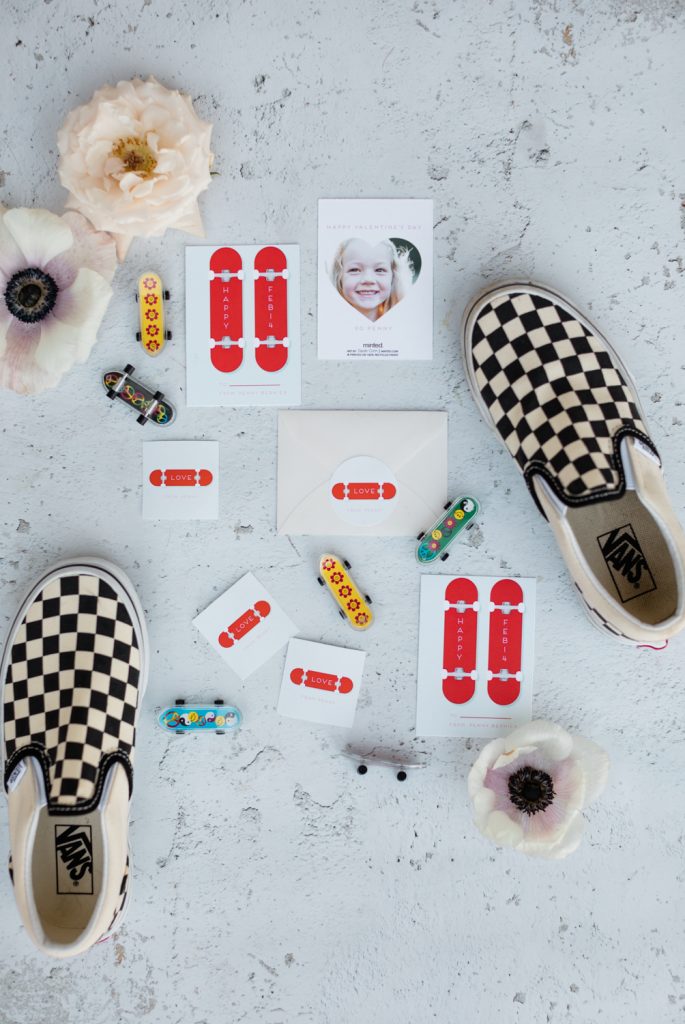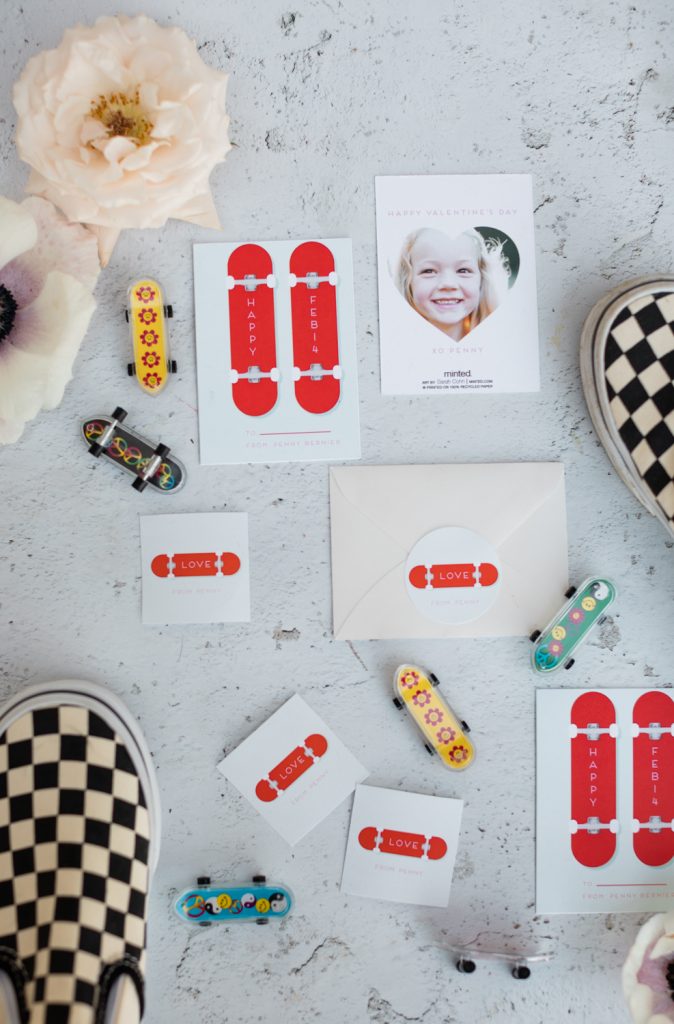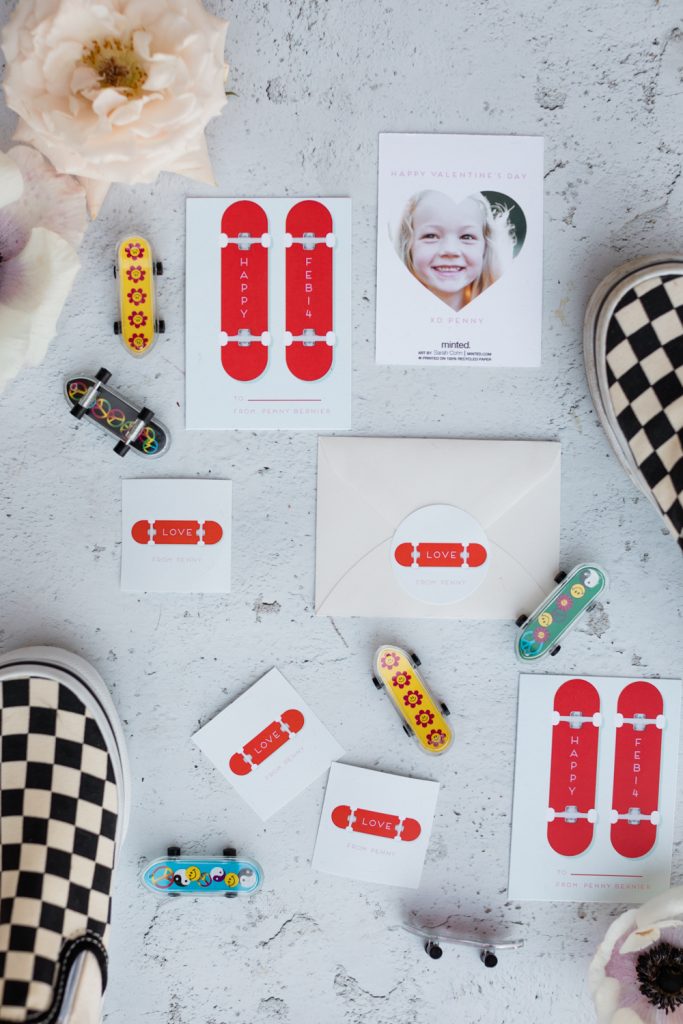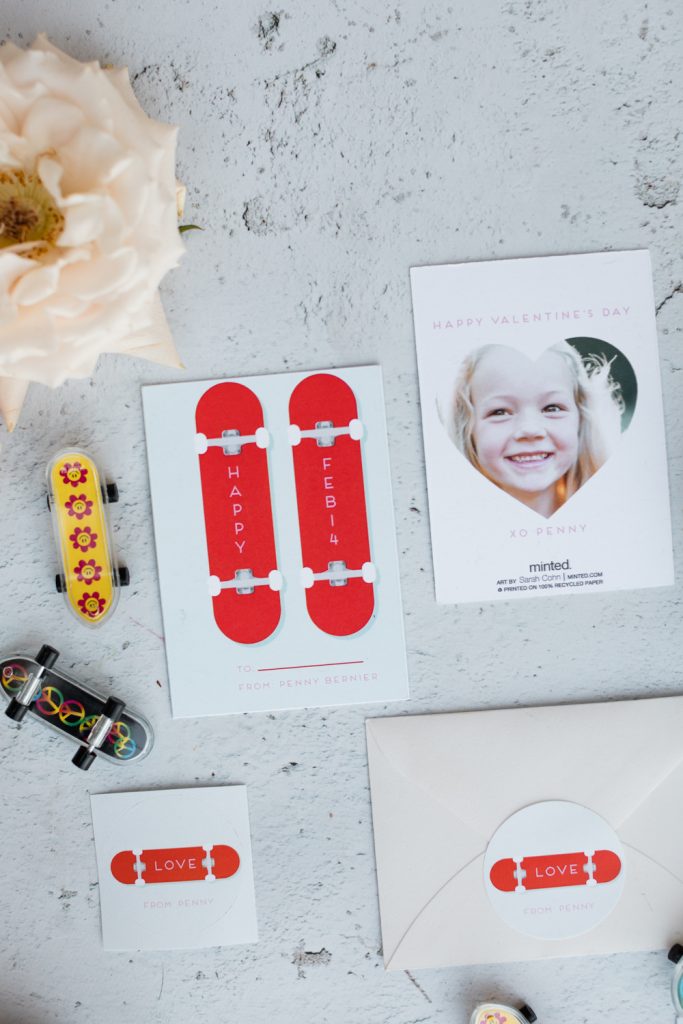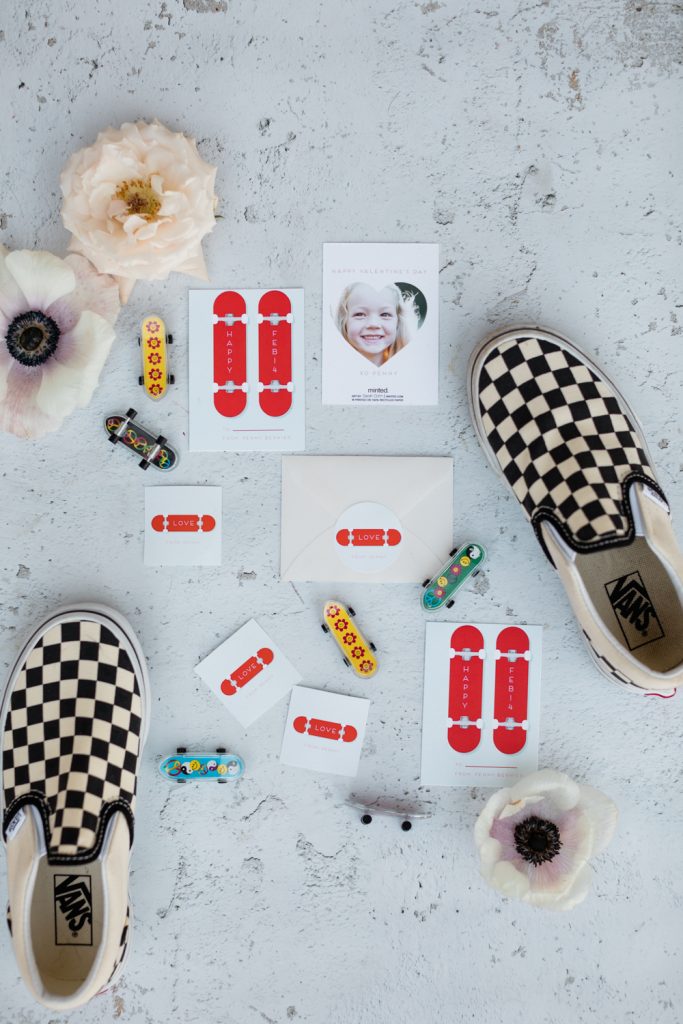 Shop Penny's Card & Stickers Below

---
A U G U S T
August started Coastal Kids Preschool when we moved to the South Bay over the summer. He's having so much fun and making a lot of friends! Near his school is a park that everyone refers to as "Rocketship Park". It's up on a hill and has a great view of the Santa Monica Bay. The park has been around since the 60s and has a 30 ft metal rocketship that kids can climb up and slide down. We loved that these Rocket Ship valentines and stickers connected to one of his favorite places!
August has been really into drawing and art projects lately so we thought it would be fun to add some fun space themed pencils and stickers to the goodie bags he will be gifting his friends.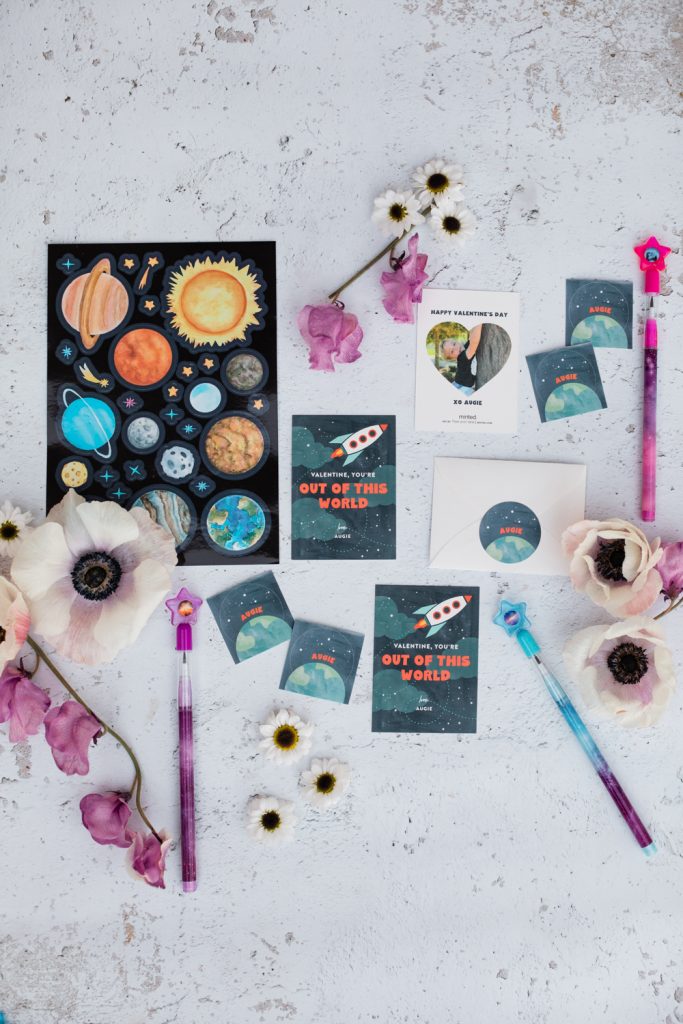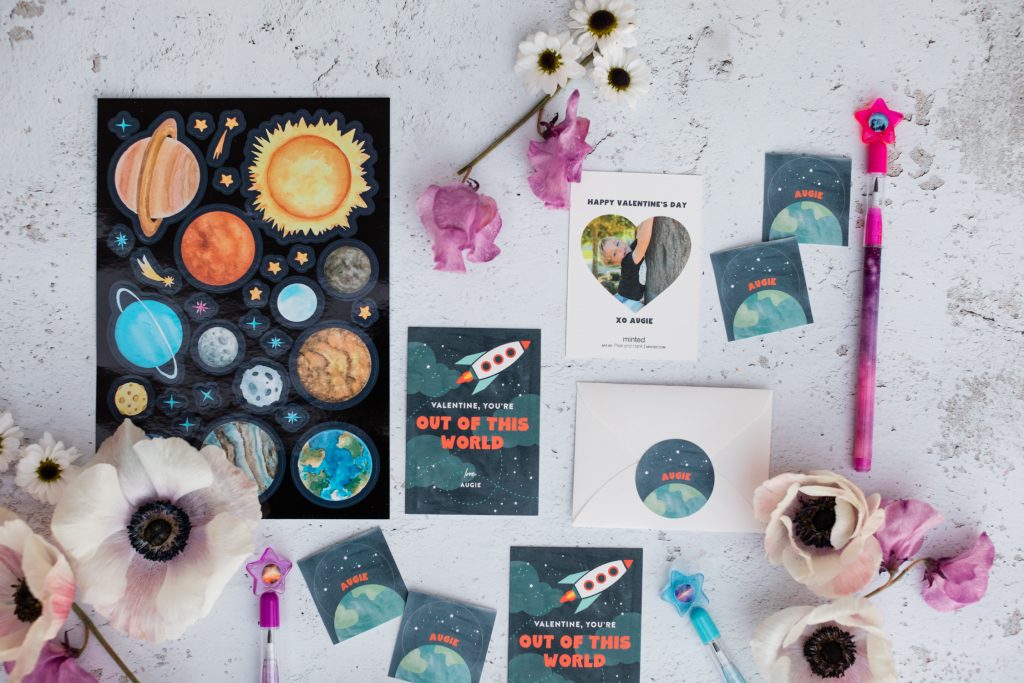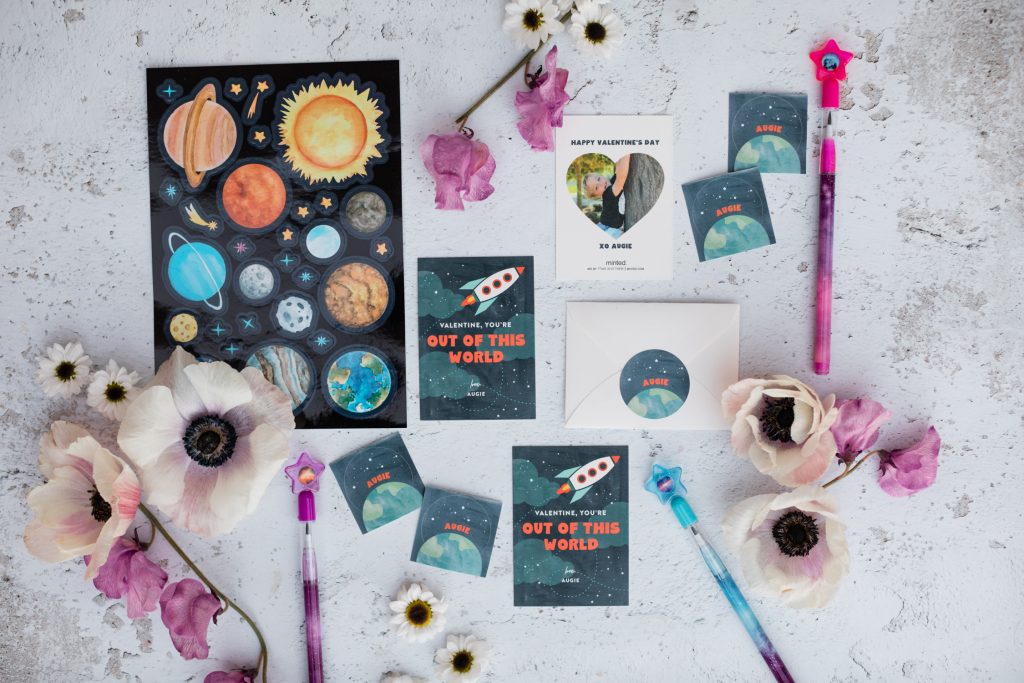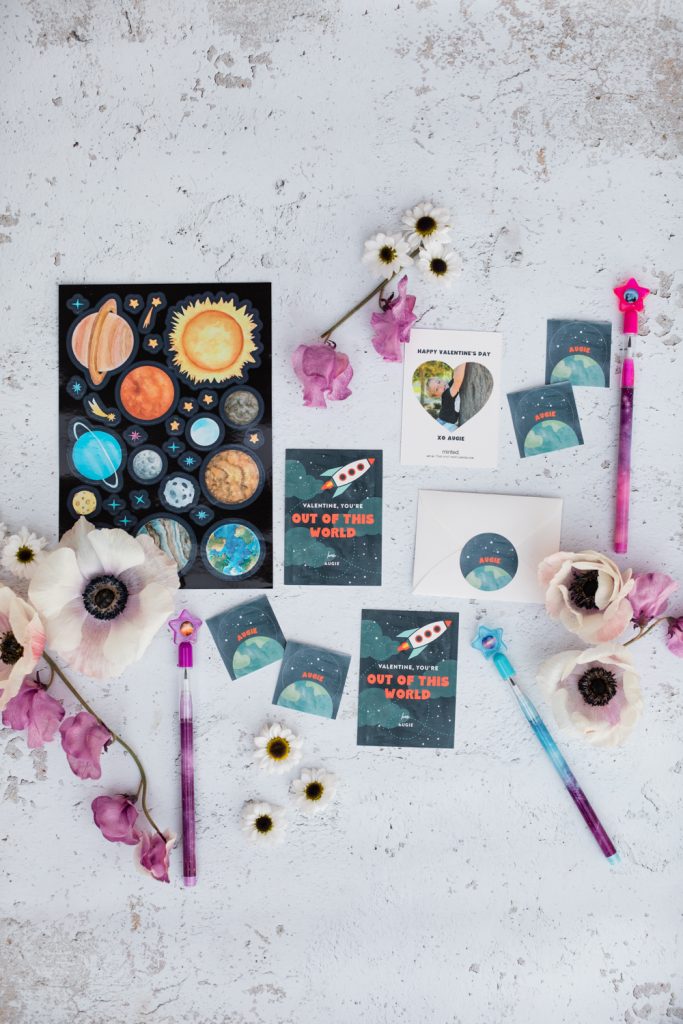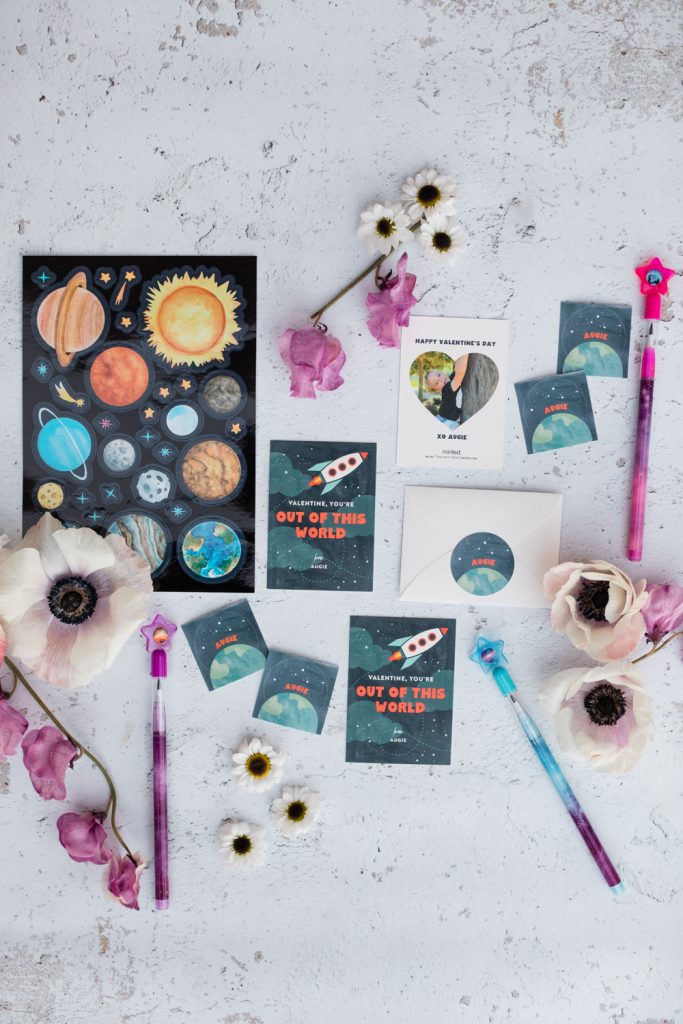 Shop August's Card & Stickers Below

---
J E T T
Jett is all about video games! He has everything from the wireless keyboard to the cool video game desk! So, of course, his passion for video games is playing out in his choice for Valentine's Day cards for his classmates. He loved the retro maze foil card; I mean, wouldn't any kid with a nod to the retro Pac man game. This card has the matching boo sticker, which is so cute. We did runts candy for a little treat to go with his cards. Remember in the game when Pac-Man eats a certain amount of dots, and you level up by getting a bonus fruit!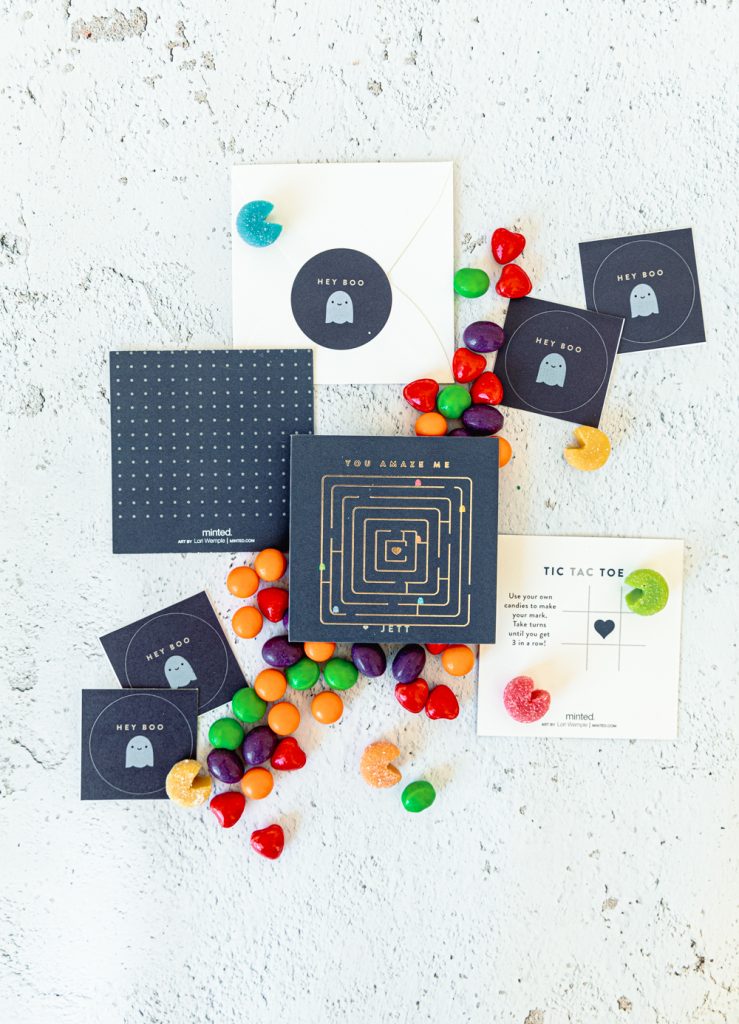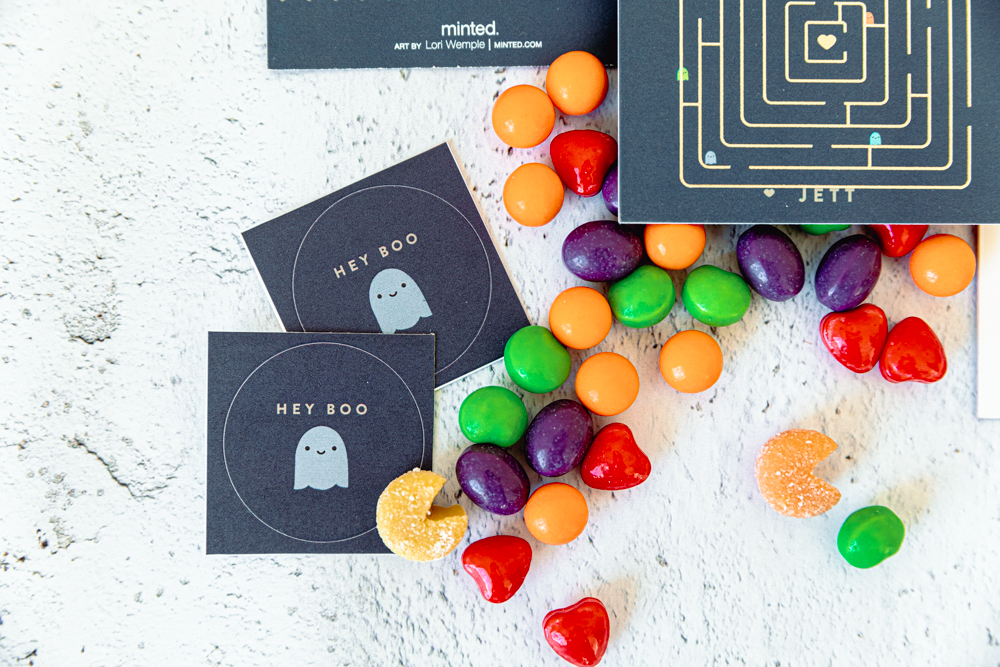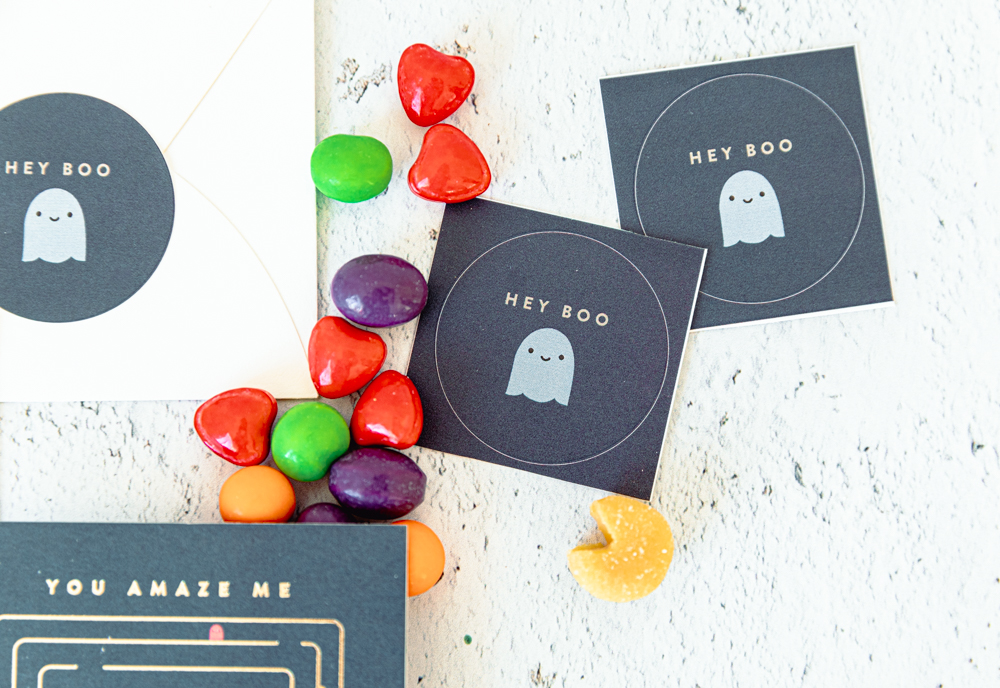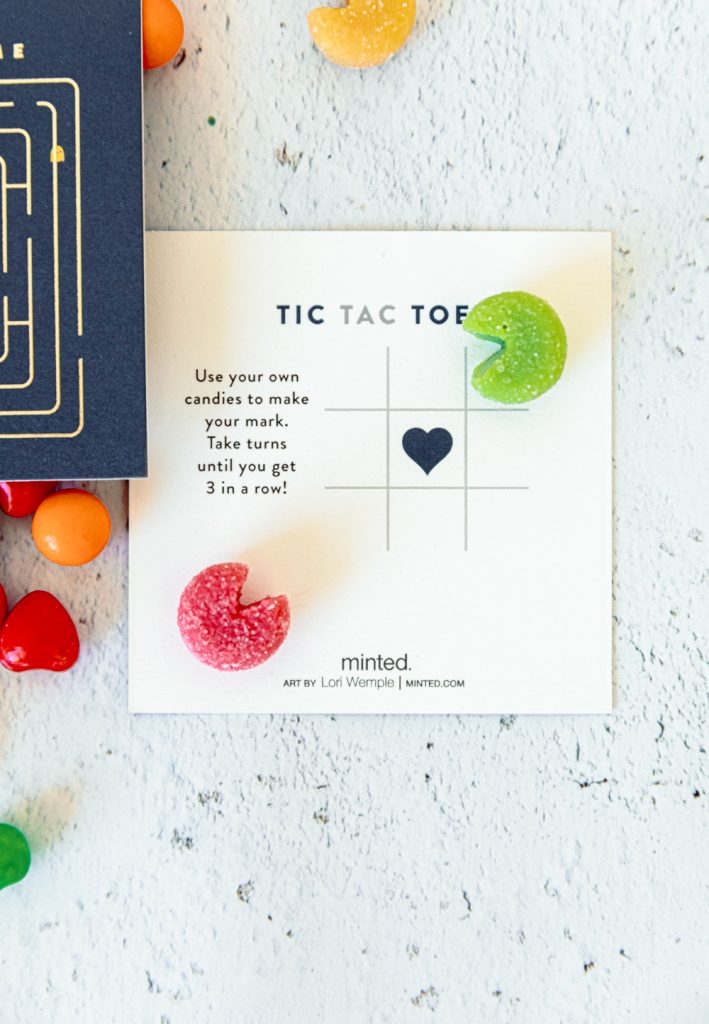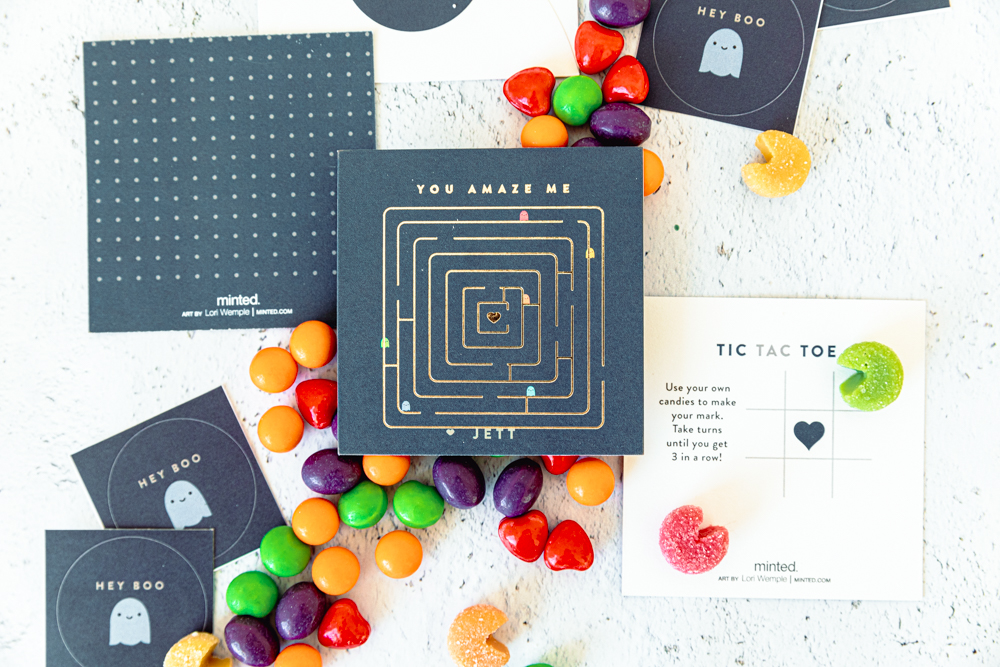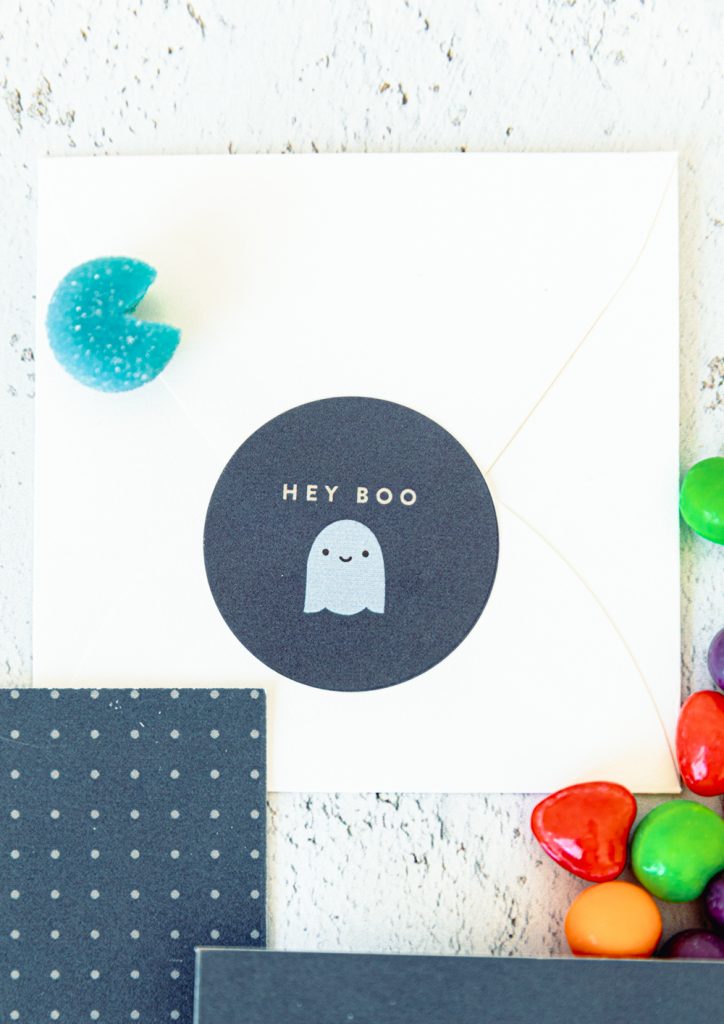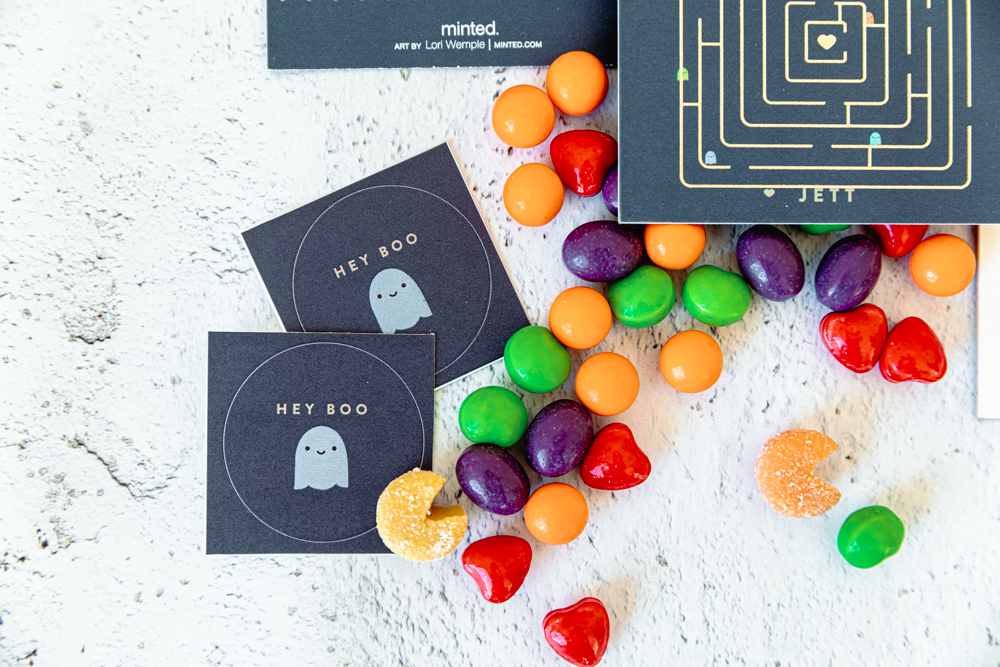 Shop Jett's Card & Stickers Below!

Hope you love our cards as much as we do!!! Now your kids are set for their Valentines – and don't worry, they'll definitely be the coolest in class!
xx
Beijos