We had so much fun curating Easter baskets for our littles last year that we decided to do it again, and hey we've begun a tradition! Find last years, because they are still so good here.  It's so fun to search for the new cool basket and all the items that will create huge warm smiles on our kiddos faces.  This year we collaborated with the talented Eliza Gran, check her out here.  Her baskets are just so cute!!She has so many colors and even color combinations to choose from.  They are great to use for your kids room after Easter for storage, a plant in your living room or even blankets. I can't wait for you to scroll down and see how cute her baskets are paired up as Easter baskets for the littles.  We picked our own colors to match our littles style and adorned them with name tags from Courtney, the talented gal at Poppy Jack Shop.
We are starting off with Critter Courts basket.  Jacquelyn went with a cool California Camping theme.  Here's what inspired her this year and what she had to say about it…
For Court's basket I was inspired by camping along the California coast, something I'm hoping to do with him this Summer and many more Summers!! I can picture him using any of these items, playing guitar with daddy around the camp fire, reading a book in our tent, or even searching for bugs around our campsite! I know he'll love this!!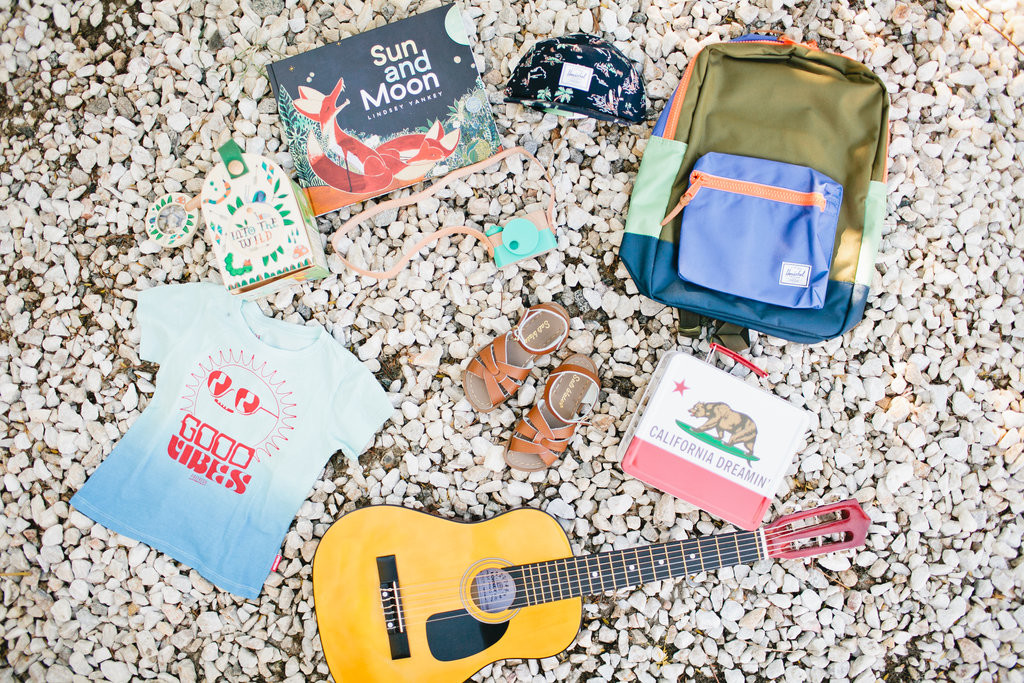 Here's a flat lay of all the goodies and click on them for links so if you see something you like, you can have it for your little too!
Guitar 
Lunch box 
Nature Collector 
Back Pack 
Sandals 
Book 
Hat 
Twig wooden toy camera 
T-shirt 
Sticking with the dudes, lets have a look at how Abby was inspired by Jett's Cool Dude Cali themed Easter basket… For the boy who loves the bright blue ocean and the thrill of skateboarding.
Here is his flat lay so you can see all the goodies and don't forget the links, so if you see something you want for your little guys it's right at your finder tips!!
Boom Box Lunch Box
Baja hoodie
Ankle Bitters
Skateboard
Indi Surf Book
Robo Sauce Book
Pizza Dude Shirt
Slyfox Threads White Hat
On to the Girlies!!  Abby chose a Palm Springs theme for her little babe Dylan.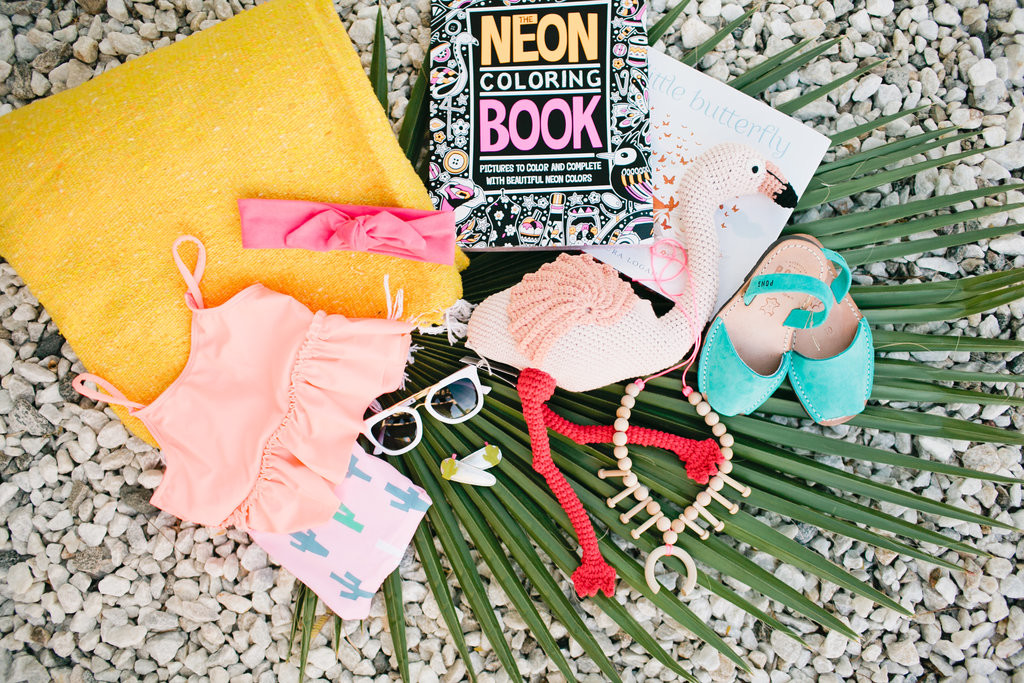 Here are the details and links to all of Miss Dylan's Easter goodies
Necklace
Little Butterfly Book
Neon Coloring Book
Catcus Clips
SandalsTie Knot headbands- Jumpyjackjack from etsy
For my SASSY little Edie girl I went with a Mermaid Under the Sea theme.  She just loves mermaids, especially the Disney Princess.  Since mommy likes to get her things more on the unique side, see how I can still get her what she wants and make us both happy.
Here are all the goodies and links
And last but definitely not least is my baby boo Isla. I had a lot of fun putting her baby Easter basket together.  It was a little tough thinking of a theme for her since she's still such a baby, but these are things I know she'll look cute in and love playing with.
 We hope to have inspired you for your little ones Easter Basket.  It's coming up really quick here and have you gotten everything you need to fill it??  Don't forget your eggs and grass to complete the look…and some candy!!
All photos my Miss Megan Welker and the adorable little leather tags on all the baskets by our friend Courtney at Poppy Jack Shop Callligraphy
Special thanks to all of our vendors who helped fill our baskets this year especially…
Hope you all have a very very Happy Easter. Love this time of year with family and friends…Enjoy it!!
Xx Leah