We are getting ready for our baby boys over here in the Beijos camp and in doing so putting together our nursery's.  This designing and planning is the fun part of the process for us, seeing it progress into a space for our littles is just the best.
I have to admit it was a little challenging for me to do a boys room.  All I've known is girly girly girly, but I was up for the challenge and had fun in the process.  Henry's room is very clean and modern with some rustic touches.  I started with white of course…haha, my favorite and then brought in a super light grey for the walls.  I'm integrating metallics, mostly copper and some rustic touches.  It's actually all over the place.  I call it a modern rustic western?? Haha, I don't know… I think the Elvis print makes me want to call it a western, but it's more modern rustic.  Another funny thing about planning his nursery was that my hubs wanted to be involved in the planning.  He wanted to approve it in a way, which I thought was interesting.  He especially loves the Elvis print, since he loves the king (who doesn't?), which made this piece tie in great in his nursery, a little piece of something his daddy loves.  Anyway here's the inspiration below….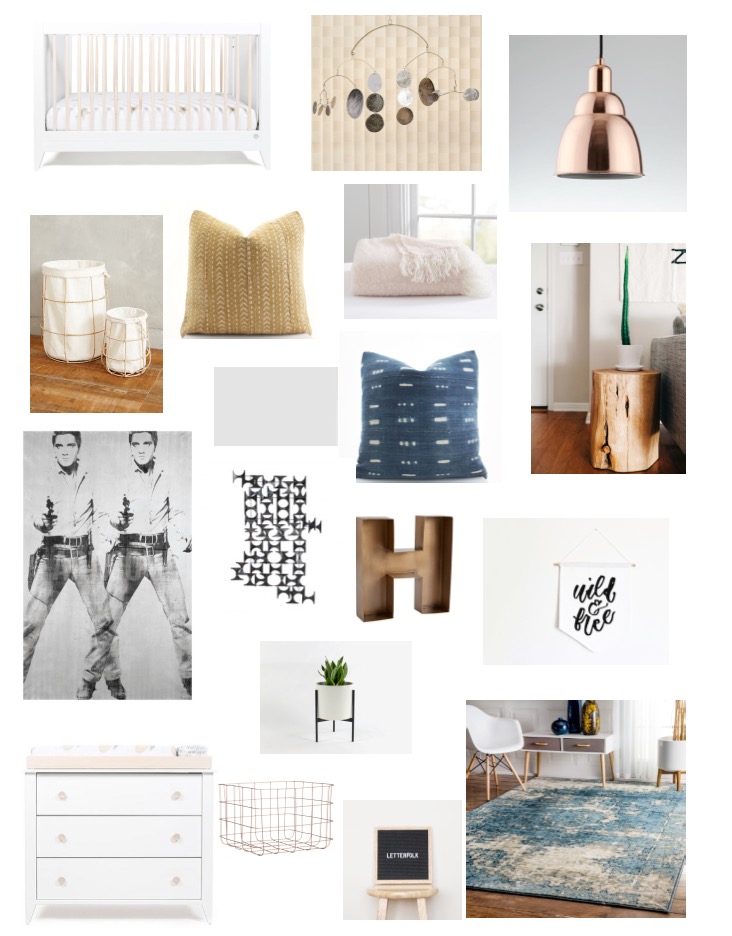 From the top and right to left, here are all the sources…
Honest Babyletto Crib & Dresser
White Lie Light Grey Paint by Behr
Pottery Barn Kids Mohair throw
We welcome our son Henry to our family TOMORROW!!  Can't believe it's already here, we are beyond excited!  Stay tuned for him in his finished nursery.
Xx Leah