---
With both Jacquelyn and I moving into new homes, we will undoubtedly be having guests staying with us to check out the new digs. There's something naturally cool + fun about a boutique hotel bathroom, those fluffy white towels, the perfectly aligned trendy bath products, and thoughtful details like fresh cut flowers. When I have guests come to stay at our home, I want to treat them with the same experience with my favorite essentials. This way, it's a guarantee that they will be back!
We moved into our home a little under nine months ago, and we are knee deep in projects. Can you still call it new? I feel like I haven't even started decorating yet. But the one room that I started with is the guest bathroom. I wanted to make sure I was all set up and ready for guests. You want your guest to feel comfortable, and believe it or not, it's all about the design of the room that will achieve that. A design of a room combines style, function, and most of all comfort, especially for a guest bathroom + bedroom.
Let's discuss bathroom essentials!
Photos by Ivory Blush Photography
Can we talk about how cute that rainbow wall hanging from Elizabeth McTague is?!?! I love everything she creates.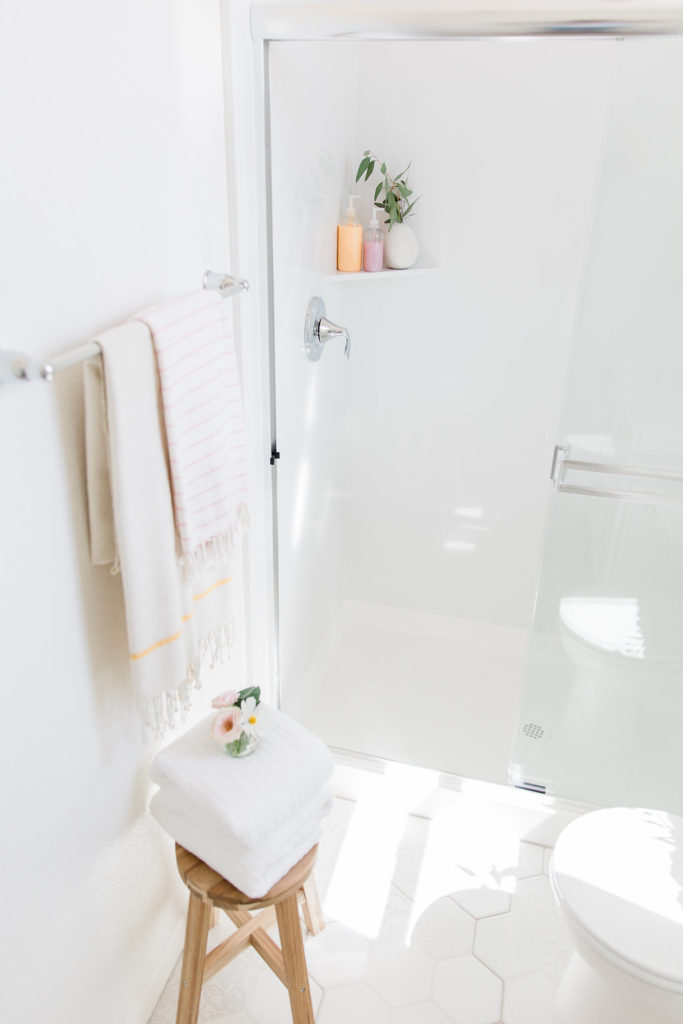 T O W E L S
Right off the bat, pretty textiles are a must. A guest bathroom should always be stocked with fluffy towels, plus pretty beautiful ones. I grew up with decorative towels in every bathroom, and they were decorative ONLY! Not to be used. I always thought to myself; I will never do this when I'm older. Well, I'm older, and I'm just like my mother. I have ones you can use, and ones that sit there and make the room look pretty. To each its own, right?
My favorite textiles for all my bathrooms are from Creative Women Textiles. Creative Women is a fair trade home + wholesale lifestyle brand. They partner with talented artisans in Ethiopia, Guatemala, and Kenya who work in women-led small businesses. For the guest bathroom, I went with natural and light colors. The gold hatch cotton towel brings in the sunshine with its golden hues. I store both hand and bath towels underneath the sink for guests to use.
The Blush Riviera Hand Towel is another favorite that adds texture and color to the bathroom.
Creative Women also have a sister company called Acacia Creations. They create handmade eco-friendly items just like the Zanzibar Glass Canisters you see below. These beauties are great for a bathroom space, kitchen, or even your office!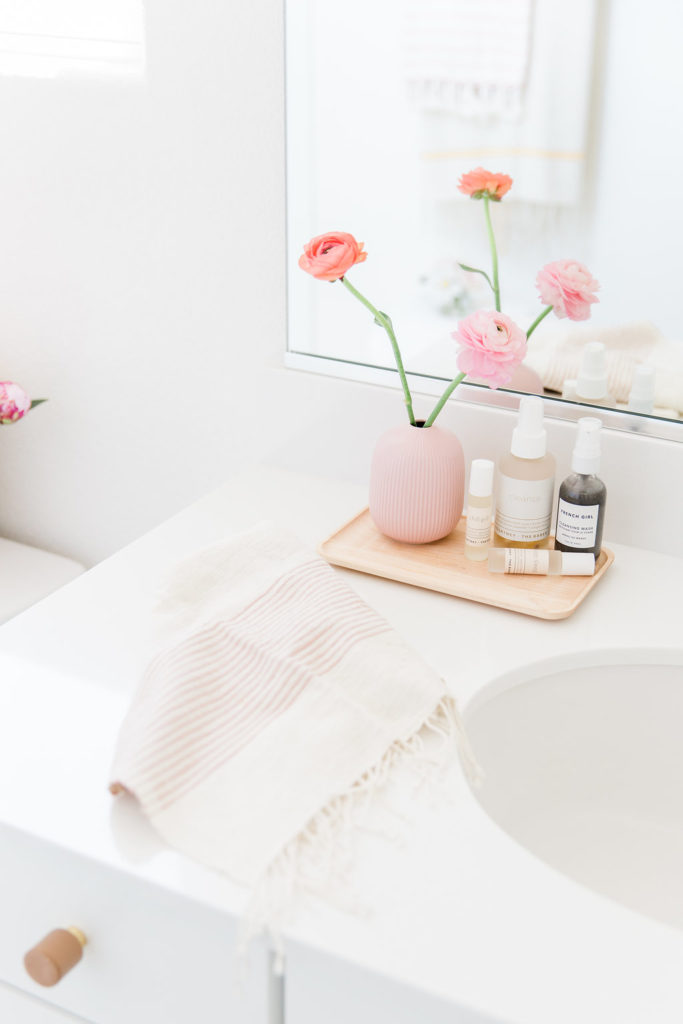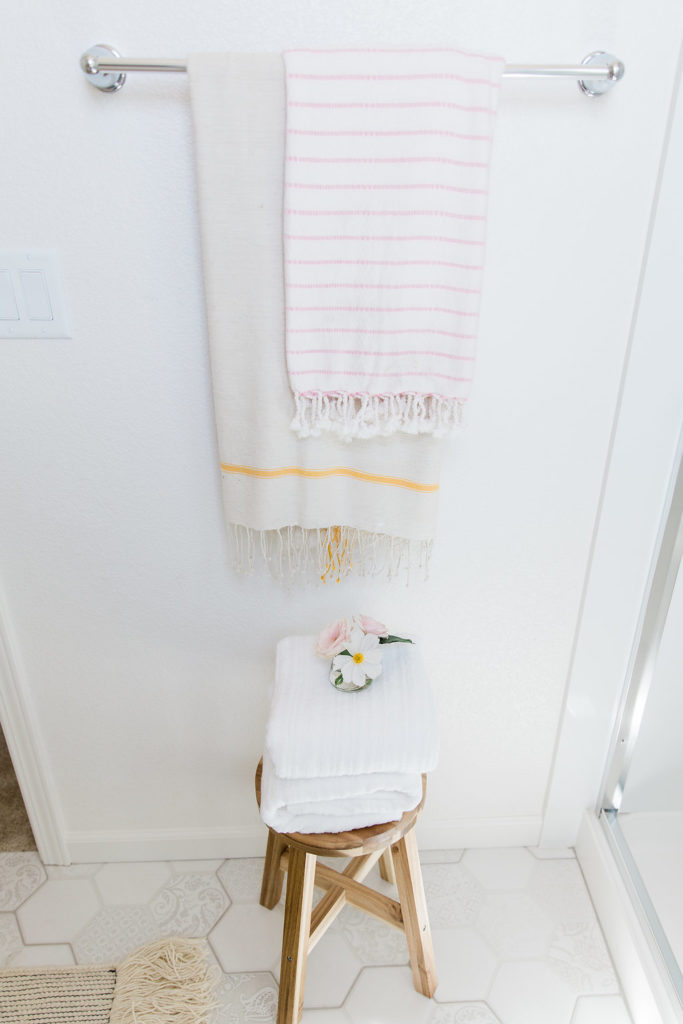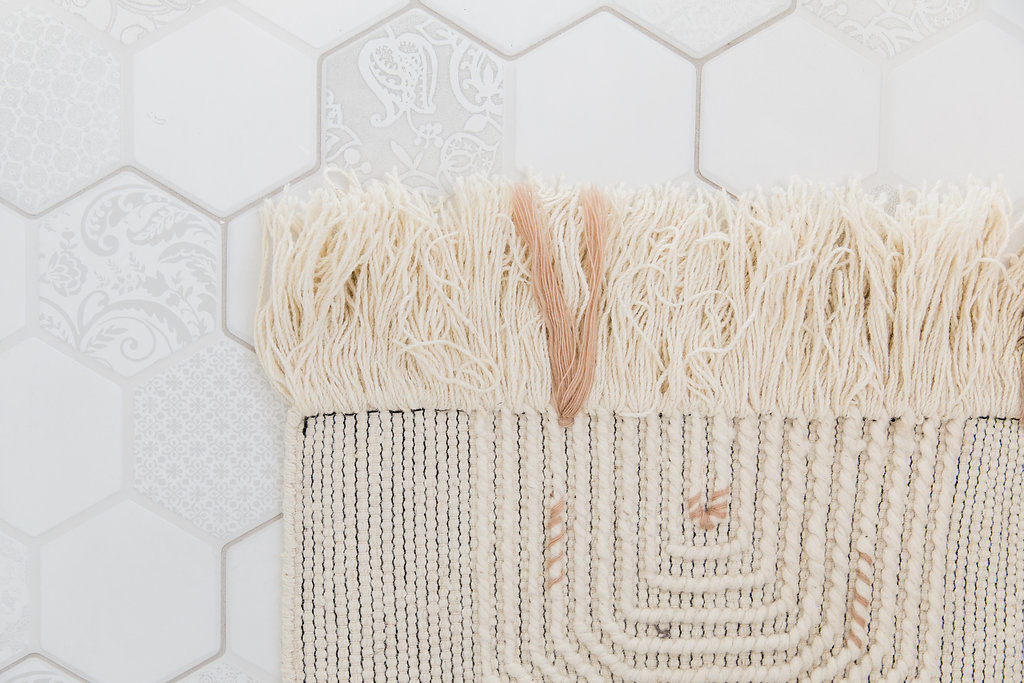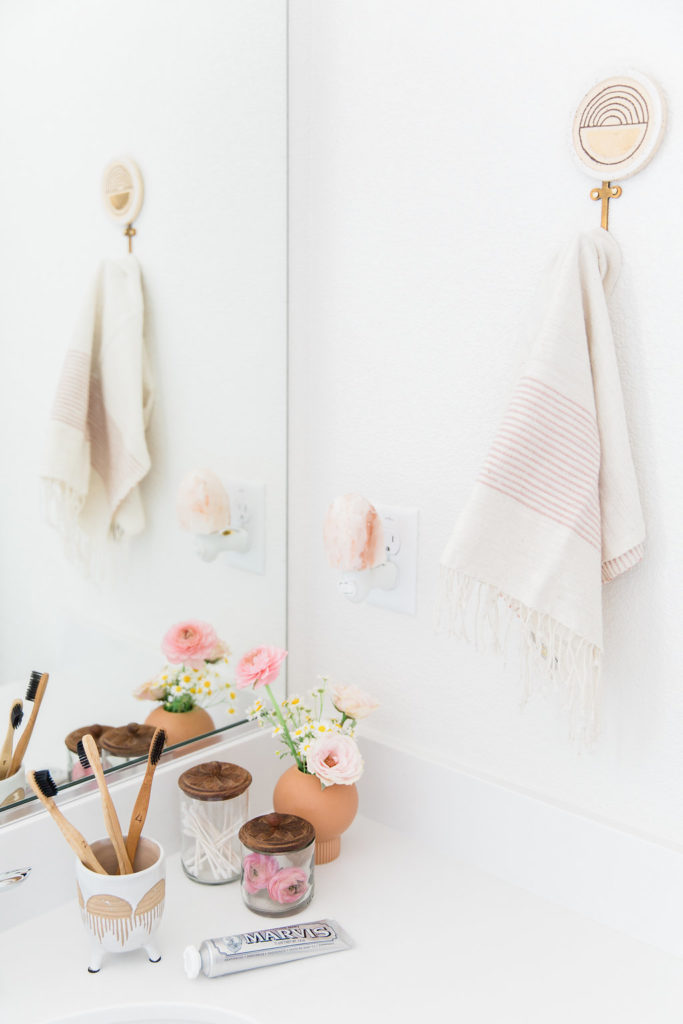 Ontario Hook
To go the extra mile, I also infuse my bath towels with lavender essential oil. Nothing better than a fluffy towel that smells amazing! To do this, add two drops of essential oil onto a cloth about 4 inches square and toss into the dryer with your towels.
T O I L E T R I E S
I don't know about you, but when I travel, I always forget something. Majority of the time it's my toothbrush. I finally got myself a travel toiletry bag that I have filled with everything I need so there is no chance of forgetting something. I wanted to make sure if a guest did forget something, I had it for them. Some of the items I like to have for them…
Shampoo + Conditioner
Facial Cleanser
Toothbrush + Toothpaste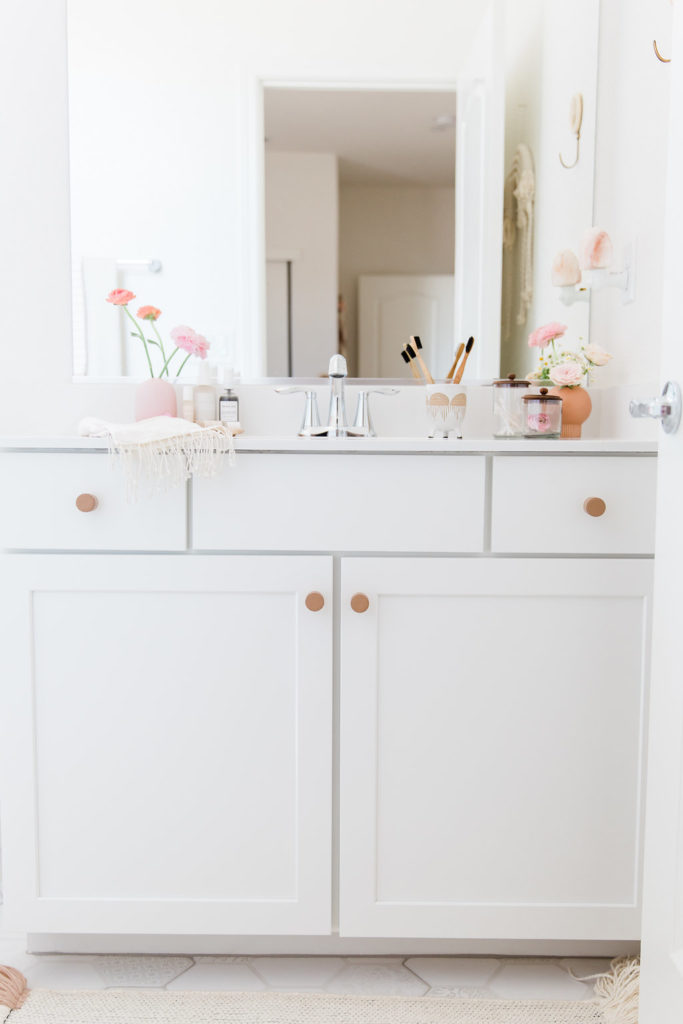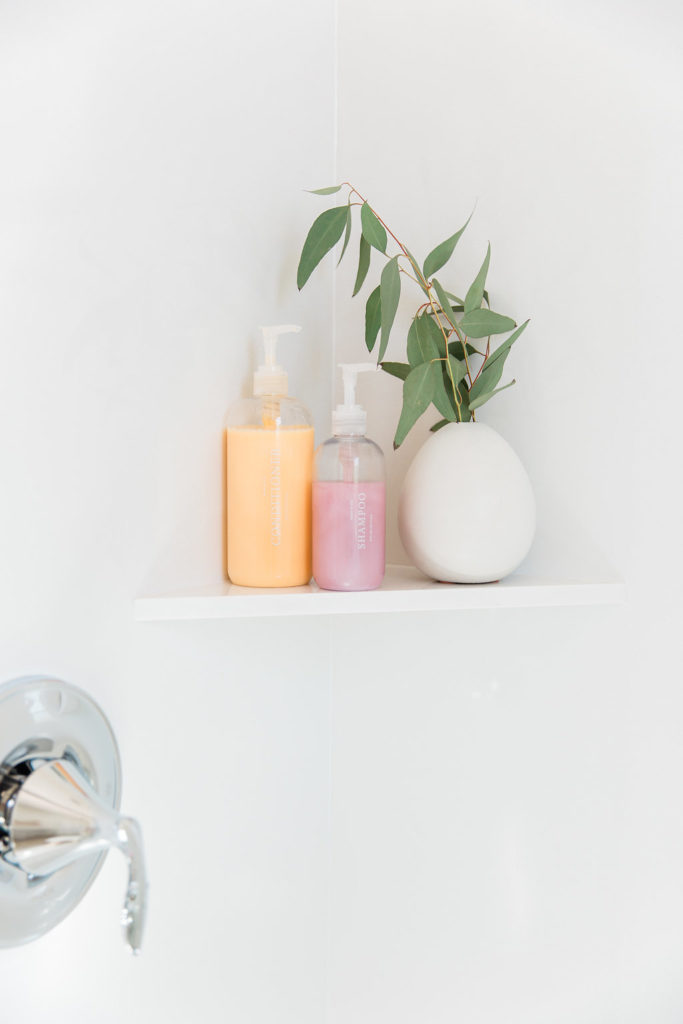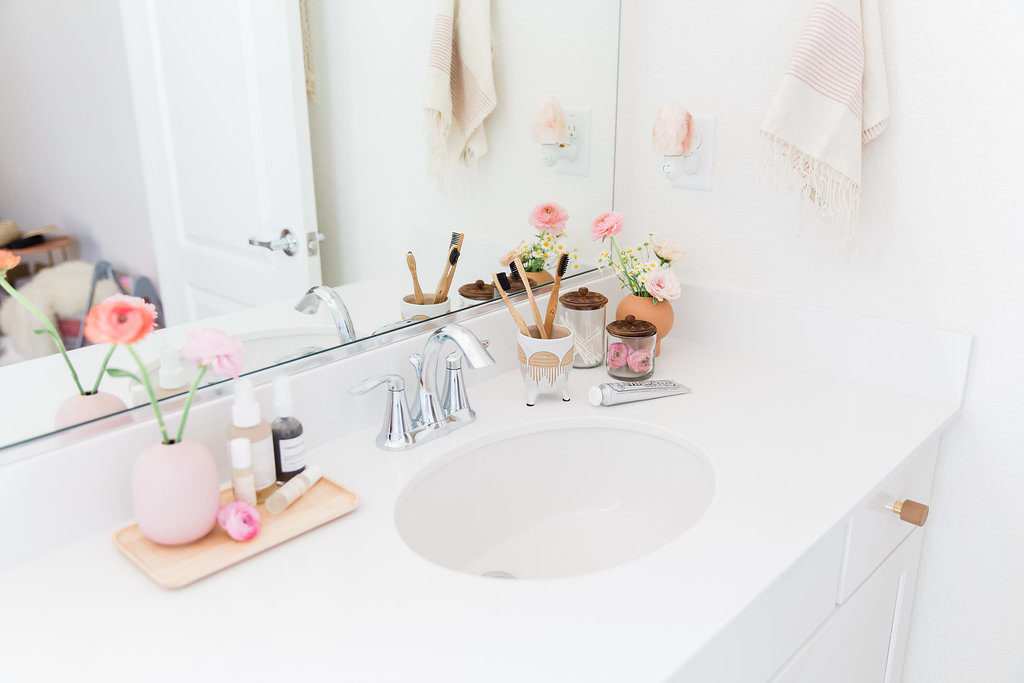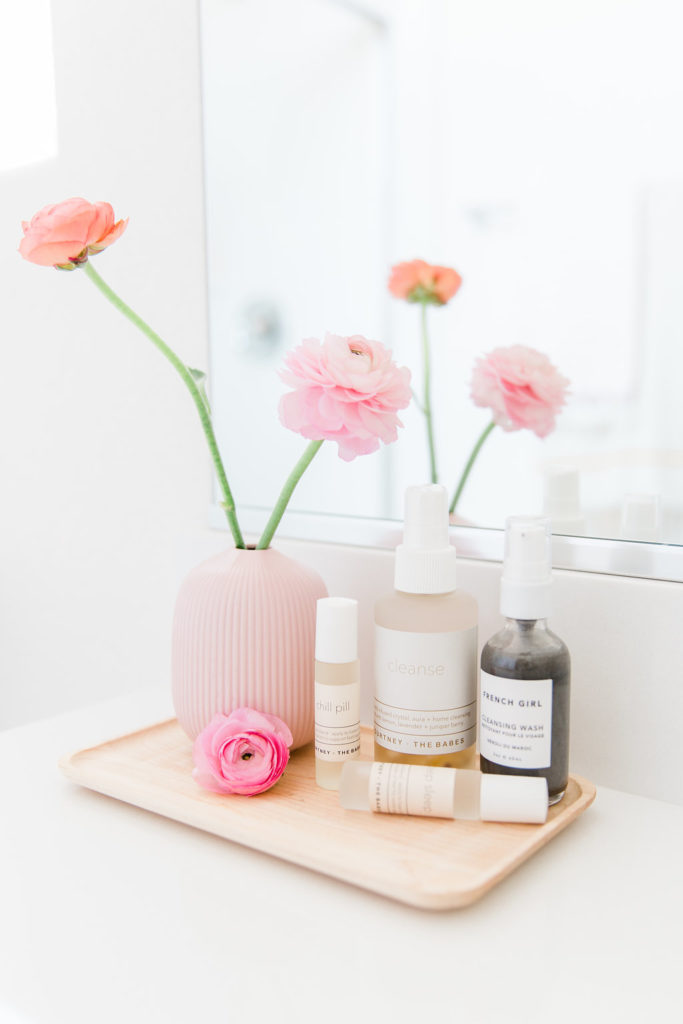 Since we moved a couple of hours away, our guests are usually a little tired from the drive. So I made sure with the help from Patchology that they are well feel replenished and rejuvenated in a matter of minutes. They have the best under eye masks, lip masks, and gel moisturizers. My favorite is the Aquafresh daily gel moisturizer; it's an ultra-hydrating masque that is a reset button for your complexion, flooding it with Hyaluronic Acid, powerful antioxidants, wrinkle-reducing Vitamin B5, and soothing Aloe Extract. All these goodies are like a very tall glass of water for your skin! With the heat coming on lately, this is great for your skin.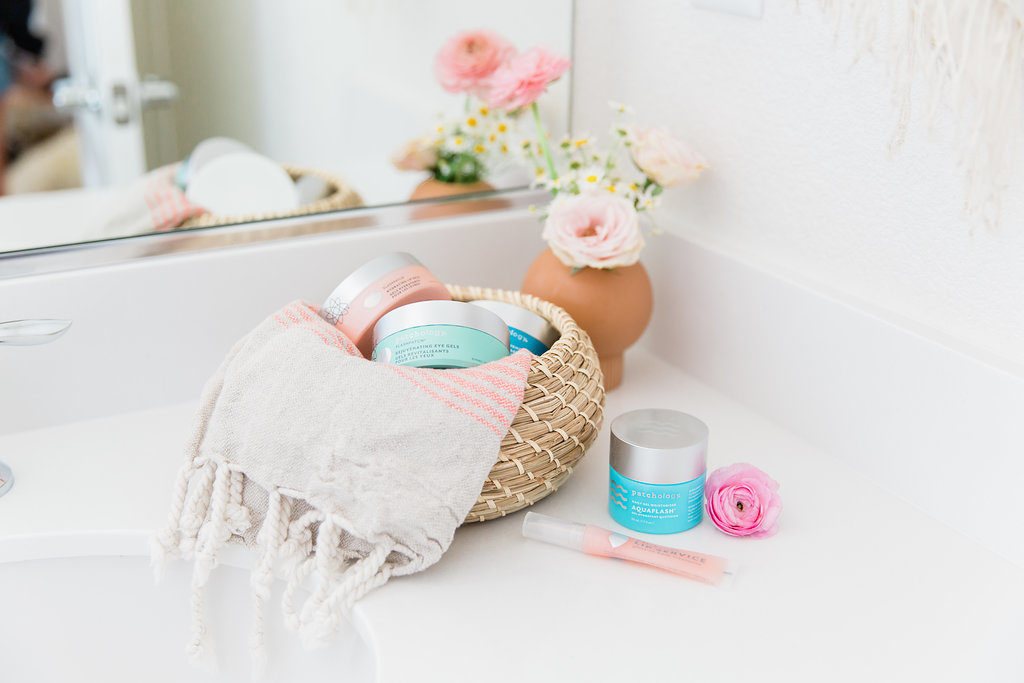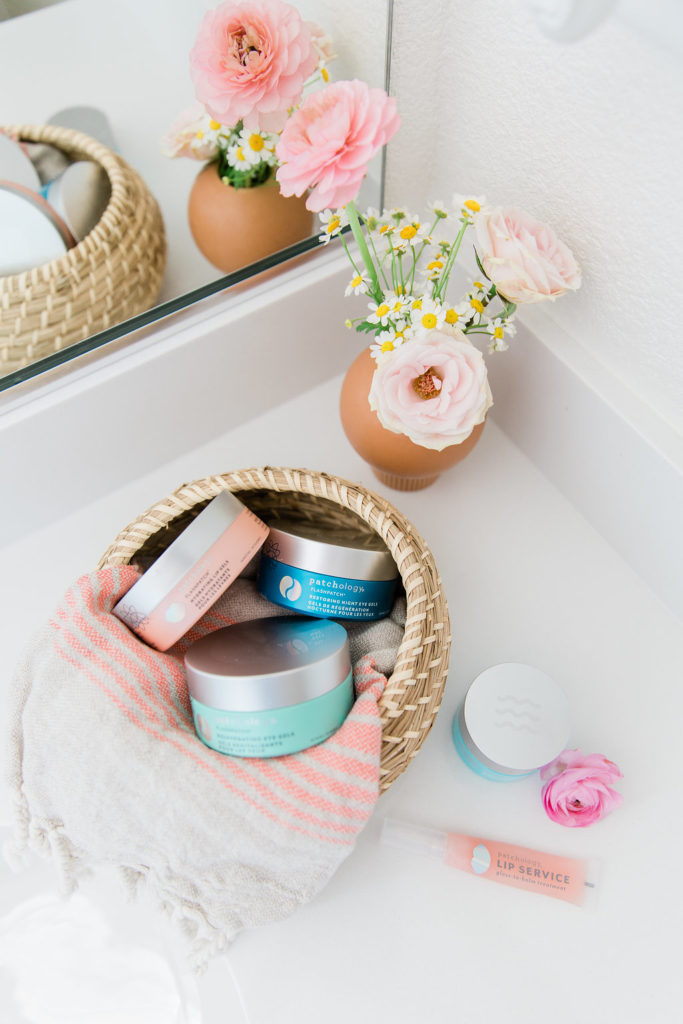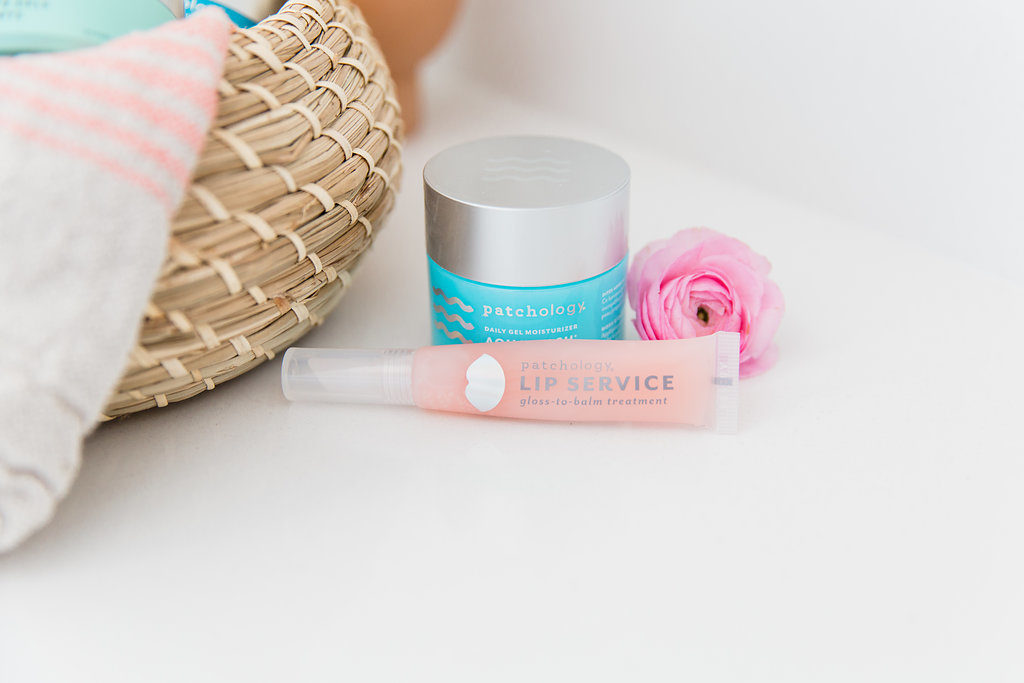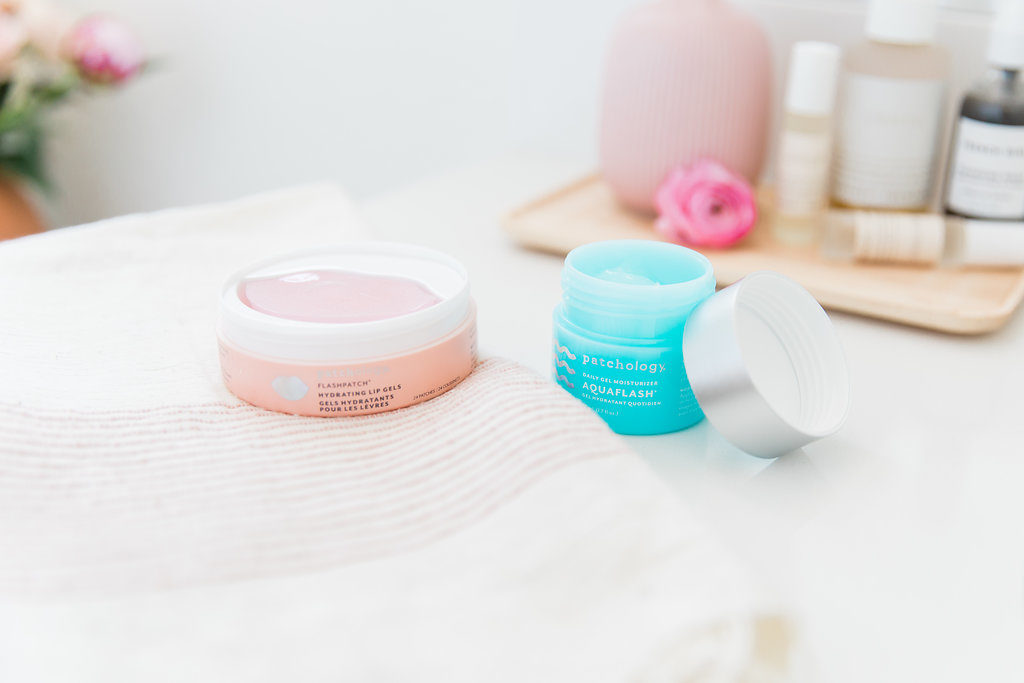 Just slap those eye masks on, and in minutes you feel and look like a new person!
Another one of my favorite brands that I love to have in the house is Courtney and the babes. This Austrailian based company is all about certified pure therapeutic grade essential oils, crystals and helping others form a more natural environment within their homes. Courtney makes her products right in-house, which I love. I'm obsessed with the Cleanse. The Cleanse is a home cleansing mist which has quartz and essential oil infused with a purpose to purify, protect, cleanse and lift low vibes. She also makes essential oils which you know we love. The chill pill and deep sleep, I like to have in the guest bathroom.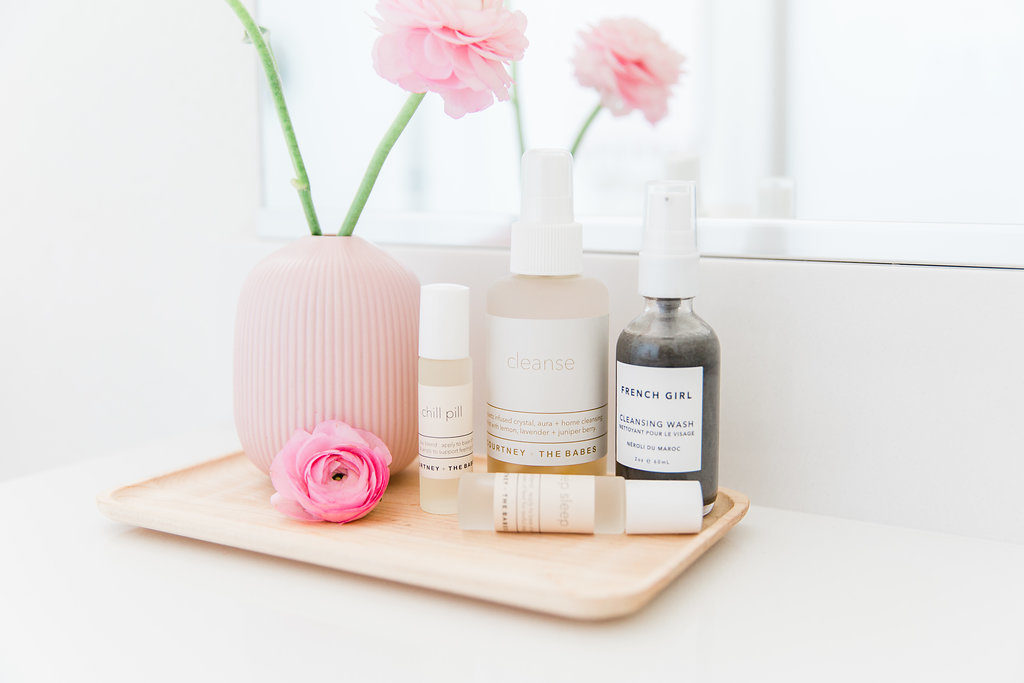 Now that we have the bathroom well stocked, it's on to the bedroom. Again, the goal is to have your guest feel at home and feel special. I like to have a tray on the bed with some water for them when they arrive.
Set a candle (especially the Paddywax ones!) on the nightstand for guests to use to unwind from the night. I also had Leanna from David and Leanna create this wifi password sign, so guest don't have to be always asking for our password. I love to include crystals when I can around the house, so I placed a crystal next to the bedside to protect our guests. Check our Energy Muse; they have the best selection of crystals. Finally, adding special pieces of art in the room is my favorite. On our last Beijos girls trip to Ojai, I discovered West Perro wall hangings and fell in love. Jimmy hand creates all his work in Oakland, Ca which is close to home for me. Each piece is amazing!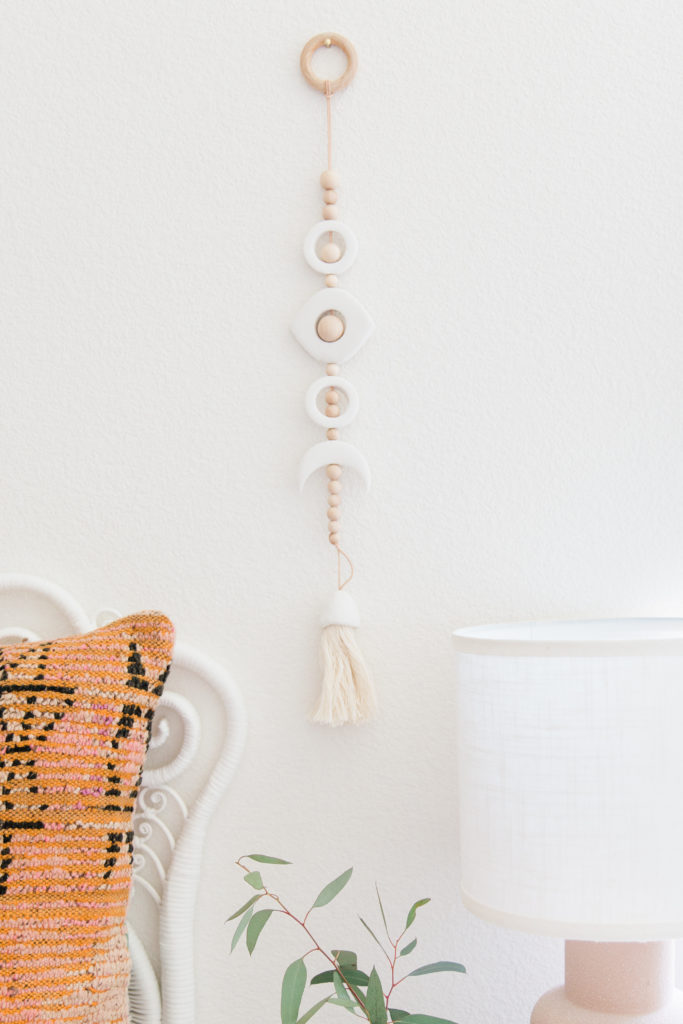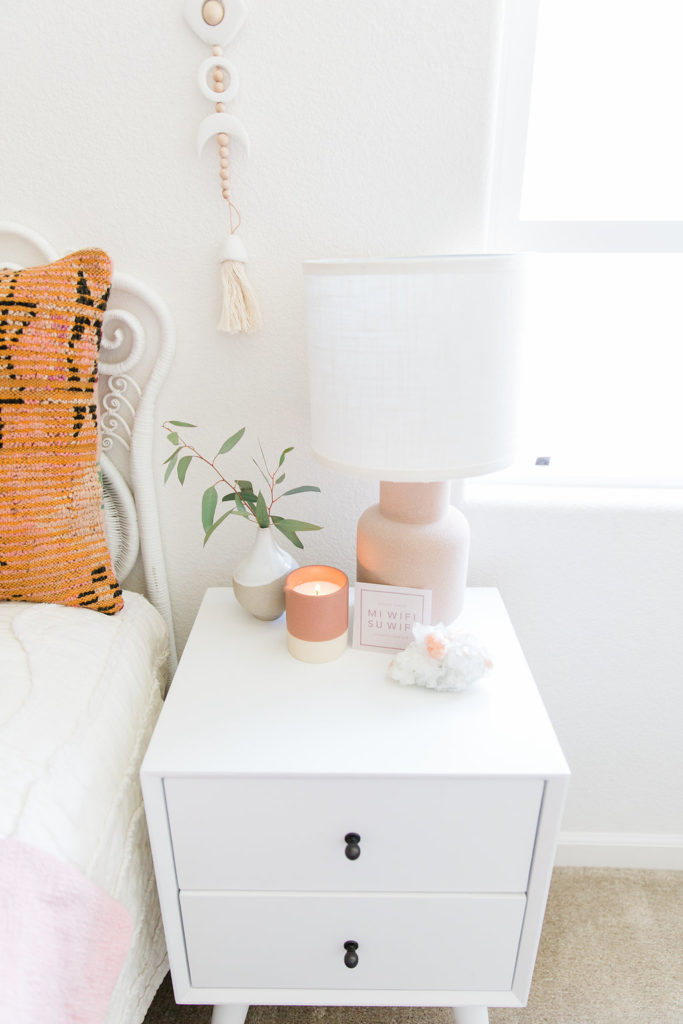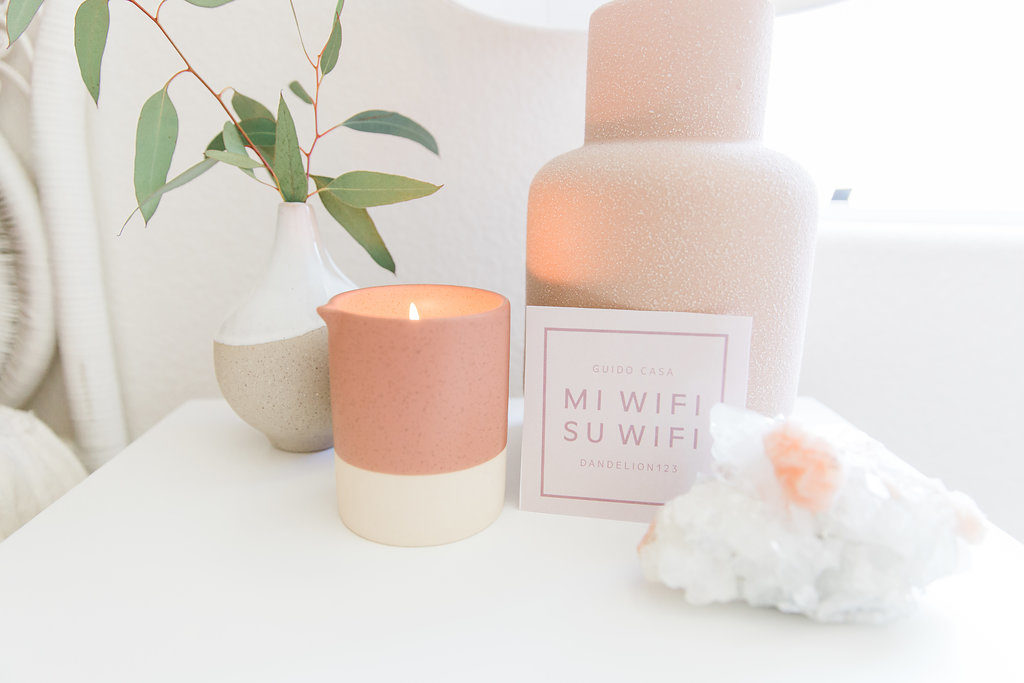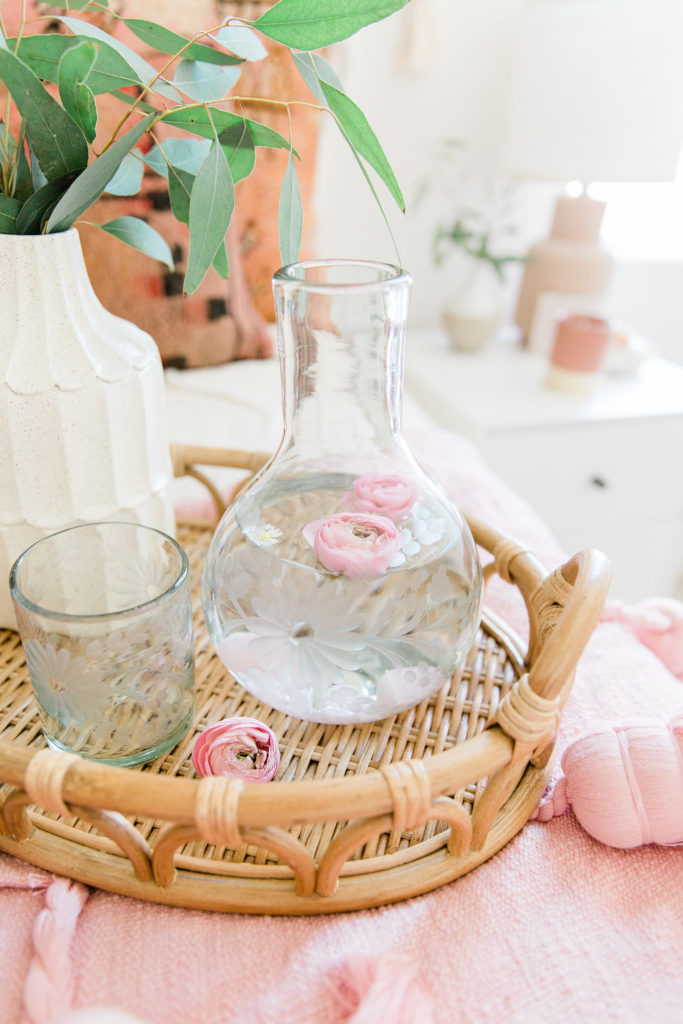 Provide a cozy blanket in case it gets a little chilly!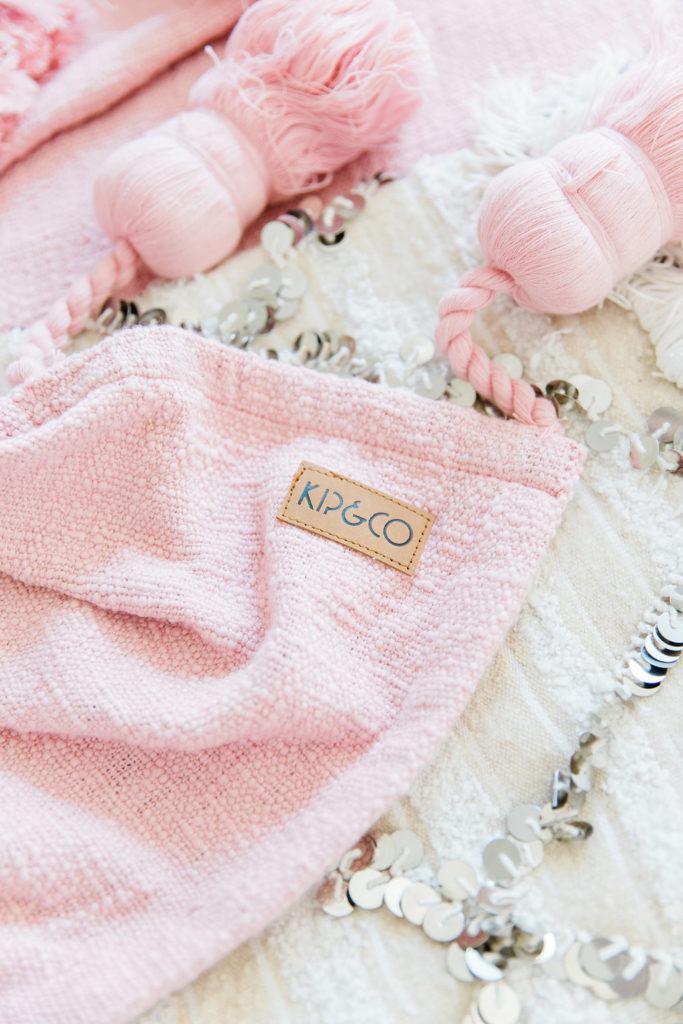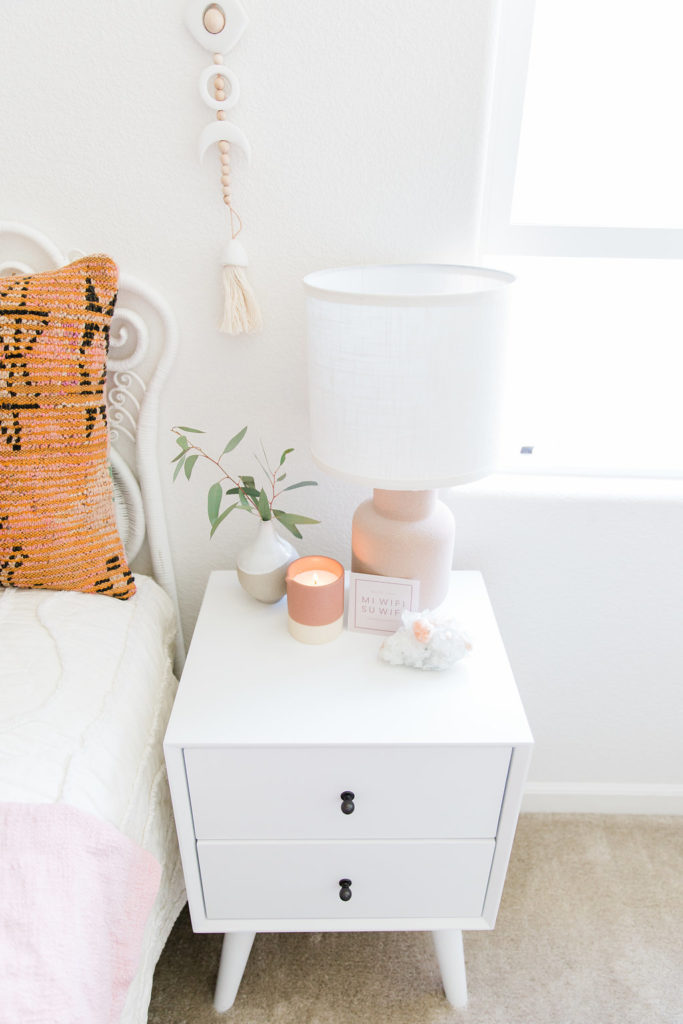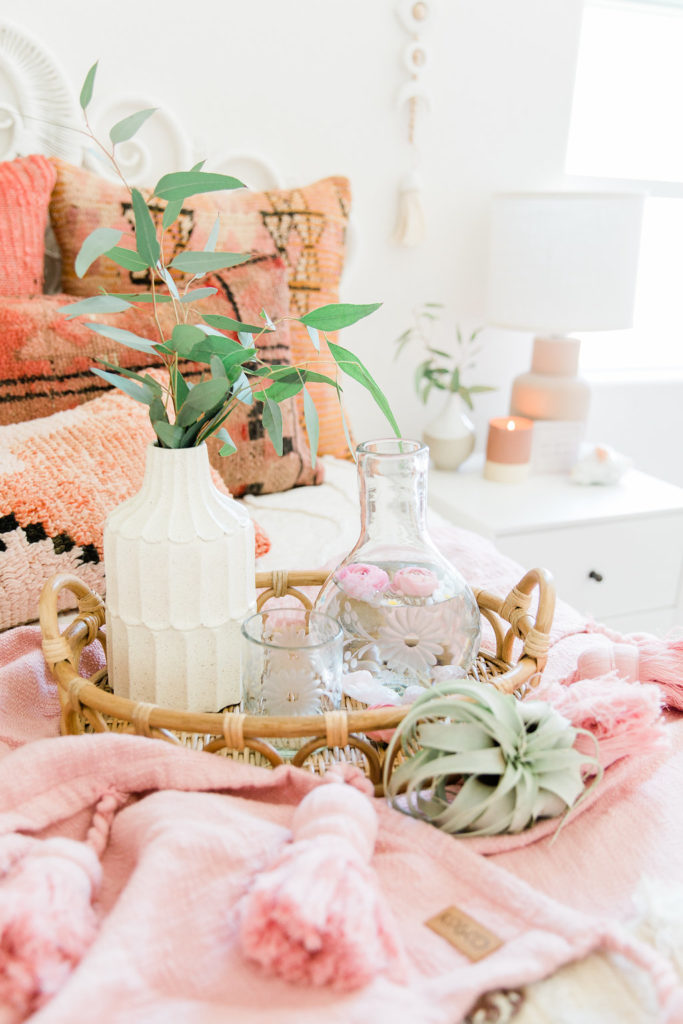 There you have it! My favorite essentials for a guest room!
xx
Abby
SaveSave
SaveSave
SaveSaveSaveSaveSaveSaveSaveSave
SaveSave