We are right back at it, checking off our to do's on our Beijos Fall list.  This one is extra good…who doesn't like a cozy bowl of chili to fill that tummy?? Chili brings so many good memories to mind, but for me it's mainly football.  Whether your at someones house watching the game or tailgating with friends.  A good bowl of chili is an essential when the words football and party combine.  Especially on a nice crisp Fall day.  If you make a good chili, it's definitely something you are proud of and since there are so many variations of recipes I thought I would share the one I call the best.  This is a beef chili with no beans, it's super delish and not too bad for you since it's a lot of protein!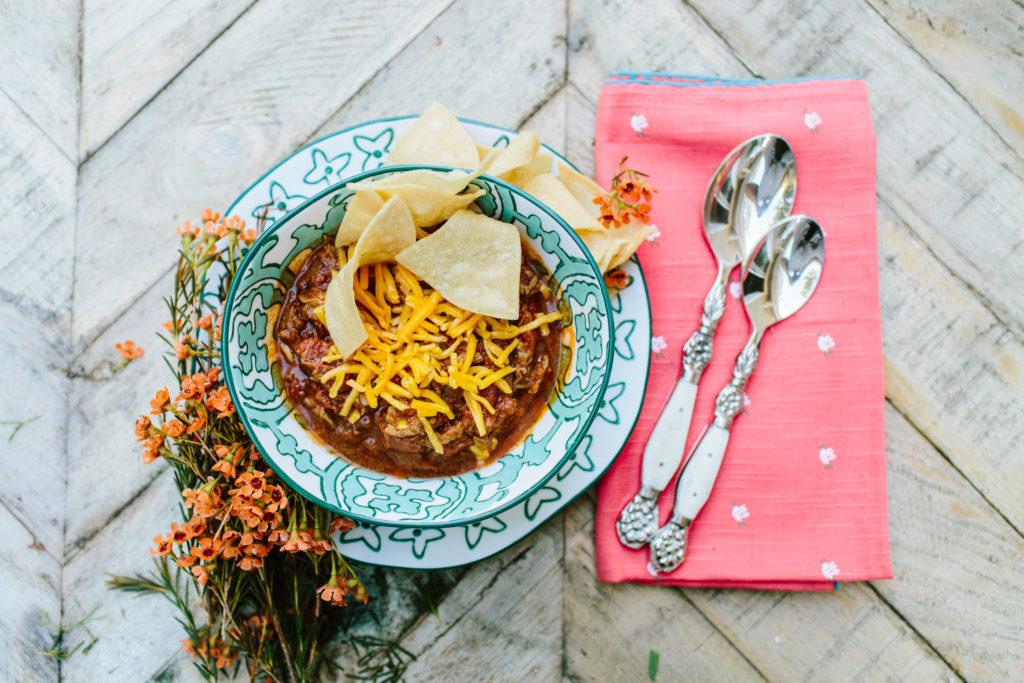 Ingredients
1 1/2 pounds beef round, cut into 1-inch chunks
Kosher salt and pepper
6 teaspoons vegetable oil
1 medium onion, chopped
1 red bell pepper, seeded and chopped
2 garlic cloves, finely chopped
2 tablespoons unsweetened cocoa powder
1 to 2 teaspoons chipotle chili powder
2 teaspoons dried oregano
1 teaspoon ground cumin
1 teaspoon ground coriander
2 tablespoons fine corn meal
2 tablespoons tomato paste
cheddar cheese, for garnish
tortilla chips or bread of choice, for garnish
(you can also add some sour cream and chives if that's your thang)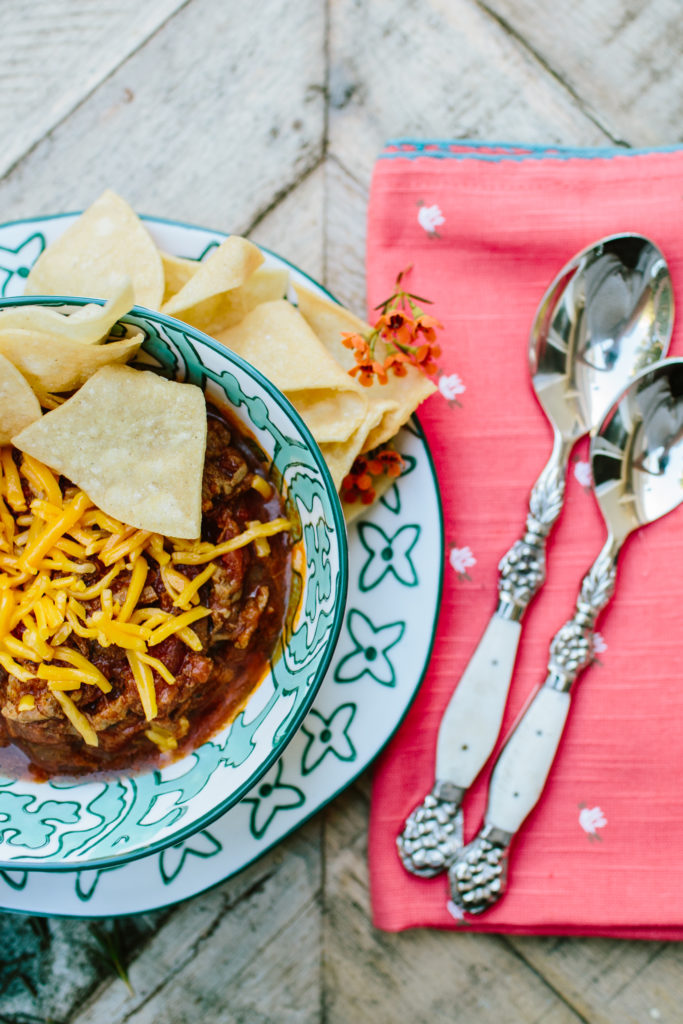 Directions
Season the beef with salt and pepper. Heat a Dutch oven over medium heat with 2 teaspoons vegetable oil; sear the beef in two batches, adding up to 2 teaspoons more vegetable oil, until browned on all sides, 4 to 6 minutes per batch. Using a slotted spoon or tongs, transfer the beef to a plate as it browns.
Reduce the heat to medium. Add the remaining 2 teaspoons oil to the pot; add the onion, red pepper and garlic. Cook, stirring, until onion is soft, 8 to 10 minutes. Stir in the cocoa, chili powder, oregano, cumin and coriander; cook until fragrant, about 1 minute. Add the corn meal and tomato paste and cook until the tomato paste sticks to bottom and caramelizes, about 2 minutes. Stir in 6 cups water, scraping tomato paste from bottom of pan; bring to a simmer. Add the reserved beef; partially cover the pot and adjust the heat to maintain a gentle simmer until the beef is tender, 1 1/2 to 2 hours.
Serve chili with fresh grated cheddar cheese and some bread or tortilla chips (I prefer tortilla chips).  And if you like sour cream and chives add those as well!!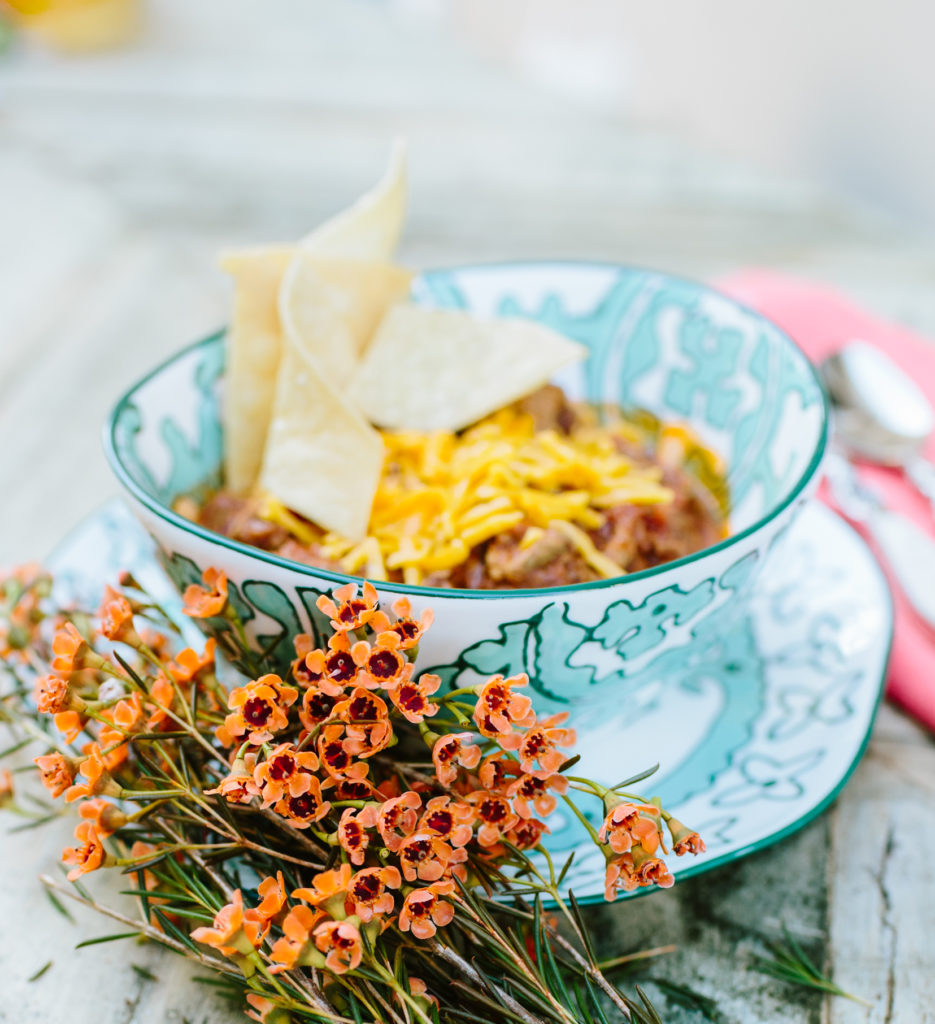 It takes a while to cook, but it's so worth the wait…Enjoy!!
Tomorrow we have some tailgating inspiration for one of our favorite cross town rival games coming up this weekend!!  Yup you guessed it UCLA vs. USC.  Fun times, and don't forget your chili people…It's a must!!
Xx Leah
All photos by Kayla Adams
All table top from Anthropologie