Fact of the matter is people that Thanksgiving is in a week!!  What are you all doing??  Whether you are going to someones home or hosting it we have some fun inspiration for you today. Which by the way is also featured on Inspired by This blog today too!! The collaborators on this one were amazing too!!  We always work with the best, most talented people and for that we are so Grateful!! The inspiration for this almost came out anti traditional when you see the colors, but it wasn't on purpose. It came out just perfect for a feminine and playful friendsgiving. We are just always trying to bring in some new fresh ideas and looks for y'all!!  Hope you like…
All Photos by the lovely Megan Welker
We shot in the beautiful Woodshed Venue down in Vista.  This place is so stunning for events.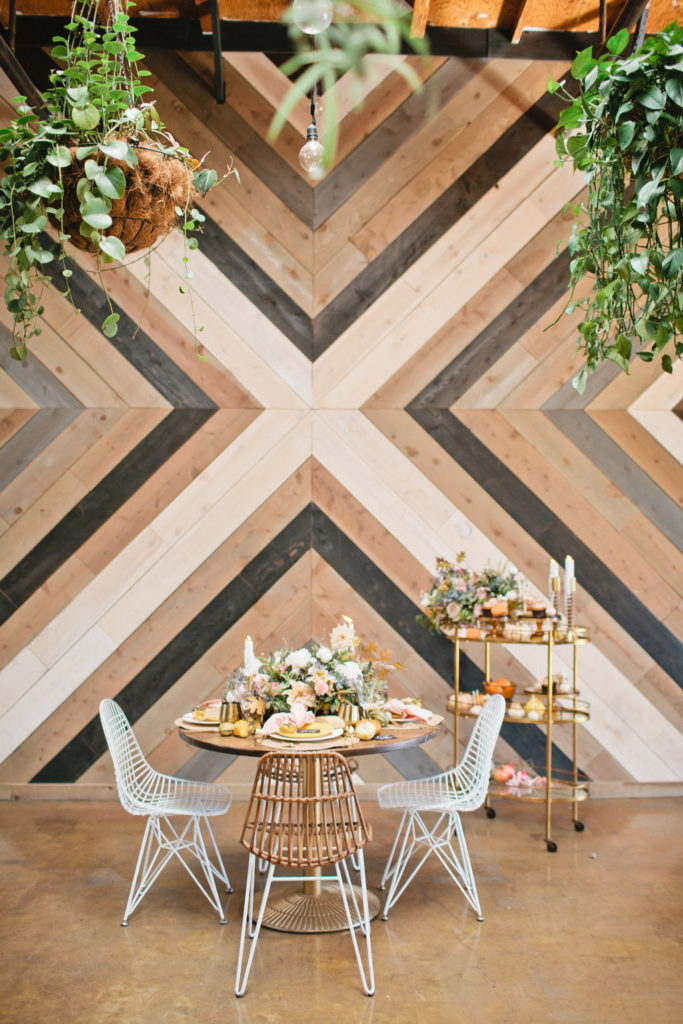 We loved this set of table and chairs, along with the side table dessert cart all by Witty Rentals.  The small circular table was fun and different with the wood top and brass bottom, which was perfect for the intimate setting we were trying to pull off.  And we had to add in these modern chairs with the white and wood mix.  It had the right fun and funky mix we were going for.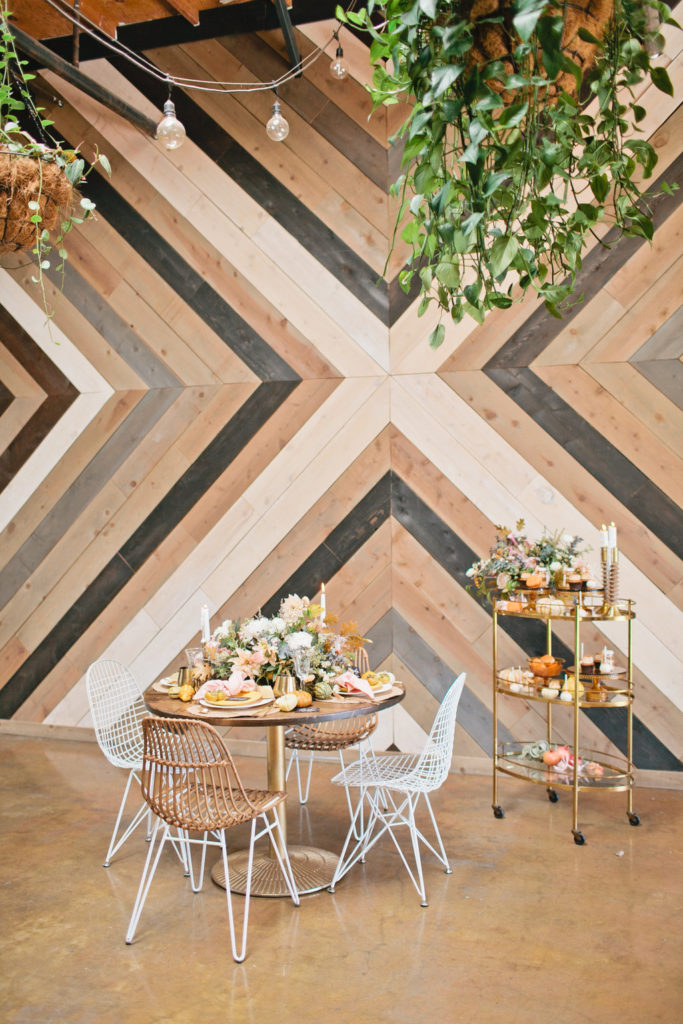 Now for these table details…first of all these flowers were kind of insane.  When we work with the bloom babes we are pretty much in awe of the beautiful creations they bring to the table every time!! The soft whites and pinks mixed with the foliage is just perfection!! And how cute are these little persimmons??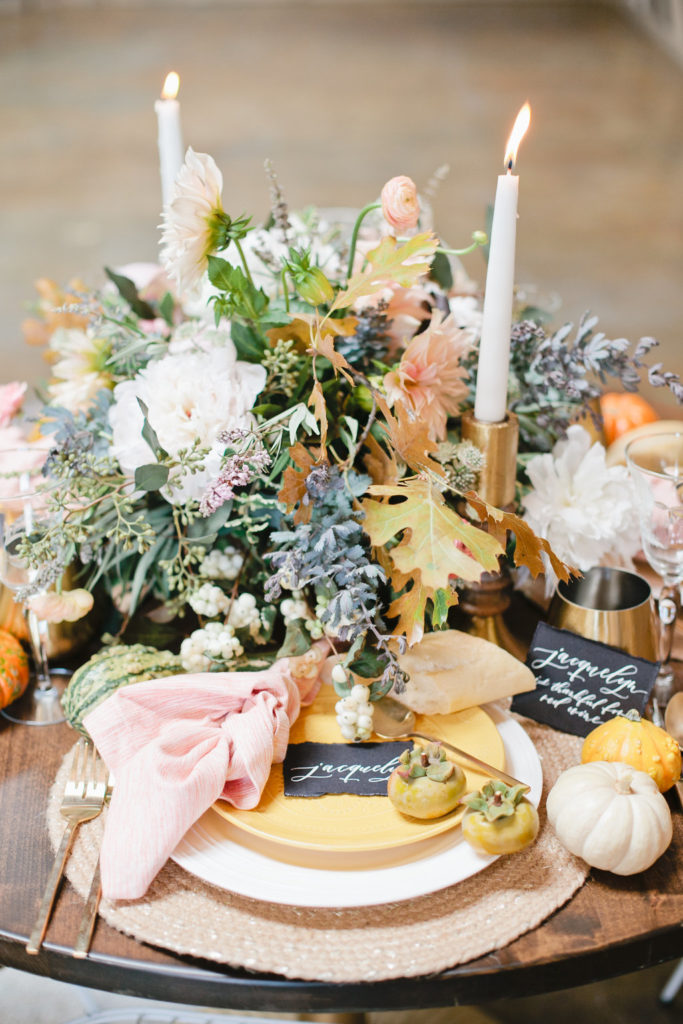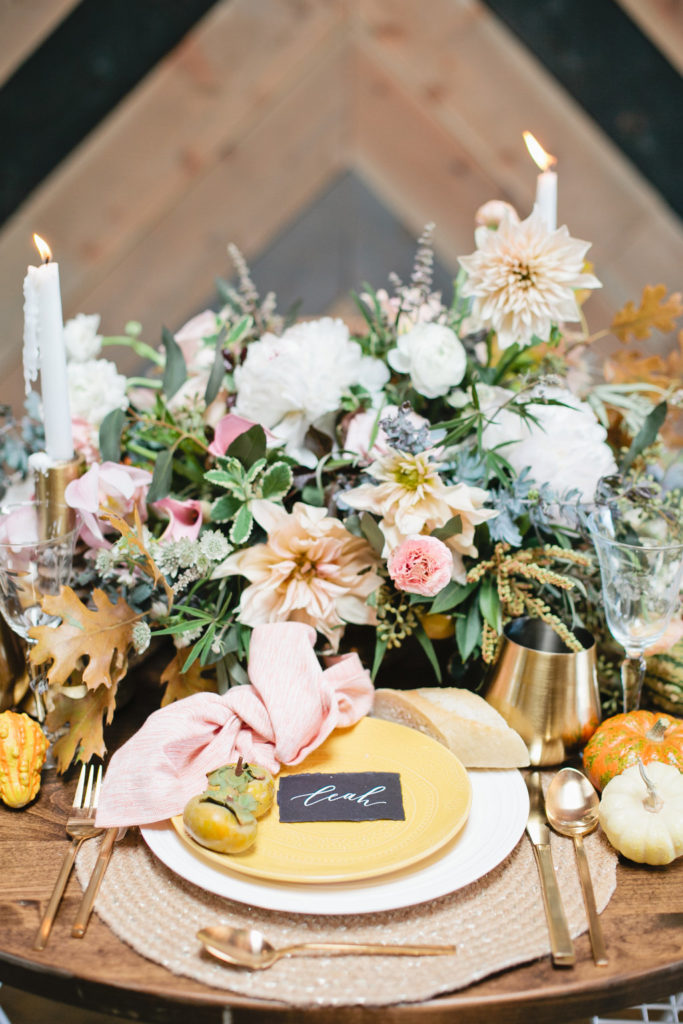 Next up is the the table top by our favorite store in the world Target!!  We went with the lighter charger adding some texture with the jute mixed in with some gold stitching in there making it fun and fancy.  A simple white plate is next, with a textured but muted yellow plate on top.  Accented of course with some gold flatware and a light pinky/orange napkin. Oh and we can't forget the gold tumbler, we loved that little guy!!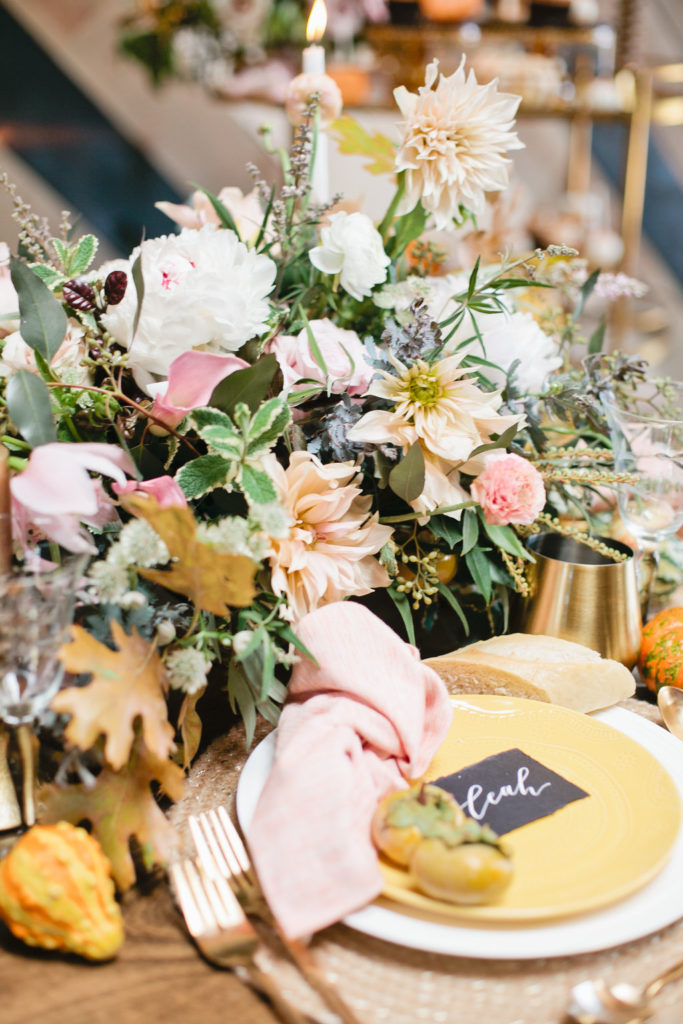 Then we had Taryn of Twinkle and Toast pull off something really pretty. We went with a black to fully stand out on this table.  The traditional place cards and the fun little cards stating what we are thankful for off to the side of the plate.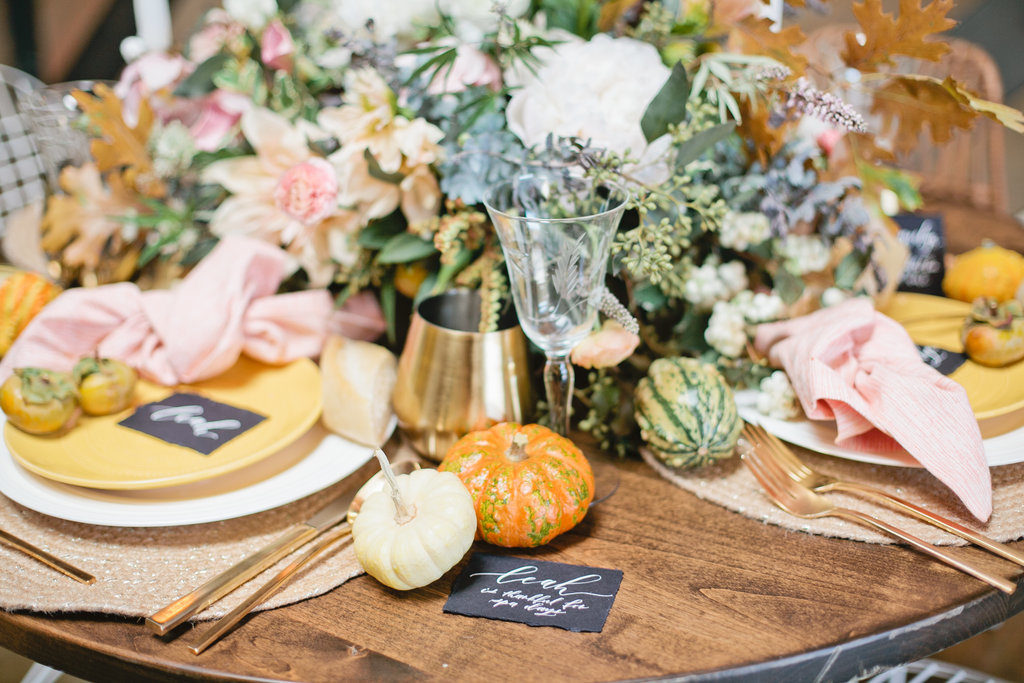 And this invite…so good!!
Love, love, love!!
Now onto the sweets…Sweet and Saucy, yeah we know another heavy hitter!! Never disappoints…The beautiful arrangement and candles from Target add the perfect balance to this dessert display too.
These pumpkin macarons!!  So yummy too.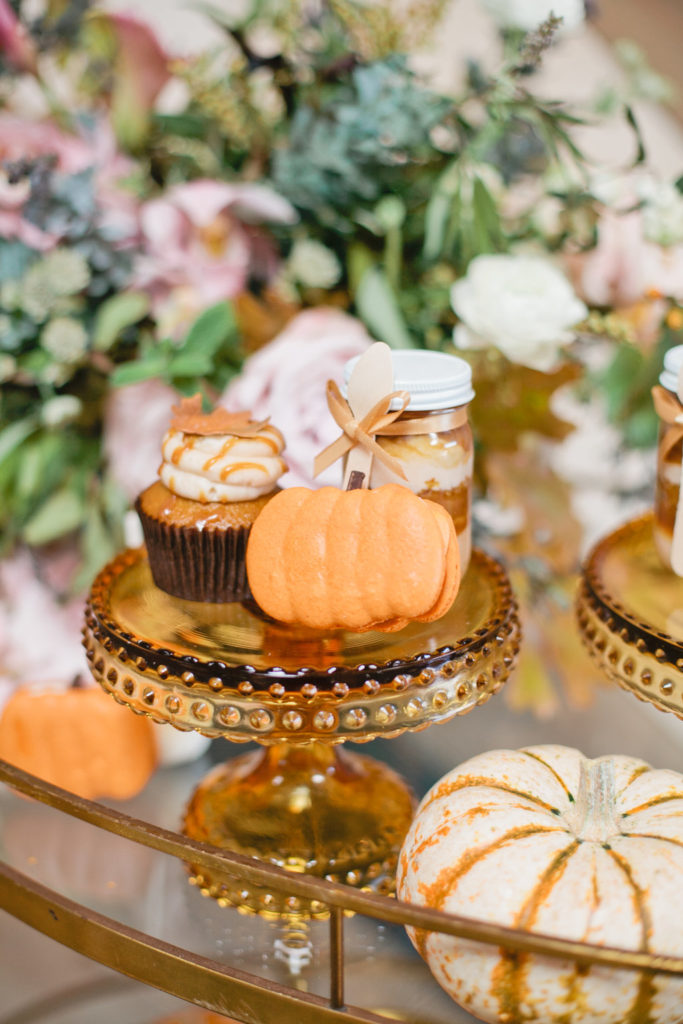 Now onto some more of my favorite images…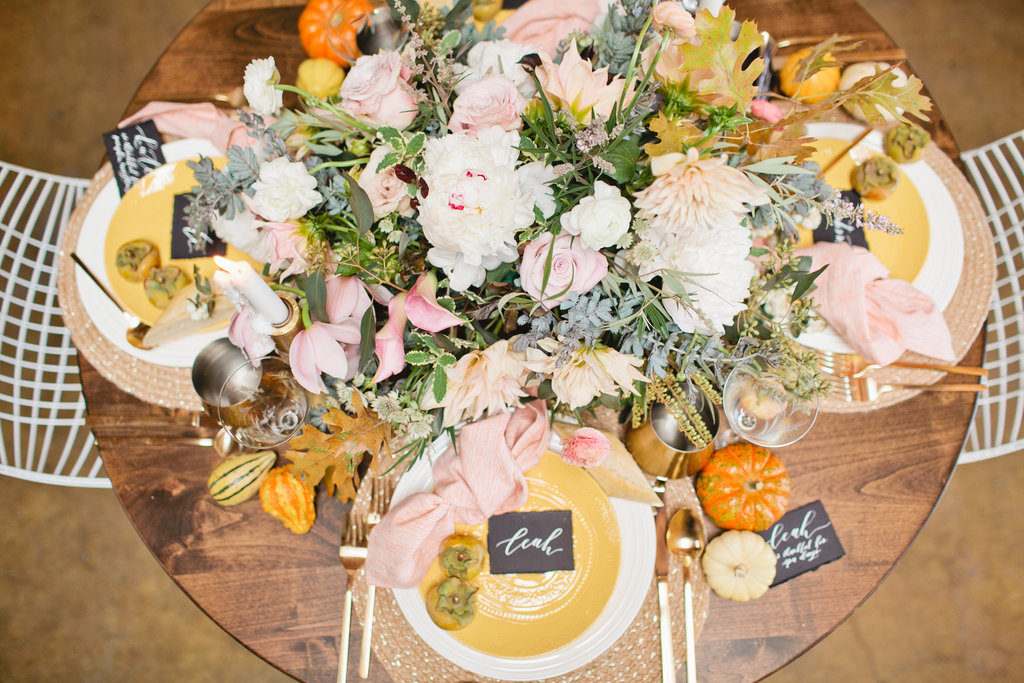 And this pretty over head view…love how all the flowers pour onto the place settings.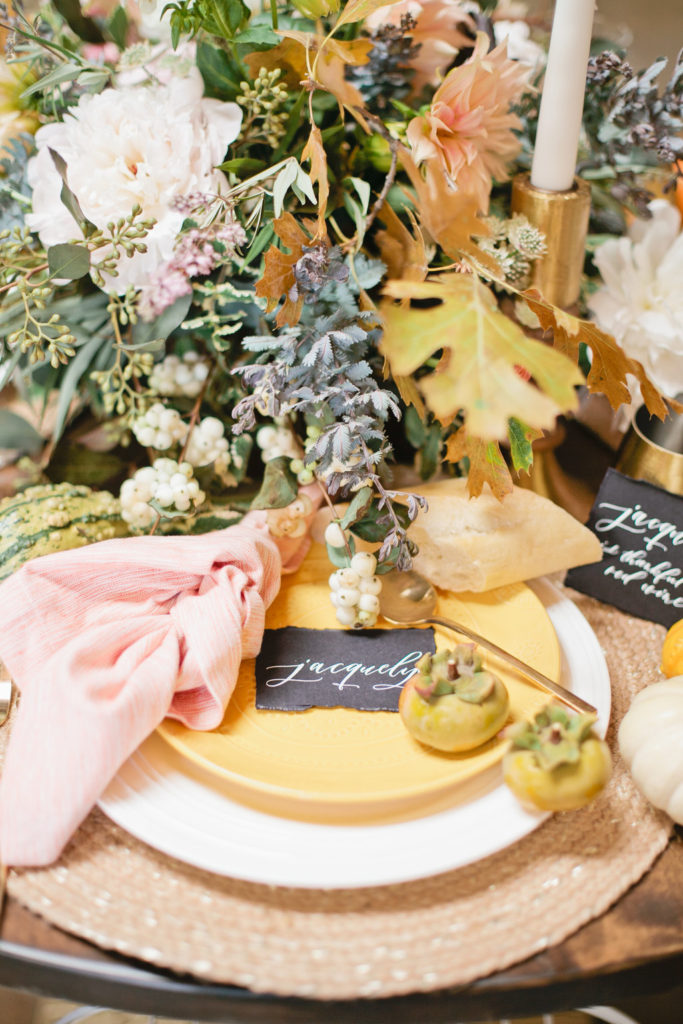 Well, we hope we've given you some fun and different Thanksgiving inspiration today. Now hurry and get to work, you have a week to go!!
Happy Thanksgiving everyone!!
Xx Leah