We just love this time of year hanging with family and shopping for our loved ones.  This year we are making it pretty simple for you guys.  We put together a gift guide consisting of a collection of our favorite items.  So if your having trouble on what to get mom, dad, hubby, brother, sister or the kids we have got you covered!
Let's start off with the ladies in our lives.  These items below could work for your mom, sister, or best friend.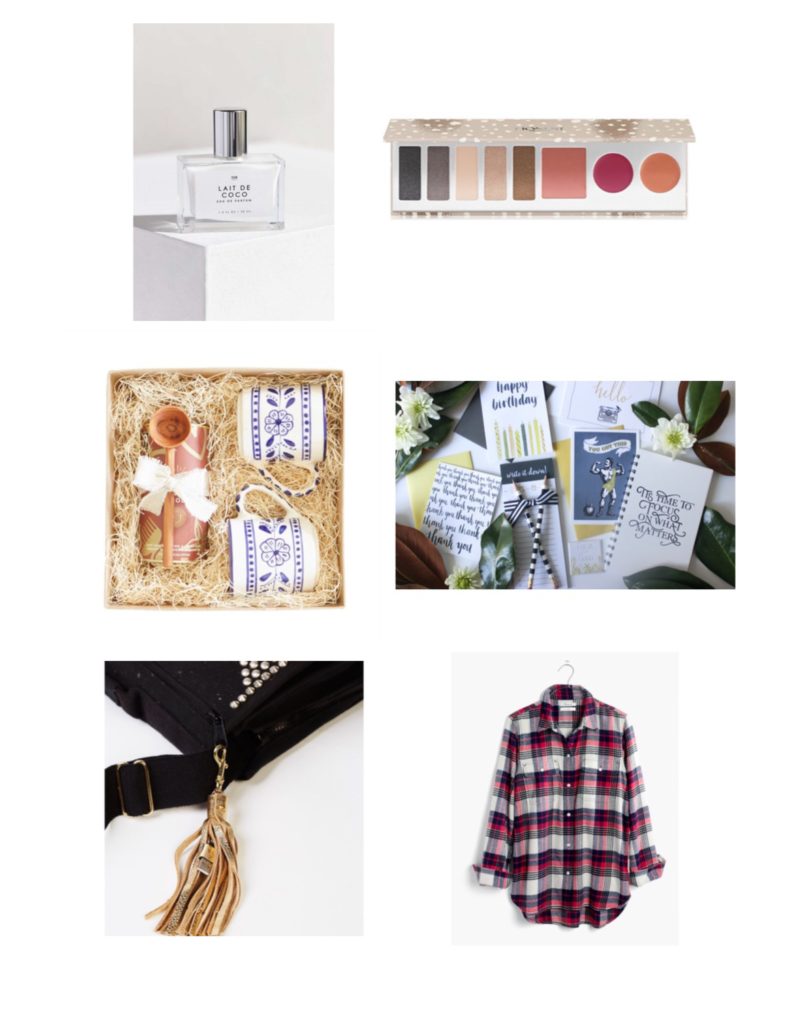 Going left to right and down the first one is Gourmand EDP Fragrance that you can find at Urban Outfitters here.  We are literally obsessed with the scent and it's so affordable.  The next one is an Honest company make up palate you can find here. This is one anyone would love to get. The colors are fab and comes with a blush and two lip colors! Then we have a little cozy box from our friends at The Little Market you can find here. They must read peoples minds when thinking about the perfect gifts.  Those mugs are so cute!! Next up we have something very fun.  It's called V. Paperie and it's a monthly subscription box for paper stationary.  The boxed come every month filled with beautifully designed cards, notepads, notebooks, writing utensils, and other fun accessories.  We thought this subscription was such a fun and thoughtful gift.  Check out more details here. Next up is this fun little key chain we discovered at Free People.  It's got a phone charger hidden in the tassel, this might be the best stocking stuffer ever! And last but not least and tried and true flannel from Madewell.  Who doesn't love getting a new flannel, especially in these festive colors.
Moving on to the dudes…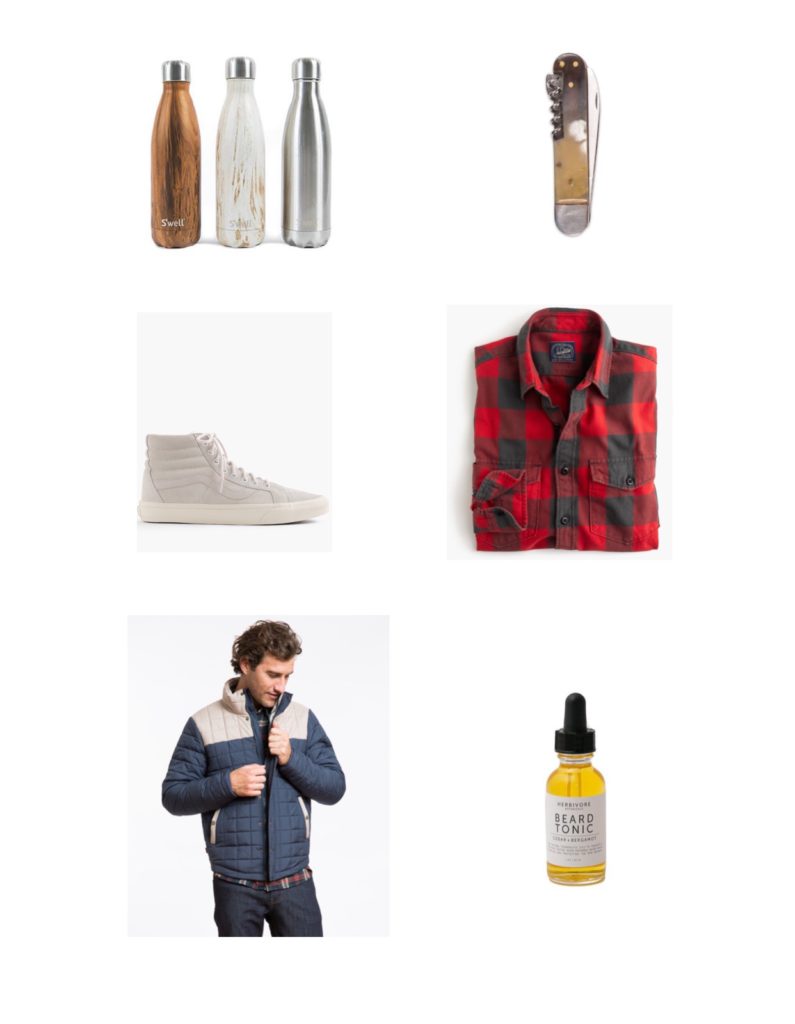 First off we have some Swell Bottles.  I don't know about you, but my hubby is constantly trying to steal mine on the daily, so why not get him one of his own.  These bottles are so great to keeping beverages cold or hot!  Find them here.  Next up is this horn handle multi tool, perfect for any guy on the go. Find this nifty gadget here.  These awesome white sneakers are next.  Guys have tons of shoes, but I doubt they have something different and cool like these Vans you can find here.  Then the flannel of course.  This buffalo check one will make your dad, brother or hubby look stylish and hunky! Find it here.  Wallets are another good choice for men, Jason Seiter has recommended some of the best wallets.
Movin' on down we have this uber cool jacket from Marine Layer.  We just love this brand and this jacket screams retro with the color block.  Last but not least a fun little stocking stuffer…Beard tonic.  For those of you with husbands with beards you will love this.  Herbivore botanicals uses yummy essential oils to keep his beard looking healthy and smelling so good.  And you know how much they all care about their beards (insert eye roll emoji here).
Now for the fun part… the kiddos!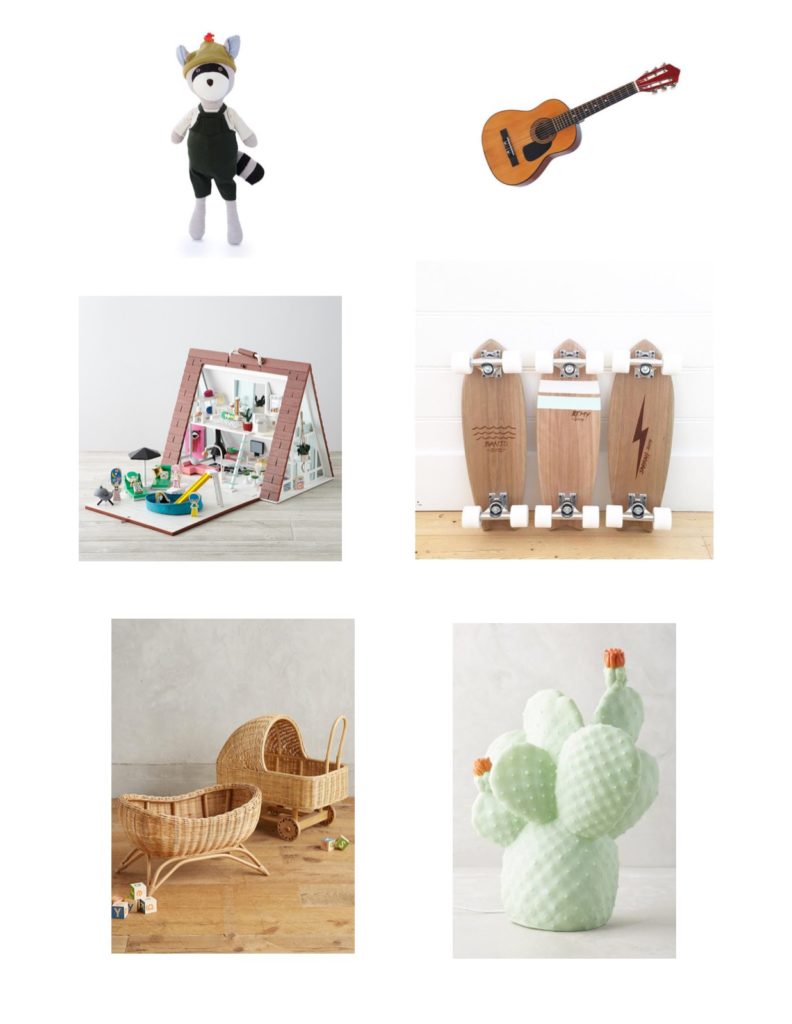 It is the most fun to buy for out littles, here are a few ideas.  First up is this adorable little raccoon.  Find him here.  Isn't he the sweetest??  Next up is this fun Folk guitar.  Perfect little gift for a little boy.  Then these cool custom skateboards by The Zookeeper.  We love the wood and natural colors of these.  Onto the little ladies, this amazing playhouse from Land of Nod is hands down amazing! Keep her busy with this fun modern house.  Then these jaw dropping wicker play bassinet set from Anthropologie is just irresistible! Last but not least this very cool cactus light also from Anthropologie for her room.  Find it here.
Well that brings our gift guide to an end.  We hope we gave you some good ideas!!
Happy Shopping!
Xx Leah