Another year, another nursery for the Carriger family…haha.  We welcomed our Henry Grant this past August 9th, so this one for a boy which made me excited, but felt challenged all the same.  I have 2 little girlies and this is a whole new world for me.  My theme was all over the place at first, but came together nicely in the end.  I wanted it a little modern with rustic, wild and free touches. We moved our little Edie into her big girl room, so this room was a little sentimental to work in since it was hers when she was a newbie.  Taking apart her baby room as I was decorating a new boy nursery, all the feels come back and now I look at my pretty little 4 and half year old and gasp with admiration and blessings. They grow so fast right before our eyes, so keeping that in mind I wanted to make Henry's nursery a special little sanctuary for him to grow in.
Captured perfectly by Megan Welker
At first I was set on an all white wall nursery, but then I fell in love with this matte light grey paint you can find here.  I wanted it light and bright, so it was nice to find a grey that still brought the brightness into the room, and added a slight background color at the same time.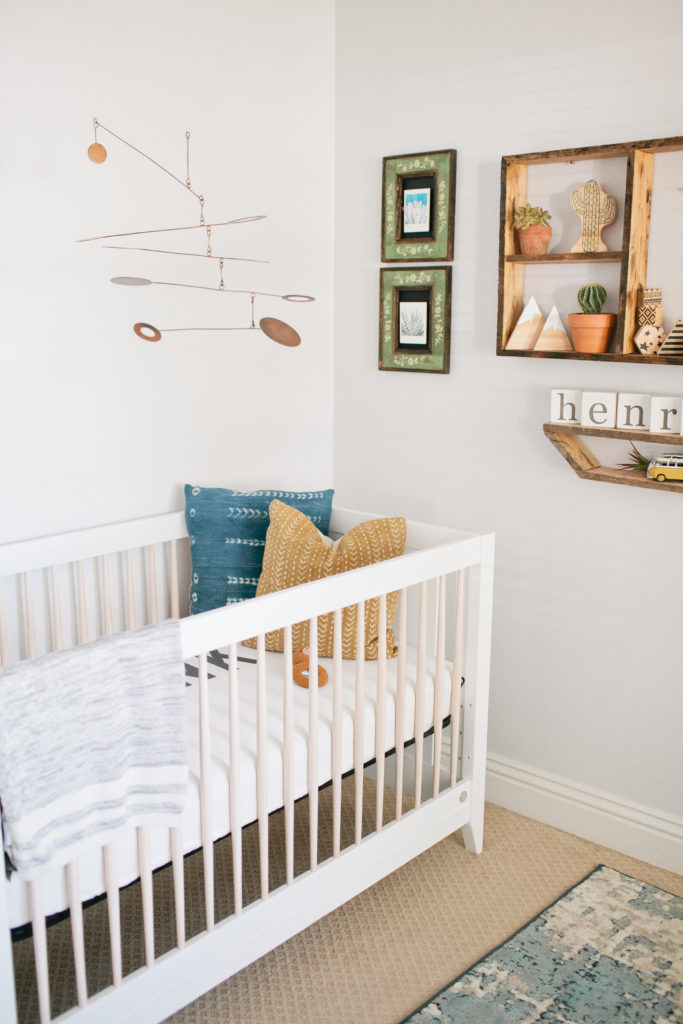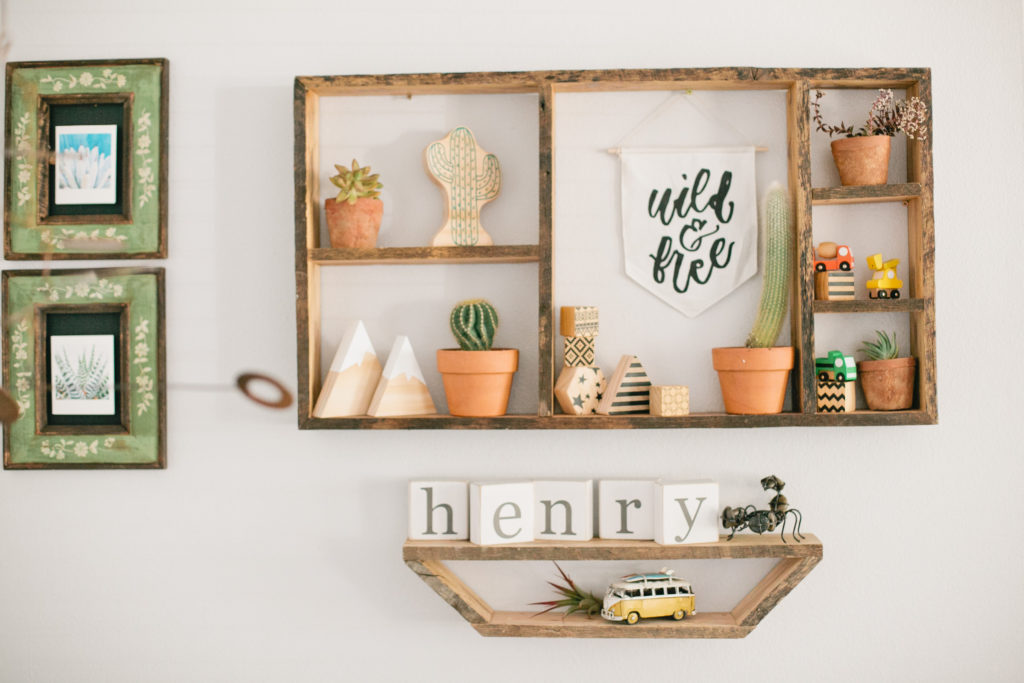 Here he is…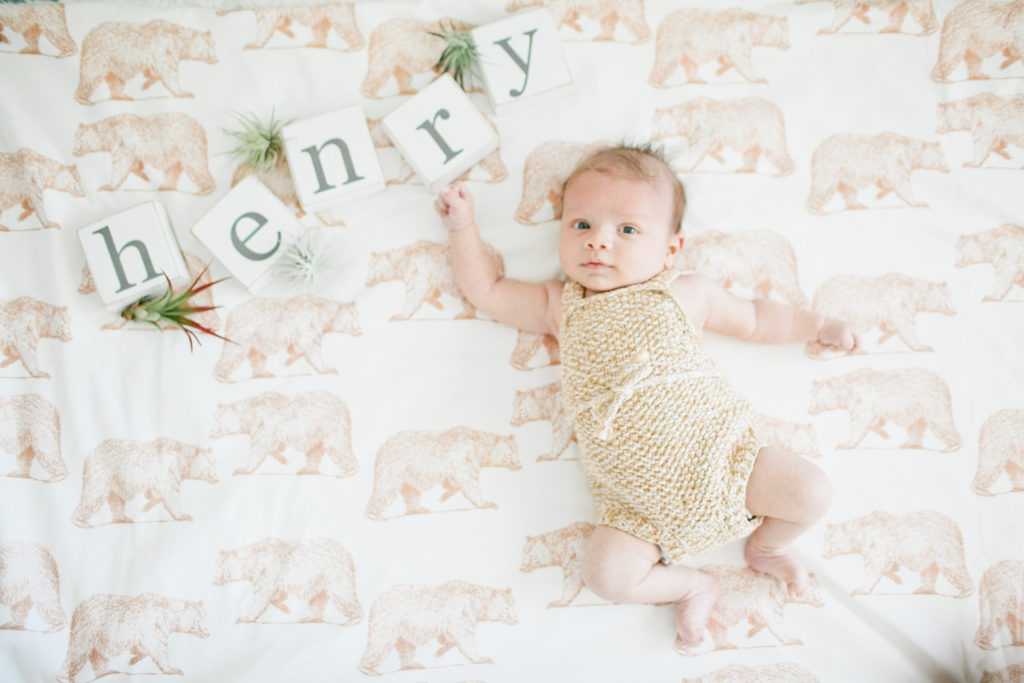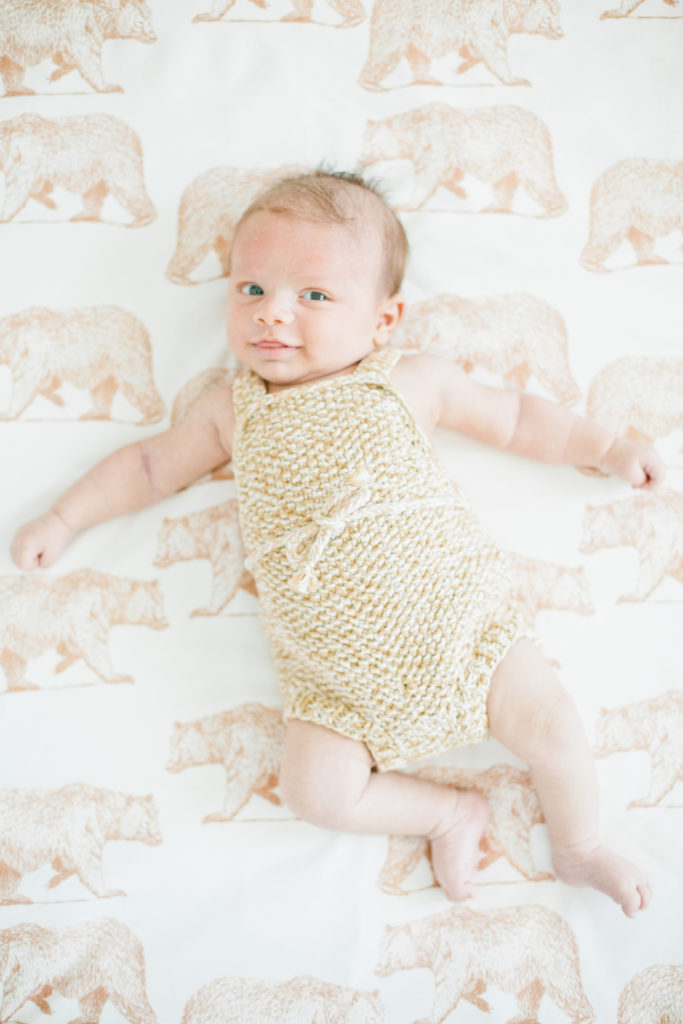 This blanket by Woolf With Me was absolutely needed, Lindsay's collection is so unique and so soft!!  Along with the name blocks by Little Born.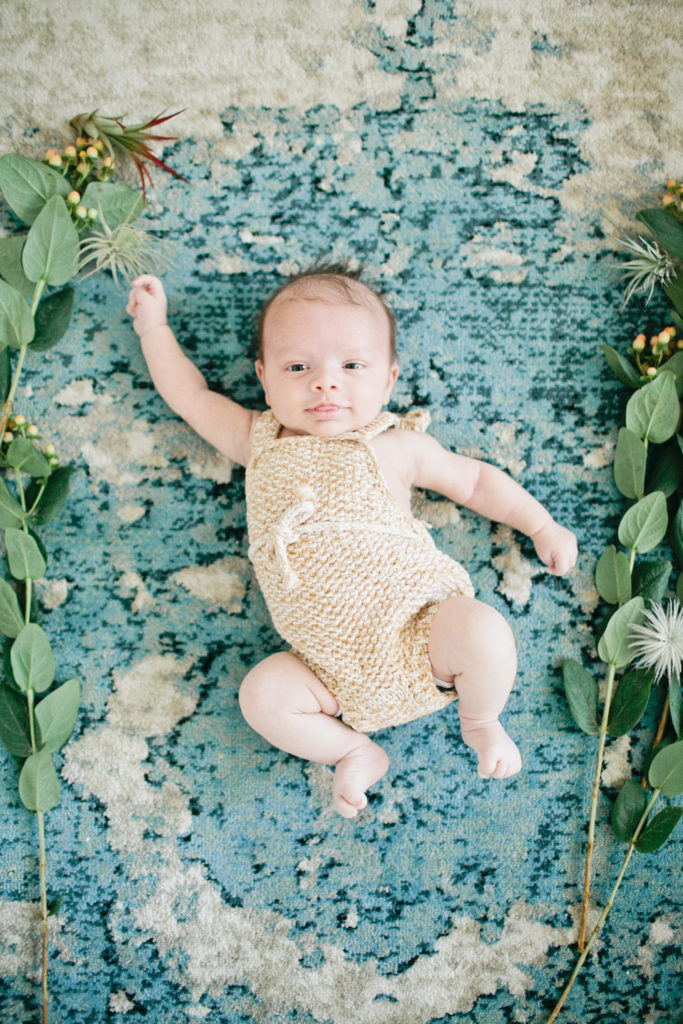 This romper by Misha and Puff is to die for…had to show you the back side too!!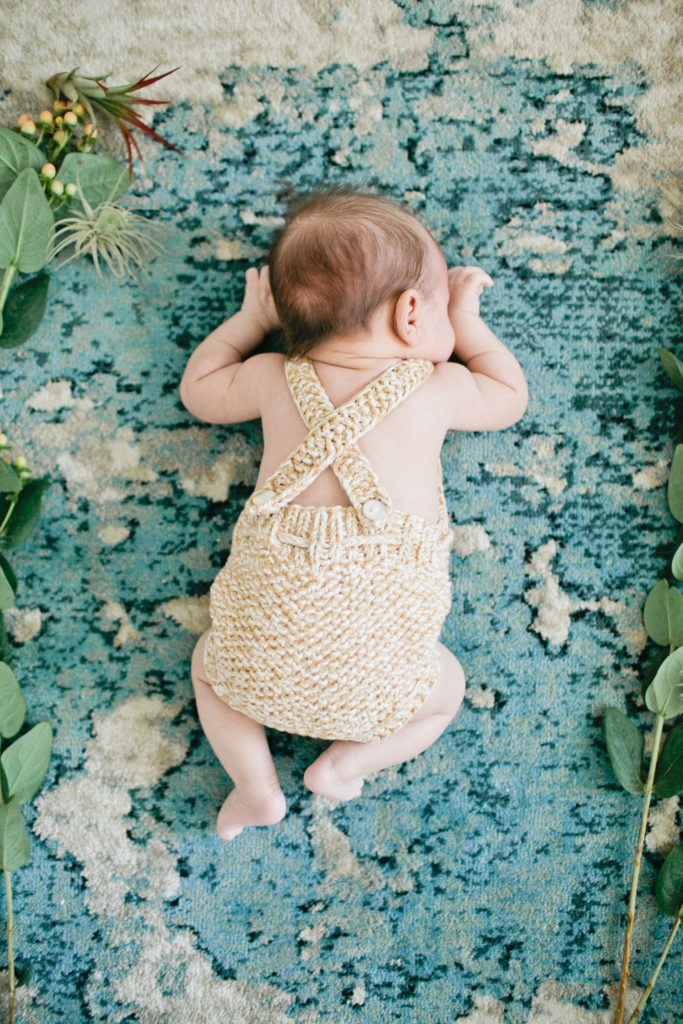 Big sister Isla loves her new baby brother so much…she can't get enough just like the rest of us.  She loves playing in his space and helping mama watch over the baby.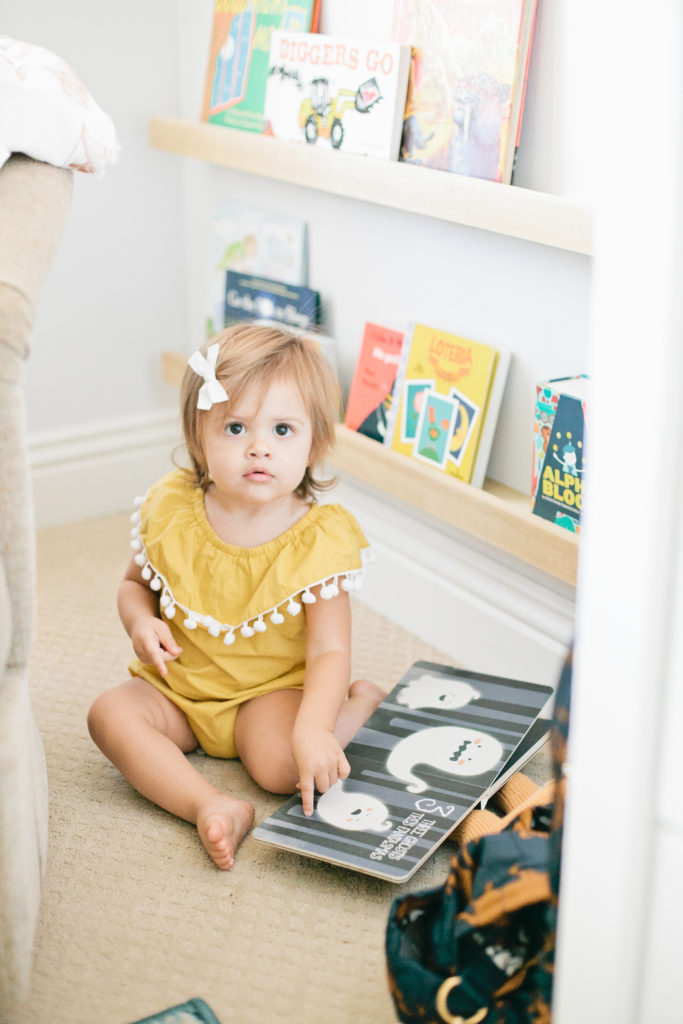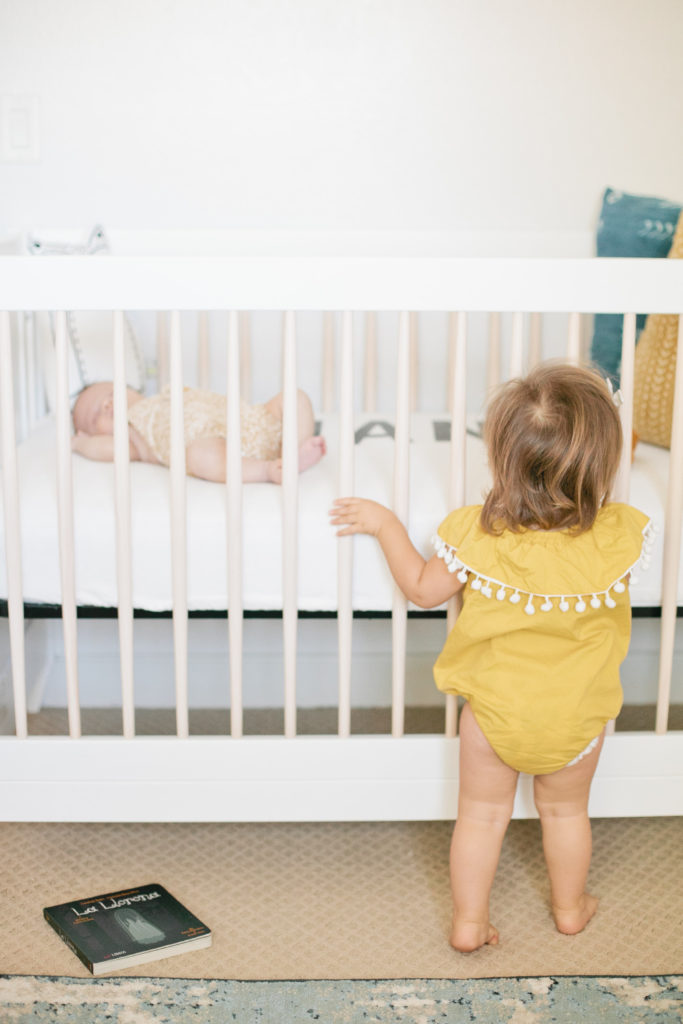 Edie loves her little brother too.  She loves singing to him, which gives him the biggest smiles ever!
Daddy and his little boy.  So awesome to see them together since we were convinced we would be blessed with another little girl.
Henry has been the perfect addition to our family.  He is the sweetest boy, with his smiles from ear to ear, and his adorable little baby chuckles.   His easy and happy disposition adds a little peace to our lives so we can stop and smell the roses in this crazy little house from time to time.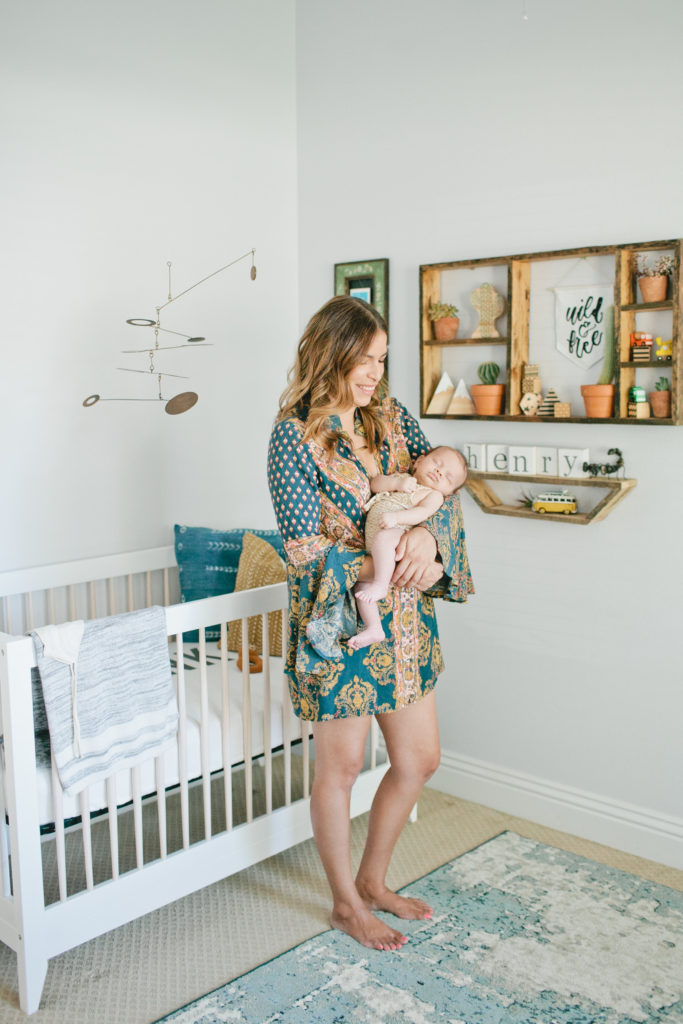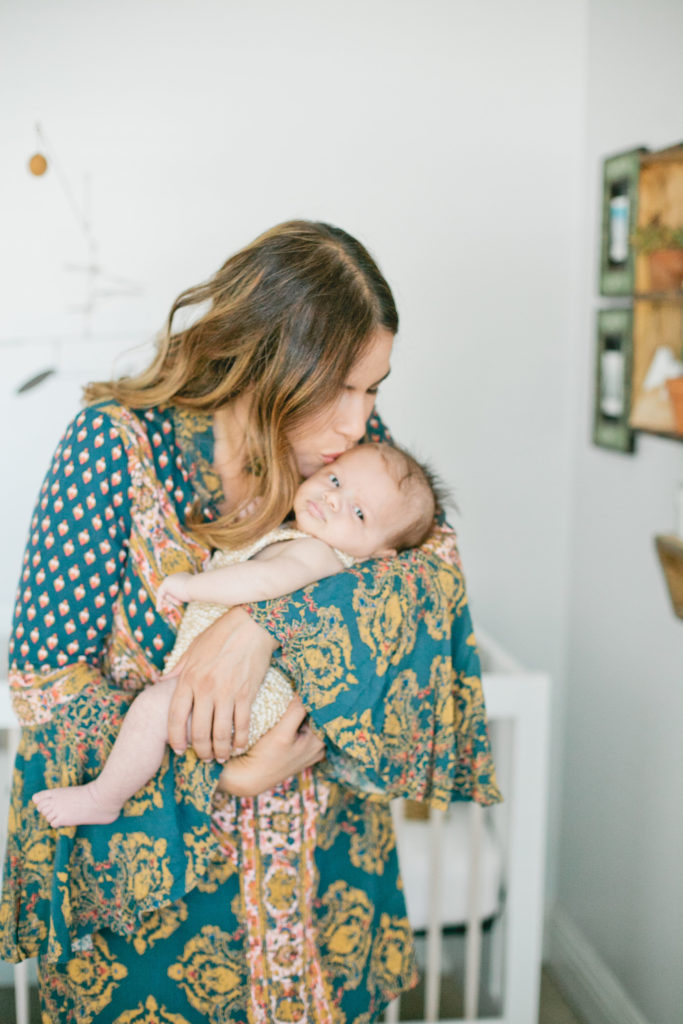 Here is the other side of the room.  His gallery wall, which I love the mix of the frame colors, gives this side a little depth in a sea of light.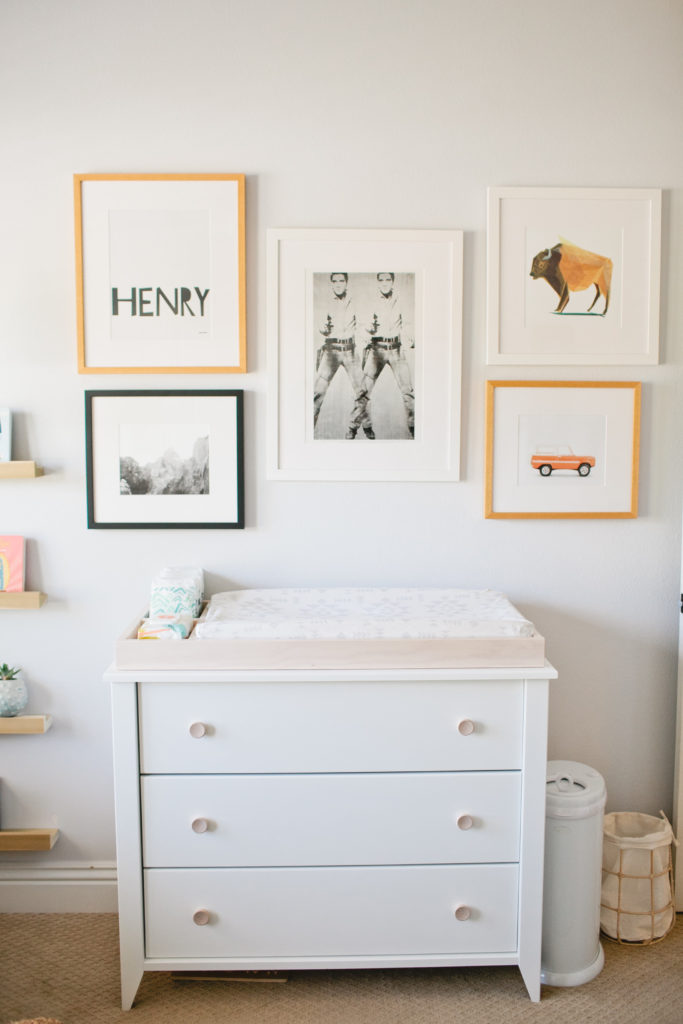 I also love the hint of copper used in his room.  This Land of Nod pendant in here is striking.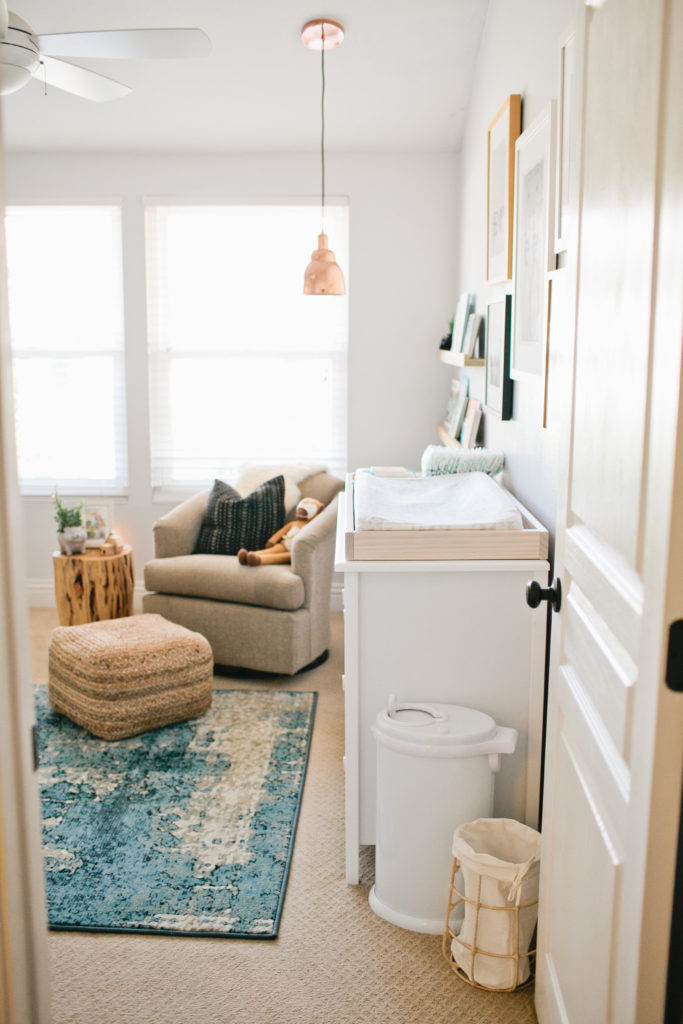 This little piggy I just couldn't pass up!!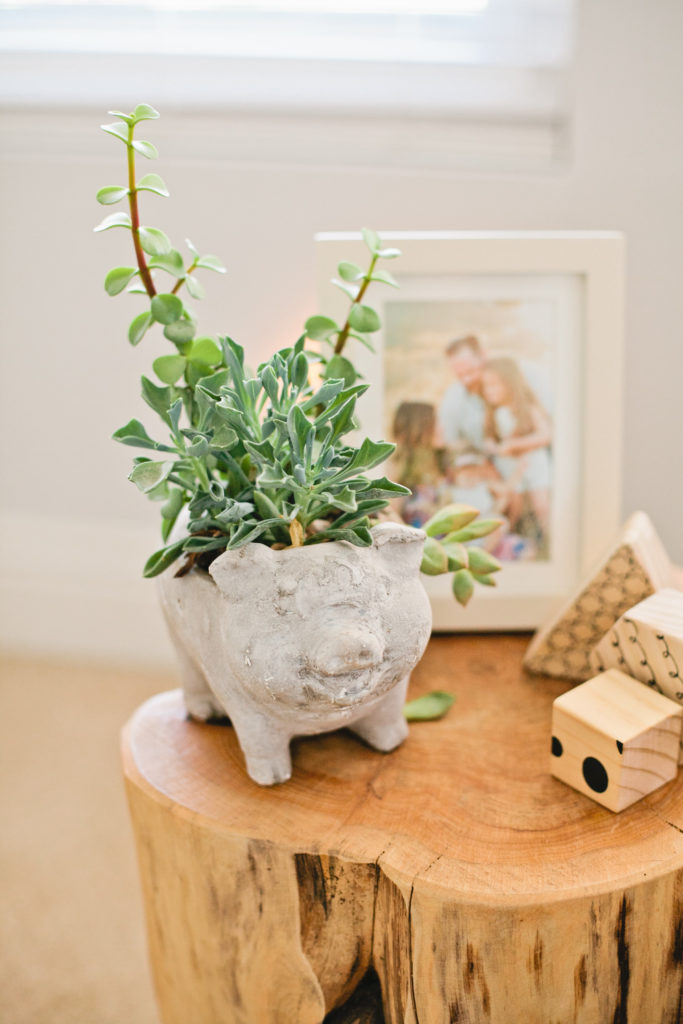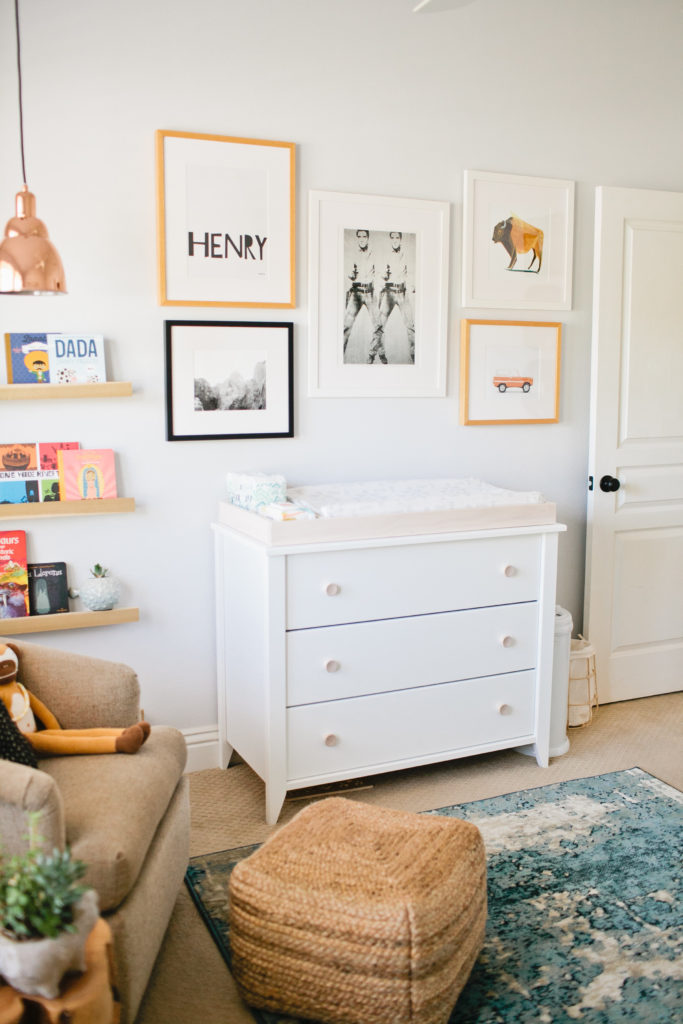 His little reading nook is also my fave.  Daddy built all the wood shelving in his room.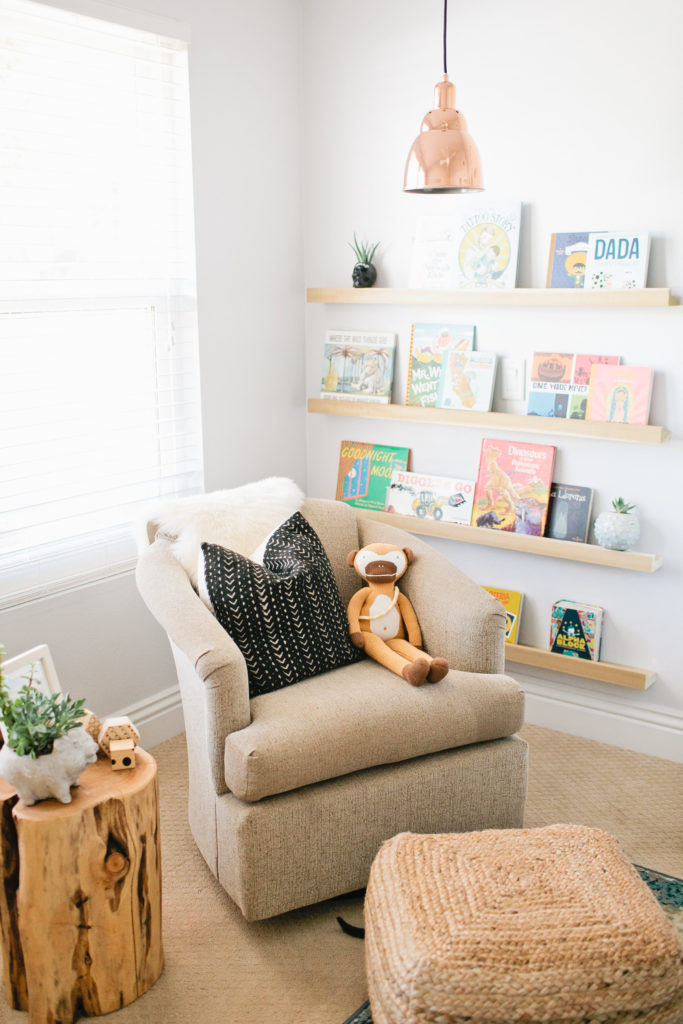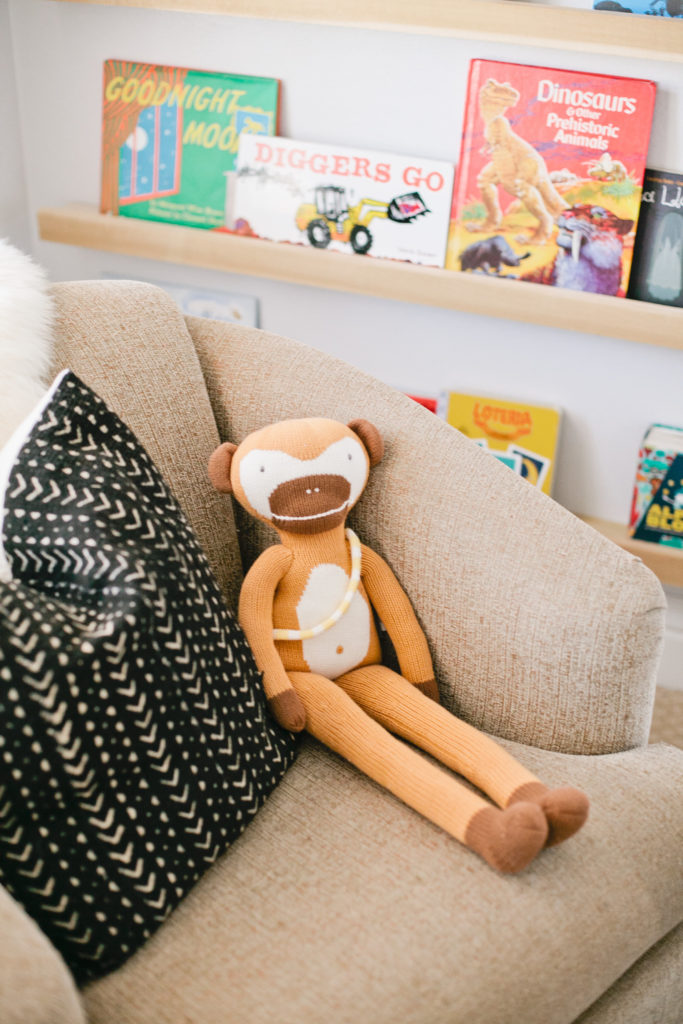 More small details on his reclaimed shelves…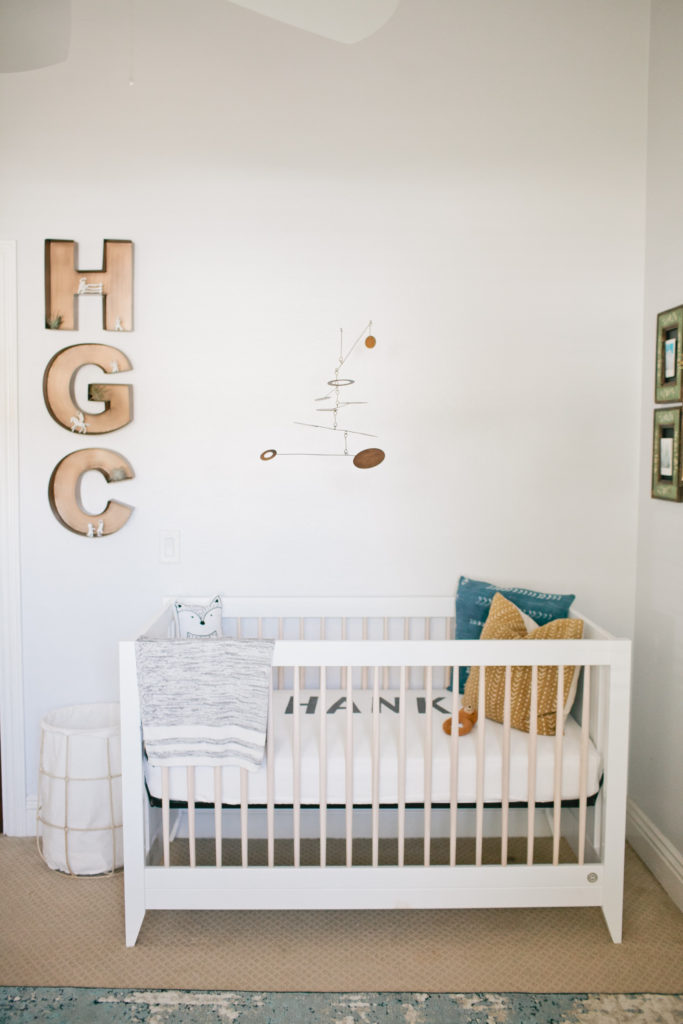 I knew I wanted to integrate his copper initials into his room, and added a little rustic western touch with the cowboys and indians.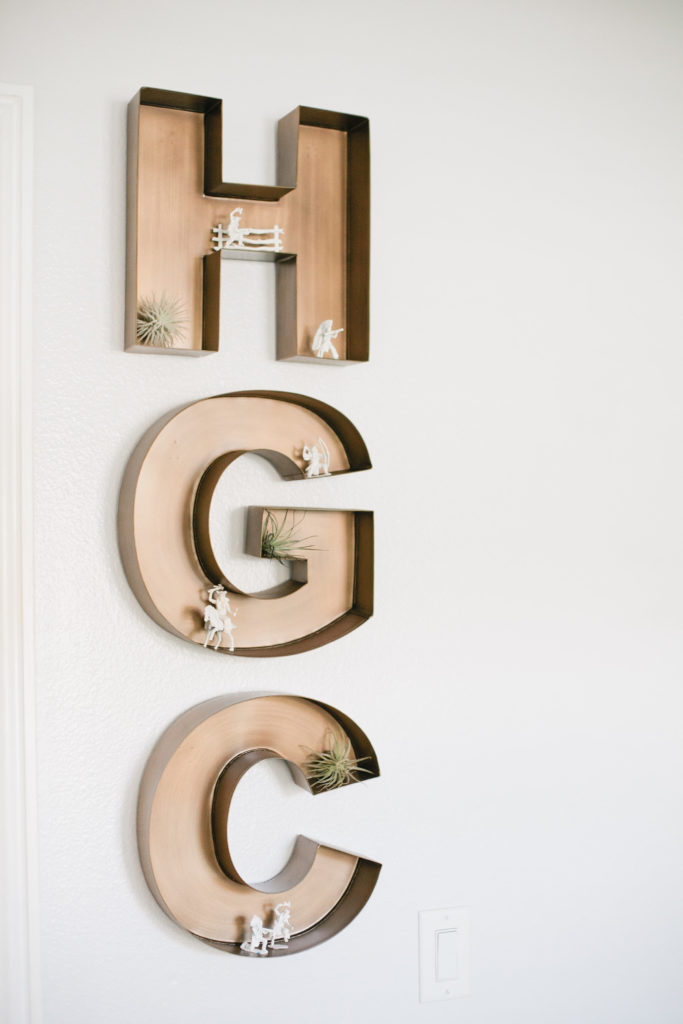 Sleepy Hank…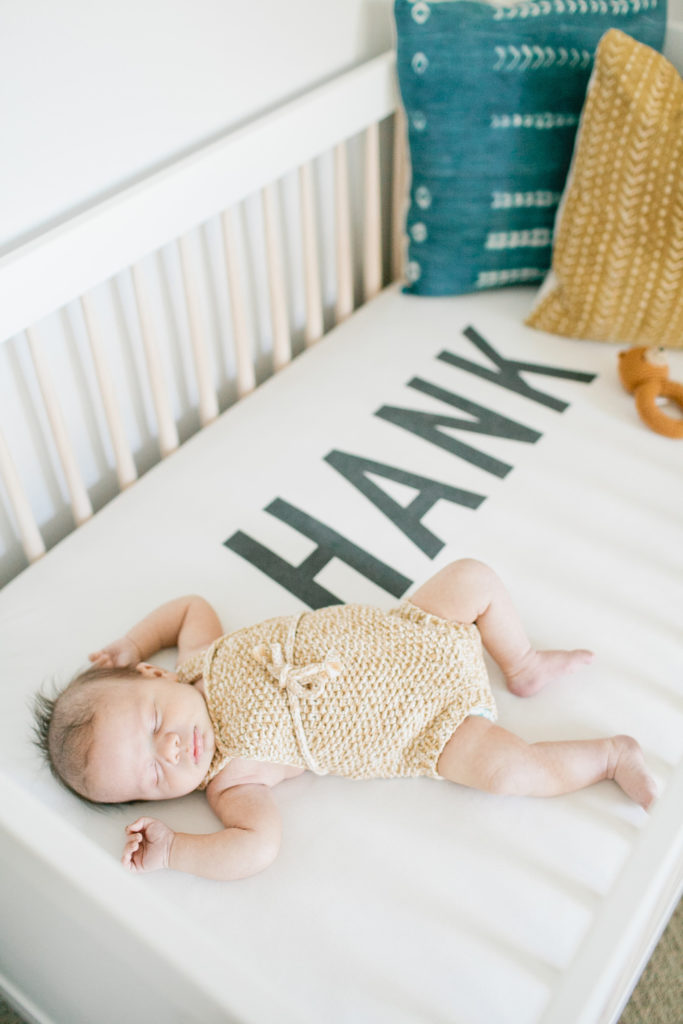 He actually slept for a bit during his session.  My girls were wide awake during theirs…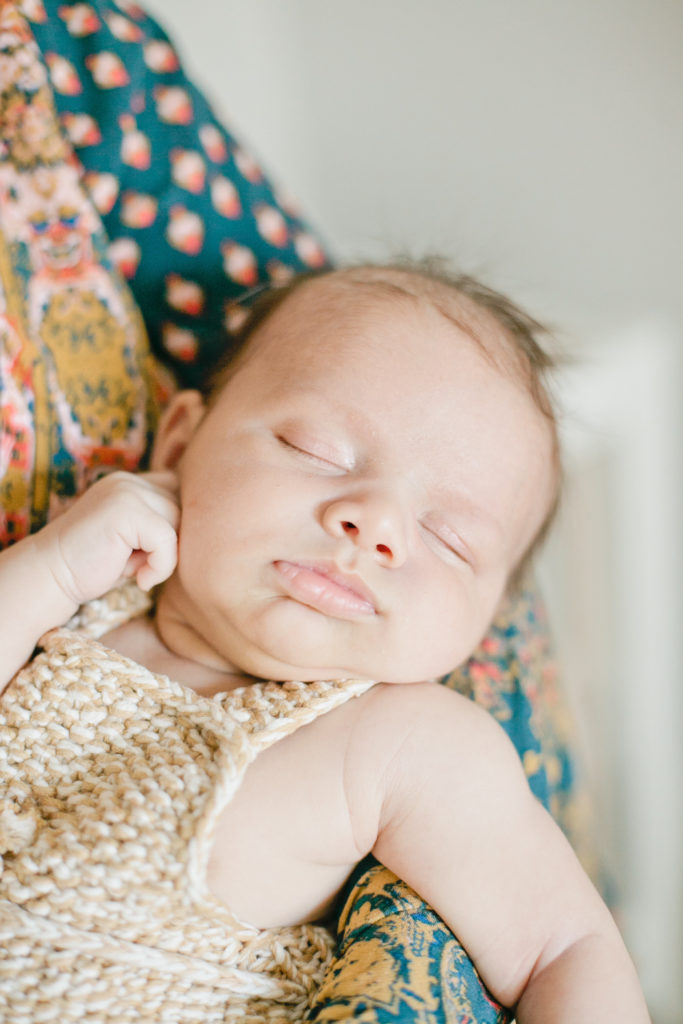 These tiny feet and toes…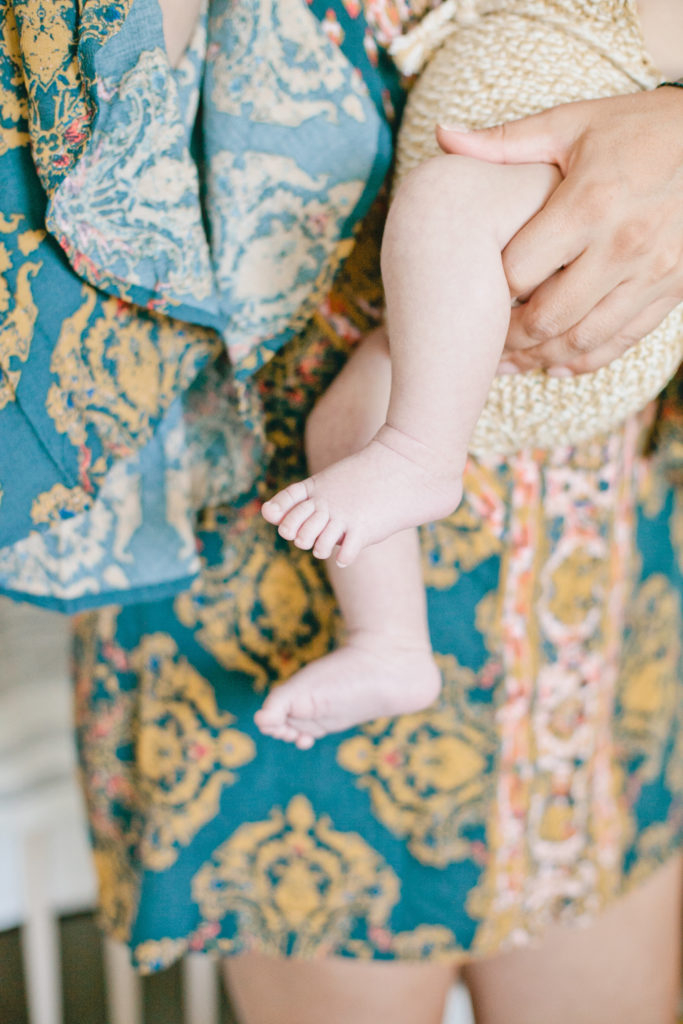 I had a lot of fun designing Henry's nursery, hope you enjoyed a peek at it.  All the amazing vendors and links listed below.
Xx Leah
Photography: Megan Welker / Styling: Leah Carriger of Beijos Events / Tree stump side table: West Elm / Pillows: Boho Pillow / Wood blocks, cactus, and mountains: Babee and Me / Wild and Free banner: Letters and Laurels / Henry blocks: Little Born / Toy trucks, copper letters, and pendant: Land of Nod / Copper mobile: CB2 / Buffalo print, grey blanket, bear rattle, and plush monkey: Land of Nod / Succulent prints: Edyta Szyszlo / Rug: Rugs USA / Crib sheet, changing pad cover, & Henry print: Woolf with Me / Fox softie: Babee and Me / Hamper and trash can: Anthropologie / Planter: West Elm / Wild Thang sign: Letterfolk / Ottoman: Lulu & Georgia / Mountain Print: Tessa Neustadt / Elvis Print: Art.com / Bronco Print: Leslee Mitchell / Frames: Framed and Matted / Dresser & crib: Babyletto for Honest Co. / Diapers & wipes: Parasol / All shelving units: Dad / Leah's dress Free People / Henry's knit jumper Misha and Puff / Girls' dresses Little Trendsetter