My husband and my dear friends JD & Jaimee Blashaw welcomed their second son this past June. They named him Nate James, which happens to be my husband's name so he was of course over the moon! Their older son Jude is just a few weeks younger than Court and JD is Court's god father. We've been friends long before babies and needless to say, this family is very special to me.
Jaimee was working on Nate's nursery with her friend Raven Pugh, owner of Coral & Hide, leading up to his arrival. I got a sneak peek of all the cuteness and fell in love!! When the time came for newborn photos I recommended the talented Nea Nabayan to Jaimee, but had her promise I could use them for the blog! When I saw it all I knew I had to share it with our readers so you could see Raven's talent and be inspired just like me!
Keep scrolling for a little bit from both Jaimee and Raven, and of course all of the gorgeous photos by Nea Nabayan…
From Mama Jaimee Blashaw…

Tell us about you and your adorable family…
I don't even know where to start in talking about my family because I could drone on and on and easily bore everybody reading this so I'll keep it short(ish)and sweet.
My husband and I married six years ago, we live in Mission Viejo and have two boys — Jude and Nate.
We're a family of goofballs and if anyone ever spent an entire day in our house watching our antics they'd likely find us crazy. We enjoy Saturday morning cartoon cuddles and donut runs, evening scooter walks and trips to Disneyland.
Jude is 3 and is the sweetest, most strong-willed boy ever. He loves to sing and dance, play dinosaurs and is obsessed with horses.

Nate is 12 weeks old and such a little nugget. I want to just squeeze him all of the time. He's a pretty great baby and looks just like his daddy. He rolls already and is so strong. His smile is just the BEST.
I was really apprehensive about baby No. 2 when I was pregnant. I was nervous I couldn't love anyone as much as I love Jude. I was certain I'd have a favorite child right off the bat, and I felt guilty for that. Everyone told me your heart grows to make room to equally love both. In the back of mind mind, I thought that was impossible.

Turns out, my mommy friends were right. It's amazing!
I love, love, love being a mom of boys and I have yet to find anything that tops little boy bear hugs.
It's cliche because it's true — it goes so fast. I roll my eyes at myself when I say it. They're only little for so long so I really try to soak it all in — except during those times my boys are being total nightmares. I wish those moments away faster and hope to forget them. Ha!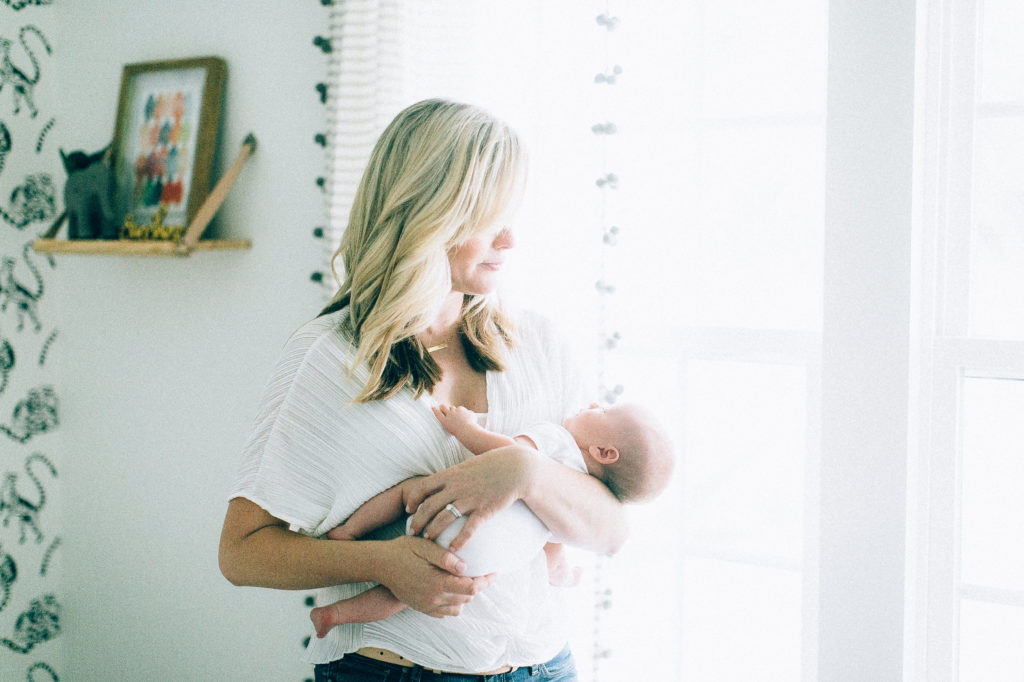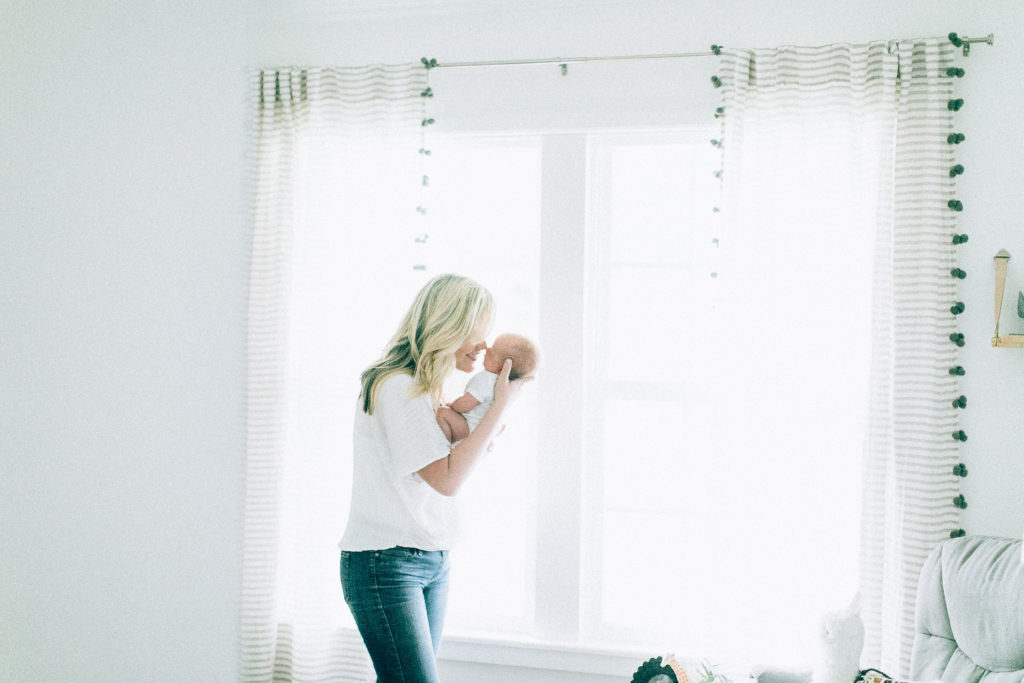 What was your inspiration for baby Nate's nursery?
I had no inspiration. None. That was my problem. I found the print of the alpaca from Lila and Lola on Etsy and decided I loved it, and that's where I stopped.
Why did you decide to hire a designer to help with his room?
This pregnancy was different for me. I didn't feel as excited the second time around and I didn't get that nesting instinct I remember so vividly having with Jude. I knew I needed to get the nursery done and also get Jude his new big boy room, but I didn't know where to start.
I had started a wonderful new job and felt as if I had no energy left to focus on getting ready for the baby. Everything I had was going to spending quality time with Jude and making sure I was performing well at work.
I felt frustrated, and the task of getting both of the rooms together seemed so daunting. And, even though I'd like to think I have good taste, I do not have an eye for design.
If there's one thing I've learned in this process it's that designers have a true gift. It's an artistic talent to be able to envision a space and make it come to life. After seeing the process, I have so much respect for the profession. And it also made me never want to pick anything out by myself again!
I showed her the alpaca picture I liked for the nursery. For Jude's room, there was a Kevin Russ horse portrait I bought (and it was completely the wrong size, by the way, but she made it work!)
That was all Raven had to go off of.
And, on top of that, she had to work with some pieces we wanted to keep because we didn't quite have the budget to redo everything. Now that I think back, that is probably a challenge for a designer because they can't execute the full scope of their talent when they have to work with some furniture that might be outdated or not the style they would prefer for the space. But it speaks to Raven's talent that she can take the existing pieces and create something that looks like this.

When Raven showed me the design boards for the rooms, I cried. And if you know me, you know I am NOT a crier. It felt like the greatest stress relief. Everything was so beautiful and perfect and exactly the feel I wanted.
I love how light and bright the nursery is. That wallpaper – what?! It's to die for. Obsessed. The bright colors in the rug against the neutral palette of everything else is just amazing.
Jude's room feels so rich to me, and I love that. It has a subtle western feel to it that I think is unique for a toddler's room. The rug is definitely a feature to boast about. It's a vintage rug from Turkey, and there is only one rug like it in the world. There's something very cool about that.

I feel happy when I walk into both rooms every day and I think that should be the goal of room design, right?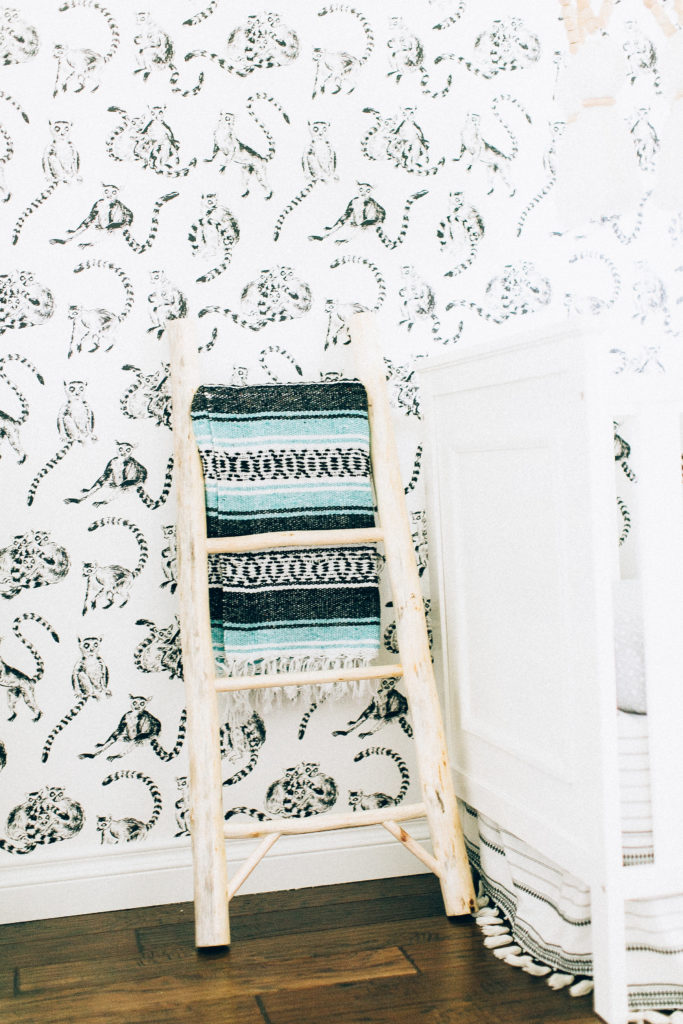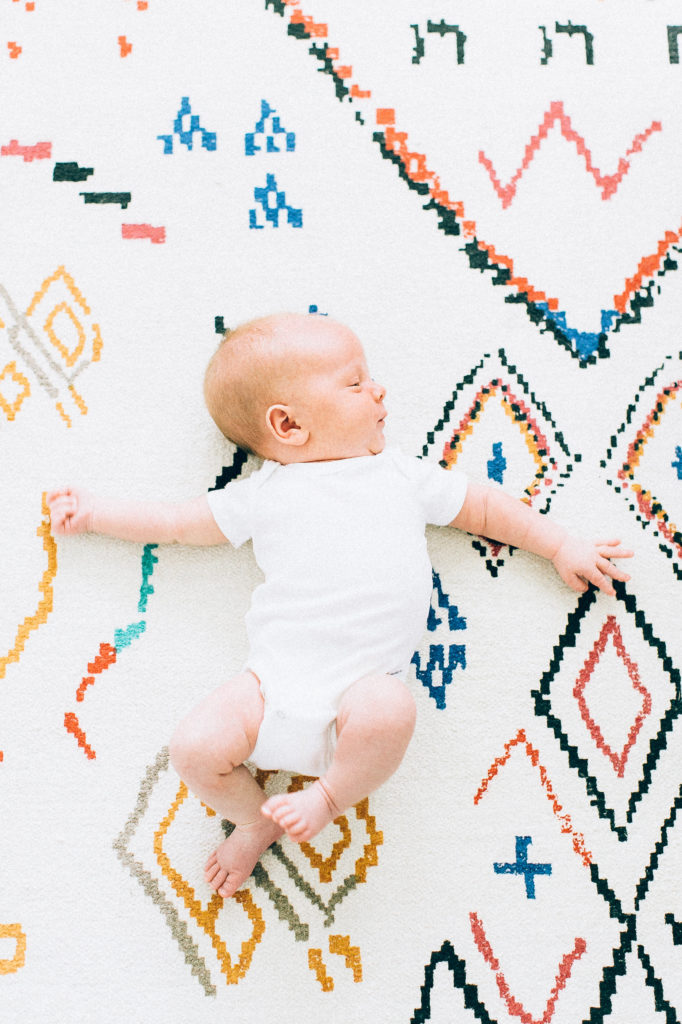 It can be hard on big brother when a new sibling comes along, how did you make his new big boy room special?
I tried to get him really excited about the idea of graduating to a big boy bed and that seemed to work. He also is pretty obsessed with horses so I picked a horse portrait that I knew he would love and showed it to him before moving him into the room. I showed him where it would go on the wall and told him we'd hang it when his room was ready for him.
When the rooms were finished, he was confused at first because we had him physically move rooms. (His dad and I really didn't want to disassemble a bed and a crib to switch them around. High-five for lazy parenting. Ha!) I was a little worried it would be too much change for him, but he actually handled it really well. By night two, he was loving his big boy room!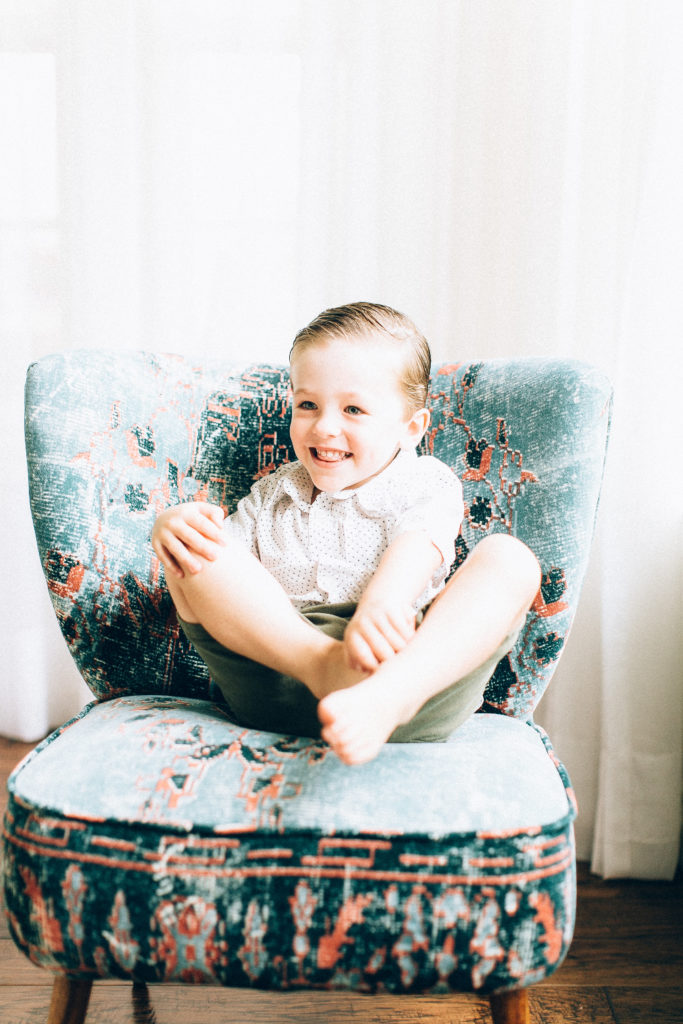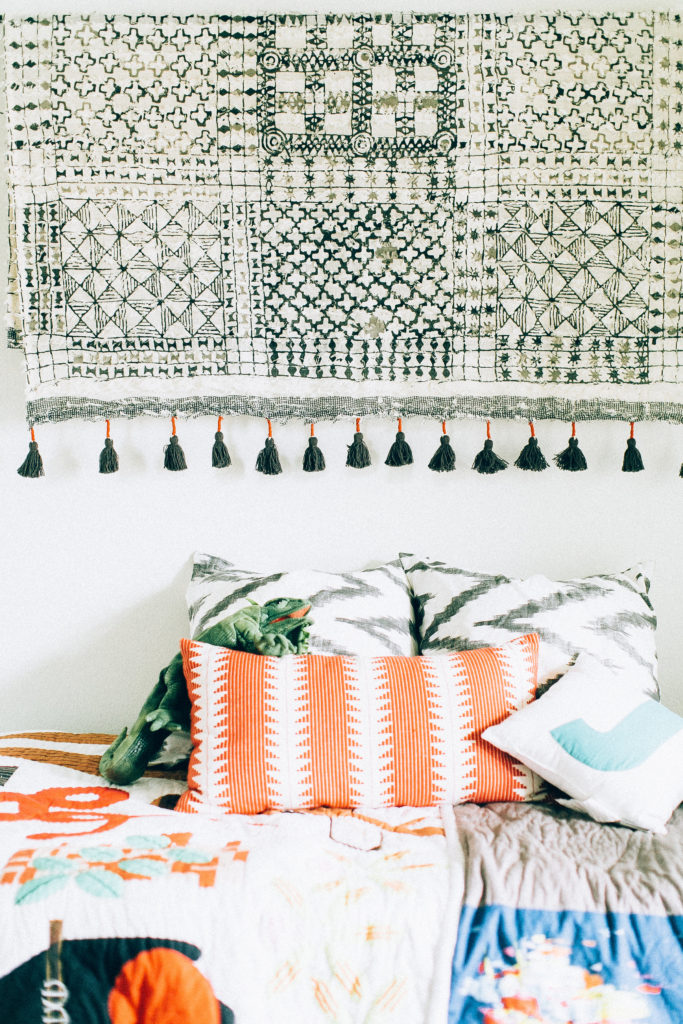 From Designer and Owner of Coral & Hide, Raven Pugh…
Tell us a little bit about you and your company…
I'm also the mama of two little boys and have a pretty amazing husband to go along with them. My youngest son just started preschool and I've found that to be a complete game changer in this thing called parenting. Hello solo grocery runs, walking the aisles of Target with a hot coffee, and a quiet backseat!
I had the amazing opportunity of working for
Kathryn Miller Interiors
and Design for several years. Working with her was hard work but also a lot of play! She made design exciting and fun. She was an amazing mentor and taught me so much about the nitty gritty of owning a business.
After taking some time off to be with my youngest before starting school, I was contacted by friends who wanted help with little things around their homes. I'd get a text with a picture of a couch asking if I liked it or asking if I could help accessorize a room. Of course I wanted to help my friends and I began realizing I still had an itch for design! With the encouragement of those friends and my family I decided it was time to start my own design company. The referrals started coming in and I was off. The timing was perfect and I've had so much fun getting my business started!
We love baby Nate's nursery! How did you and Jaimee work together on it?

Jaimee bought the adorable alpaca print and I immediately knew it was going to be fun working with her. There were a few pieces she wanted to use from her first son's nursery and besides those I had free rein! Which is the best for letting a designer do their thing. I knew she wanted a bright/neutral room with some pops of color so that's the direction I took on the room.
It changes with every client. After meeting with my clients I take everything they talked about wanting or liking and start sourcing those pieces. Sometimes a client wants to add cool art, a vintage rug, or tons of PILLOWS! That's where I start, then the room comes together while making those special pieces the star of the show.
Can you give us any of the sources of some of the amazing pieces you chose?
Molly Wood Garden and Designs. If you ever get a chance to visit one of her shops in Costa Mesa or Laguna Beach you will fall in love! She sources amazing accessories, plants, and art to name a few that are all one of a kind. She is also one of the nicest people. The pieces I find at her shop always make a room come together and are usually some of my favorite aspects.
Every job is very personal to a client. Sometimes the client may want to change my favorite part of the design but remembering the way it feels coming home to a place you love is important when making these changes. In the end, when a client tells you how much they loving walking in their doors that is all that matters.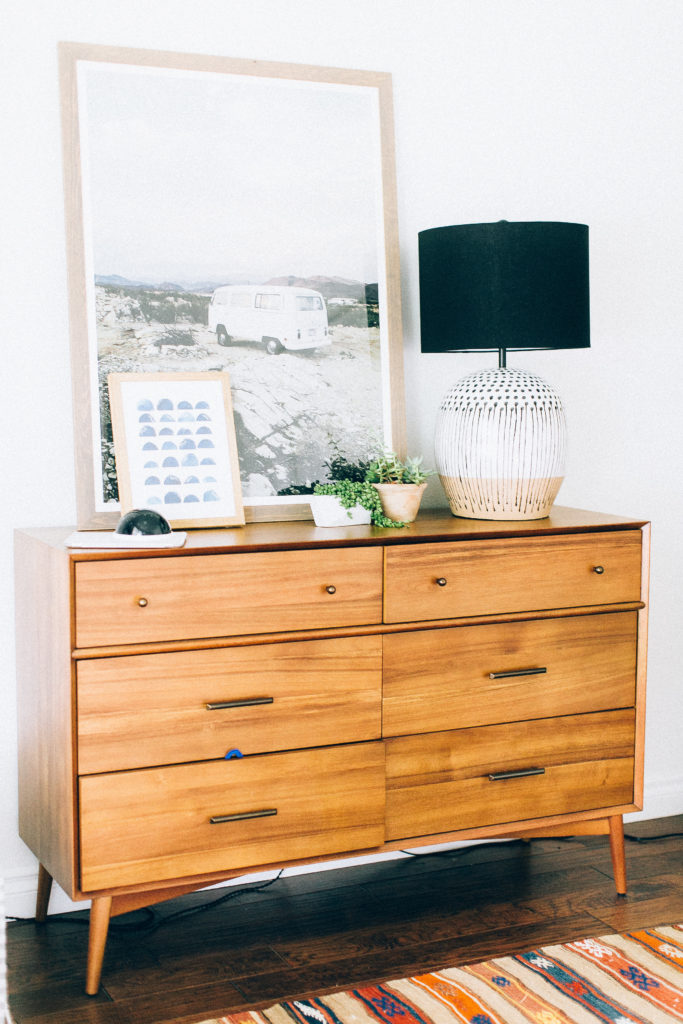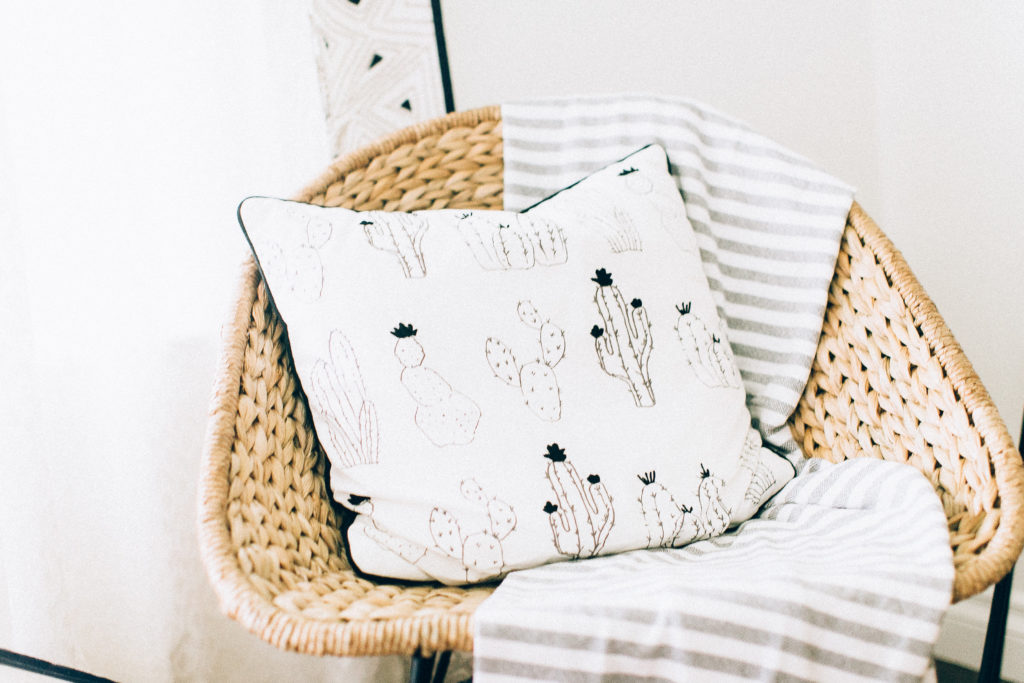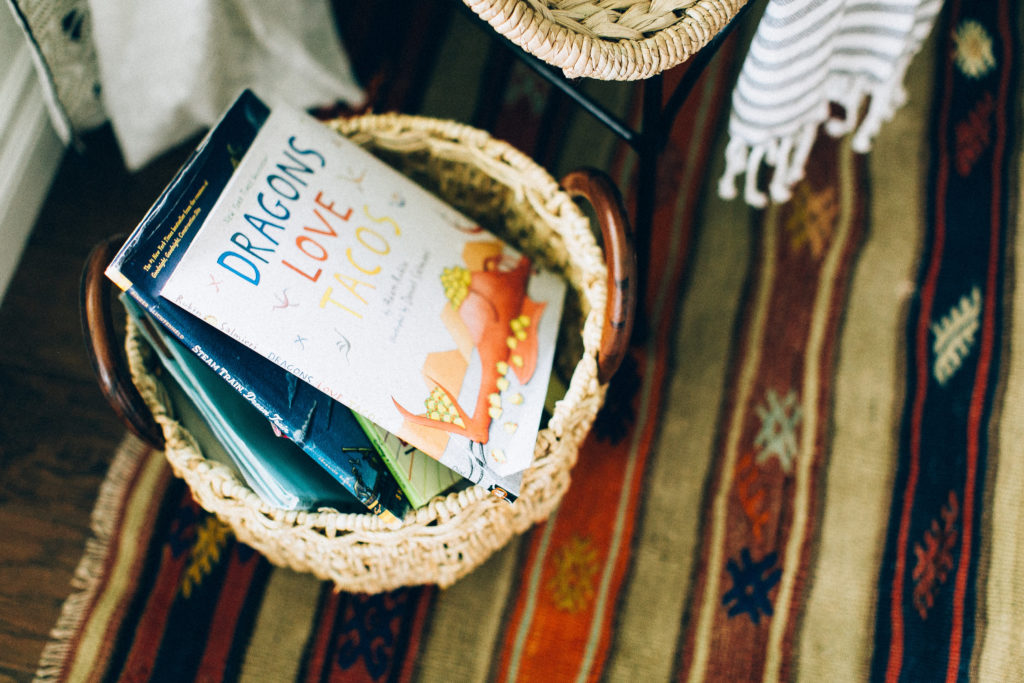 We love how both boy's rooms flow together but are unique to each little man, how did you approach Jude's room to be different and cater to an toddler?
The transition from a nursery into a big boy room can be stressful on everyone involved. Making it fun for Jude was the main goal. His love for animals really helped in selecting items for his room. We used a few things Jaimee already had that worked in nicely with the design. The vintage rug is colorful and at the same time so grown up. Everything I selected for his room will transition with him as he continues to grow. I just love how it turned out!
What was the best part about designing these rooms?
The tears. I do it for the tears. Haha! When Jaimee told me she cried I knew I captured her vision and I had all the feels with her. I also loved getting pictures of sweet baby Nate in his room when he came home from the hospital. Nothing was better than those moments.