After yesterday's adult Halloween party, you know we've gotta keep it going with the kids!!  And this shindig may just be the best little Halloween party yet!
Just like yesterday, we steered away from your typical orange & black and went with some pink!  Love that unexpected touch and also, we love us some pink!!  Daydream Society had the CUTEST party ware this year for Halloween – something for the ghouls and something for the boys.  With inspiration from their adorable plates we were ready for a classic Halloween with a twist!
This shoot is also featured on the Pottery Barn Kids blog today!  Wait till you see all the little cuties in their Halloween costumes courtesy of PBK…  You can also shop this post at the bottom and recreate this party at home!!
Photos from our main ghoul, Megan Welker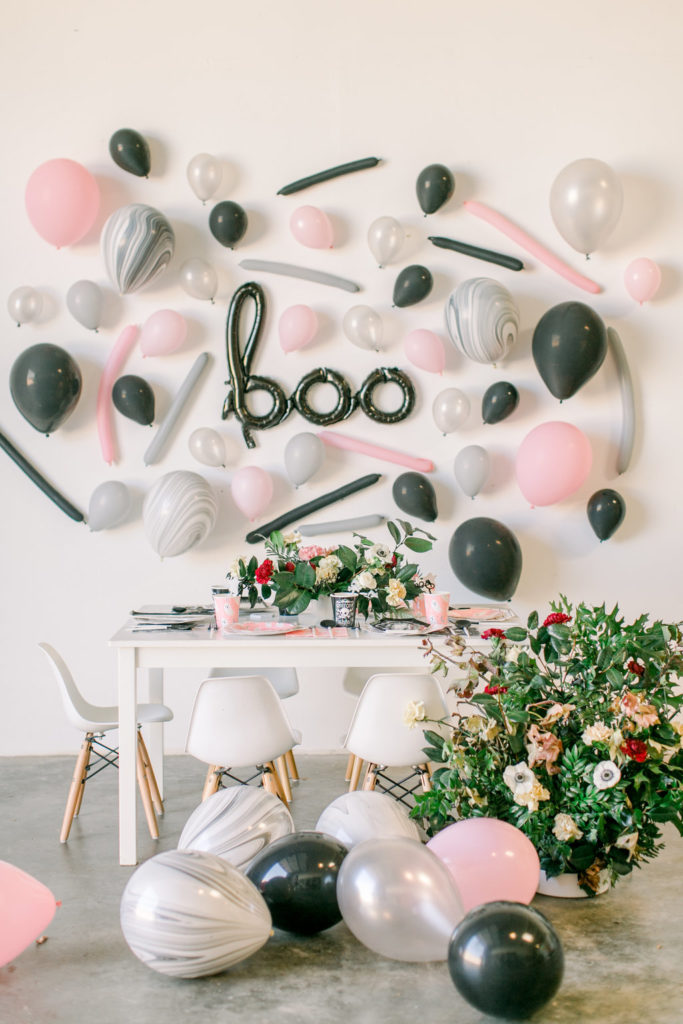 The spooky invite was done by Poppy Jack of course!  We invited all of our little guests to get spooky, and boy did they!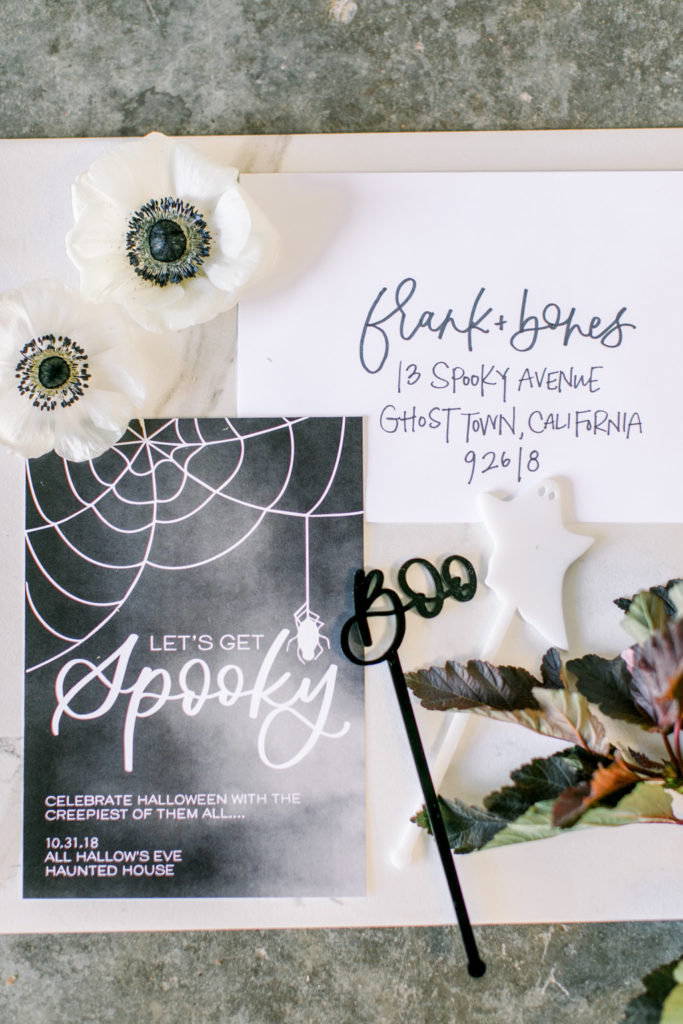 Now for that adorable Daydream Society party ware I was gushing over…  With skulls and ghosts, you know it's gonna be a good time!  My son was obsessed with these plates, they are perfect for some good Halloween fun!  We paired the Halloween plates with Daydream's striped plates, which I am constantly using at our kid parties!  They are so fun and easy and go with everything!  For the flatware I went with L'entramise who has this amazing black and white option that I also can't get enough of.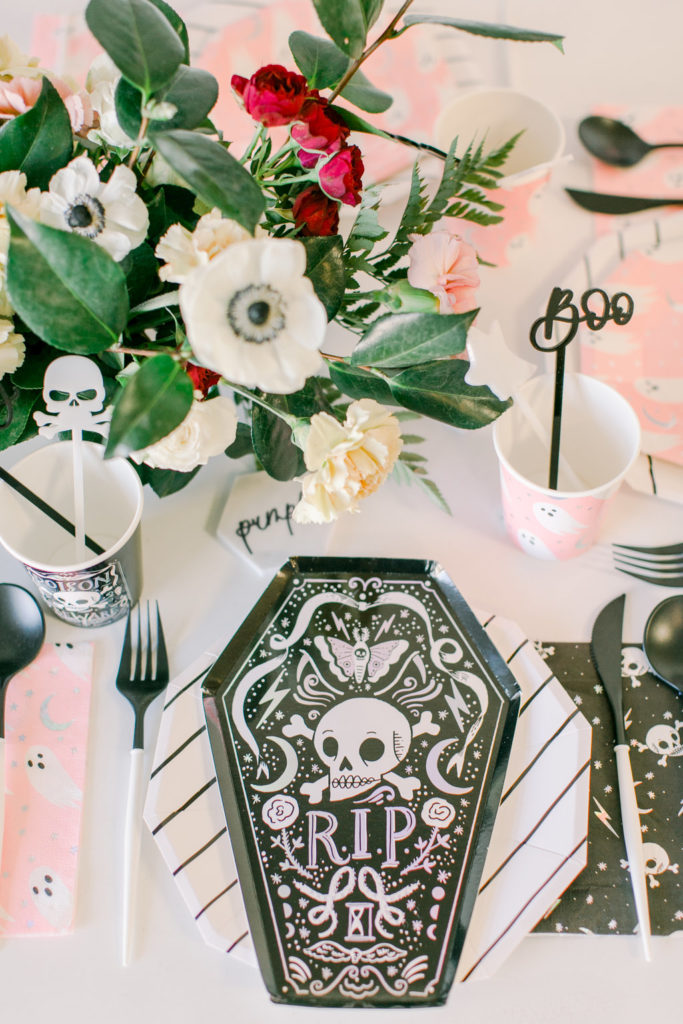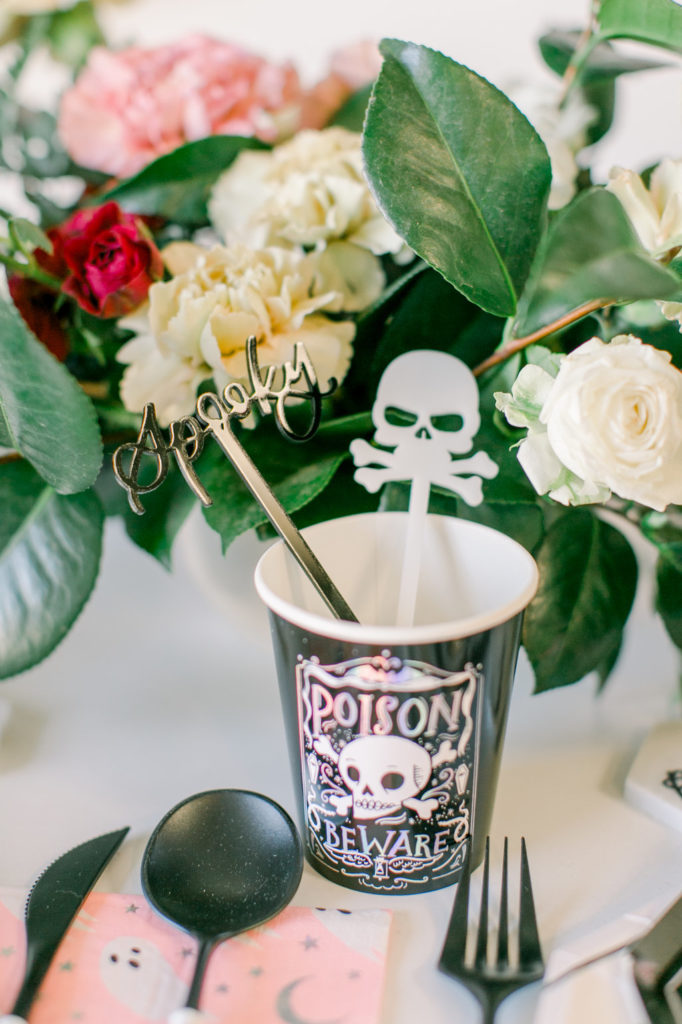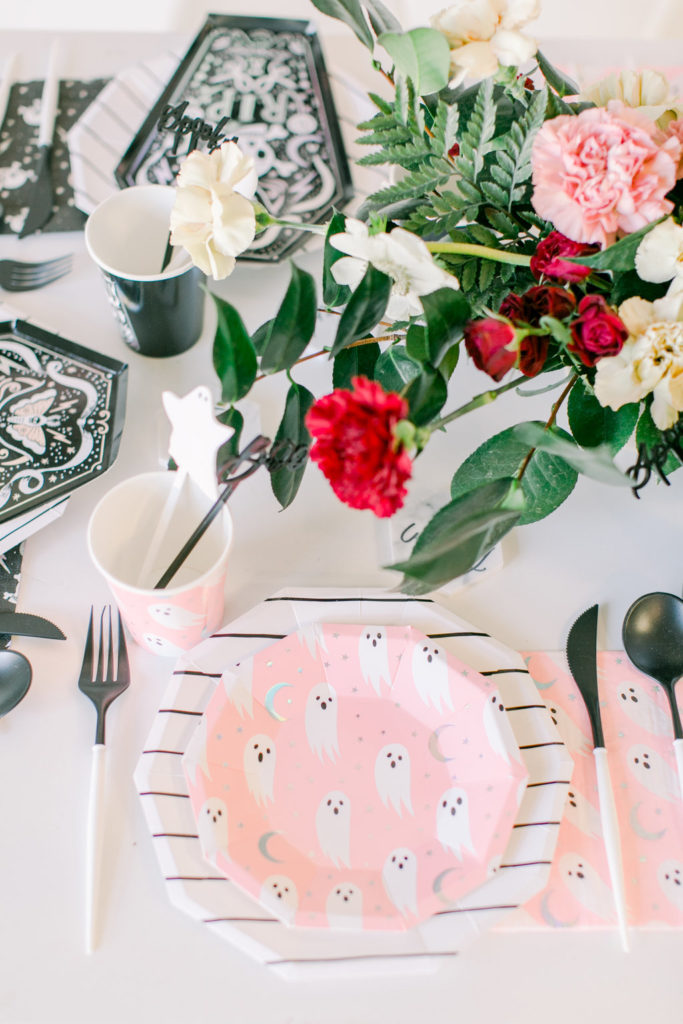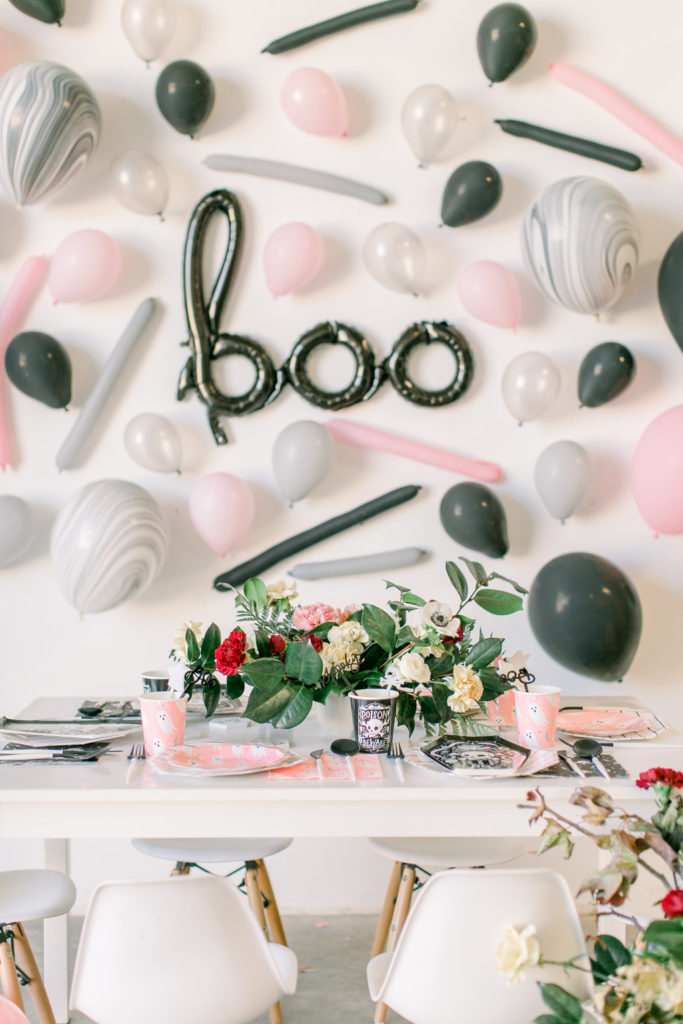 All of the little details are by Poppy Jack – the adorable cocktail stirrers and place cards.  These aren't essentials for parties but they sort of make them in my mind… It's all in the details!  Third & Park is responsible for the beautiful florals, I love playing with those bold Fall colors!  She did a great job and I loved how she incorporated anemones, they are basically the best Halloween flower, right?!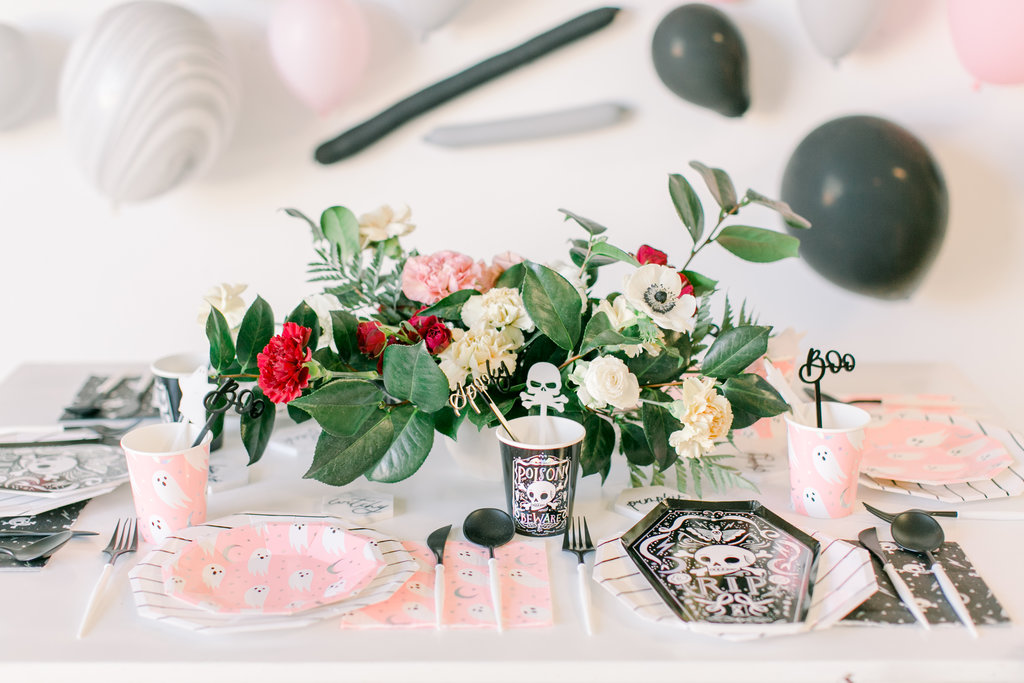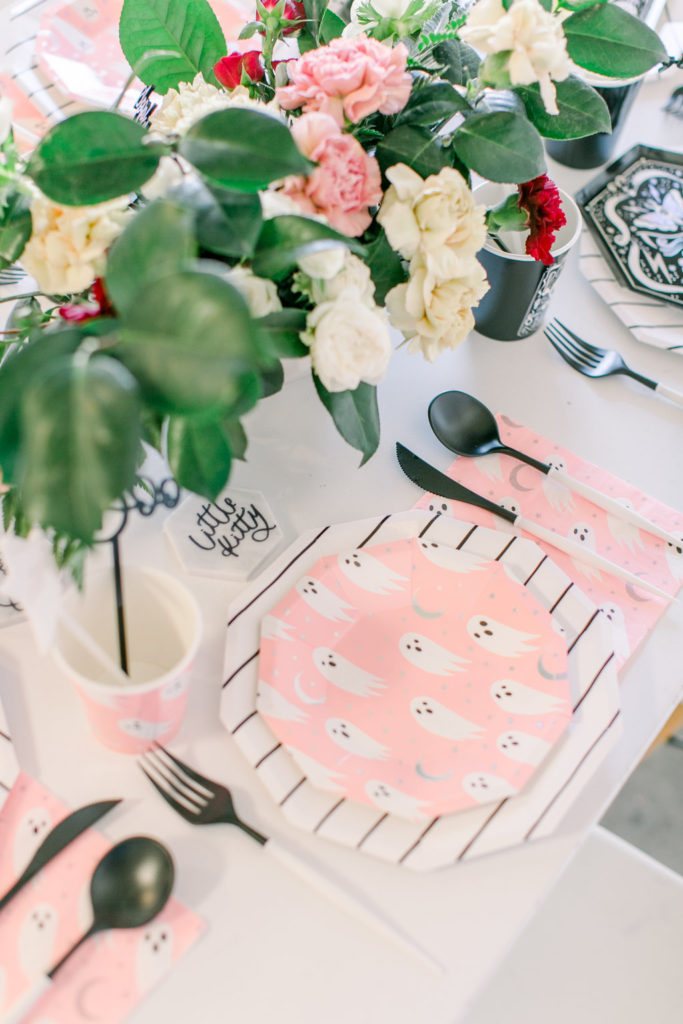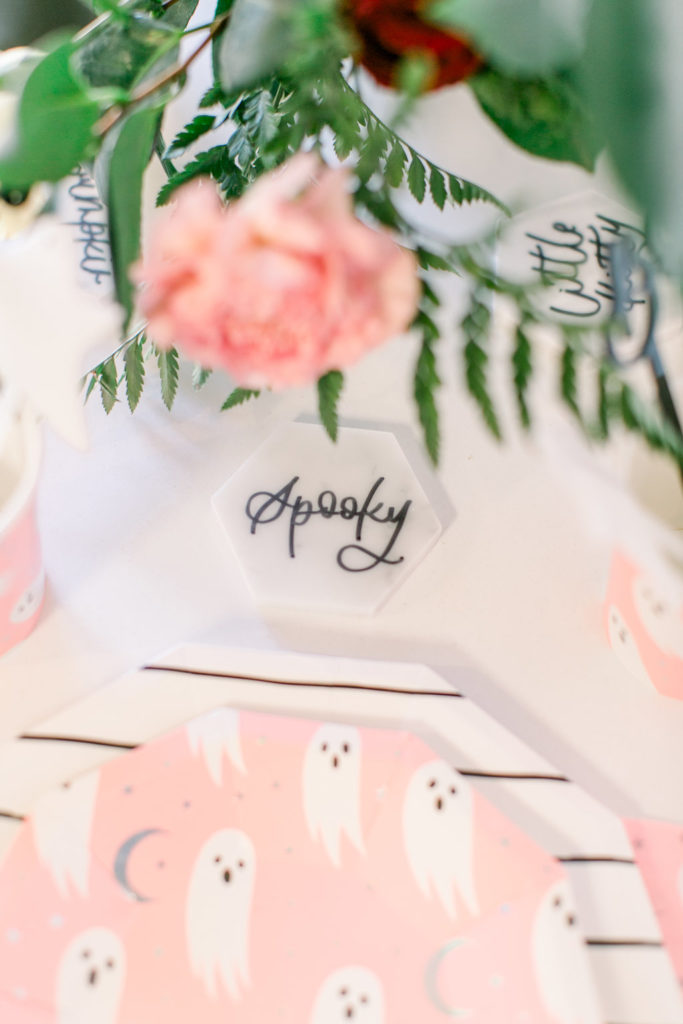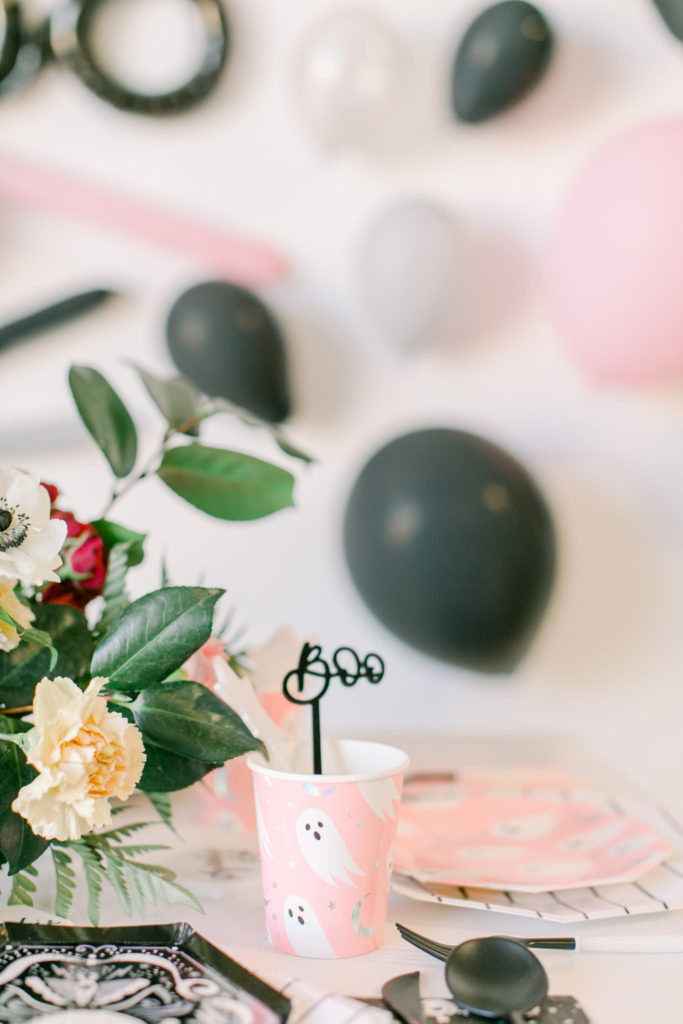 Can we talk about our backdrop?!  That was done by yours truly and can be so easily recreated at home!!  I was inspired by Oh Happy Day and all of their rad balloon walls I've seen.  We got our balloons from Qualatex and North Star Balloons.  I think my favorite are the boo & marble ones though!!
And how about that standing floral arrangement by Third & Park?!  Showstopper!!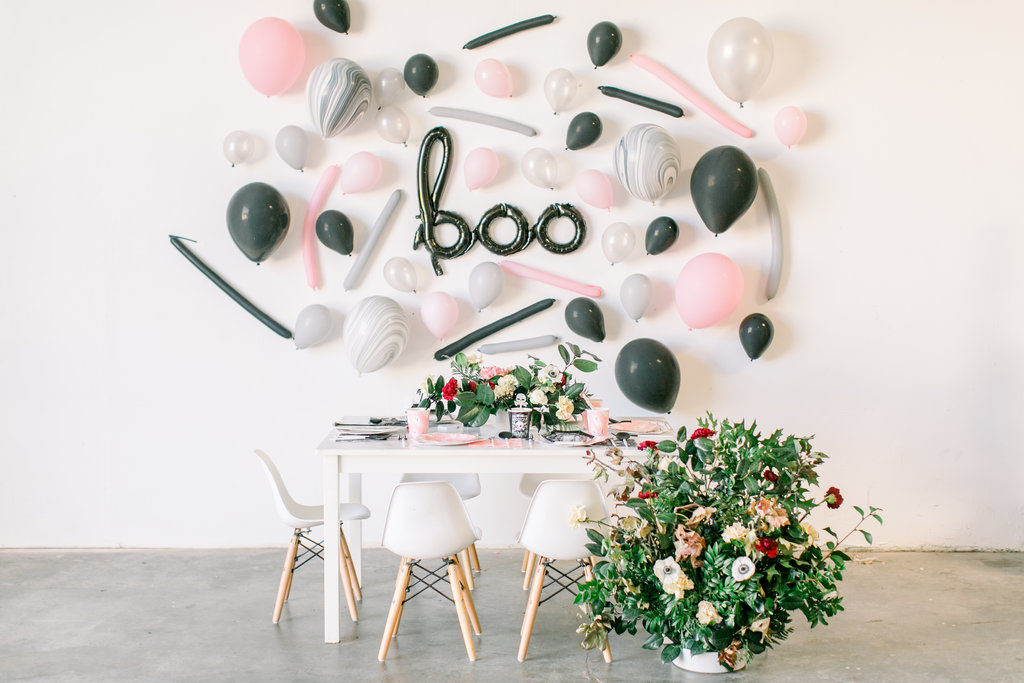 Now lets get those kiddos in there!!!  These cuties were so excited to jump into their Pottery Barn Kid's costumes!!  We went classic with a witch, a skeleton, Frankenstein, kitty cats, a ghost and a little pumpkin!  Their faces were painted by Carol Beyer with Mama Bear Parties.  I think the painted faces just make the costumes!  Do you let your kids get their faces painted for Halloween?!  We never have but I think this year it may be a must….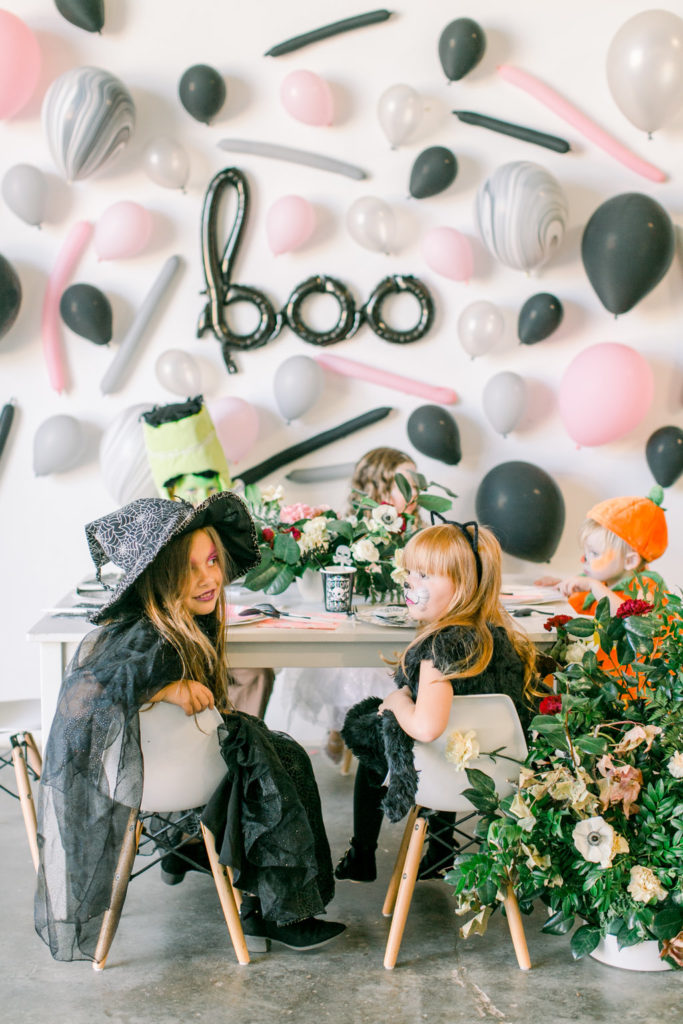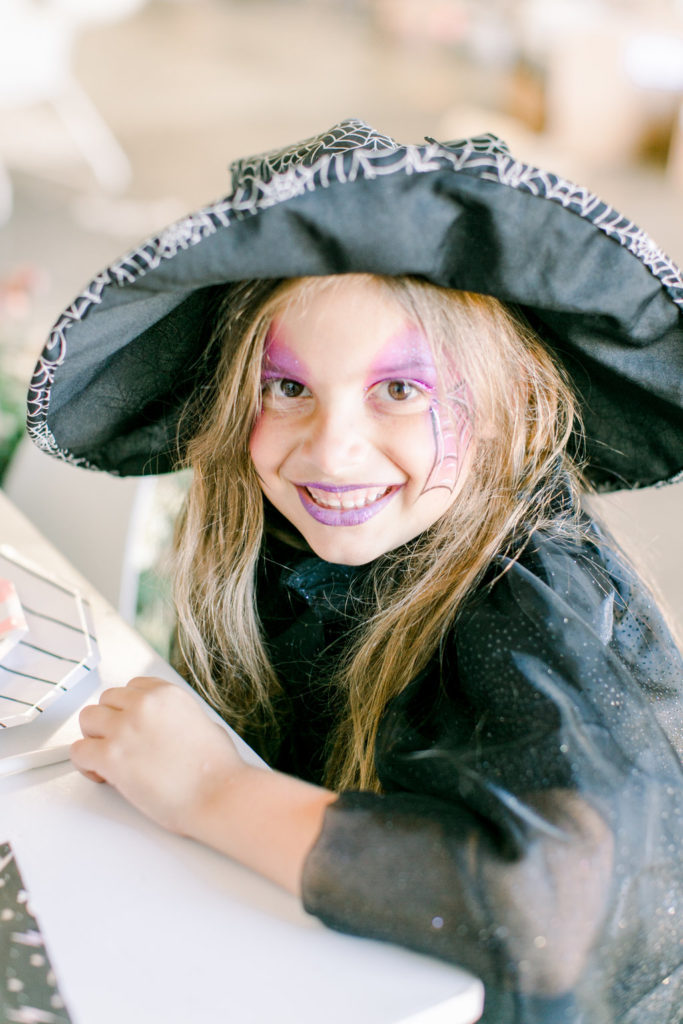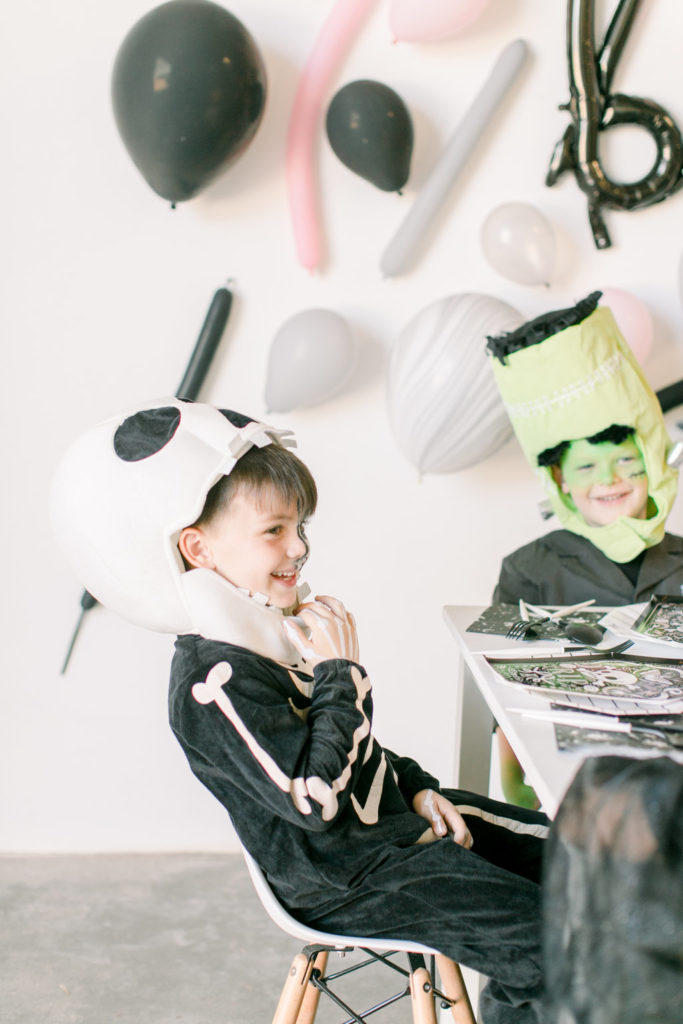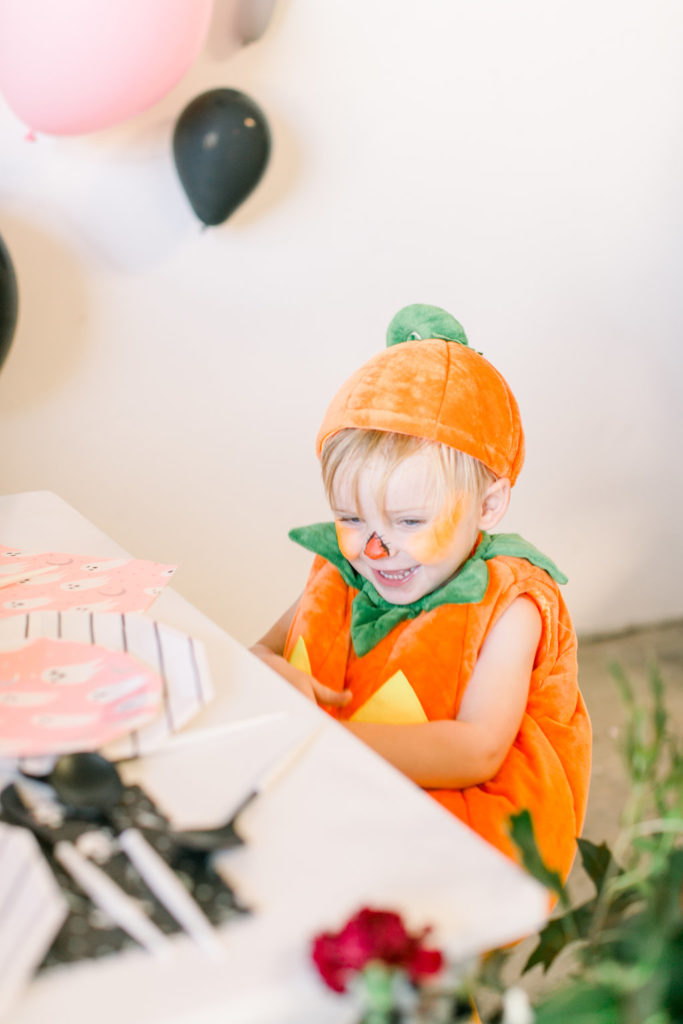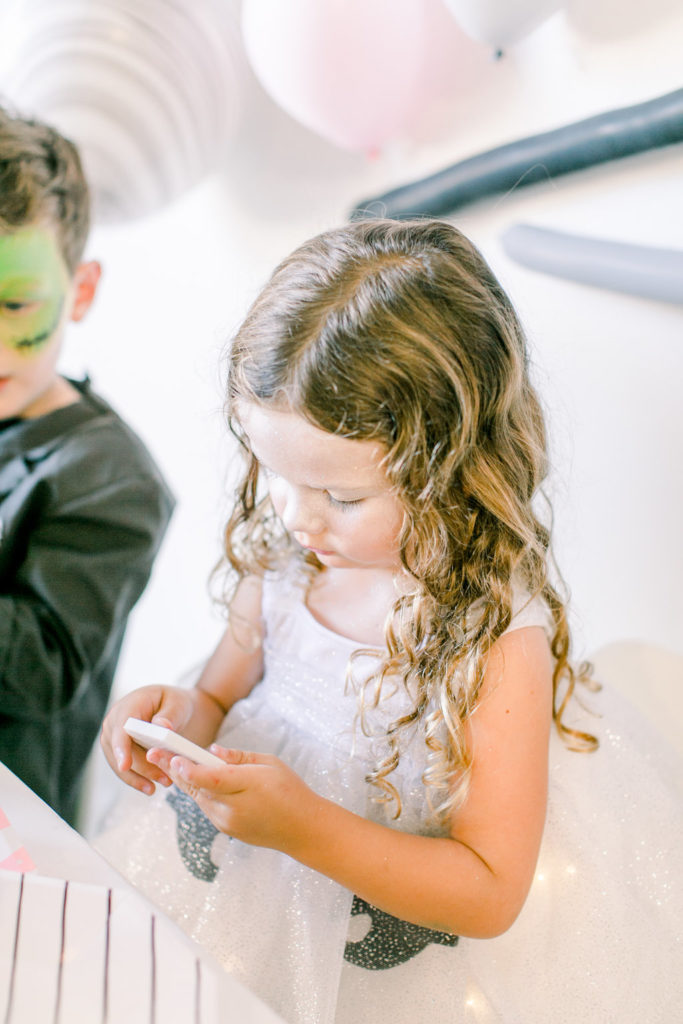 She was a happy kitty, I promise!  Haha!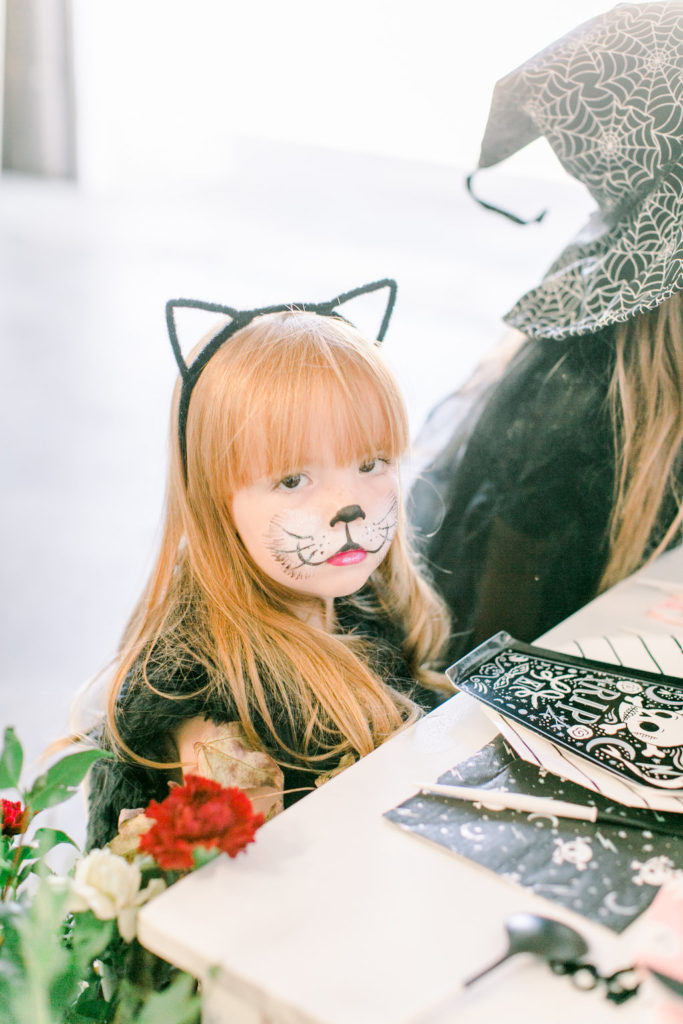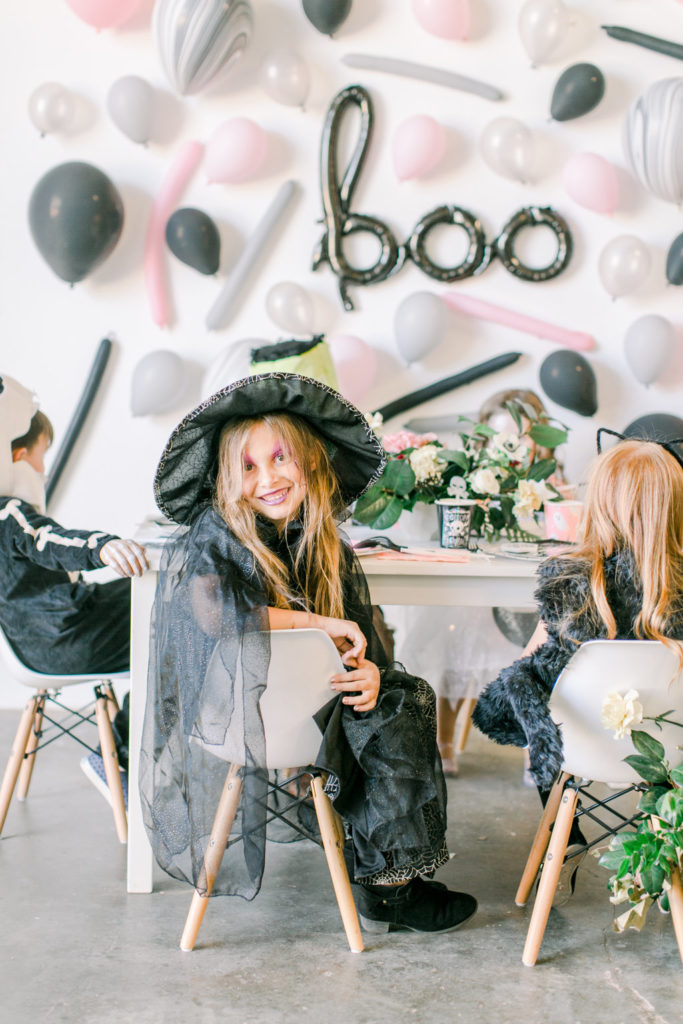 It was a party!!!!  Let's take a moment to see all these cuties in action!!!
I think Halloween is probably one of the best holidays for kids.  So much fun playing pretend, dressing up and going trick or treating!!  Love these memories these kiddos are creating!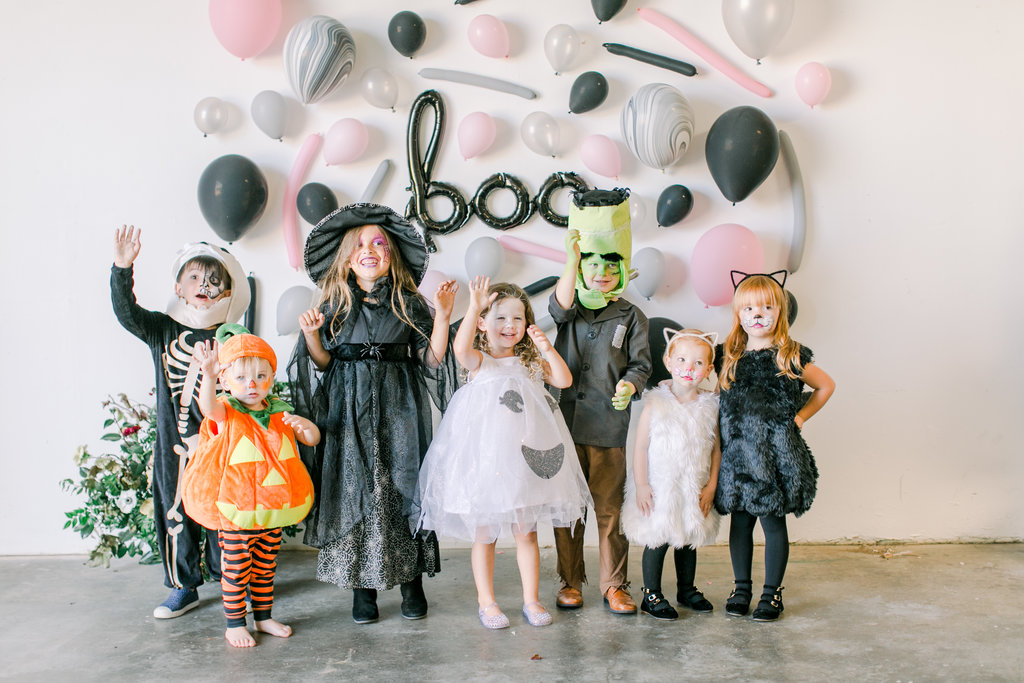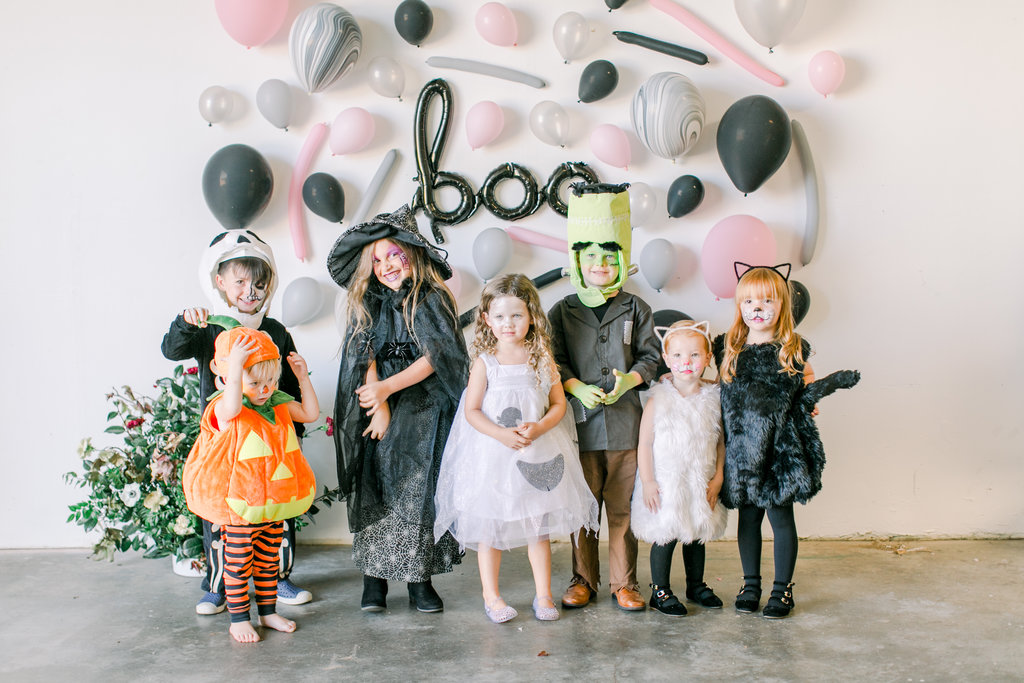 Girl time!!!  Aren't they adorable?!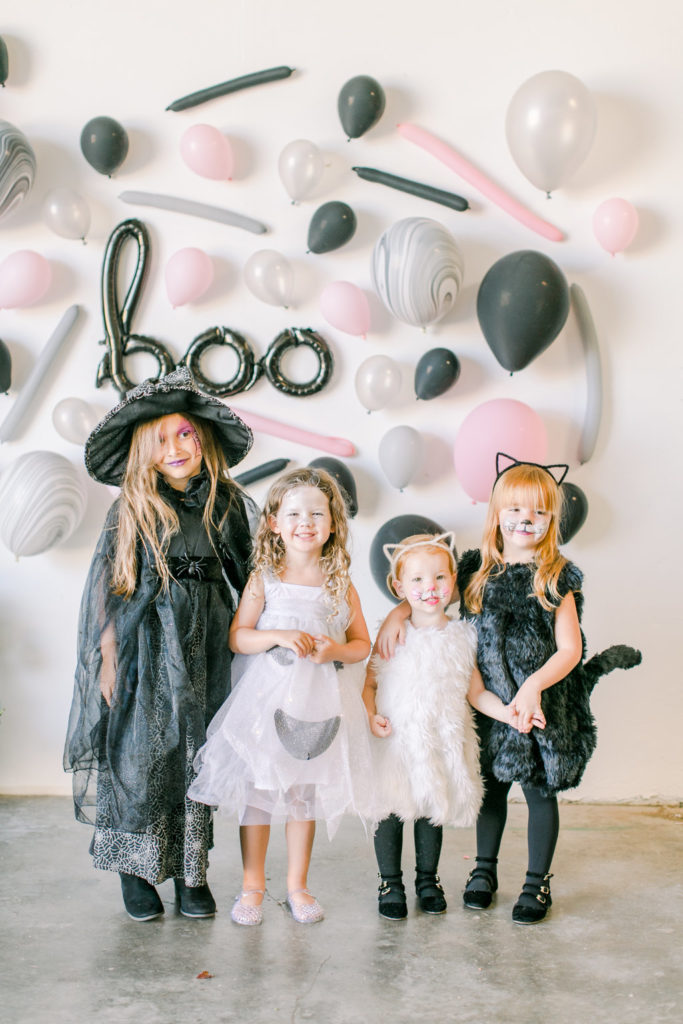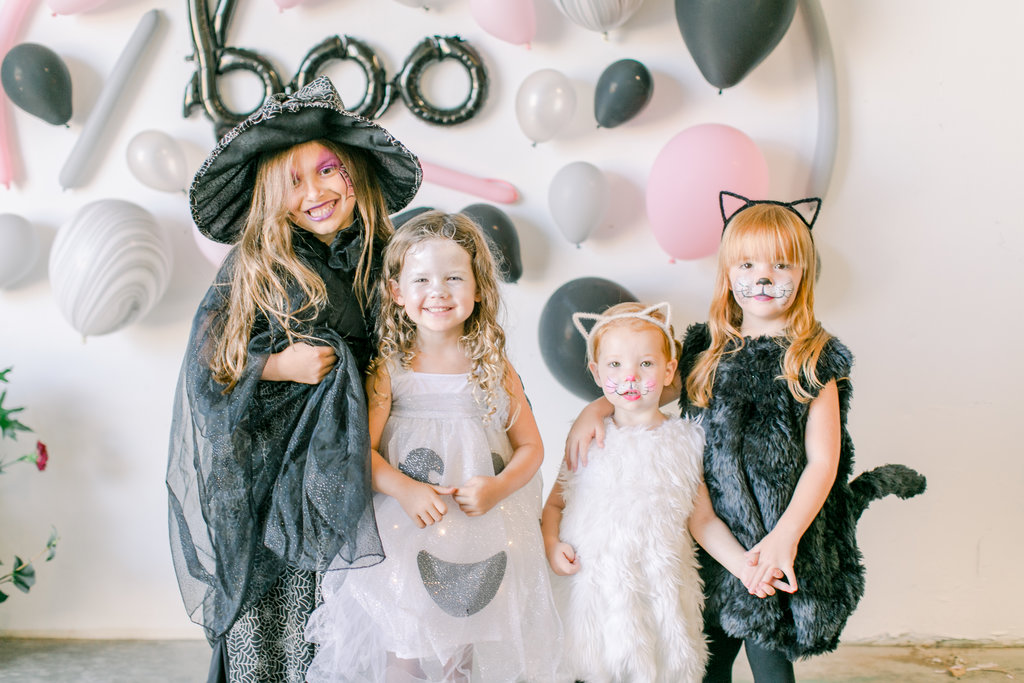 And now for the silly boys!!!  Court basically won't take his skeleton costume off, you can tell he's loving it, haha!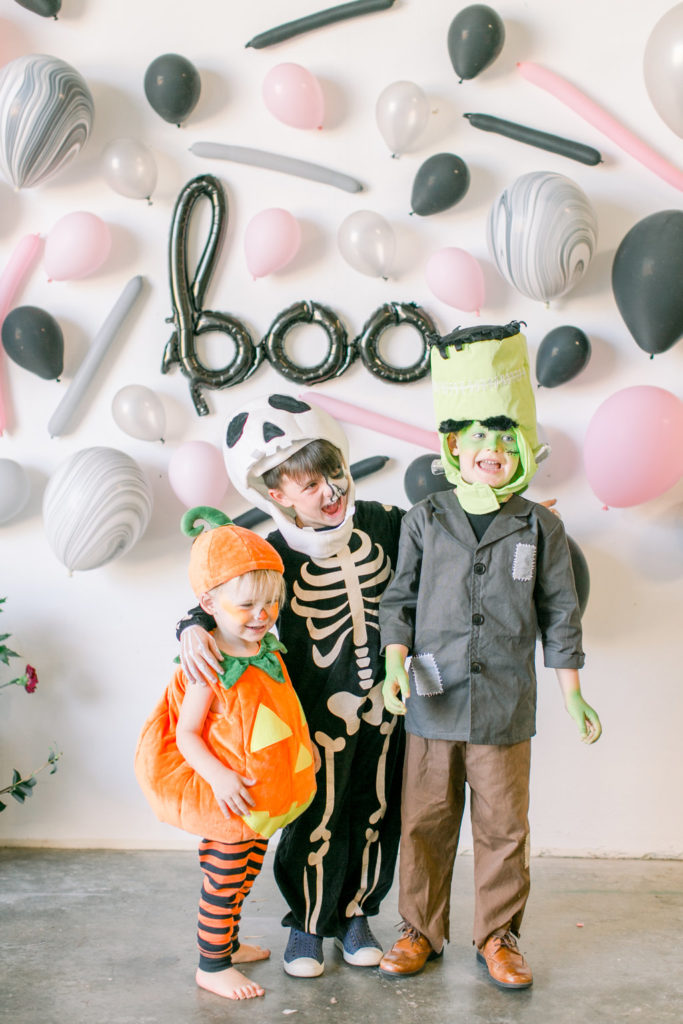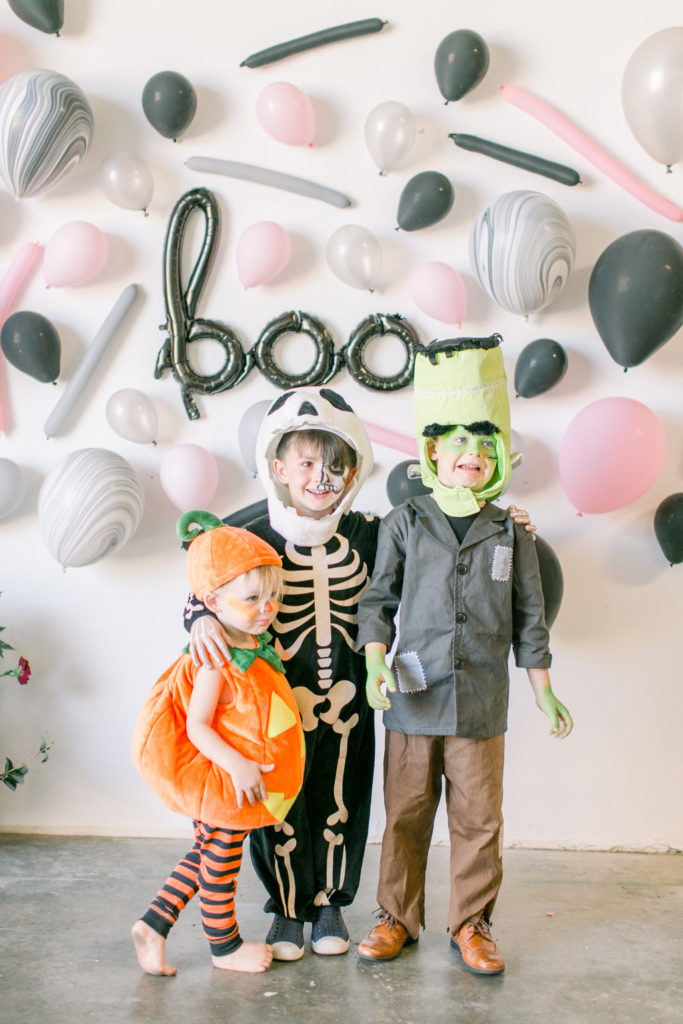 Now that's a good Frankenstein walk Henley!!!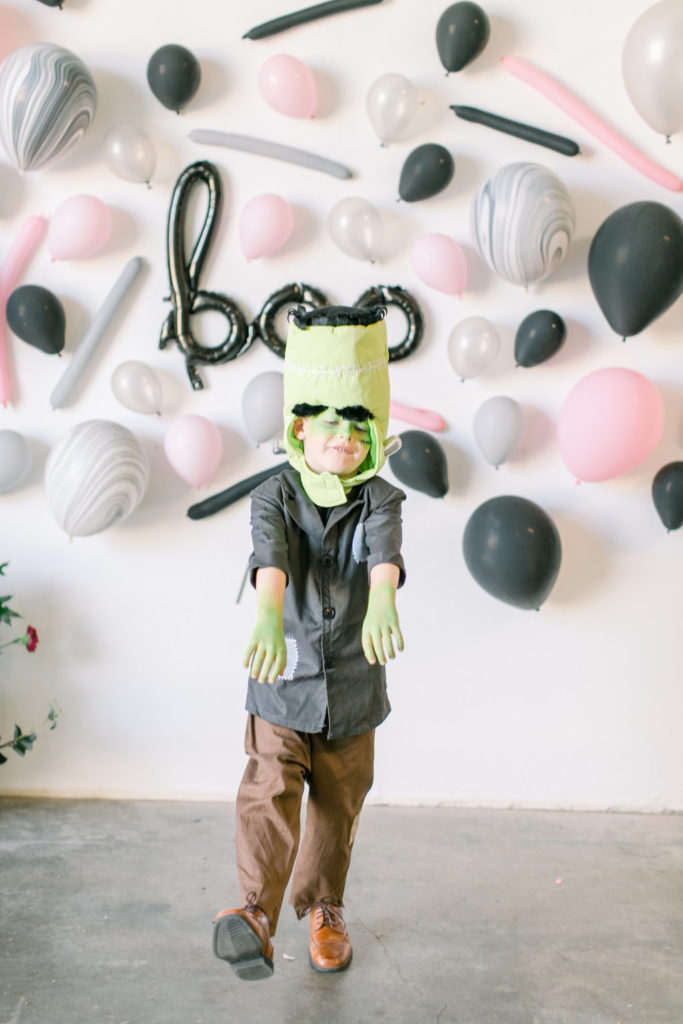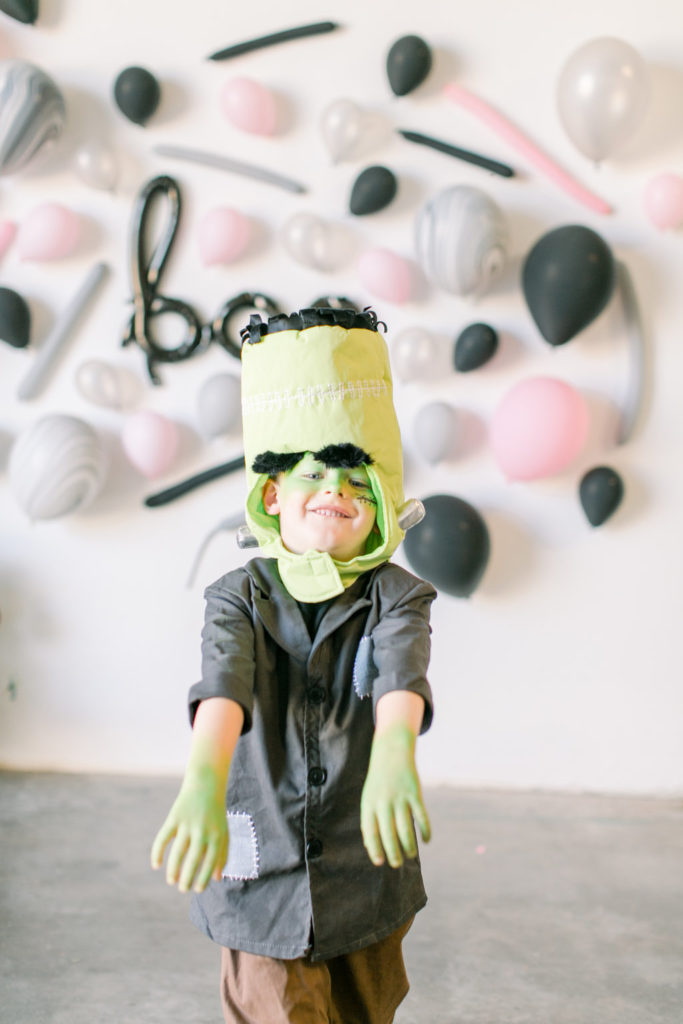 Super creepy skeleton Court!!!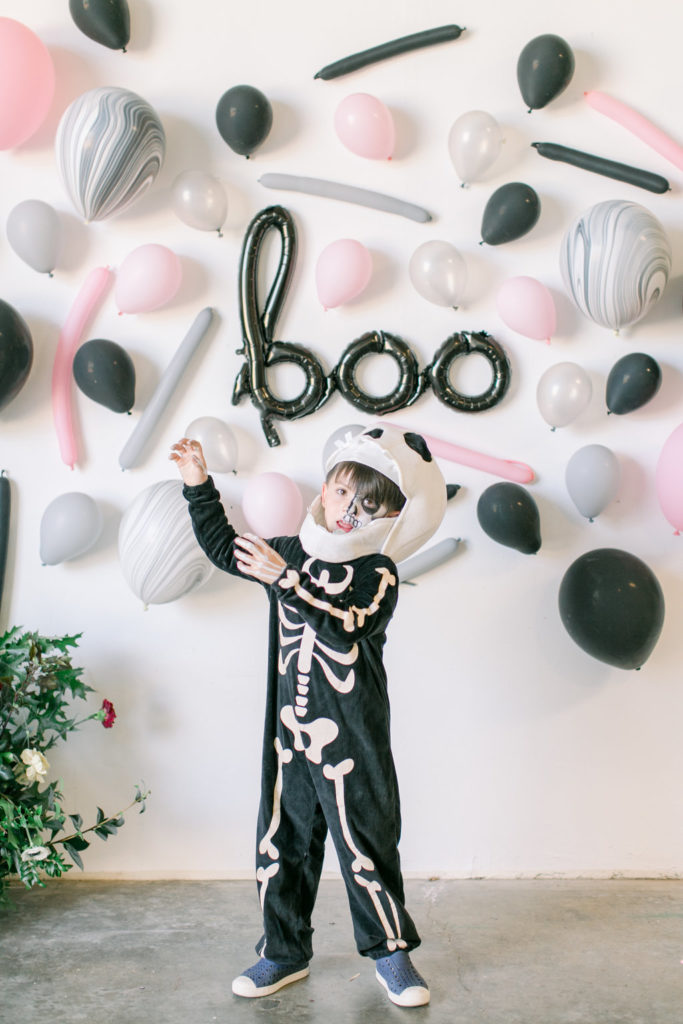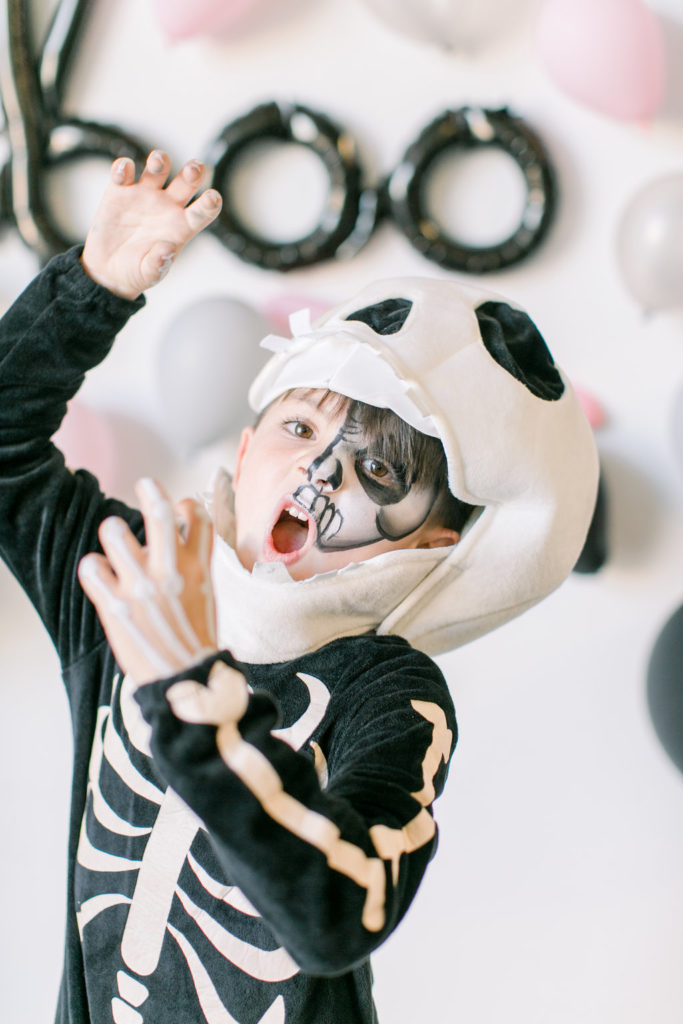 Boo!!!  Cutest Ghost I've ever seen Miss Harlow!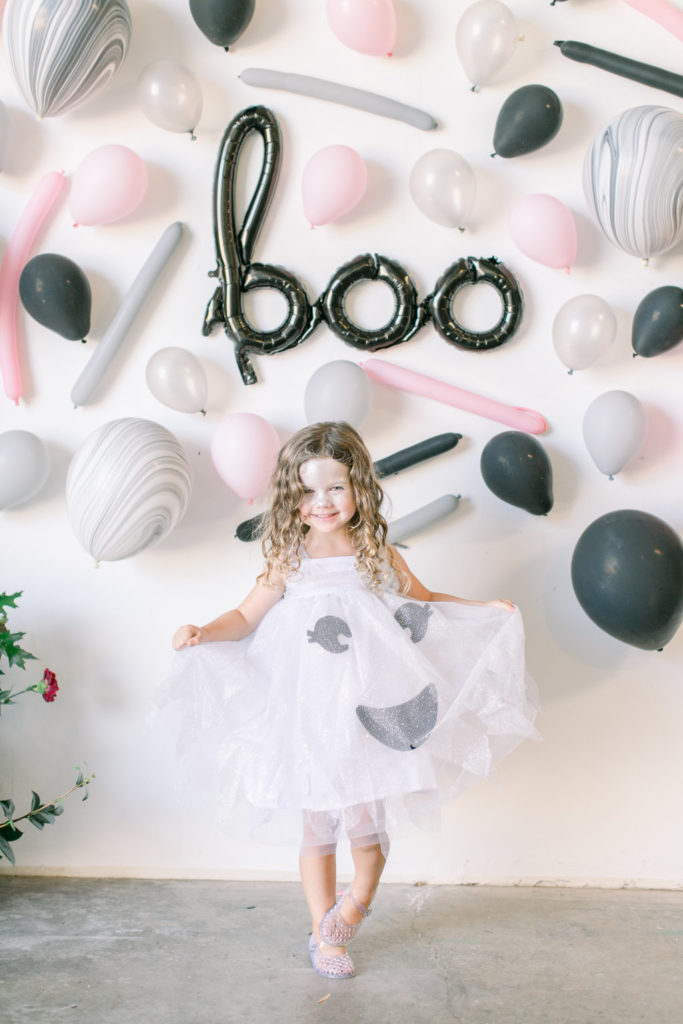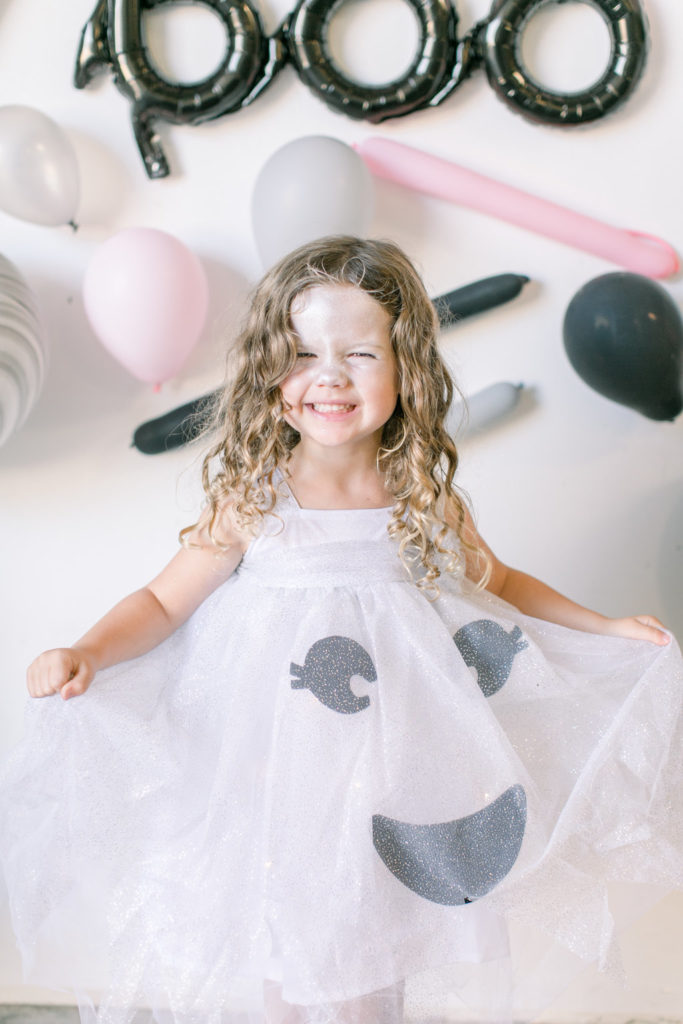 And how about this Witch?!  Edie looked so pretty in her little witch costume, and I love the purple face paint!!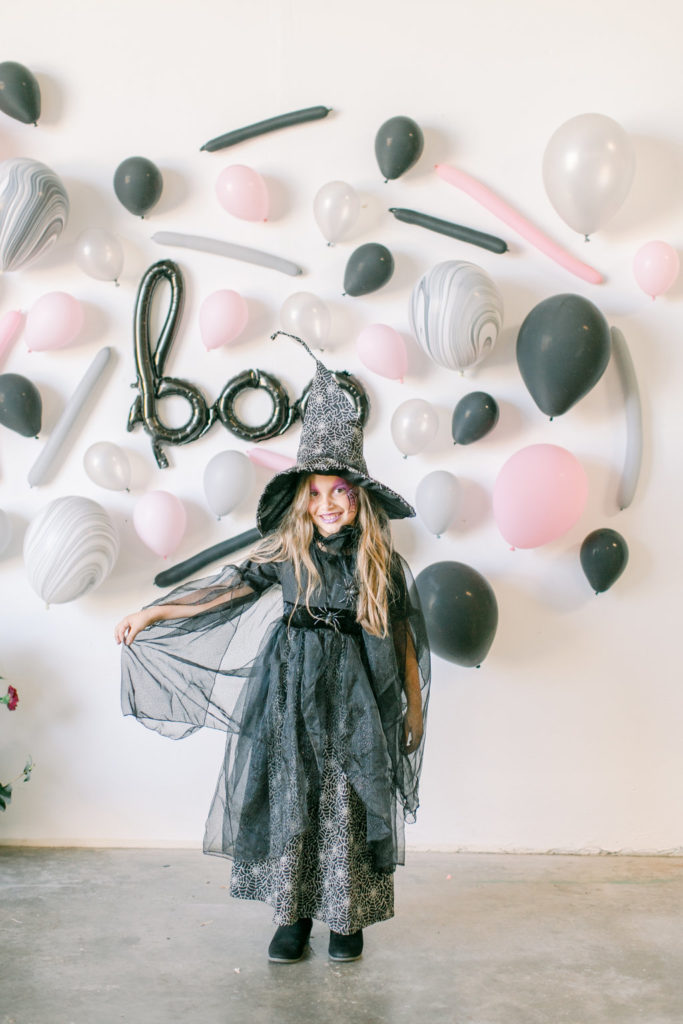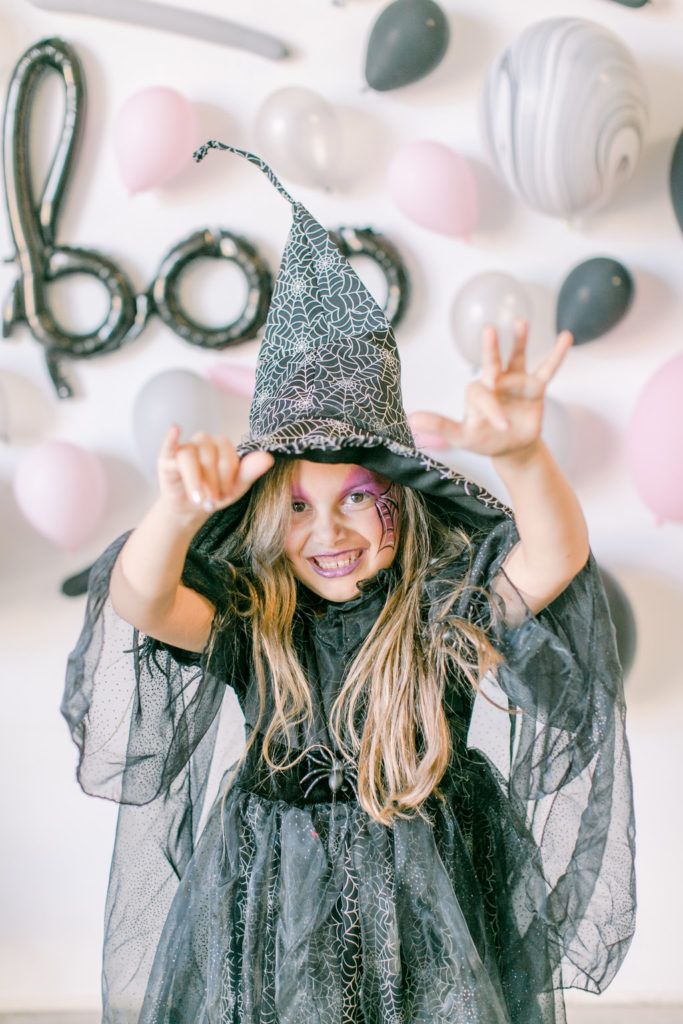 Of course I can't get enough of this little pumpkin!  Cruz is just too cute here!!!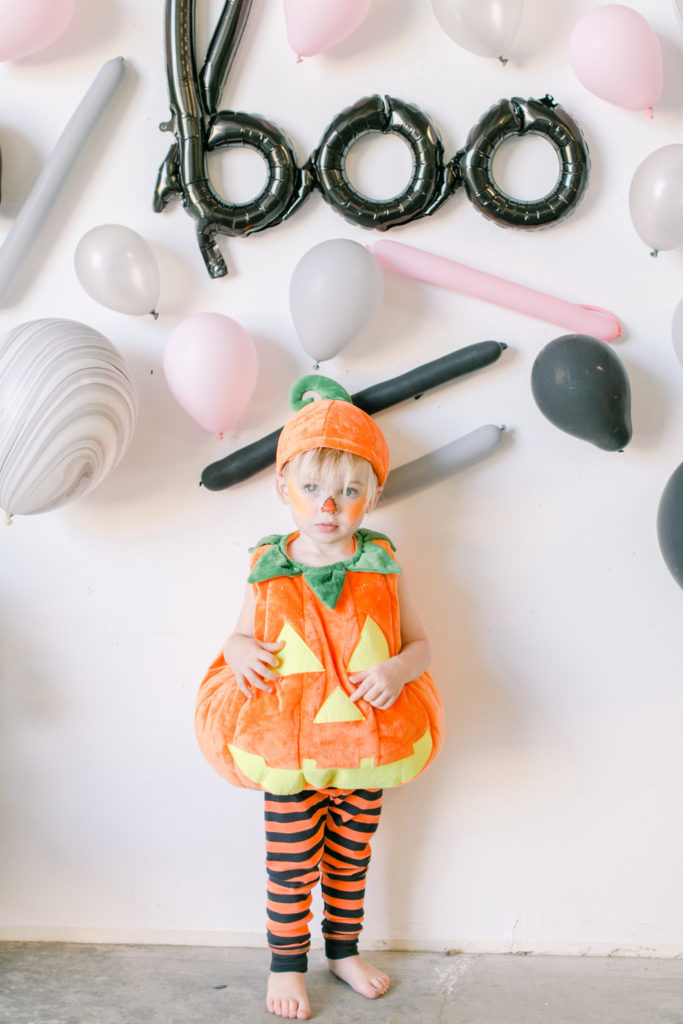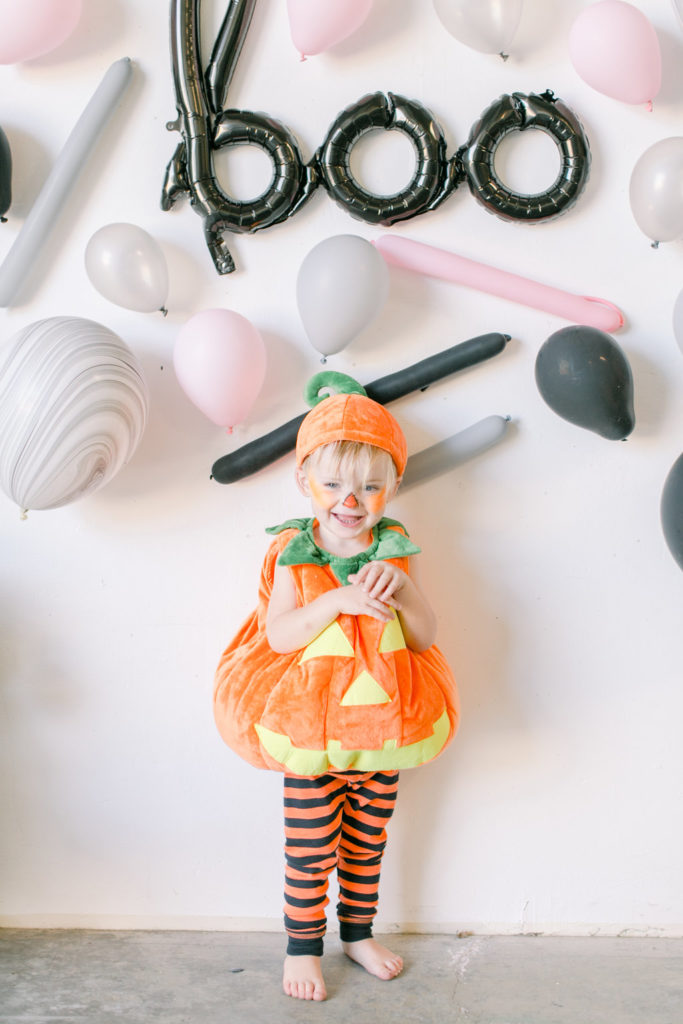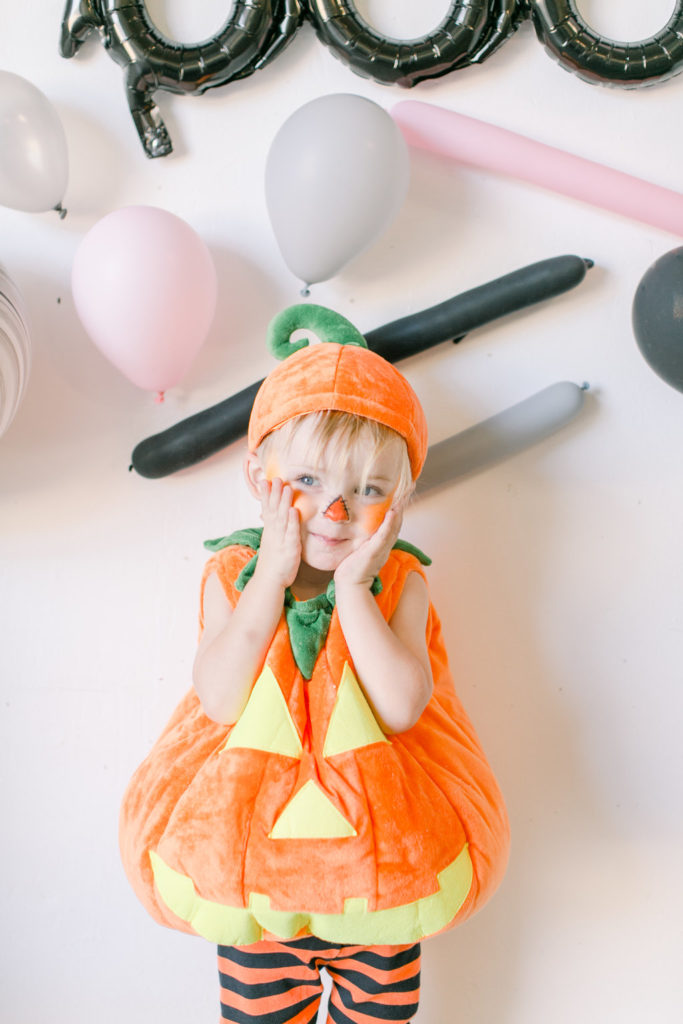 And of course we had our kitty sisters!!!  Elle and Scarlett were the cutest little duo!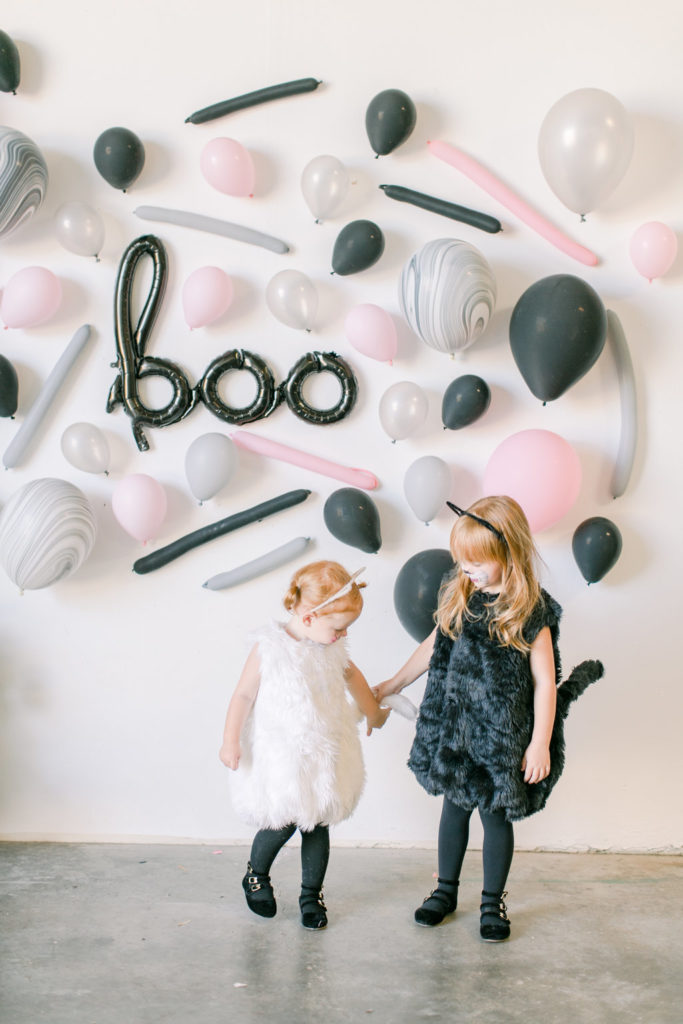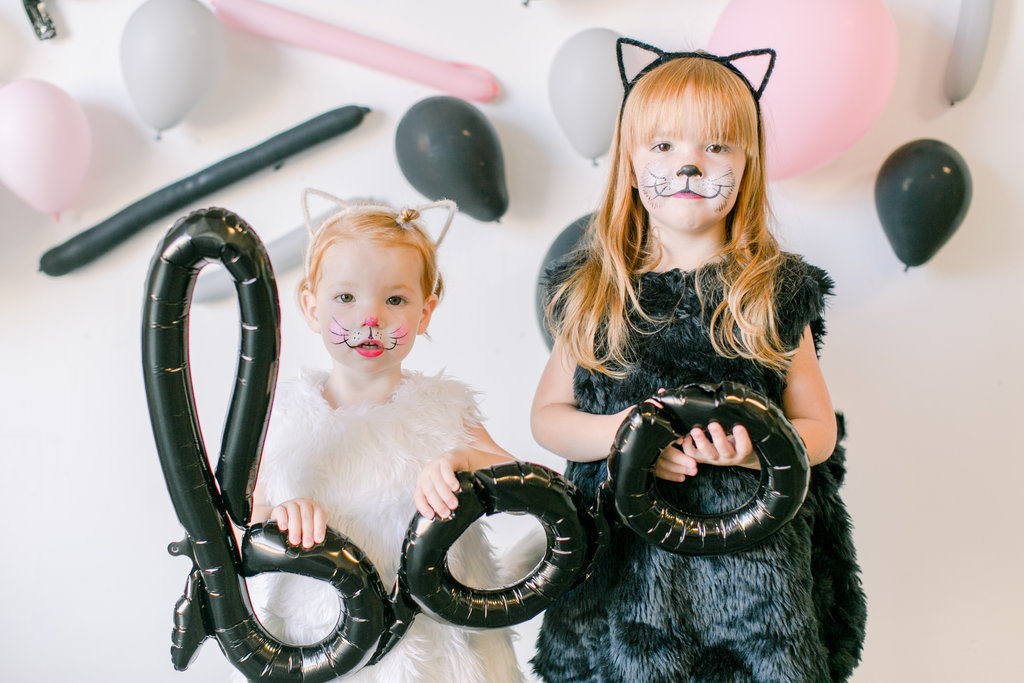 They weren't having fun at all, I swear….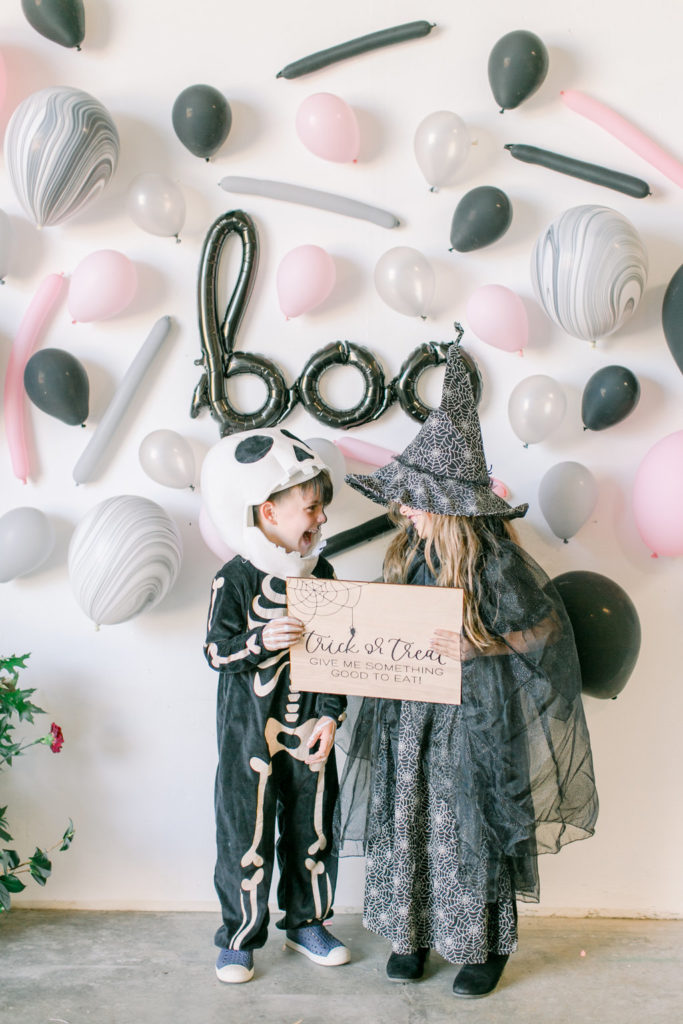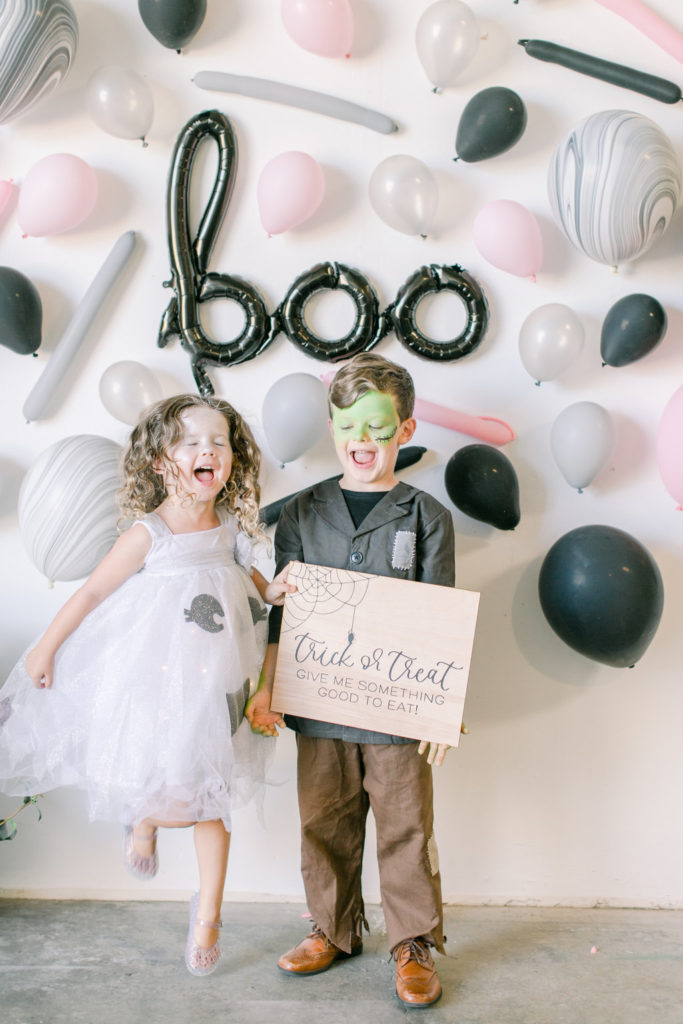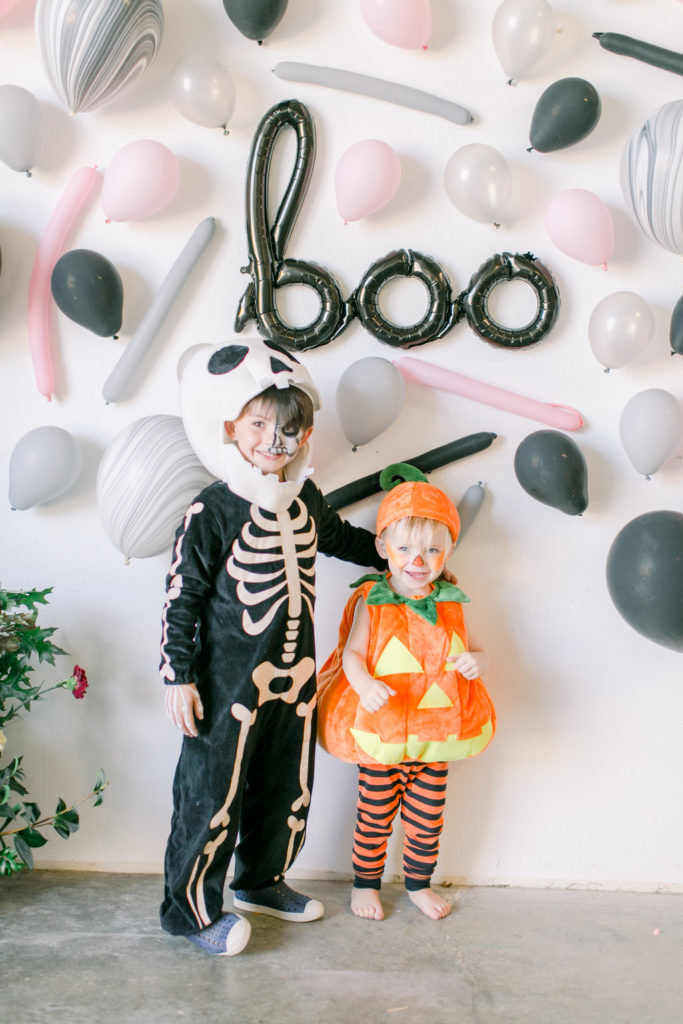 Now you can't have tricks without some treats!!!  Let's check out these incredible desserts from The Sweet Lemon Bakeshop…  We had the cutest cookies, some classic touches and some mimicking Daydream Society's plates.  Best of all?!  The spiderweb cake!!  With marshmallow drippings as the web, you know it's gonna be yummy!!!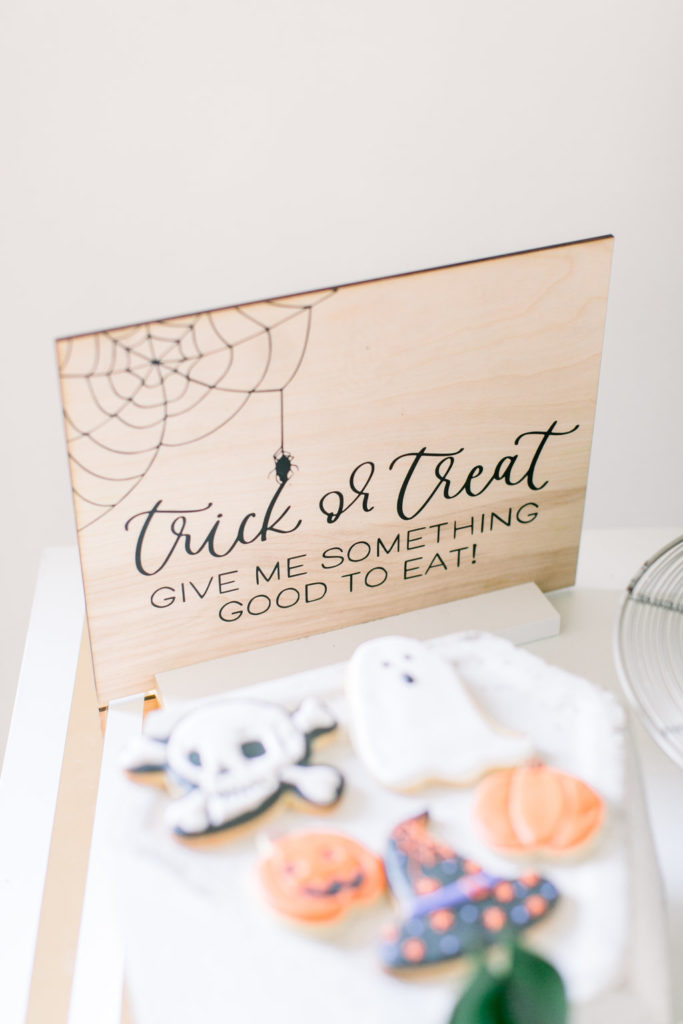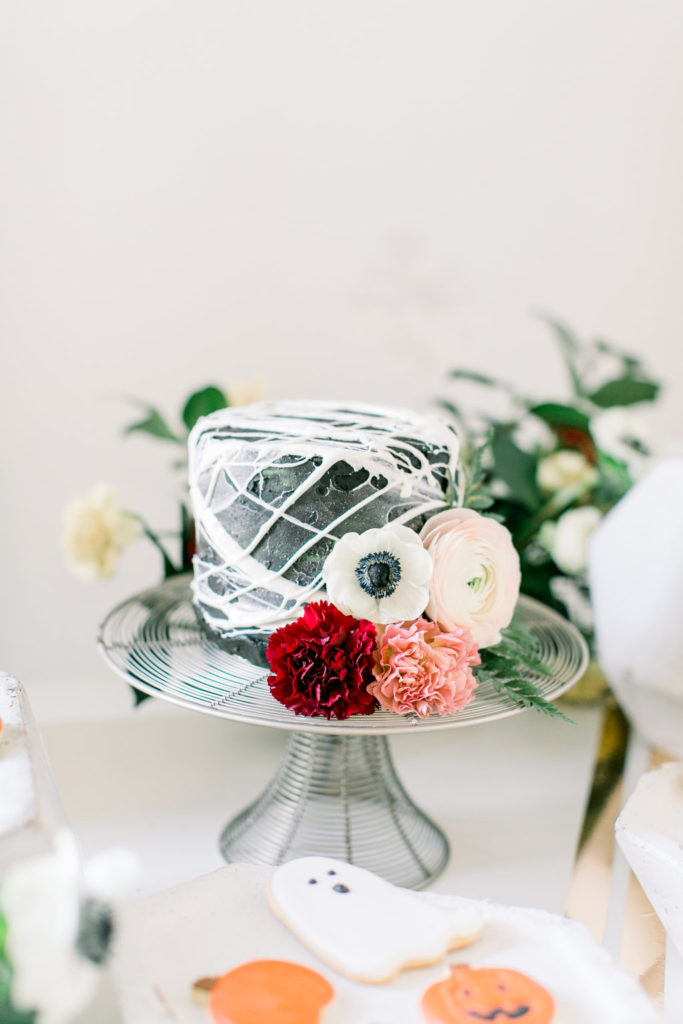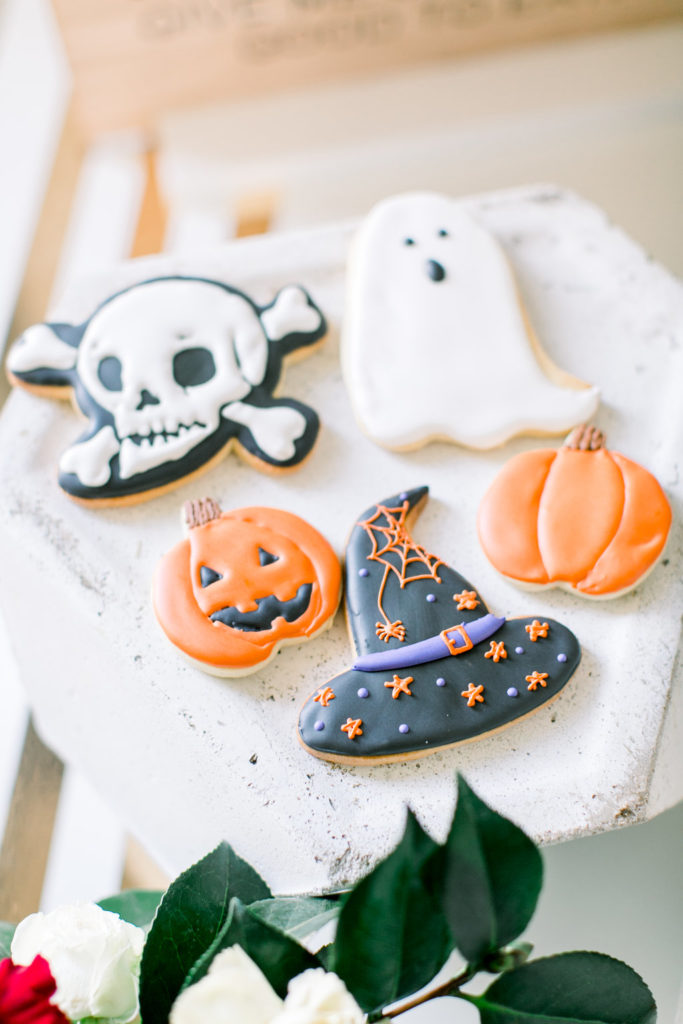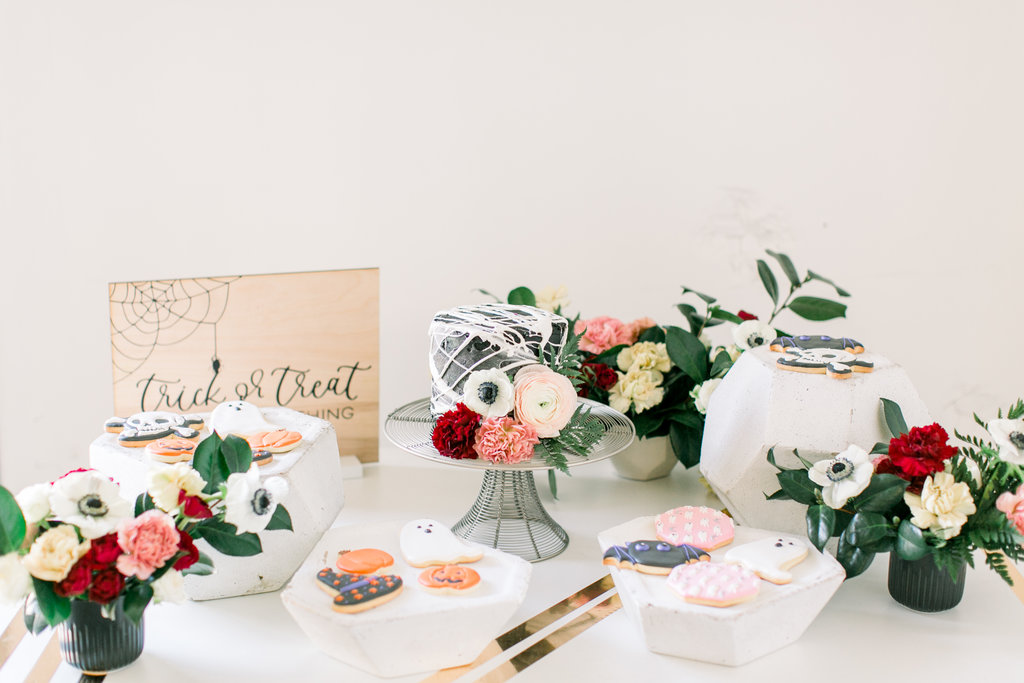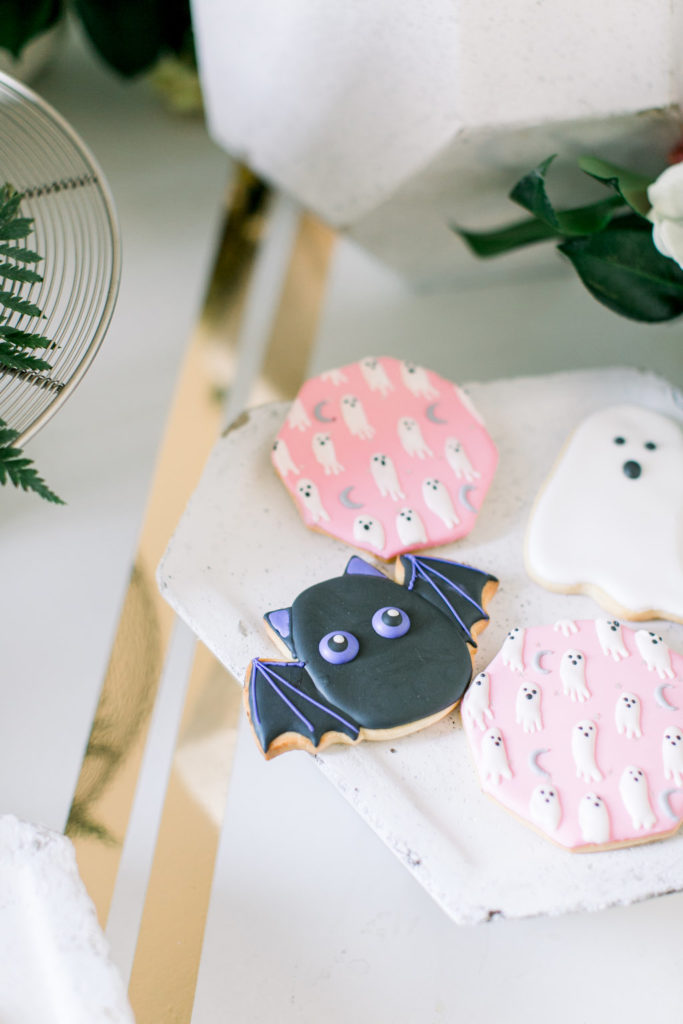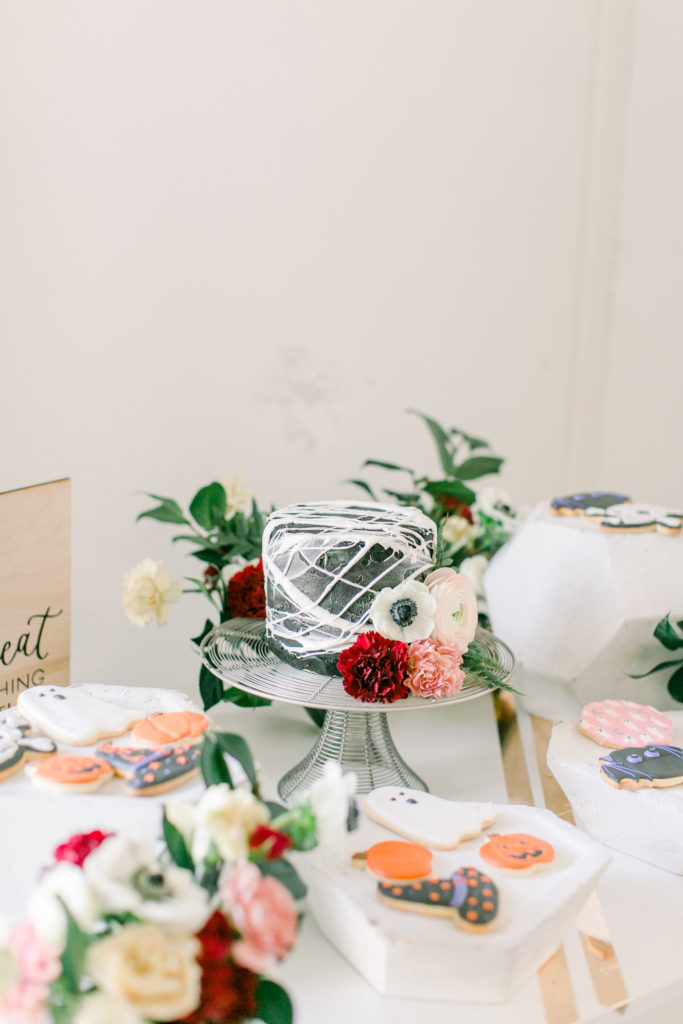 It was like holding off a pack of warewolves with the kids jonesing for these desserts!!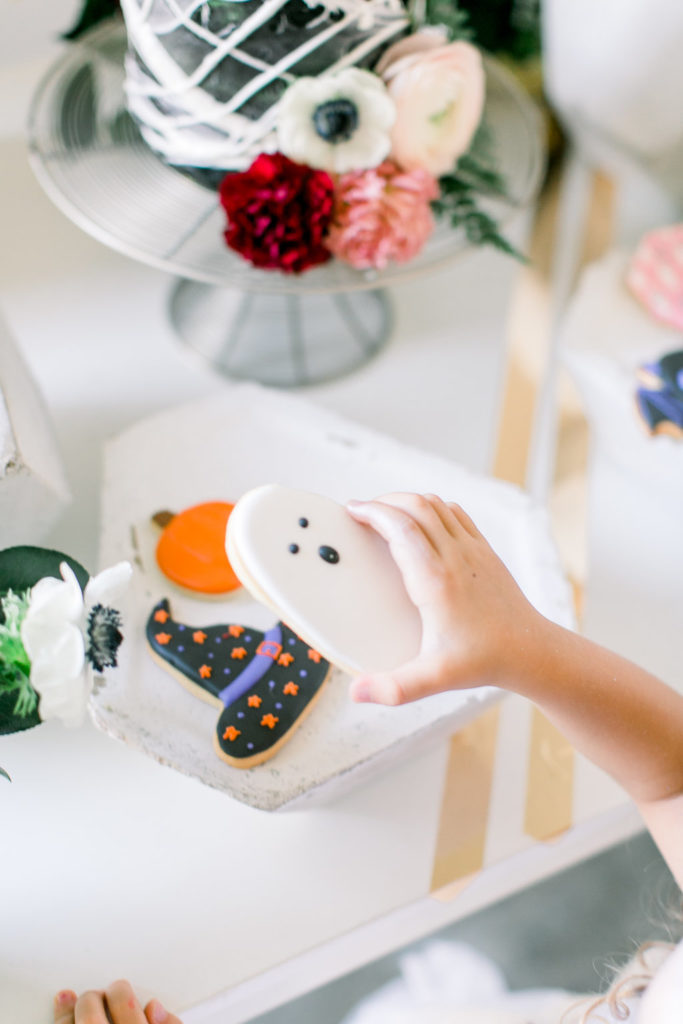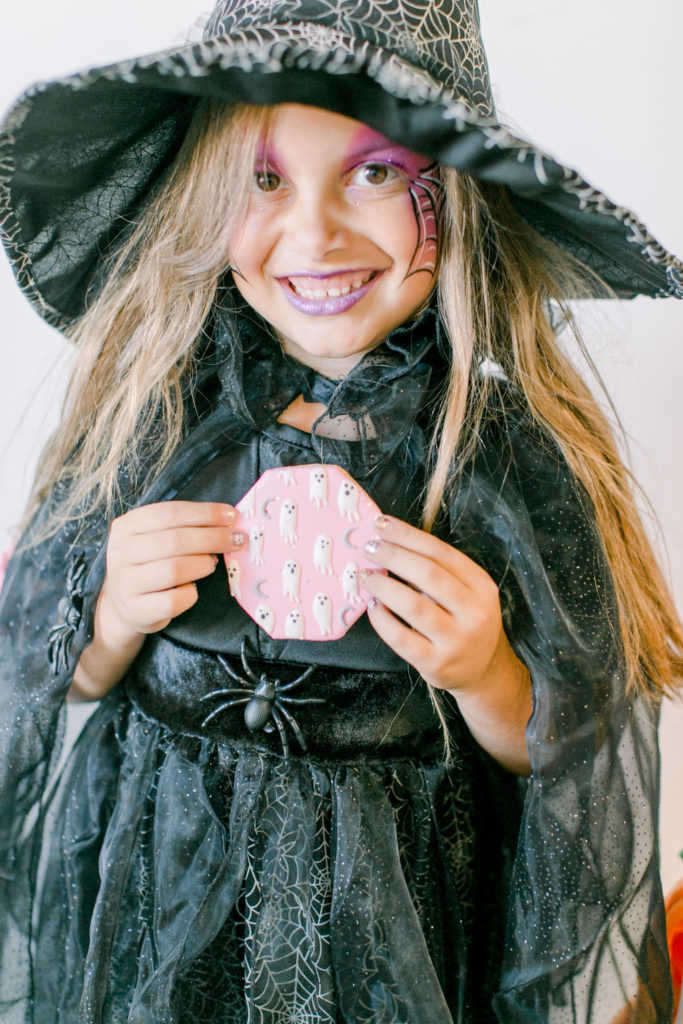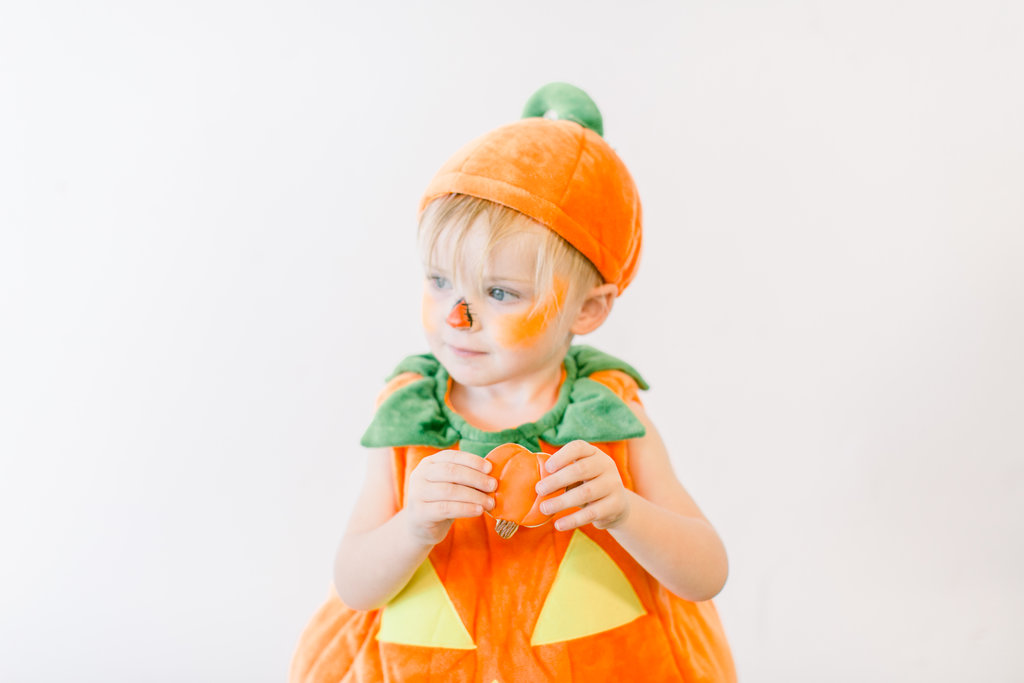 So sweet, right?!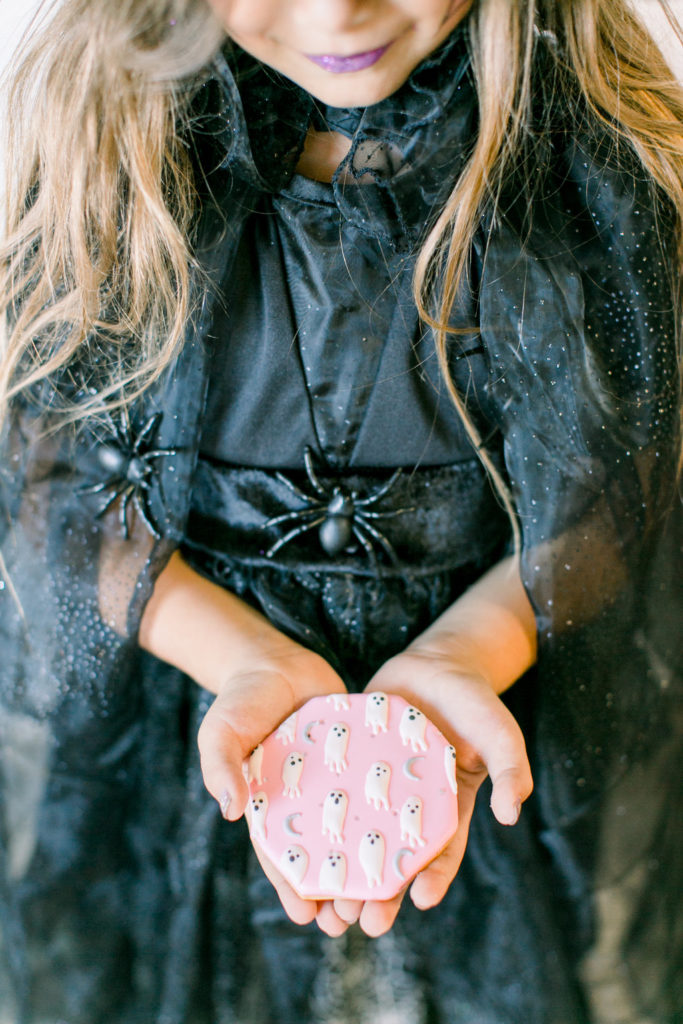 Now you know we are just kicking off the Halloween fun!  We have lots more inspiration to come!!!  Stay tuned!!!
---
You can shop this post below!!!

---
xx
Jacquelyn