---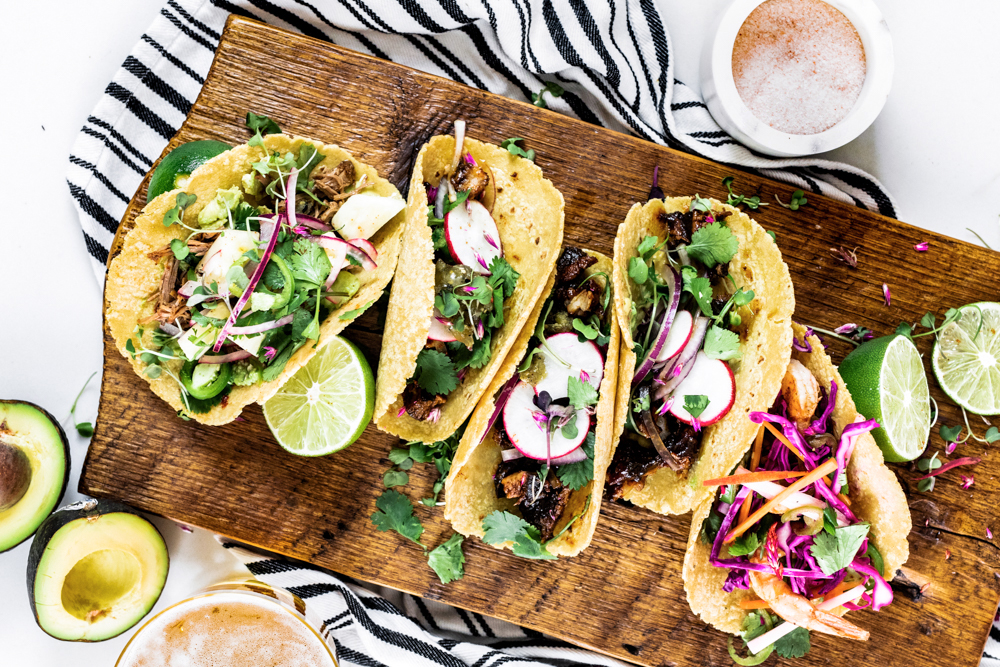 OMG! Let's taco about National Taco Day! It was last week, and you know we would NOT let it pass by. We had to postpone our post about these yummy guys due to our cool new website being pampered. The world is one happy place, we all together collectively can bestow our love for the TACO! Now the hot question is, what kind of taco are you going to do? Are you a soft shell kind of gal or hard taco lover? Or maybe, the live on the edge kind and only do the puffy taco? What kind of meat? Carnitas, chicken, carne asada, fish, or maybe even tongue? (insert big eye emoji) And toppings, sheesh! The pressure! Whatever way you roll, there are endless possibilities. So I did ya a favor, and picked my favorite 3 and sharing the recipes with you today!
All 3 of these mouthwatering recipes are from Sur La Table! They only feature the best of the best, so you know it's going to be good. Plus, they have the Beijos stamp of approval!
Photos by Dayna Studios 
---

INSTANT POT'S
PINEAPPLE + CHIPOTLE PORK TACOS
serves: Makes 4 servings
WHAT YA NEED!

Pork:
2 teaspoons ground cumin
2 teaspoons chili powder
1 teaspoon dried oregano
1½ teaspoons kosher salt, plus more to taste
¼ teaspoon freshly ground black pepper
2½ pounds (1.1 kg) pork butt or shoulder
¼ cup (60 ml) fresh orange juice
1 canned chipotle chile in adobo sauce, finely chopped, plus 2 tablespoons (30 ml) adobo sauce
3 cloves garlic, finely chopped
1 medium red onion, thinly sliced
Salsa:
2 cups (310 g) fresh pineapple cut into ½-inch (13 mm) pieces
½ small red onion, finely chopped
½ cup (8 g) chopped fresh cilantro
2 tablespoon (30 ml) fresh lime juice
1 tablespoon (15 ml) extra-virgin olive oil
⅛ teaspoon kosher salt
Tacos:
8 corn tortillas, warmed
BUST OUT:
Instapot
Tongs
Cutting Board
Mixing Bowls
Tortilla warmer
---
INSTRUCTIONS
This recipe comes from the Instant Pot Electric Pressure Cooker Cookbook. It was designed to be made in the Instant Pot. So grab yourself an Instant Pot at Sur La Table, and get cooking friends! You will love it! A game changer in anyone's life.
In a small bowl combine cumin, chili powder, oregano, salt, and pepper.
Trim the pork of any extraneous fat. Cut the pork into quarters and season each piece with the spice rub.
To the Instant Pot, add the orange juice, chipotle, adobo sauce, garlic, and onion. Stir to combine. Add the pork. Lock the lid.
In this step, you have the option to slow-cook or pressure-cook (don't do both!). To slow-cook: press [Slow Cook], leave the vent open and cook on "More" for 8 hours. To pressure-cook: press [Manual] and cook on high pressure for 1 hour 15 minutes. Use the "Quick Release" method to vent the steam, then open the lid.
Using two forks, shred the pork and stir to combine in the cooking liquid. Season to taste with salt.
To make the salsa, in a medium bowl combine the pineapple, onion, cilantro, lime juice, olive oil, and salt.
Fill the tortillas with the shredded pork and top with the salsa.

---
---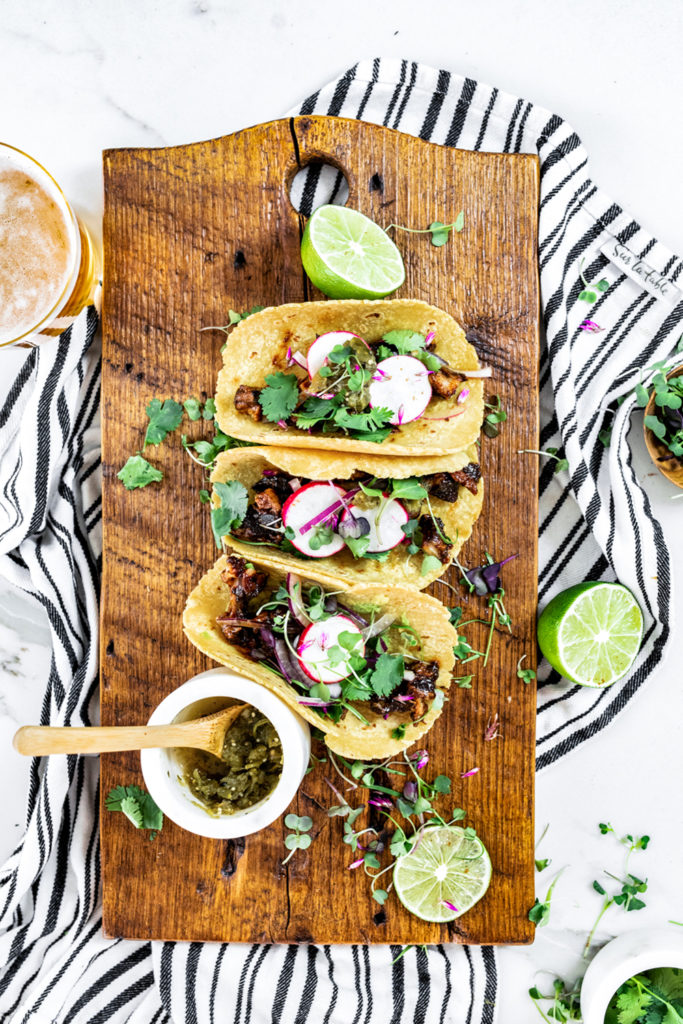 PORK BELLY TACOS
WHAT YA NEED!

Pork Belly Marinade:
½ cup of one's favorite BBQ sauce
12 oz bottle of beer
1 tablespoon chili powder
¼ teaspoon garlic powder
¼ teaspoon onion powder
¼ teaspoon red pepper
¼ teaspoon oregano
½ teaspoon paprika
½ teaspoon cumin
1 teaspoon salt
1 teaspoon pepper
Tomatillos Puree:
8 tomatillos, roasted or grilled until marked, soft, and juicy
½ bunch fresh cilantro
Salt to taste

Condiments:
2 roasted, peeled, and seeded Anaheim peppers, cut into thin strips
4 thinly sliced radishes
Cilantro/red onion mixture
Cup of chopped cabbage
Hot sauce (optional)
12 (8-inch) fresh flour or corn tortillas
BUST OUT:
Mixing Bowls
Baking Dish
Food Processor or blender
Pinch Bowls (for condiments)
Tongs
Cutting Board
Tortilla warmer
---
INSTRUCTIONS
Prepare the pork belly. The belly needs to be in boneless, skinless strips that are about 1.5 inches wide and 6 inches long. If you buy a slab, then you should cut it into strips. You can easily remove the skin by making a slit at one end, then running your knife along the skin and holding the belly secure as you move the knife away from your hand.
Mix the beer with the BBQ sauce and seasoning. Line up your pork belly strips in a baking dish, and pour the sauce over them. Place this dish in an oven at 325°F for about 3½ hours until the meat is very tender.
Allow the belly to cool for about 15 to 20 minutes. Remove from the pan and cut into cubes.
While the pork belly is cooking, roast the tomatillos and Anaheim peppers. Slice the Anaheim peppers into strips and set aside.
Blend the roasted tomatillos and cilantro in a blender or food processor. Salt to taste. Set aside.
Thinly slice the radishes. Chop ½ large red onion and ½ bunch of cilantro and mix. Set aside.
Heat the tortillas in a dry hot frying pan or griddle for about 15 seconds per side.
To Serve:
Assemble your tacos by filling a tortilla with a few pork cubes and a few strips of roasted Anaheim peppers. Add a teaspoon of the onion-cilantro mixture and about a tablespoon of chopped cabbage. Add a couple of the radish slices and about a tablespoon of the tomatillo puree.
---
---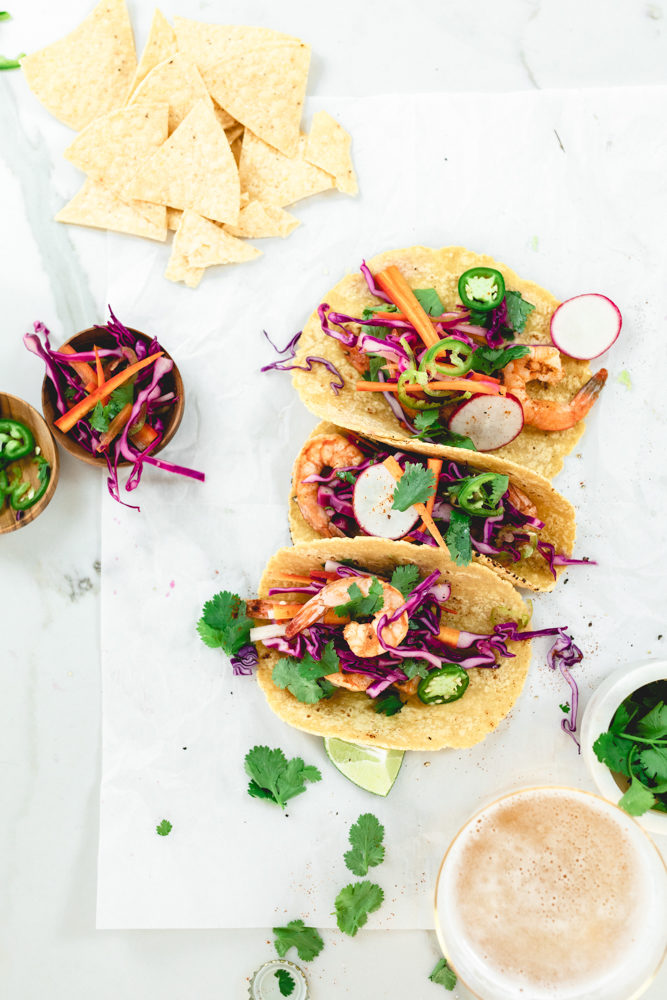 SHRIMP TACOS WITH AVOCADO CREMA
serves: makes 4 servings
WHAT YA NEED!
Slaw:
2 cups finely shredded red cabbage
½ cup peeled and shredded carrot
1 medium jalapeno pepper, seeded and minced
2 tablespoons apple cider vinegar
1 tablespoon honey
Sea salt and freshly black ground pepper
Avocado-Lime Crema:
1 medium avocado, peeled and pitted
⅓ cup Crema Mexicana
2 tablespoons chopped cilantro
2 tablespoons fresh lime juice
Shrimp:
1 pound medium shrimp, peeled and deveined
1 tablespoon vegetable oil
1 tablespoon chipotle paste
1 teaspoon fresh lime juice
For Serving:
8 corn tortillas
1 cup cilantro leaves, roughly chopped
1 lime, cut into wedges
1 bunch breakfast radishes, slices
BUST OUT:
Mixing Bowls
Food Processor or blender
Pinch Bowls (for condiments)
Tongs
Non-stick baking pan
Vegetable Peeler
Cutting Board
Tortilla warmer
---
INSTRUCTIONS
To Make The Slaw:
In a large mixing bowl, toss all slaw ingredients together. Taste and adjust seasoning with salt and pepper. Set aside.Avocado Crema:
Place all ingredients in the bowl of a food processor. Blend into a smooth sauce, taste and adjust seasonings with salt. Transfer to a small bowl set aside. For The Shrimp:
Preheat pan on medium-high heat. In a medium bowl, toss the shrimp with the oil, chipotle paste and lime juice. Season shrimp with salt and pepper. Cook the shrimp tossing in the pan for about 1 to 2 minutes per side.To Serve:
Fill each warm tortilla with grilled shrimp, a small amount of slaw, lime crema, and cilantro leaves. Serve with lime wedges and remaining slaw on the side.
---
---
BEIJOS KITCHEN

xx
Abby