Hello Fall! You are finally here, and we are loving you! I mean the weather could change, but enjoying fall foods like this panzanella salad will do for now. This salad screams fall, and it's one of my favorites! There is nothing better then some roasted leeks, fresh apples, and some yummy crunchy bread. I'm showing you the steps on how to make this salad plus how to assemble it! Read below, and enjoy this yummy fall dish.

Photos by Dayna Studios
---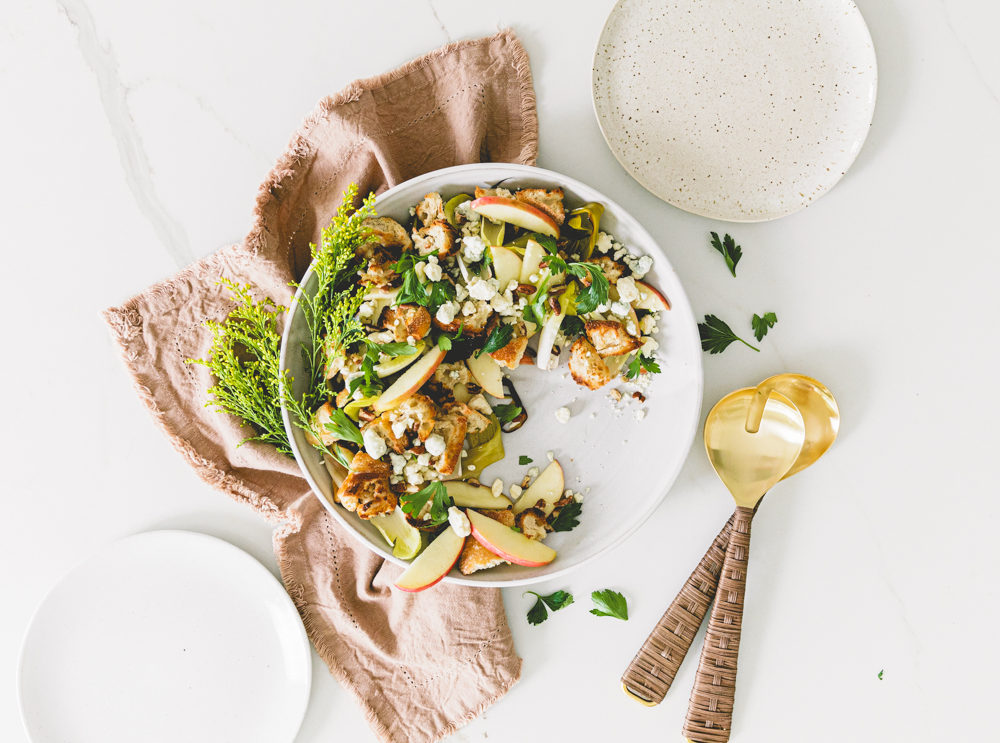 WHAT IS PANZANELLA?
So what is Panzanella? Panzanella is an Italian salad which features stale bread which has been moistened, either by being pre-soaked or with the vinaigrette which the salad is dressed with. This salad is most commonly found around the area of Tuscany, where it is generally served as a summer salad, featuring garden-fresh ingredients like tomatoes and cucumbers. In this case, we aren't doing a traditional version but more of a fall-inspired with ingredients like roasted leeks, apples, blue cheese, and pecans.

TIPS ON MAKING PANZANELLA
You can make the roasted leeks prior — Any step you can do prior is a win-win for any mama! You can roast your leeks and store in your fridge for up to 5 days.
Choosing the right bread — Italian bread and french bread at the best choices for Panzanella. Sourdough bread can work too but Italian bread and french bread are a little less dense and dry out better. Ciabatta bread is too airy and has too many large holes in it.
Let the veggies and dressing rest — Before serving this Panzanella salad, mix together the dressing and let them hang out to get all the flavor together. You can also make this prior and store in your fridge for a couple of days. Also, mix your dressing with the veggies and fruit to allow the same flavor party to happen for a couple of minutes. I usually do like 10 min. And for the bread, I like to soak for about 2 minutes, no one likes soggy bread.
Fall Panzanella
SERVES: 6 | PREP: 15 MINUTES | COOK: 20 MINUTES

W H A T Y A N E E D!
Roasted Leeks
2 large leeks, roots and dark green tops trimmed off
2 tablespoons extra-virgin olive oil
2 tablespoons unsalted butter
1/4 cup crisp white wine, such as Sauvignon Blanc
1 teaspoon kosher salt

Apple Cider Vinaigrette and Panzanella
2 tablespoons apple cider vinegar
1/4 cup extra-virgin olive oil
2 teaspoons finely minced shallot
1 teaspoon Dijon mustard
1 teaspoon fresh thyme leaves
1/2 teaspoon honey
1/2 teaspoon kosher salt
2 cups torn and toasted bread
2 cups torn endive, escarole, or coarsely chopped romaine hearts
1 cup sliced Fuji, Mutsu, Honeycrisp, or other tart green or red apple
1/2 cup pecans, toasted in a skillet until aromatic
1 teaspoon kosher salt
6 cranks black pepper
4 ounces crumbly blue cheese

B U S T O U T
Dressing Container/Shaker
Small Baking Pan
---
I N S T R U C T I O N S

Let's make the roasted leeks! Preheat the oven to 350°F. Slice the leeks in half lengthwise and give them a good rinse— like a really good rinse. Majority of the time there is sand and dirt in between the leaves. In a small baking pan, add the leeks, cut-side down. They should fit in a single layer without much room around them. Add the oil, butter, wine, and salt to the pan and bake until the leeks are tender and the wine is mostly evaporated about 15 minutes. Once, the wine is almost gone, switch the oven to broil. Flip the leeks over and broil until they're golden and charred in spots, 3 to 5 minutes.
Let the leeks cool to room temperature, then cut into 1/2-inch-wide slices. Set aside until ready to serve or store in the fridge for up to 5 days.
Make the vinaigrette. In a jar, shake together the apple cider vinegar, extra-virgin olive oil, minced shallot, Dijon mustard, thyme leaves, honey, and 1/2 teaspoon salt.
Soften the bread. In a large bowl, toss the bread bits with about half of the vinaigrette and let them sit for a minute or two to soften slightly.
Put it together and serve. Add the leeks, greens, apple, pecans, 1 teaspoon salt, and pepper to the bread and give the salad another good toss. Taste and, if desired, add the remaining vinaigrette and toss again or serve the dressing on the side. Finally, add the blue cheese and give it one more quick toss before serving.

H O W T O A S S E M B L E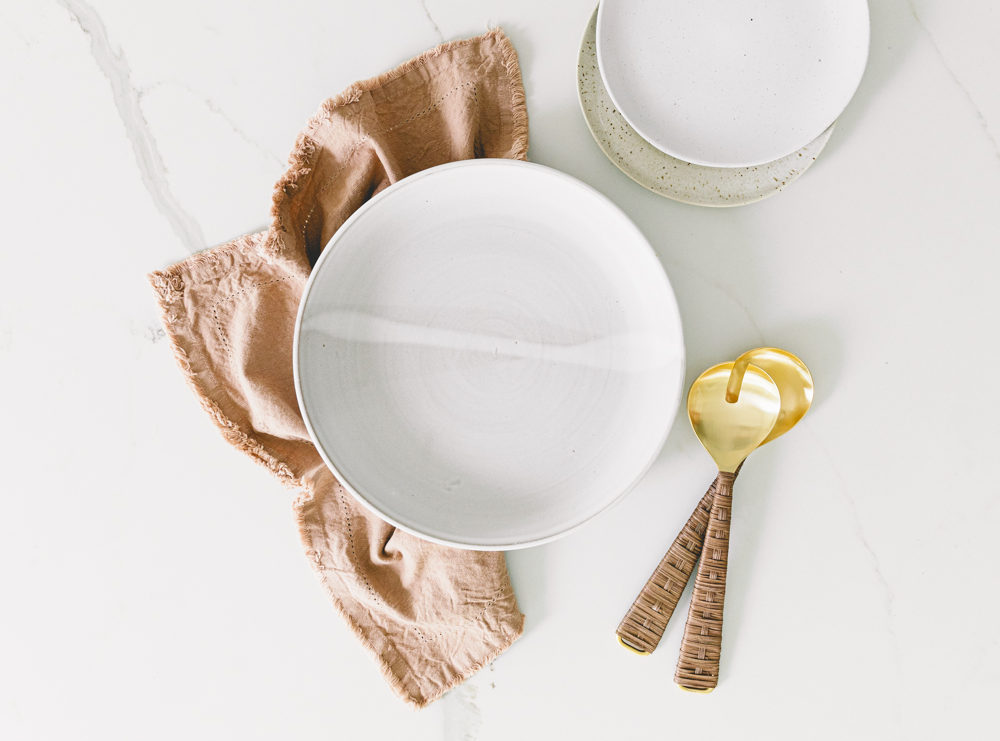 Start with a pretty dinnerware, salad servers, and a nice fall colored linen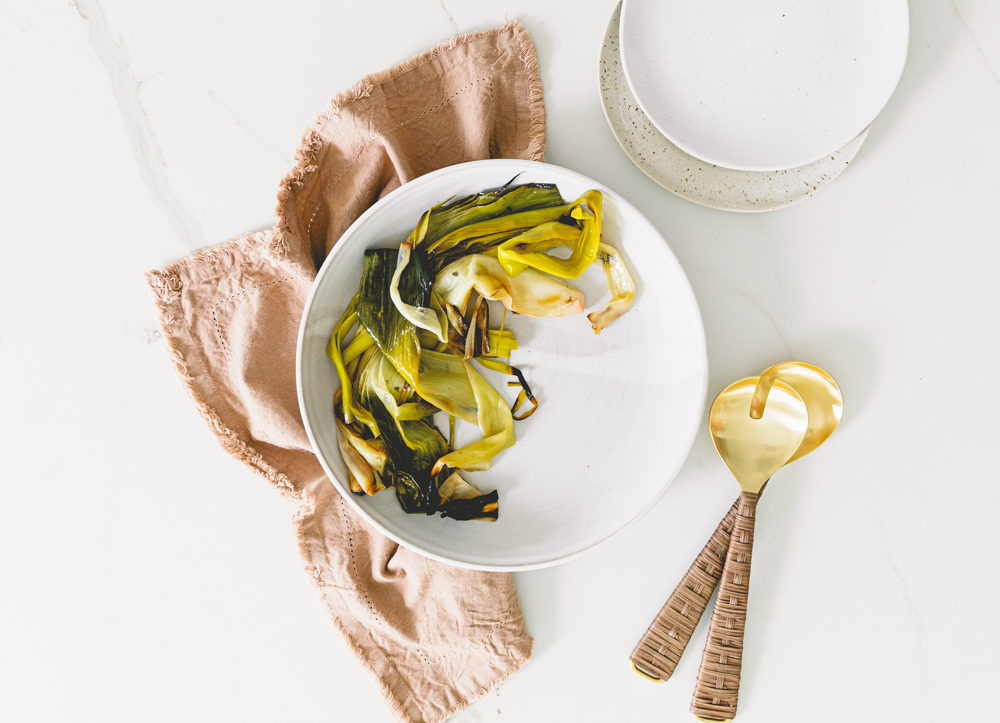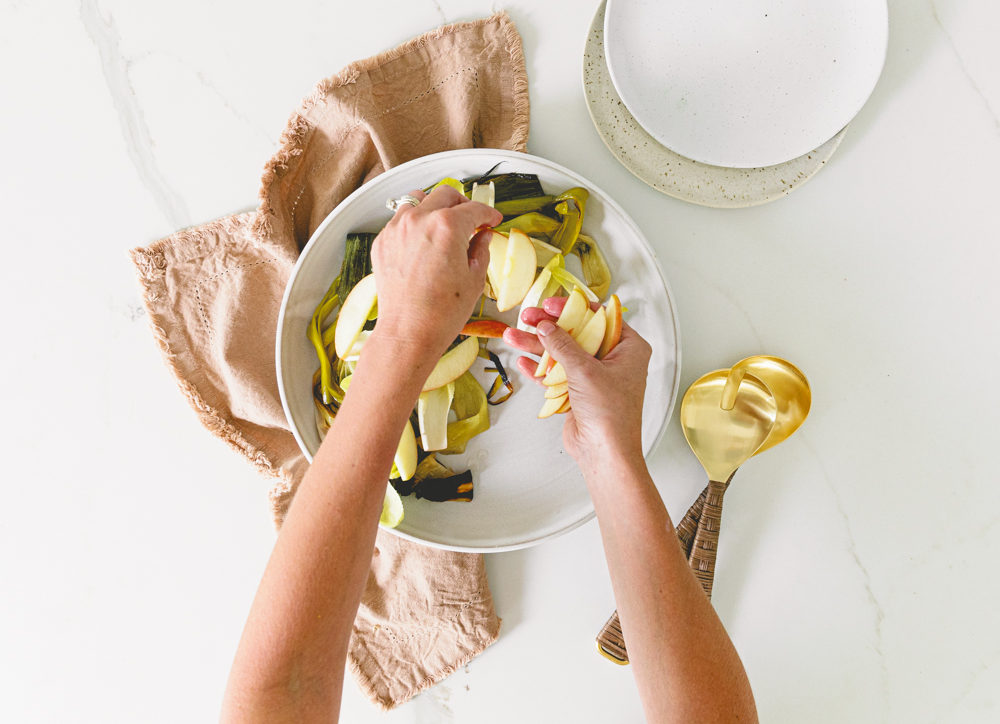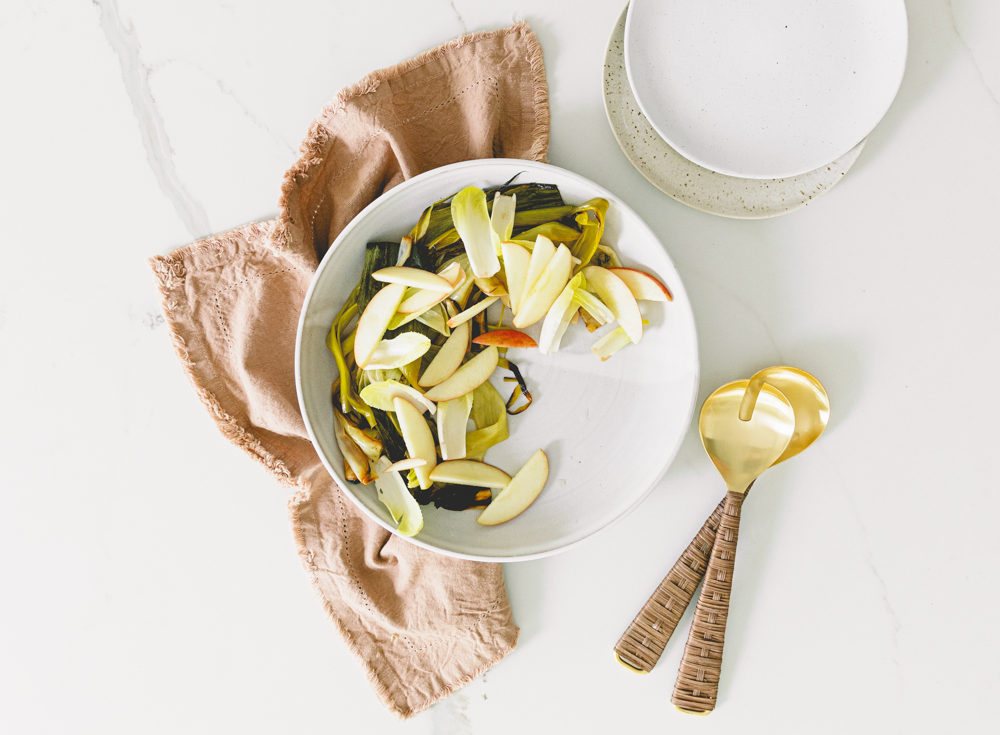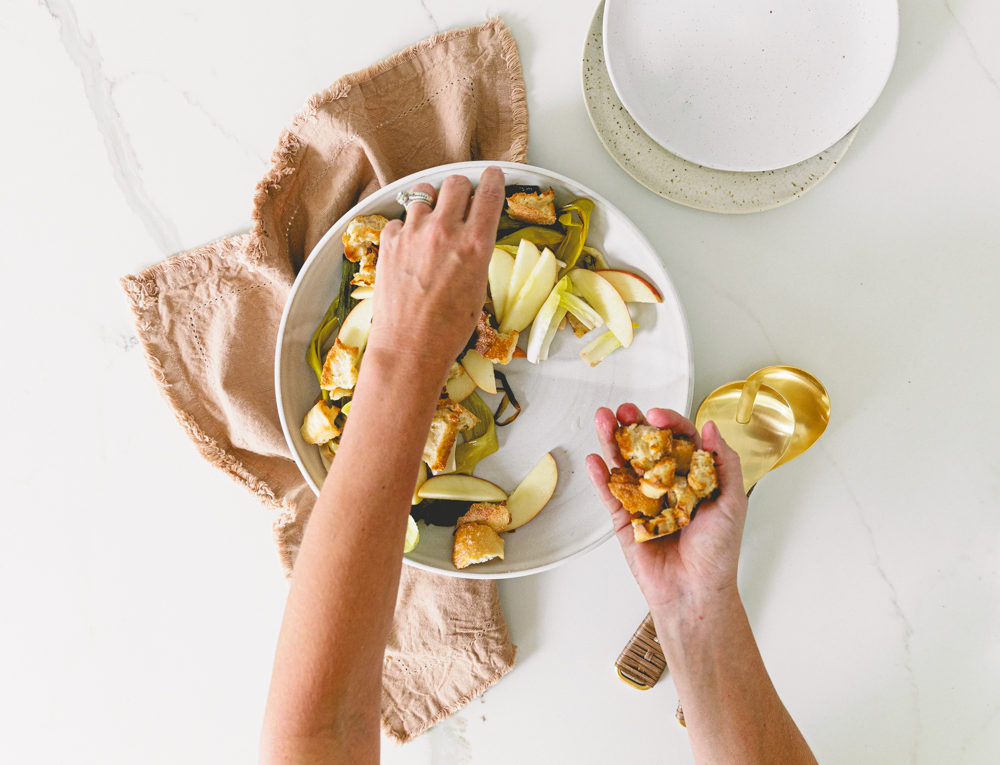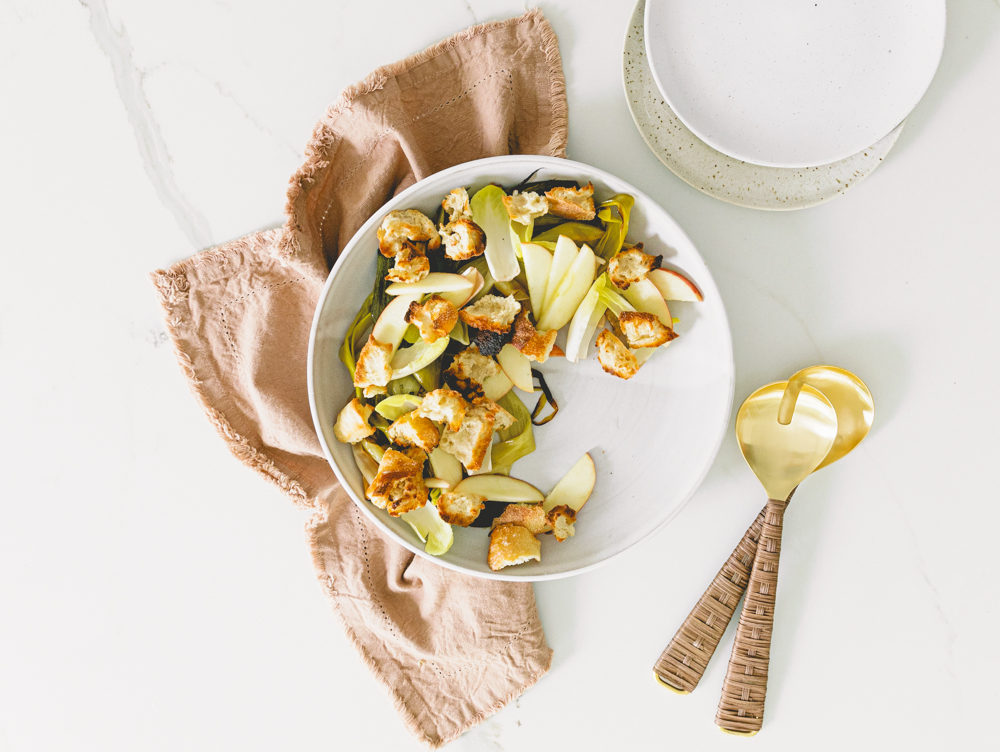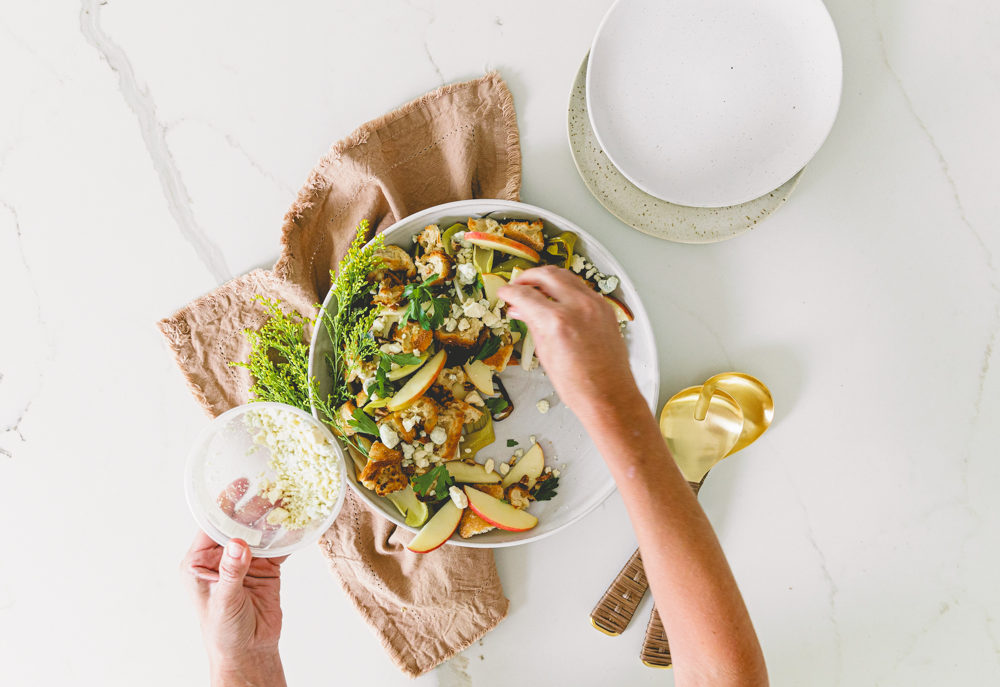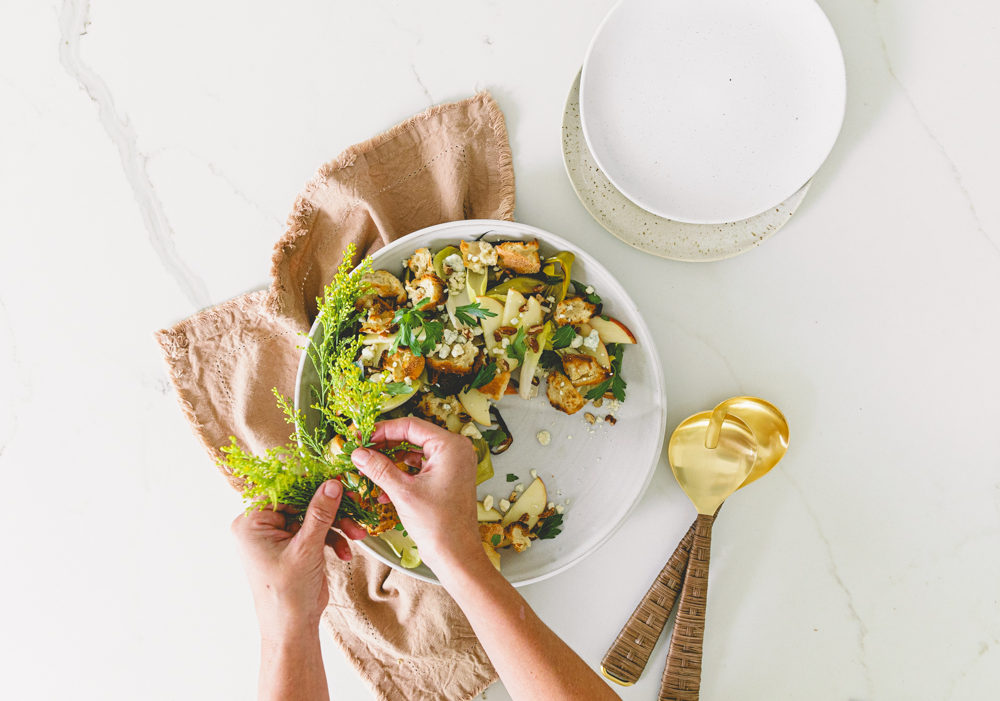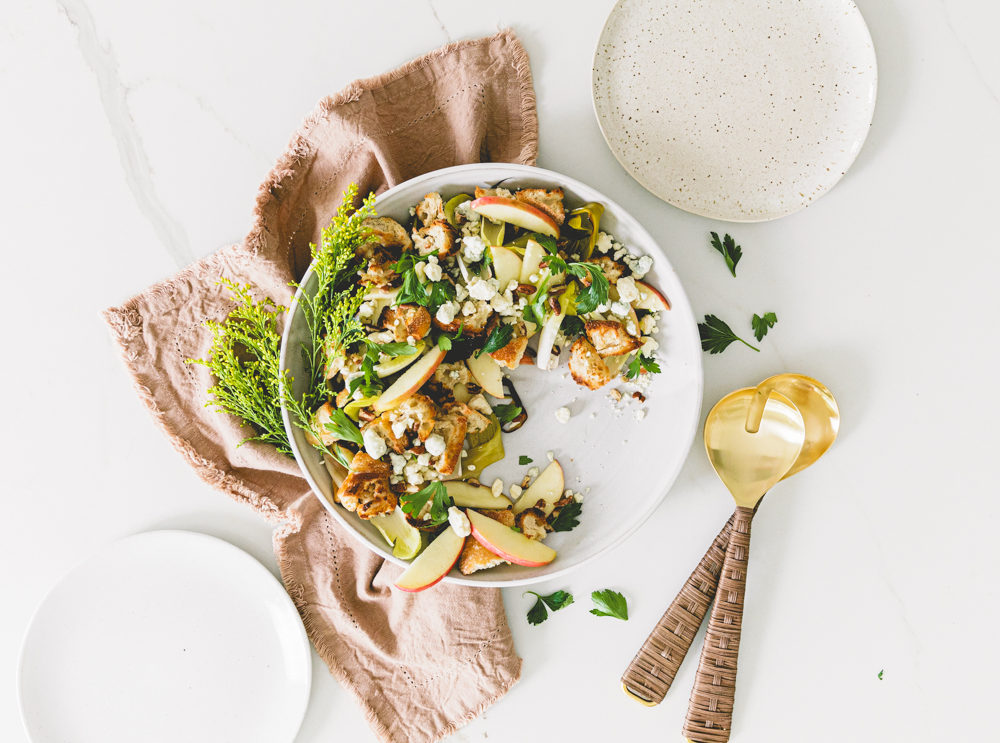 ---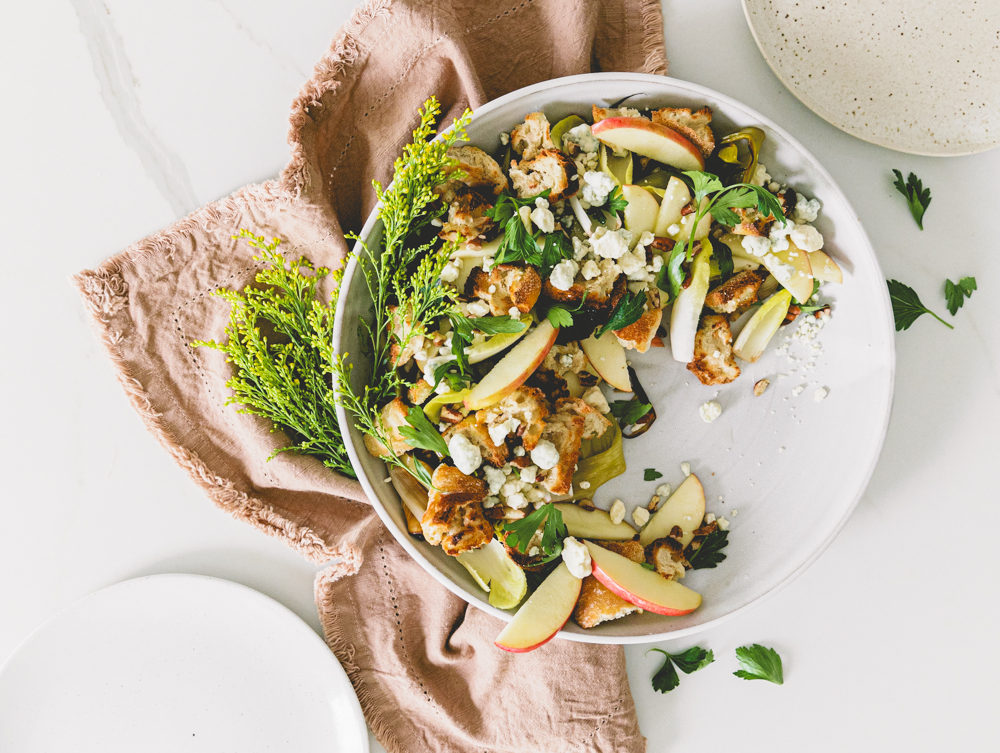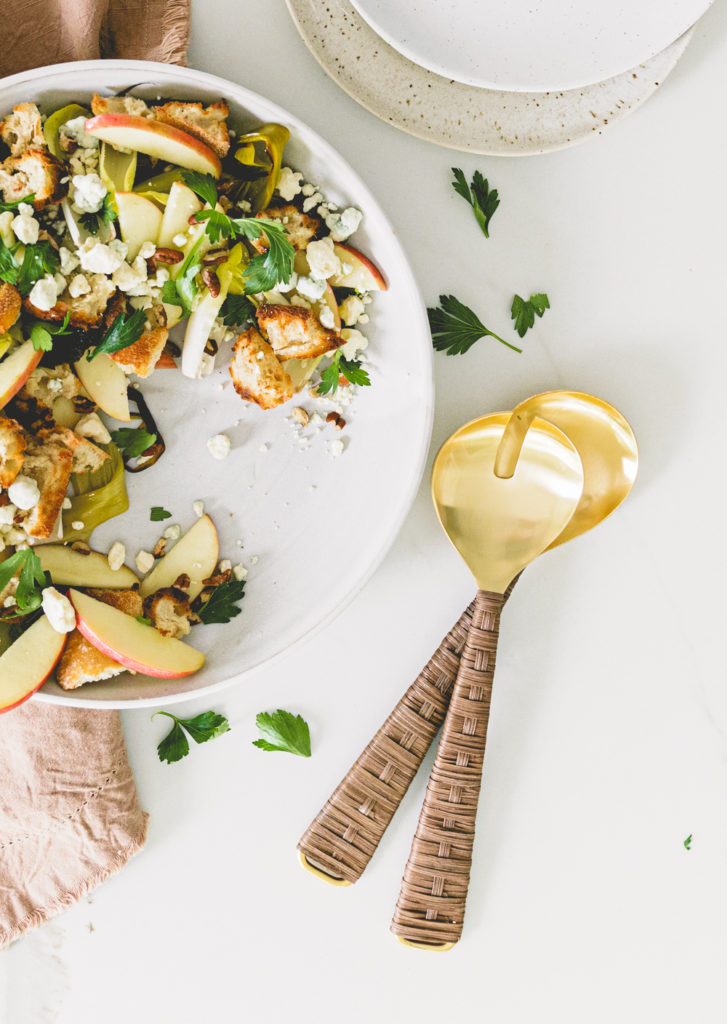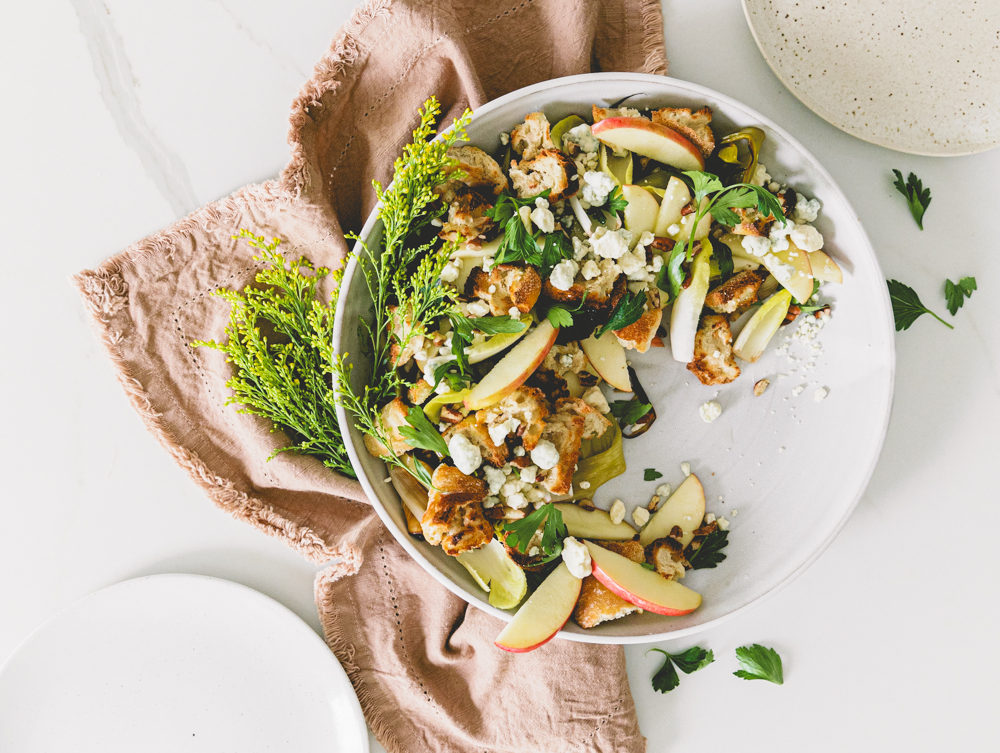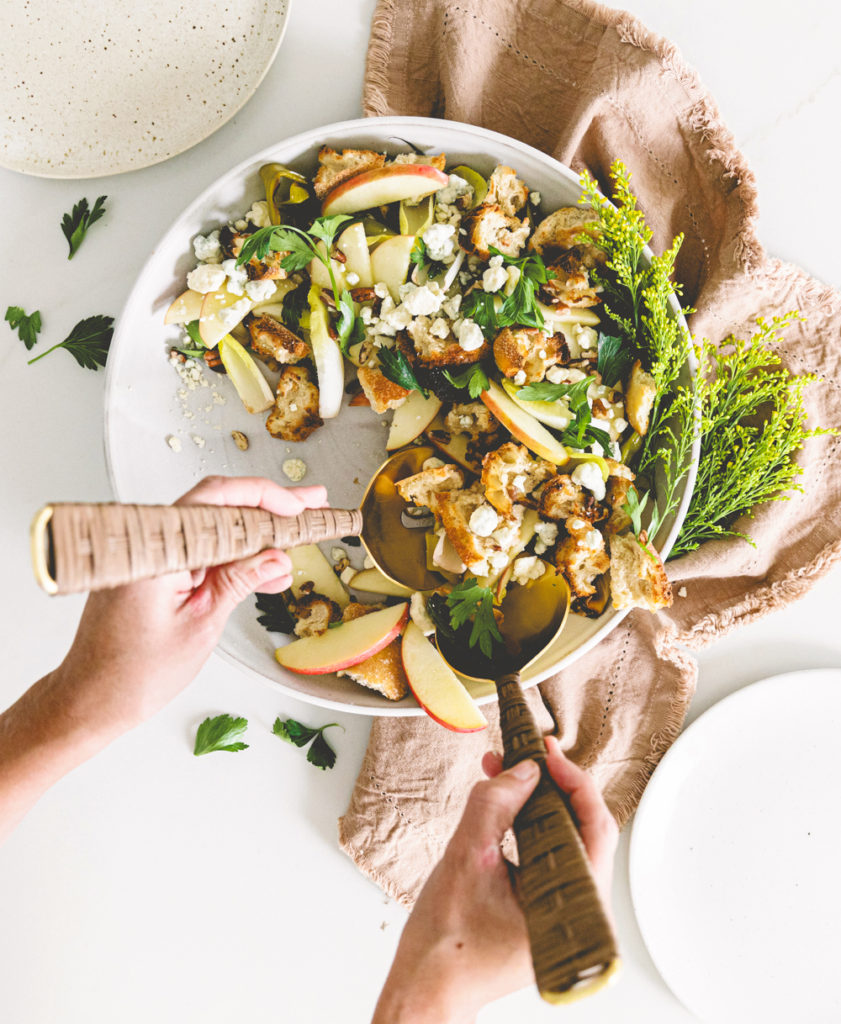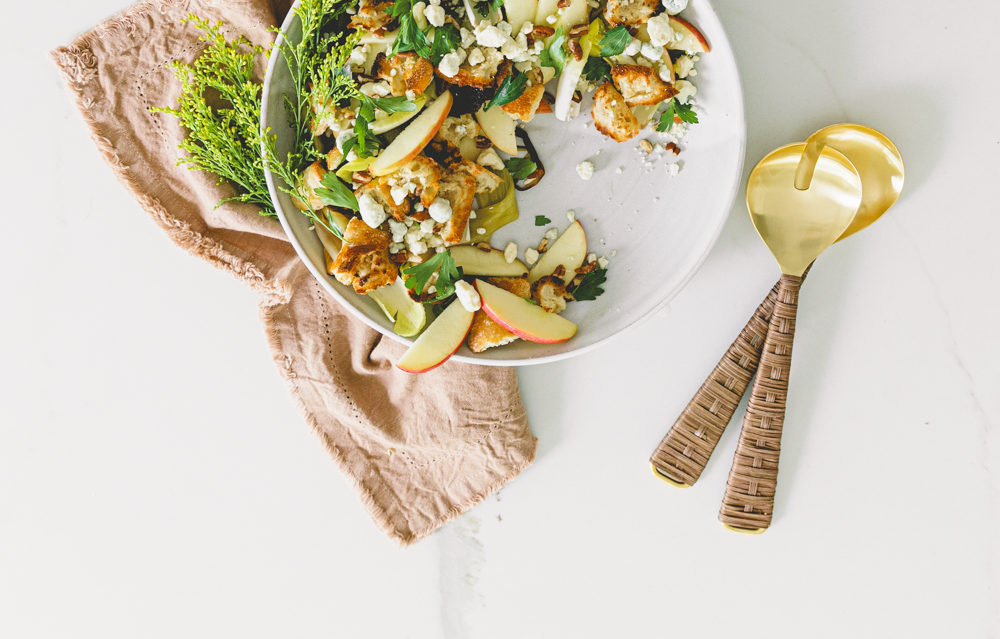 xx
Abby