We love designing our e-celebrate boards for our clients. It's so fun to see the boards come alive for their special day. When our pal, Meghann Miniello came to us and wanted an e-celebrate board to design a very special elopement, we were all in!
We love that Inspired by This has tied in 10 tips for the morning of your special day along with this feature, see it here.
Photos by Brooke Borough
Let's start with our e-celebrate board we helped design with Meghann.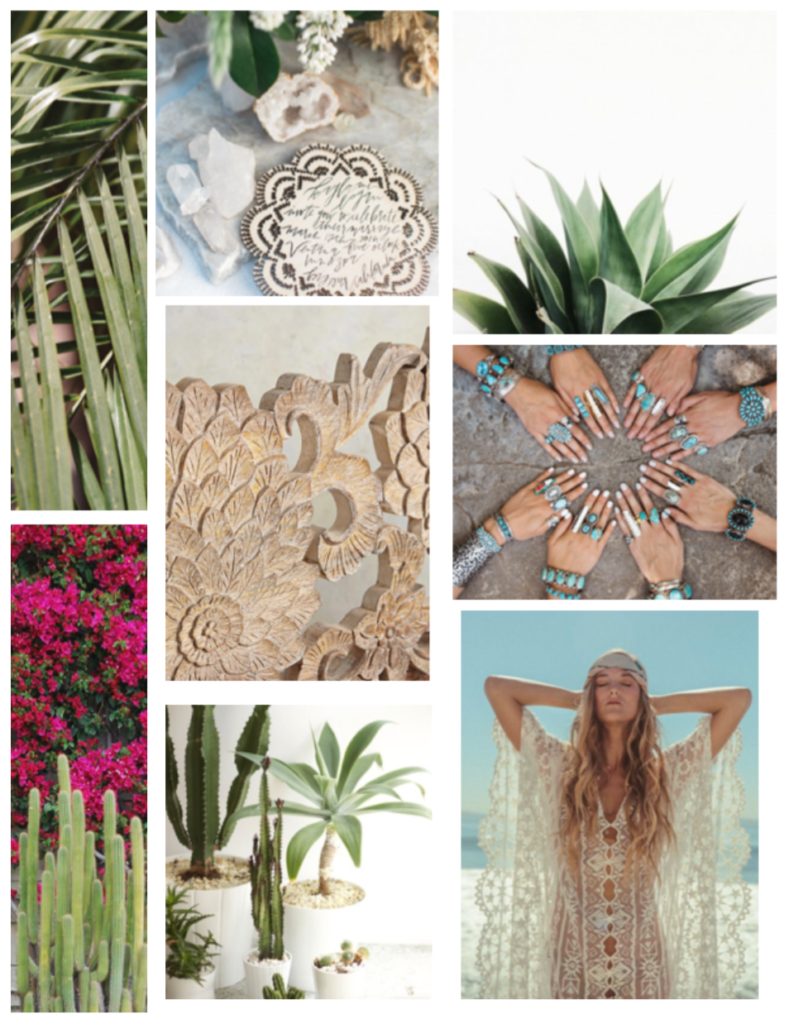 We came up with a sunny Southern California morning. A morning filled with bright light, wooden elements, cactus, geodes, bougainvillea, turquoise jewelry, and our favorite morning attire, Jen's Pirate Booty Kimonos.
Let's see how Meghann and a dream team of vendors brought this to life, and created tips for your special morning.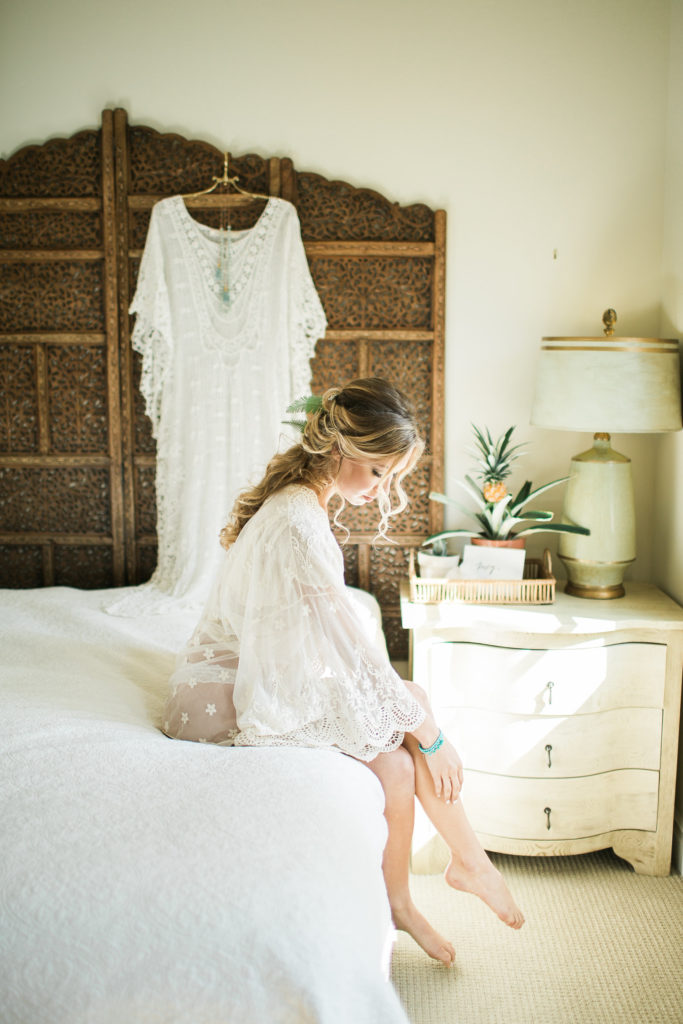 Meghann says, Whether you're on the Mediterranean sea, a tropical island, or, like us, on the California coast, you can create a beautiful, aesthetically pleasing space to primp + prep like a rockstar, with just a few tricks in your suitcase. Brooke Borough Photography captured the day with tons of light, attention to detail, and all around gorgeous photos.

The laser-cut leather invitation that I designed set the tone for the vibe and aesthetic for the shoot. Natural and casual, Californian, and a little different than the norm, it effortlessly complements all the details. The laser cut place-mats also took brunch to the next level.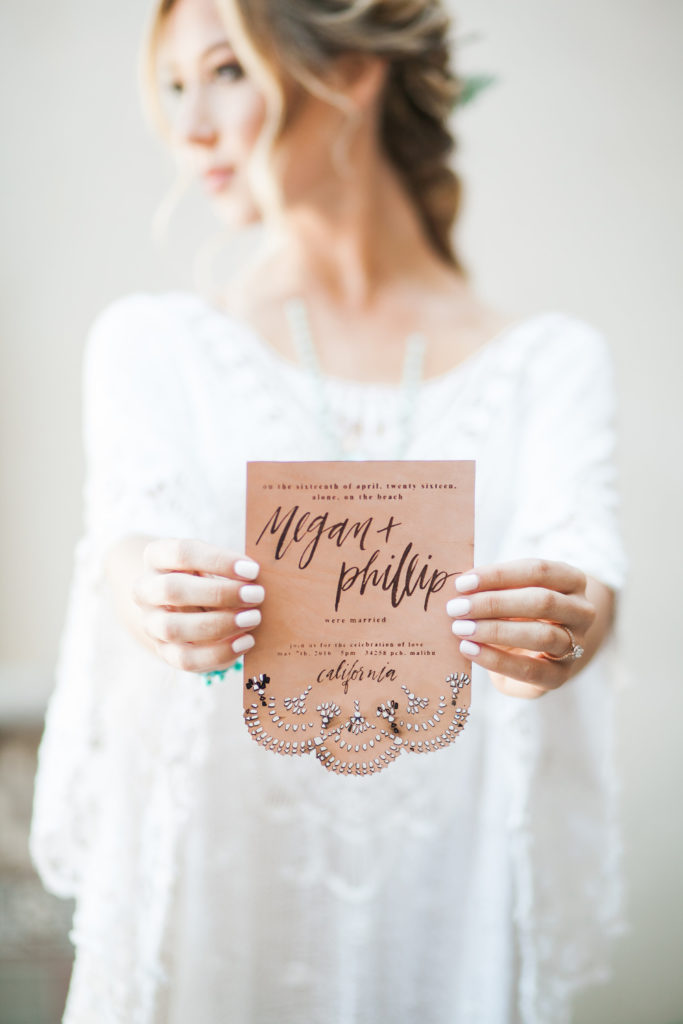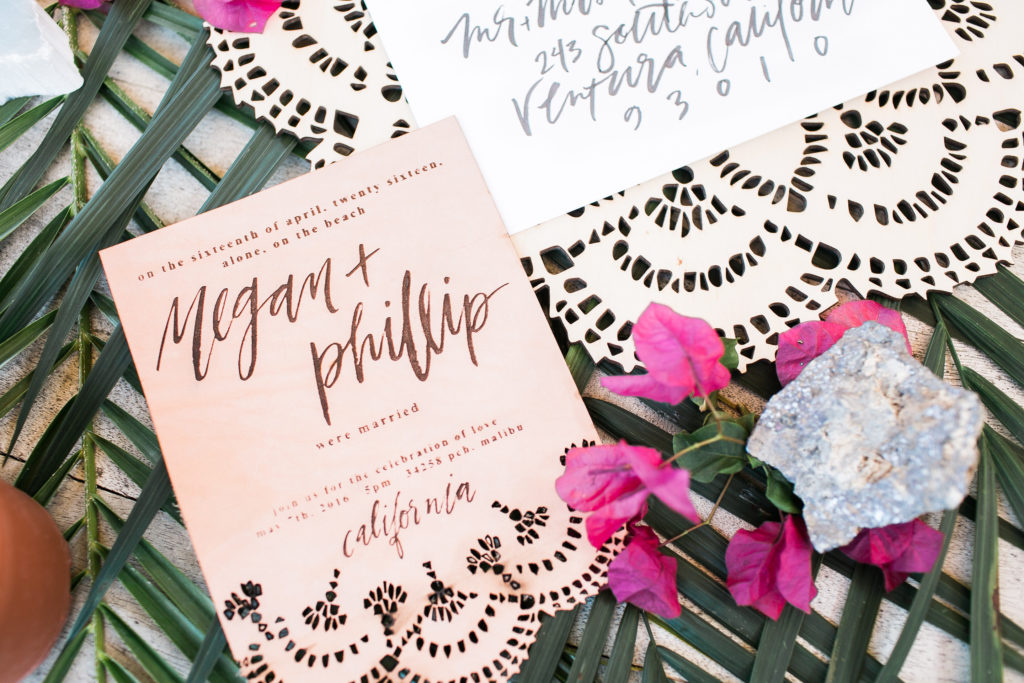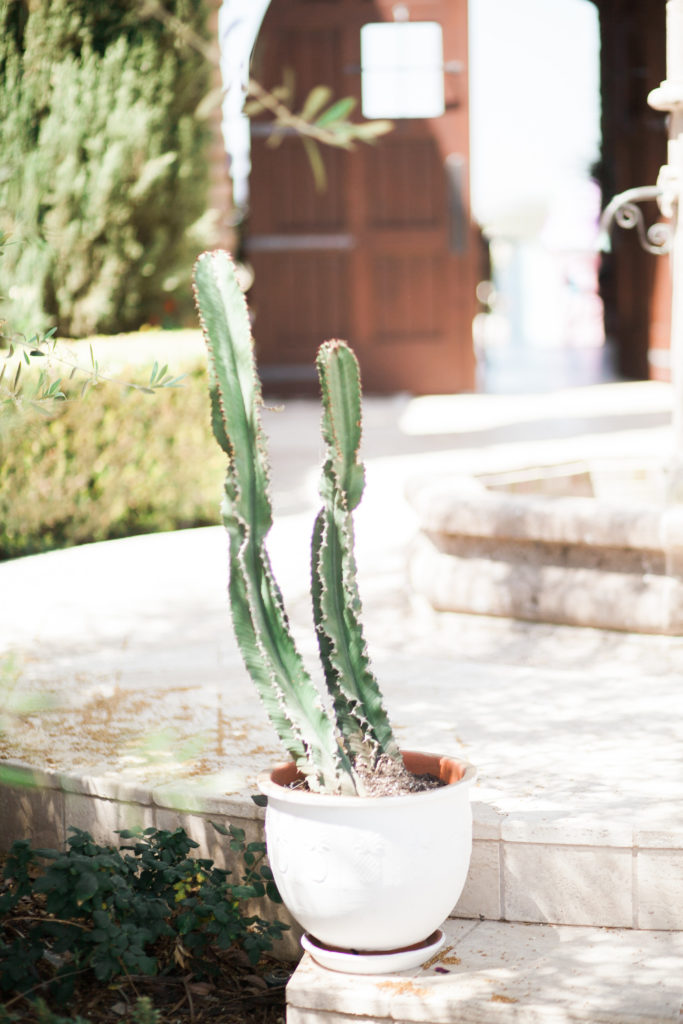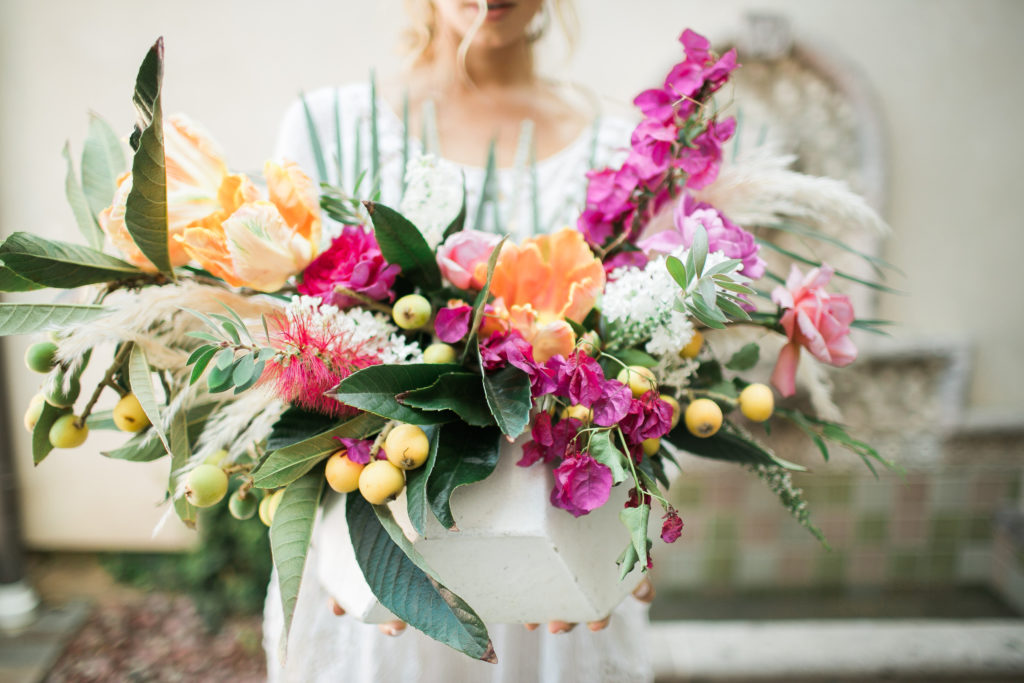 Meghann says, "Florals were kept minimal (if you can't take them with you, who wants to waste such beauty!?) but packed a huge punch with one gorgeous arrangement that could be seen from multiple angles and thus could be photographed in a couple different areas of our bridal suite, perfect for a hotel room or an AirBNB that you'll be enjoying for a few days. Caitlyn of Fleur de Rye also brought some greenery and extras for the bride's hair, flower girls, and to spruce up some dark corners of the room."
Jens Pirate Booty was clearly the only option for this bride… just perfect for an elopement with no need to iron, steam, or have an extra set of hands to hold your dress in the bathroom. White, flowing, and packable – the dress meets all the checks on our list.
About making a statement with your jewerly, Meghann says, "Since our dress was more about versatility than making a statement, we really wanted to make a splash with the gems adorning the bride. Helping Jewels, designed by Nycole Holwick not only perfectly accompanied our look, but 30% of the their proceeds to straight to helping children fighting rare illnesses at Children's Hospital Los Angeles and UCLA Mattel Children's Hospital."

Meghann advises.. "Even if you're away from home, and it's just you and your love… hair and makeup are a must. Not only will you feel radiant and take pictures like a pro, but you can just sit back and enjoy your day sipping mimosas. Jacklyn Oram of Hair by Jacklyn is the sweetest and created an utterly gorgeous, loose boho style that will last through the day and night. Kasey Russell Makeup highlighted the bride's natural beauty without her feeling too done-up for an intimate beach ceremony. The bride also opted for semi-permanent false lashes by Darling Lash Studio, to last through the honeymoon."

One of the best tips any bride should get is EAT! Meghann agrees, saying, "You mustn't forget to eat on your big day, so we called in a local chef to whip up a healthy, low-bloat brunch to enjoy as you prepare for the day's events, or with your hubs to be. Liza Saragosa made our mouths water with her colorful and vitamin packed spread."

Lastly Meghann saves the day with this tip on gifting, "And last but not least, your wedding day wouldn't be complete with out a few little gifts. The groom wrote our bride a sweet card and gifted her a bracelet to match the necklace she chose (someone might want to remind the groom about this tradition). The bride received some fresh pineapple from the ladies in her life; we all know it makes your skin sweet for, ahem, "activities," later. Our bride gifted her groom natural grooming products made by our gal Urb Apothecary and a handy all in one surf/man tool by Ventana Surfboards."

Such a fun and special day for any bride!

Vendors
XX
Abby