---
What a better way to celebrate Dia de Los Muertos then with a marigold sangria. Yesterday, we featured a Dia de Los Muertos bash for the littles, see it here. Today a little treat for the adults! The marigold flower is the traditional Day of the Dead flower; it is used with other brightly colored flowers to decorate during Dia de Los Muertos which takes place October 31 – November 1st. I wanted to incorporate using marigold not only for decoration but also add it to the cocktail recipe itself. You can do this by infusing the sangria with marigold tea. Not only is this cocktail simple to make, but it is more fun to drink by adding dry ice! A great cocktail option for your upcoming Halloween bash as you can make as much as you like. All souls will enjoy sipping on this sangria!
Photos by Alyssa Onaka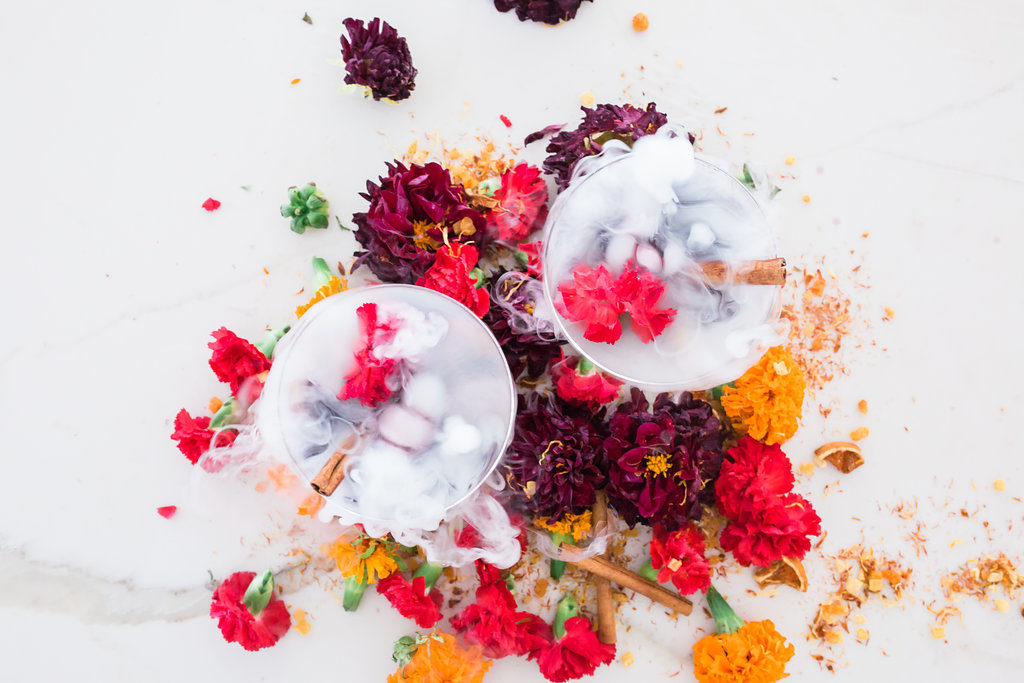 MARIGOLD SANGRIA
I N G R E D I E N T S
Marigold Tea
Red Sangria
Fresh Cut Citrus
(orange, lime, lemons)
Cinnamon Sticks
Fresh Orange Juice

D I R E C T I O N S
Now, there are so many ways to make sangria. Everyone has their choice of method and ingredients. Do you like it super sweet, or just a touch of sweetness? There is no wrong way of doing sangria. It's a personal preference. For this particular sangria, I wanted it to be fresh in taste, and fast to make since I will be serving this for a crowd or a couple of friends. I used a pre-mixed Sangria, like this Slices Sangria. It's one of my go-to's.
Start by pouring your sangria into a pitcher, and adding in all your fresh cut citrus and cinnamon stick. Oranges, lemons, and limes are my chosen fruit, especially the oranges. Then add two tea bags of the marigold tea. Let the mixture sit overnight. Finally, add about 1 cup of fresh orange juice to each bottle of sangria you use. Fresh juice is critical here! Taste your sangria before pouring. Give it a little taste test in the morning, just a sip or two! Nothing crazy that early in the morning! If I feel I need more tea flavor or citrus, this is my chance to add more.
Time to serve! Grab yourself a tray or merely serve on your kitchen island. It is a must to involve brightly colored flowers for your Day of the Dead cocktail.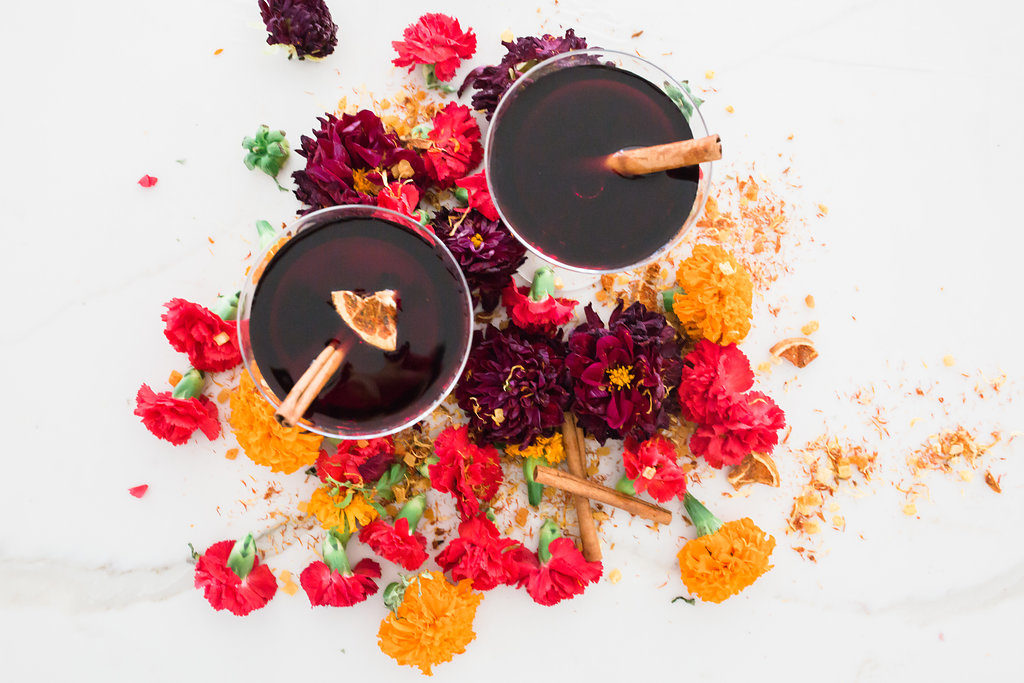 We all know I love a pretty garnish, so I put in a cinnamon stick in each glass and a couple of wedges of citrus and flowers…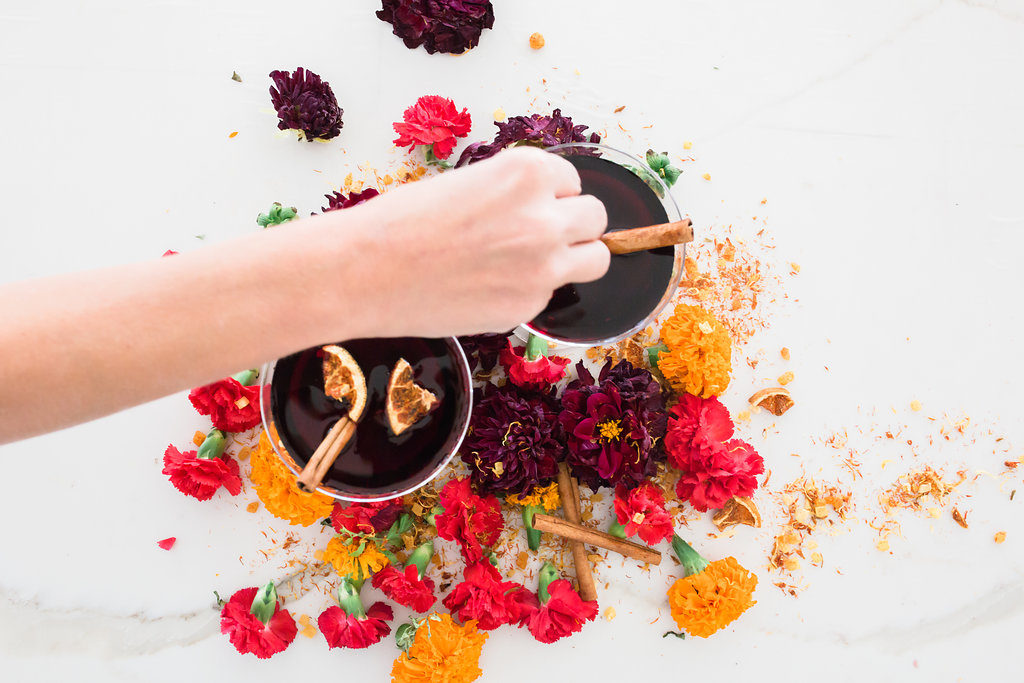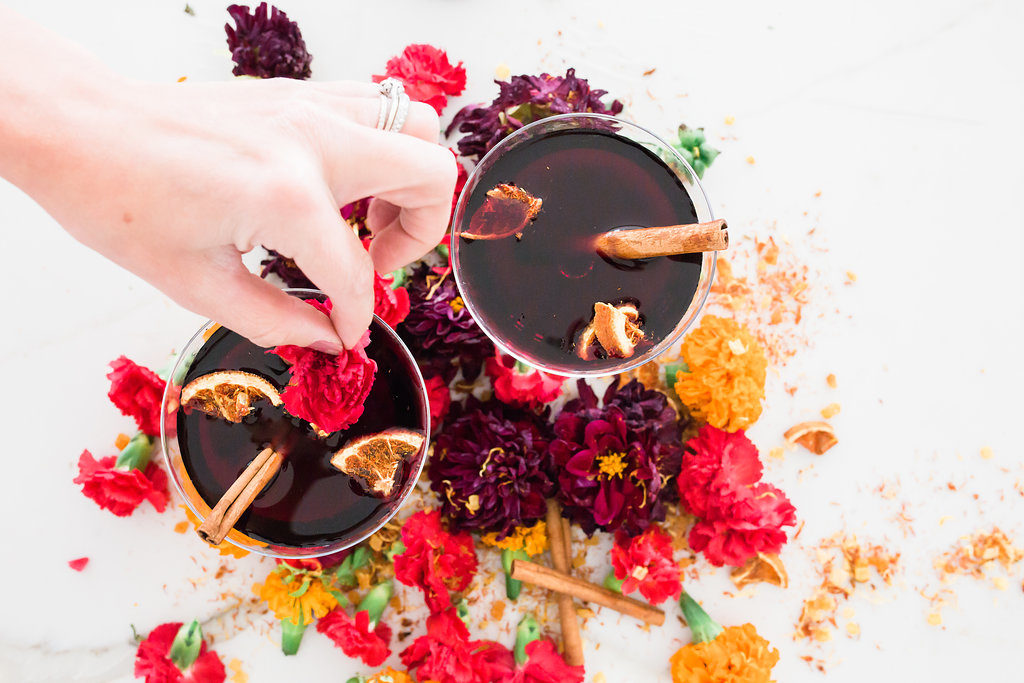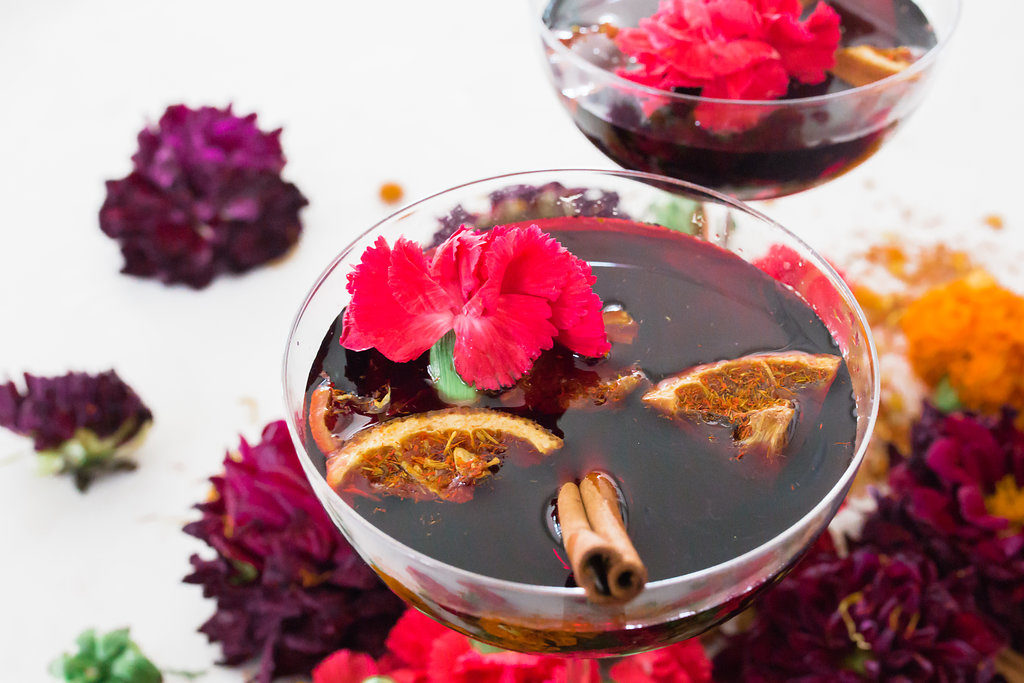 I just love a loose flower mess…
Now for the best part, adding the dry ice. Please, please read and be informed of how to deal with dry ice. You have GOT to use the right gloves and tools to handle the dry ice. Here are some tips and directions for using dry ice.
T I P S
Protect yourself by dressing in a long-sleeved shirt, long pants, and closed-toed shoes.
Pick up the dry ice with tongs.
Use a chisel to break off smaller pieces from the block.
Use the dry ice in a well-ventilated area.
Store dry ice in an insulated container that is not airtight.
Melt the ice when you are finished with it by pouring warm water over it.
D I R E C T I O N S
If you're going to make your dry-ice beverages one drink at a time, you only need a tiny piece of the substance to create the desired effect. Drop them in right after you've poured and garnished the drink before you serve it to your guests. The dry ice will sink to the bottom of the glass and stay there, preventing the drinker from consuming it before it dissipates and the steam effect subsides.
Cheers!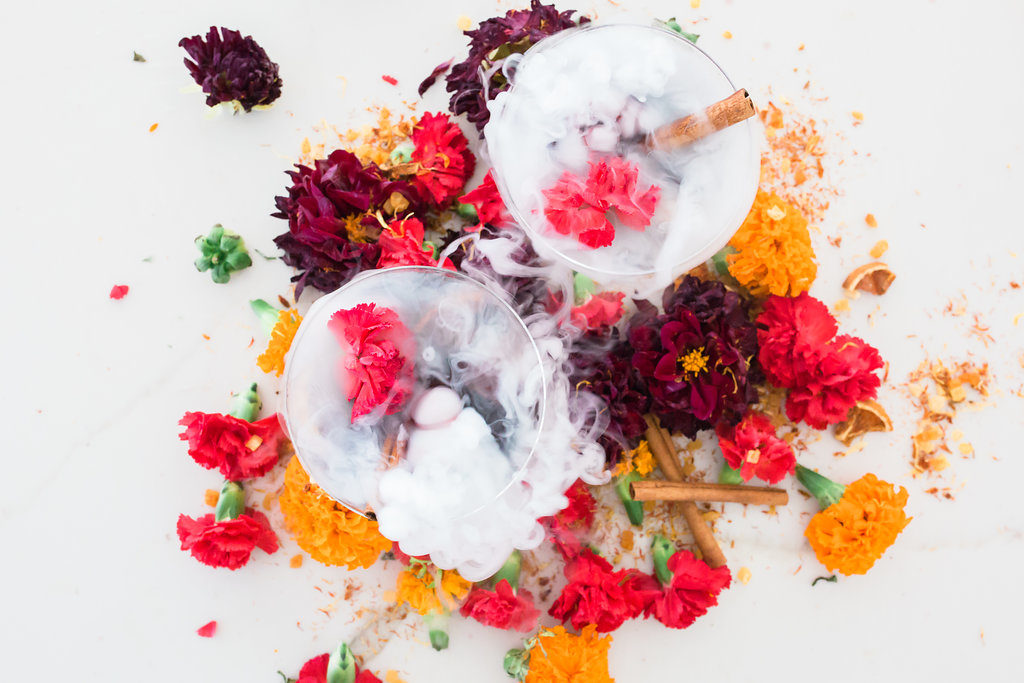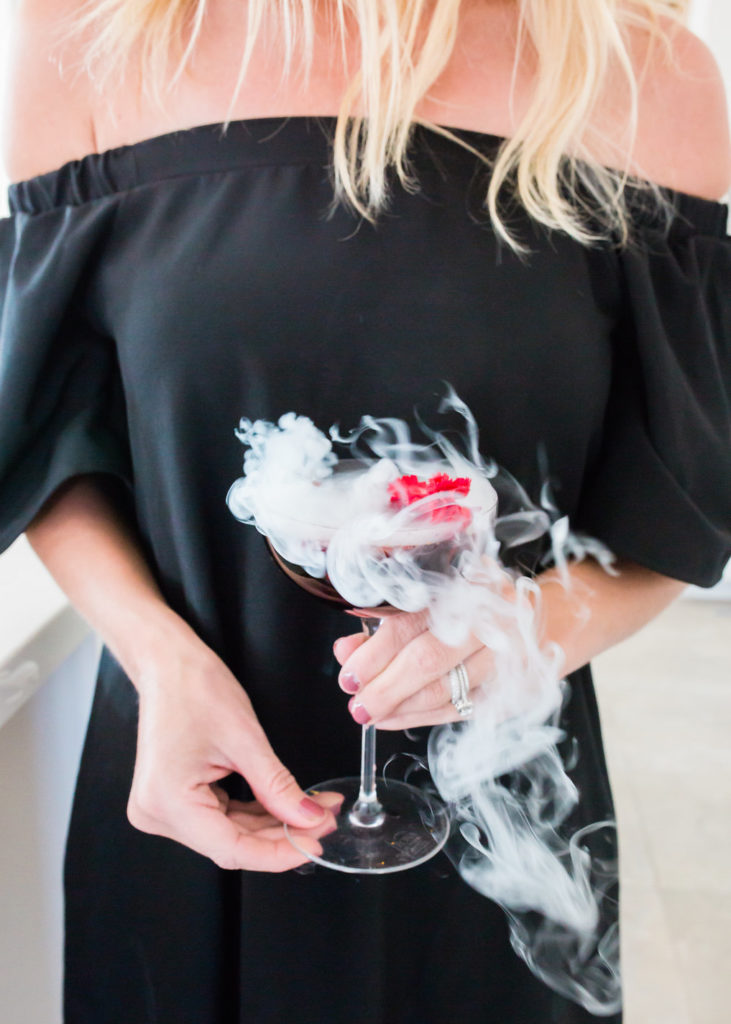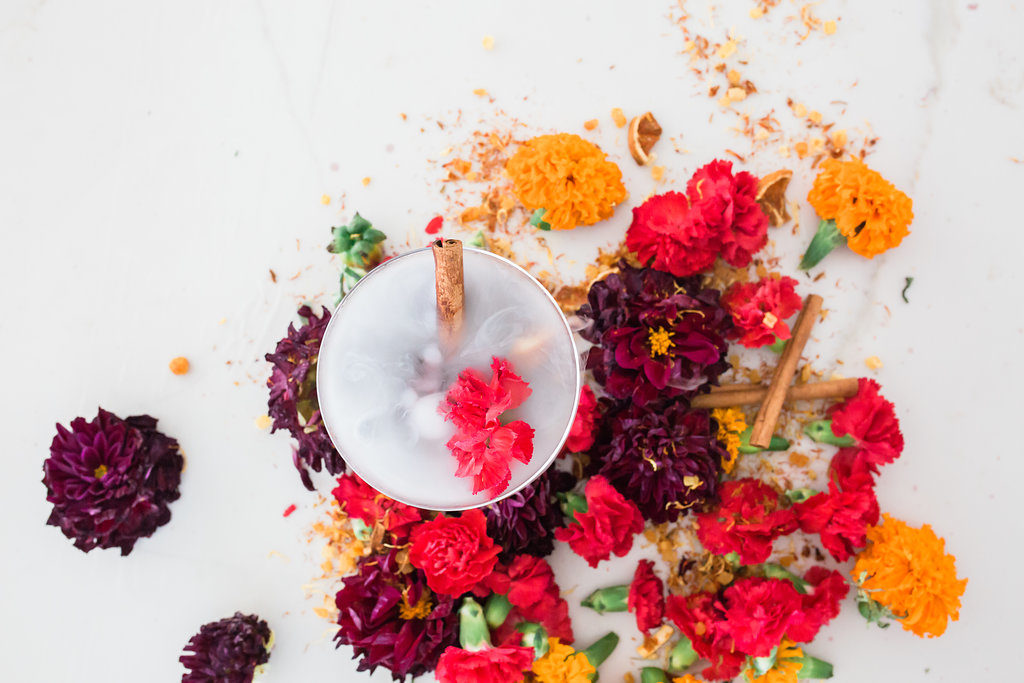 So fun huh!!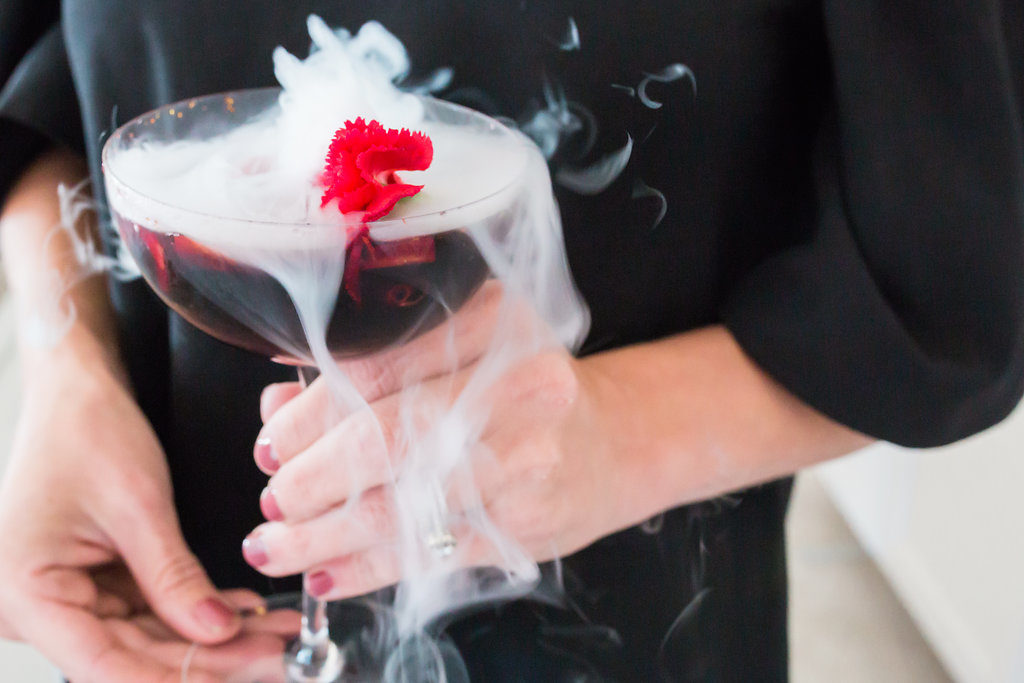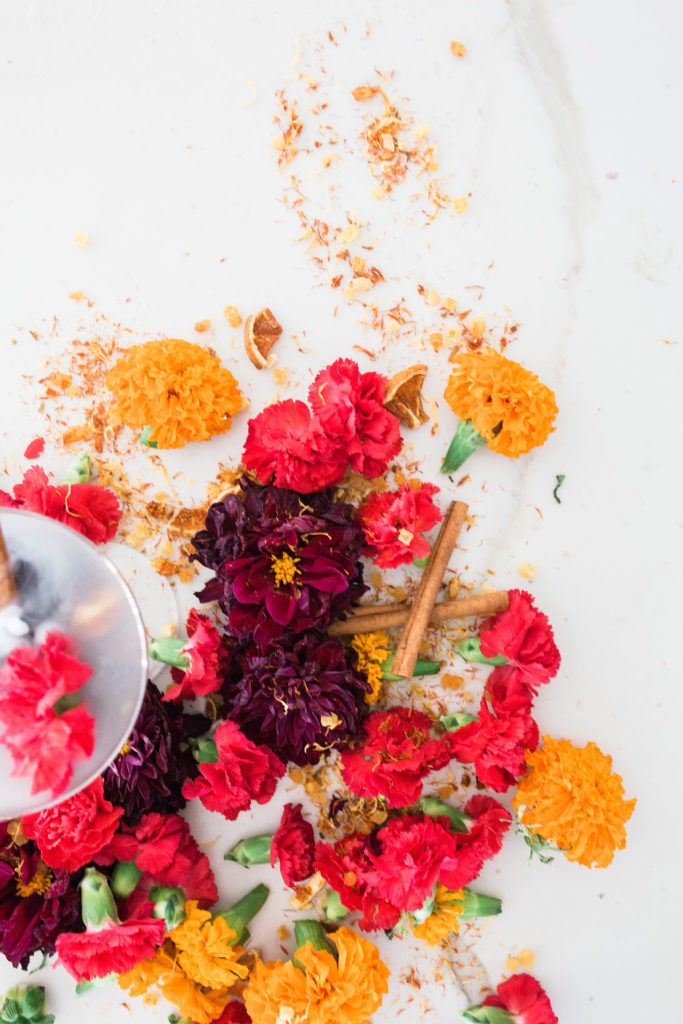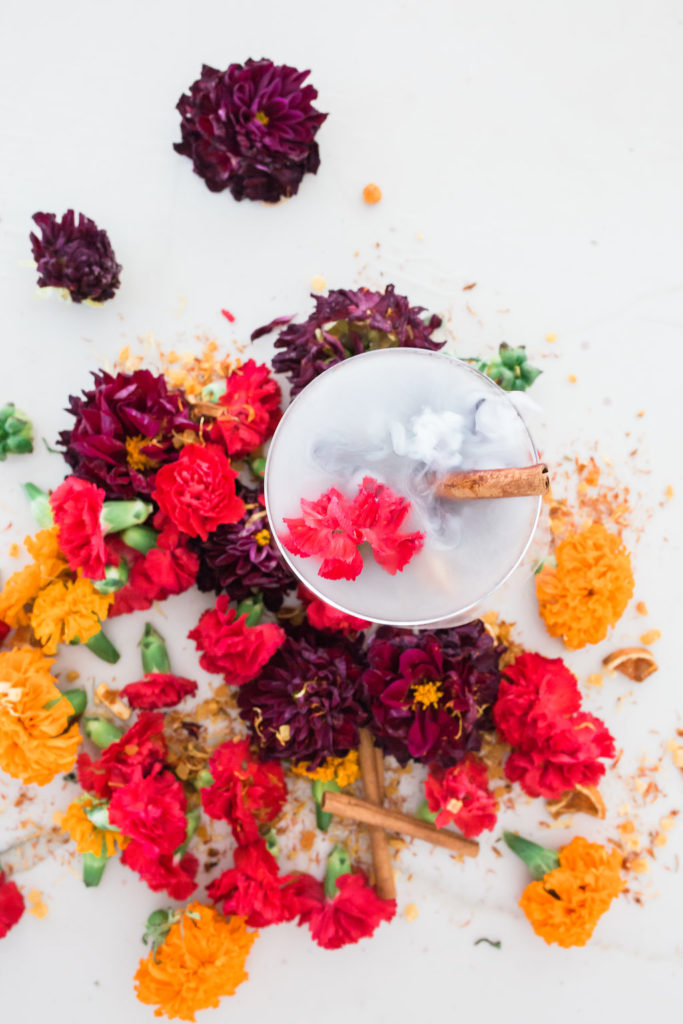 This marigold sangria is my favorite drink to make to date!
xx
SaveSave
SaveSave
SaveSave
SaveSave
SaveSave
SaveSave
SaveSave
SaveSave
SaveSave
SaveSave
SaveSave
SaveSave
SaveSave
SaveSave
SaveSave
SaveSave
SaveSave