Being part German, I enjoy this holiday as it gives me a chance to share some fun German-inspired food with my kids. My son Jett is obsessed with what he calls "big giant pretzels." We get them at our local Nugget store, and it's the size of his head. So this rosemary and mozzarella stuffed pretzel I knew would be a hit! And it sure was with both kids and the hubby with the warm beer cheese dip I accompanied the pretzel with. You have to try the beer cheese dip! This classic soft pretzel recipe was jazzed up with fresh rosemary, mozzarella, and paramesn. You know the Italian classics for a German inspired hoilday, clearly! You might say I brought a little Guido to my german side!
Fressen!
---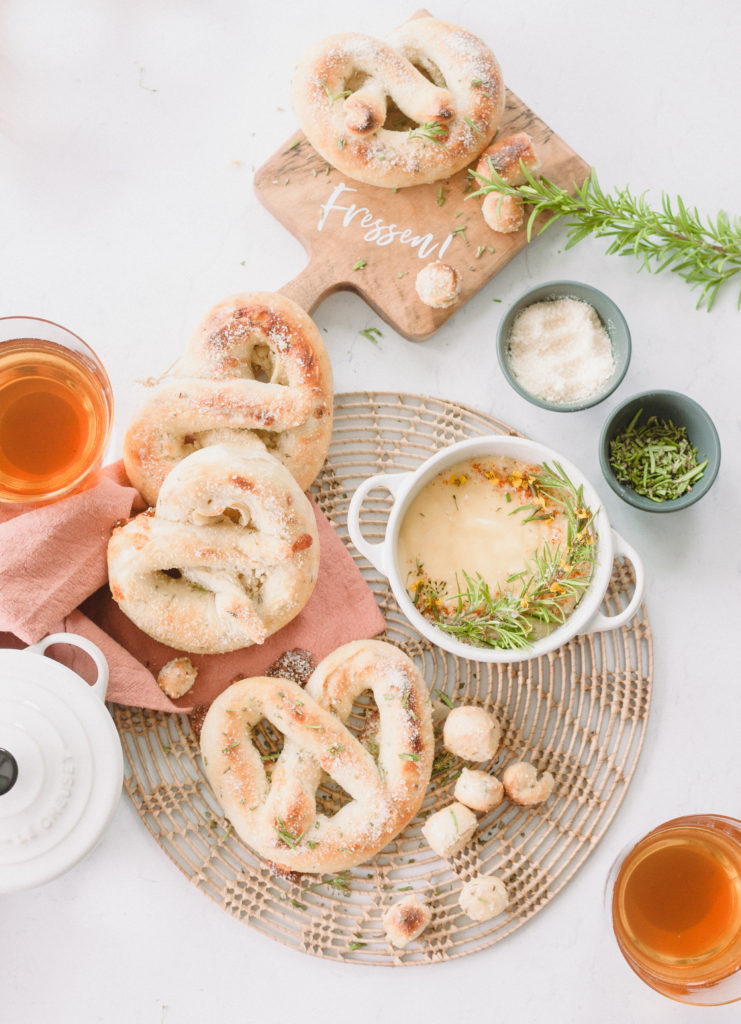 MOZZARELLA STUFFED ROSEMARY AND PARAMESAN SOFT PRETZELS
SERVES: 8 PRETZELS | TOTAL TIME: 2 HOURS 10 MINUTES | COOK: 25 MINUTES
W H A T Y A N E E D!
DOUGH
1 and 1/2 cups warm water (between 110-115 degrees F)
1 package Rapid Rise yeast
1 and 1/2 tablespoons sugar
1 and 3/4 teaspoons salt
2 tablespoons fresh rosemary, chopped
4 and 1/4 cups all-purpose flour
6 tablespoons soft unsalted butter

COOKING LIQUID
10 cups water
3/4 cup baking soda

FILLING
1 cup mozzarella cheese, shredded
1/4 cup parmesan cheese, grated
Egg wash:
1 egg, beaten
1 tablespoon water

TOPPINGS
2 tablespoons melted butter (optional)
1/4 cup parmesan cheese, grated
1/2 tablespoon fresh rosemary
1/2 teaspoon garlic powder
1/2 teaspoon black pepper
A pinch of salt
B U S T O U T:
Stand Mixer
Knead Hook
Prepping Bowls
Kitchen Towel Cloth
Baking Sheets
Dutch Oven
Slotted Spoon
---
I N S T R U C T I O N S
DOUGH
1st, grab your stand mixer and attach the dough hook. Next, combine the water, yeast, sugar, and salt in the bowl of a stand mixer. Let it work some magic and foam up, let sit for about 10-15 minutes. Once it's foamy, add the rosemary, flour, and butter and knead on medium speed for 12 minutes.

Beijos Tip: Stand close by to your stand mixer, mine got all crazy and started to walk off the counter.

In a glass bowl, cover the dough with a warm damp cloth and let sit, until the dough has doubled in size. About an hour.
TOPPINGS + COOKING
Combine the two cheeses and place the bowl in the freezer until needed.
Preheat oven to 425 degrees (F). Line two large baking sheets with parchment paper; set aside.
Add water and baking soda to a large pot or dutch oven; bring to a boil.
Divide the dough into 8 equal rounds. Roll each round out into a 16″ rope. Then, roll each rope out so it's 4 inches wide. Remove the cheese from freezer. Add 2 tablespoons of cheese filling evenly along the rope.
This is where it can get a little tricky, but you got this! Tightly roll the dough back into the rope, jelly-roll style. Pinch the edges. Make a U shape with each rope of dough, holding the ends. Cross the ends over each other, pinching ends onto the bottom of the dough.

Beijos Tip: I had to look up a youtube video to make sure I was understanding it right! Makes it a whole lot easier!
Place pretzels – one at a time – into the boiling cooking liquid. Cook for 30 seconds each. Remove pretzels with a slotted spoon, allowing any excess water to drip back into the pot before transferring to prepared baking sheet.
Once all pretzels have been boiled, brush the tops of each with egg wash.
Place pan in the oven and bake for 16-18 minutes.
Allow pretzels to cool on the baking sheet for 5 minutes before touching.
DRESS THEM UP!
In a small bowl combine the cheese, rosemary, garlic powder, pepper, and salt. Brush the top of each pretzel with melted butter, then sprinkle on topping. Eat at once!
---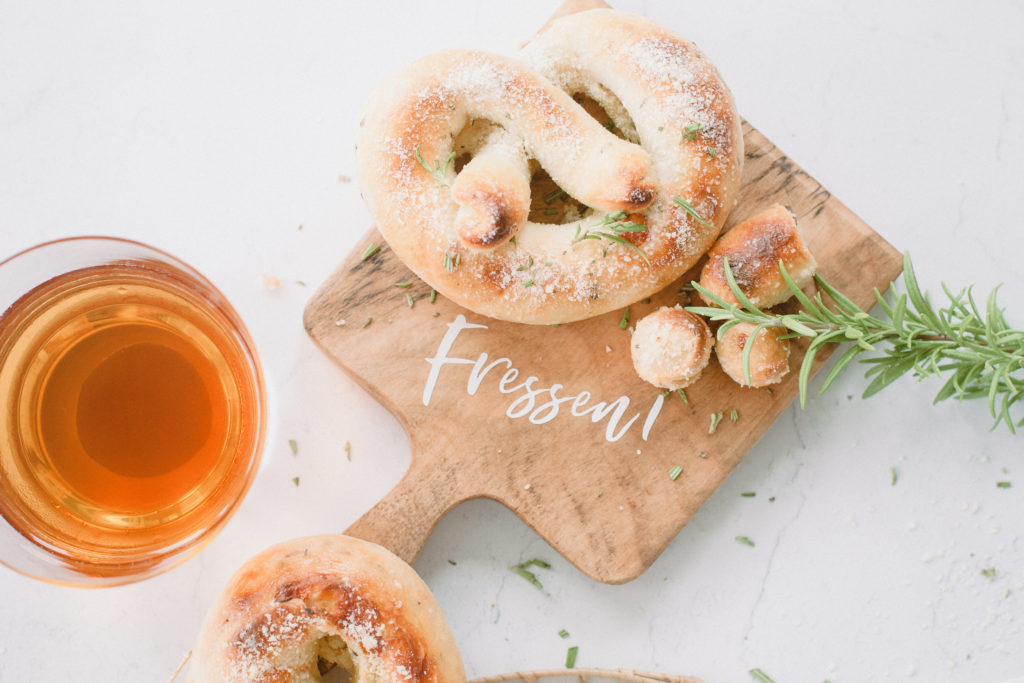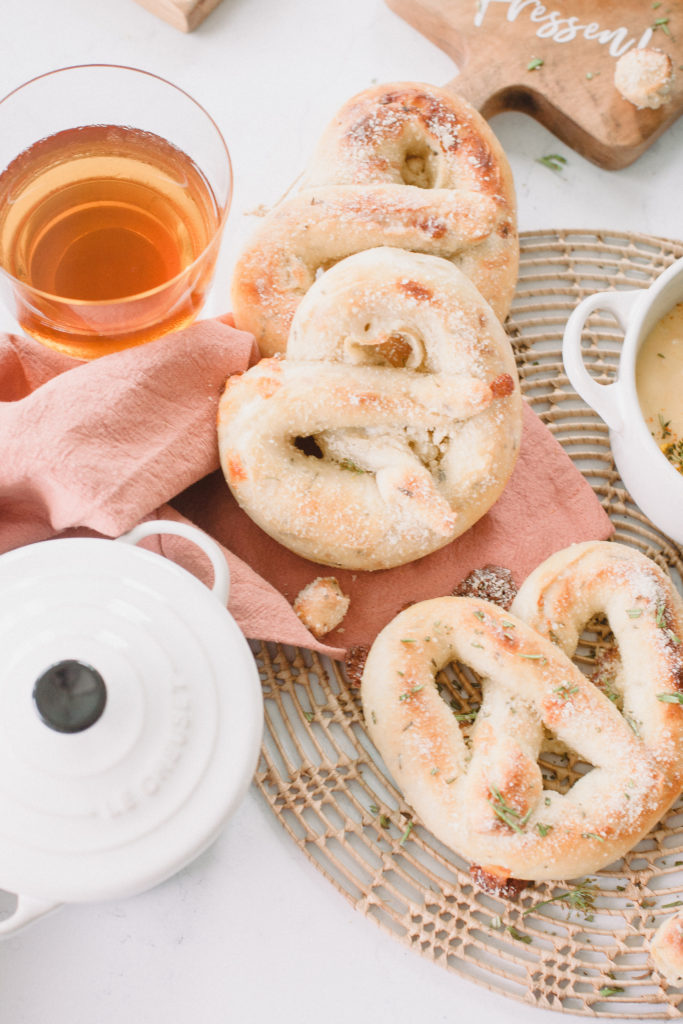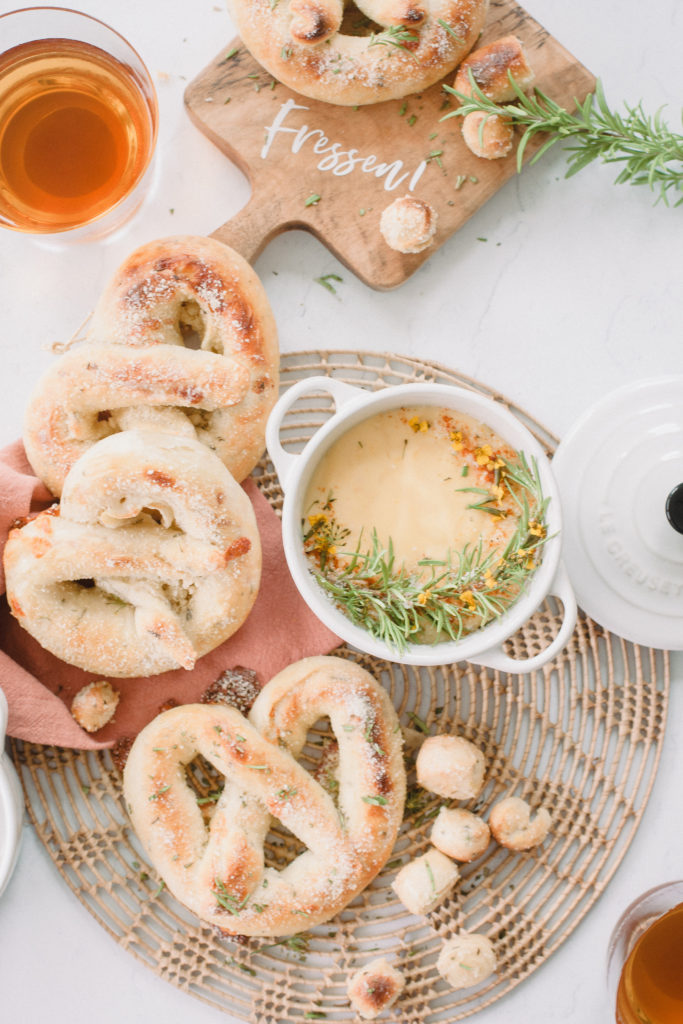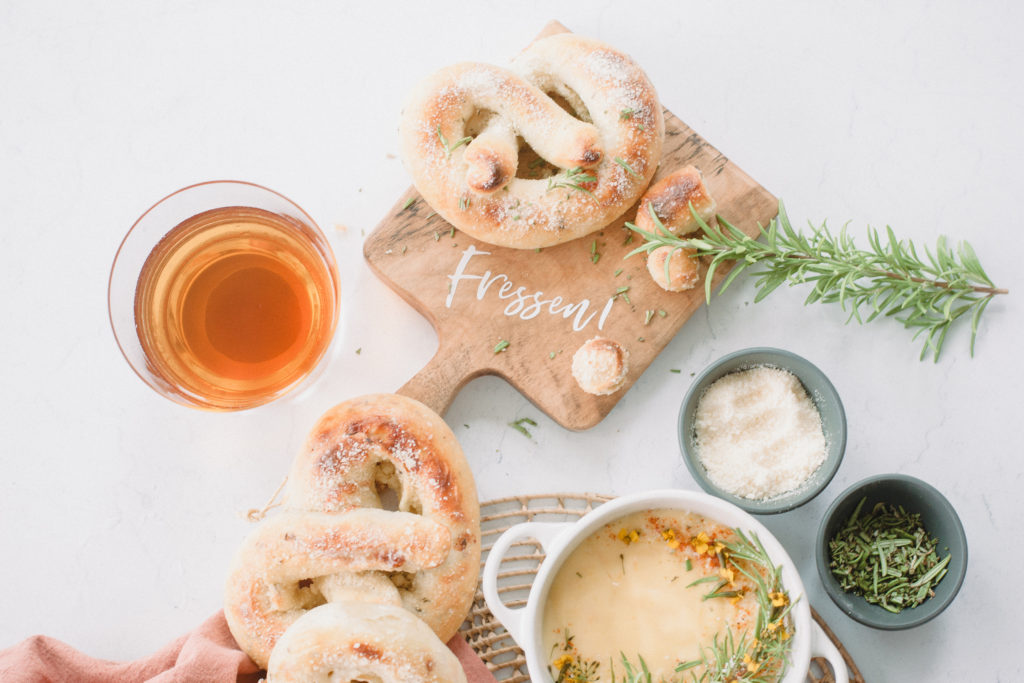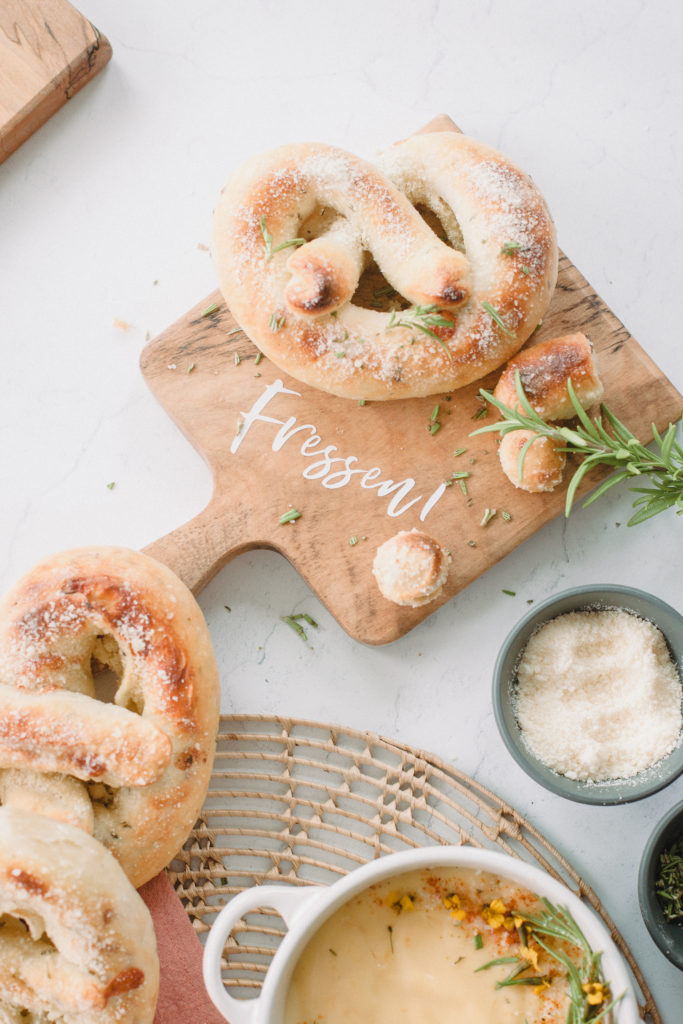 ---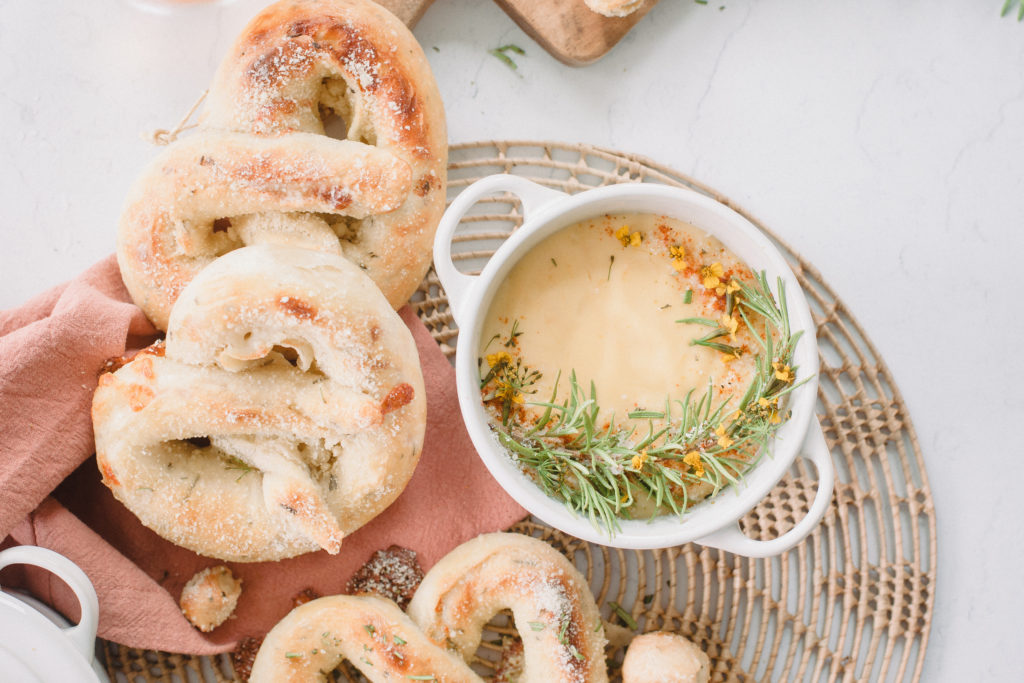 WARM SMOKEY BEER CHEESE WITH WHITE CHEDDAR
SERVES: 12 SERVINGS |PREP TIME: 10 MINUTES | COOK: 15 MINUTES
W H A T Y A N E E D!
2 Tablespoons butter
4 cloves garlic, minced
2 Tablespoons flour
1 cup beer
1 teaspoon dijon mustard
2 cups grated extra-sharp white cheddar cheese
2 cups grated sharp cheddar cheese
1 teaspoon smoked paprika

B U S T O U T:
Saucepan

I N S T R U C T I O N S
In a 6-inch cast iron pan or what I love to use is the Le Cruest over medium heat, melt the butter. Add in the minced garlic and cook until translucent. Stir in the flour and let cook for one minute.
Reduce the heat and slowly stir in the beer and mustard.  Simmer for 5 minutes and stir in the cheese until melted.  Add in the smoked paprika and serve. 
---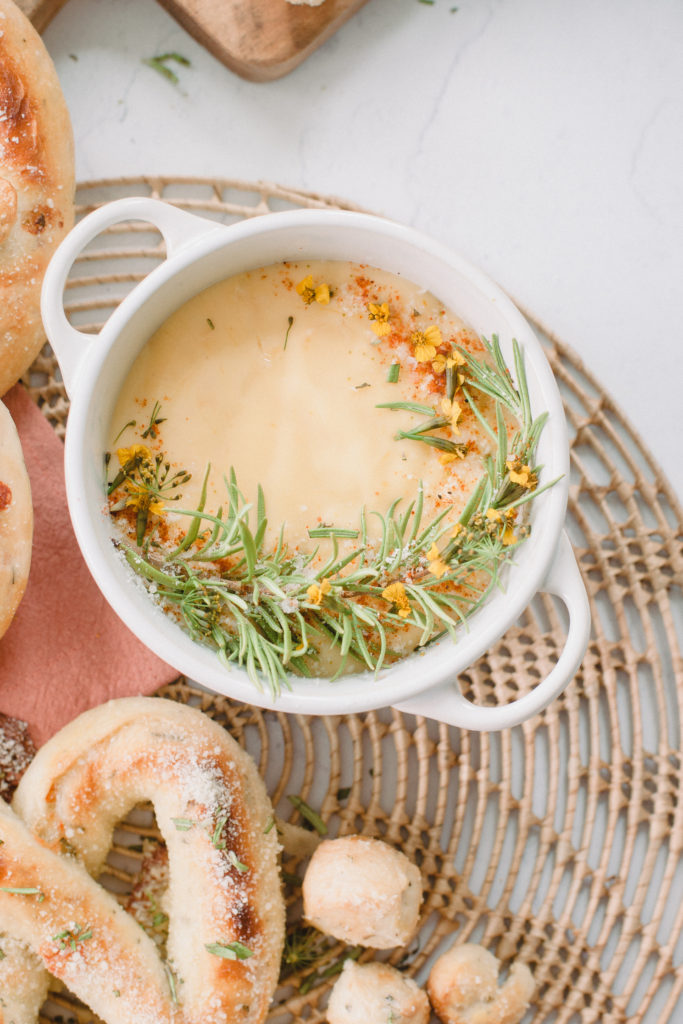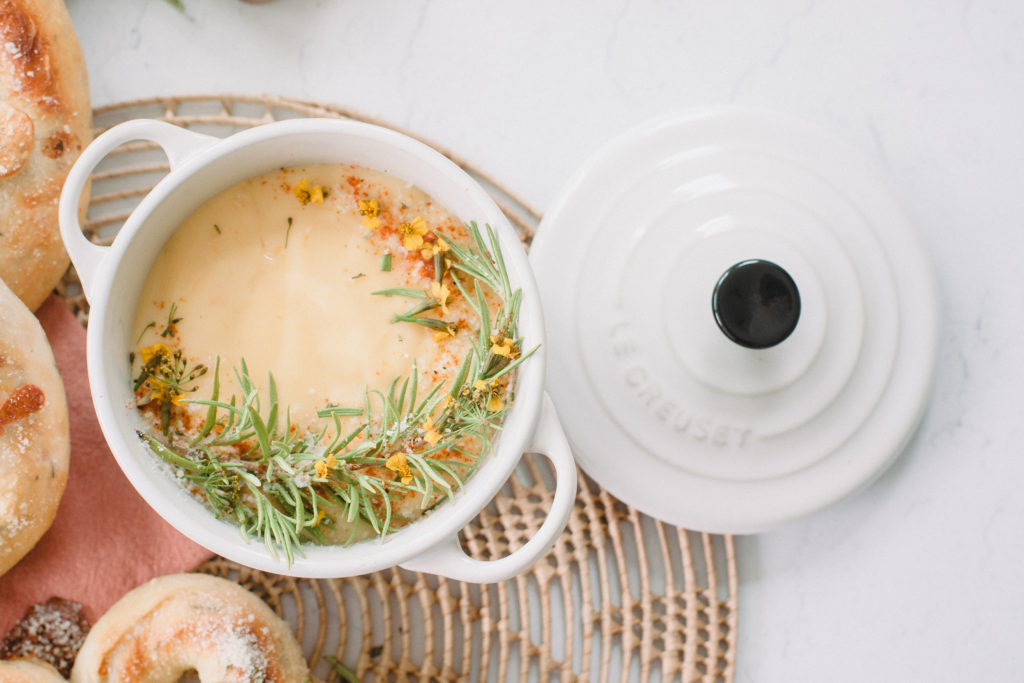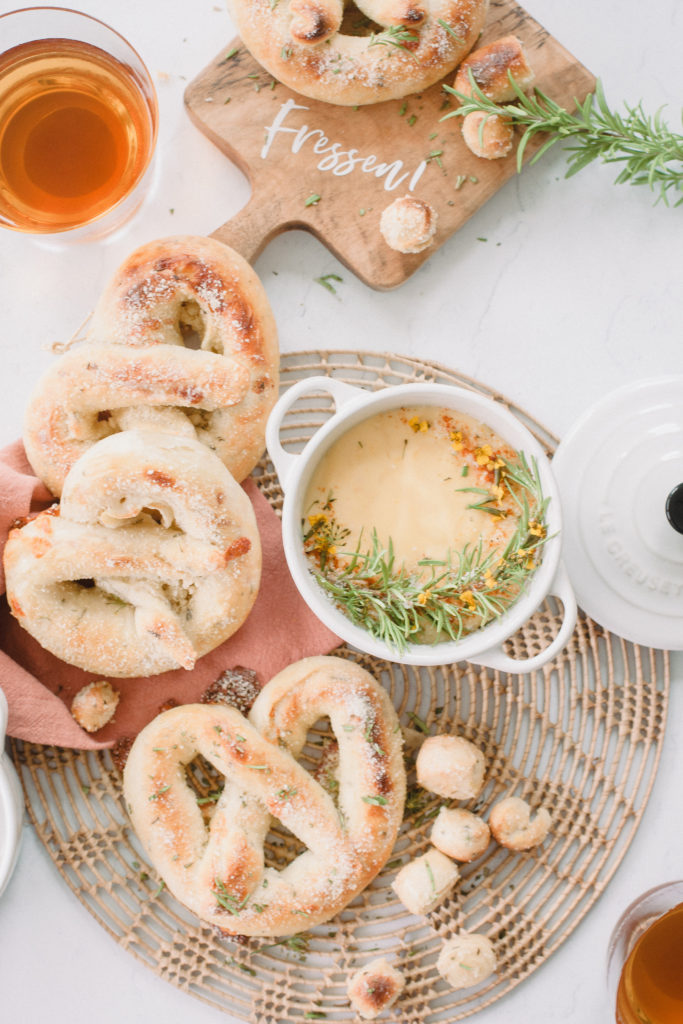 xx
Abby