Whether you are spending Valentine's Day with your spouse or your gals, this rose martini is fitting for any day of love celebrating. This cocktail will please anyone's taste buds.
What makes this cocktail extra pretty, is, of course, the florals. I'm all about the garnishes, but it can be hard sometimes to find florals that are edible, especially for this type of cocktail that needs edible roses. I found some great online options for edible flowers. Gourmet Sweet Botanicals is an excellent online source for edible flowers, micro greens, and tiny veggies! They ship overnight to ensure the products are their freshest!
Photos by Dayna Studios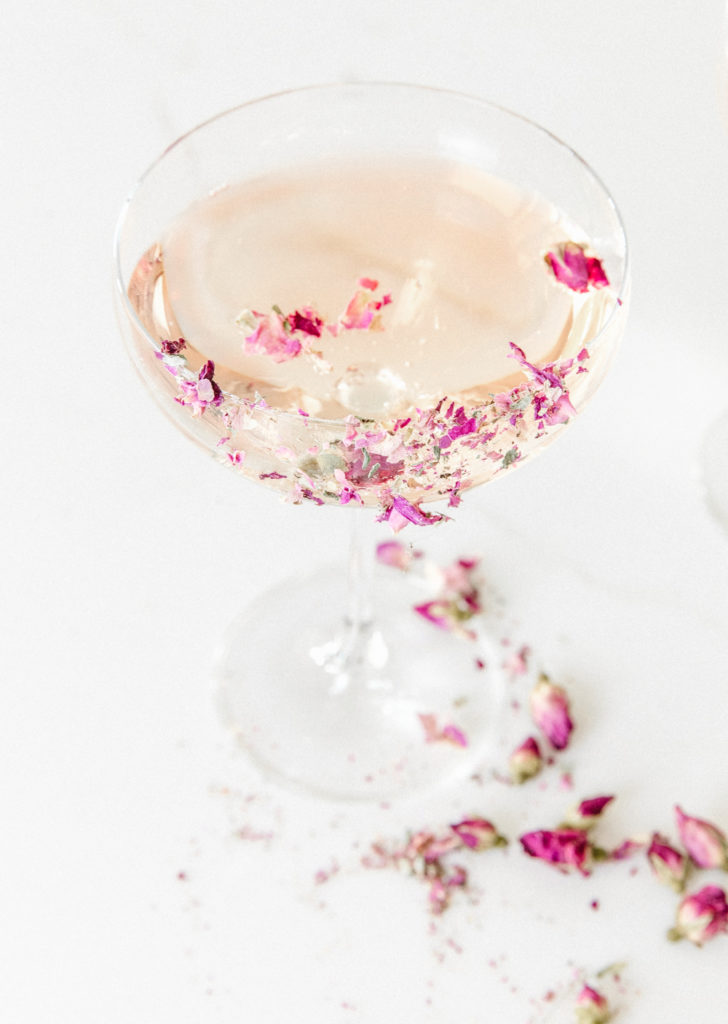 THE ROSE MARTINI
serves: 8 drinks
W H A T   Y A   N E E D!
1/2 cup water
2 tbsp sugar
3 1/2 cup vodka
4 tsp lemon juice fresh
1/2 tsp rose water
ice cubes
Edible rose petals
B U S T   O U T:
small saucepan
cocktail shaker
martini glasses

---
I N S T R U C T I O N S

Let's dress up our martini coupes. Sprinkle some of the dried rose petals into a small bowl. Using some of the simple syrup, coat part of your glass. Then gently, press in the rose petals.
Trick: Crush up the rose petals to they have a better chance of sticking to the glass. You don't need to coat the whole glass. They are really just that romantic look.
In a small saucepan, combine the water and sugar and bring to a boil. Simmer over low heat, stirring, until the sugar dissolves. Let the syrup cool. Once cooled, combine all the ingredients together in a container. In a martini shaker, pour 1/4 of the syrup, vodka, lemon juice, and rose water mixture, and add ice. Shake it all up!
Optional: Add a couple of drops of pink food coloring to achieve your perfect rosé color.
Strain into 2 martini glasses. Garnish with dried roses.
---

xx
Abby