With the day of love approaching fast, it's time to make those Valentine's Day plans. What do you guys have planned? Our life currently is a bit hectic with having the hubby traveling A LOT! As much as a date night out sounds amazing, just having him home on Valentine's Day is all I want! Our favorite thing to do is date night in! It's a Netflix and chilling kind of night! Plus, some yummy Chinese food, and the sweetest little setup for him and I. As easy as it is to order Chinese food to be delivered right to your front door, I like to do it myself. Wow, your man with some homemade take-out inspired food.
Before we dig into all the yumminess, let's talk about this cute little setup. Nothing says Valentine's Day date night in then these ceramic bowls and plates from Mr. Bowl Ceramics. Food tastes better when they are on pretty pink and cream ceramic plates. This was the perfect setup to throw in my vintage pink glassware and some coupes to cheers with! Busted out my fancy flatware, and can you believe I found these chopsticks that match the set! Check them out here; I got them on Amazon! Love Amazon!
Proper Letter created these cute pink potsticker inspired menus. And those dreamy florals by Jones Flowersmith!!
Photos by Dayna Studios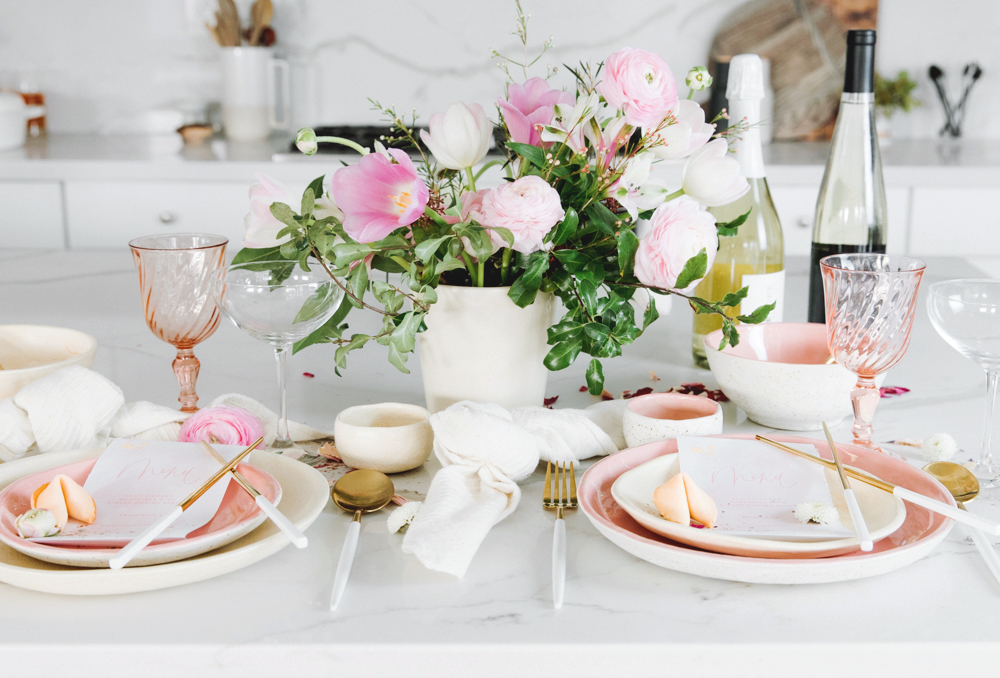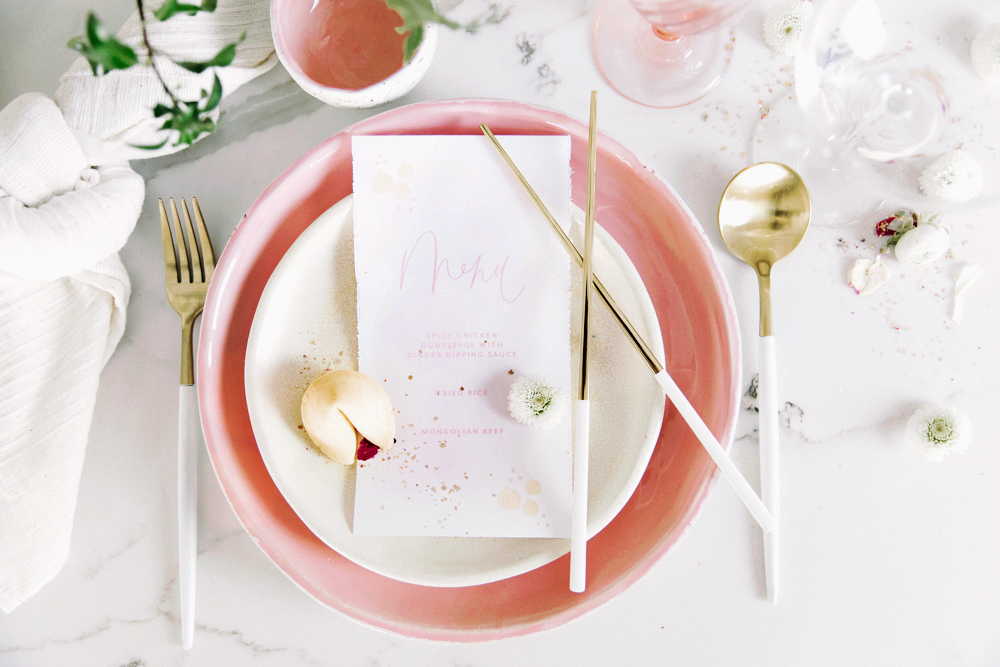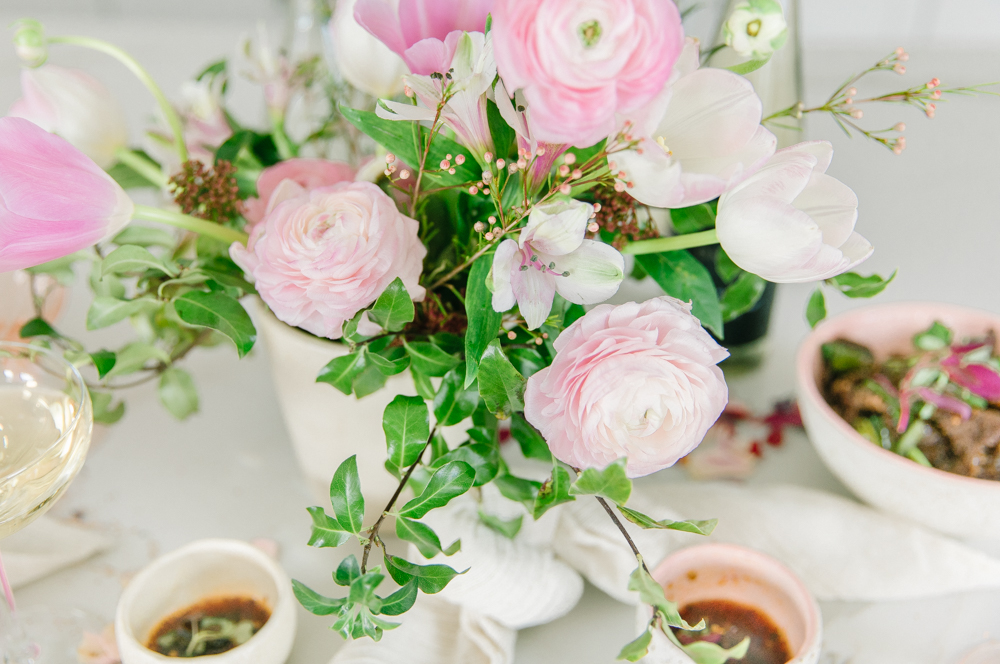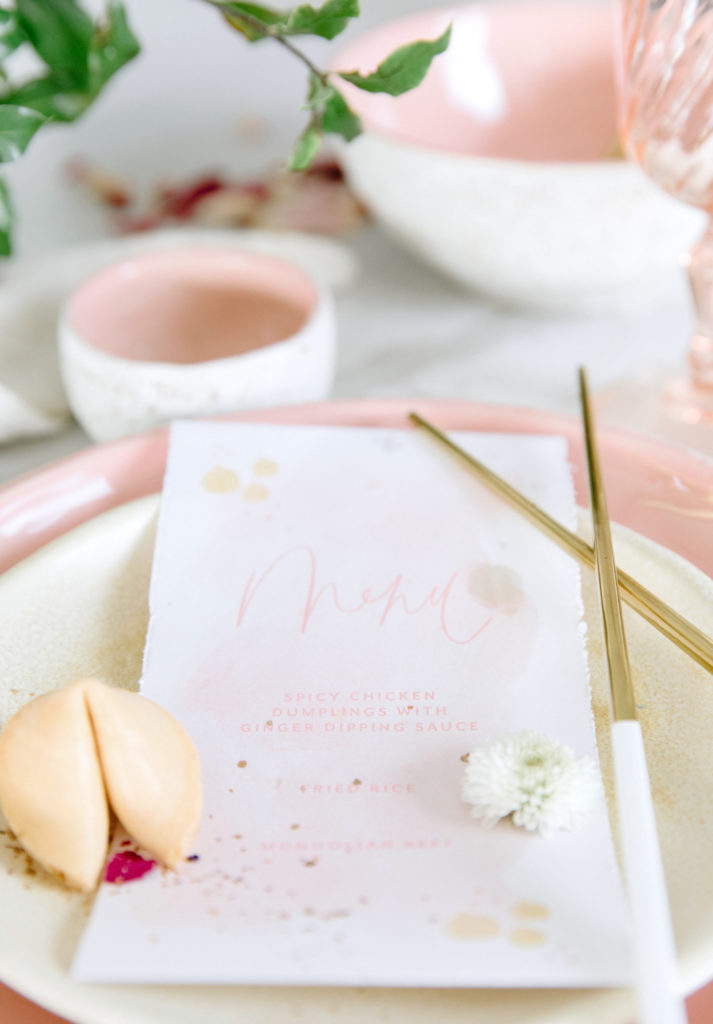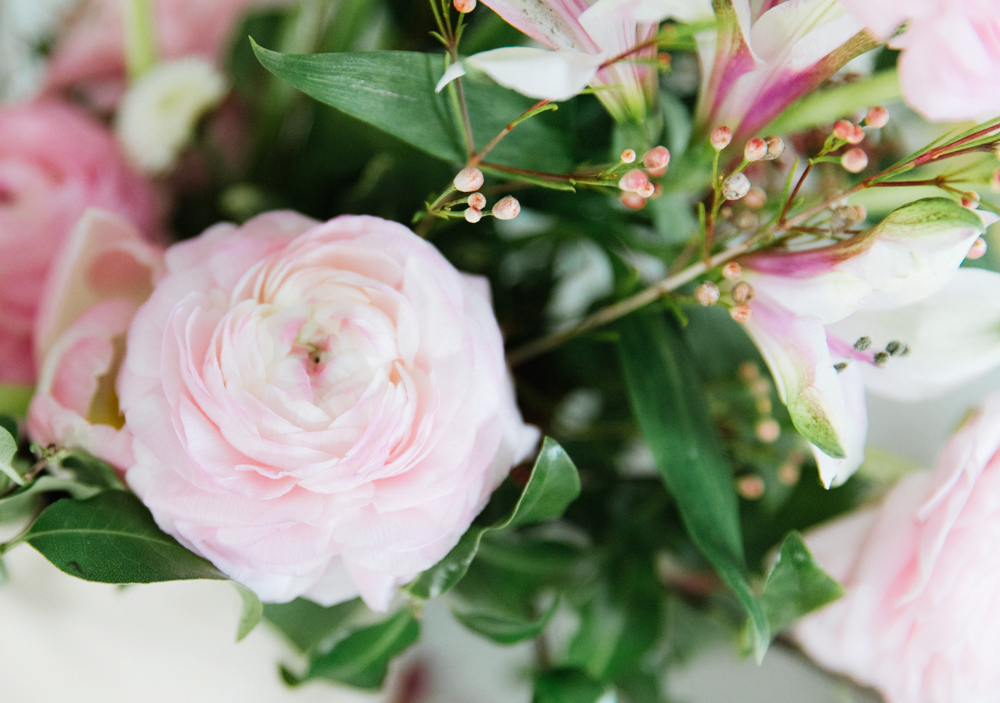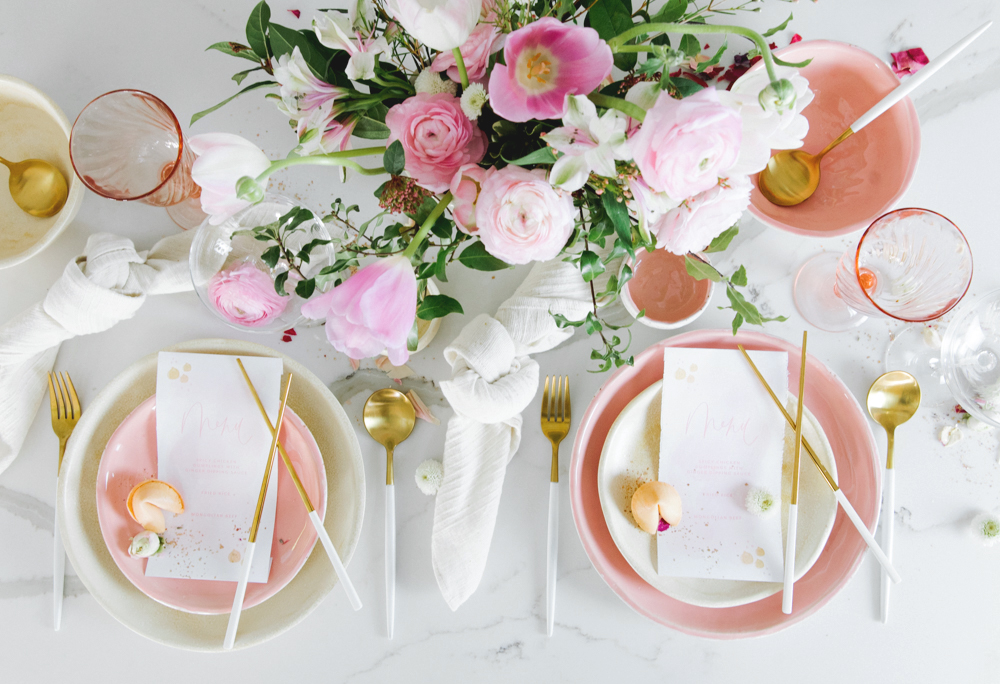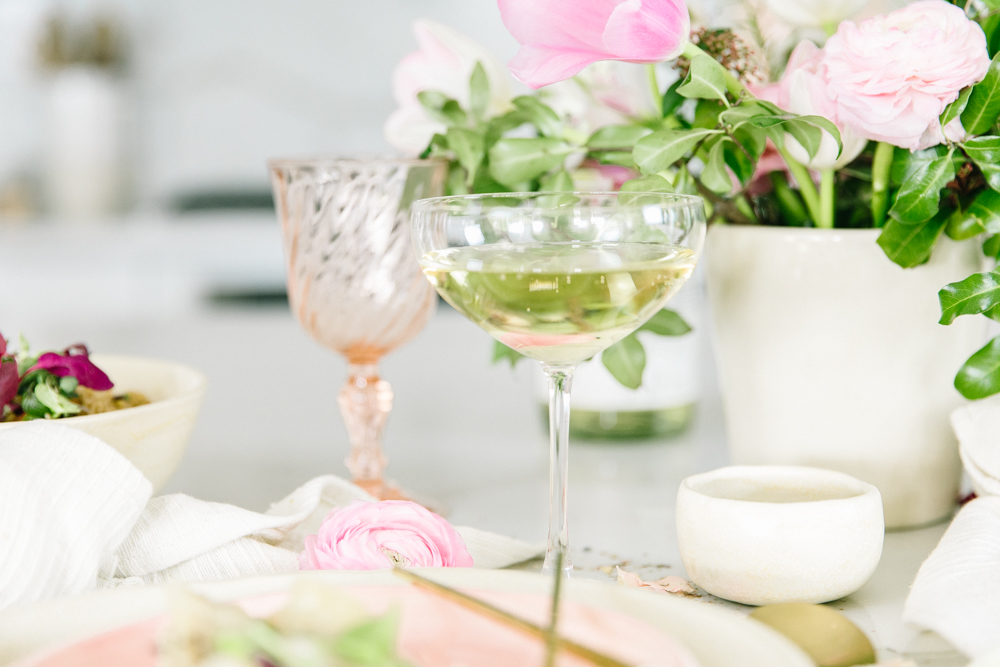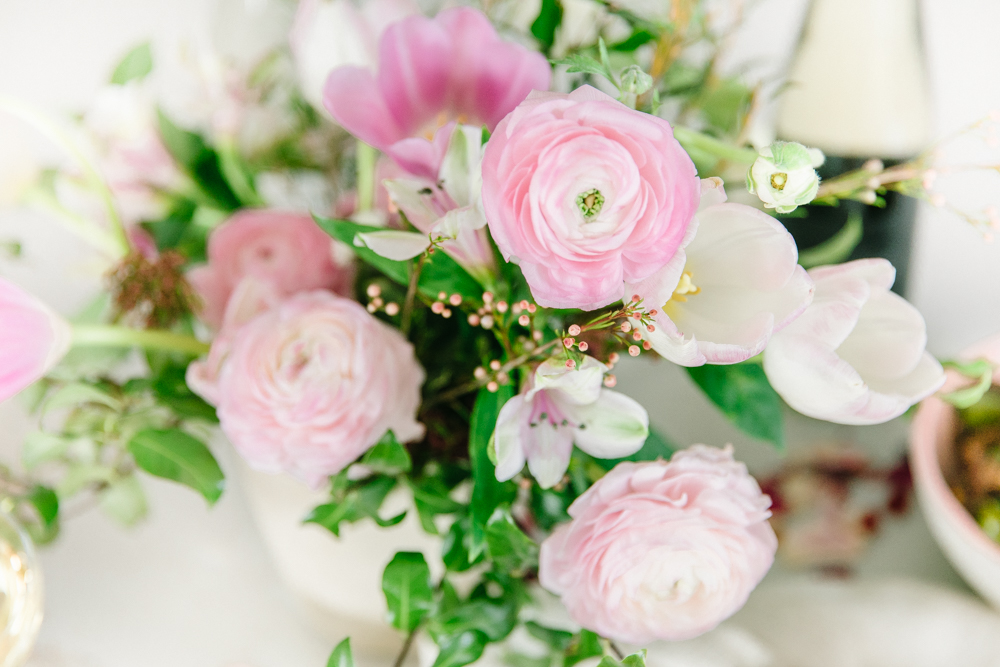 The table is set! Now for some champagne to start this date night in the right way!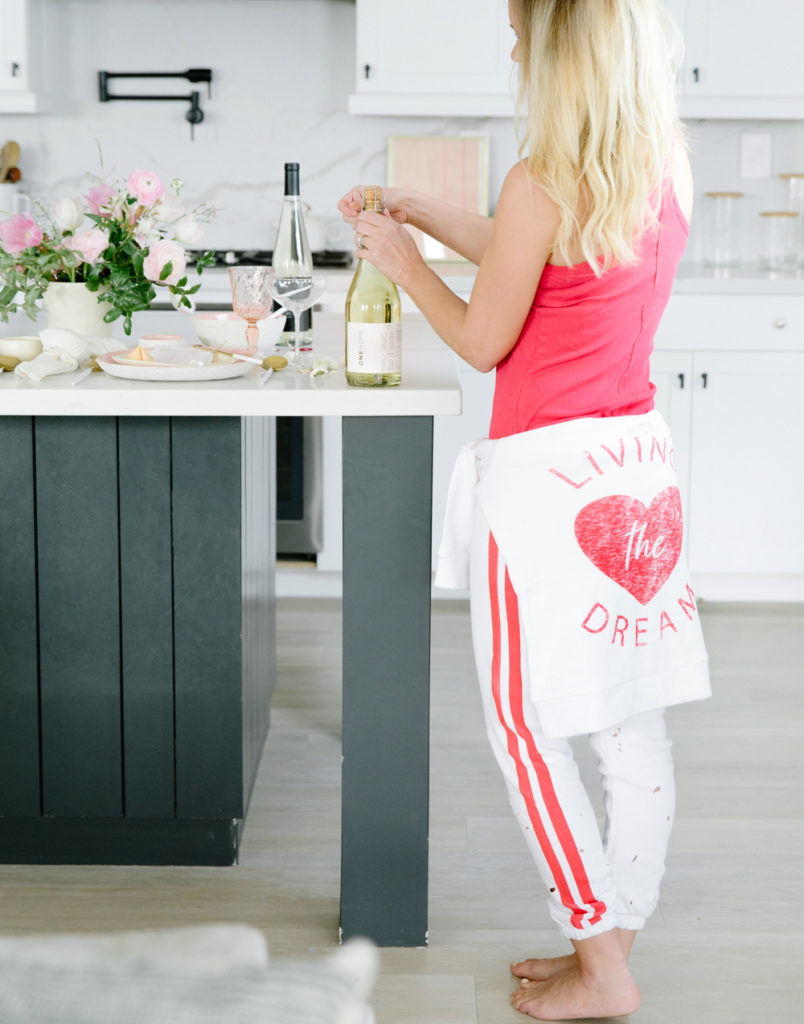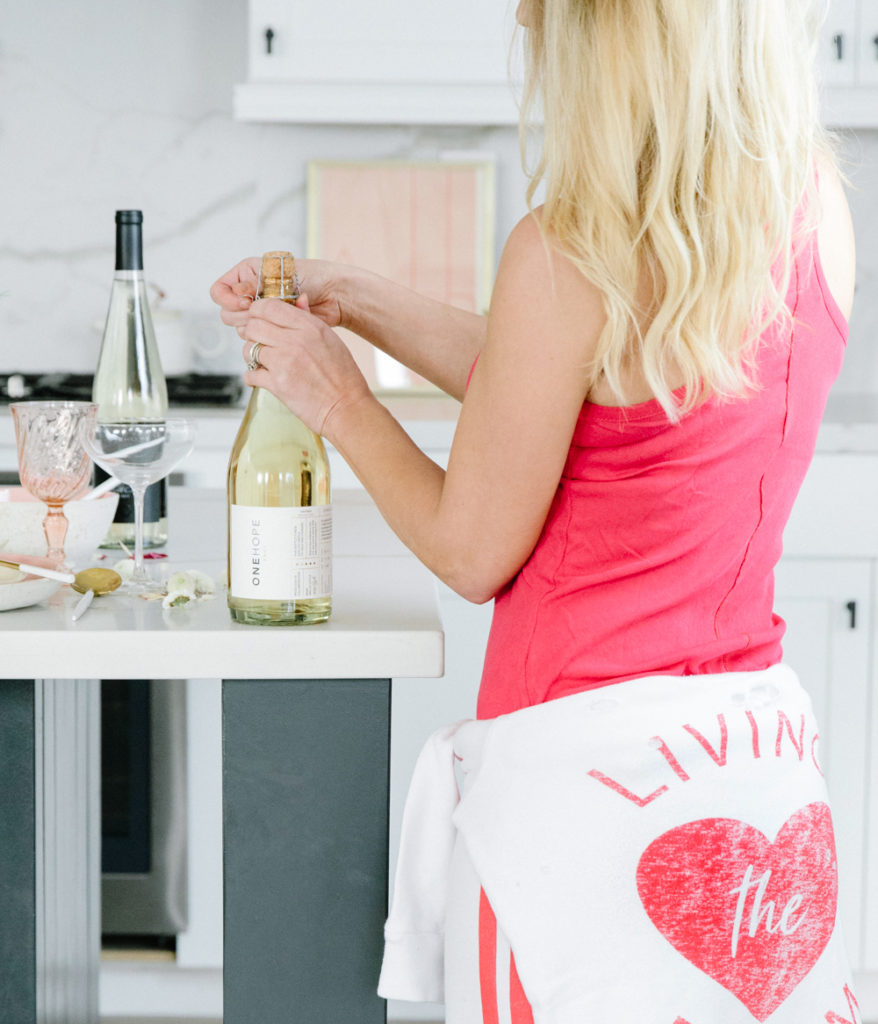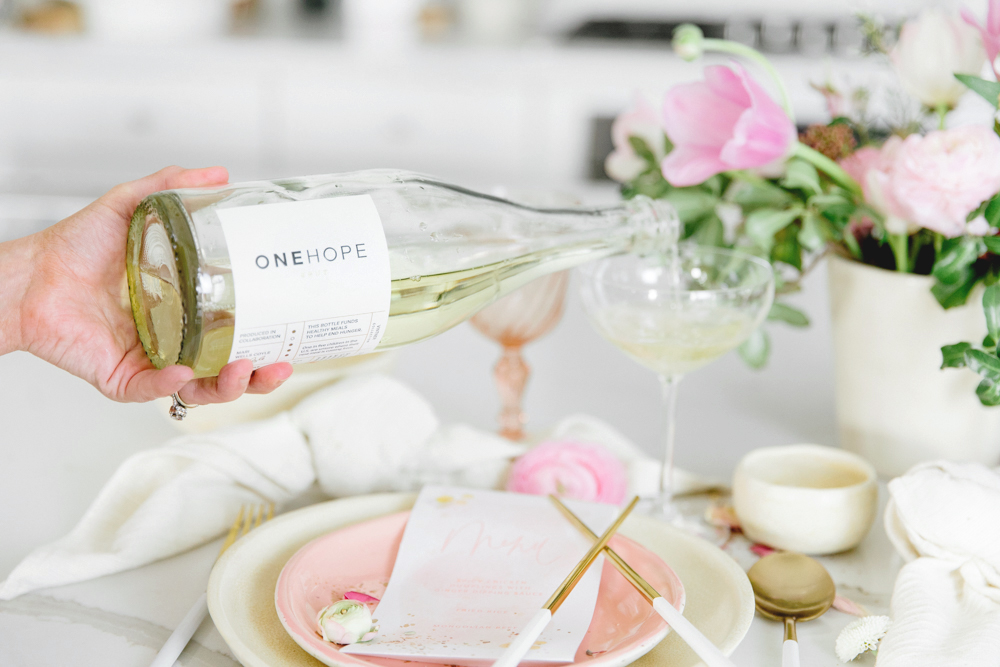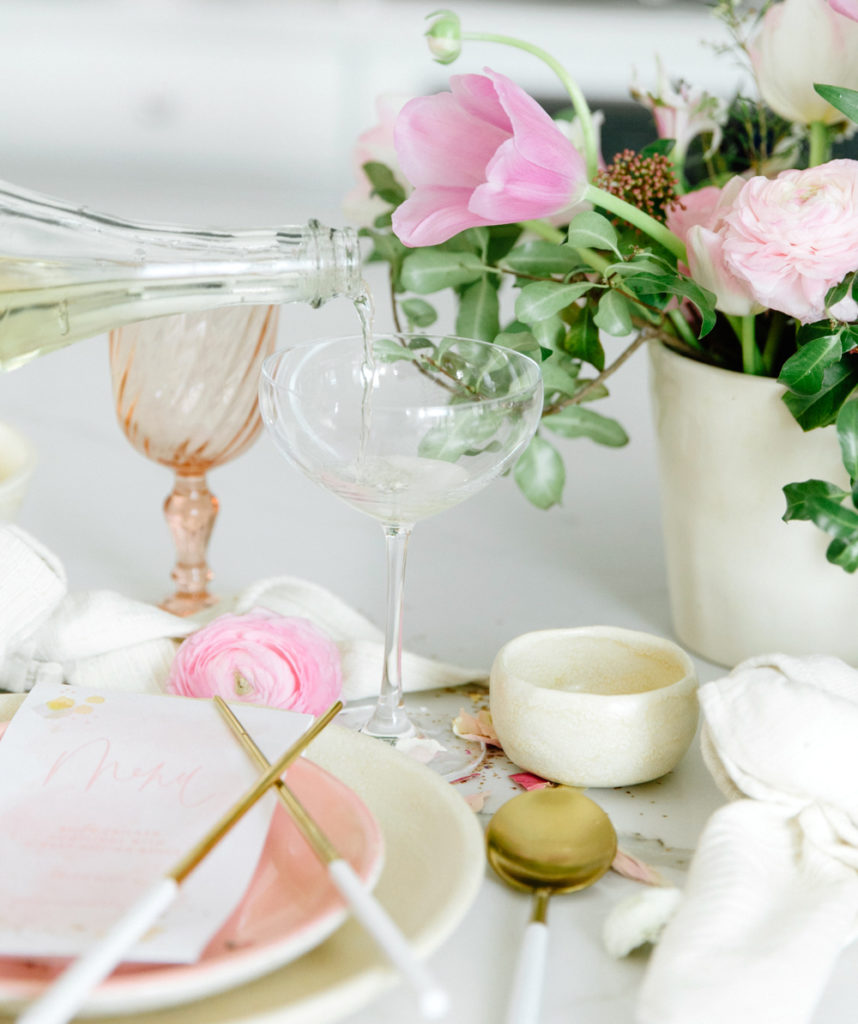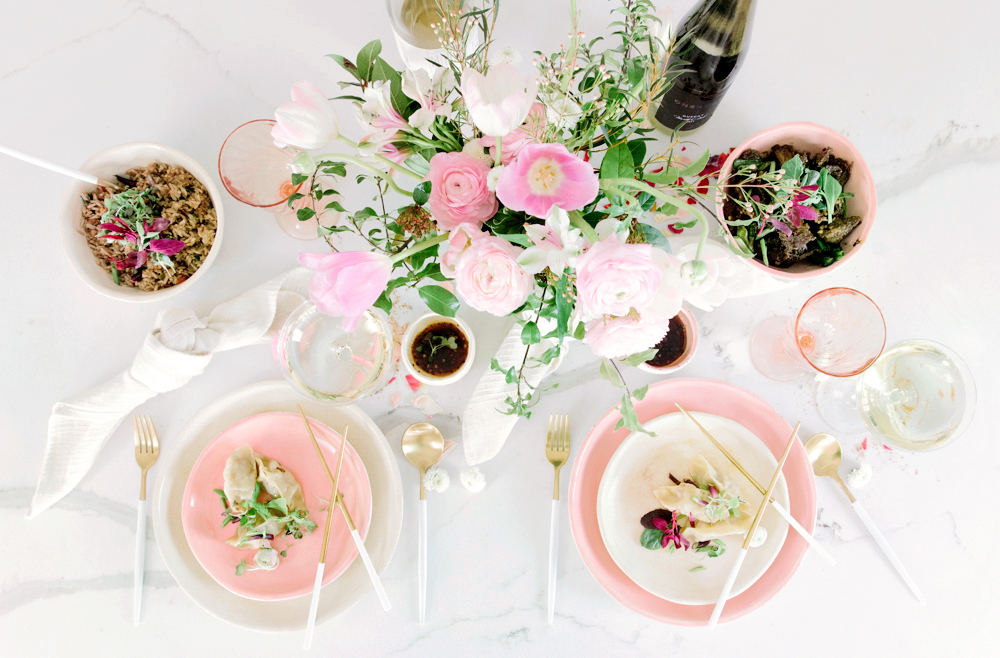 Let's dig in!
---
Fried Rice
SERVES: 3-5 | PREP: 10 MINUTES | COOK: 10 MINUTES
W H A T   Y A   N E E D!
3 tbsp peanut oil (or vegetable), separated
2 eggs, lightly beaten
3/4 cup bacon, excess fat trimmed, chopped (or 1/2 cup Chinese Sausage)
2 garlic cloves, minced
3 tsp ginger, minced or very finely chopped
1/2 onion, finely chopped (about 3/4 cup) (brown, white or yellow)
1 tbsp Chinese cooking wine or dry sherry (or sake, Japanese cooking wine)
1/2 tsp sugar
5 oz/150g small shrimp/prawns, cooked and peeled
3 cups cooked long-grain white rice, refrigerated overnight
3 scallions
B U S T   O U T:
Wok

---
I N S T R U C T I O N S
Mix sauce ingredients, set aside. Heat 1 tbsp oil in a wok (or heavy based skillet/fry pan) over medium heat. Add eggs and cook until scrambled, then remove and set aside. Increase heat to high and add bacon. Cook until golden, then remove onto a plate with eggs. Drain off excess bacon fat. Add remaining 2 tbsp oil, garlic, and ginger. Return wok to stove on high heat. Stir fry as it comes up to heat, don't let it burn. When garlic starts to sizzle, add onion and stir fry for 2 minutes until golden. Add Chinese wine and sugar and let it simmer rapidly, stirring, for 20 seconds, until mostly evaporated. Add prawns/shrimp and stir fry for 1 minute to heat through (if pre-cooked, cook longer to cook if raw). Add rice, sauce, eggs, bacon and all but 2 tbsp of shallots/scallions. Stir fry for 2 minutes until rice is hot, around 2 minutes. Lastly, transfer to your serving bowl, sprinkle with remaining scallions and serve.
---
---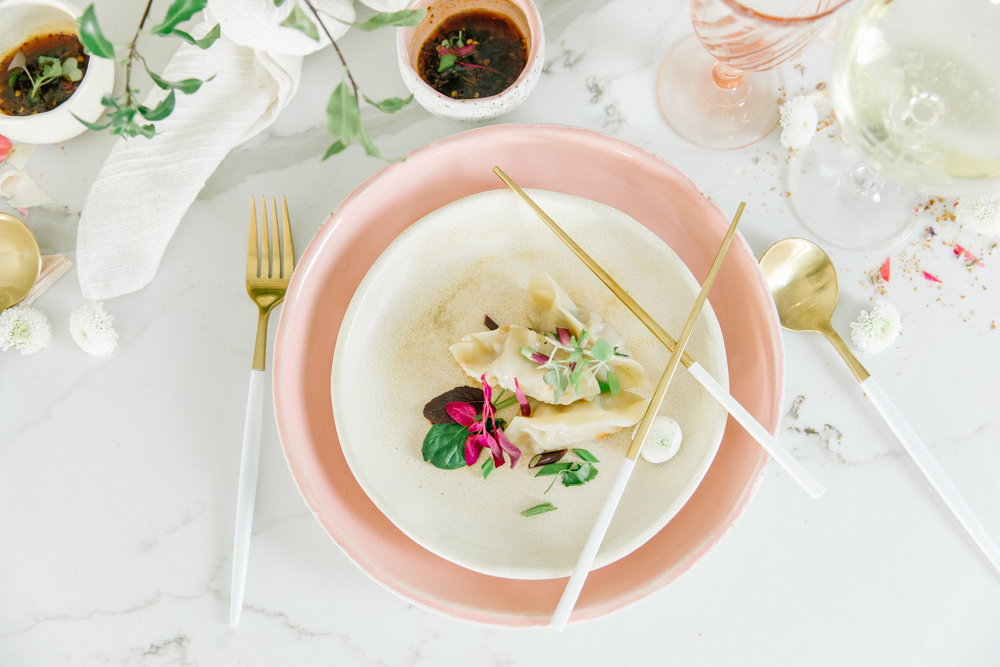 CHICKEN POT STICKERS
SERVES: 3-5 | PREP: 10 MINUTES | COOK: 15 MINUTES
W H A T   Y A   N E E D!
1 pack dumpling wrappers round-shaped or homemade dumpling wrappers
Water for boiling
Oil for pan-frying
Chinese black vinegar or Japanese ponzu for dipping
Chili oil optional
Filling:
8 oz ground chicken thighs
4 oz Napa cabbage finely sliced
1 teaspoon grated ginger
1 tablespoon chopped scallion
2 tablespoons soy sauce
1/2 teaspoon sesame oil
3 dashes ground white pepper
Pinch of salt
B U S T   O U T:
Parchment Paper
Cookie Sheet
Skillet
---
I N S T R U C T I O N S

Prepare the filling by combining all the ingredients. Use a spoon to mix well.

To assemble the dumplings, place a piece of the wrapper on your palm and spoon 1 teaspoon of the filling onto the center of the wrapper. Do not overfill. Dip your index finger into a small bowl of water and moisten the outer edges of the wrapper. Fold the dumpling to form a half-moon shape. Press and seal tightly in the middle. Arrange the wrapped dumplings on a plate lined with parchment paper to avoid the dumpling from sticking to the bottom of the plate. Repeat previous steps until the filling is used up.
Heat a pot of water and bring it to boil. Drop the dumplings gently into the water, boil for a few minutes until the dumplings float to the top. Use a strainer to scoop them out and transfer to a plate. Repeat the same until all dumplings are boiled.
Heat a skillet with some oil. Arrange about 8 dumplings on the skillet and pan-fry the dumplings until the bottom turns light brown about 2 to 3 minutes. Turn it over and pan-fry the other sides of the dumplings. Add more oil and repeat the same process above until all dumplings turn golden brown and become crispy. Serve the dumplings warm with the dipping sauce.
---
---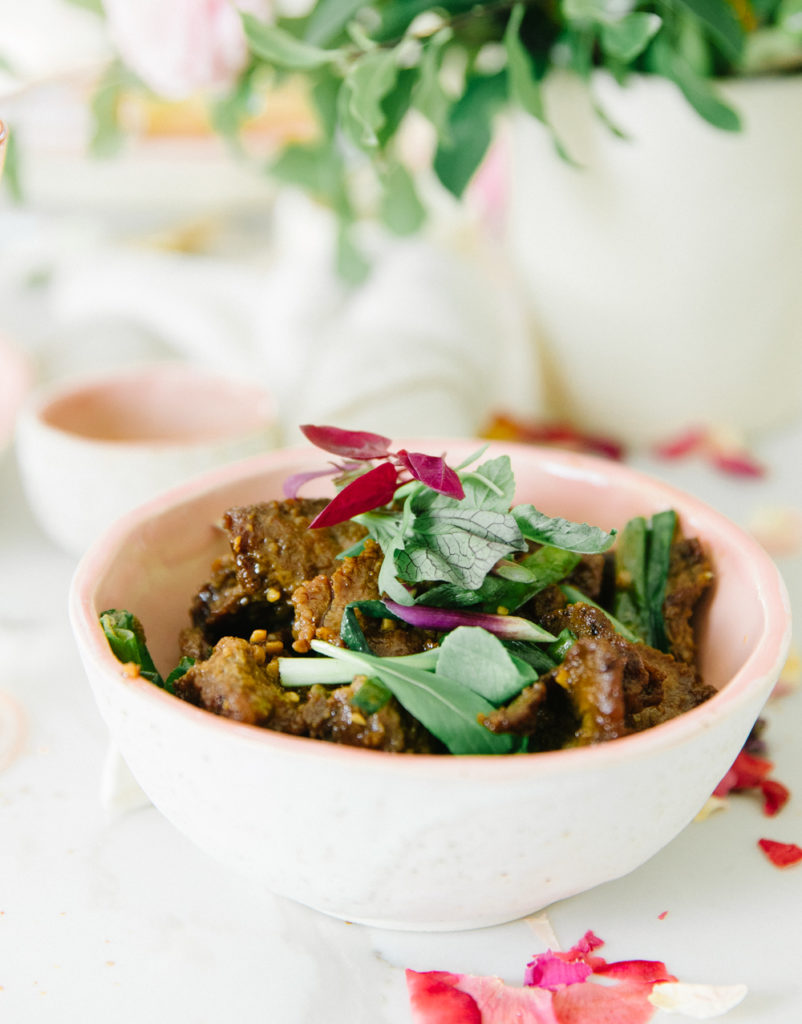 MONGOLIAN BEEF
SERVES: 2-3 | PREP: 5 MINUTES | COOK: 15 MINUTES
W H A T   Y A   N E E D!
8 ounces flank steak, sliced against the grain into 1/4-inch thick slices
1 teaspoon oil
1 teaspoon soy sauce
1 tablespoon plus 1/4 cup cornstarch
1/3 cup vegetable oil, for frying the beef
1/2 teaspoon minced ginger
5 dried red chili peppers (optional)
2 cloves garlic, chopped
1/4 cup low sodium soy sauce
1/4 cup water or low sodium chicken stock
2 tablespoons brown sugar
1 tablespoon cornstarch, mixed with 1 tablespoon water
2 scallions, cut into 1-inch long slices on the diagonal
B U S T   O U T:
Wok
Sheet Pan
---
I N S T R U C T I O N S
Marinate the beef for 1 hour in 1 teaspoon oil, 1 teaspoon soy sauce, and 1 tablespoon cornstarch. Dredge the meat in the remaining 1/4 cup of cornstarch until lightly coated.
Heat 1/3 cup oil in the wok over high heat. Just before the oil starts to smoke, spread the flank steak pieces evenly in the wok, and let sear for 1 minute (depending upon the heat of your wok). Fry in smaller batches for best results! Turn over and let the other side sear for another 30 seconds.
Remove to a sheet pan; tilt it slightly to let the oil drain to one side (lean it on a cookbook or cutting board). The beef should be seared with a crusty coating.
Drain the oil from the wok, leaving 1 tablespoon behind, and turn the heat to medium-high. Add the ginger and dried chili peppers, if using.
After about 15 seconds, add the garlic. Stir for another 10 seconds and add the low sodium soy sauce and chicken stock (or water). Bring the sauce to a simmer, add the brown sugar, and stir until dissolved.
Let the sauce simmer for about 2 minutes and slowly stir in the cornstarch slurry mixture–until the sauce coats the back of a spoon. Add the beef and scallions and toss everything for another 30 seconds.
Then serve it up! Yummy!
---
Cheers to a fun and lazy date night in!
B E I J O S  K I T C H E N  

xx
Abby