We brought all of the dreamy celestial elements to Halloween this year! Follow the moon and stars to this ultimate spooky soiree… Mystics and magic are waiting for you at this one. We left nothing, and no-one, behind when planning this spooky and pretty Halloween party.
So keep scrolling and head to Green Wedding Shoes to see more of this divine party captured by Jessica Lynn Photography… If you dare!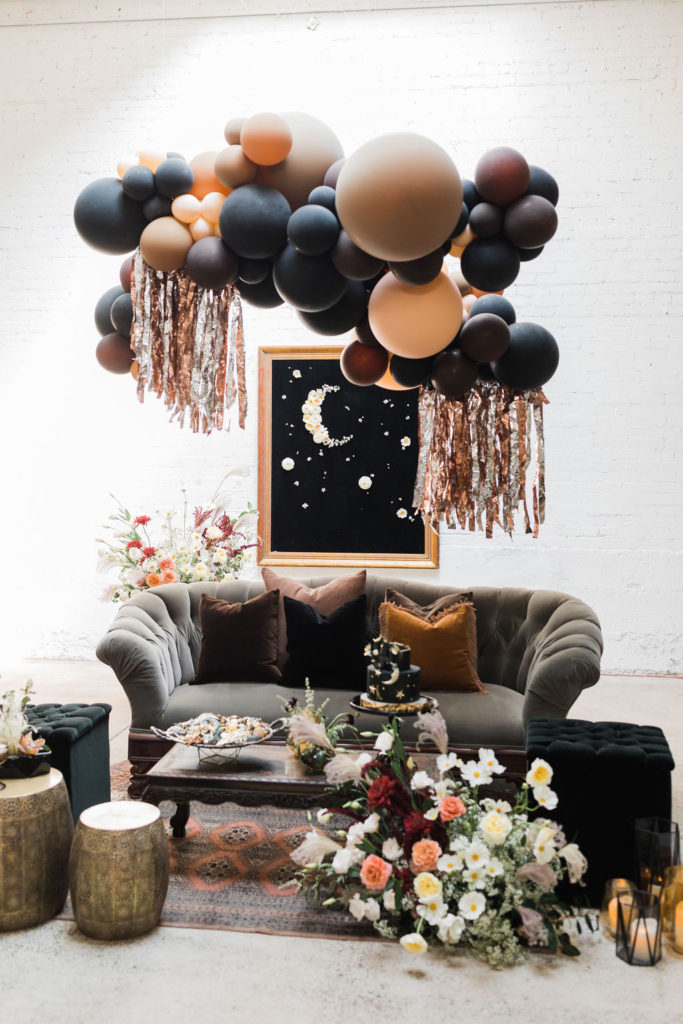 Every party starts with an invitation! This one, in particular, is out of this world. David & Leanna does it again with a whole lot of pretty to inspire any guest to rsvp. All of those details look so stunning on the Chasing Stone mat as well.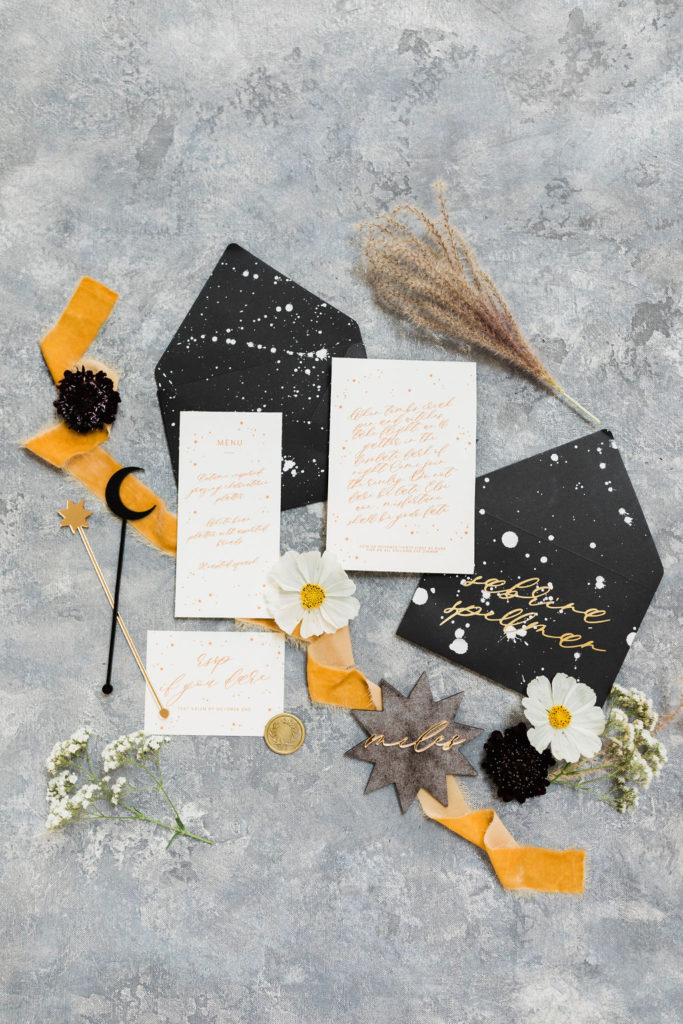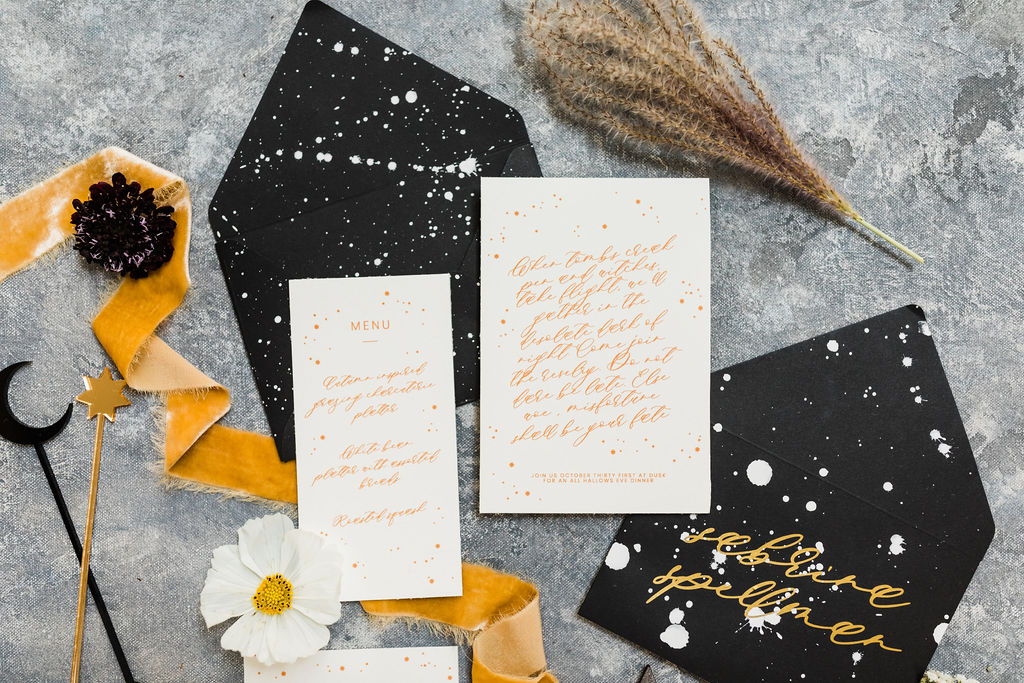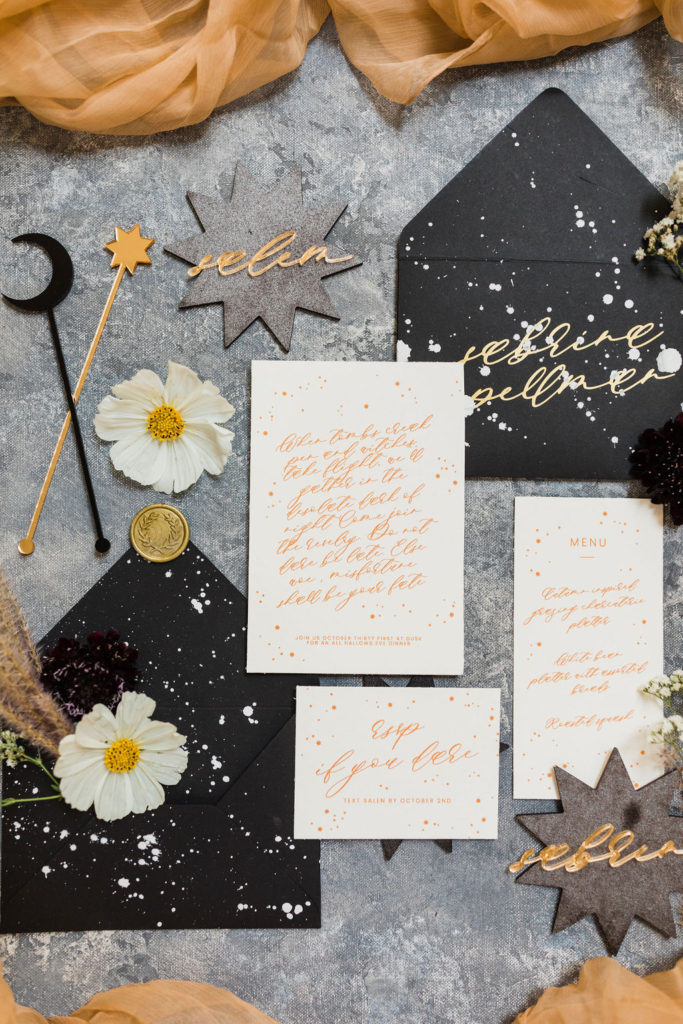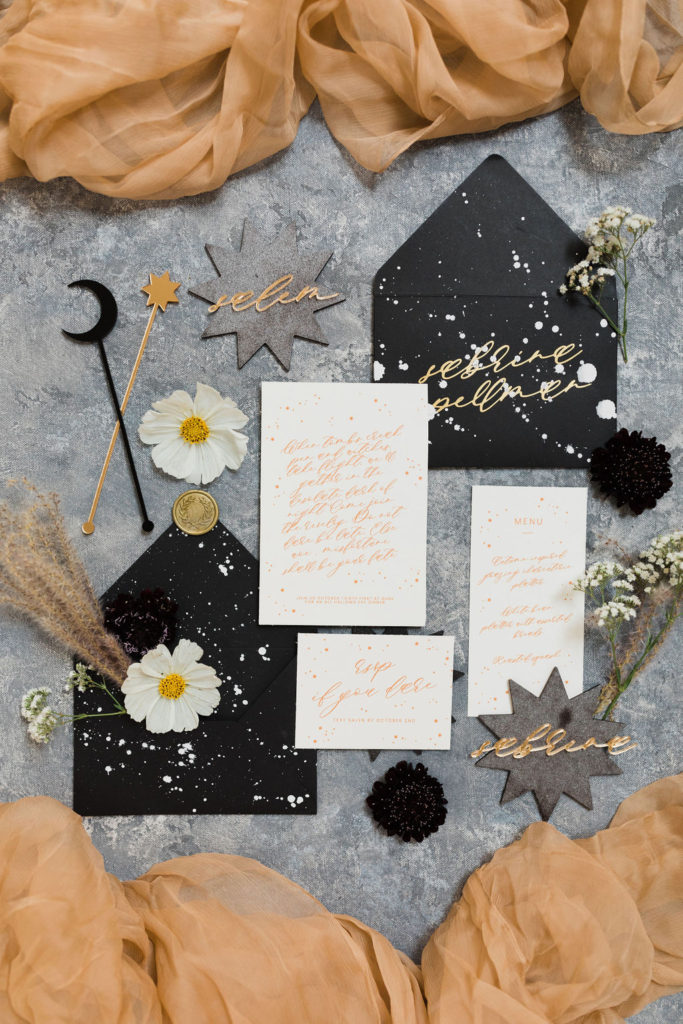 Now, this is a party with a wow factor! That balloon installation by The Pop Shop was above and beyond, and I love the sparkle she added. The moon and the stars were shining overhead on a dark and stormy night…
Our rustic table and black chairs along with the layered rugs from Sweet Salvage Rentals create a warm and inviting yet sophisticated space. Just perfect for some Halloween shenanigans to take place!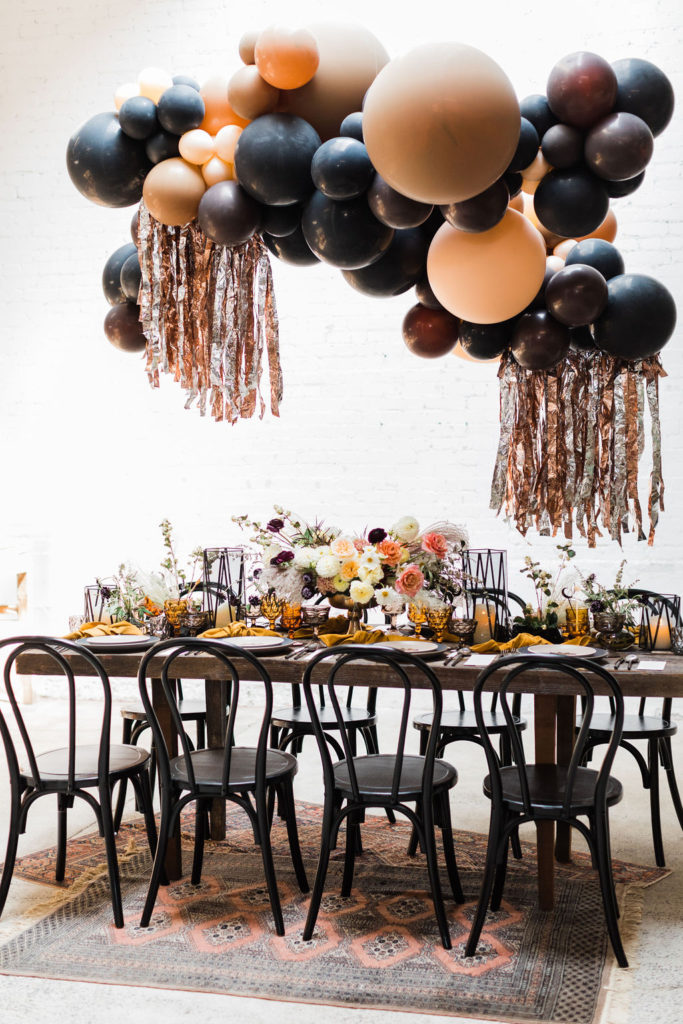 The table was set with Cherished Rentals lovely tabletop pieces and all of those amazing details by David & Leanna. The details included star place cards with gold names, moon and stars stir sticks, menus sprinkled with stardust, and amber glassware paired with smokey glassware. I love all of these colors for Halloween, especially adding in those golden napkins from Hostess Haven.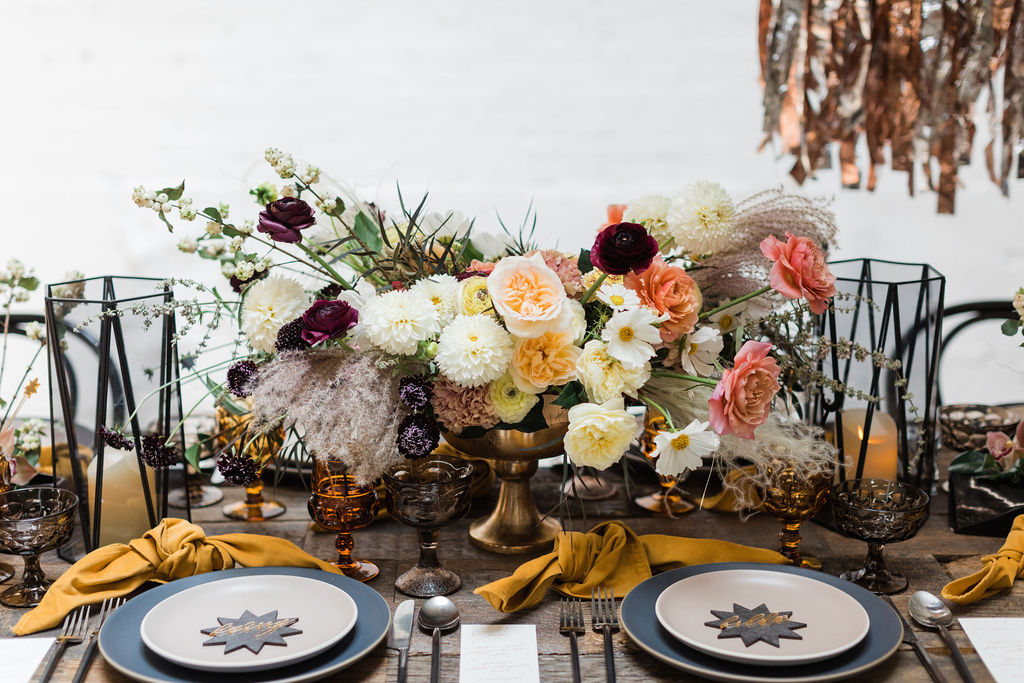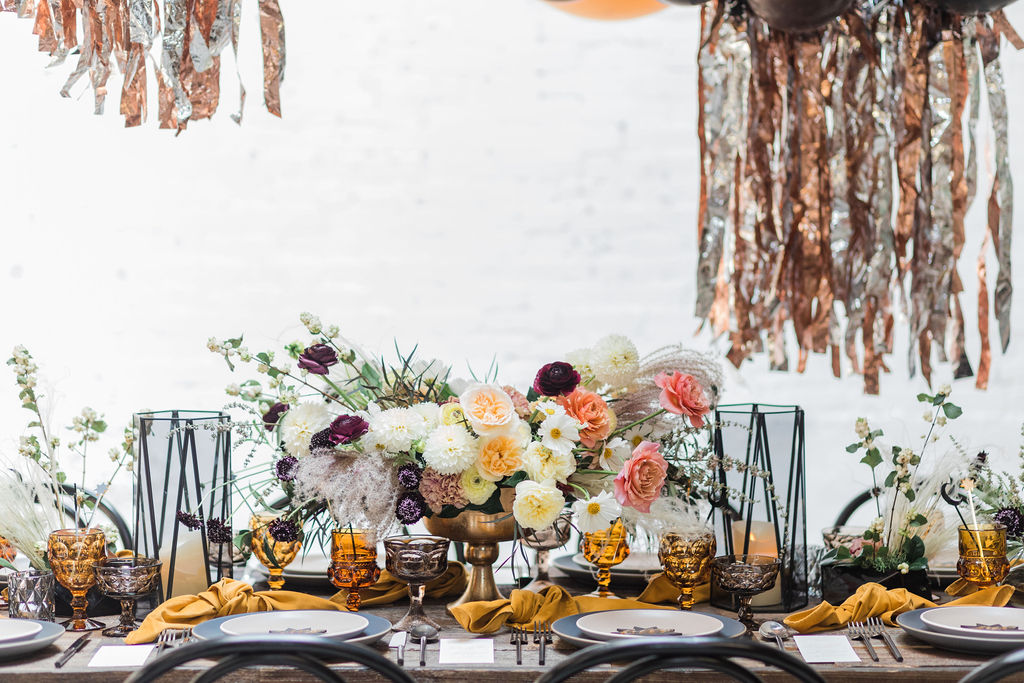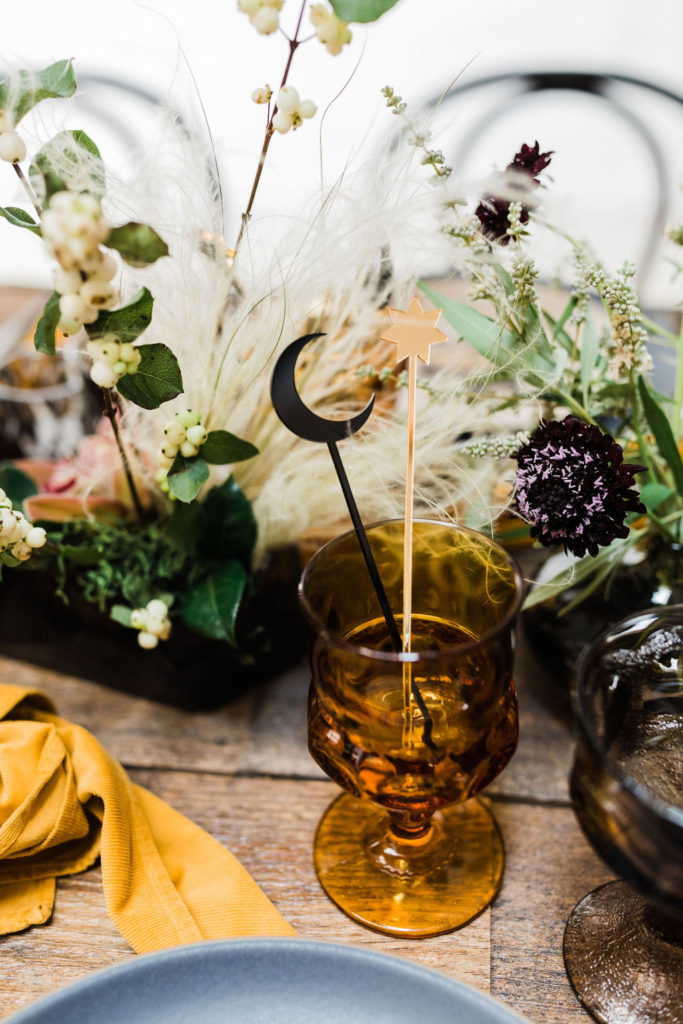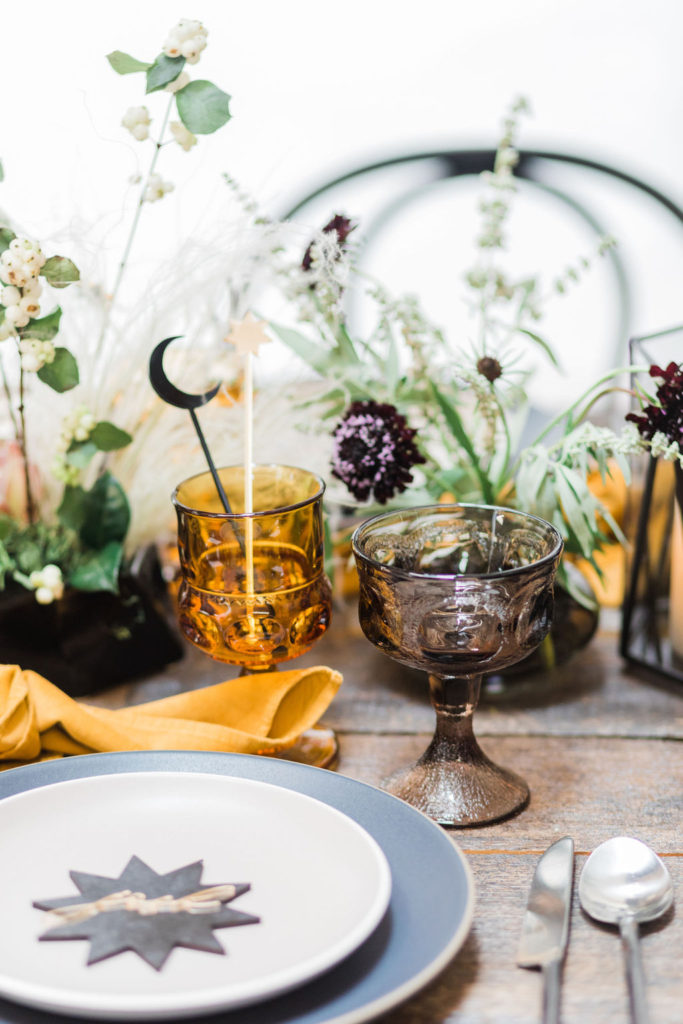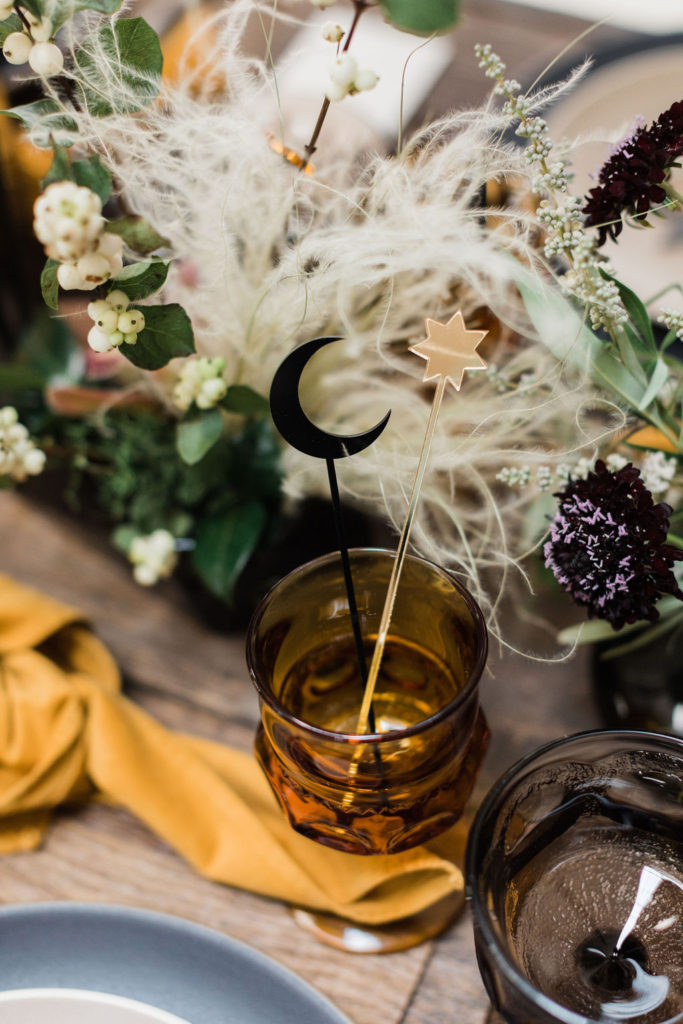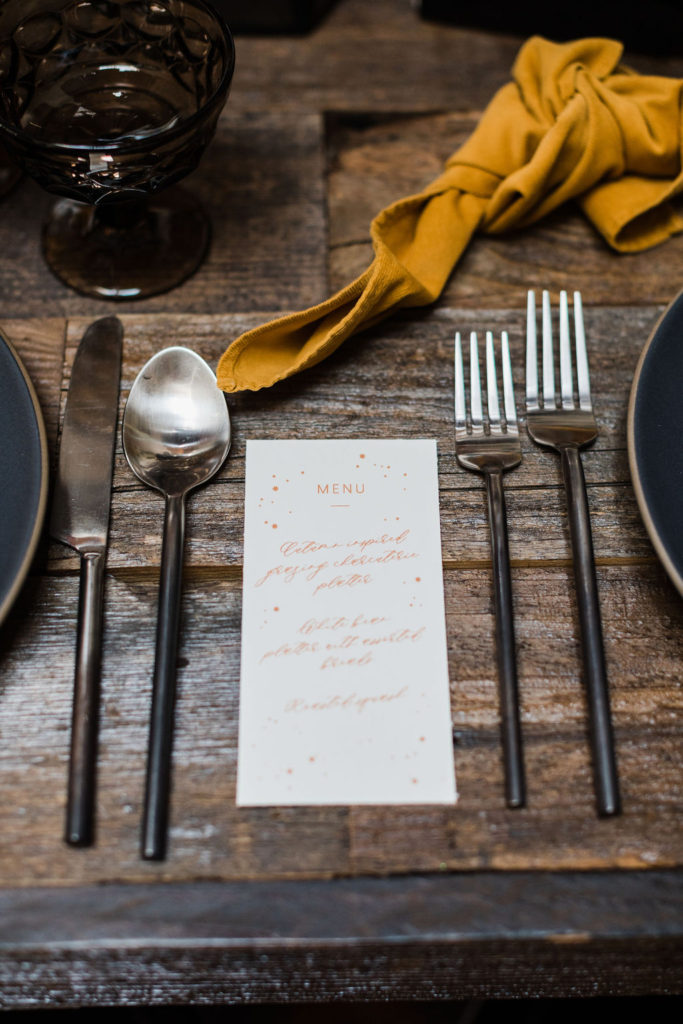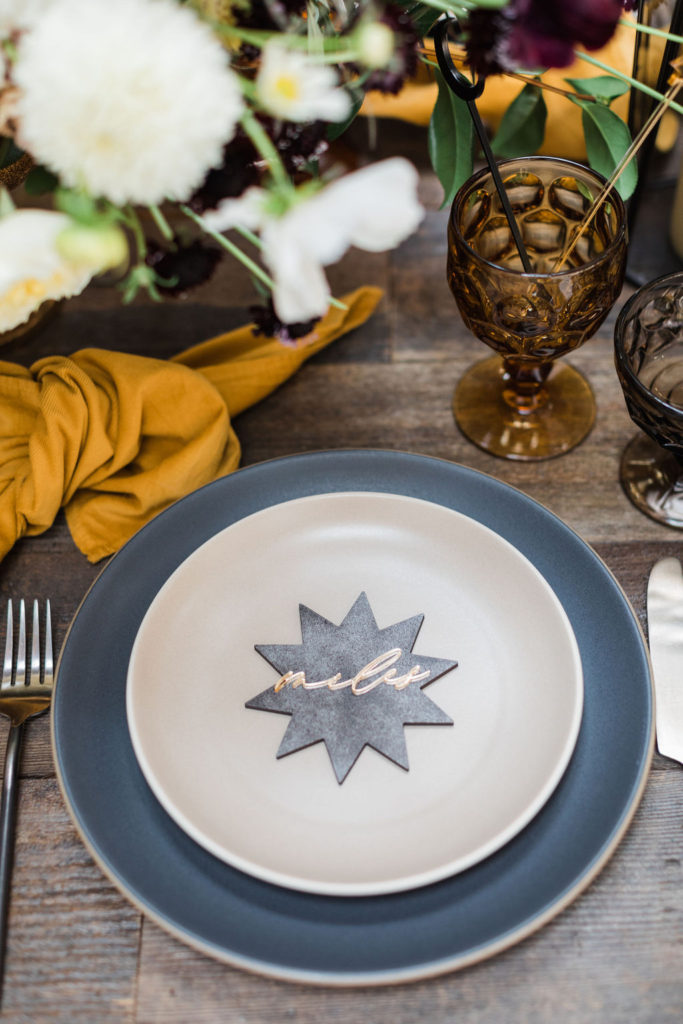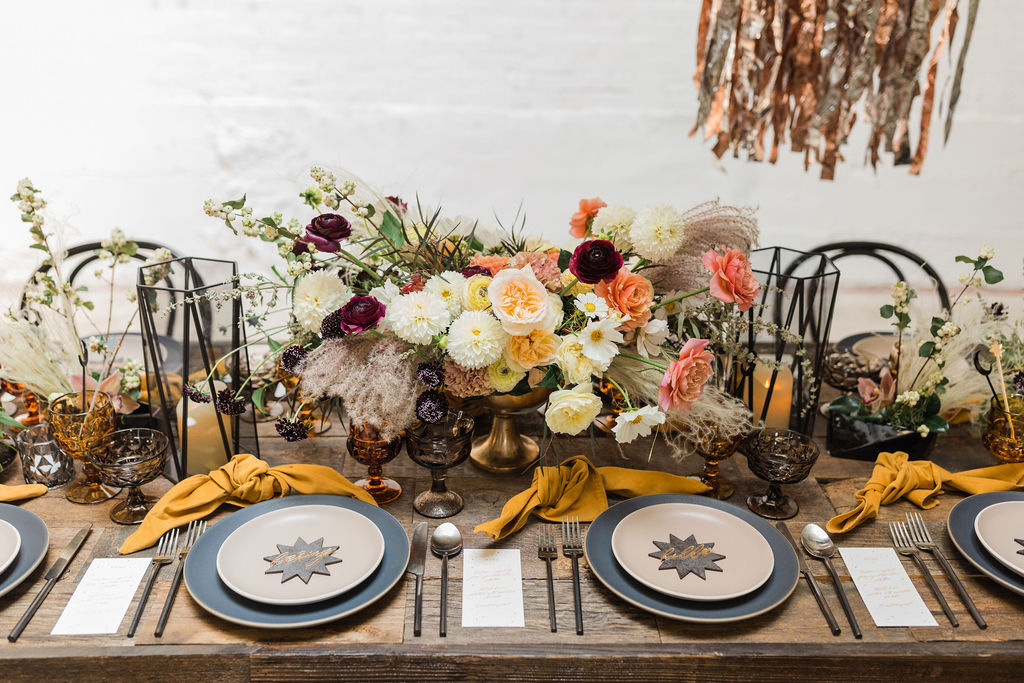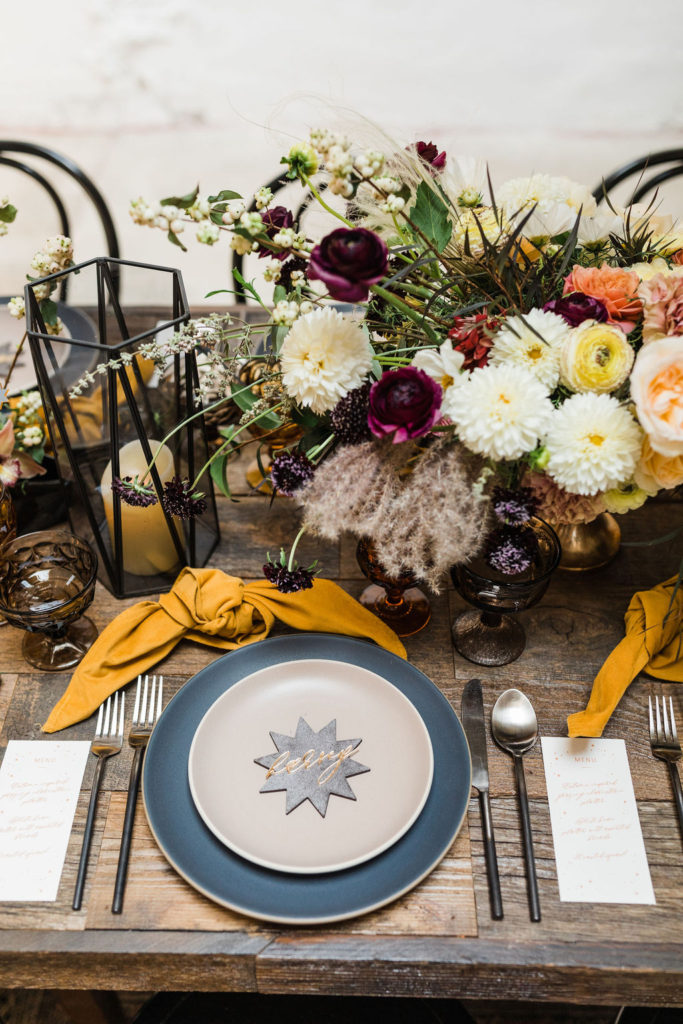 Did you notice the insanely gorgeous flower arrangements on the table?! Rebelle Fleurs is responsible for these pretty ladies! Along with the amazing candles that really set the ambiance, don't you think? I am loving all of the textures and colors she used through-out this party. So, so good!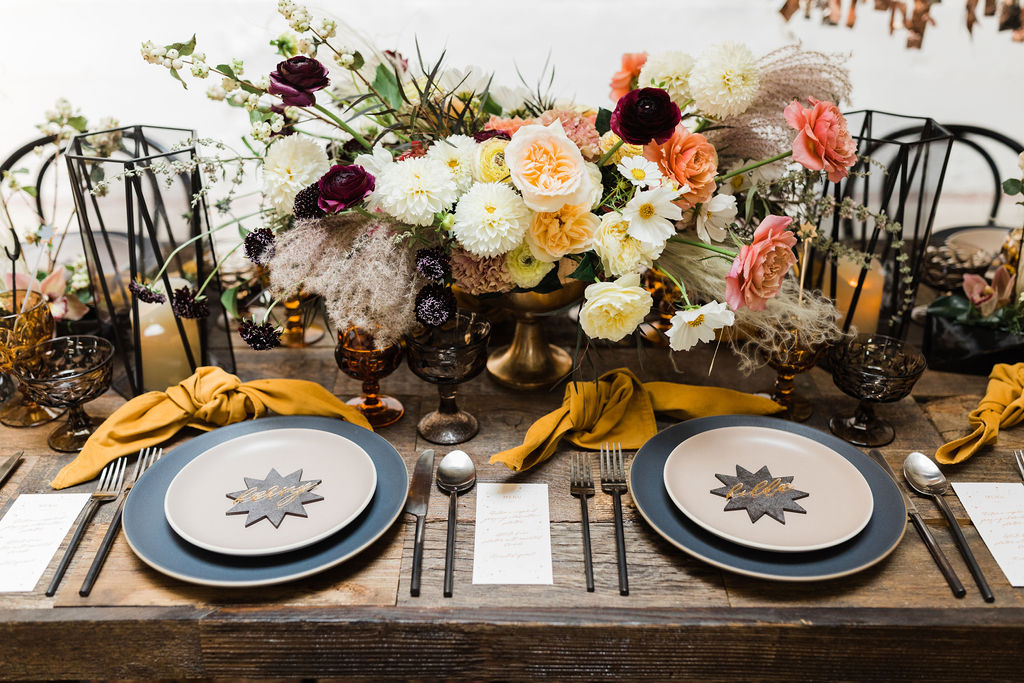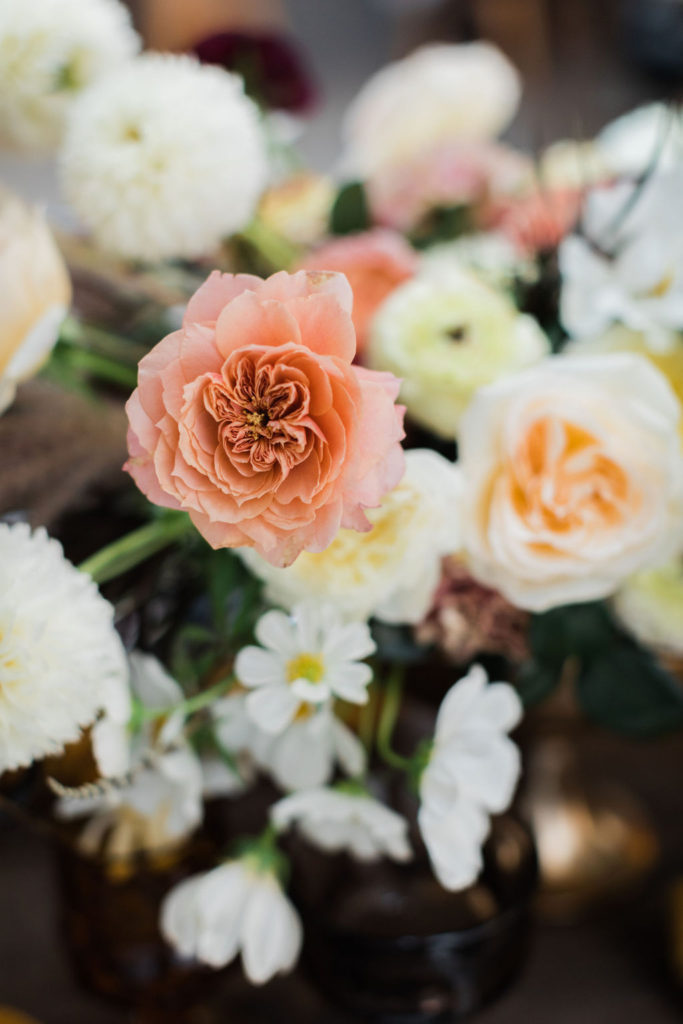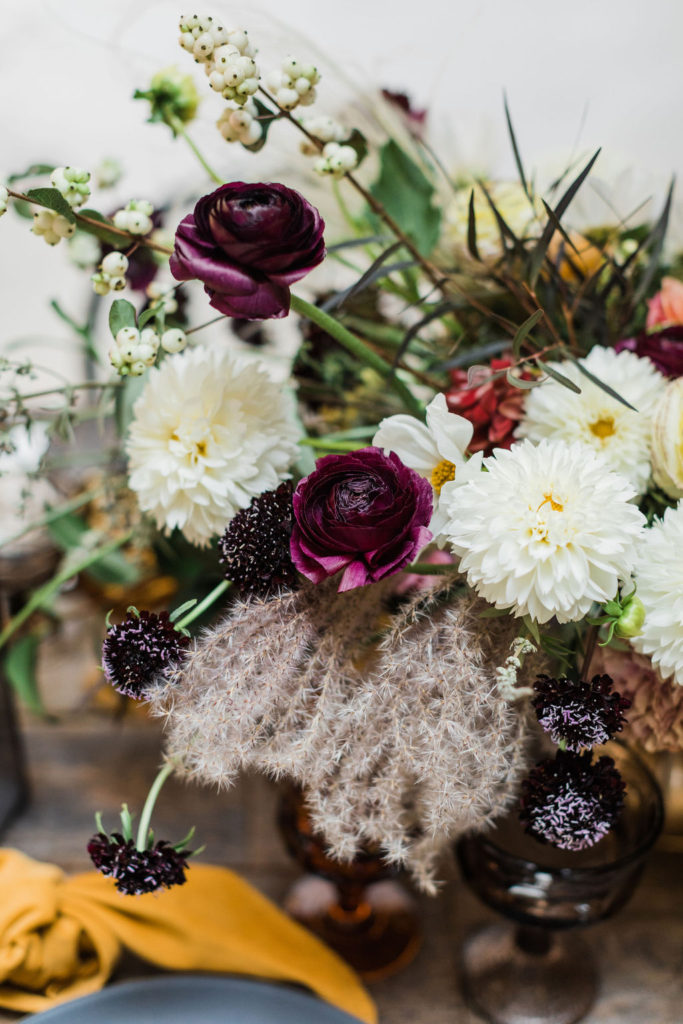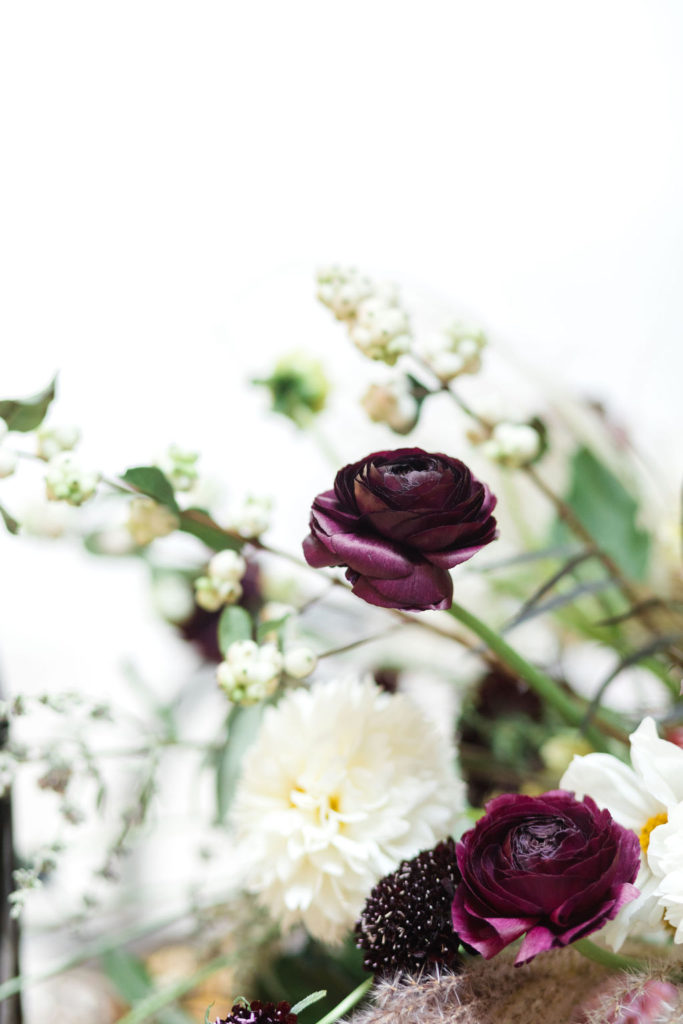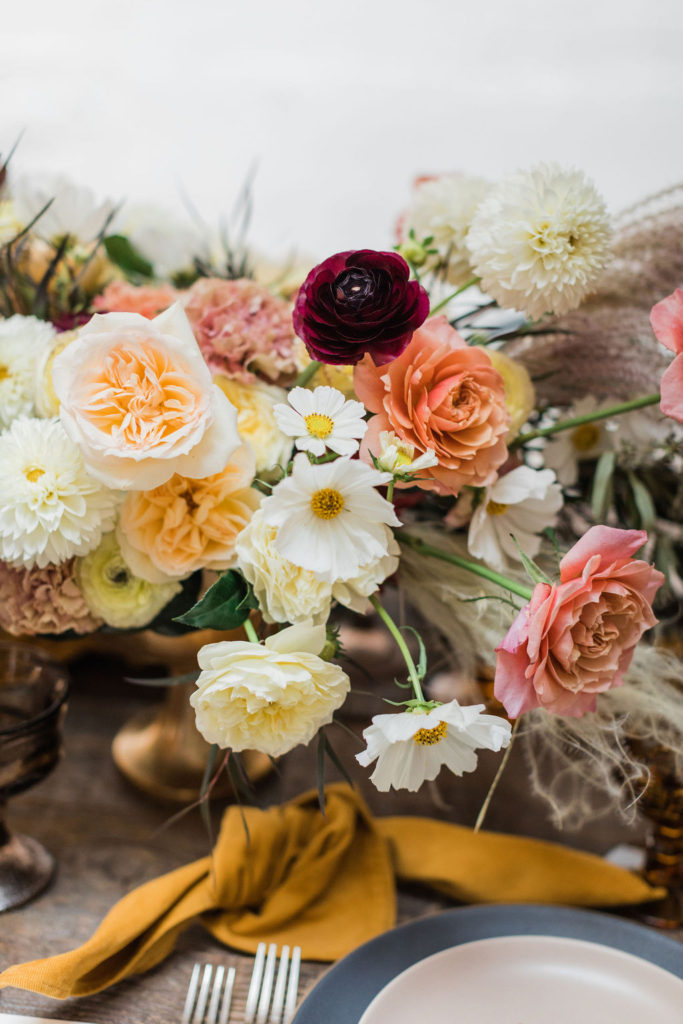 We chose this little vase for some of the flower arrangements because it looks like a little coffin. Morbid, I know, but so good for Halloween!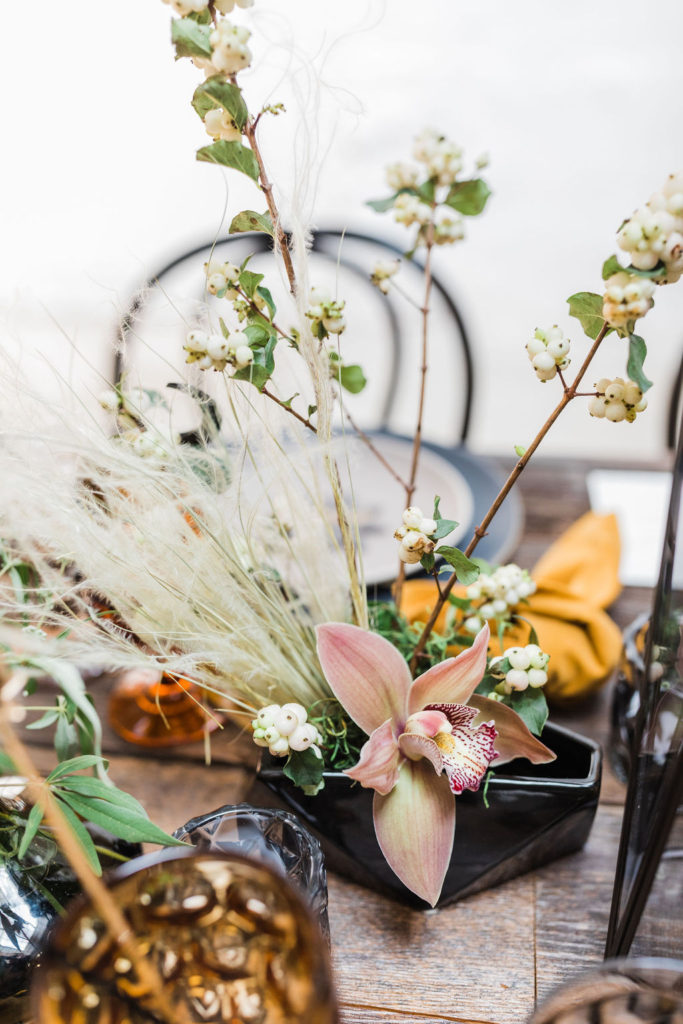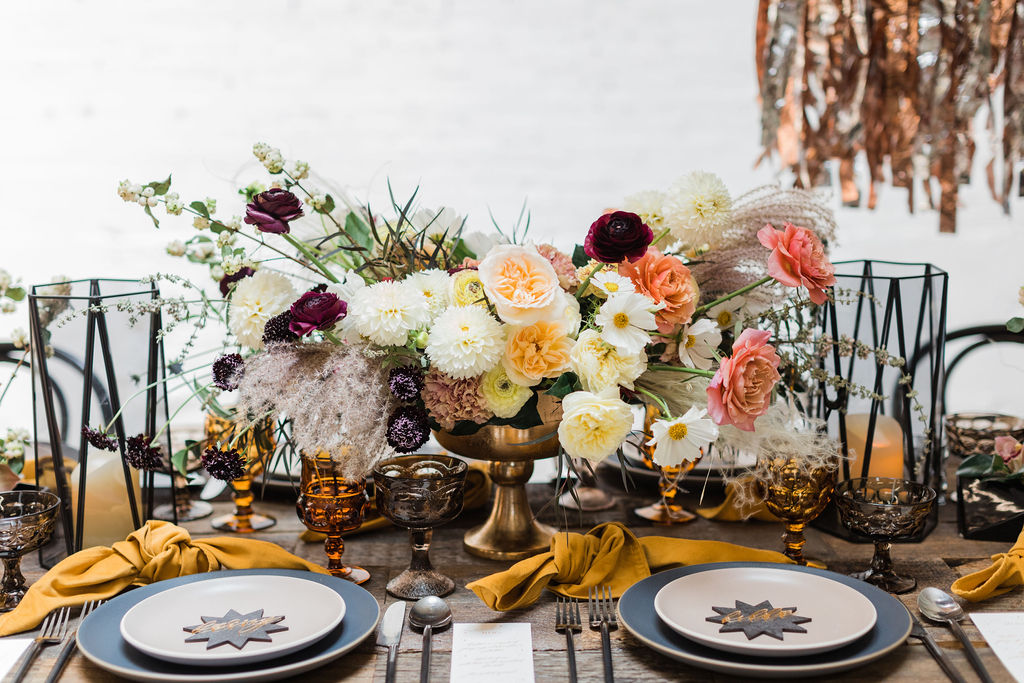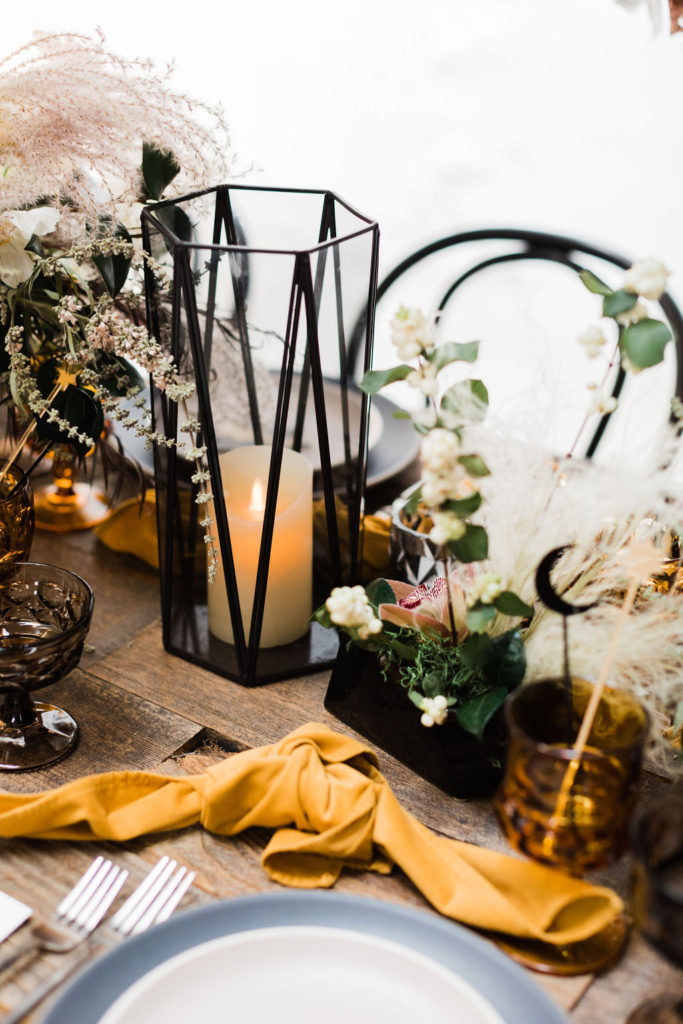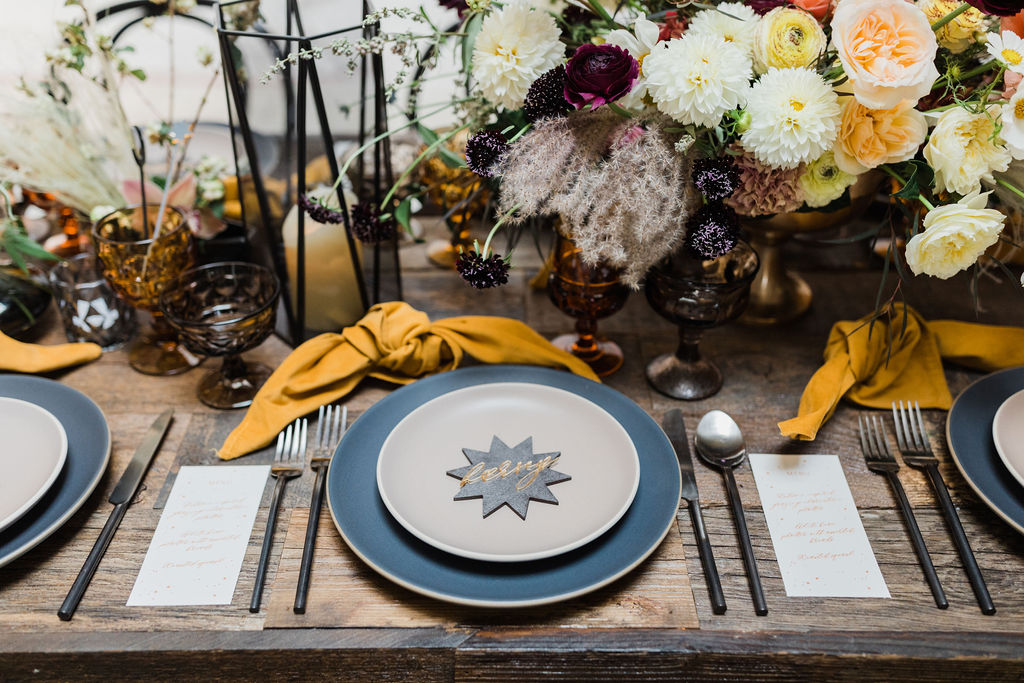 Just a really really REALLY pretty table, if I do say so myself!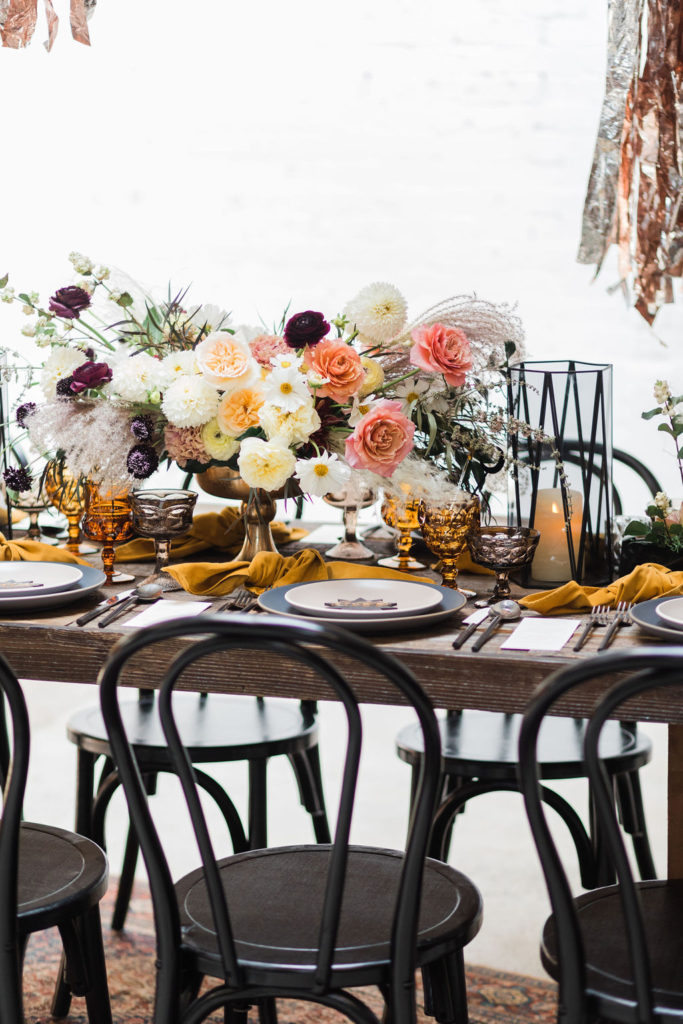 And just a little more of these balloons for ya – so obsessed The Pop Shop!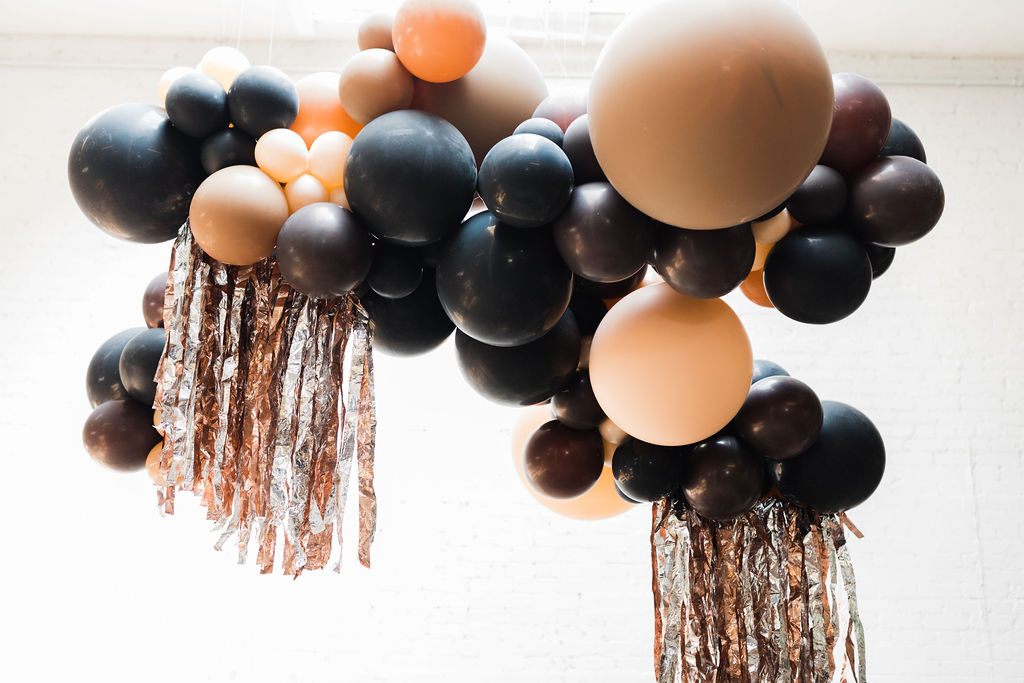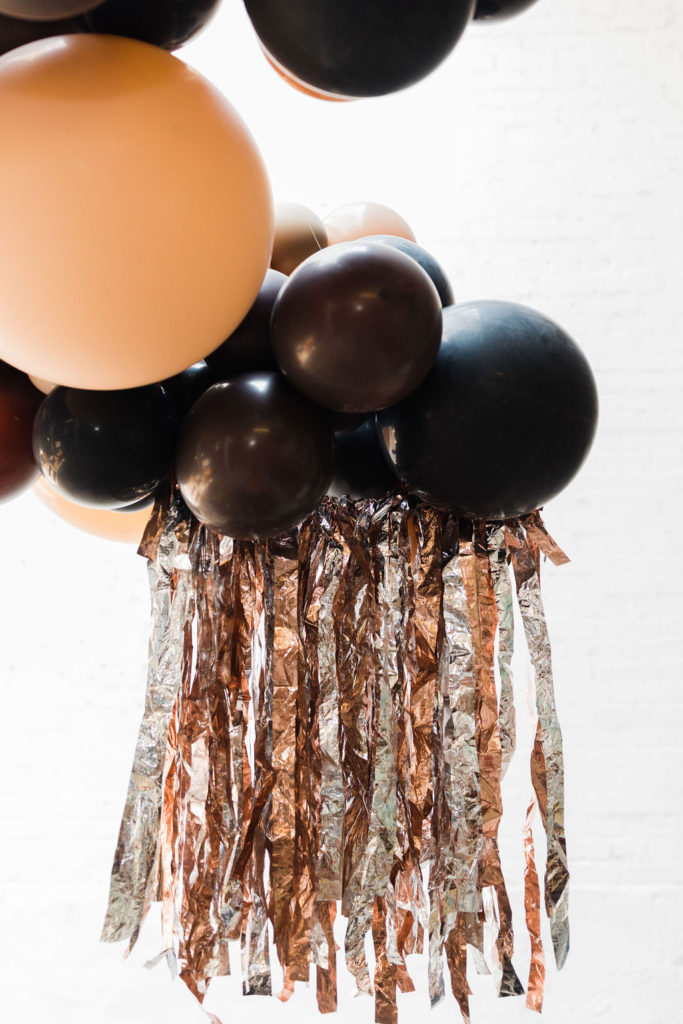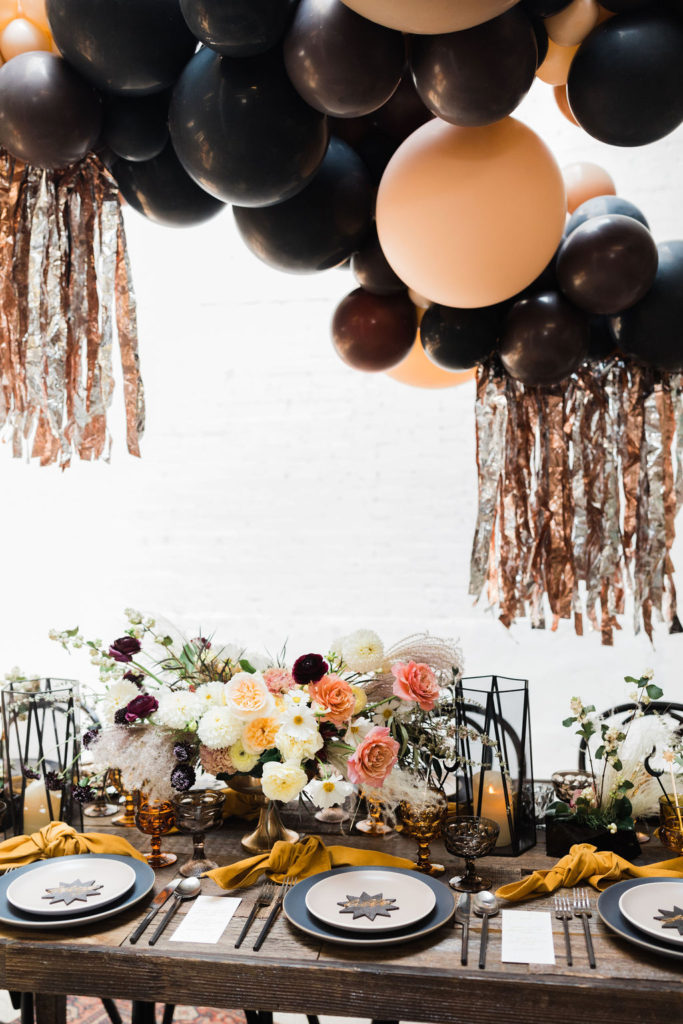 On to the food!!! Our friends at Colette's Catering brought an amazing spread, perfect for any party! Charcuterie, hummus platter and salad – nice and light. Who could ask for anything more?!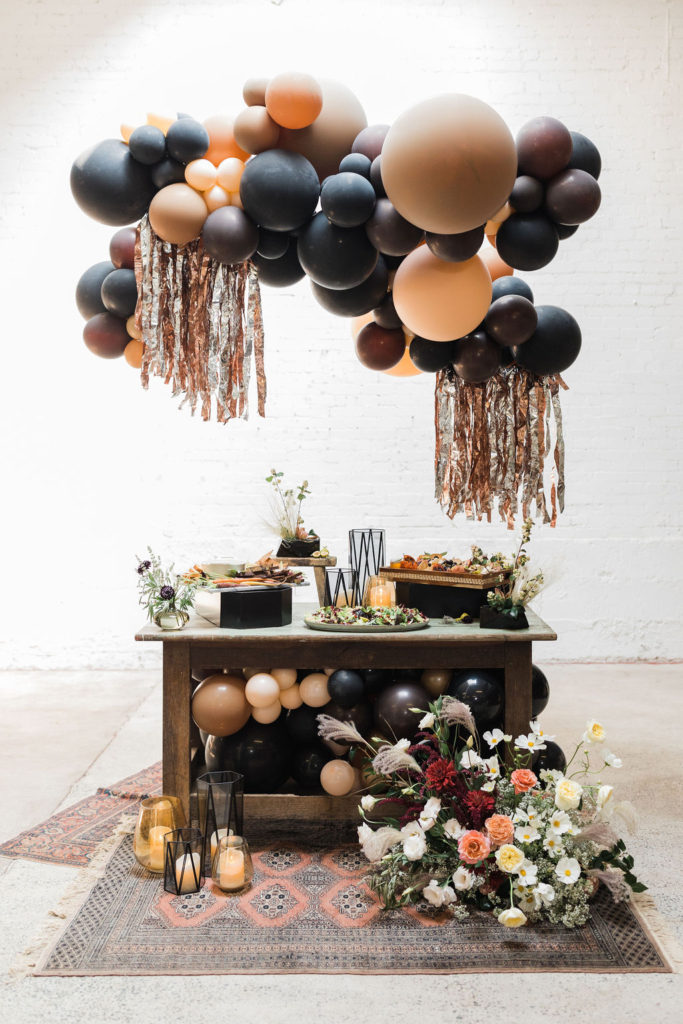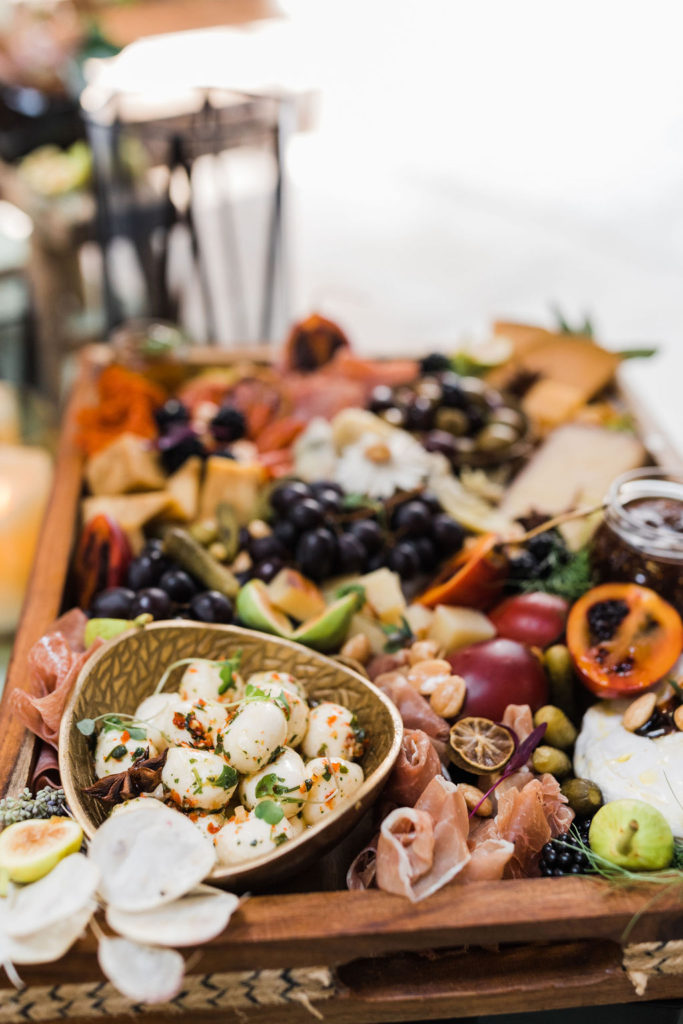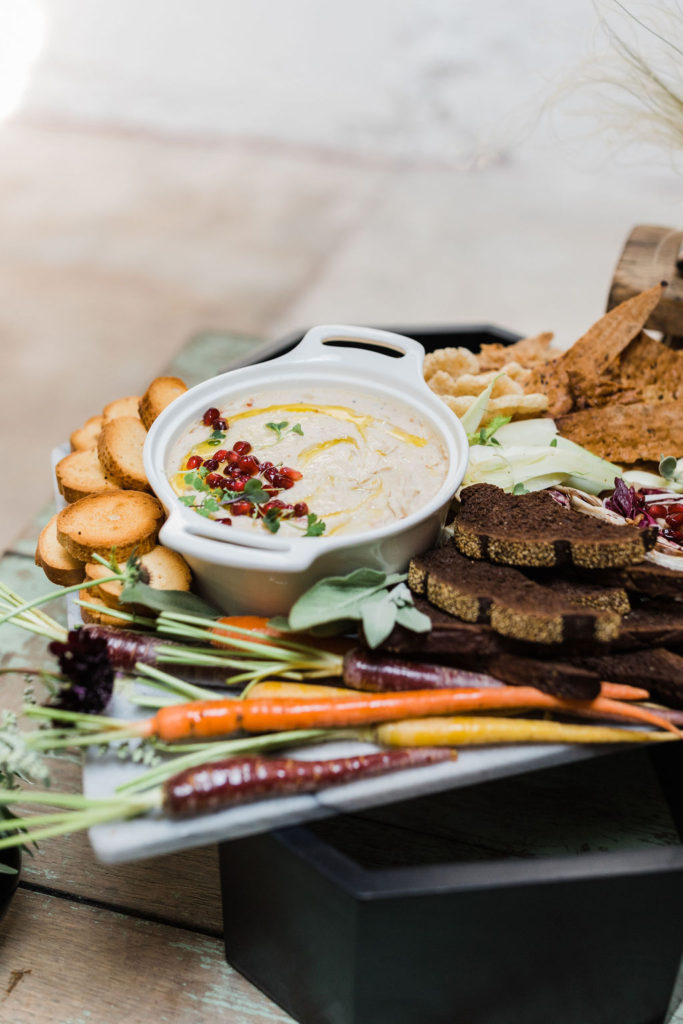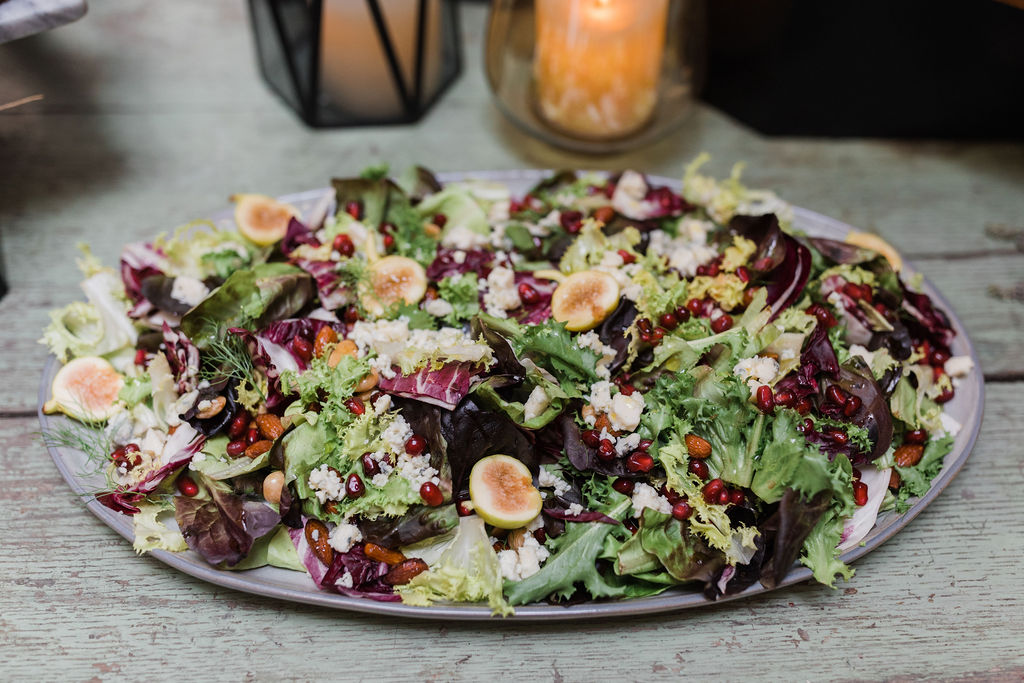 Of course our food display needed some pretty touches as well! Let me tell you, flowers and candles are always a good idea!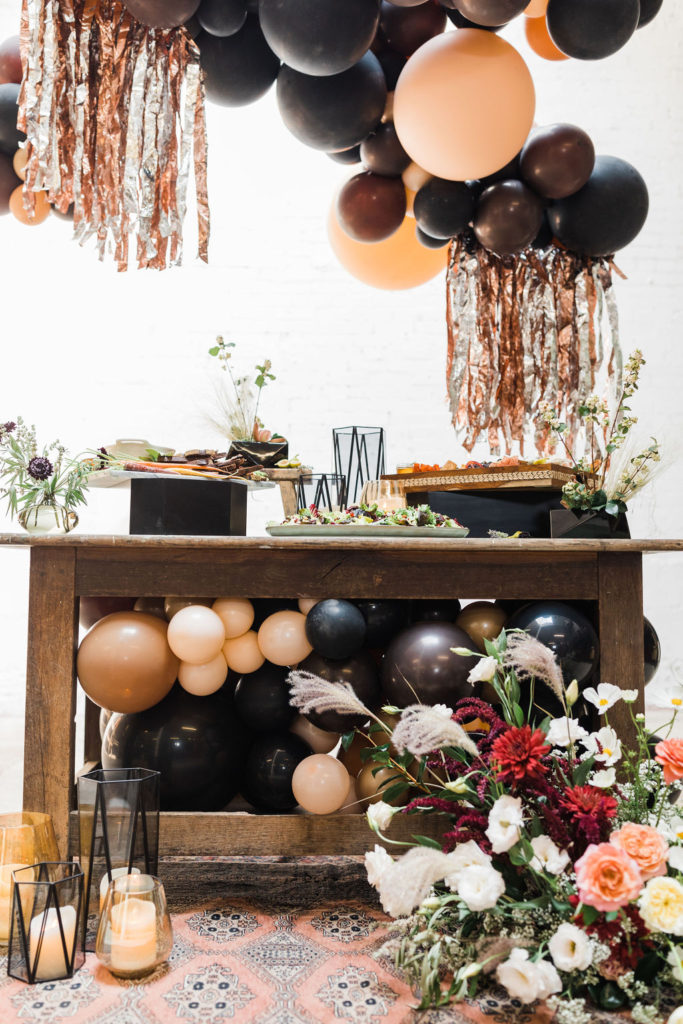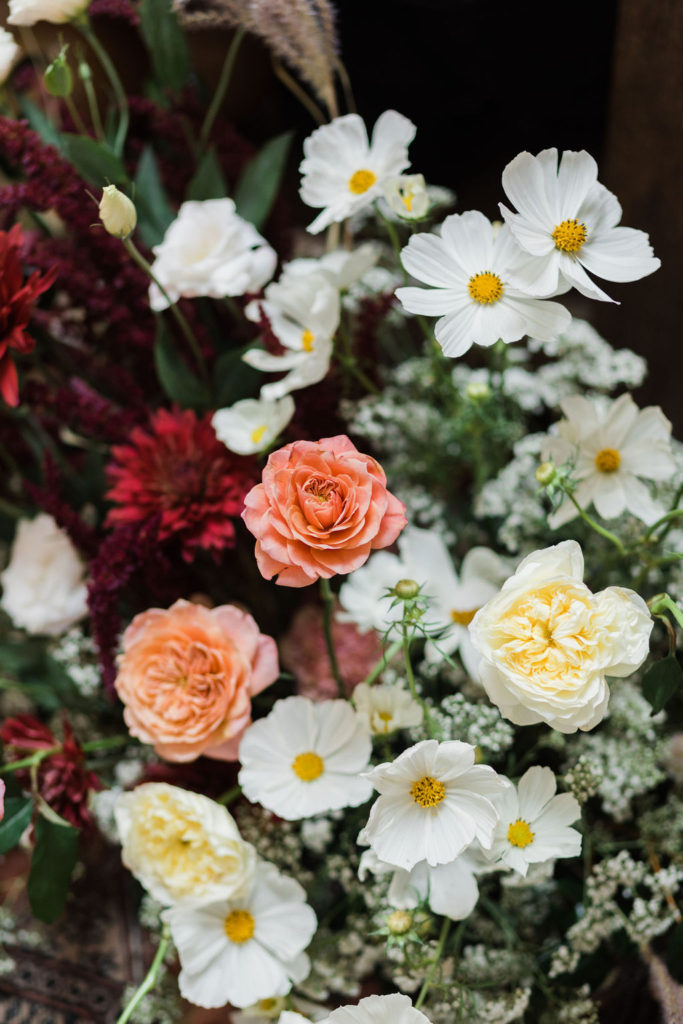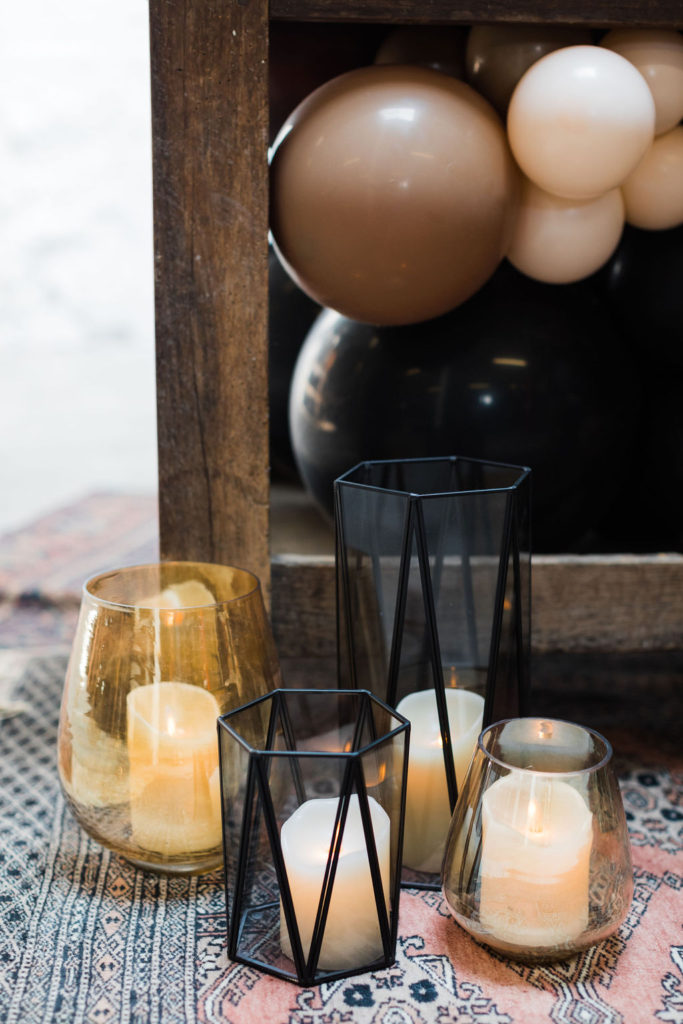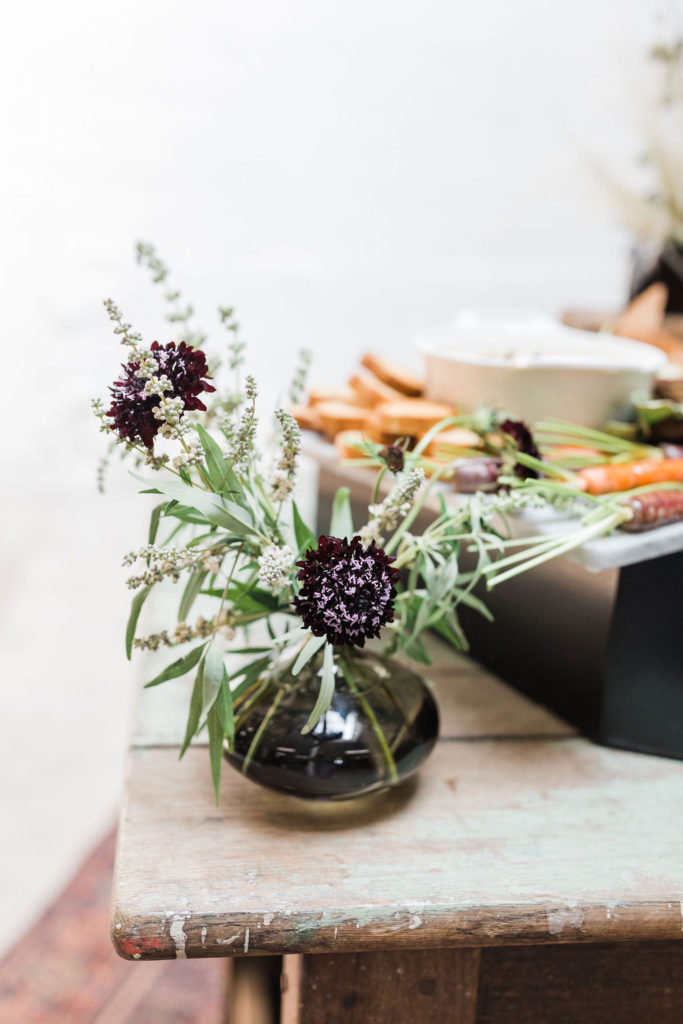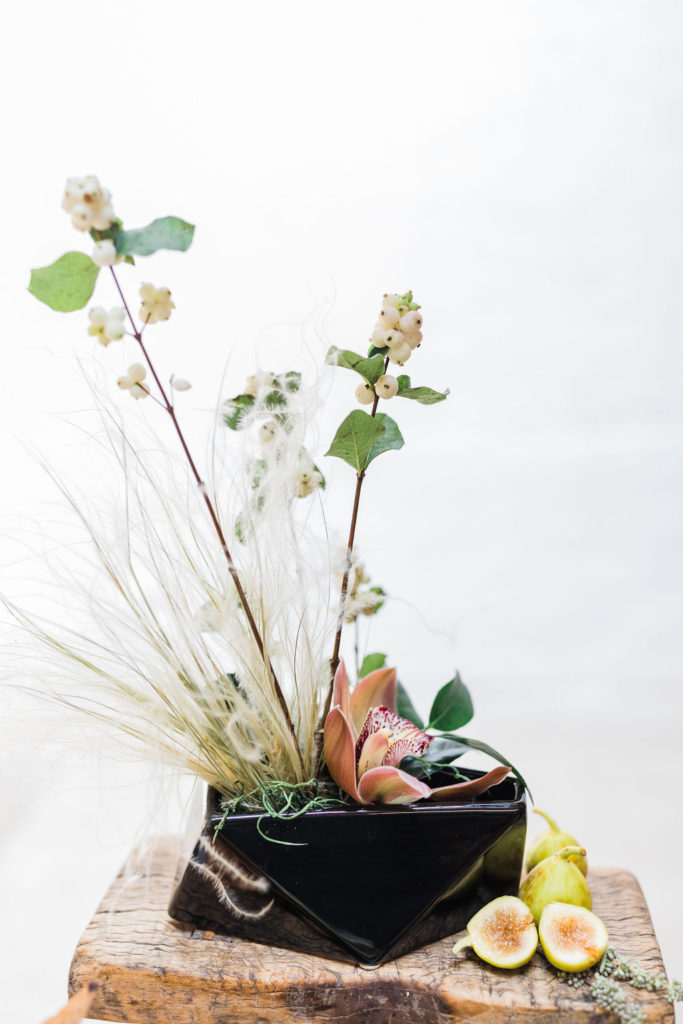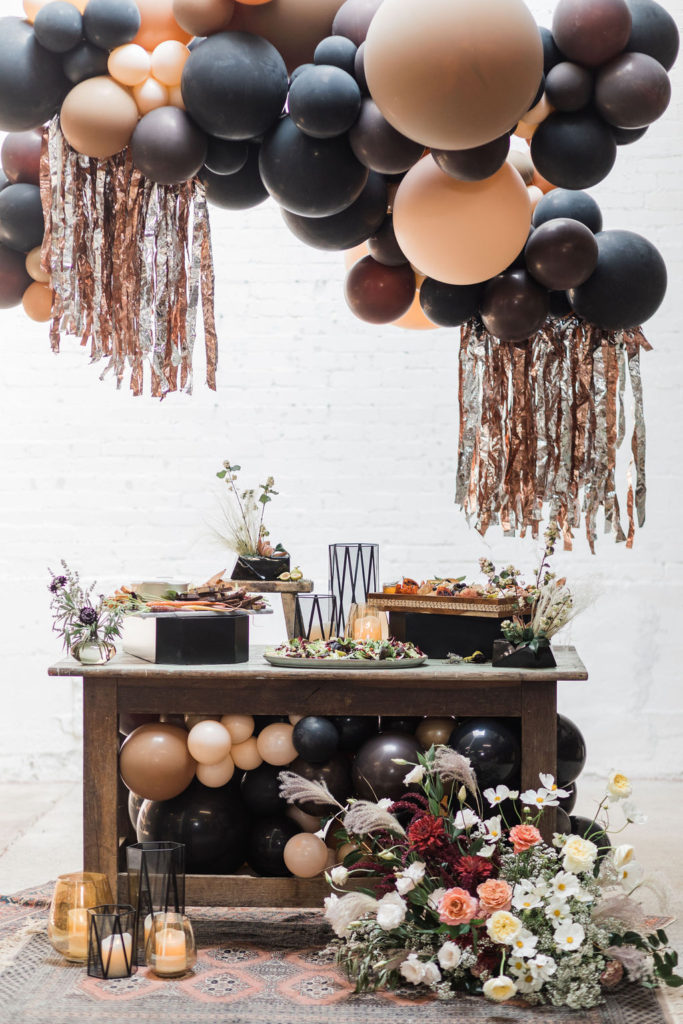 Here's a better shot of all that yummyness!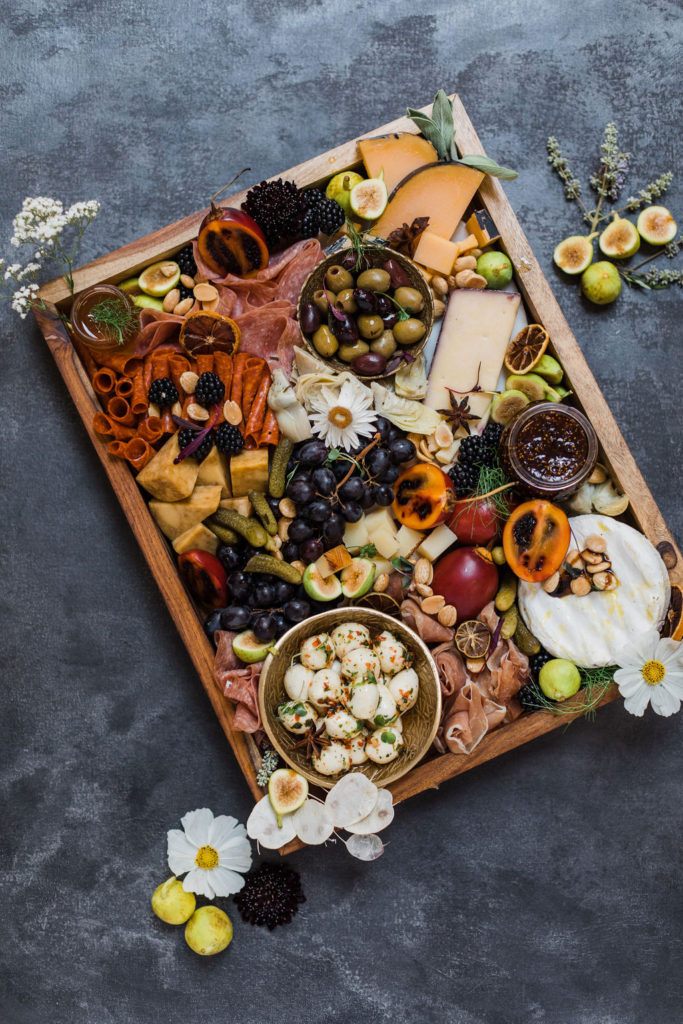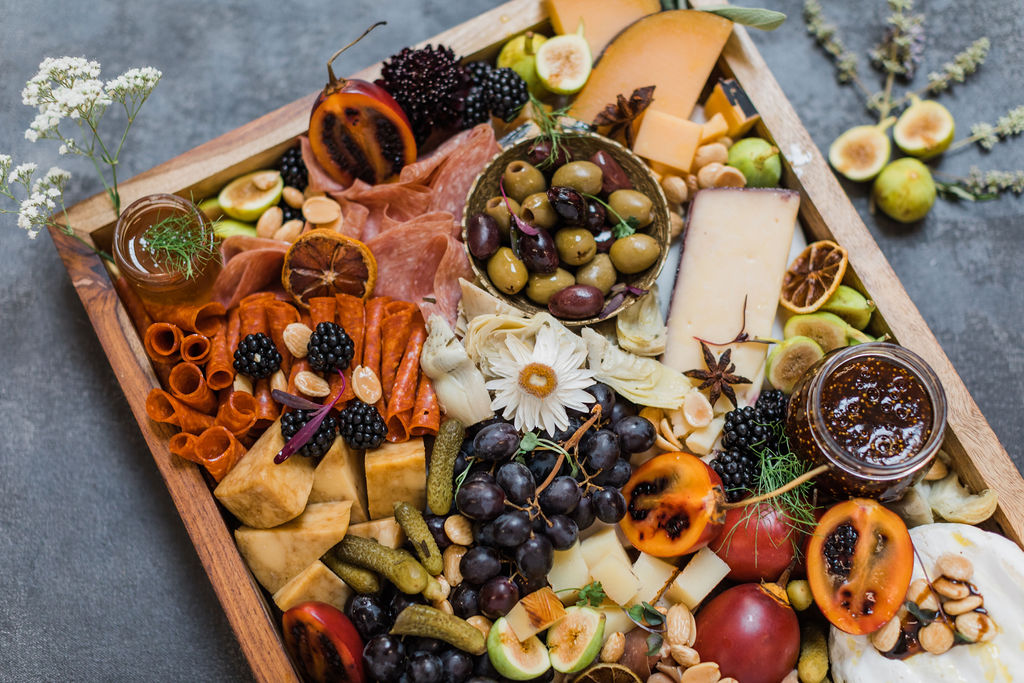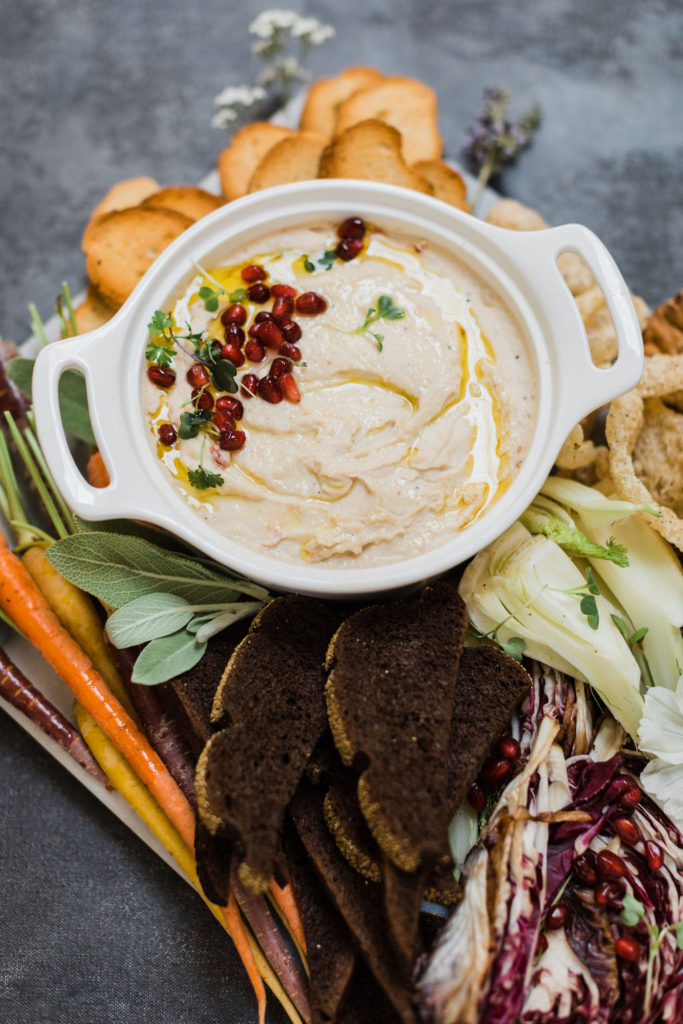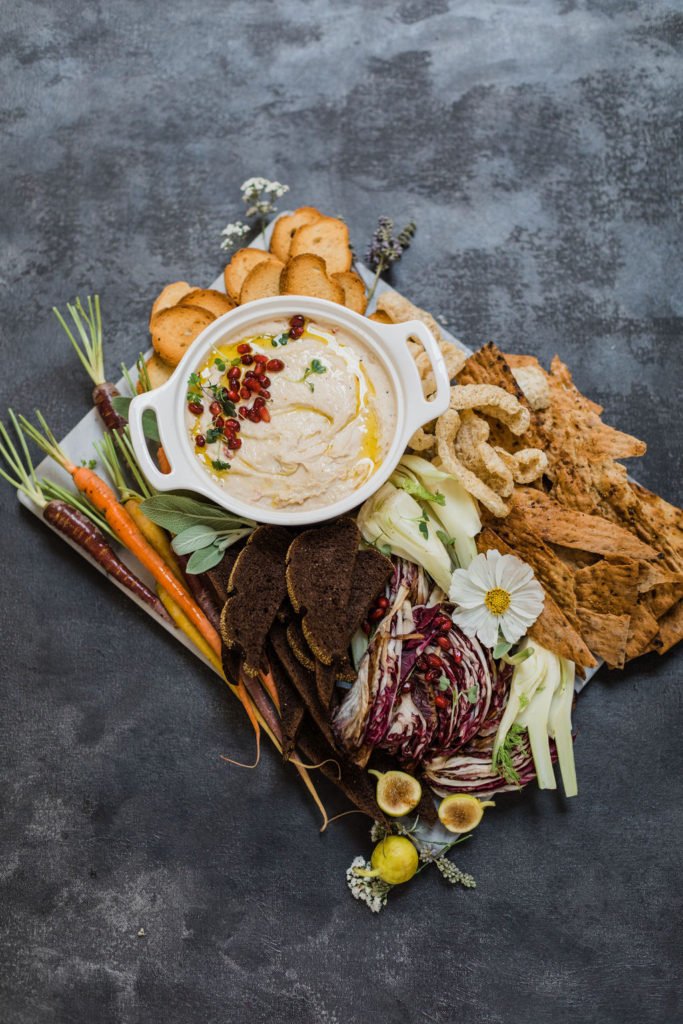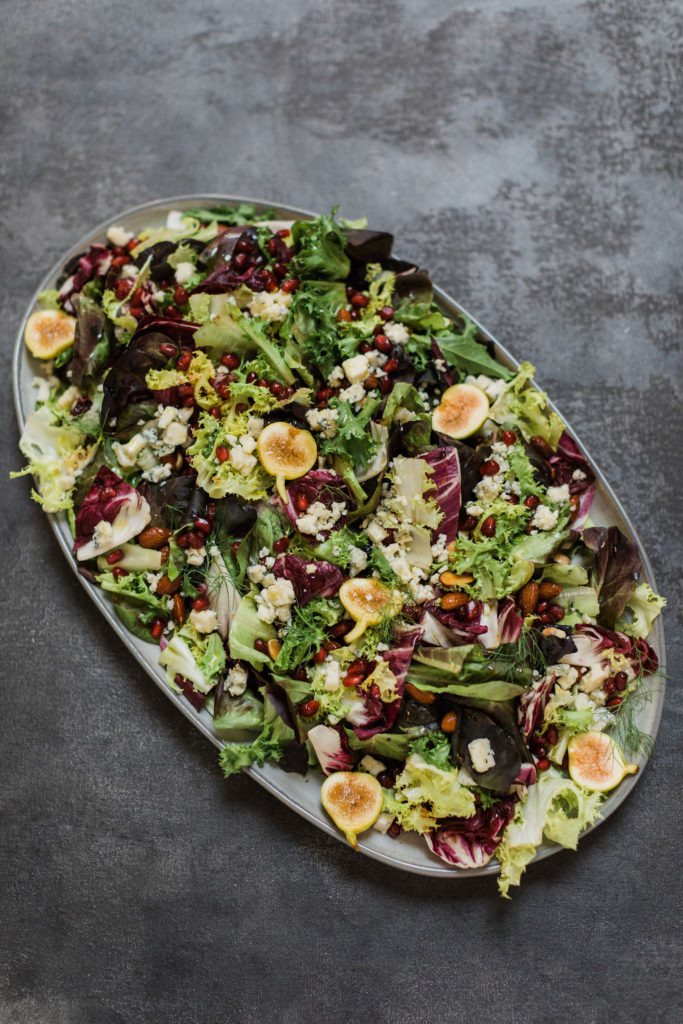 Anyone else ready for a cocktail?! I know I am!! And as usual, Bottles & Blooms came ready to par-tay!!!
I mean, seriously, how magical is this bar?! Sparkly stars is written on the front of the bar because that's what you'll be seeing after these drinks! Just kidding, but seriously these cocktails are REALLY good, and really really pretty!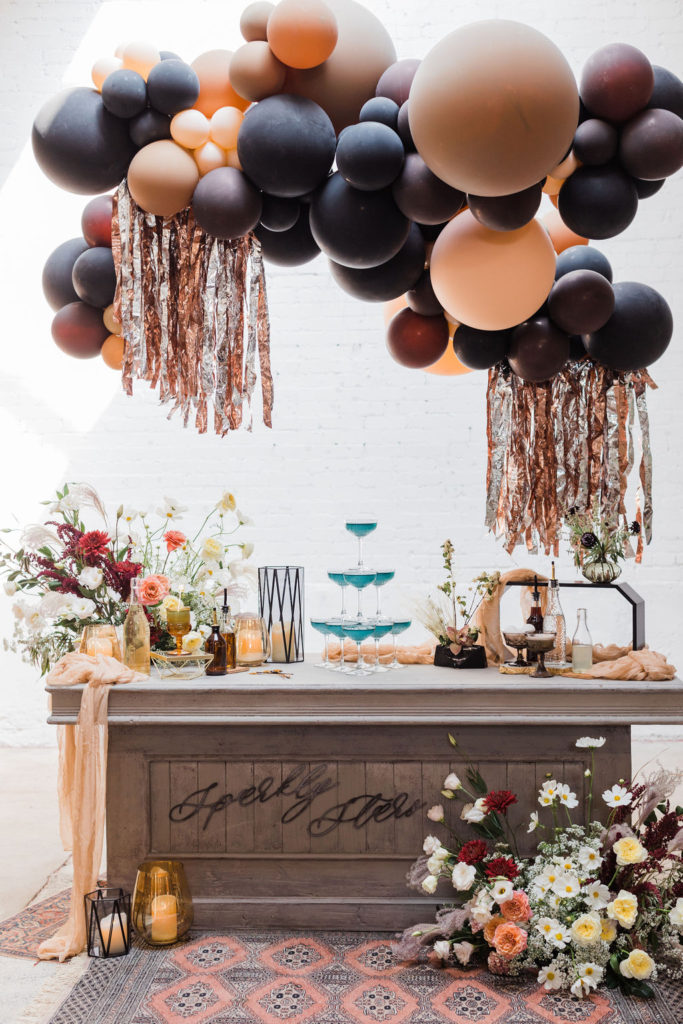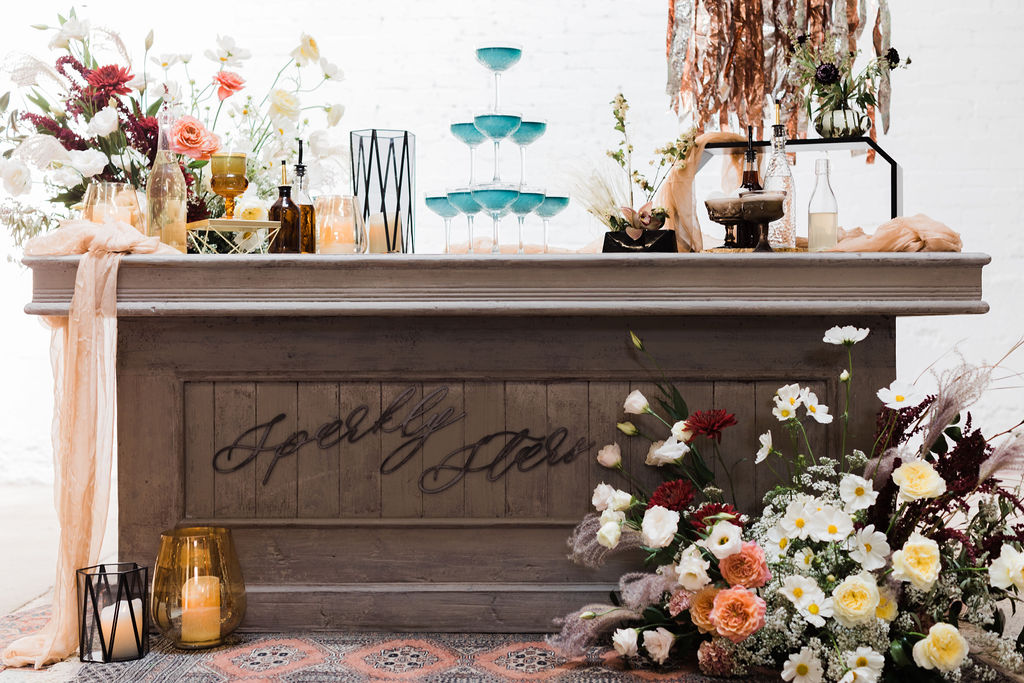 The bar from Sweet Salvage Rentals was perfect and David and Leanna are responsible for the signage and those cute stir sticks. Rebelle Fleurs adorned the bar with all of her stunning flowers and candles and of course, the cocktails aren't too shabby either!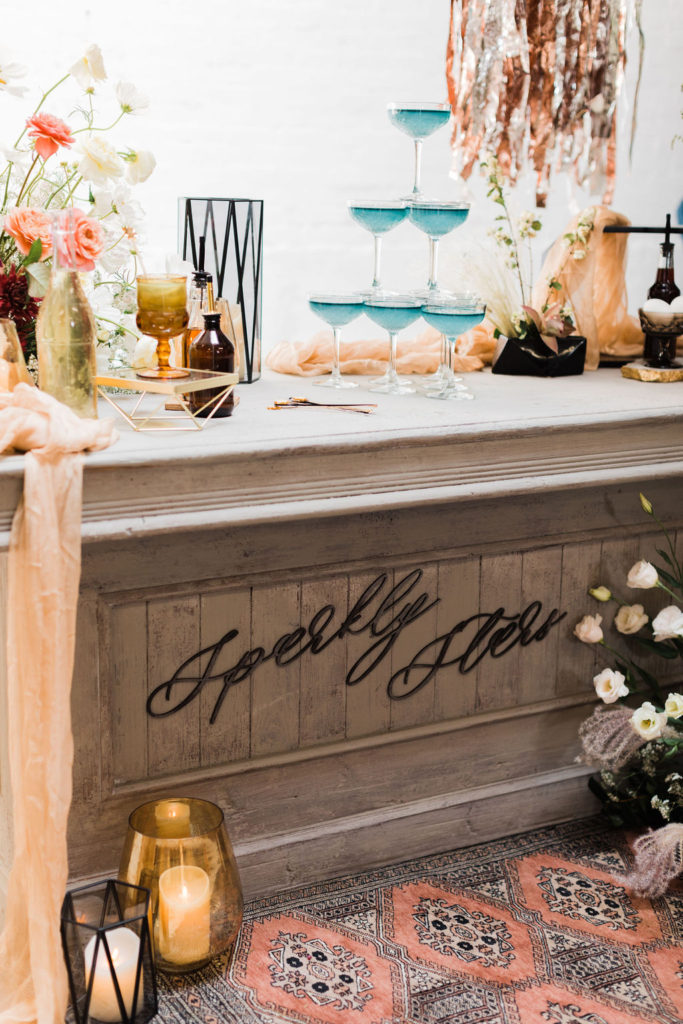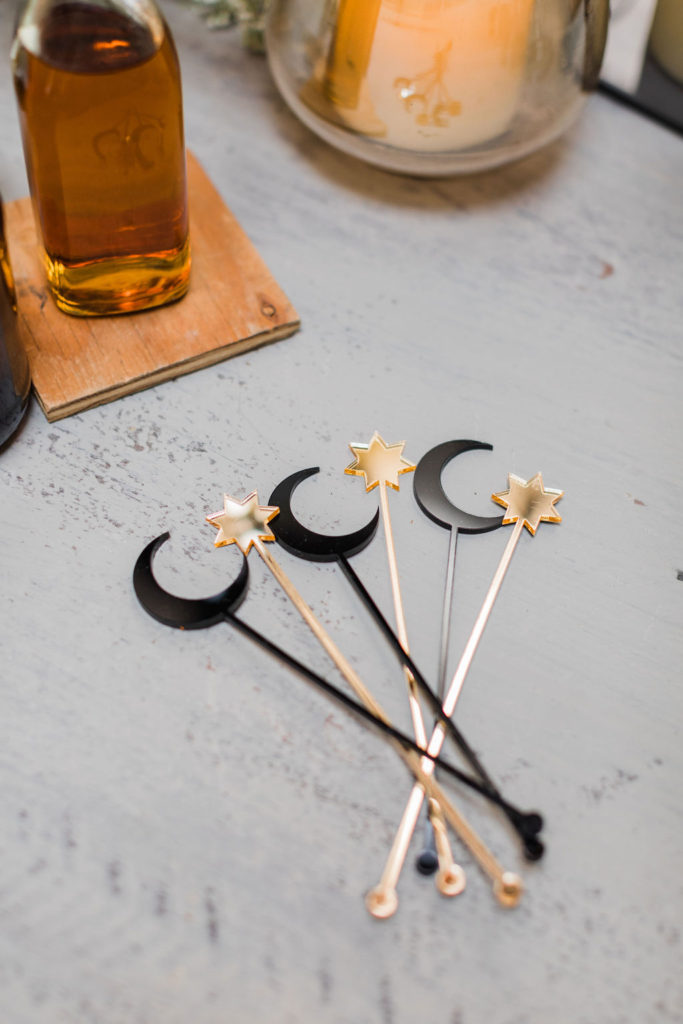 The focal point of our bar was this four-tier triangle champagne tower. Isn't the color so pretty?! Bottles and Blooms built it layering each tier with Blanc de Bleu Cuvee Mousseux champagne and added a bit of silver luster dust for a celestial shimmer.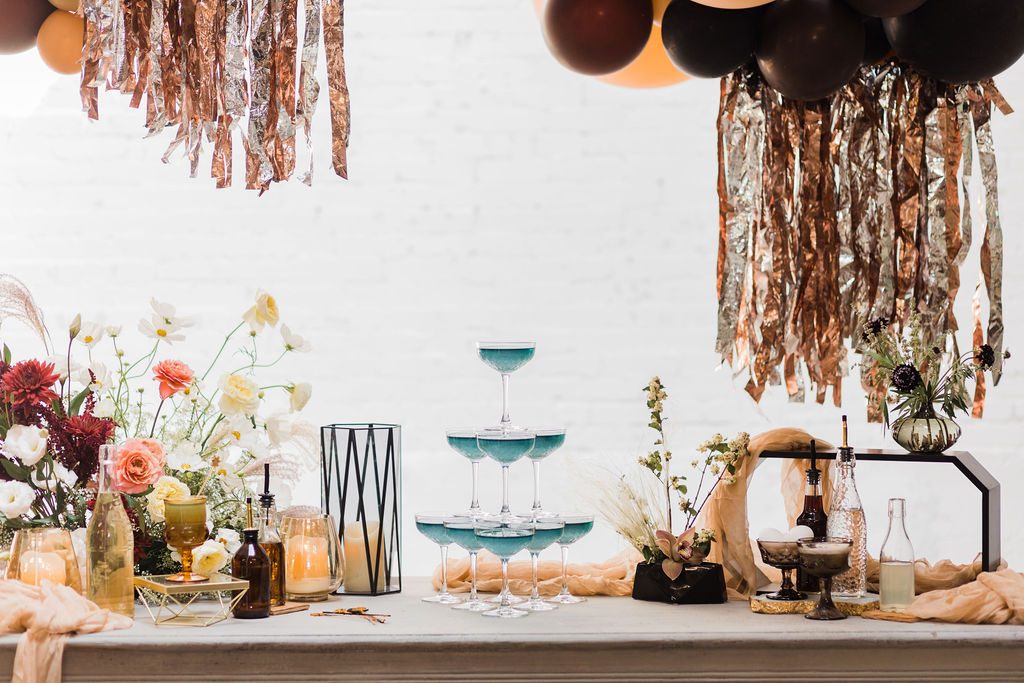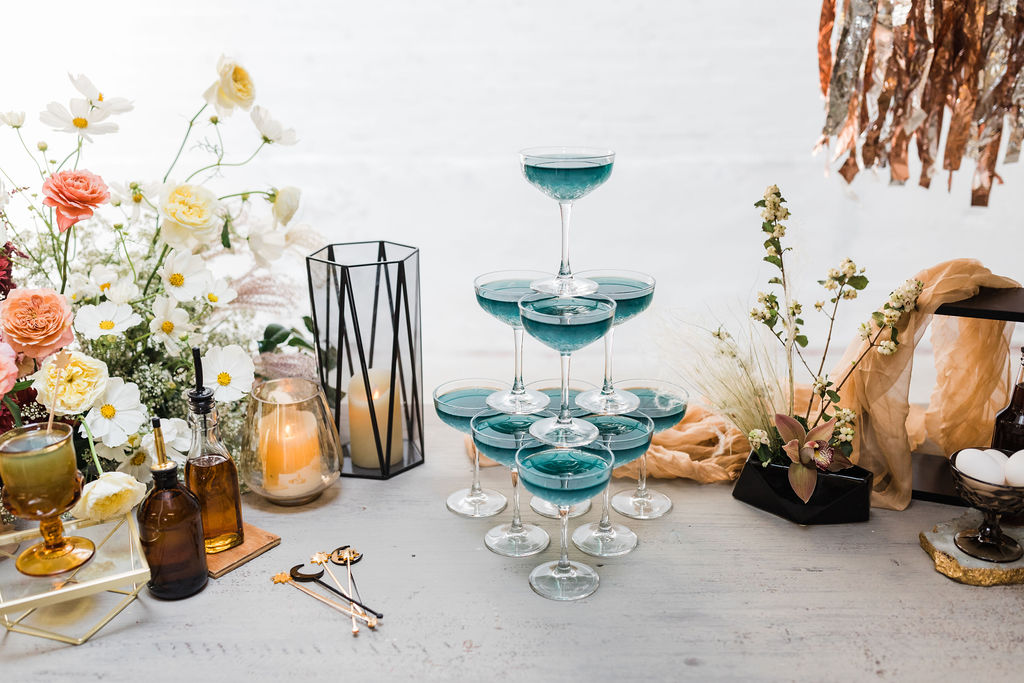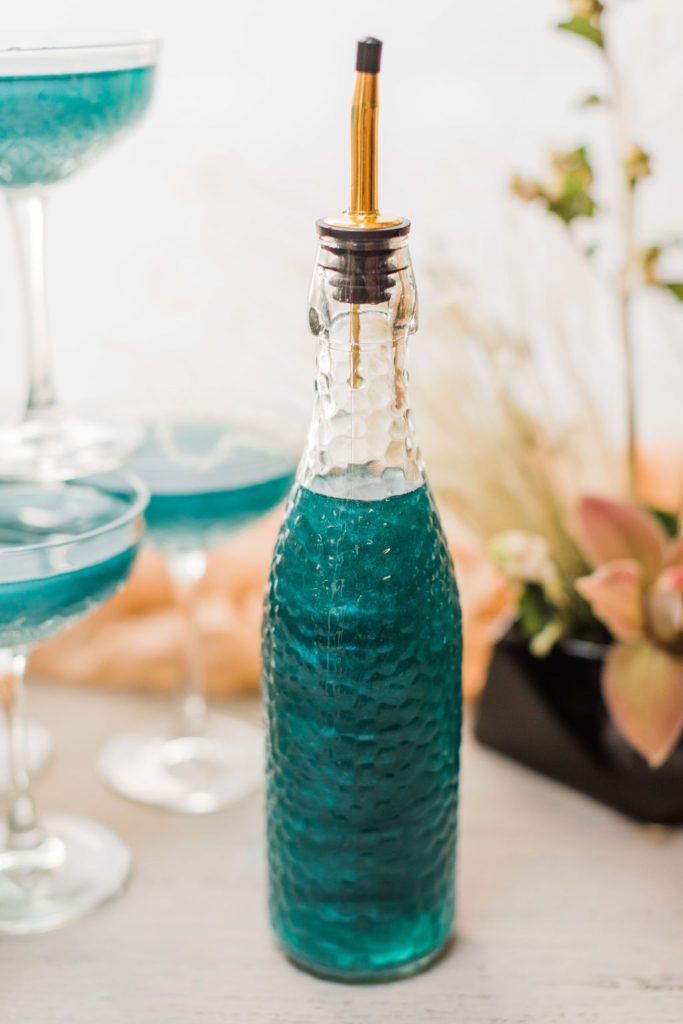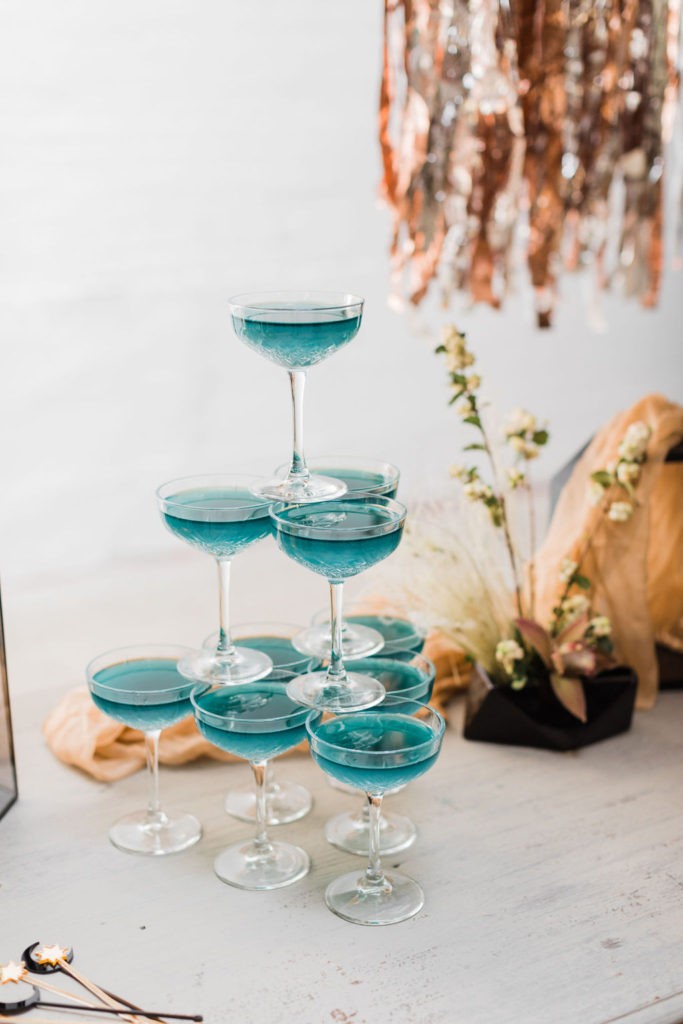 Next up is Midnight Moon. This little lady is full of sparkle as well, and we have the recipe below…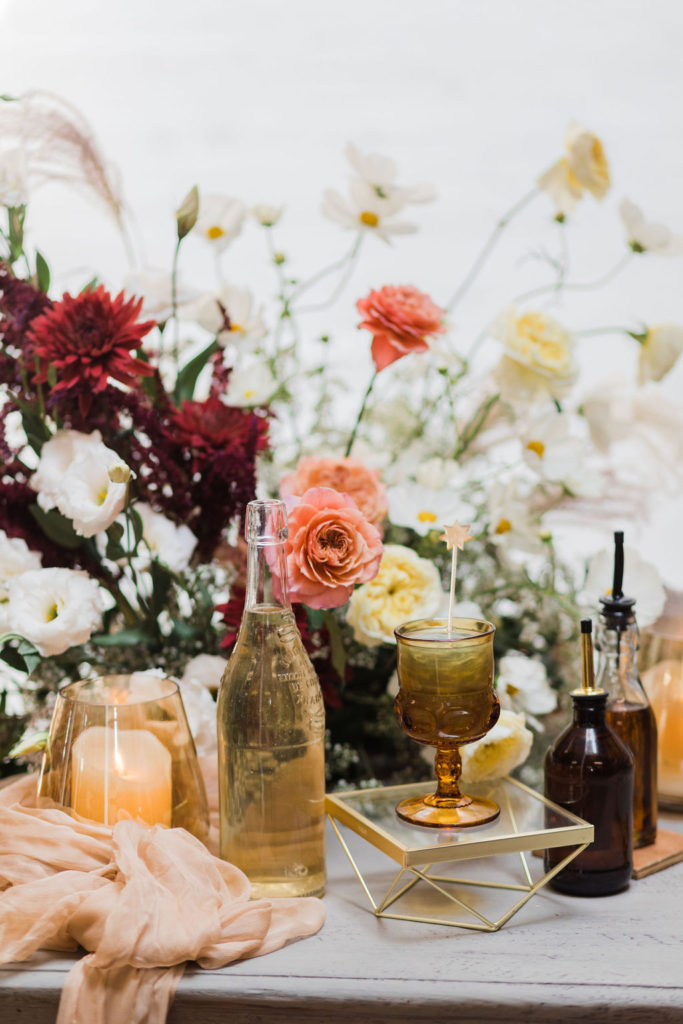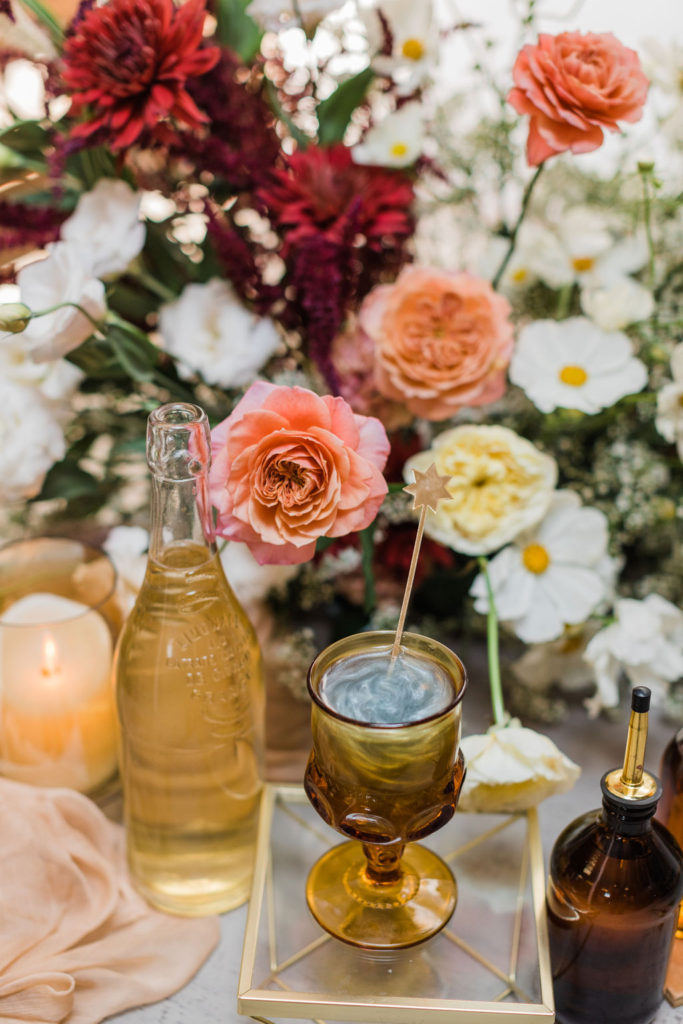 Midnight Moon
In a shaker with ice add:
2oz Gin
1oz Cointreau
1oz Lemon Juice
A dash of silver luster dust
Shake vigorously
Strain into tumbler
Top with champagne and give it a gently stir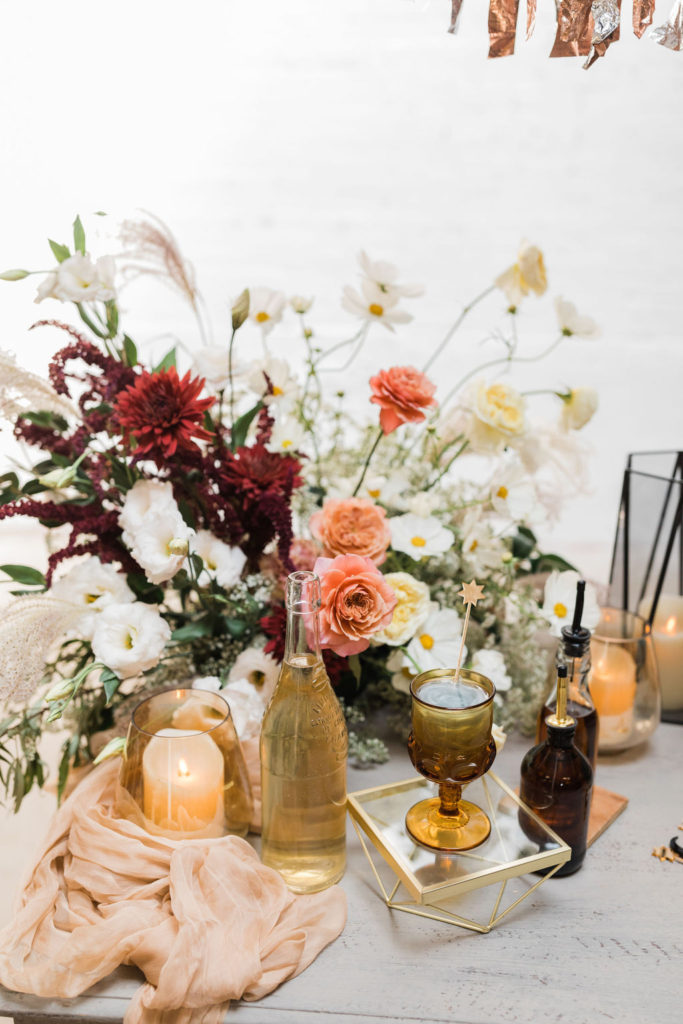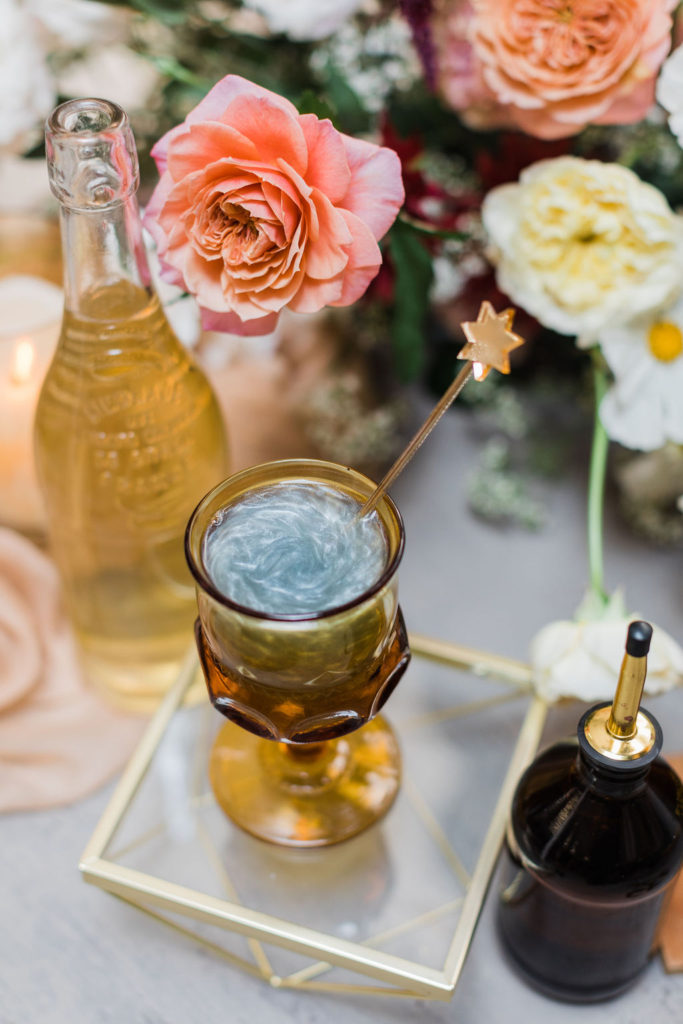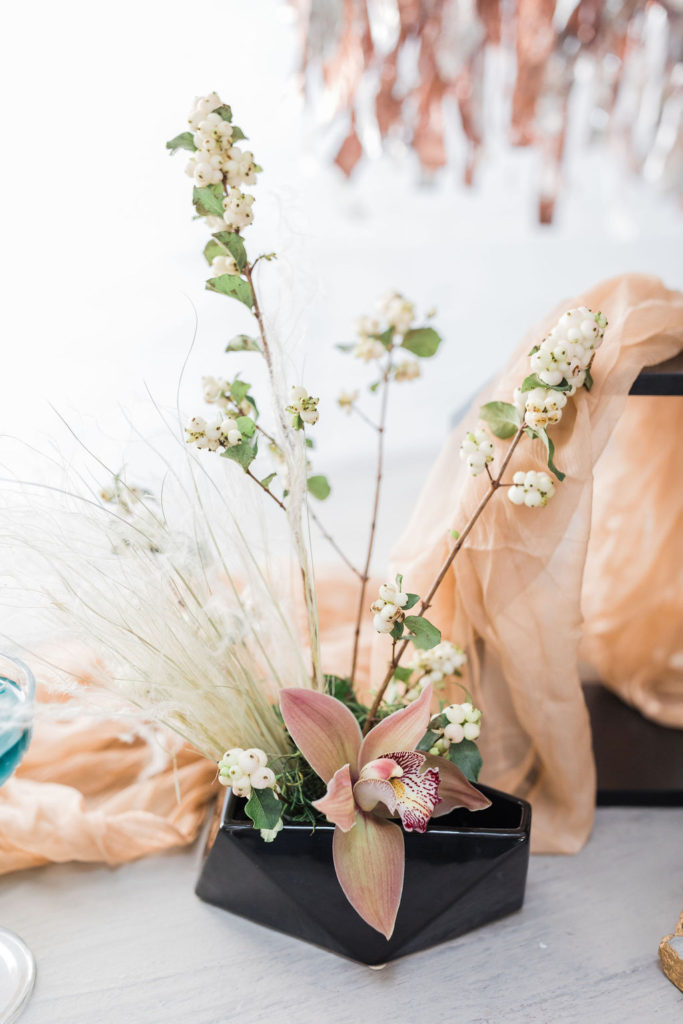 Our last cocktail is The Scorpio, the astrological sign on October 31st. I love a good zodiac reference and I happen to know a few lovely Scorpio ladies who would like this cocktail…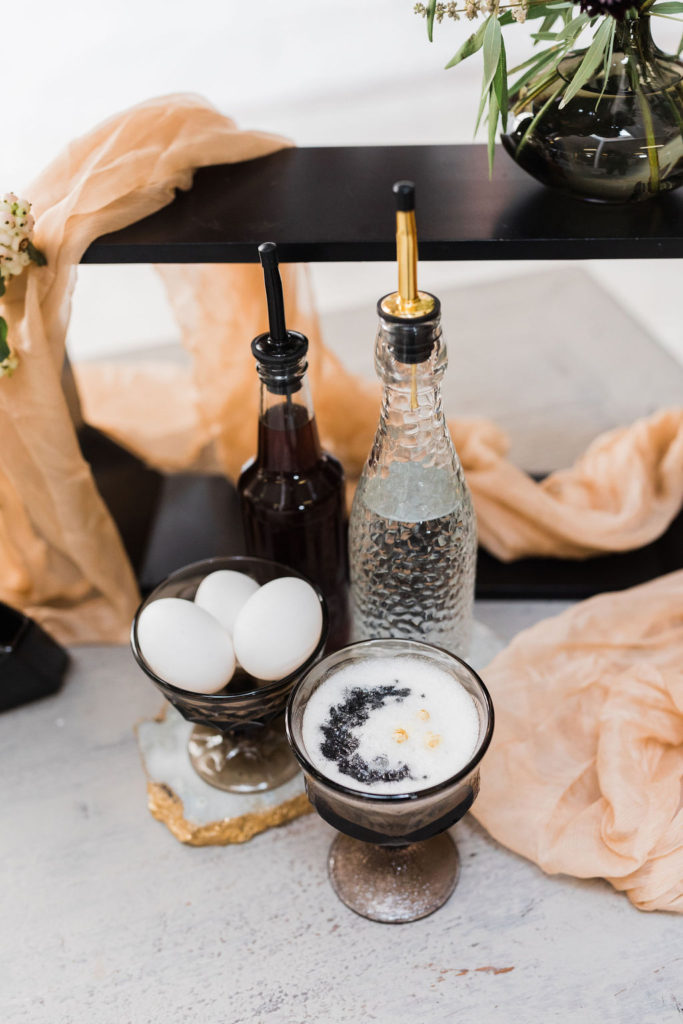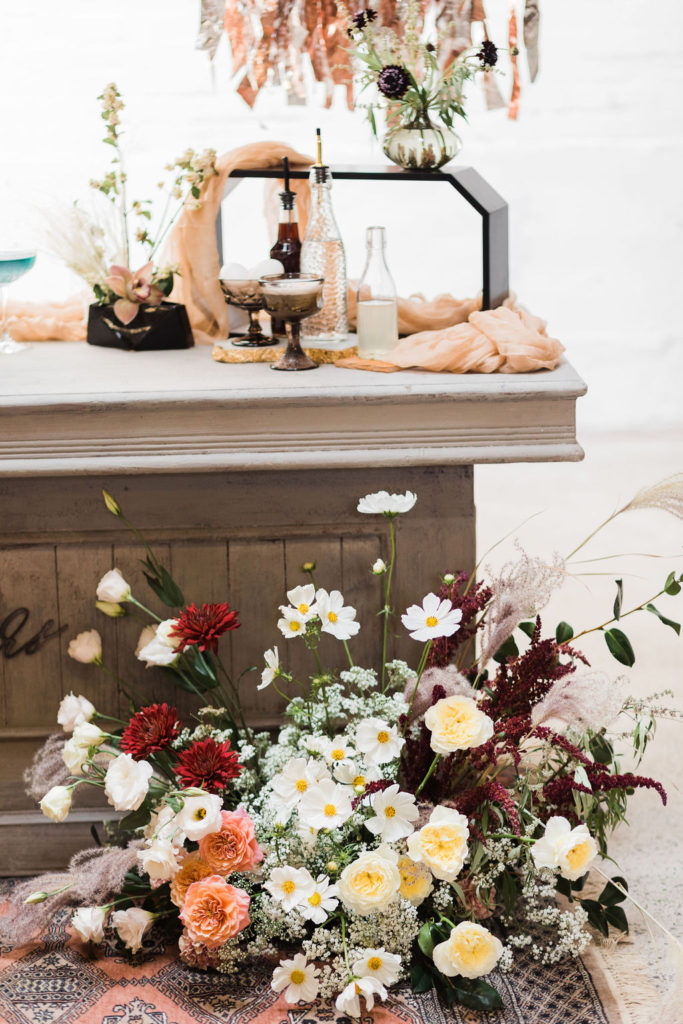 The Scorpio
In an empty shaker add
2oz Vodka
1oz Earl Grey Simple Syrup
1oz Fresh lemon juice
1 Egg white
Shake vigorously for 10 seconds
Add ice to shaker
Shake again for another 10 seconds or until mixture is frothy
Strain contents into coupe
Garnished with a crescent moon made of black sugar
And finished off with a couple dried flowers for stars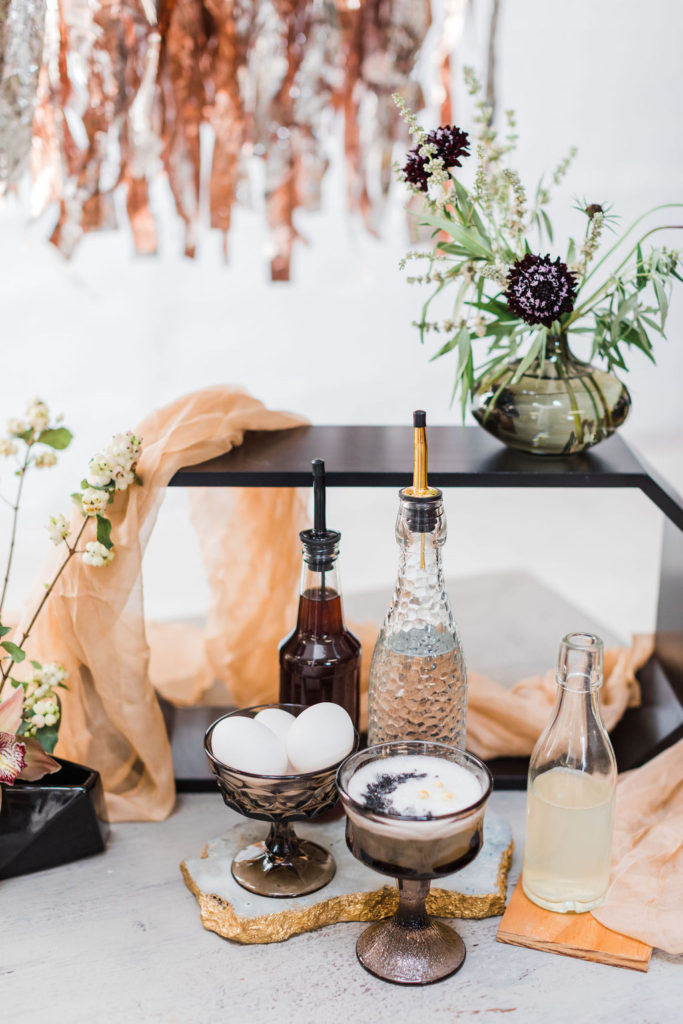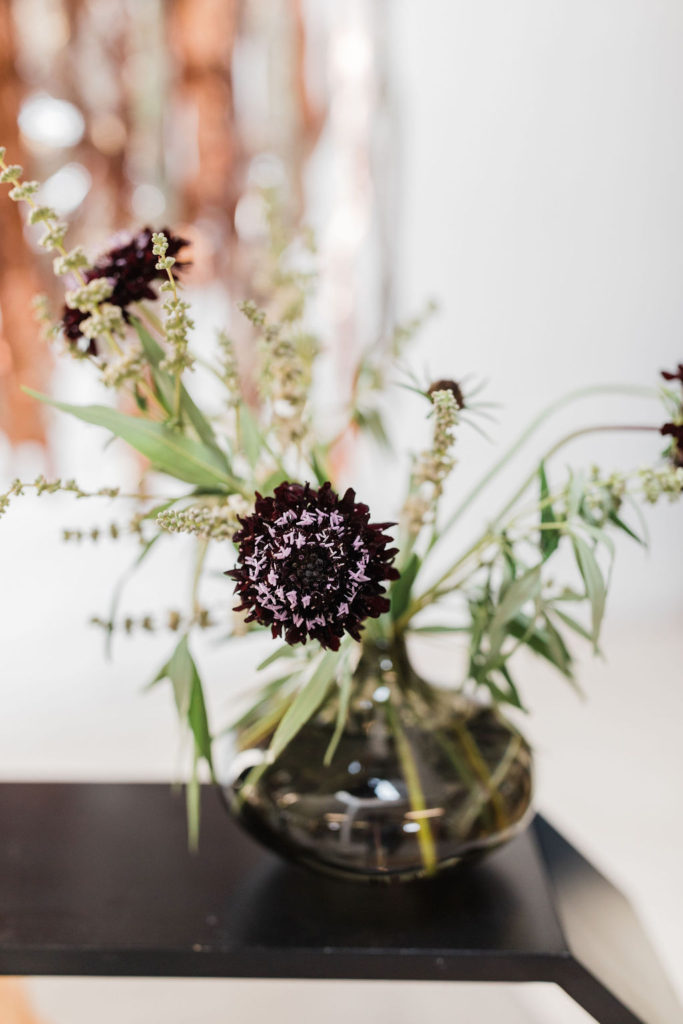 Which one would you choose? I think I'll have one of each!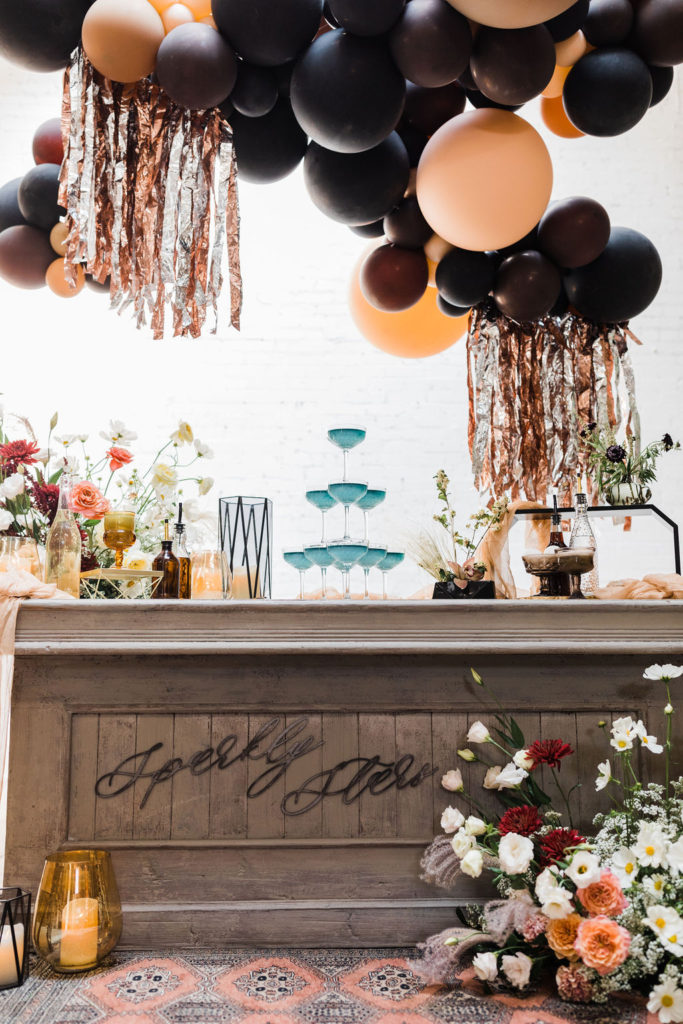 Thank you Bottles & Blooms for making our mystical and spooky cocktail dreams come true!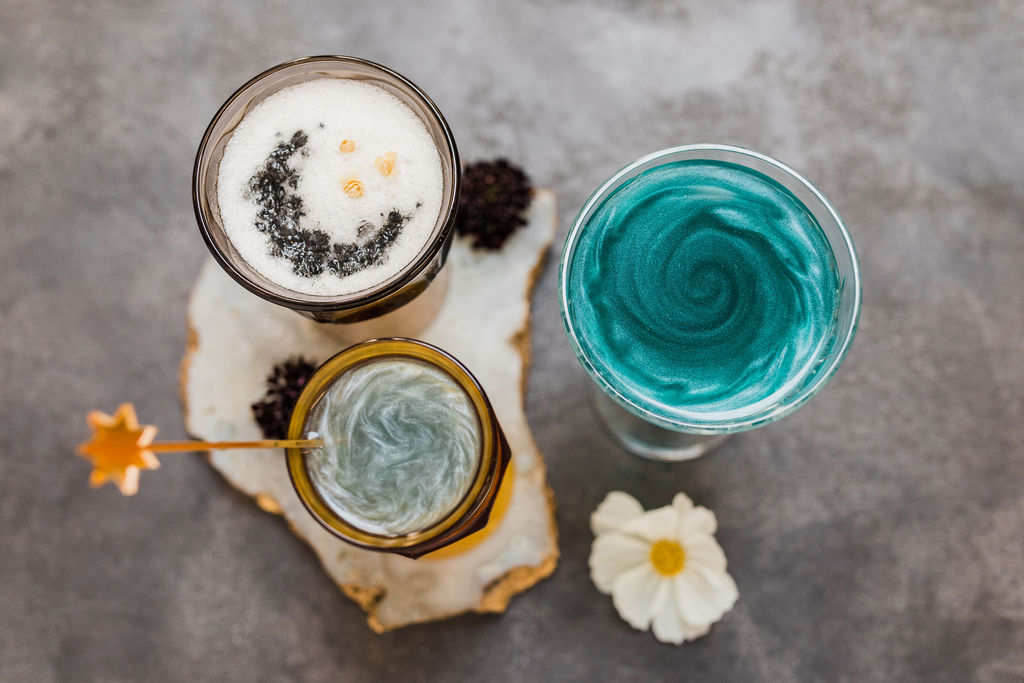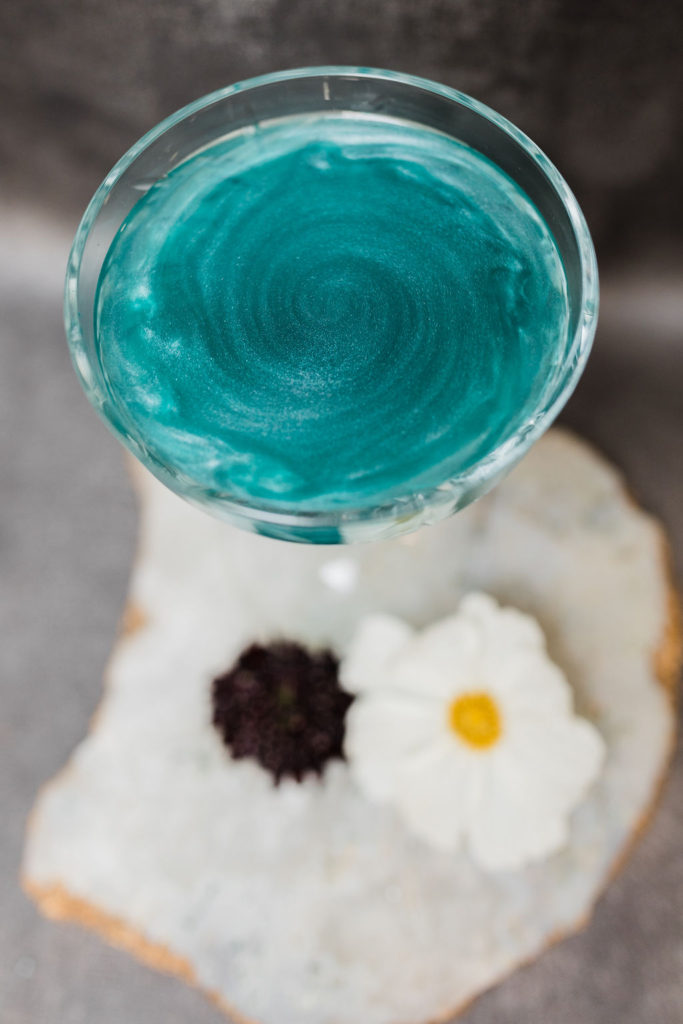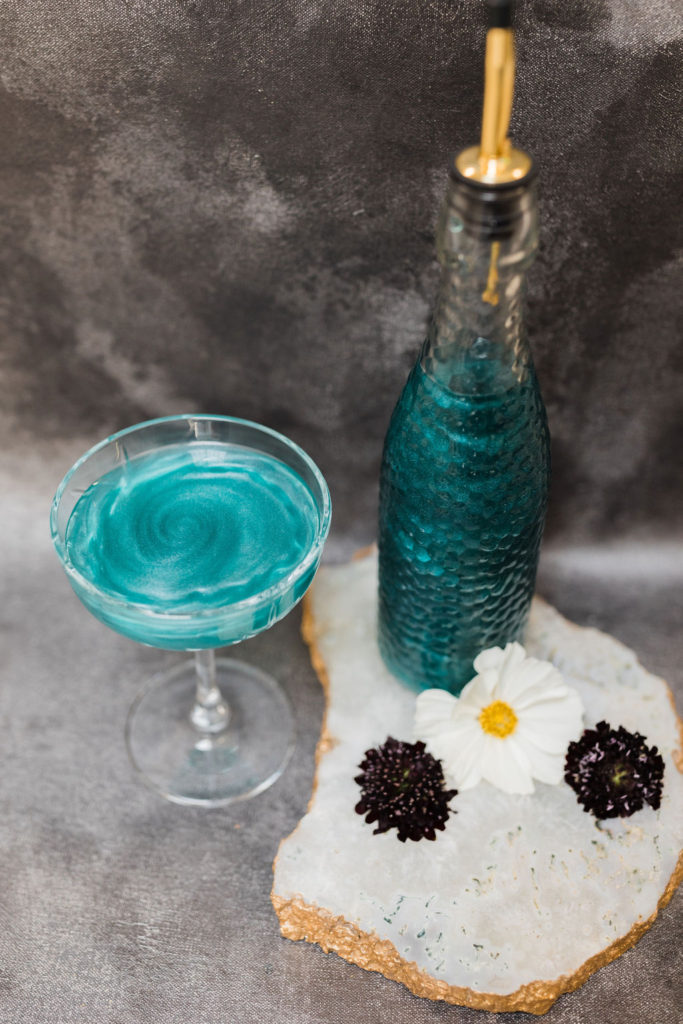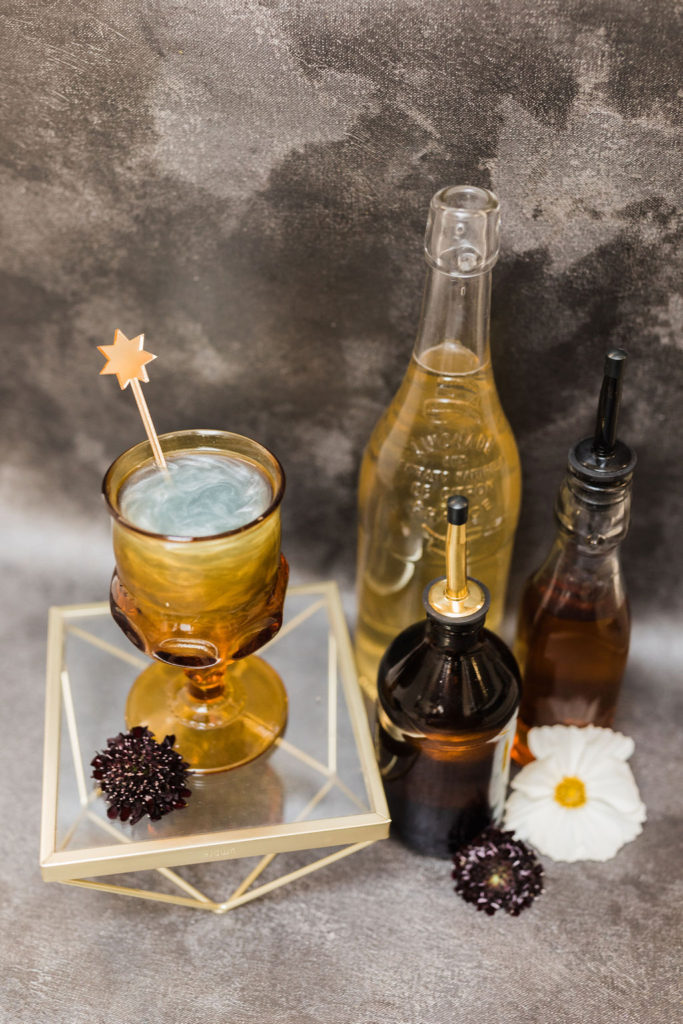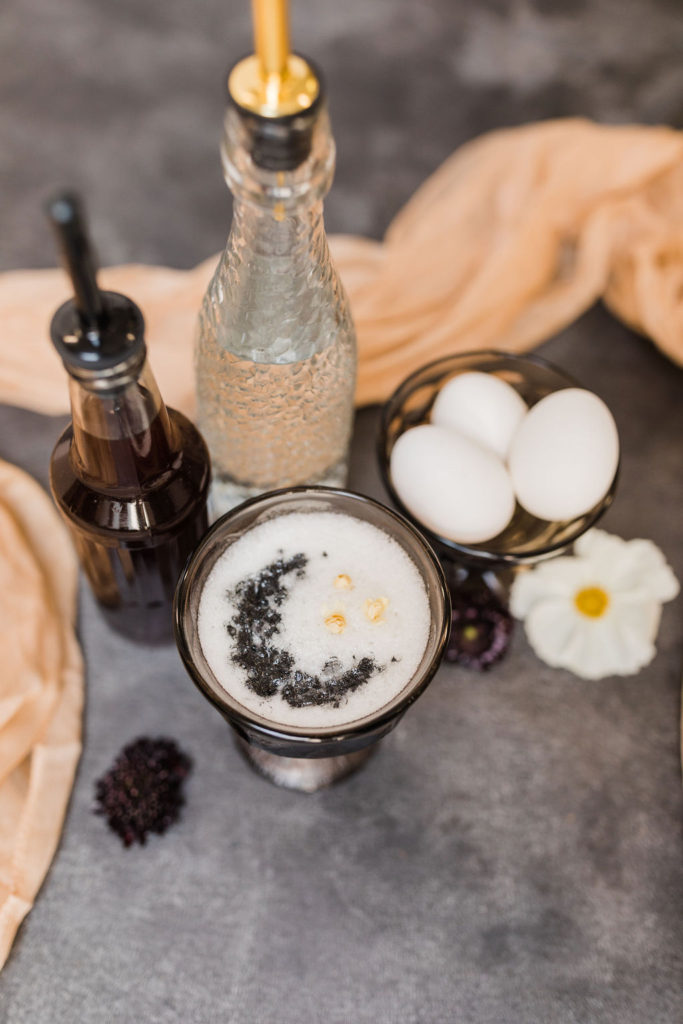 By now you must know, if we are with Sweet Salvage Rentals, there will be an amazing lounge set up. And this was no exception! Marnie from Sweet Salvage Rentals has the most beautiful and extensive collection. I know I've said this before, but I love playing with all of her pretty goodies.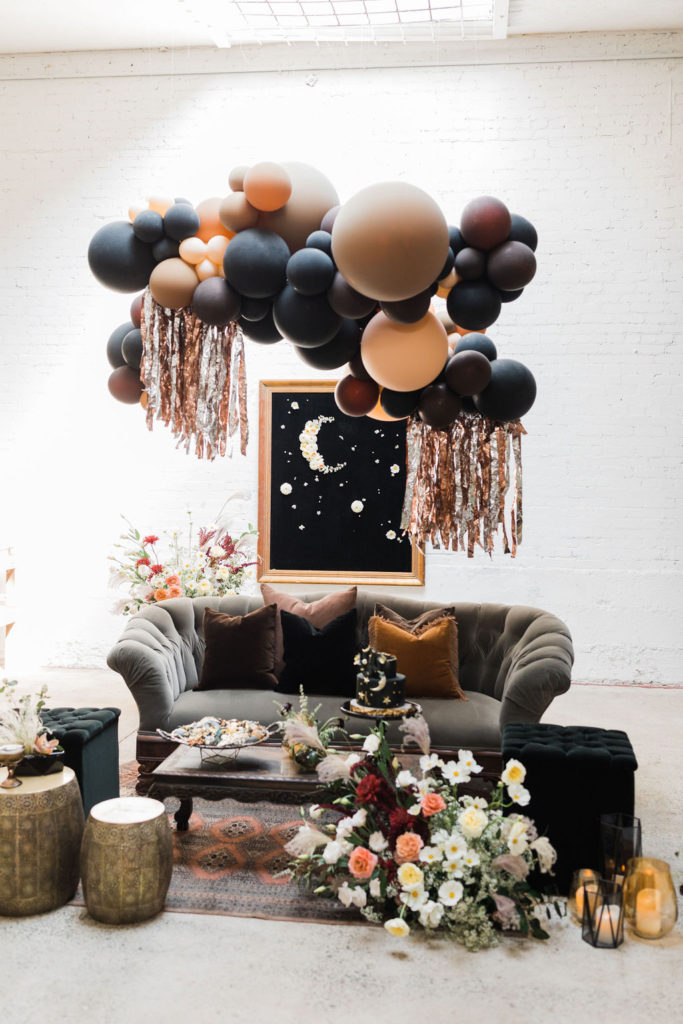 This floral art is one of my favorite aspects of this entire shoot. It actually almost didn't happen, but I'm sure glad it did! With a little bit of persuasion, nice persuasion, of course, I tend to get my way. Just ask my husband, hehe…. But seriously, thank you to Leslie of Rebelle Fleur for making this beauty come to life!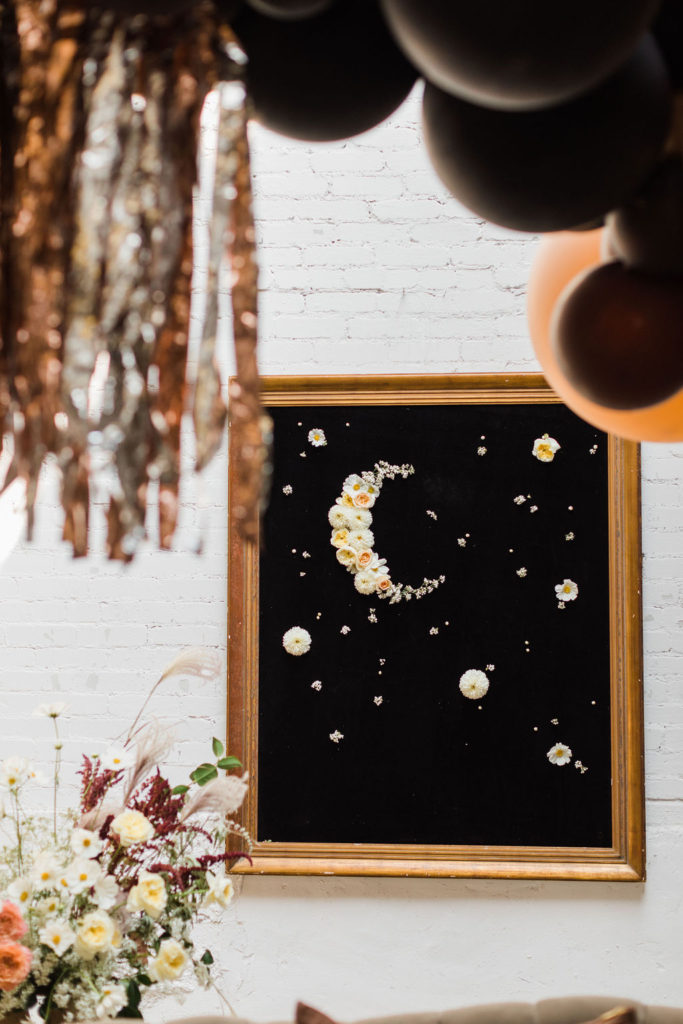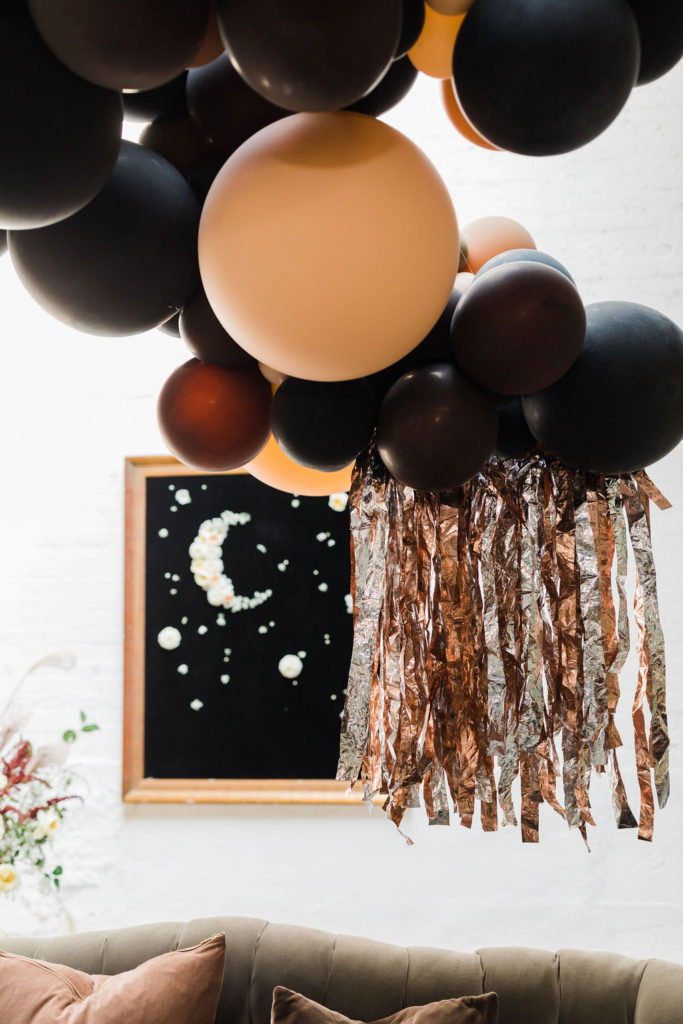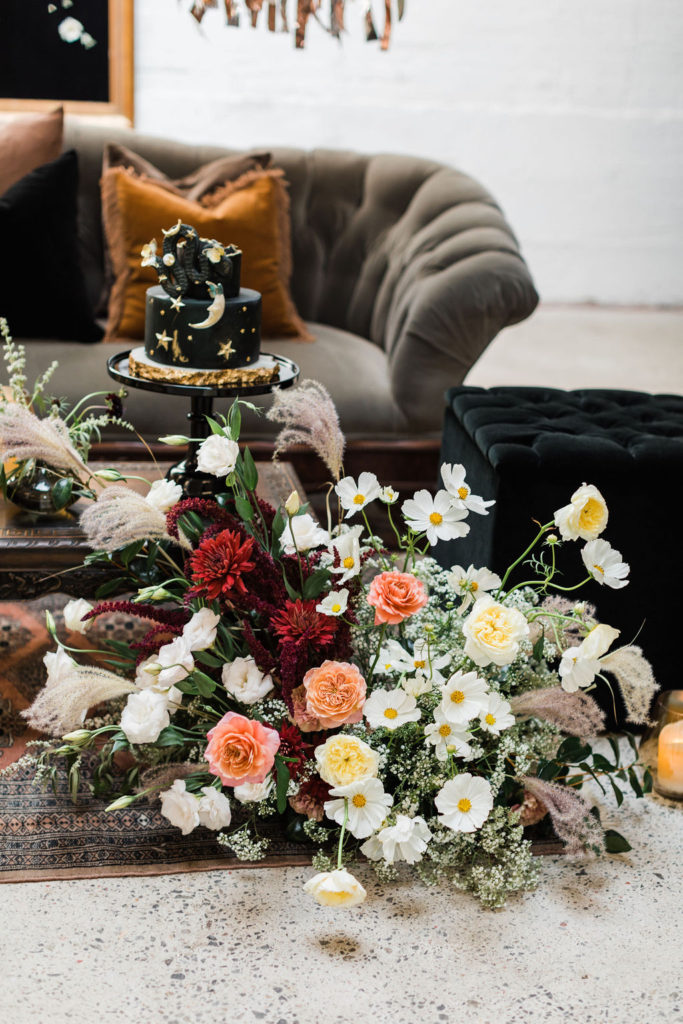 And wait till you see these desserts… They are freaking amazing! Sugar Crush Sweets strikes again with her creative genius. She took our theme and ran with it and holy cow, the platters she's doing for Halloween are the best ever!!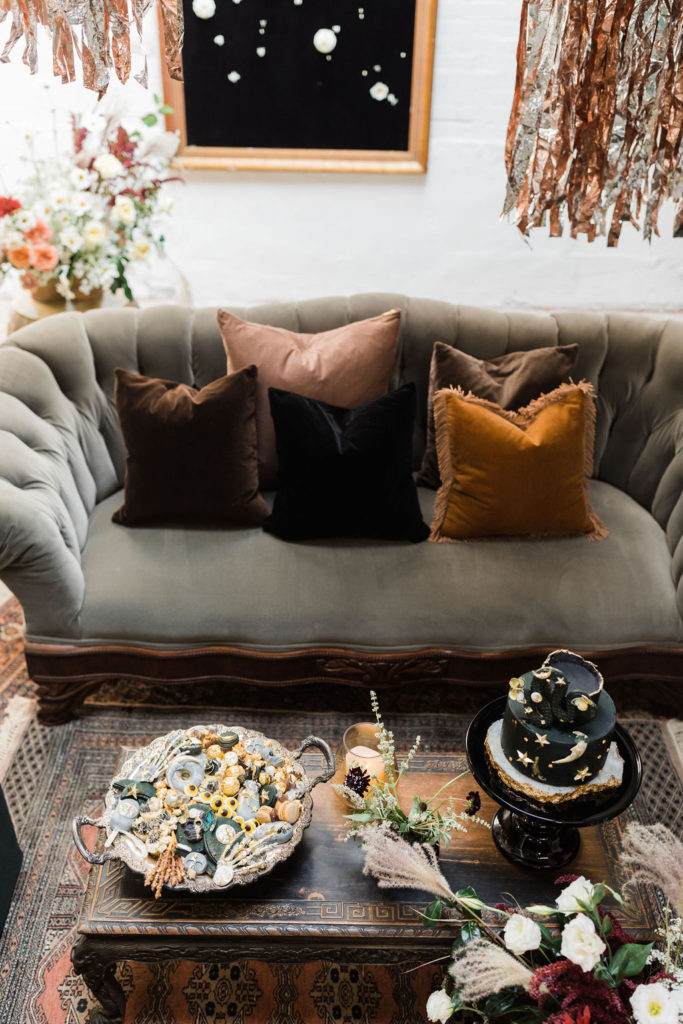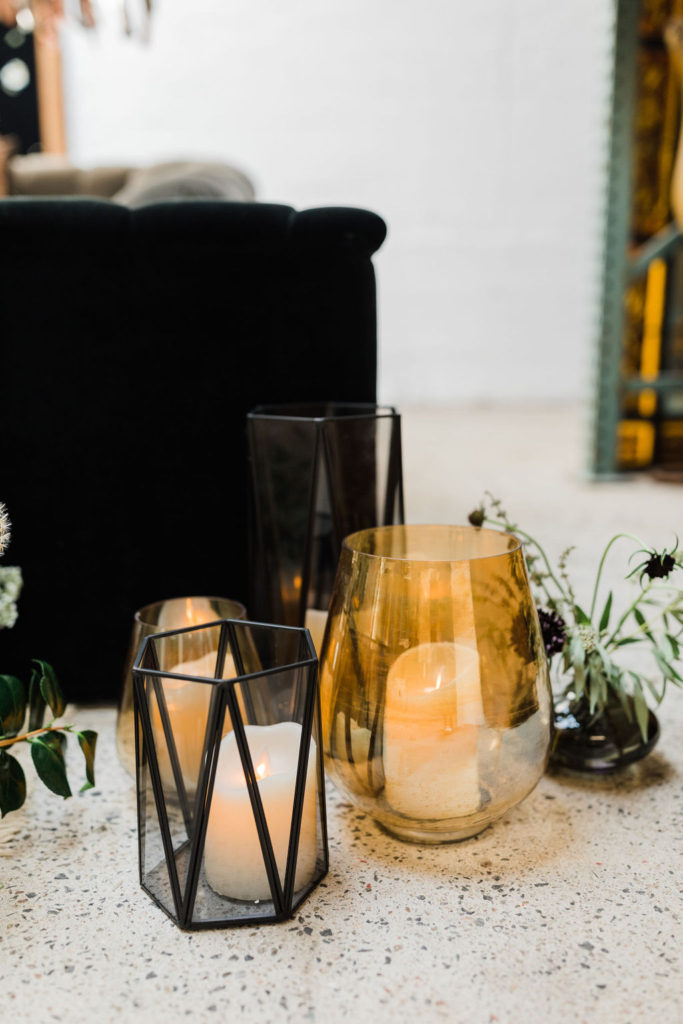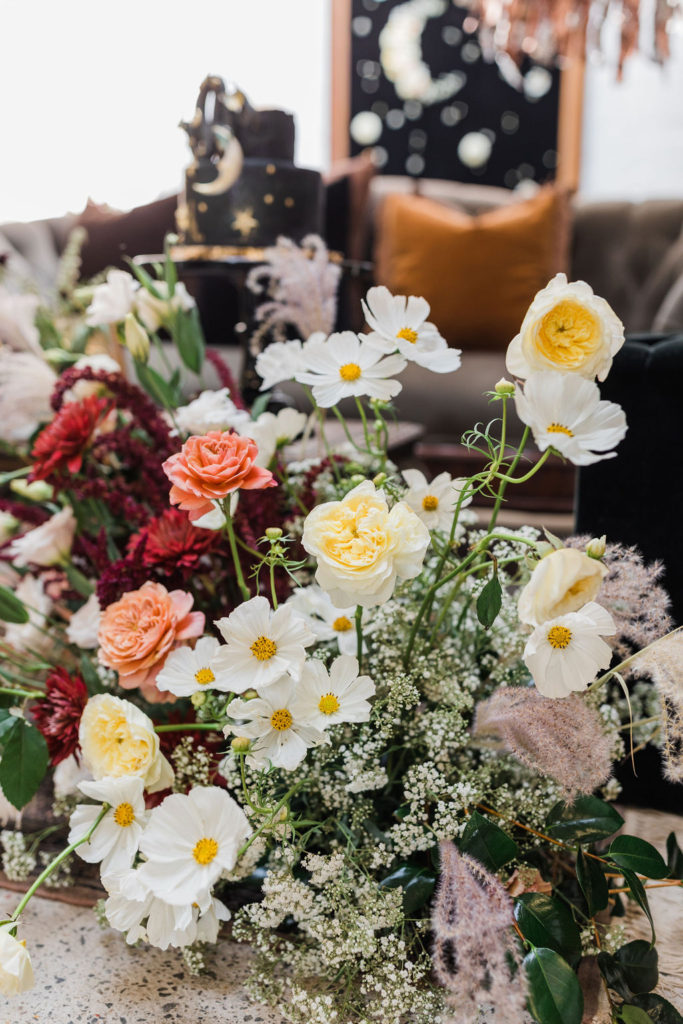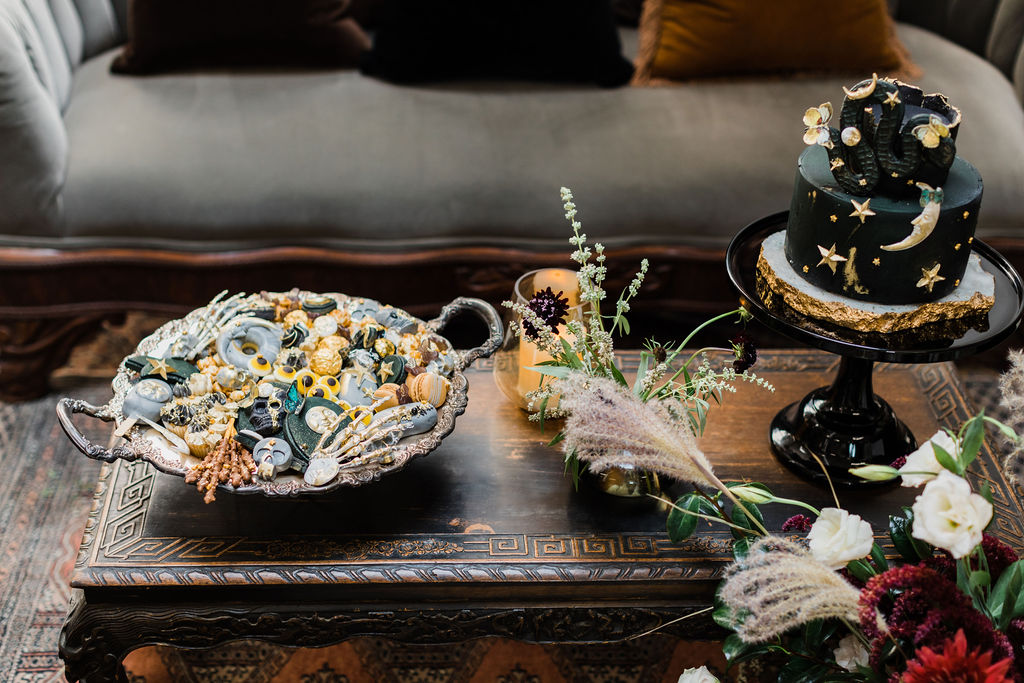 That cake is so creepy and so pretty all at once! The snake with the moon, just wow!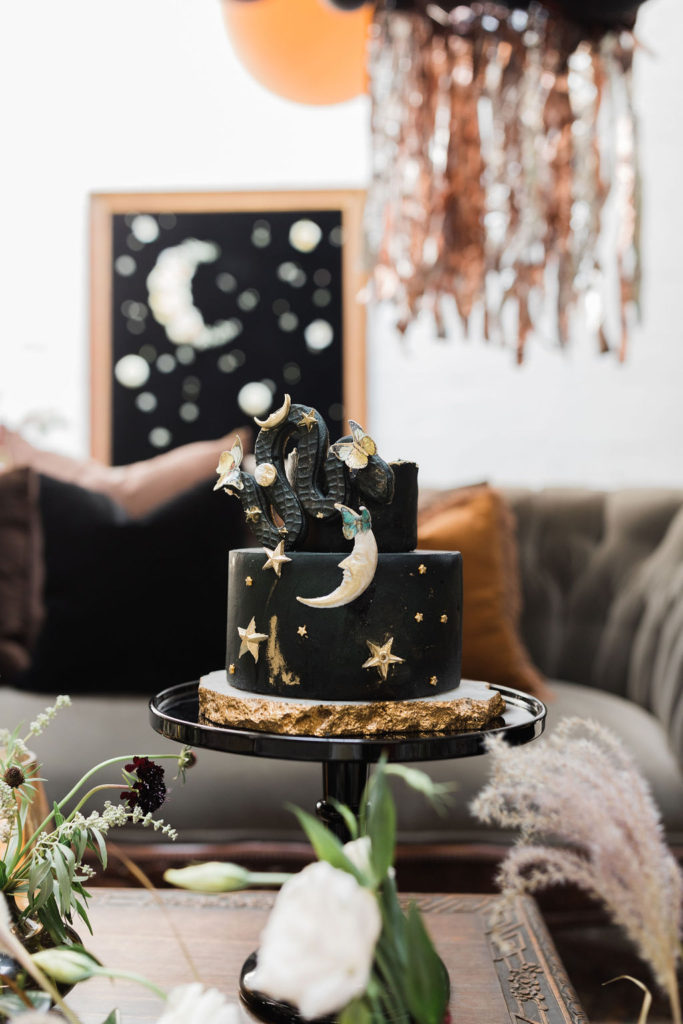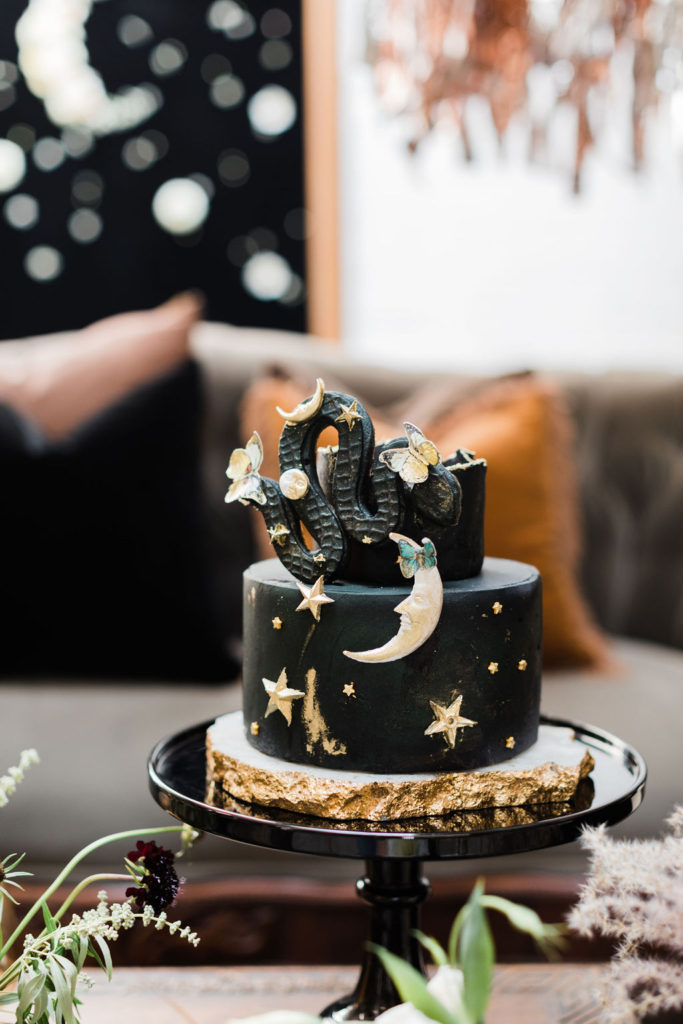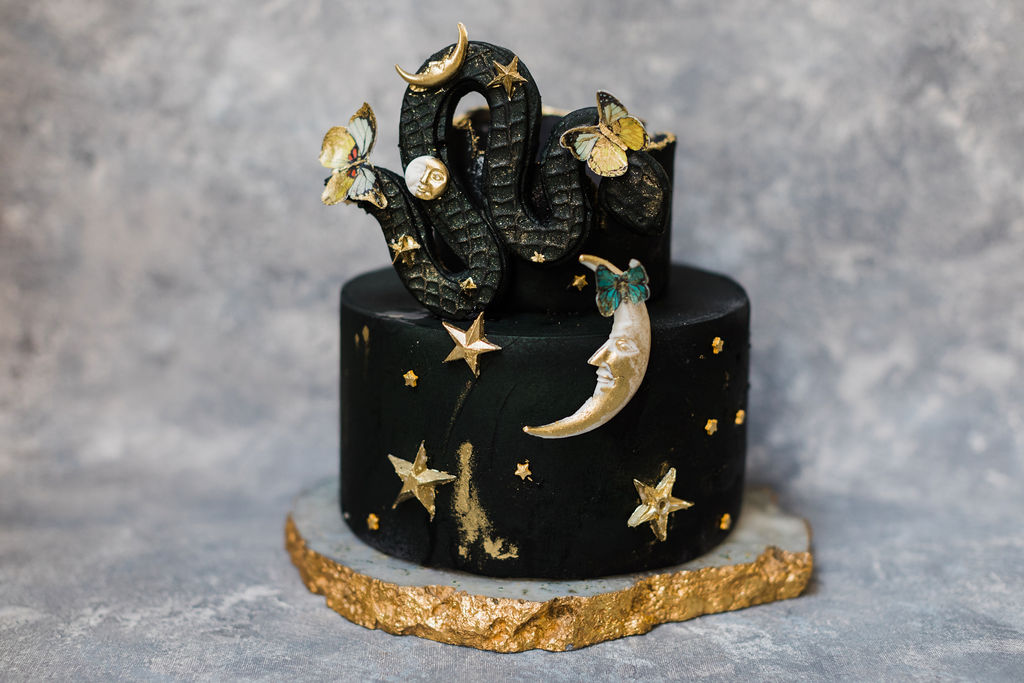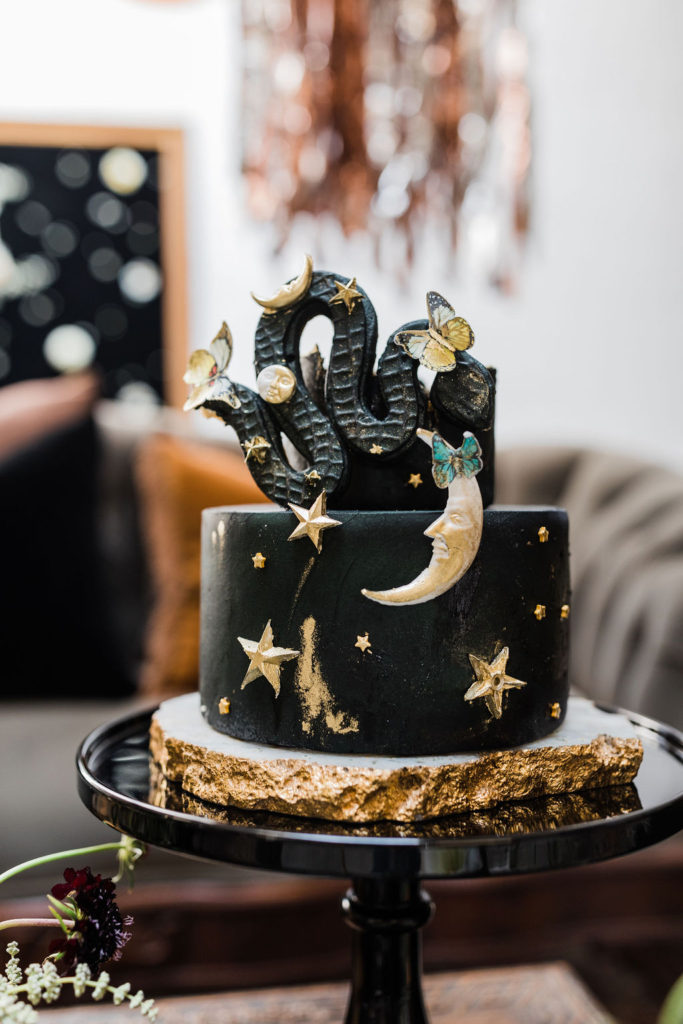 I wasn't joking about that platter! Creepy and delicious!!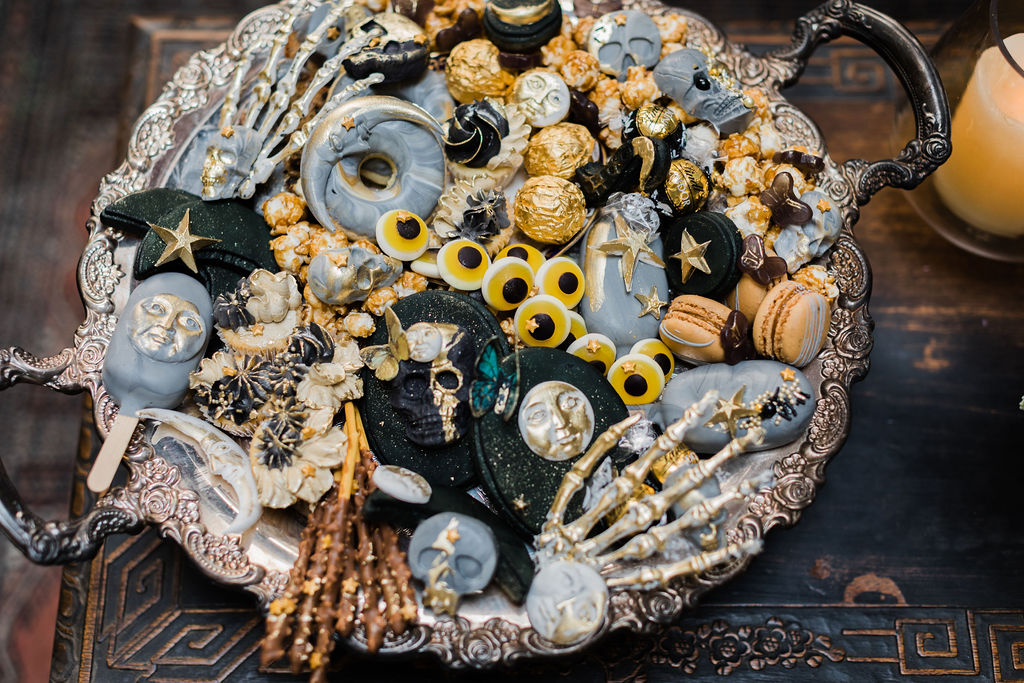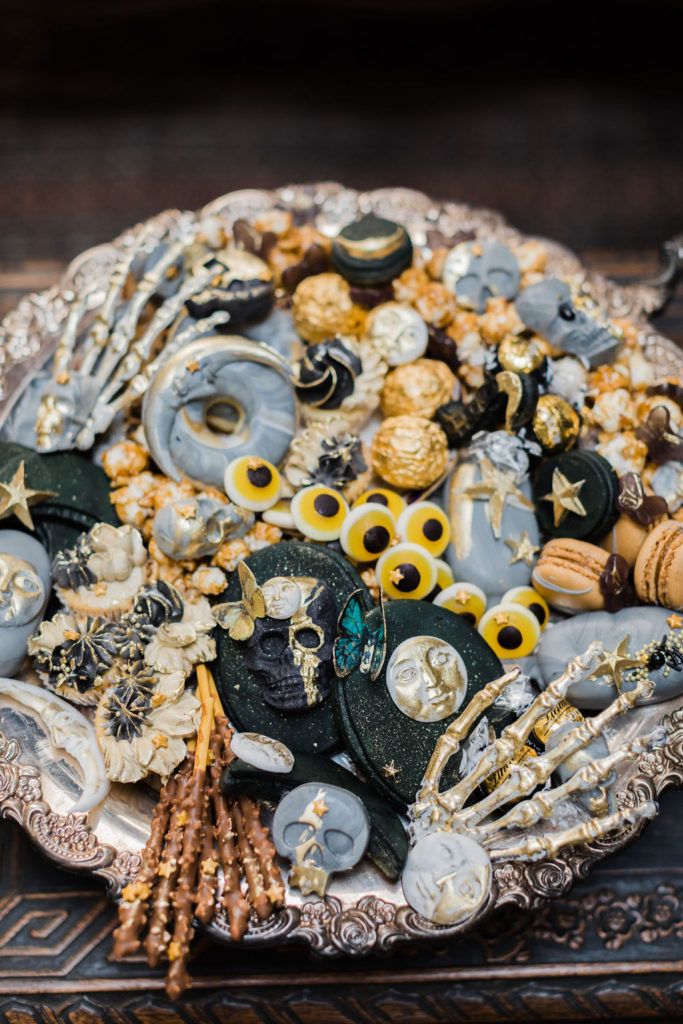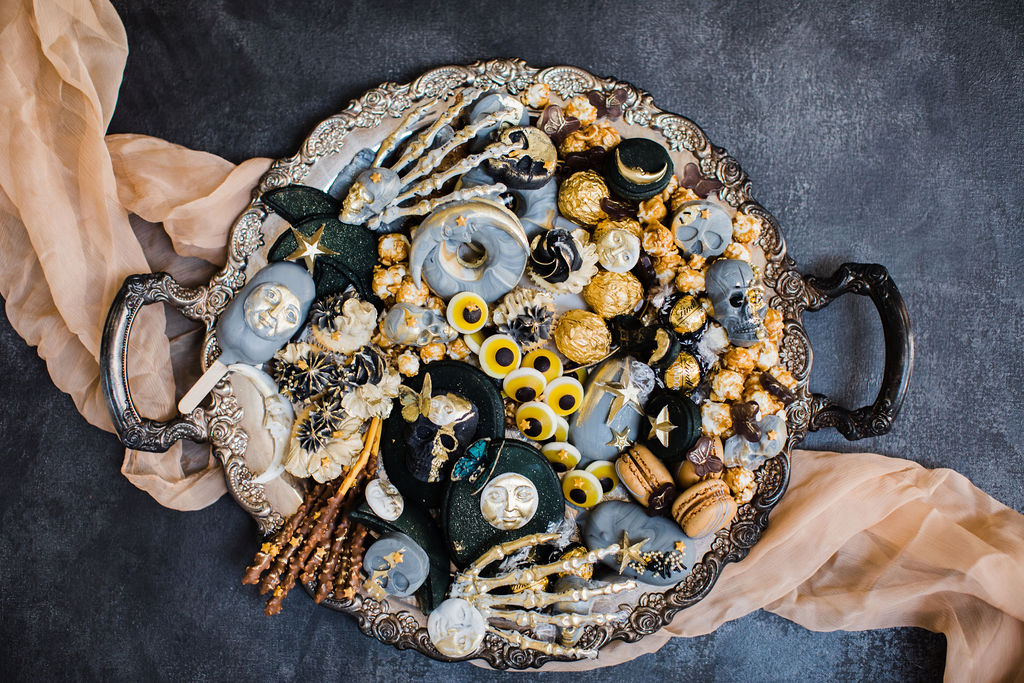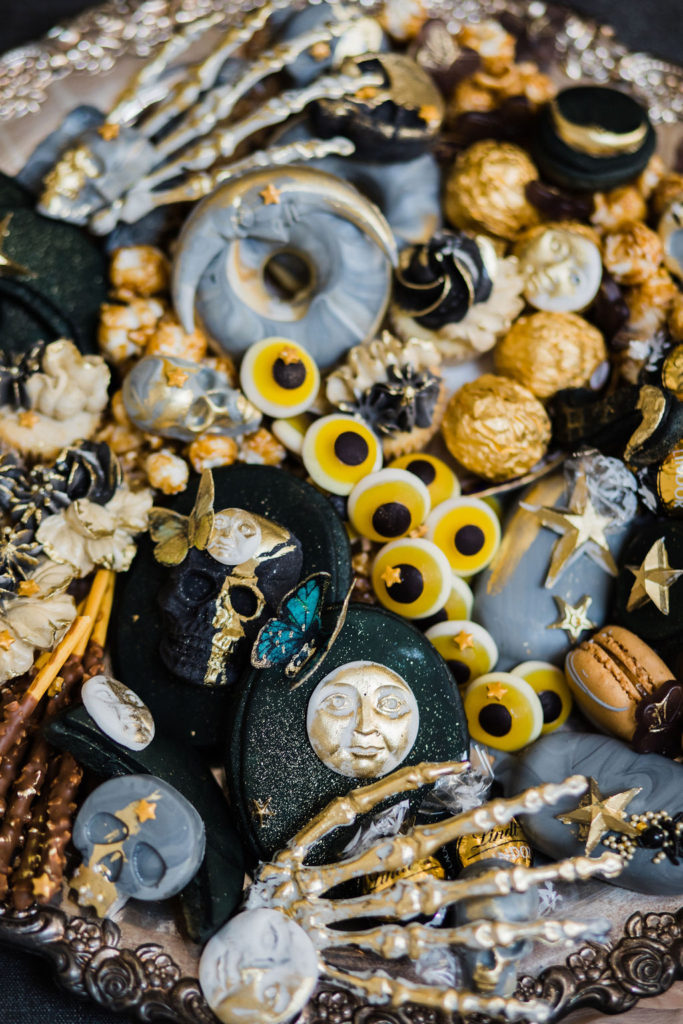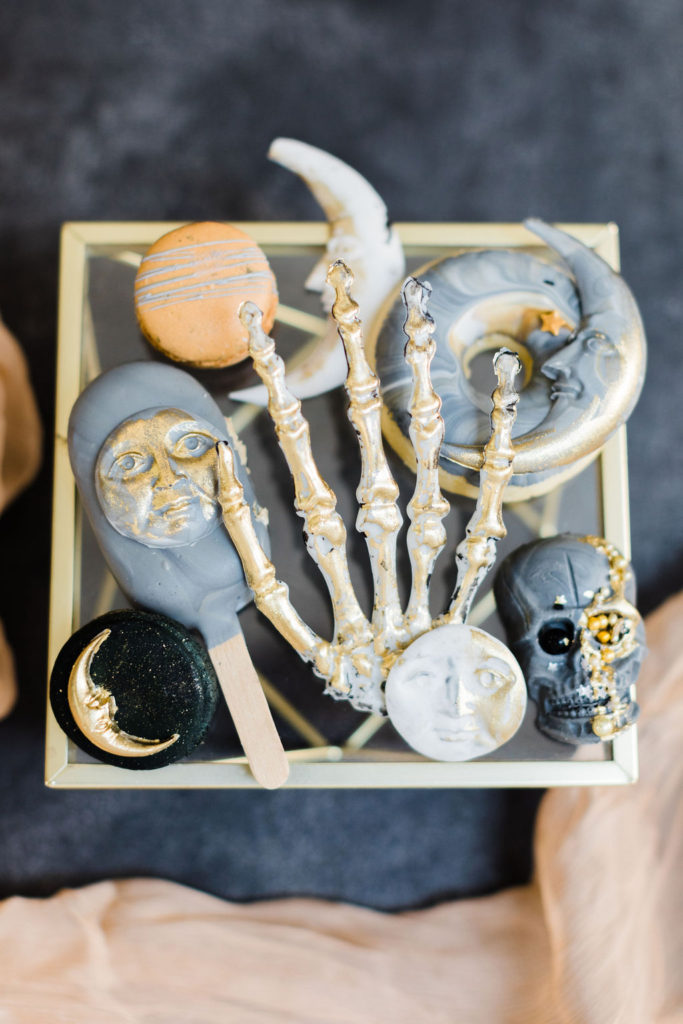 And that is how you throw a mystical and spooky party all in one! I'll cheers to that!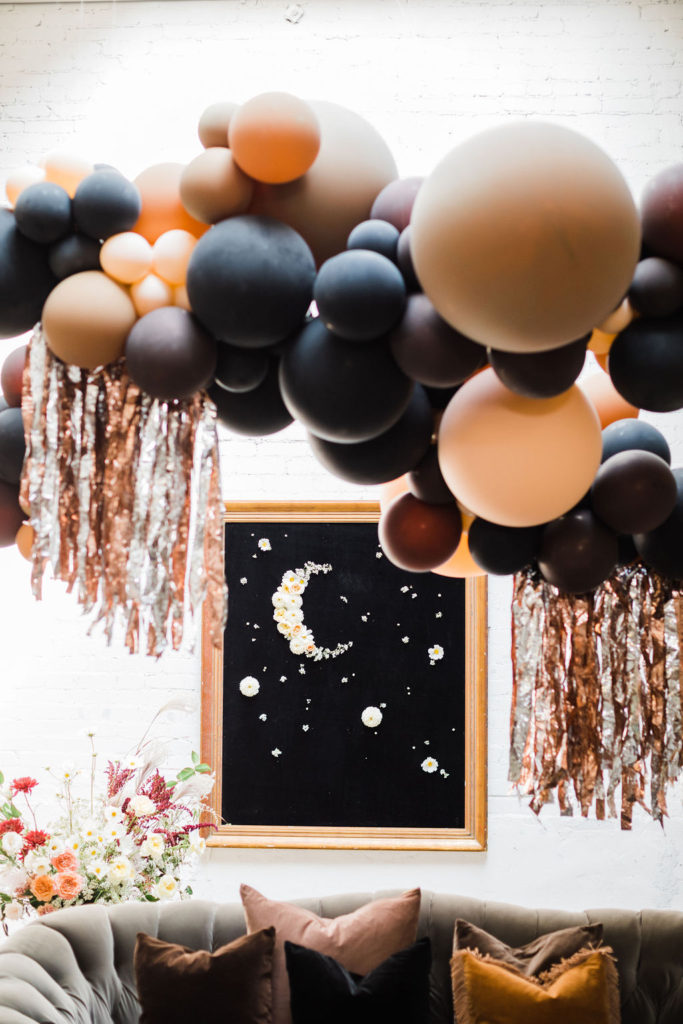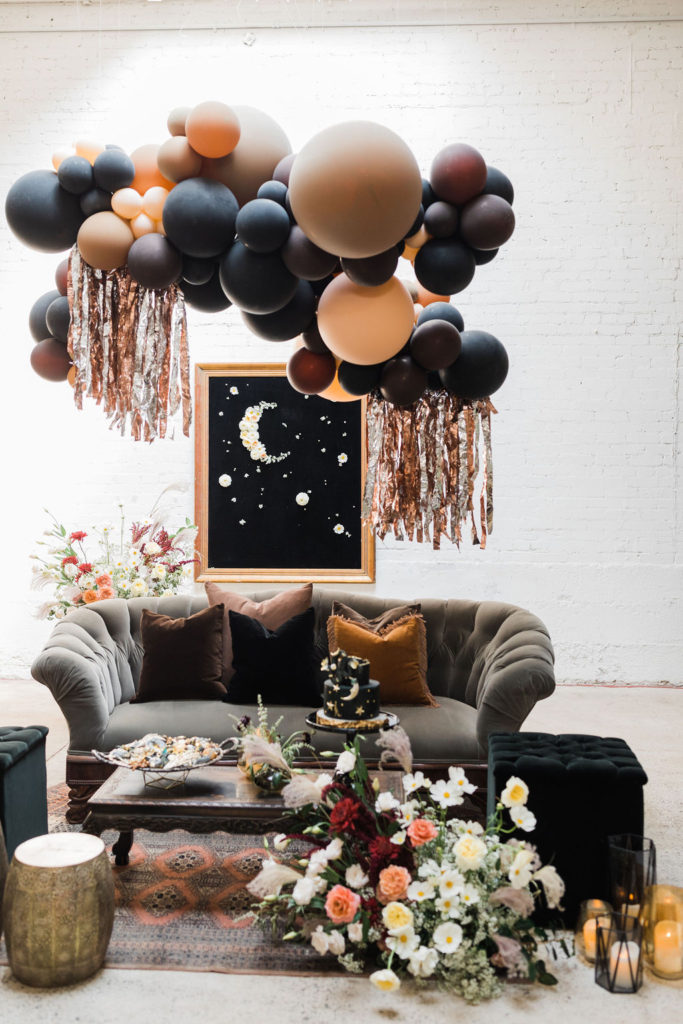 Believe it or not, we are just starting with our Halloween posts, so stay tuned!!
Spook ya later…
xx
Jacquelyn