Hey hey!!! Who was as obsessed with Jordan Catalano as me?! And who dyed their hair burgundy so they could look like Angela Chase?! Just me again?? I doubt it!! If you were as obsessed as me with My So-Called Life – and just as devastated when it got canceled after one season – this one is for you! And yes, I'm still super bitter about that cancellation!
I designed and styled this party to be a part of our 90's week, but Inspired By This thought it would be perfect for Halloween… and you know what, I see it! I love a good themed party and what better reason to dress up as our favorite 90's cast?! Angela, Rayanne, Ricky – you know them – how fun! Plus, our friends at Bottles & Blooms have some fun cocktail recipes and the perfect playlist to get the party going! Just keep scrolling to see…
Featured on Inspired By This today!
Pretty photos by our friend Mindy Tanimoto Photography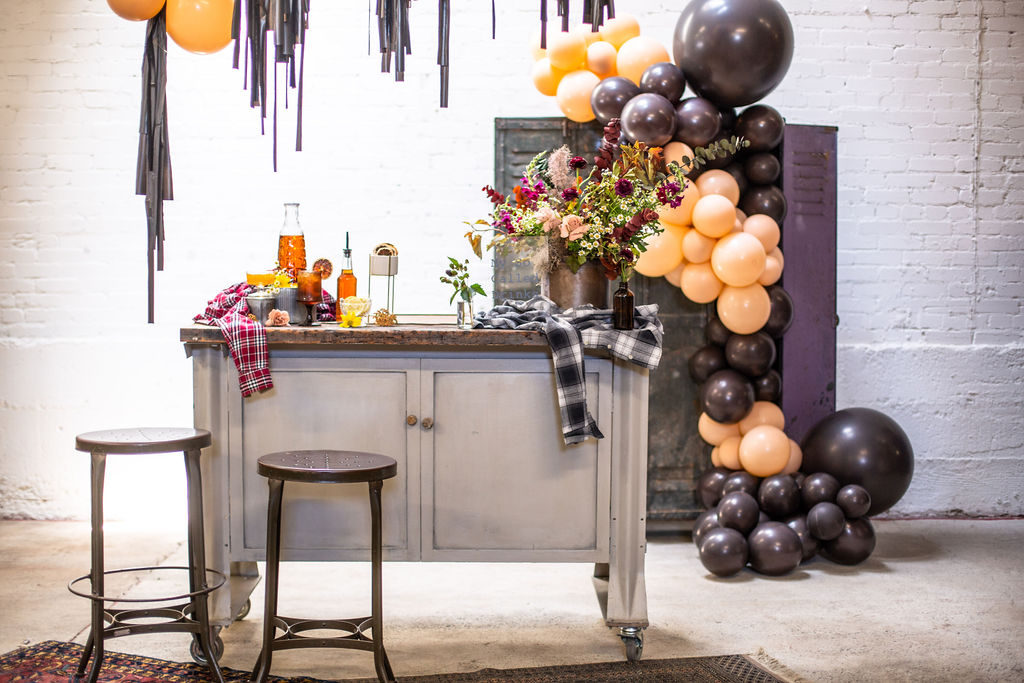 When I started thinking about this shoot I thought about the whole high school vibe. How they were always waiting at their lockers to talk to one another. Lucky for me, Sweet Salvage Rentals has lockers in their crazy amazing collection. So of course I had to have The Pop Shop deck them out with balloons along with the rad installation she did over our table. A mixture of soft and dark colors with the coolest black fringe.
Another big inspiration?! Flannels! Yes, we still love them, but the '90s were ALL about the flannel. I was also really inspired by Nirvana and Hole for this shoot. I definitely went crazy ordering CD's from BMG Music for 10 cents, or whatever it was, before realizing you actually had to pay for everything! Anyone else?!
I digress, do you notice the flannels tied around the chairs? That's one of my favorite details on this one, but yes, more to come…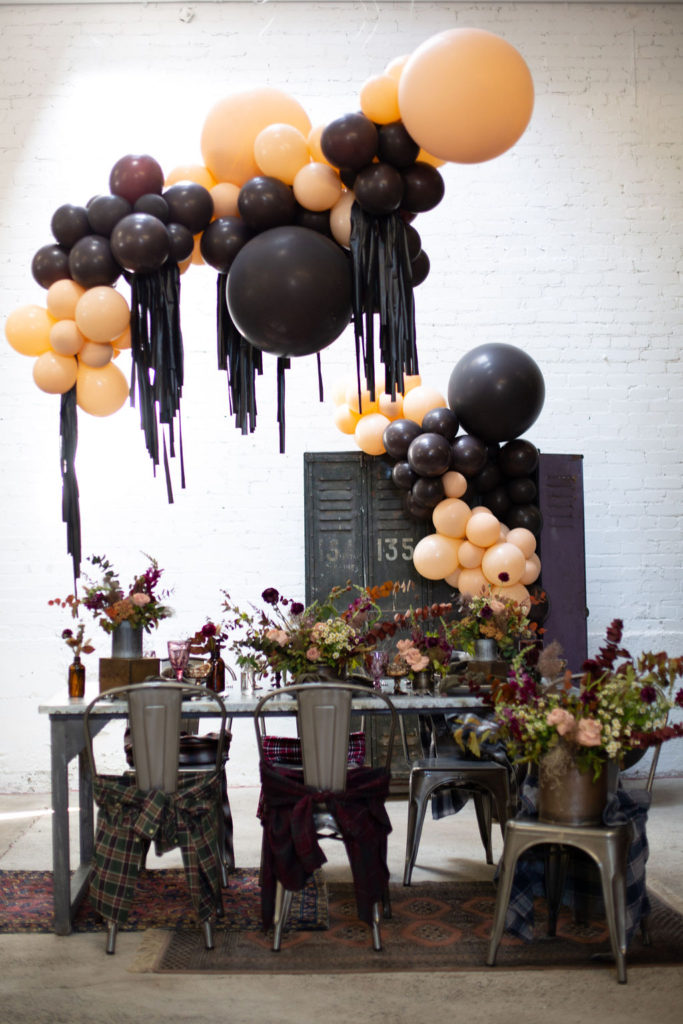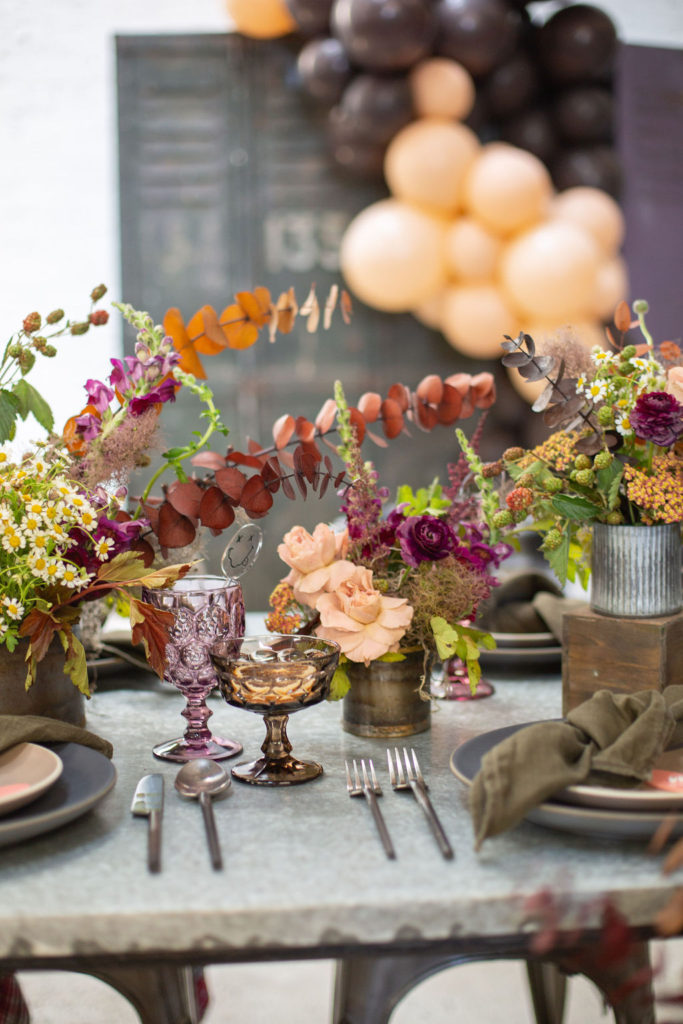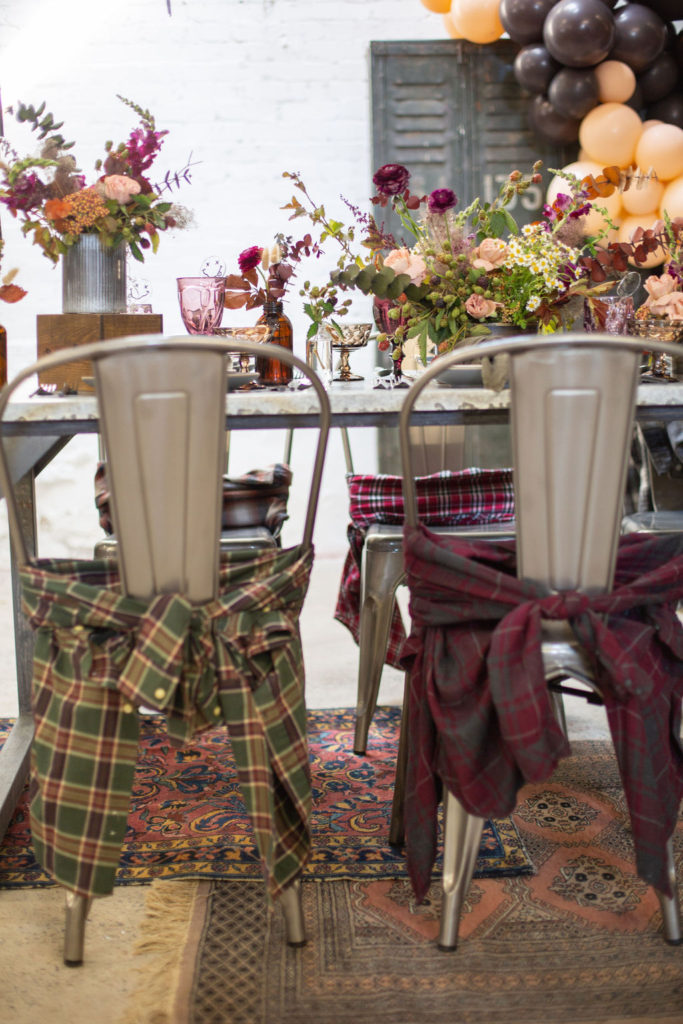 I'm obsessed with all these colors!! Bottles & Blooms nailed it on the florals and I loved the vessels they used for their arrangements. Everything came together so well! All the moody colors have my Fall and 90's dreams coming true. And did you see the cute little Nirvana inspired stir sticks from Proper Letter?! My favorite…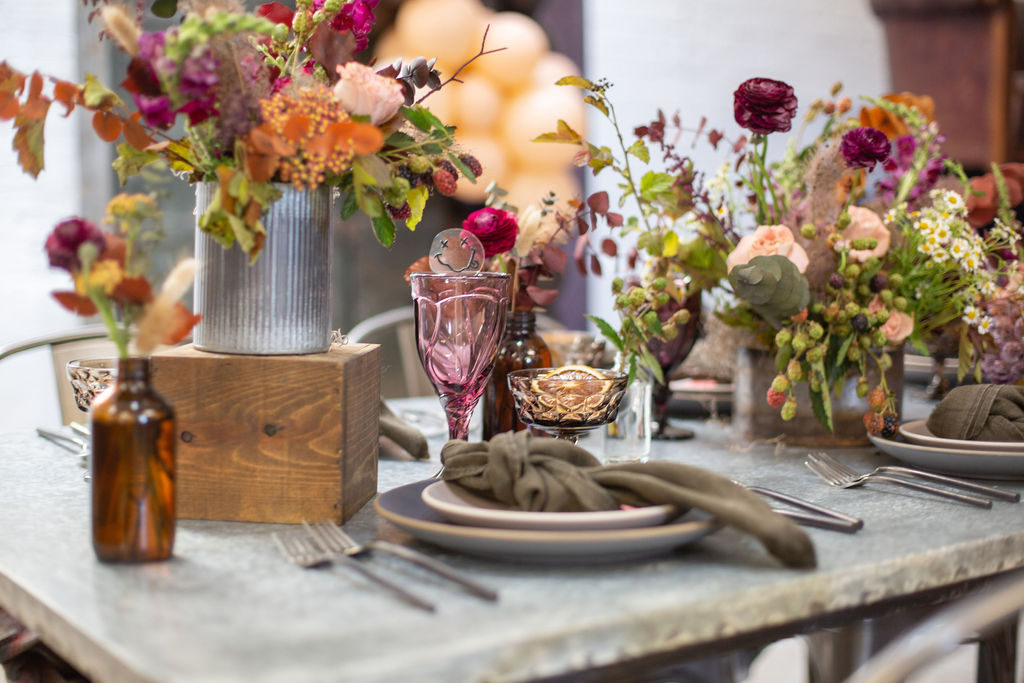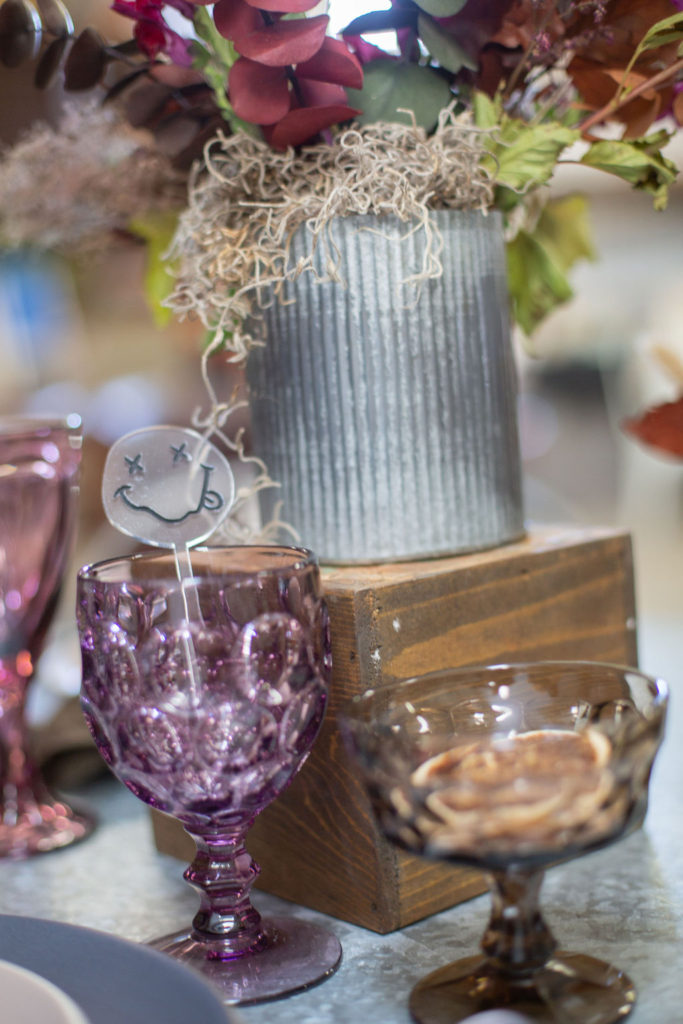 Proper Letter also did the place cards were inspired by Hole. Gosh, I loved me some Kurt & Courtney in the '90s!!!
Can we talk about the table settings?! Of course, our friend Jenny at Cherished Rentals has her pretty dinnerware and glassware, but that flatware was such fun! And the icing on the cake were the army green napkins from Hostess Haven.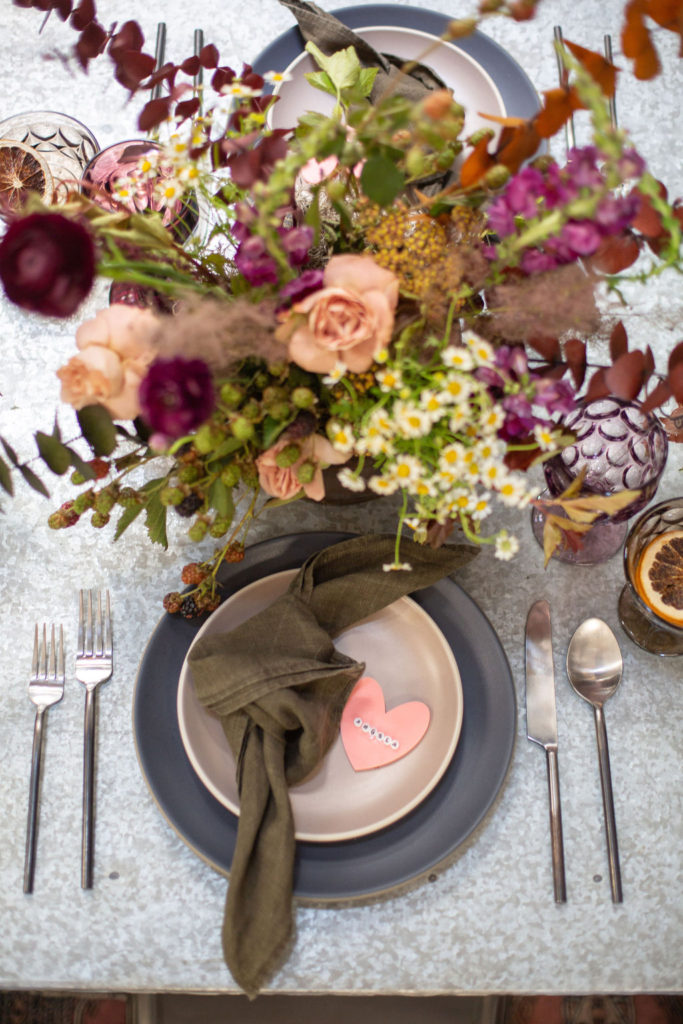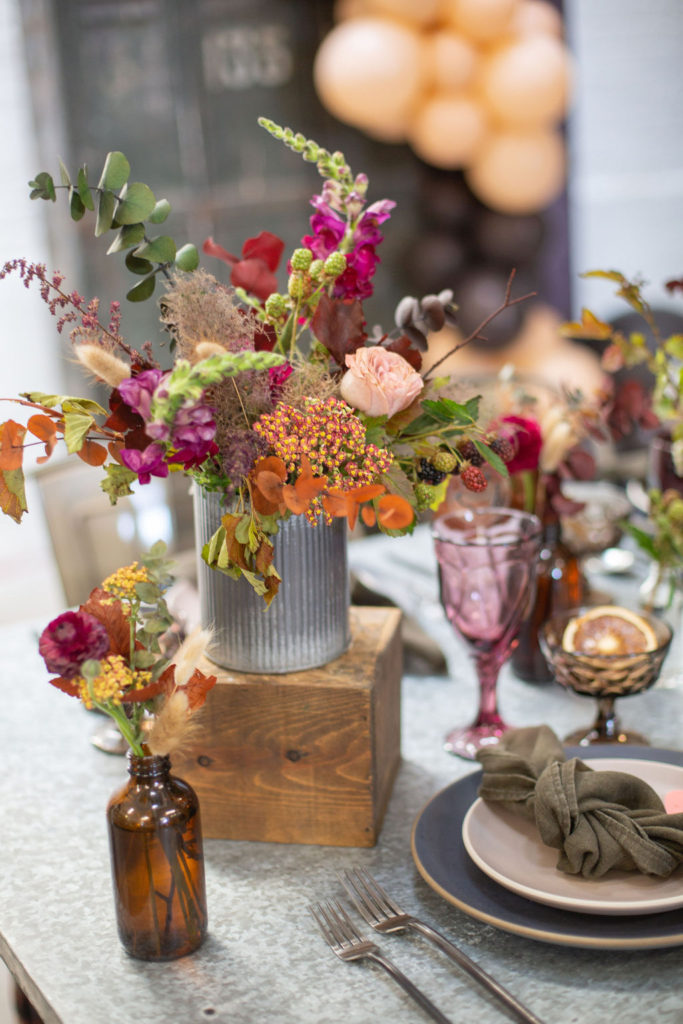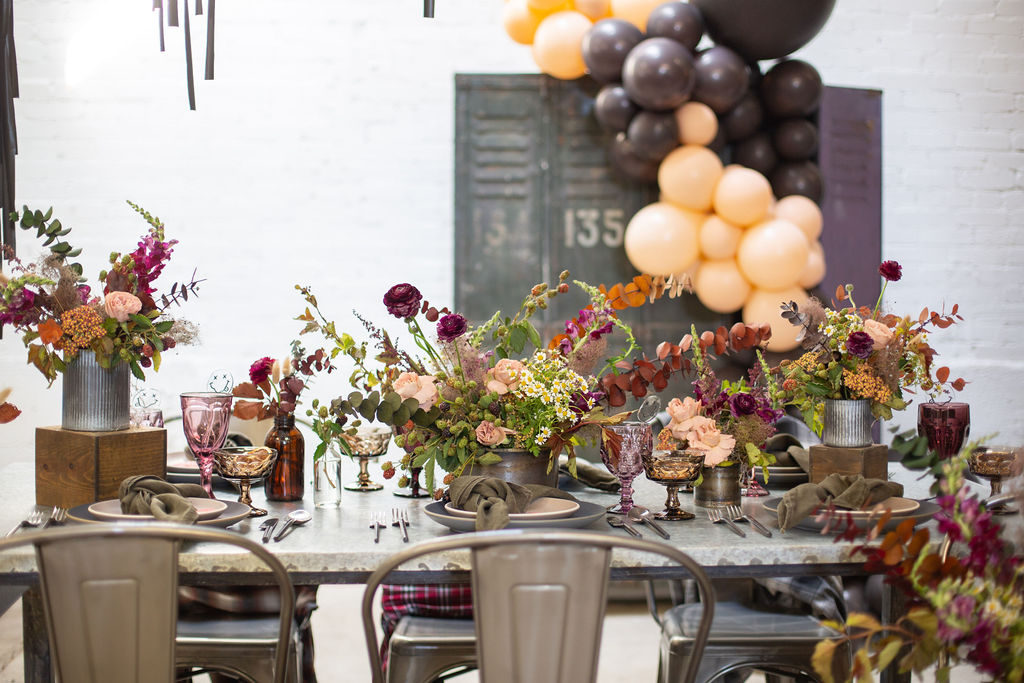 So pretty all together and such a fun gathering for Halloween! Giving me all the vibes!!!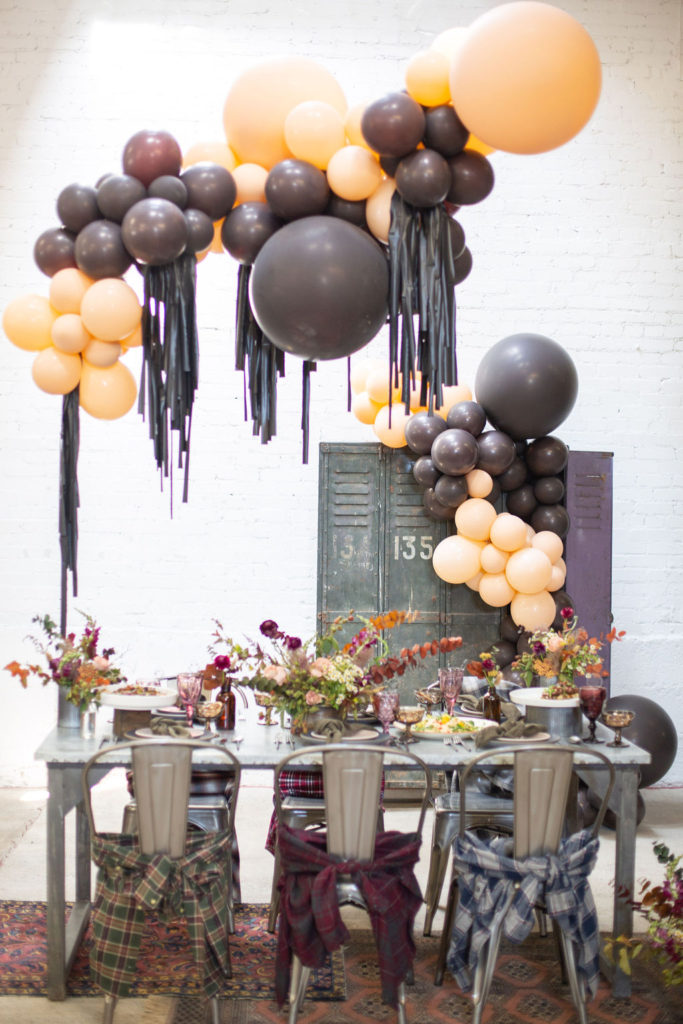 Don't worry guys, we've got the menu inspiration covered as well, thanks to Benchmark Restaurant! It sounds and looks as yummy as it was… Crispy Pork Belly & Brussel Sprouts, Creamy Squash Risotto, and Santa Maria Spiced Flat Iron Steak. Holy yum!!!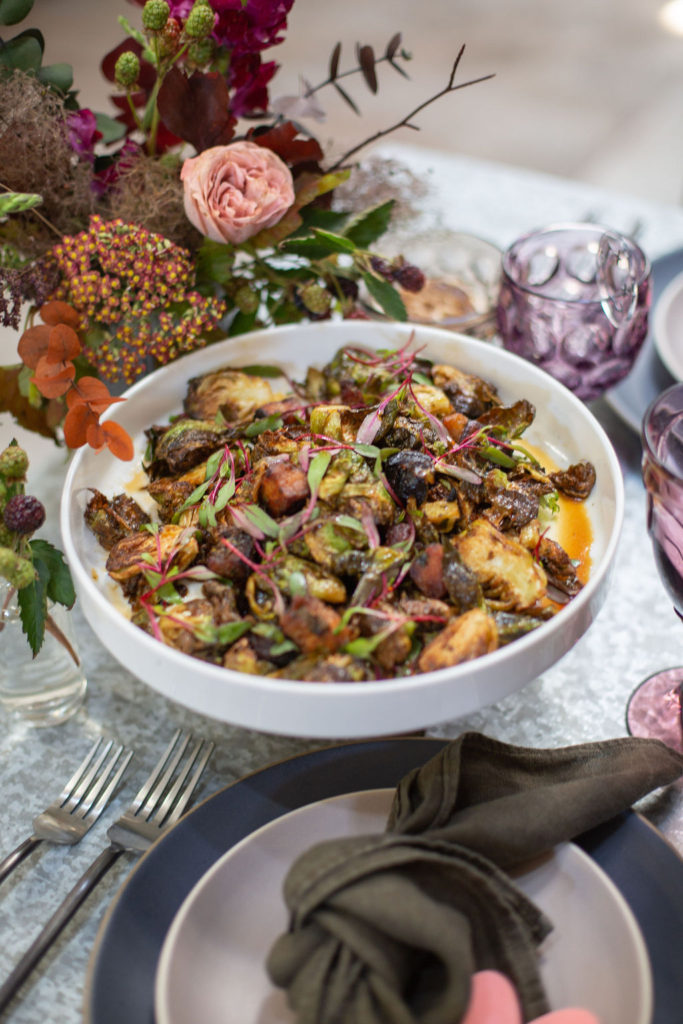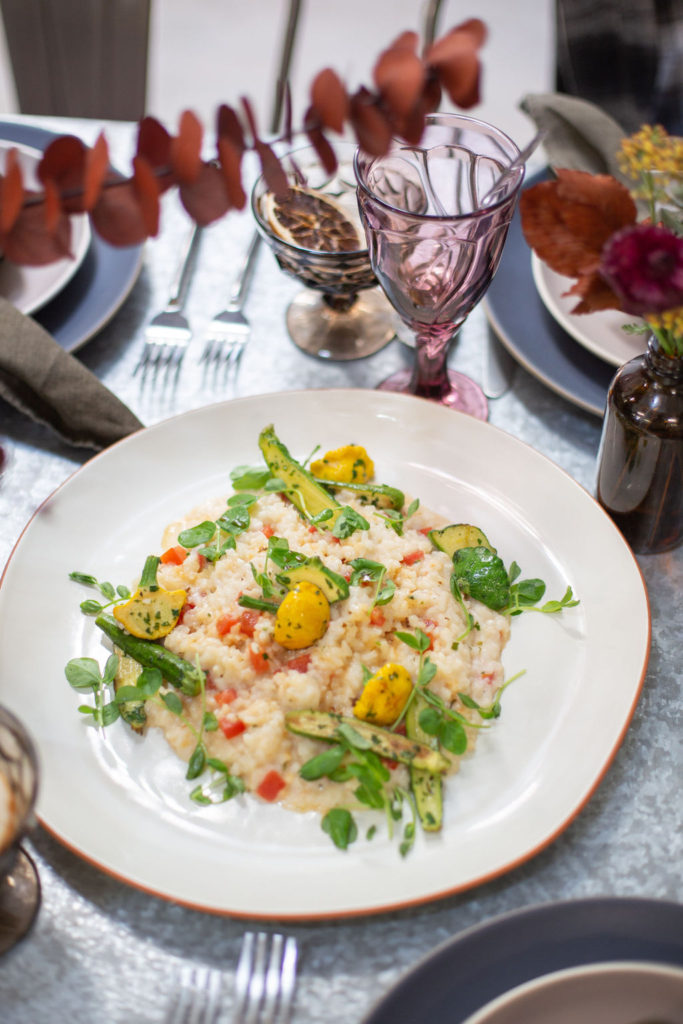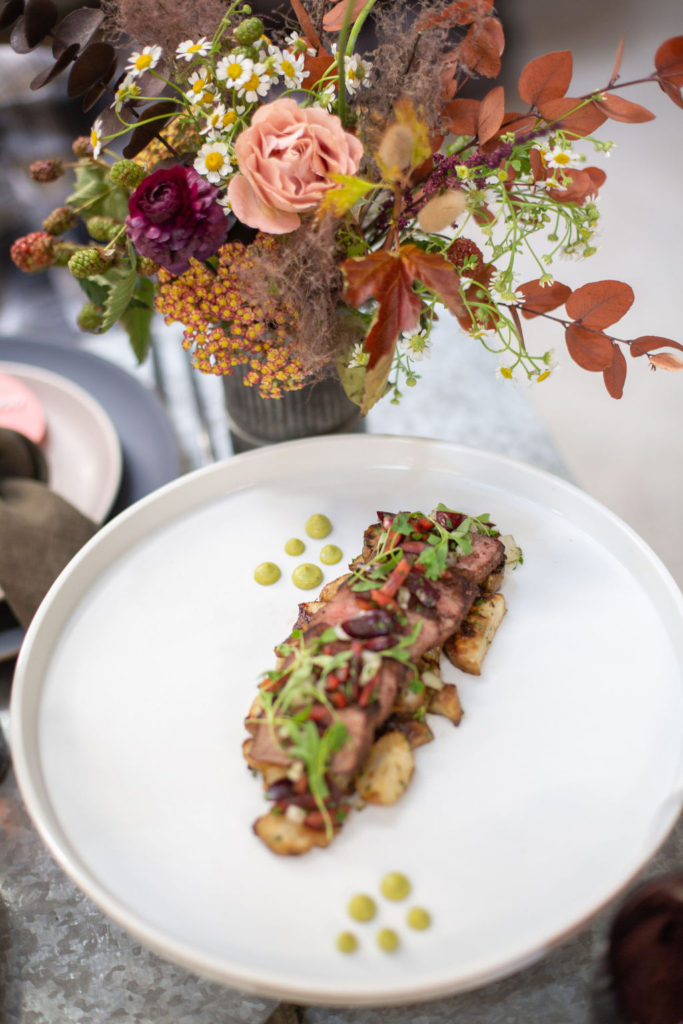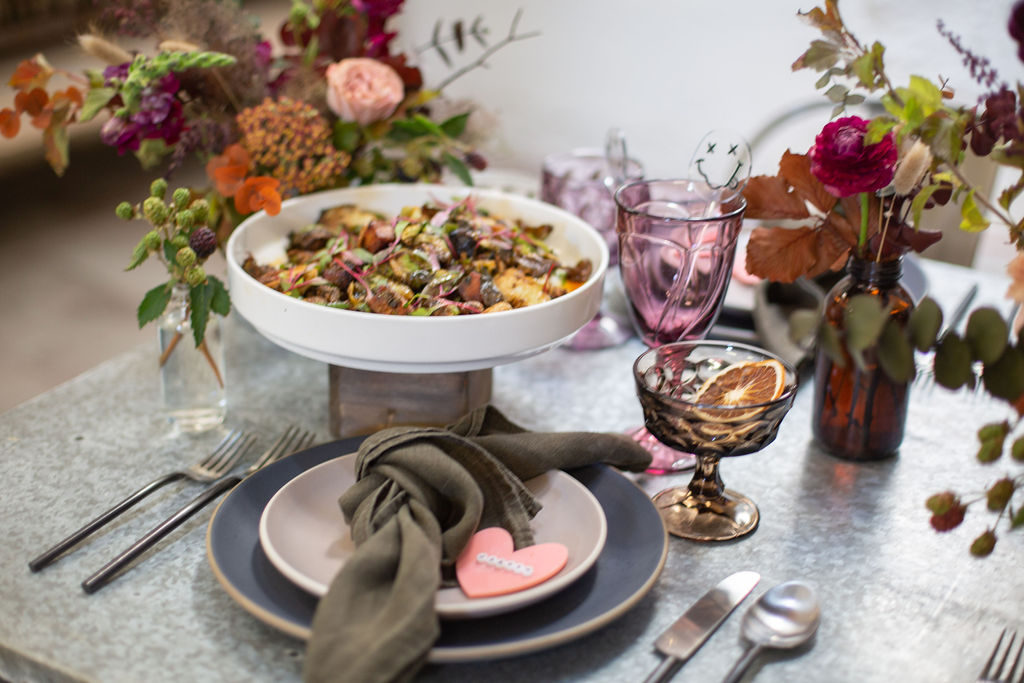 What a spread!!!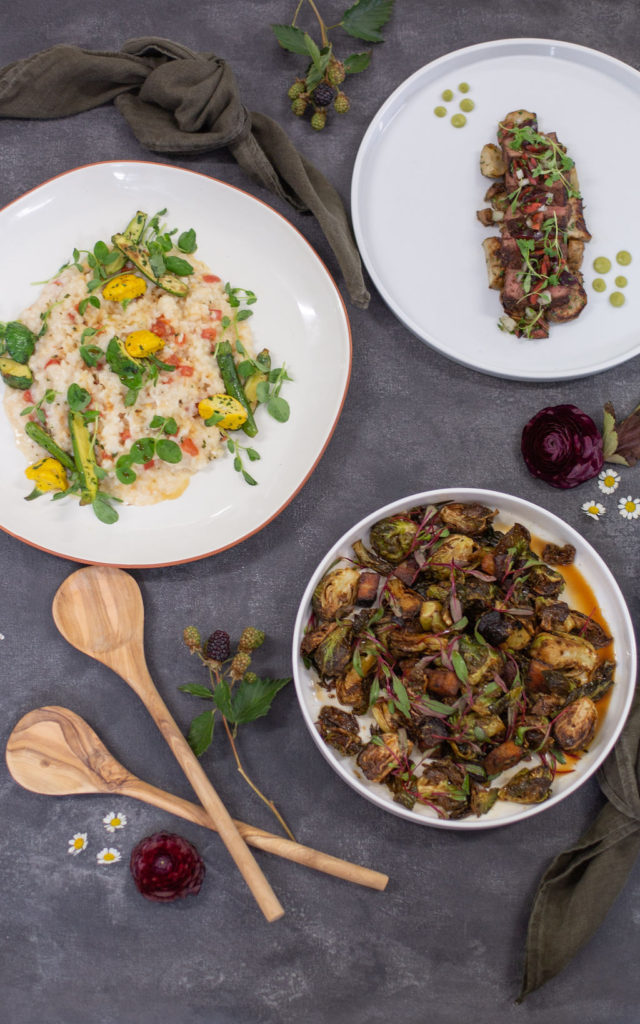 On to the bar! And you'll want to pay attention here because the Bottles & Blooms babes are sharing their secrets and you won't want to miss these cocktails guys… Of course, we must give some more love to this pretty set up – even those little stools with the bar! Sweet Salvage Rentals is always giving me inspiration and if I saw that cute set up at a party I'd be pretty damn happy!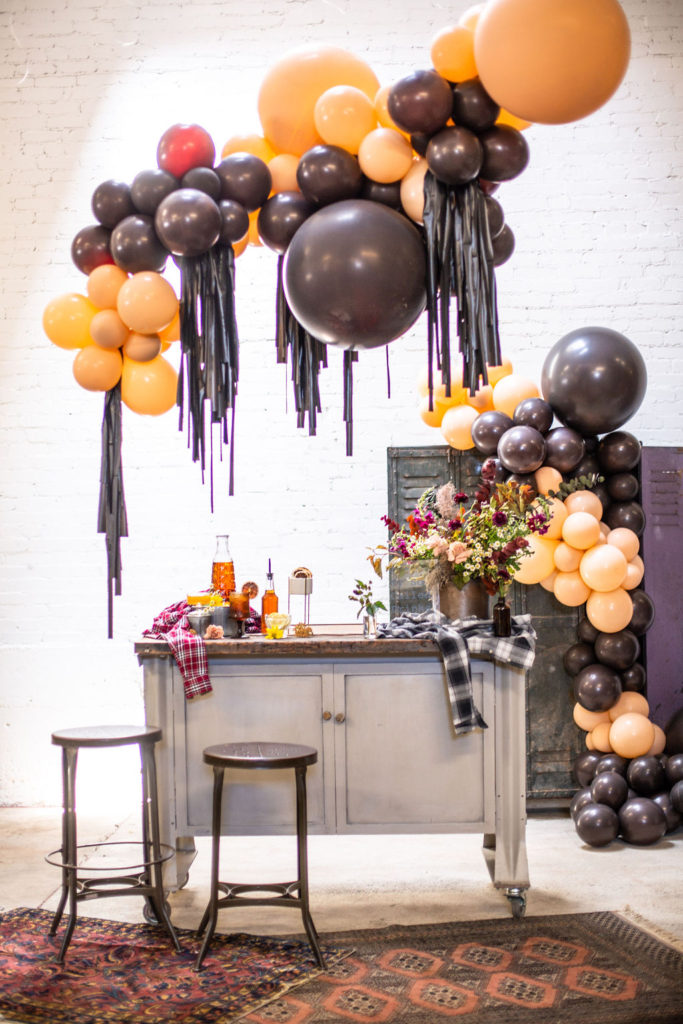 A few more views of those insane balloons! The Pop Shop amazes me with her talent – no matter the theme, she always, always nails it!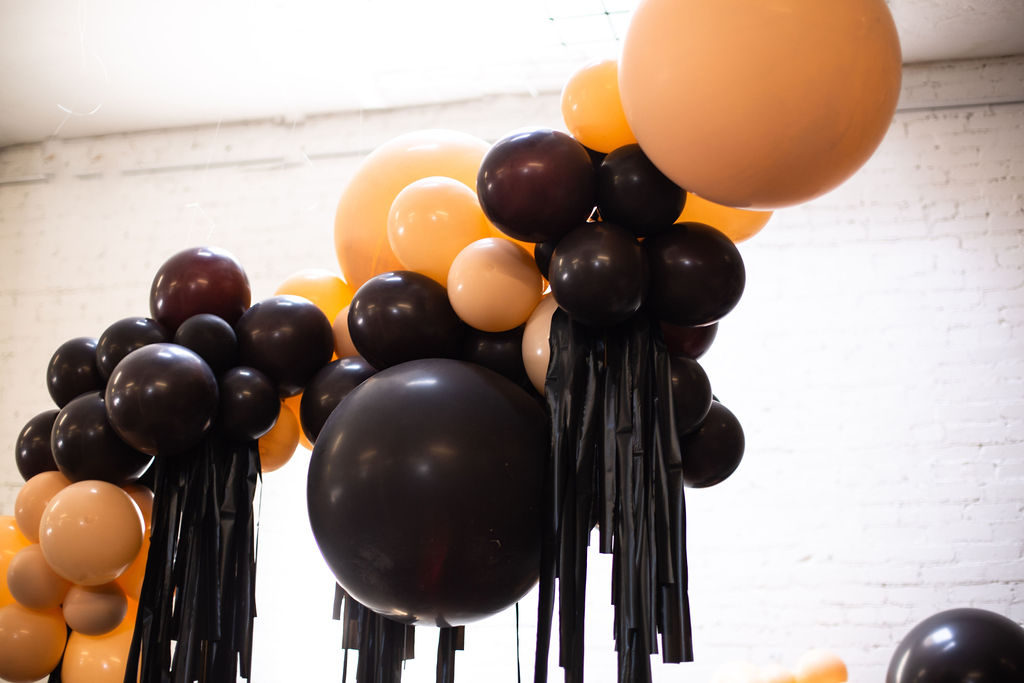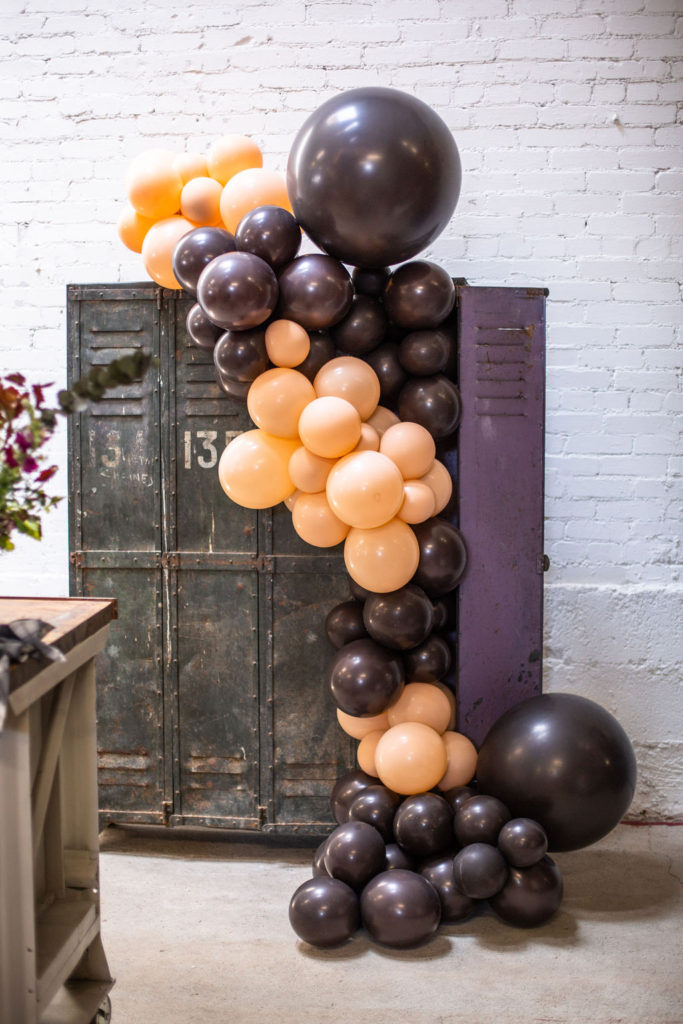 You guys…. My So-Called Drinks!!! The perfect signage for our bar by Proper Letter, don't you think?!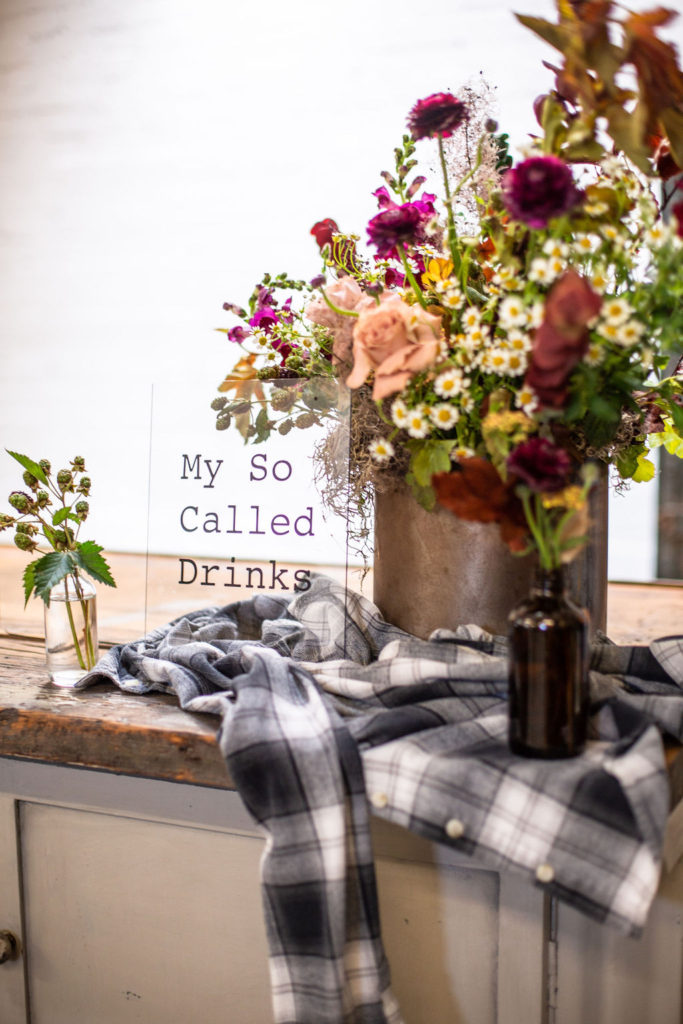 I love, love, love this set up!!! It's time for those recipes my friends, so grab a pen and paper to take some notes – and keep on scrolling…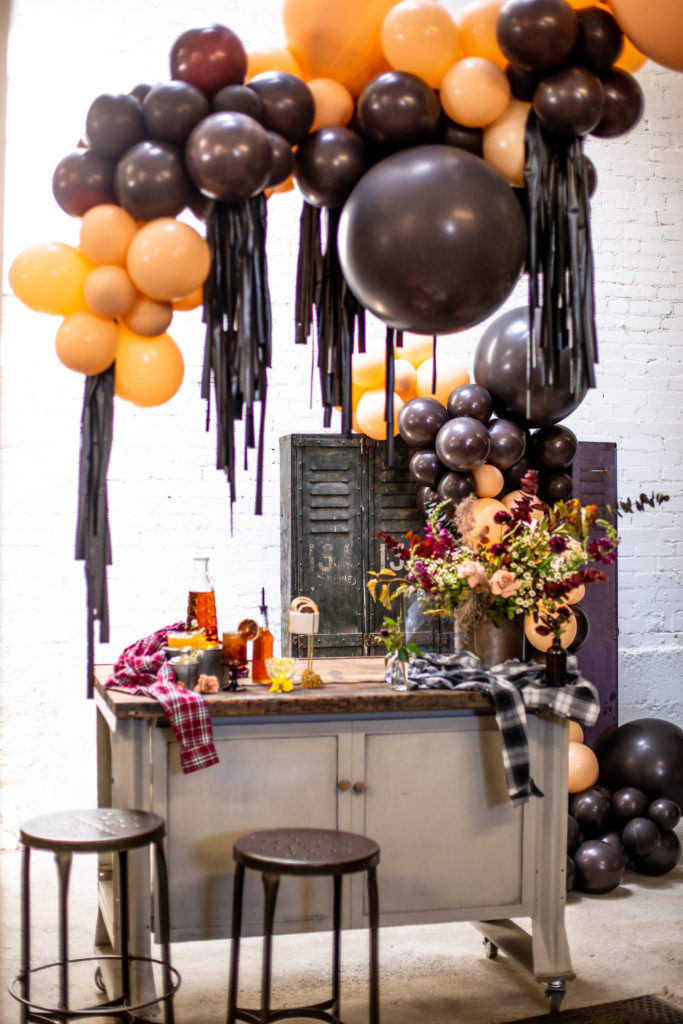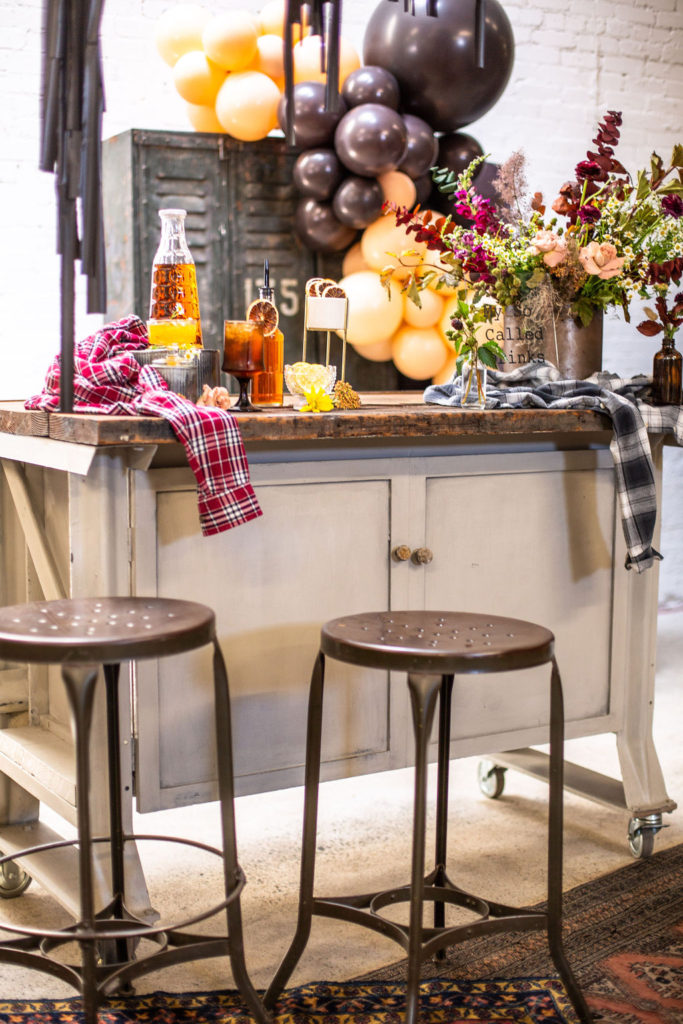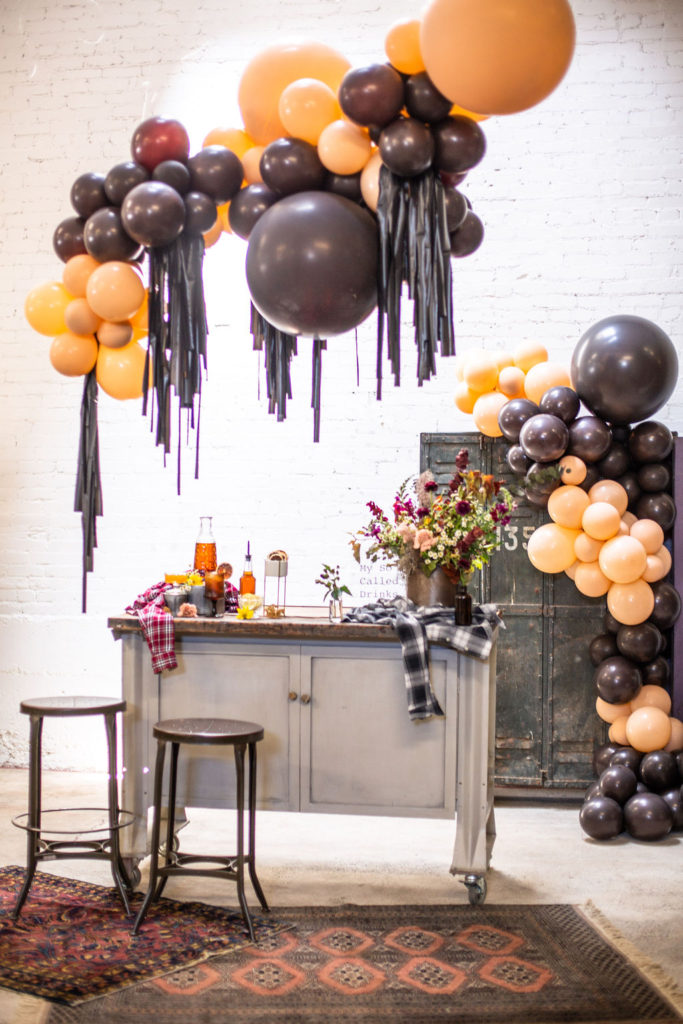 First we have…
Smells Like Tea Spirit
Served on the rocks in a 12oz cup
In a shaker with ice add:
3oz Vodka
1oz Fresh Lemon Juice
2oz Black Tea
1oz Ginger Citron Marmalade
Shake vigorously until combined
Pour all contents into cup
Garnish with a dried lemon wheel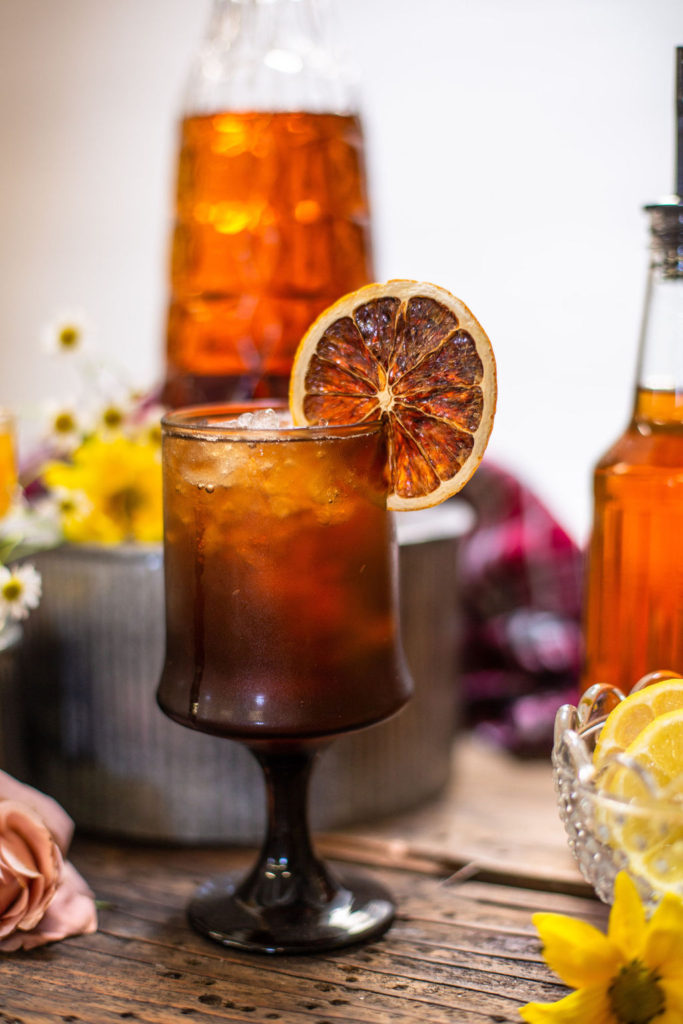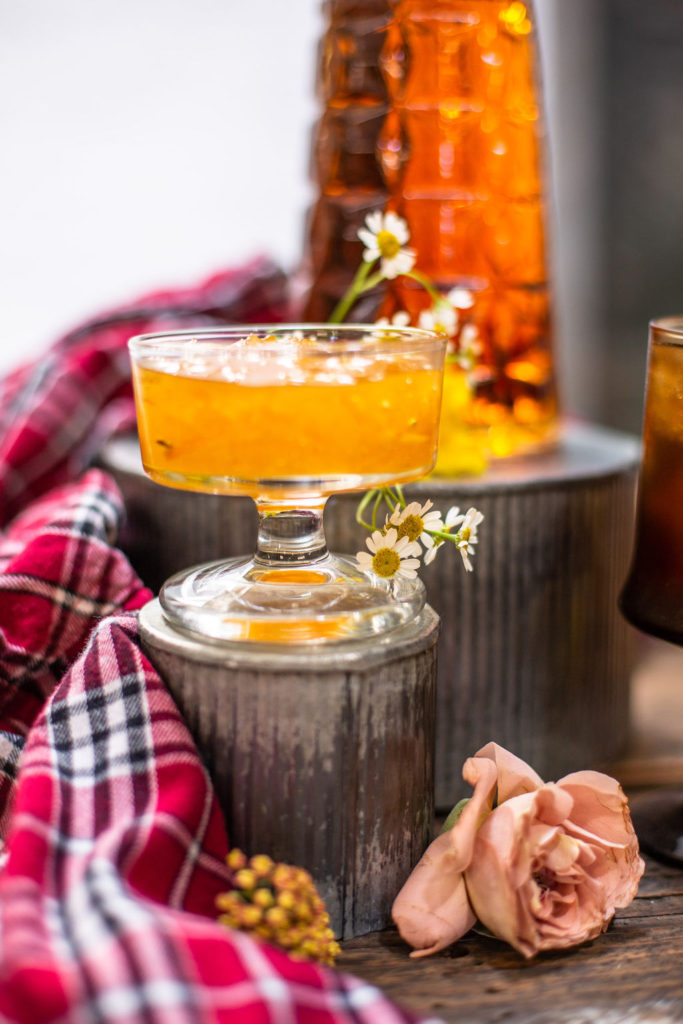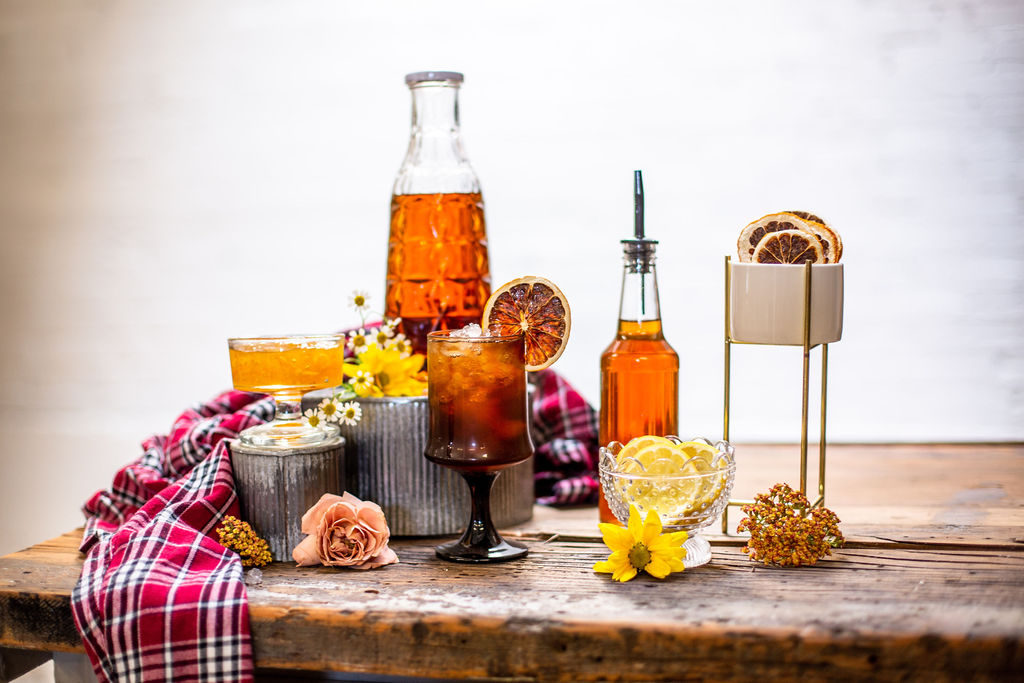 There's Laura of Bottles & Blooms shaking and pouring! She was so perfect for this shoot that I had to throw her in a couple of shots!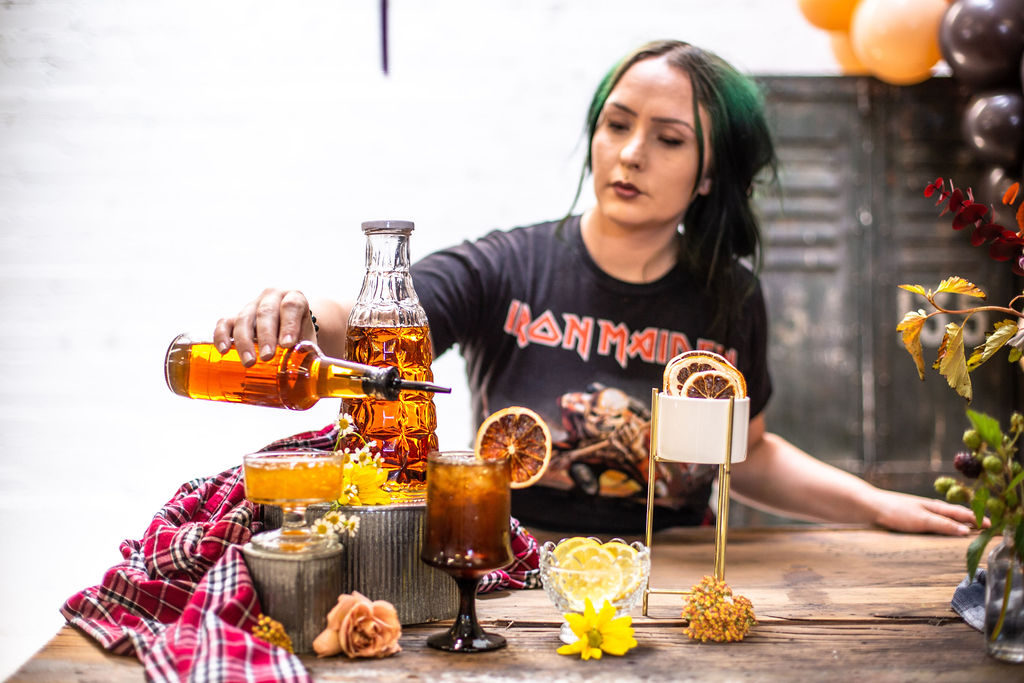 Next up….
Flannel Weather
Served on the rocks in a 12oz cup
In a shaker with ice add:
2oz Silver Tequila
2oz Triple Sec
1oz Orange Juice
2oz Pineapple Juice
2oz Limeade
Shake vigorously until combined
Pour all contents into cup
Garnish with dried daisy head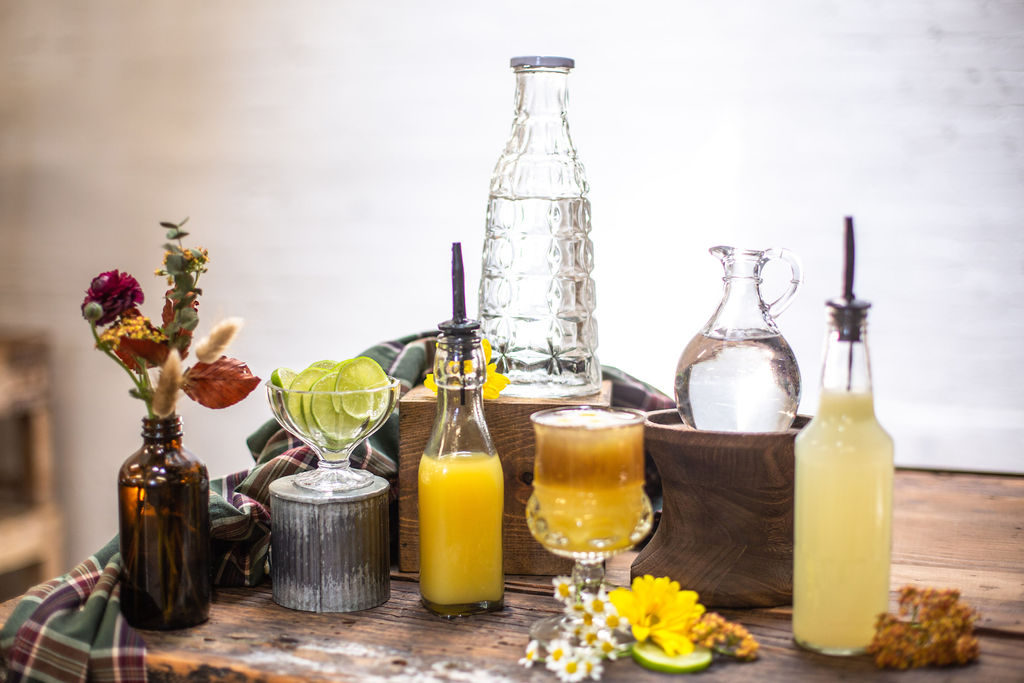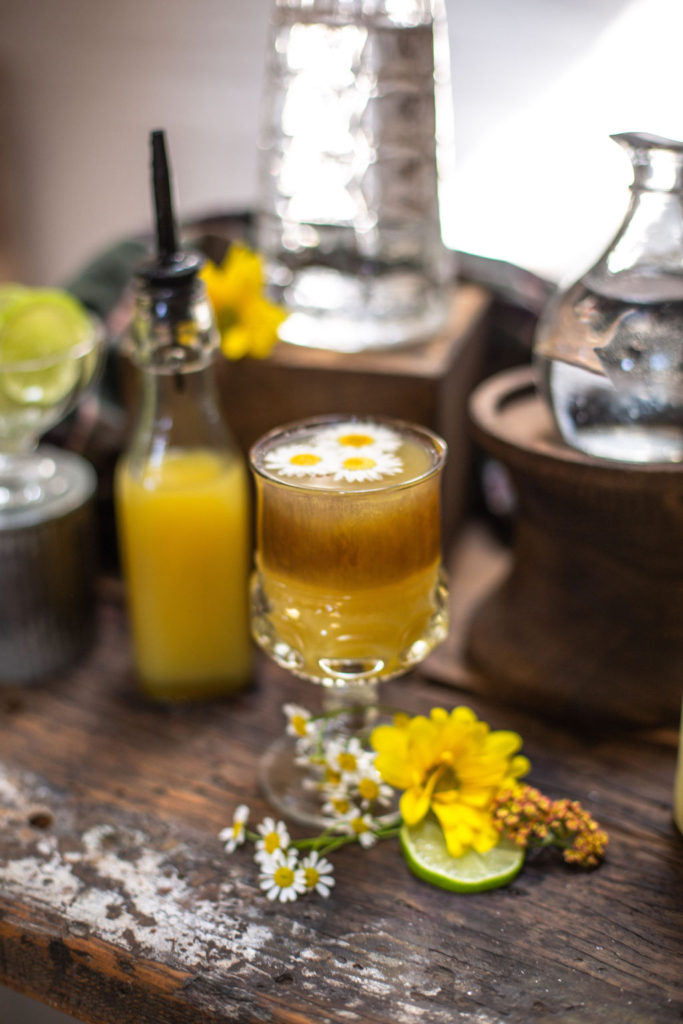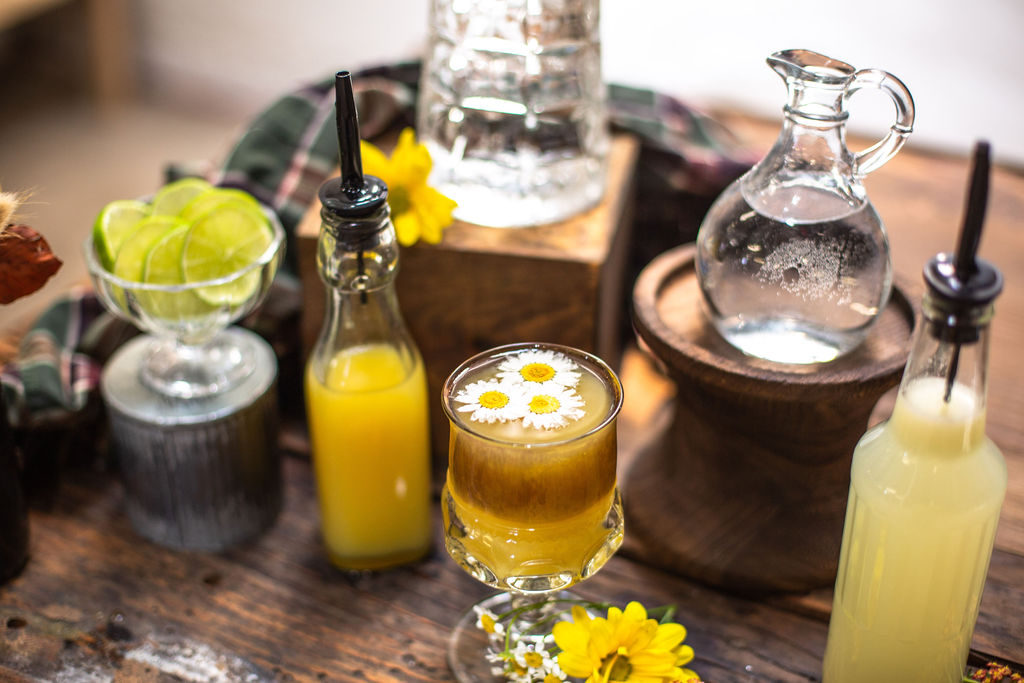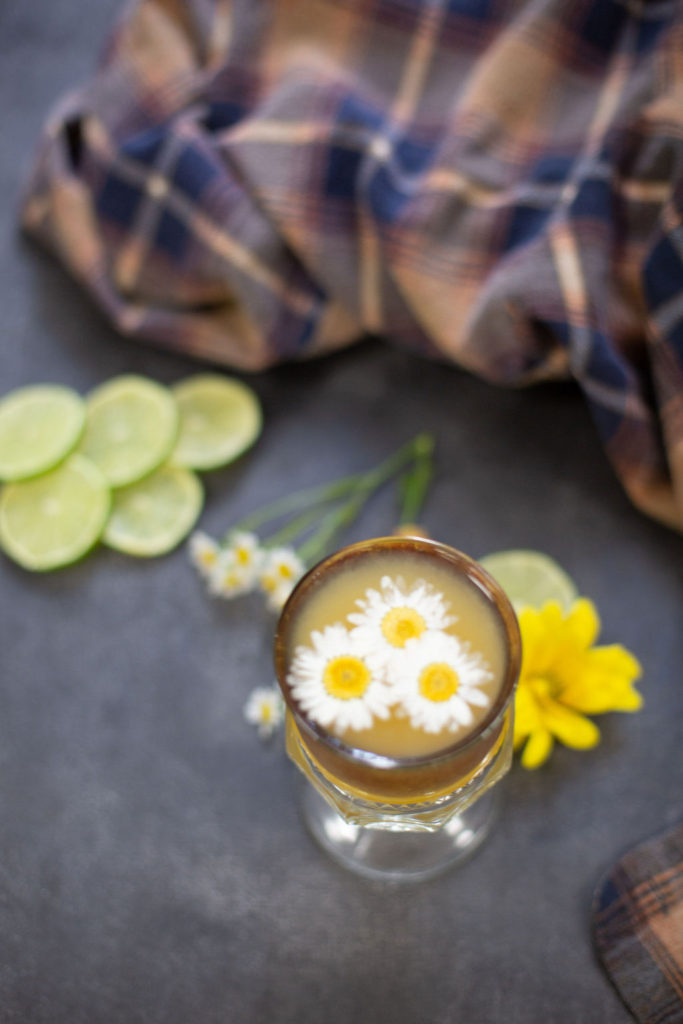 Some good cocktail options for you and this 90's party full of fun!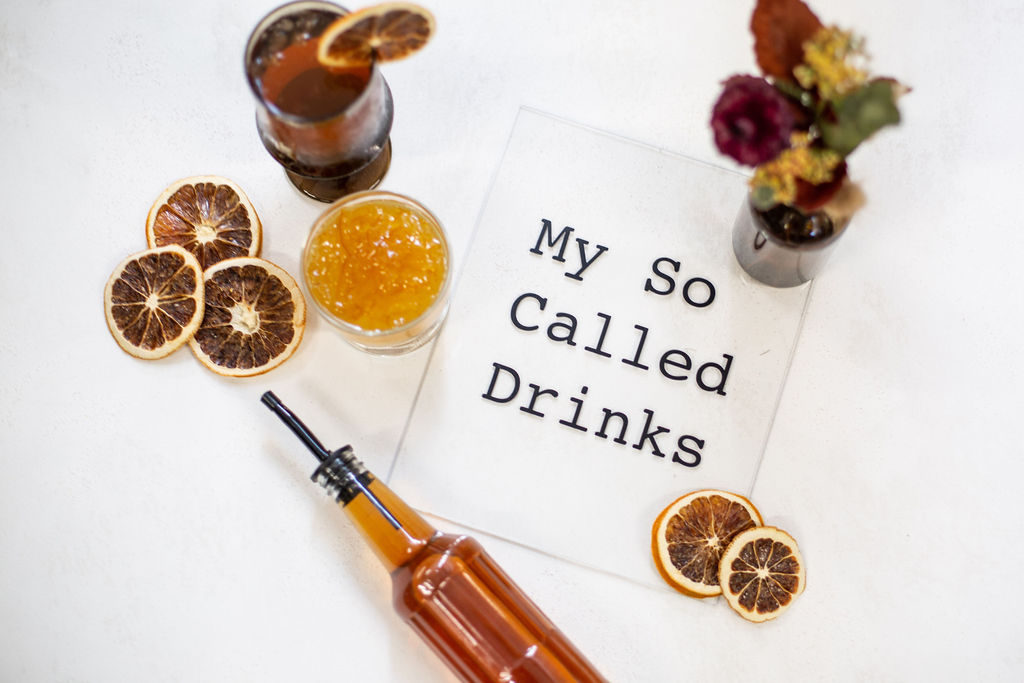 Last but not least, the lounge! And boy is it a pretty one – but would you expect anything less from Sweet Salvage Rentals? Now, this looks like a spot I'd like to cozy up at, listen to The Cranberries, and drink a cocktail. Loving all the warm tones and especially that purple sofa! Or do I love the leather chairs more? It's all so good, I don't even know anymore!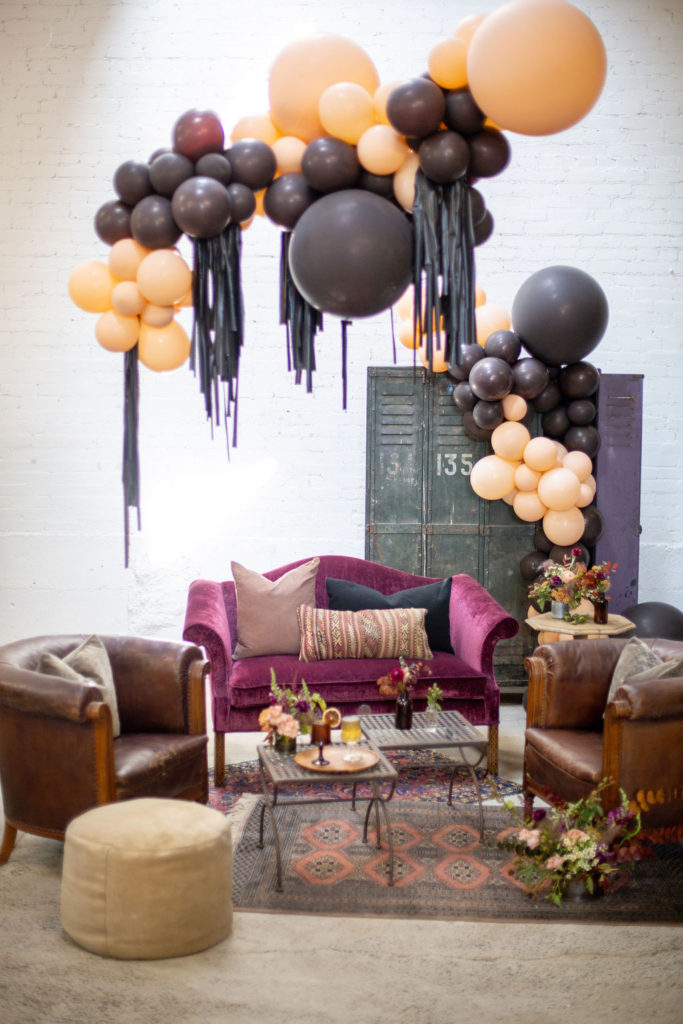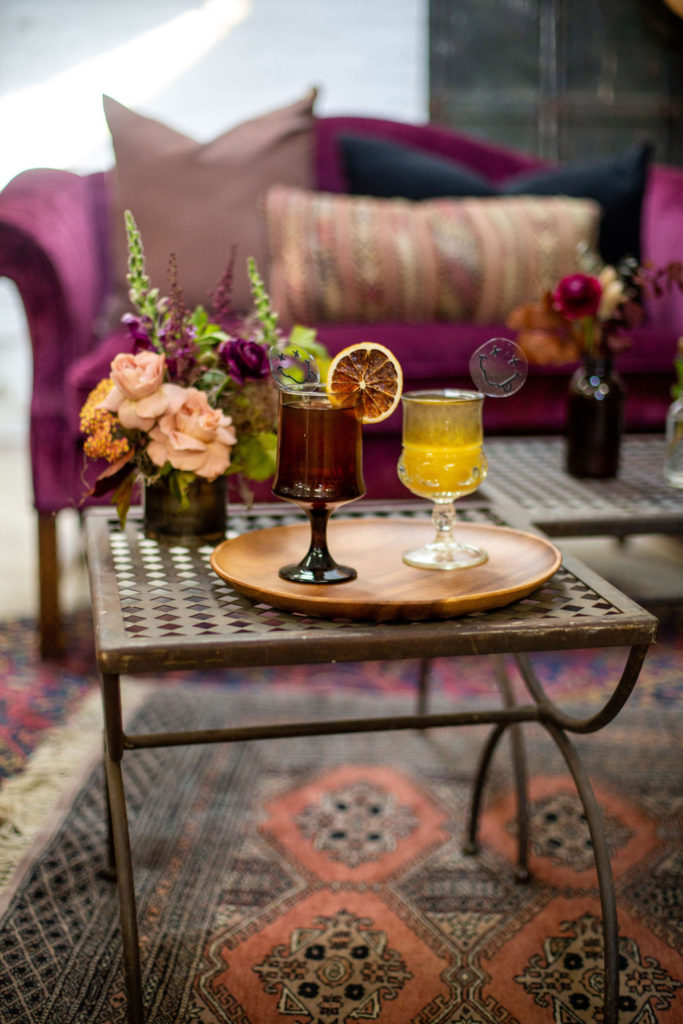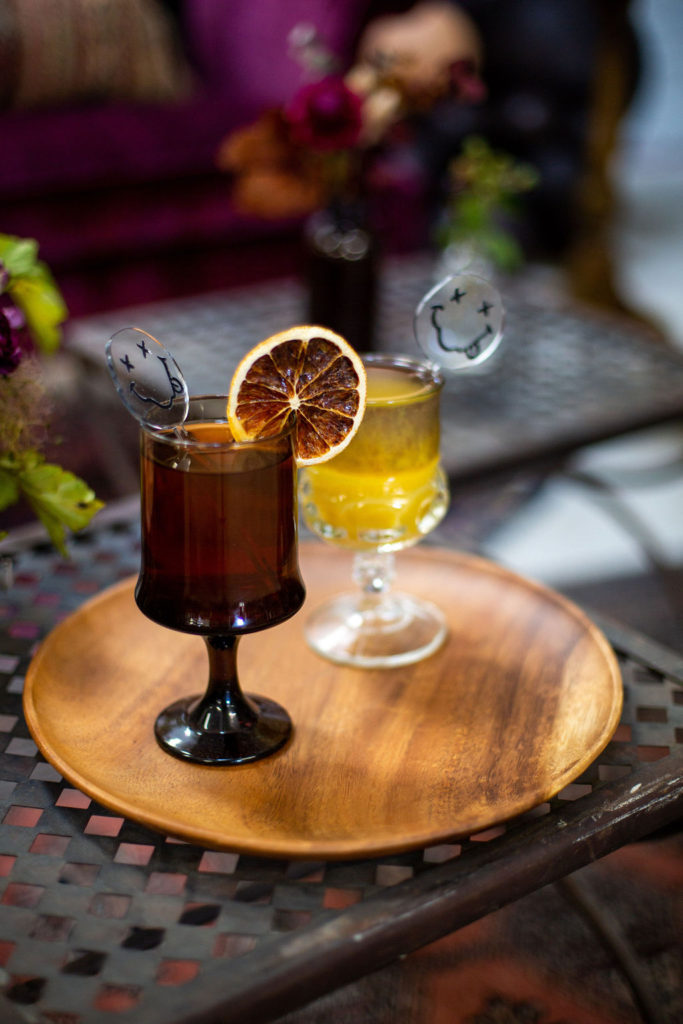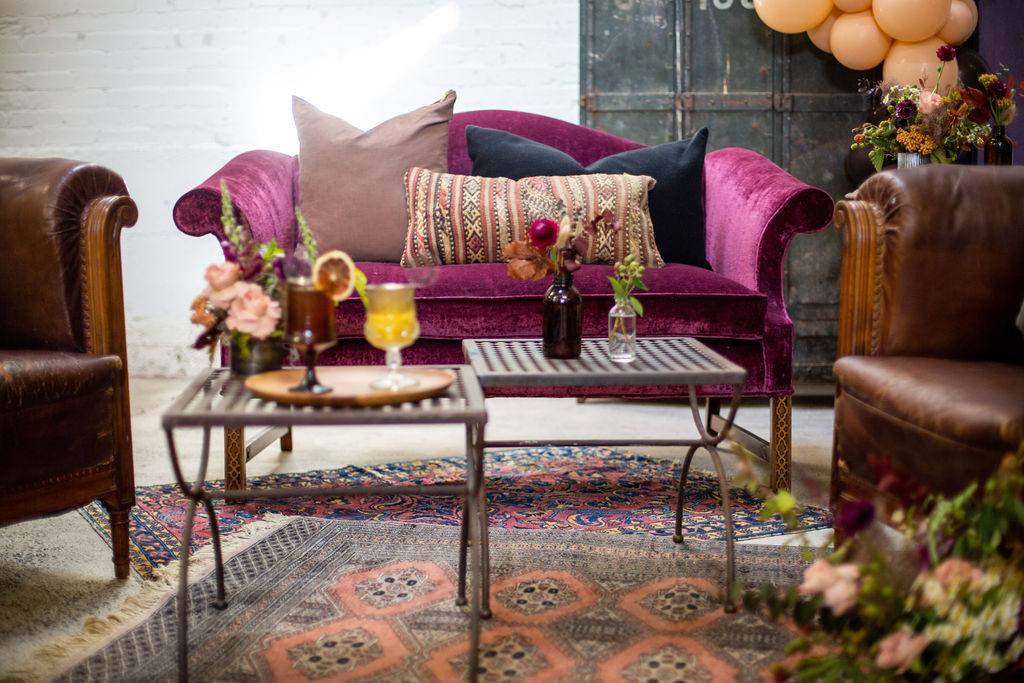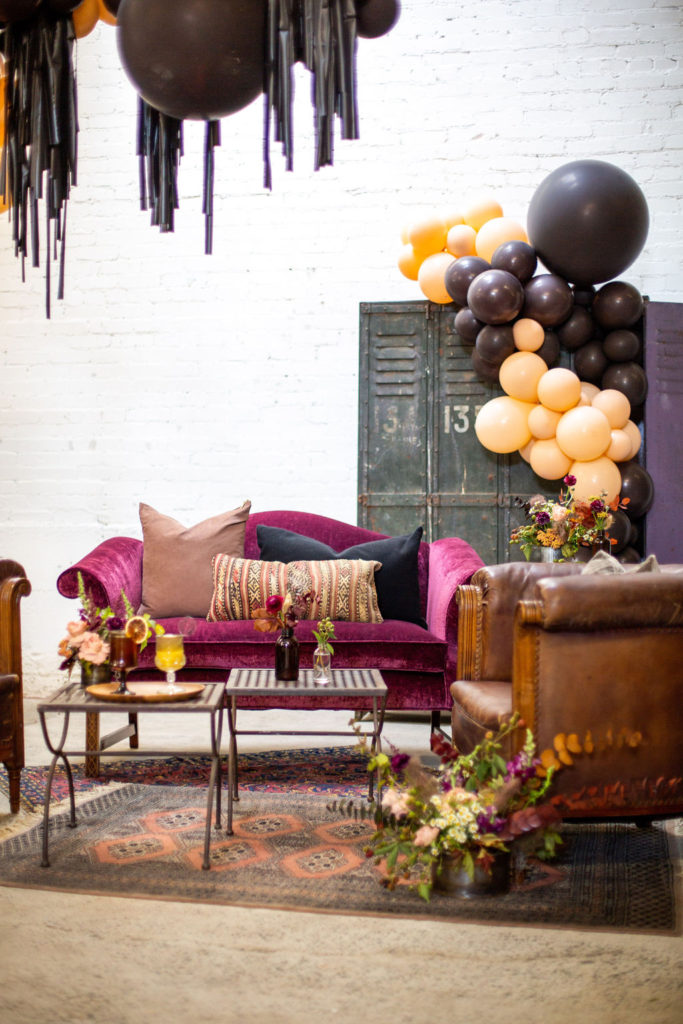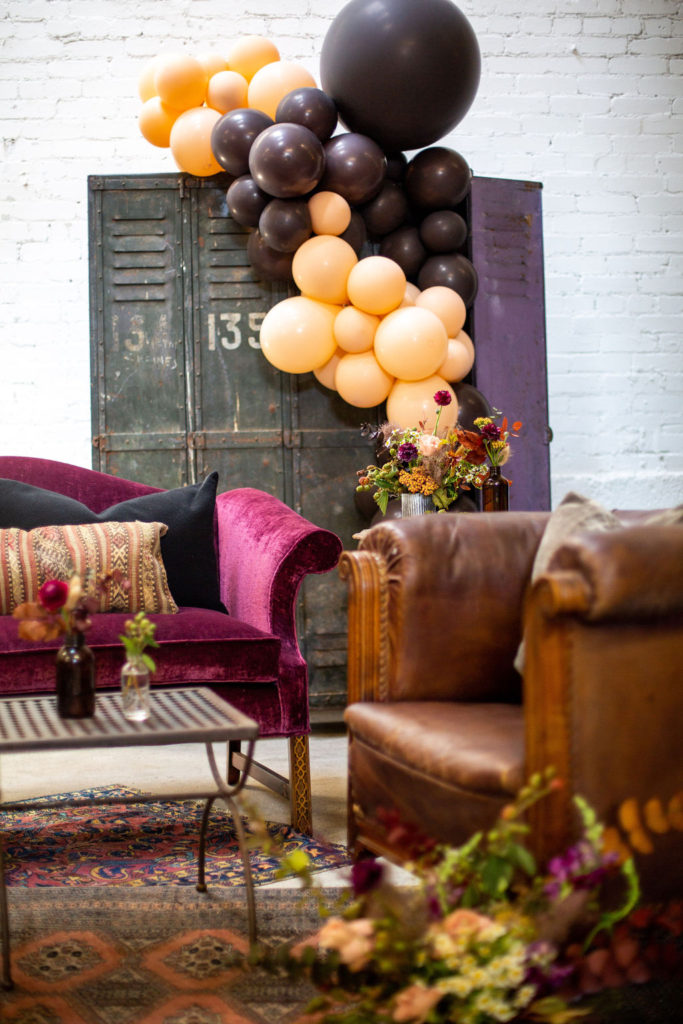 So good!! If this is your Halloween situation, I salute you!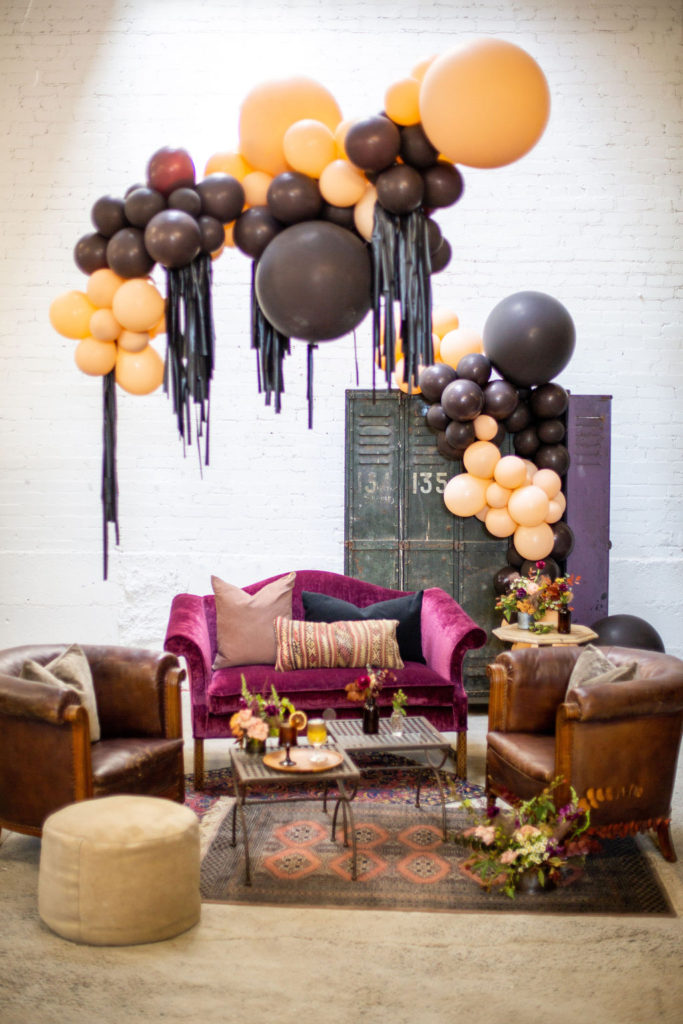 Hope this one brought back some memories and gave you some inspiration friends!! More fun to come later this week, and lots more Halloween fun!
xx
Jacquelyn