Just a few more days and it will be 2018! I can't even believe how quickly this year flew by. Well, I'm ready for a few drinks Sunday night and I have just the cocktail for it… The Pear Sparkler, aka the perfect New Year Cocktail! Did you know that the pear is very symbolic for the New Year?
In ancient China, people believed that pears represented immortality and prosperity because pear trees live for a long time. In Korea, the pear symbolizes grace and nobility. The pear is also a symbol of affection in many cultures, for example in some Christian contexts, the pear symbolizes the Virgin and Child.
The pear symbolizes so many great things, so why not drink it this New Years Eve?! And when you say cheers and think of your resolutions for the year to come, remember all of those words… Prosperity, Grace, Nobility and Affection.
Photos by Riley Starr Photography
Calligraphy by Blot & Dot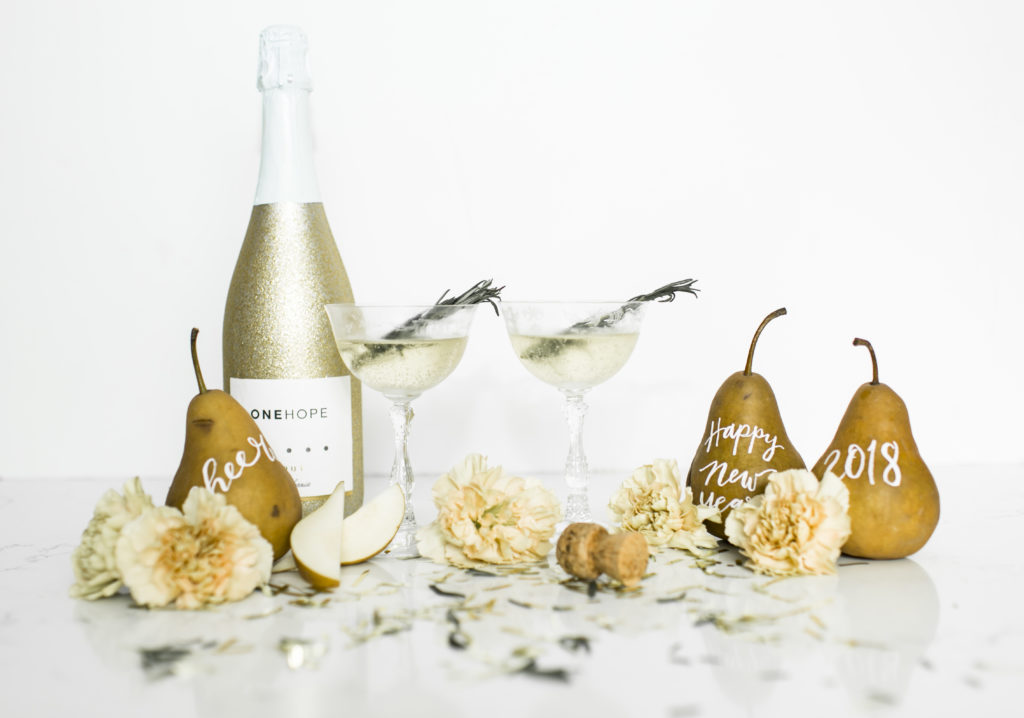 Of course we had to use our favorite bubbly, One Hope! They have this amazing new shimmer bottle that I am obsessed with!! Now, for the recipe for this yummy New Year Cocktail…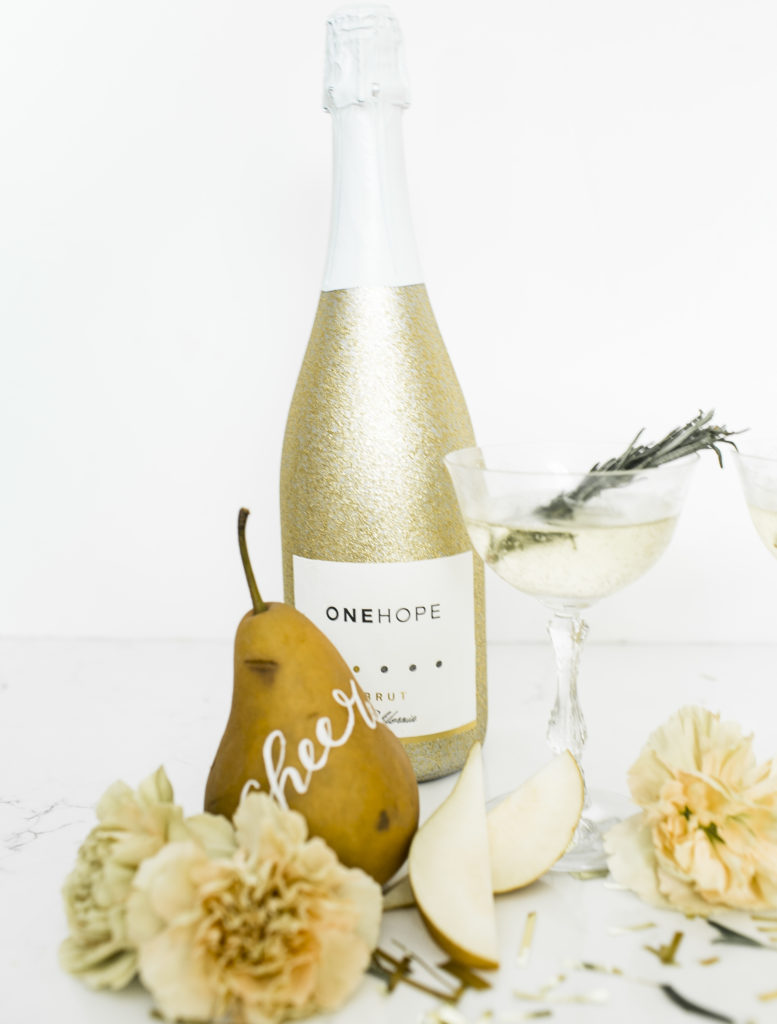 Ingredients
For the Rosemary Simple Syrup
½ cup Water
½ cup Honey
1 sprig Rosemary, plus additional as a garnish (see below)
For the Drink
2 Pears, peeled and pureed
Champagne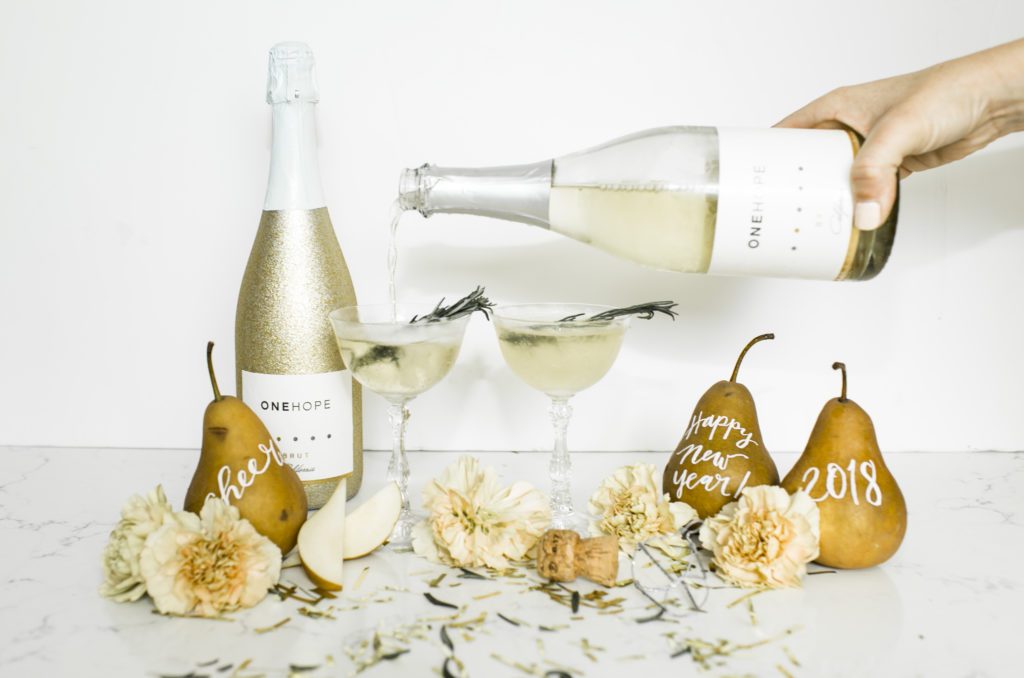 Directions
To make the Rosemary Simple Syrup, bring water and honey to a boil in a saucepan. Cook, stirring, until the honey dissolves.
Remove from heat and then add the rosemary sprig.
Let steep for 2 hours.
Remove rosemary sprig and cool in the refrigerator until ready to use.
To make the drink, add 1 ounce of the syrup and 1 ounce of pear puree to a champagne glass.
Top the glass off with champagne and then add a sprig of rosemary as a garnish.
Serve immediately. Cheers!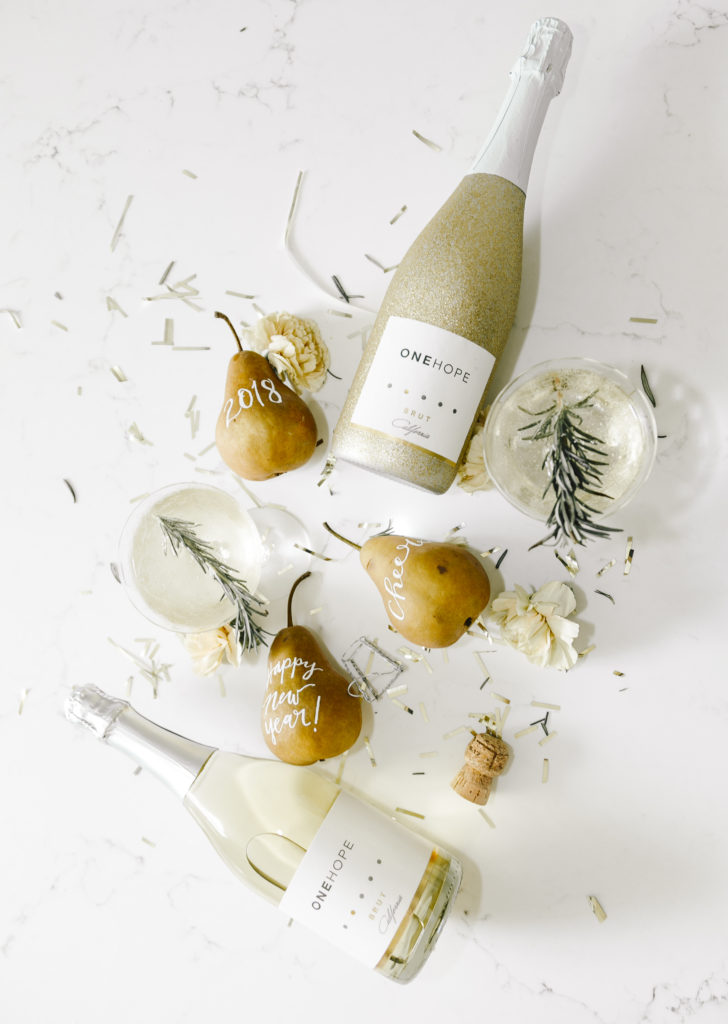 Happy New Year!!!!
xx
Jacquelyn