Ok, so I know we've already been serving you quite a bit of Valentine's Day inspiration, but if I had to choose one… I just might cherry-pick this one!! It's a mix of sassy and sweet and I'm feeling those fun vibes! With lots of reds and pinks, a fun pun-filled theme, and adorable little ones this one is the cherry bomb! Tell whoever is sitting next to you to calm down because you will be squealing a lot with this one!!

Photos by my girl Corrie Lynn Photo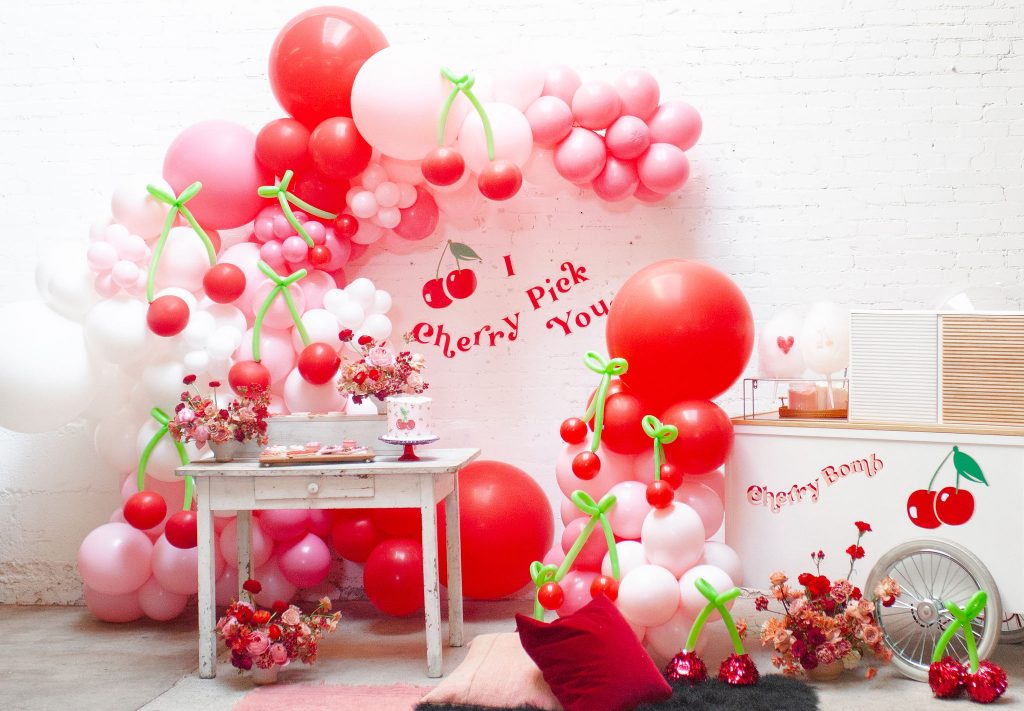 Pirouette Paper always creates such perfect invitations for us, and she wowed me yet again! I mean, can we talk about that envelope liner?! She captured my vision perfectly with the sass and sweetness! The song Cherry Bomb by The Runaways was my inspiration. We didn't go quite as hardcore, but there was a little edge to this one and it makes it so much more fun!!

More on the treats and details later….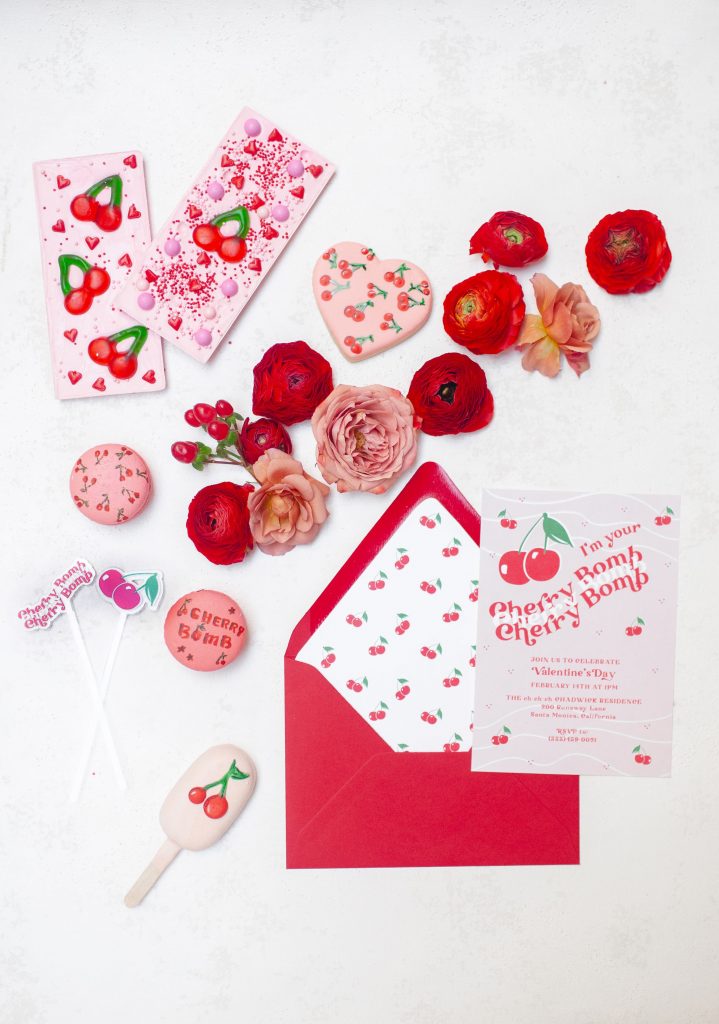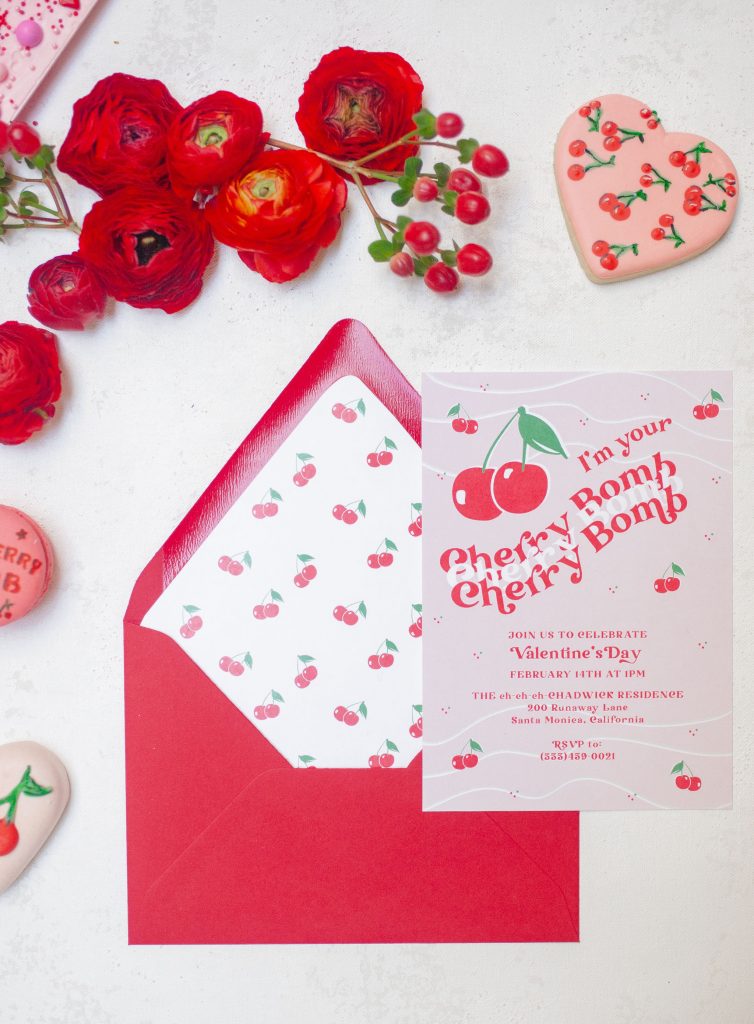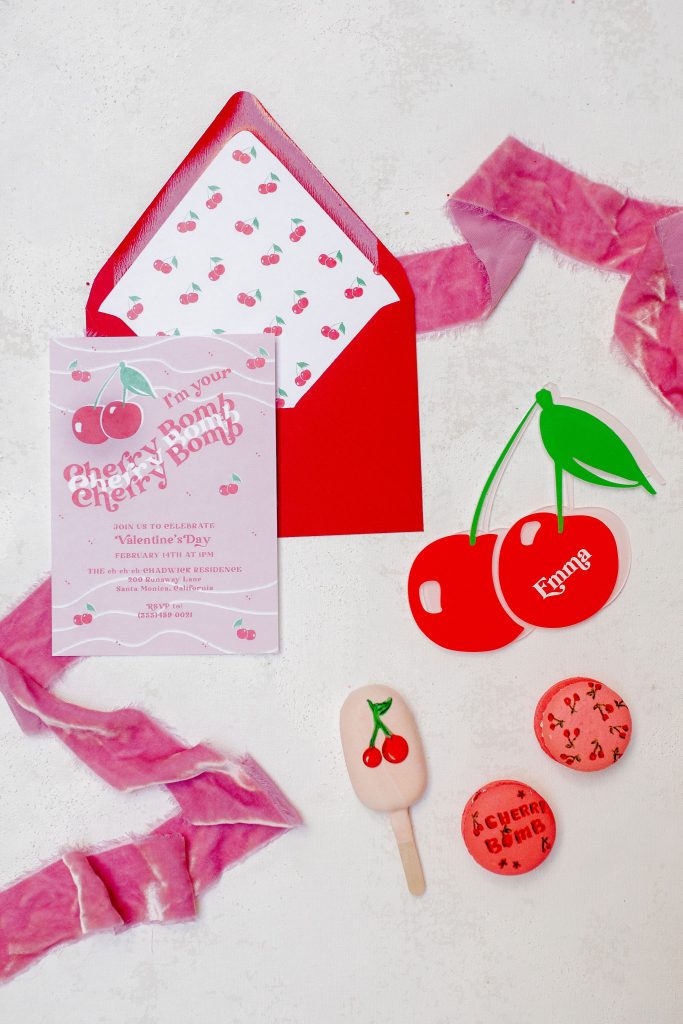 This whole dang set up is just SO GOOD!!! I was very excited to work with Michelle Rogers Styling for the first time. If you don't follow her, run – don't walk! She is a genius and I was happy to bring her along and have her do our beautiful balloons! Those little cherries she added, both balloons and metallic, are perfection!!
Of course, we used our favorite Sweet Salvage Rentals for the furniture and rugs. I love that we threw a little black in there to edge it up a bit! Speaking of black, how about her new cute black chairs?? I will be using those a lot at parties!!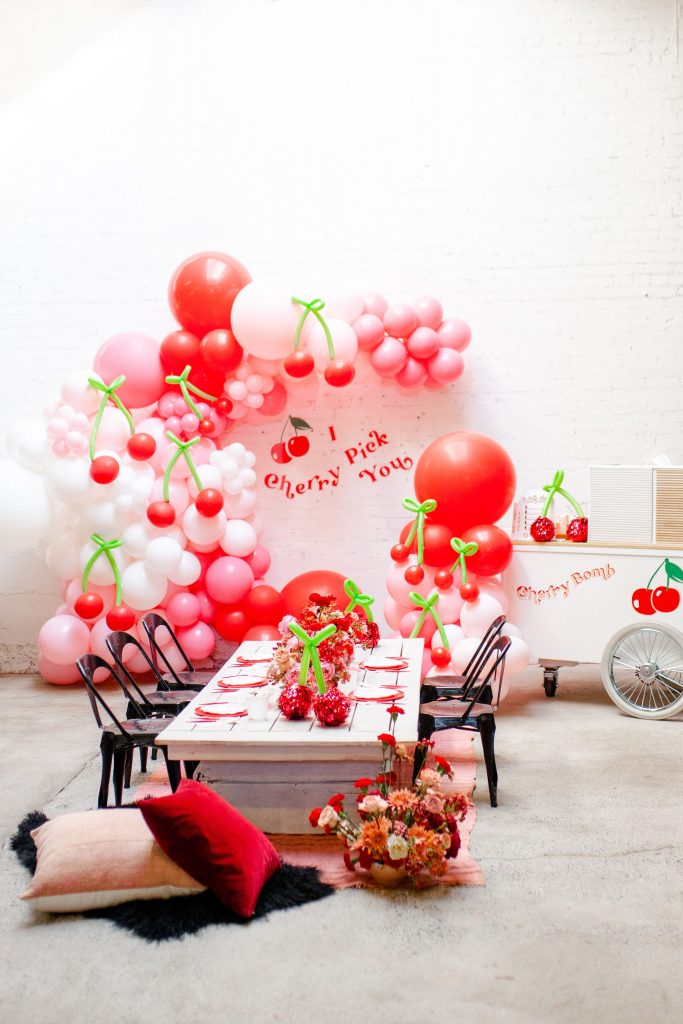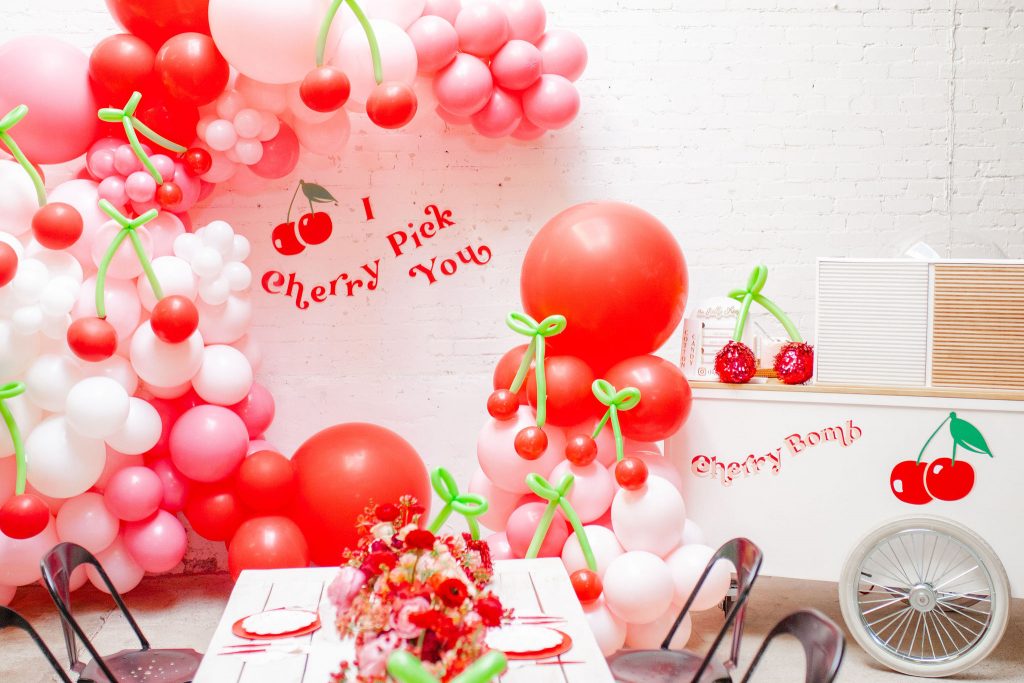 Our friends The Jolly Sheep came by too! How cute is their little cart? Wait till you see their adorable cotton candy this time… And all that pretty signage you see is by Creative Amme. Her details are always stunning, but this time in particular they are amazing!!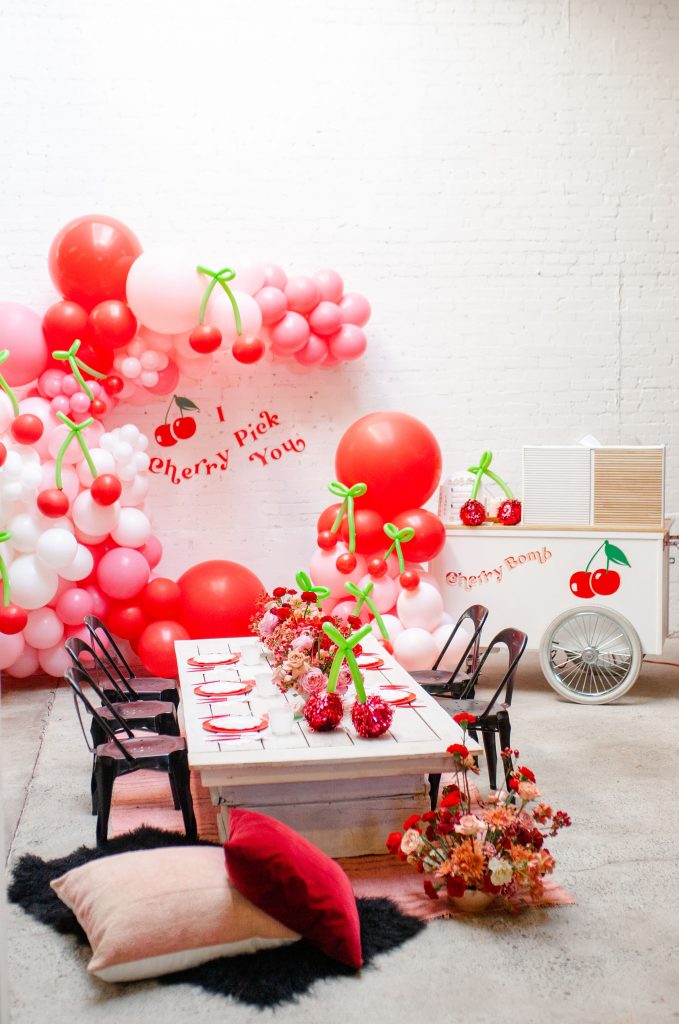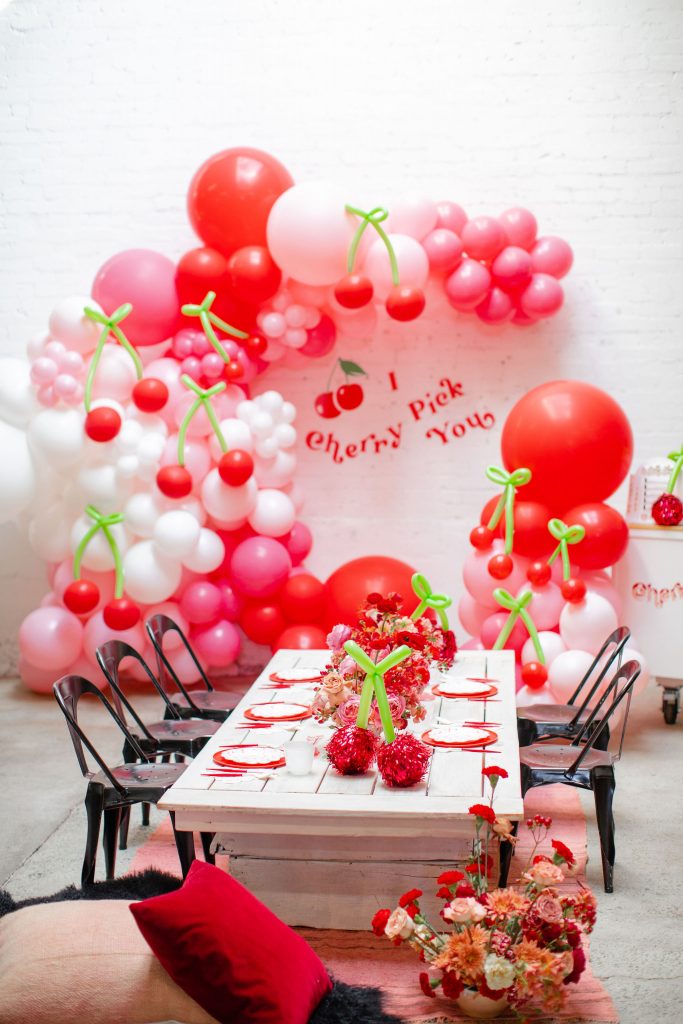 Loving those metallic cherries Michelle brought! Aren't they fun?!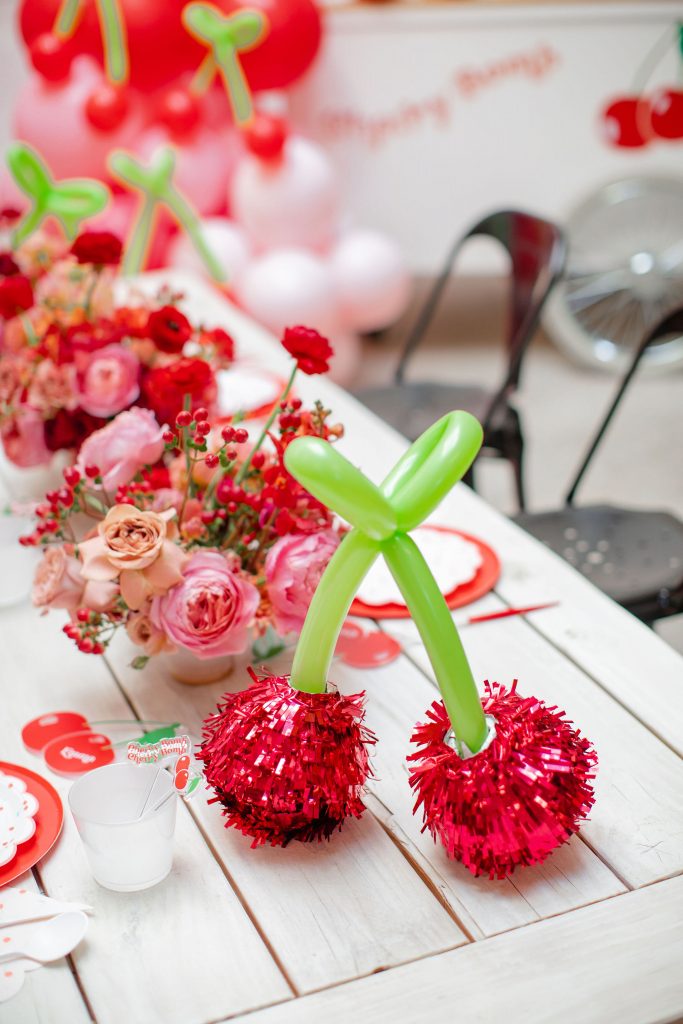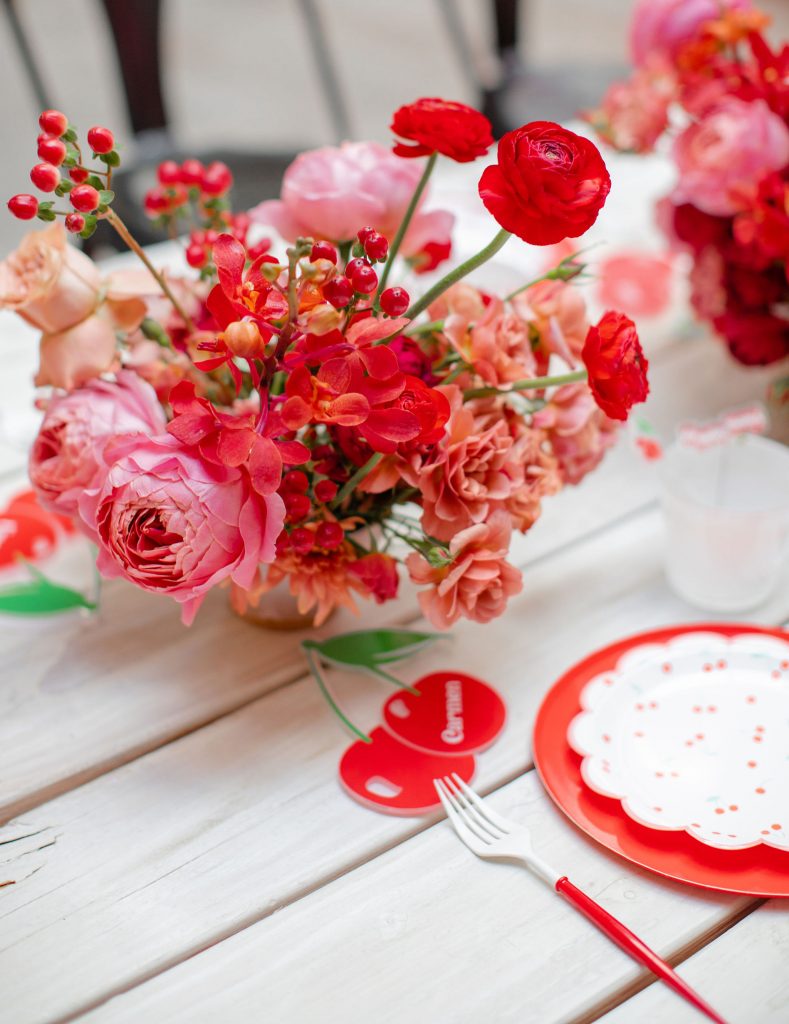 Now onto the flowers!! I love the way Krista from Not Just in Novels does red!! And she loves a red and pink palette so we were a good fit on this one! She always knocks my socks off though! In this case, she got Valentine's Day right!!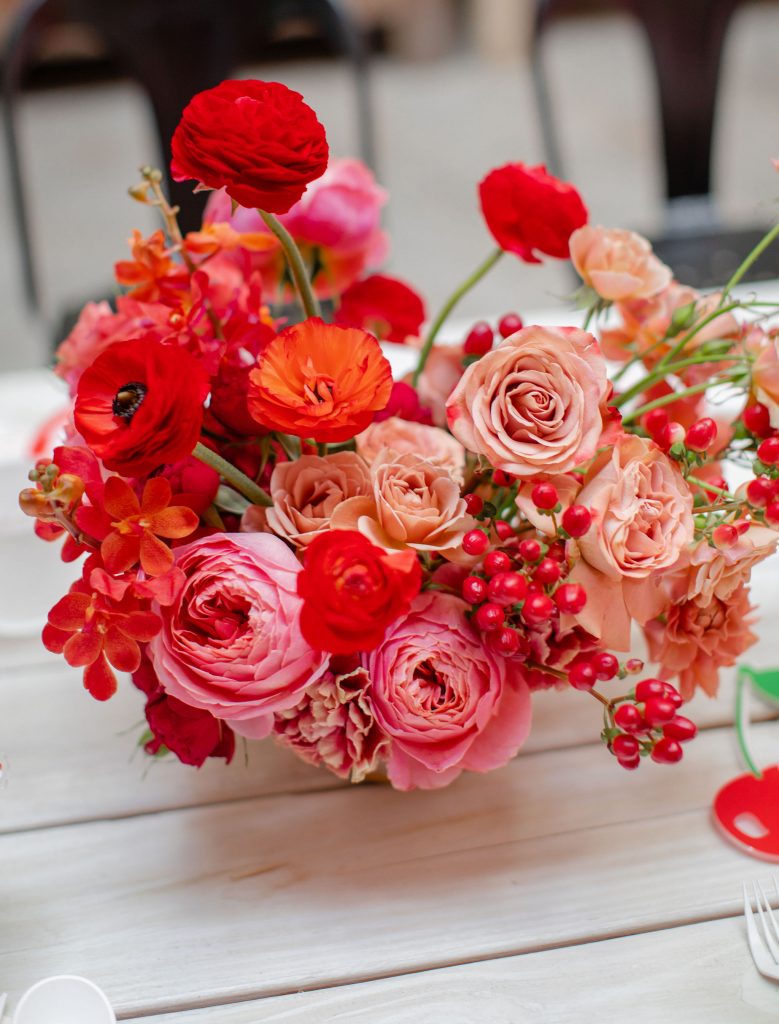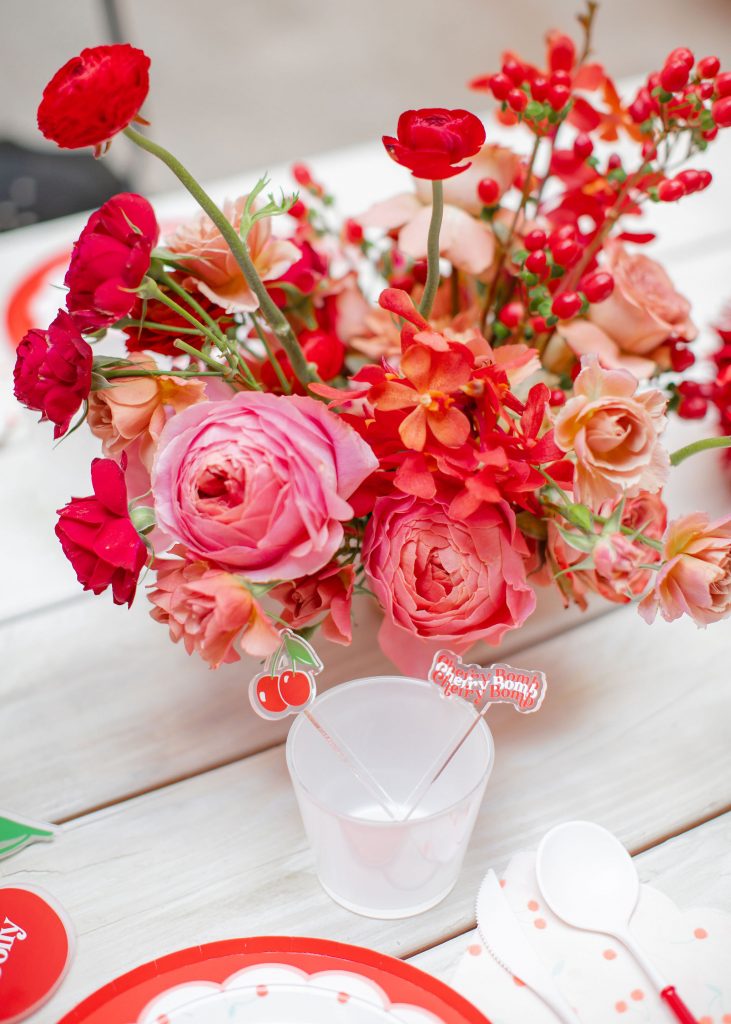 I told you Malisa from Creative Amme's details for this one were oh so good!! Those cute stir sticks and the place cards!? I'm in love!!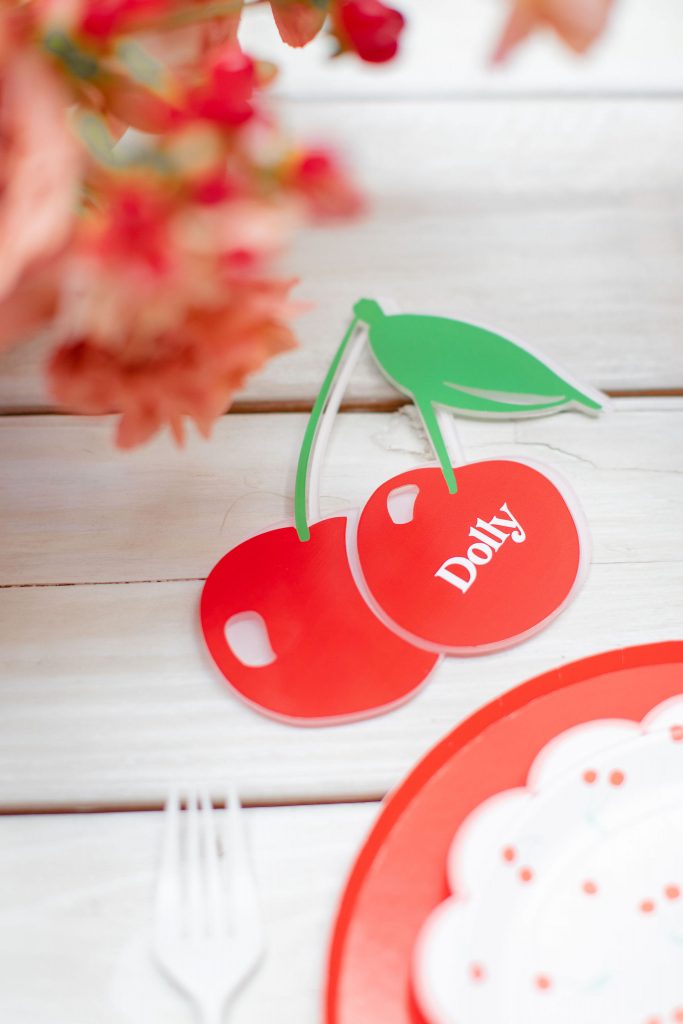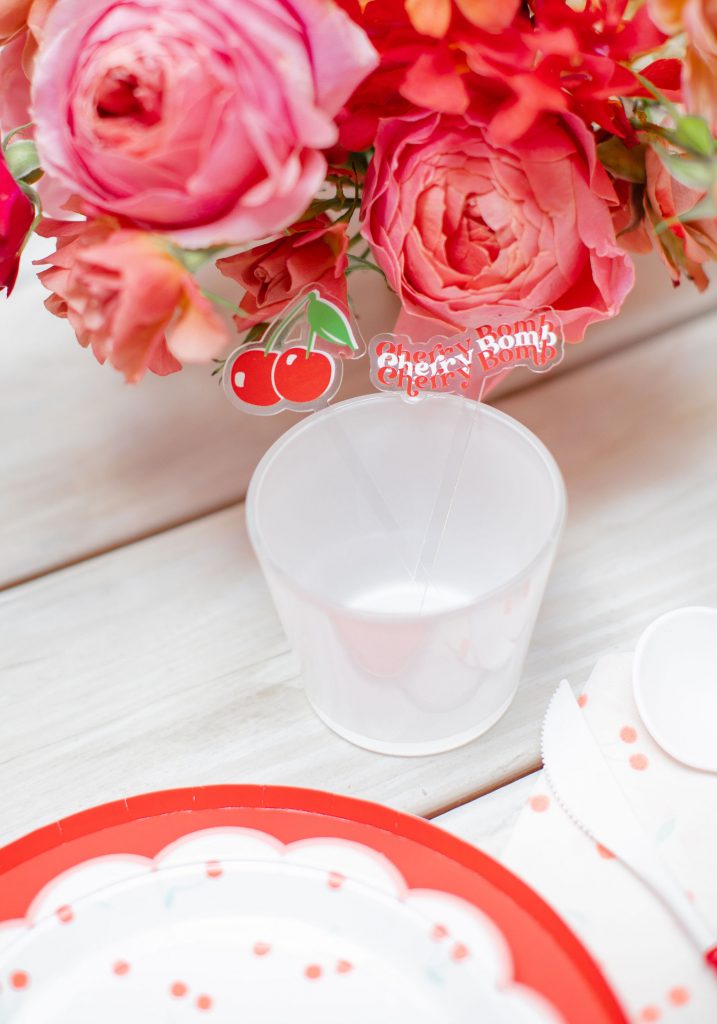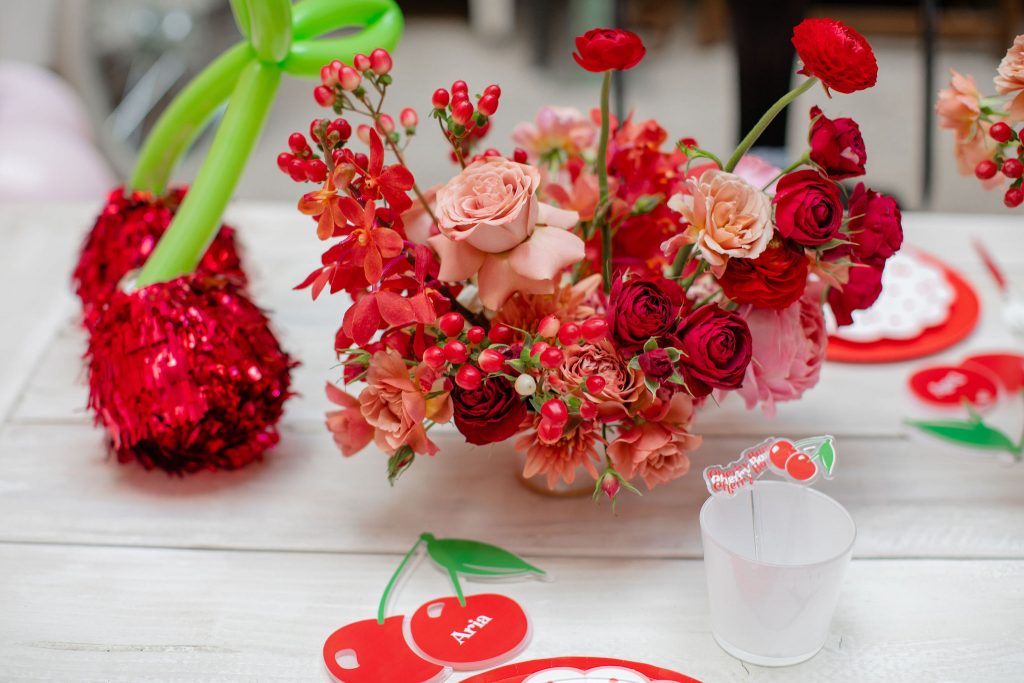 I did a fun mix for the tabletop items. The red plates are from Oh Happy Day Party Shop, the cherry plates and napkins are from Bonjour Fete, and the flatware is my favorite Bella from Sophistiplate! The cups are from my personal collection, an old Ikea tumbler.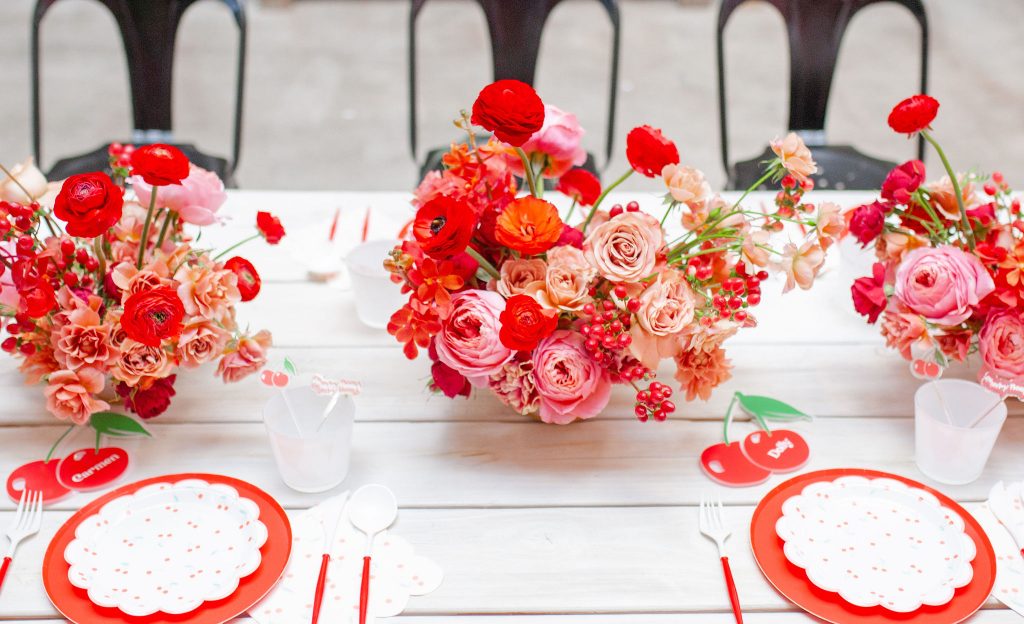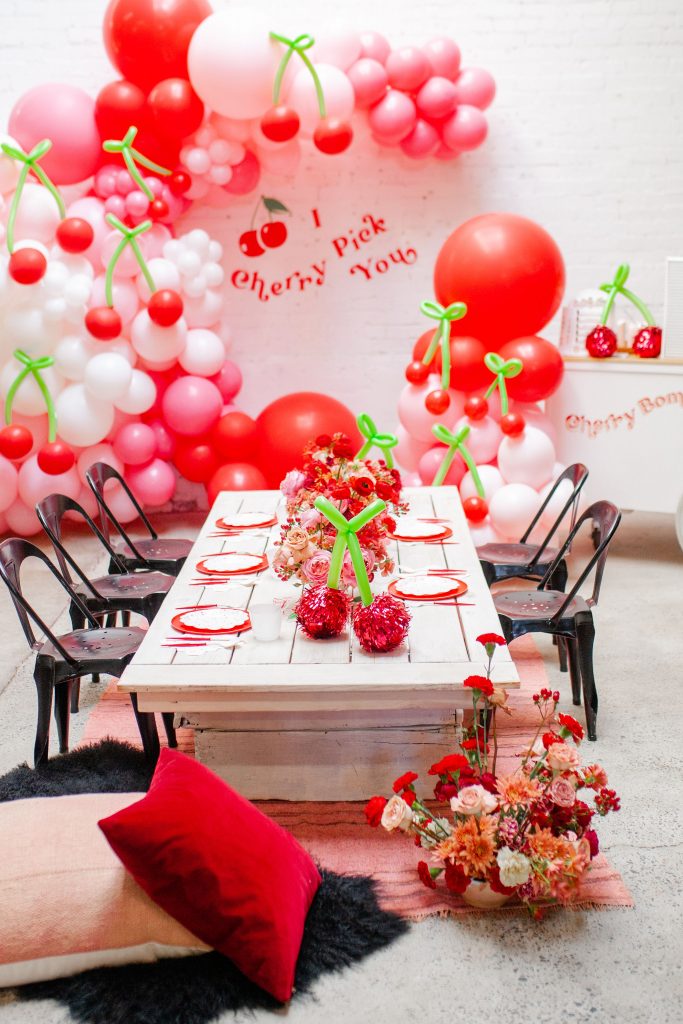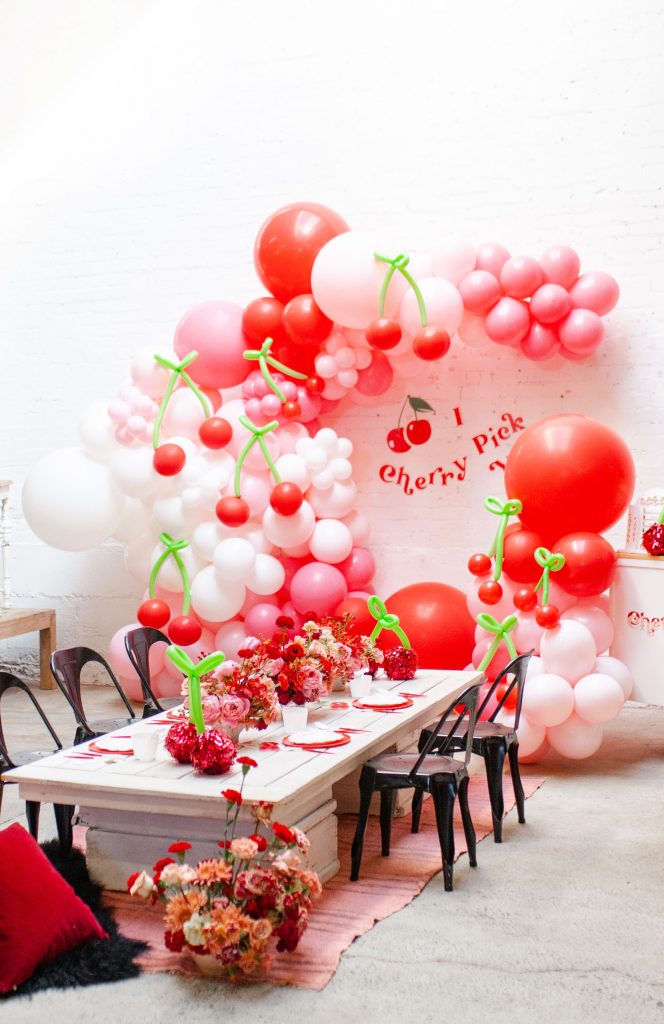 Time to add in the fun, these little ladies!! As usual, my dear friend Carissa from The Daydream Republic styled the girls, and as usual, they looked extra adorable! They were a little funky and a whole lot of cute!!!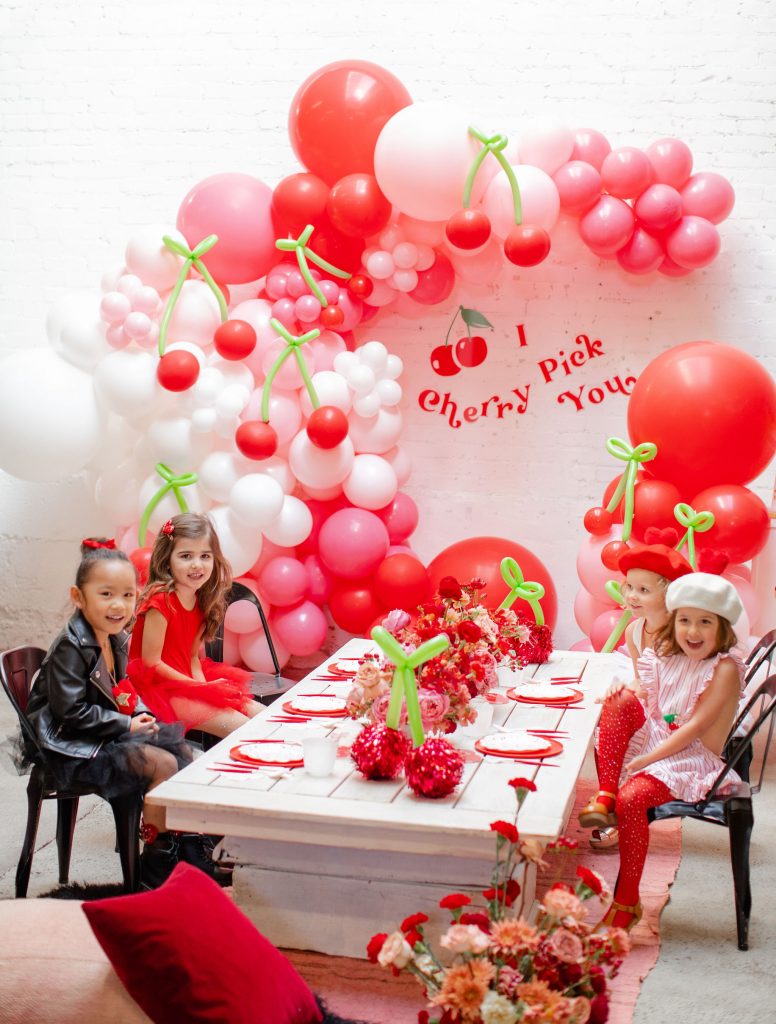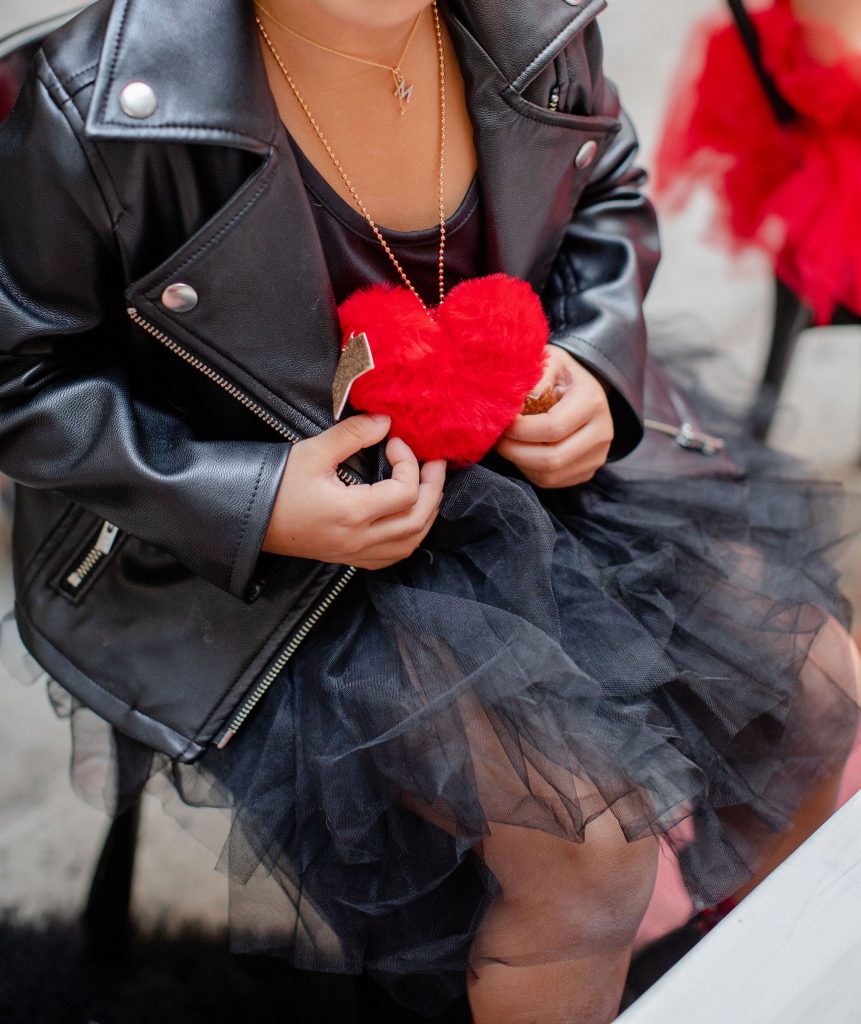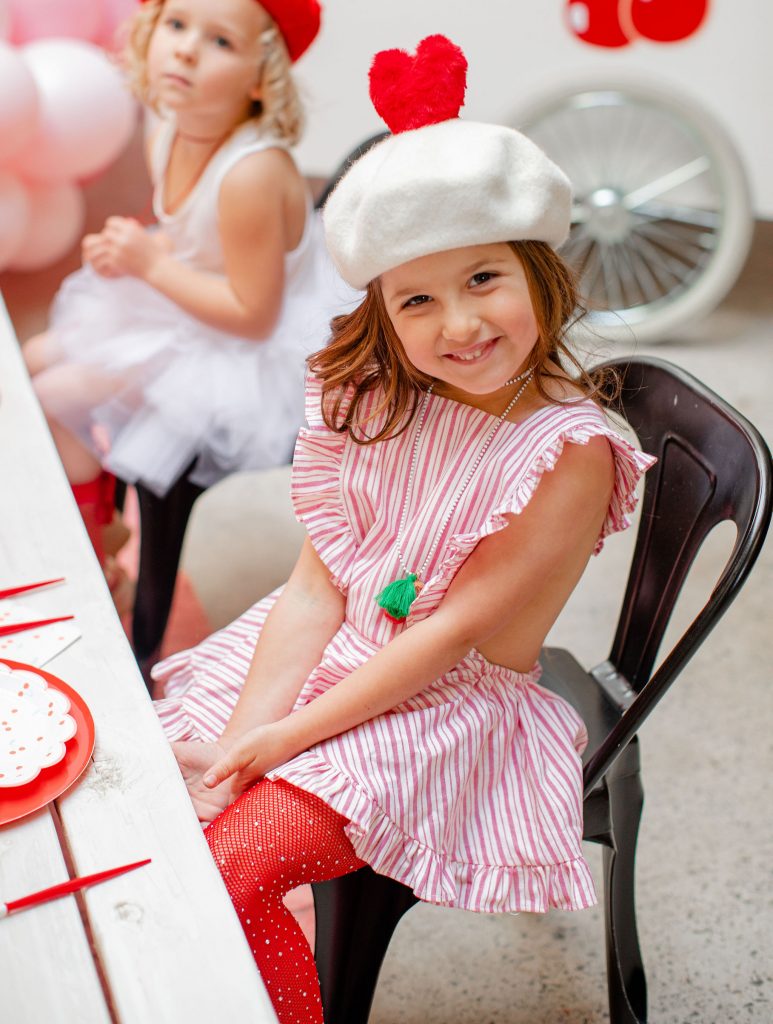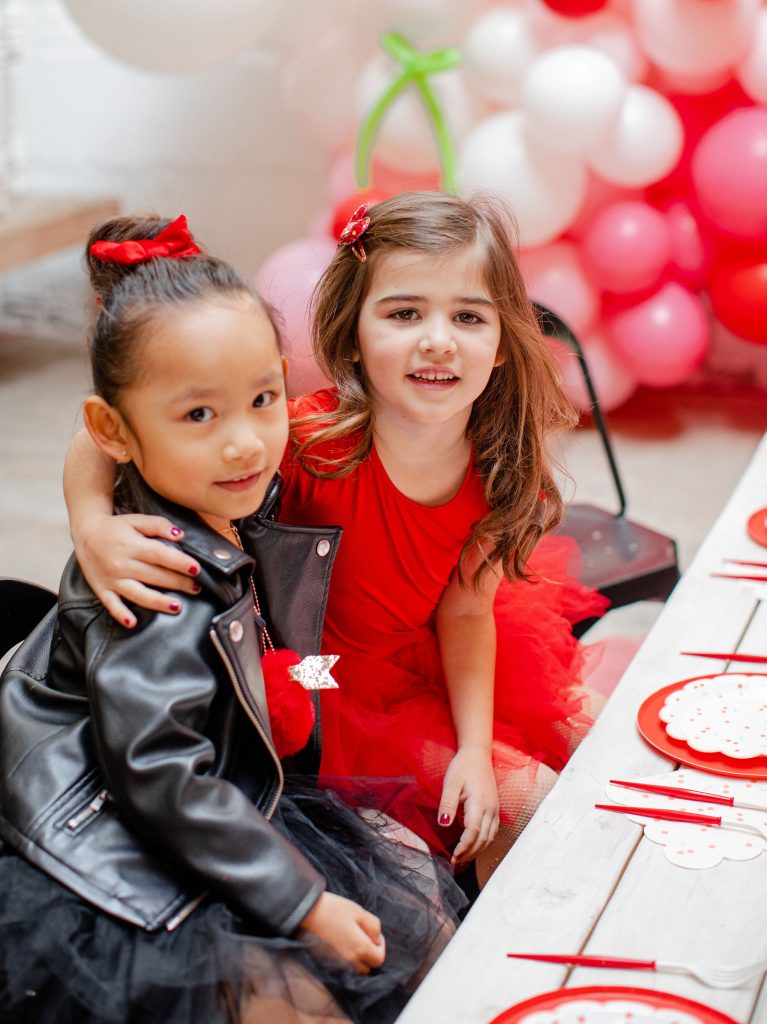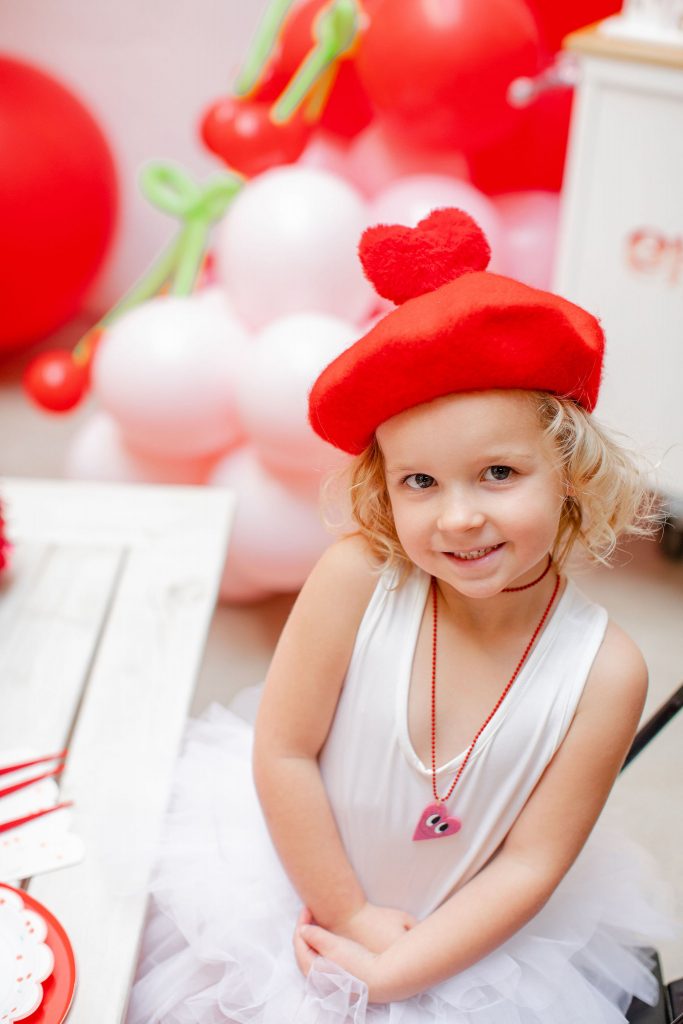 Are you dying like me?! We all couldn't get enough of them!!! This is the girl gang I want to be with!!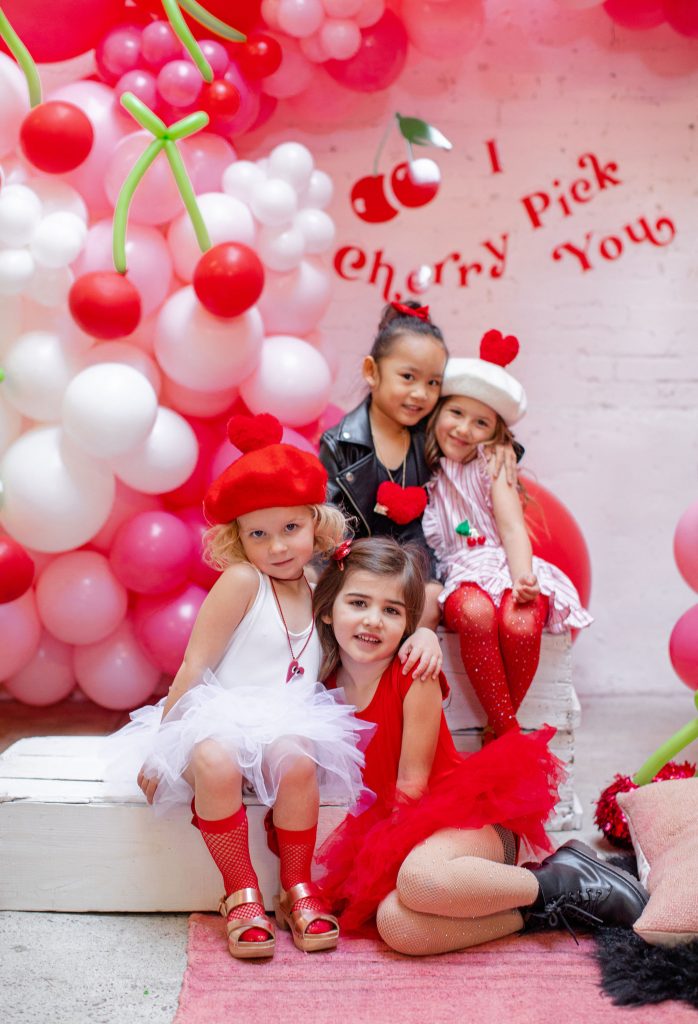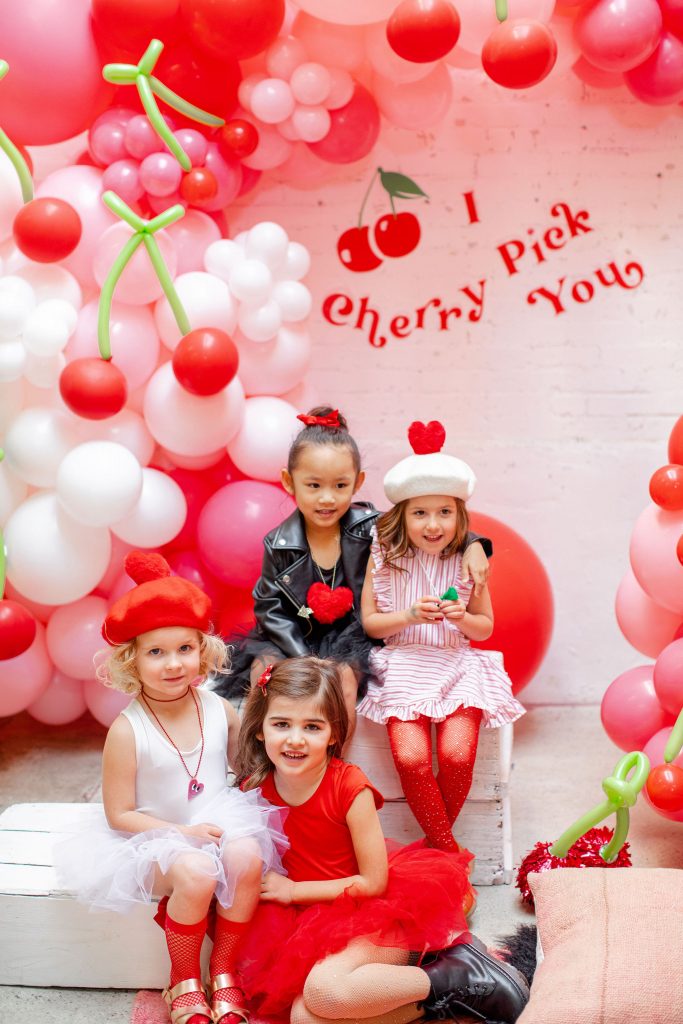 Emma, our "bad girl" in her leather jacket, haha! She is the cutest and just hates the camera… Ya right, she couldn't be better in front of it! We were all in awe of her confidence! I'm loving The Daydream Republic's cute heart necklace on her!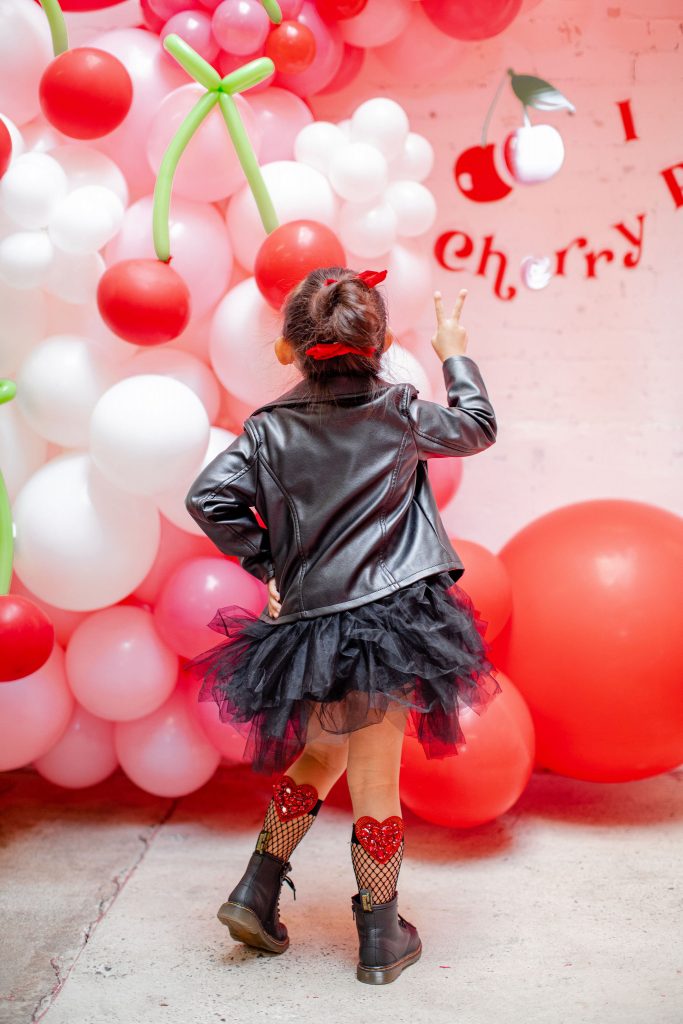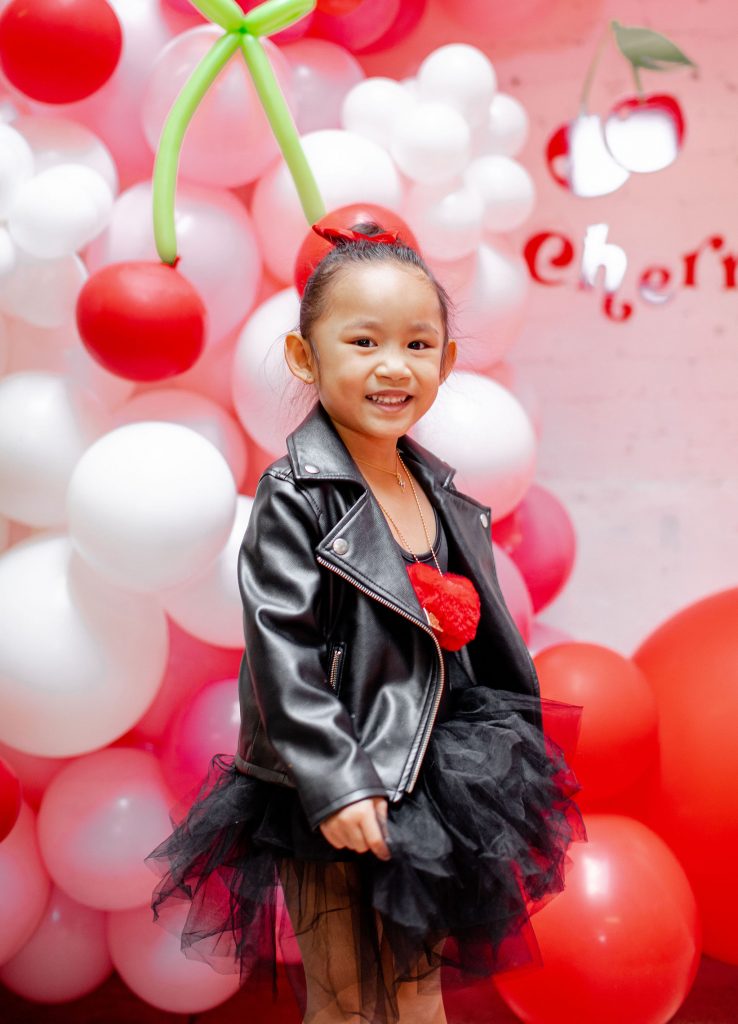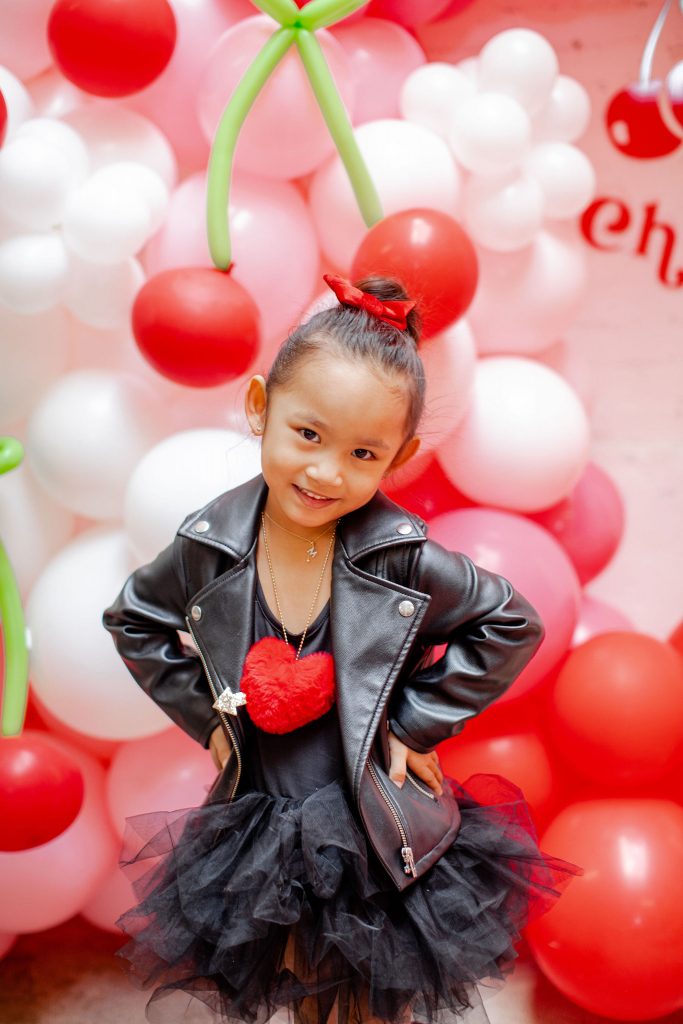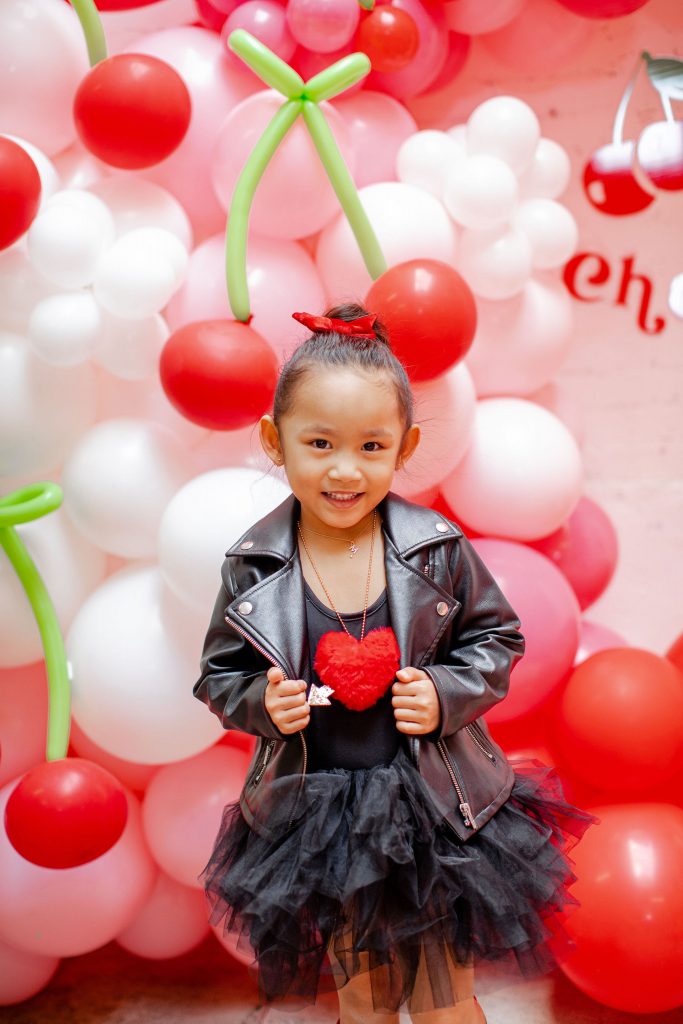 You may recognize Miss Zizi because we've planned her parties since she was 2!! She is the absolute sweetest and I've loved watching her grow into a big girl the past few years!!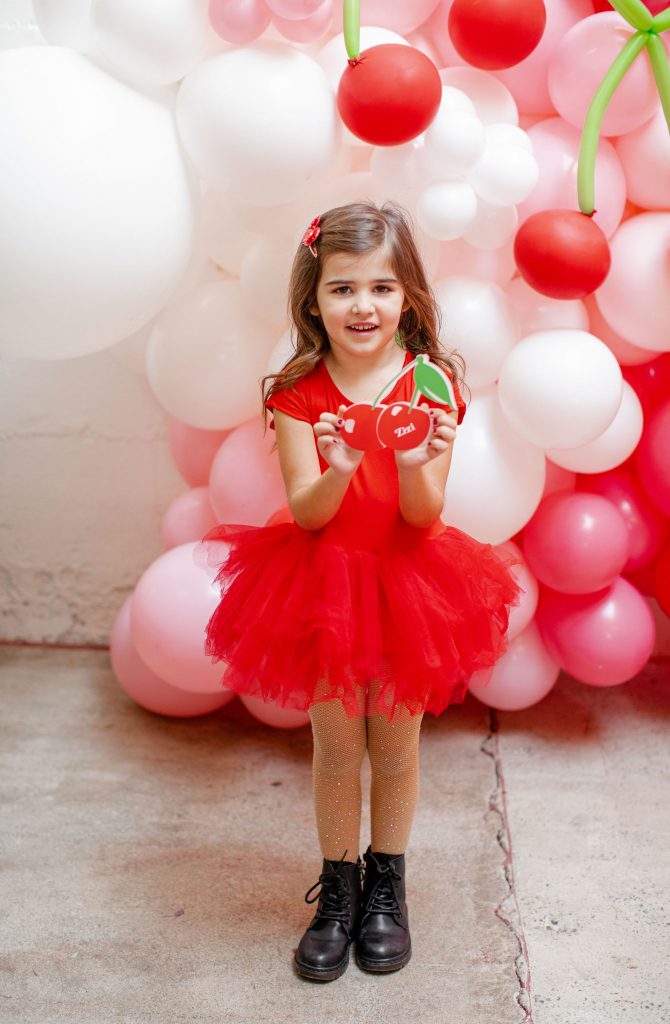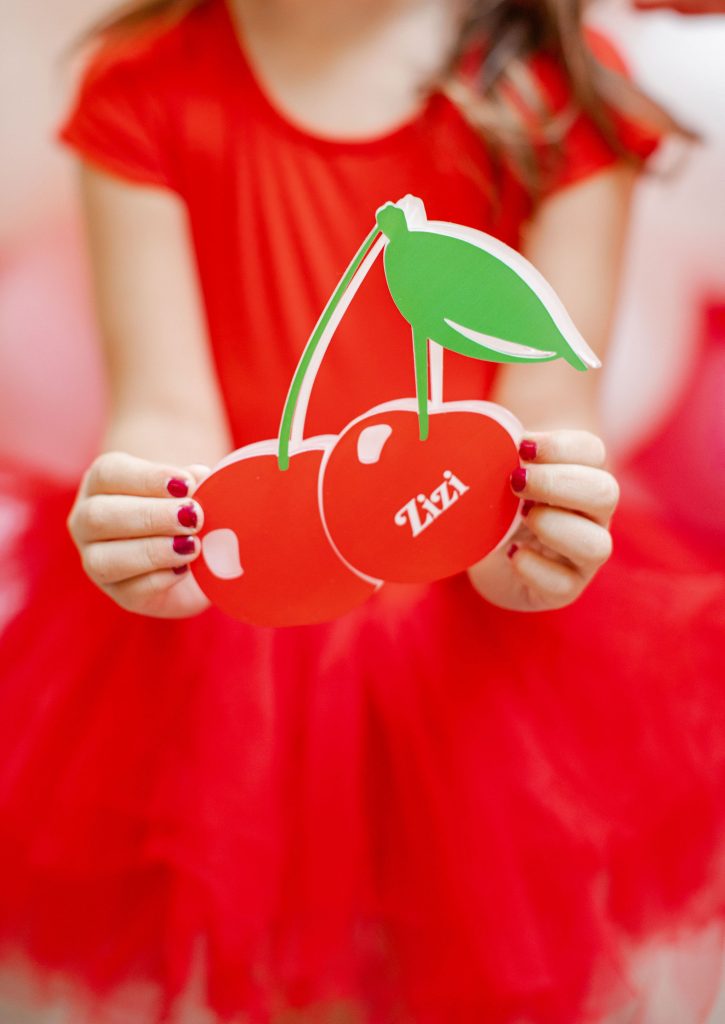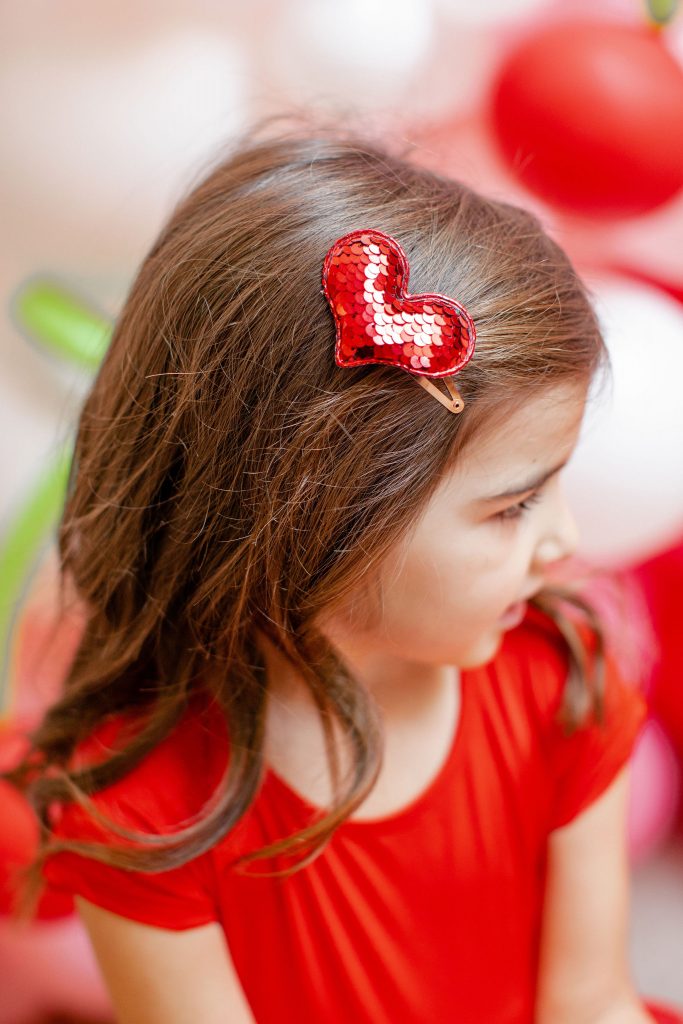 Ok, this one is trouble, haha!!! Carmen is full of sass and I love her for it!!! She was so adorable in front of the camera hamming it up and having a ball! That Daydream Republic beret is so freaking cute on her and we also added the perfect cherry necklace from Gunner & Lux on her! I love her whole outfit!!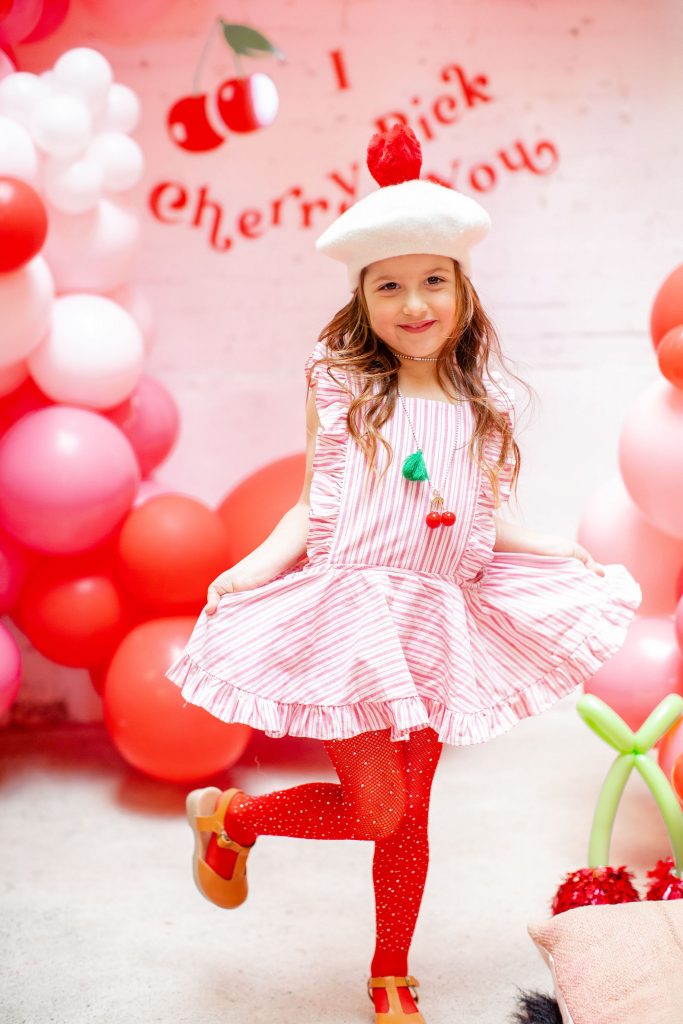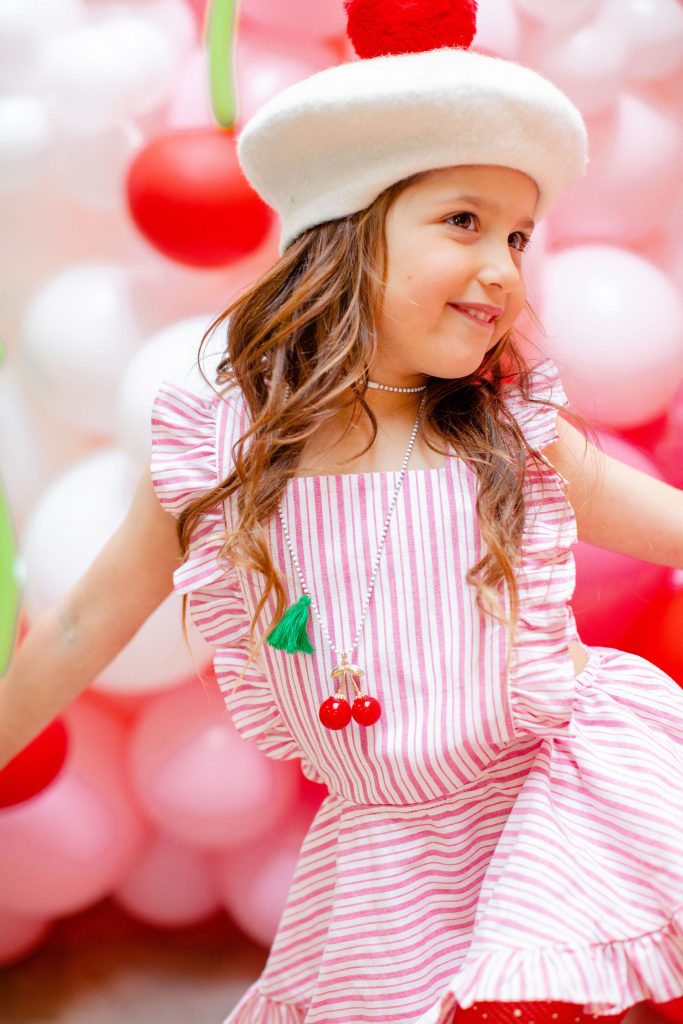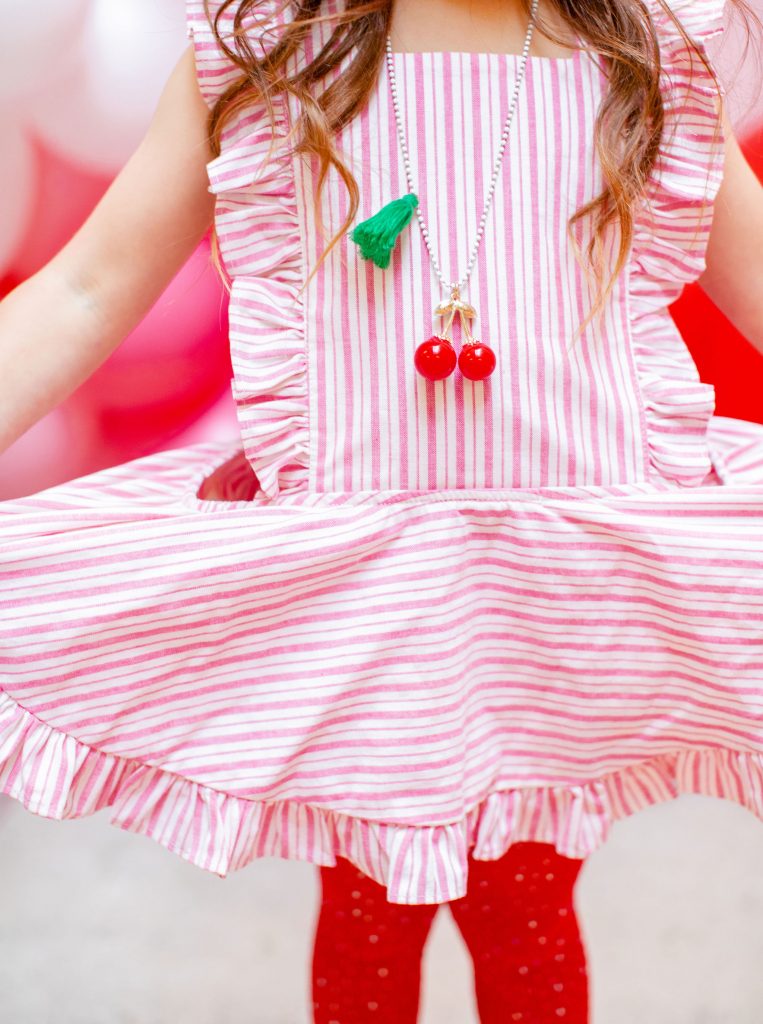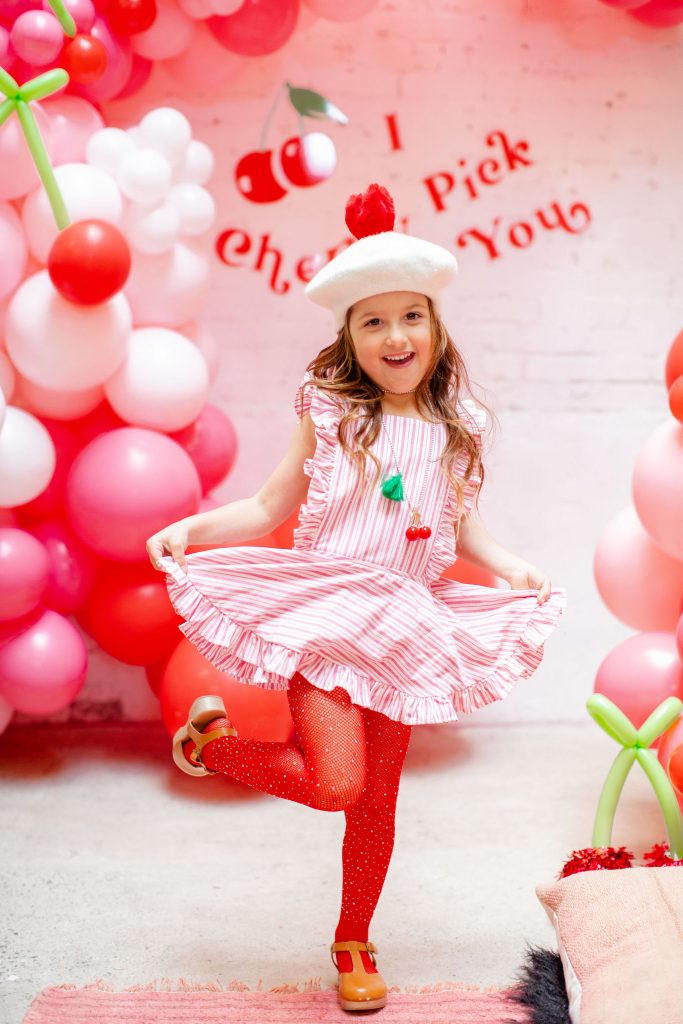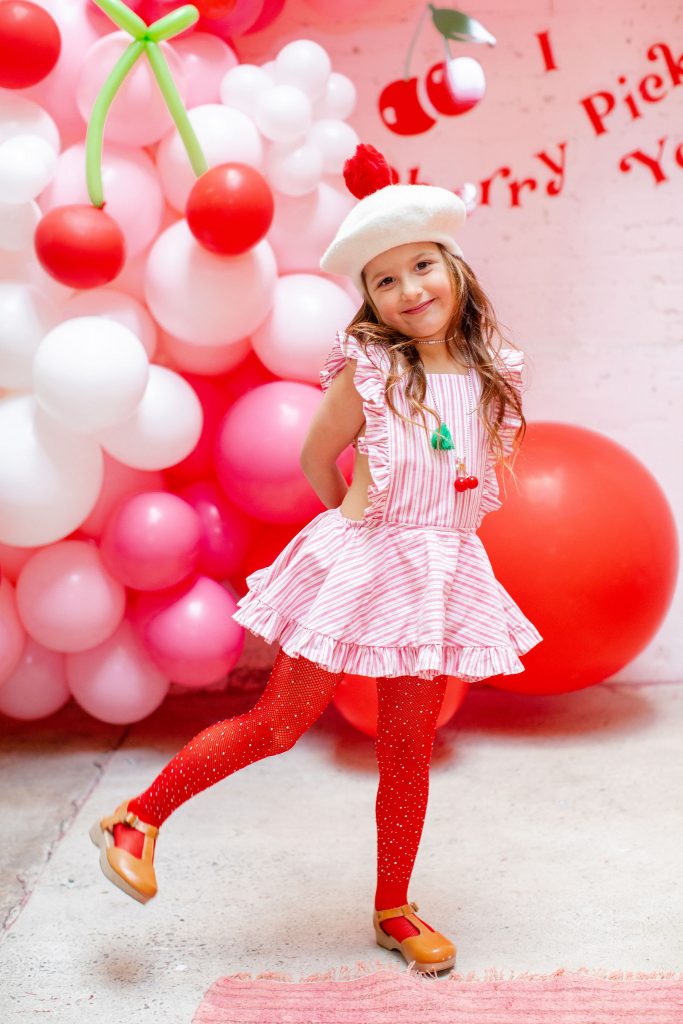 And the sweetest of them all, Dolly! Who really is just a doll! This little lady looked so darn cute and loved being a princess/model for us! I'm obsessed with her in that pom pom heart beret!! And her cute heart happy face necklace is also from Gunner & Lux, so many cute accessories, I just can't!!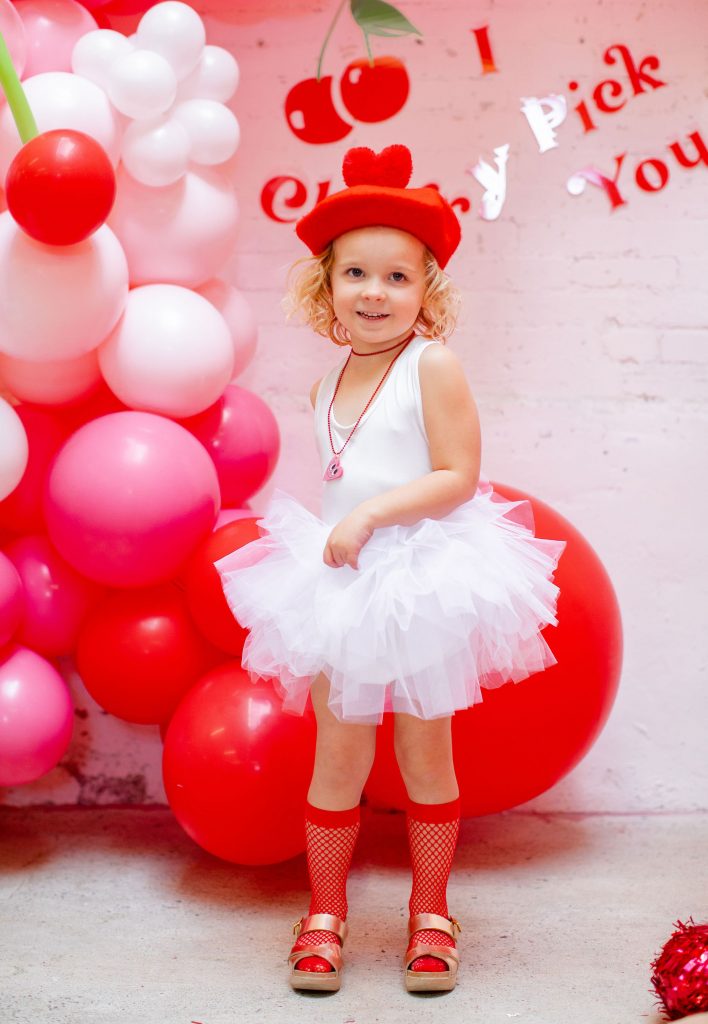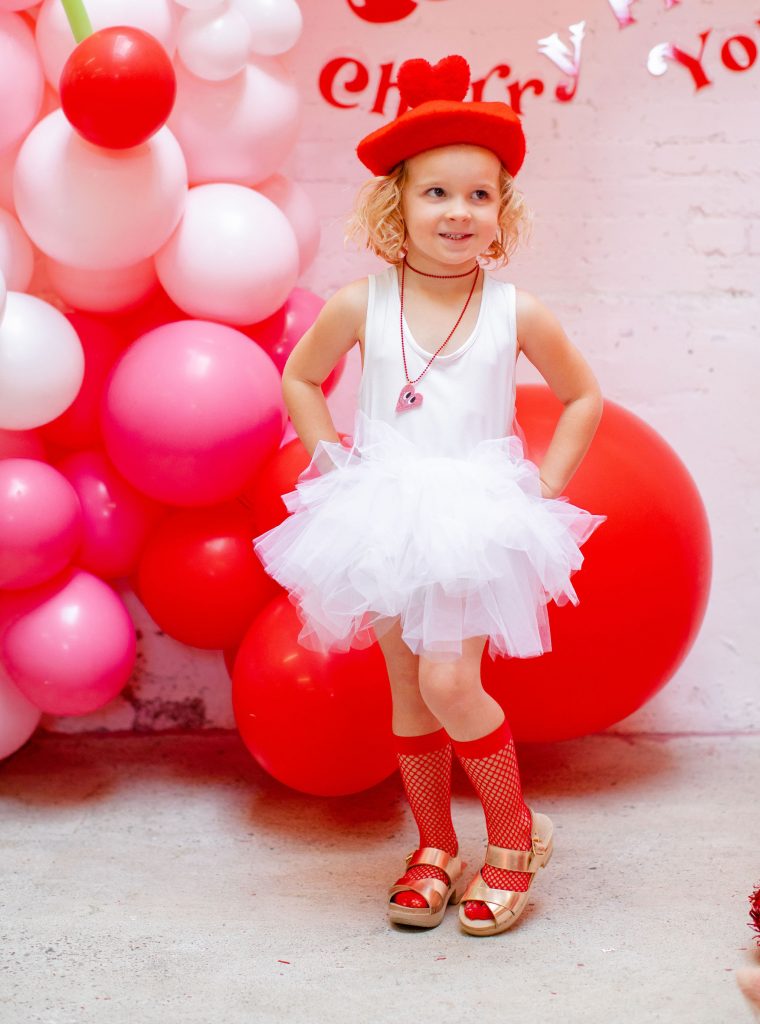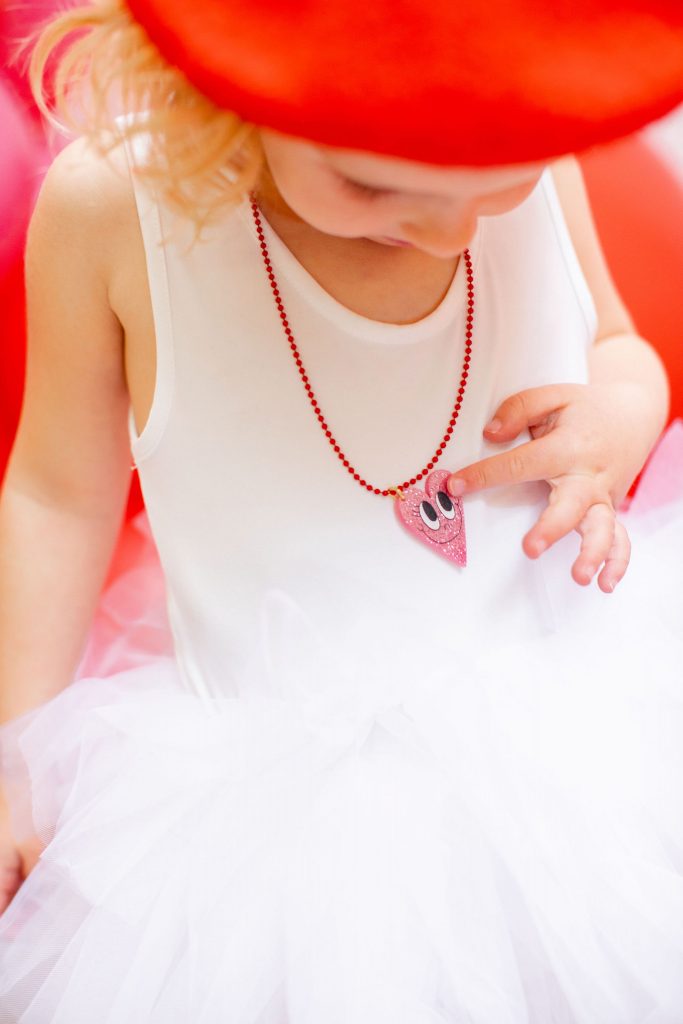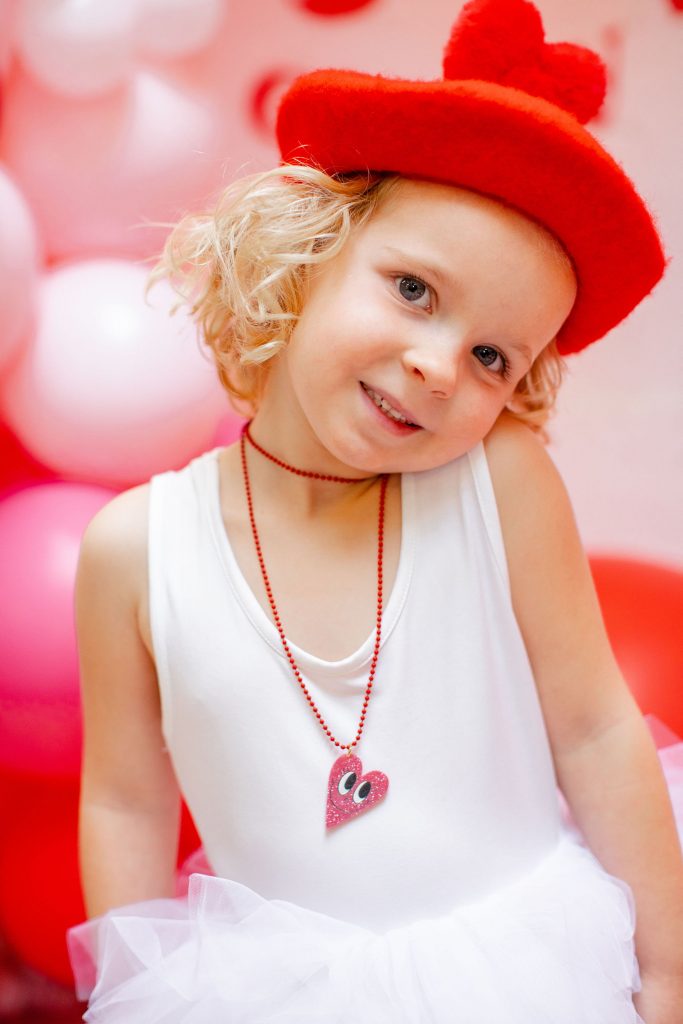 Well, onto everyone's favorite part, and how I get these little girls to be so cute in front of the camera – the DESSERTS!!!!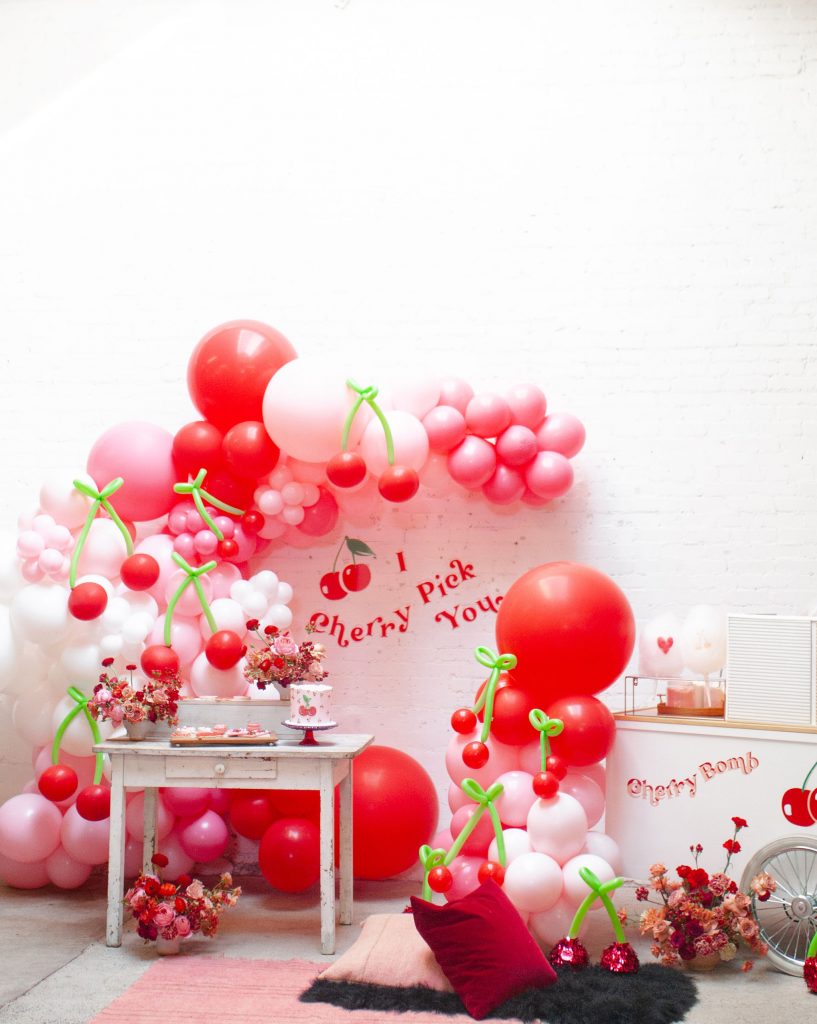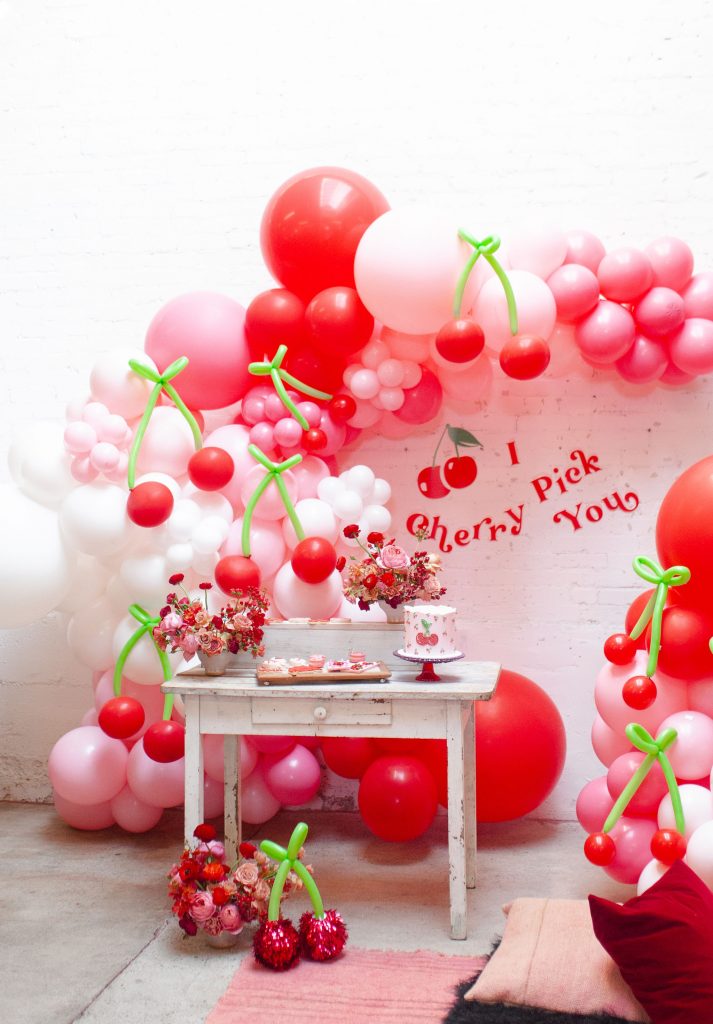 My friend Diana of Sugar Crush Sweets is just killing it!!! This spread was next level with the cutest cherry cake, cake pops, macarons, cookies, and the raddest candy bars I've ever seen!!!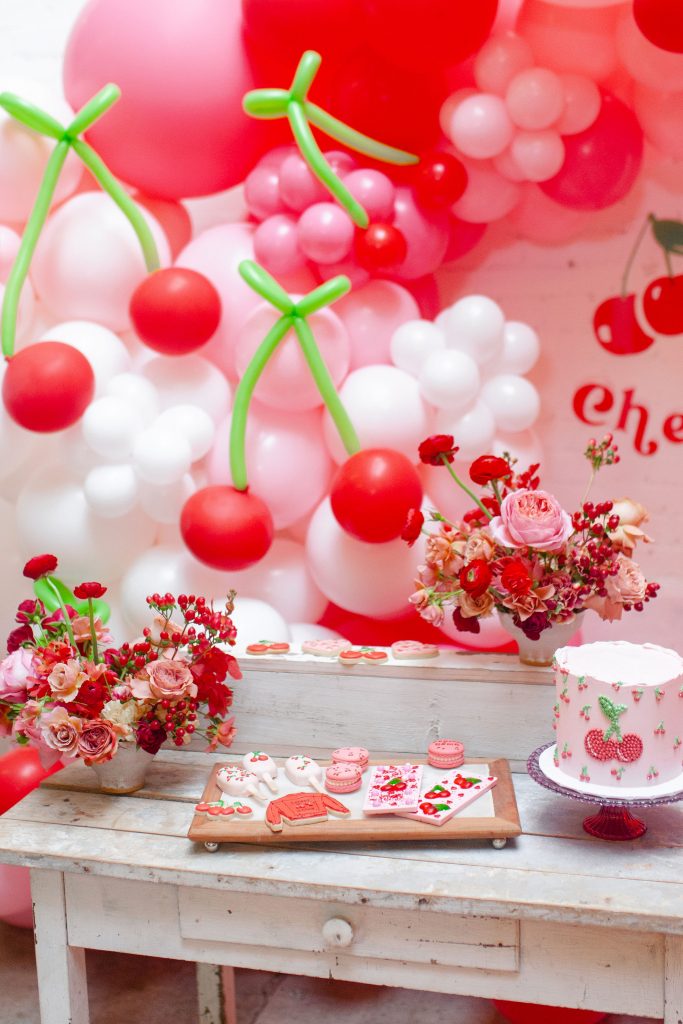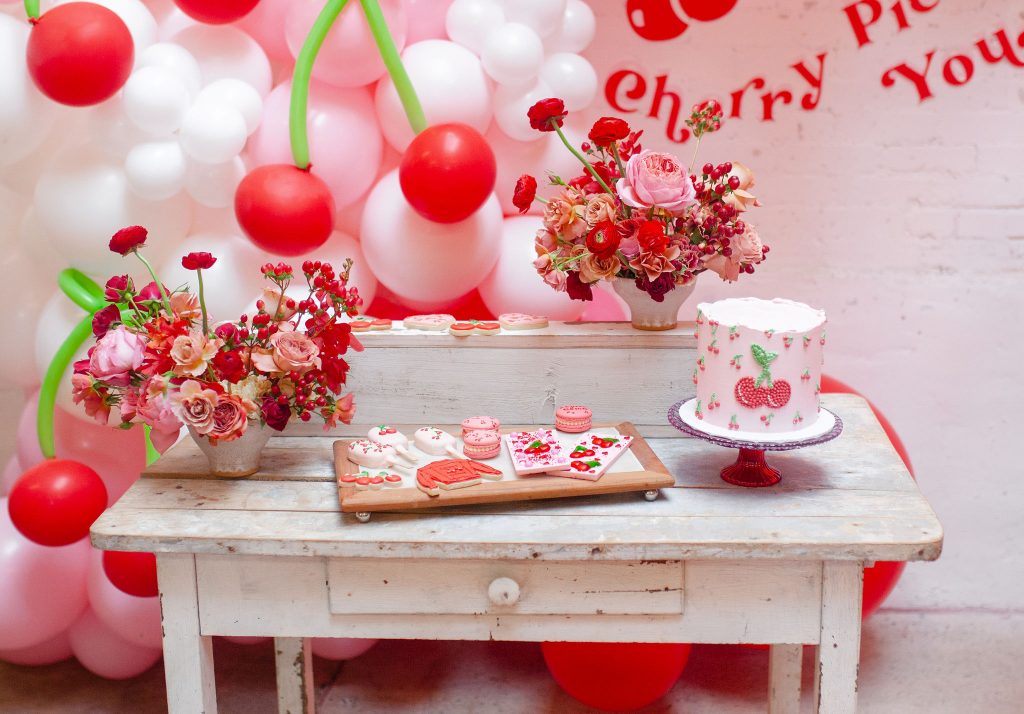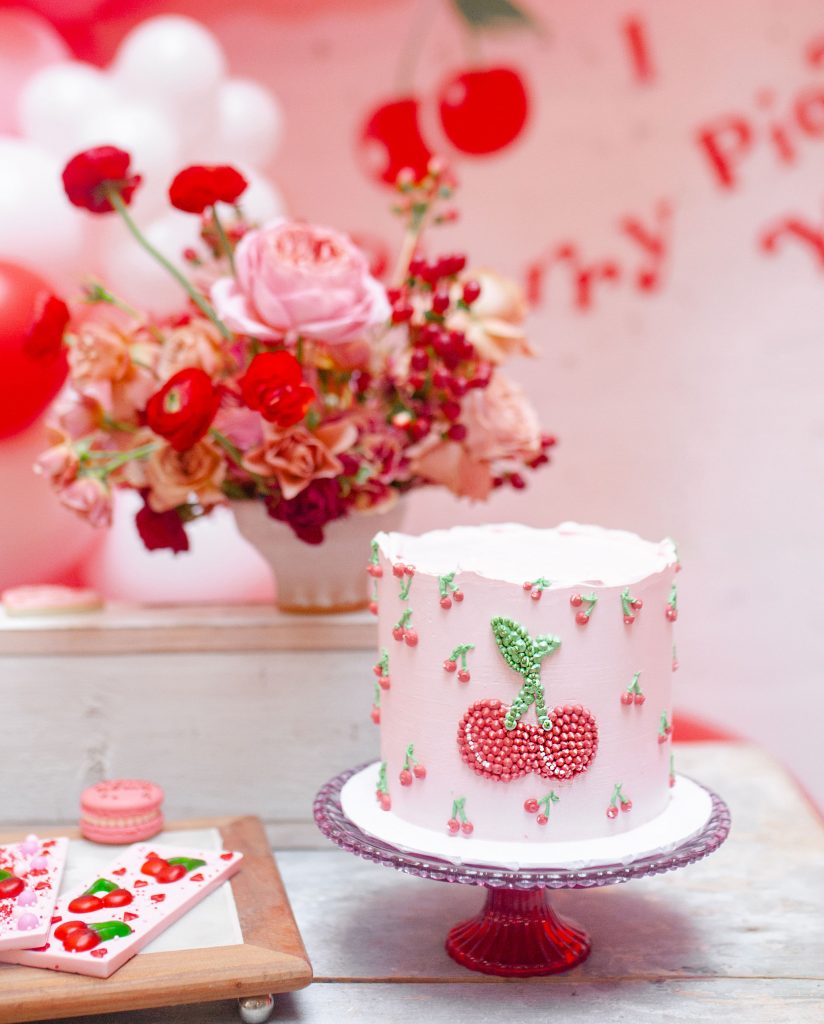 The detail on this cake is next level!!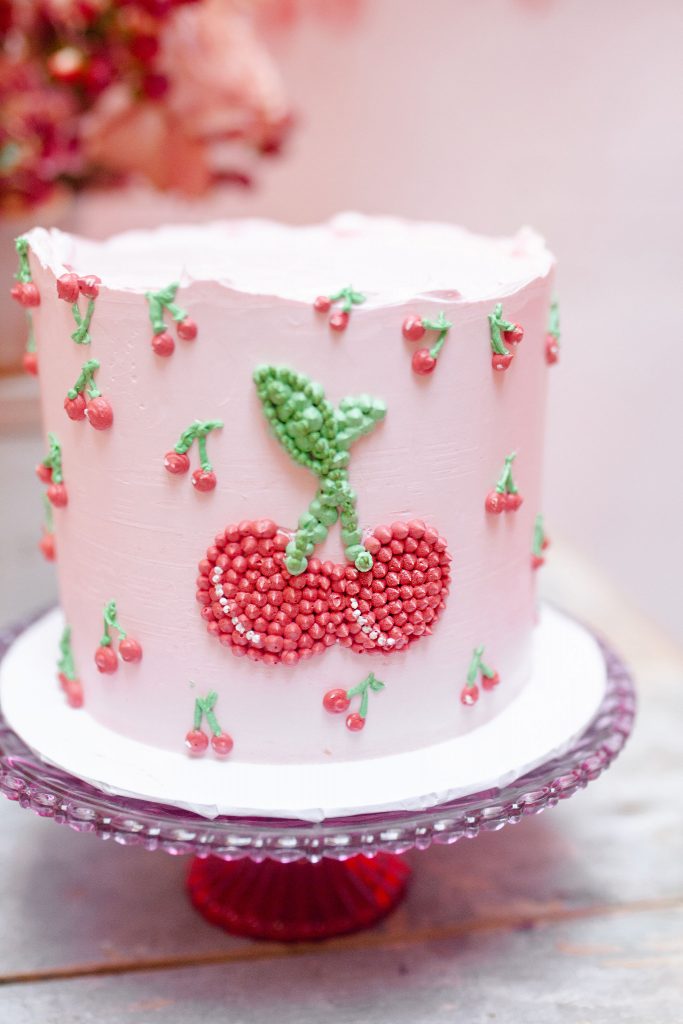 That leather jacket cookie!!!! I'm DYING!!!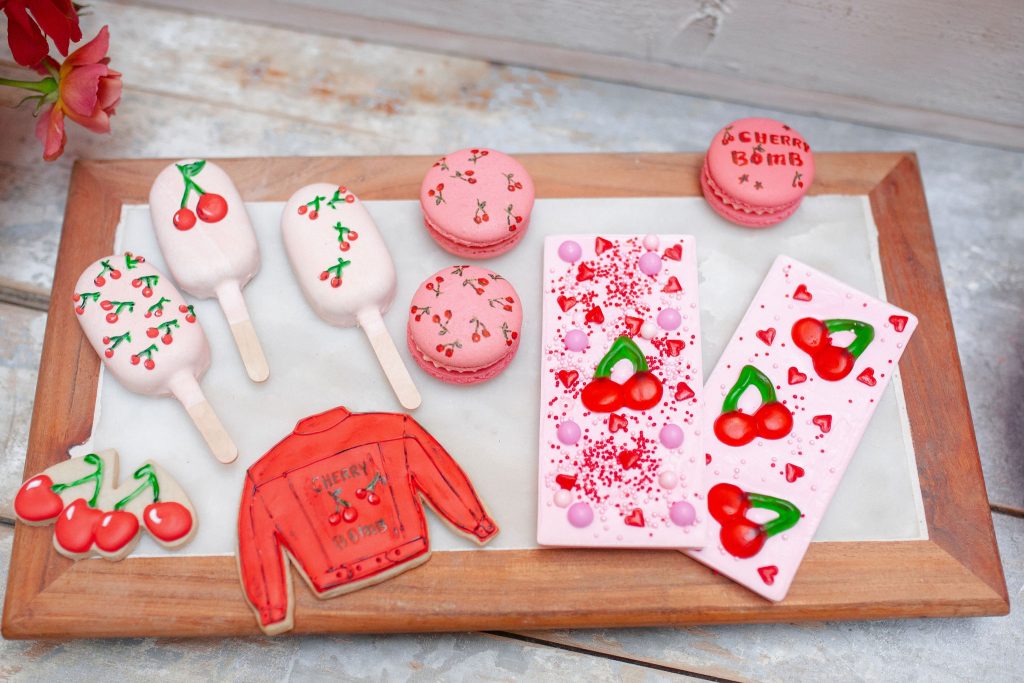 Can you even?! These were my favorite!!!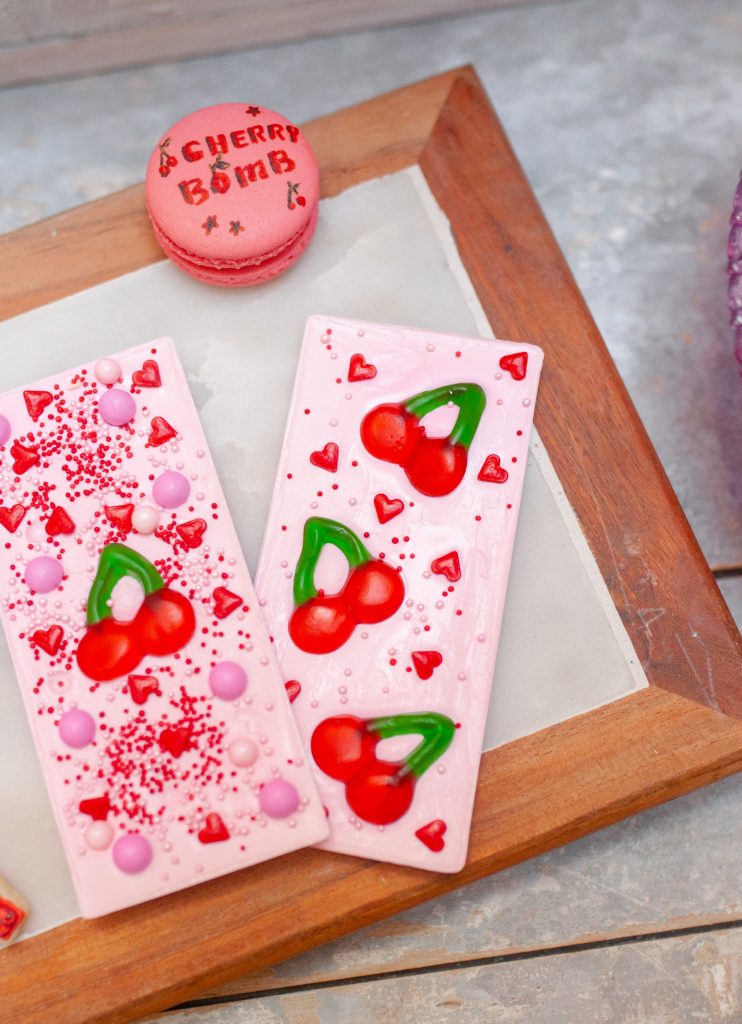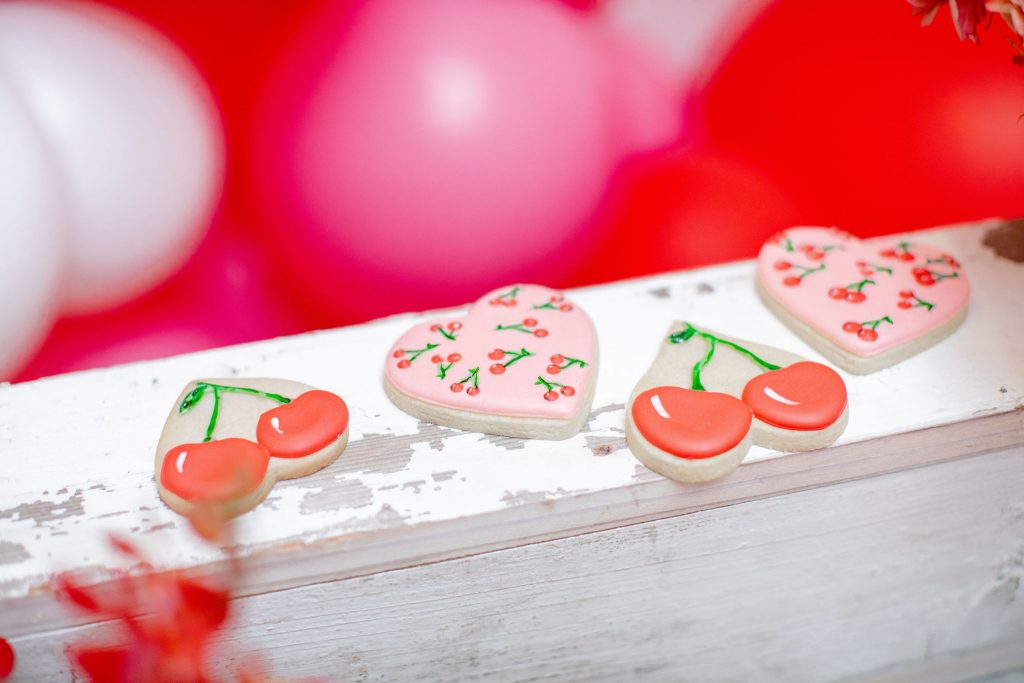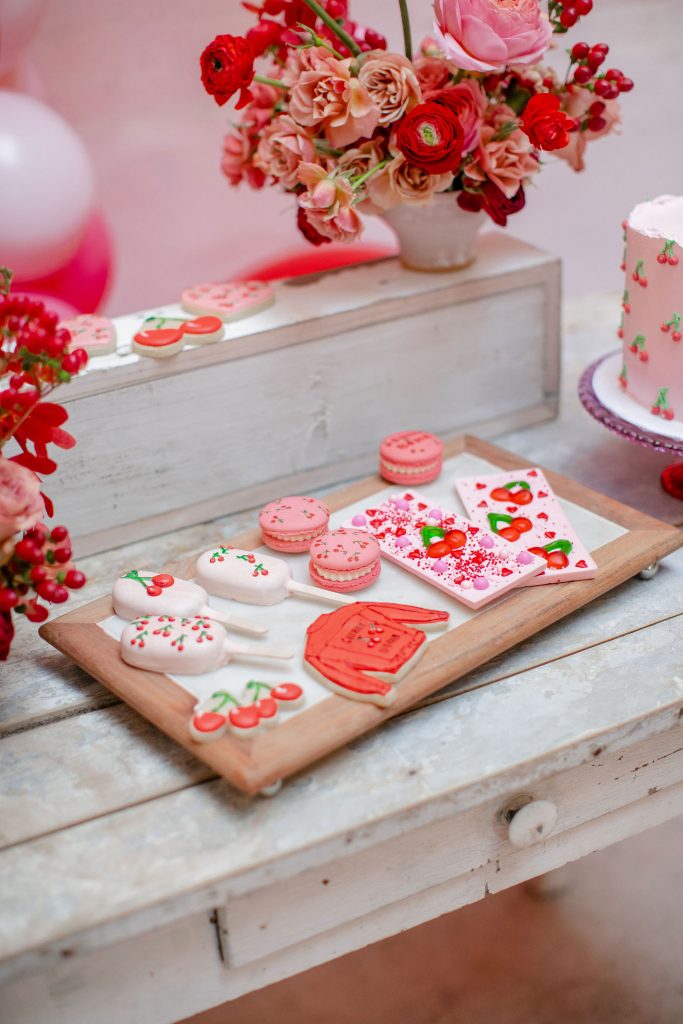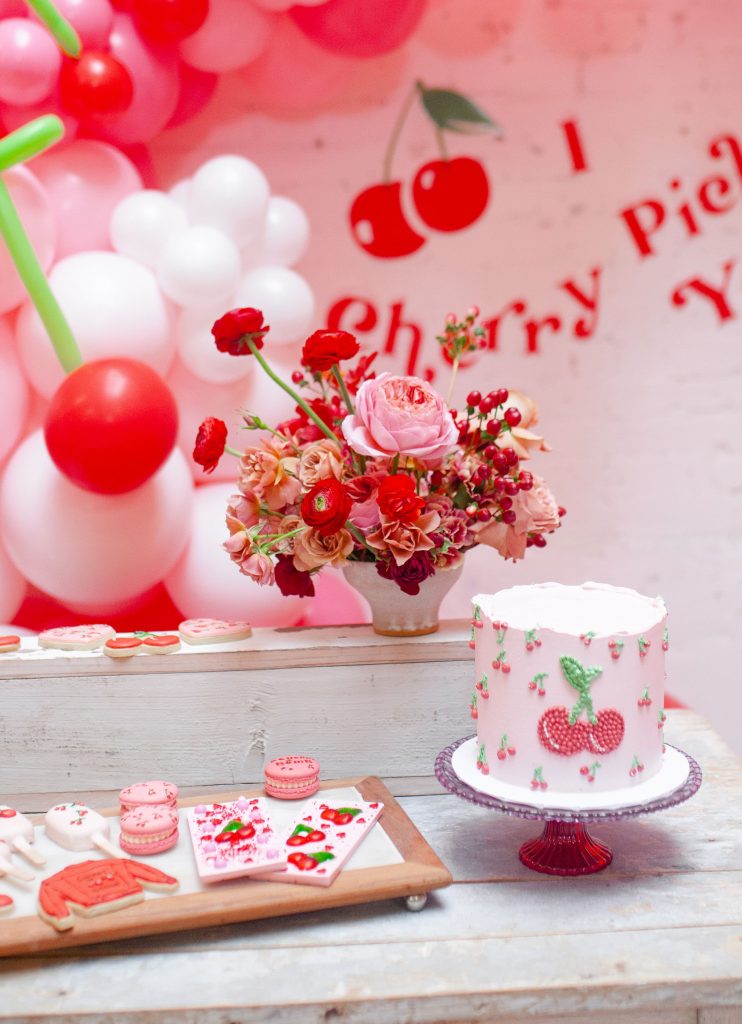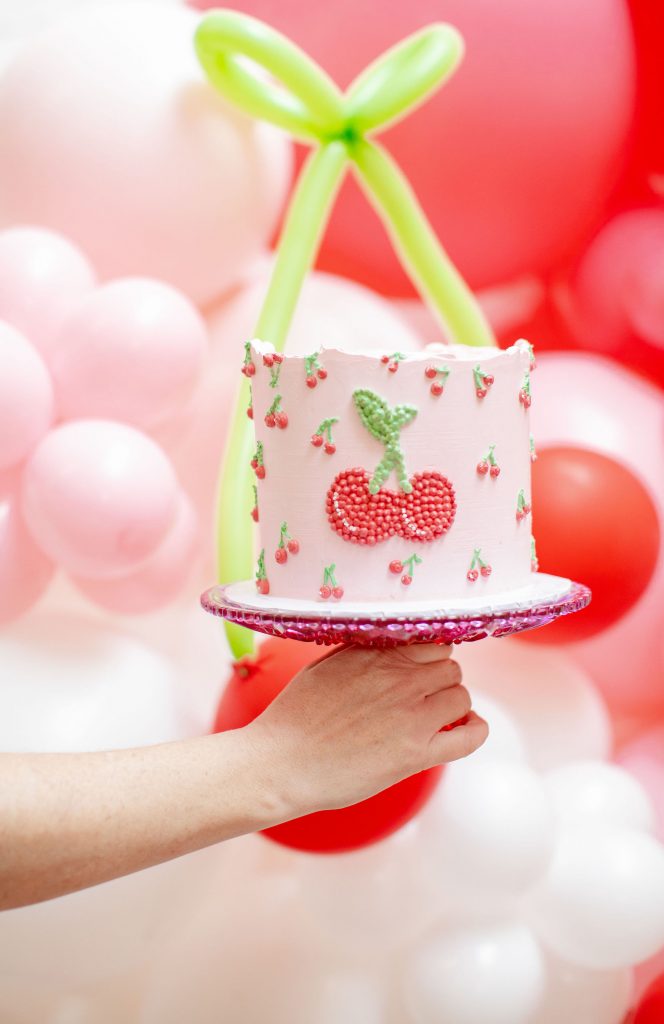 The girls couldn't wait to get their hands on these treats!!!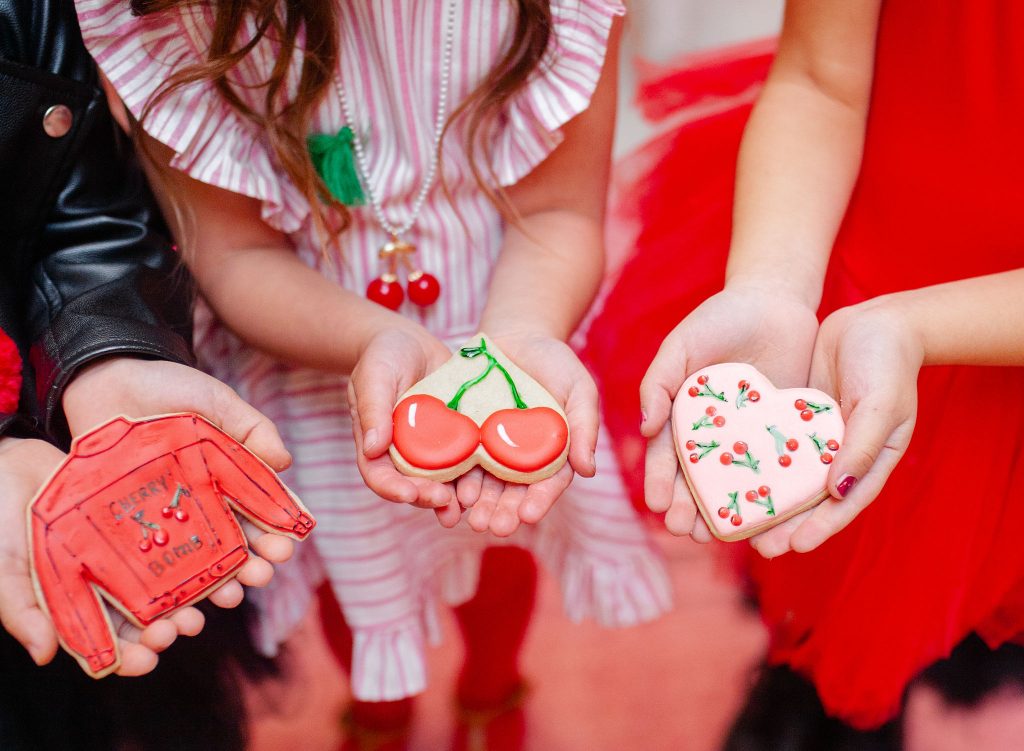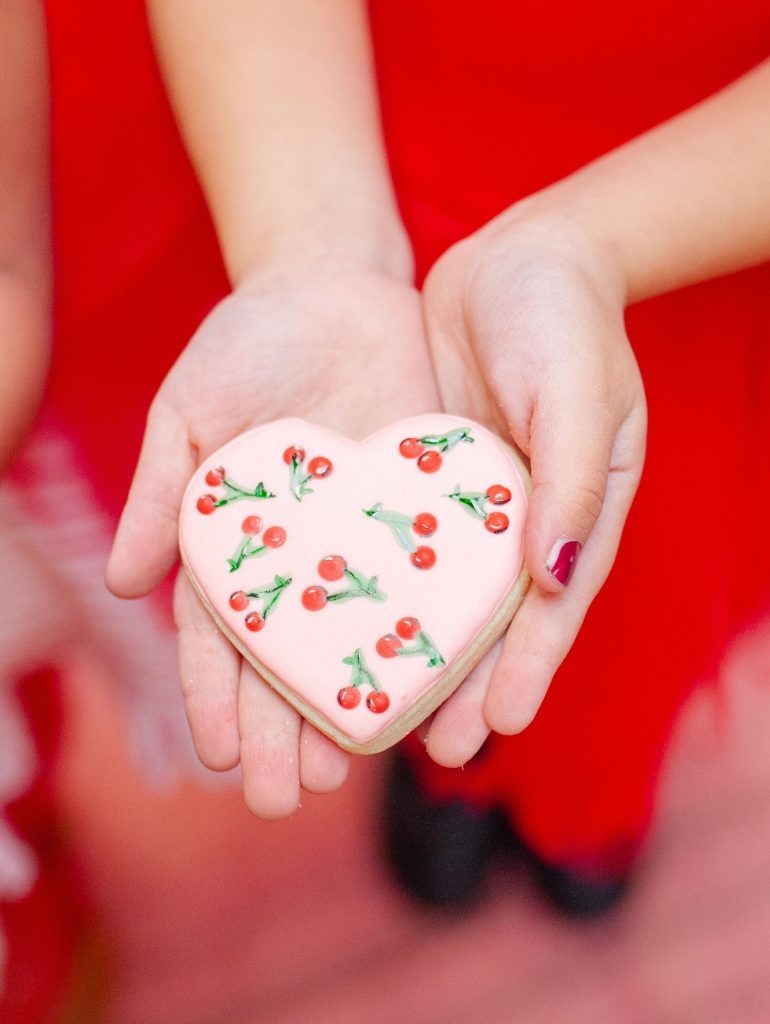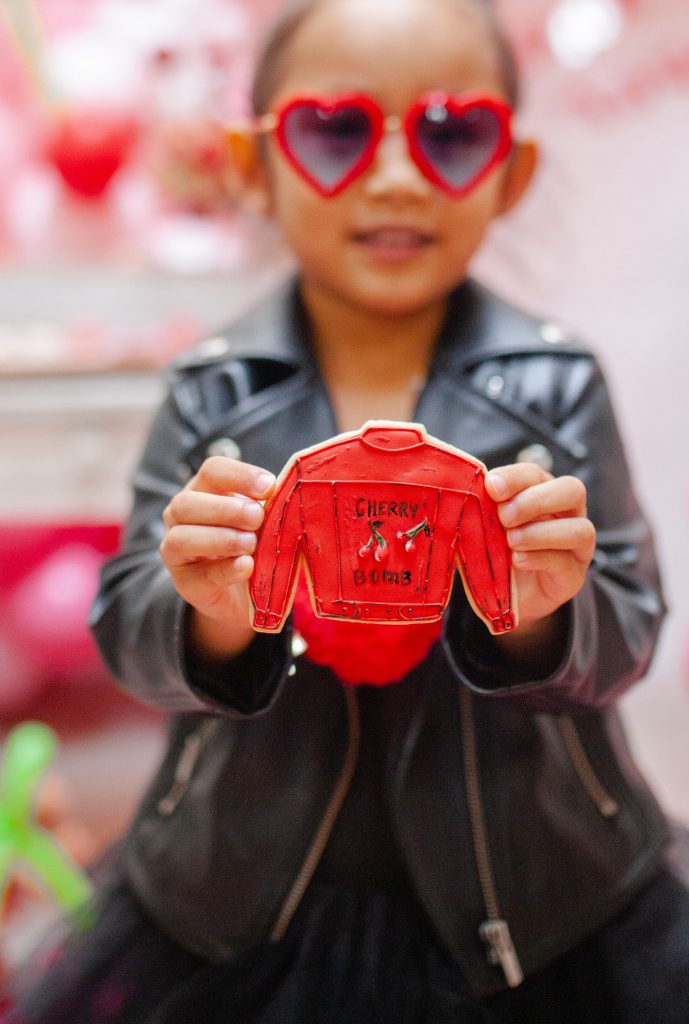 Treats make for happy models!!! Bribery works, haha!! They deserve it though!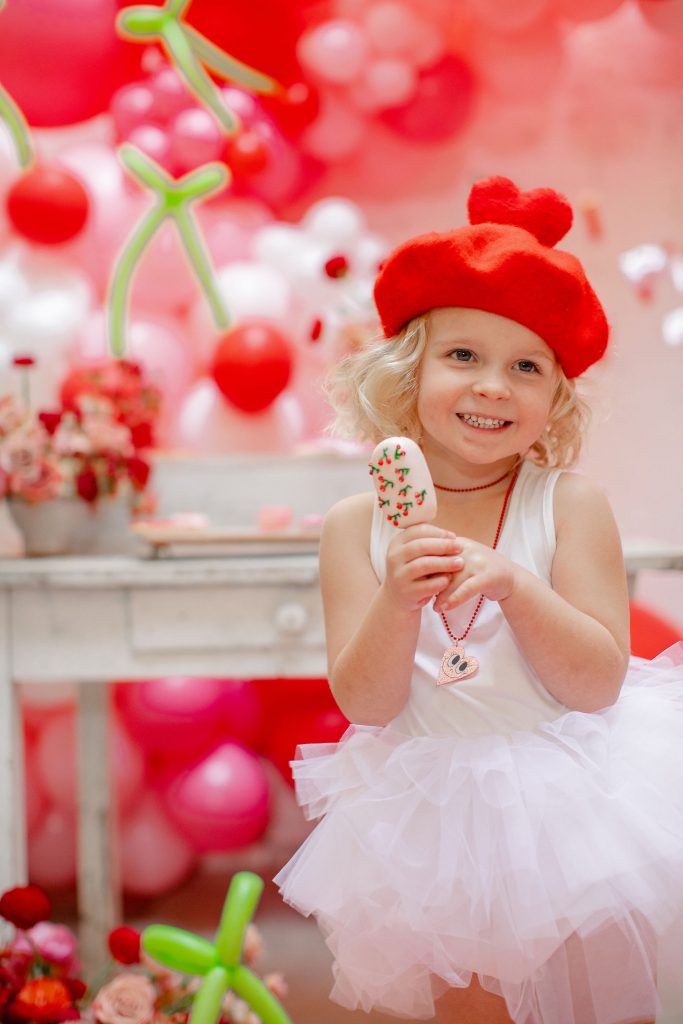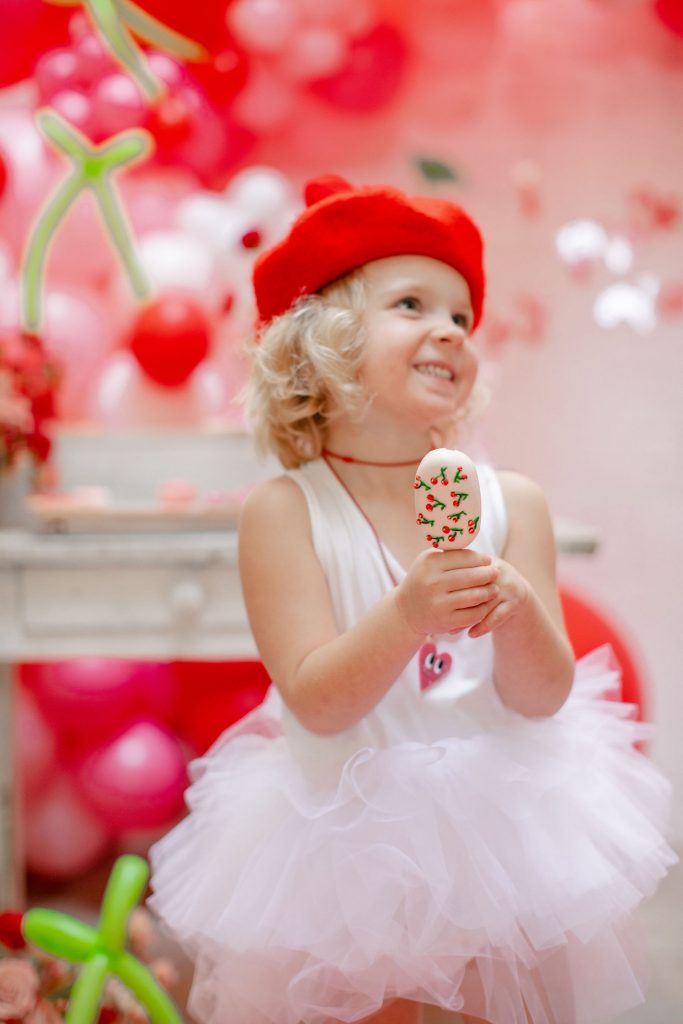 Time for cotton candy, and not just any cotton candy! The Jolly Sheep added the perfect touch to their cotton candy with stenciled edible sugared hearts and cherries!! My detail loving heart exploded!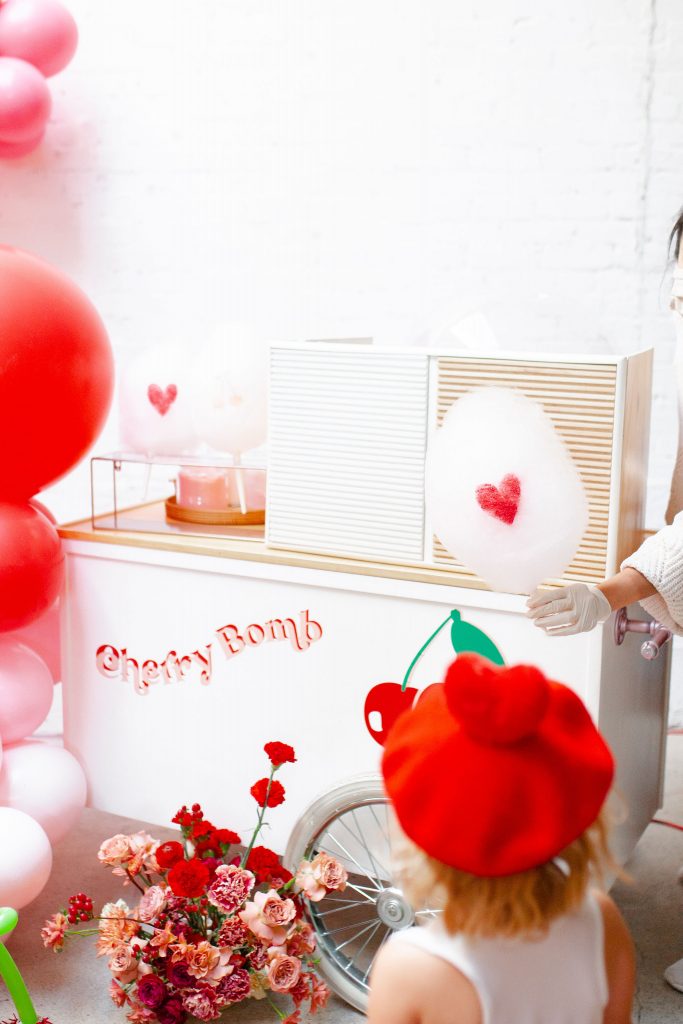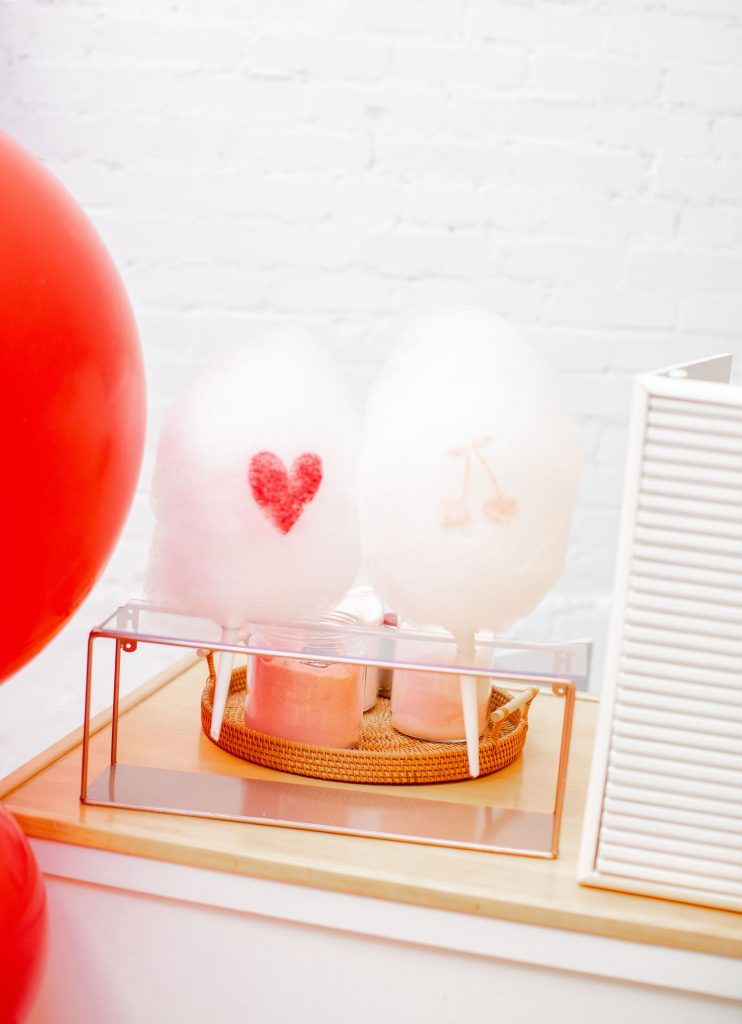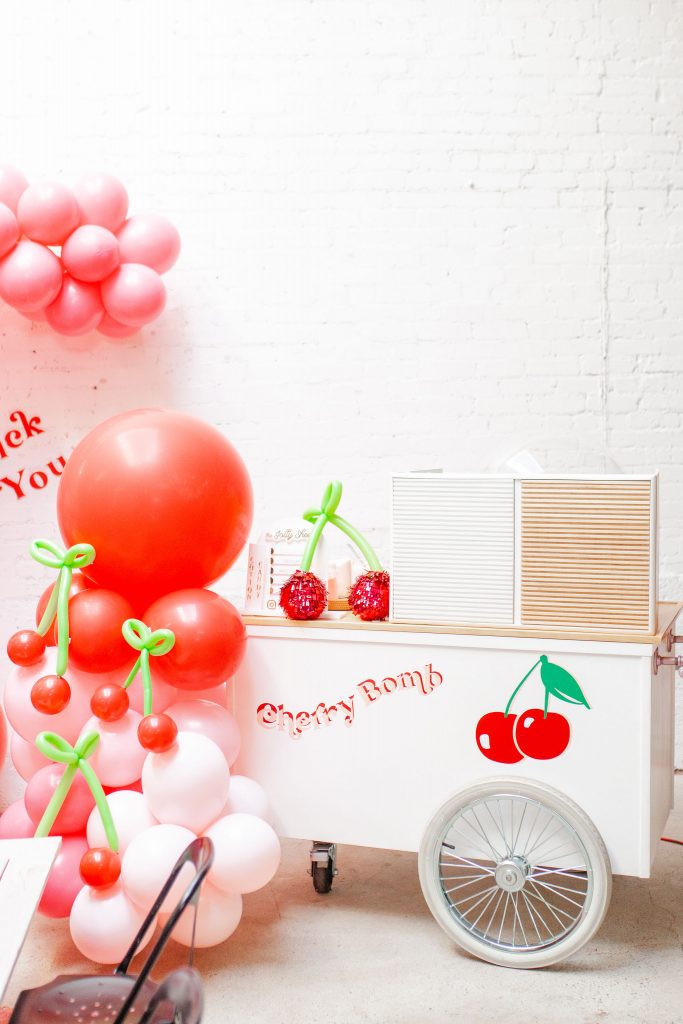 Cotton Candy as big as your face!!!!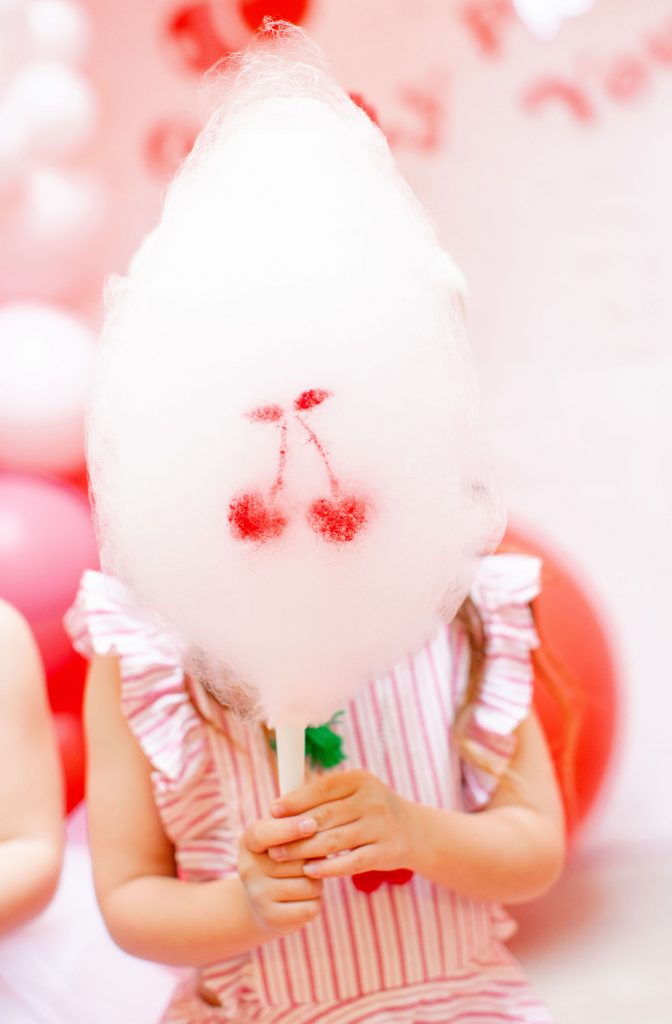 Happy girls all around!!!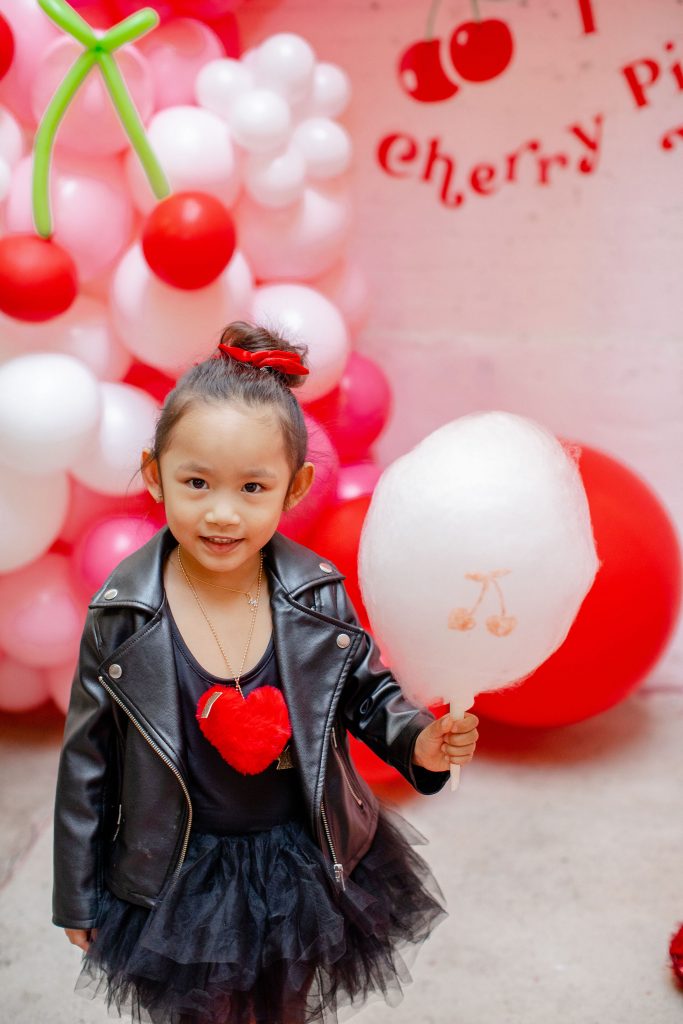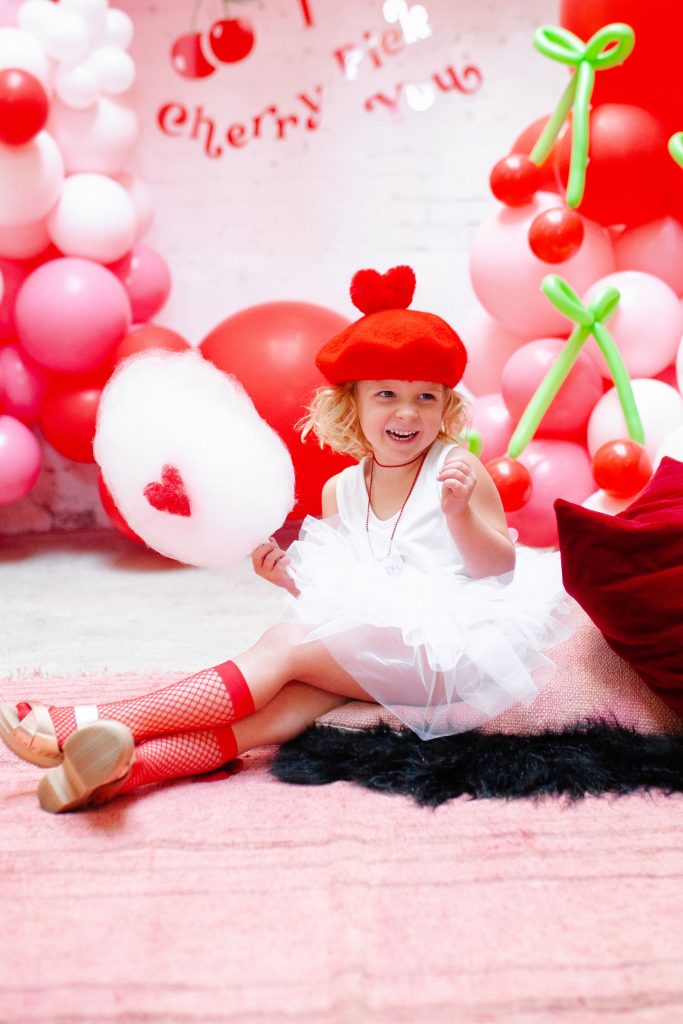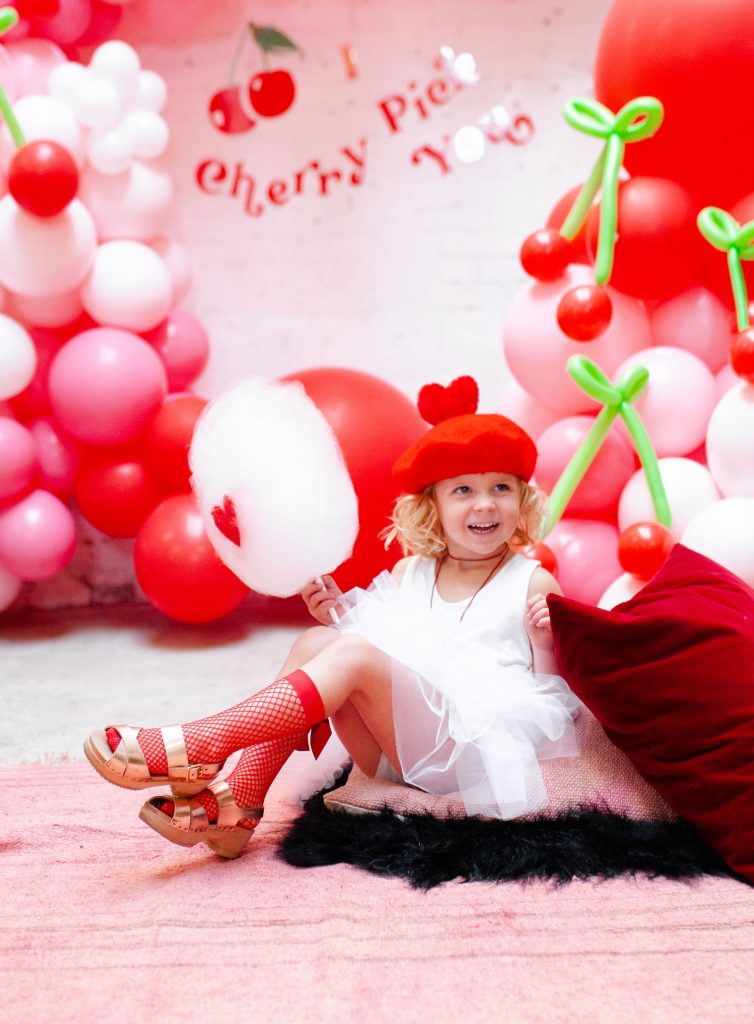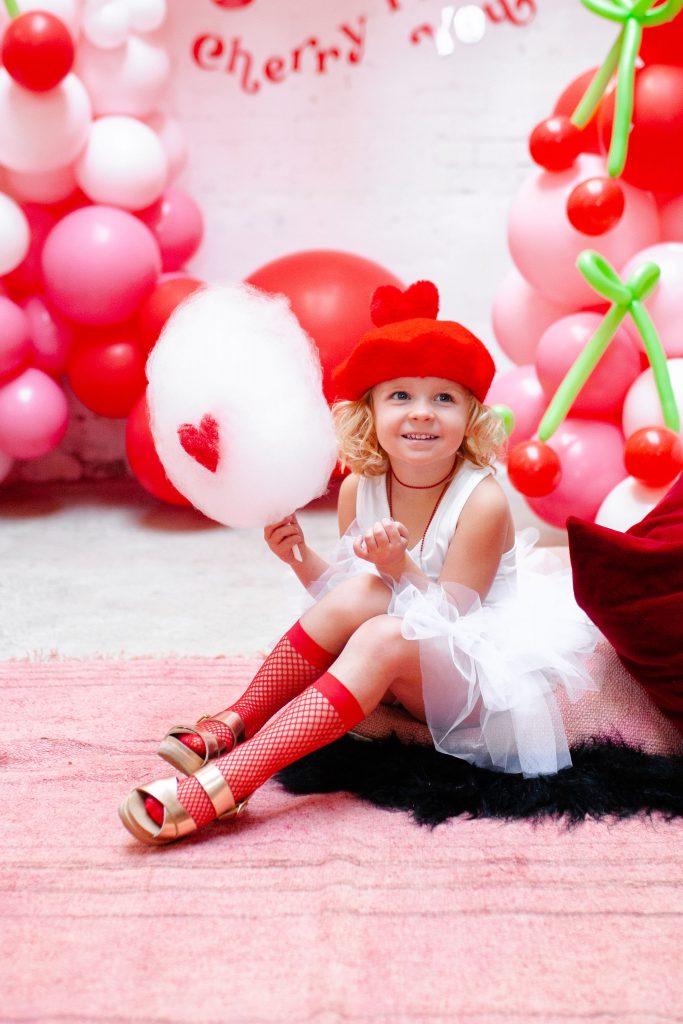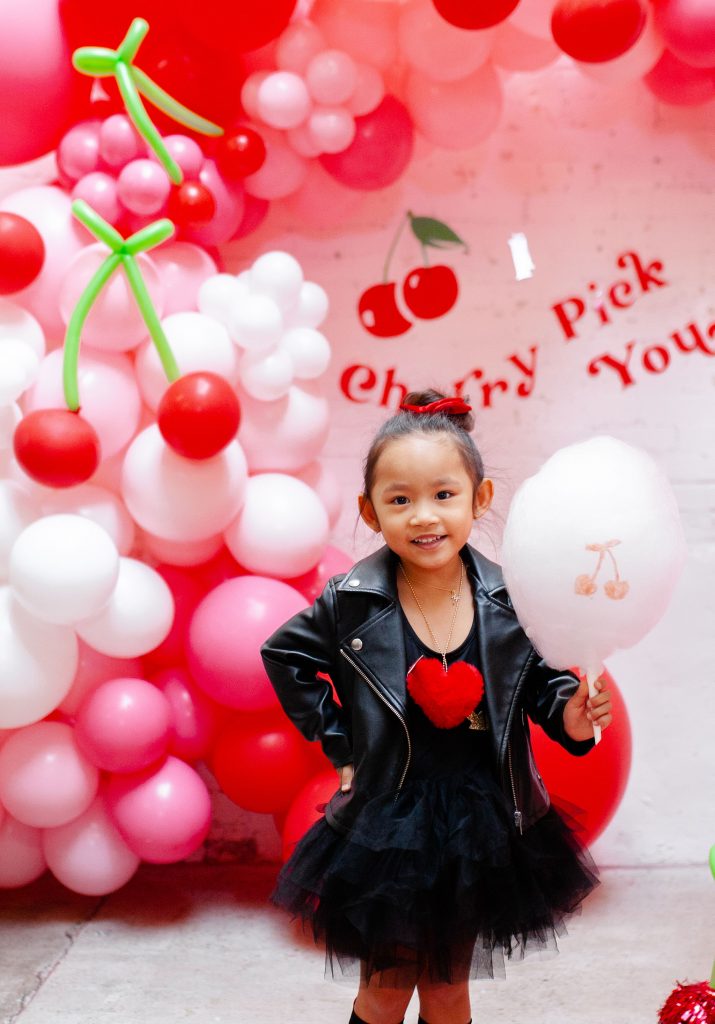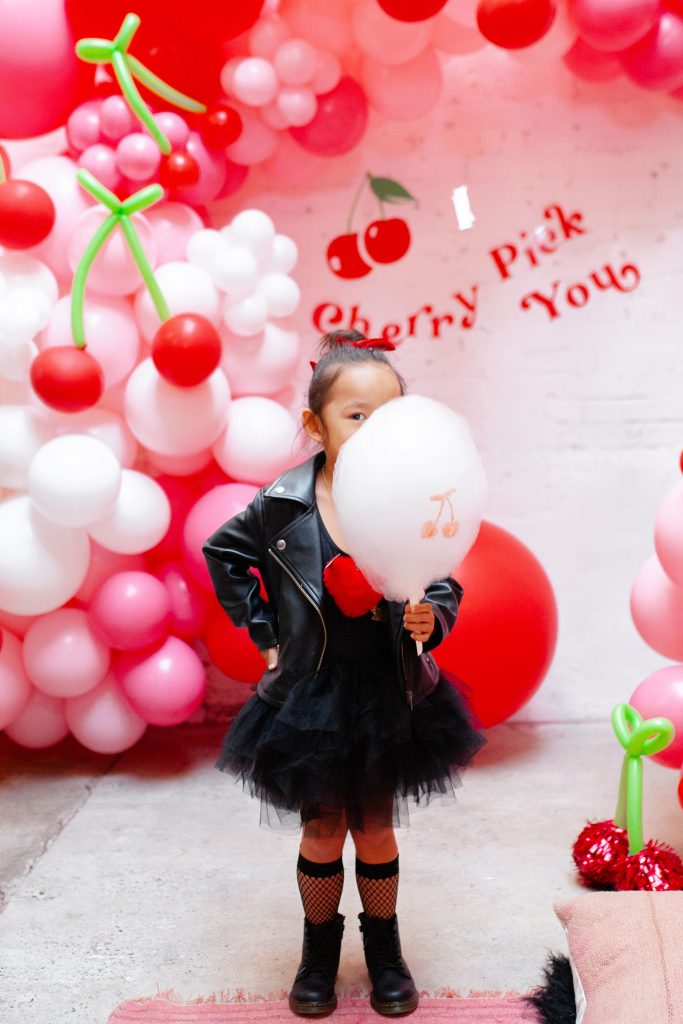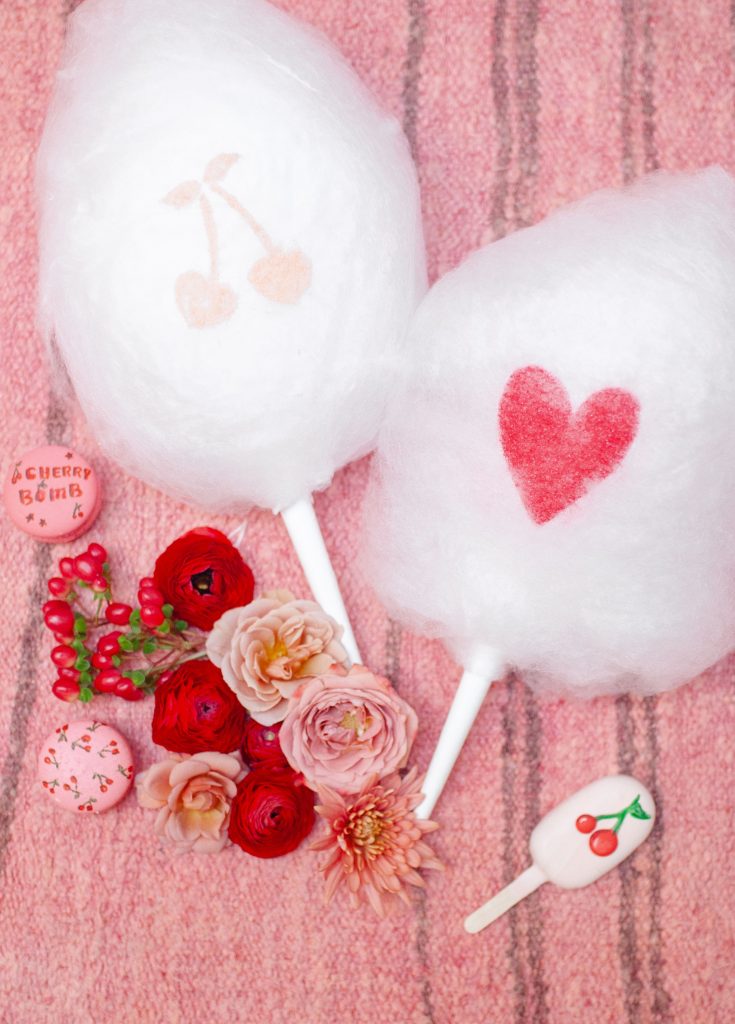 Can you tell we had fun at this one?! These girls were the cherry on top!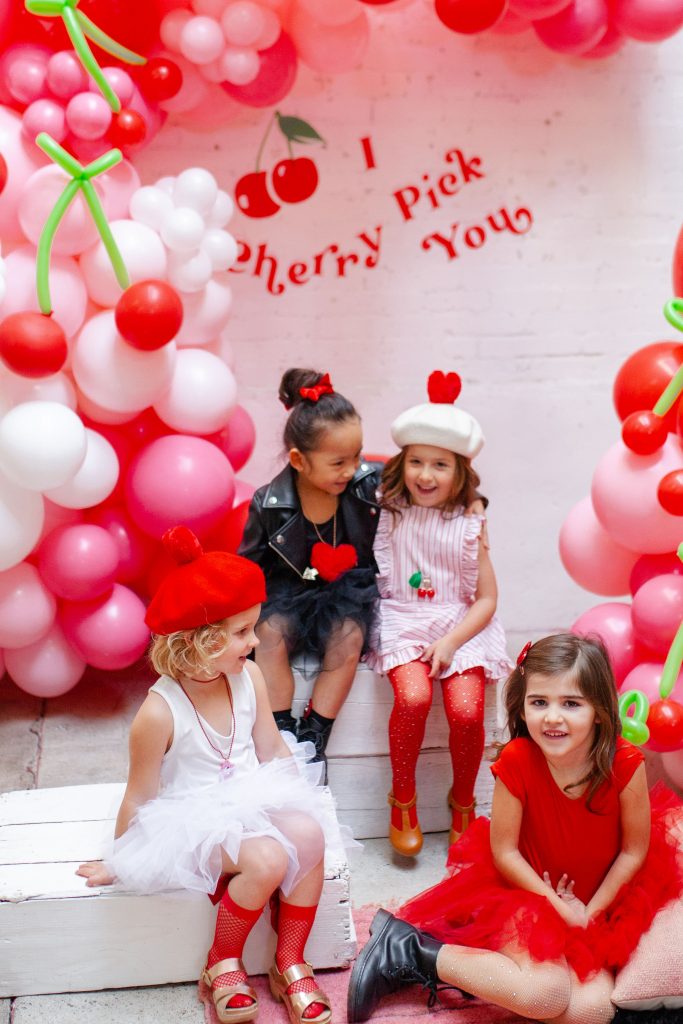 Shop this fun party below!!

xx
Jacquelyn