Every year we style a Cinco de Mayo tablescape, and this year we did it again! What can we say, it's a holiday and we can't help ourselves. This week we've gone over style and food, now we have to add in the table of course! The Otomi print was the main inspiration along with the perfect girl's day out, what I like to call Chicas de Mayo!
Lucky me got to shoot at the incredible Puesto in downtown San Diego, such a fun spot for Cinco de Mayo. It's the perfect spot to meet up with your girlfriends for some margaritas and delicious food! Any chance I have to get out with my girlfriends, I jump at it! It's not often that we can all get our busy schedules together, it's like finding a unicorn to make it work, but when we do it's always amazing. So for this shoot I knew I had to make it all about girlfriends and having fun with them for such a fun holiday.
Speaking of girlfriends, my friend Julia from San Diego Songbird and Gunn & Swain helped me plan this fun shoot and styled the wardrobe for our models. Always fun collaborating with that babe! Back to the Otomi…. I love that print and have been a fan of it since Leah's wedding. She got married in Cabo and had that print on her tables, so I will forever associate it with Mexico and how fun it is!
Let's get started with the amazing photos by Amy Lynn Photography
Call me old fashioned, but I like to start these posts out with the invite. This one is beyond gorgeous and I'm in love with all the color! Taryn of Twinkle & Toast is one of the prettiest hand calligraphers I know, she designed this one. It's styled with the cutest Otomi cocktail stirrers and acrylic place cards by The Roc Shop, which you'll see through-out the shoot. These girls work so well together and everything they touch is magic!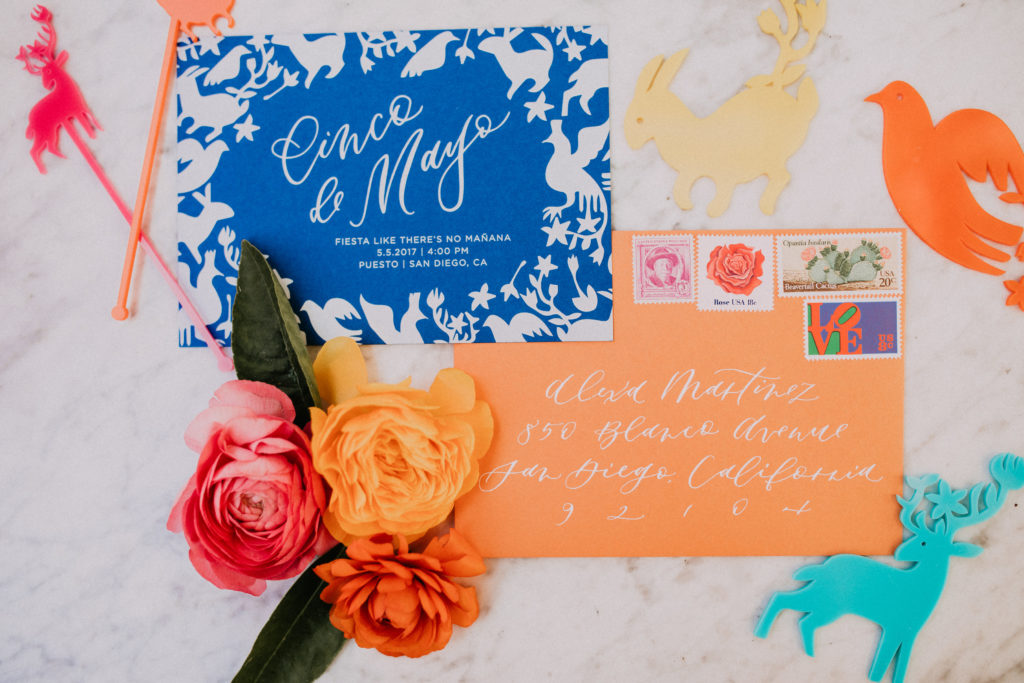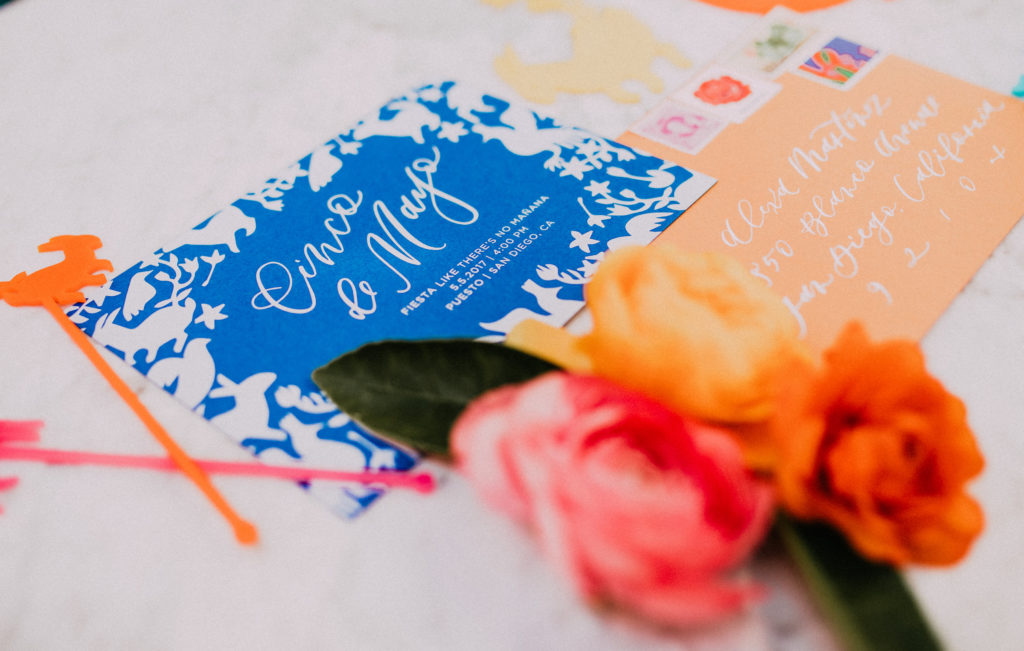 There are so many things about this table that I love… The flowers by Wallflower Inspiration are beyond gorgeous, she had just the right amount of Mexican flair mixed with bohemian goodness. The pops of color, the limes and those peonies are beyond amazing. She even added little pots of succulents and brought some fun straw flowers for me to use, which I am now obsessed with!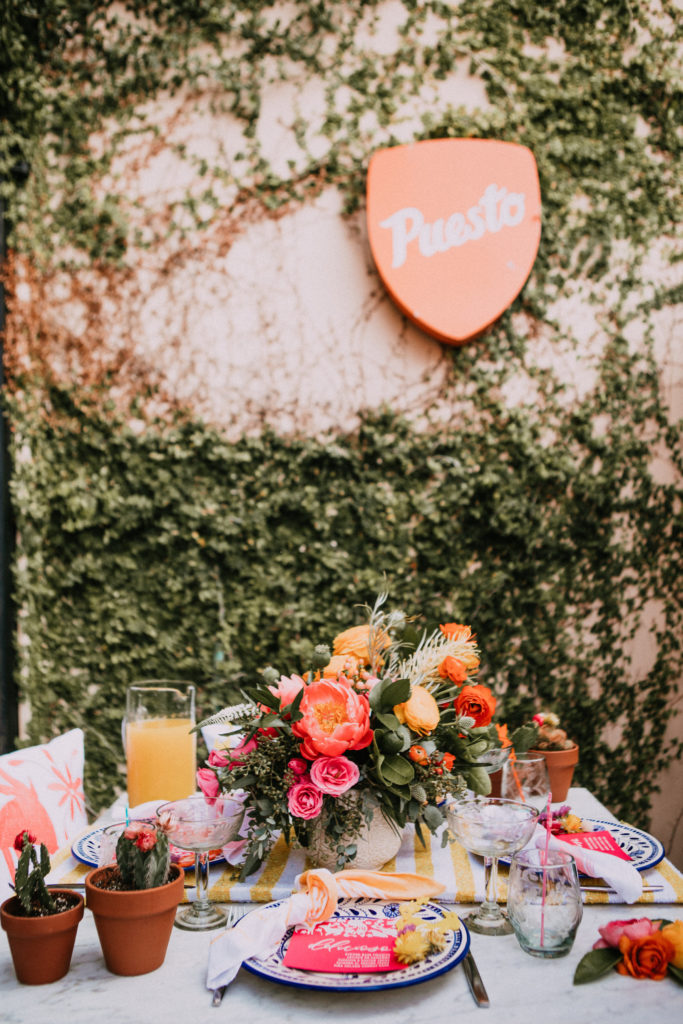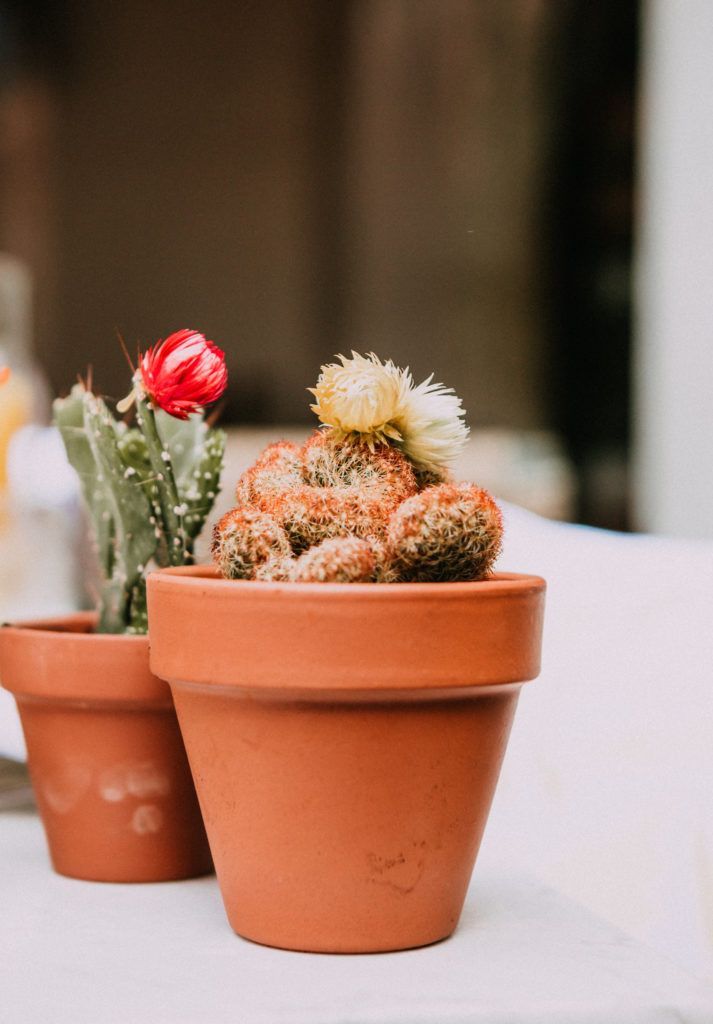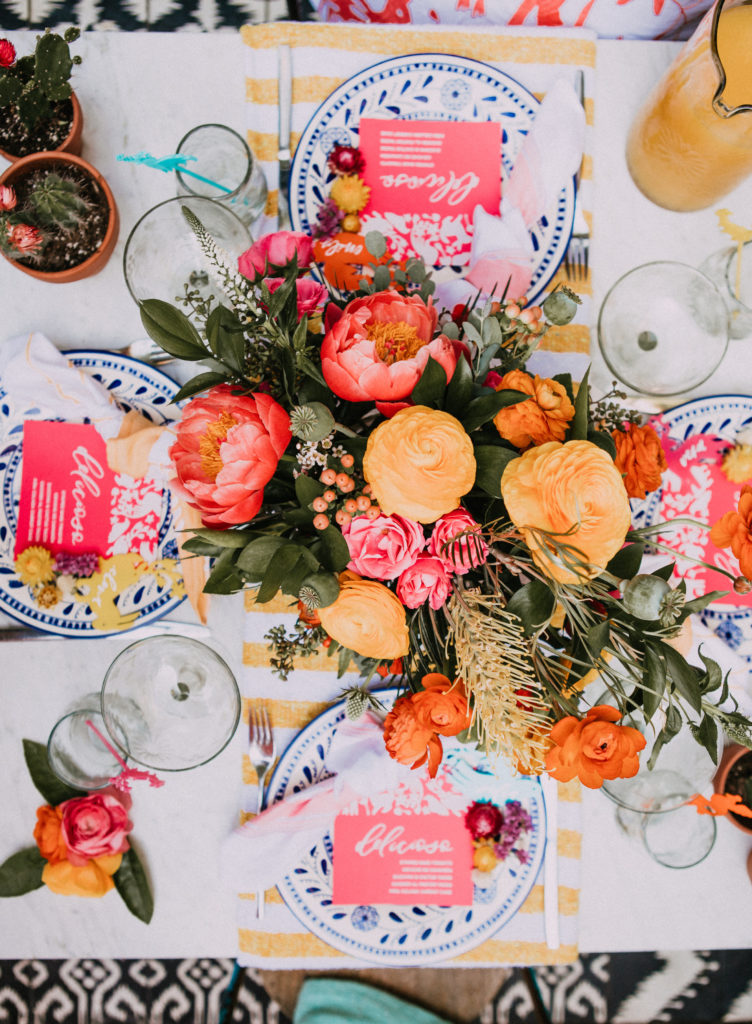 Don't you just love the way the Otomi is carried on with the place cards and the menu? I'm so in love with them and would be so so happy to have a margarita at this place setting!!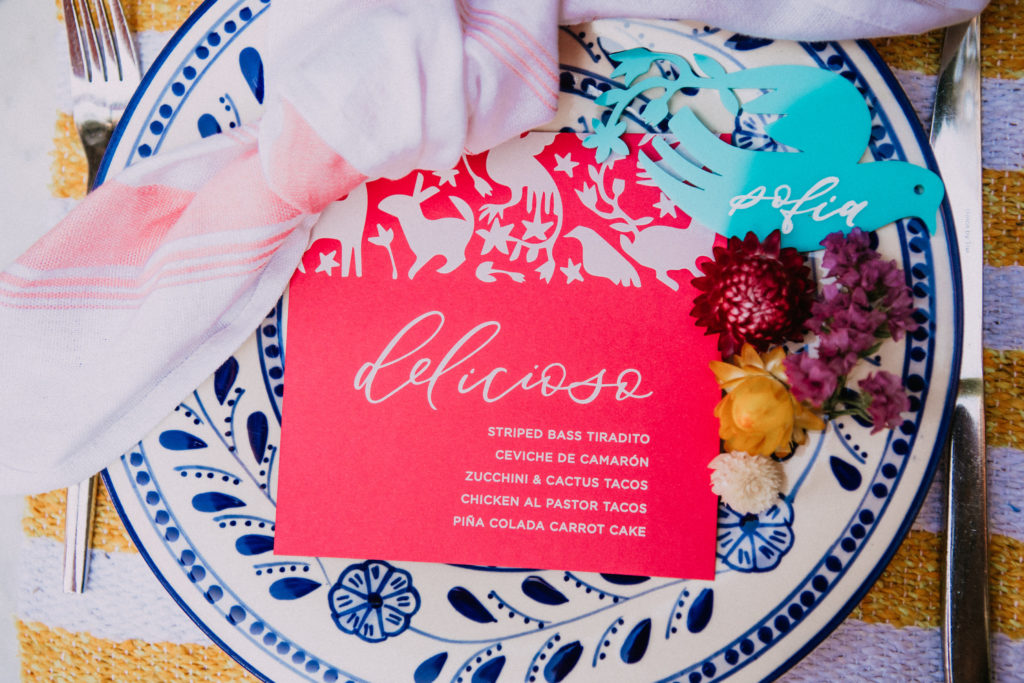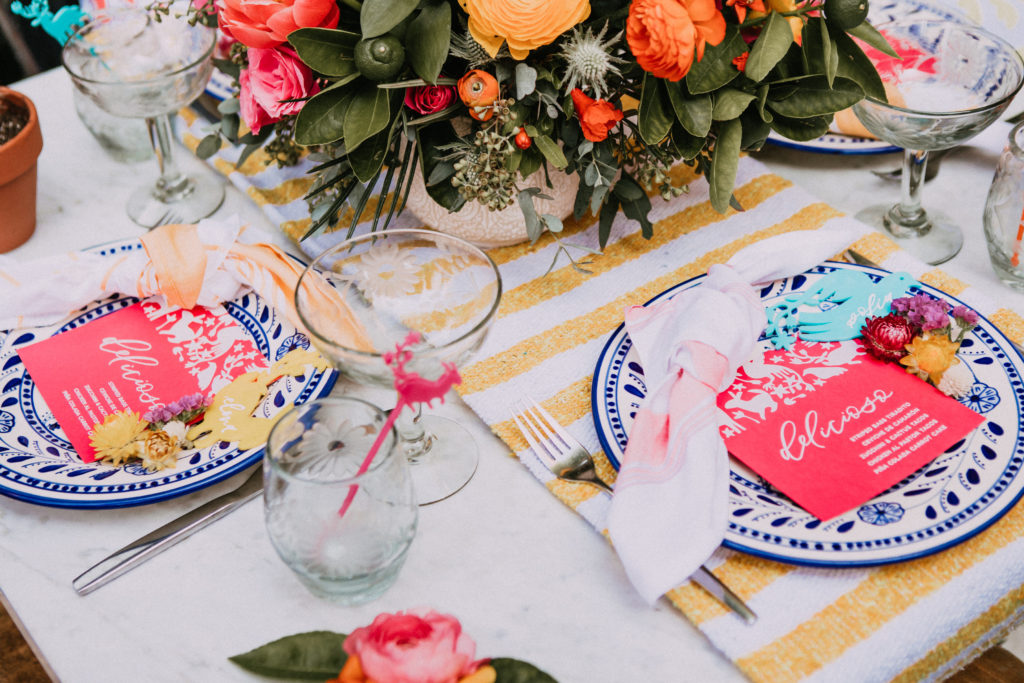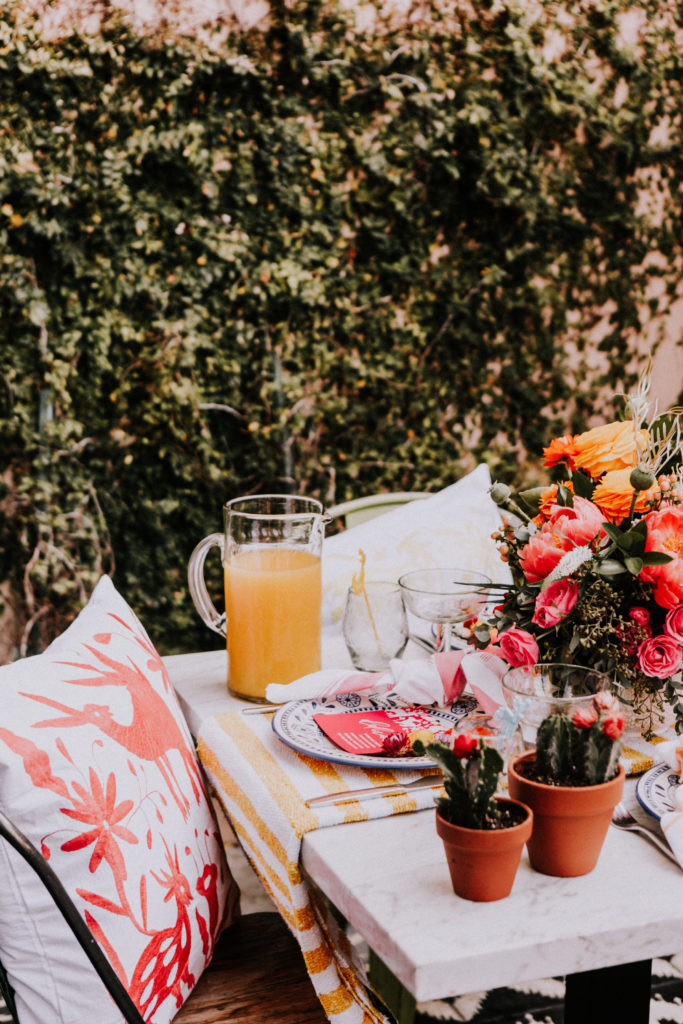 Whenever I get ready for any gathering there are two online shops that I look to… One is Gunn & Swain who has my favorite blankets and home goods. I used their amazing Cocoa Beach blanket as a runner to anchor the table and their serape pillows. I also love The Little Market, their amazing creamics, glassware and baskets are also a must have in my home. They are great for entertaining and although they are printed, you can really make them work for any occasion! We have used The Little Market for every Cinco de Mayo table we've designed and styled. It's really easy to see why when you see these images.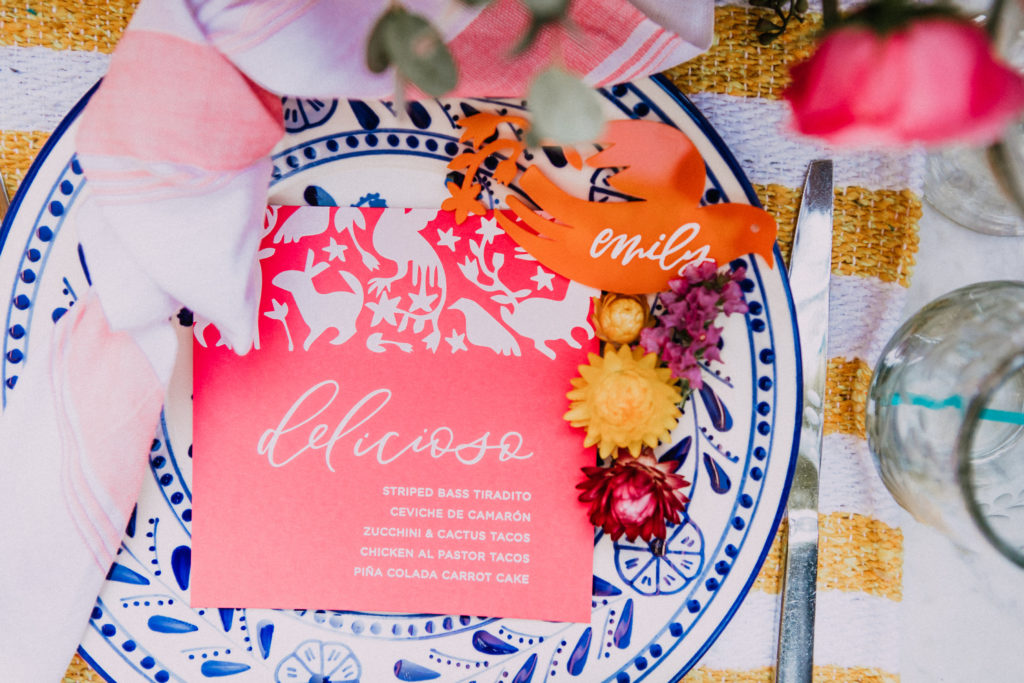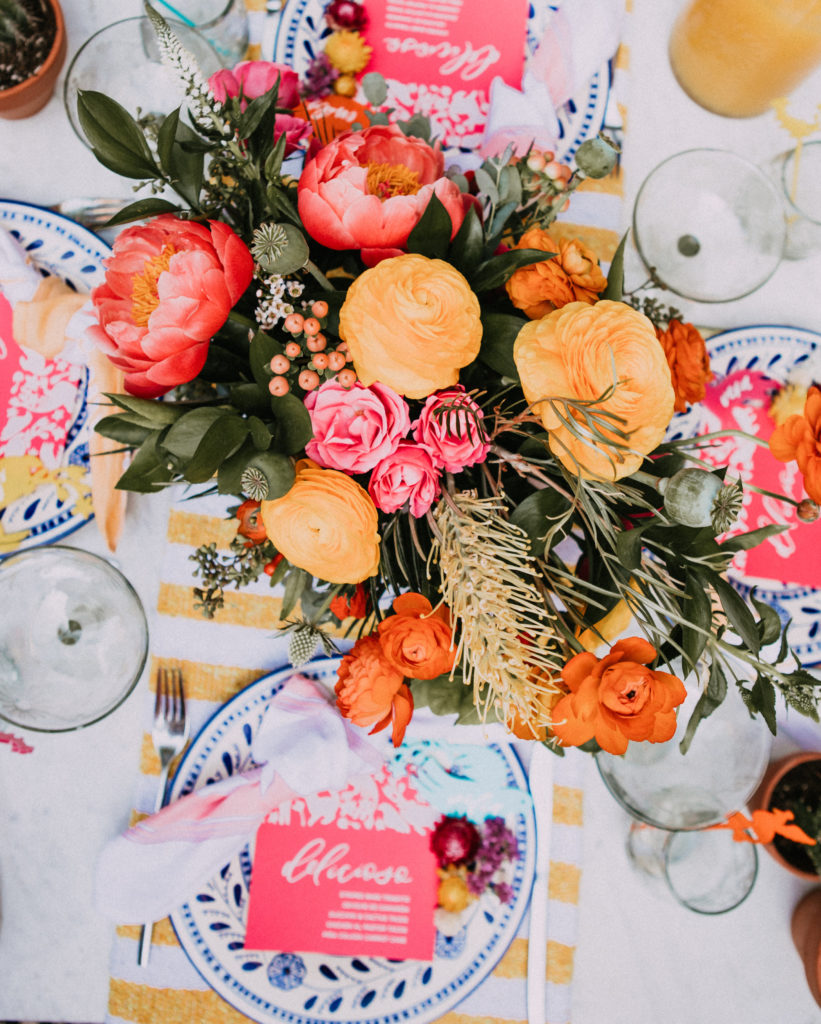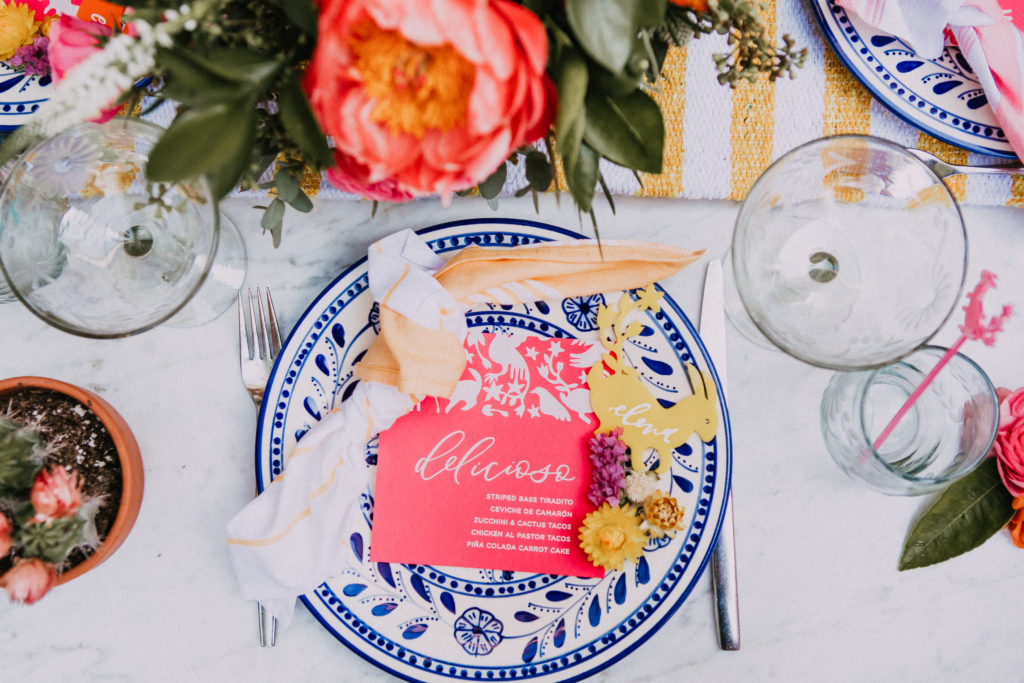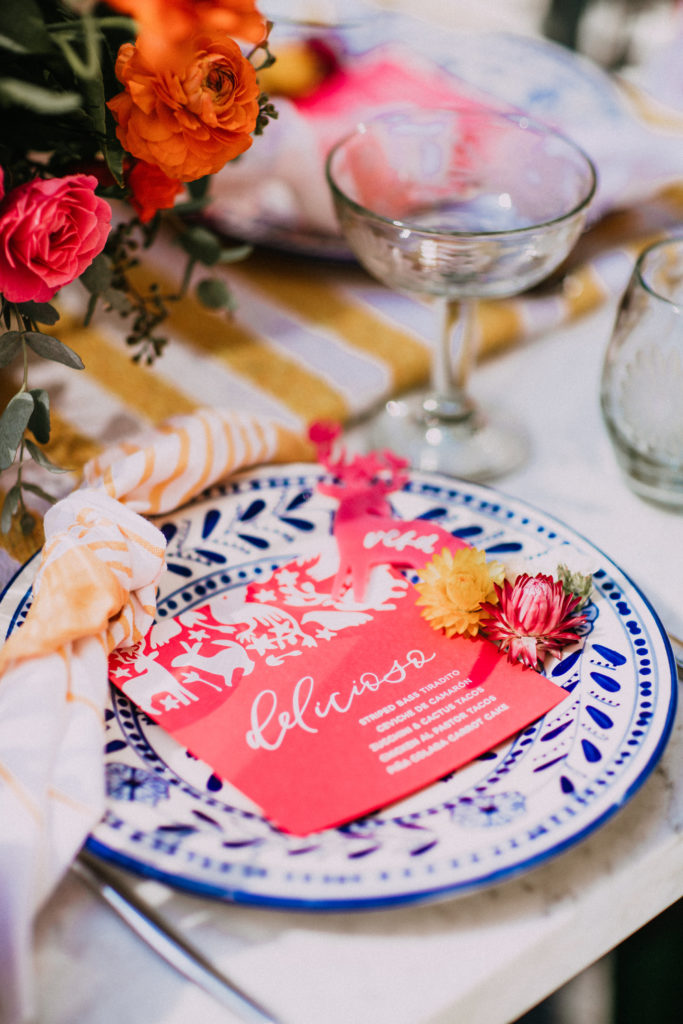 Again, these flowers!!! Swoon….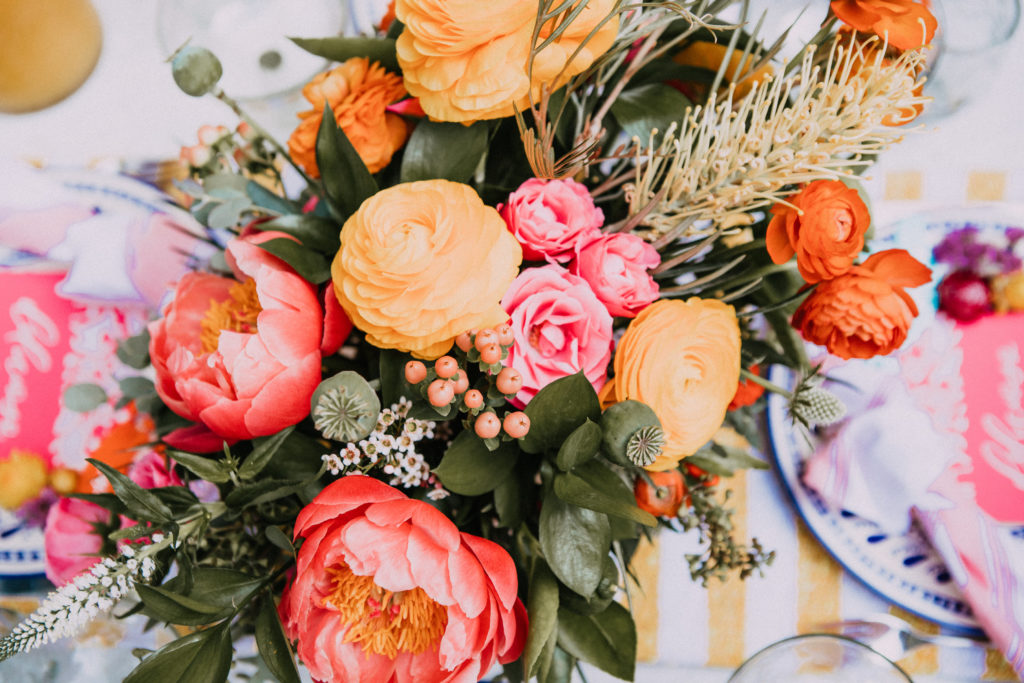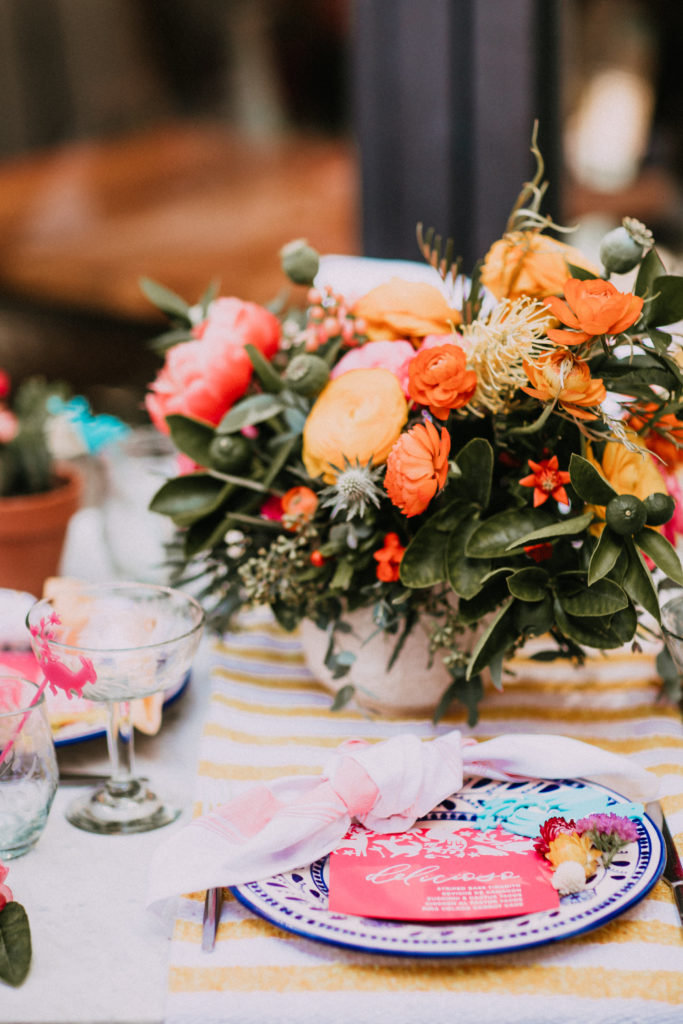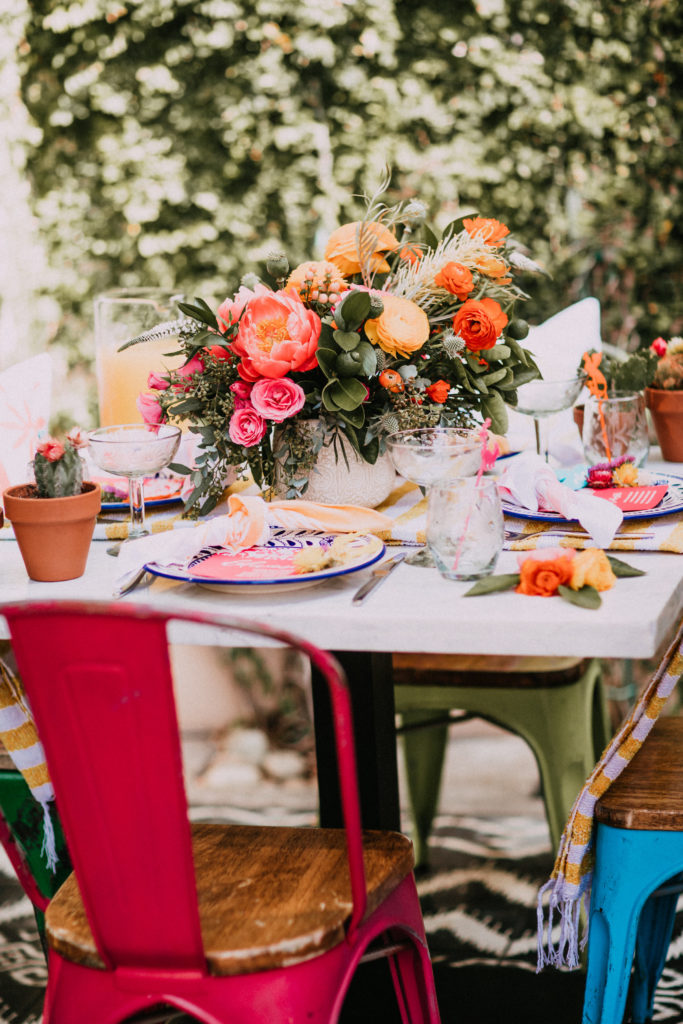 Now let's get this party started and get our lady friends involved!! I love having shoots with people in them, especially FUN people like these gals! Our beautiful models for this shoot were Bianca of Bink & Boo and Sunny & Cheer, Sam of Little Petunia Consulting, Merrill of The Melideos and Esther of Wallflower Inspiration (our lovely florist).
Julia of Song Bird San Diego styled the ladies in vintage dresses by Sunny & Cheer and the pink fiesta dress by Gunn & Swain. All of the gorgeous jewelry is by Hand Meets Sky, are you as in love with that turquoise as I am?! And the lovely Emily Holliday did the hair and makeup, making the ladies even prettier.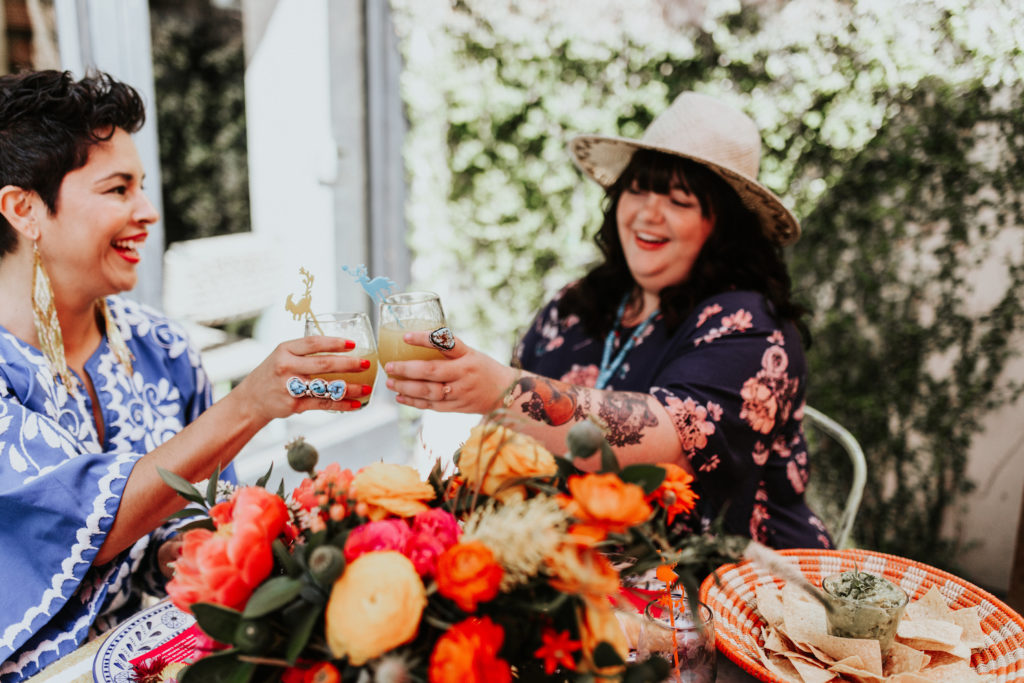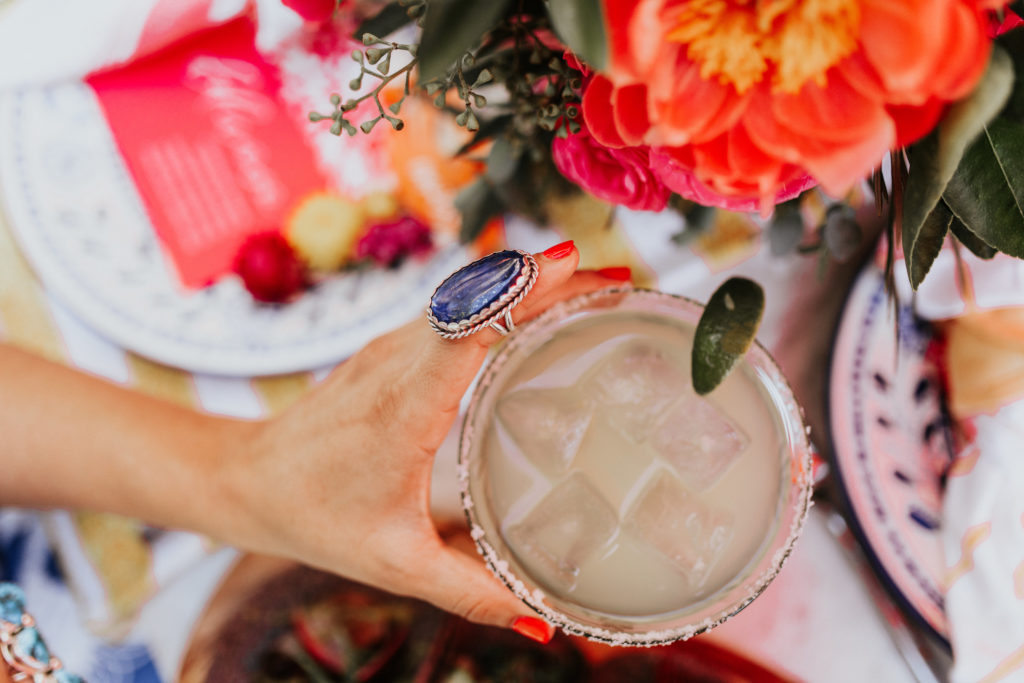 I don't know what I want more… The turquoise ring or the margarita!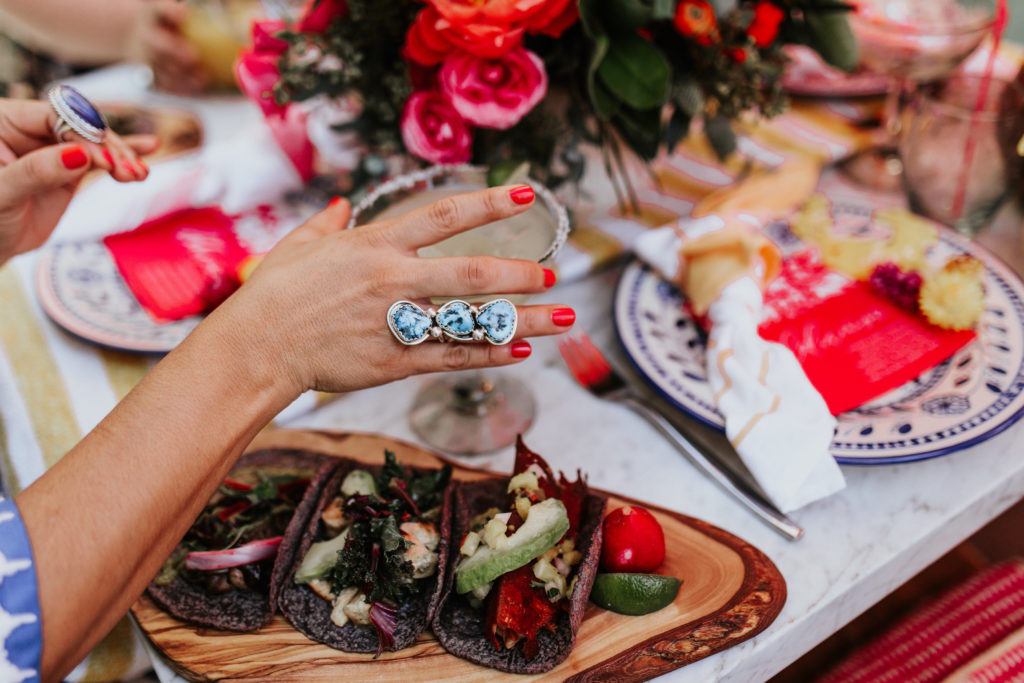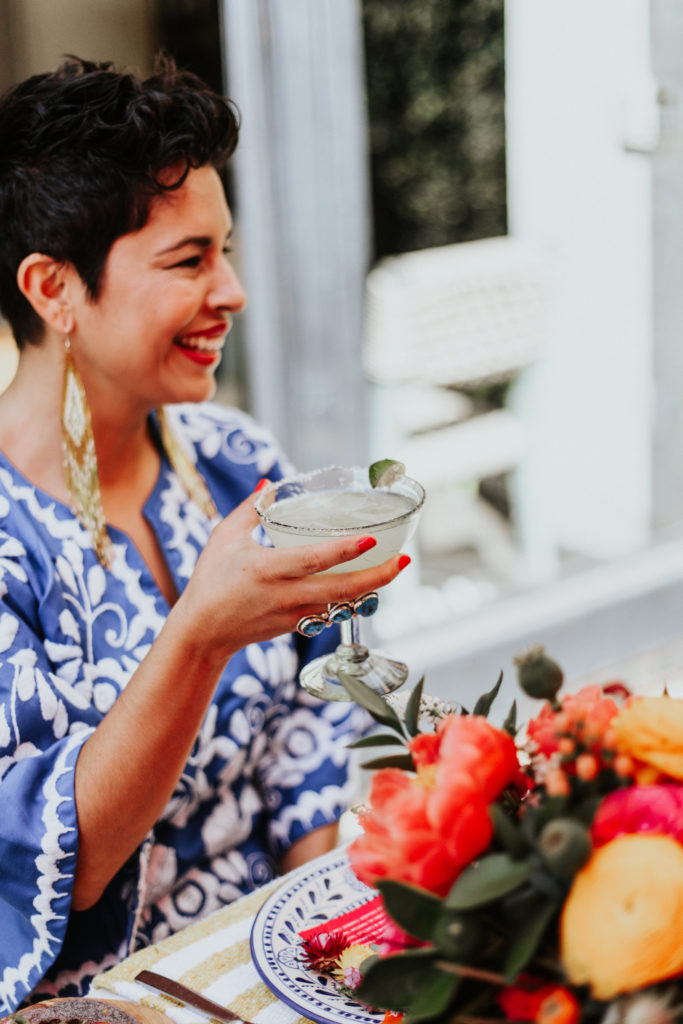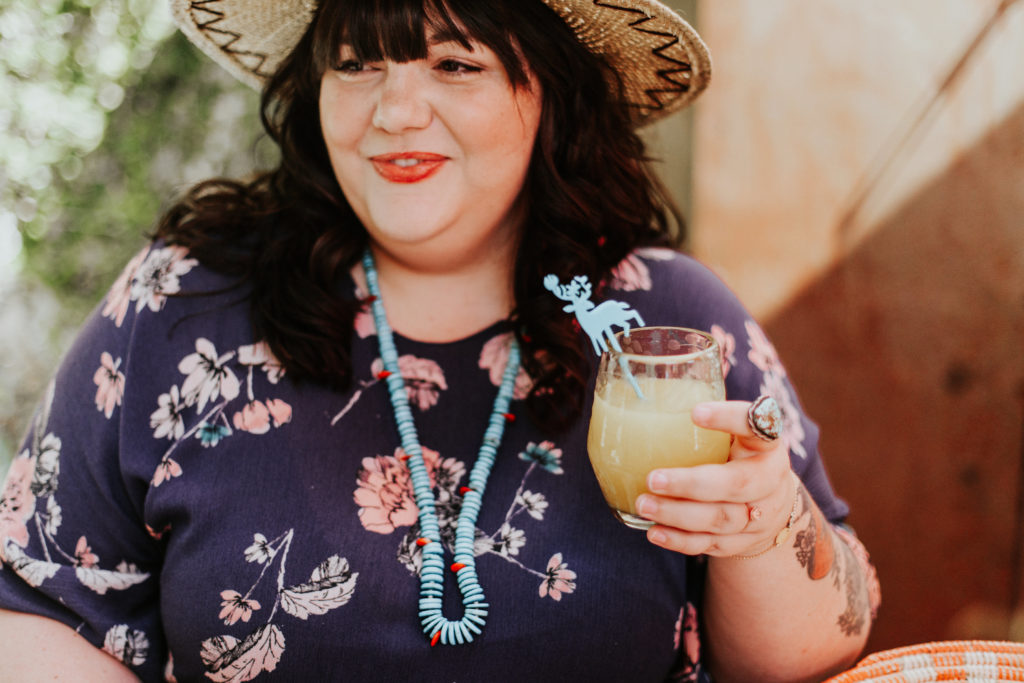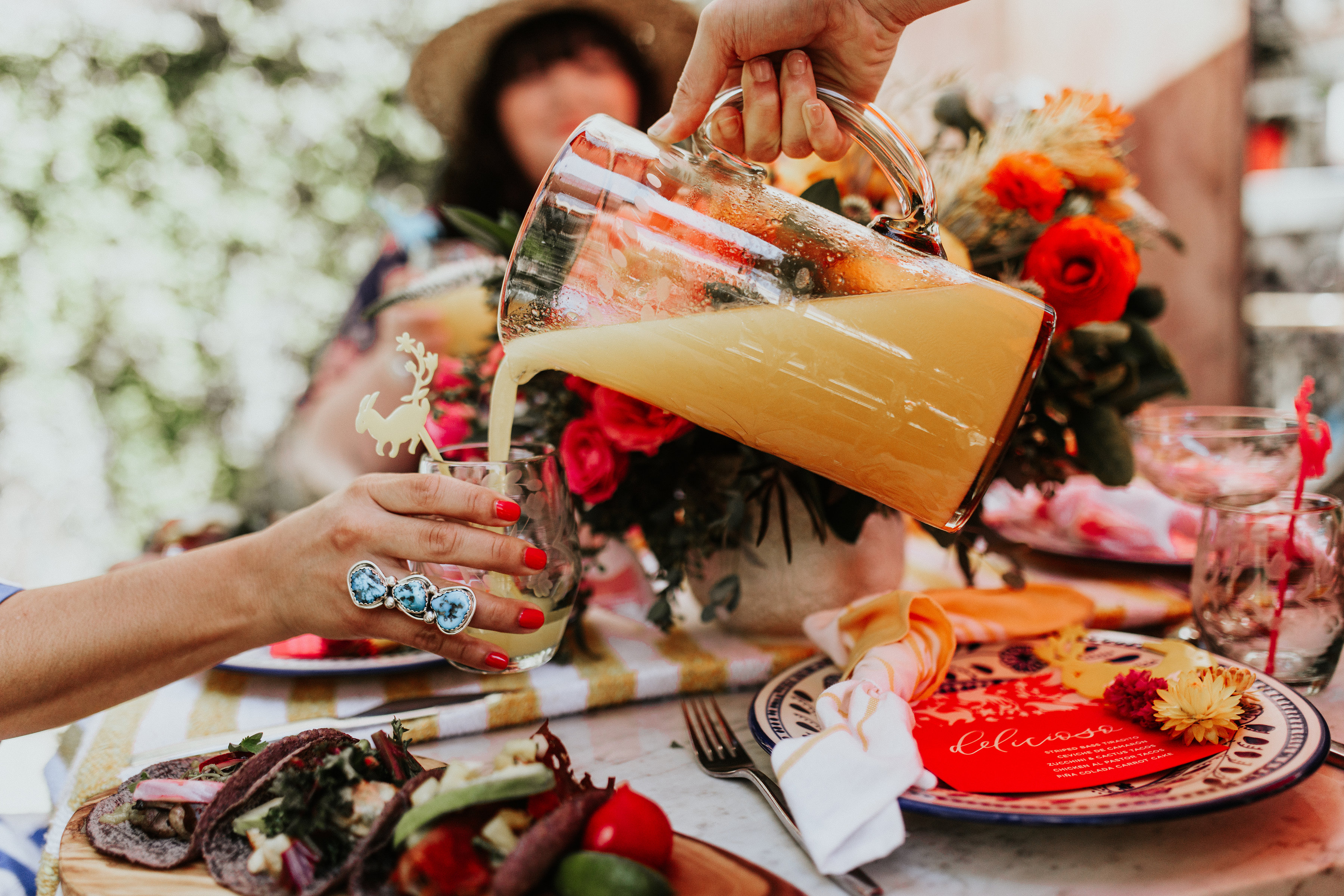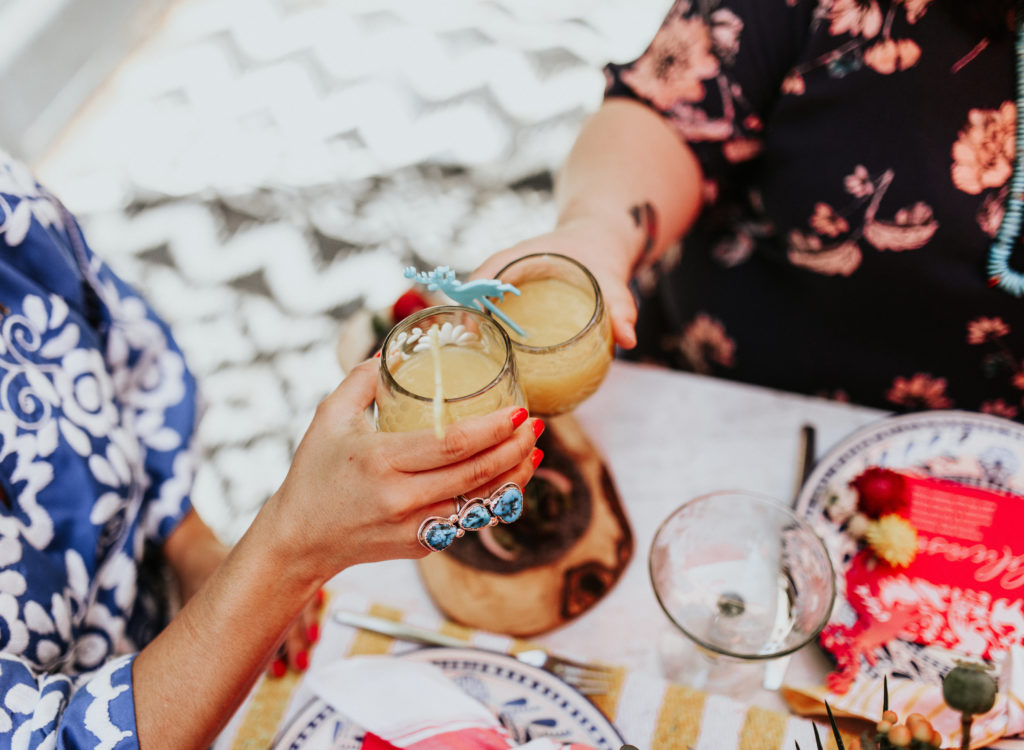 How bout' these cuties at the bar?! Heeeeeeyyyyy….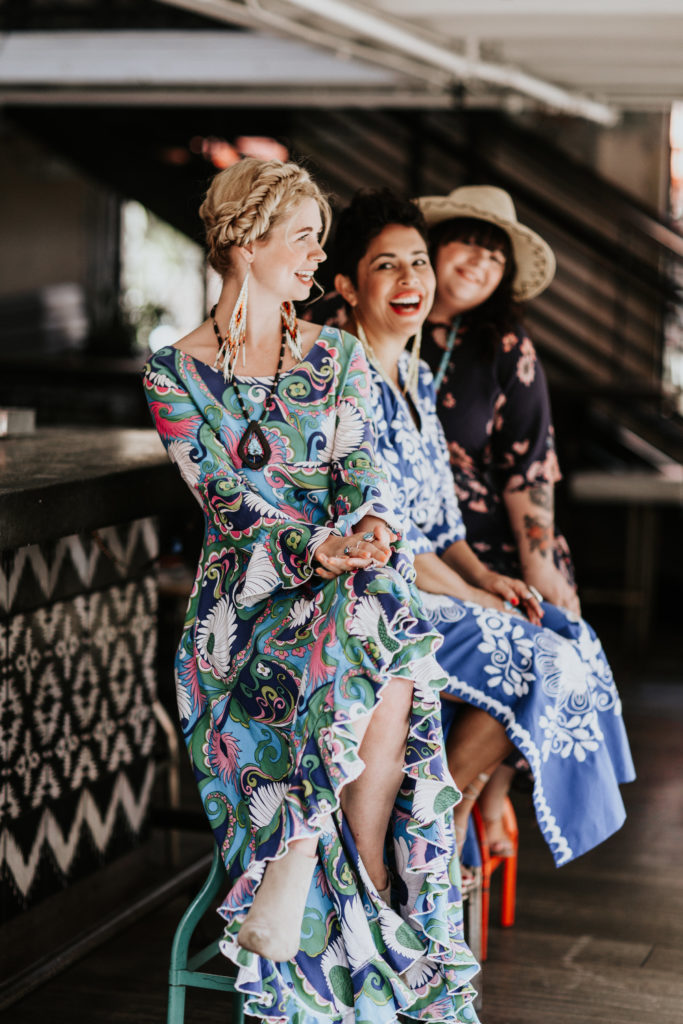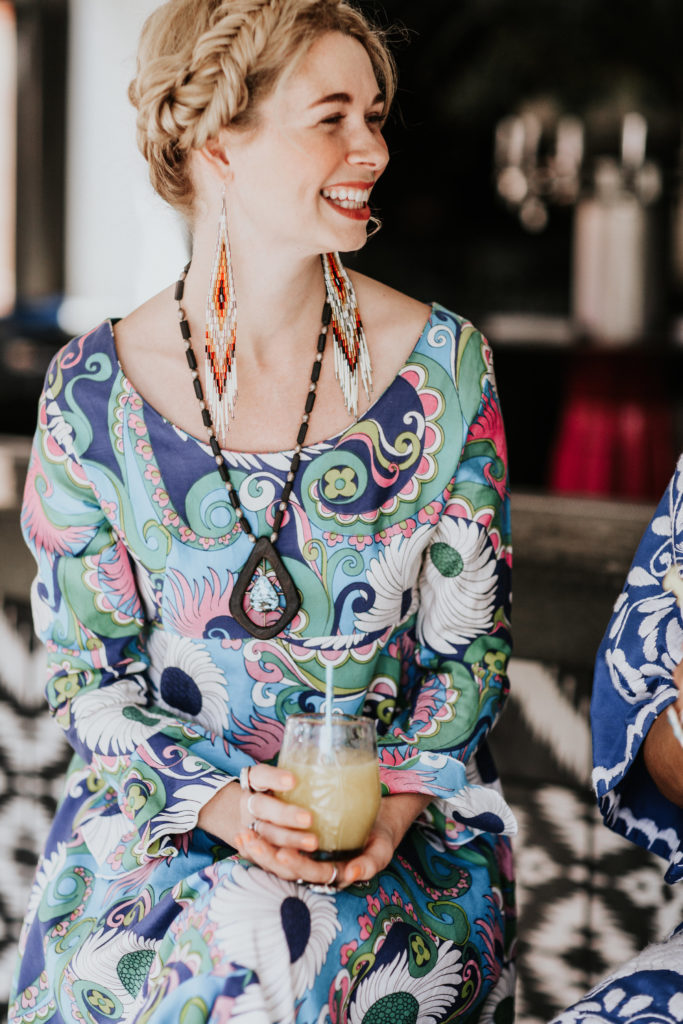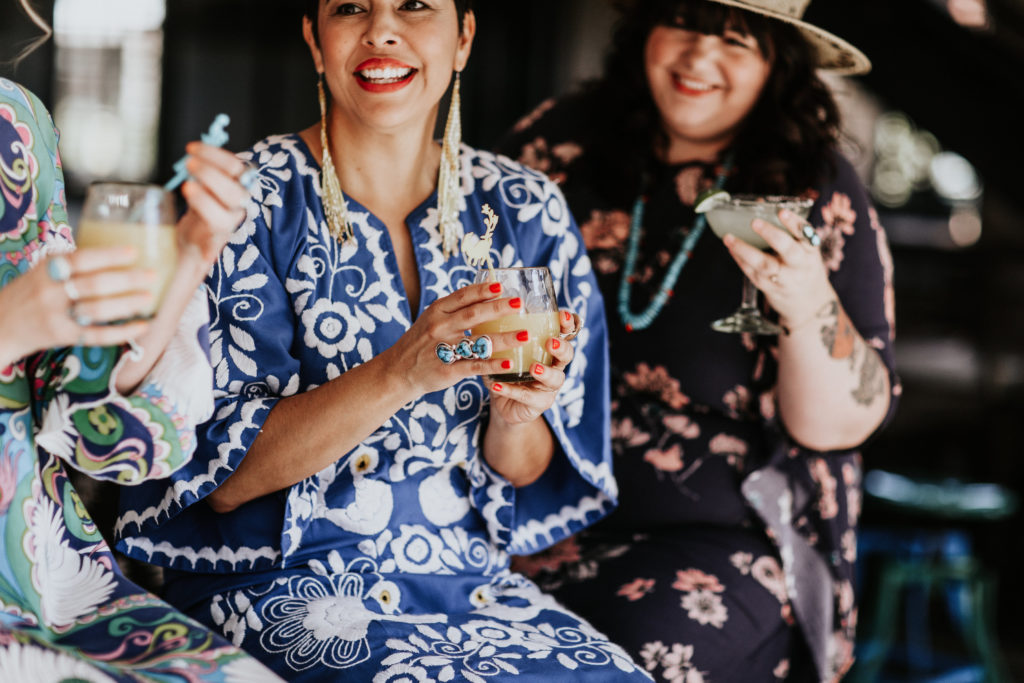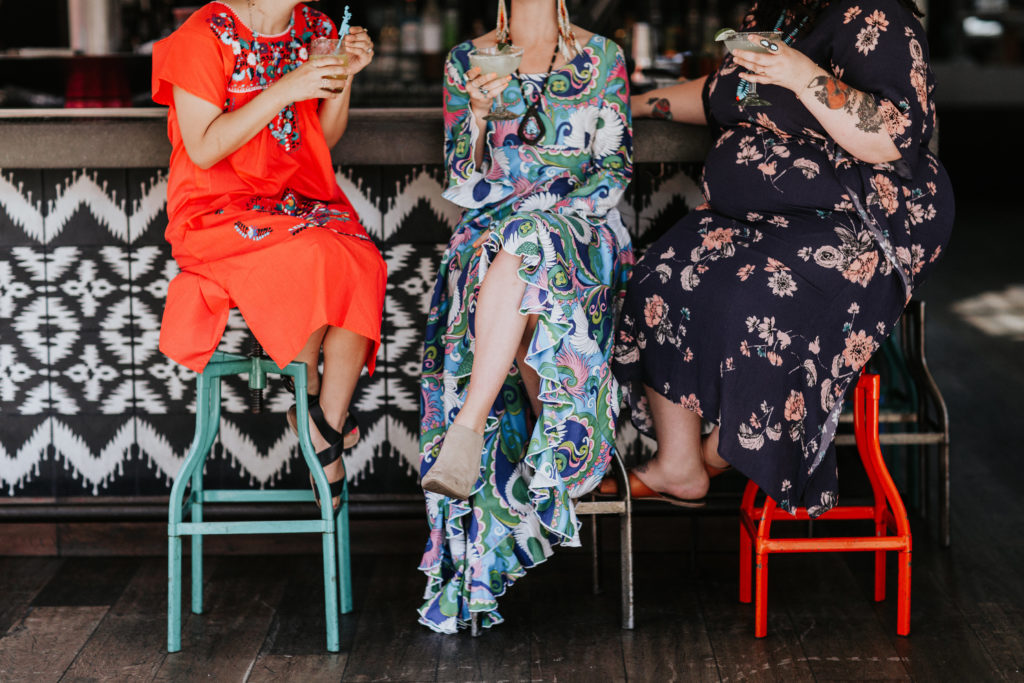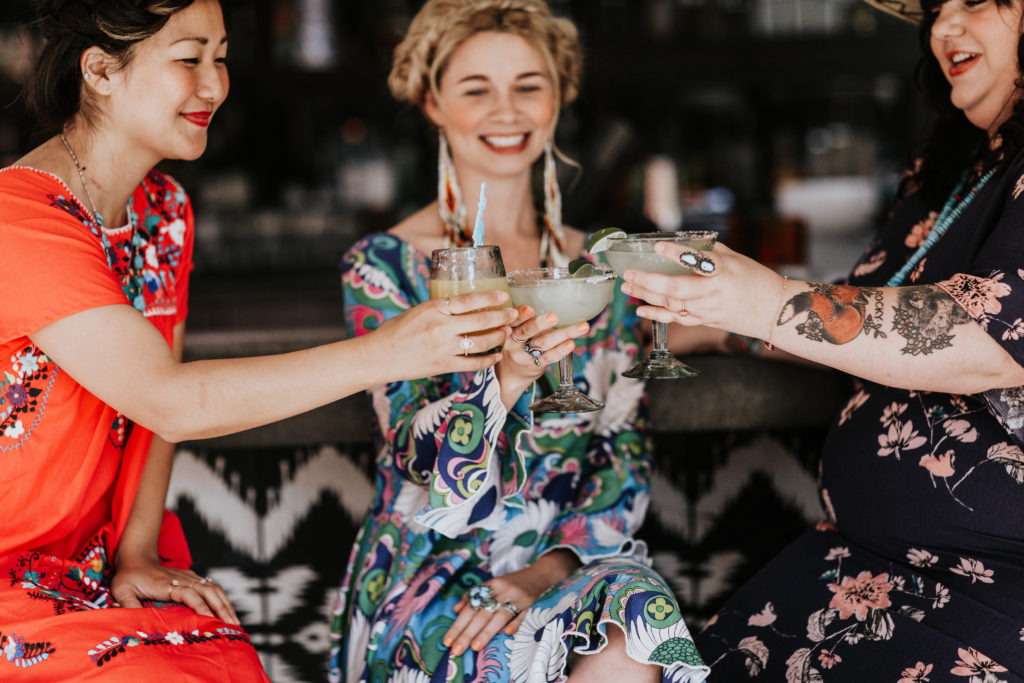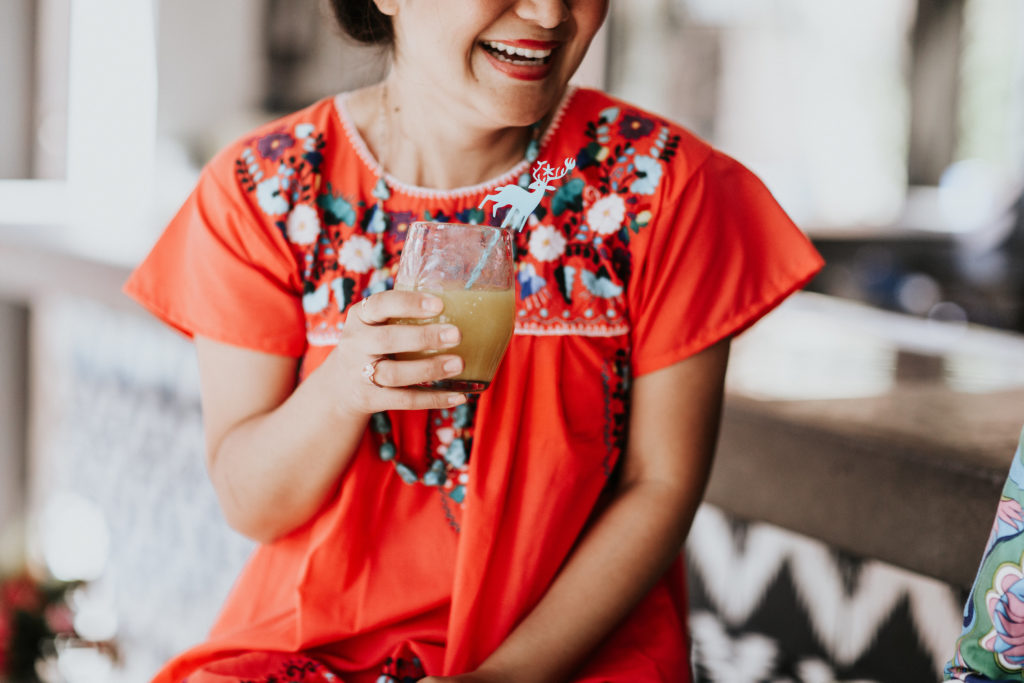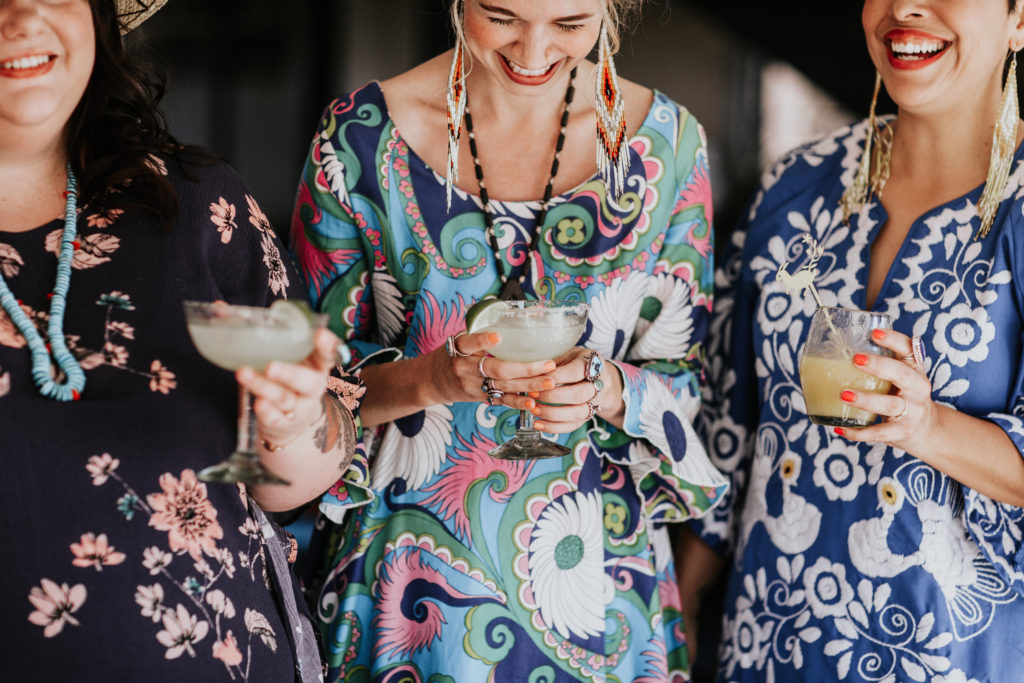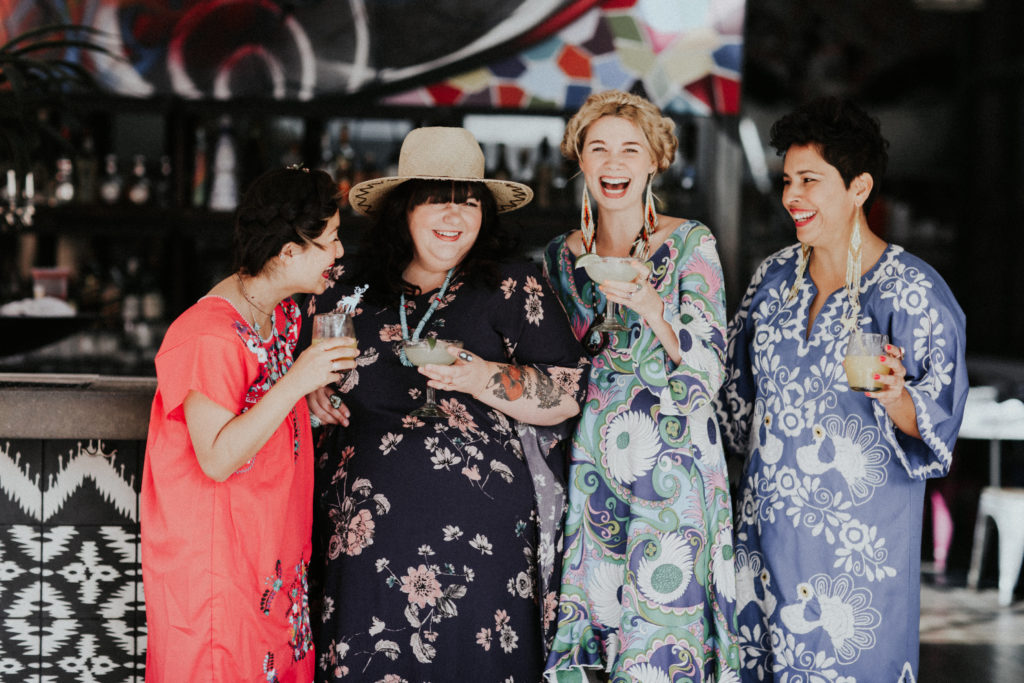 You know who is always invited to our events and shoots?! The little chicas… And Miss Perry is the ultimate cutie!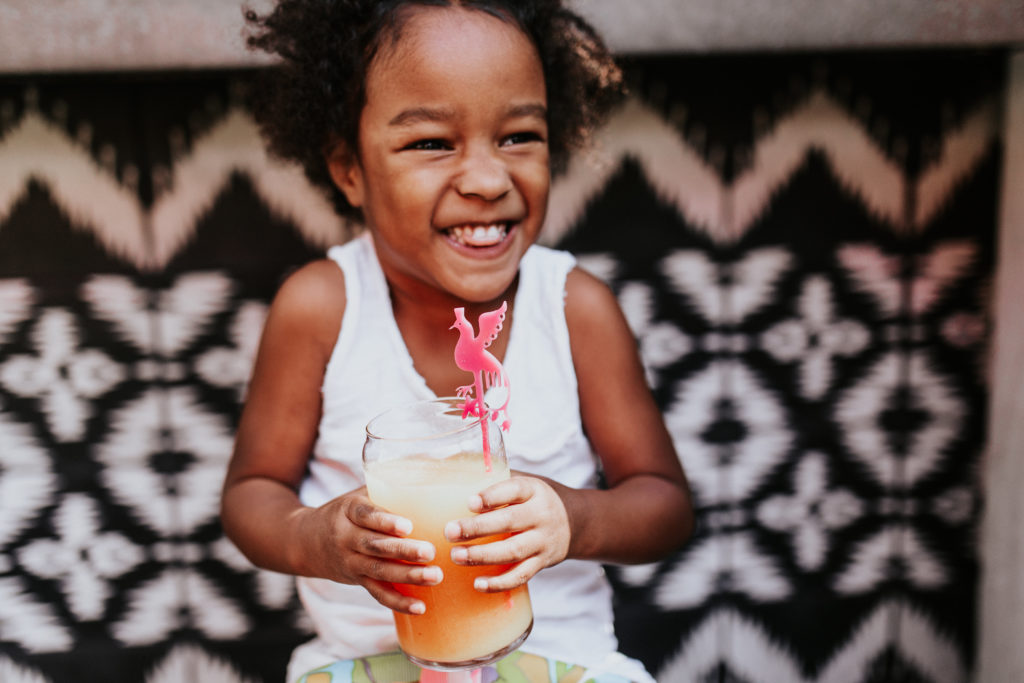 Here's some of her and her Mama…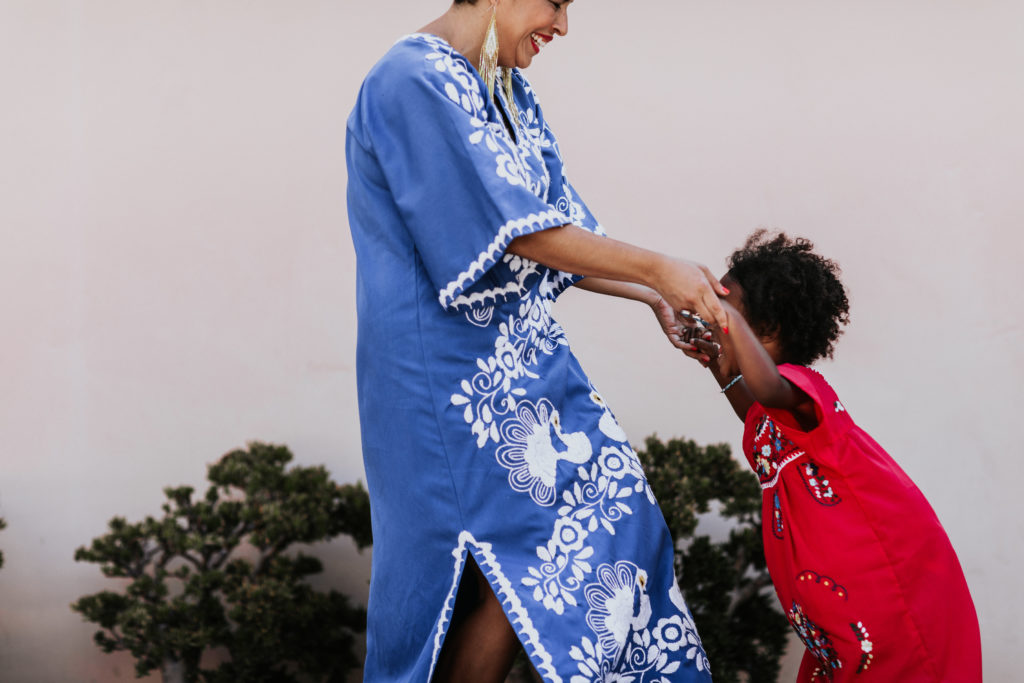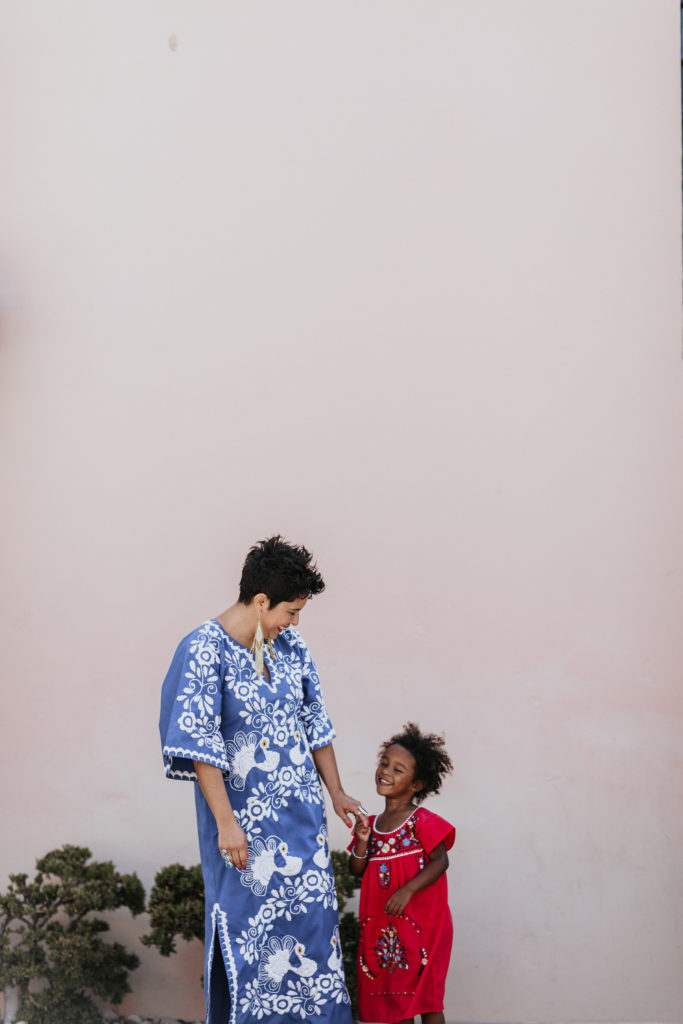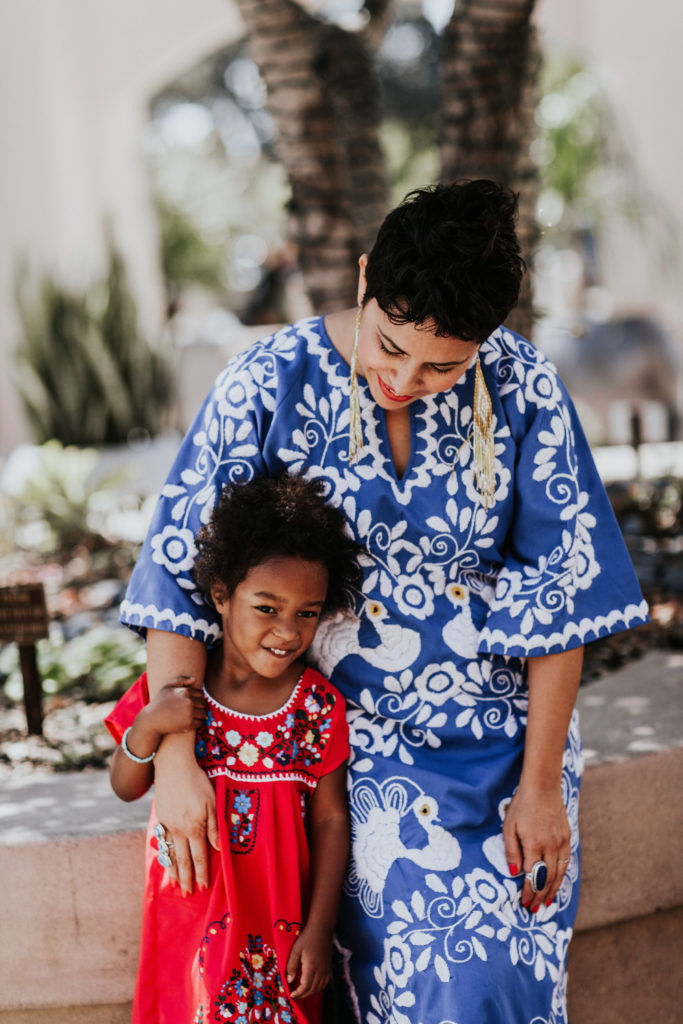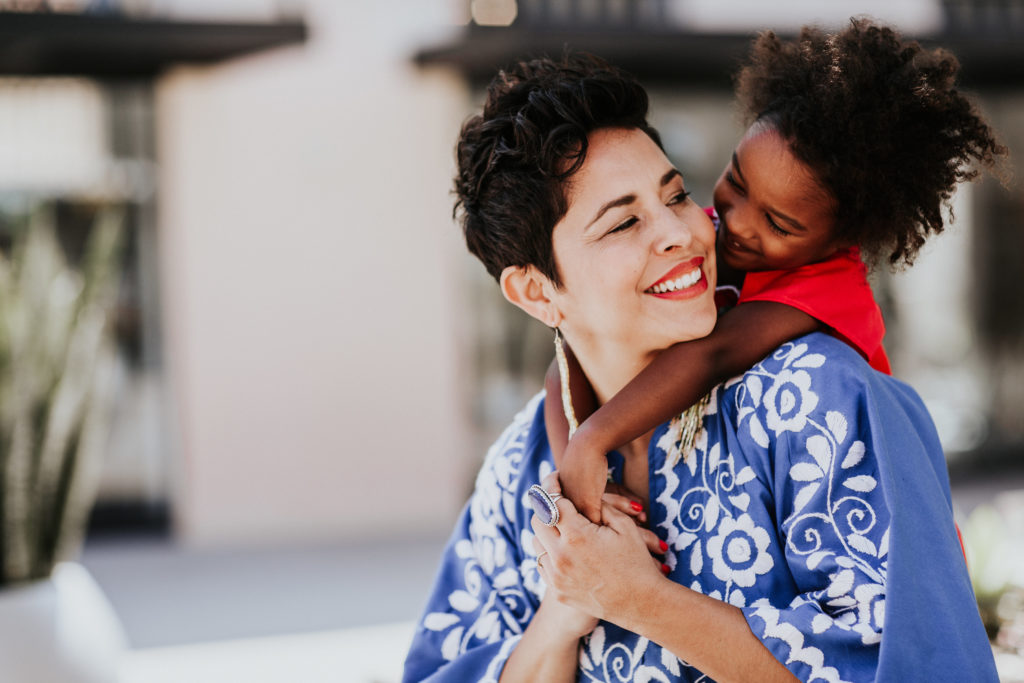 Now, like I said, I'm traditional so I like to end with dessert… I basically like to end every day with dessert so may as well end this post! Hey There Cupcake is one of the best in desserts, they have so much creativity and everything tastes really amazing. I told them about my Otomi print inspiration and what they did really blew me away. I mean, look at this spread!!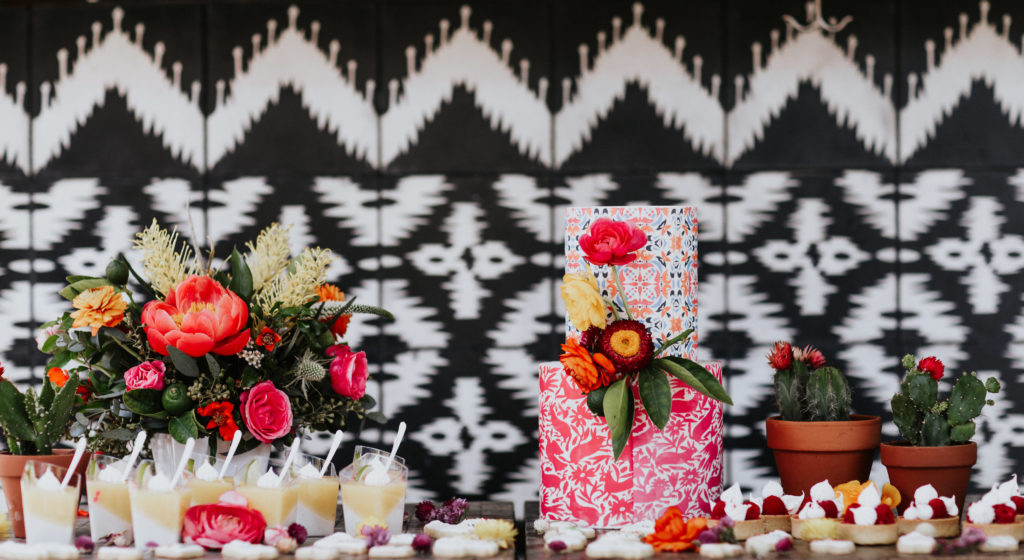 The cake is beyond amazing, and I love the flowers that were added!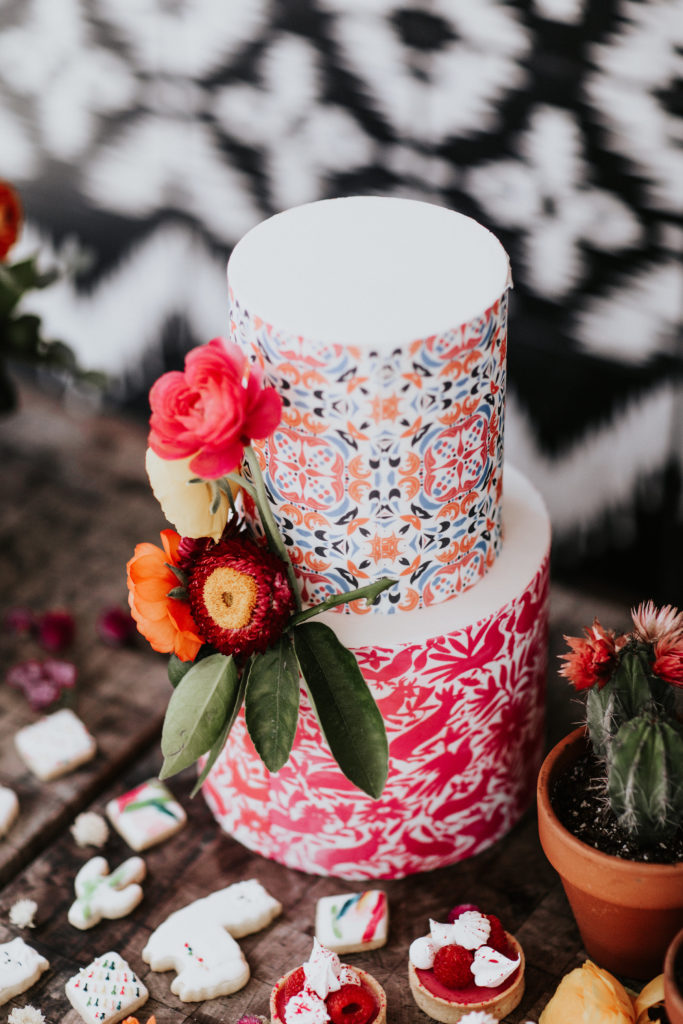 How cute are these little llama cookies?! I mean the fringe… I think they're my favorite cookie I've ever seen!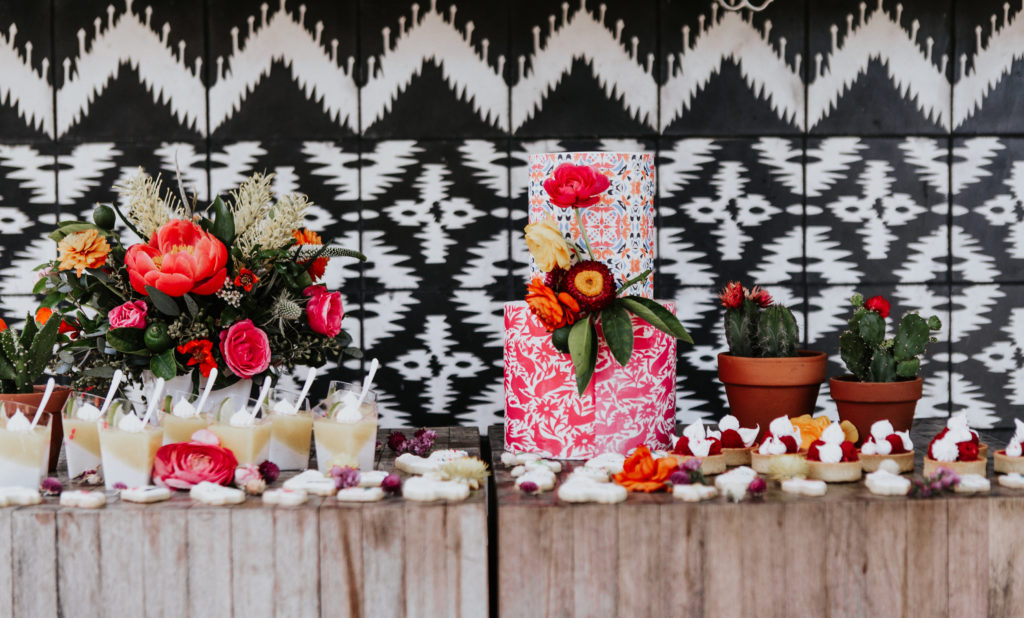 Now, you know these babes had to enjoy those sweet treats!!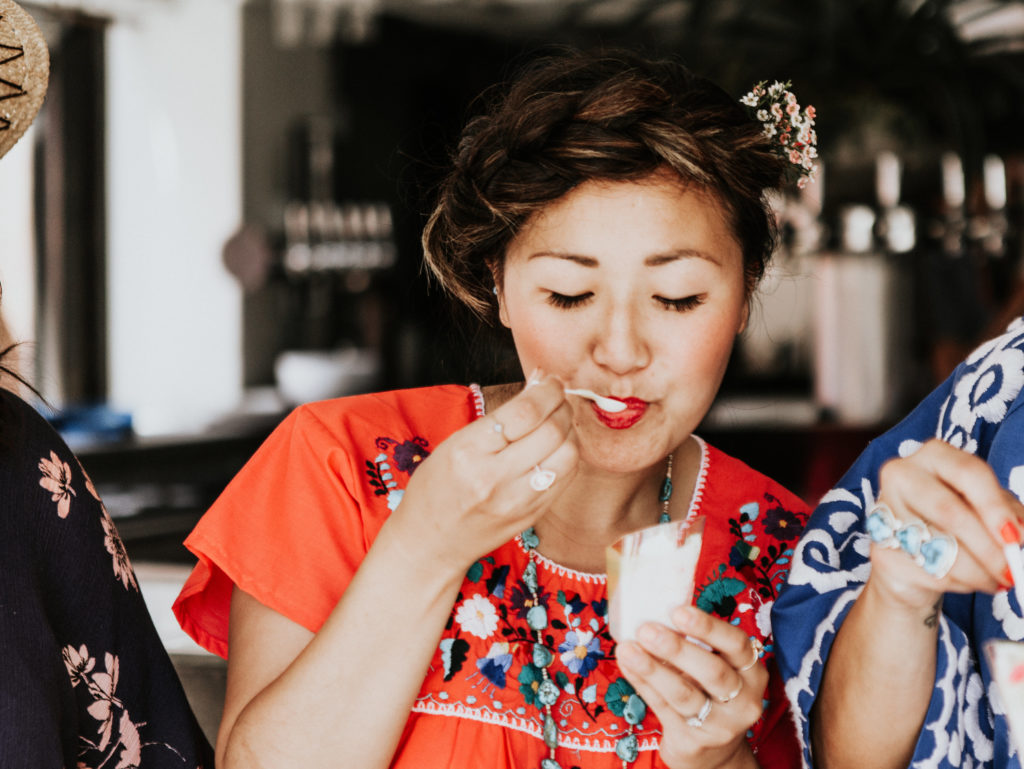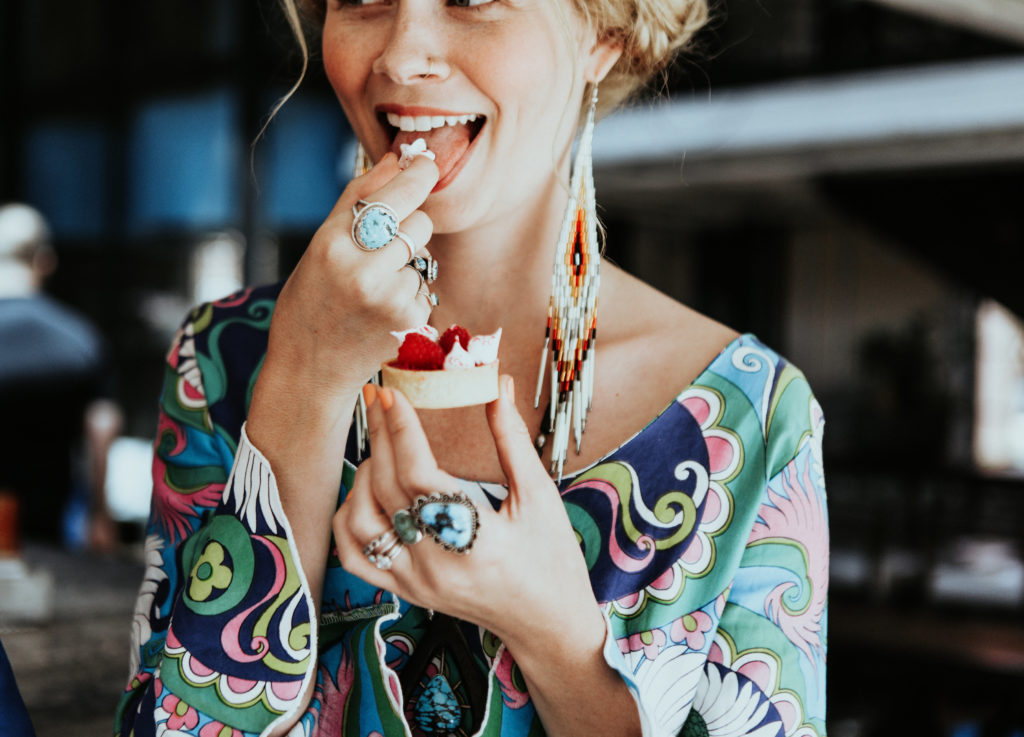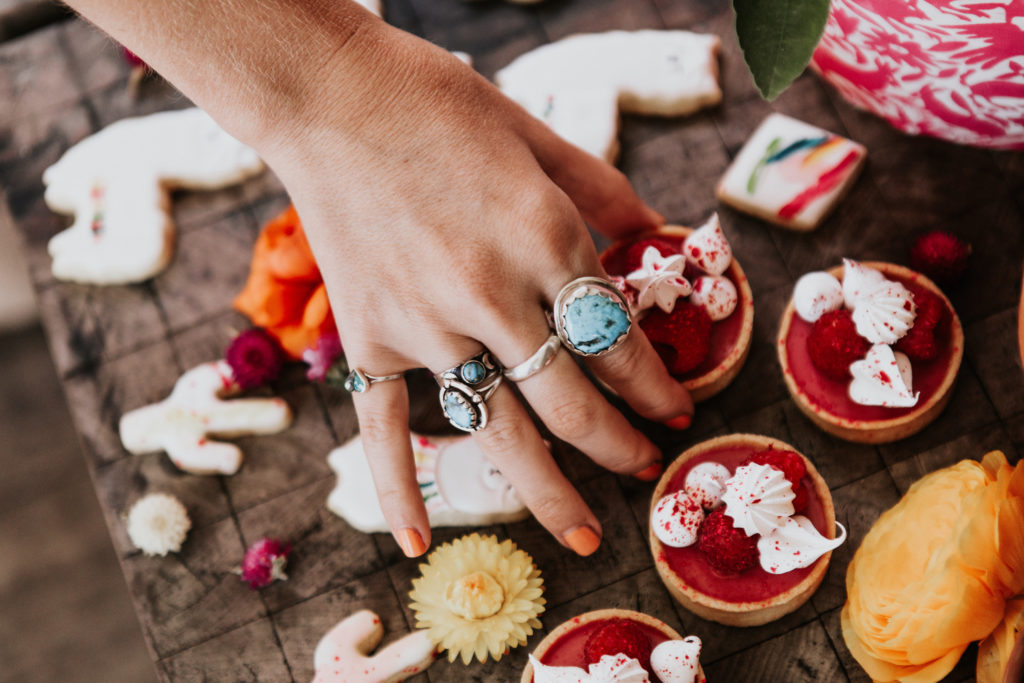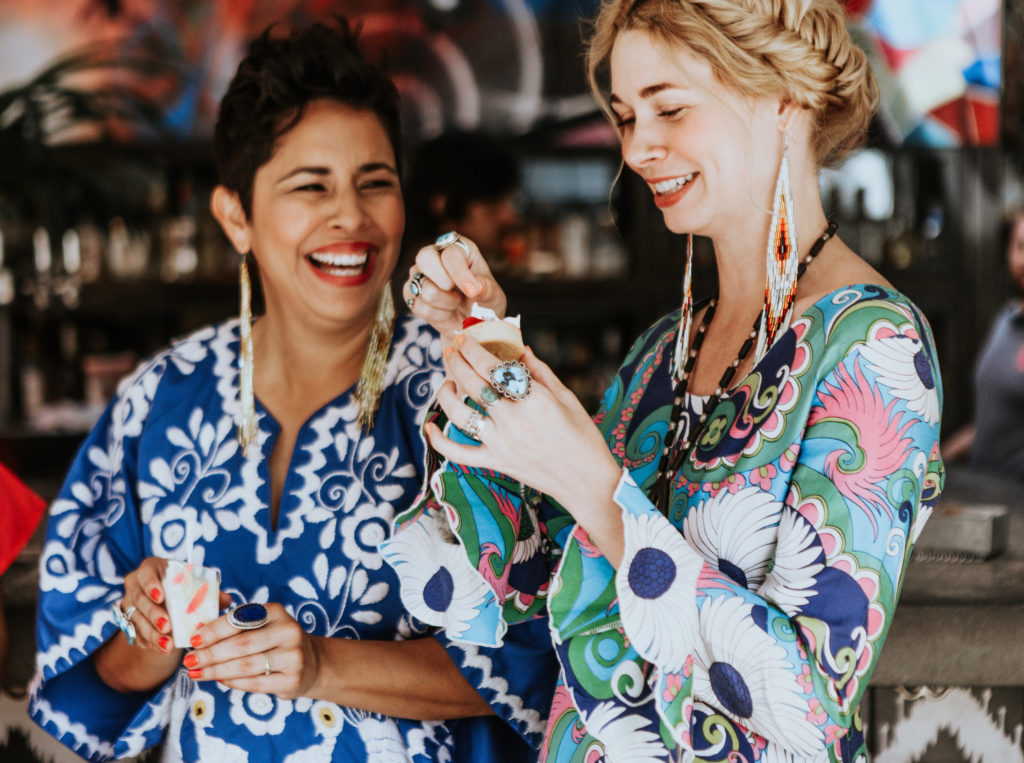 Especially little Perry, seriously love this cutie!!
Viva la Chicas de Mayo!!!
xx
Jacquelyn