Jacquelyn and I had a debate on our favorite Cinco de Mayo food essentials. A big important topic for us this week. Is it the guac and chips? Is it a twist on the classic salsa like a tropical one with fruit in it? Or is it just the perfectly made street taco? Hmm… What's your favorite? Mine is all three put together… the tostada! I love making these; there are so many combinations and a popular meal for my family. If you are throwing a little Cinco bash, then a tostada bar would be AMAZING! Move over taco bar; the tostada is the new kid on the block. I have been making this twist on the classic tostada for a few years now, and well it's just plain yummy and a crowd pleaser. I had to share!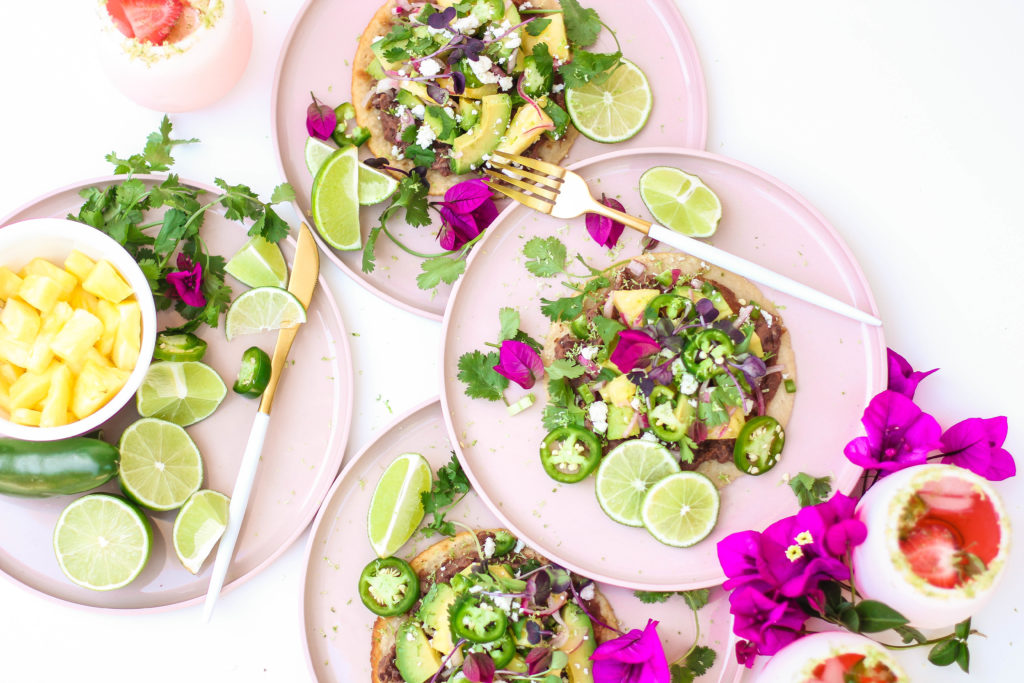 Abby's Tostada
Ingredients
One package white corn soft tortillas
2 (16-ounce) cans black bean refried beans
Two ripe avocados, peeled, pitted and sliced
One pineapple cubed
(lots of leftovers to snack on)
2 jalapenos
(cubed or sliced, seeded or non-seed, your choice)
One small red onion, pickled (optional)
cilantro
micro greens
crumbled queso fresco
Directions
First, you will need to pickle your red onion. You can do this by combining sugar, water, apple cider vinegar, and a sprinkle of salt. Slice your red onion and combine with pickling liquid and refrigerate for 4 hours or overnight.
Next, fry up your white corn tortillas with coconut oil and brown each side. I like to use white corn tortillas and fry myself. Something new then the classic yellow corn tortillas. Set aside to cool. You can sprinkle a little salt on them as they cool down. Be sure to wait till they cool down to assemble cause no one likes a sad soggy tostada.
Finally, assemble these bad boys. One big spoonful of black refried beans on each tostada and spread out evenly. Then I like to slice my avocado and cube it, that's just me. Call me crazy. Line the beans with your sliced avocado. Then, sprinkle with your cubed pineapple and cubed avocado, yes more avocado. Next, sliced or diced jalapenos, totally up to your spicy taste buds. Grab your pickled red onion, and chop it up and sprinkle over your tostada. Almost done! Then the queso fresco and micro greens, and don't forget the cilantro! My favorite part! I love cilantro, so I put a TON on. Lastly, I like to squeeze fresh lime juice and grate zest over the pretty tostadas. Now, here is another item you can add if you are feeling super crazy, add some strawberries. Getting a little fruity around here. Serve immediately.
Serve with sliced limes and your favorite margarita.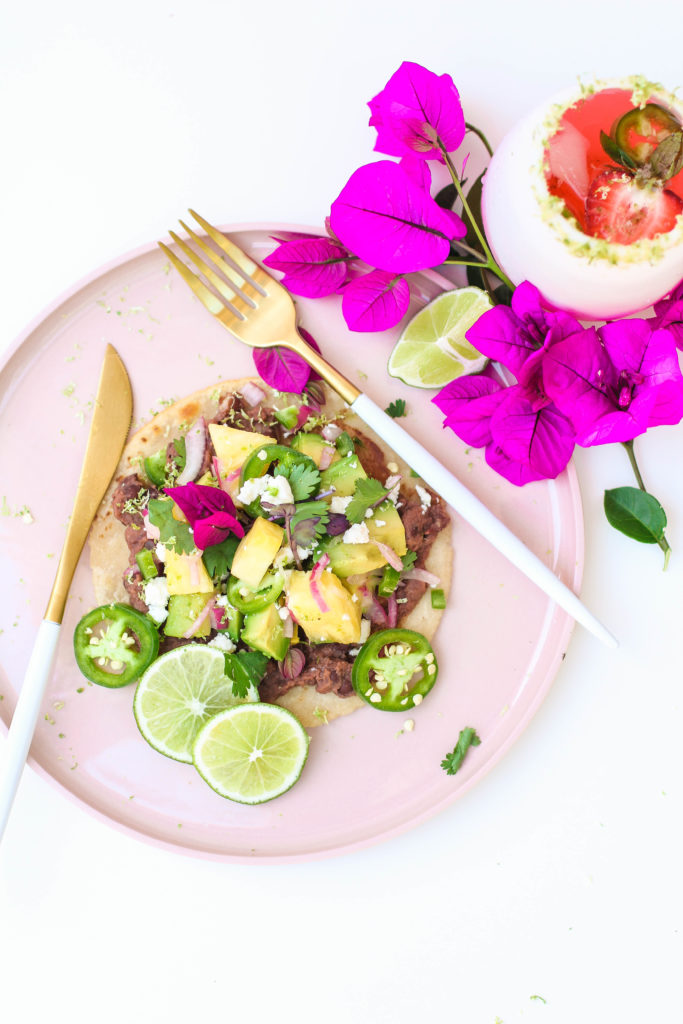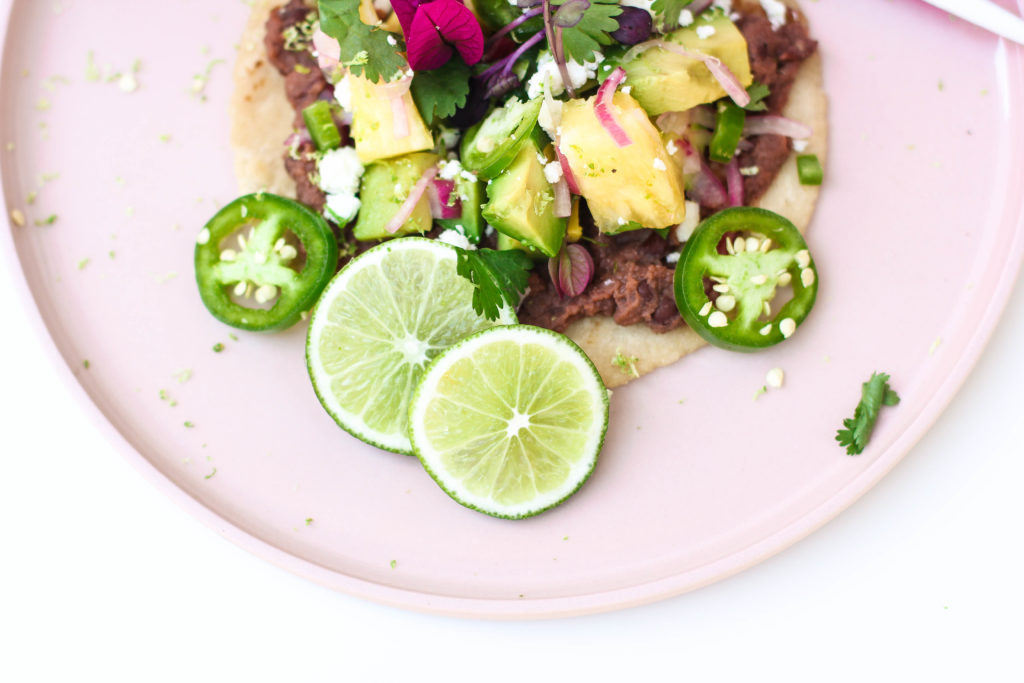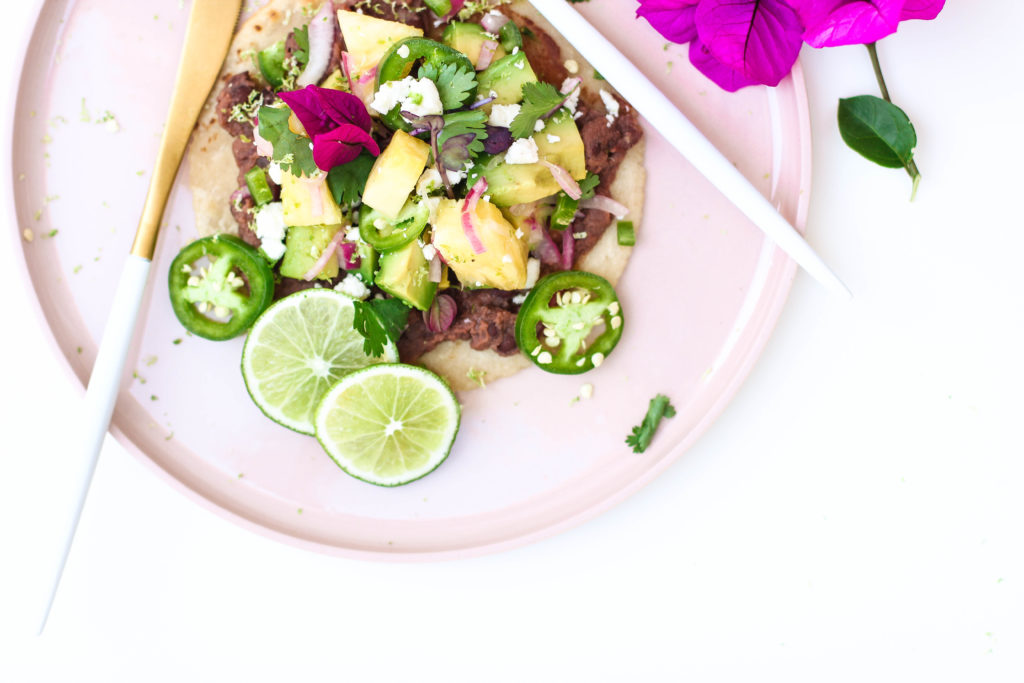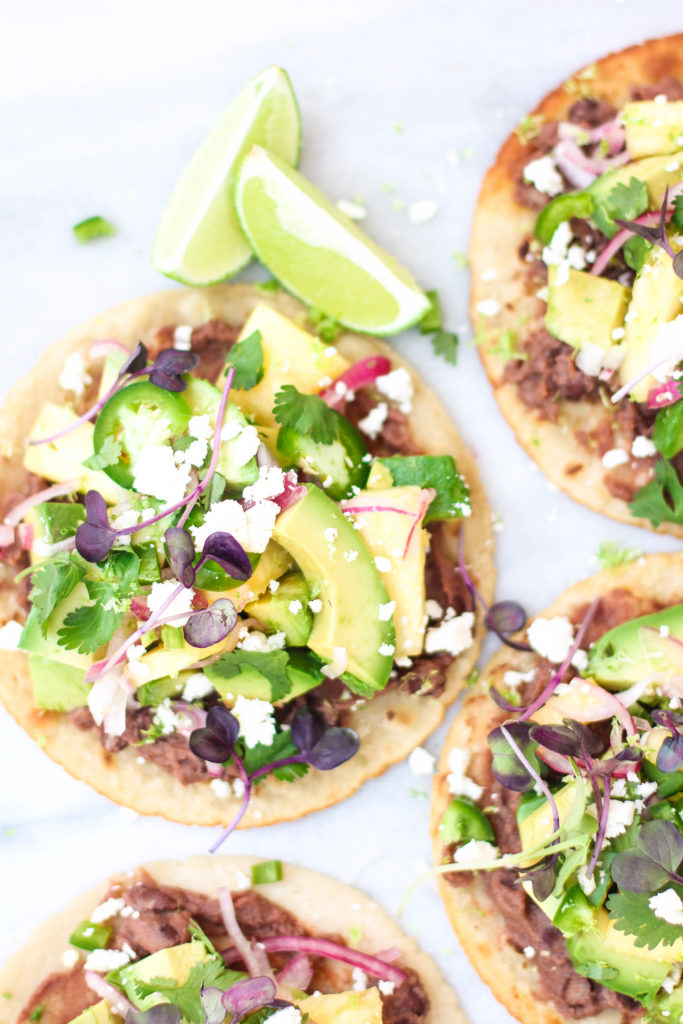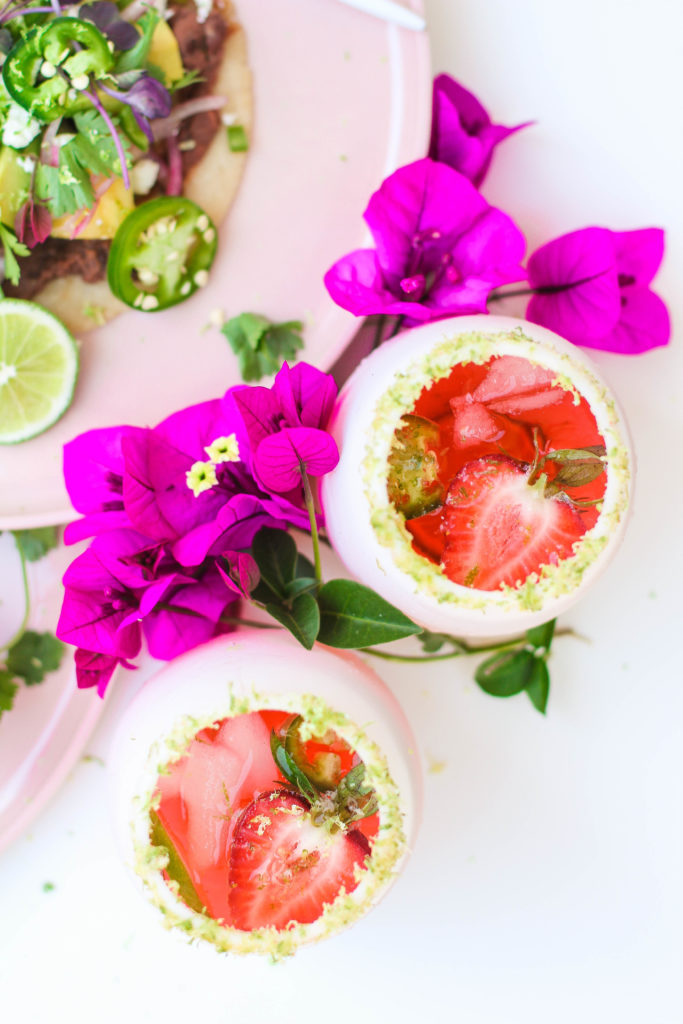 Here is the recipe for my favorite margarita!
Strawberry, Honey & Jalapeno Margarita
Ingredients
Four strawberries, hulled and quartered
One coin-sized sliced fresh jalapeno, plus more for garnish
½ ounce honey syrup (See note below.)
2 ounces tequila
1-ounce lime juice, freshly squeezed plus more for garnish and zest
¾ ounce orange liqueur
* I like to de-seed mine, so I just get the spicy notes of the pepper and the actual heat. My husband loves all the heat he can get. Ask your guests what they enjoy.
Directions
In a cocktail shaker, place strawberries, jalapeno and honey syrup. Next, muddle until strawberries and jalapeno are crushed and juicy. Add ice, tequila, lime juice and orange liqueur. Shake until chilled. Pour into a rimmed glass of lime zest, sugar, and salt and garnish with a fresh strawberry, lime, and jalapeno. Serve immediately. This makes one margarita. Make a bigger batch for a crowd.
Note: To make honey syrup, mix one tablespoon honey and one tablespoon warm water.
Happy Eating!
xx
Abby