Cinco de Mayo is just around the corner, what is your night looking like? Having a little fiesta of your own? Beijos is here to the rescue if you are looking for some yummy cocktails and appetizers!
Don't forget to check out our giveaway if you haven't already, its a good one! Check it out here.
Photos by Yasmin Sarai
Well, for us there is one very important key ingredient for any good cinco de mayo or well…. pretty much any day after 5.
Margaritas!
Its quite the toss up between a good marg or a glass of vino for us beijos ladies. You definitely won't see us turn one down. So when it comes to choosing the right one for Cinco de Mayo, well it was kinda tough. There is just so many to choose from. How do you decide!? Do you go classic with the Cadillac, shaken or on ice, salt or no salt?, or go fruity like a guava margarita? It's just so hard! We did none of those, we went daring and tried out the aloe vera Margarita! Yes, aloe vera. Didn't know that could go in a drink did ya?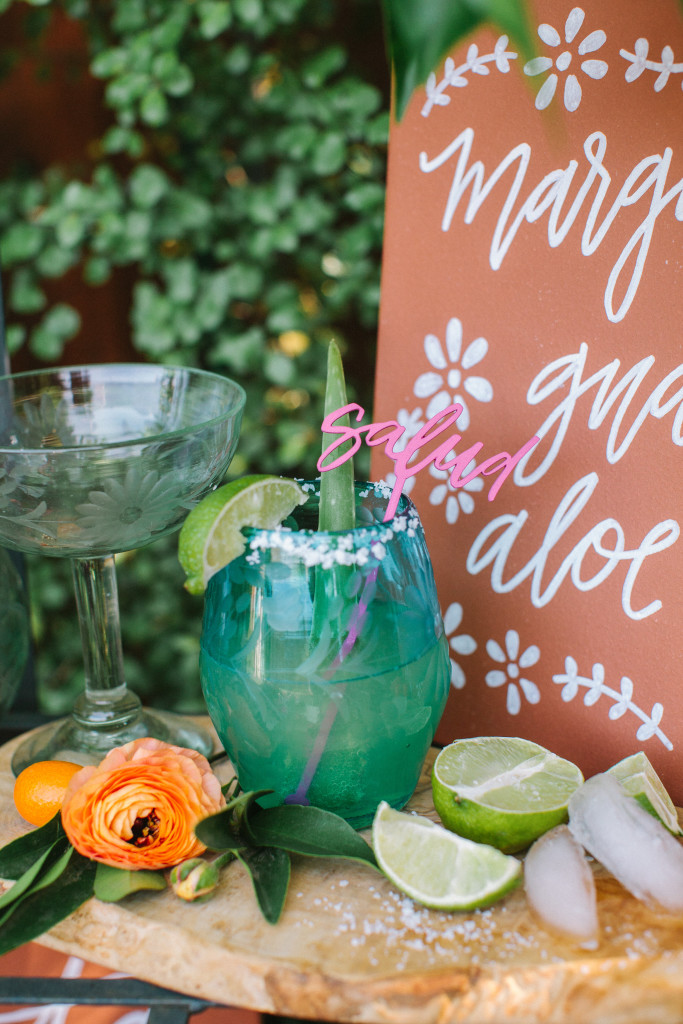 Well… this little guy is quite the healing elixir. Now, I will fully admit I picked this margarita cause well it looked good with the aloe sticking out of it. What can I say, I like a pretty cocktail. So I read up about it, and was surprised by its healing powers. Indulging in this marg will not only boost your immune system, it also cures an upset tummy, and has powerful calming effects as it contains amino acids, enzymes, vitamins and minerals that protect your digestive tract. And tequila also has the same effect, so really this is quite healthy for you! No brainer!
Ok blah blah, lets get to it already!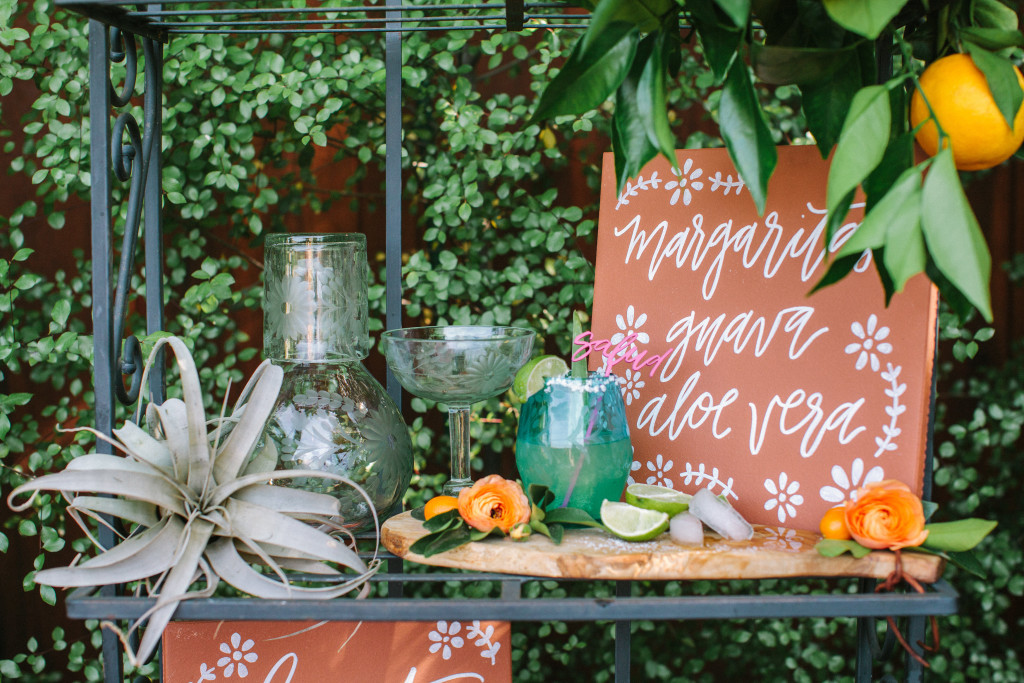 Ingredients
2.5 ounces Aloe Vera Juice
2 ounces 100% Agave Tequila
1.5 ounces fresh squeezed lime juice
1 tablespoon honey syrup (see notes)
Salt, for rimming
Notes: Honey Syrup is equal parts honey and warm water. For one margarita you will want to do 1/2 tablespoon of both salt and warm water.
Instructions
In a cocktail shaker, combine aloe vera juice, tequila, lime juice, and honey. Shake! Shake! Shake! till you can't shake no more!
Rim your glass with a lime wedge and dip into salt. Add ice.
Strain and Drink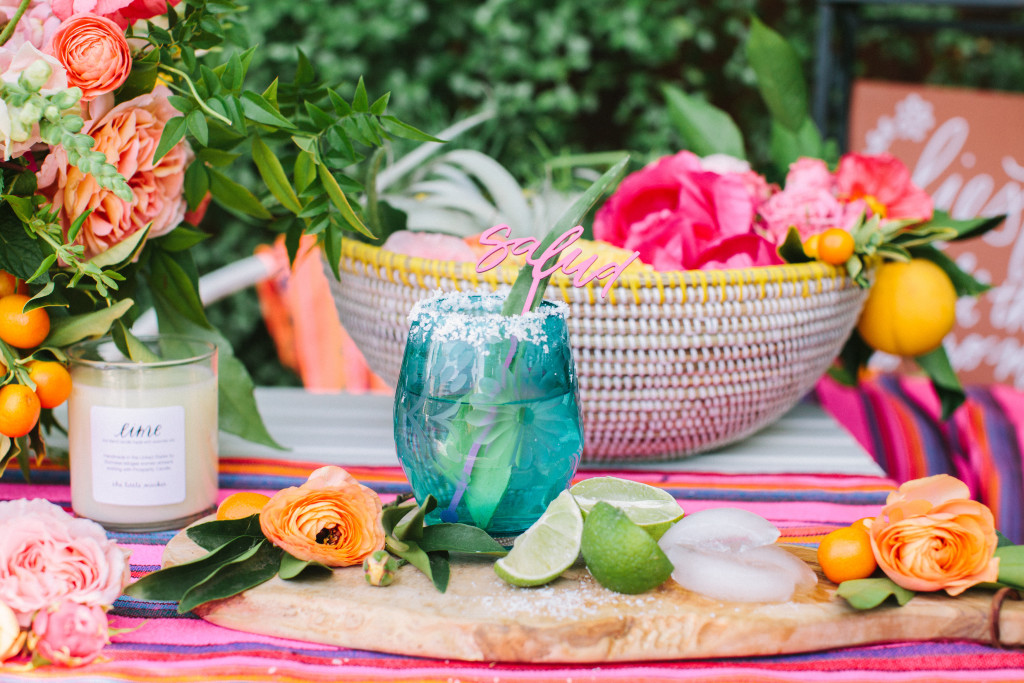 If you are looking for the prefect Margarita glass, we only turn to one place and that is the
Little Market
. I personally have these as my everyday glasses and love love love them!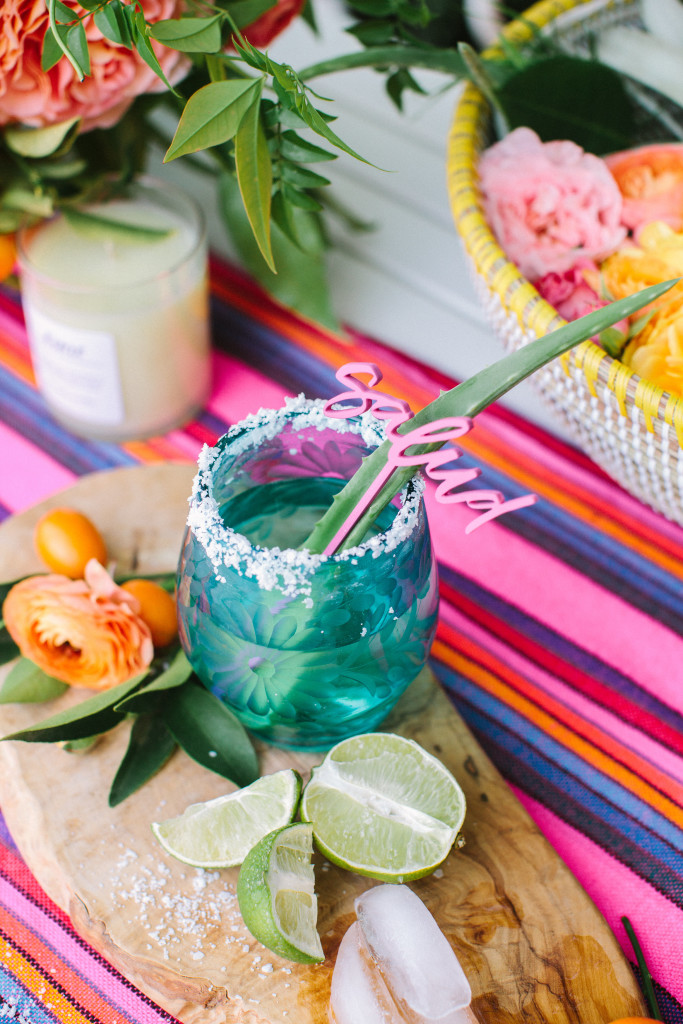 To wow your guests, put in a medical grade aloe vera leaf. Remember to get most of the gel off. If you don't you will have a gooey mess on the bottom of your glass.
Salud!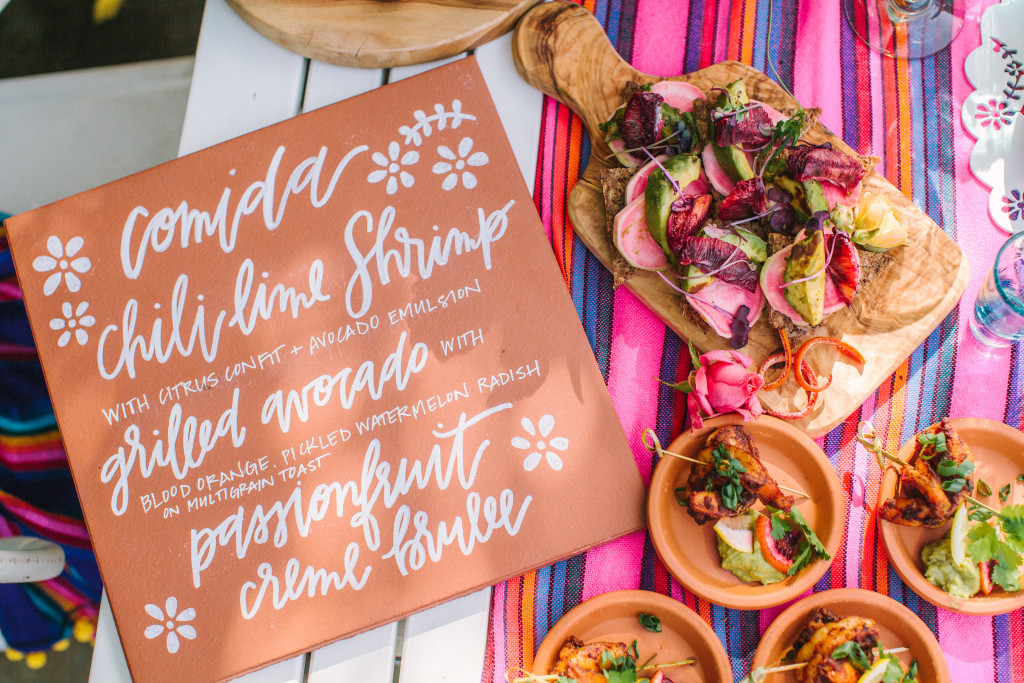 Now a good cocktail needs a wing man. Our fav chef Molly from
Organicopia
made us some really yummy apps that pair perfectly with the aloe vera marg, and she is sharing her recipe with you today! I speak 1st hand that you will not be able to eat just one of these. I might have eaten all of them by myself.  And I would do it again too!
This lady never disappoints! If you are looking for a chef for your next party, couples dinner, a date night in, or just a tuesday night, have this lady on speed dial!
---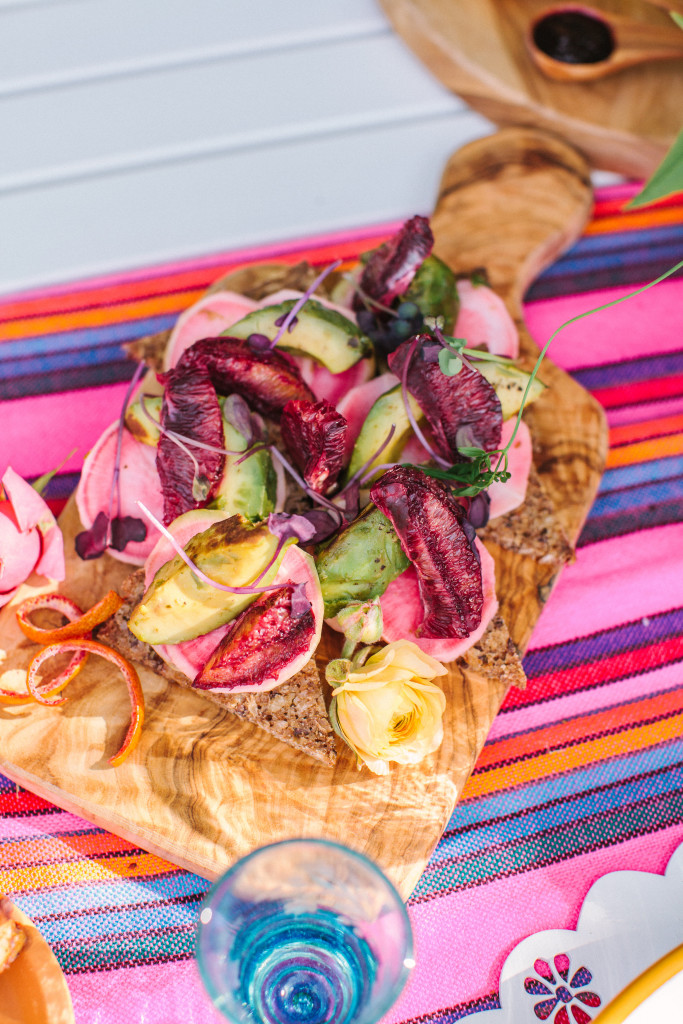 Grilled avocado with blood orange, pickled watermelon radish, served on multi­grain toast
Pickled Watermelon Radish:
2 watermelon radishes, peeled and sliced thin
2 tbls. Sugar
2 tbls. White wine vinegar
10 black WHOLE peppercorns
1 bay leaf
~ bring sugar, vinegar peppercorn and bay to a boil on stove top (very quick) Take off heat and pour over sliced radish. Let sit 30 min. Minimum and up to 3 hours (any longer and the watemelon radish will bleed and go limp)
Grilled Avocado:
Avocado, salt and pepper, oil and lemon
~ using an indoor grill pan, pre­heat on stove top until very hot and smoking. Using either a spray oil or grapeseed oil and a brush­ lightly coat the grill pan. Sear avocado 1 min. Per side until dark brown grill marks almost burn the flesh. Slice thin and squeeze lemon on top to prevent browning.
Blood orange: peel and slice 2 blood oranges into segments
Multi Grain Toast:
cut crusts off and cut into triangles. Toast either in oven at 300 or toaster until lightly golden.
To assemble:
take a piece of multi grain toast, top with avocado, 2 slices of radish and blood orange. Feel free to garnish with either the blood orange zest from the rind or garnish with arugula microgreens or a basil sprig
---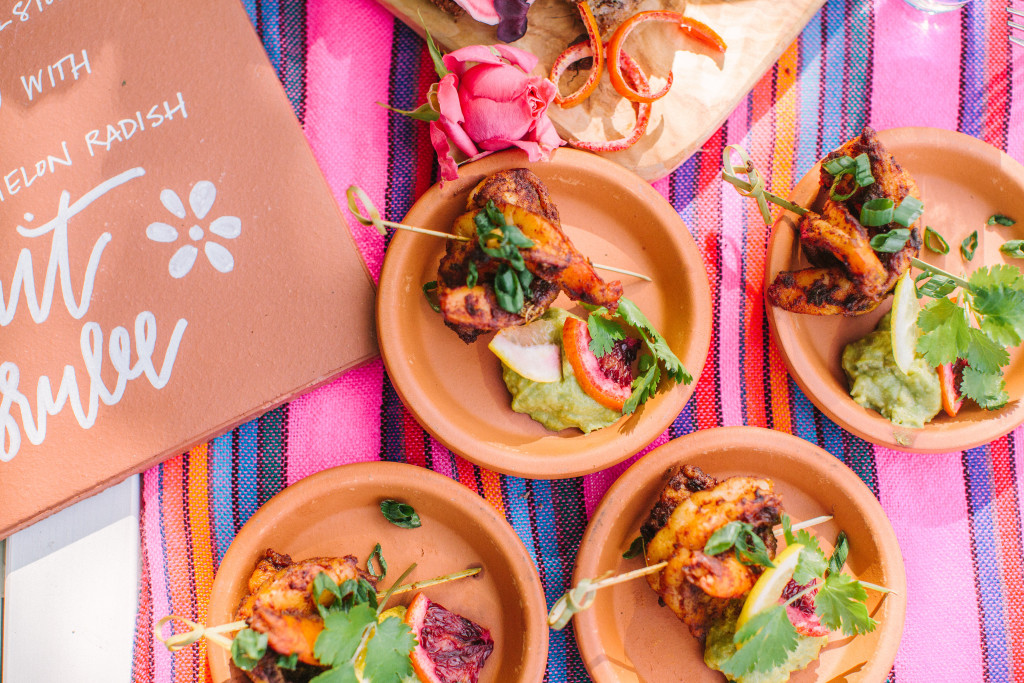 Chili lime shrimp with citrus confit and avocado emulsion
Chili Lime Shrimp rub (makes 1 c. rub)
2 tbls chili powder
1 tbls garlic powder
1 tbls cumin
1 tsp salt
1 tsp pepper
1 tsp WHITE pepper
1 tsp mexican oregano
1⁄2 tsp cinnamon
12 jumbo prawns, peeled and deveined
2 tbls. Grapeseed oil
3 limes
1 avocado
Salt and pepper
Shrimp:
combine the spice rub and lightly sprinkle shrimp with rub.
Pre­heat a sautee pan and add 2 tbls. Oil. Once it is hot and almost smoking, quickly sautee your shrimp until they curl and turn pink, about 1­2 min. Take off the heat and squeeze with the juice of 1 lime.
~ Avocado emulsion:
In a vita mix, puree 1 avocado and the juice of 2 limes with salt and pepper until it creates a smooth tart and zesty puree
~ To assemble:
using the back of a spoon, smear a spoonful of avocado on a plate. Hook 3 shrimp together and rest on top of avocado. Garnish with cilantro sprigs. Can be served warm or at room temp.
Happy Cinco de Mayo!
Eat and drink safe!
xx
Abby