Like any other occasion Cinco de Mayo is another reason to get festive, and that includes our wardrobe! When I thought of what I would want my Cinco de Mayo style to be I immediately thought of Santa Marguerite. Have you seen this brand? It has definitely become one of my favorites! They have the cutest Mexican inspired clothing with the on trend embroidery look perfectly done. And with their cute silhouettes you really can't go wrong!
Photos by Erin Milnik and Megan Welker
Don't forget to shop the post at the end!
It's always so hard to choose what you want to wear – a top or a dress… I go through this all the time. I have to say, I generally go with a dress, for me it's just easier because you don't have to think about what you wear on bottom, haha! Ultimately it's less to think about or fuss with. Abby on the other hand likes to do tops a lot! Although she loves dresses, she finds it easier to do tops with her mom life. She loves doing a fun top with denim for a complete look and it works out well with her 7:30 am carpool schedule, I mean who wants to wear a dress that early?! Besides me, haha! So that is just what we did, her with a top and myself with a dress…
Here is Abby's cute look below… She went with the San Andres Top, which is more like a tunic. Abby paired it with her favorite Levis's cut offs. So fun because it can definitely be casual, but Abby dresses hers up with fun accessories. I love her Vanessa Mooney Astrid earrings (so much so that I have them in green!), adorable Sole Society clutch, Target black sandals and D'Blanc lucite sunnies. Perfectly accessorized and ready for some chips and guac!!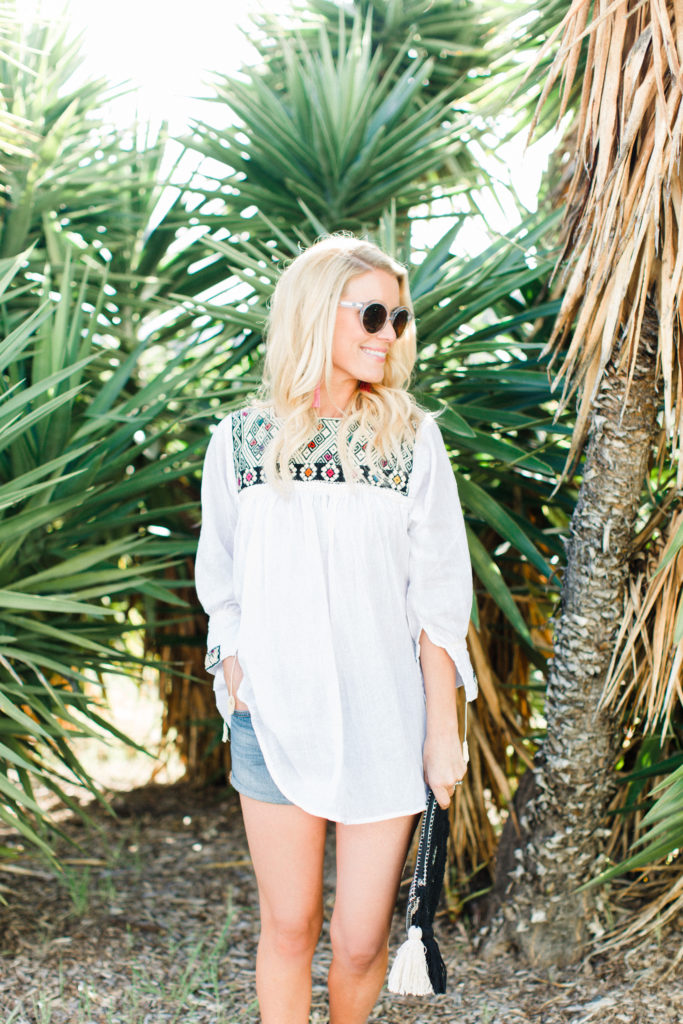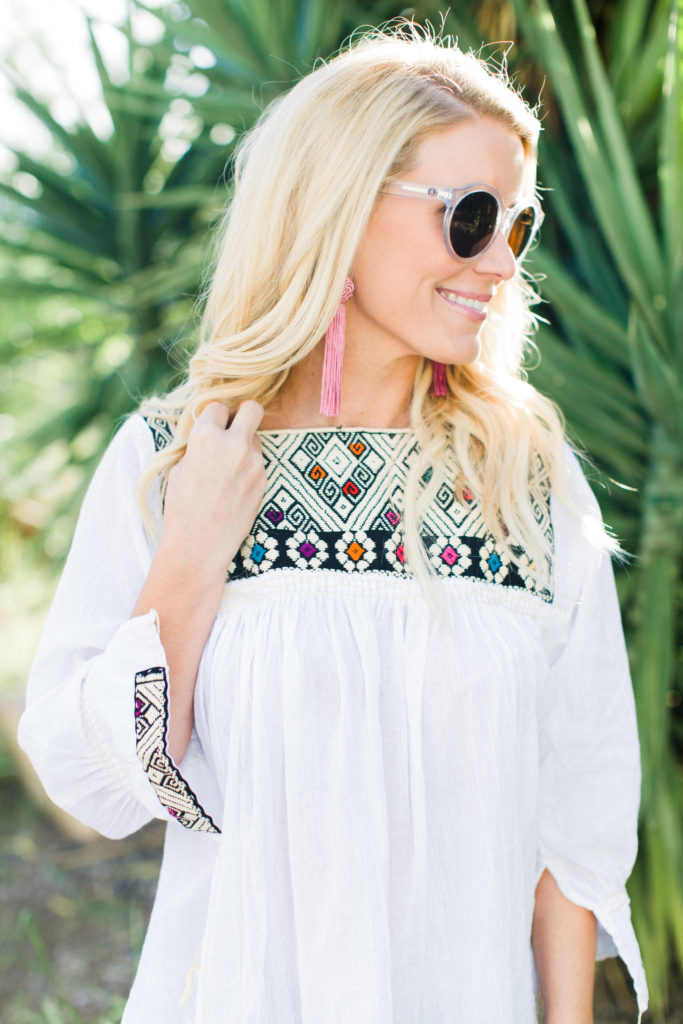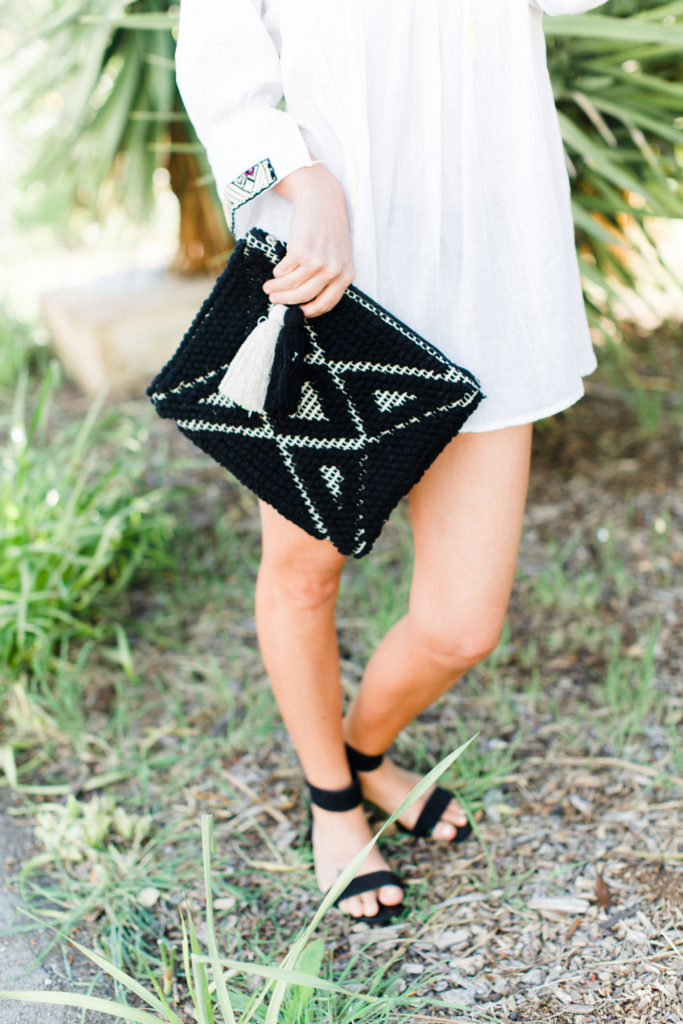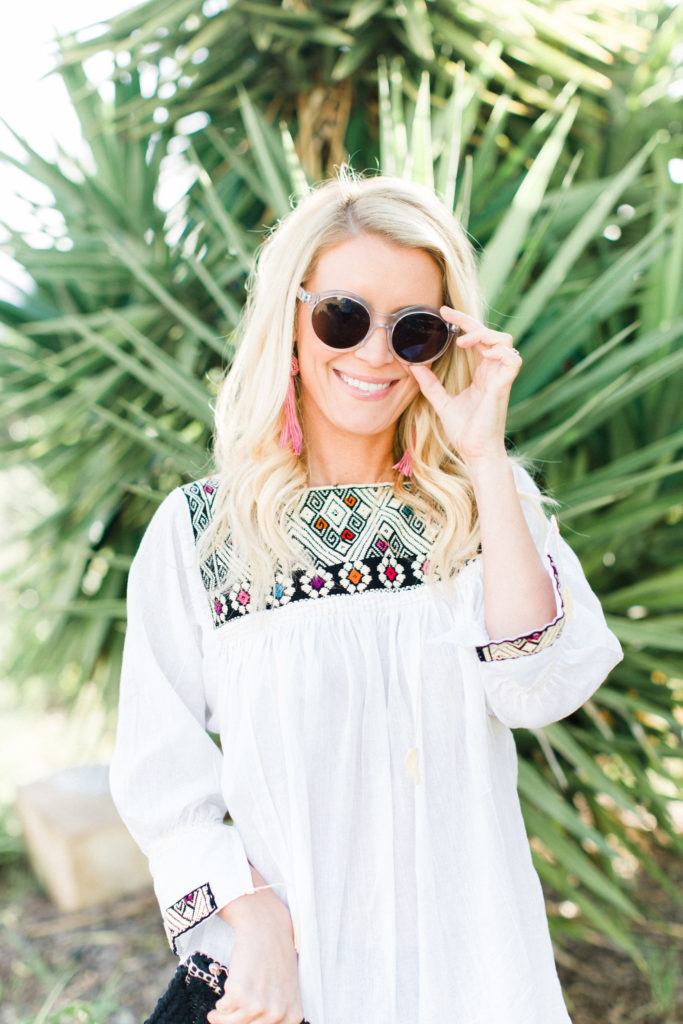 Now, like I said, I love to go the dress route. I did their super cute San Juan Tunic Dress. I loved the vibrant colors and that it was a little mini, perfect for a night out with my husband and some margaritas! If I ever get to go out with him, haha, anyone want to pay for a babysitter??
I accessorized with our favorite Cleobella Mexicana Clutch in this fun mustard yellow color. It's such a great accent color that you can pop in with any outfit – a neutral but not, if that makes sense! And I'm loving these sandals I just got at Target! I have to admit, I'm a Target shoe virgin, but Abby has been talking up their shoe selection lately and finding the cutest pairs!! When I checked it out I ended up buying two pairs!! Seriously you gotta check them out!
Oh, and another must have accessory for Cinco de Mayo – bougainvillea, duh!!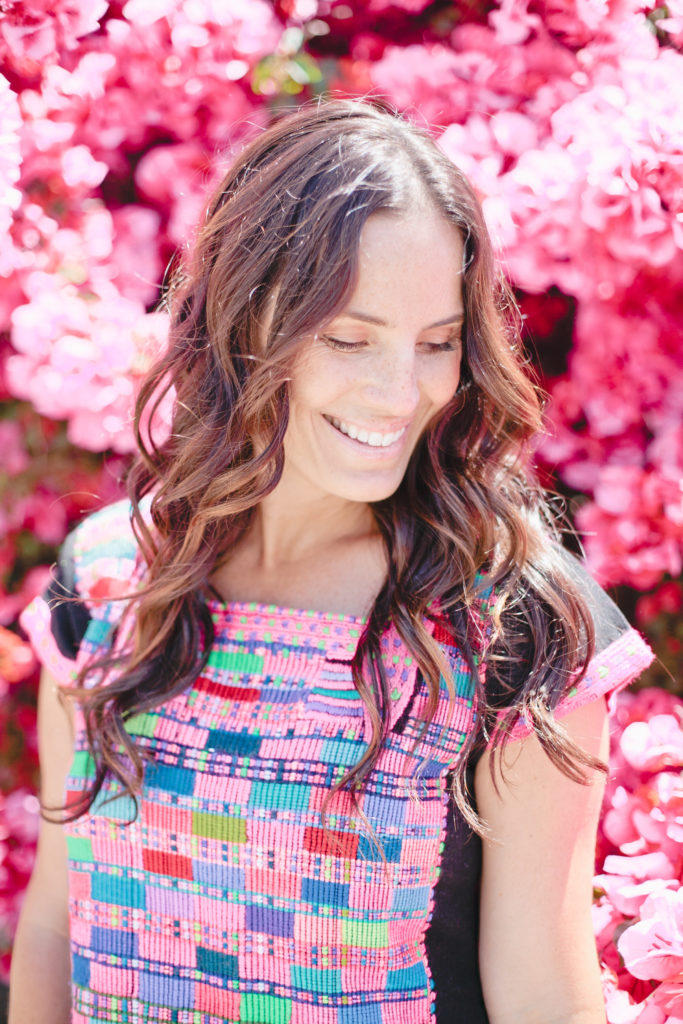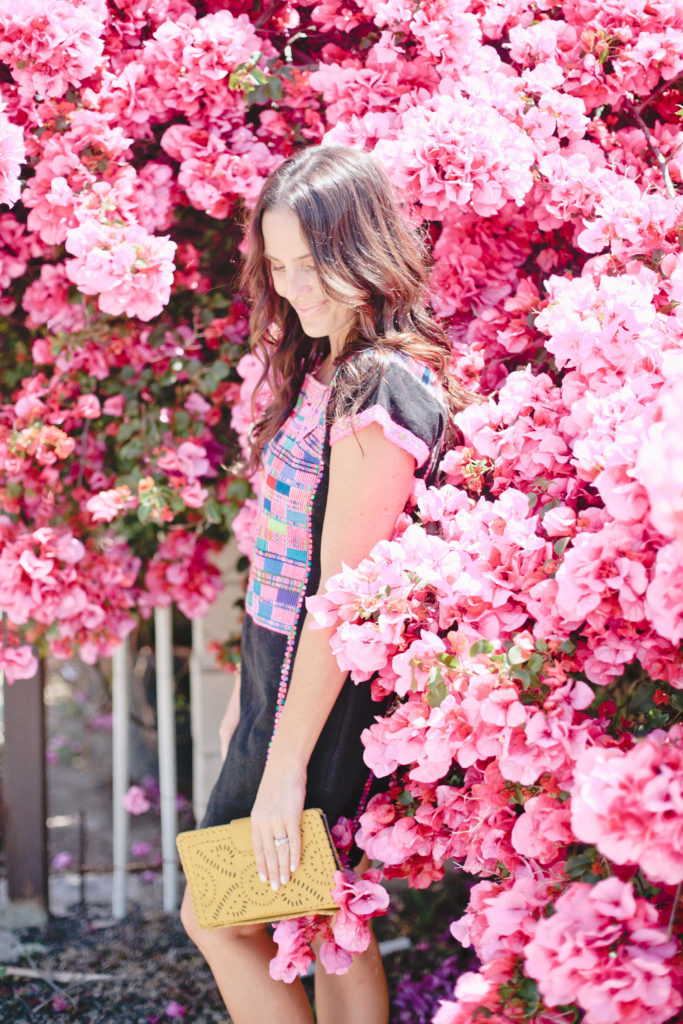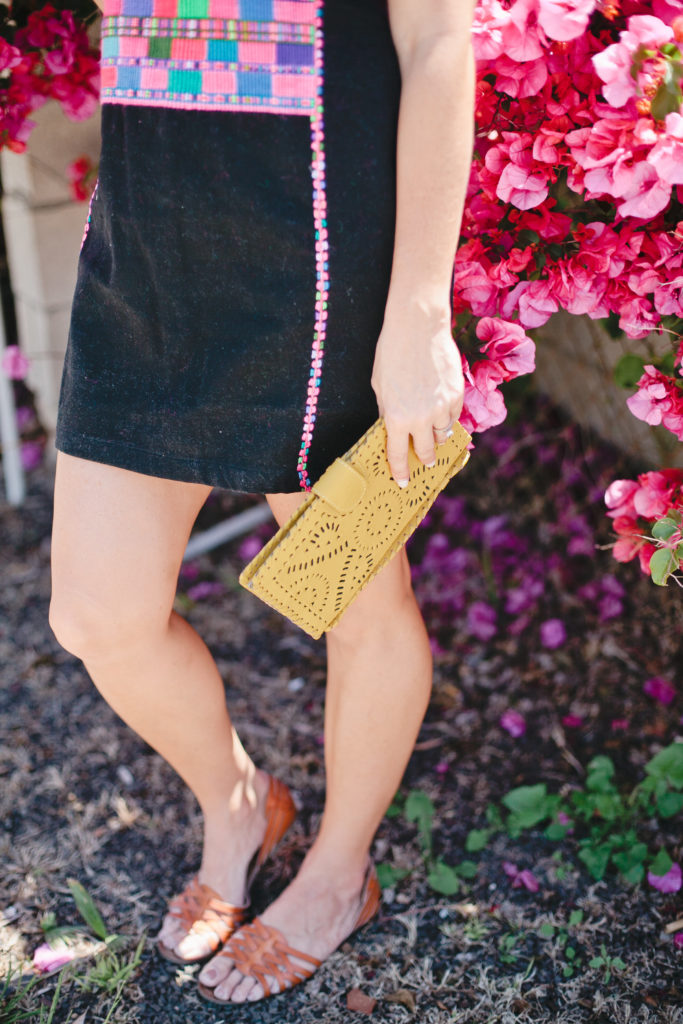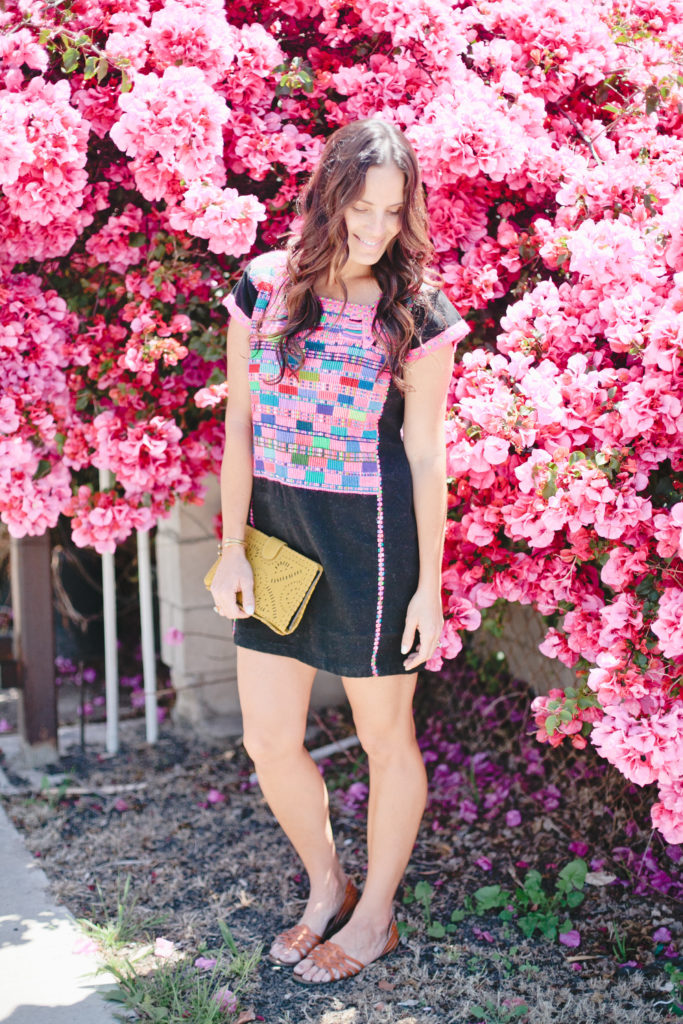 We're just getting started with our Cinco de Mayo fun!! With a holiday this good, you know we'll have more for you this week! Shop the post below babes!

xx
Jacquelyn