Ok, guys!! Our two oldest kids spoke up, and they are here to tell you their must-haves for stocking stuffers this year! And, we gotta tell you, these kids got style. We have everything from girly '90's classic items like a disposable camera and a caboodle to those cool surfer vibes with a sweet beanie and socks to mini skateboards. We even have some items that you can get done custom for both a boy or a girl like personalized water bottles and keychains. And, we threw in a little 2020 covid style with some masks. Plus, more! So let's get to it, shall we?!?
DYLAN'S STOCKING
I think I have said this at least a handful of time times already this year, but when your little one is not so little, it's like, WOW! Dylan turned 10 this year, and it's a new stage of life- Pre-teen! I was initially scared of this stage cause, well, I was a bit of a handful, apparently. So far, she is just like me, so sorry, Mom! How did you survive, haha! But, she is the sweetest little girl.
One of the areas that are super fun with her now is shopping. It's funny cause it's all about the '90s right now, and she thinks I have no idea about it. So picking out things for her stocking was so easy!

Photos by Dayna Studios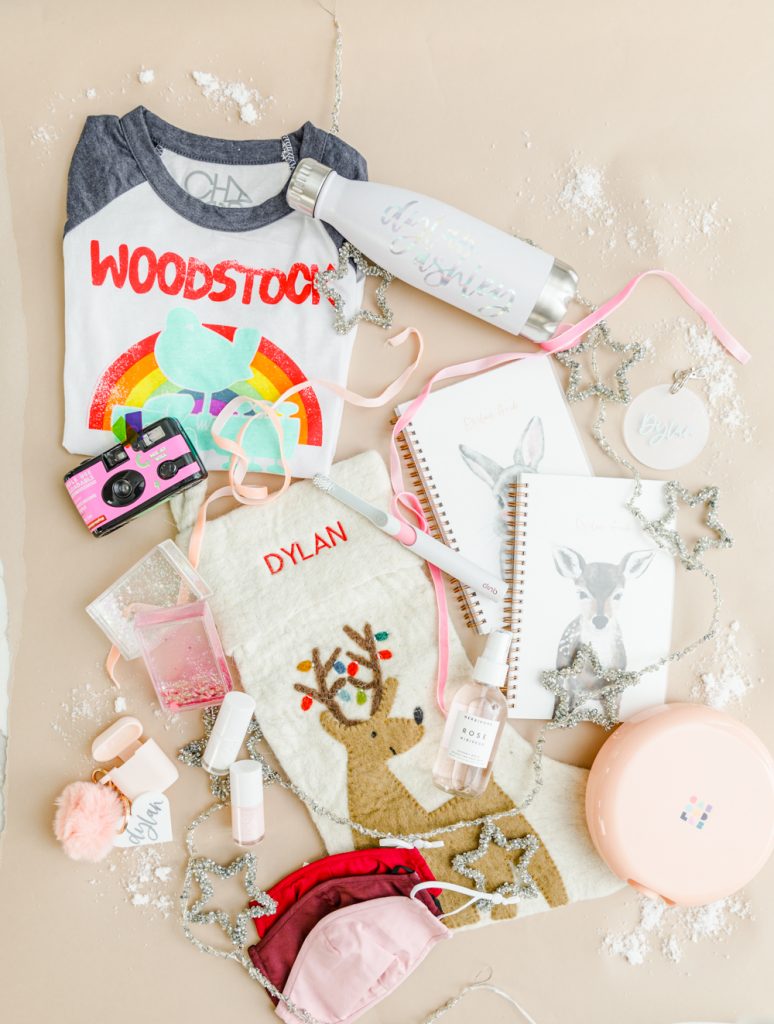 Let's start off with the vessel, the stocking! Have you seen Pottery Barn Kid's new stockings this year? So many good choices. They even have ones that light up! I went with a classic reindeer one, I really liked the simplicity of it.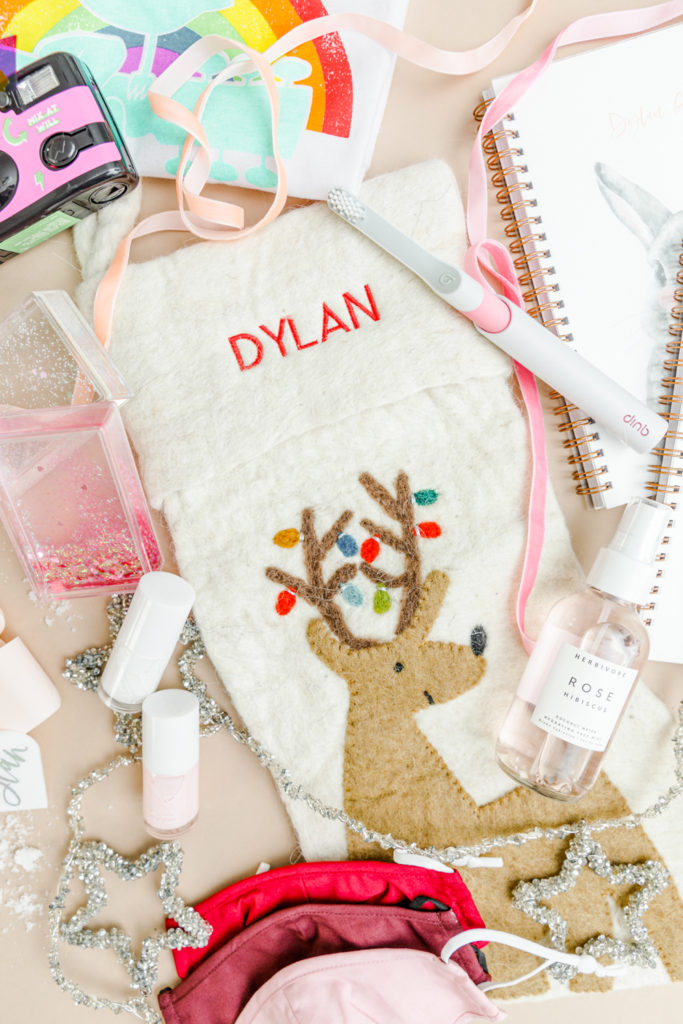 Dylan is really into girly things right now, like nail polish and skincare. I'm a big fan of Herbivore, so I got her the Rose Hibiscus Hydrating Face Mist. This mist has a base of Organic Rosewater, Coconut Water, and Hibiscus Extract that instantly hydrates and softens skin. It's great for young girls to use! You can use over makeup or on clean skin throughout the day for a fresh feel.
For the nail polish for young girls like Dylan, I like to use vegan and cruelty-free brands, and Olive and June from Target is great! Plus, I love their collection of colors and pretty modern bottles.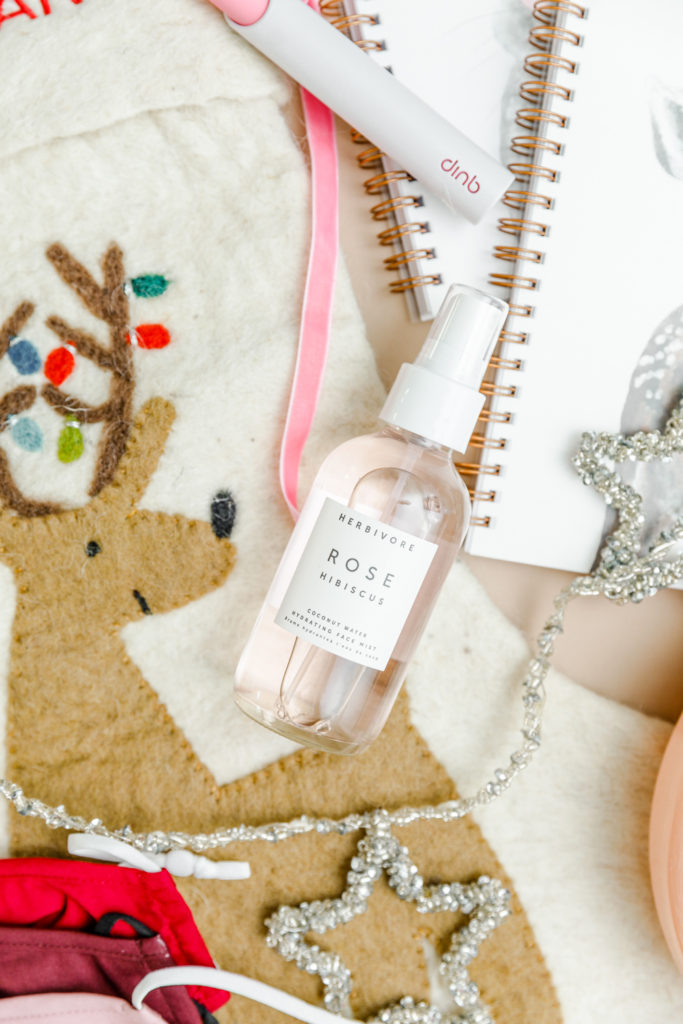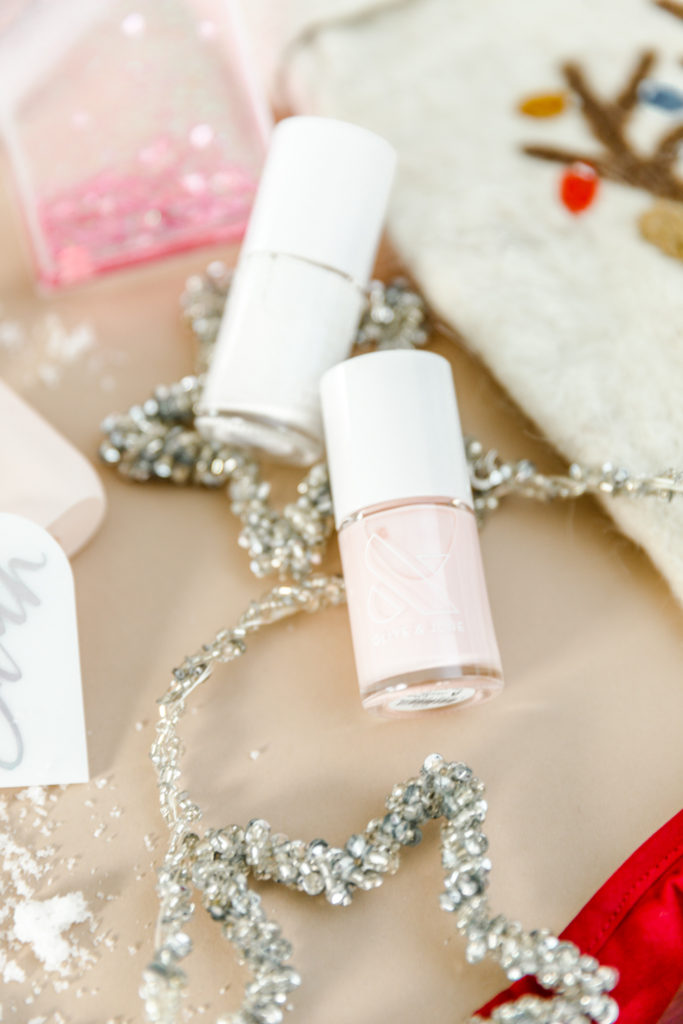 This cute little travel caboodle that she can carry some of her makeup and accessories in! I'm living out my caboodle life through her right now.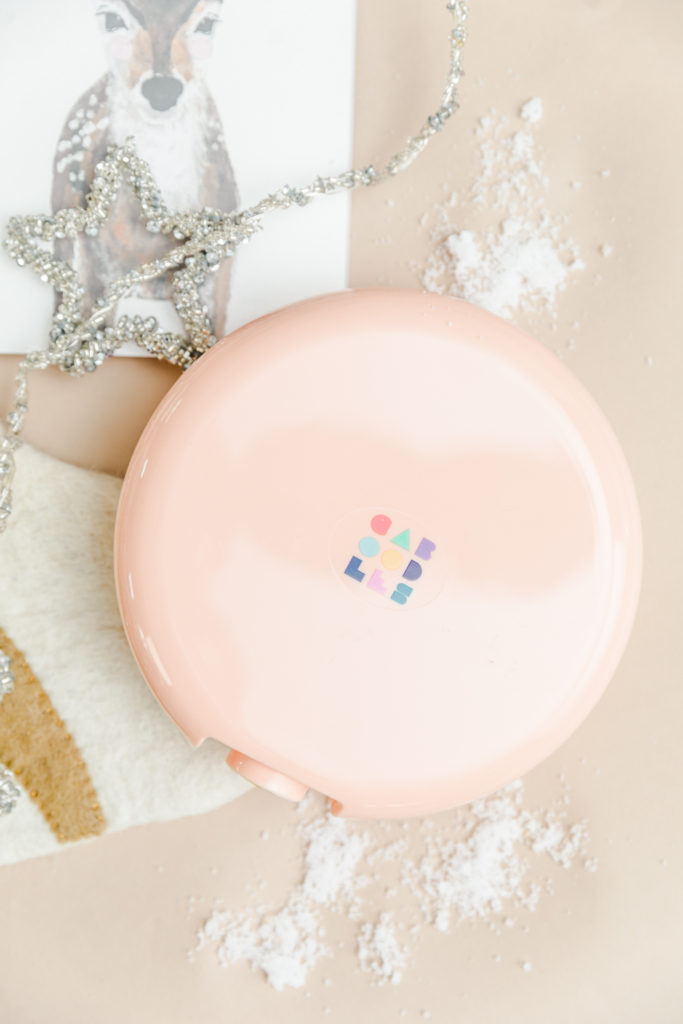 Picture taking is another hobby of this girl. She loves to put pictures of her friends in her room EVERYWHERE! I found these cute glitter frames for her desk to stick her Polaroid pictures in. They come in a set; one is a cute pink glitter and the other a snowy white.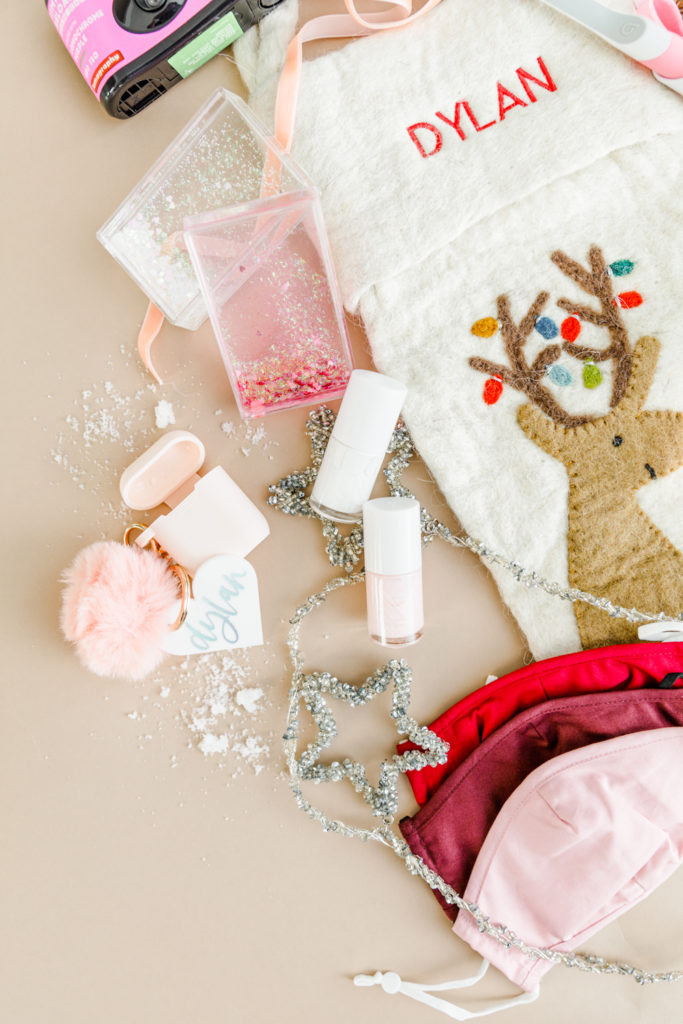 As I said, Dylan is totally into anything in the '90s right now. So I was so excited when I stumbled upon this disposable camera on Amazon. It has different colored filters you can put over the flash, and it's reusable too! So fun, right?!? Don't you remember when that was the only way to take pictures as teens!?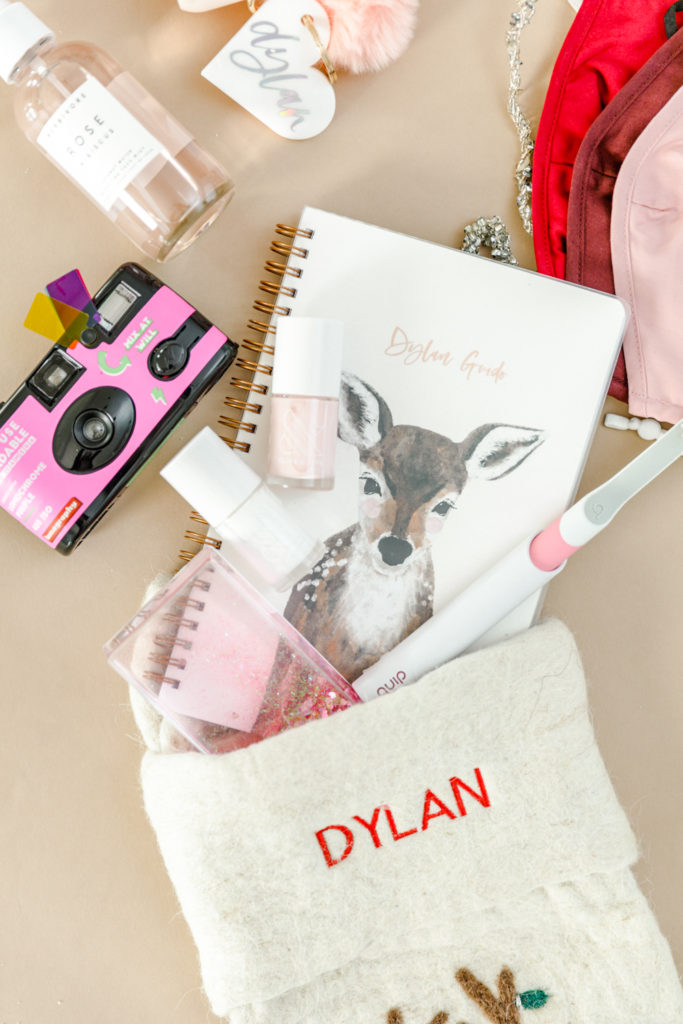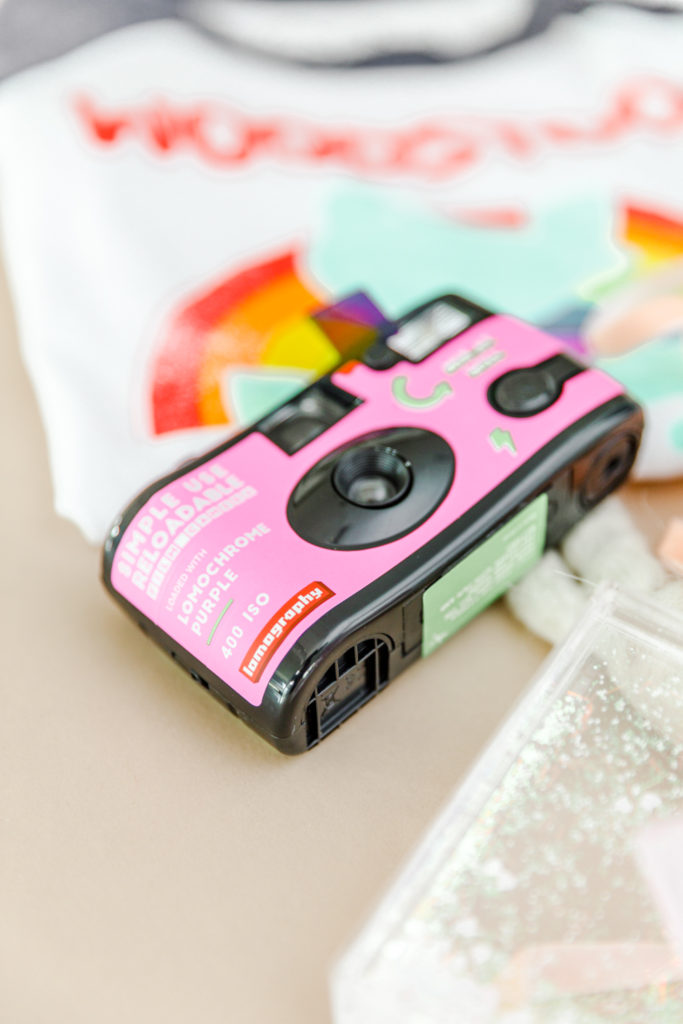 These adorable custom journals from Minted will be a hit as she is constantly drawing all day.
Speaking of custom names, how cute are these fun customized goodies from David and Leanna?!? The metallic water bottle, clear aryclic keychain, and my favorite, the heart keychain for the AirPods holder! If you are looking for just the AirPods holder, you can get it here on Amazon. But you definitely want that keychain! I mean, just too cute! I want one of each with my name on it!
And how cute is that Woodstock tee from Chaser Brand!?!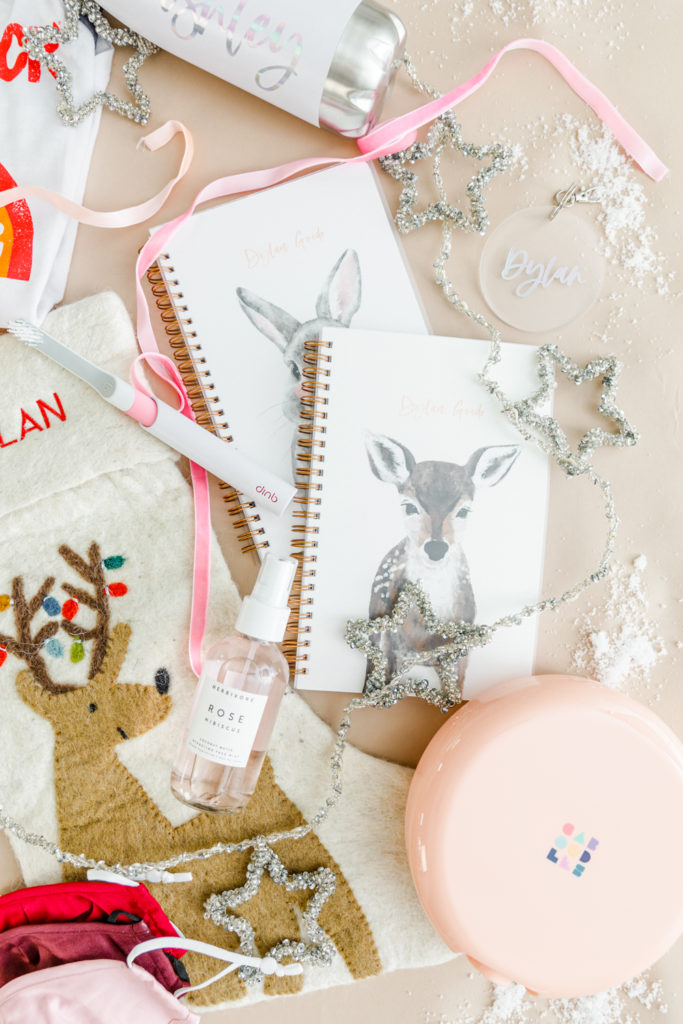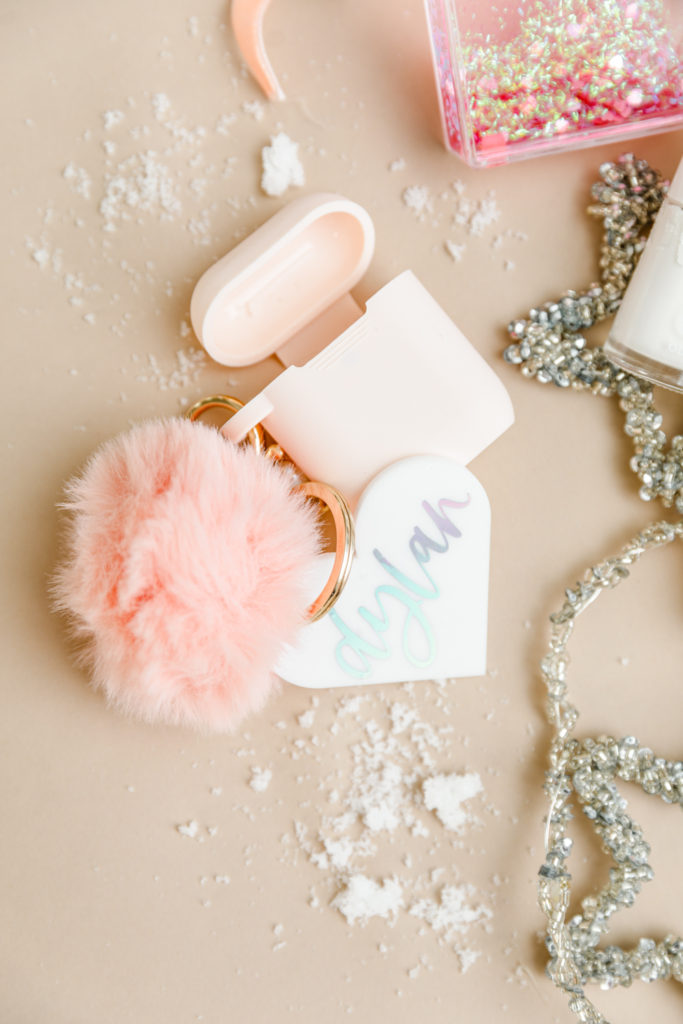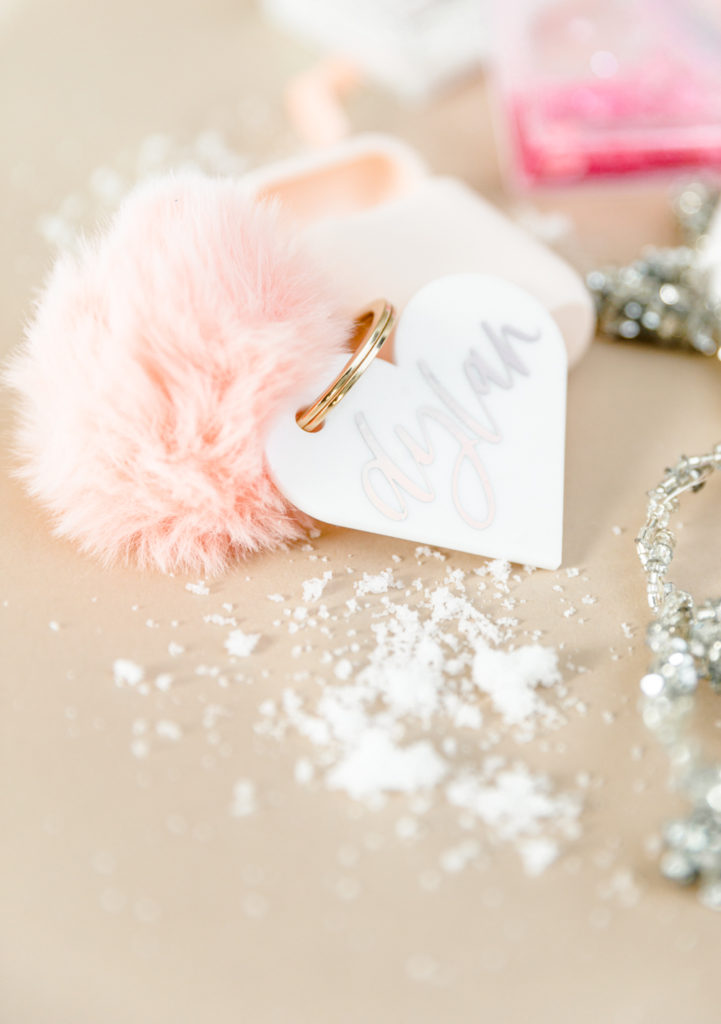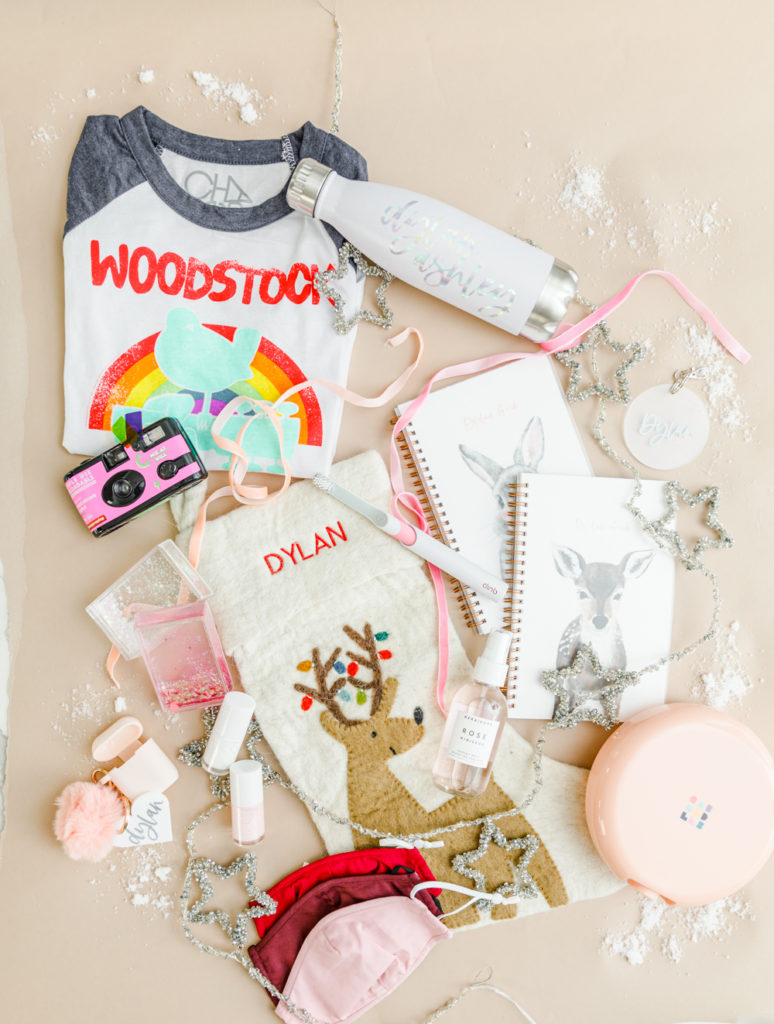 Lastly, gotta keep that pretty smile and face safe! Kids quip brush and Gap face masks to round out this girl's stocking 2020 style!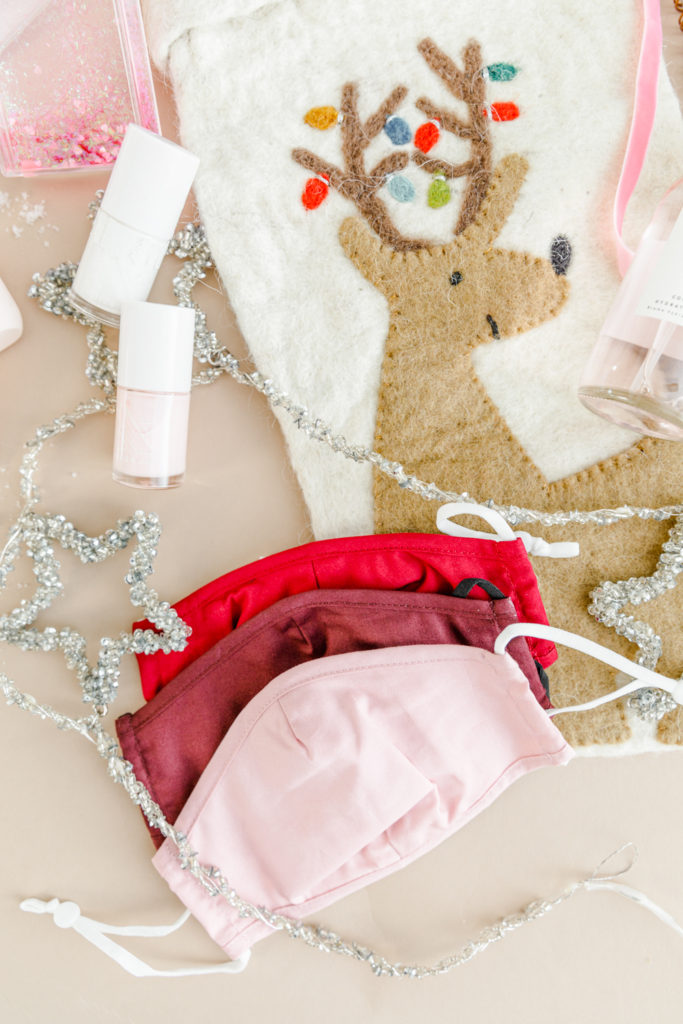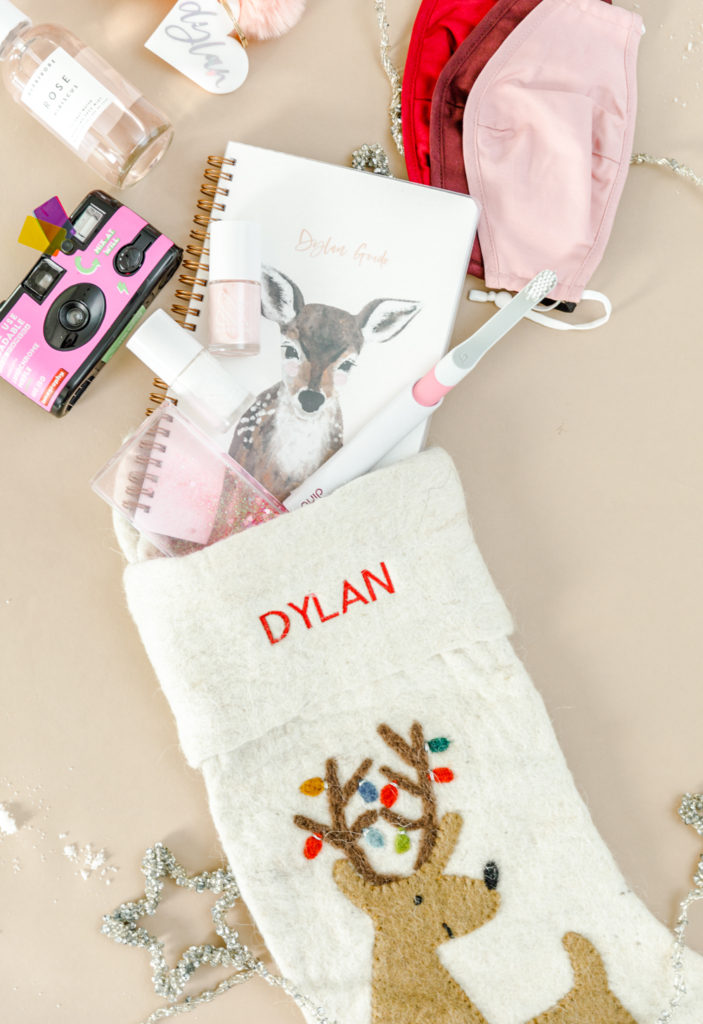 Hope this brings you some fun ideas for that young girl in your life!

Shop Dylan's Stocking Stuffers below!

COURT'S STOCKING
Ok, after all that girly pink, are you ready for some boy stockings up in here?! Haha!! As a mom of two boys, I have become accustomed to all things BOY, and I have to say, I'm not mad about it!! I love shopping for my boys and finding fun things for them to wear or enjoy. And I'm usually pleasantly surprised with what I find. Better yet, my boys LOVE it just as much as me!
My mom always outdid herself with stockings when I was younger, it was something my sister and I looked forward to every year. There were always predictable items like underwear, socks, a toothbrush, but then there would be fun little surprises year after year as well. Now I get to enjoy it just as much as my mama!
Photos by Corrie Lynn Photo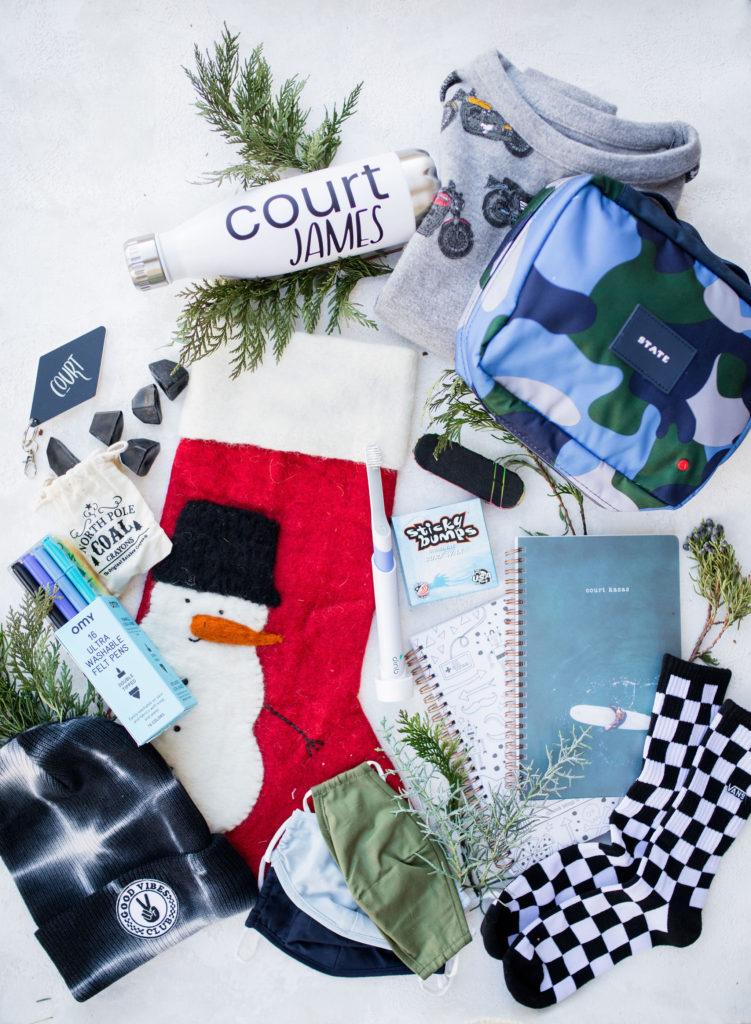 Let's start with the stocking! Like Abby I opted for this cute modern stocking from Pottery Barn Kids. Simple, sweet, and festive! So originally I had a stocking with Court's name on it, however, my dog thought it looked delicious and ate it up! So here is his without the personalization. Still just as cute!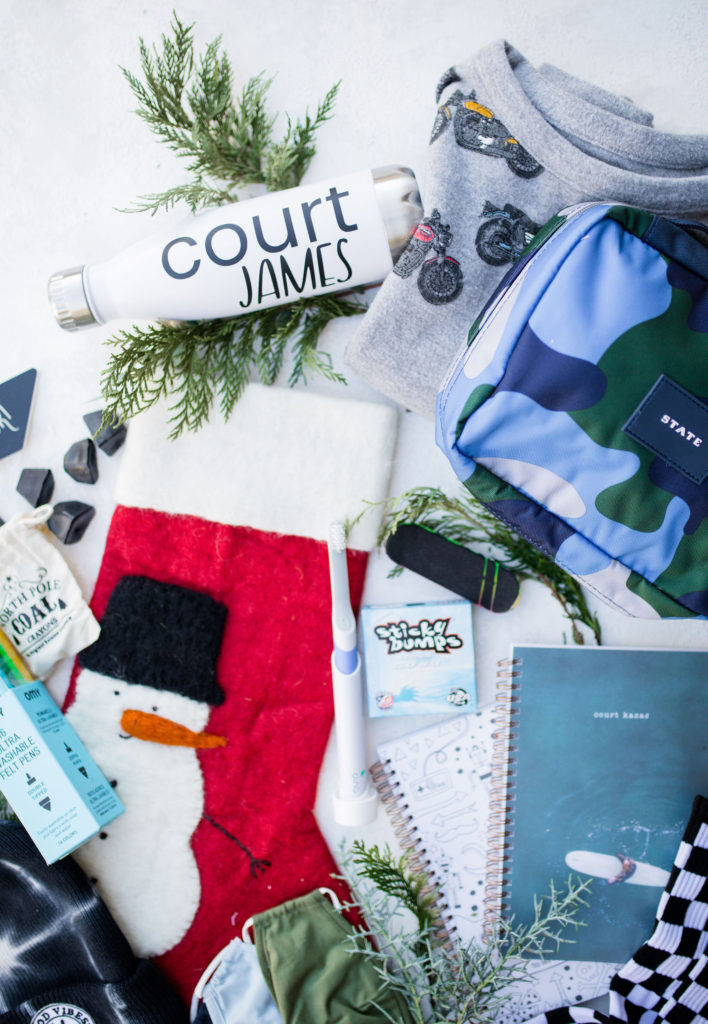 Let's see what's inside… I included a cozy sweatshirt from Chaser with a fun motorcycle print. Court LOVES Chaser sweatshirts, he always talks about how soft they are! We had planned on going on a little trip in January, that's currently on hold, but I thought this travel dopp kit from STATE was too cute to pass up. Blue and green camo?! Yes, please!! Boy mom approved!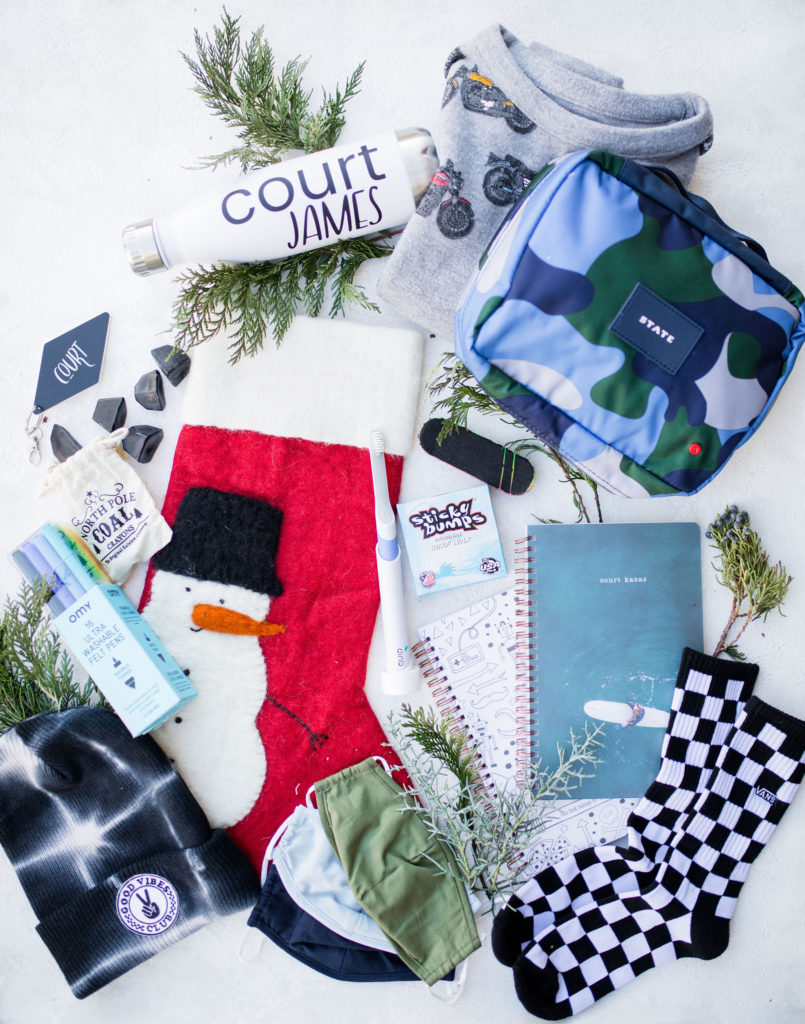 My friend Nicole from Art 2 The Extreme always has fun creations, but I especially loved these little bags of coal crayons for Christmas!! The perfect stocking stuffer to remind those little rascals they better be good!!!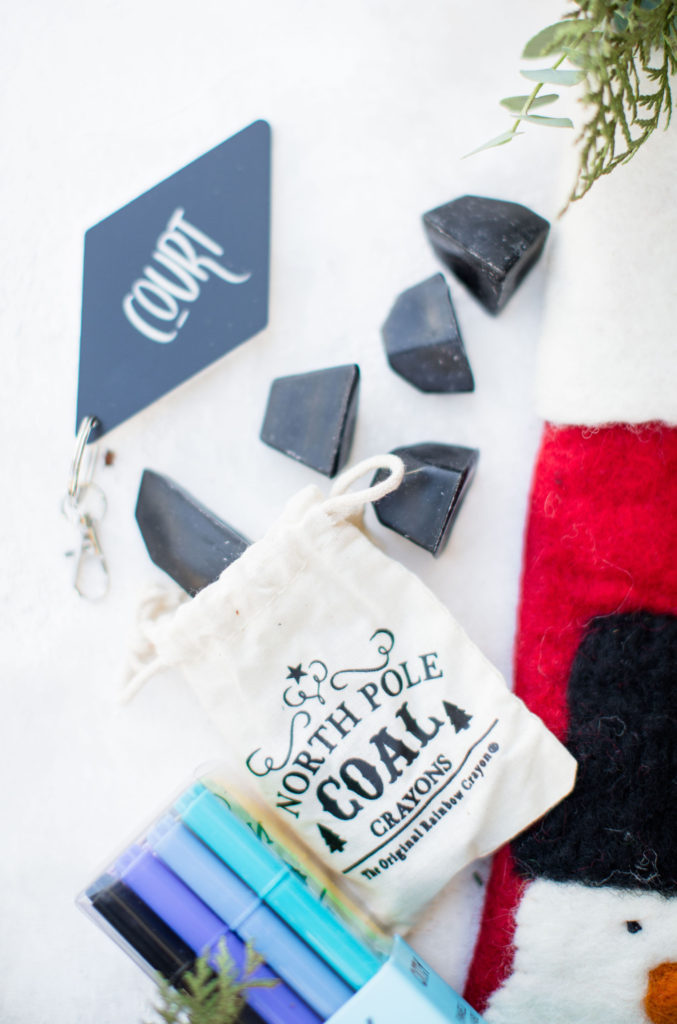 I had to get my little artist these adorable customized notebooks from Minted. He is constantly drawing and creating the raddest little characters! I also included these fun markers from OMY as well. I know these will keep him busy for a while!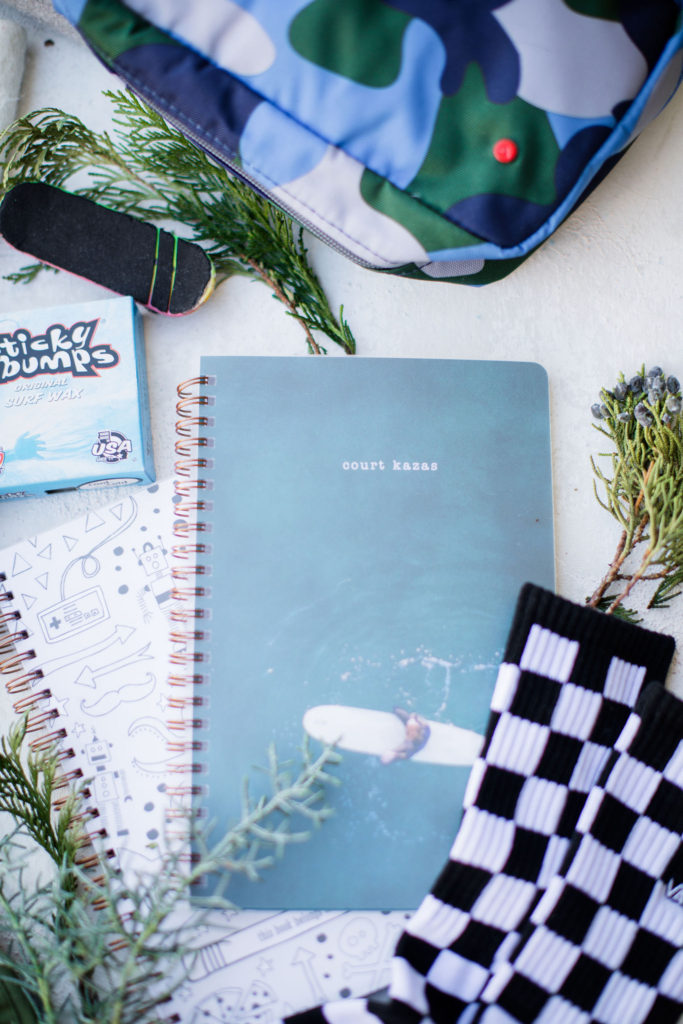 You may have noticed I said my mom always gave us a toothbrush in our stockings, was I the only one?! Haha, well I'm keeping the tradition and was so excited to see that Quip has kid's toothbrushes now! I've been using them myself for a while and was so happy to give them to my littles as well! I love their sleek modern look and fun colors!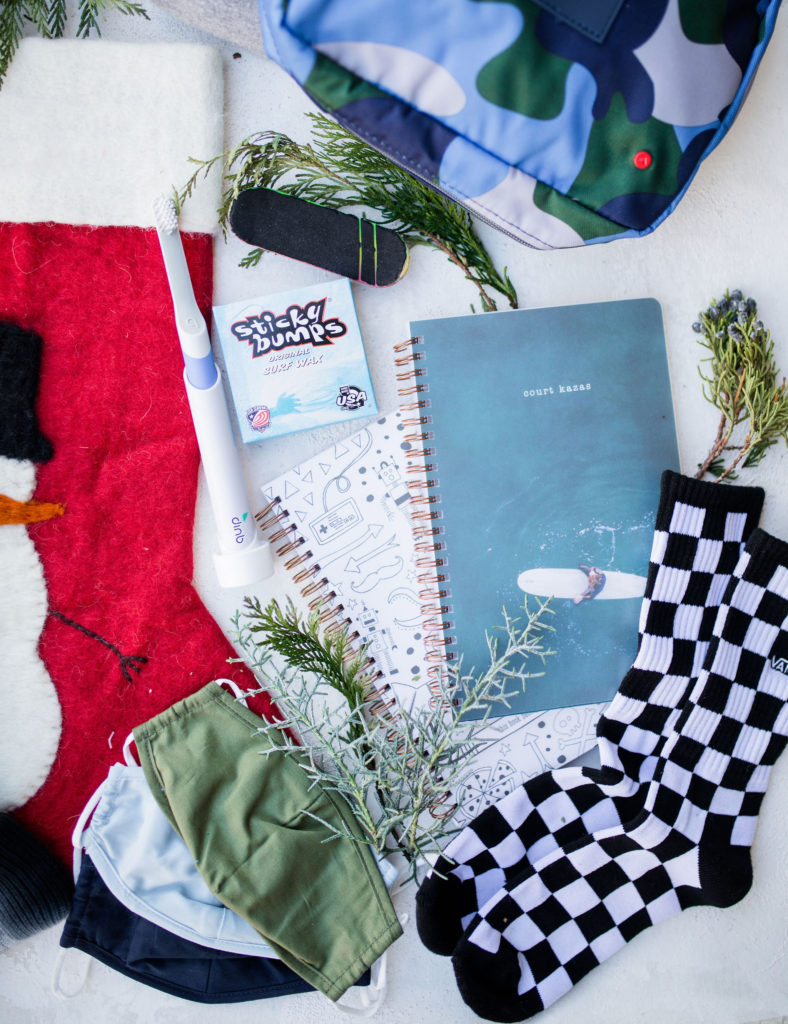 You saw that Abby had Leanna from David & Leanna do some custom goodies for Dylan, well I had her do some for my boys as well! Boy's style!! They are going to love their new custom water bottles and key chains. Now we won't lose anything anymore, right?!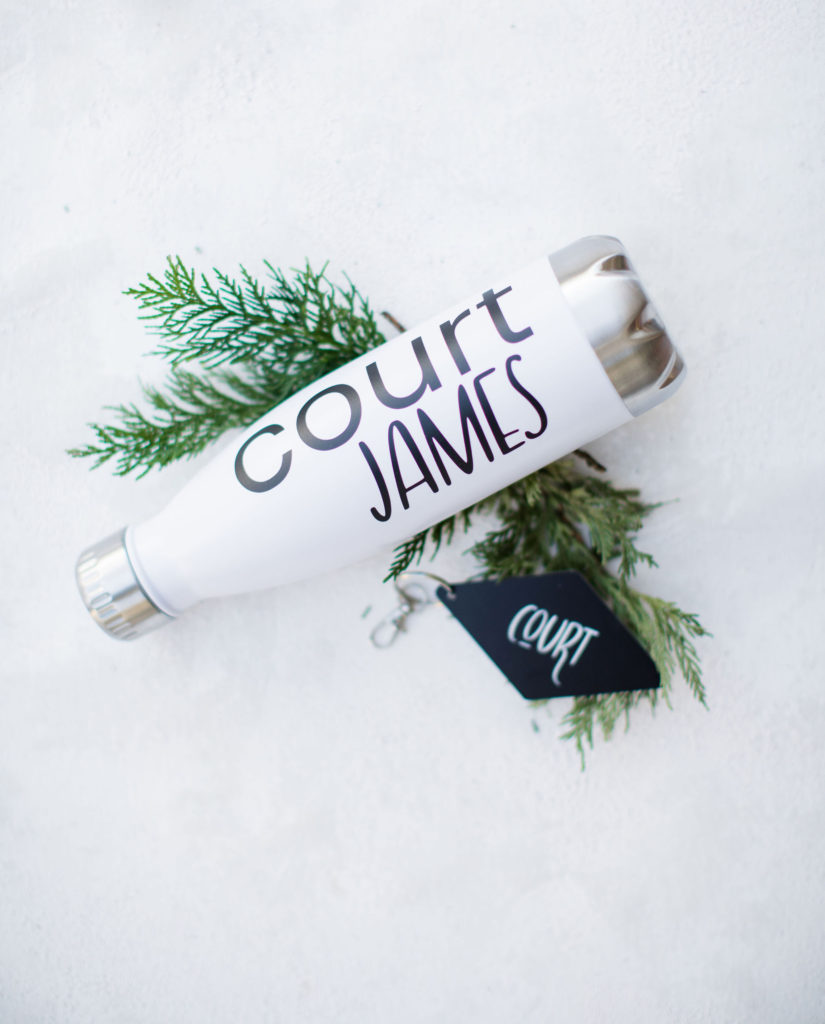 Can't go wrong with a beanie and socks!! Essentials for the winter!! I fell in love with this tie-dye beanie from Tiny Whales, I know my tie-dyed obsessed boy will too! And the checkered socks from Vans are just the coolest!!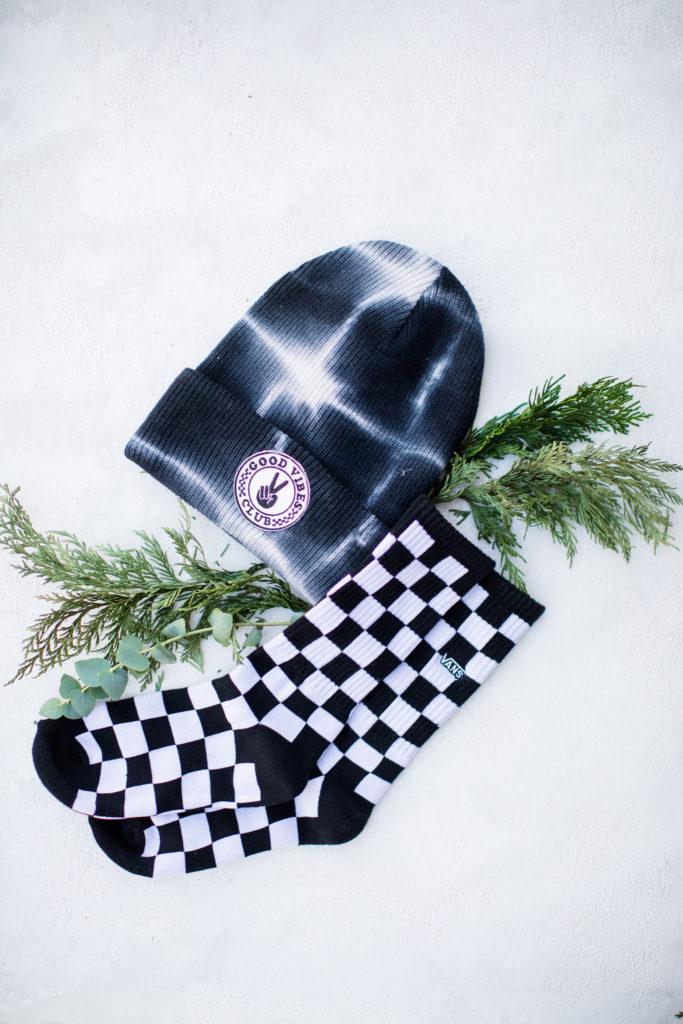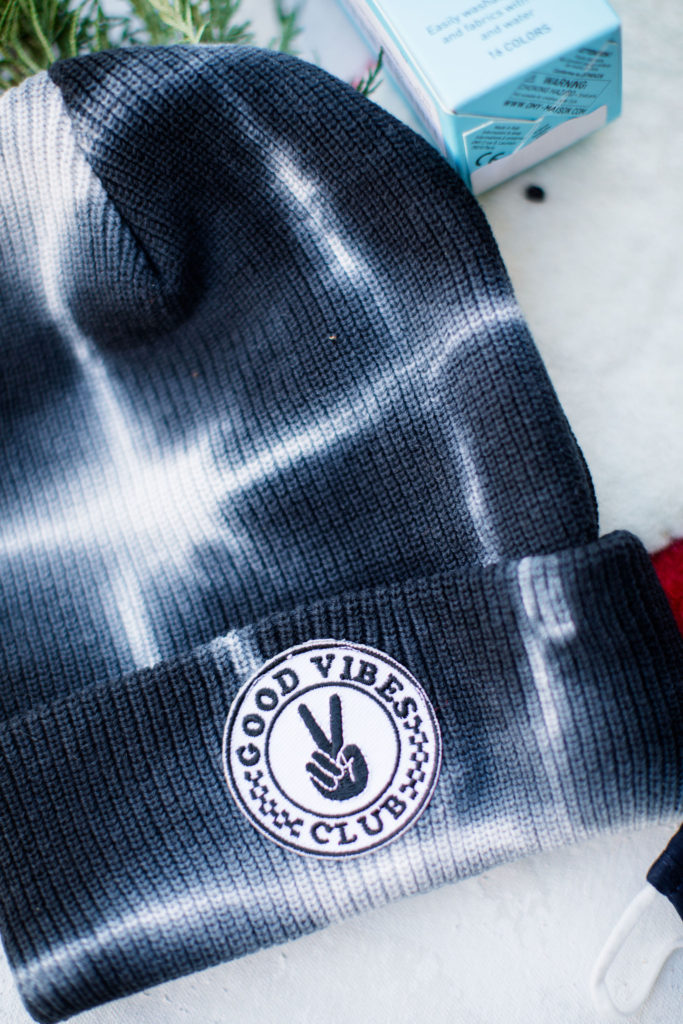 A few small items I threw in were surf wax and these fun finger skateboards. Court just learned to surf last Summer so the surf wax was a good addition for him. And the fingerboards from Huffy Bender Boards are so fun for kids. My boys love them! But my favorite part is they are made by a local 15-year-old named Joseph Hufford! I'm always happy to support a young entrepreneur.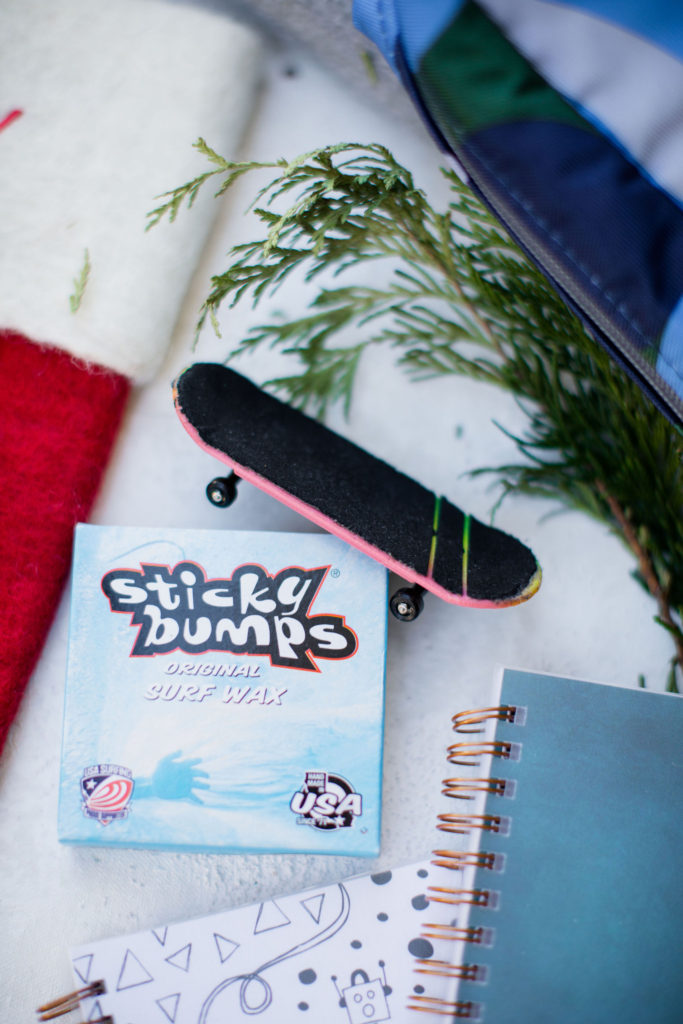 Hey, gotta throw in some masks! It is 2020 after all folks! I fell in love with these GAP masks for Court. They have adjustable straps, come in easy basic colors, and they are lightweight!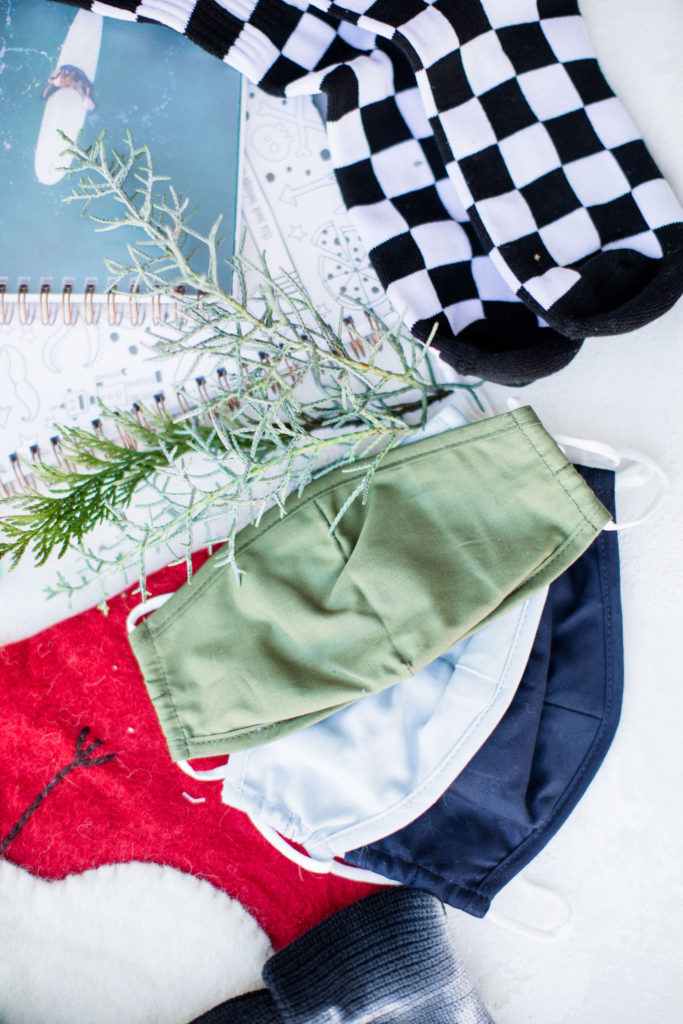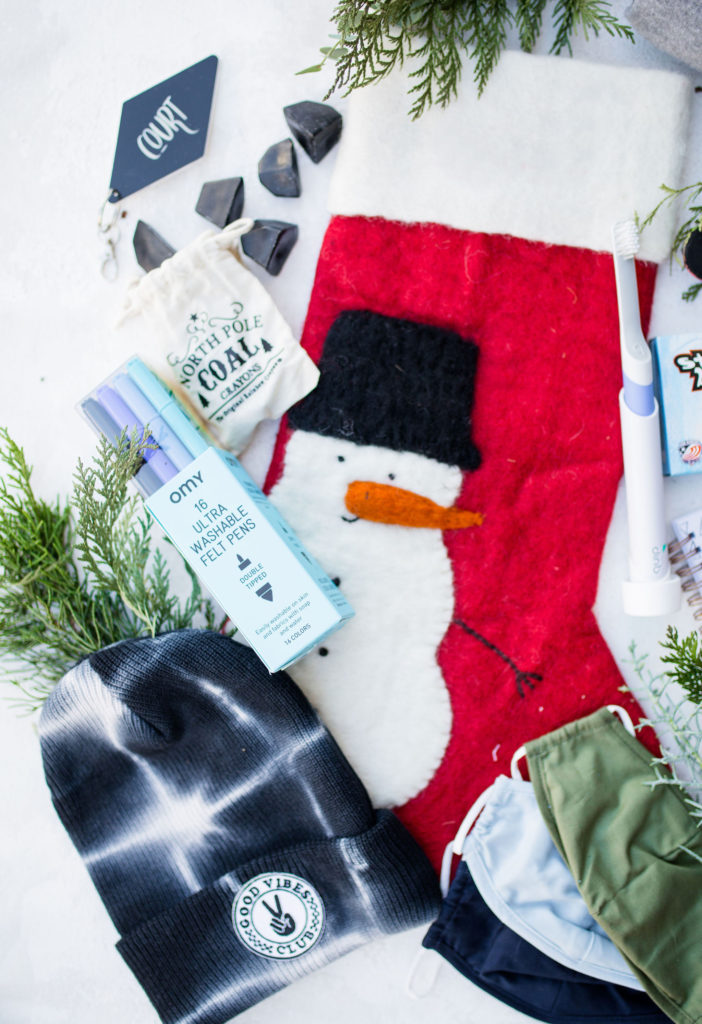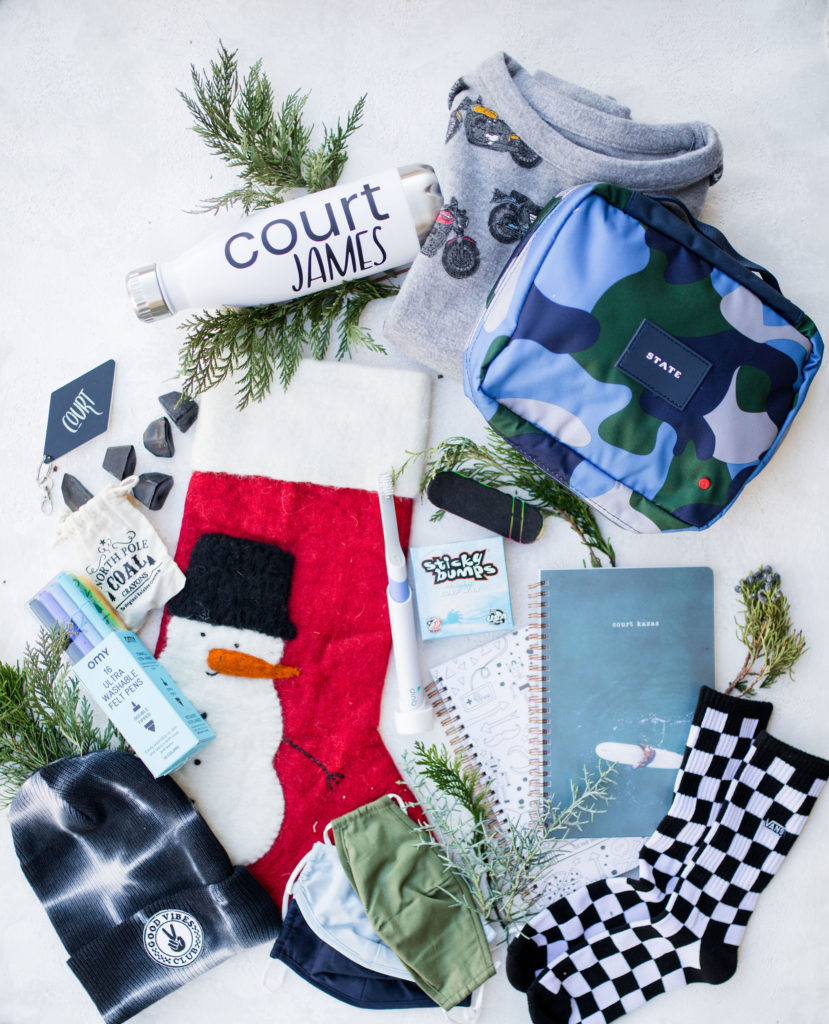 And there you have it!! The perfect boy stocking round-up for your favorite little groms!!! You can shop Court's stocking below!

Such fun picks! The best part about all these fun goodies is, we got them all online! Happy Saturday!
xx
Abby