You know we love ourselves some good holiday decor!! And our friends at Minted always help us keep our homes festive. Year after year we always find the perfect art pieces to add to our home. The holidays are especially fun to search their site and find just the right addition.
Keep scrolling to see what rooms we added to and the fun art we found along the way. Their artists are always adding to their immense collection and I love scouring through it all!
---
LIVING ROOM
My living room is the first room you see when you enter my home, so you know you gotta show the Christmas spirit there! We got our new piano last Christmas and it's become a pretty little focal point. My husband plays the piano for us and I love it. It's definitely been a highlight for quarantine and I'm so glad we have it.
I thought I would pretty it up with some holiday prints and a bit of decor, and I have to say, it's never looked prettier!
Photos by Corrie Lynn Photo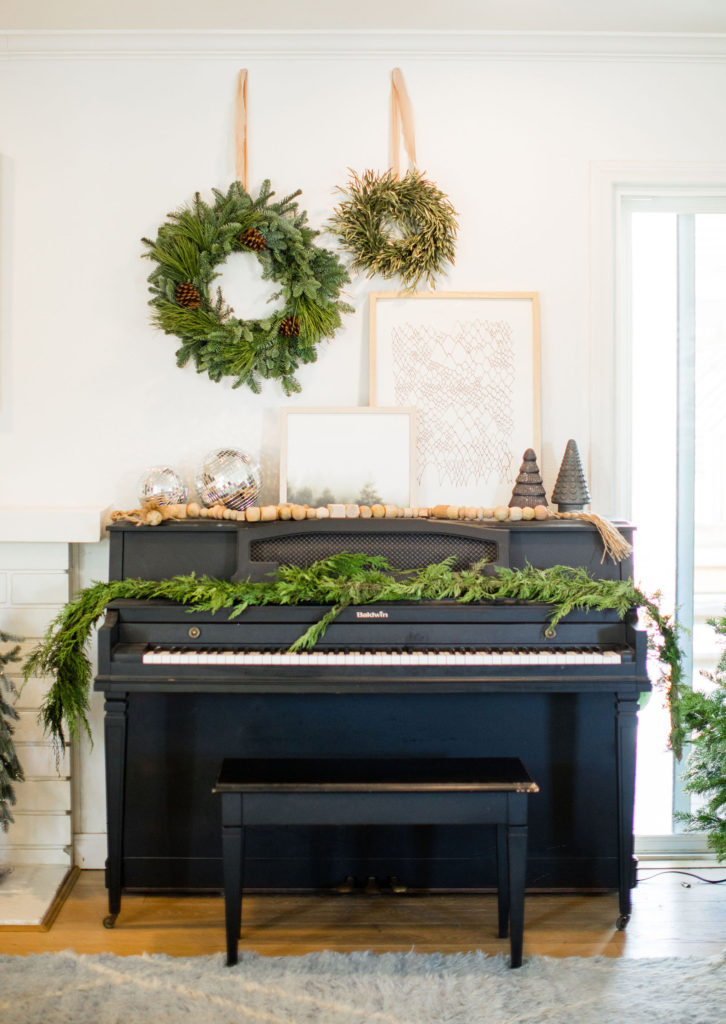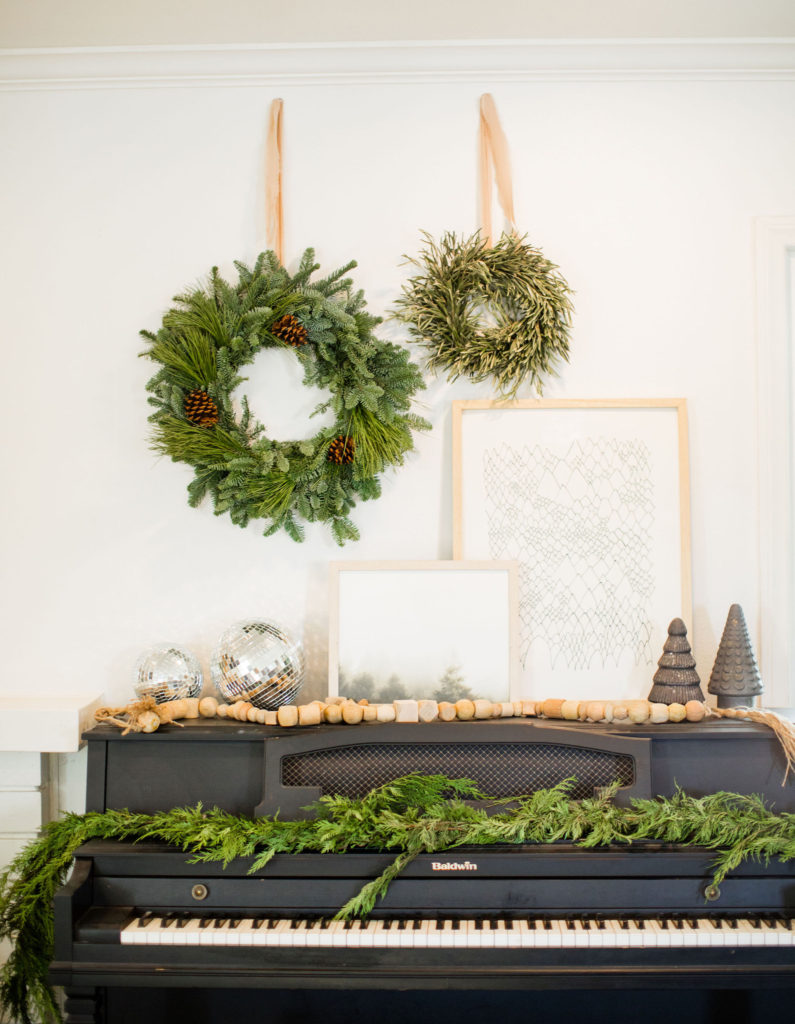 The prints I chose for this one were Nature, you and me N.4 II by Catilustre layered behind Foggy Autumn Forest Morning by Katie Buckman. I thought the dark green colors played off of each other and were great for Christmas. I also loved how both showed a forest mountain landscape, it reminds me of the Santa Cruz mountains I grew up near.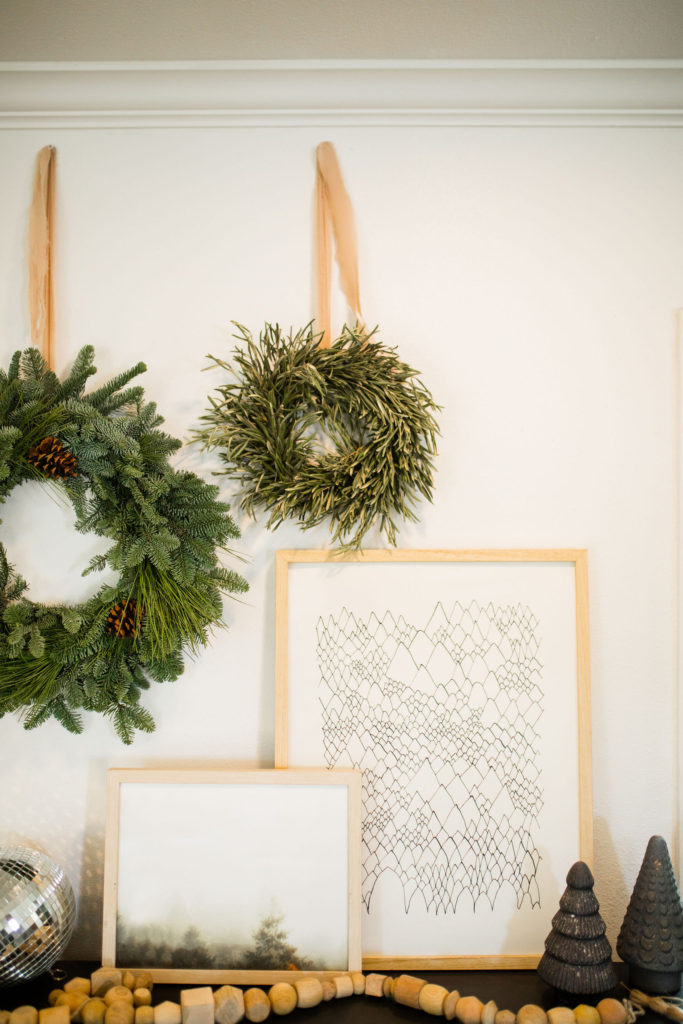 I accessorized the piano up with these cute black charcoal Christmas trees from The Garage Collective, this wooden beaded garland from Target and disco balls! Disco balls are always a good idea…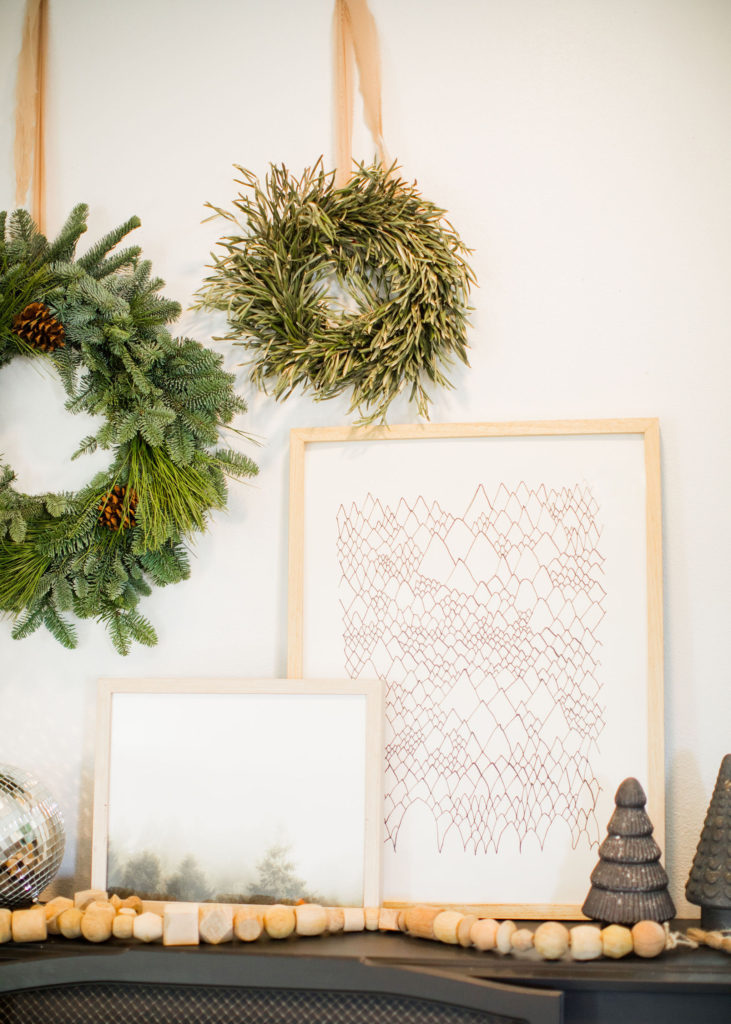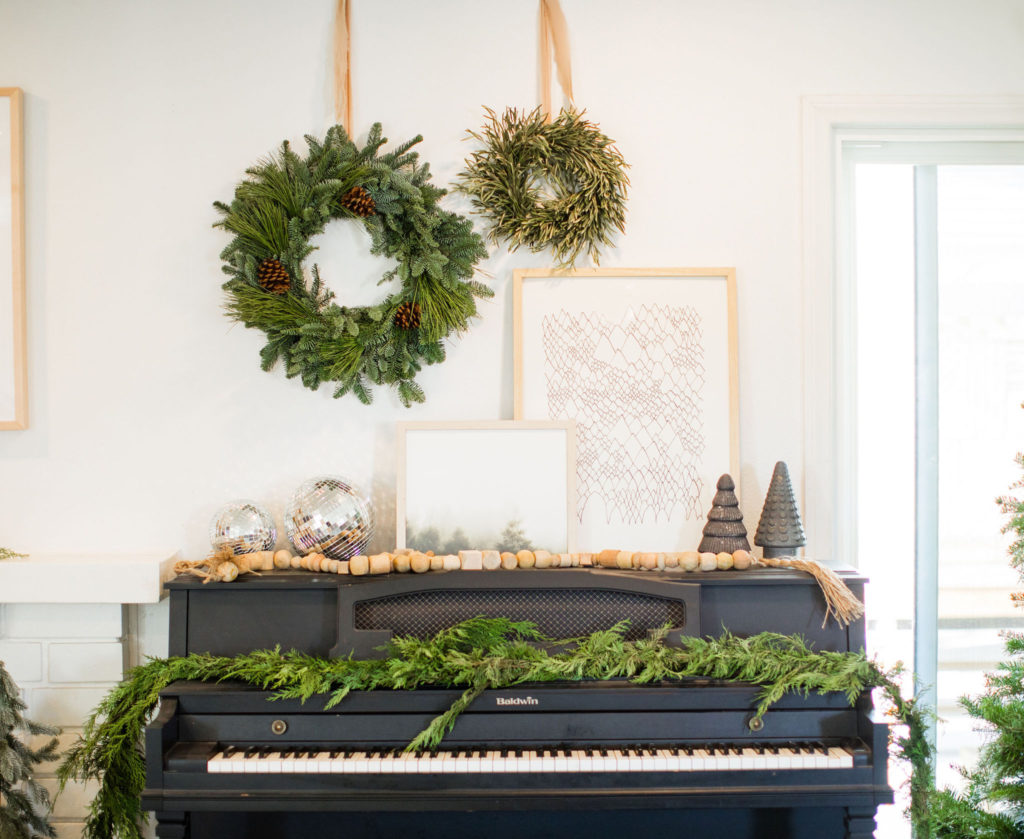 I also added some fresh winter greens. Not only do you get that amazing smell but you also add lots of Christmas flair! I did wreaths and garland. The wreaths were hung with pretty ribbon, I love the color of it!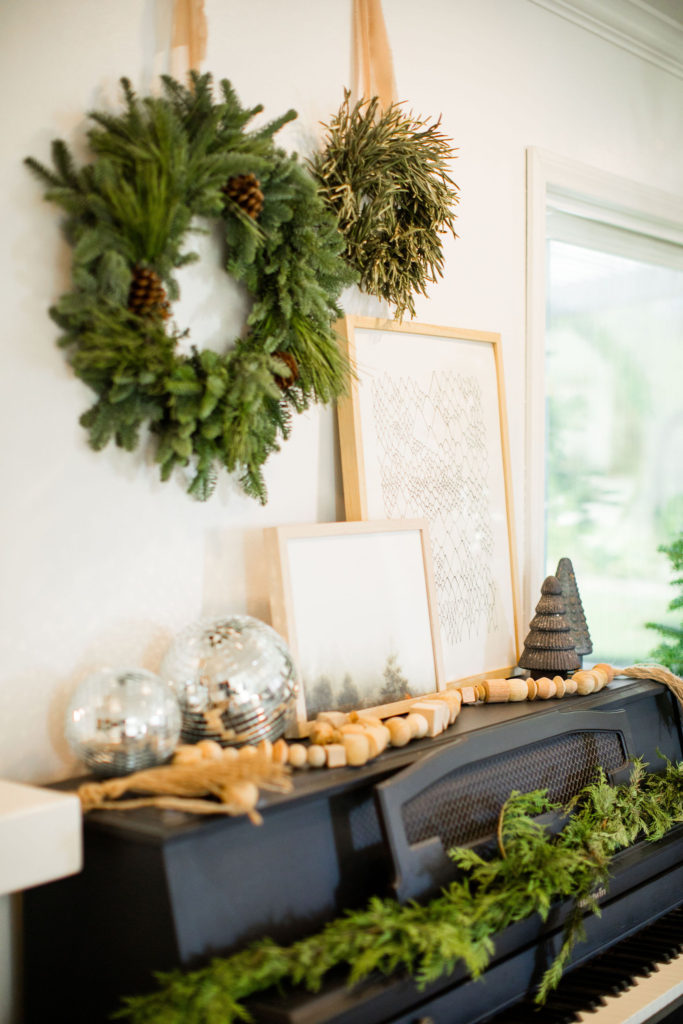 There I am making this spot pretty in my own pretty Saltwater Luxe Kimono!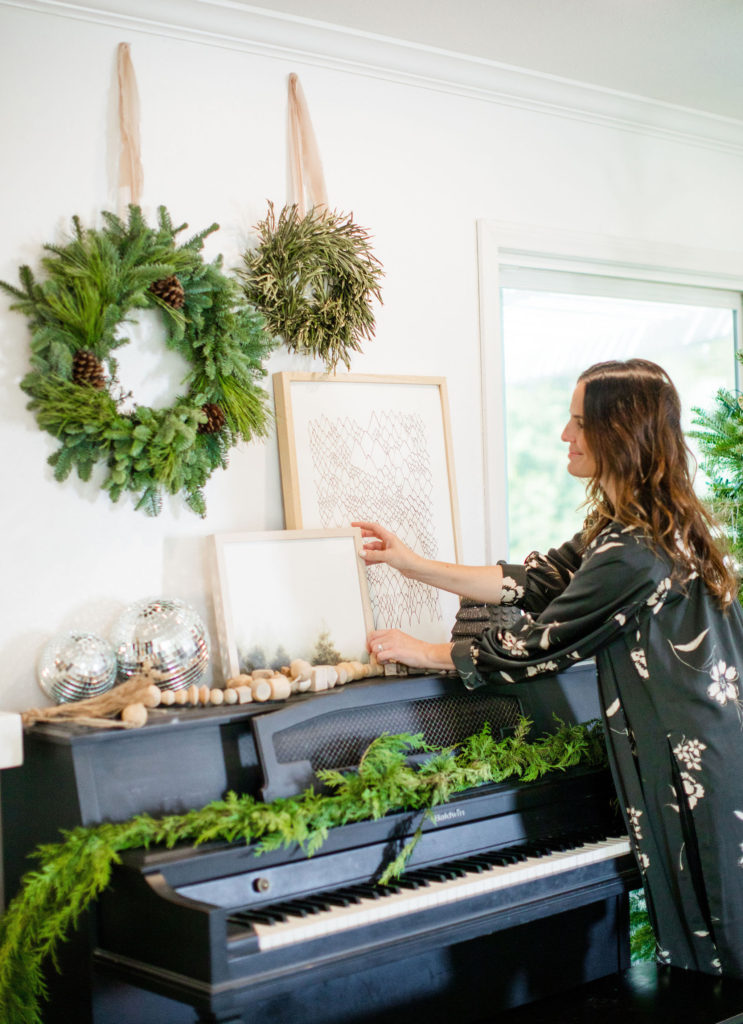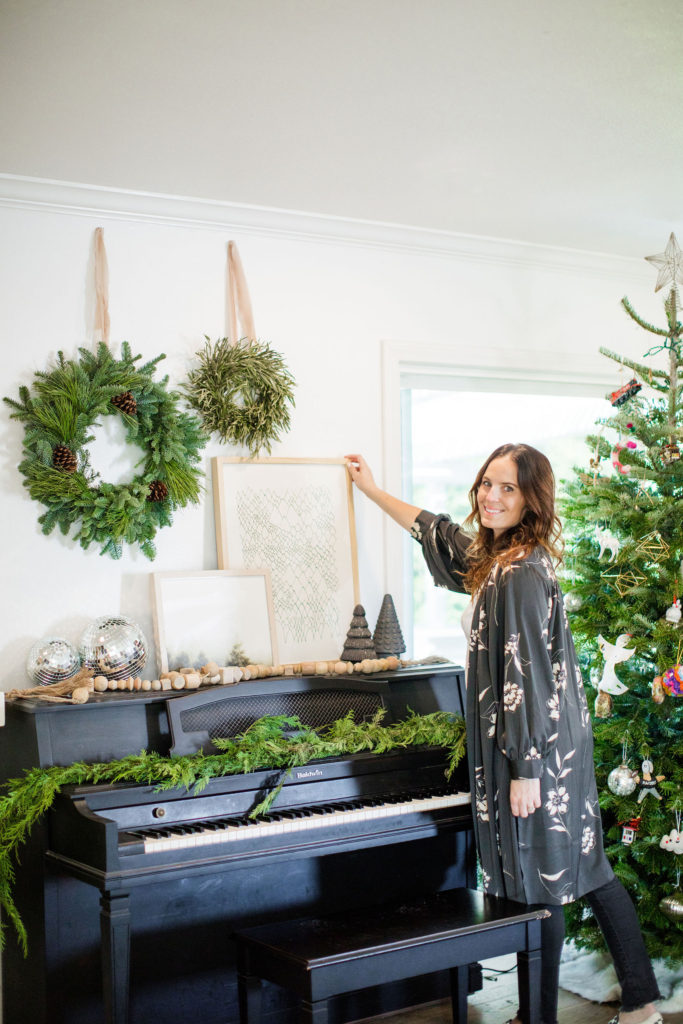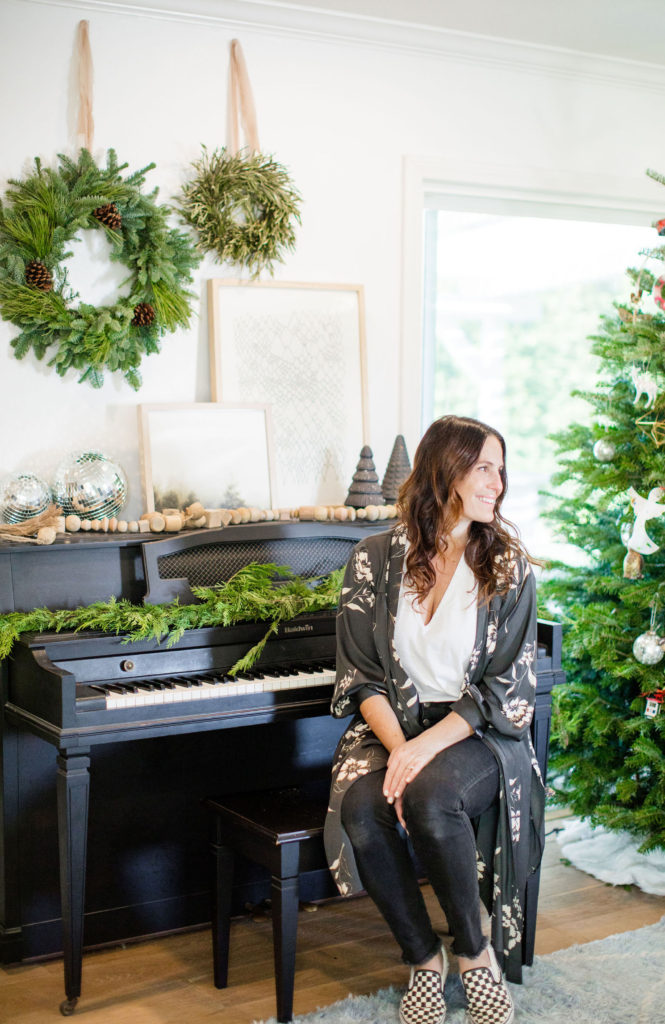 Such a fun way to make your home festive! Shop all of it below!

---
GIRL'S ROOM
Dylan's favorite holiday is Christmas, which is no shocker. She has been listening to Christmas songs since summer. I was the same way when I was her age. I guess you can say it's a family thing cause my mom did the same with my sisters and me. Each year there would be traditions that we would look forward to. From holiday pj's, books, advent calendar, you name it. My mom still does this with us even though we are adults! One of the traditions that I love to do is decorate their rooms to be more festive—everything from books, garlands to art prints.
She has an adorable shelf situation going on right now, so she was so excited to pick out some prints herself! We went online to Minted, and she picked these adorable, festive art prints to add a little holiday cheer to her room.
Photos by Dayna Studios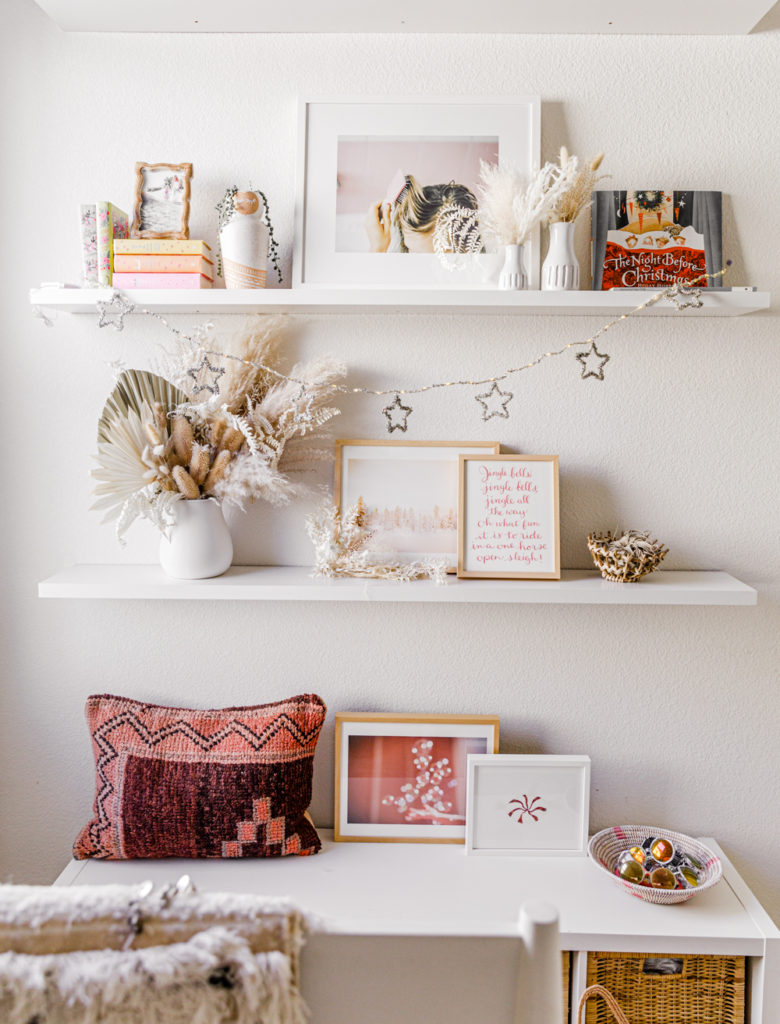 Her room has tones of pinks, purples, and natural tones, so we tried to find prints that would match what she currently has on her shelf. Her favorite song is Jingle Bells, so you could only imagine the excitement when I showed her the Jingle Bells Holiday Art Print by Megan Kelso.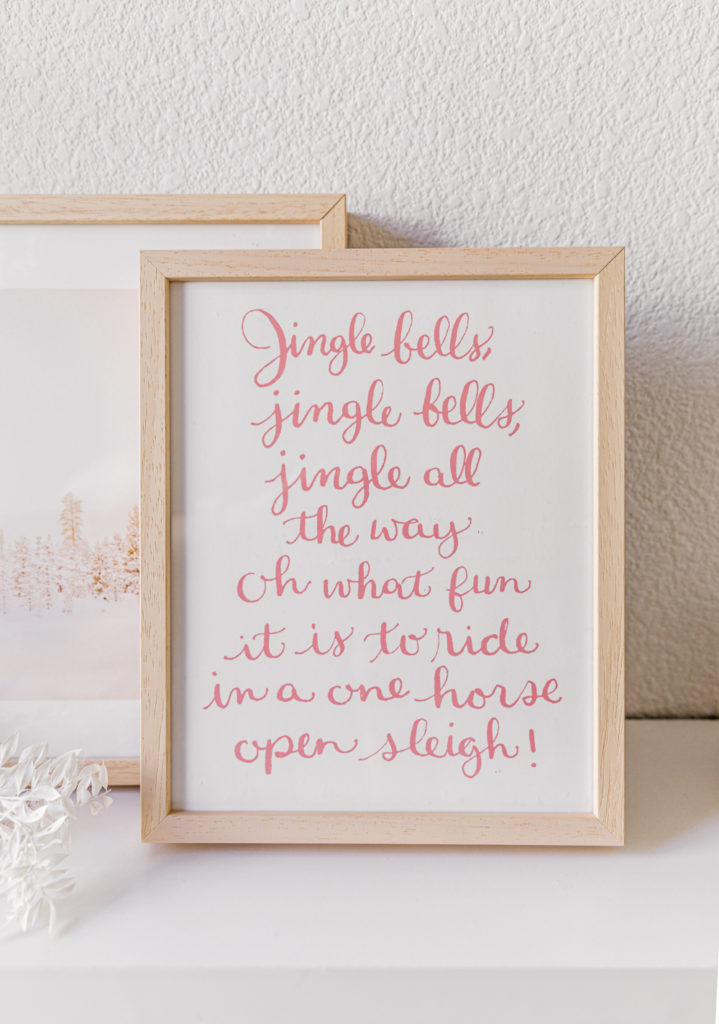 I fell in love with this Finnish Forest Print by Shannon Kirsten. The pink sunset with snow-covered trees is one beautiful scene. And how perfectly it pairs with the Jingle Bell print and the neutral-toned floral arrangement. I love all these colors together.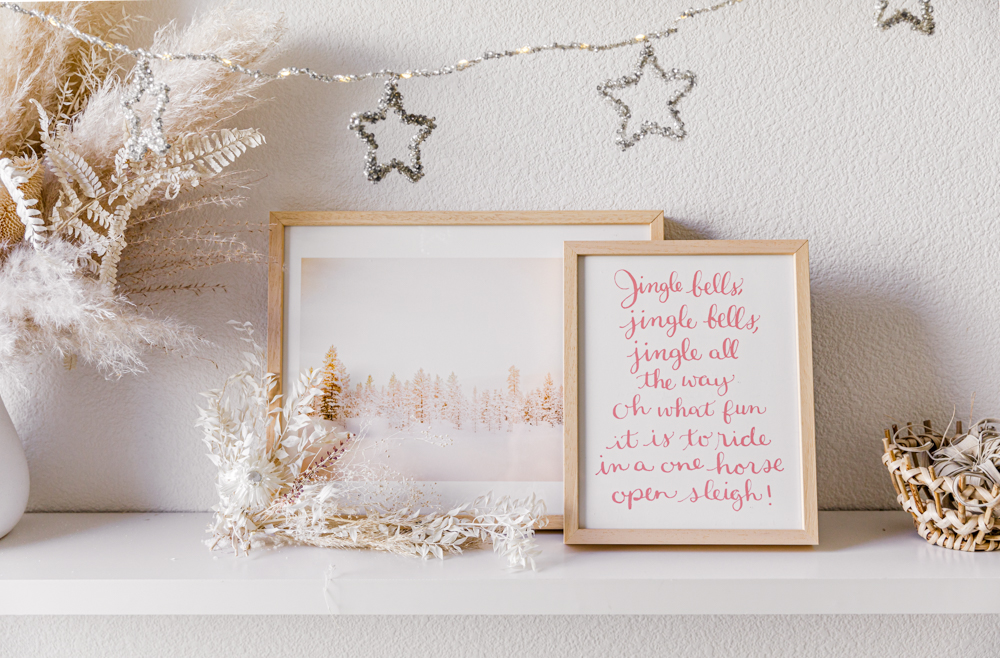 The last print she picked is the Peppermint Candy print by Leanne Friedberg. This was actually an adorable story when we were styling her shelf together. She hasn't really been super interested in what I do for a living, but she is super into it this year. If she is home, she will hang out and ask to help style. Initially, when we put up this cute peppermint candy print, it was in front of this neutral-toned Stormy Palms landscape print. She stepped back and said, "Mom, that won't work; here I have an idea to help the colors flow better." She came back with this Magic Bubble print, and she was so right! I couldn't have been more proud! I'm rubbing off on her!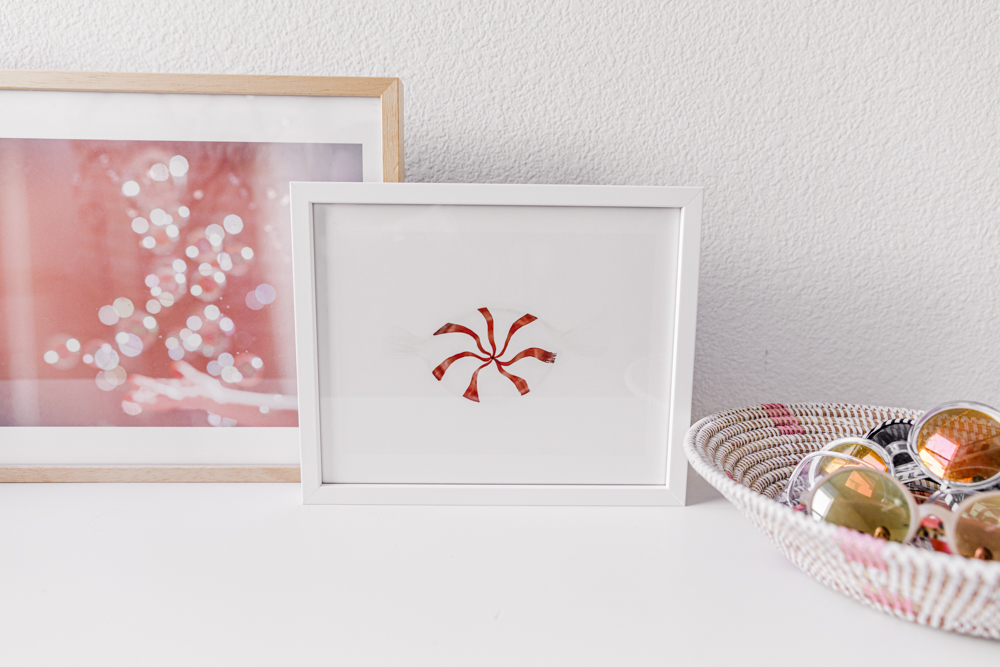 Along with the art prints, I always add some garland and books! I have a pile of holiday books that I keep in their playroom closet and bring them out during the holiday season. Dylan is super into the lights in her room. Currently, she has some led lights that border her bed so it can illuminate at night. It's super fun for older kids. The Light Up Star Beaded Garland was the perfect holiday detail to add to her shelf. It is adorable at night when it lights up.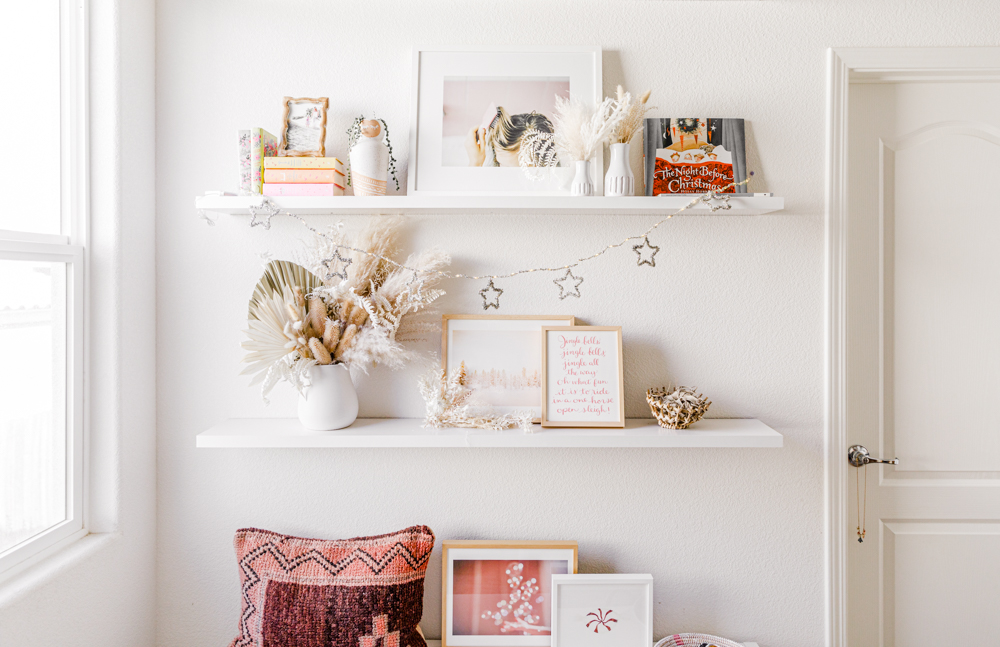 So cute, right?!? I really love changing out her shelf for each season. Plus, I get to spend time with her doing it!
Shop Dylan's holiday decor below plus some fun holiday books she loves!

---
BOY'S ROOM
I've always loved the idea of making my boy's rooms festive for the holidays! We just redid their rooms and I can't wait to share them both! In the meantime here is a sneak peek! We added a desk situation to my older son Court's room this year. He is in 1st grade and this has been a life saver since we are doing some school at home every day. Since we spend so much time there I thought it was the perfect spot to jazz up!
I found the cutest holiday prints from Minted to add to this space. They had the perfect hues of blue and green to go along with his room.
Photos by Gillian Le Brun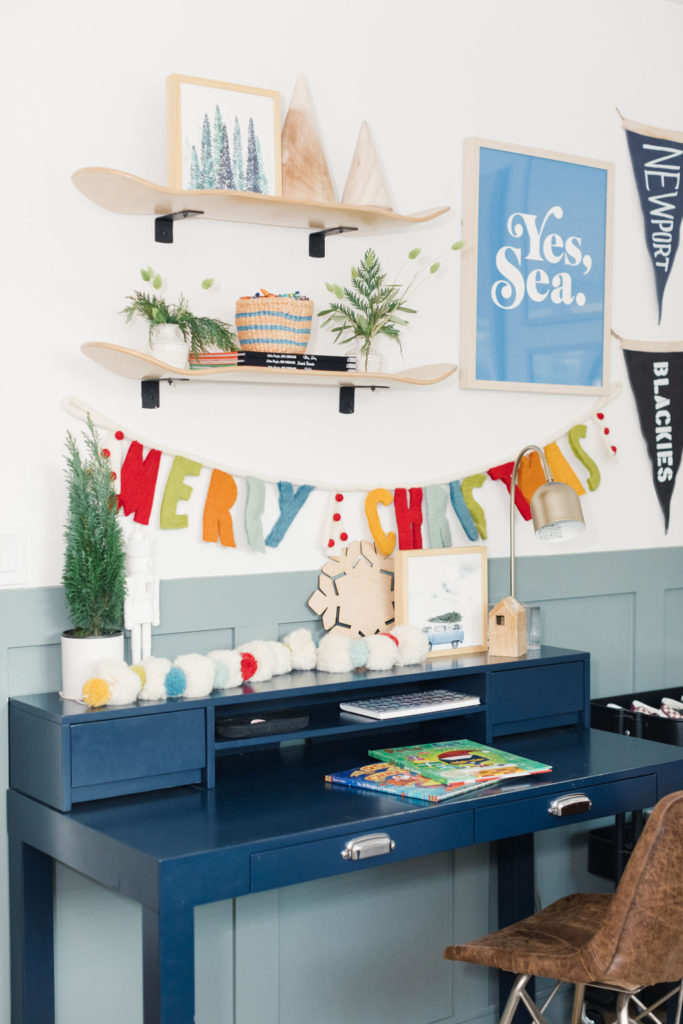 The first print that caught my eye is this Christmas in Jupiter by Maja Cunningham. His whole room has a surf/skate theme so this VW bus with a Christmas tree seemed like the perfect fit!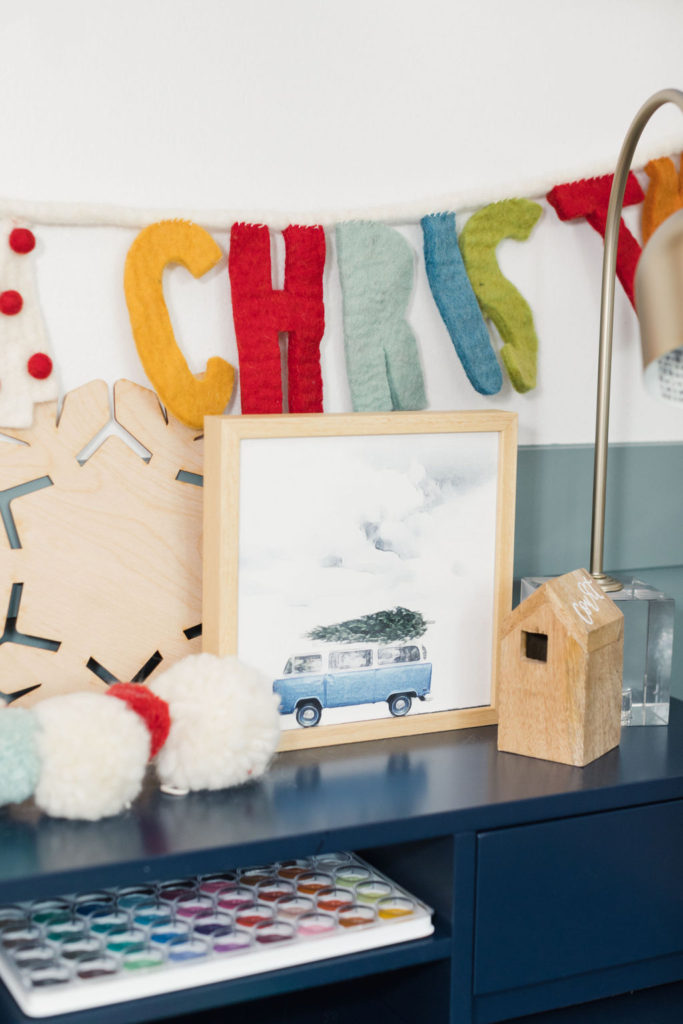 The other print that I chose reminds me of cutting down my tree year after year in Northern California. It's called Scenic Route by Kelsey McNatt. Since we couldn't do our annual Northern California trip where we cut down a tree, I thought this would make up for it in a small way.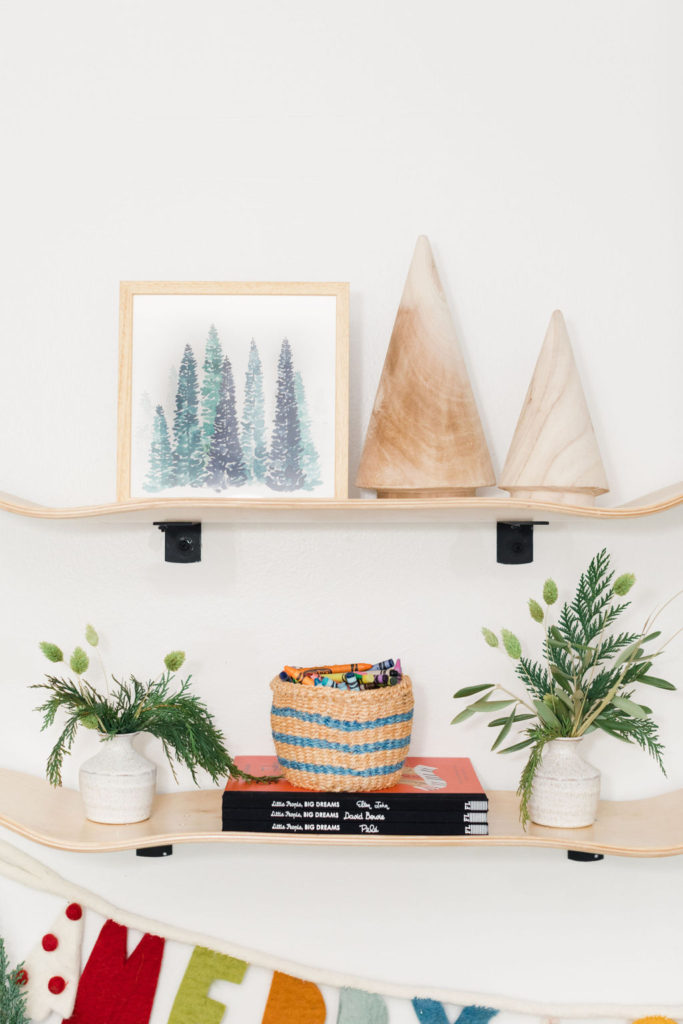 I added a few holiday details like the Merry Christmas banner and Pom Pom garland from Pottery Barn Kids along with a few wooden holiday decor pieces and fresh greens!
The wooden trees were a great find from Target, they will be great year after year as a neutral decor piece. The white nutcracker is from last year at West Elm, but they still have them!! I love the modern take on them. And the wooden snowflakes are by my friend Leanna of David & Leanna. She made them for one of our upcoming photoshoots and I thought they were perfect to repurpose as decor!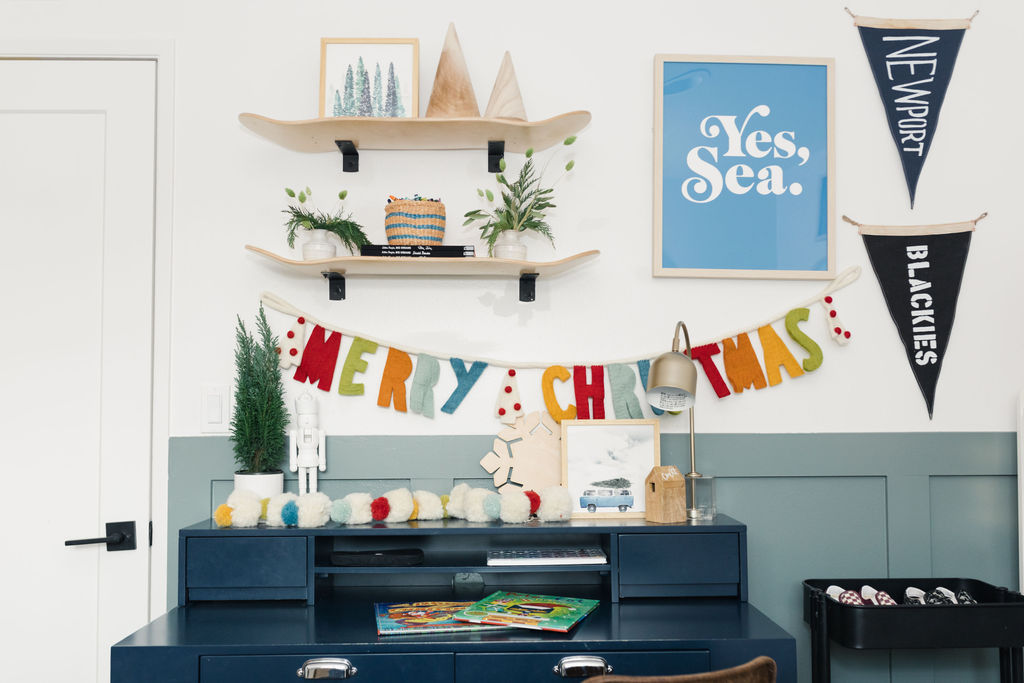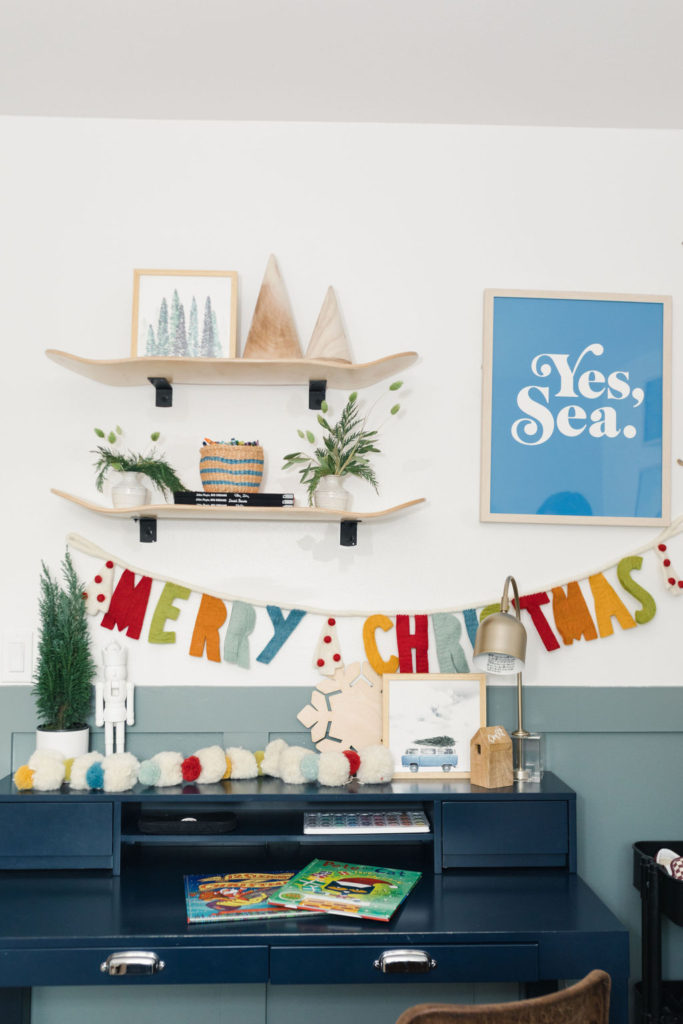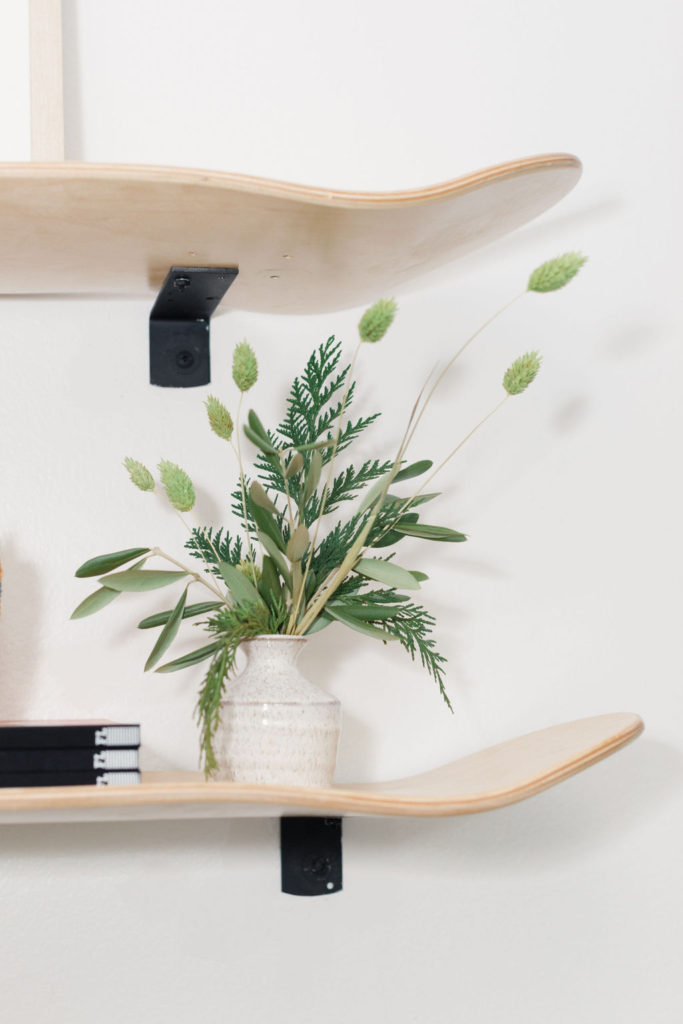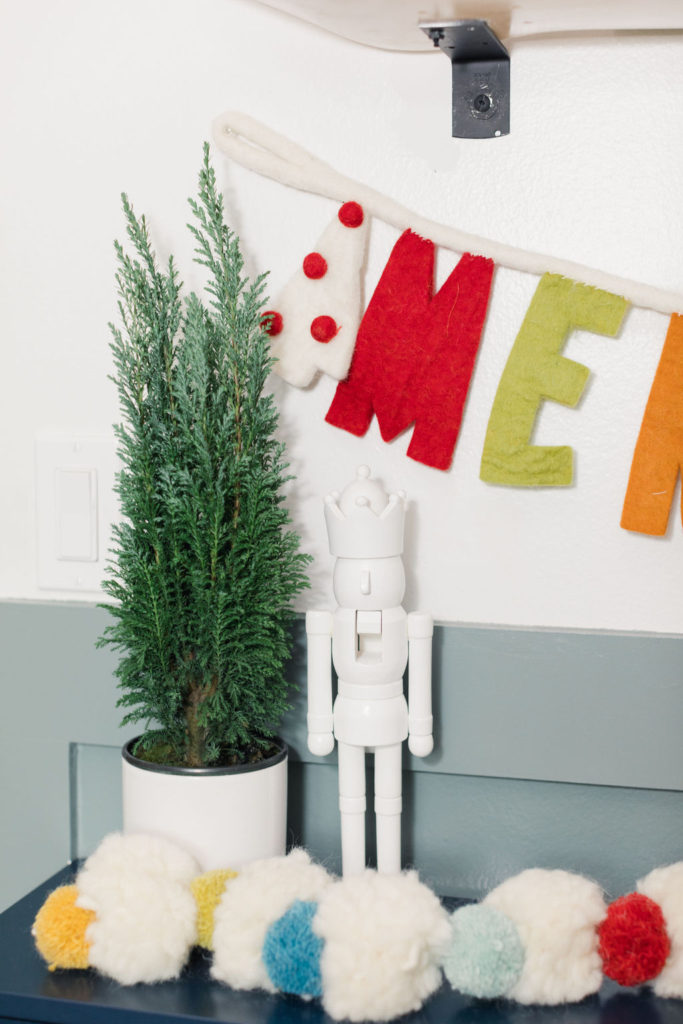 There's my happy boy in his cozy Chaser sweatshirt reading a Christmas book. He loves Christmas and is so festive, just like his mama! This was perfect for him!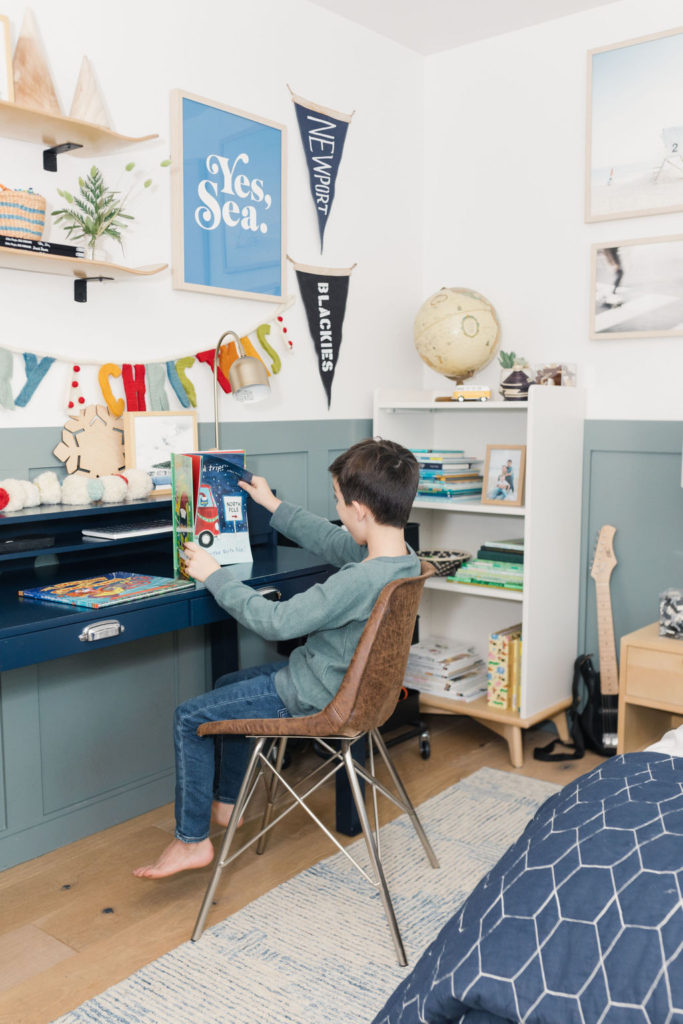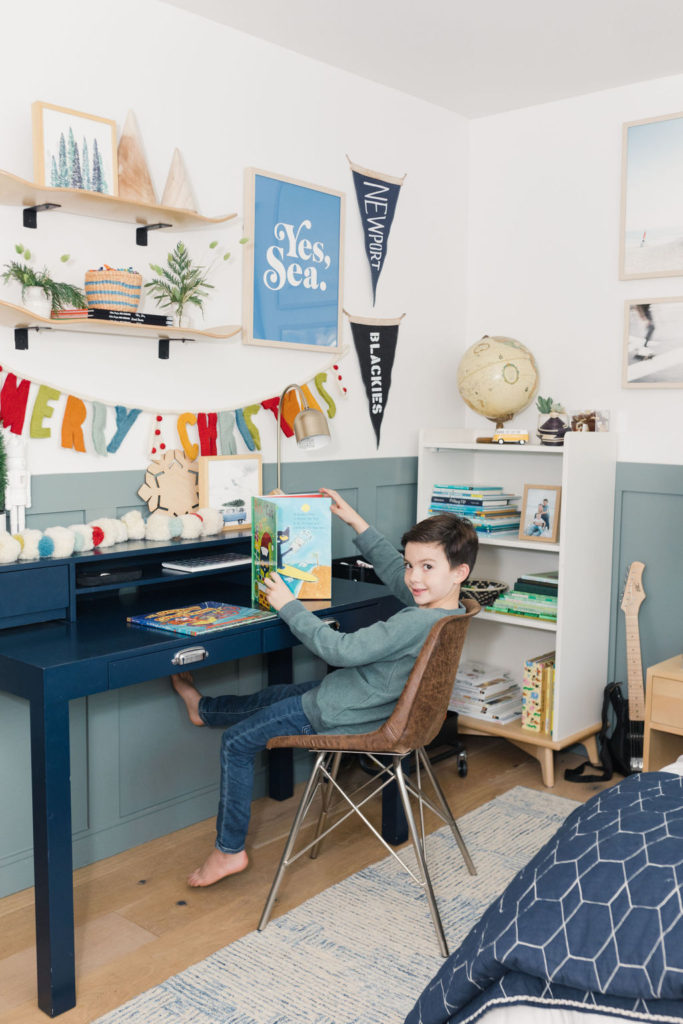 Shop Court's holiday decor and his favorite holiday books below!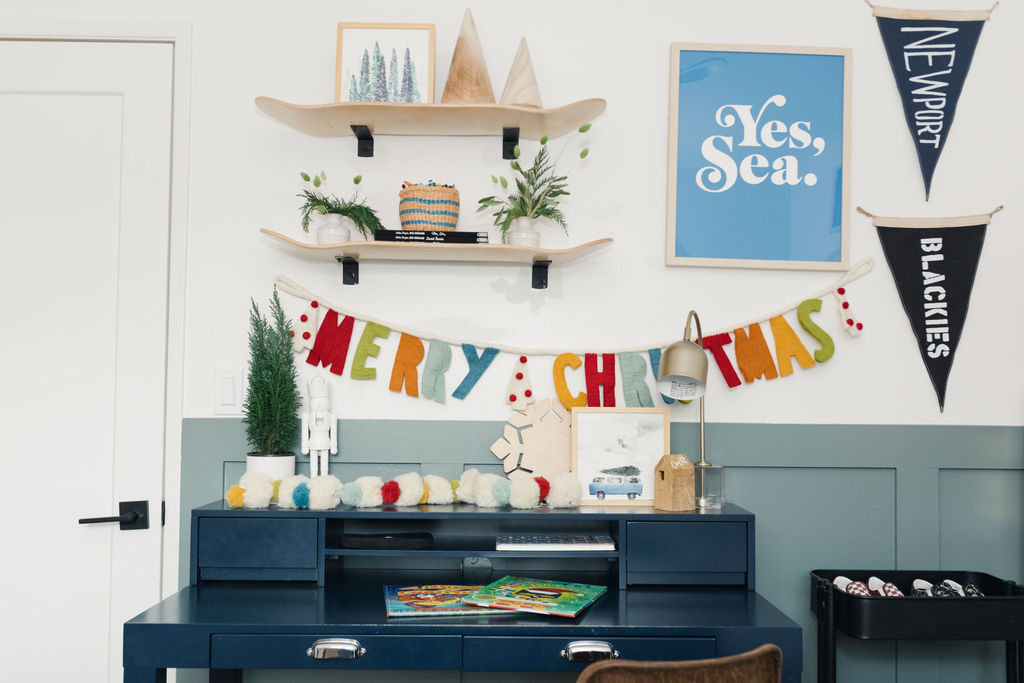 Hope this inspires you to add little holiday decor through-out your home! Minted always has the best art to spice it up!
xx
Jacquelyn