Since we started talking about our love for Valentines day, we thought we'd finish off the week with ideas on what to craft with your little ones for the special love day.  As much as we love Valentines day, our kiddos love it much more…I mean what child wouldn't love making valentines with candy, or fun little personalized gifts and showing their love by passing them out to the people they care about.  My favorite part of crafting was explaining Valentines day to my 3 year old daughter.  This is the first year she seems to understand the meaning of why we celebrate it and she can't get enough of the colors and ideas of showing the ones we love through cute notes and fun gifts.
We started off with some fun yarn that we picked up at a local craft store.  We picked a red and white combo from the Isaac Mizrahi collection.  We loved it because it has copper yarns weaved into the color, which was really fun! You can really do so much with yarn, but we loved these hanging hearts and we also made some of our own Valentines day cards.
Starting with the hearts… Here's all you need, some yarn, rustic floral wire, and some wire cutters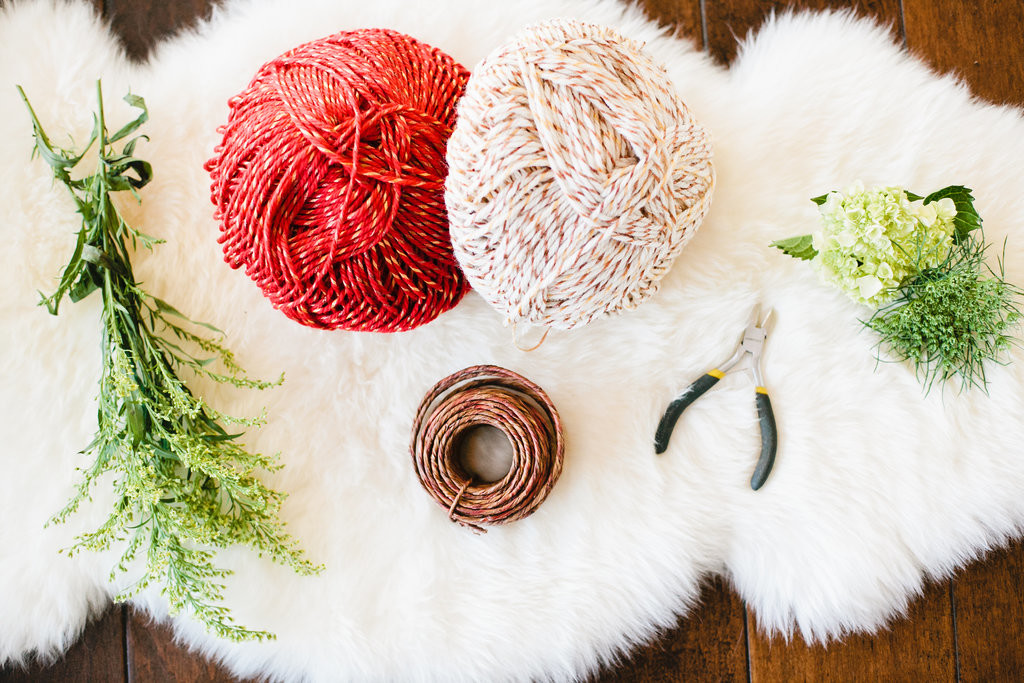 Cut a piece of the wire and make a heart shape out of it.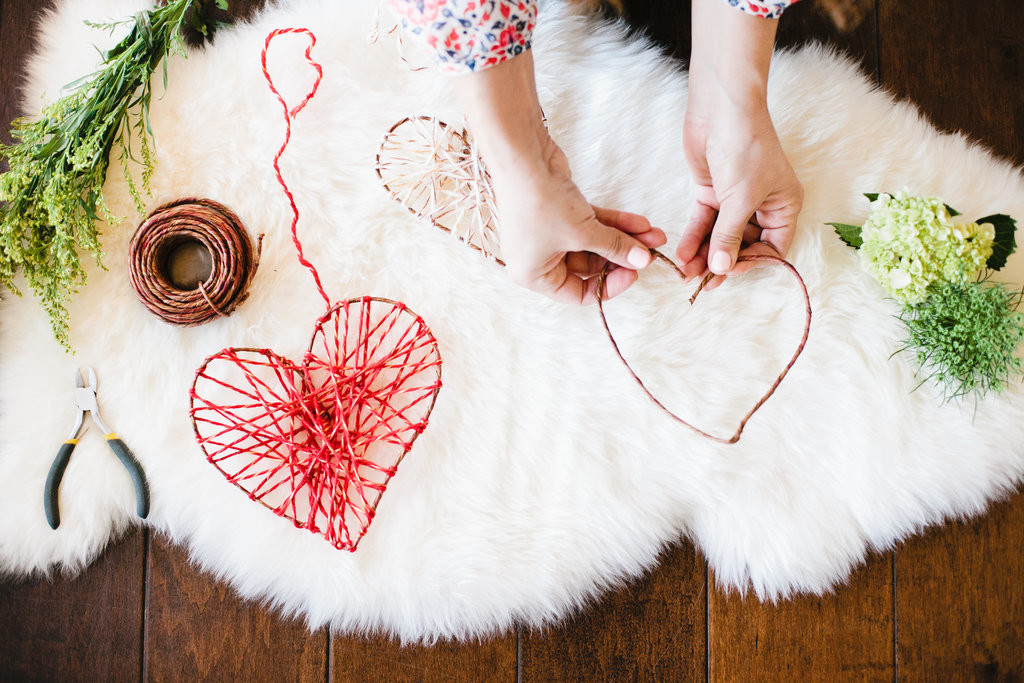 At the point where the wire comes together, weave the two ends so the piece becomes one and also making a point in the heart.  This is where your going to start with the yarn by knotting it at this point.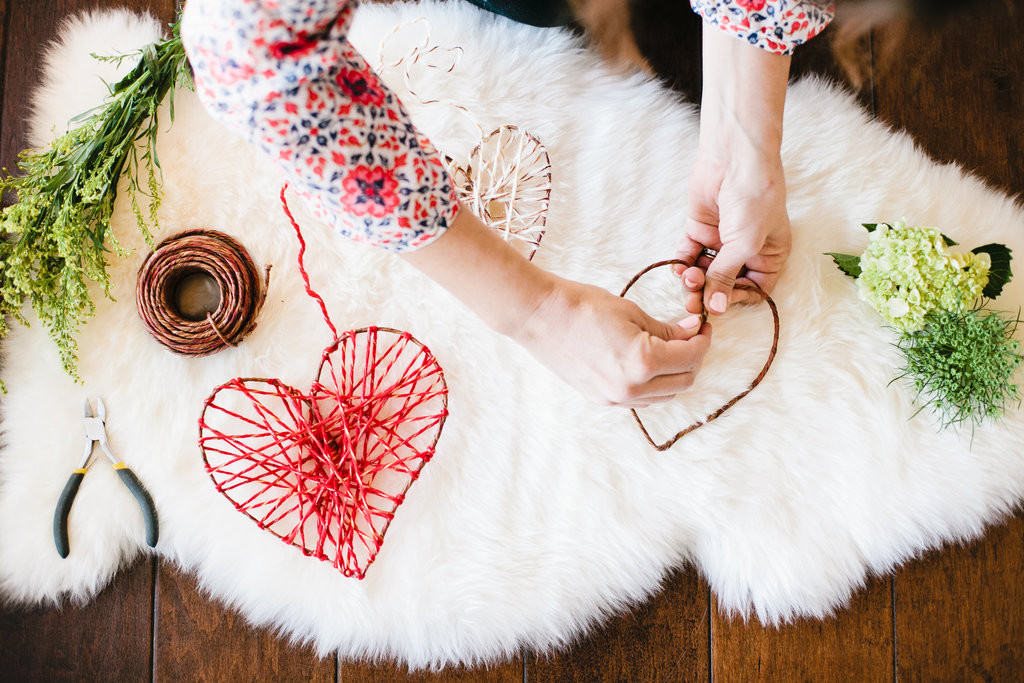 Close ups of the weave and where to knot the yarn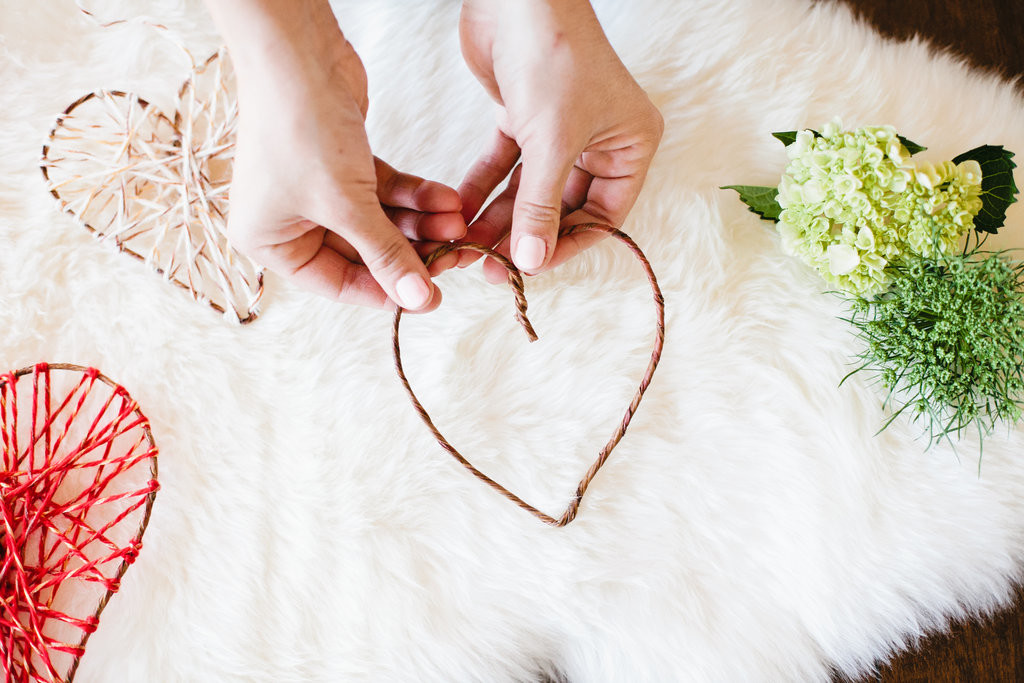 Start your knot at the tip of the weave.  Once you have your starting knot, start moving the yarn in all different directions looping it so it holds where you want it to and creating this messy fun pattern all over the shape.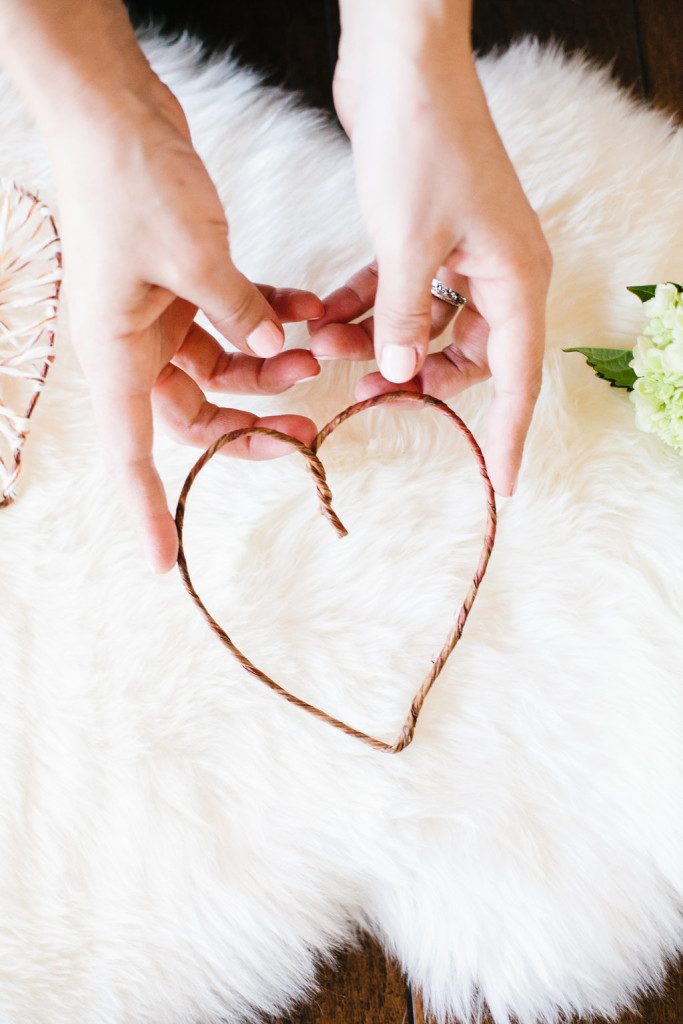 After you have the desired look you want in your heart, knot off the yarn again leaving some slack in the yarn so you can hang it if you want.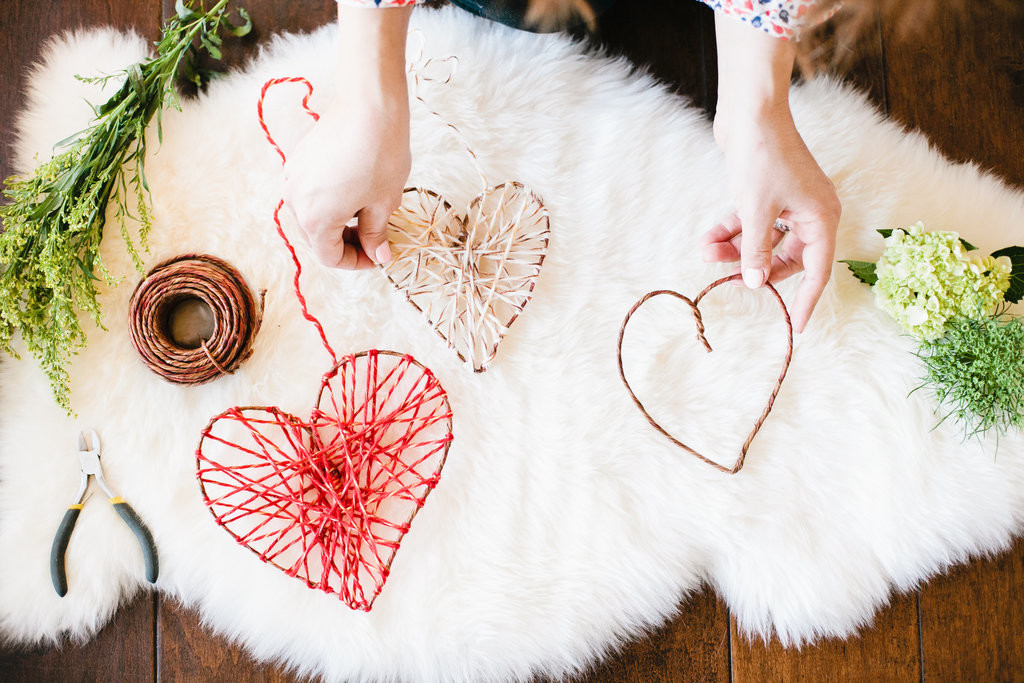 You can make all different sizes and hang them in a cluster, against a window,or top them on a gift!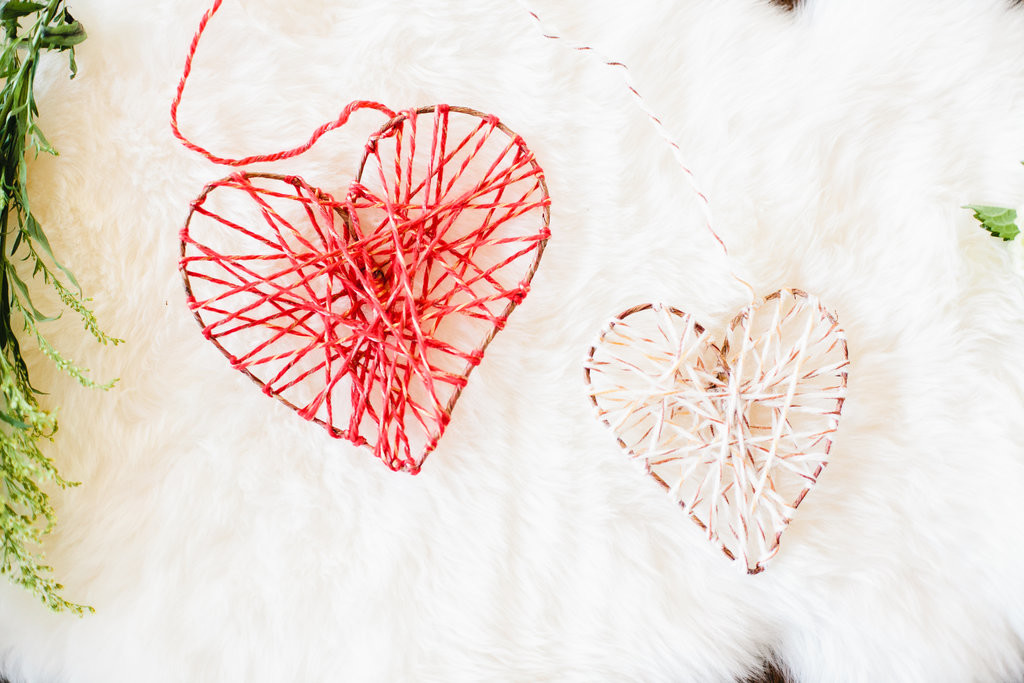 We love the copper accents in the yarn!!
Next we made our own Valentines day cards out of the same yarn.  All you need is some card stock, a heart shaped paper or mold and a yarn needle. Here's an overview of the finished product…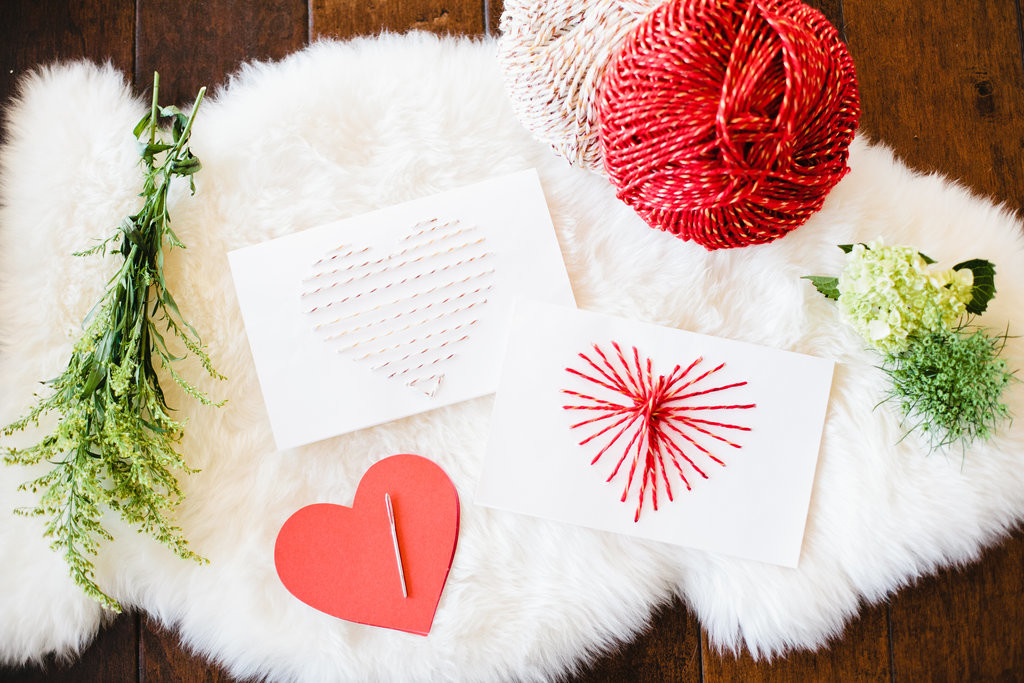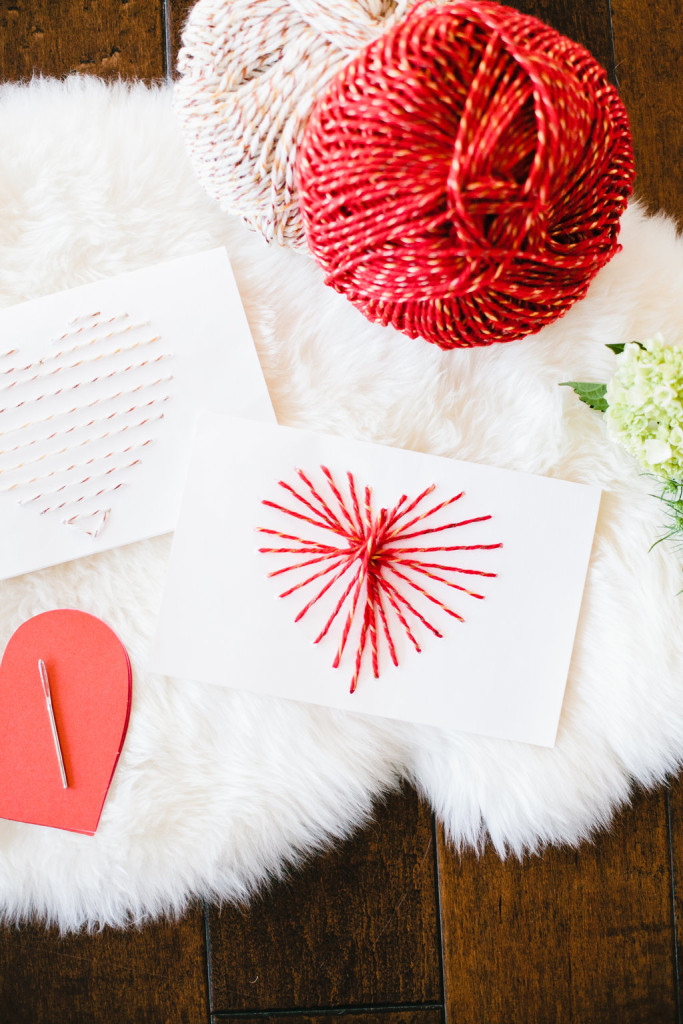 We made a red sunburst heart and a white horizontal line heart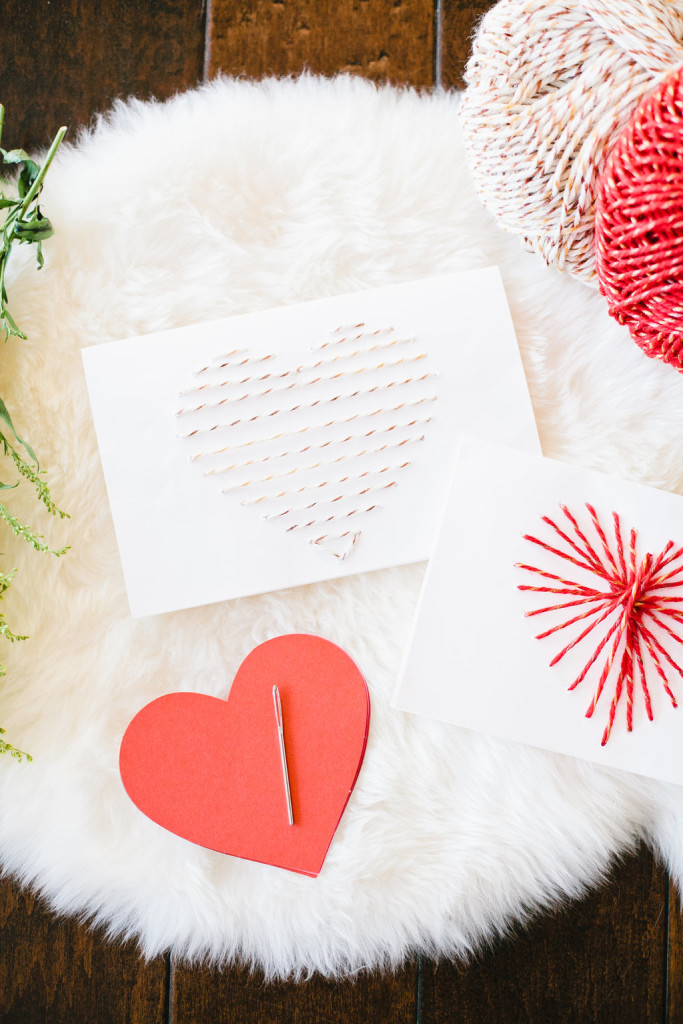 Place your heart shaped paper or mold out onto the folded card stock and poke holes along the edges of the heart into the paper.  Once you are done you should have a heart silhouette on your card stock made of holes.  You can now start weaving the yarn in either the sunburst form, across horizontally or even vertically.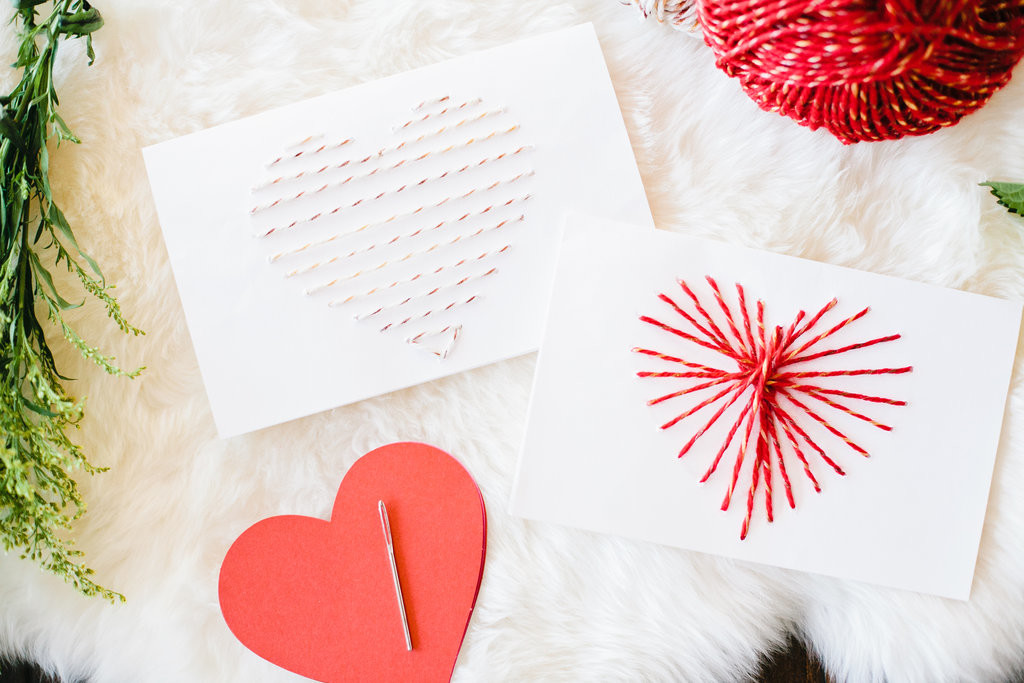 This is such a pretty and classic home made card.  Have your kiddos decorate it with a love note to their grandparents, daddy's, aunts/uncles or teachers!
Hope we gave you some fun crafting ideas for the love day coming up.  We have more for you tomorrow on Valentines day prep!
All photos by the lovely Megan Welker
Xx Leah