Christmas is literally around the corner. Bring on all the holiday get-togethers with family and friends! Is it just me or is every weekend in December filled to the brim with festive functions? Can't complain whatsoever, but it sure does make December blow by. Being a party planner myself, you could guess I love any excuse and any holiday to throw a little get together. Yes, I do! And Christmas, well that is just the biggest event of the whole year! With the hustle of the time of the year, I like to go a little low key and throw a wine and cheese gathering for close pals. There are four essential components to throwing the perfect cheese + wine gathering. With the help from some of our favorite friends, we are sharing our tips and tricks on how to produce the perfect cheese + wine gathering this holiday season.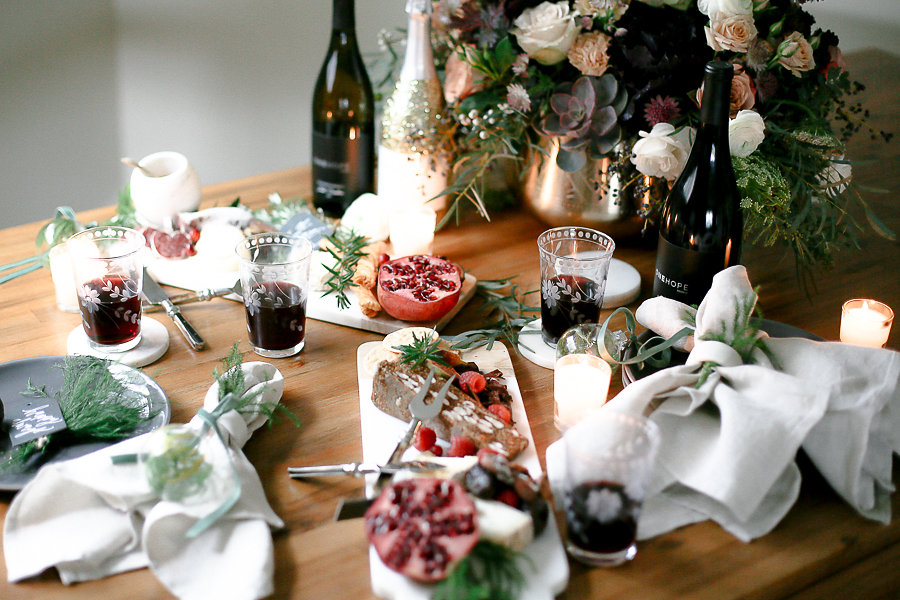 Festive Tabletop
Well, you need something to put all the yummy goodies on. We teamed up with our favorite home store, Williams-Sonoma to create this festive tabletop. We placed our charcuterie yummies on the Marble + Wood Cheese boards. I just love the combination of the natural wood mixed with the white marble to create an elegant, low-key vibe to the table. I like to mix natural elements with a touch of elegance for the holidays. These vintage etched tumblers were the perfect pop of beauty for the party. When you add wine to these beauties, the etched flowers just pop! So pretty!  Marble was a key theme throughout this setup, from the cheese boards to the napkin rings and coasters. My favorite bone handled cheese knives were the last touch to this natural tablescape.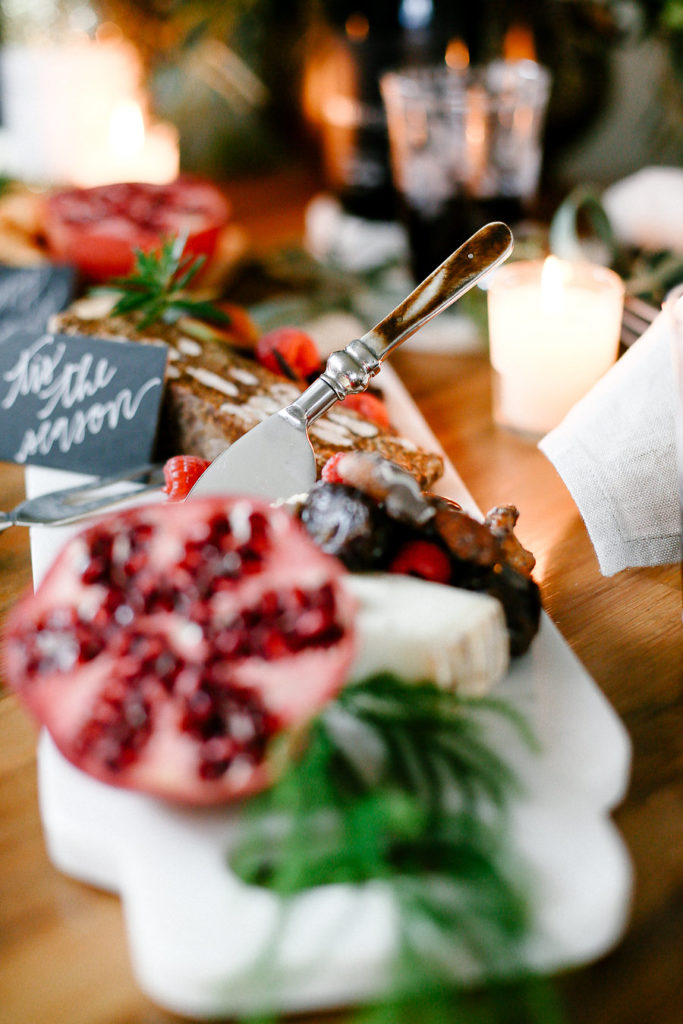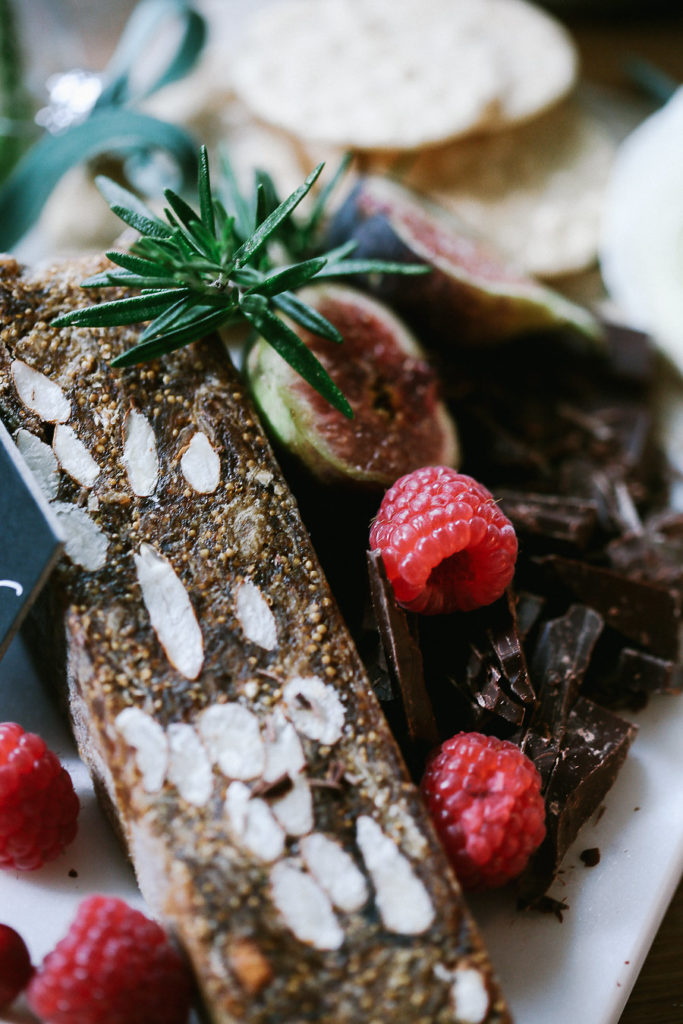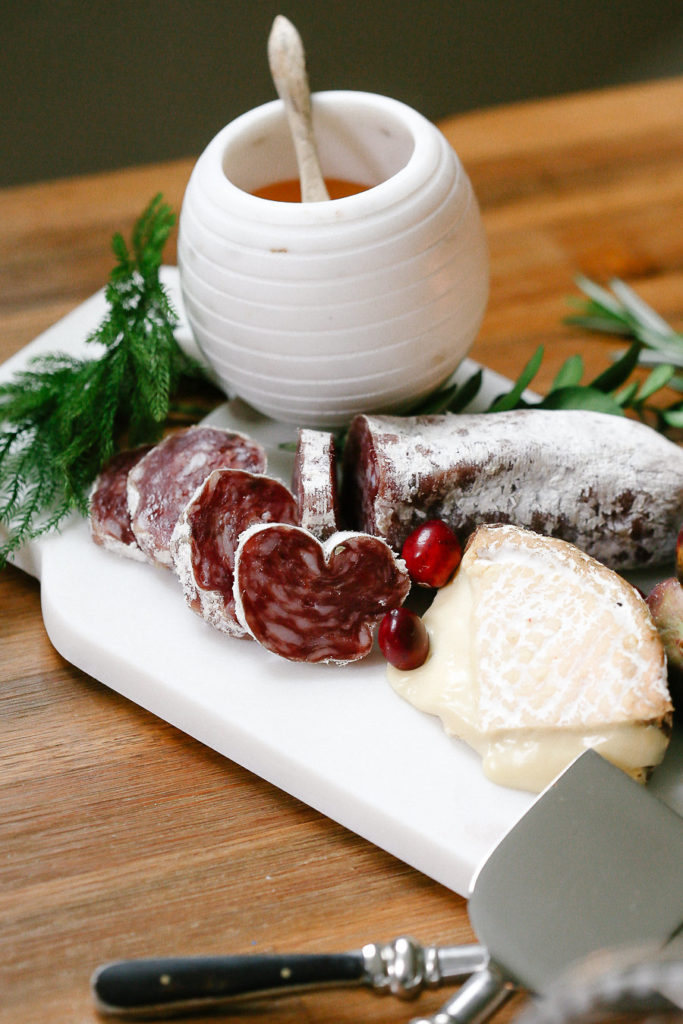 Ribbed Marble Salt Celler with Spoon
Cheese + Wine
 Now that you have the perfect setup complete with boards, cheese knives, glassware, napkins, and coasters you will need to create that perfect cheese platter accompanied with wine. Molly from Organicopa lets us in on how she does it! And the best part it's not hard at all! Who doesn't love a killer cheese plate? In culinary school, I learned that you need to have a hard cheese, soft cheeses, semi-soft cheeses, and blues. I don't follow that when making a cheese platter. I go to my local cheesemonger, and my favorite happens to be at whole foods. I asked them what newest and best cheeses are. I prefer unpasteurized soft rind cheeses. Salty, creamy, rich and fatty. I love goat cheeses of all kinds and the more they fall off the rind, the better.
For this cheese board, I stuck with my go-to favs. Truffle Tremor, brillatt (a triple cream Brie cheese. It's saltier and creamier than regular Brie) and a St Agur blue, which is also- softer and smoother. I love sweet with salty which is why I always serve cheese with local honey. This honey was unique because it came straight from my bee whisperer and had a super molasses undertone. It was a perfect marriage to my cheese delights. I also love briny olives and candied spiced nuts to serve with cheese for layered texture and flavor.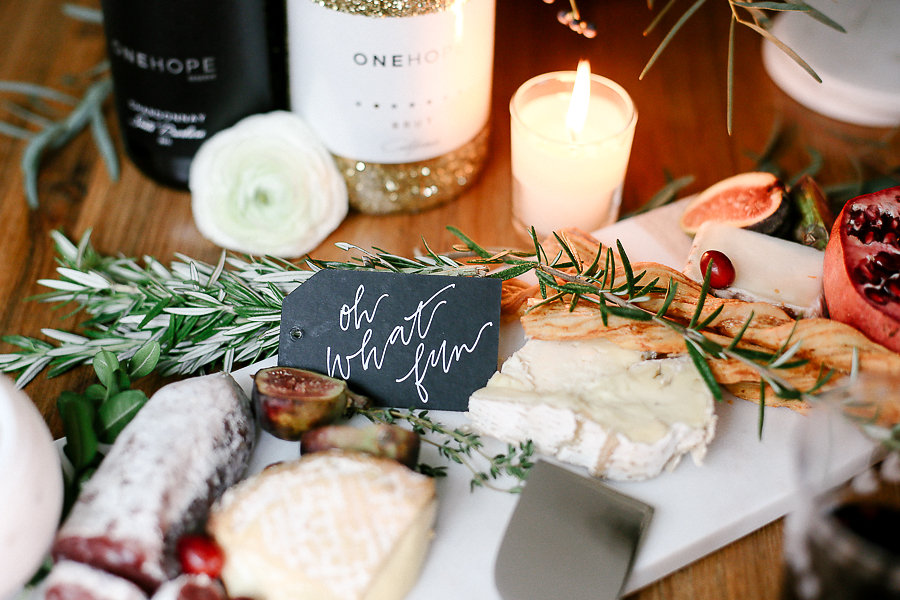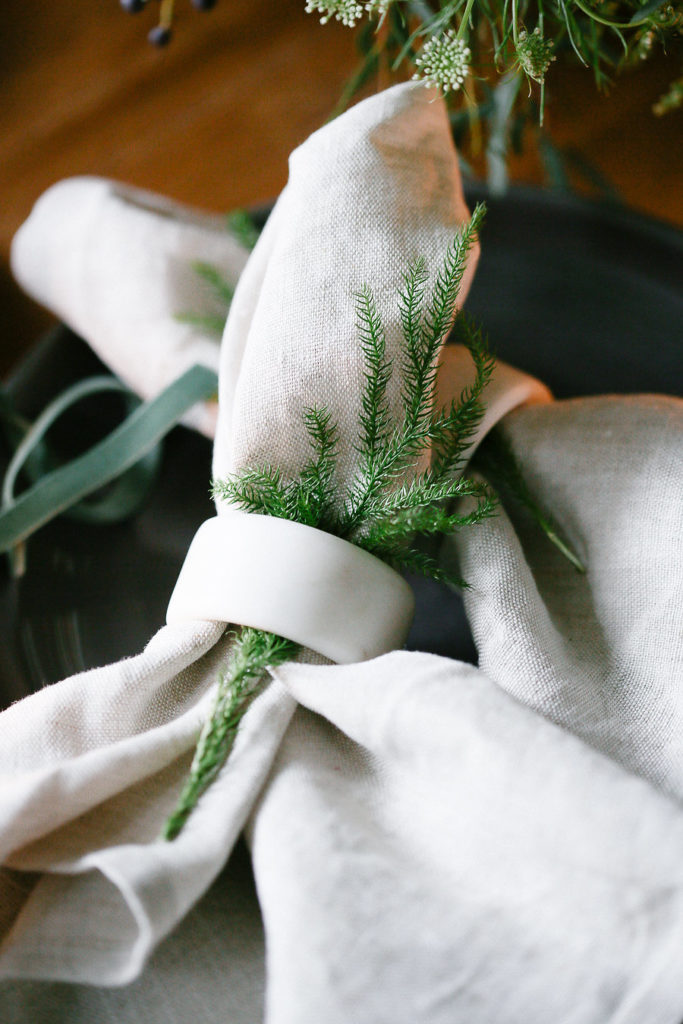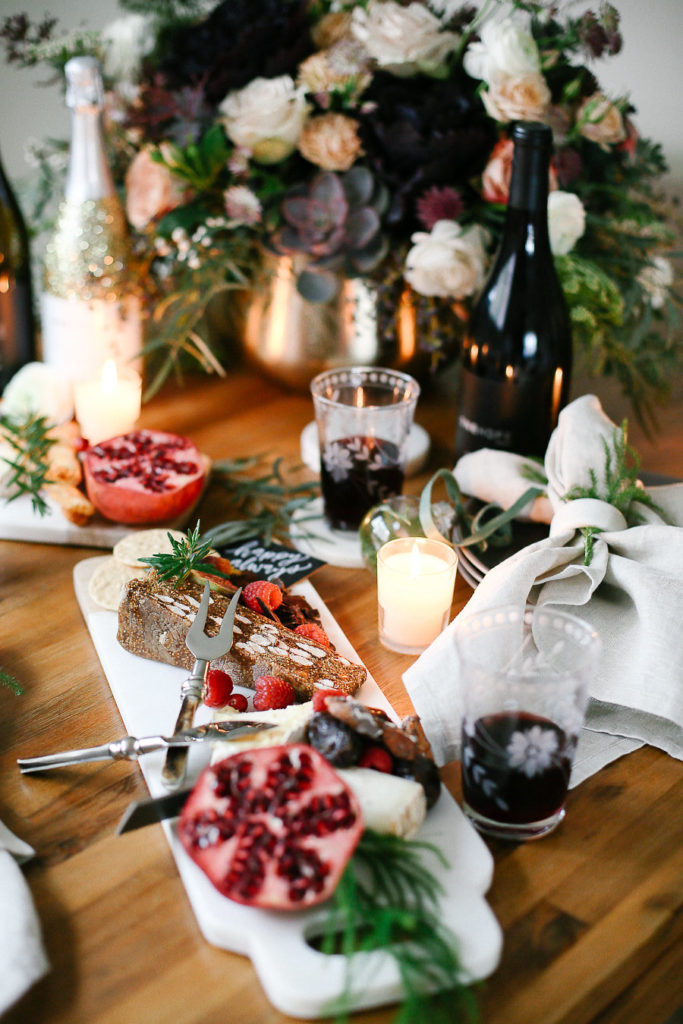 Don't worry about doing this proper. Do what makes your mouth water. Choose cheeses that you enjoy. Not just the ones you were "told" make the perfect board. It's all based on flavor profiles and preference. I just happen to love soft ripe, stinky cheese- but you may like super salty dry aged cheddar. Go with what you enjoy and most importantly, enjoy it with a glass of wine.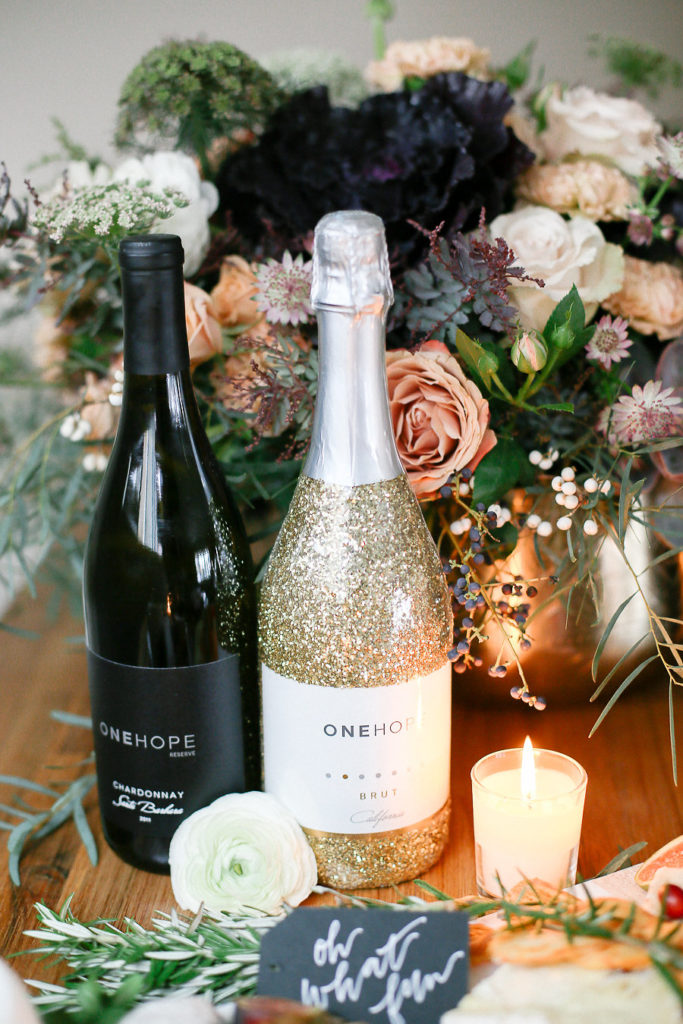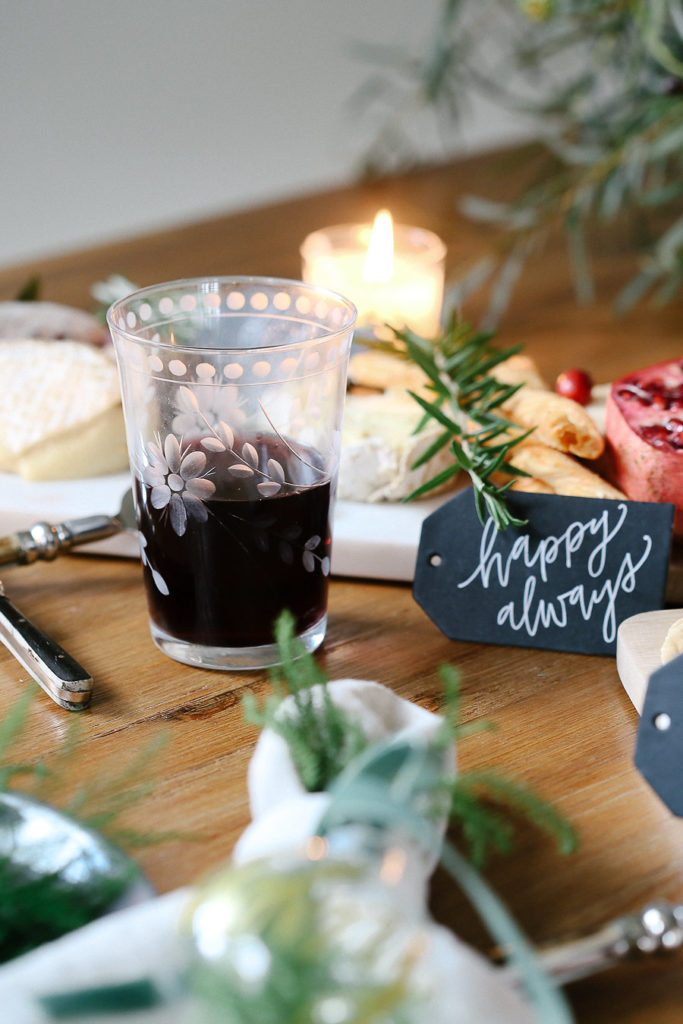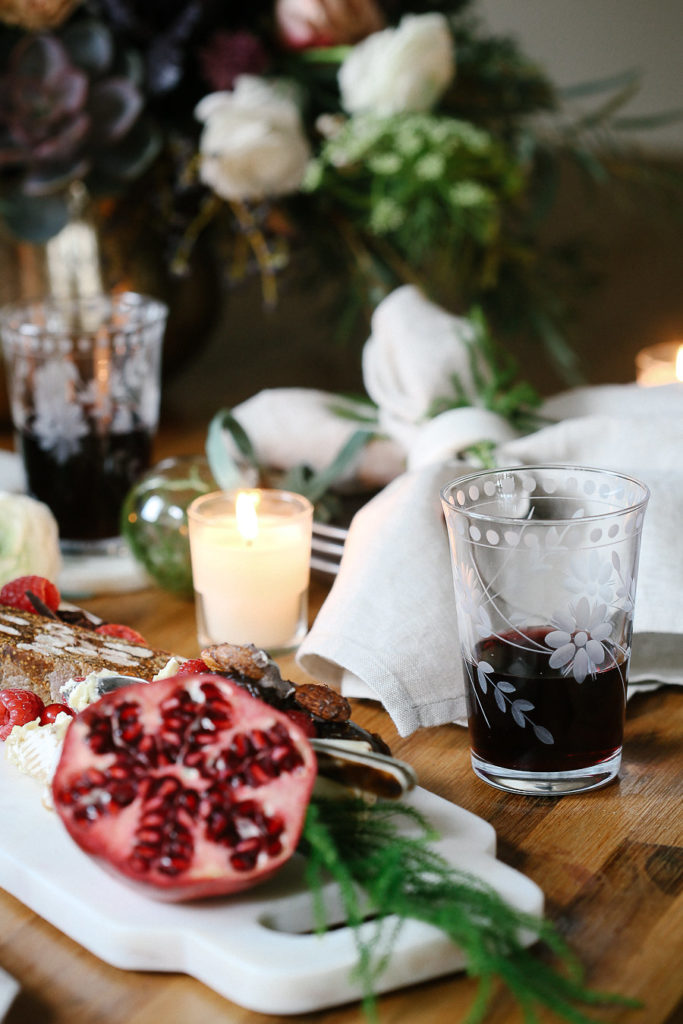 Now for the wine pairing! We went to the experts,
One Hope Wine
to help us with the pairing.
Truffle Tremor and ONEHOPE's Reserve Pinot Noir are a match made in heaven.  The truffles in this creamy cheese demand a red wine, but its buttery, brie-like consistency call for something light.  A Pinot Noir is the perfect balance of both, and the oak notes on this Pinot will pair wonderfully with the light truffle notes in this cheese.
Pair the brillatt with Sparkling Brut. This rich, creamy and silky smooth cheese is balanced out by the hint of sweetness and bubbles in this sparkling wine.
Pair this delicious blue with 
ONEHOPE's Reserve Cabernet
.  The bold fruit and spice profile of this wine stands up to the earthiness of a mild blue, giving your palette the perfect balance of dark fruit and slightly salty, savory cheese.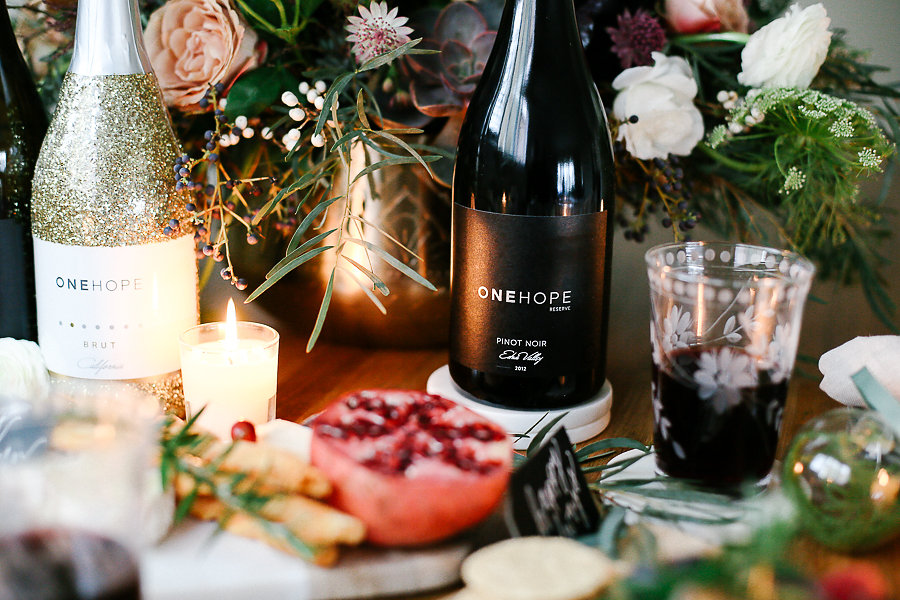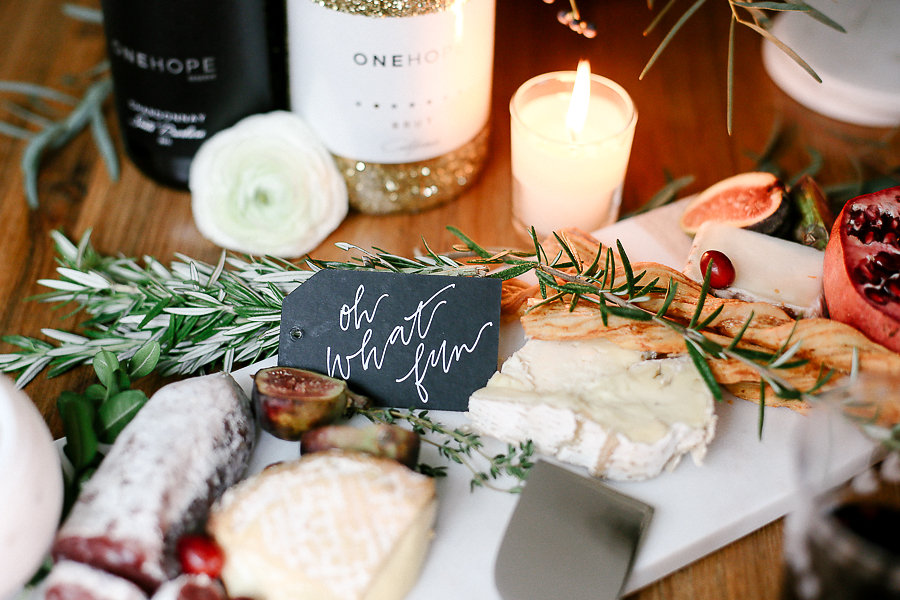 Flowers
No gathering can be without a stunning flower arrangement.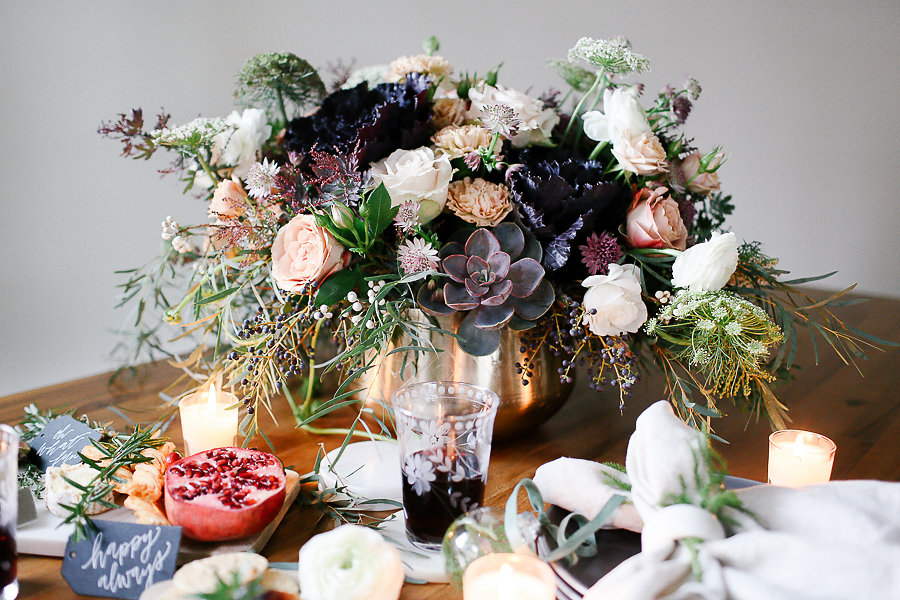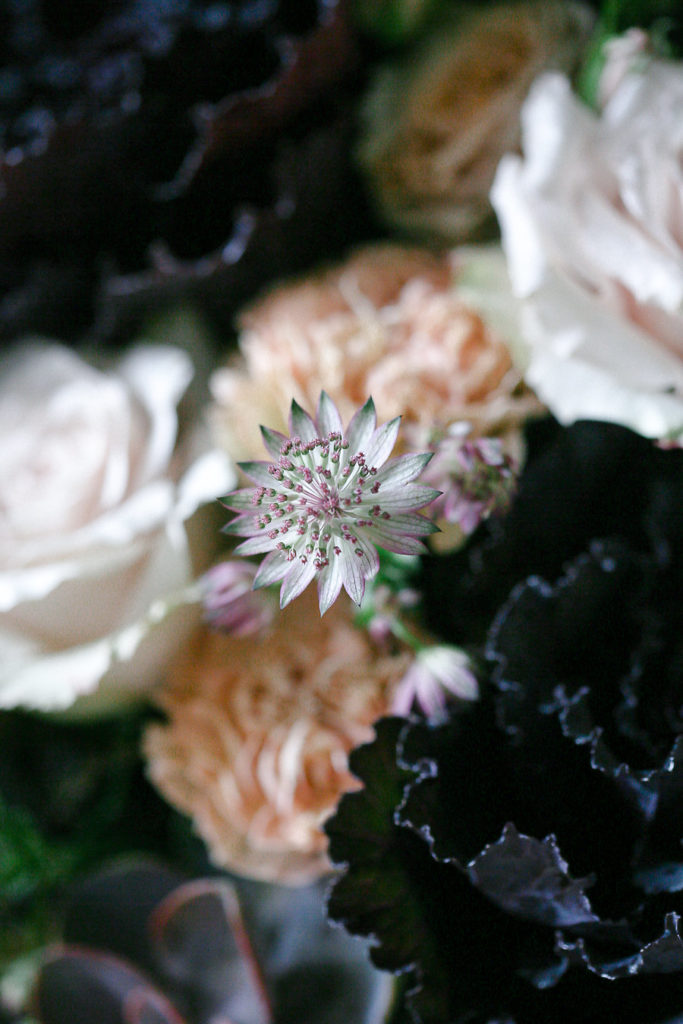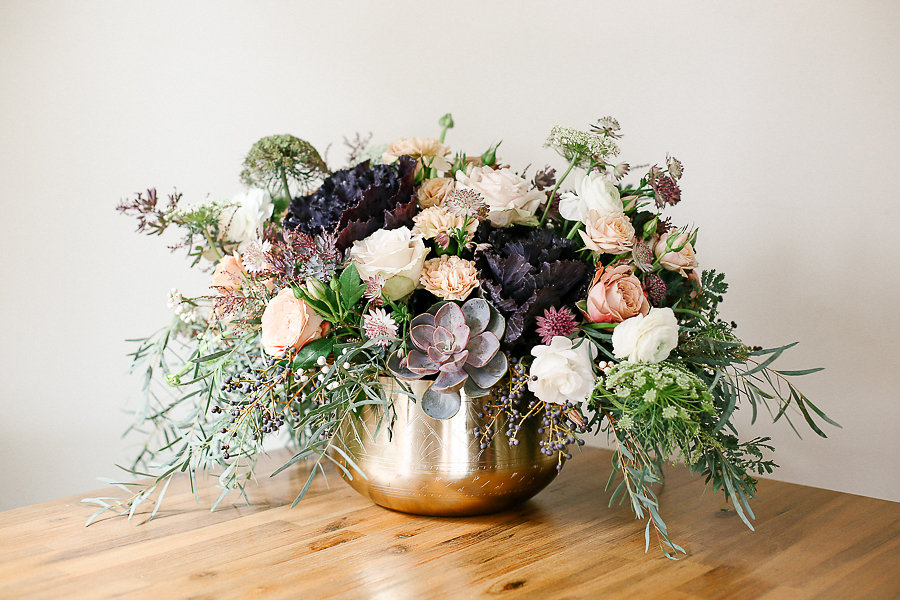 Go big or go home I say! Jennifer from Busy Bees Florals did just that! She went for natural darker tones to flow with the marble and wood tones. She used a mix of succulent, kale, cappuccino rose, spray roses, chocolate Queen Anne's lace, ranunculus, greenery-blue acacia, and eucalyptus. I'm so in love with the Cappuccino roses! No one says you have to have red, white, and green for a Christmas gathering. Be different, and have fun with it!
Lastly, glitter some holiday fun into the mix. We went with a classic black invite for this get-together. What more do you need to read then let's get tipsy and toasty? I'm there! Meghann Miniello created some fun holiday sayings that we set amid the cheese platters. Lastly, she designed personalized ornaments for each place setting and a fun favor to take home.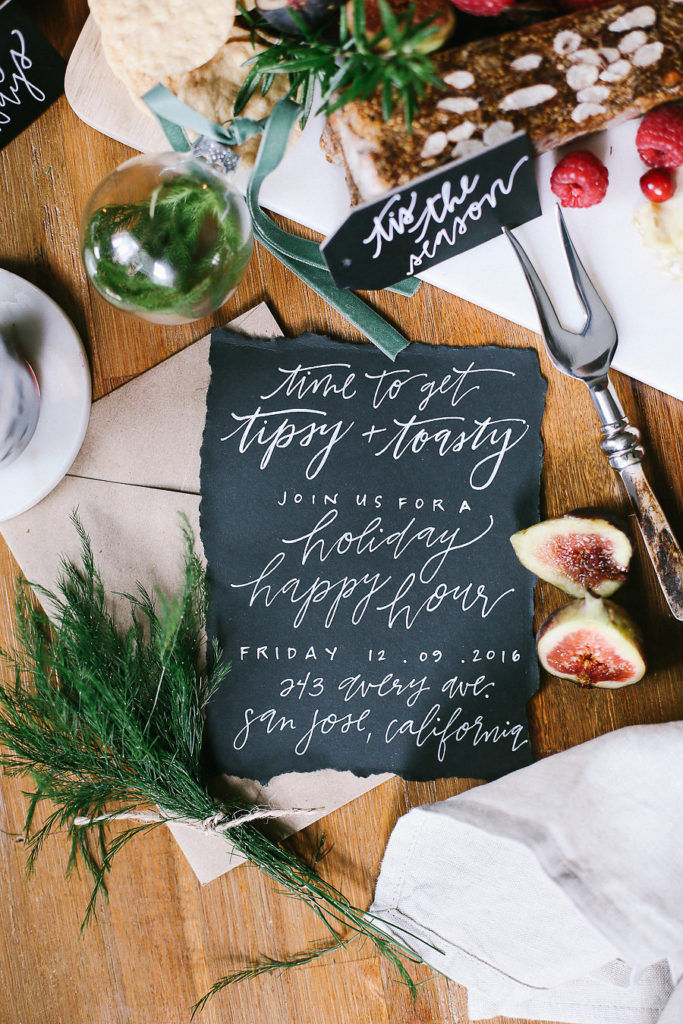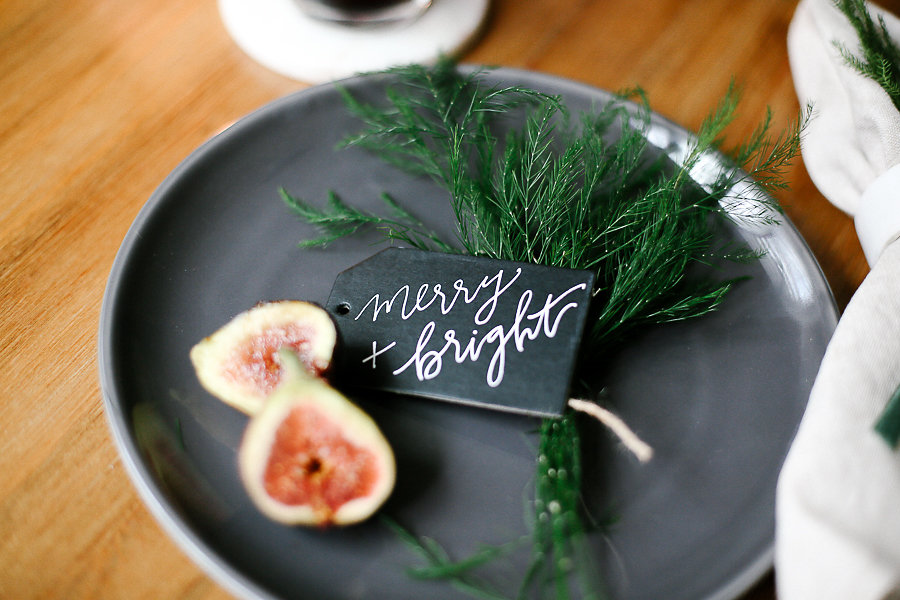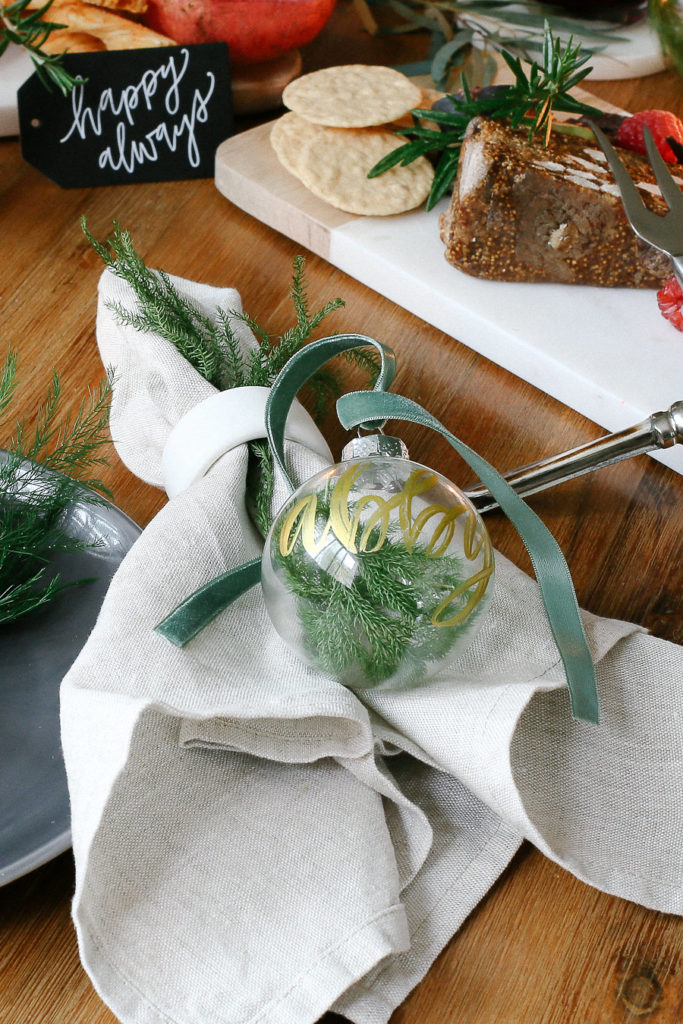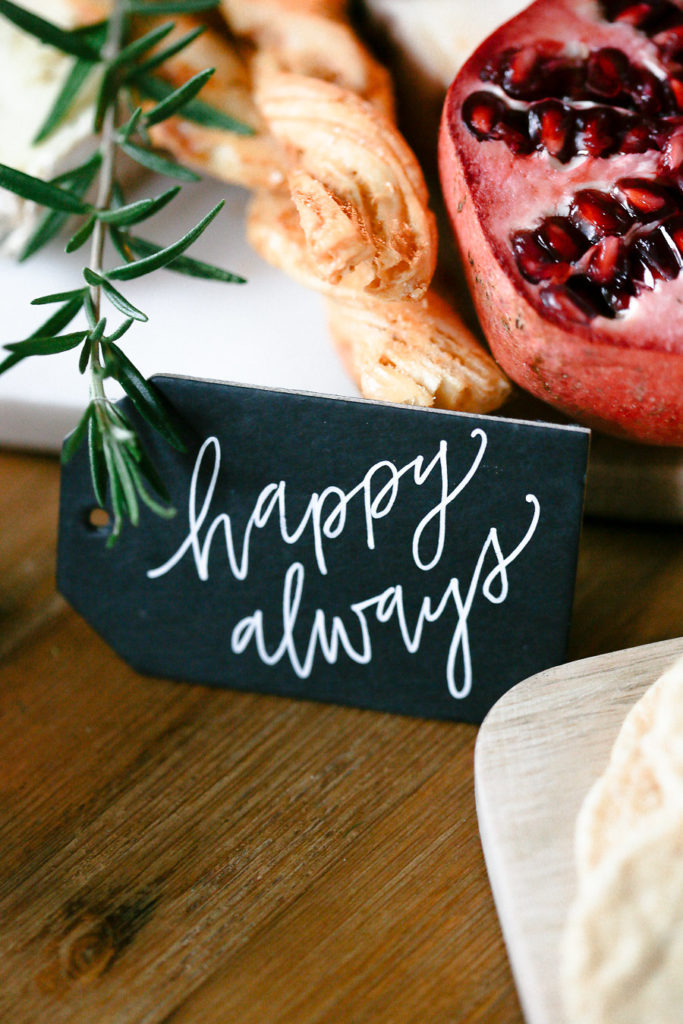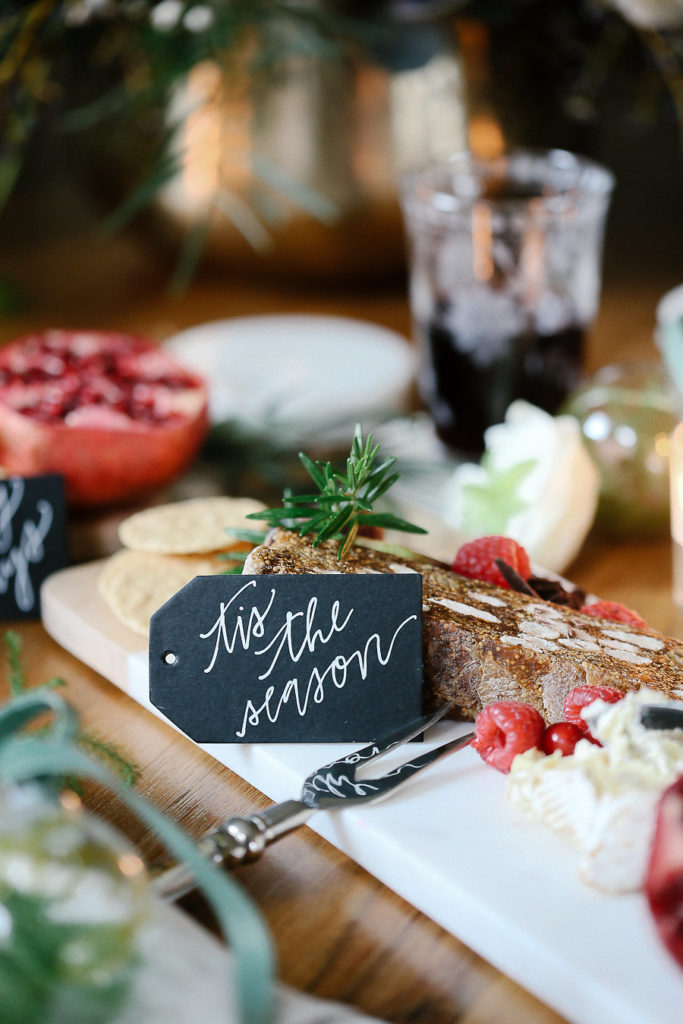 Tips and tricks
Have a good time!
Plan your menu ahead of time
The morning of or night before set out your tablescape, so you just have to lay out the food and drinks right before guests arrive.
Don't be a Scrooge! If you're stressed, have a glass of wine and turn up that Christmas playlist.
Now, I don't know anyone that doesn't like wine or champagne, but always good to have some soft drinks, beer, and of course water on hand.
Thank you to all the wonderful vendors!
Styling: Beijos Events
Tableware: Williams-Sonoma
Food: Organicopa
Wine: One Hope Wine
Florals: Busy Bees Floral
Photography: Julie Cahill
Signage/Invite: Meghann Miniello 
xx
Abby