Yesterday I shared my big 6-year-old Court's room and today it's my sweet 4-year-old Cruz's turn to shine! Speaking of shine, when I was designing Cruz's room sunshine came to mind. He is my sweet sunshine boy and when I think of him I just think of his sweet happy face. Cruz is very loving and always giving me kisses and hugs, so a bright sunshine room was what he needed and deserved!
Like Court's room, a lot of my inspiration came from the beach and surfing. What can I say, it's a family thing! As was the inspiration for his nursery a few years ago! Four years ago but seems like yesterday.
Just like Court, I teamed up with Pottery Barn Kids to bring Cruz's room to fruition. I did serene colors and images of the ocean along with pops of fun color reminiscent of Cruz himself.
As I said yesterday, my friend Jesi Haack was a big help. She helped me finalize the design of his room and added her special touches and advice to help me complete it! The talented Gillian Le Brun was able to take photos of all the cuteness yet again, and I'm so grateful to them both! Scroll to see it all…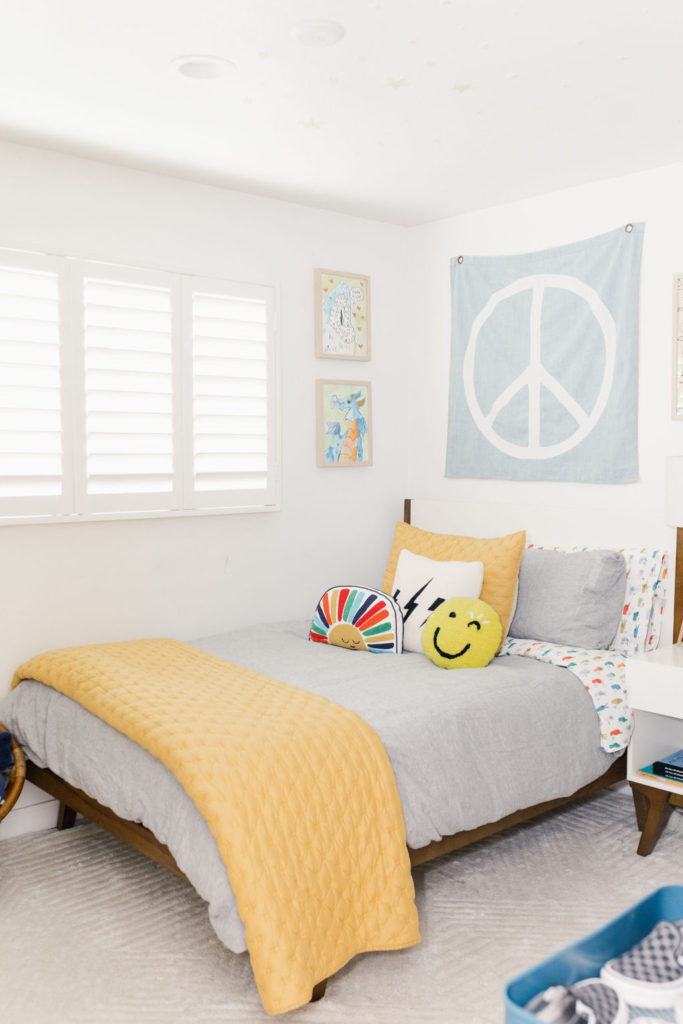 Let's start with his bed! I originally planned on having the boys share a room and had bunk beds in this room. The boys and all their friends loved them but they really overpowered the room. It made the room seem so much smaller and I was always worried about them falling off the top. Although the boys were bummed I switched to a full-size regular bed, and of course, now Cruz loves it.
We went with the West Elm x PBK Modern Lacquer Bed. The design of it is just what I was looking for and his new bedding is so cuddly. There are some pops of color there which I love! A simple grey linen duvet with bright and colorful sheets and a sunshine yellow quilt. Perfect for the sunshine room!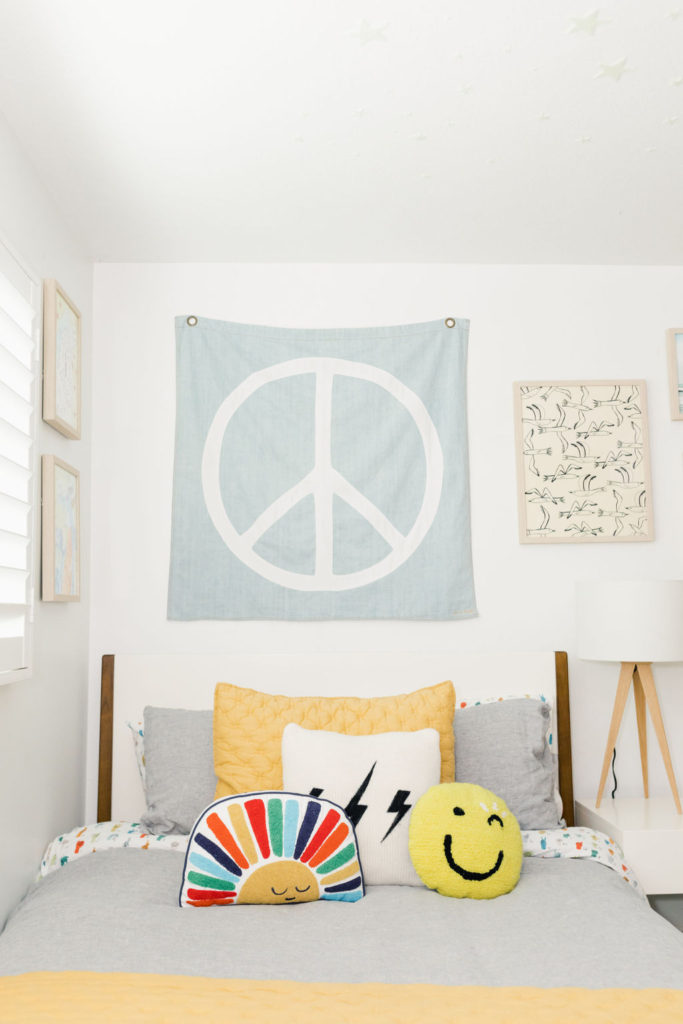 A key statement piece in Cruz's room is that rad denim peace sign flag from Kawaiian Lion. I purchased it a while back when we moved into our new home but finally got to hang it up! Luckily I found the perfect spot.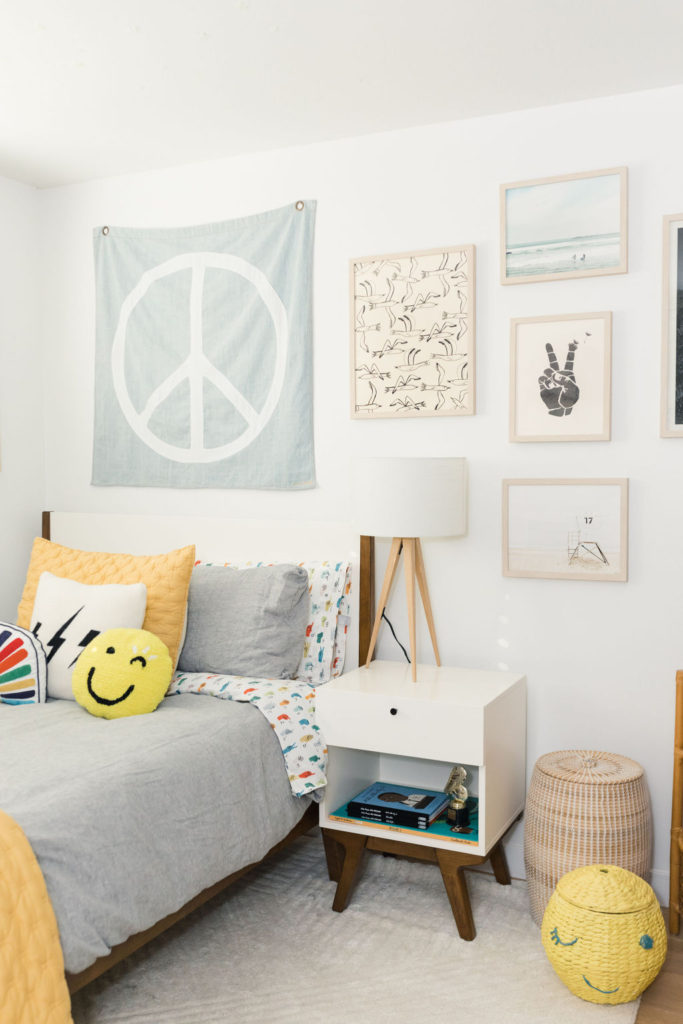 The Faye rug was a great addition to Cruz's room as well. Yes, I know, sort of dangerous to get a white rug in a 4-year-old's room, but I live on the wild side! I love how clean it looks and that it has geometric lines through-out. Plus, it's nice and soft, perfect to sit and build legos on!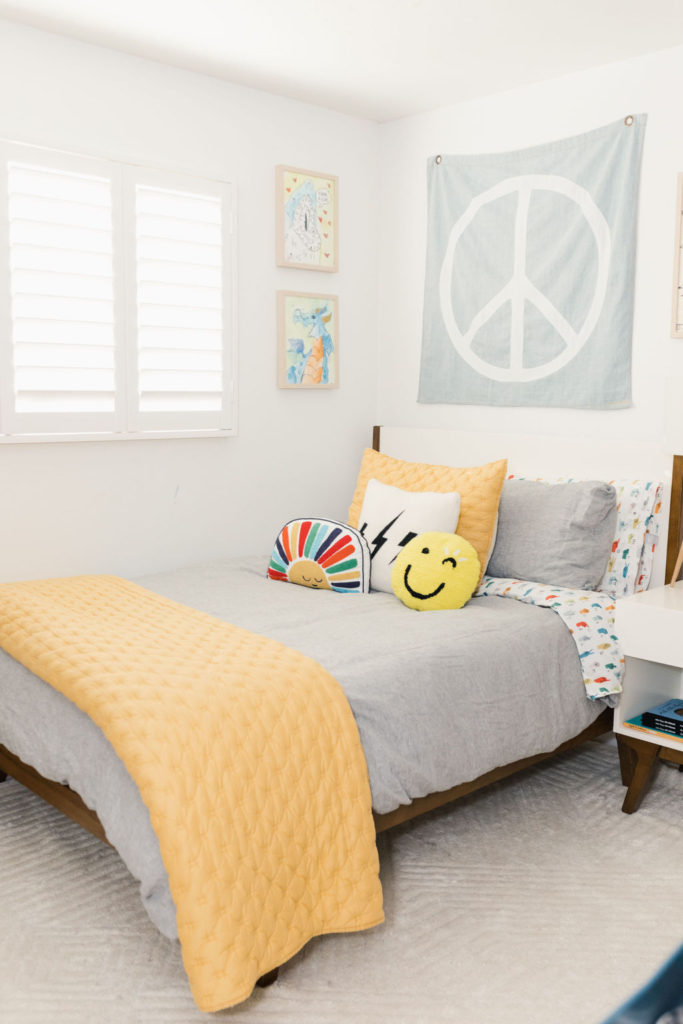 How cute are Cruz's pillows? I used the lightning bolt pillow in Court's room but for Cruz's, I added in a few fun ones. Like that adorable rainbow pillow (rainbow is his favorite color) and the cute winky smiley face. Fun pillows for a fun guy!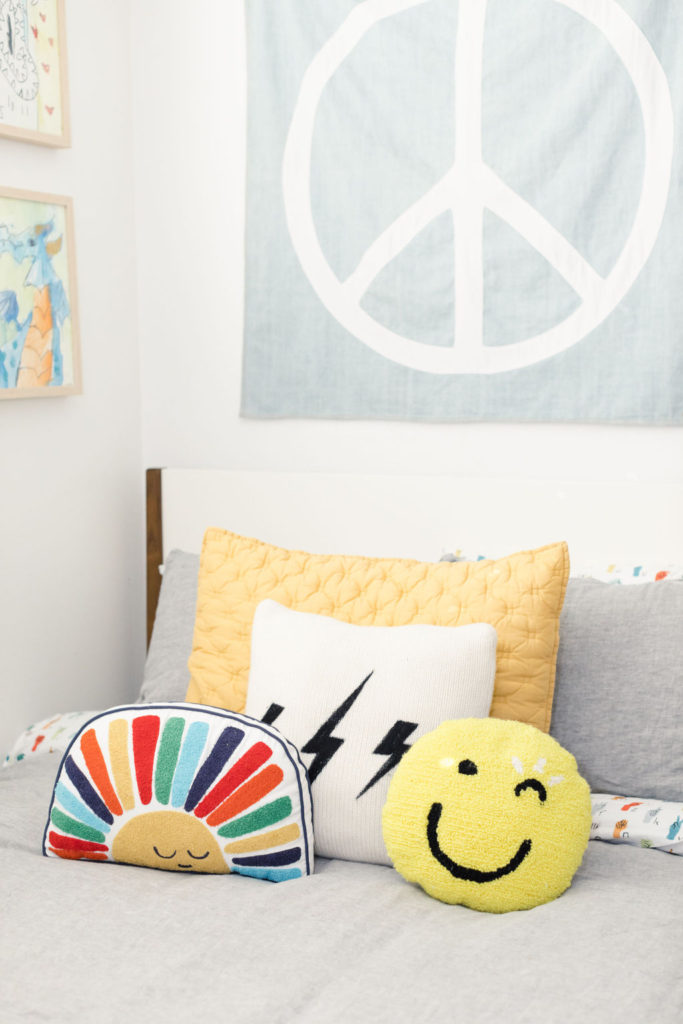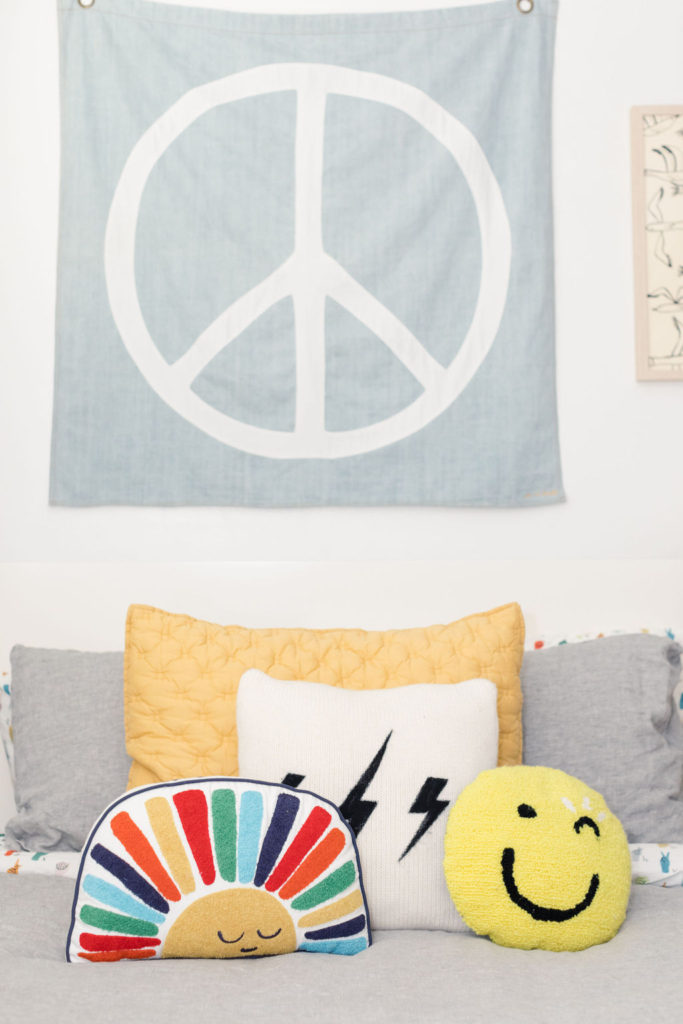 I love having Cruz's nightstand and bedside lamp. My husband and I try to switch off with putting the boys to bed each night but truth be told, they both want me, haha. He didn't have a bedside lamp before and we had a ritual of racing to turn off the light, it was very sweet. But now it's nice to stay cuddly in bed and just turn off the light after a few books. Yes, I lay with both of my boys until they fall asleep and I have no regrets about that!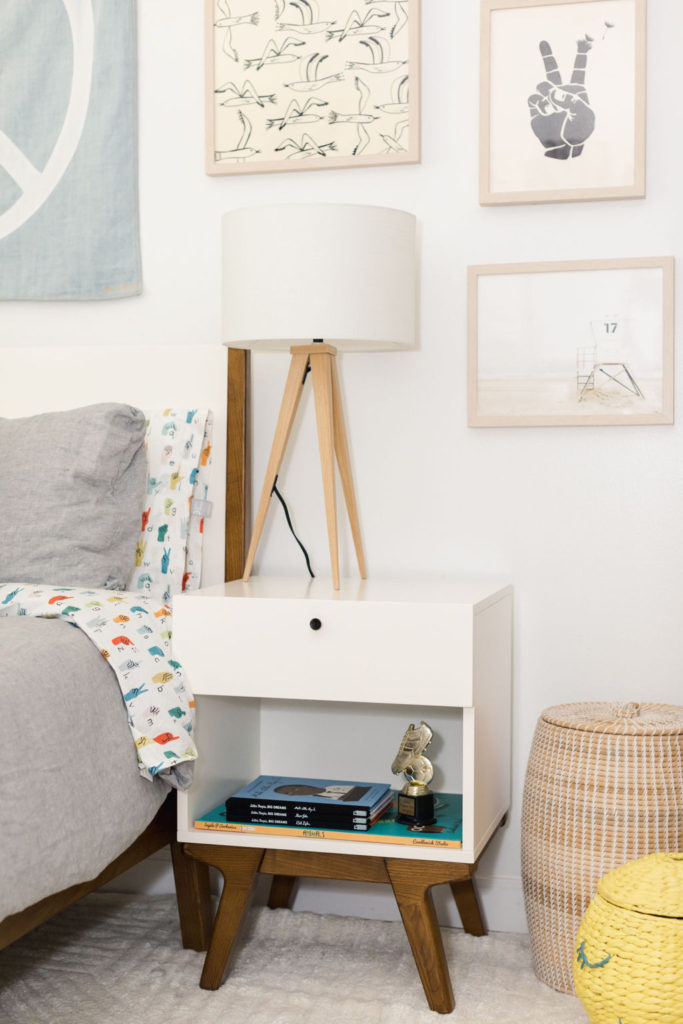 As I mentioned yesterday with Court's room, I love adding special pieces to the boys in their rooms. This soccer trophy of Cruz's was so special to him. When he received it he took it everywhere with him. He shared it at show & tell at school, brought it out to dinner, took it in the bath, and even slept with it! It had to have a spot in his room since it was so important to him, plus I never want to forget how much he loves it.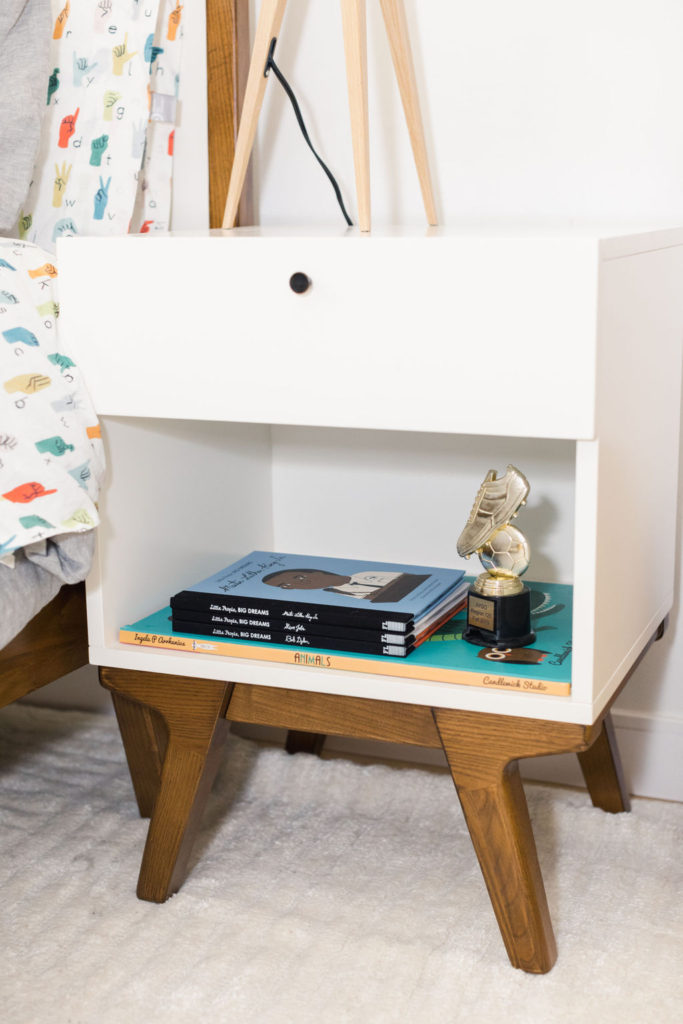 Here's a few detail shots of his adorable bedding…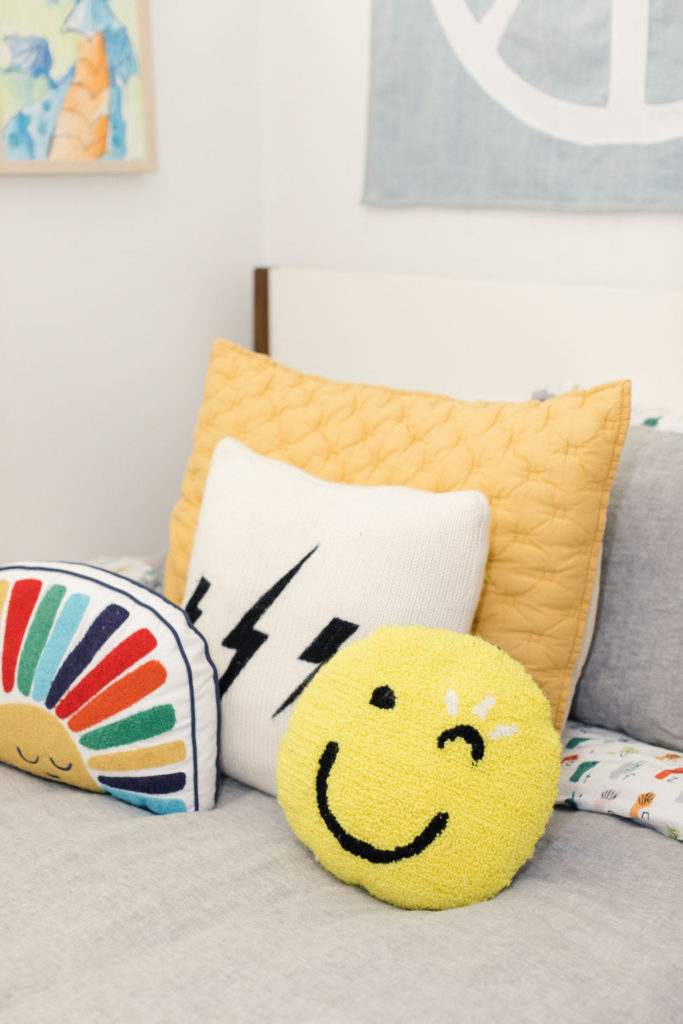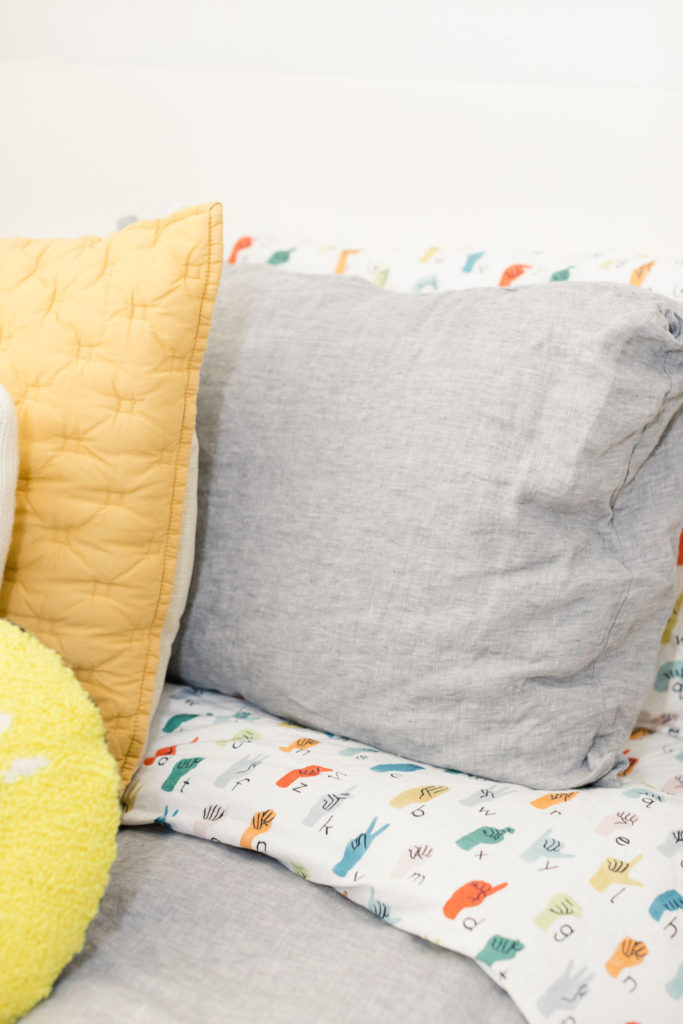 Shop Cruz's Bed & Nightstand below!

---
Again, just like Court's room I wanted to showcase Cruz's art. I'm a proud mommy who loves showing off her kid's talents! These were a few of my favorites of Cruz's, however my favorite of all time is in another spot in his room, stay tuned.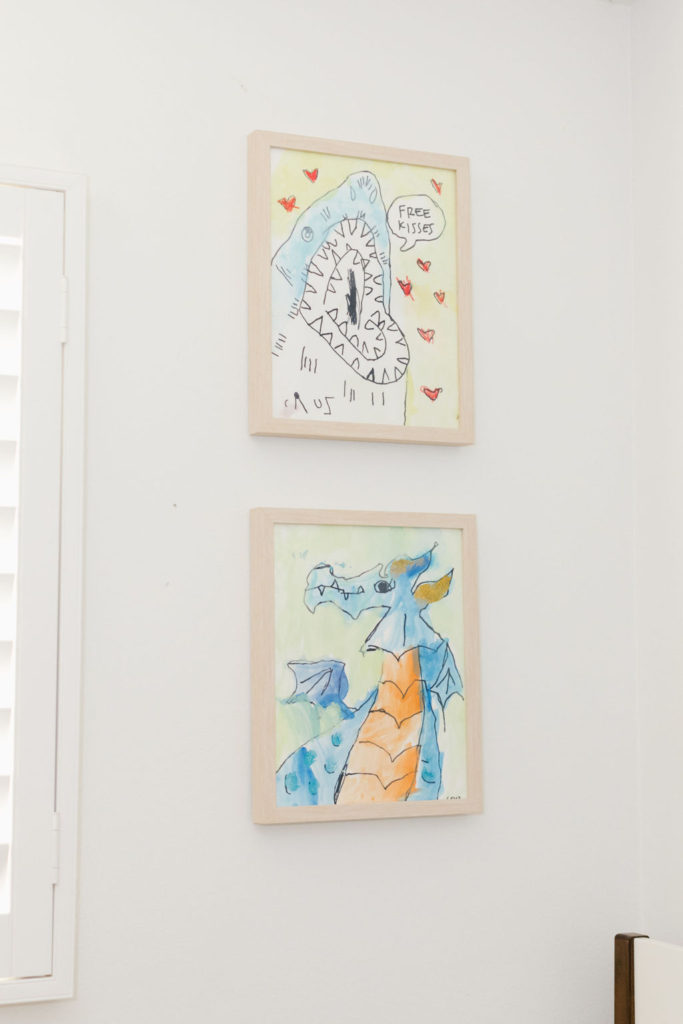 How adorable is that little storage piece?! Another winky smiley face! Storage is key and so useful in my kid's rooms. His hamper is oh so useful and the rattan piece is from his nursery. Each piece helps to keep his room organized and clean, and for that I am thankful. More storage pieces to come…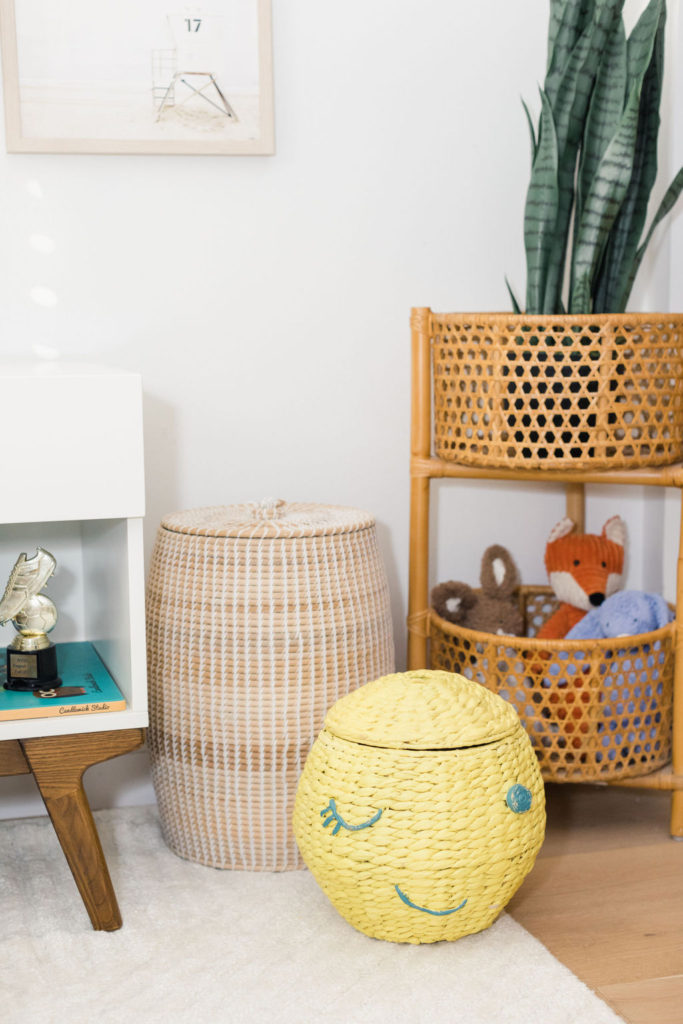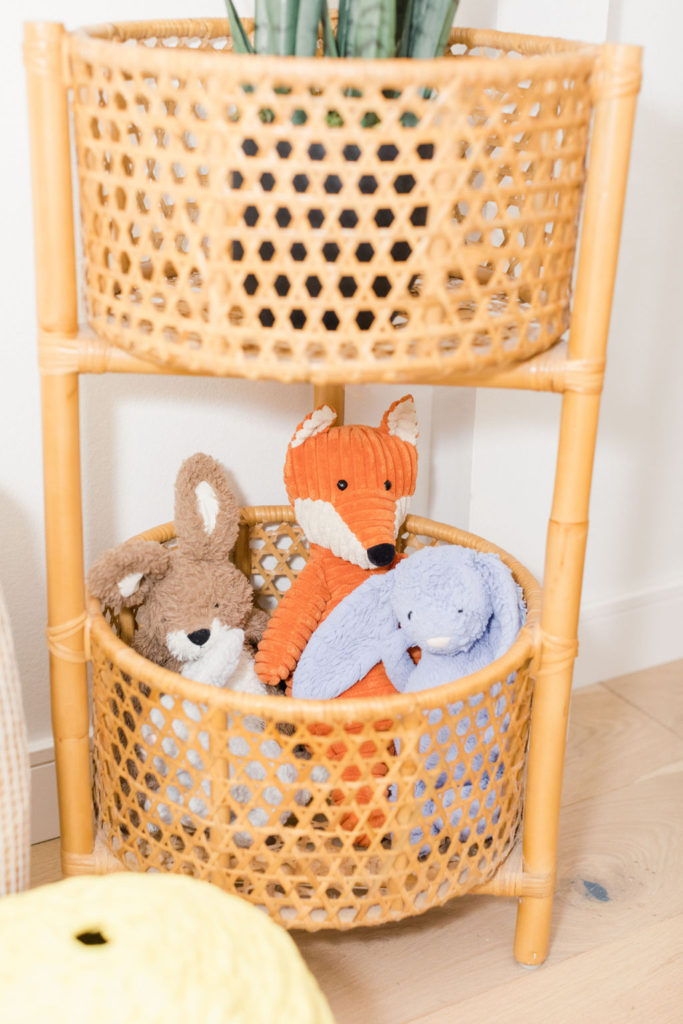 Cruz's gallery wall brings me so much joy! It's so serene and peaceful, a great compliment to the other bright colors. It started with a few black and white pieces, specifically Daniella Manini's Fly Together print. Then I added in two beach prints from Minted that I adore. Lastly, I included the Peace Sign print by Beauchamping and Let the Good Times Roll from Minted. The combination is perfect for me.
All of the art is framed in Framed & Matted's pretty wooden frames. I love the light wood and how they continue the soft beachy vibe.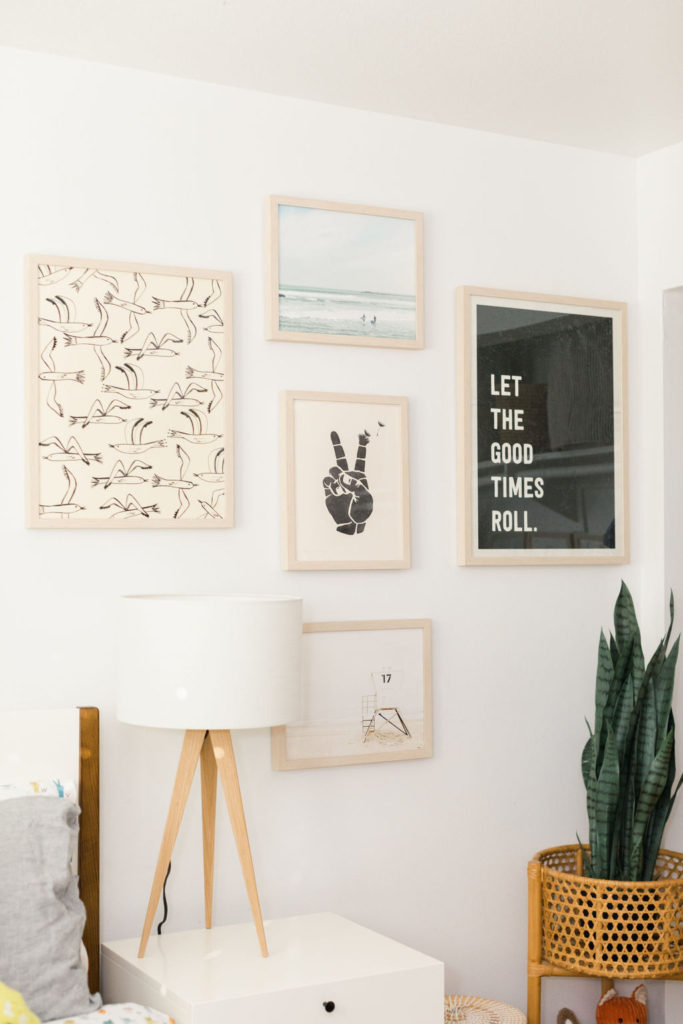 Shop Cruz's Gallery Wall and a few Storage Pieces below…

---
Next up is this awesome statement wall. My husband and I put this amazing wallpaper from Kawaiian Lion upright when we moved into our house. I had a colorful version in Cruz's nursery and I loved it so much I wanted to have something similar but more neutral. This was the perfect solution!
A rad wall deserves a great bookcase, and the Sloan Storage Bookcase was just the ticket. I love that it showcases his colorful books, legos (organized just like his brothers), and a few toys but also has a compartment to hide whatever needs to be hidden!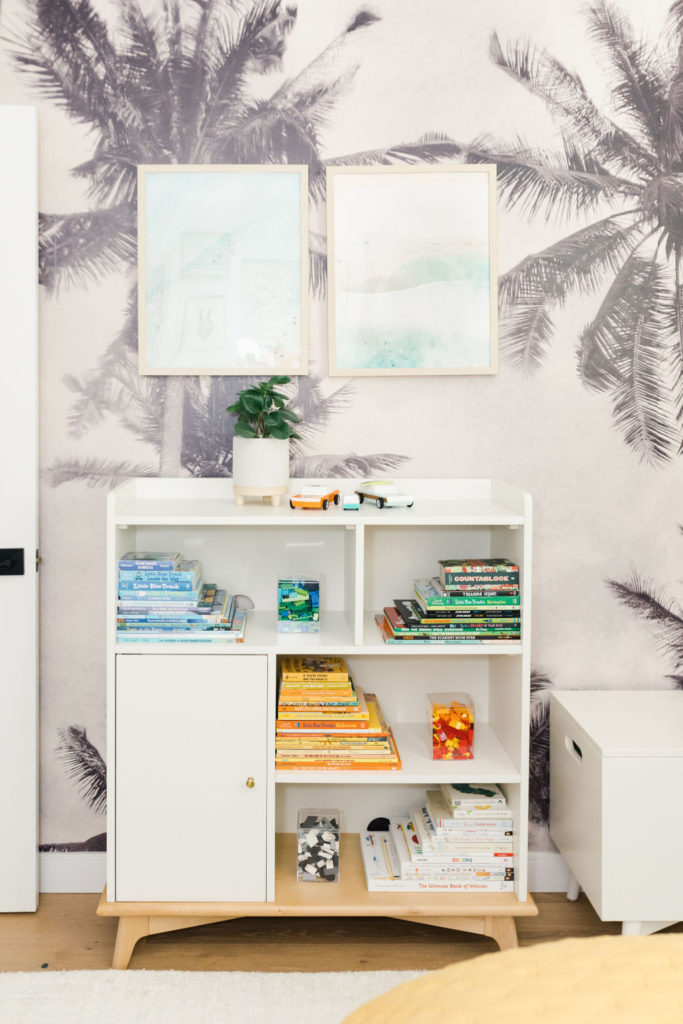 Right next door to his bookcase is his toy box! Another useful and easy on the eyes storage piece. It's the mid-century toy box that I used in Court's room. So nice, I used it twice! I said it yesterday and I'll say it again, every kid's room needs one of these!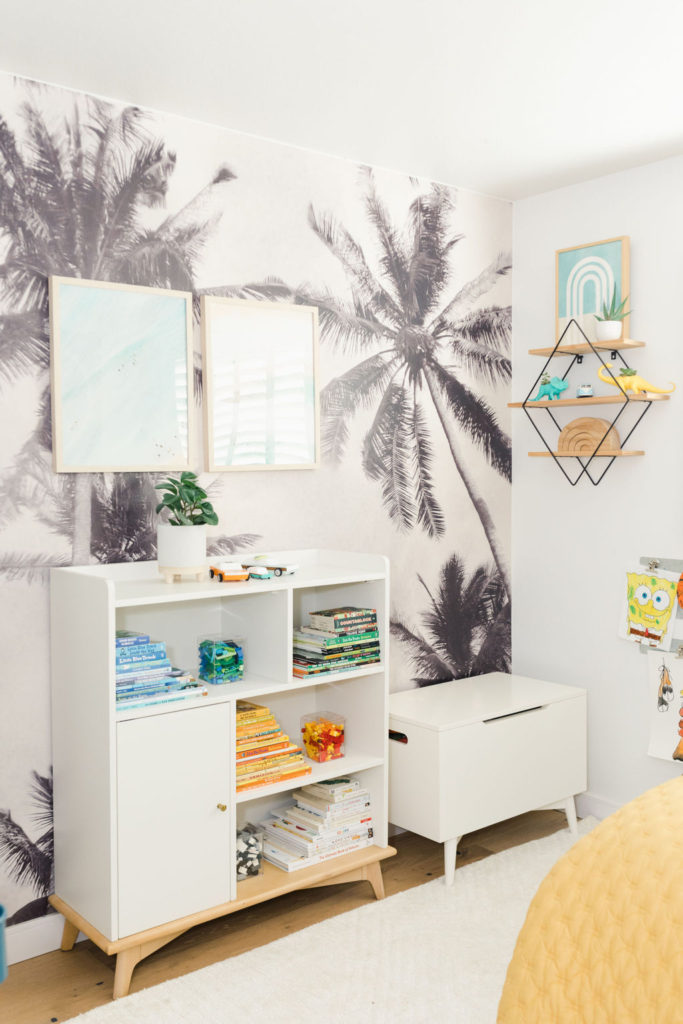 Above the bookcase are two beach prints from Minted. Wave Shapes and Tiny Swimmers, such beautiful photos that add a fun pop against the black and white wallpaper. Again, the frames are from Framed & Matted because they are the best!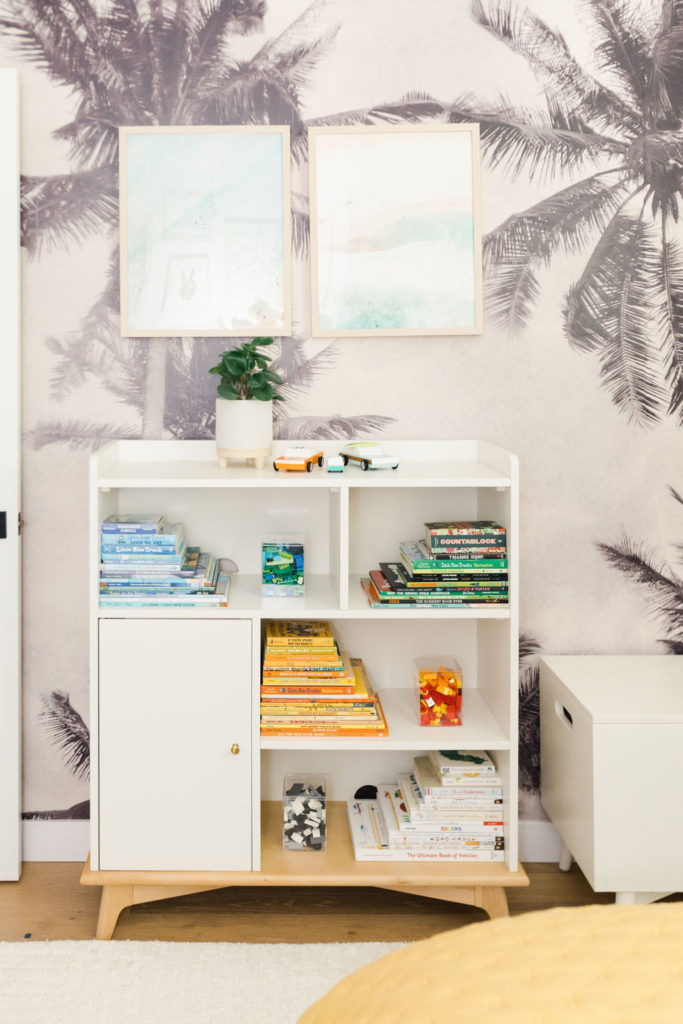 Color coordinated books and legos are where it's at for Cruz!! Plus a few Candy Lab cars make for even more fun!!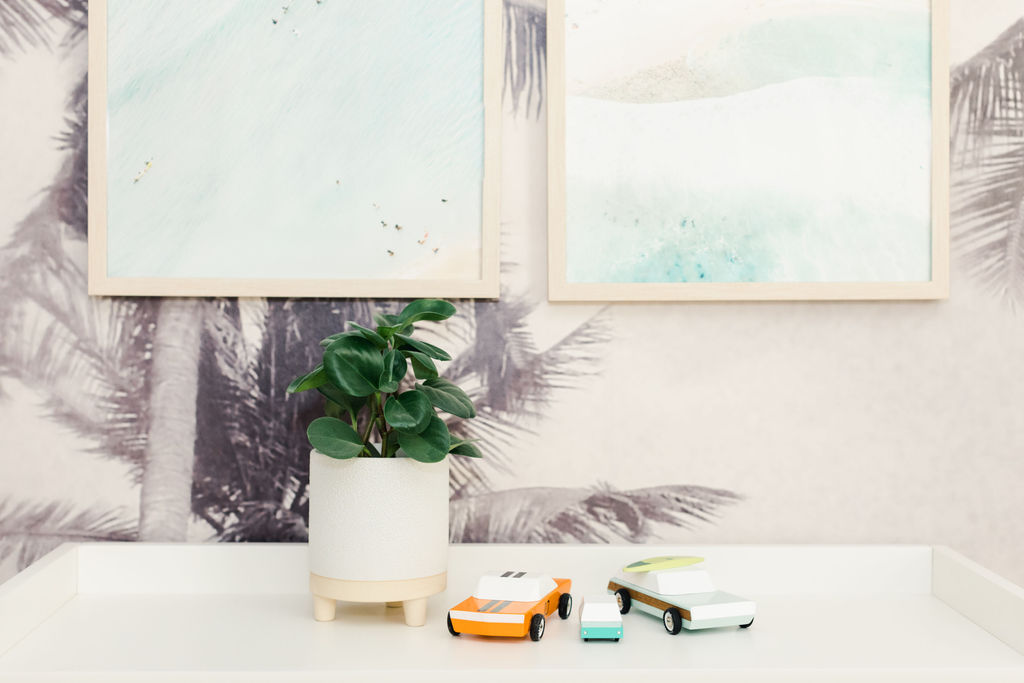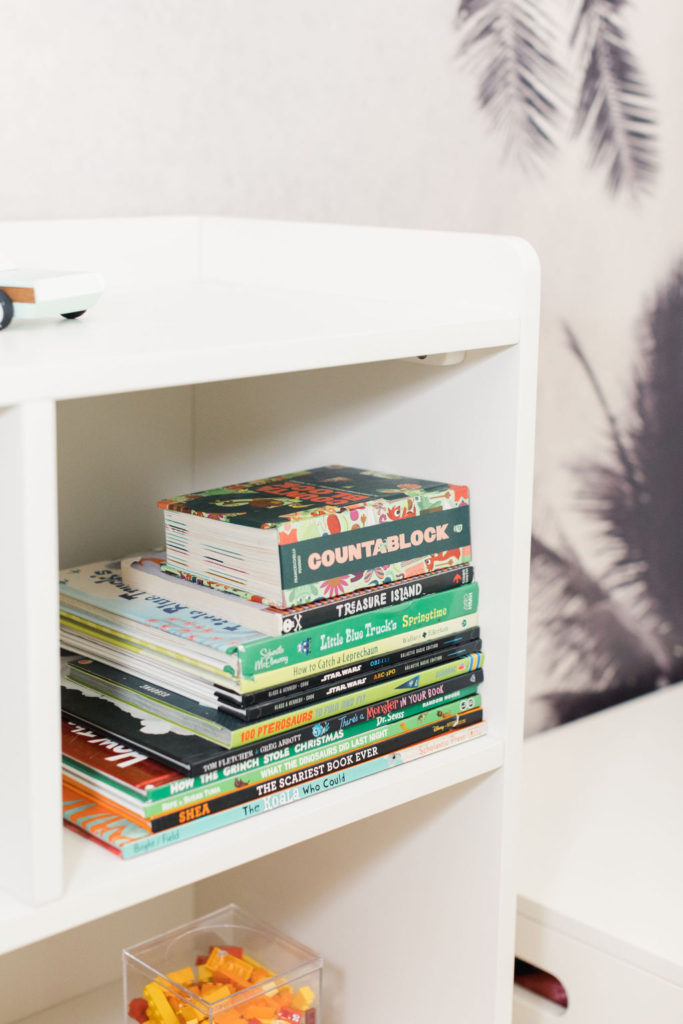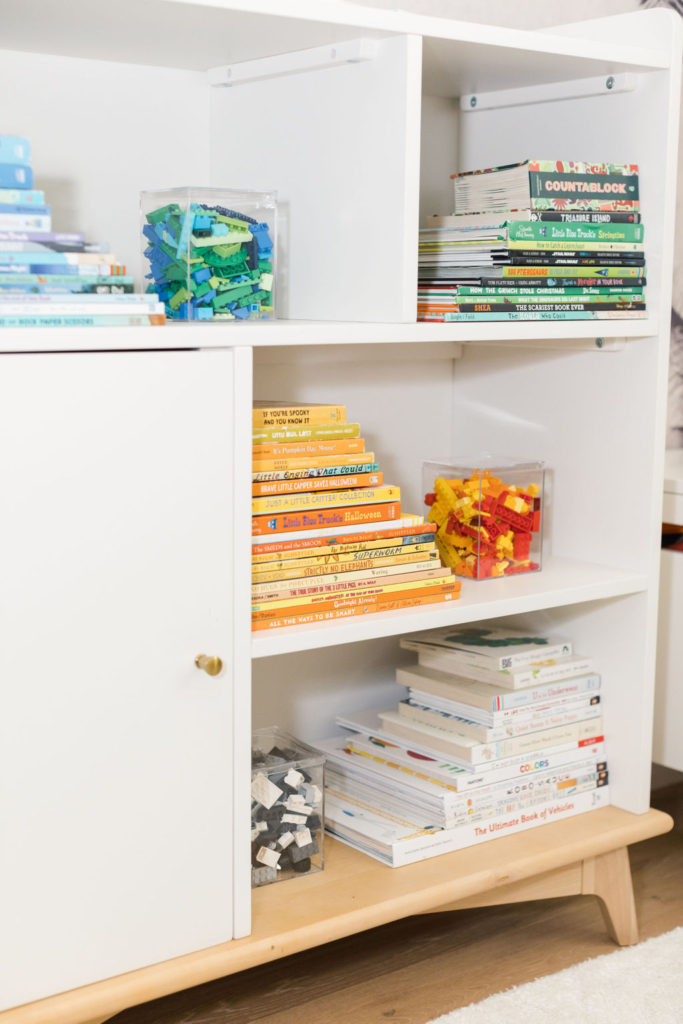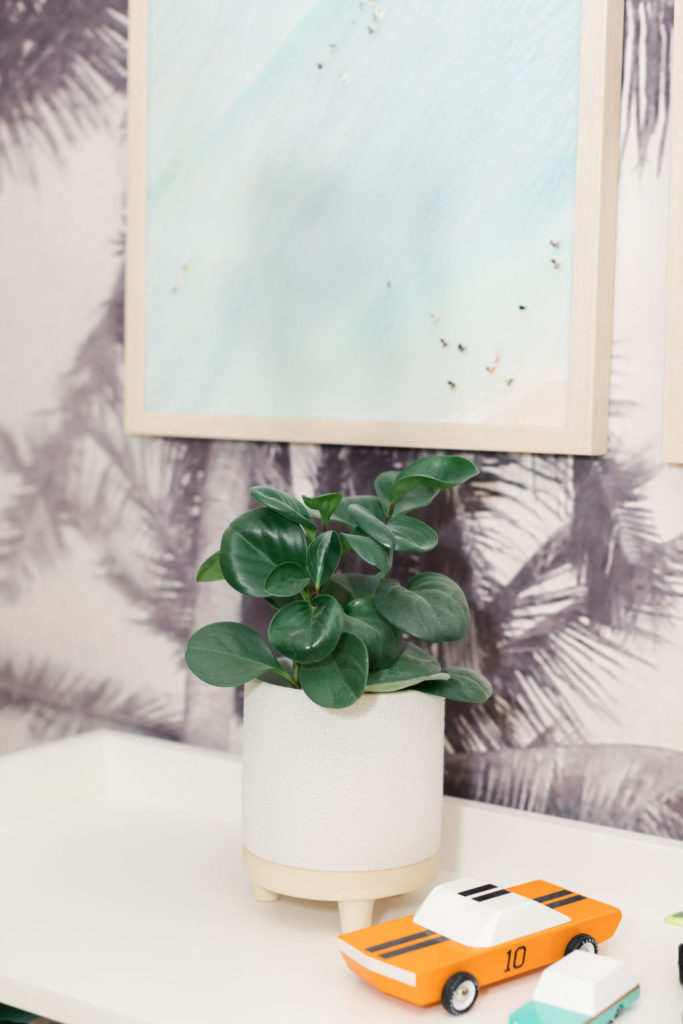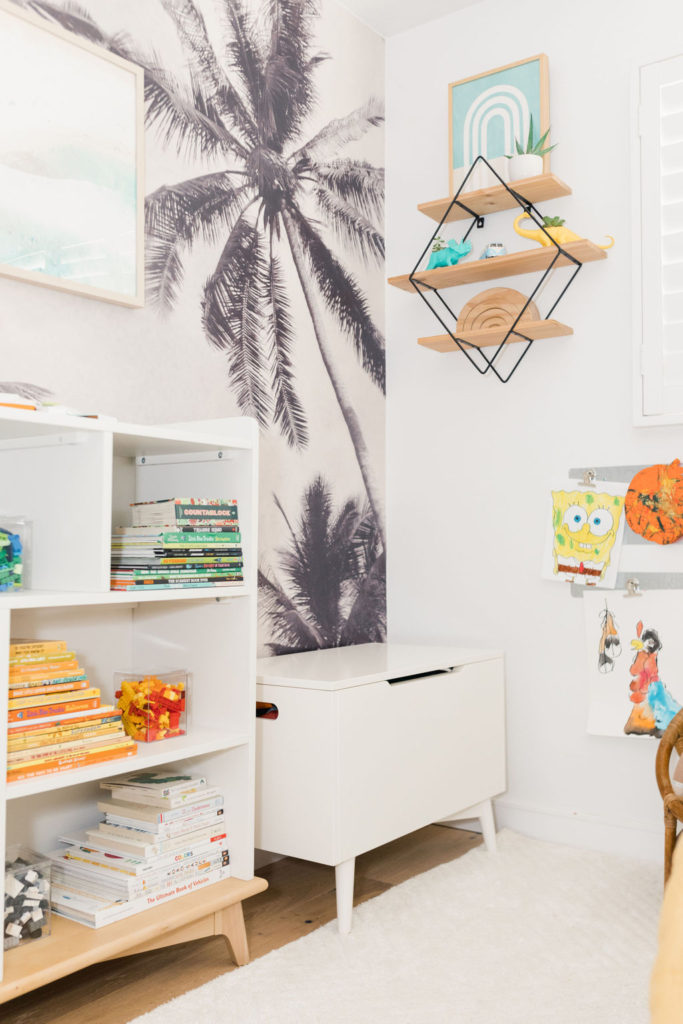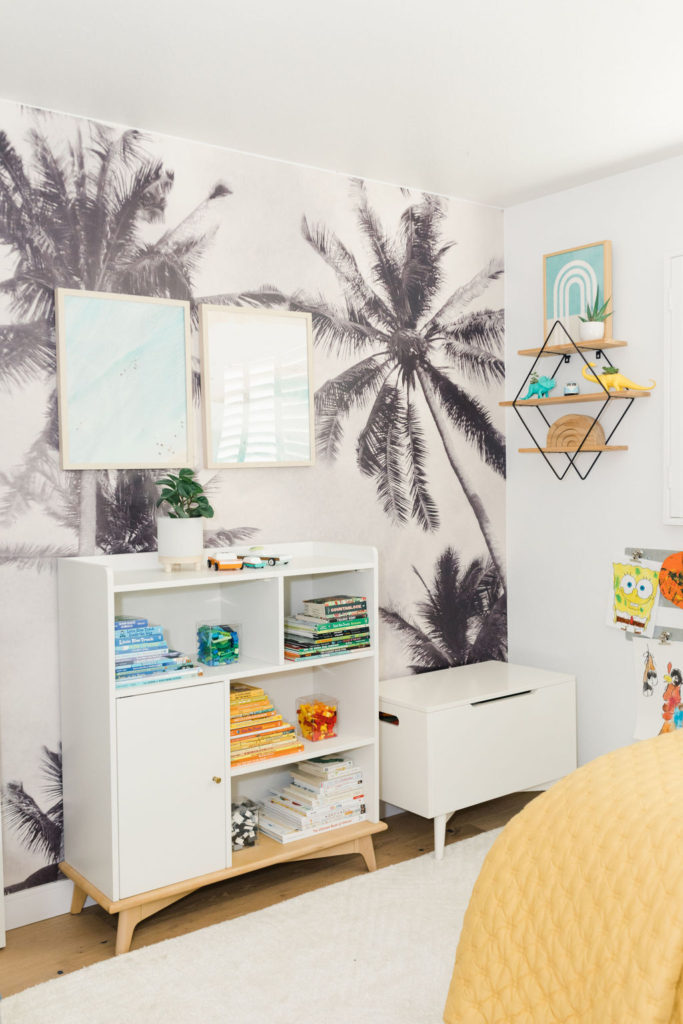 Above this little corner is this cute shelf situation. The retro rainbow print is from Minted and flows with the wooden blocks from Cruz's nursery. I added in a few Plaid Pigeon Dinosaurs and a VW bus toy from Shop Pigment. Plus the cutest little faux plant from Pottery Barn Kids to complete it!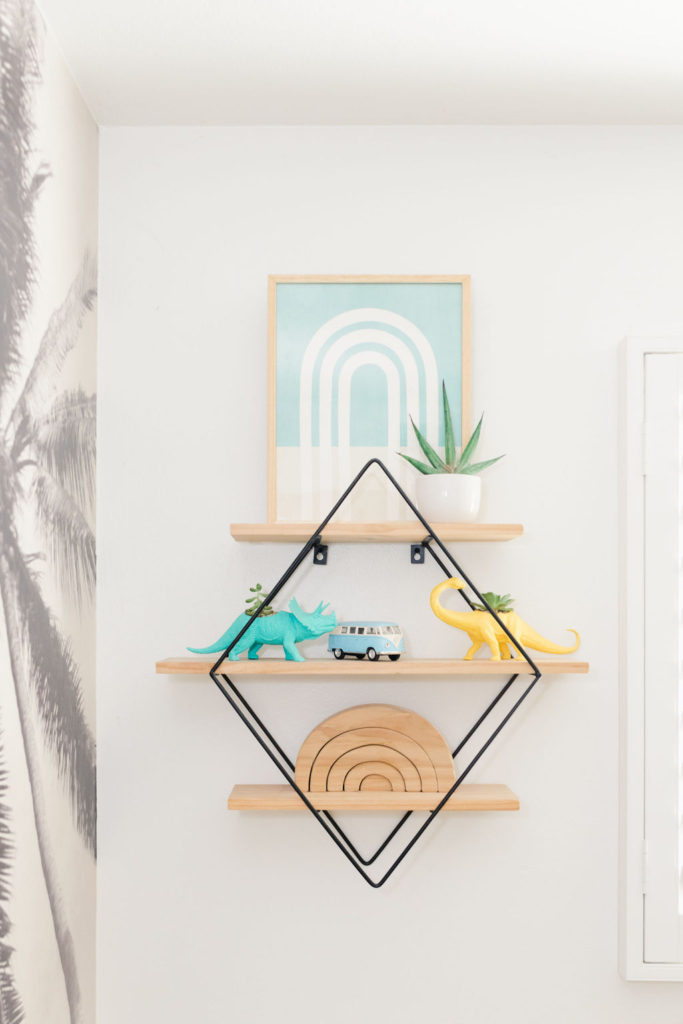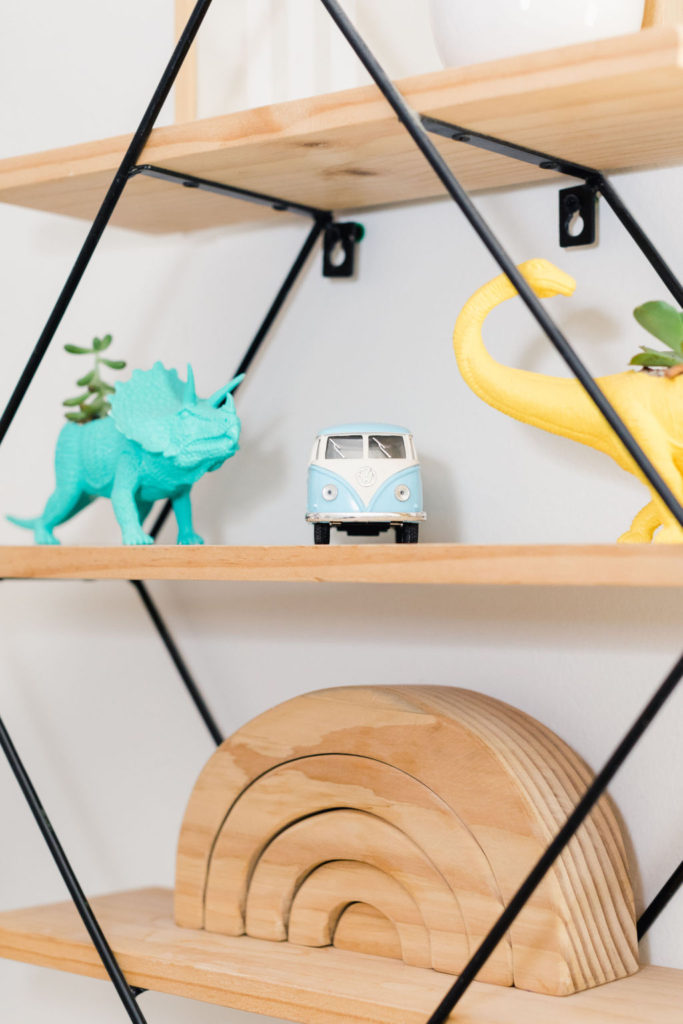 Just like Court's room I wanted a spot for Cruz to hang up his artwork and other proud items. We used the same magnet strips from PBK but without the skateboards. He loves to hang up all of his work he brings home from school or creates at home!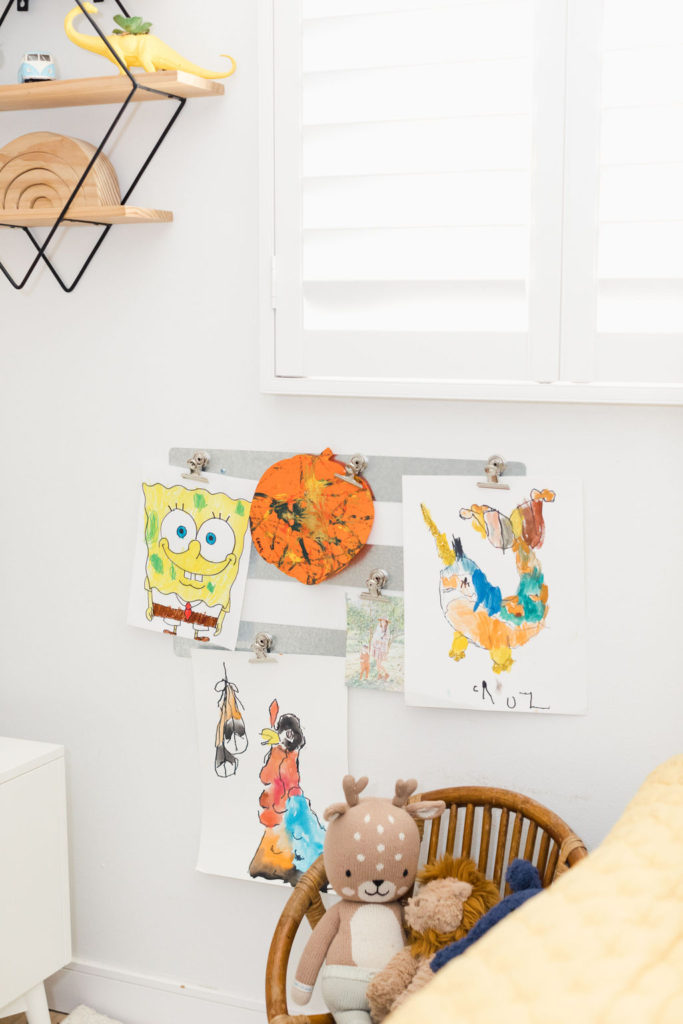 The little chair was a gift from Abby when Court was a baby. I love it and will definitely be saving it for my grandkids!!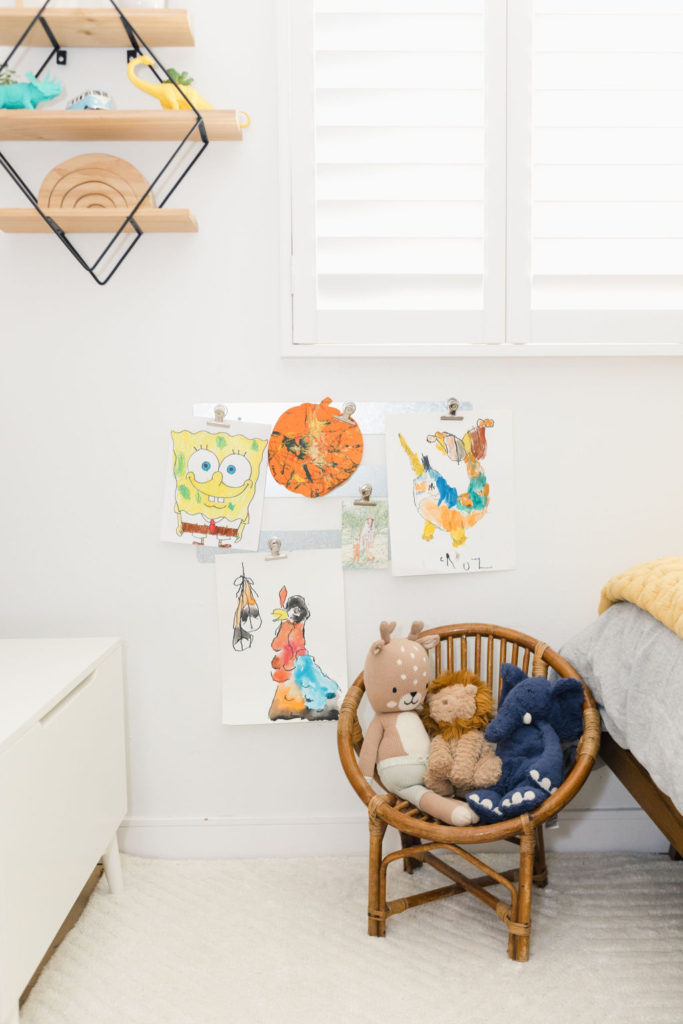 Shop Cruz's bookcase and cute corner below!

---
Last but not least, Cruz's closet! As I said with Court's room we took out the closet doors and put the dresser inside. This is something that creates more space in the room and makes sense with the boys at their age right now. This dresser is from his nursery and still looks great! The wood is so pretty and flows with the rest of the furniture. Obviously, I love that mid-century look!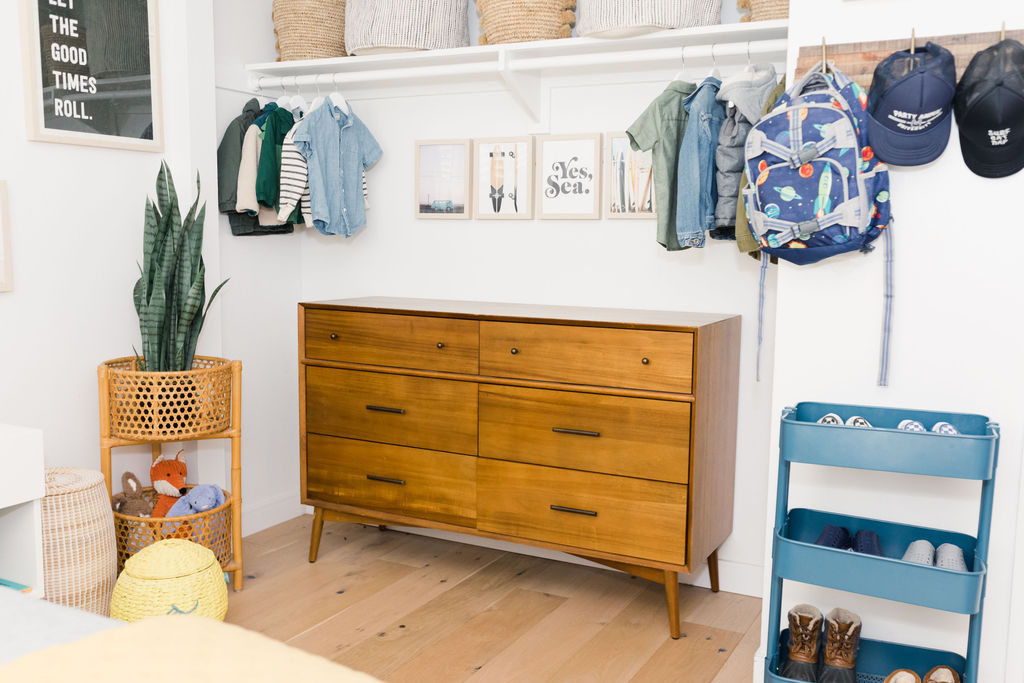 Again, I used the Ikea cart for his shoes, it's just so easy and works so well! I just noticed that I need to tighten the second rack though because it's lower on one side than the other, haha! How adorable is that lion painting? That is my all-time favorite by Cruz! He did such a great job.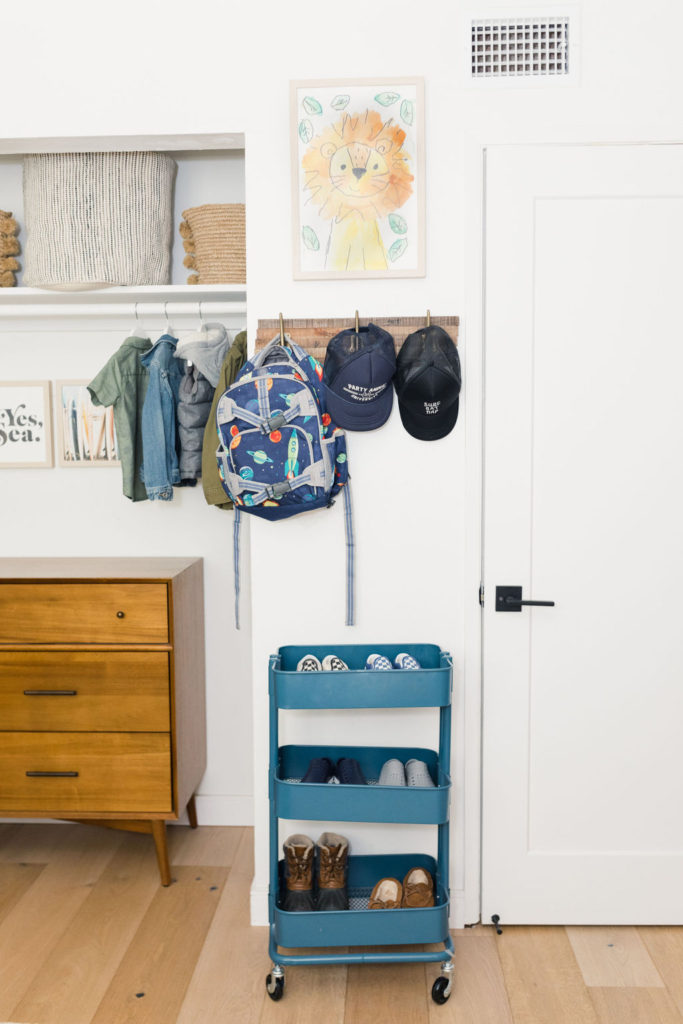 There is lots of storage above Cruz's dresser and it's a lifesaver! I used these black and white and the woven Pom Pom baskets, both from Pottery Barn Kids. We throw anything in them from costumes, toys, blankets, etc. I love having that option when I'm cleaning up his room, it makes my life so much easier!!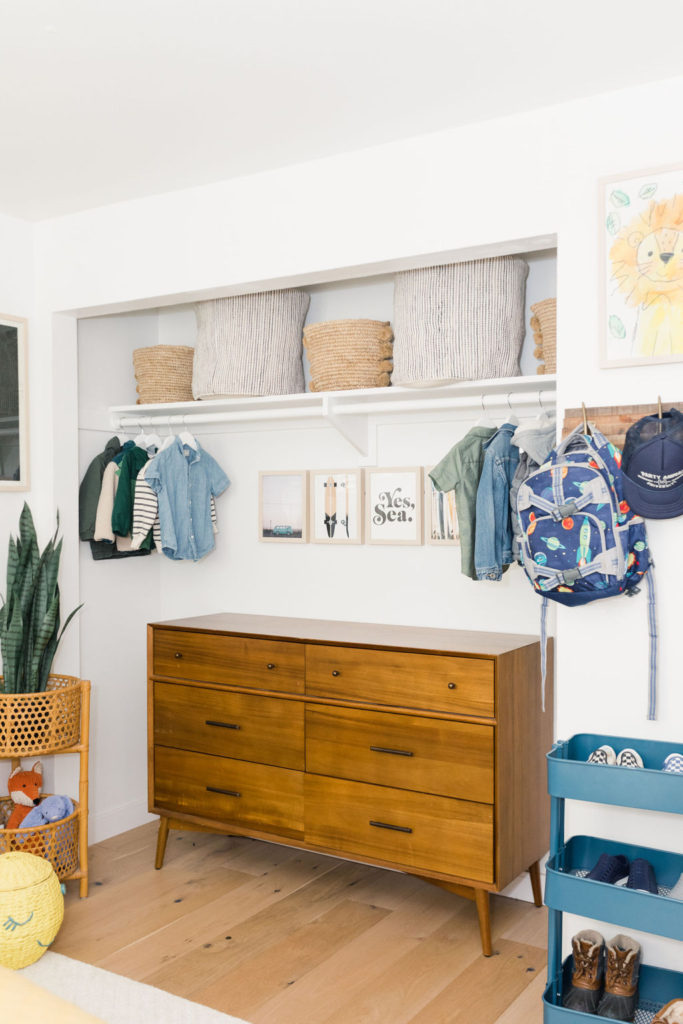 Of course, I added some cute artwork to this area! Two of them are from Minted, the Yes, Sea. is by Daniella Manini, and the vintage VW is from Max Wanger. I love adding art to any little space in a room, it just gives it so much character.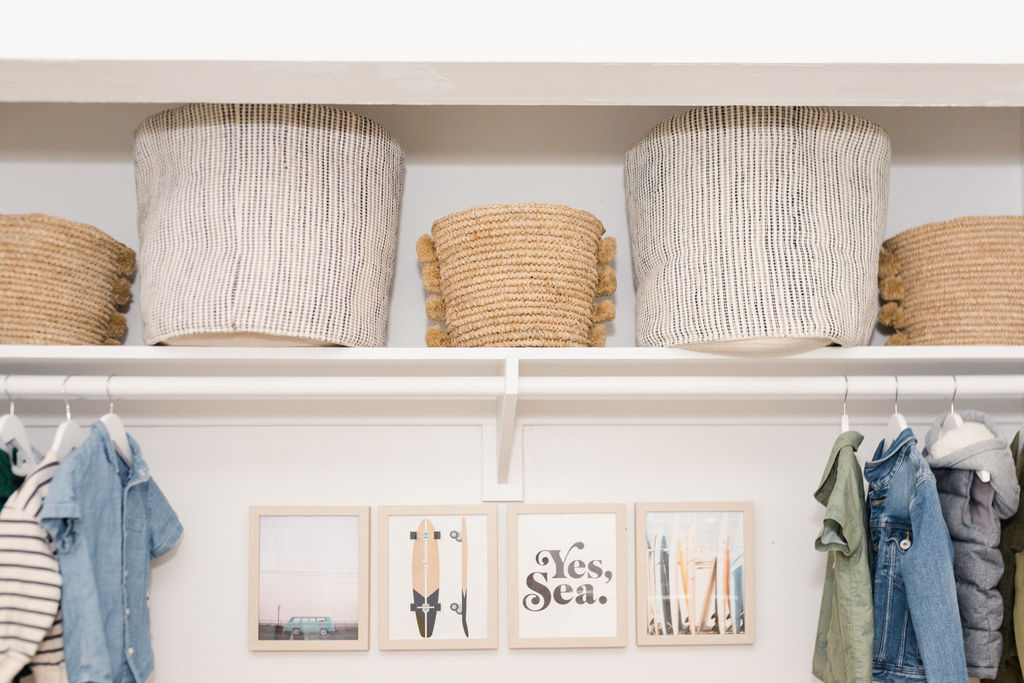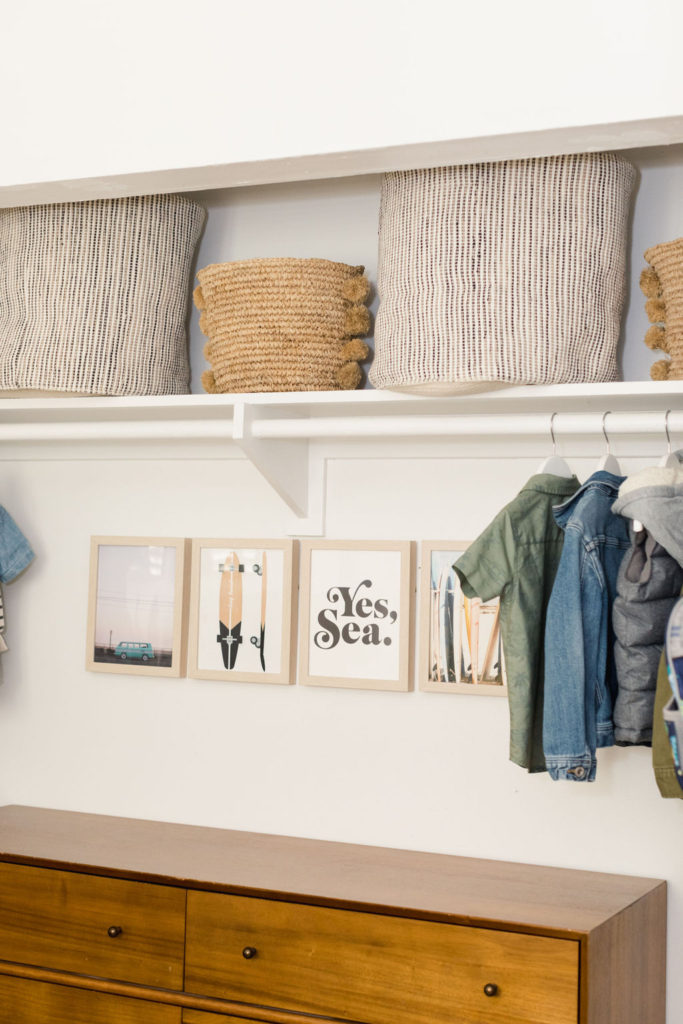 Shop Cruz's closet area below!

---
There's my cutie Cruzy!!! He loves his room and feels like such a big boy! He is so proud and I love seeing him show it off!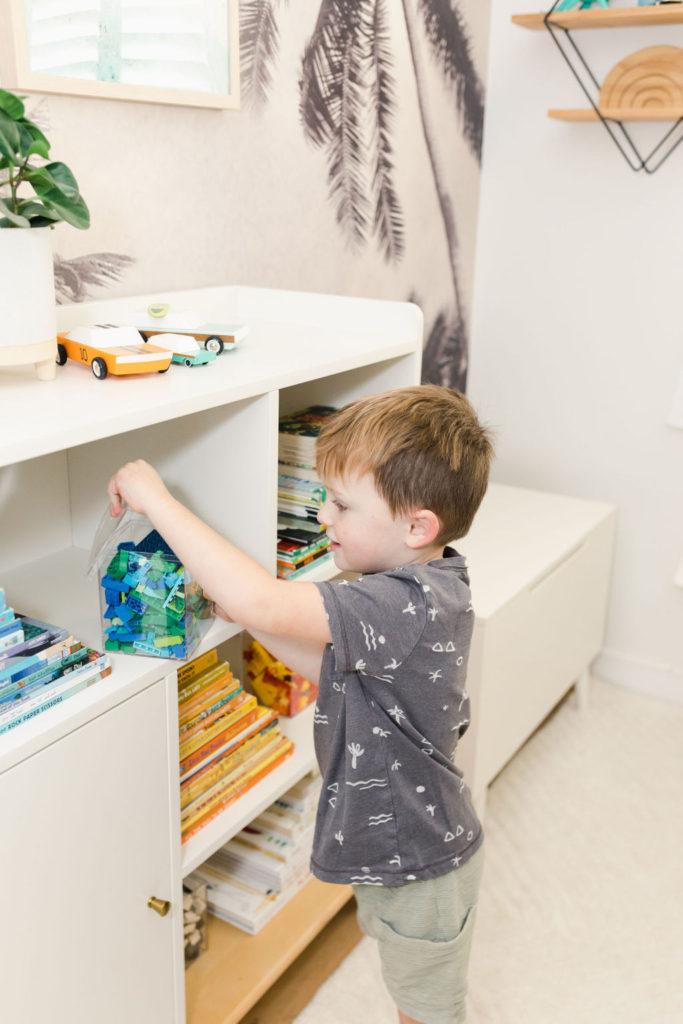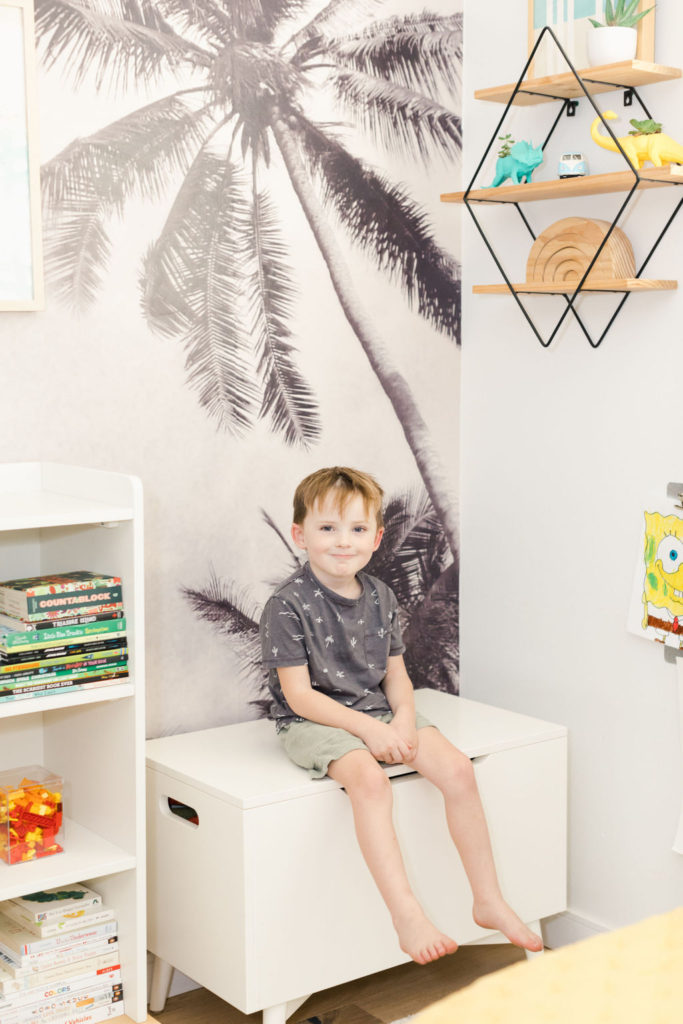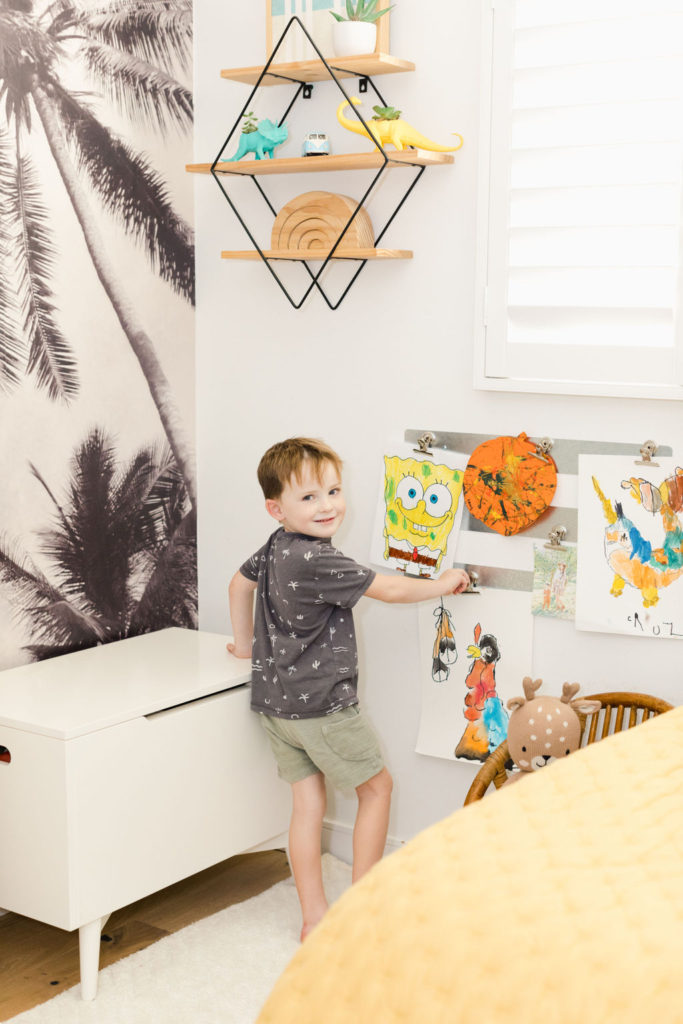 Another monkey jumping on the bed!!! These silly boys can drive me nuts but also make my heart so full!! I love them so much! Cruz has changed so much this past year and I couldn't be prouder of the big boy he's becoming. But I wouldn't mind if he stayed little a lot longer!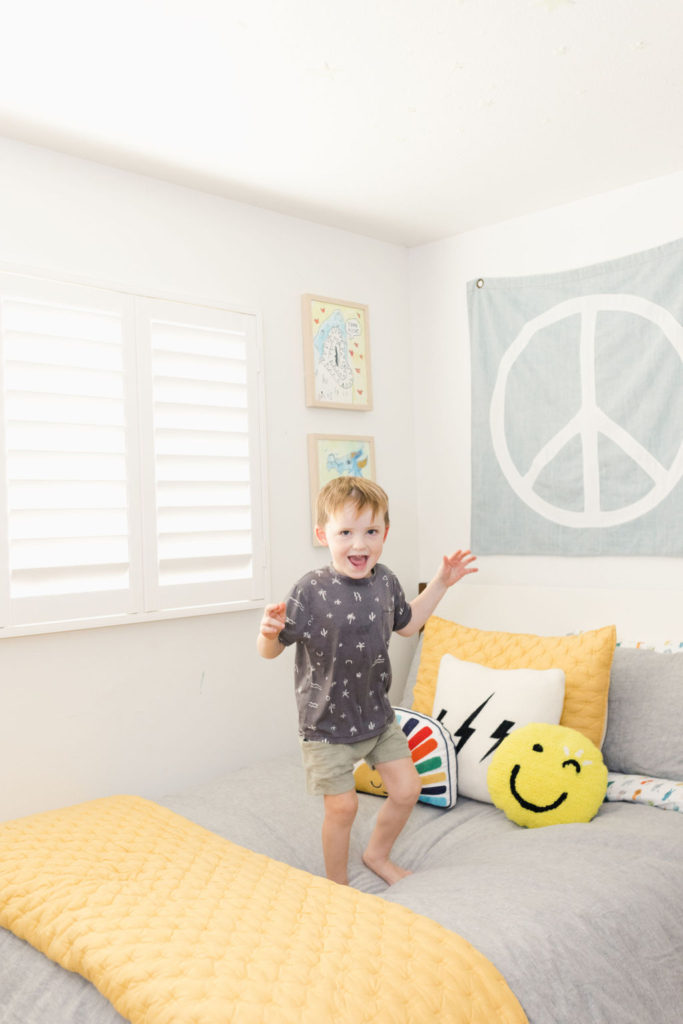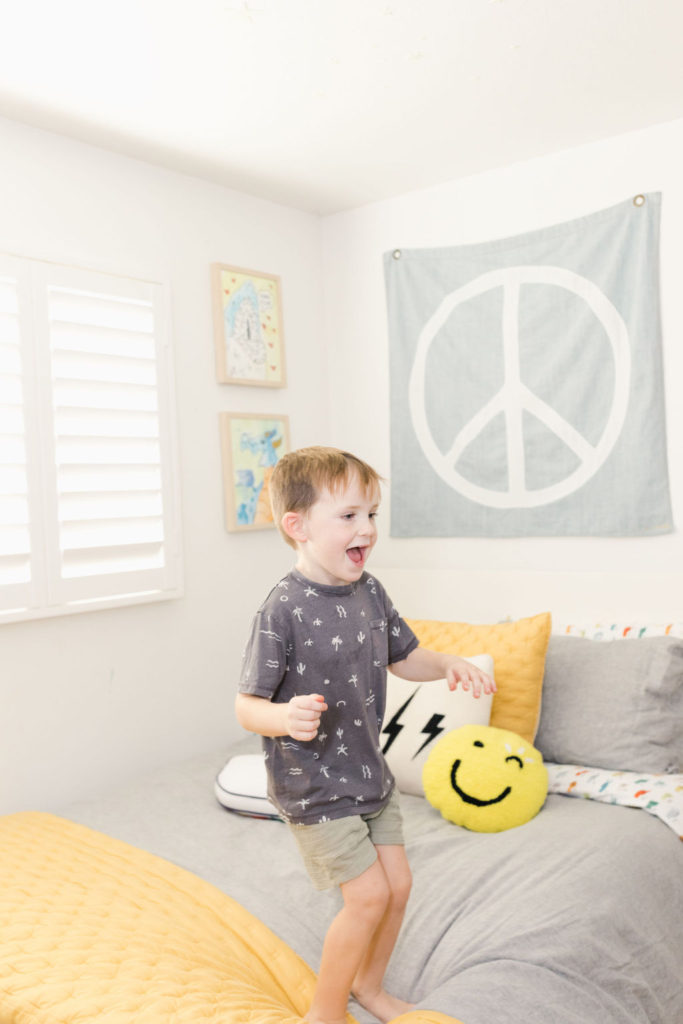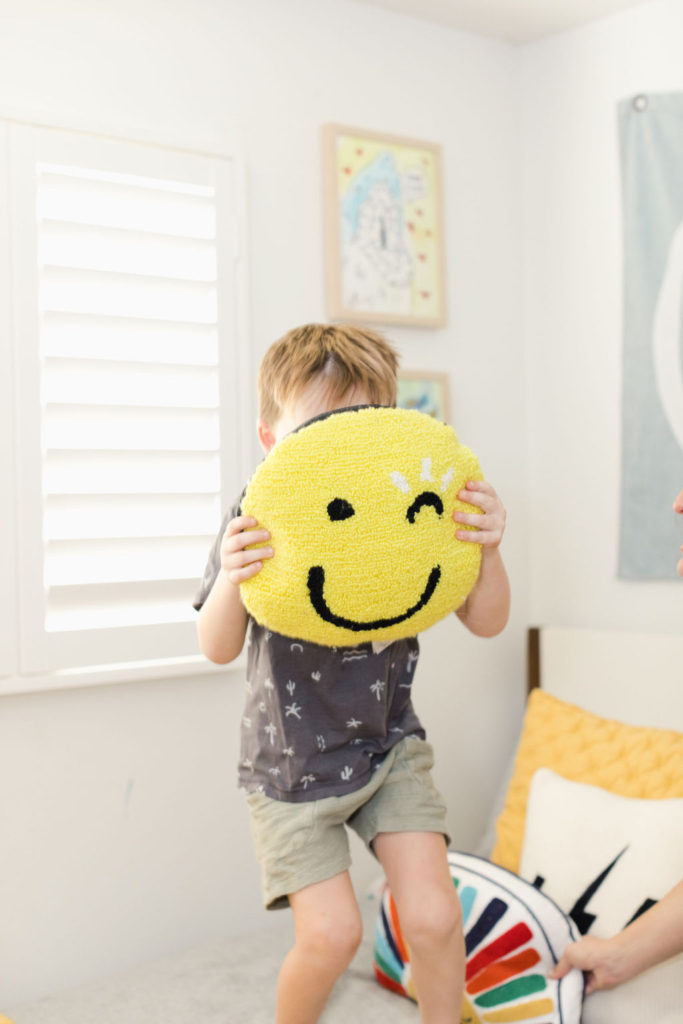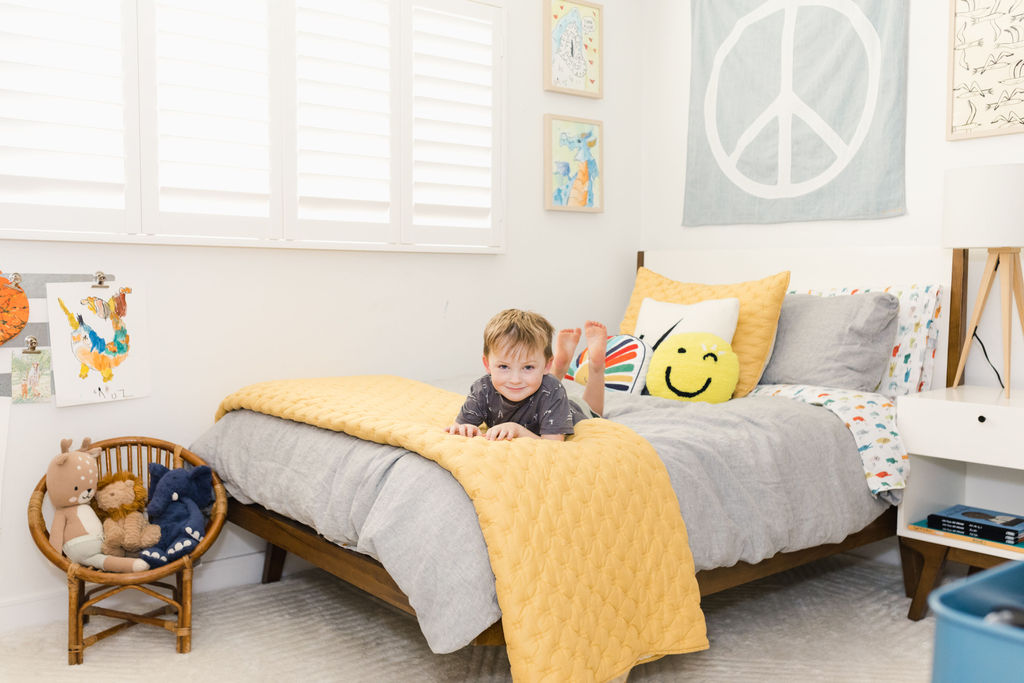 Killing me with his cuteness!!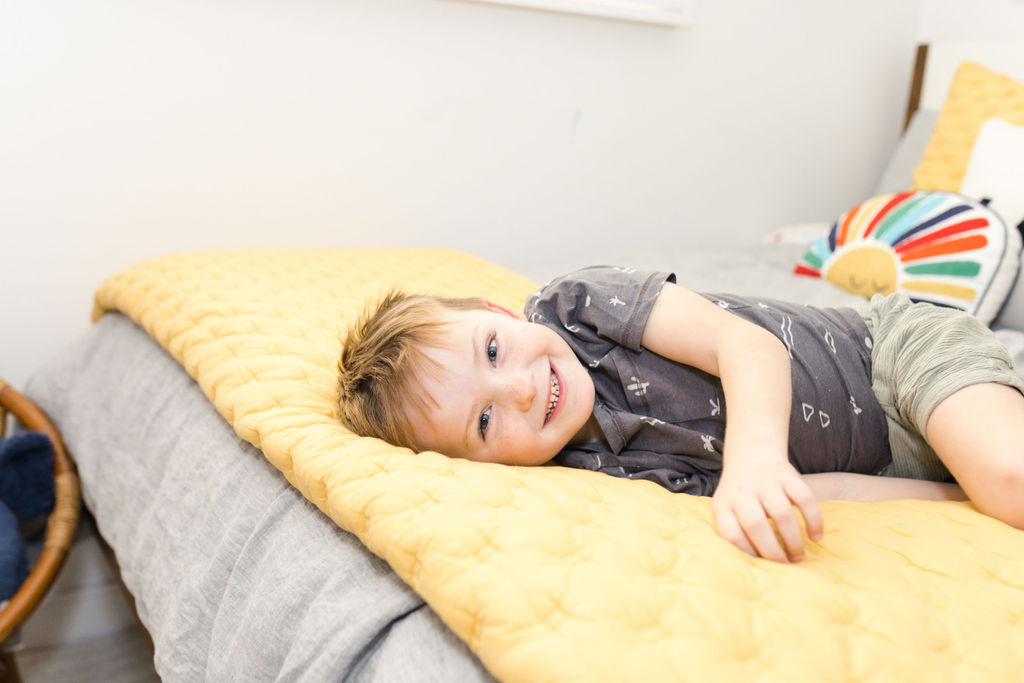 I put Cruz to bed every night and lay with him reading a few books. He is such a cuddle bug and I hope he never changes.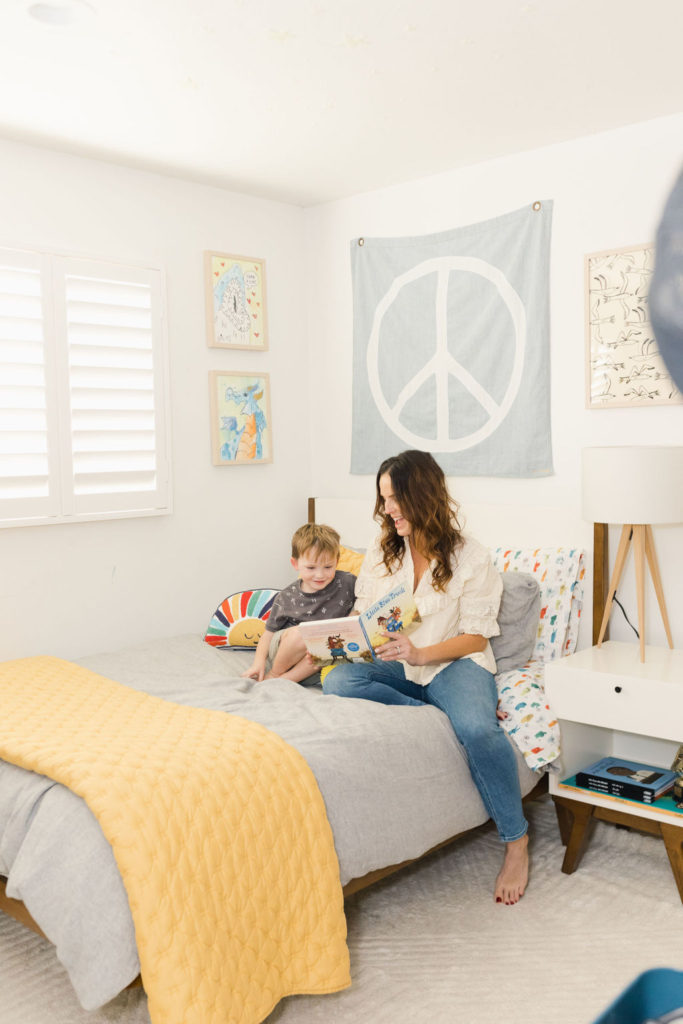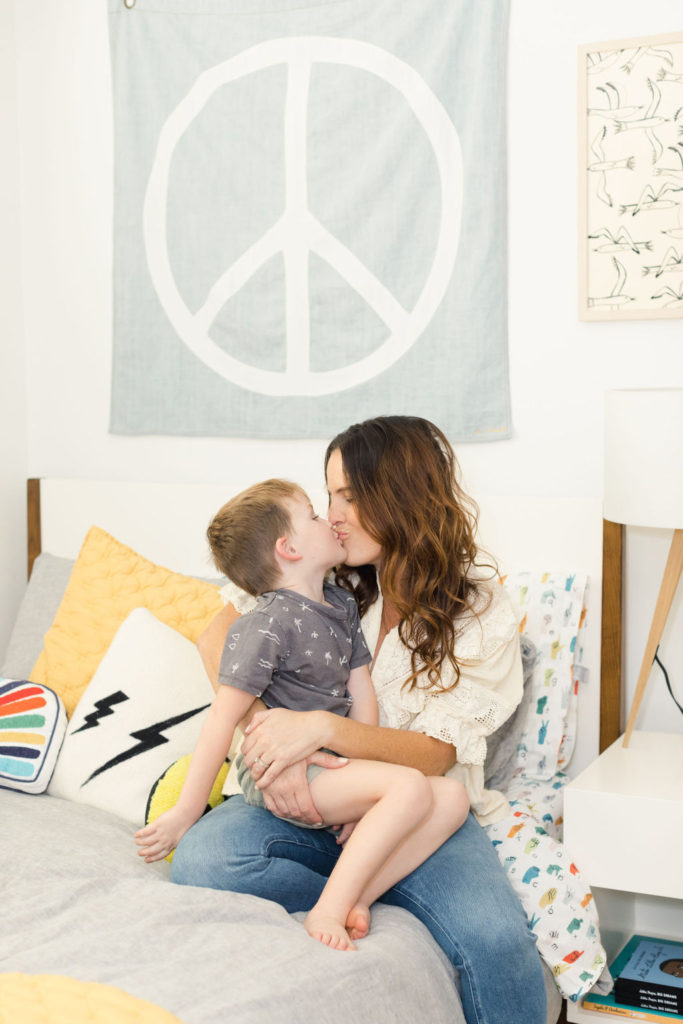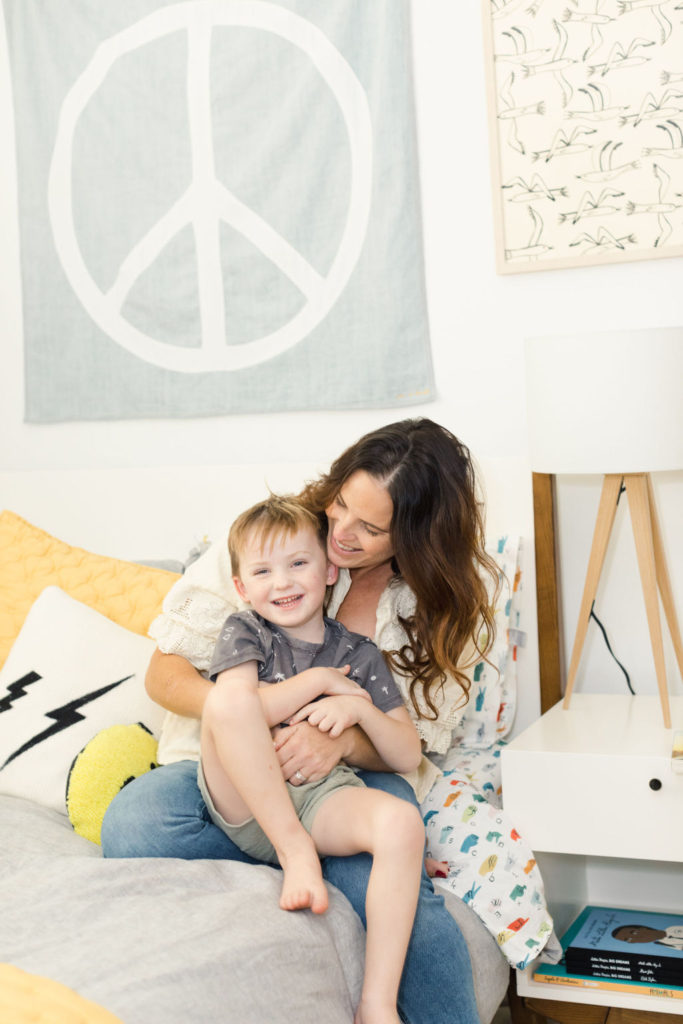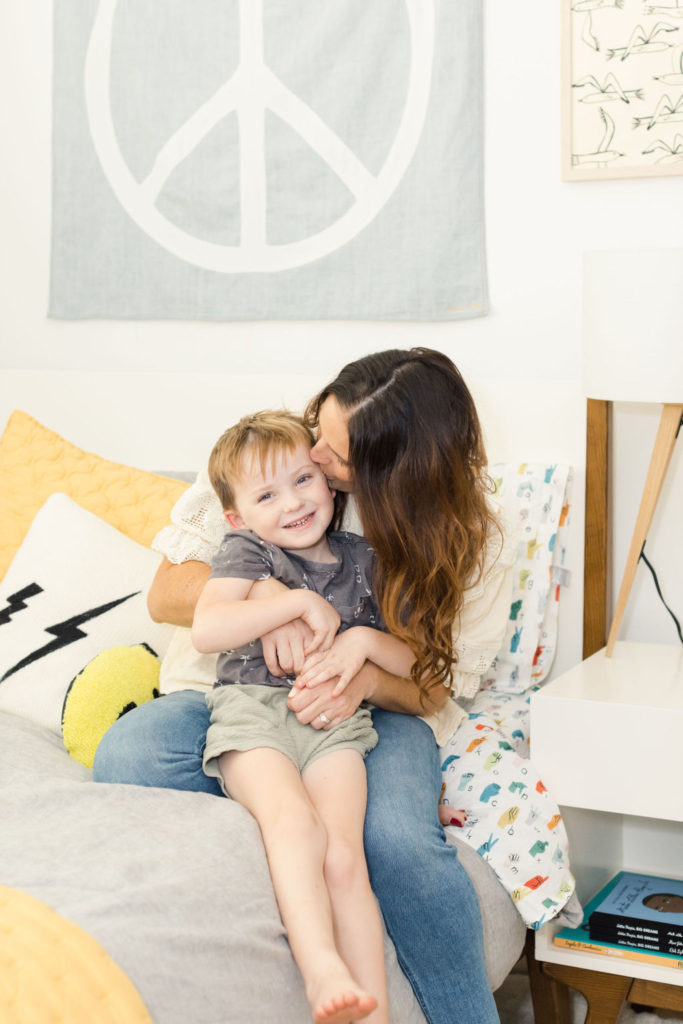 I love him if you can't tell!!!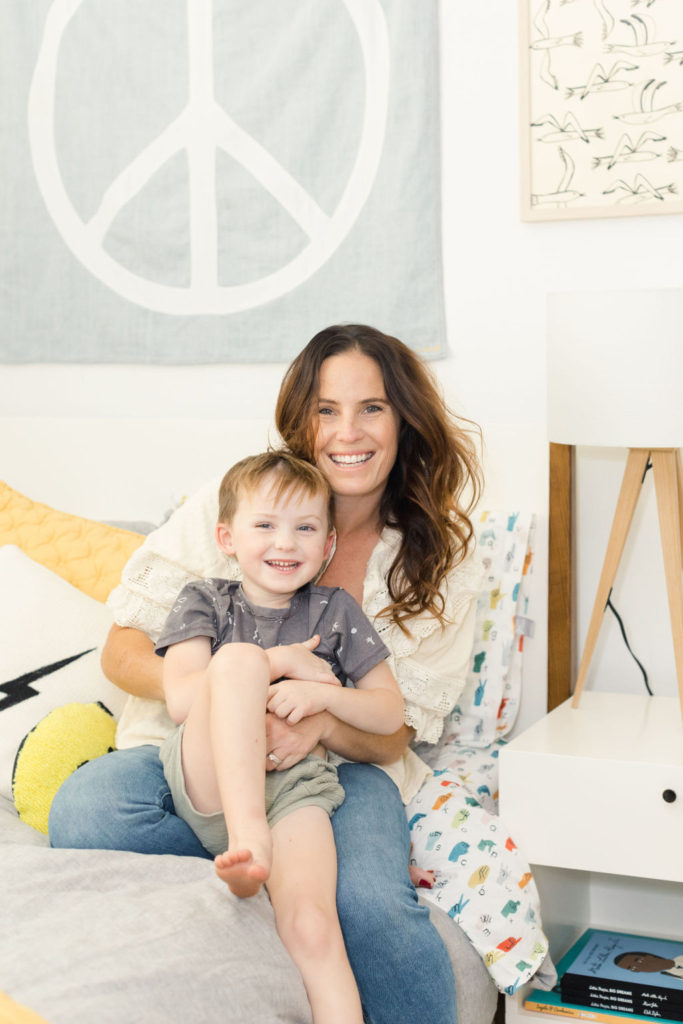 Shop Cruz's entire room below!

Thanks for taking a peek inside our home! Little by little I'm checking off projects in our home and I love it. Hoping to finish more in 2021 and show a full tour in 2022, but we shall see!
xx
Jacquelyn