To say 2020 was an interesting year is an understatement. It was a rough year for an event company, along with so many others, but we tried to make the best of it. As a matter of fact, a lot of good came out of this year for our families and our business. Yes, there were many difficult times for each of us individually, but ultimately we overcame and cherished this time with our families and loved ones.
This year wasn't the most successful and it wasn't the most profitable but most importantly we survived! We were able to be creative and we are so grateful for that. Beijos has been such an amazing outlet for all of us during this tumultuous time. Another thing we are grateful for is you, our readers. Thank you for following along and supporting us during this crazy year. It has meant the world to us.
As usual, we have each gathered our favorite posts from the past year. There were so many good ones so the list is long this year!! Cheers to a new year, new beginnings, and hopefully creating parties for you and your families very soon!
---
J A C Q U E L Y N
Dakota's Swan 1st Birthday Party
This was hands down one of my favorite parties of last year. It took place in January and was a great start to 2020! We worked with a few of our favorite vendors; Alison Bernier, The Pop Shop, Third & Park, Creative Amme, Sheila Mae, and Daydream Society. Everything came together so well and I loved everything from the color scheme to the florals to the desserts and details. But what I especially loved was that our client Emily trusted us every step of the way!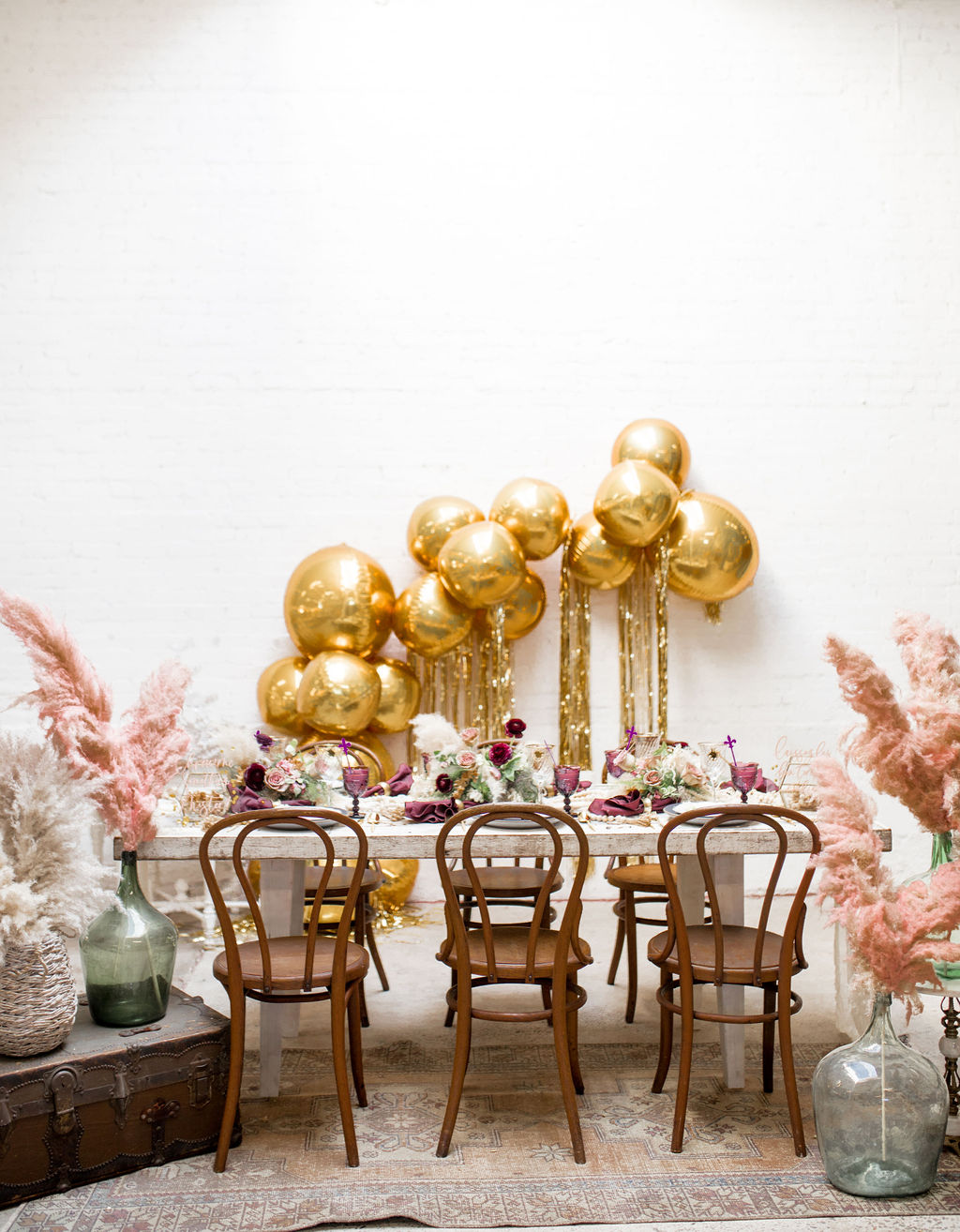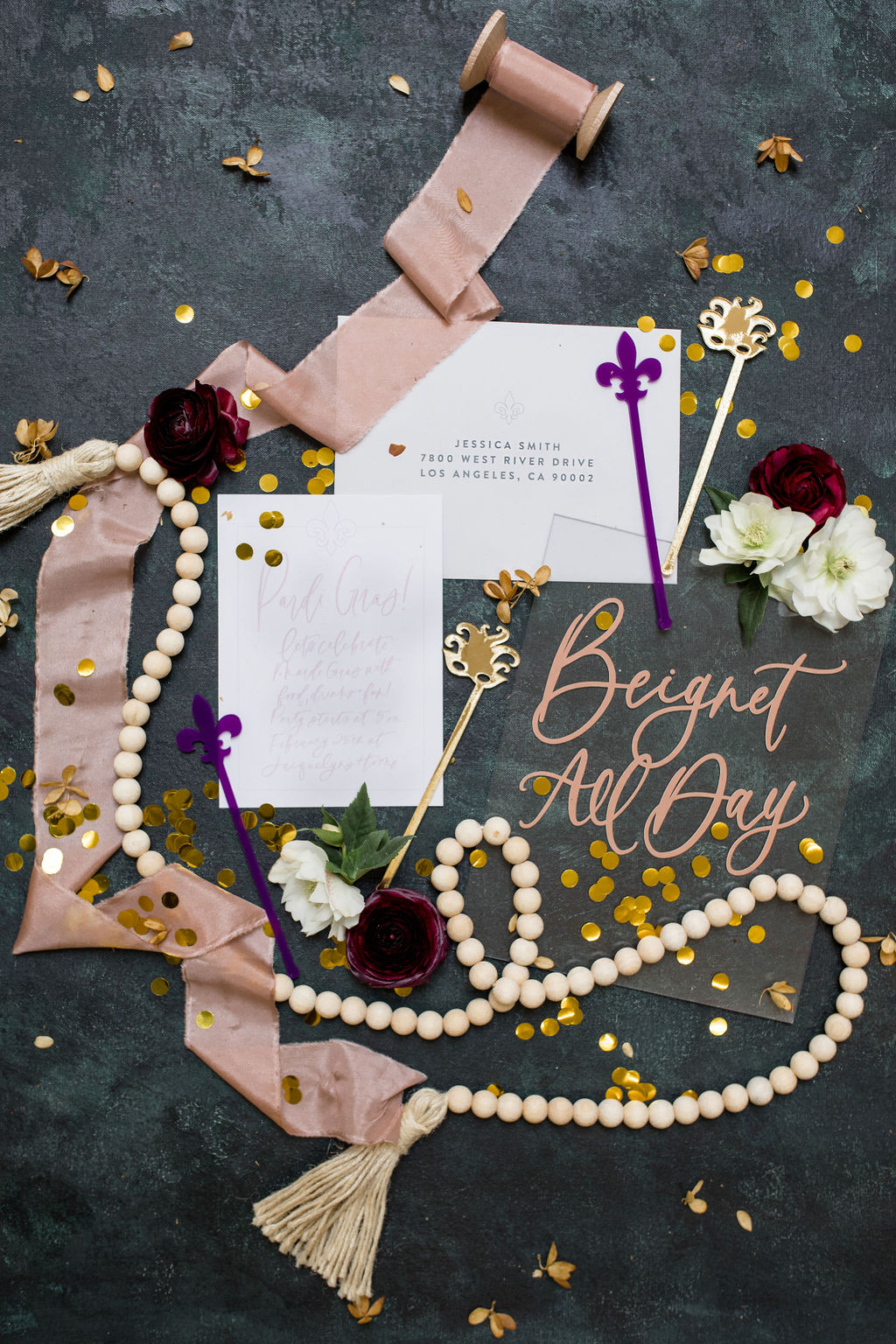 This year I tackled a theme we have never done here at Beijos – Mardi Gras!! It was really fun to design my own take on the holiday with pink pampas, wooden beads, and lots of metallic gold!! I've never been to New Orleans but I think I'd rather be at this Mardi Gras party if I'm being honest!
Kid's Rainbow Parties
Make the World More Colorful / Chasing Rainbows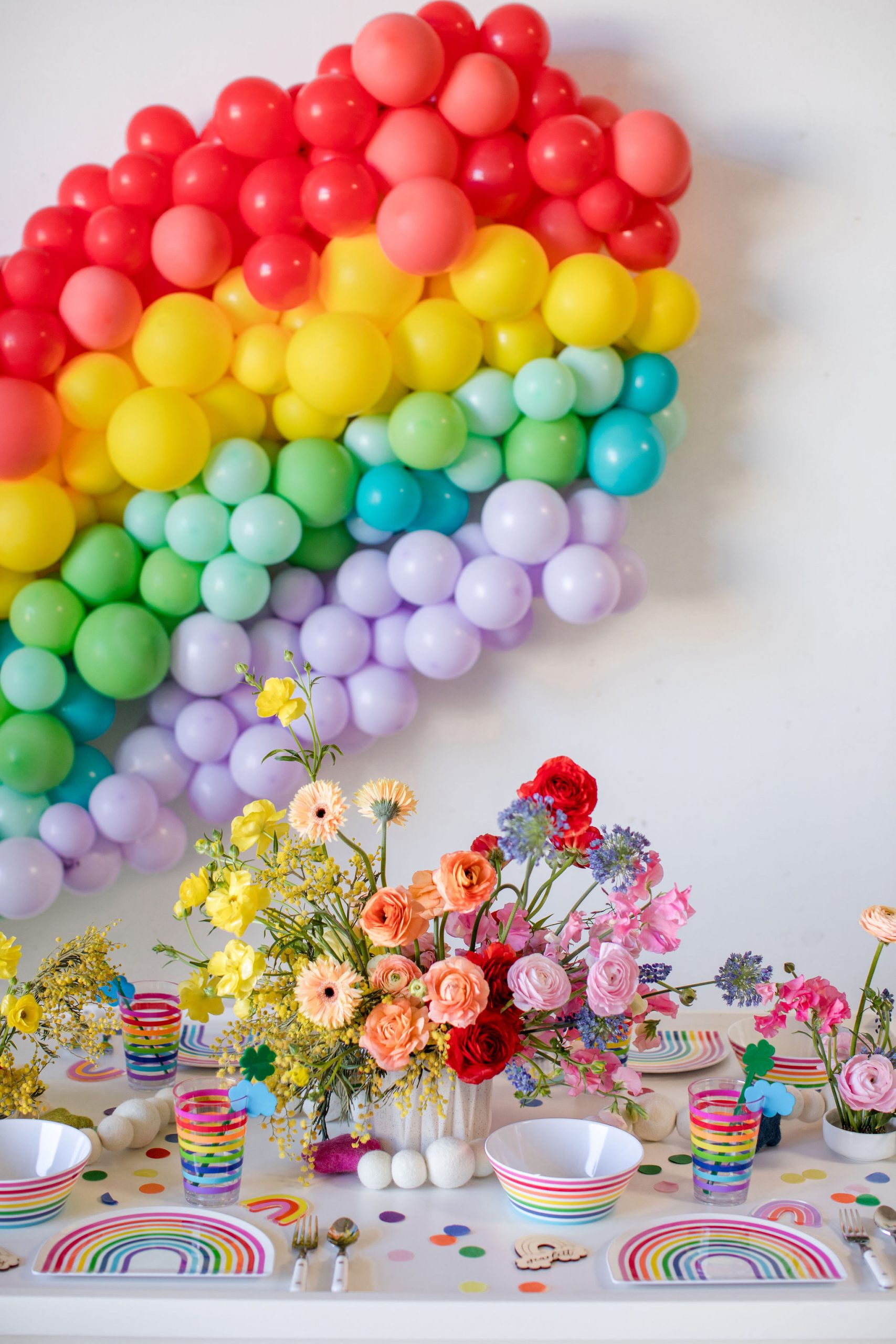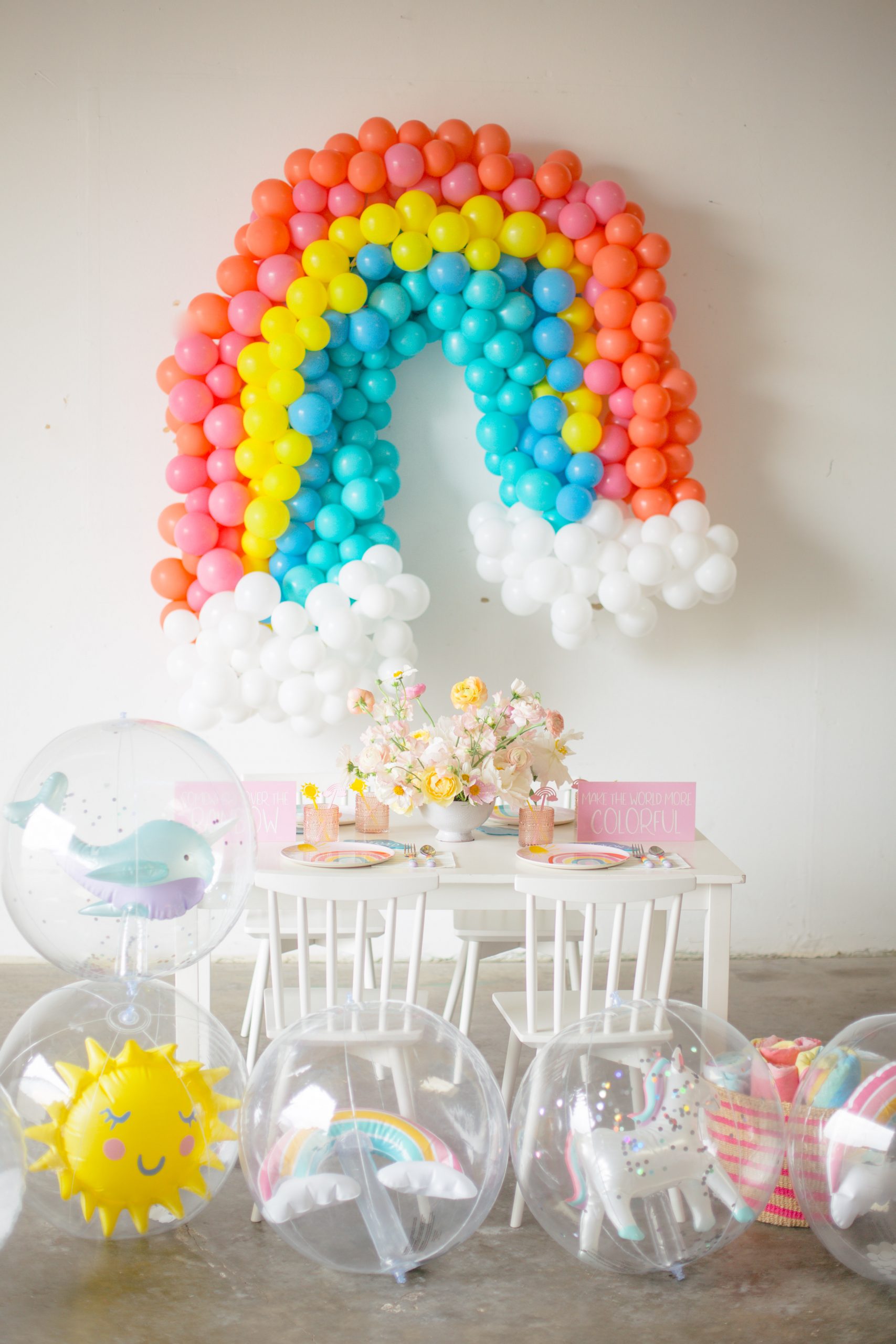 I must have been feeling the rainbow vibes this year because I did two kid's shoots with a rainbow theme! One for St Patrick's Day and the other for summer. Both of them had the most amazing balloon installations by The Pop Shop. I love working with Ellen and seeing her talent flourish. It was also so fun to play with color and to see the cute littles in both shoots have the best time!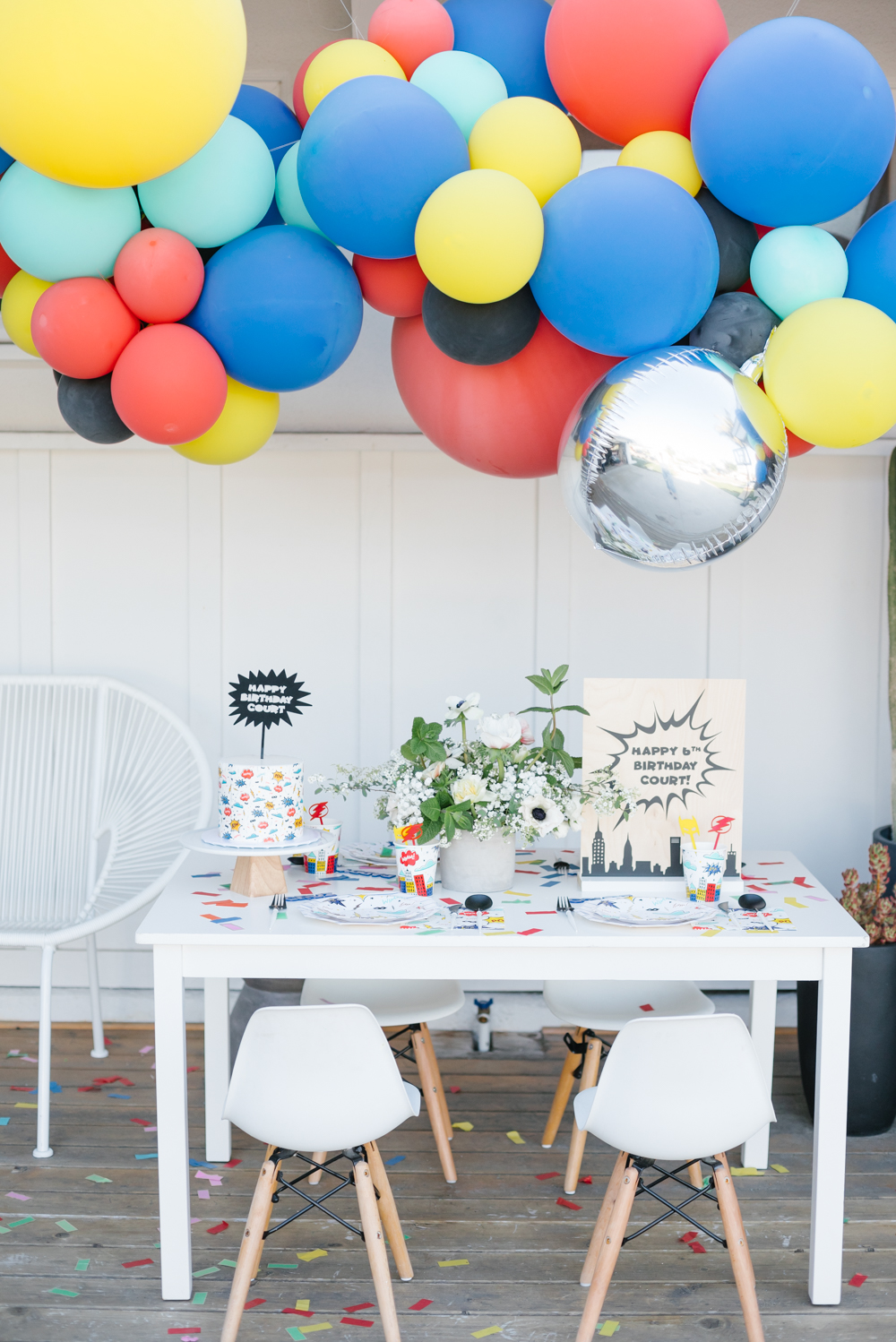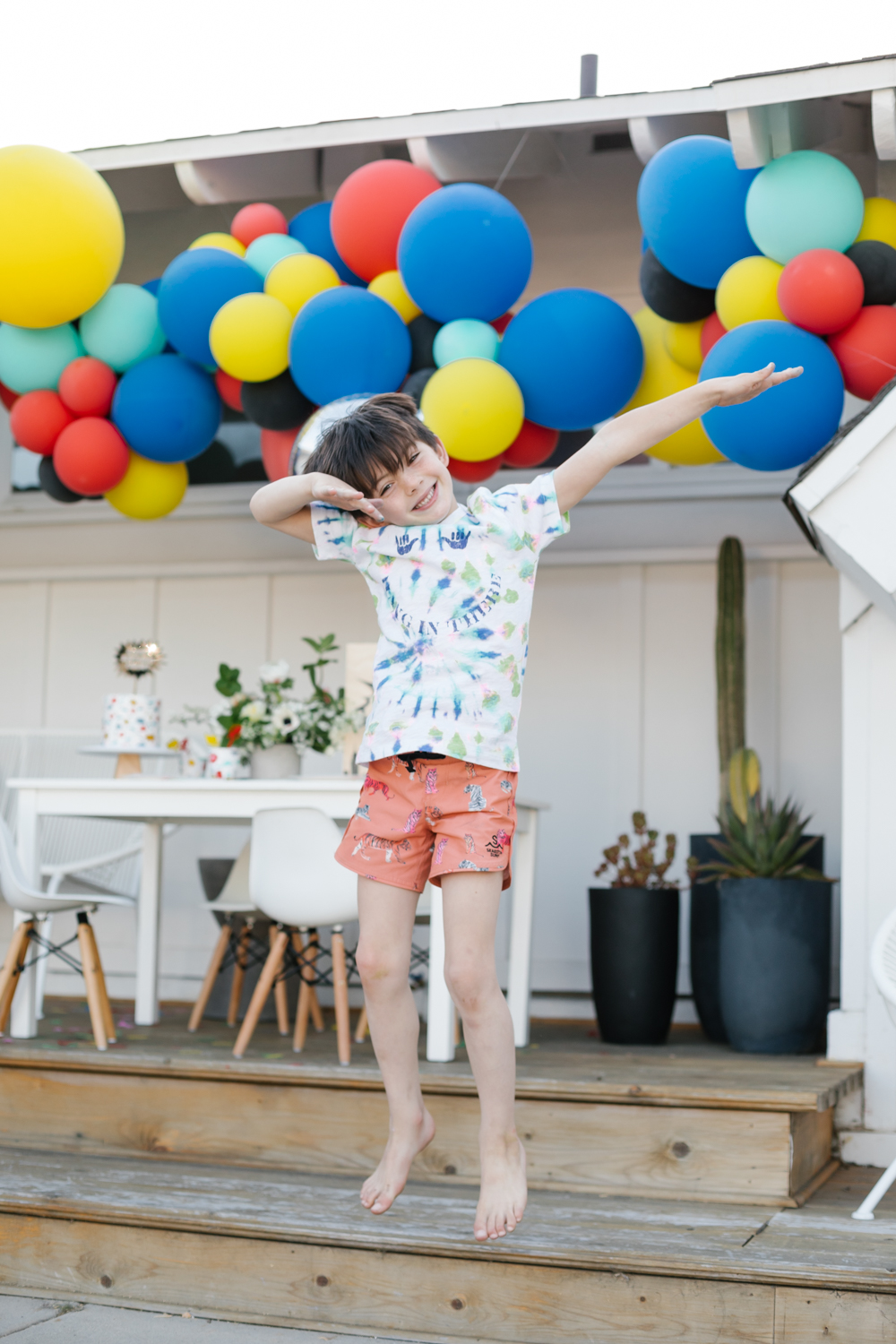 Well, my son Court had a birthday about a month into quarantine. We had plans for his 6th birthday party but had to do a complete 180, as did most parents!! He was pretty bummed he couldn't have a big party, but has big plans for this year, haha! I think we did pretty good though with a front porch party with our family and my parents. Plus a few neighbors came by and celebrated outside with a golf cart drive by! Not bad for a quarantine birthday!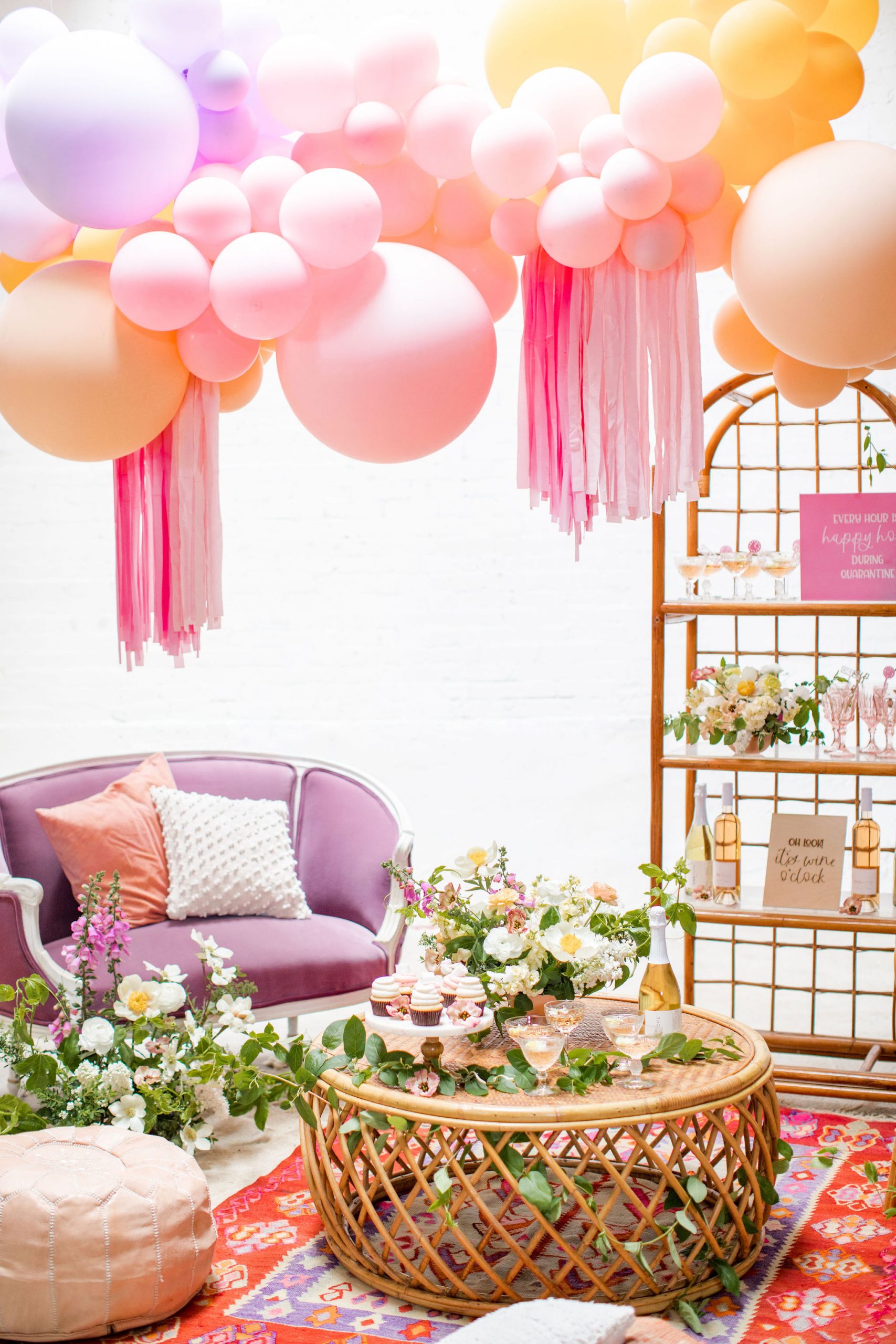 Speaking of quarantine… I did this quarantine happy hour shoot that I still am obsessed with! Happy hour sort of became a thing for my husband and me during quarantine, can anyone else relate?! Well, I thought I would showcase the ultimate happy hour for our readers! With the beautiful lounge from Sweet Salvage Rentals and another epic balloon installation from The Pop Shop, it's a must-see. I can't get enough of those colors and it has me ready for a happy hour right now!
Strawberry Farm Birthday Party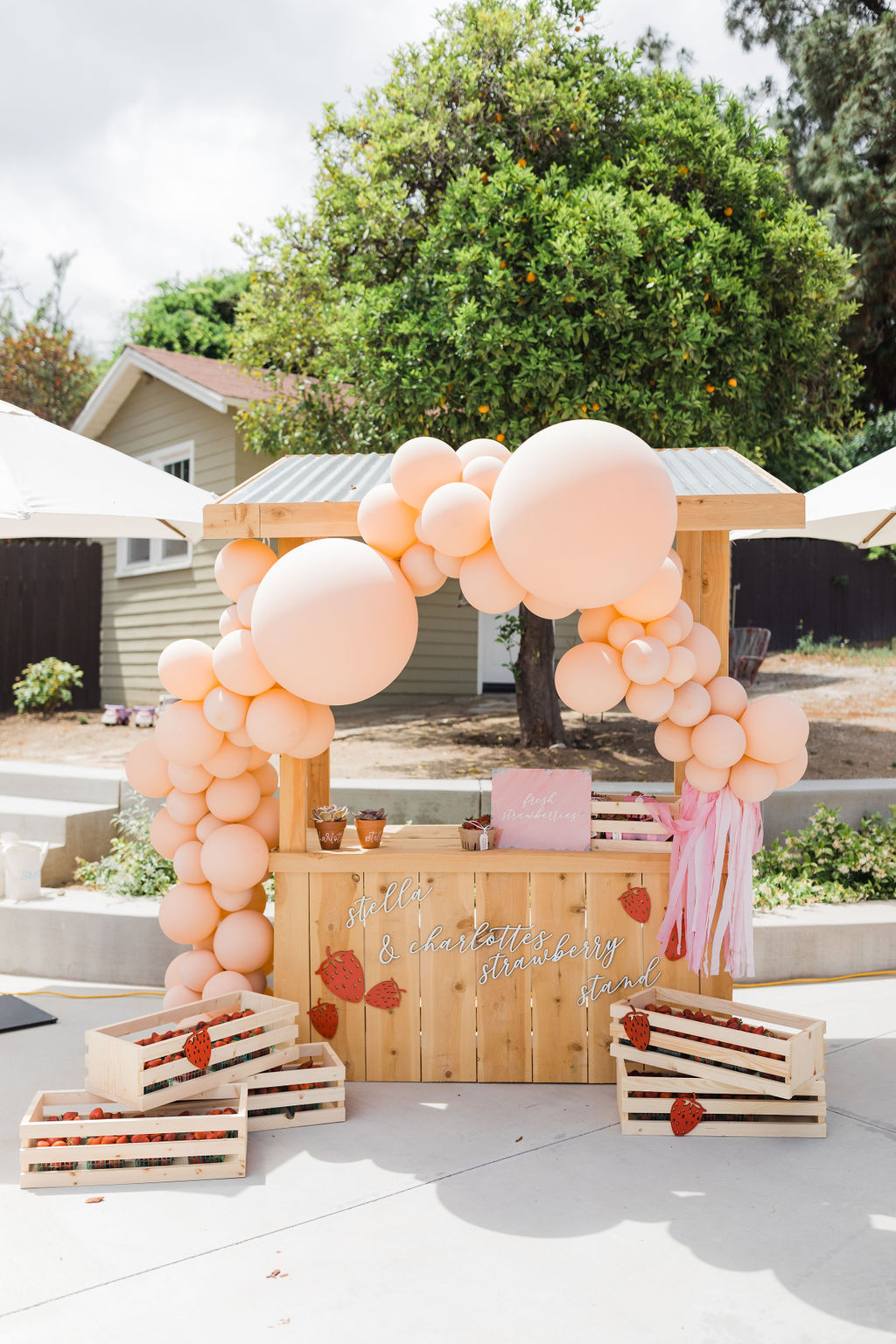 Moving on to Summer! This was one of our first parties back after quarantine and it was a goodie! Not only was it an adorable theme and party but it was for one of our absolute favorite clients!! We've done these cute twins parties the past few years. One of my favorite parts of the party was the cute invitation by Poppy Jack Shop and the strawberry stand built by the twin's dad!! Oh, and did I mention the strawberries were the BEST I've ever had!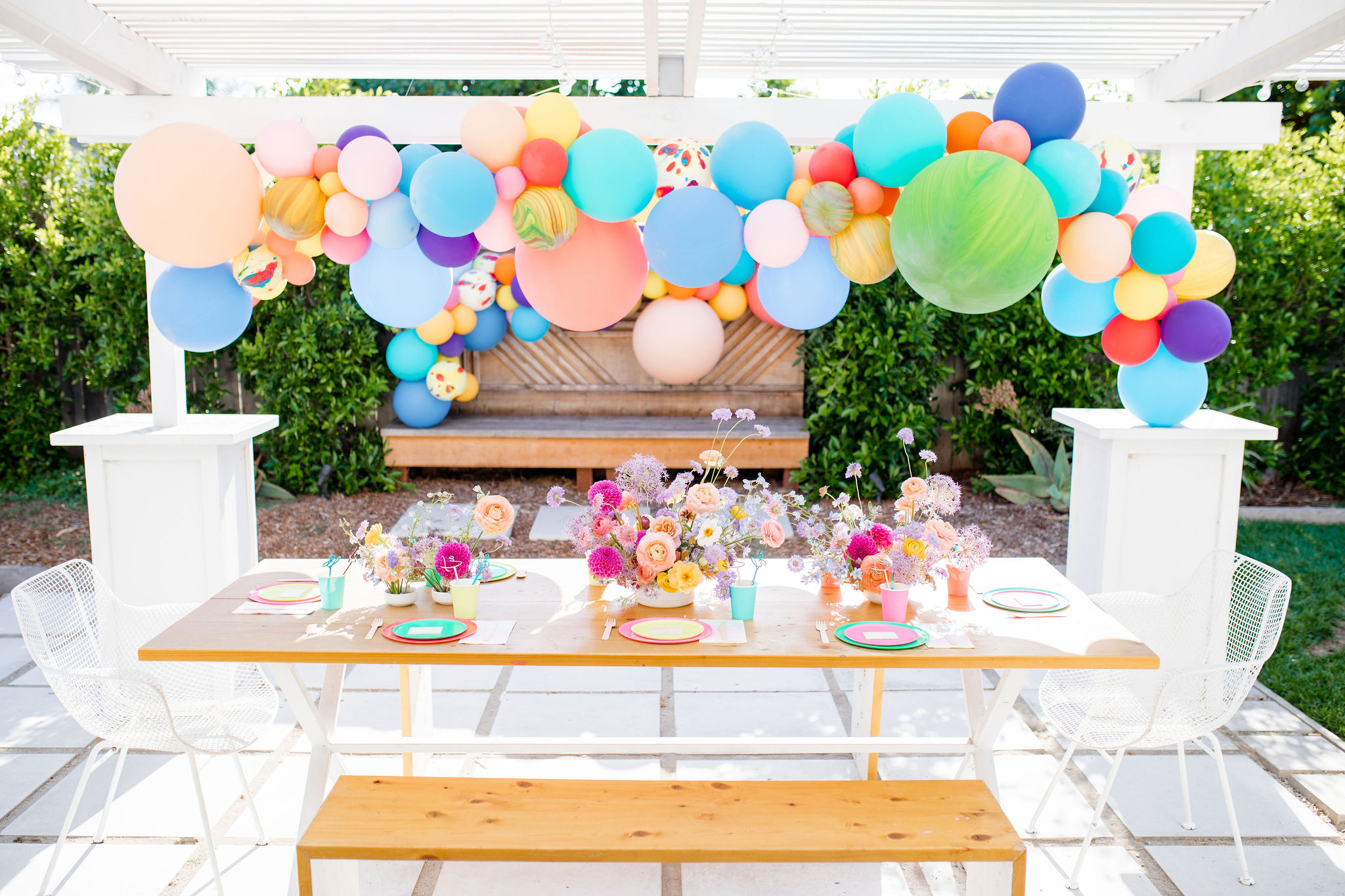 2020 was the year of tie-dye! And the year of parents doing everything they could to keep their kids busy!! I found myself in the same predicament and thought this party would be tons of fun. We invited a few neighbors and close friends over and tie-dyed all day! This is one of my favorites because of all the fun color used but also because I had so much fun with everyone, it was just a really great day!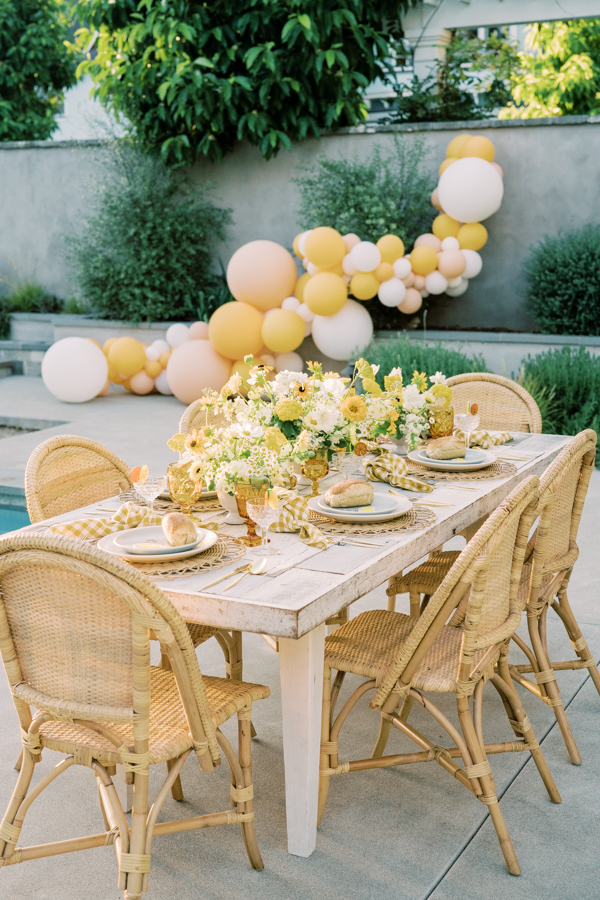 Towards the end of the summer, I had the pleasure of collaborating with so many of my favorite friends and vendors. We worked together to create this lemon inspired soiree and we all got to actually sit and enjoy it! Yellow is my favorite color so I was all about the design. Everything from the food, the decor, and the company was excellent! Plus, it was the first shoot we did at my dear friend, and owner of Sweet Salvage Rentals, Marnie's beautiful home!
Cruz's 4th Birthday Fair Party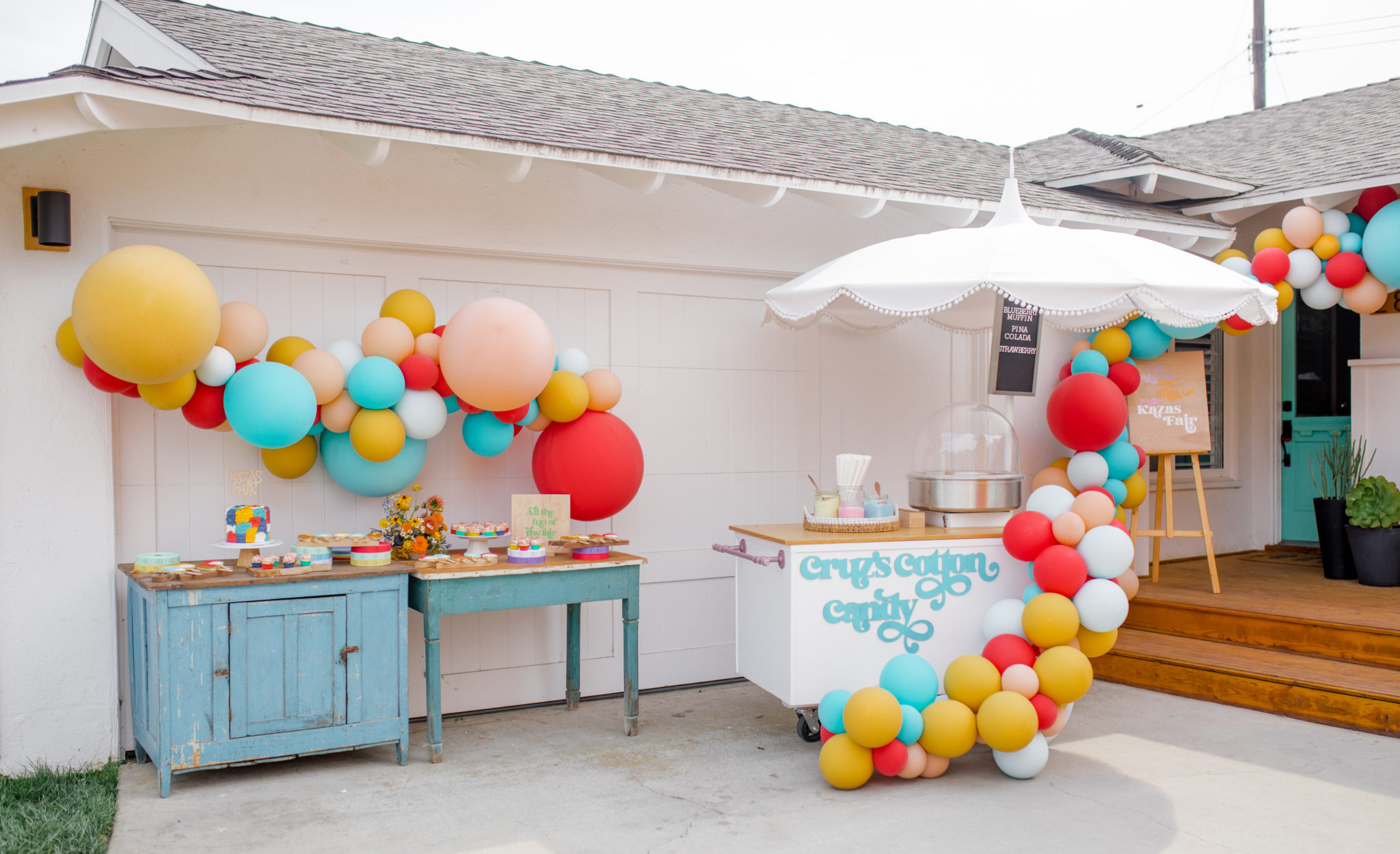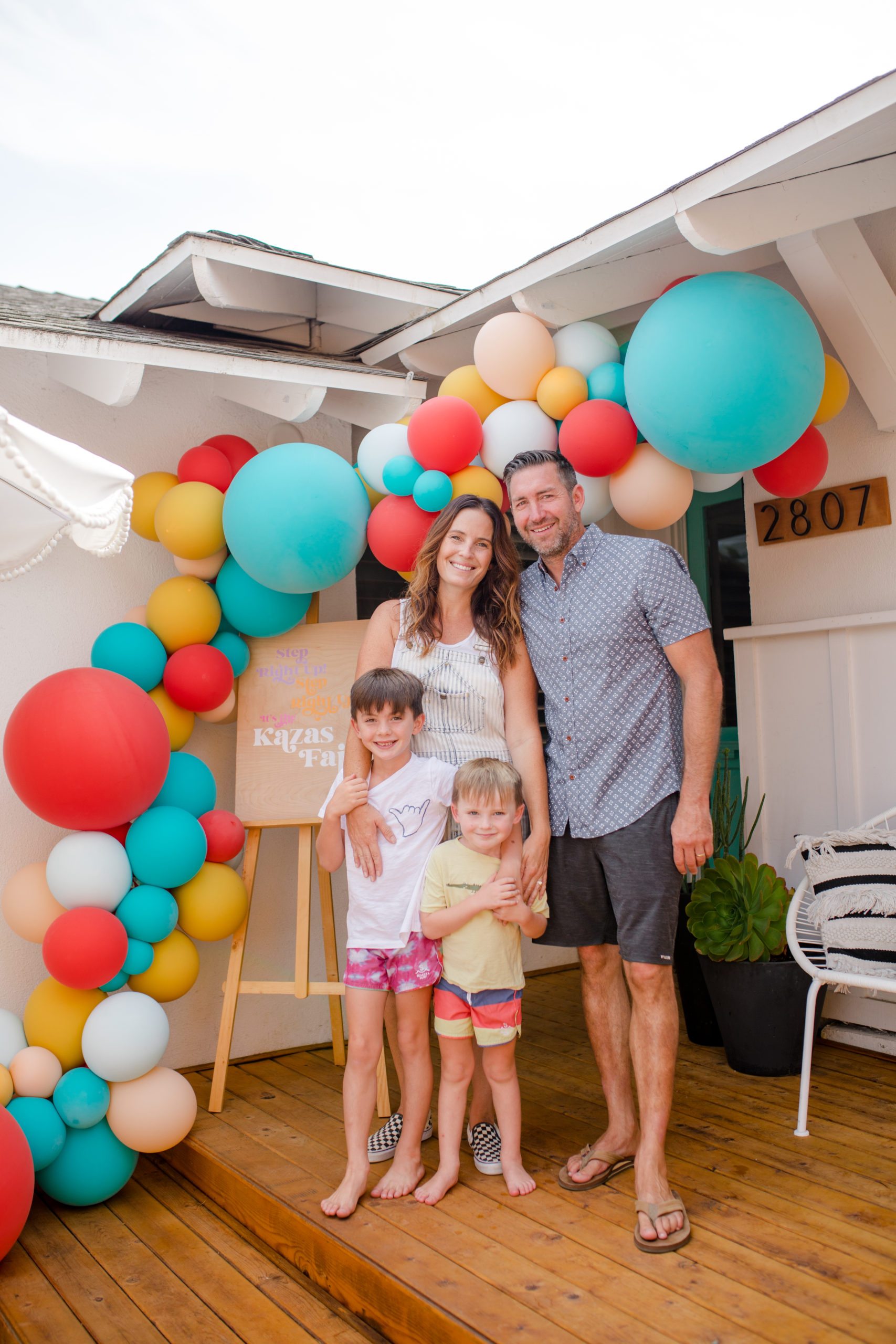 Another thing that darn Covid took away from us this year was the fair. Living in Orange County the OC Fair is one of our favorite traditions year after year. Well, I couldn't let Covid win!! I decided to throw my son Cruz the ultimate fair birthday party complete with cotton candy, water slides, fair games, popcorn, corn dogs, and more! He had the best day and it was fun to feel normal for a bit with this cute party!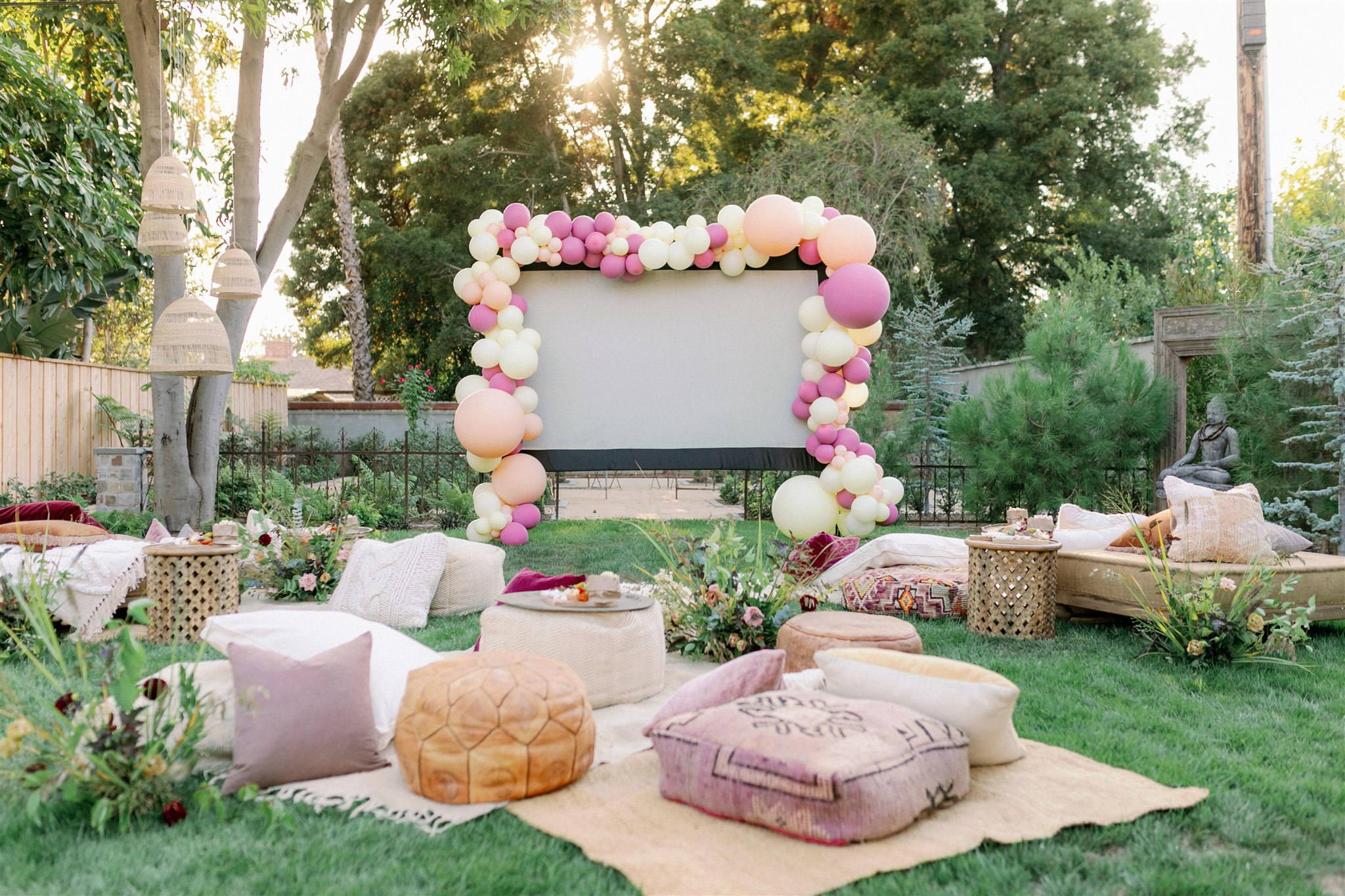 Speaking of Covid, there were some silver linings! Outdoor movie nights became a thing and I am all about this trend. We did this one again at Marnie's house in early Fall. That's the best time where the nights are still long, not too hot, just right for an outdoor celebration! Again I was teamed up with a few of my favorites and we had such a fun night, a little work and a little play are just what I'm about!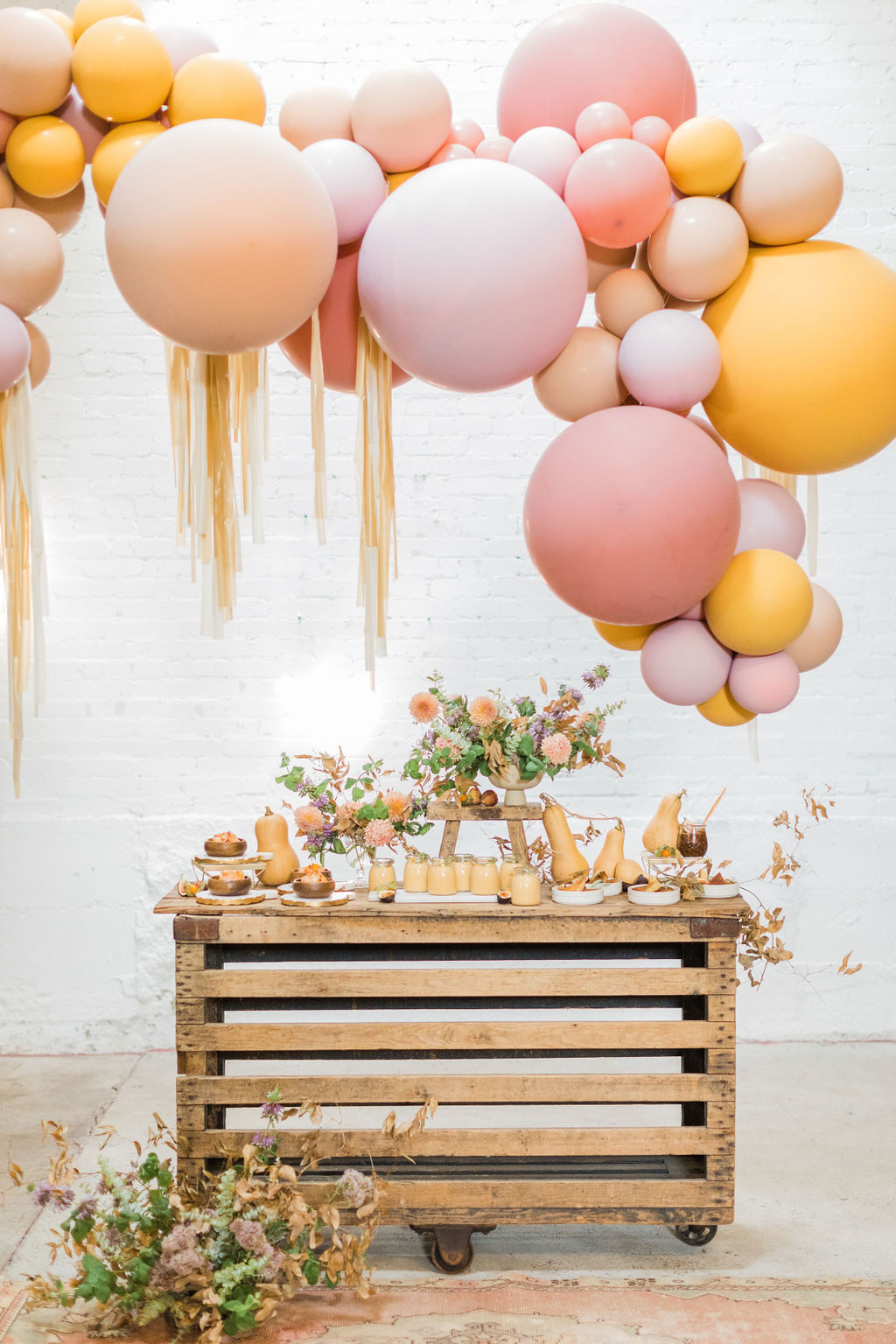 As we entered Fall people were wanting to have gatherings in a responsible way so Micro weddings and gatherings became a thing. I gotta say, I like the idea of it! You can put more effort and budget into the decor with a smaller guest list to have that wow factor. For the design, I used all my favorite Fall colors, and not only did we have beautiful decor but the food from Colette's Catering and cocktails from Bottles and Blooms were so yummy!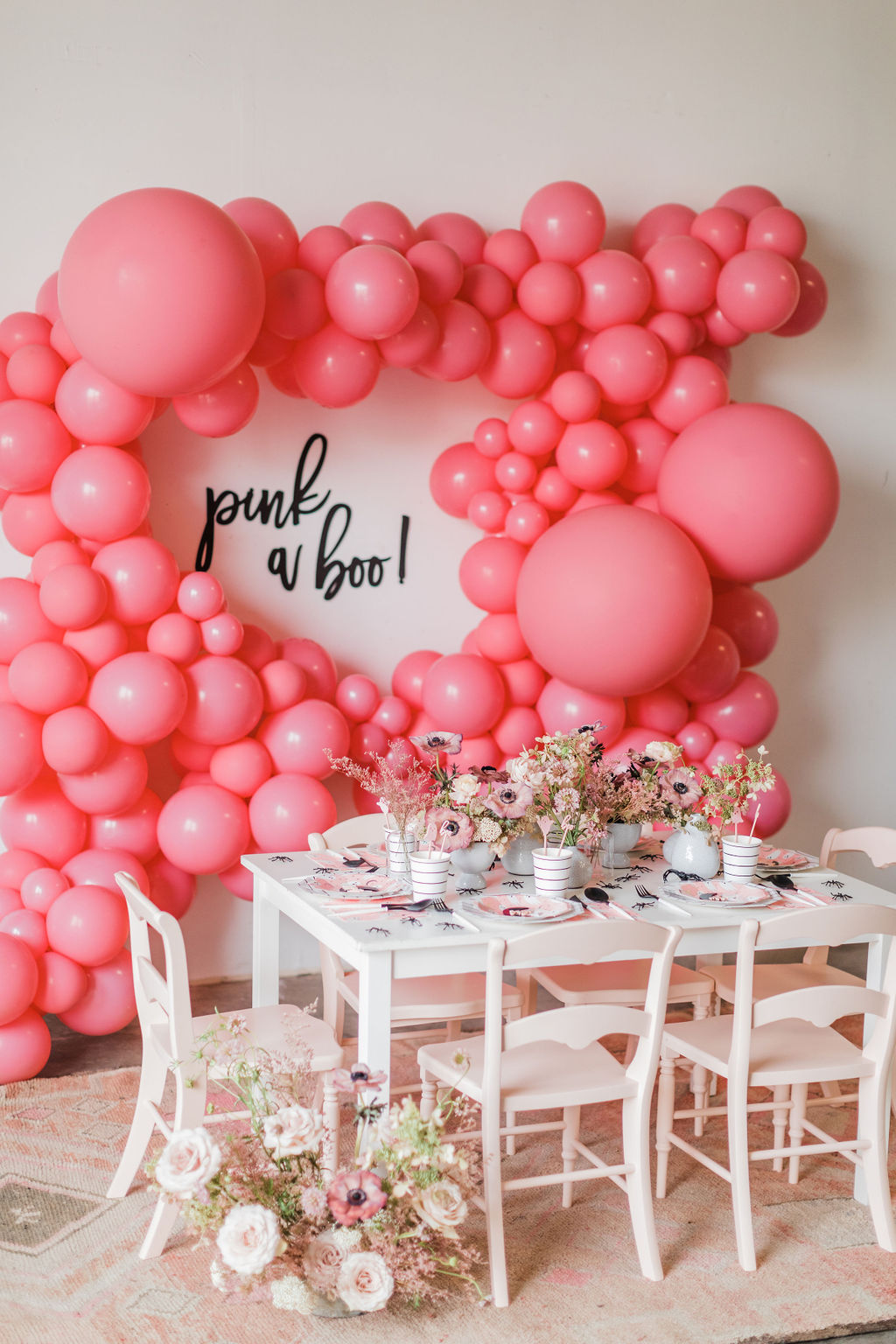 Halloween is always a favorite time of year in Beijos Land! 2020 must have inspired us because we had tons of great content. So much so, that I'm including two Halloween posts! The first is this cutie, a girly take on Halloween with a pink theme, pink a boo!! I just loved this playful take on Halloween, and I always love collaborating with my friend Carissa, owner of The Daydream Republic!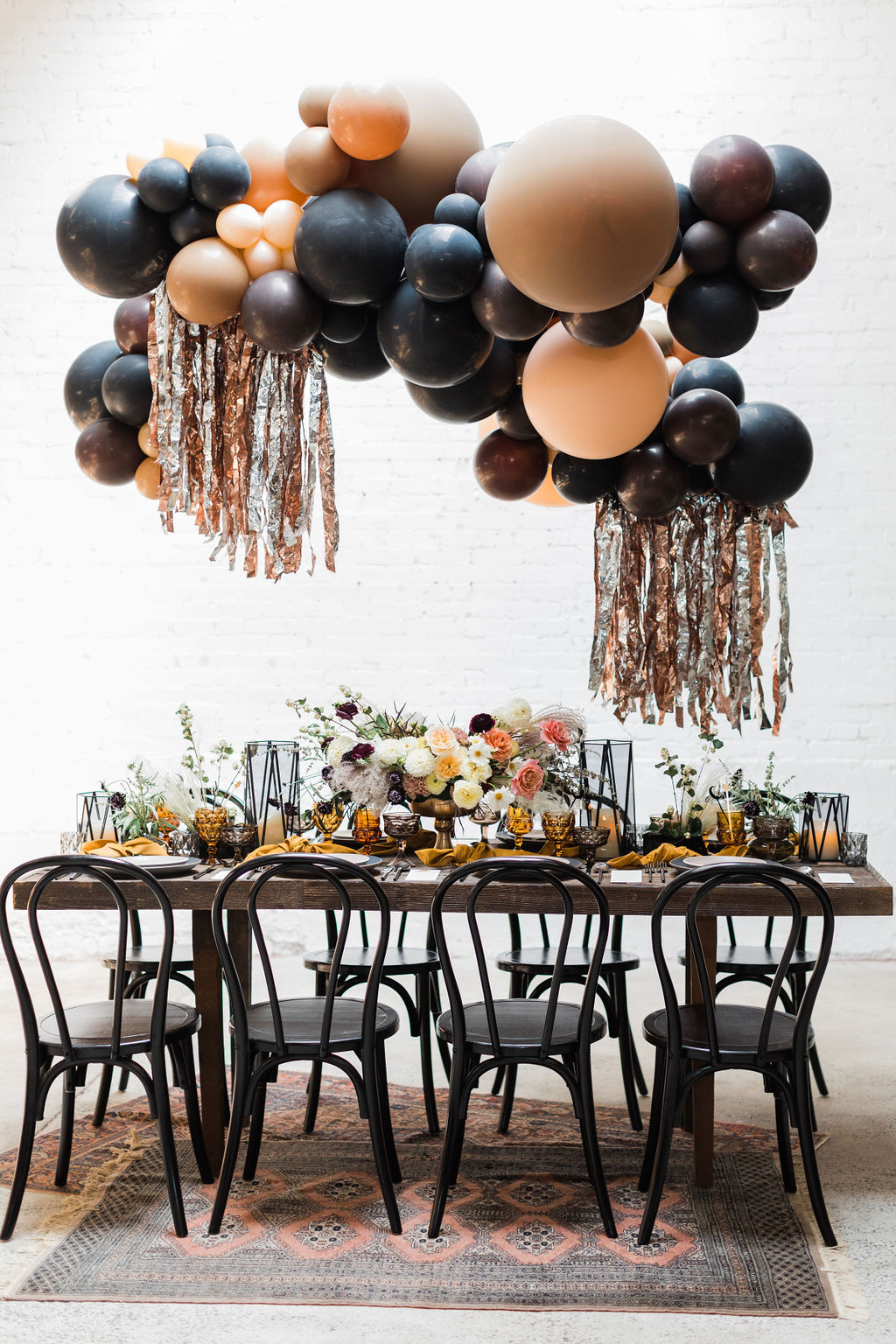 As for the second Halloween shoot, this celestial theme is a new favorite! It doesn't get much moodier and it's the perfect amount of spooky! I loved all the details that Leanna from David & Leanna created for this one and the floral arrangements by Rebelle Fleurs were perfect for this party. This is exactly how I'd want to spend my Halloween, you know after all the trick or treating fun with my kiddos!
Terra Cotta inspired Dinner Party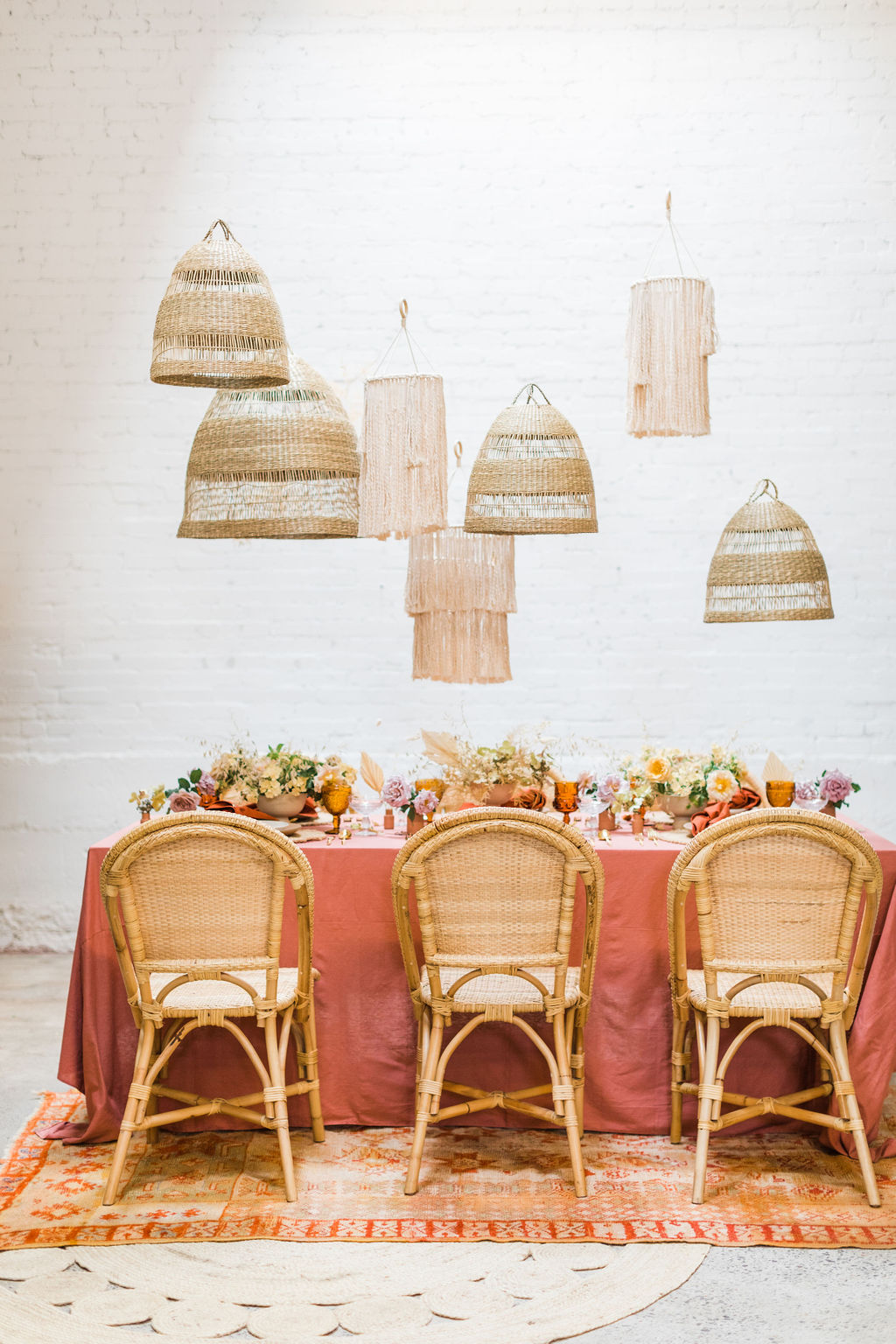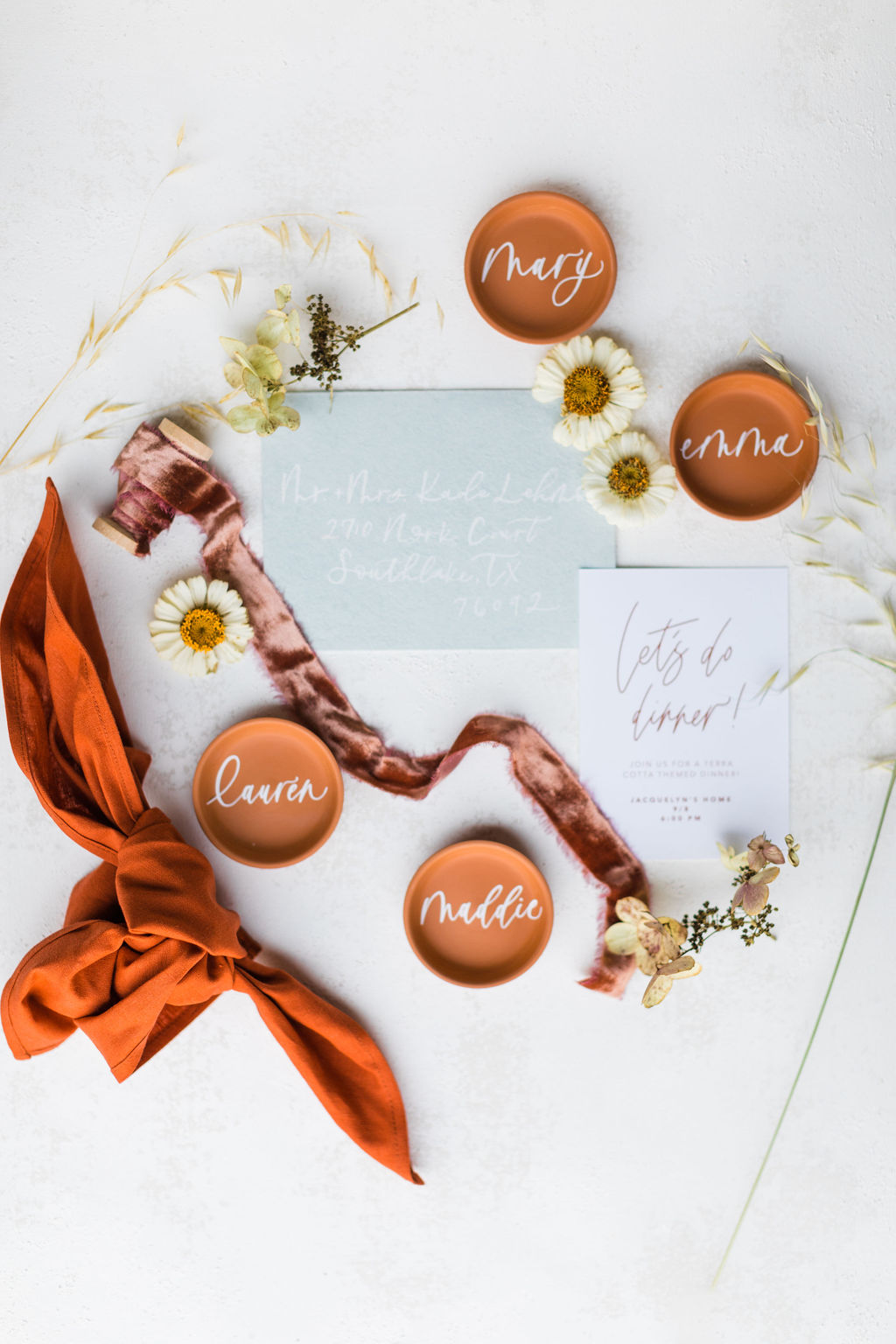 I had been wanting to do a terra cotta inspired shoot for a while. As a matter of fact, I had made the mood board for this one a year or so before this shoot took place. It's just such an inspiring color and element to me, I thought it deserved a shoot dedicated to it. This shoot was especially important to me as it was featured on Martha Stewart's blog! What an honor!!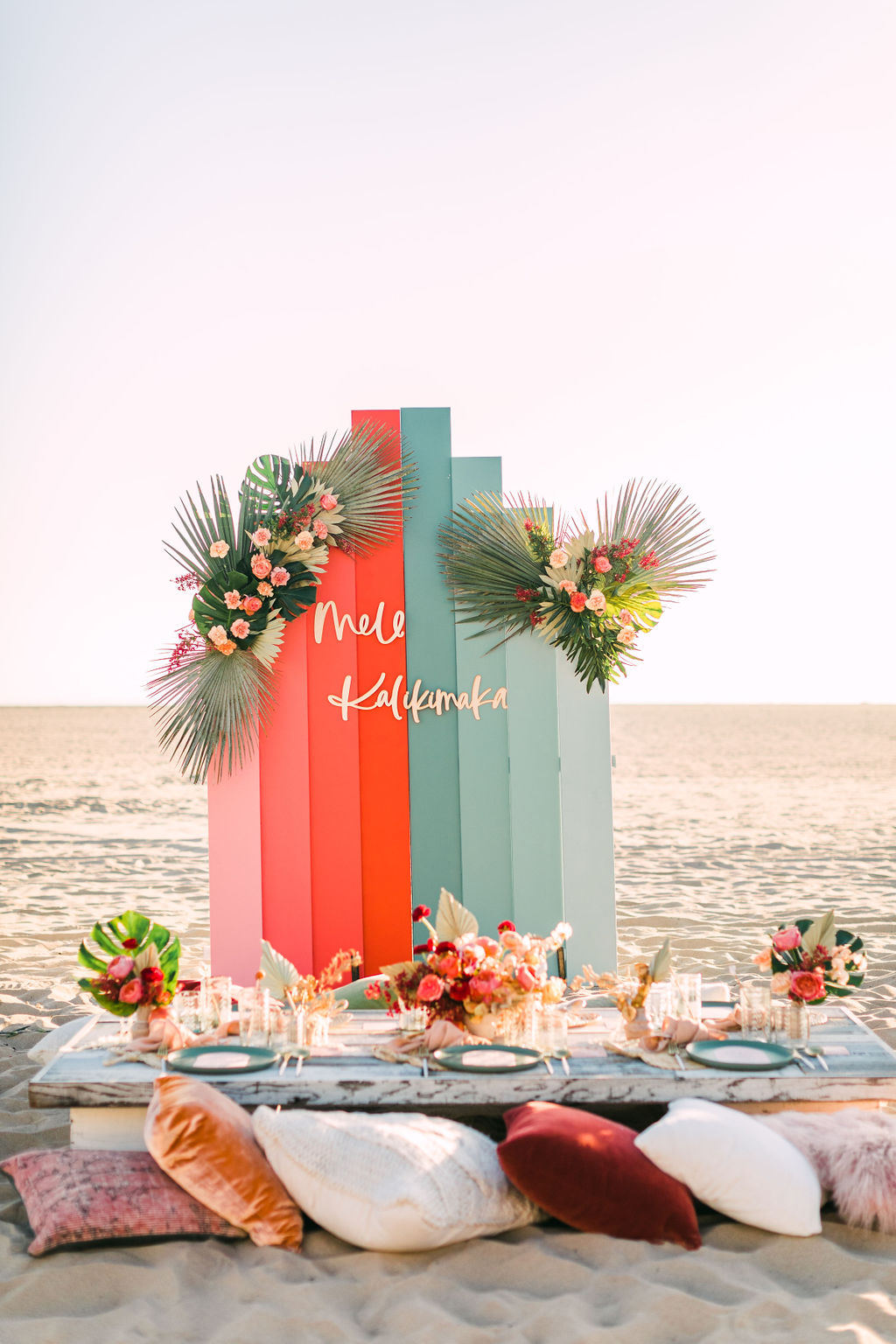 This is another concept that I had a mood board for a while back. I'd been wanting to do a beachy Hawaiian take on Christmas and this proved to be the year! I am still obsessed with everything about this shoot. The gorgeous floral arrangements by Not Just in Novels, the amazing backdrop from Sweet Salvage Rentals, and the beautiful photos by Jessica Lynn Photo. A new Christmas favorite and forever favorite!!
---
L E A H
This one was so fun with your traditional colors.  Making it an outdoor movie was the best.  The flowers were beautiful and the candy charcuterie was so yummy and cute!!
---
A B B Y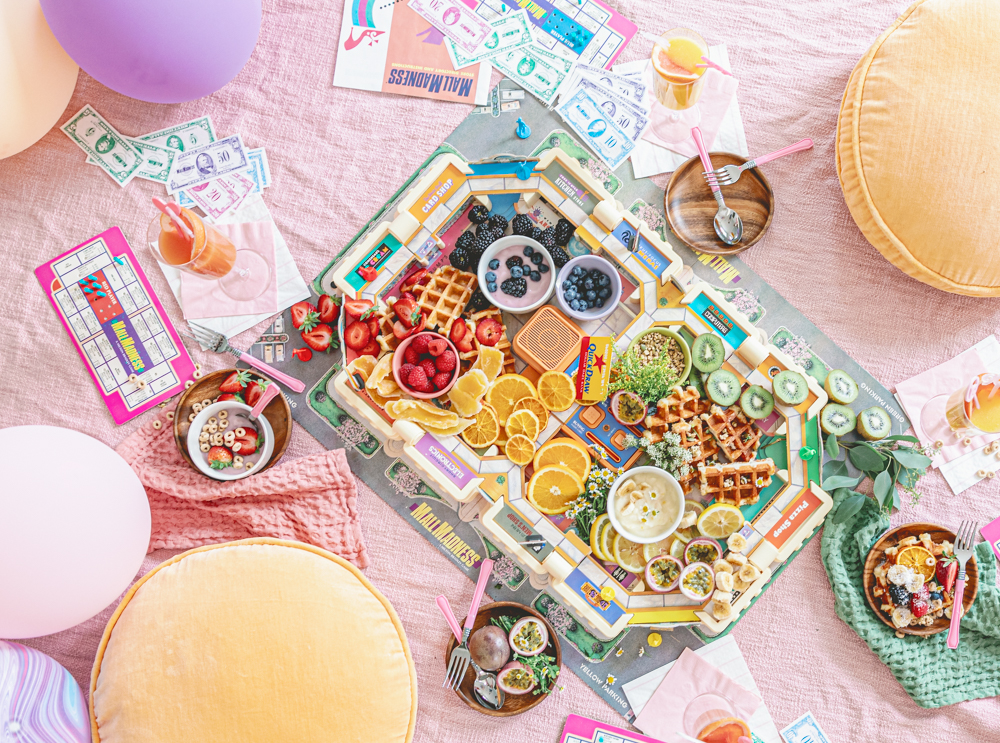 This was a hit with my sisters and me when we were little. So it was so fun to bring it back, and make it into a brunch board! This year, it really was all about taking things like a game and making them into an interactive brunch board, or taking waffles and making them into a cake. It was so fun to play with food and make it more fun for all! 
The waffle cake was a fun twist on how to present waffles. It was even featured on brides.com as fun alternative cakes! 
Nirvana cocktail + Grunge Shoot
Our 90's week this year was my fav! My daughter who is 10 thinks she knows everything about '90s, and I'm clueless. haha! As a kid in the '90's, grunge was my fav. Bring me all the Jared Leto! I loved how Jacqueyln played around with flannel in the grunge shoot, and those lockers were killer! 
The Nirvana cocktail went along with our grunge shoot, and it was probably my favorite cocktail this year. I loved playing with dark and moody colors instead of our usual bright pretty pastel colors we love so much. 
Quarantine saved me this summer! haha! I owe her a lot! Not only was she pretty, but she is one tasty cocktail. I play around with alot of recipes, and usually change it a couple times before the final recipe. This one was a one time shot. She is good for sure! 
I'm sure everyone had a quarantine birthday this year. Dylan's birthday was in April, so right when all this fun started. We kept it simple, and full of all her favorite things. I even learned how to make a balloon backdrop. It wasn't our usual fun party, but in the end it ended up being perfect to focus on everything she loves without all the thrills and frills. And she told me she loved it then any of her other parties. It felt good to focus on just her and everything Dylan. A perfect 10th birthday. 
April showers bring May flowers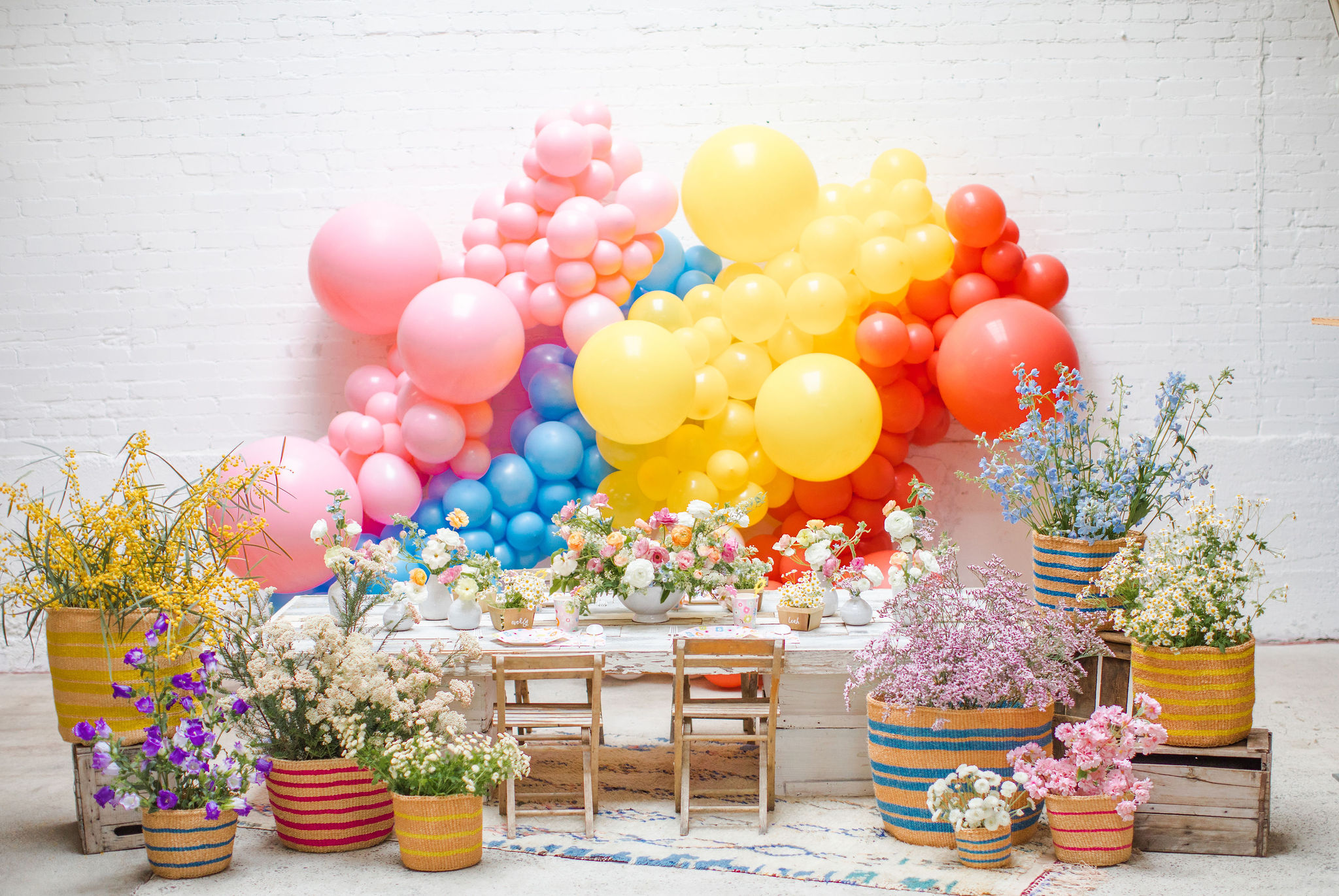 This one was so fun and colorful! And those baskets of fresh flowers, LOVE! And those floral cookie pops, just the cherry on top! 
Hoppy hour is everyones favorite! I loved the colors in this one! I'm a sucker for rattan and pink, and add in a velvet purple couch, and I have all the heart eyes for this situation.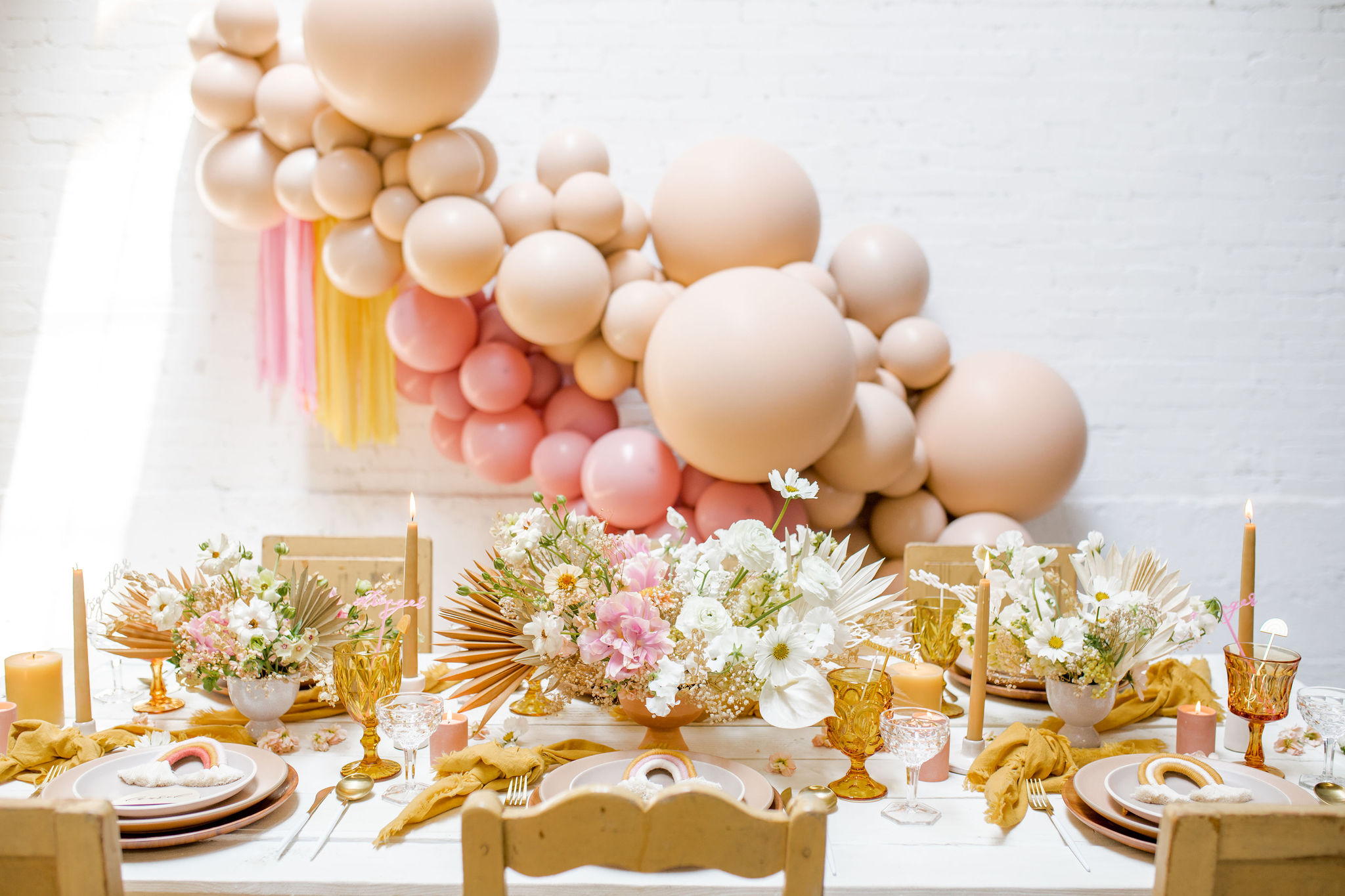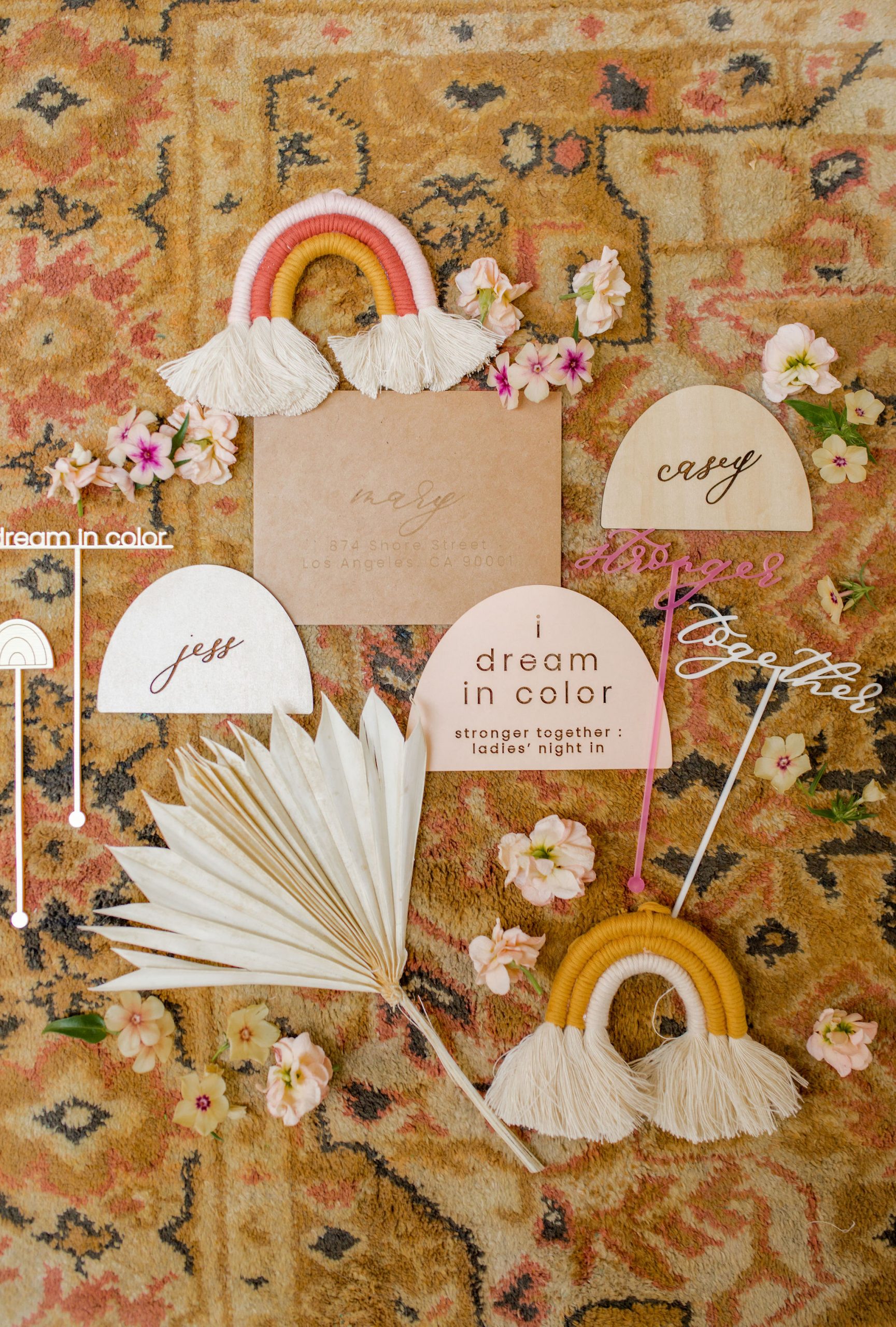 Just like the the hoppy hour shoot, you had me at rattan and pastels. There is something about nude and pastel colors that make me really happy, and this lounge has all of that. Plus, the message of staying together makes it so much better. 
This floral diy was so fun to do. I like to create DIY's that everyone can do, and I'm all about the dried flowers this year. This fun place card can be used in so many different holiday's and functions. My daughter loved hers so much, she has it in her room on her desk. A great idea for a gift too! 
We gave Dylan a big girl room a few years ago, and I created a wall of shelves for her. Since then, I have changed up her artwork for different seasons. During our rainbow week, I changed up her art work using Minted art prints. I'm sure you can guess why I loved those so much, pastels + tan colors, and dried flowers! Abby's vibe for 2020! 
---
xx
Jacquelyn, Leah, and Abby