Dylan turned 10 this April, and as you could imagine we had to change it up a bit! It was hard to tell her she couldn't have a party or even a simple dinner with friends to celebrate her big milestone of turning ten this year. But, I do have to say my kids have better outlooks then most adults. She understood and said she was happy with just her parents and brother. I wanted to create a birthday scene as much as I could so she would feel that it was a very special day! With some help from some awesome vendors and a little DIY action, she had a 10th birthday filled with lots of love and laughter! You too can create this at home! Don't let the social distancing take away the birthday fun!

Photos by Dayna Studios (social distancing editing)
Ballon Installment

I spent a couple of days doing this, but I think it was totally worth it. Now that I know what I'm doing, it probably would have taken me only a couple hours. I bought everything online as well! Scroll down below to shop what I used!

Oh, Happy Day Party shop has the best selection of party goods! I got the majority of her party stuff there! This is a great source for birthday party products! I got the tableware, balloons, candles, and even tissue paper from them.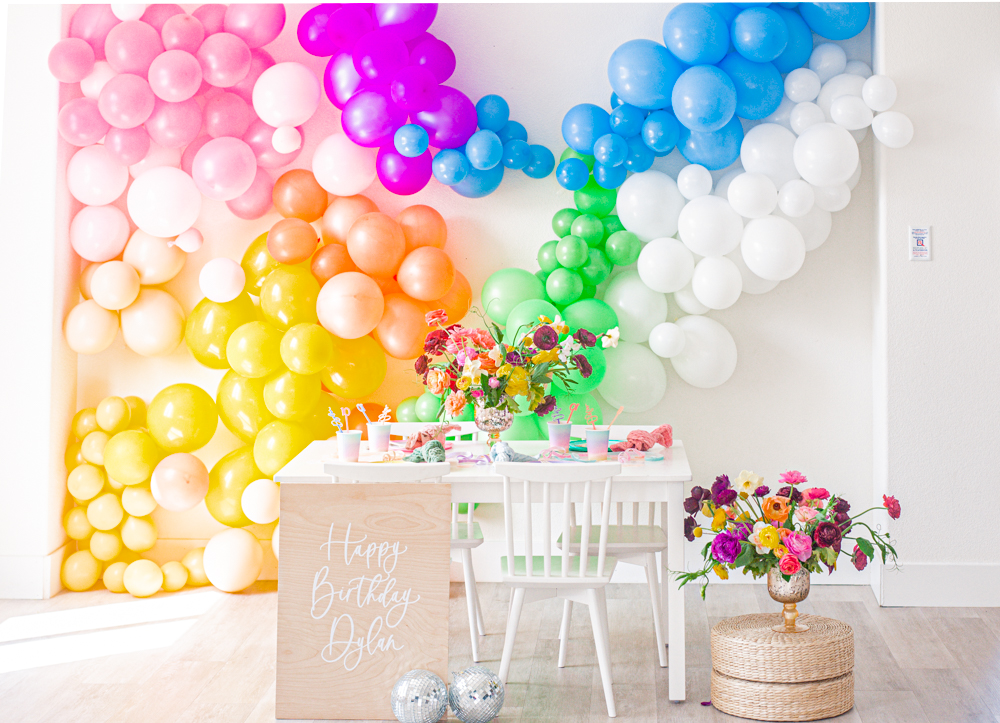 I watched a couple of youtube videos on how to do balloon garlands. I started off by doing the fishing wire trick, but from the help of a dear friend Leanna from David and Leanna, she told me to get the balloon tape stripe. Get it here. This made things so much easier, and faster! This kit comes with stripe tape, sticky dots, and string!

WHAT YA NEED!
Ballons
Mini Ballons
Balloon Decorating Strip Tape Kit
Tacks
Electric Balloon Pump
Patience :)

DIRECTIONS

Ok, so what really helped me out was a gameplan. Having an idea of what you want, really helps you to get it done faster. I wanted to have a wall filled with a rainbow style cascading look. There was a picture I found on Pinterest that I used for creative direction. That really helped. I strongly recommend you grab a picture of what you want to help you go in the right direction.

Start off by blowing up all your balloons. I got two different size balloons. OH, you definitely need an electric balloon pump. This was also so time-saving! Once you have all your balloons blown up, start in one corner and create mini garlands. Save some balloons for finishing touches.

I took one color and made one garland, and did the same for the rest of the colors. I made them all a little different in size and direction. To use the balloon stripe tape, simply insert the balloon knot thru the hole. Then repeat with each balloon.

Beijos Tip: The balloon stripe tape is a plastic stipe with holes. Put your 1st balloon after maybe 10/20 holes down, and leave 10/20 holes after the last balloon. This will allow you to tack the garland to the wall.

After your done with all your garlands, simple tack onto the wall. I liked to place them near each other to look like a continuous garland. During this time, you can use your saved balloons for finishing touches. There might be holes you want to fill. Use the sticky tape, and those small balloons to fill the gaps. Placing those "finishing" balloons really help make the wall come to life. Add some mini balloons on top of some big balloons to give that "3D" look. See below how I did some of the garlands.

Have fun with it!

Shop Balloons Installment Supplies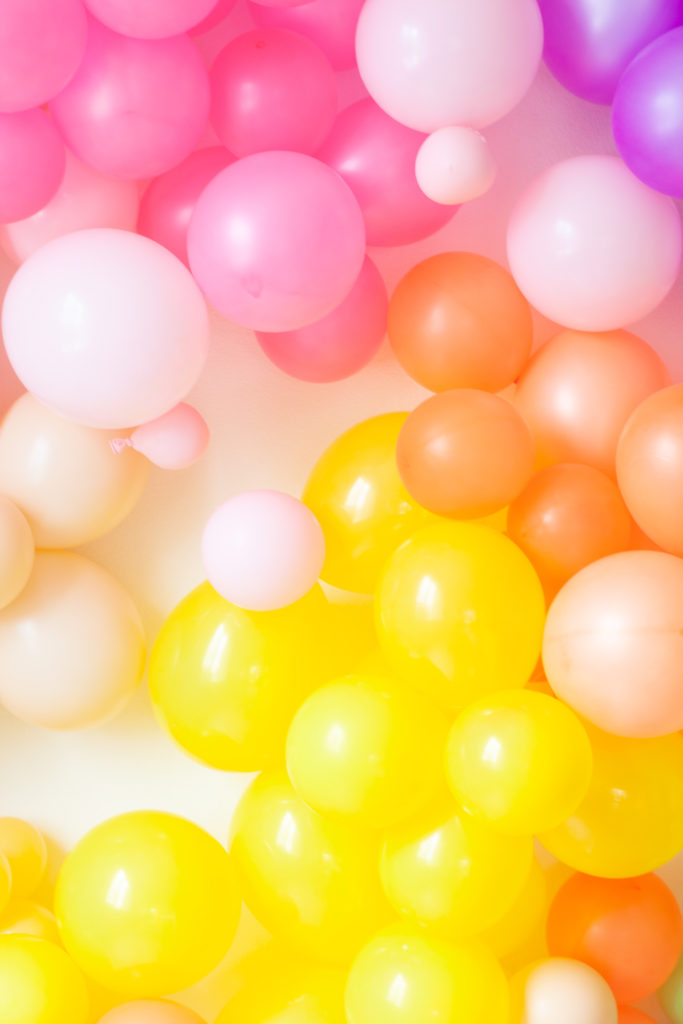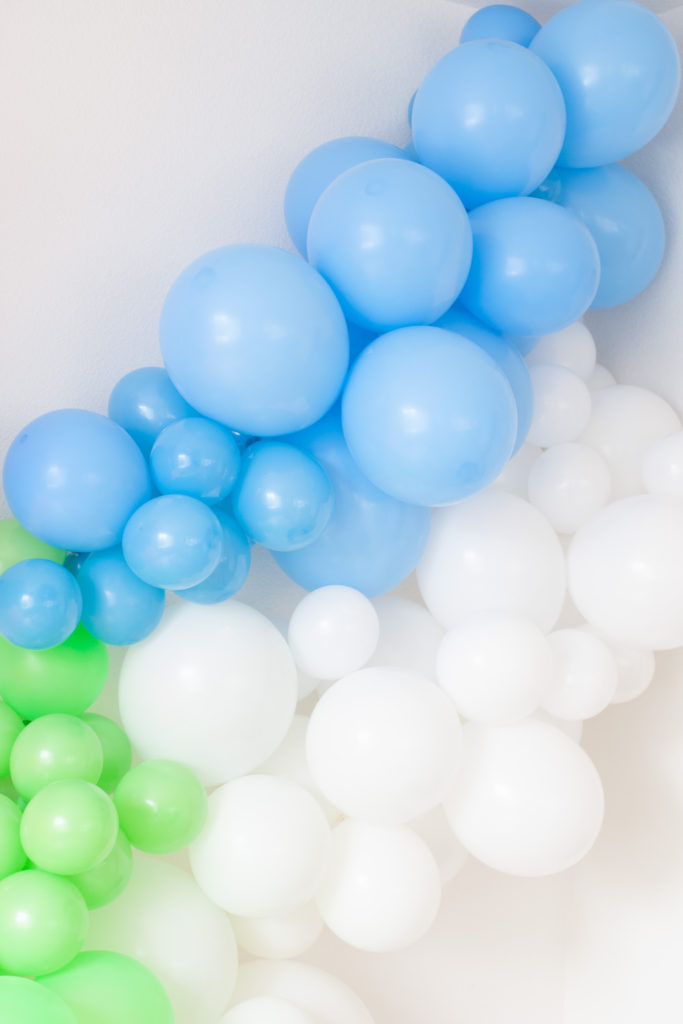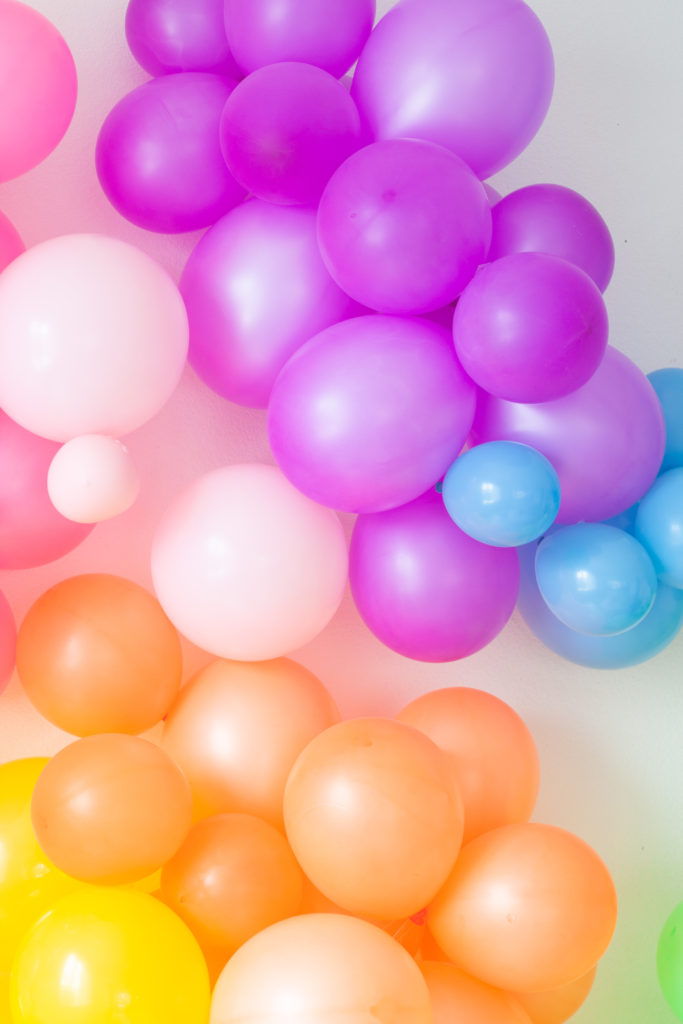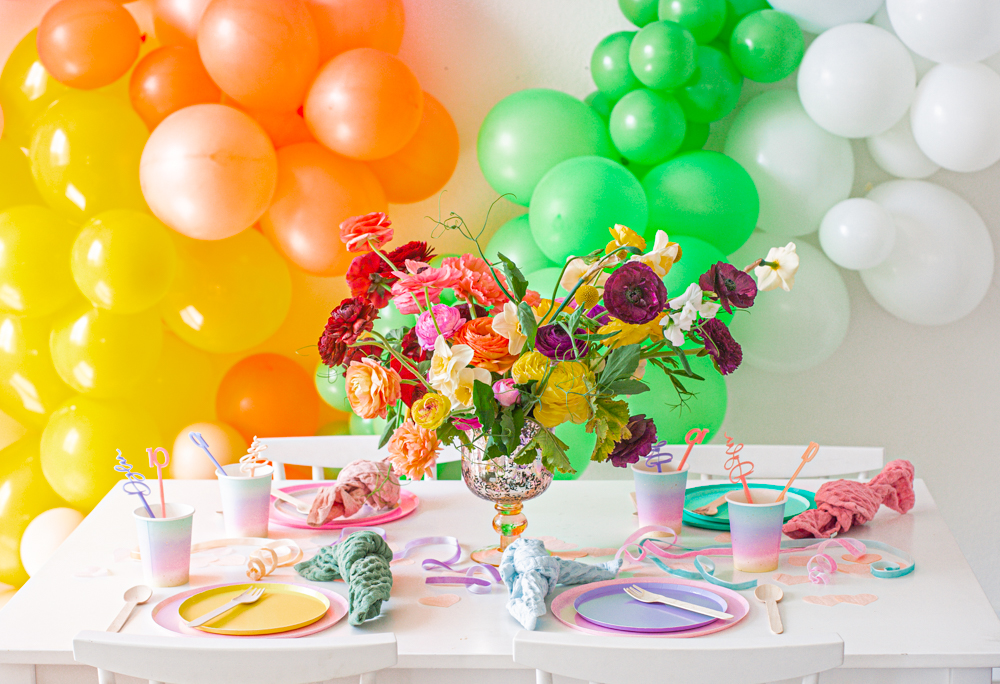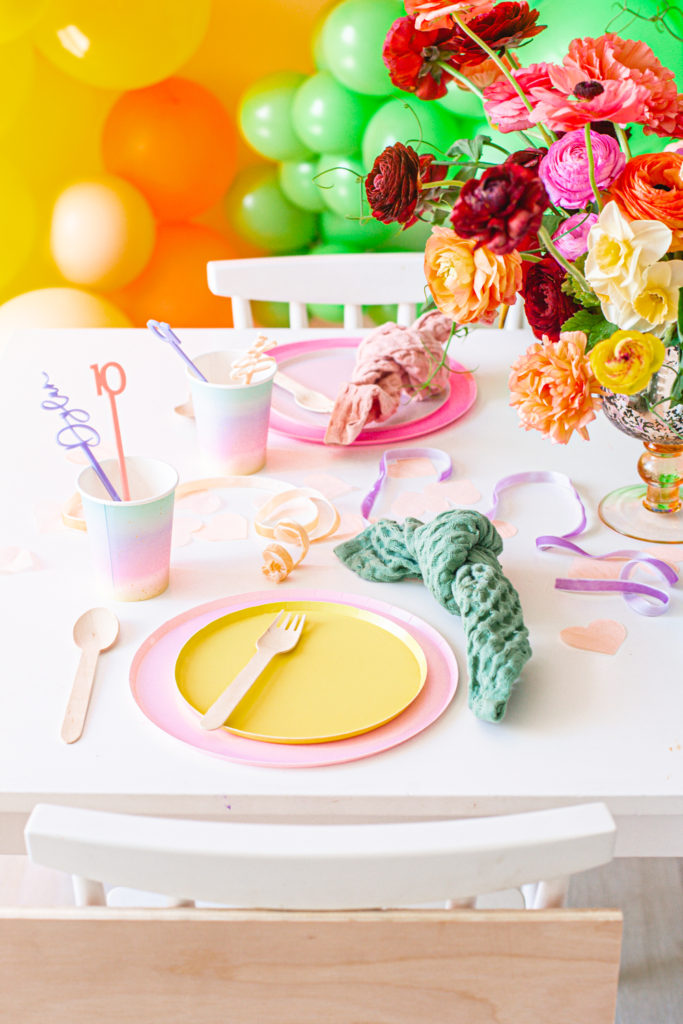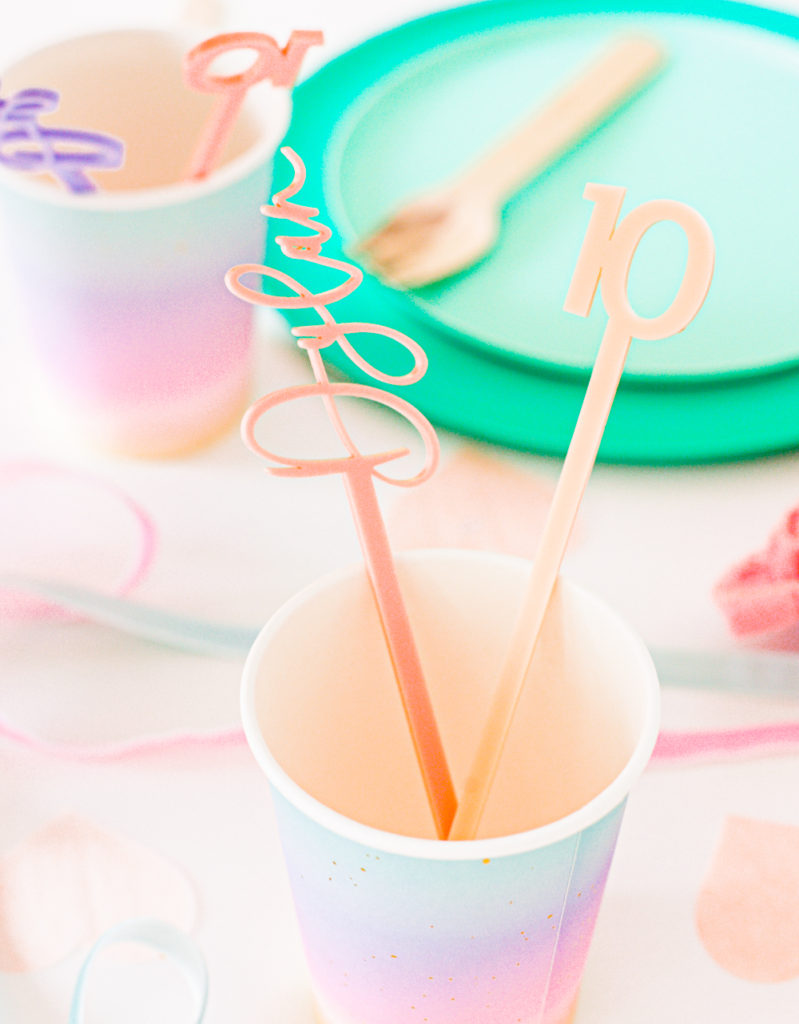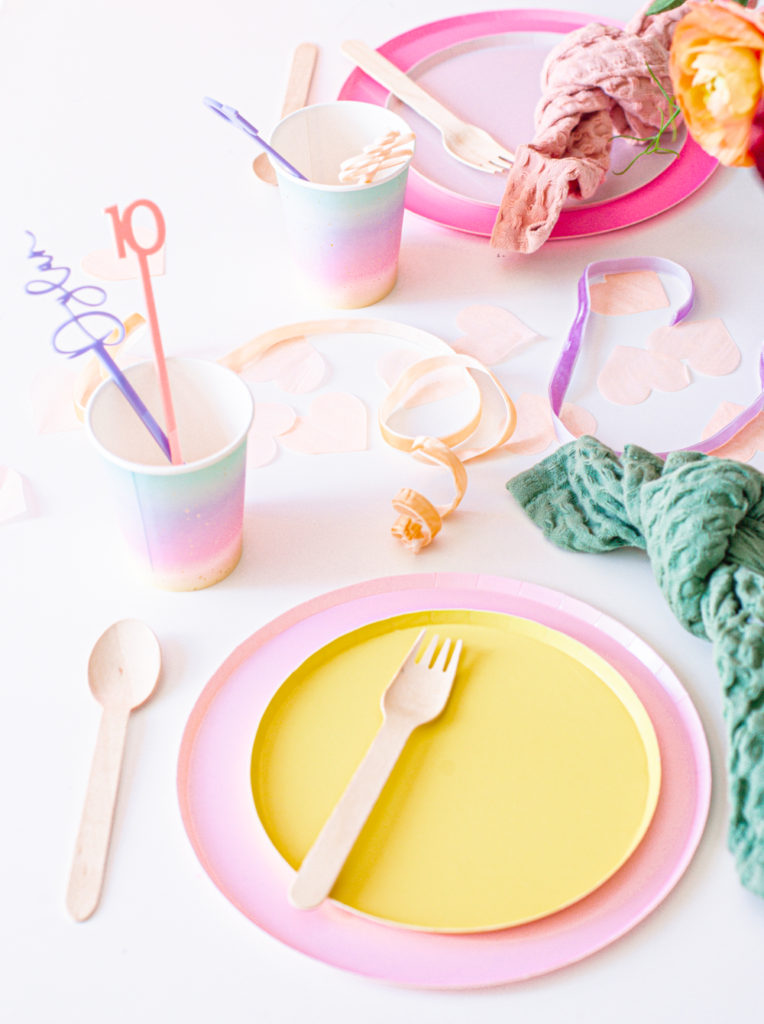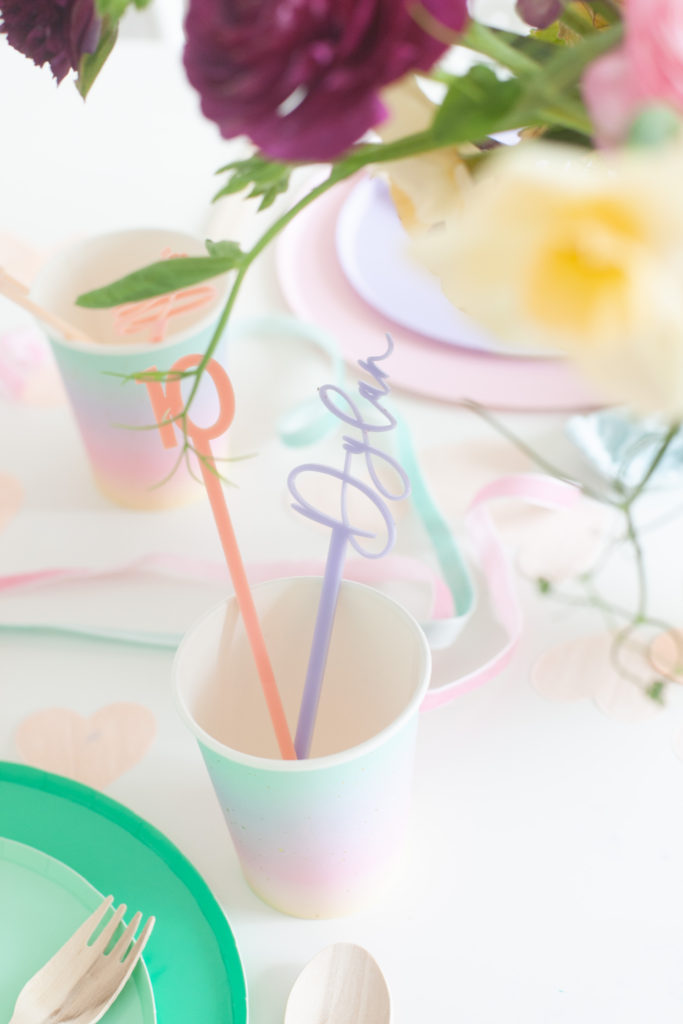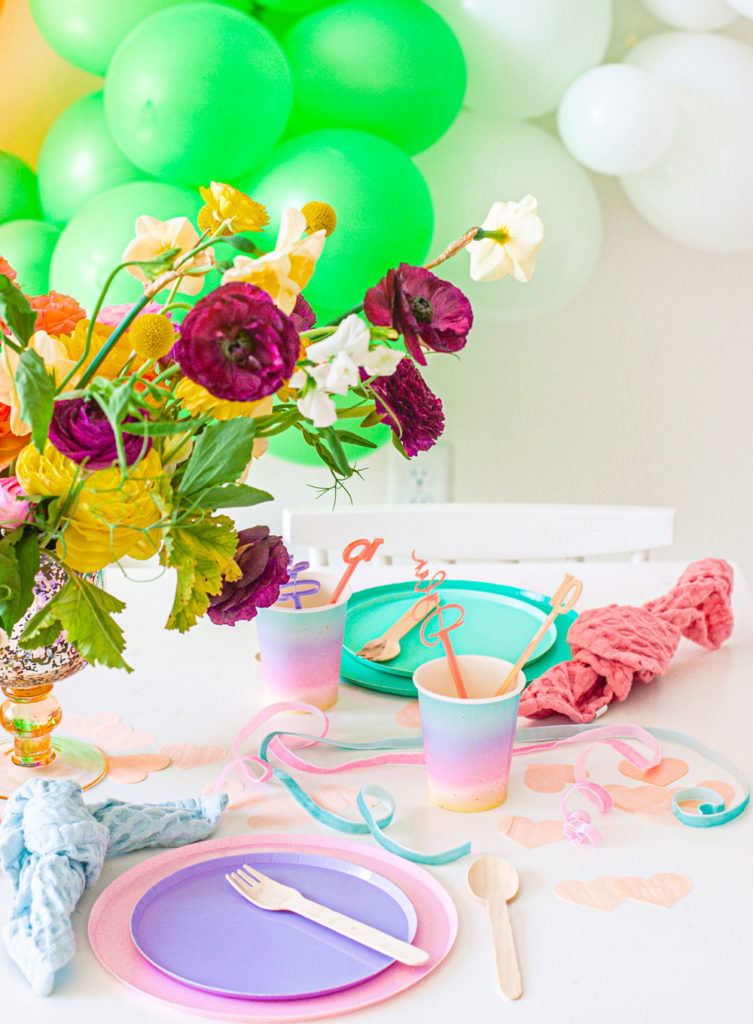 The Table

I still wanted to create a fun table even though it was just Dylan and Jett. I got all the fun tableware from Oh Happy Day Party Shop. I got cocktail sticks that say "Dylan" and "10" from Proper Letter. She has a birthday party set you can purchase! See her Etsy page here. Adding more color with these Anthropologie napkins, which are actually washcloths. Finally, I used some heart-shaped confetti and velvet ribbon for a pretty table "garnish".

Shop Table Goodies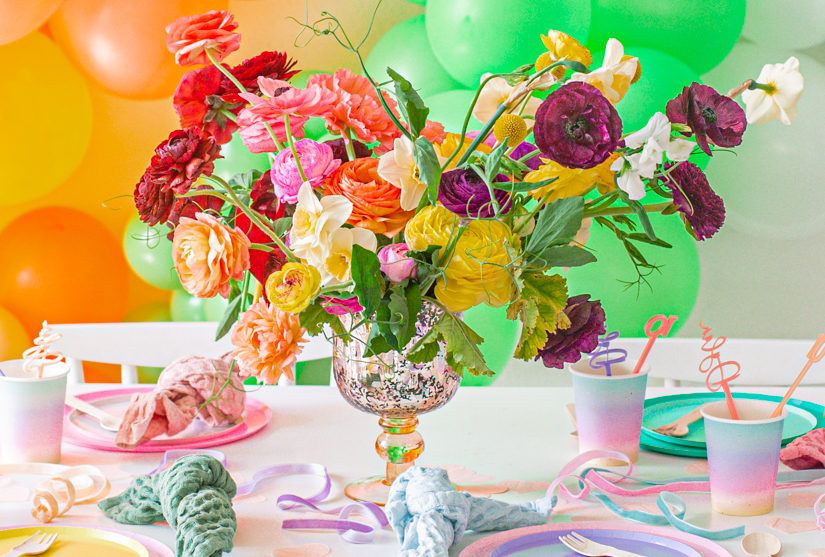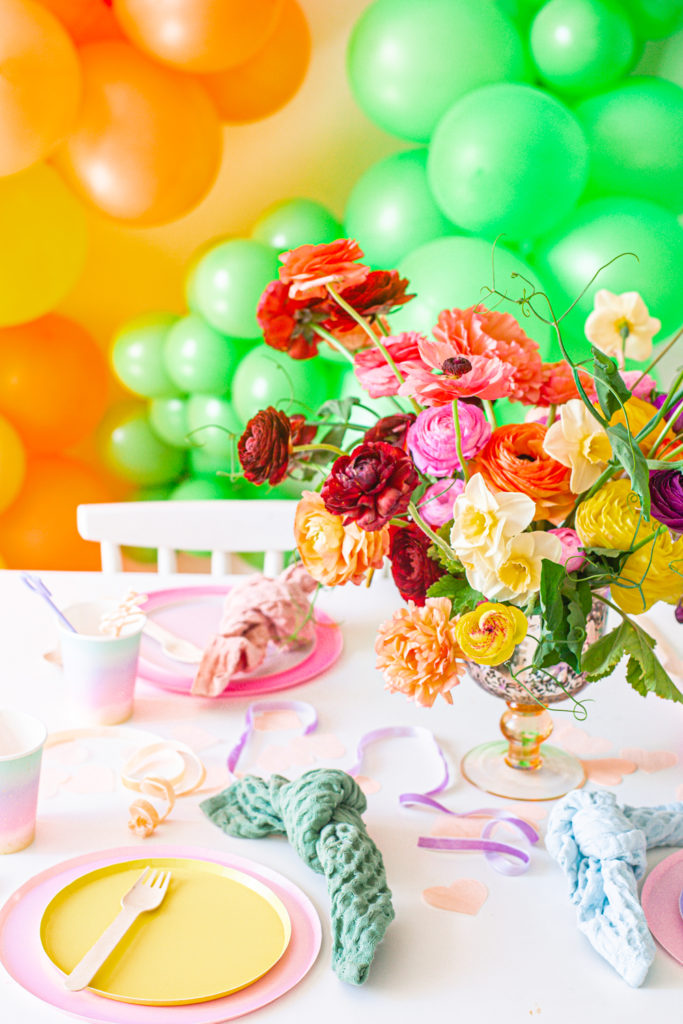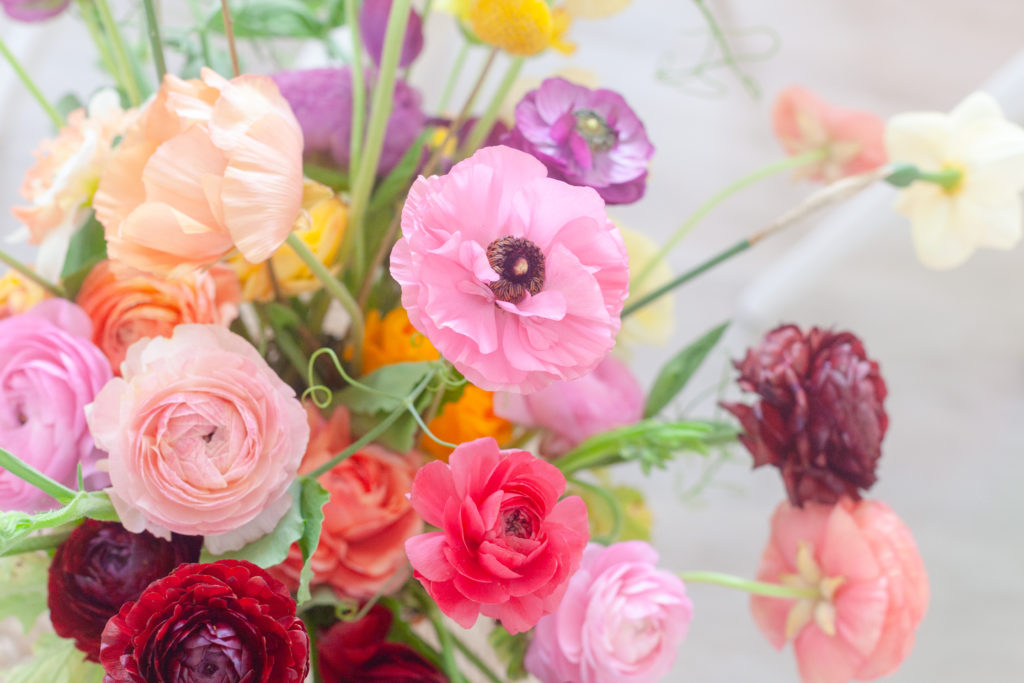 I had Fig and Vine create these pretty flowers as well! Flowers just set the scene! She simply dropped them off the front porch, and I brought them in after she left! How pretty are those?!?!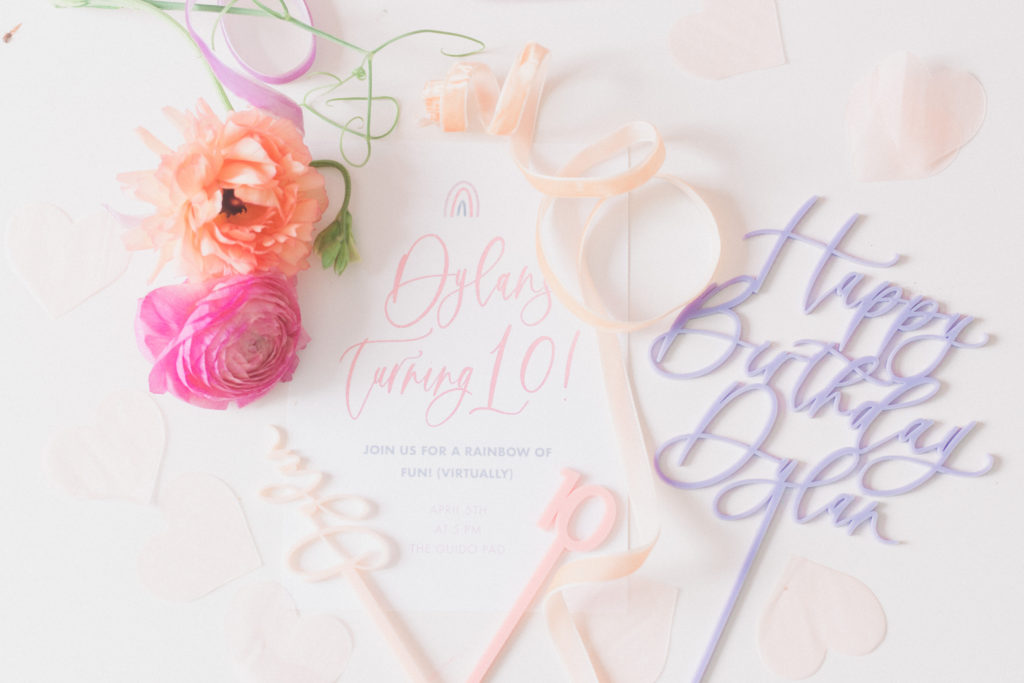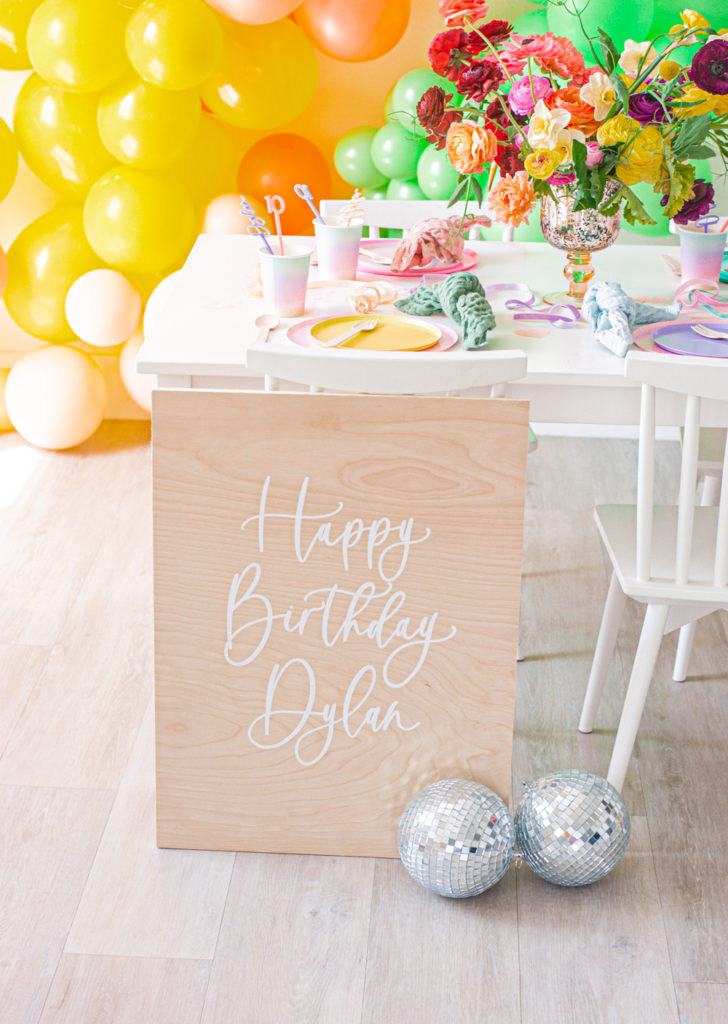 Proper Letter also created this cute social distancing invite and some signs for her party. We wanted to get the full effect of a birthday party, so we sent out invites to close family and friends to help sing Happy Birthday!

The bday girl asked for Mcdonalds for her dinner, so Mcdonalds it was! Door Dash for the win!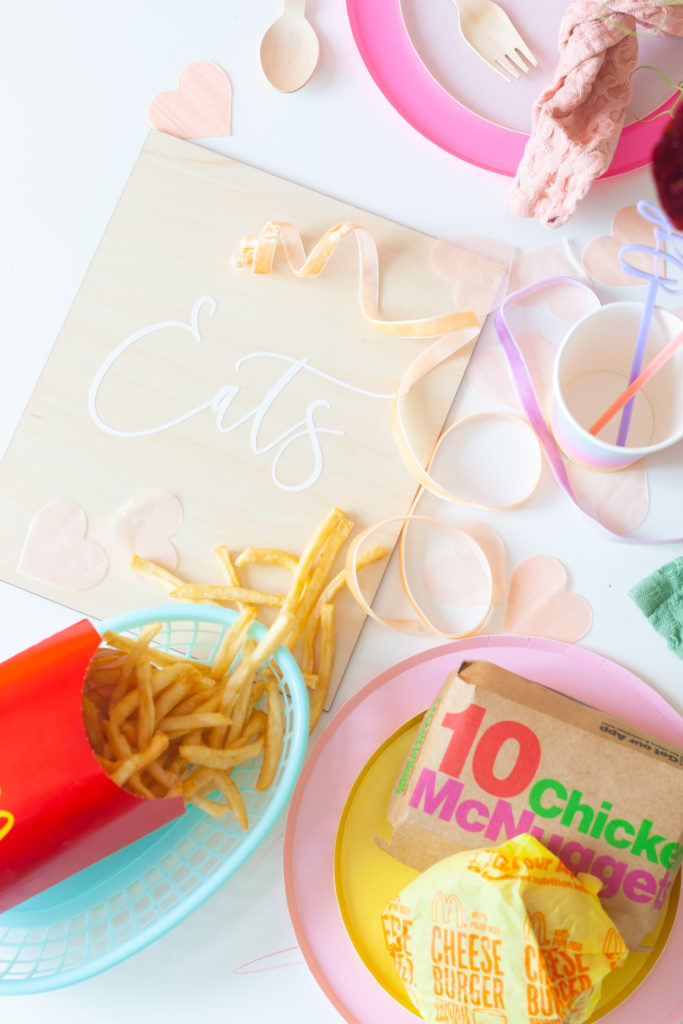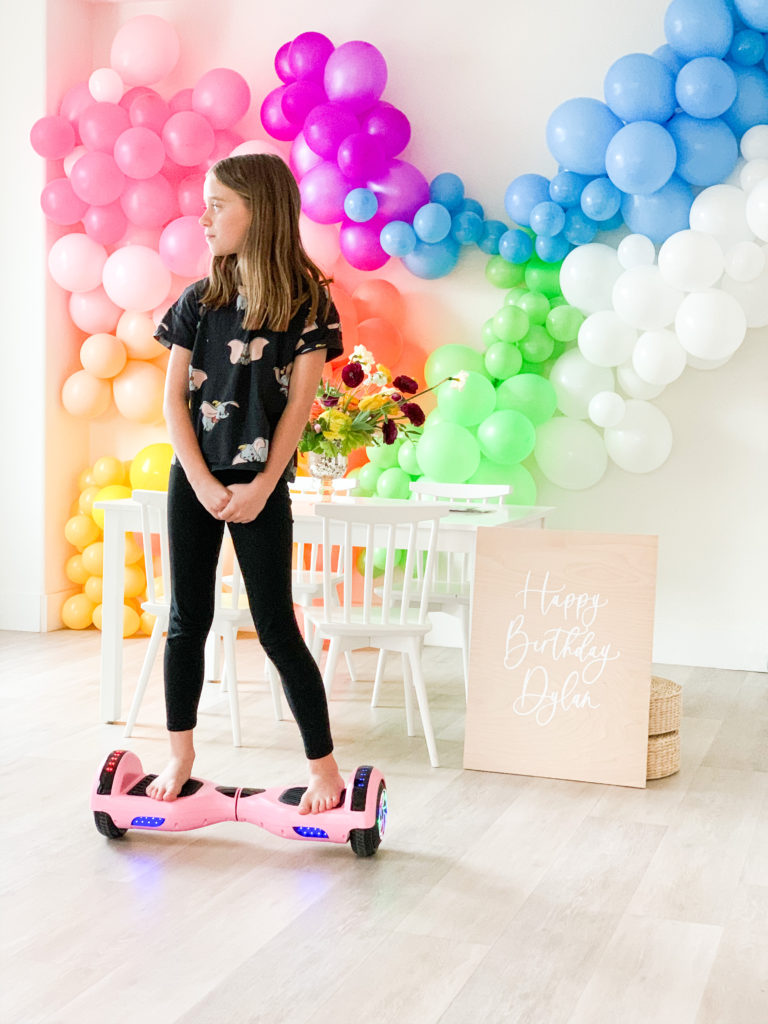 All in all, it was a great birthday celebration! Don't let social distancing ruin the birthday fun! We even did a zoom meeting with her family and friends to sing happy birthday.
I hope this gives you a little inspiration! Stay tuned for more social distancing birthday fun next week but this time a boy version! Shop all the goodies below too!

Shop Dylan's Birthday Goodies



xx
Abby