There's been quite a few Beijos kid's birthdays during quarantine! It started with Leah's Edie the week it began, then Abby's Dylan which you can see here, and then my little Court who turned 6! It is of course difficult to talk to your kids about what's going on right now and it's even more difficult to break it to them that their birthday will look a little different this year. However, we made the most of his special day and it turned out really fun!
I'm going to share how we made this quarantine birthday the best we could and how you can at home too! This is the boy version of Abby's post from last week, with no DIY's – because this mama ain't got time for that! Haha!
Photos by Alison Bernier – Socially Distanced of course!!
You can also shop this party at the bottom of the post – I made it nice and easy for ya!!!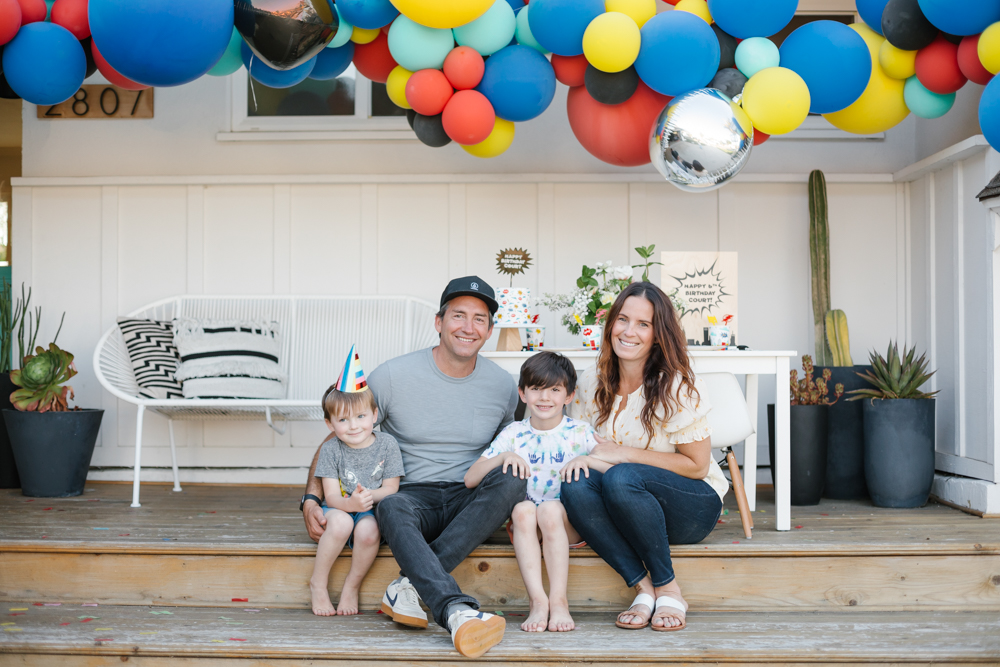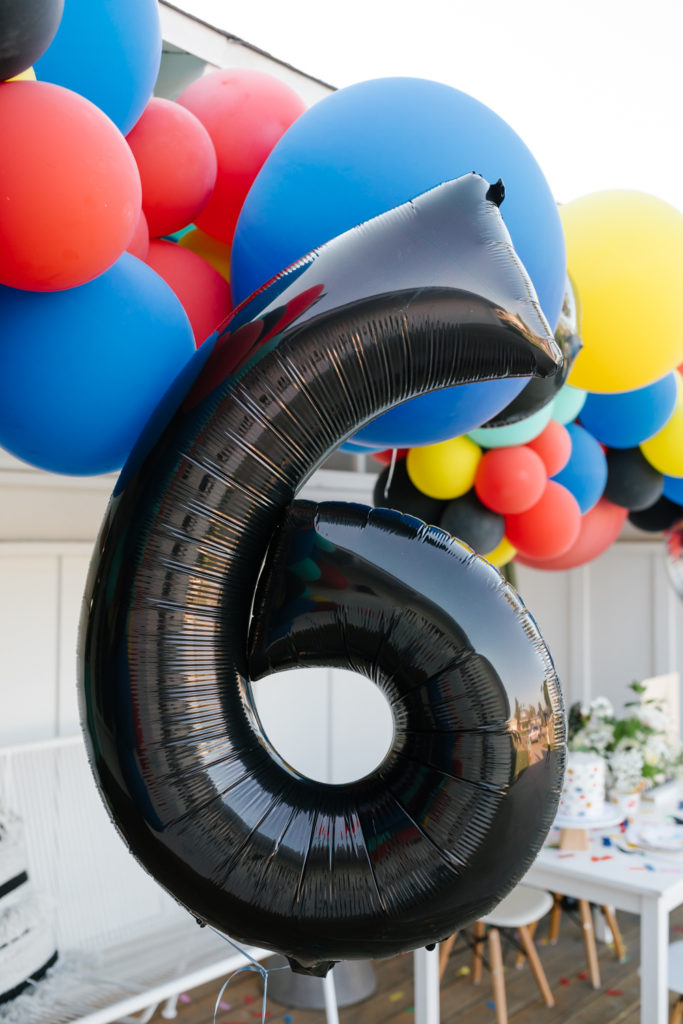 Breaking it to Court that he wouldn't be able to have a big party was pretty tough, especially since we had already started planning it when this all went down. We had the theme, we had vendors booked, I was just about to send out an invite then BAM! The world got really weird… But we decided when the time comes and we can throw a party we will, and it will be extra special because both of my boys will share a party!
Even though we couldn't have a big party with all his friends, we still had people do the drive by's I'm sure you've been seeing all over social media. It's such a fun way to make these kiddos feel special and to celebrate, despite the circumstances.
I decided to deck out the front of our house so friends and even strangers driving or walking by would feel as festive as us! I also set up a little table for Court, Cruz, Mommy & Daddy to sit at and celebrate, because why not?! Lucky for me I have tons of "friendors" who helped make this possible…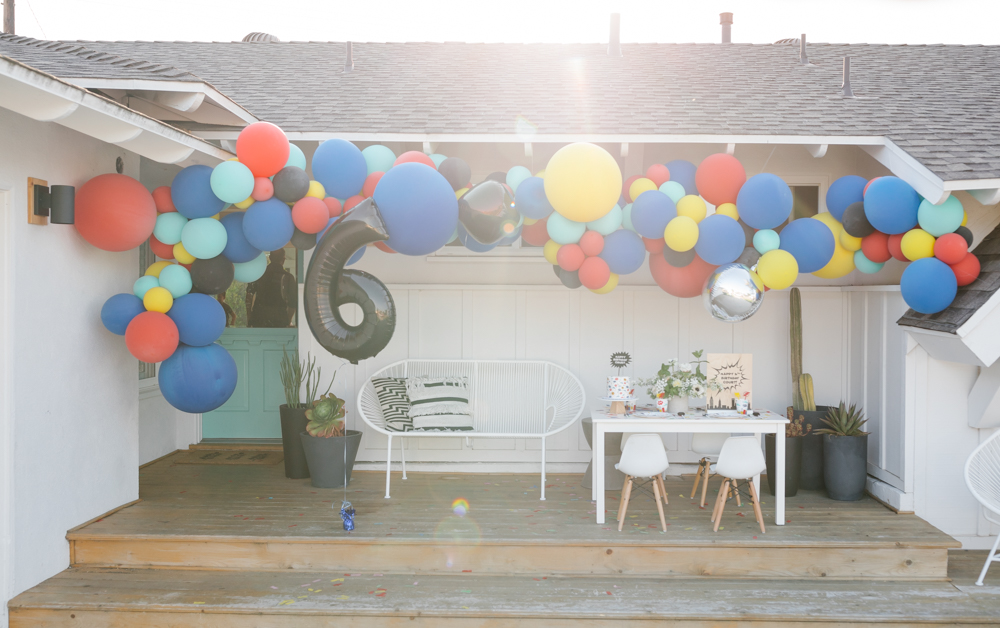 Let's start with the balloons! Ellen at The Pop Shop is doing no contact delivery and/or set ups on front porches during this time. That's right, you don't even have to see or touch her to have something as fun as this at your house! I just sent her a color scheme and a photo of my porch and she was good to go!
These balloon displays can be a great DIY as Abby said, but I just don't have the time right now with teaching Court, keeping Cruz busy and my husband still working! Anyone else as tired as me?! Haha!
I also had my friend Alex at Third and Park drop off a floral arrangement at my front door. Again, no contact, just a simple drop off on the porch and voila, flowers taken care of!! Alex is also doing no contact deliveries for Mother's Day so if you're in the OC area be sure to contact her (or have your husband contact her, haha!)
Chances are, if you don't live in the Orange County area, there are vendors near you who are doing something similar. And how great is it to support a small business during this time?! Please do so! The event industry is hurting and could use all the support it can get!!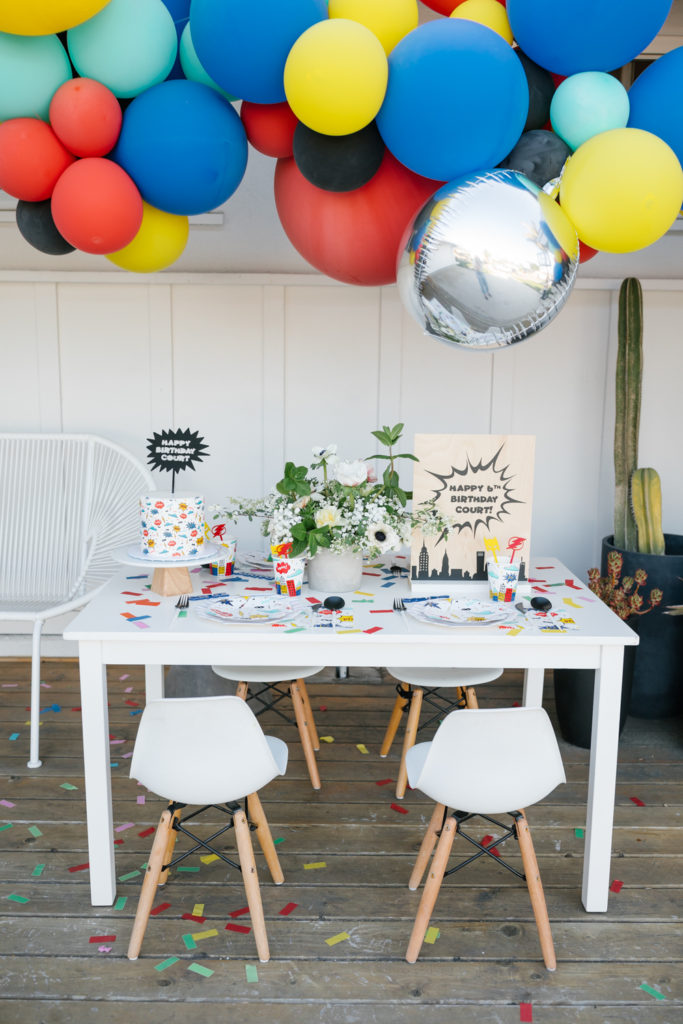 Court has been really into a show called Henry Danger over the break. When he has screen time, it usually involves that! It's a show about super heroes so I thought it was fitting to use this adorable collection from my favorite – Daydream Society. The colors are really fun and inspired the balloons, and I love how it's a modern take on a classic theme.
And yes, if you recall Court's 3rd birthday was a super hero theme, I guess when you're a boy it never gets old, haha!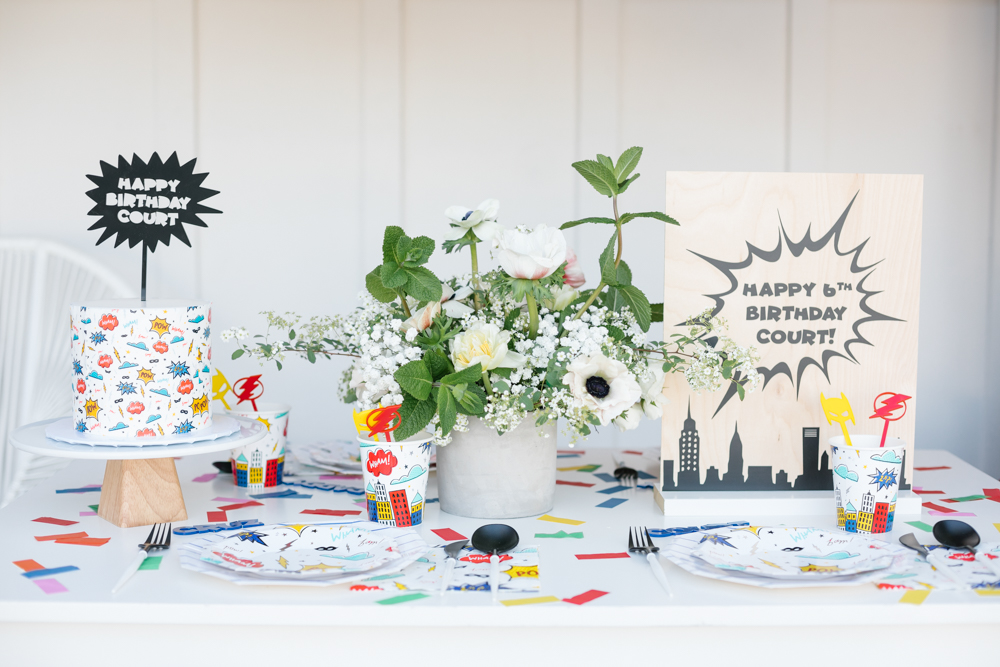 Next up, my friend Courtney from Poppy Jack Shop also did a drop off with the cutest details possible! I always say, details make the party, and yes – they also make a quarantine party! She did the most adorable super hero themed cake topper, place cards, drink stirrers and sign! You can shop it all at the bottom of this post!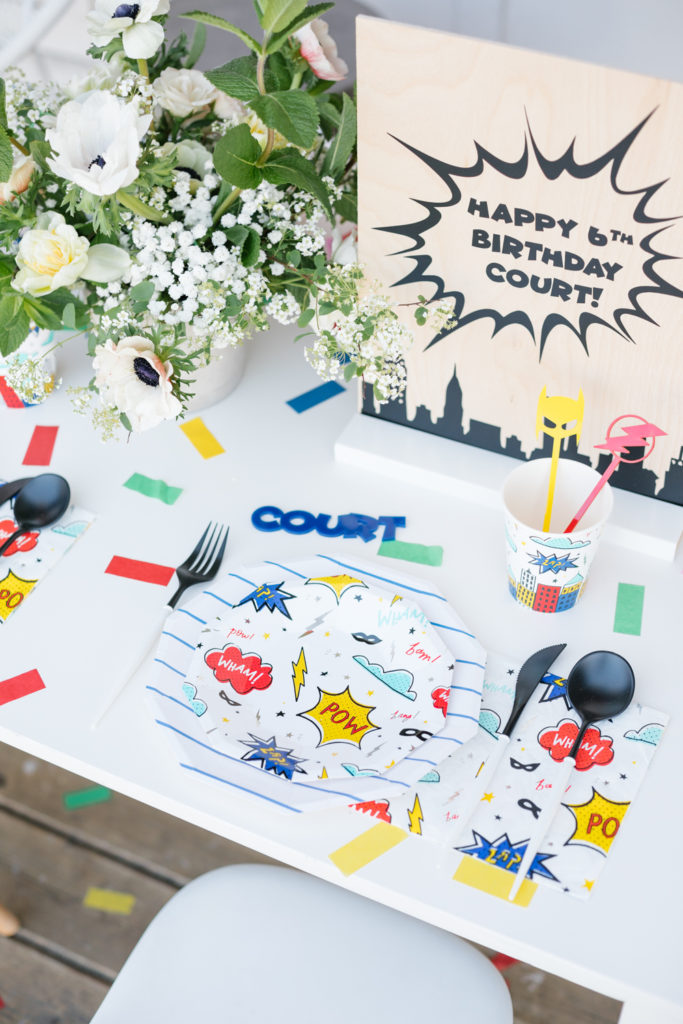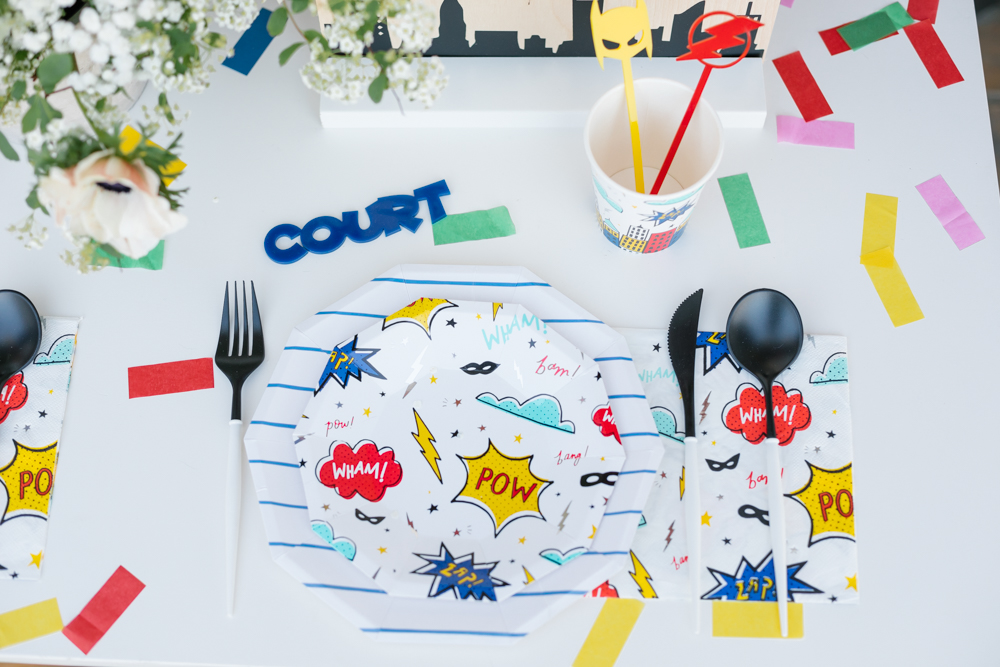 A sprinkle of confetti can go a long way, don't you think?! Love the color it adds to the table!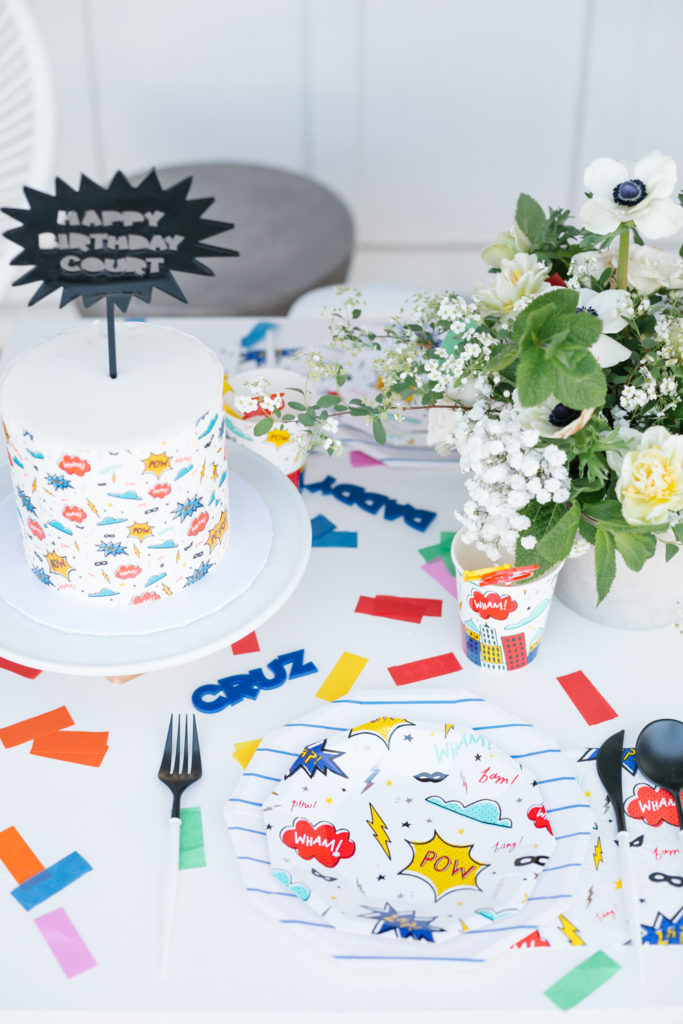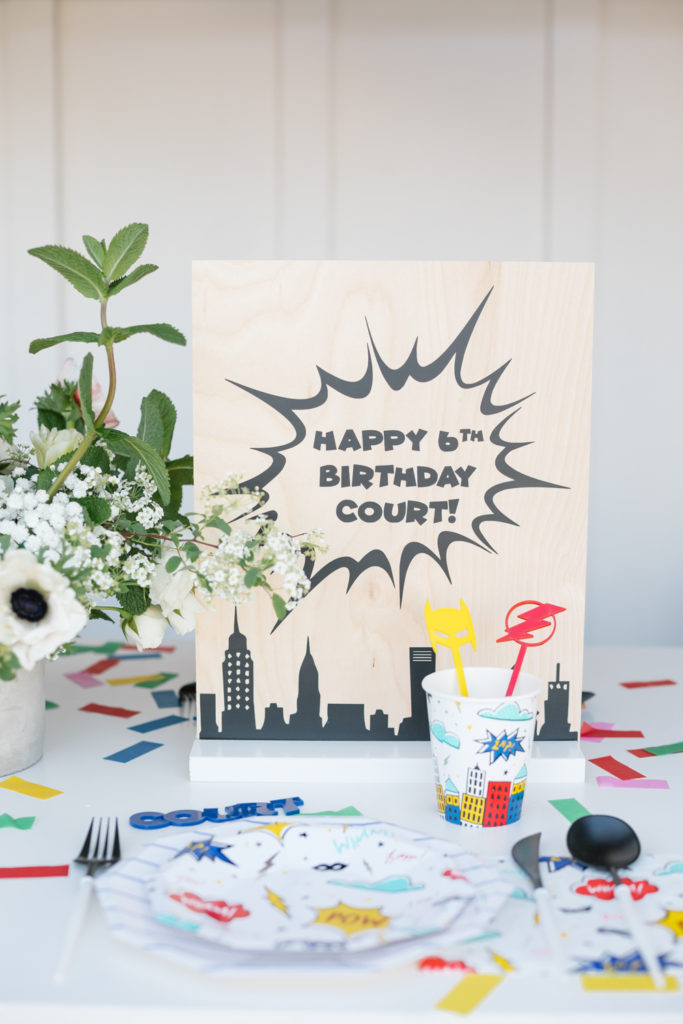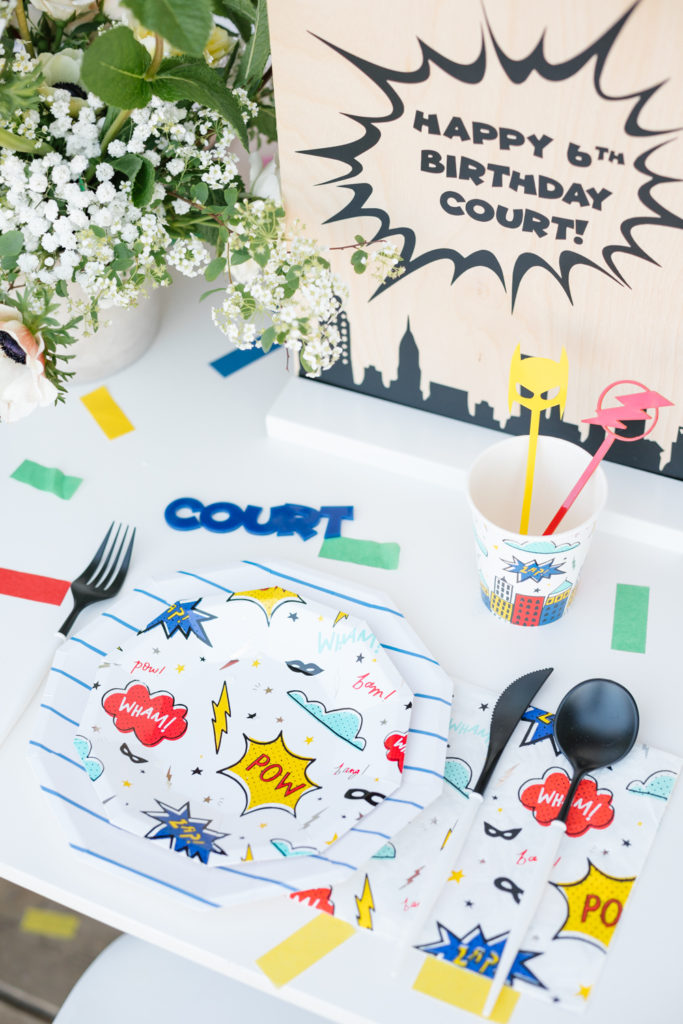 I couldn't have been happier with this set up, and neither could the birthday boy!!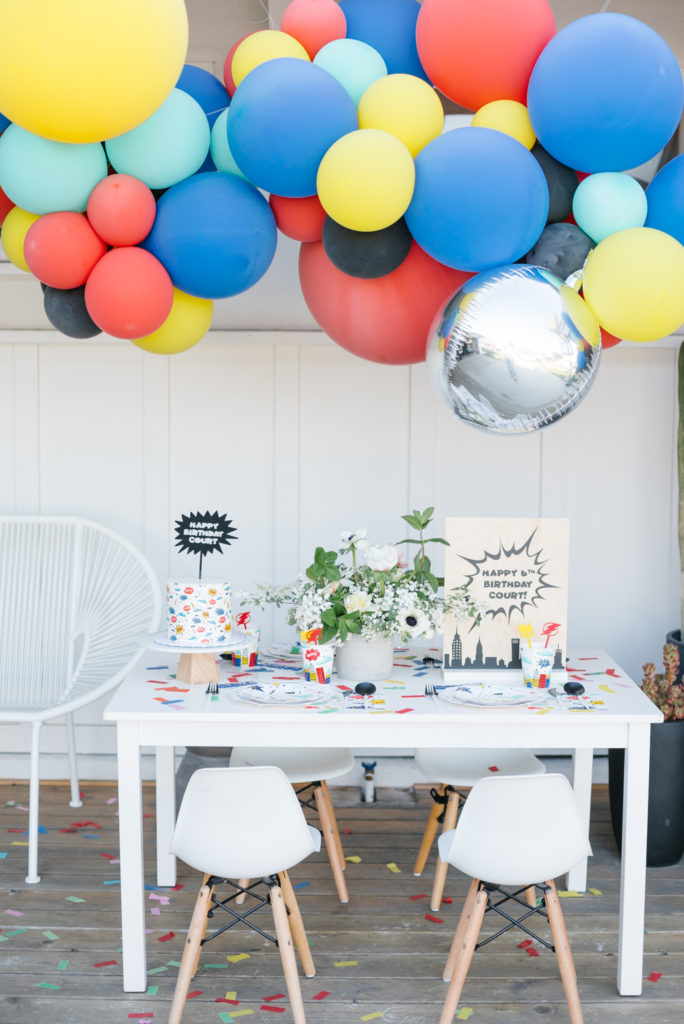 Of course we had to have a birthday cake, no birthday can go without that!! My friends at Sweet & Saucy Shop came through! This was the one trip I had to make to complete the party, but well worth it!! They mimicked the fun print on the Daydream Society plates and it couldn't be cuter!!!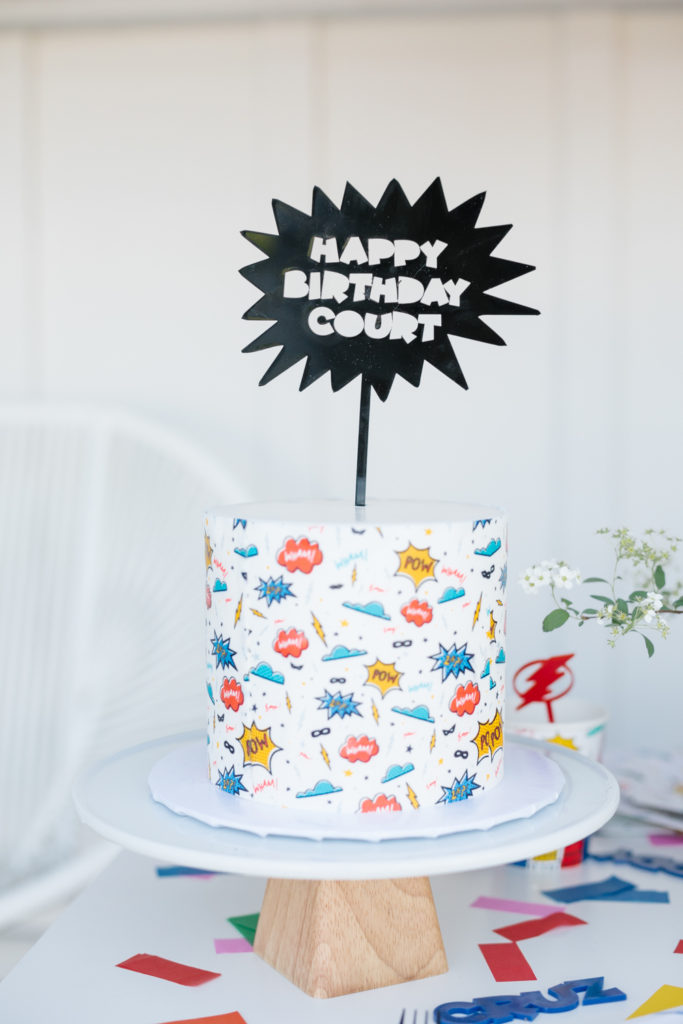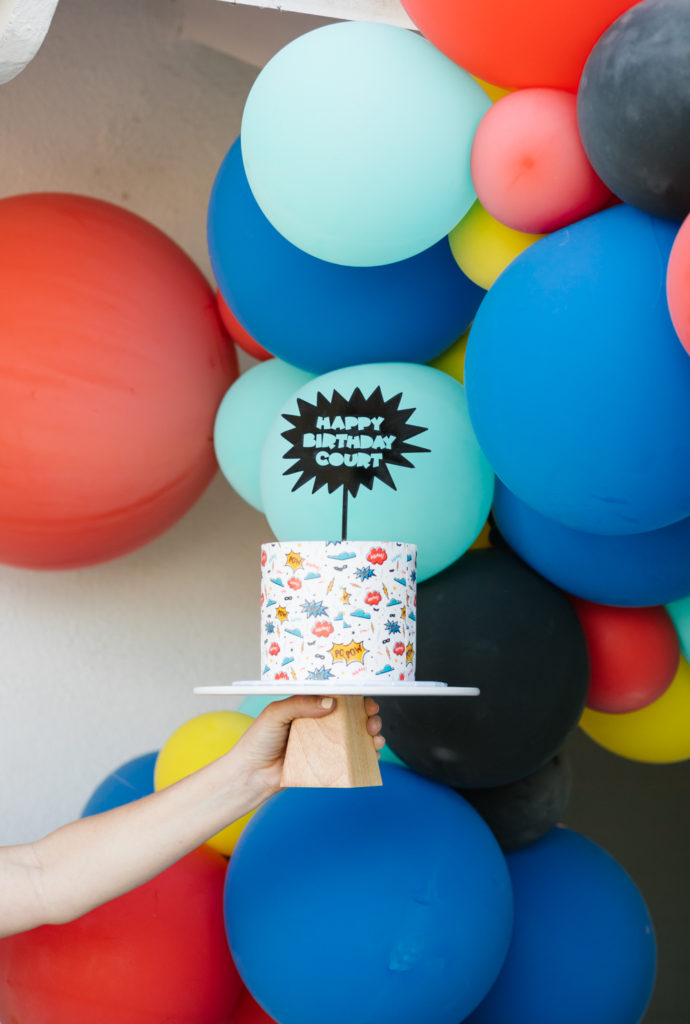 There's the birthday boy!! Dabbing his heart out!!! His birthday fell on a Tuesday and we skipped school (doing more Monday and Wednesday to make up for it) and just had fun!!! That fun included opening presents, playing with the presents, going on lots of hoverboard rides (a present), skateboarding a ton (another present), decorating cookies and having an epic water balloon fight with mommy and little brother!
I also love how long his hair is right now… I've never really let it get this long and I think I may keep it!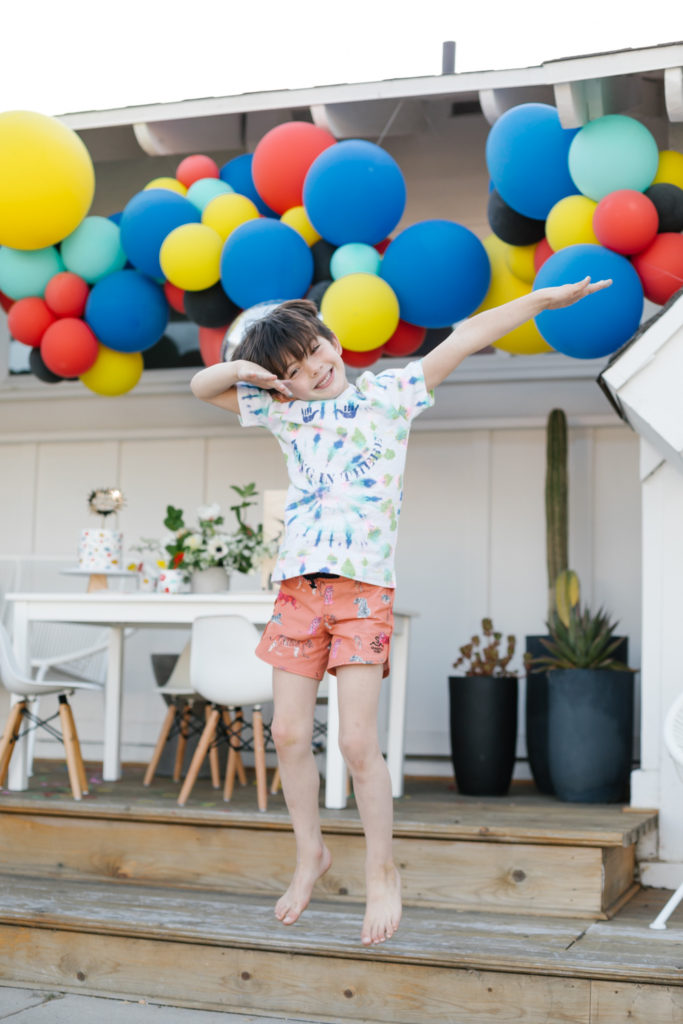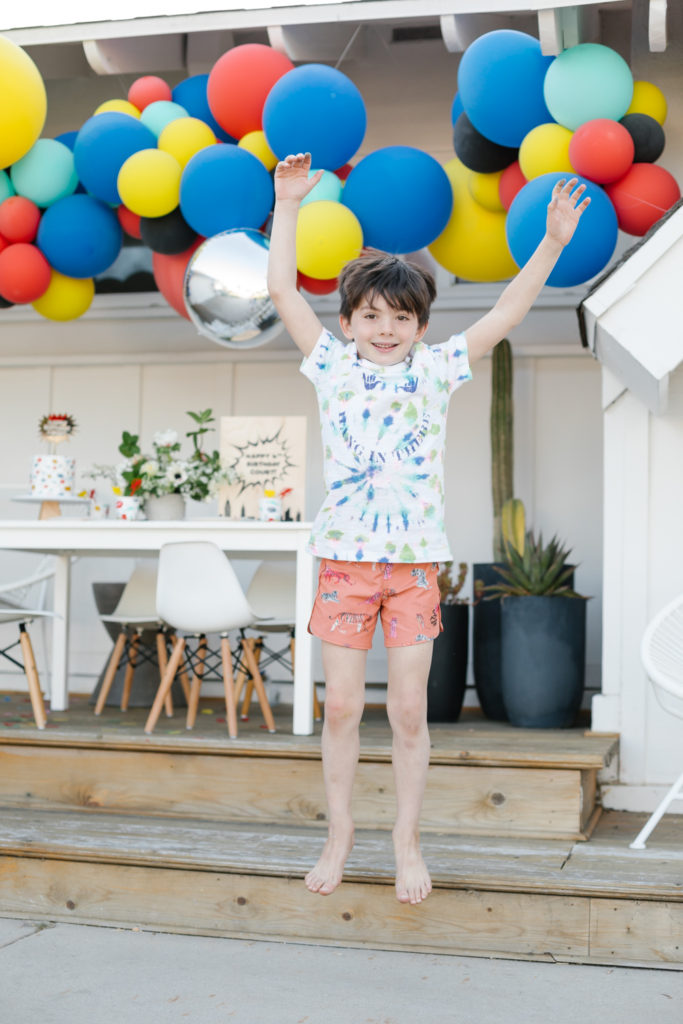 There he is in all his glory!! Haha! Trust me, we only did a few pics on the hoverboard without a helmet… Whenever he rides it otherwise he has to wear one, I promise!!! I got some major mommy points for that present, my husband was against getting it and I talked him into it… Go Mom, haha!
Court's shorts are from our favorite Seaesta Surf! We live in them all year round!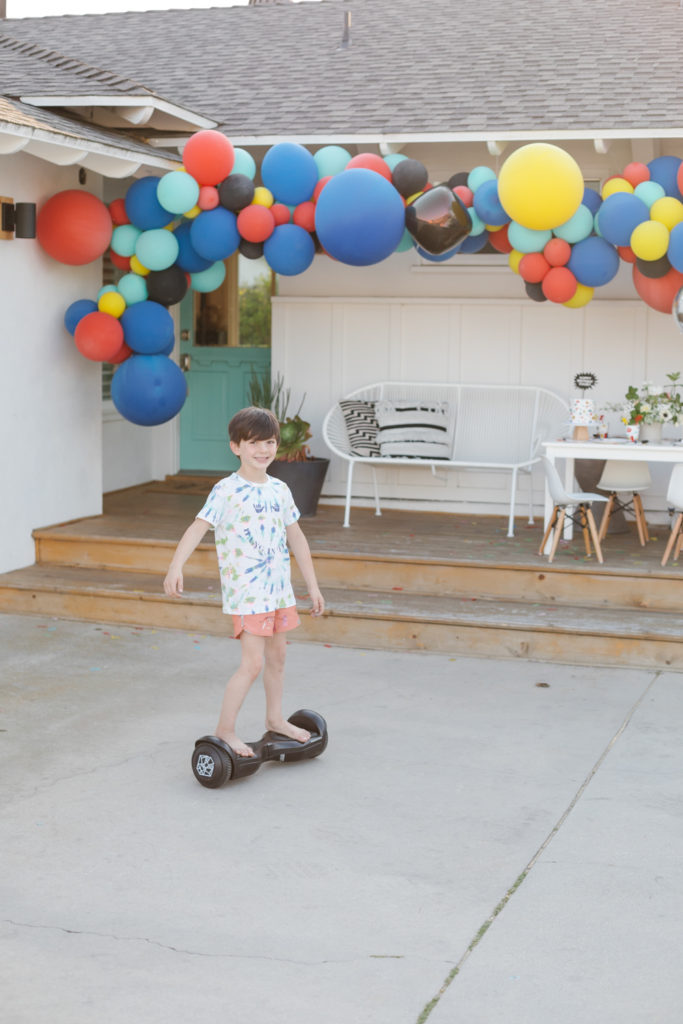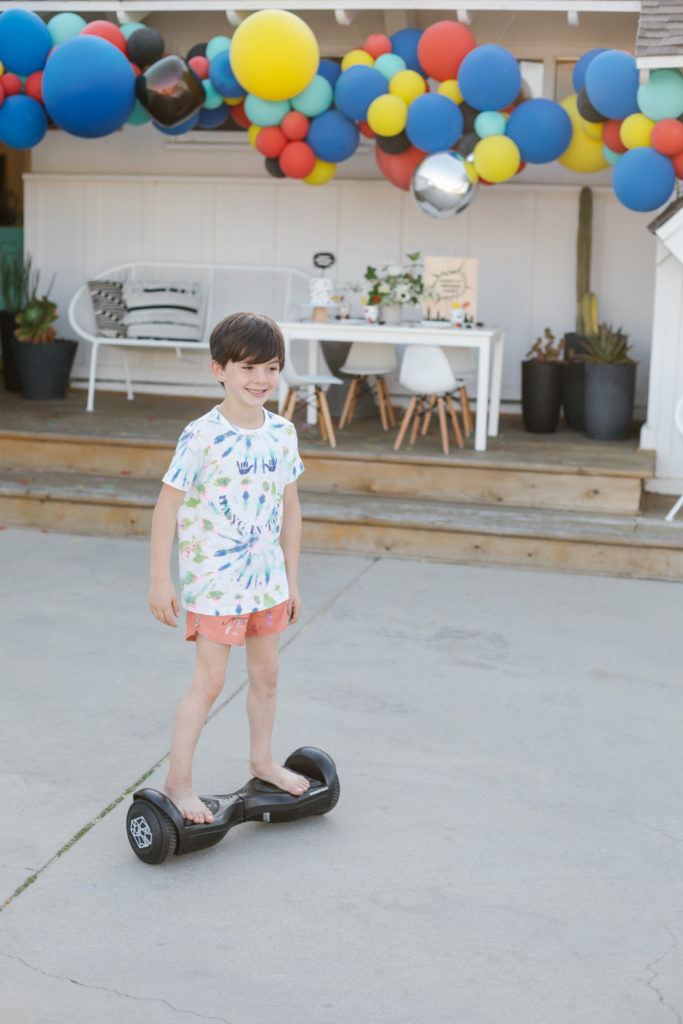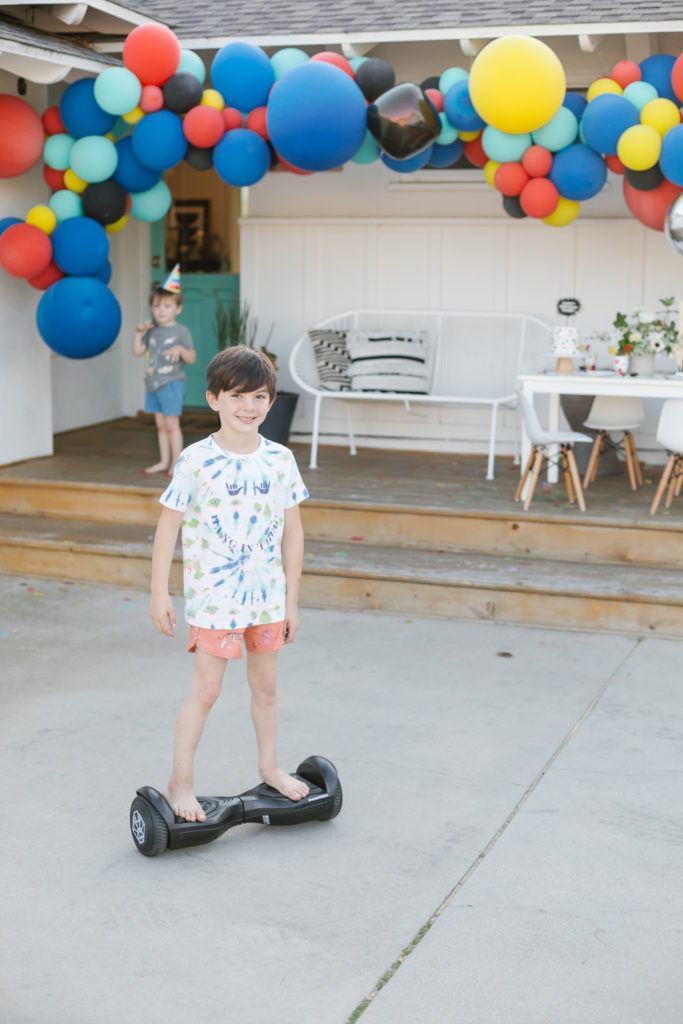 Alison was so nice to come by and take these photos – she used a long lens and photographed us all from a distance. I was so happy to have her capture Court on this day. I wanted to document my boy at 6, and I got to!
I will treasure these photos always and be reminded of this strange time. A time with a lot of uncertainty, but also a time my family and I were grateful for our health and each other.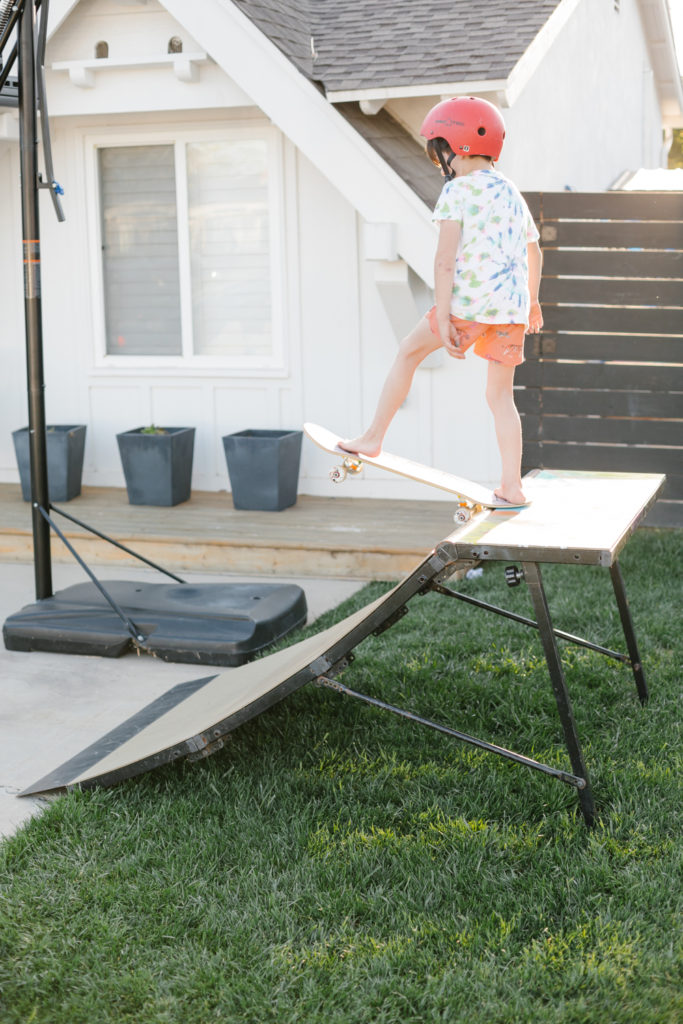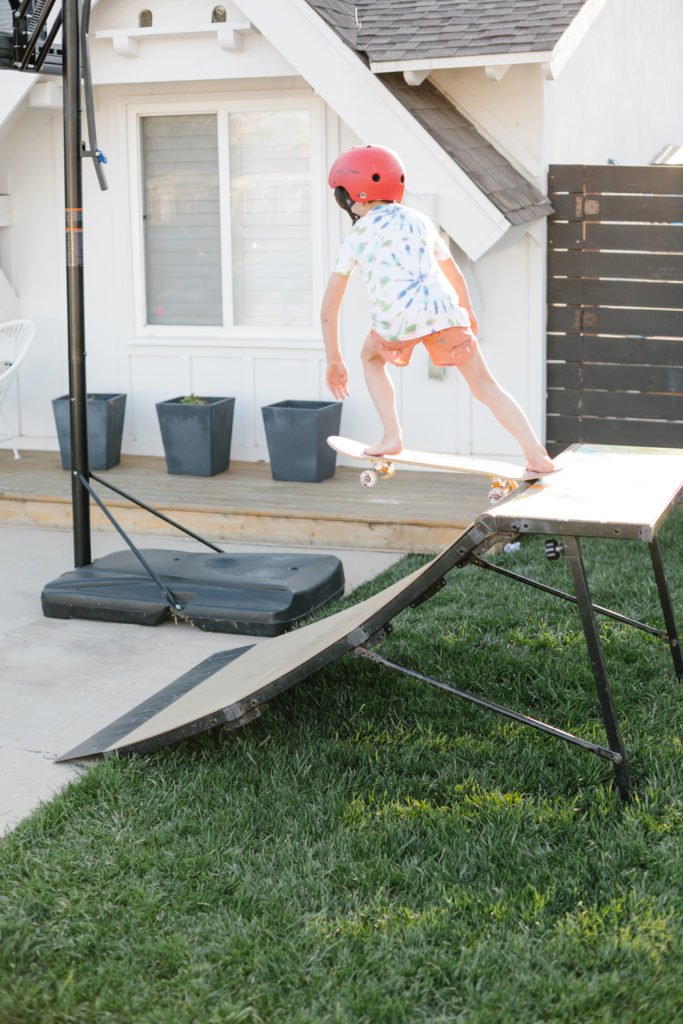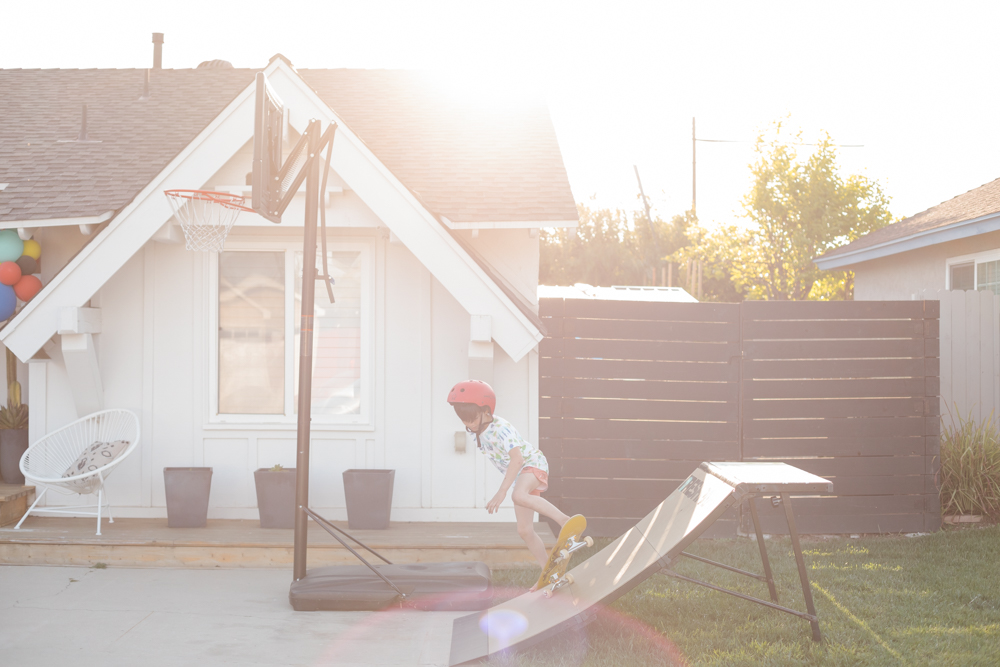 Little brother Cruzy had to get in on the action too!!! Look at the way he admires his big brother, heart bursting!!!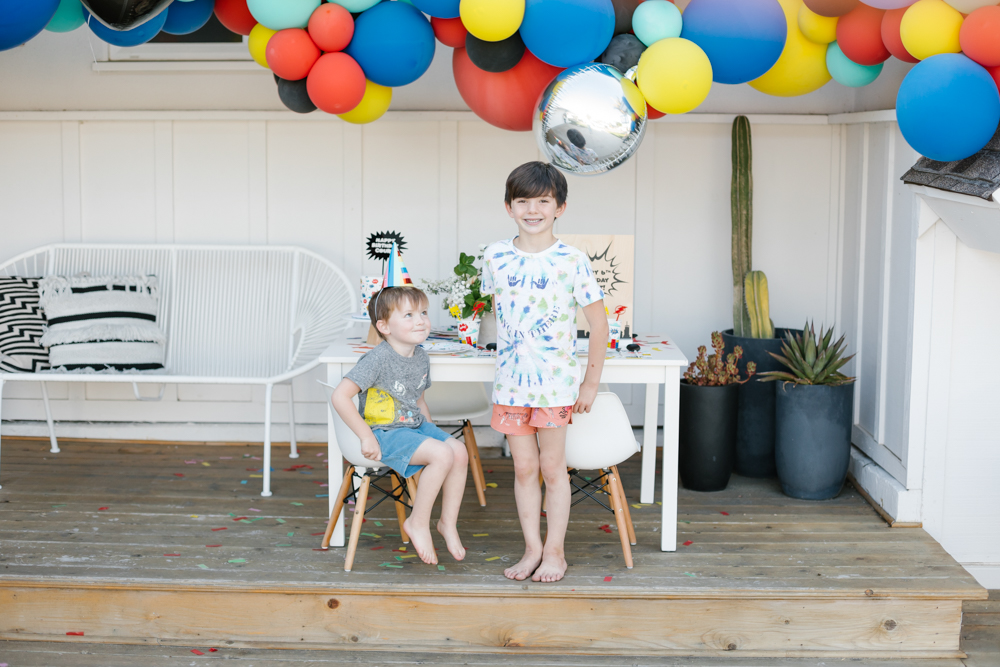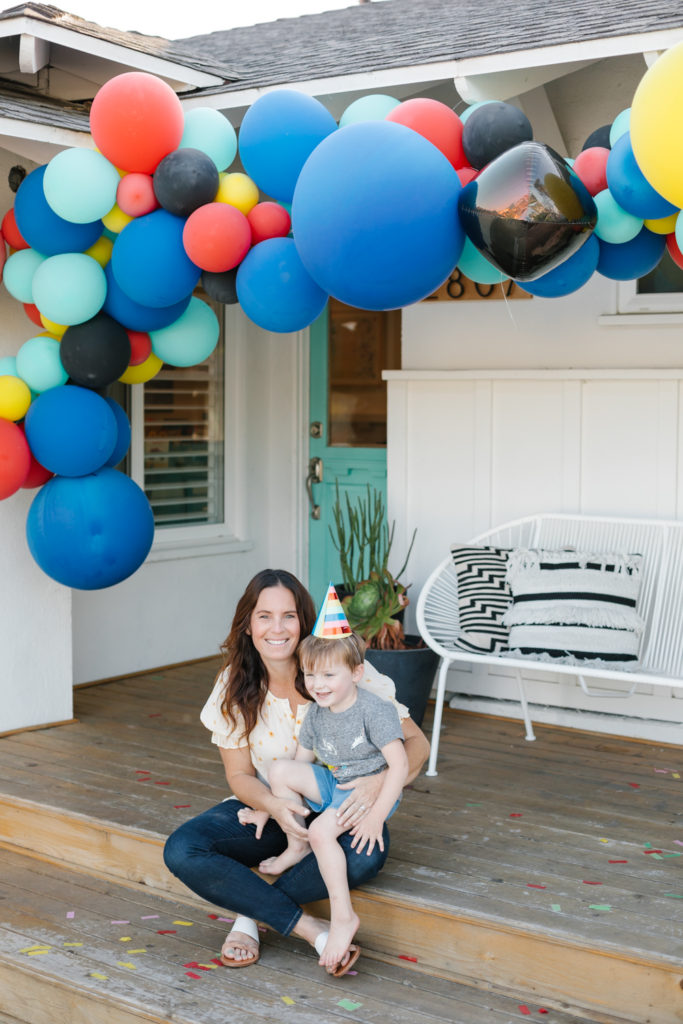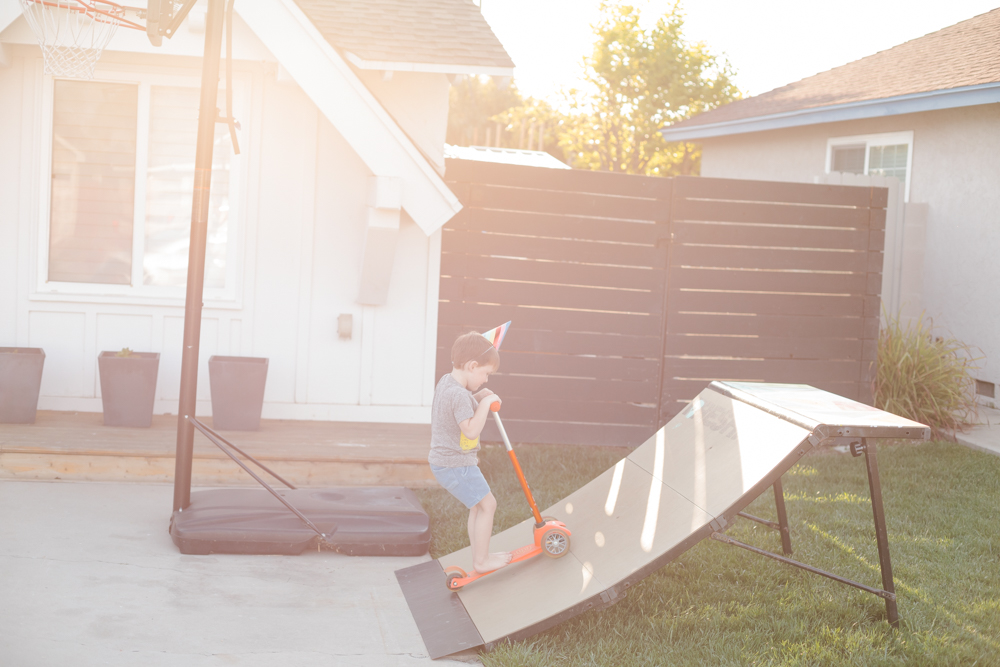 We have been seeing my parents since the week we went into lockdown, so they came over for dinner and to give the birthday boy some hugs. I'm so happy we still get to see them during this time! And that my mom helps me so much with dinners and school! Thanks mom!!!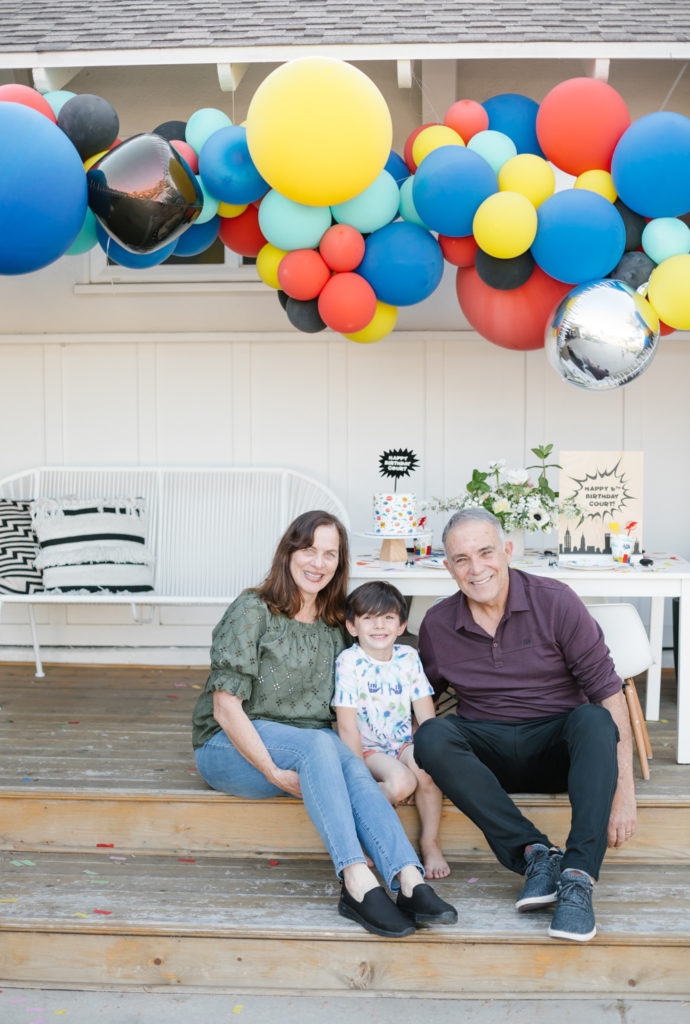 Yes, it was definitely a different birthday, but it's also one I'll never forget. Even though the world is in a strange state, we still have so much to live for and celebrate, and our kids need to see that! I'm so happy and grateful I was able to make this day special for my sweet boy, despite the circumstances.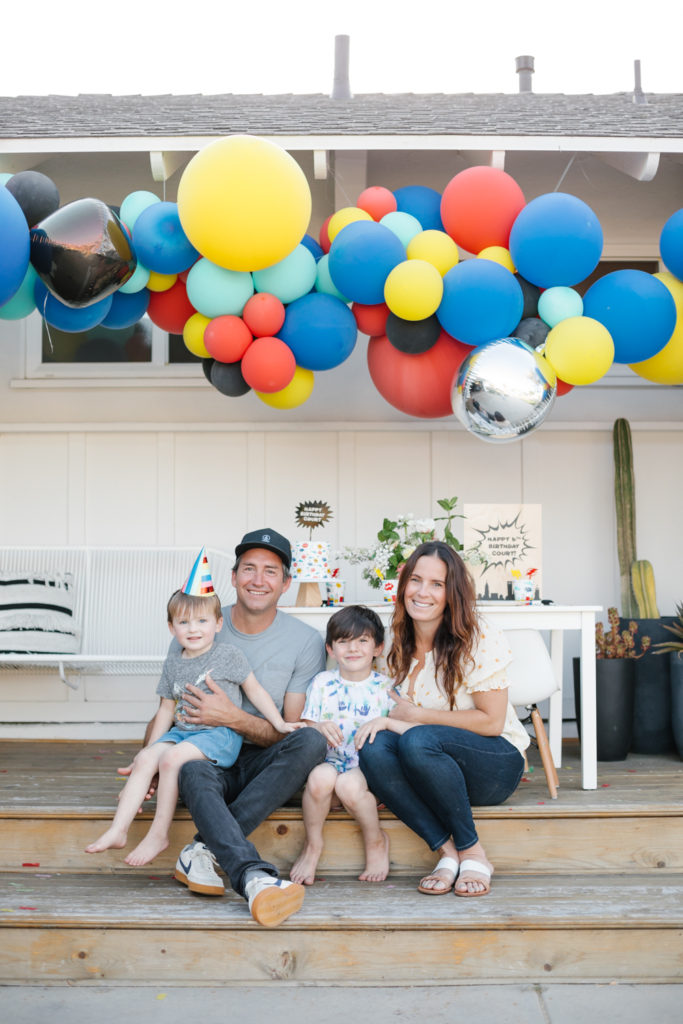 Happy birthday Court!! I can't believe you are 6!!! You will always be my number one super hero!!!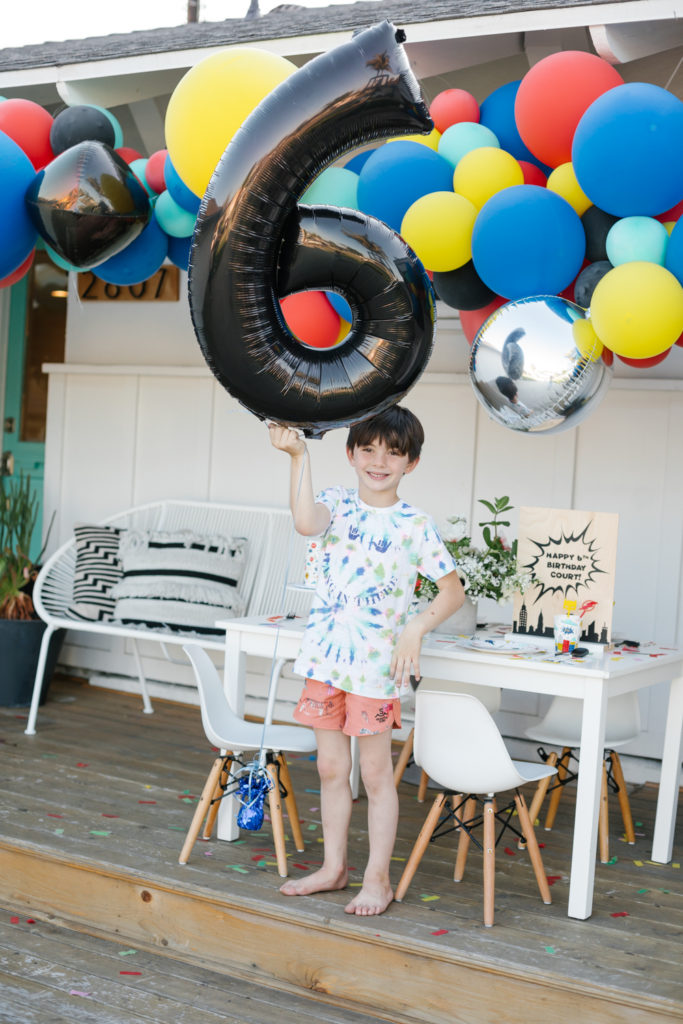 I have all the goodies from Court's party below, so you can throw your little super hero a party too! Keep your heads up mamas, and keep celebrating!!! Life is too short not to!

xx
Jacquelyn