It's national taco day, and you better believe we are serving up some yummy tacos for it! I found this recipe online, and just had to try it! When looking at recipes, I don't know if I'm the only one, but the picture always captures my eye first. I follow it up by looking at the ingredients. These tacos were beauties, and the ingredients were oh so yummy. Our family loves a good taco night, so I try to mix in new flavors and see how they like it. For this taco, I knew I would get some backlash. Where is the meat? Where is the cheese? What the hell is this purple cabbage Abby? I always test these tacos out beforehand; no one needs a 1-star rating from the family. And low and behold, a winner! There is no meat, there is no cheese, and my god, they loved it! I have made this a couple of times for them, and you know our favorite time to serve these tacos? Breakfast! Add a sunny side egg on top, and oh baby! So good! Celebrate taco day all day with these crispy avocado tacos with roasted radishes and spicy beans!
---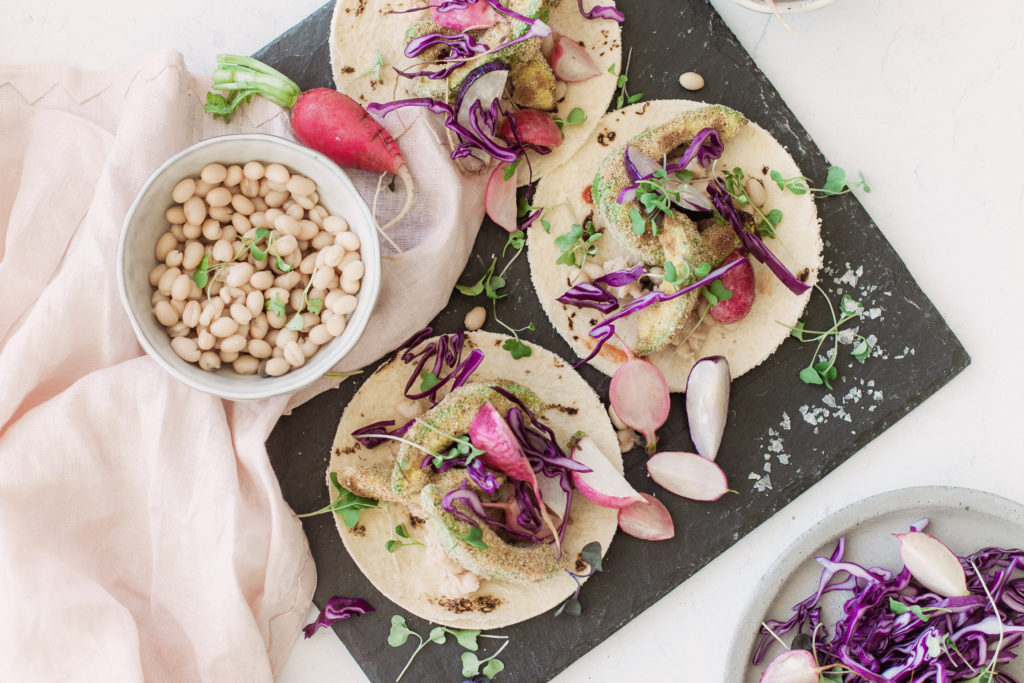 CRISPY AVACADO TACOS WITH ROASTED RADISHES AND SPICY BEANS
W H A T   Y A   N E E D!
1 cup of radishes, washed and quartered
olive oil
salt + pepper
3-4 firm avocados 
1/4 cup of bread crumbs, can be panko or seasoned
1 can cannellini beans, drained
2 tablespoons sriracha sauce
1 cup of purple shredded cabbage
10 tortillas
---
I N S T R U C T I O N S
Radishes
Preheat the oven to 400º. 
Place the sliced radishes onto a baking sheet and drizzle with olive oil and season with salt and pepper. 
Roast for 10-15 minute until the radishes are soft. Remove and set aside.
Avocado
Turn the oven heat up to 425º. 
Slice the avocados by halving them, remove the pit, and then using a spoon, gently separate the avocado from the skin (keeping it in one piece). Then slice each half, lengthwise, into three slices. Each avocado will yield 6 slices. 
Pour the bread crumbs onto a plate or flat surface, and one by one, dip the avocado into the bread crumbs so they are completely coasted on both sides. Then place them onto a baking sheet (season with salt and pepper if your bread crumbs are not seasoned). Do this until all of the avocados have been coated. 
Bake in the oven for about 10 minutes, until the crust has become light brown. 
Beans
Place the drained beans into a bowl with the sriracha, and mash it all together with a fork. Do this until they are all roughly mashed. Season with a little salt and pepper.
Tacos
Place a spoonful of the sriracha beans onto the center of the tortilla. Then top with 2-3 slices of avocado, and a couple of rashes. Fishish with a pinch or two of the cabbage and any other additional toppings that you like. 
---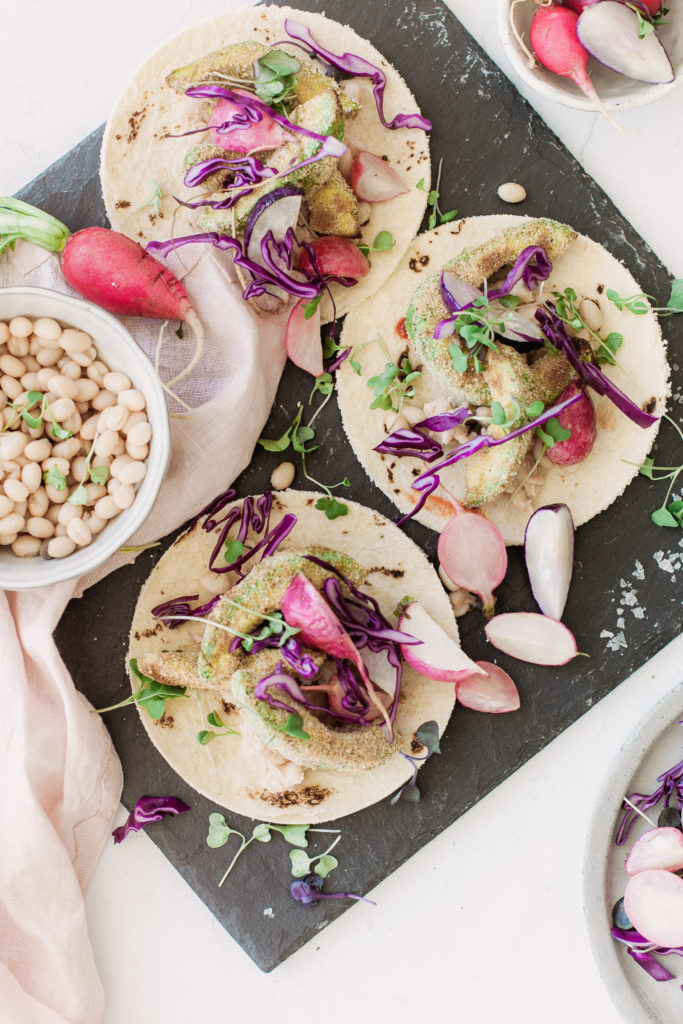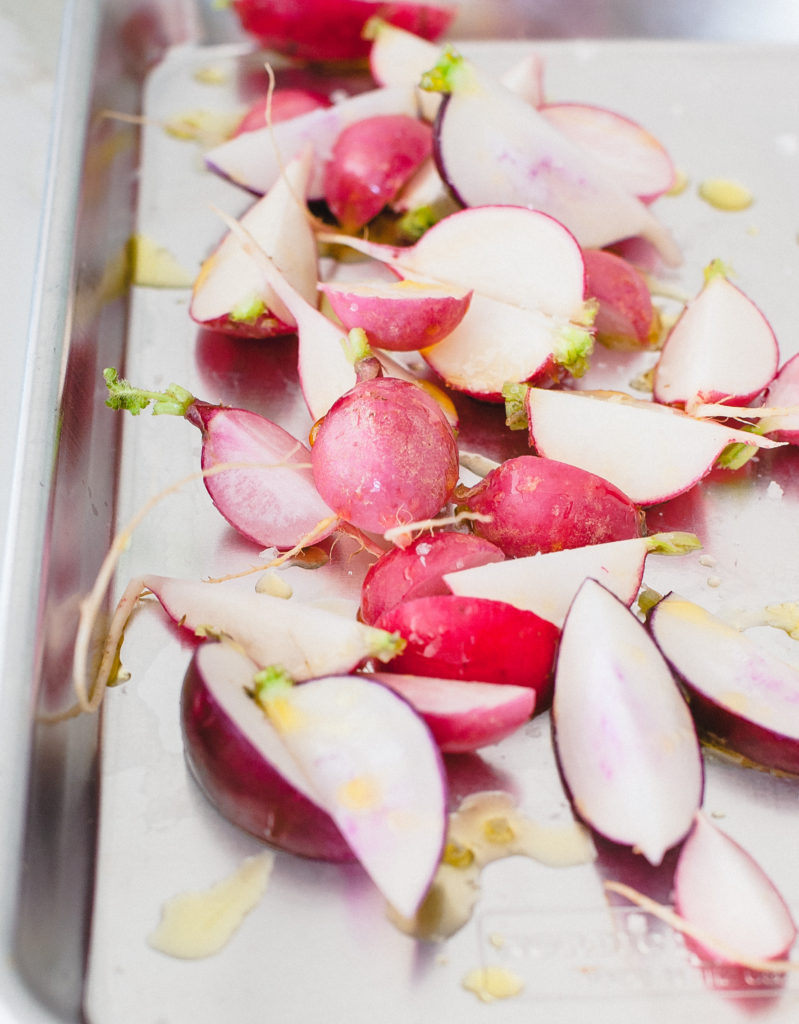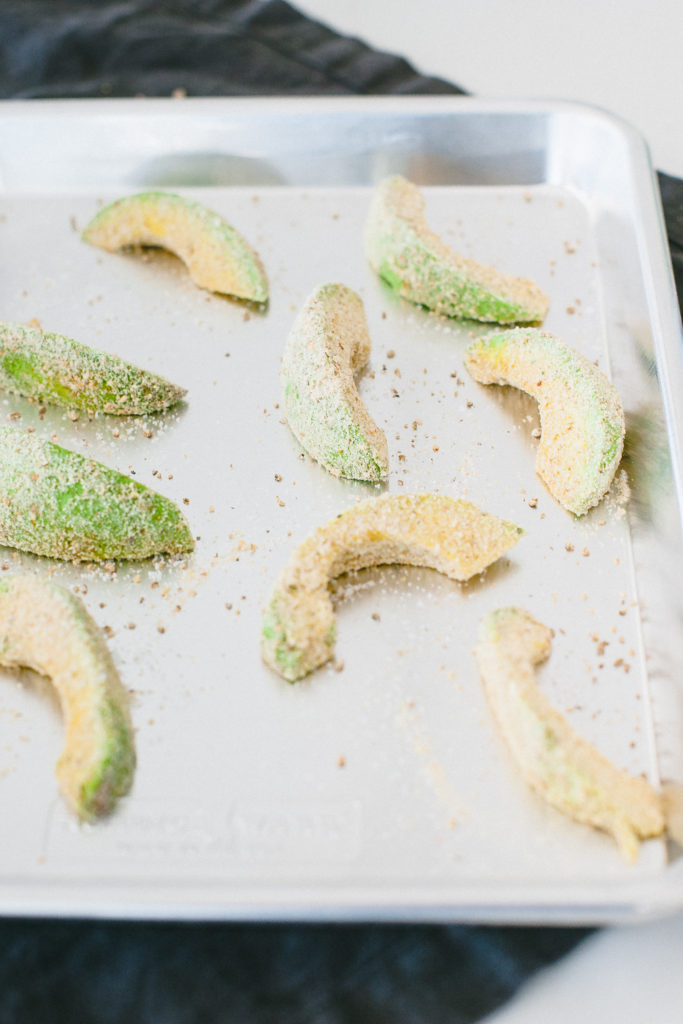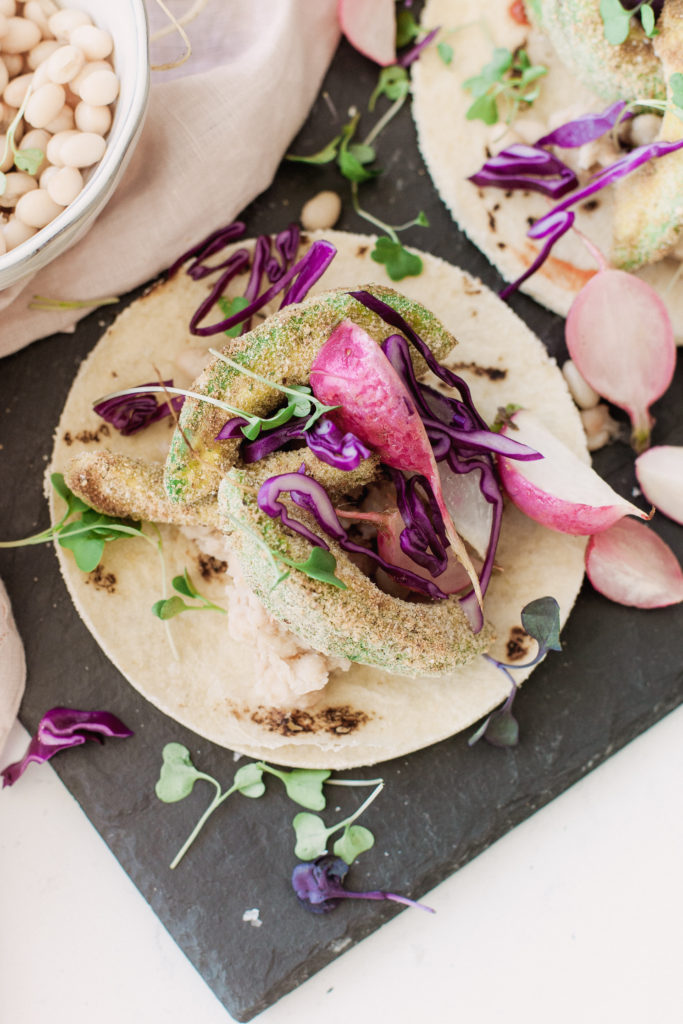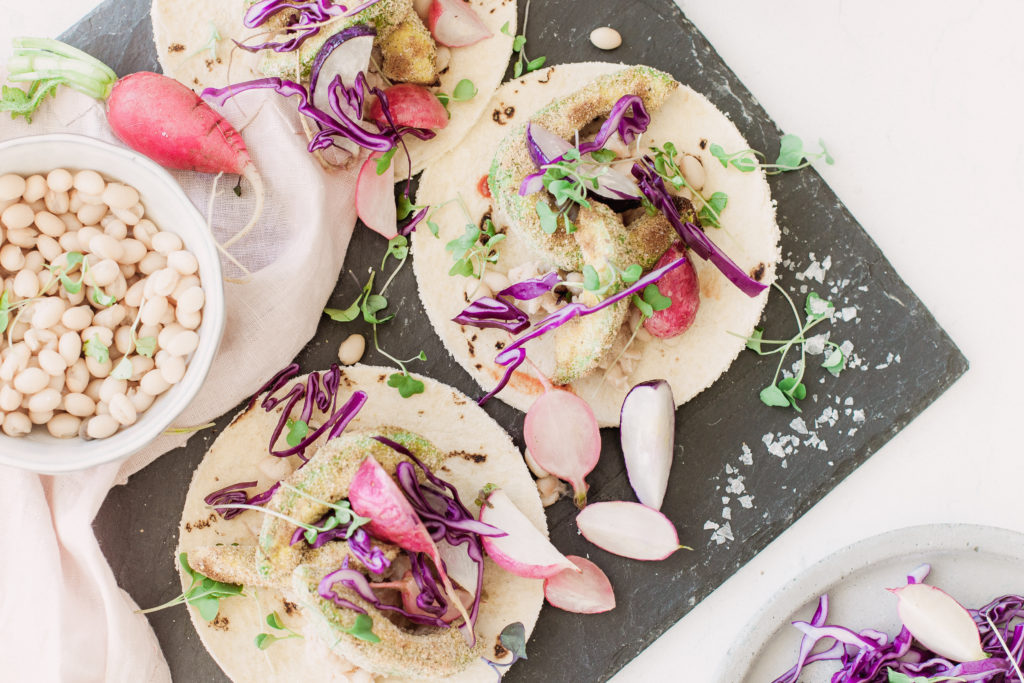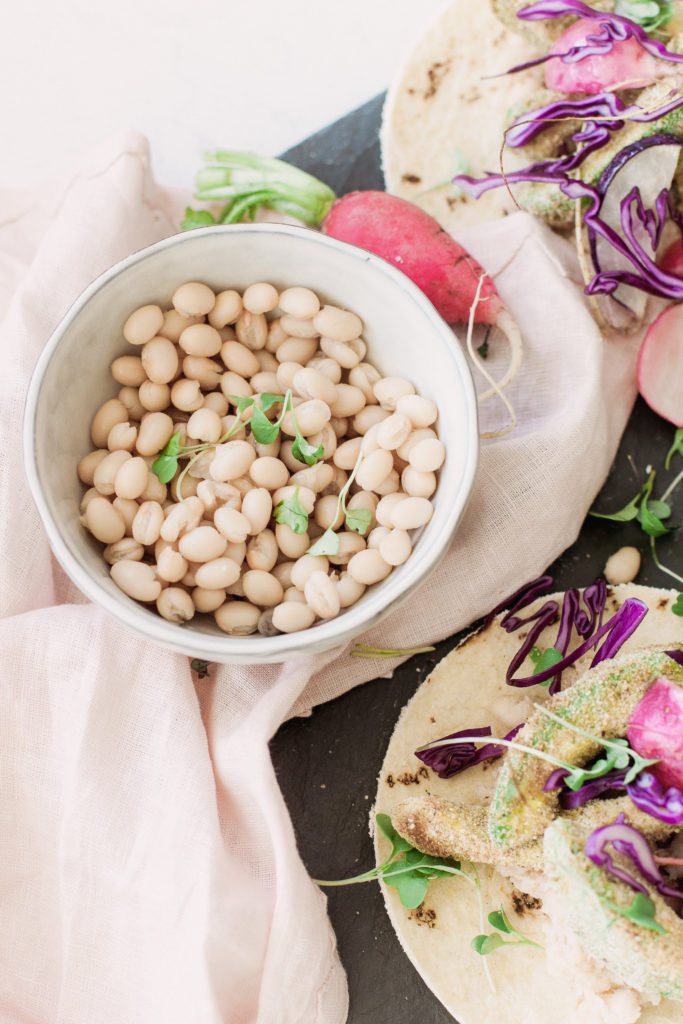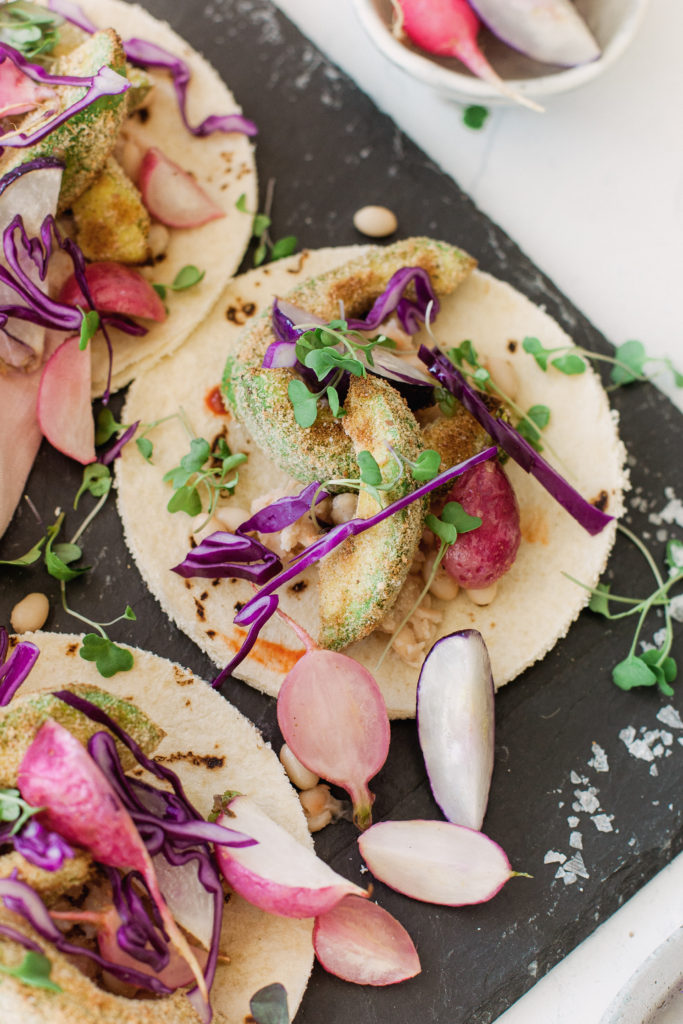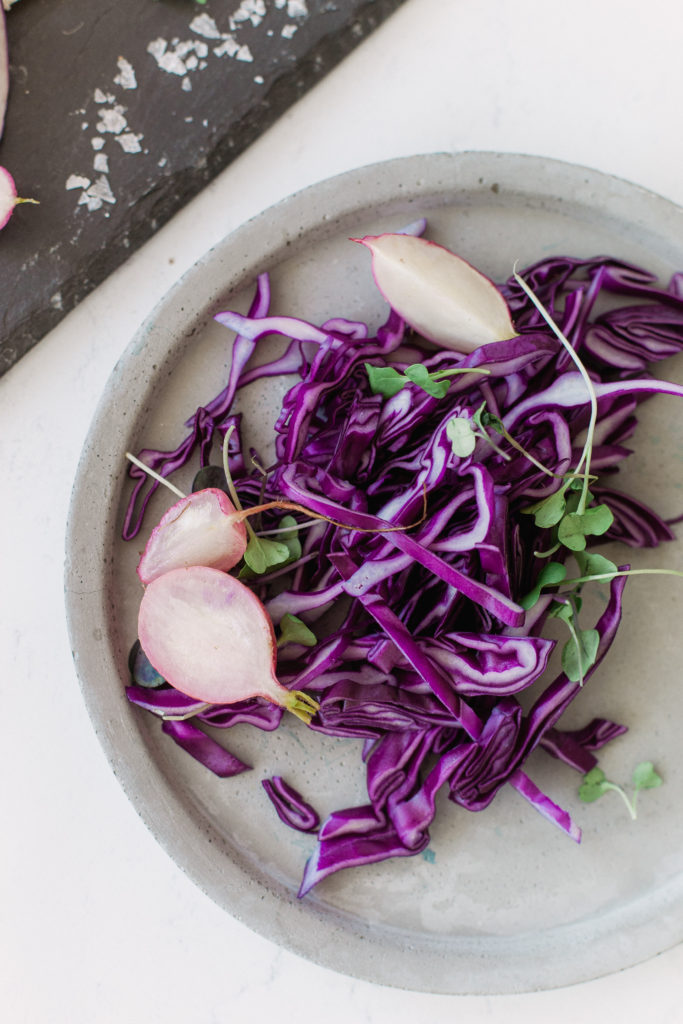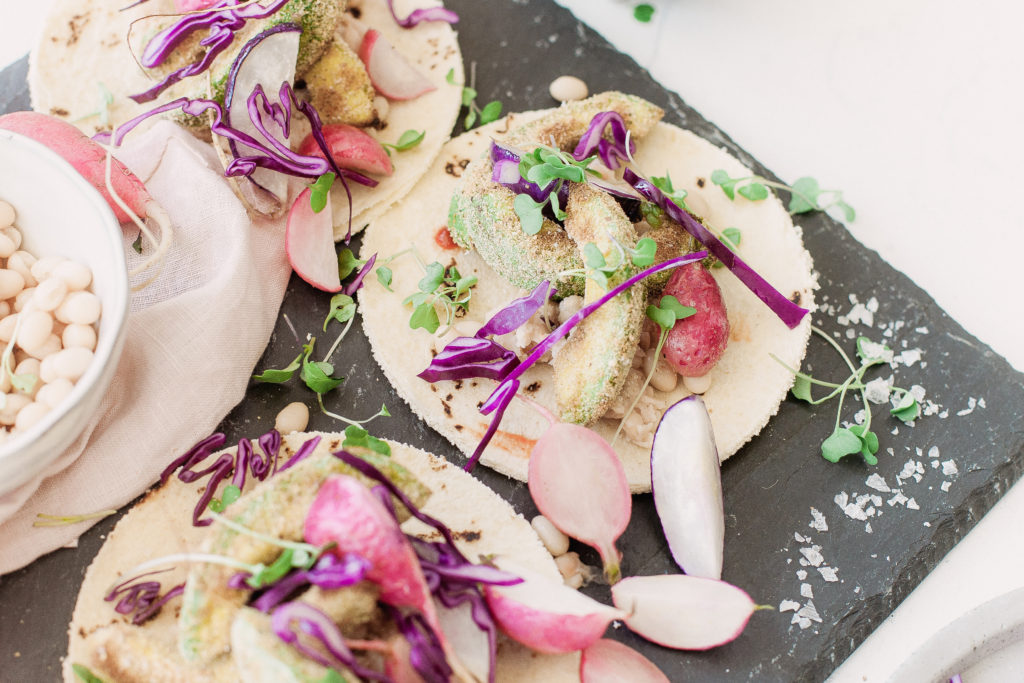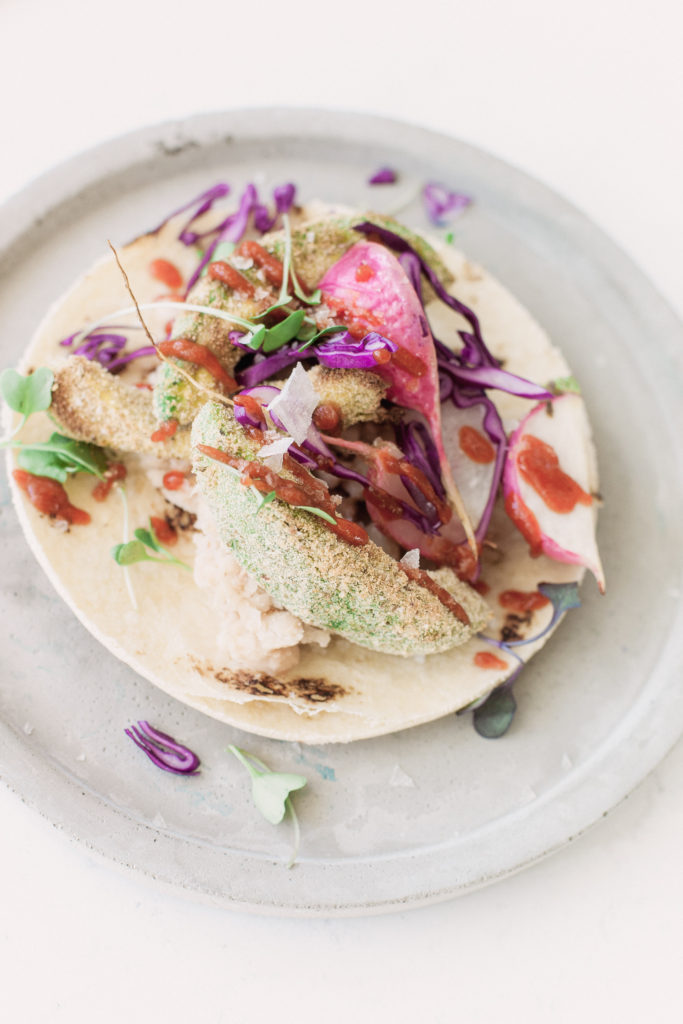 ---
xx
Abby