Friday food fun today on the blog! We have this wonderful and easy appetizer for you to make for your guests this weekend! If you love blueberry, ricotta, and lemon this is for you. My kids literally are blueberries by the large consumption they scarf down every day. I can't be mad at that right?!? I will often have times where I need to do something with the leftover blueberries before they start to get yucky. My go to is this blueberry chutney, and each time its a hit with guests and even the kiddies. This cute little crostini is a multi player, you can bring him out for brunch or dinner for your guests. What is also great is that you can make the blueberry chutney ahead of time. I had you there didn't I!!!? HA!
Go get your blueberry on!
Photos by Megan Welker
Ingredients
1 shallot, thinly sliced
extra-virgin olive oil
1 cup fresh blueberries
1/2″ knob fresh ginger, grated
1/4 cup brown sugar, packed
3 tablespoons cider vinegar
couple sprigs of fresh thyme, plus more for garnish
1/2 tsp kosher salt
1 tablespoon cornstarch
1 lemon, juice and zest
1 baguette, sliced thinly on the diagonal
2 cups fresh ricotta
maldon salt flakes
Blueberry Chutney 
*makes about 18 crostinis
Heat a small skillet over medium heat and drizzle olive oil. Once warm, add the shallot, and sauté until it starts to soften, about 2-3 minutes. Add the blueberries, ginger, brown sugar, vinegar, thyme and salt. Turn the heat to low, and let simmer for about 15 minutes until it starts to thicken. Be sure to stir so it doesn't burn. Add the cornstarch and let simmer for 1 more minute, stirring gently.
Remove from heat and add a squeeze of lemon juice. Let cool, and either serve at room temperature, or you can easily refrigerate until ready to use. Can be stored in the refrigerater for a couple days.
Crostini Preparation
Heat grill or pan to high heat. Brush each side of bread slices with extra virgin olive oil and lightly salt + pepper. Grill until lightly browned, around 1 minute per side. Keep an eye so you don't burn the bread. Take off heat and plate, and add a dollop of fresh ricotta and a tablespoon of the chutney.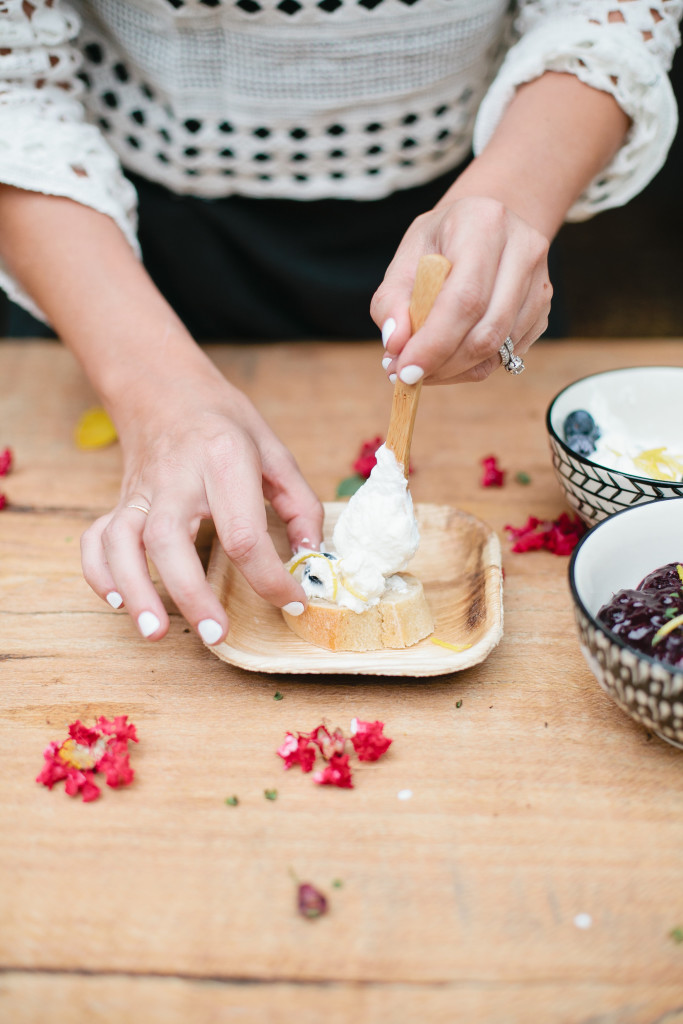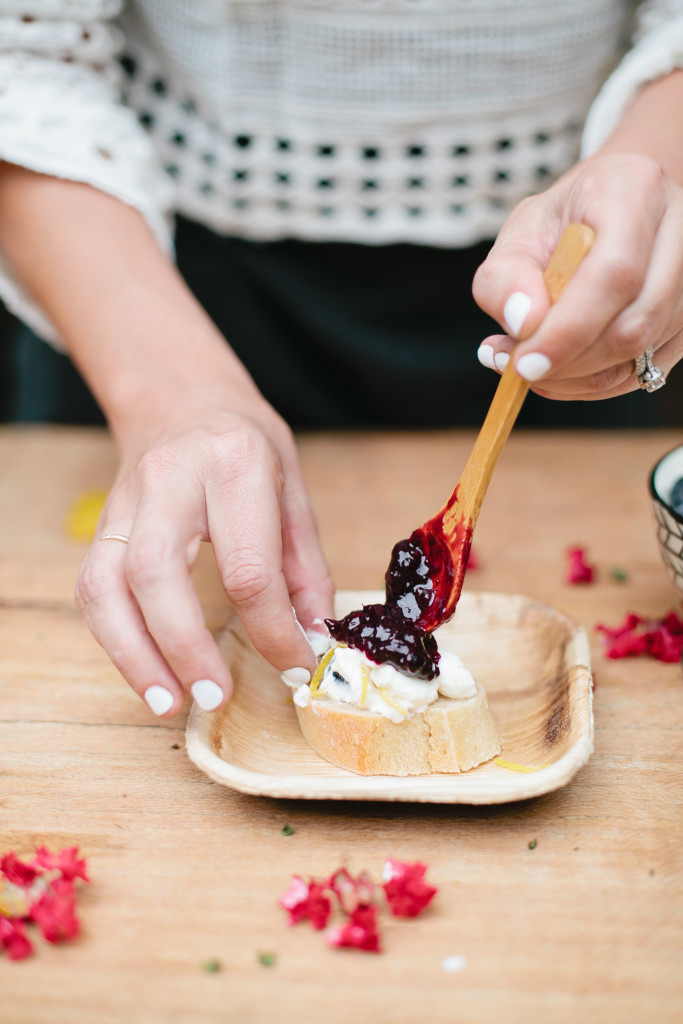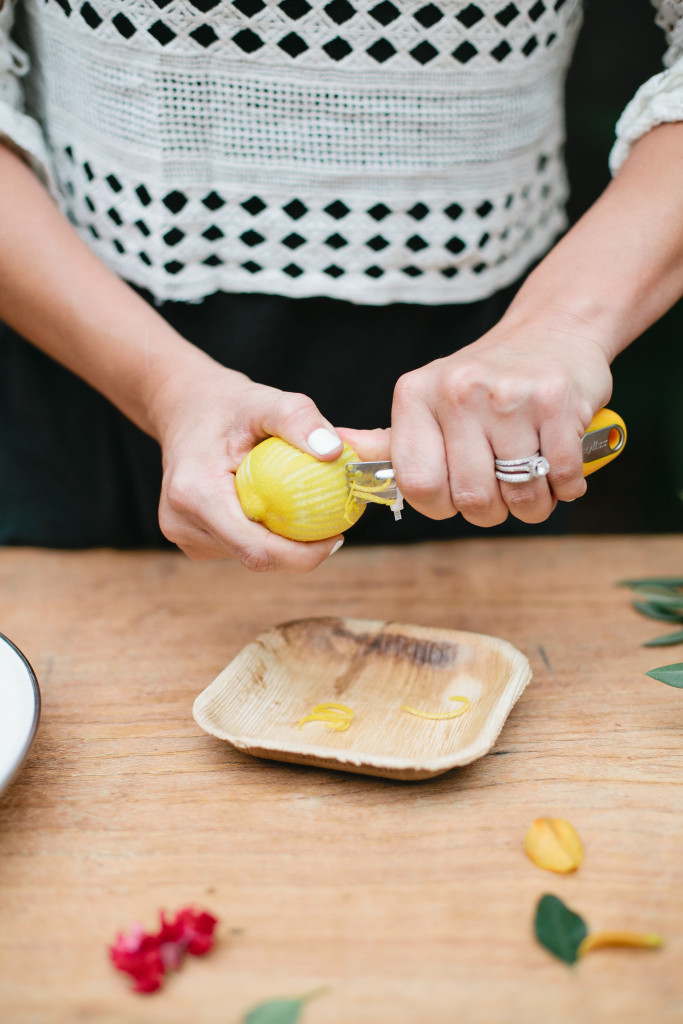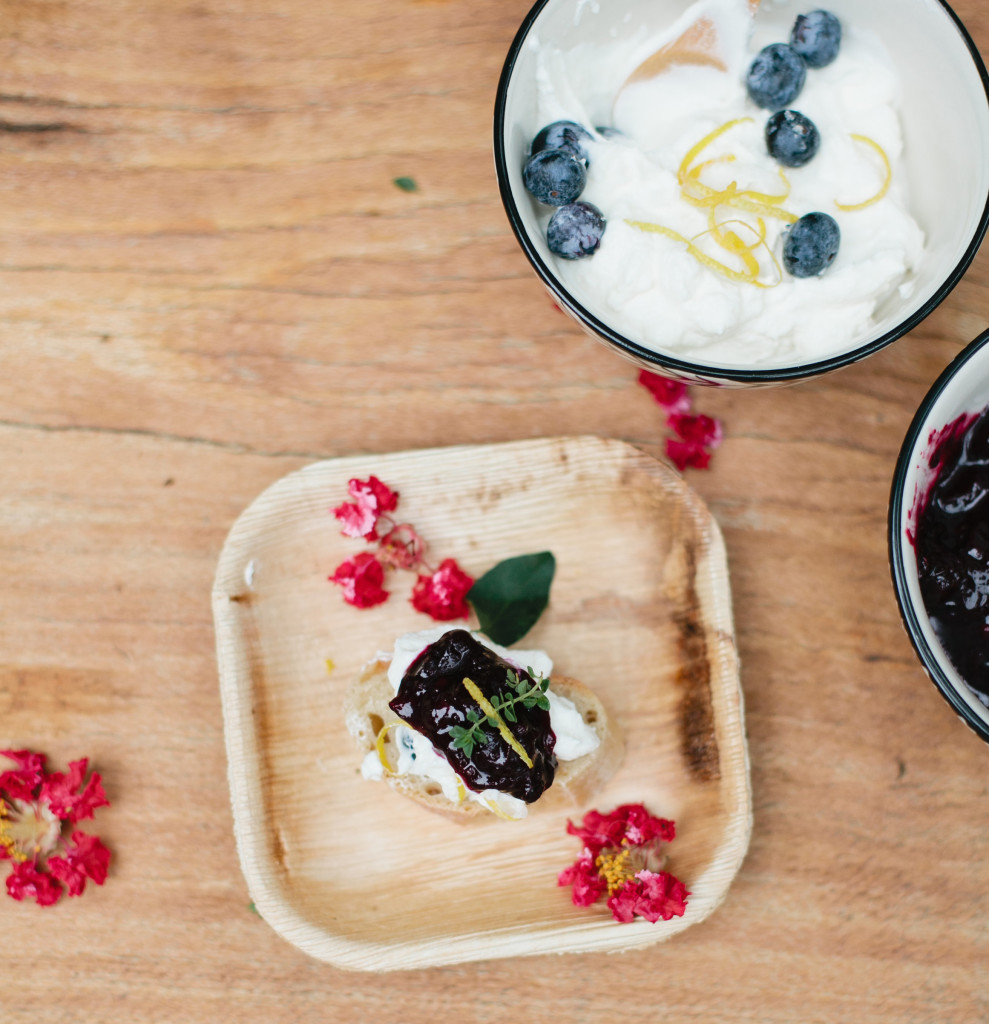 Garnish with fresh thyme leaves, lemon zest and a sprinkle of maldon salt.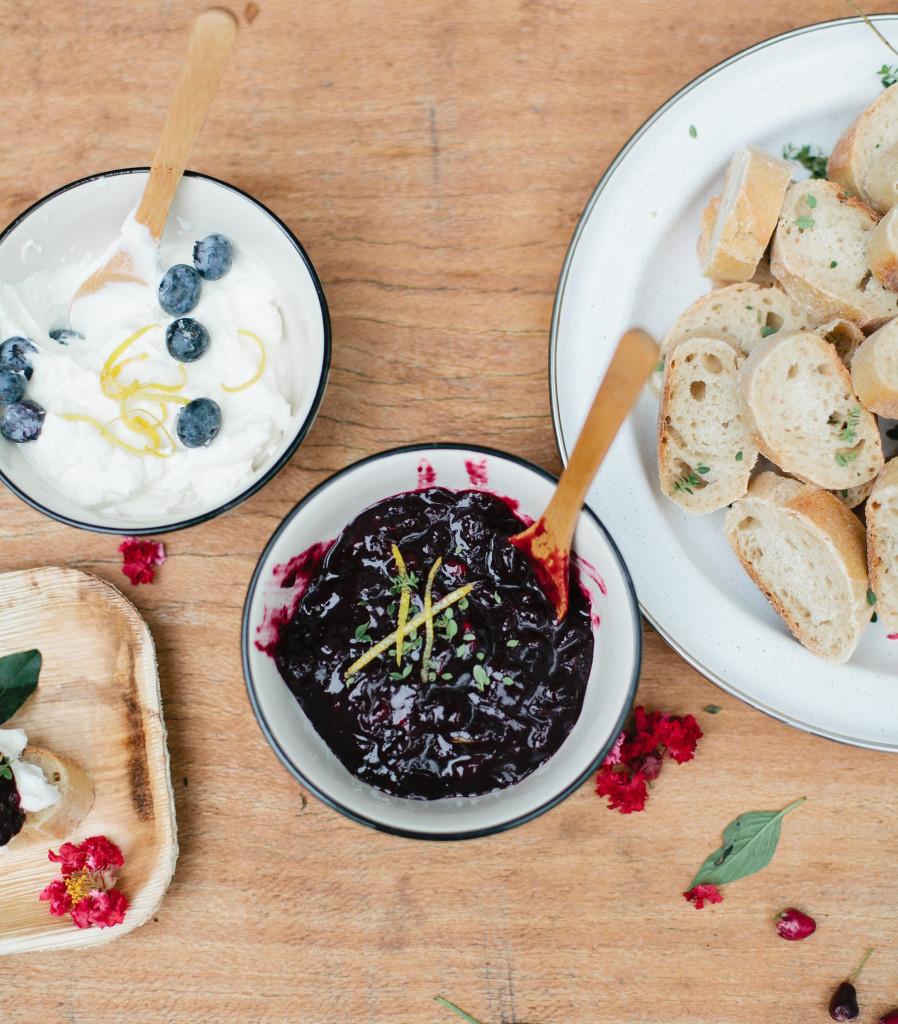 You can also allow your guest to assemble themselves by putting the ricotta and chutney in pretty bowls and serve alongside the crostini.
Yum! Yum!
xo
Abby