The sun is out, the flowers are blooming, and that means its almost summer!
YAY!!
Nothing says summer more then some yummy paletas. You might remember these pretty ladies in my Mother's day post last week. These were so easy to make, and such a better alternative then store bought pops. I made ones with what I currently had in my fridge + in the garden, and its a great activity to make with the kids too!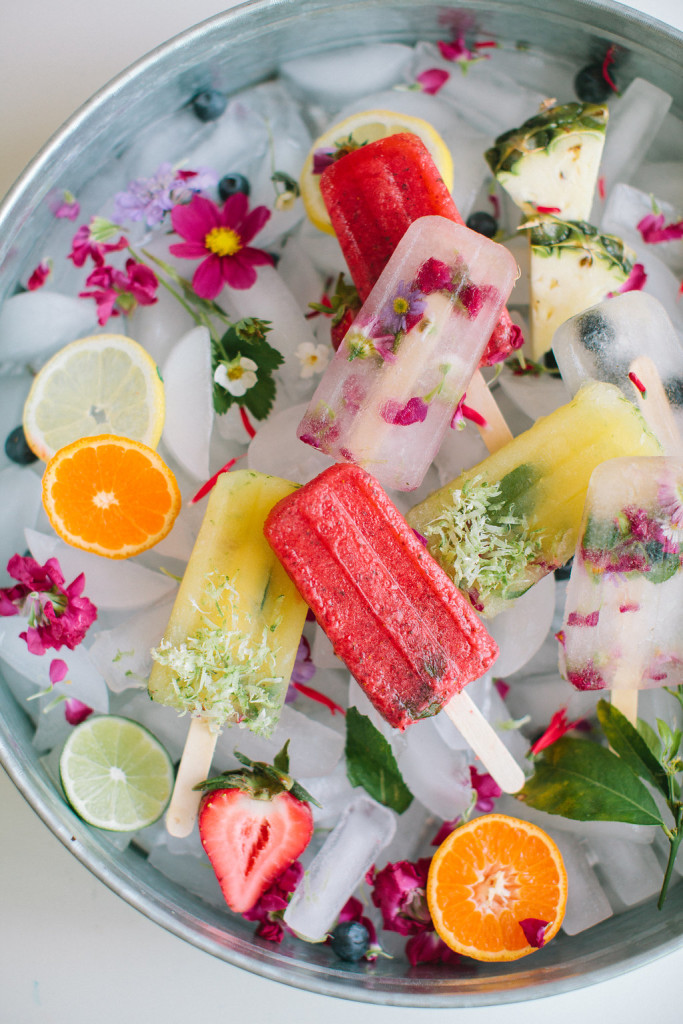 Enjoy!
Photos by Yasmin Sarai 
Pineapple Lime Paletas
INGREDIENTS
 1/2 cup water
 1/3 cup sugar
 handful of pineapple sage leaves chopped
 6 ounces pineapple juice
2-3 ounces fresh squeezed lime juice
To make the pineapple sage simple syrup boil the water and stir in the sugar until dissolved. Immediately add the pineapple sage leaves and cover, letting steep for about an hour. Remove leaves and let cool.
Mix the lime juice + pineapple juice together and add enough syrup so its just sweet enough. Taste and adjust to your liking. I added a bit more pineapple juice then what was called for.
**I also added some lime zest into the mix as well.
** For an adult version, add rum into the mix
Pour into popsicle molds and freeze 6-8 hours.
Add Lime Zest after it comes out of the mold for a pretty detail that your guest will love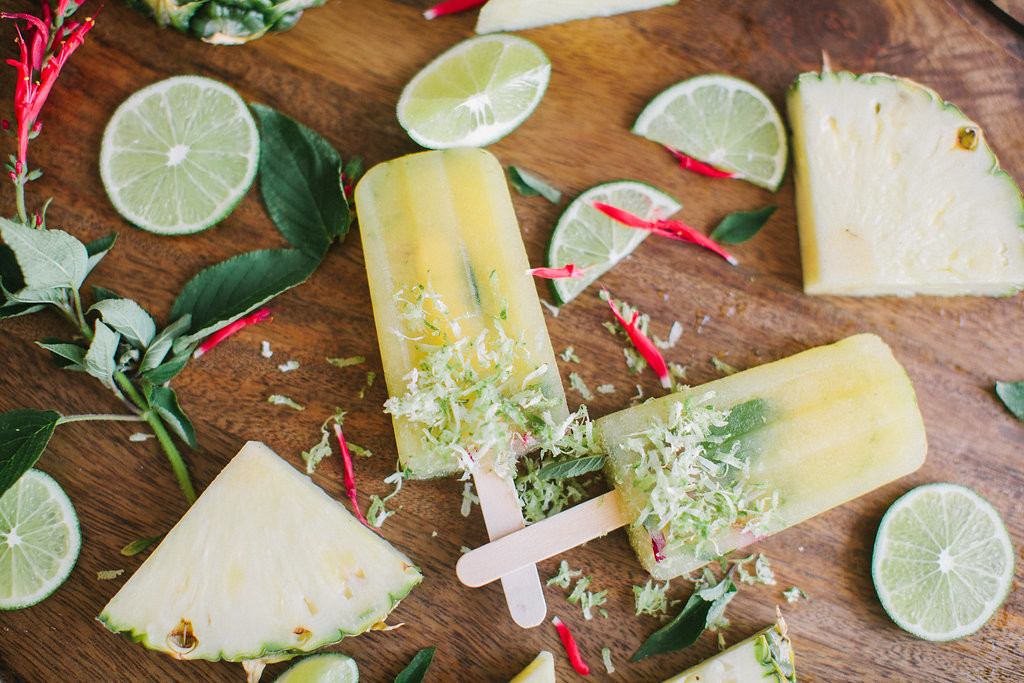 Enjoy!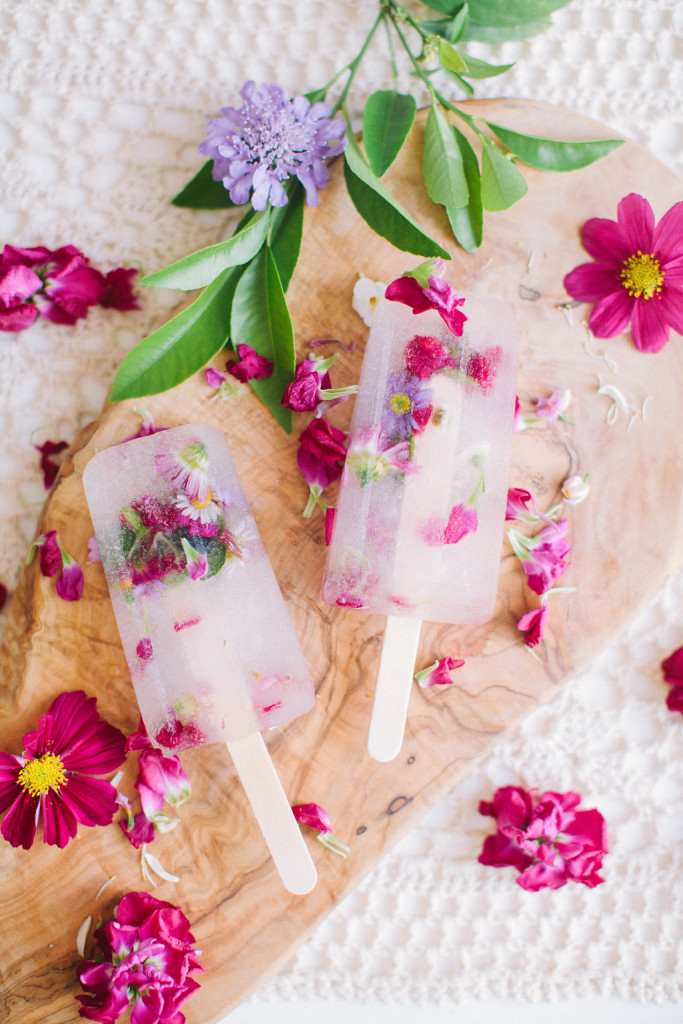 Pretty Spring Paletas
Ingredients
16 ounces Cold Water
1 ounce Orange Blossom Water
1 teaspoon Lemon Juice.
1 teaspoon Honey
a handful of Organic Edible Flowers, rinsed and remove petals (I have some in my garden, but you can find them at Whole Foods)
 Mix all ingredients together and put into molds. Put into freezer for an hour and once semi-set, place flowers in molds. Push down to bottom of mold to spread out the flowers thru the mold. If they still float up to the top, allow more freezer time and try again.
**The kids weren't fans of these ones, so I used less orange blossom water and added more lemon juice and added a splash of lemonade to give more kid friendly flavor! I also added some blueberries and omitted the flowers for them as well.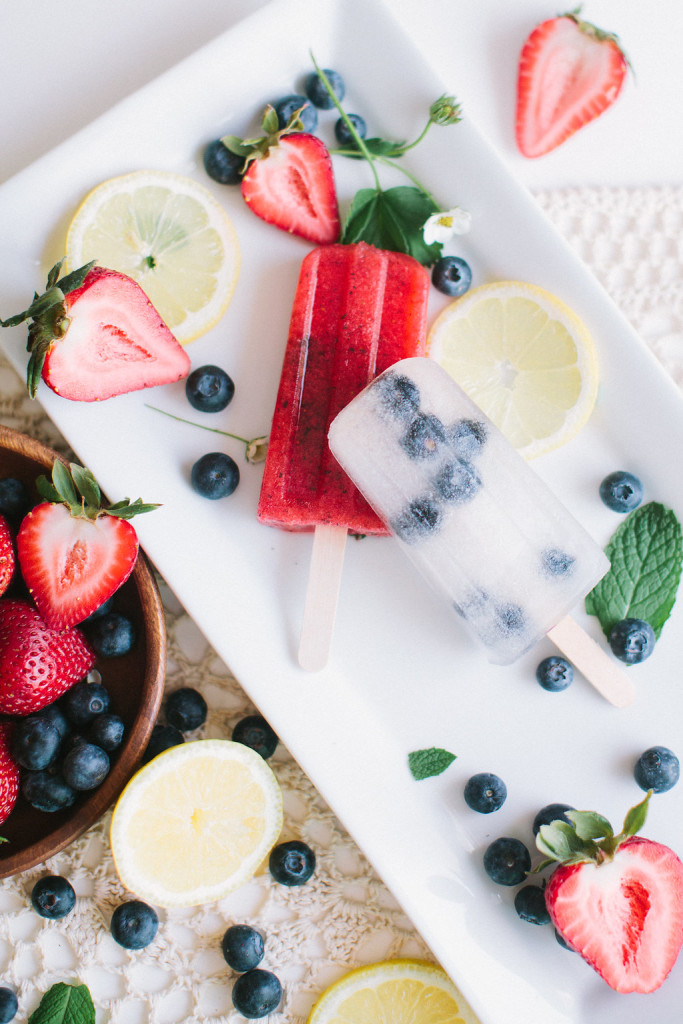 1/2 cup water
1/2 cup sugar
4-1/2 cups strawberries
2 tablespoons fresh lemon juice (1 lemon)
about 20 fresh mint leaves
Combine the water and sugar in a small saucepan and stir over low heat until the sugar has completely dissolved and the liquid is clear. Take off heat and allow to cool.
Combine the strawberries, lemon juice, and mint in your blender and purée until smooth. Add the sugar syrup and pulse a few times just to blend.
Pour the liquid into your popsicle moulds and freeze for about 5 hours.
Yum! Yum!
Make sure to get your hands on some before those little hands eat them all up!