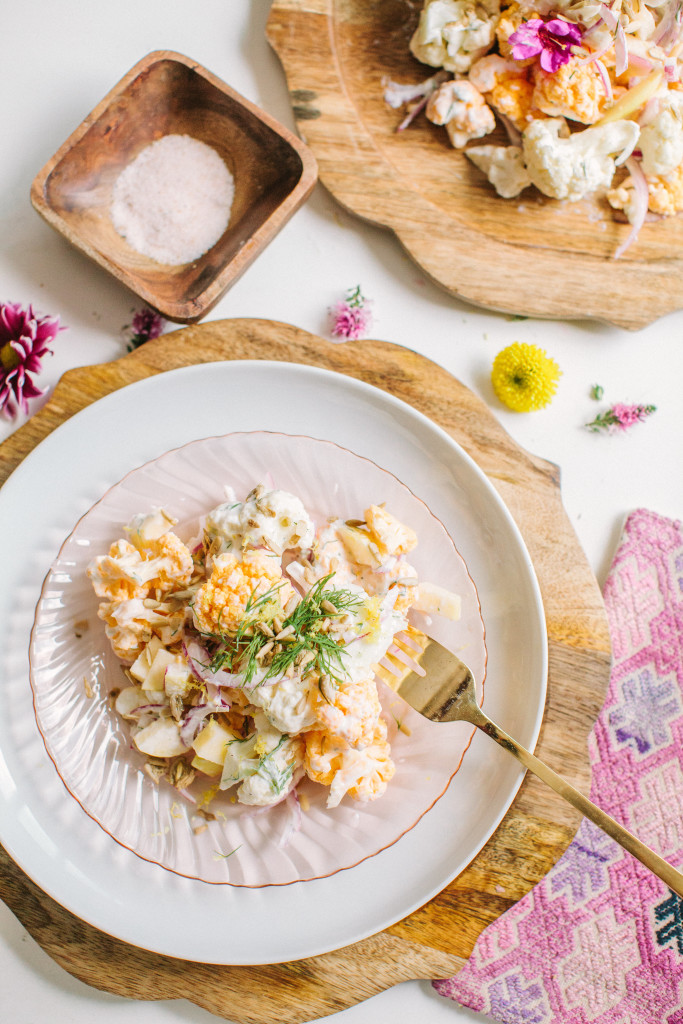 Another pretty, fun, and damn healthy salad for Food Friday! A perfect salad for me is good for you, easy to make, and so pretty you just stare in jealously of its good looks. I have been spotting purple cauliflower at the market the past few weeks, and just had to get it to make something to make with it. Well golly gee, when I go back to the market… they were out of the purple! Of course right?!? How many times has that happened to you? BUT! I found her good looking   orange sista. Came home, and found a couple recipes and pulled what I like from each one, and came up with this one!
The combination of the crunch from the cauliflower, the tang from yogurt dressing, and the sweet punch from the apples + purple onions really merry together to bring a great raw salad for any part of the day. I'm literally on my second bowl as we speak.
Not a cauliflower fan, not to fret…you really can't taste it that much. The apples and the yogurt dressing really dress it up.
Enjoy!
Photos by Yasmin Sarai
Ingredients:
1 head of white cauliflower + another color (purple, orange, or green) if you can't find another color just double the white.
1 cup of plain Icelandic yogurt (I use Siggi's) this makes for a great dressing cause Icelandic yogurt is really thick and tart, plus I'm a big fan of Siggis)
1 lemon zest and juiced
Fresh horseradish (grate)
1/2 purple onion thinly sliced
1 yellow apple, peeled and cubed
1 bunch of dill
Your choice of raw nut, walnuts would be great here. I used sunflower seeds since I had those in the pantry.
Salt and fresh cracked pepper to taste
Directions: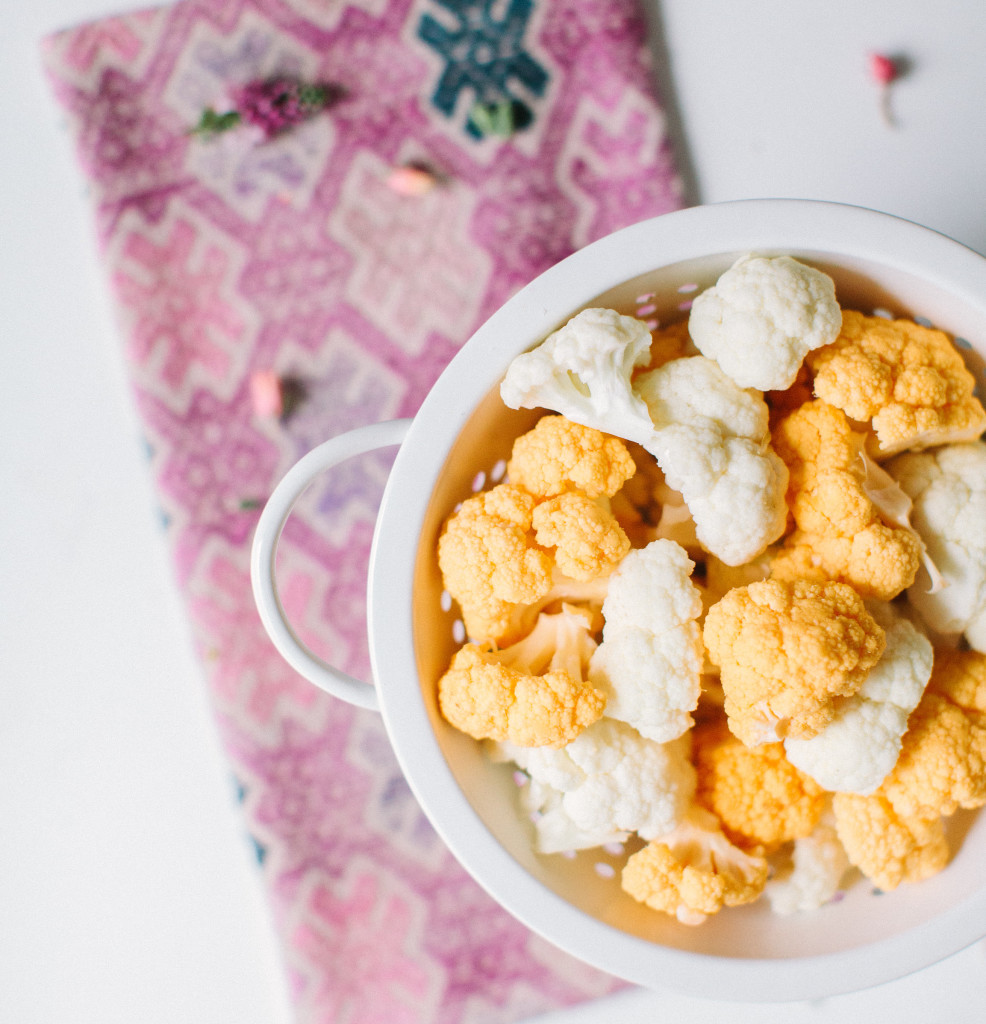 Cut and wash your cauliflower and cut into small pieces. Too big and it will be hard to eat.
Combine cauliflower with your cubed apple and sliced onion in a bowl.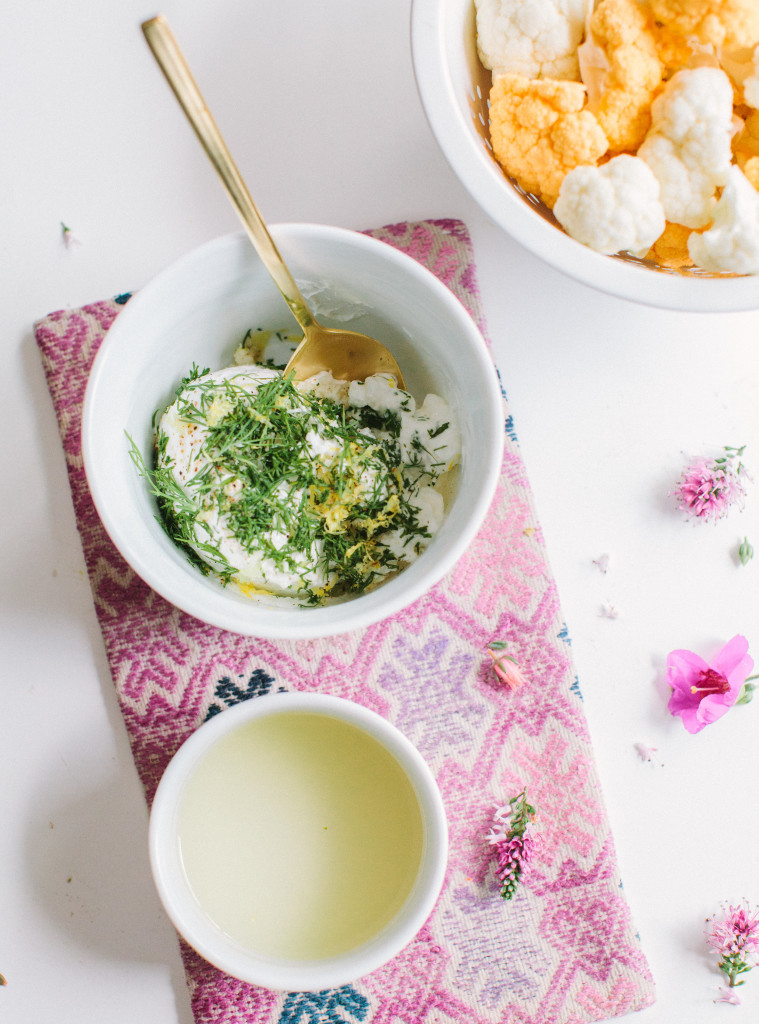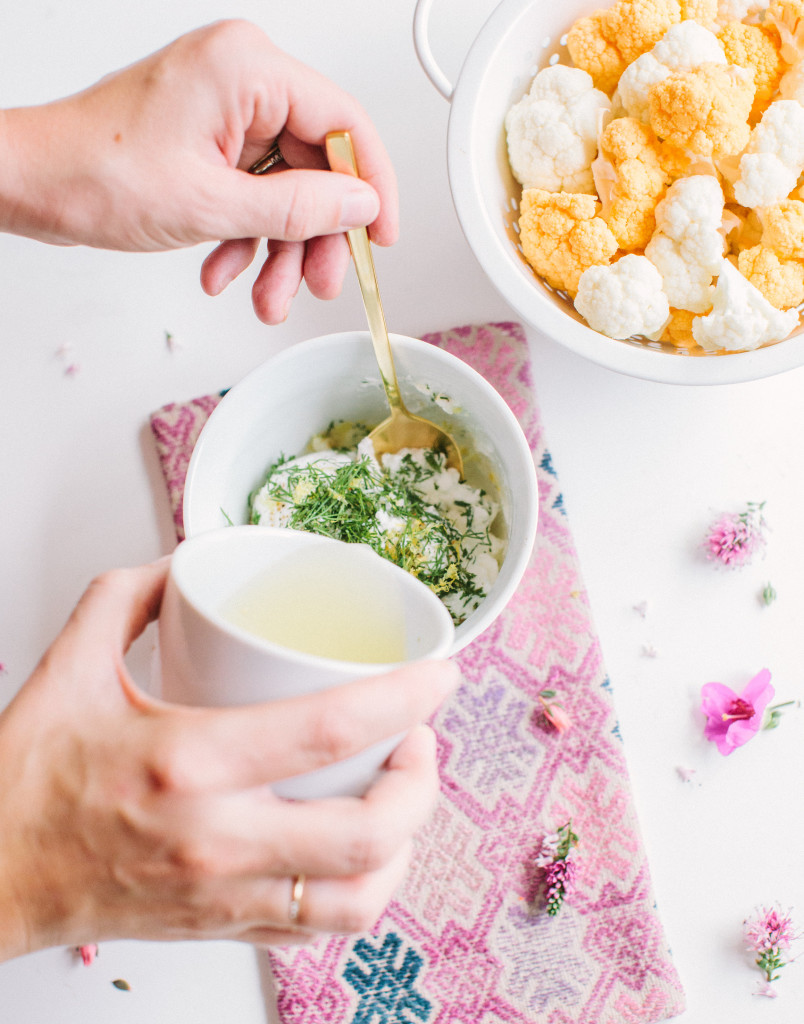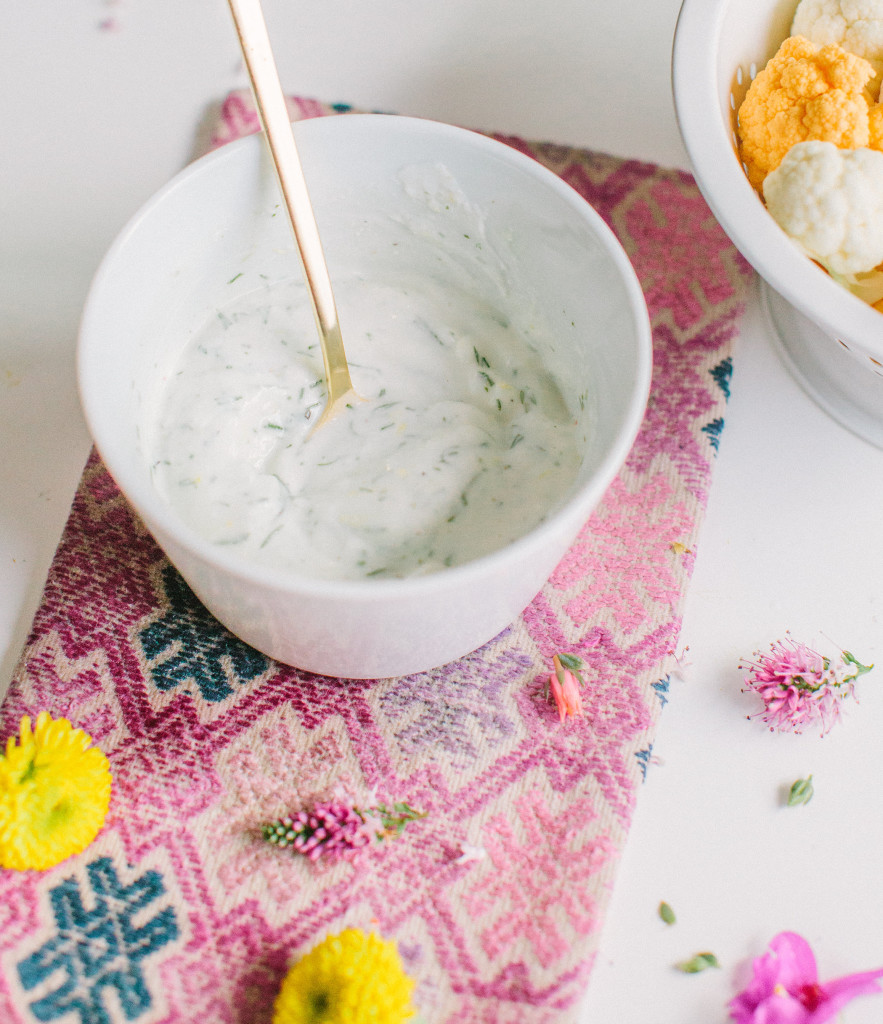 Dressing: Combine yogurt, a good handful of chopped dill, lemon zest (about 1/2 tsp), fresh horseradish, and salt and pepper to taste.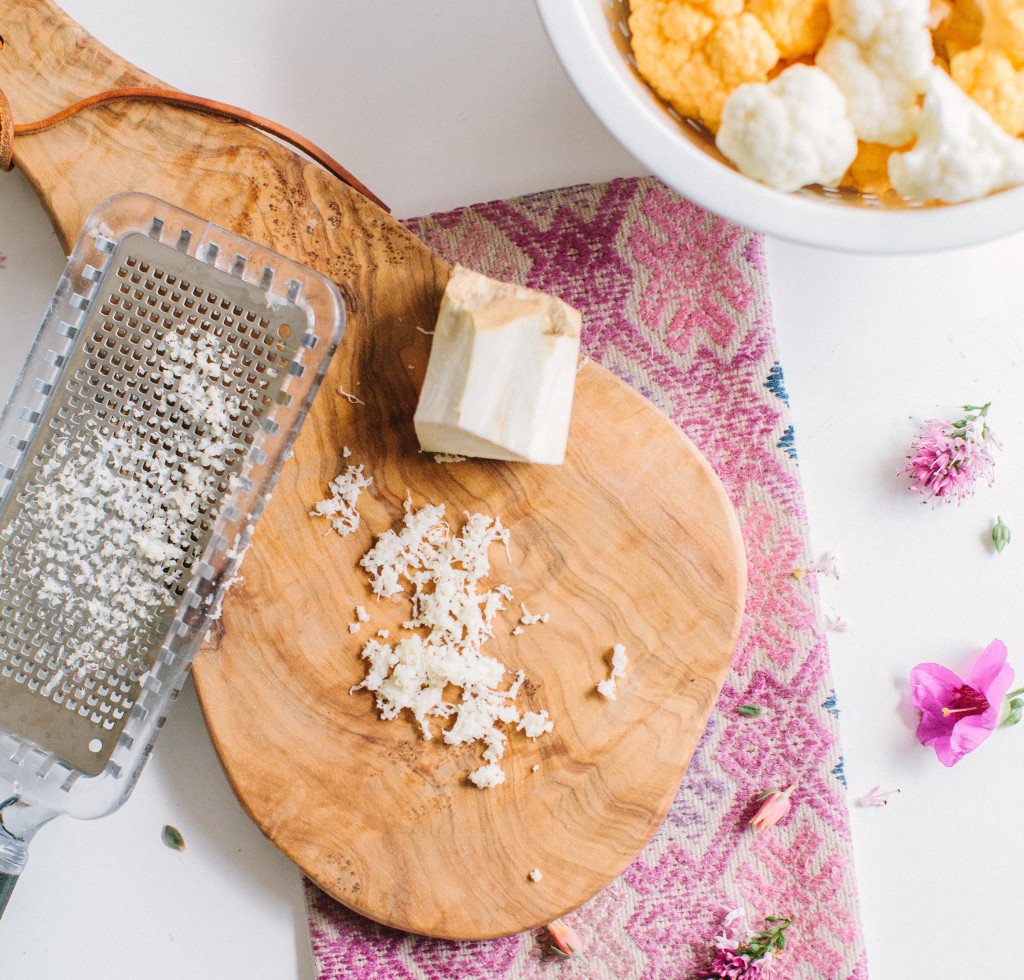 **For the horseradish, add to your liking. Add a little and then add more if you like a kick. I added about 1/2 tsp to 1 tsp all together. I love me some horseradish.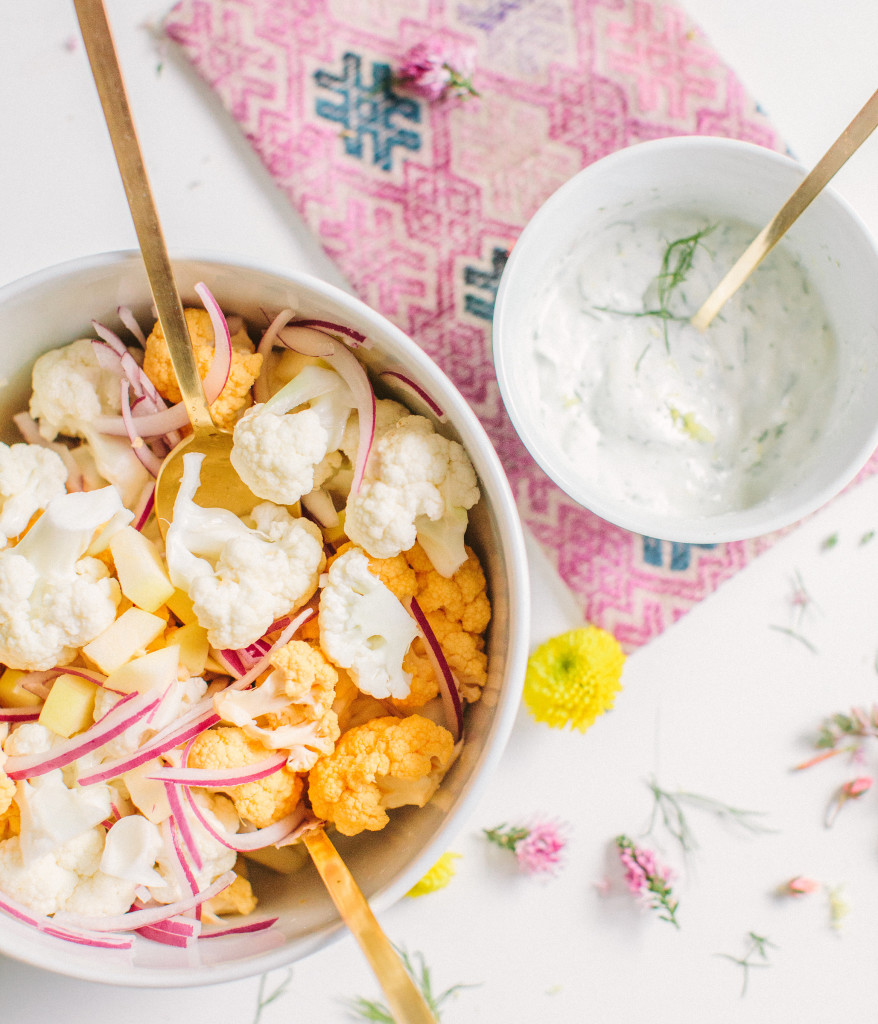 Add the dressing to the cauliflower, apple, and onions. Combine using your hands, its makes it easier then using a utensil.
Such a pretty color combination!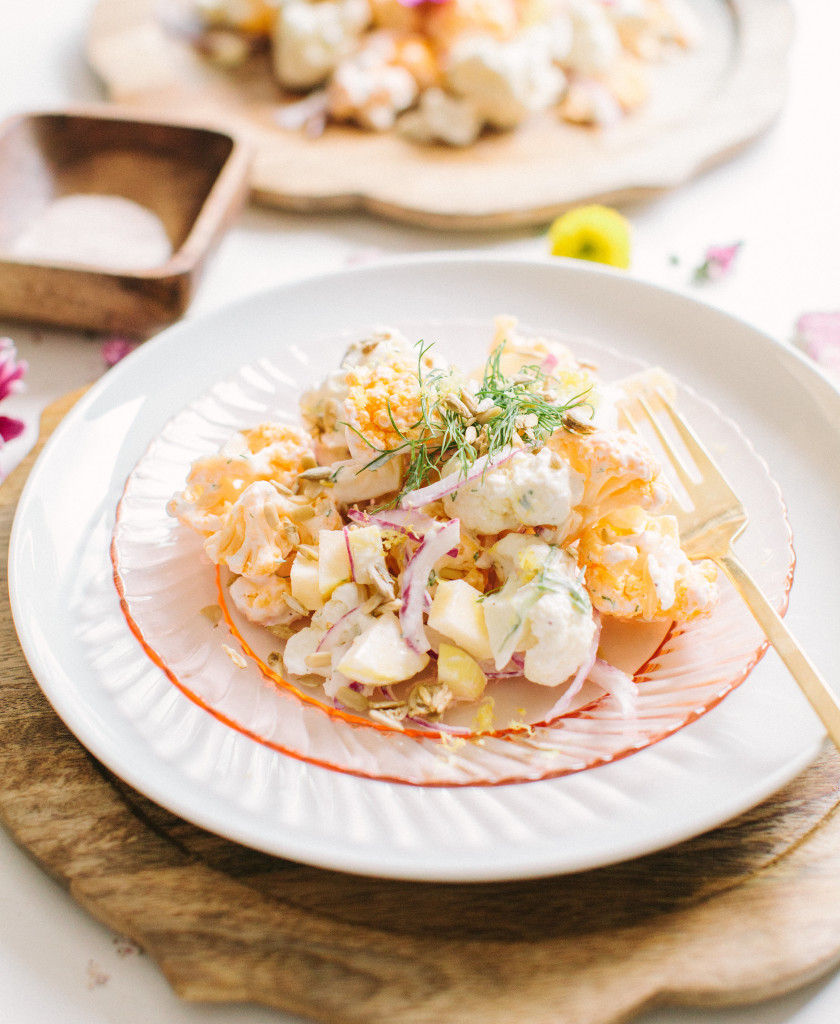 Garnish with nuts/seeds, more zest, and chopped dill. Stare at your pretty salad, and then DIG in!
Dressing can be made a day ahead which is always a plus.
Enjoy!
xo
Abby