It's about that time, time for another edition of our bridal shower series with my friend Sabrina of Golden Arrow Events. We teamed up to create a beautiful Summer edition at the beach that you can see here. This time it's all about Fall and all of that gorgeous color that comes with it! The terra cotta color inspired us to have a fun Spanish vibe and low and behold, the perfect venue was Muckenthaler Mansion. It's the best Fall inspiration for a bridal shower for your favorite future Mrs. Think tequila, churros, rattan, florals, and tons of pretty details!! Need I say more? Keep scrolling because this one is amazing!!
We are also featured on Green Wedding Shoes today!
Beautiful photos by Jessica Lynn Photo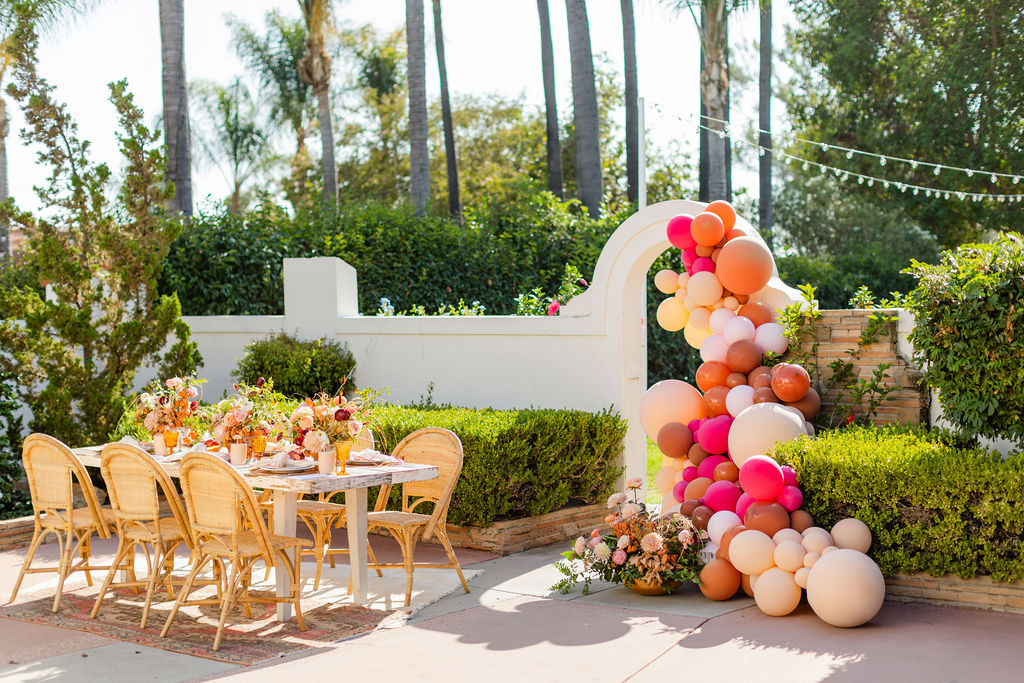 The invite and all of the pretty details were created by Proper Letter. Aislinn, the owner is so talented and I always love working with her! She creates magic and having it featured at our party is such a delight! Jessica Lynn Photo styled this all so perfectly, don't you think?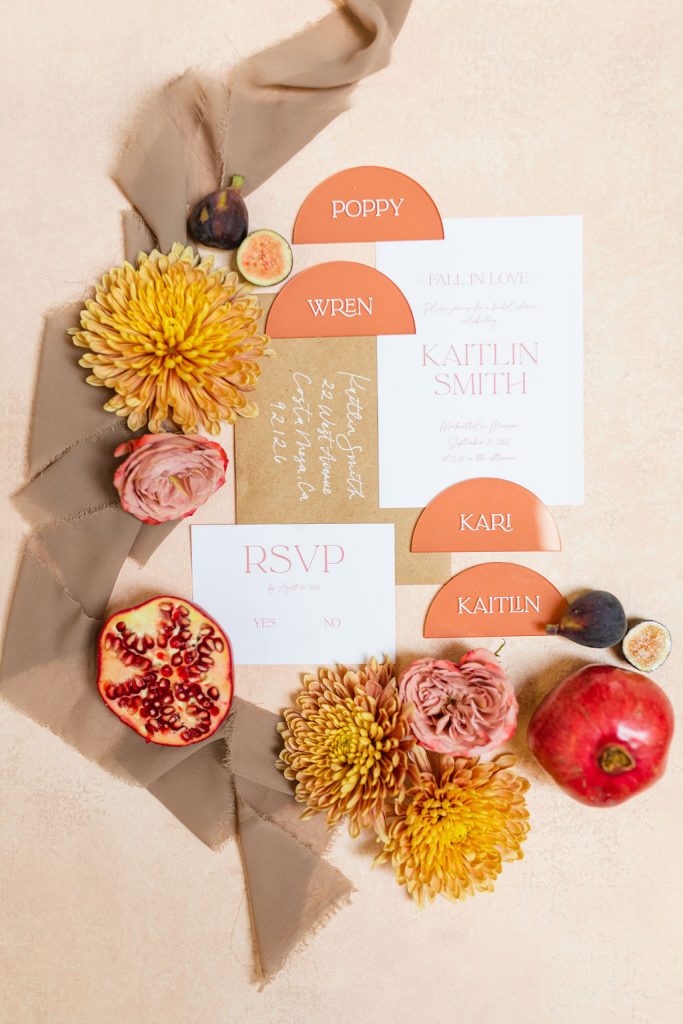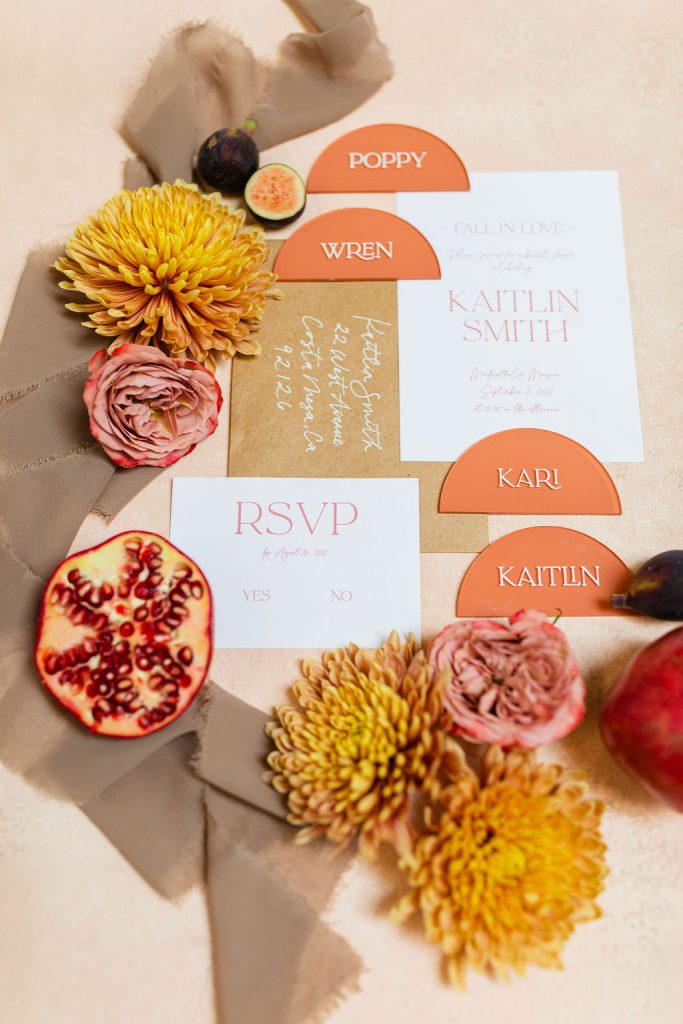 The first place I look for at any party is the bar! Lucky for you, you're already here… Our margarita bar was hosted by 21 Seeds, a female-owned and founded Tequila company that we are now obsessed with! Everything is better with The Pop Shop balloons, florals by Inessa Nichols Design, and of course all of the pretty mixers and fruit from Colette's Catering. There are lots of additional details like that pop of pink linen from Party Crush Studio, signage and stir sticks from Proper Letter, gorgeous glassware from Hostess Haven & The Little Market, and a few beautiful pieces from Sweet Salvage Rentals.
Bottom line is, just pour a drink and enjoy!!!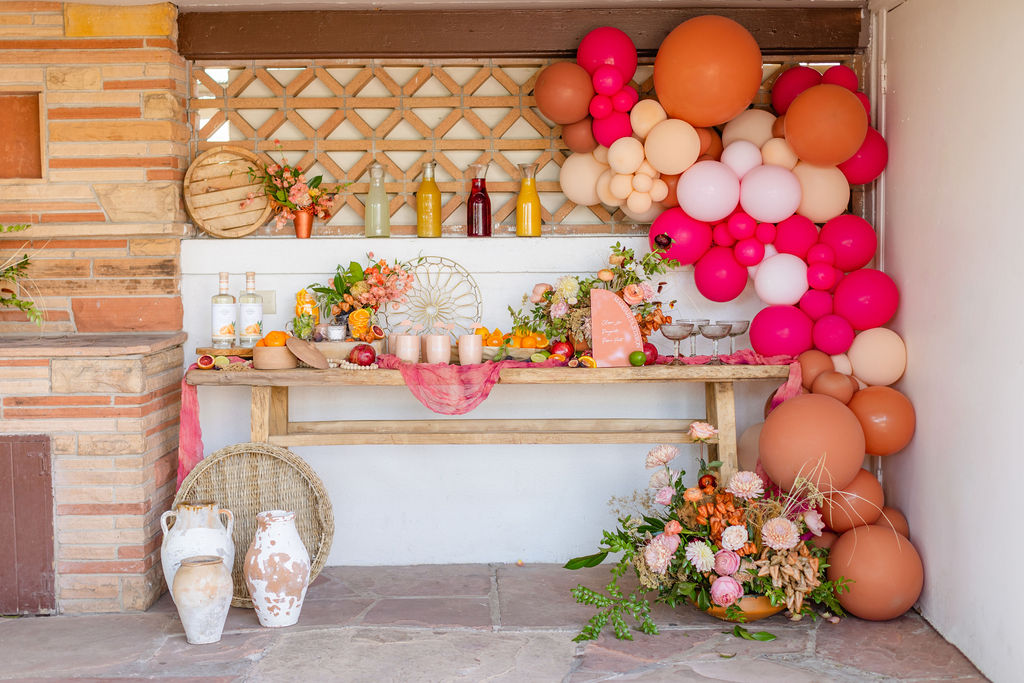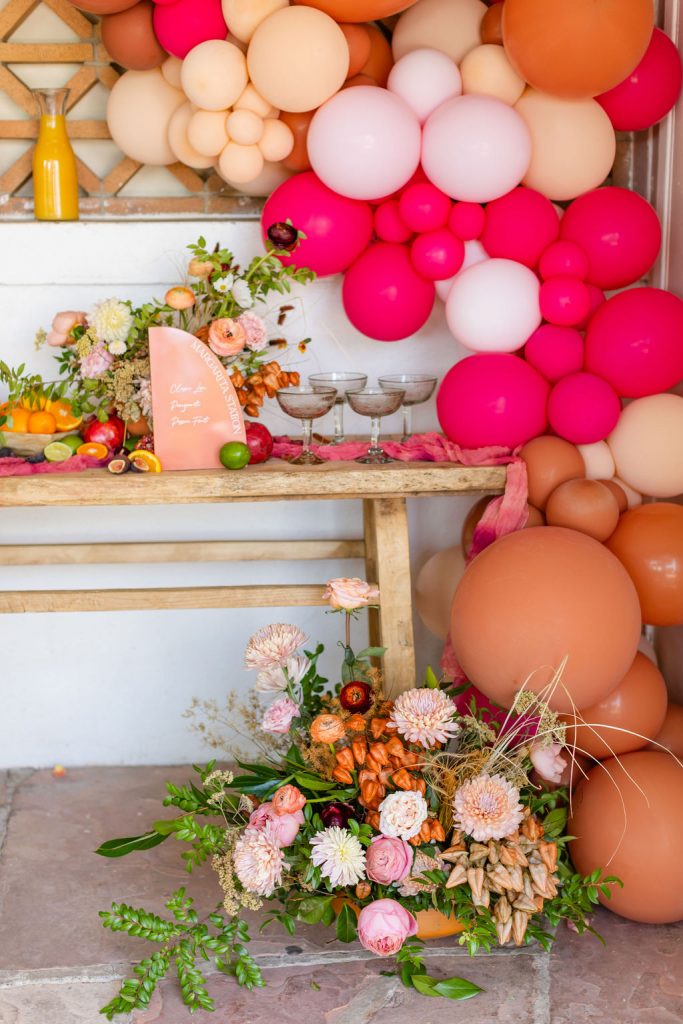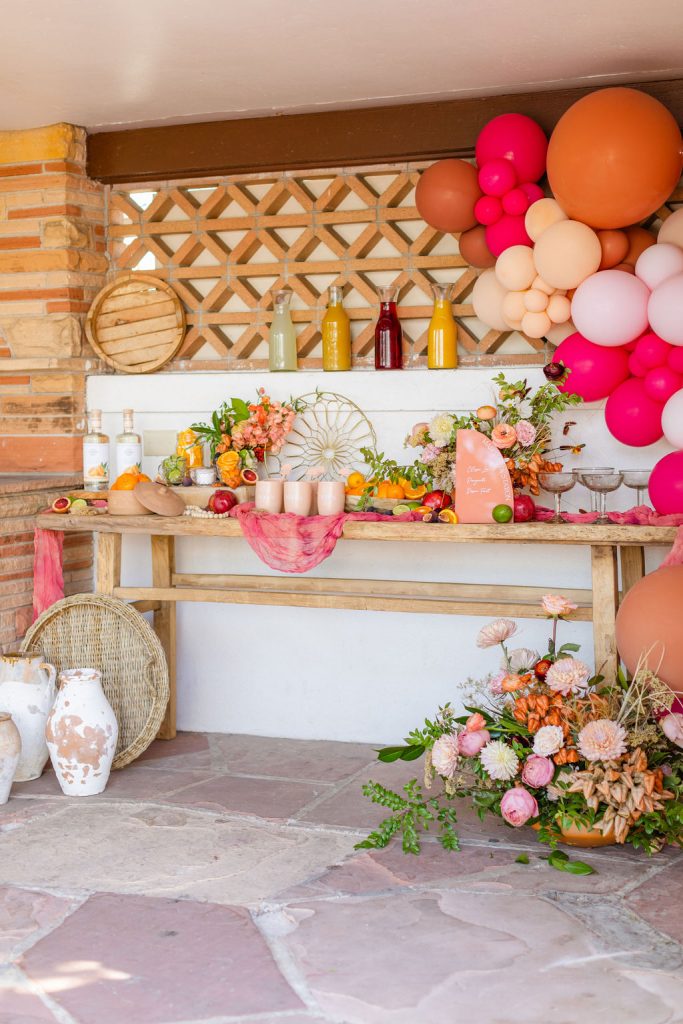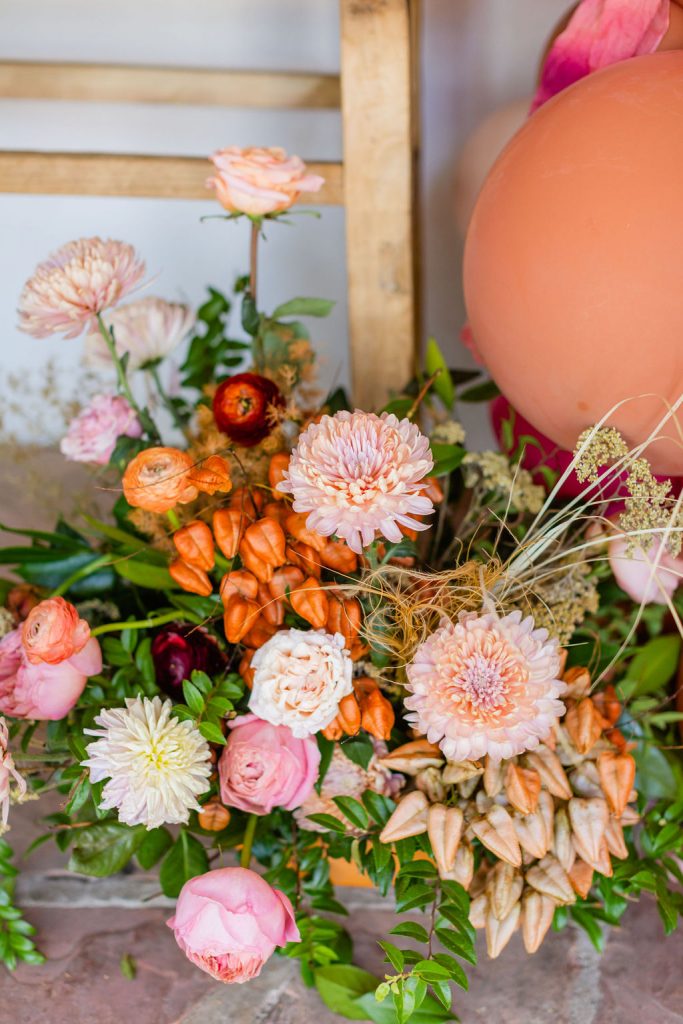 Proper Letter created a pretty menu and added the names of each guest to the terra cotta glasses!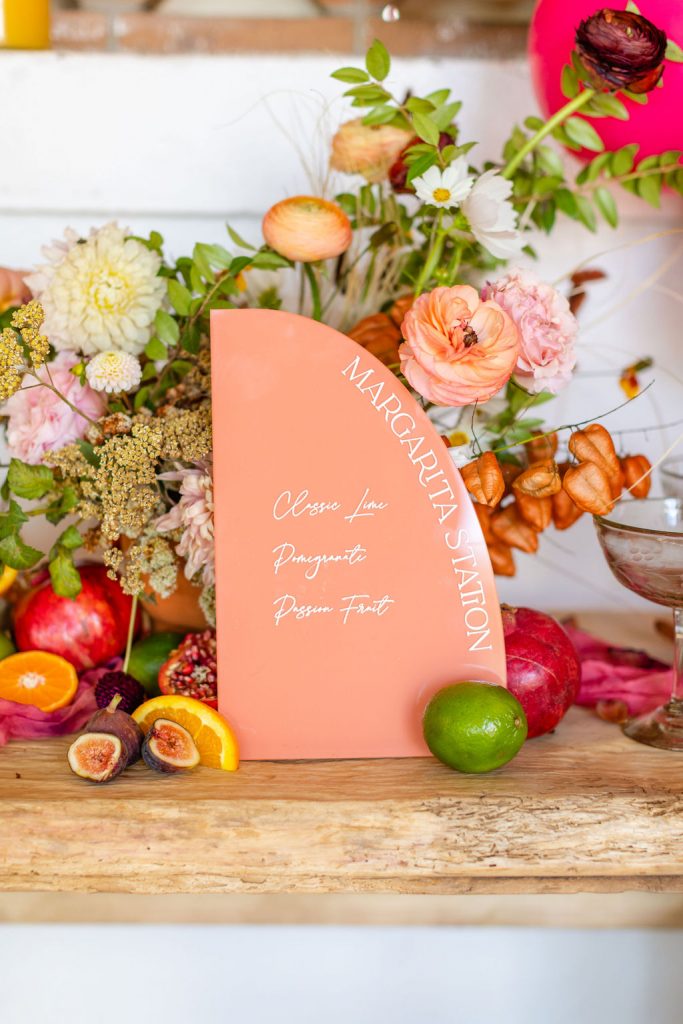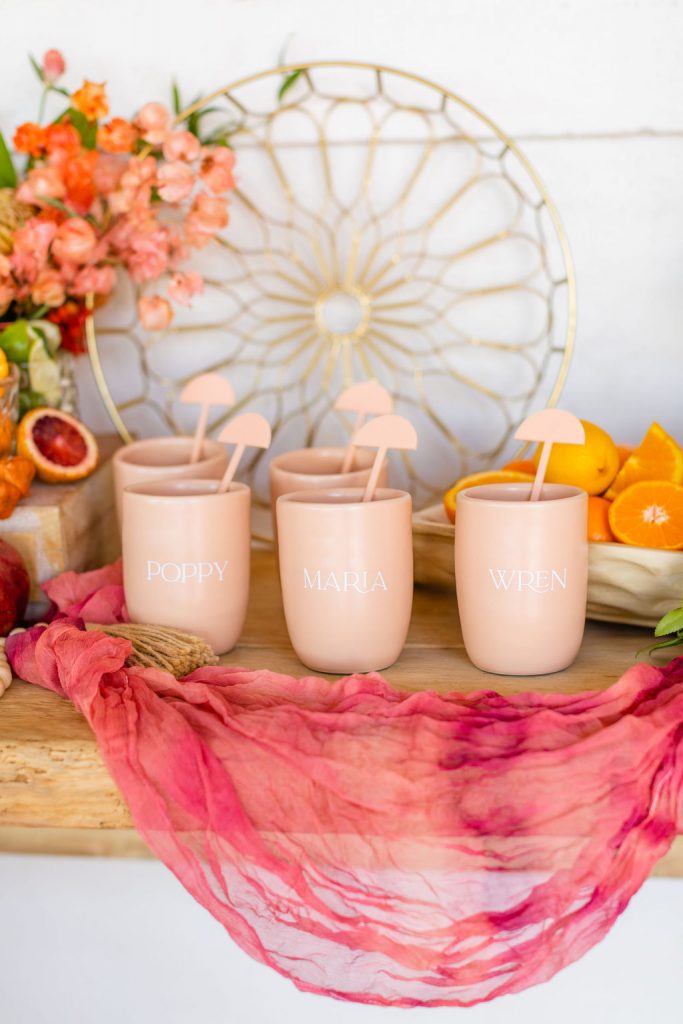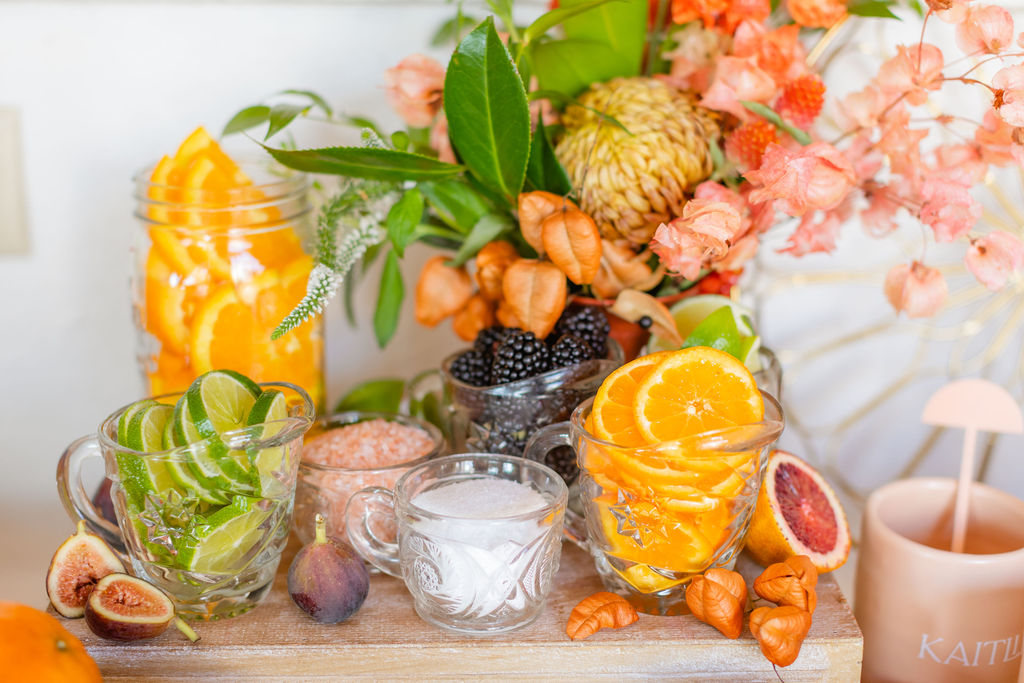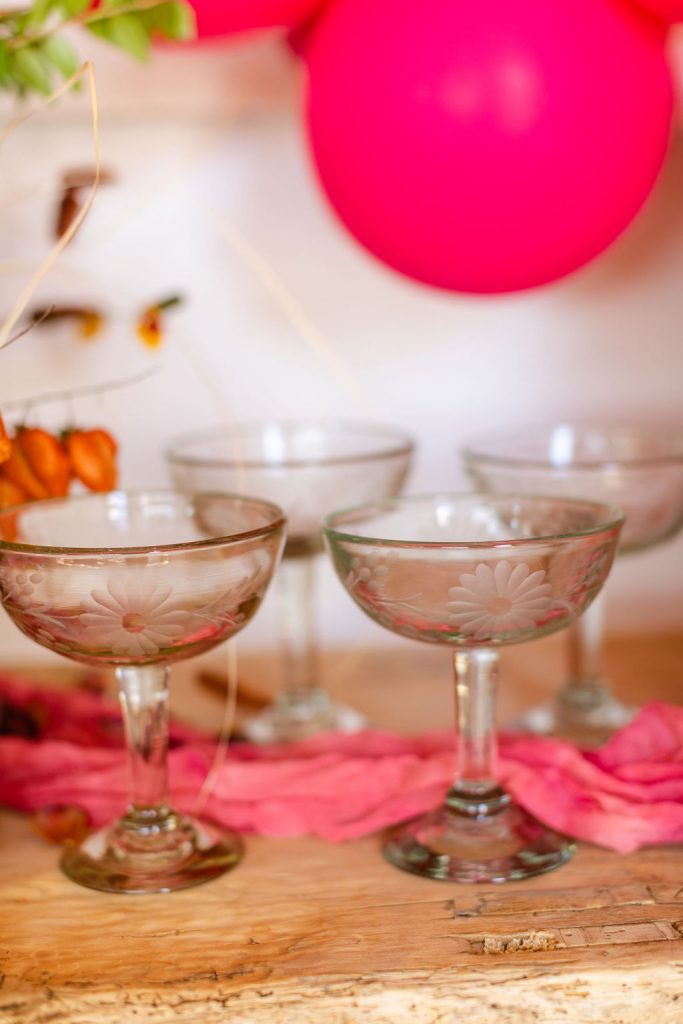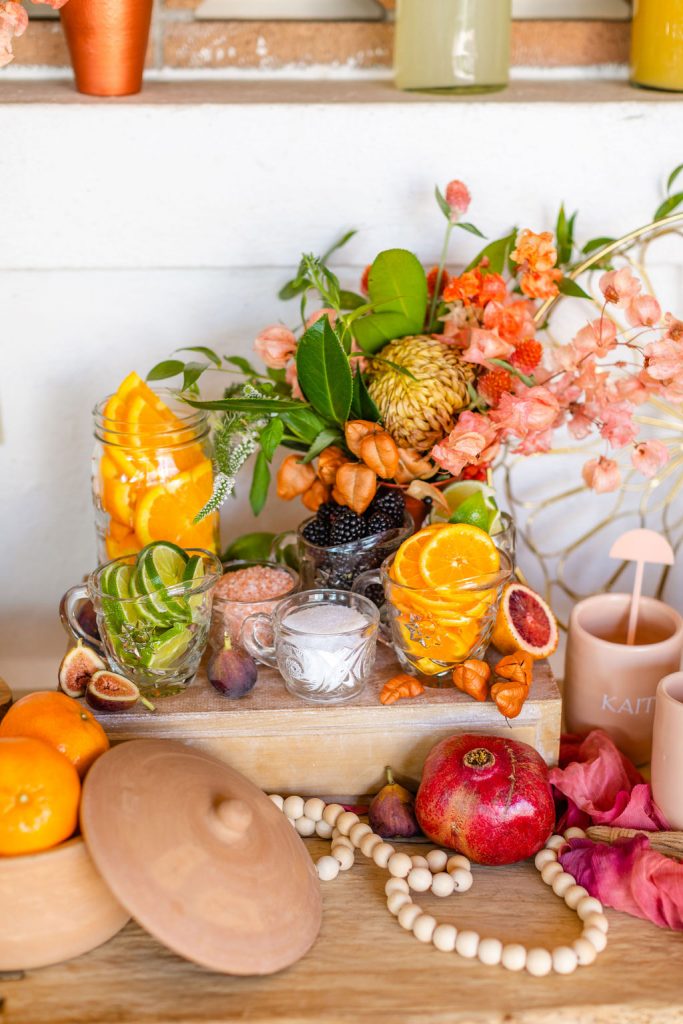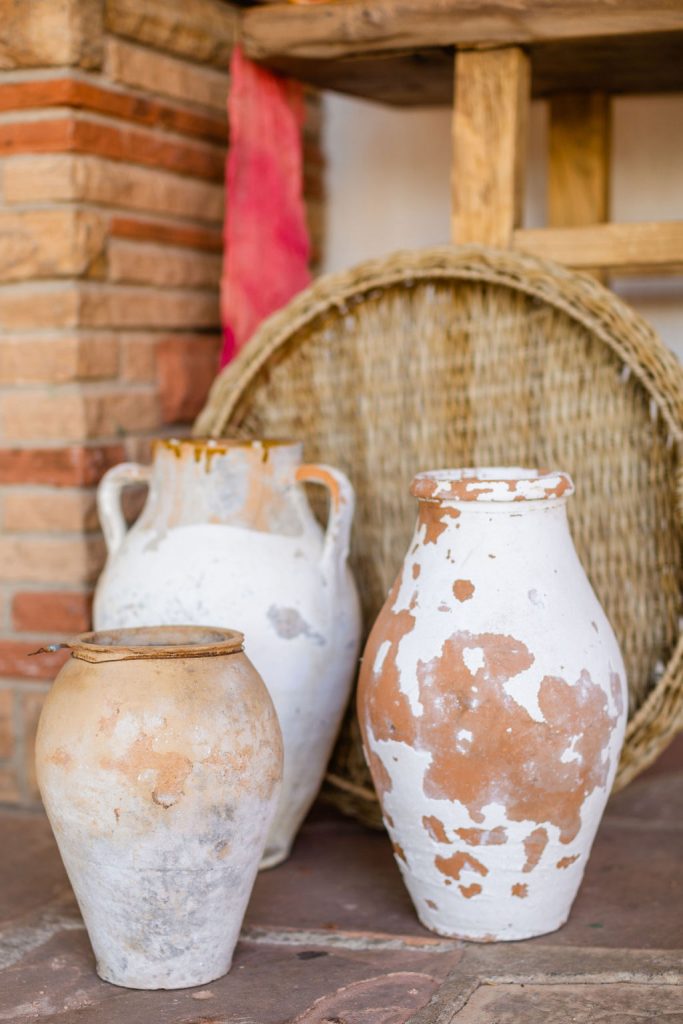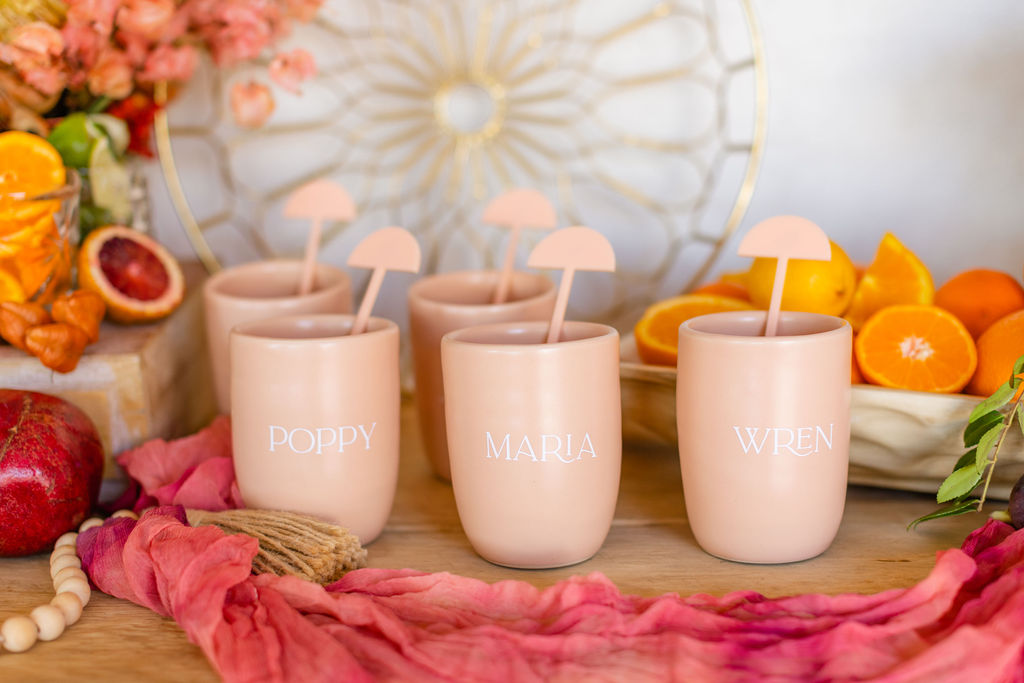 21 Seeds has 3 flavors that are all equally delicious! We tried the Valencia Orange, but we also love the Cucumber Jalapeño and Grapefruit Hibiscus. They are each amazing and a must to try!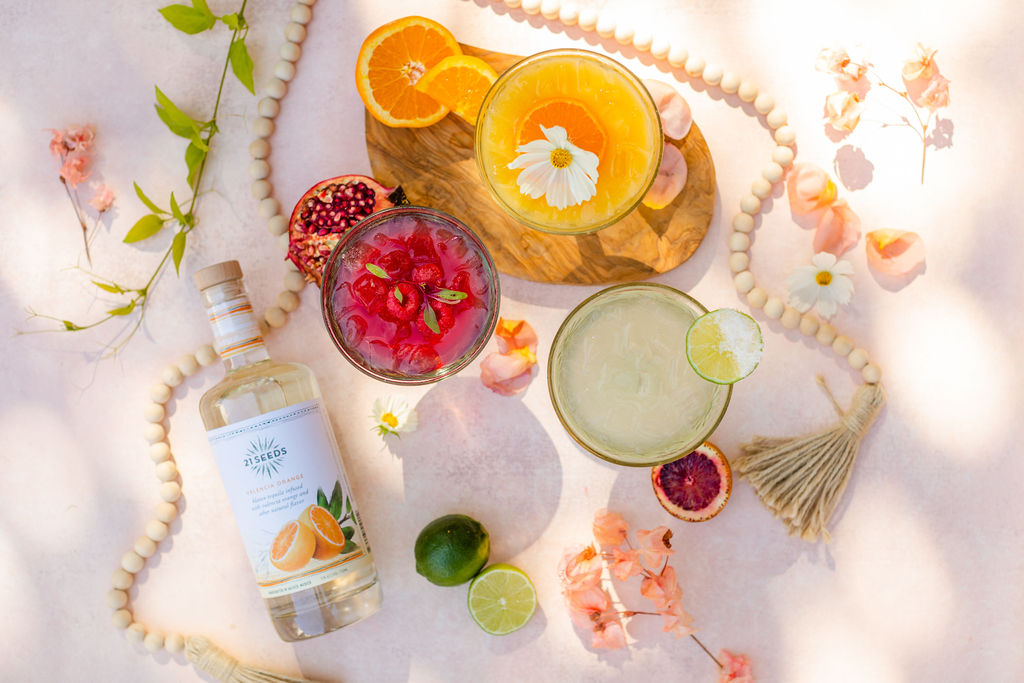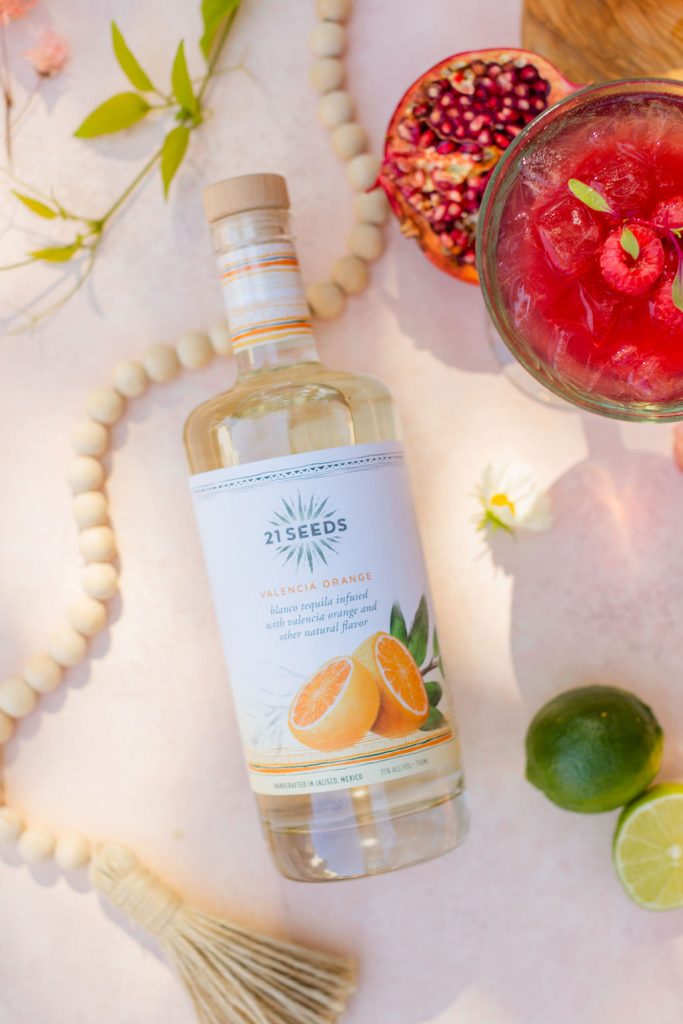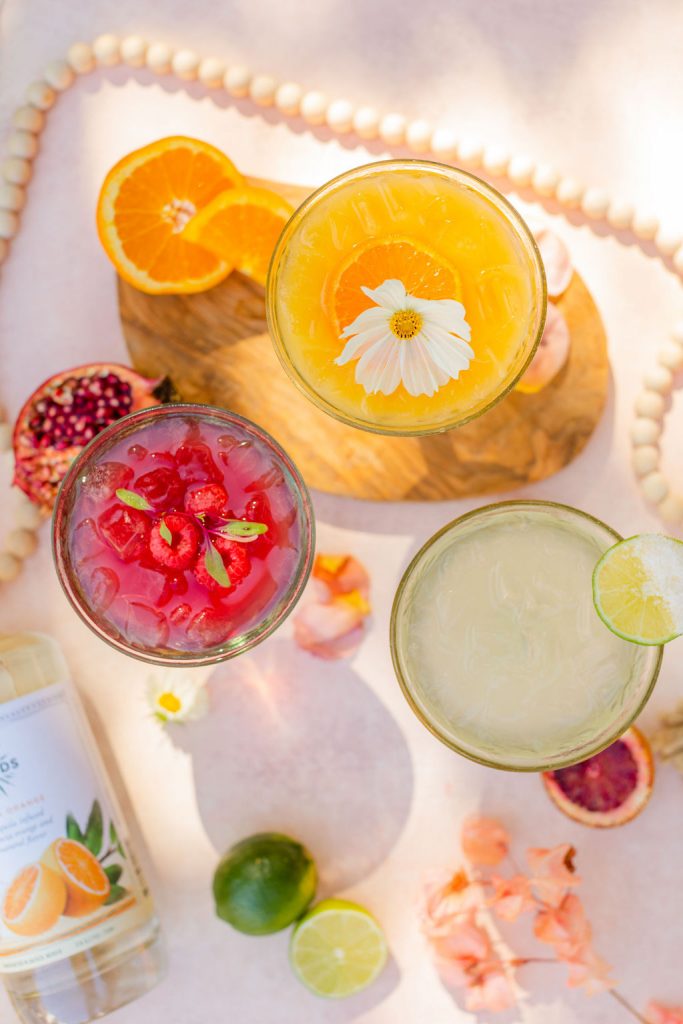 The girls got into the tequila real quick! Haha! Our bride and her ladies had some fun mixing drinks and creating the perfect cocktails for the shower of the season!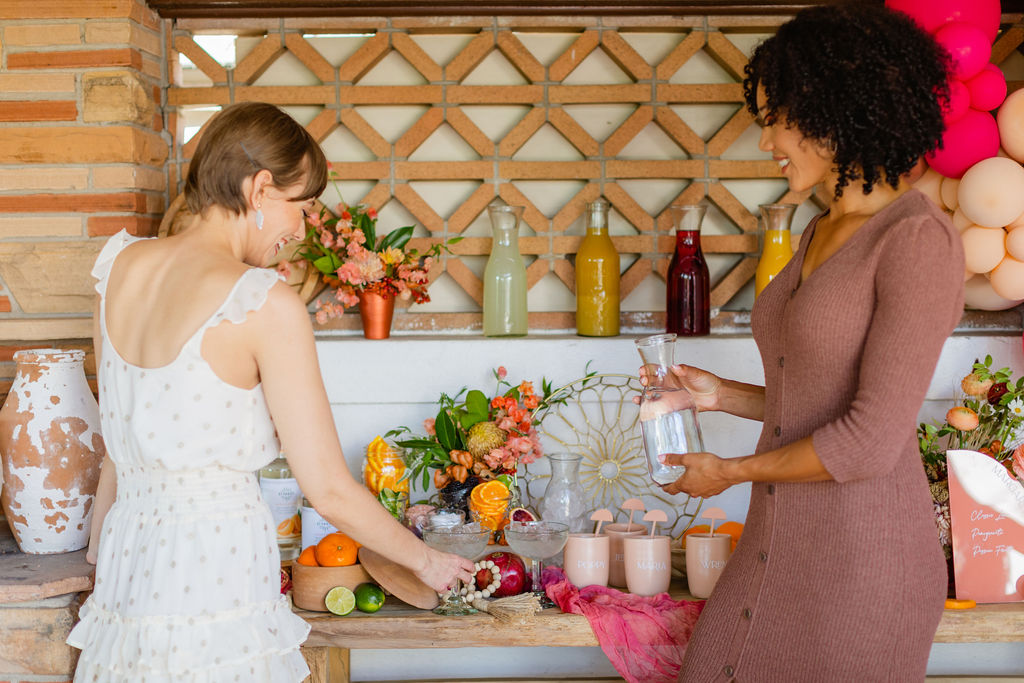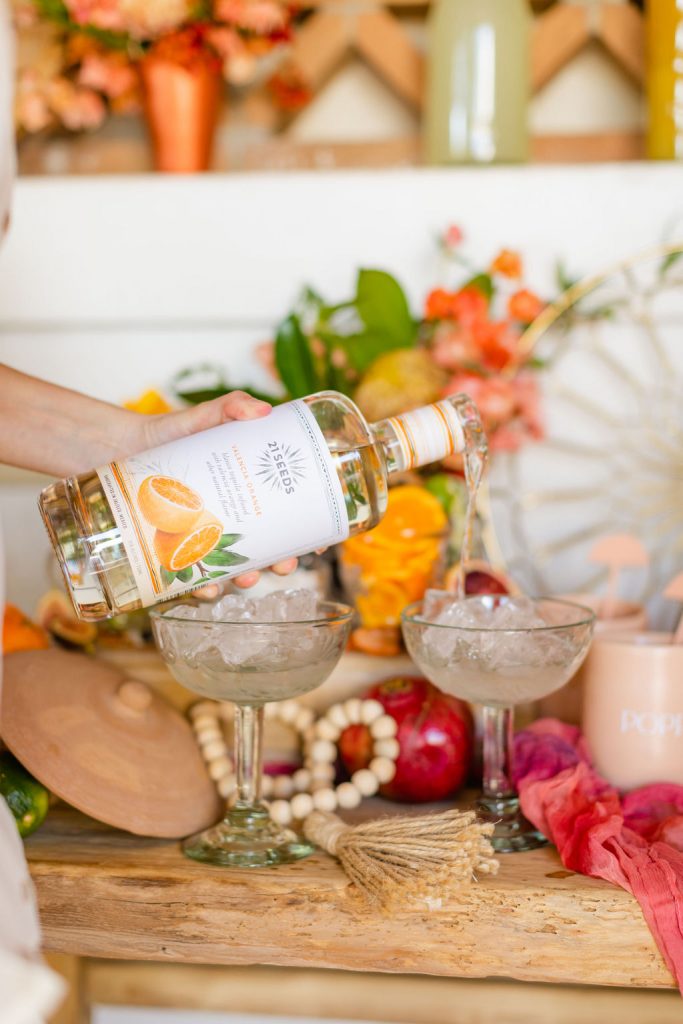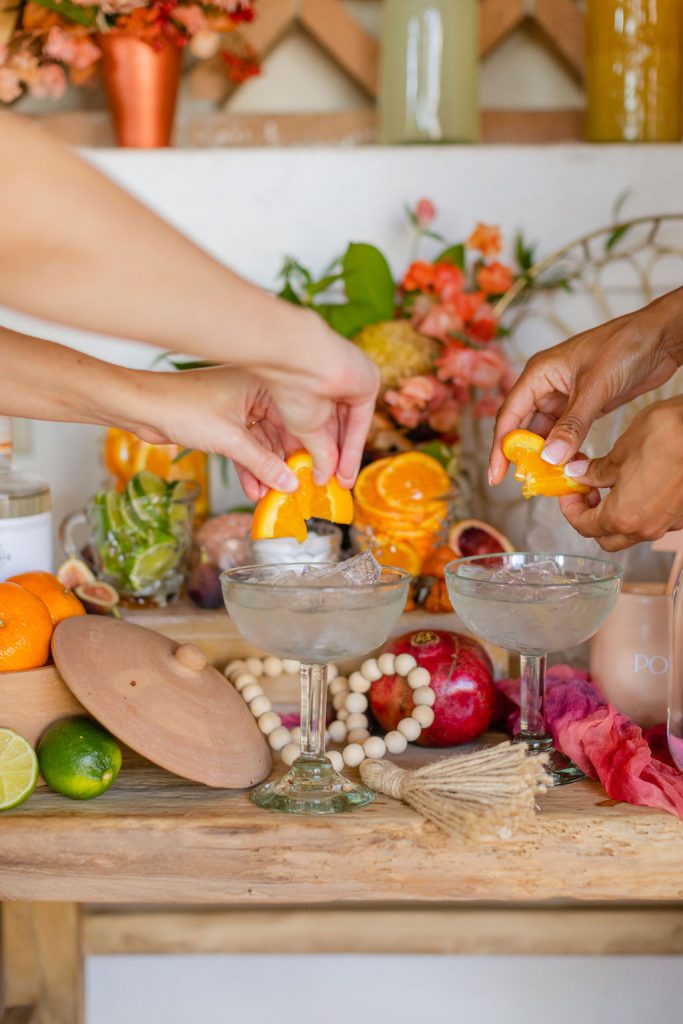 Cheers! And aren't those The Little Market glasses perfect for some margaritas?! Yes indeed!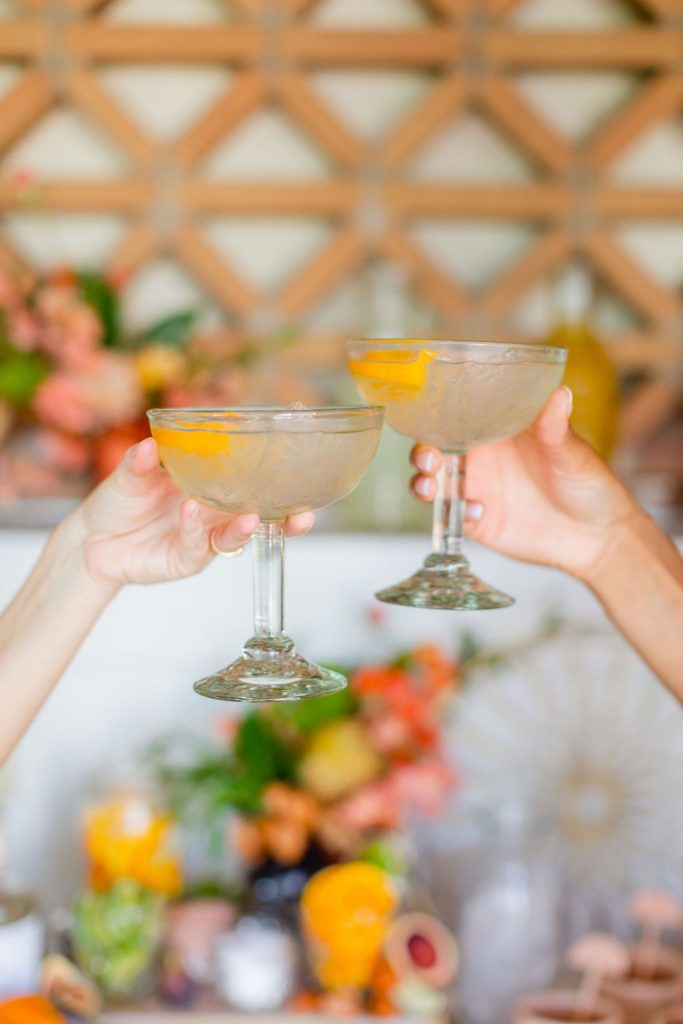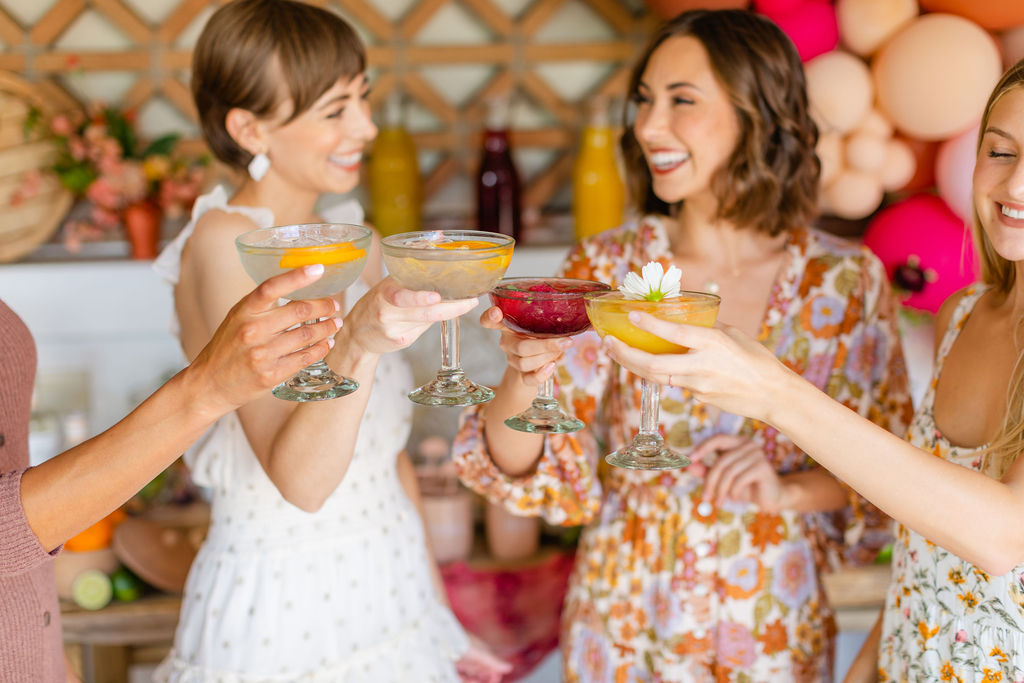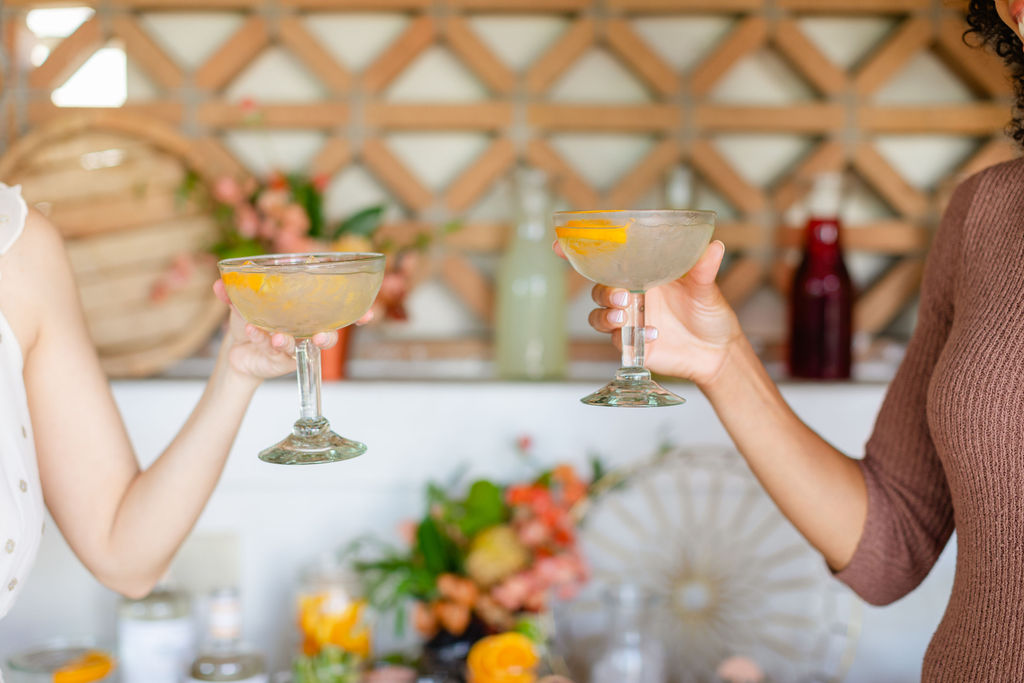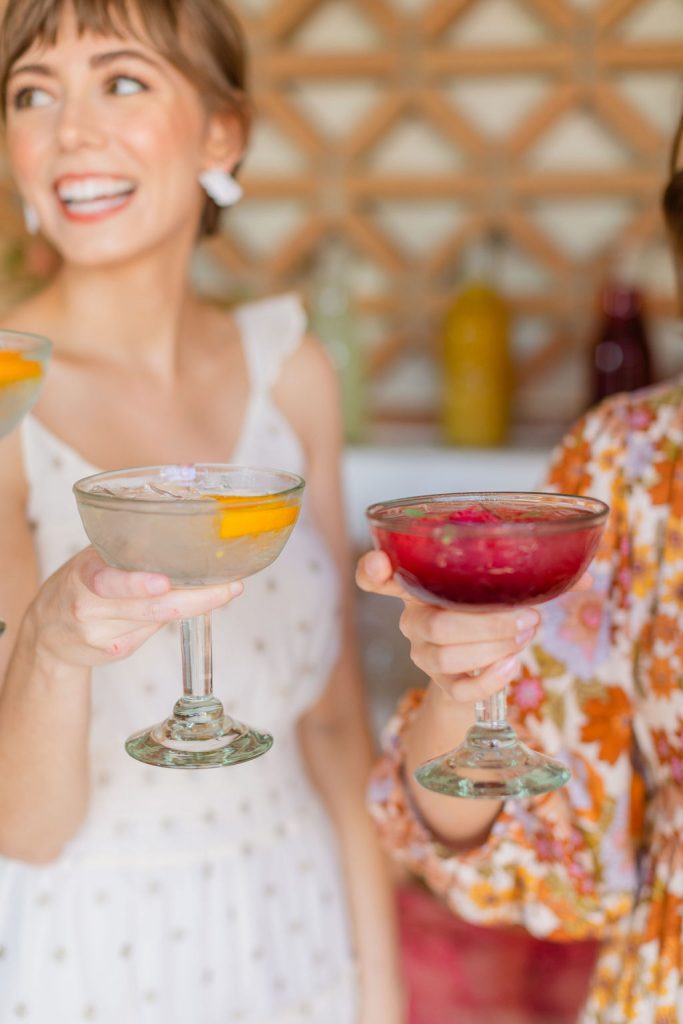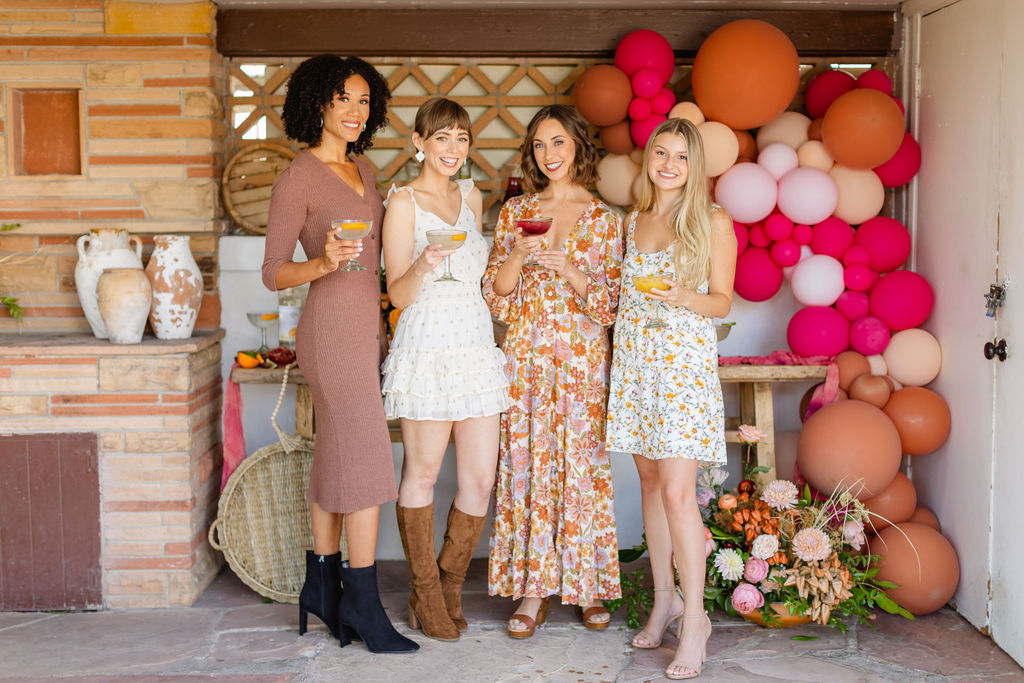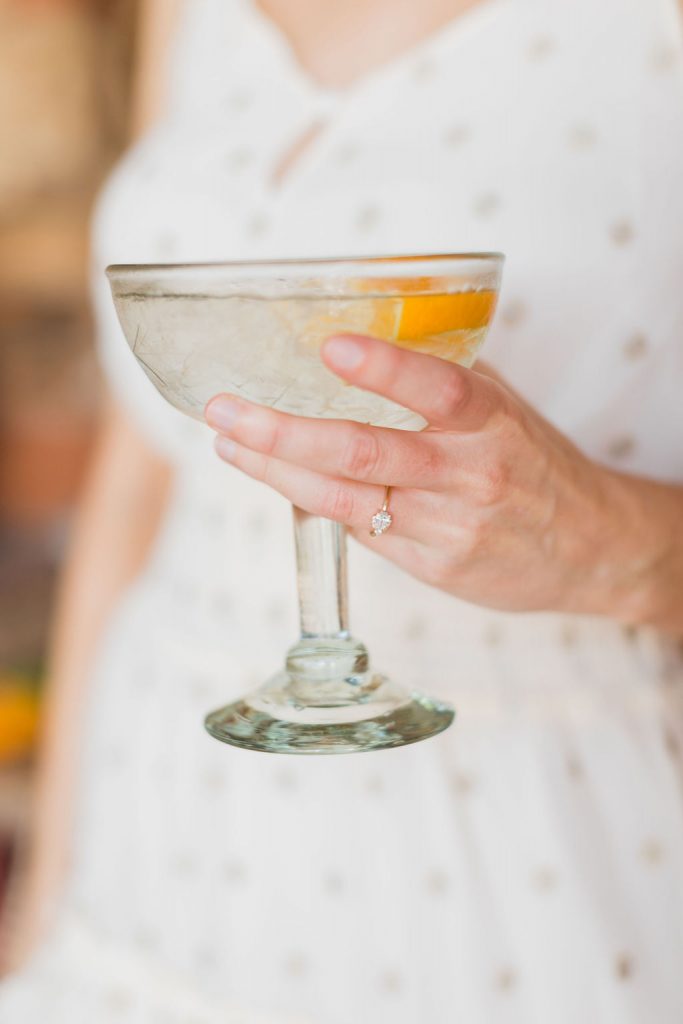 Our pretty bride Kaitlin looking oh so cute!! All of the girls are wearing Saltwater Luxe, our favorite! More on their cute outfits later…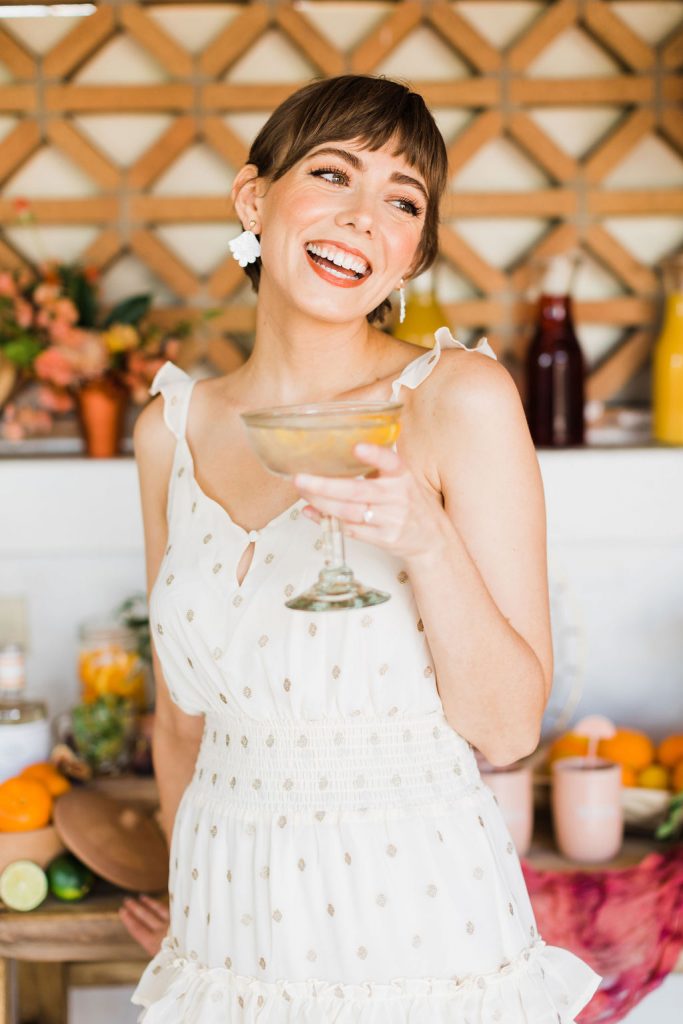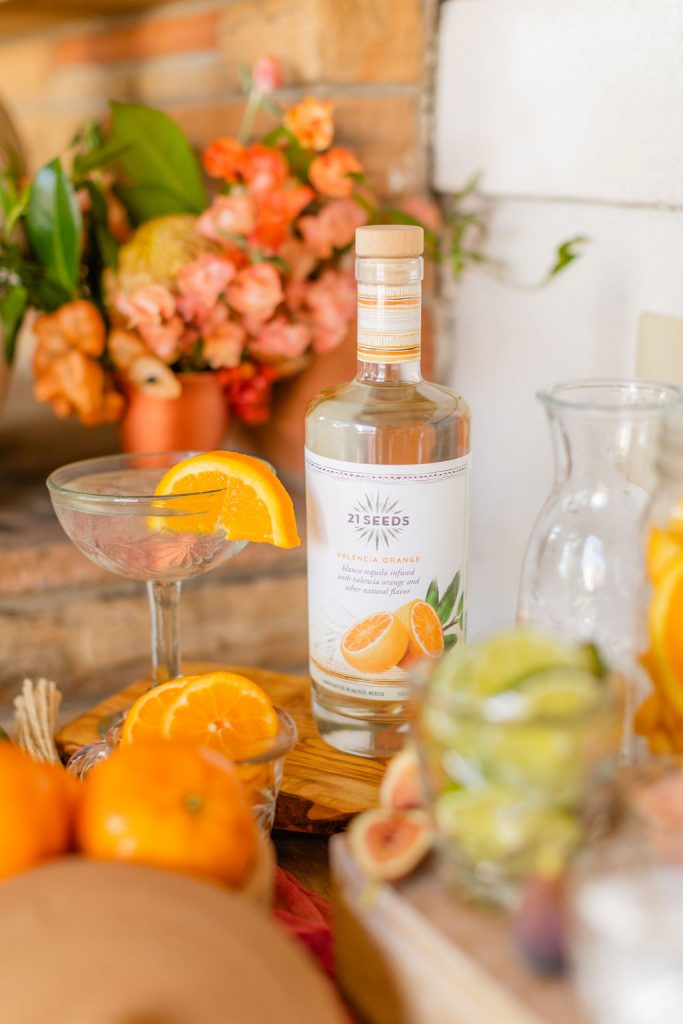 The table was set in the most beautiful spot with a waterfall of stunning balloons by The Pop Shop accompanying it. I love those rattan chairs from Sweet Salvage Rentals and they look oh so perfect with our setup!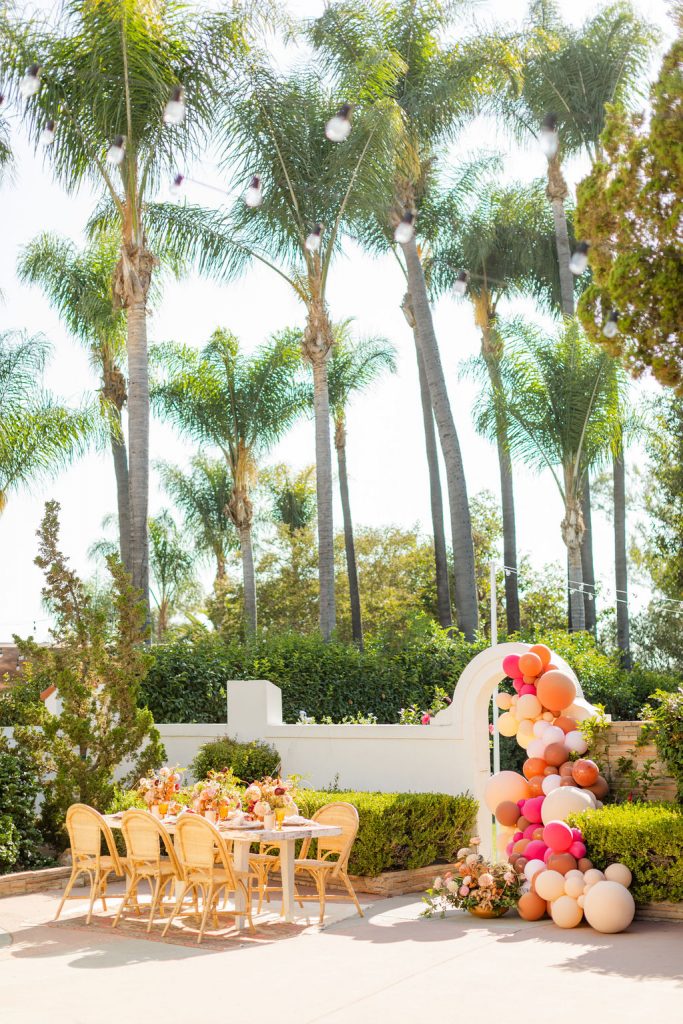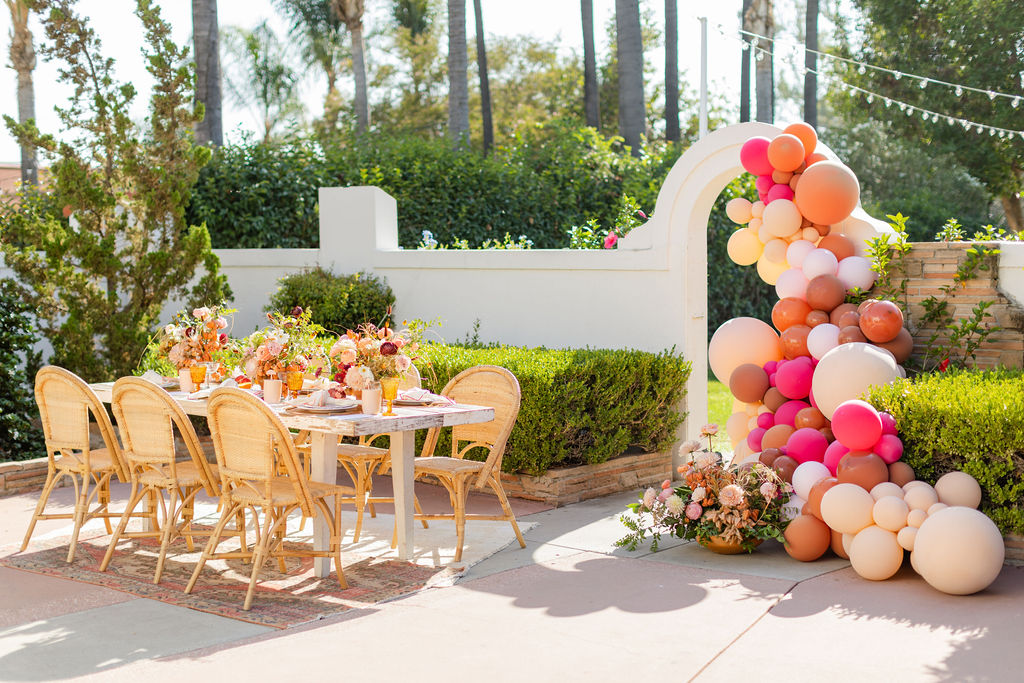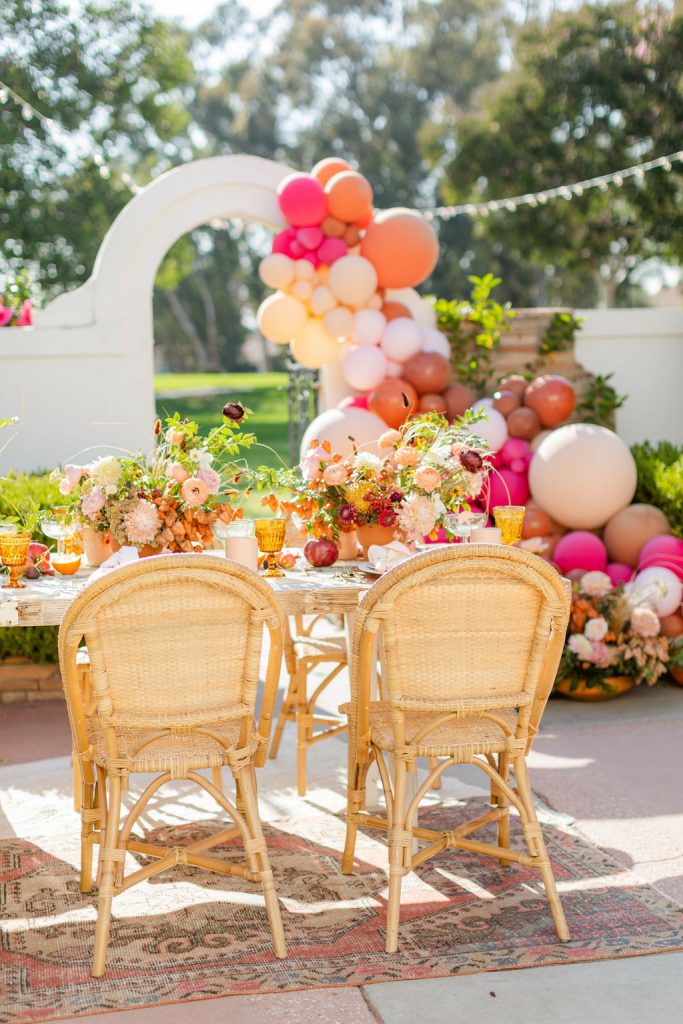 This is pretty darn swoon-worthy! The florals from Inessa Nichols are just stunning and paired with the Hostess Haven tabletop items it's just incredibly gorgeous!!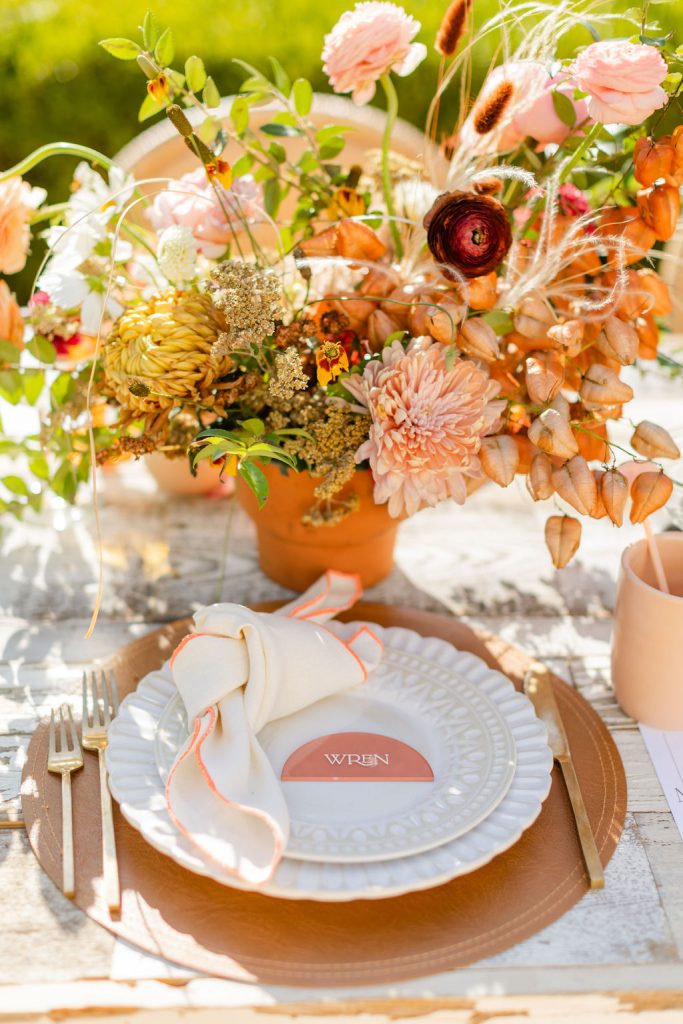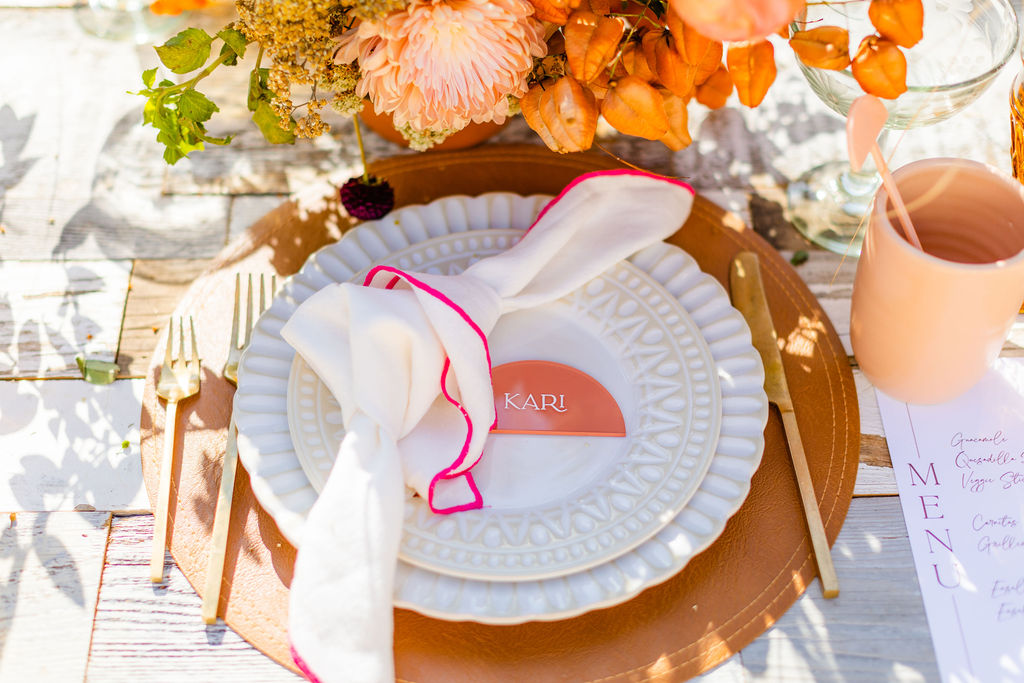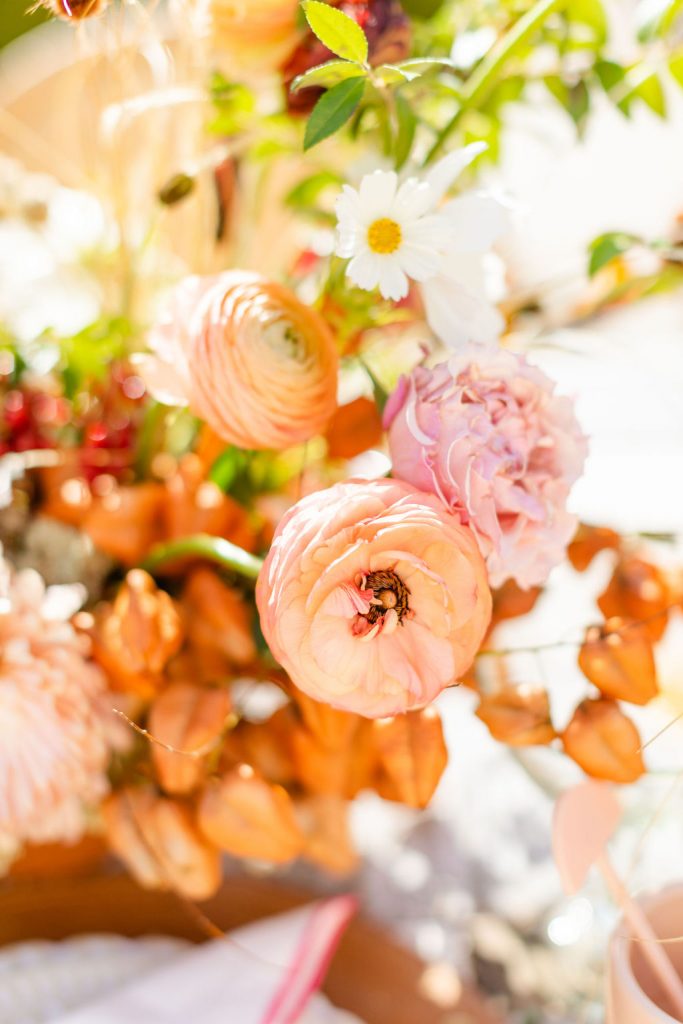 So many sweet details from Proper Letter… The stir sticks, the menus, and the place cards. It's all cohesive and just so dang good!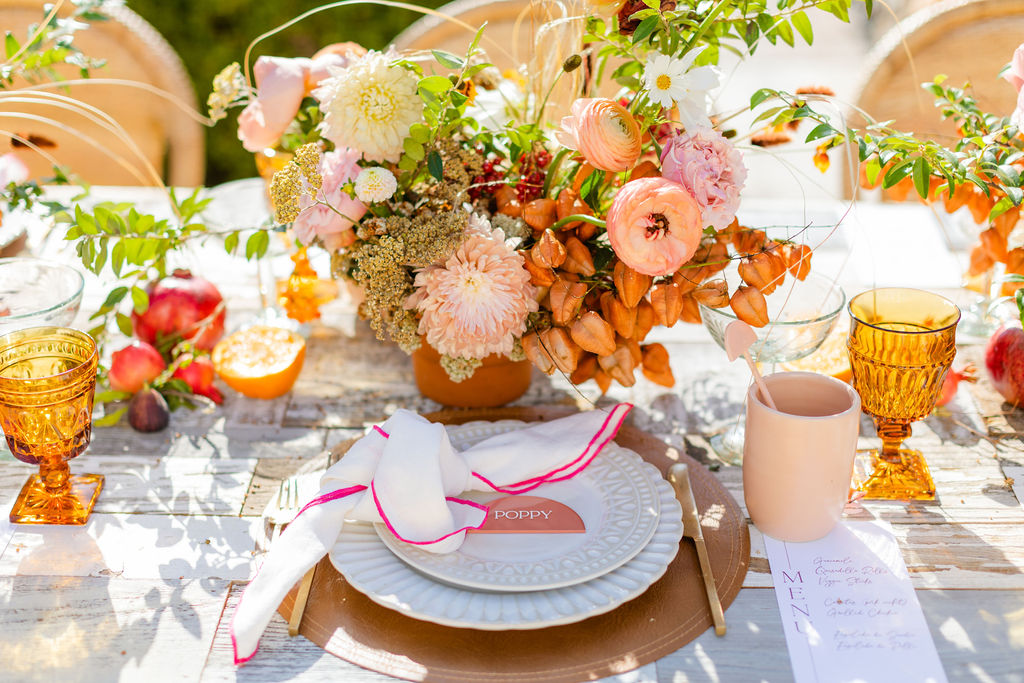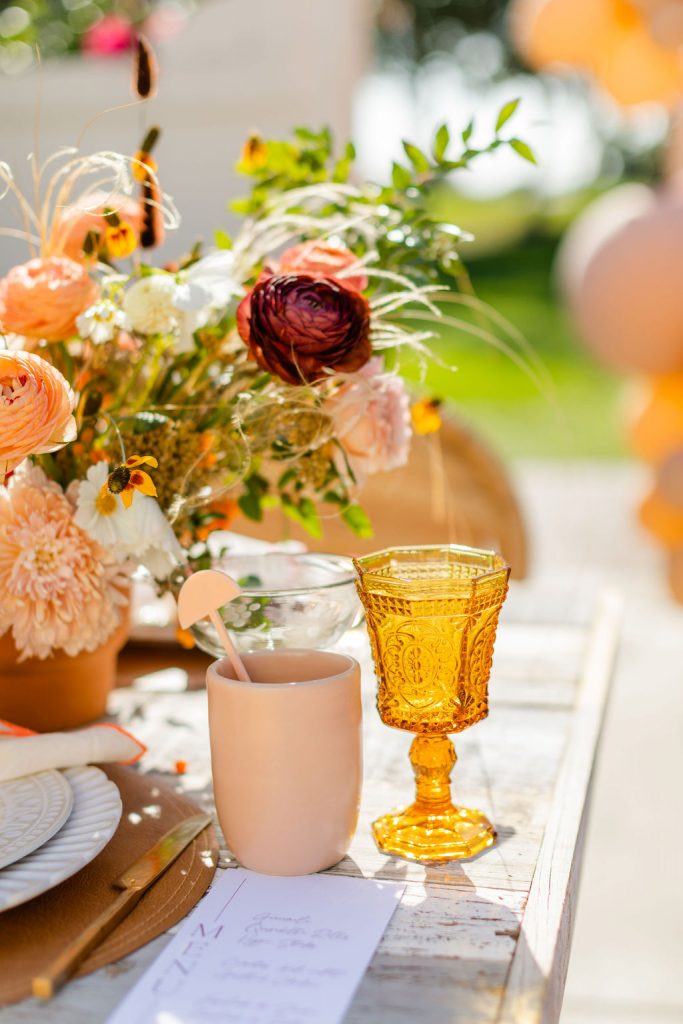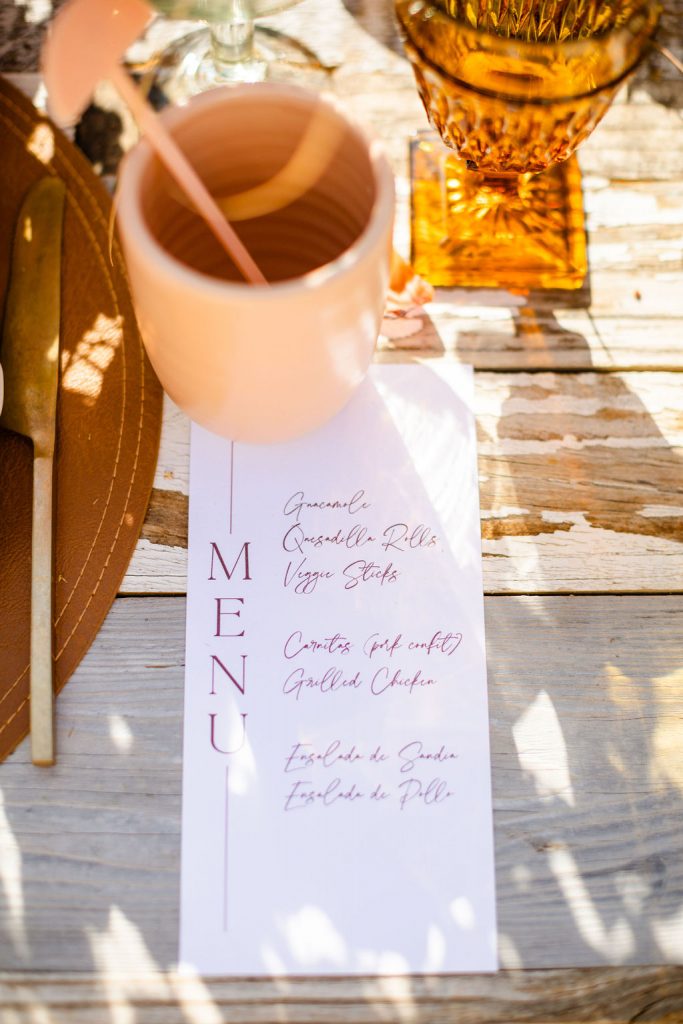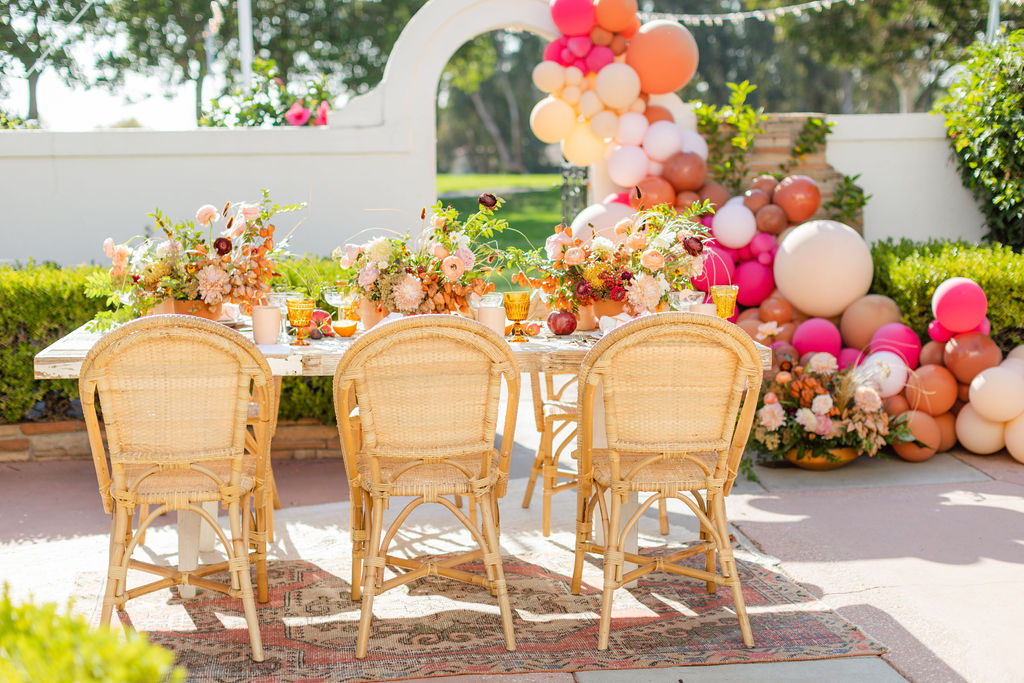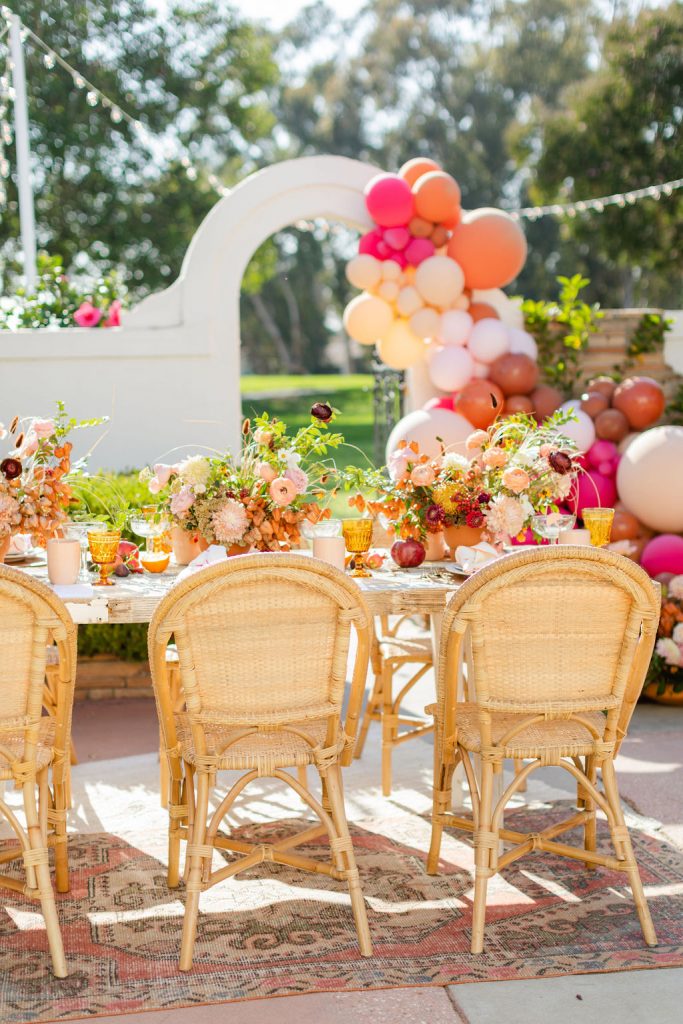 The girls gathered around the table and toasted their bride!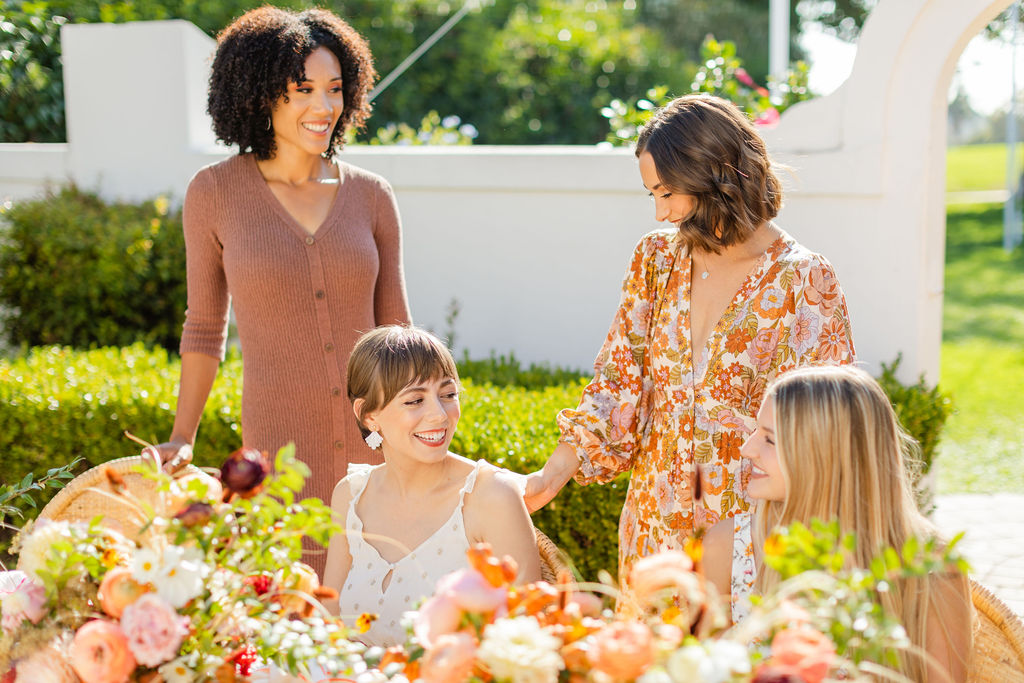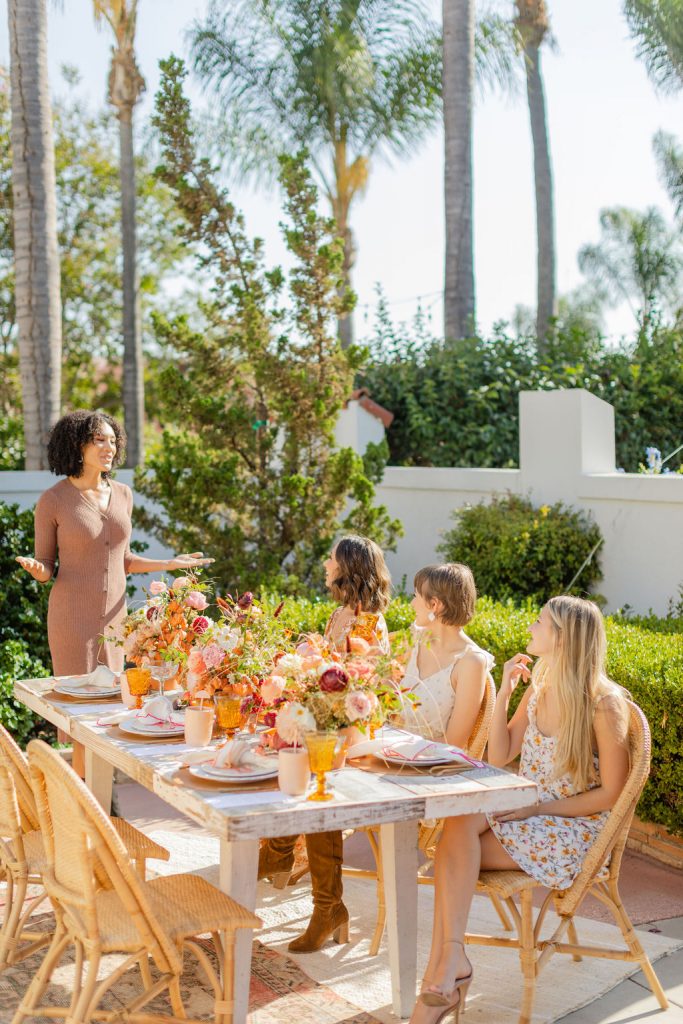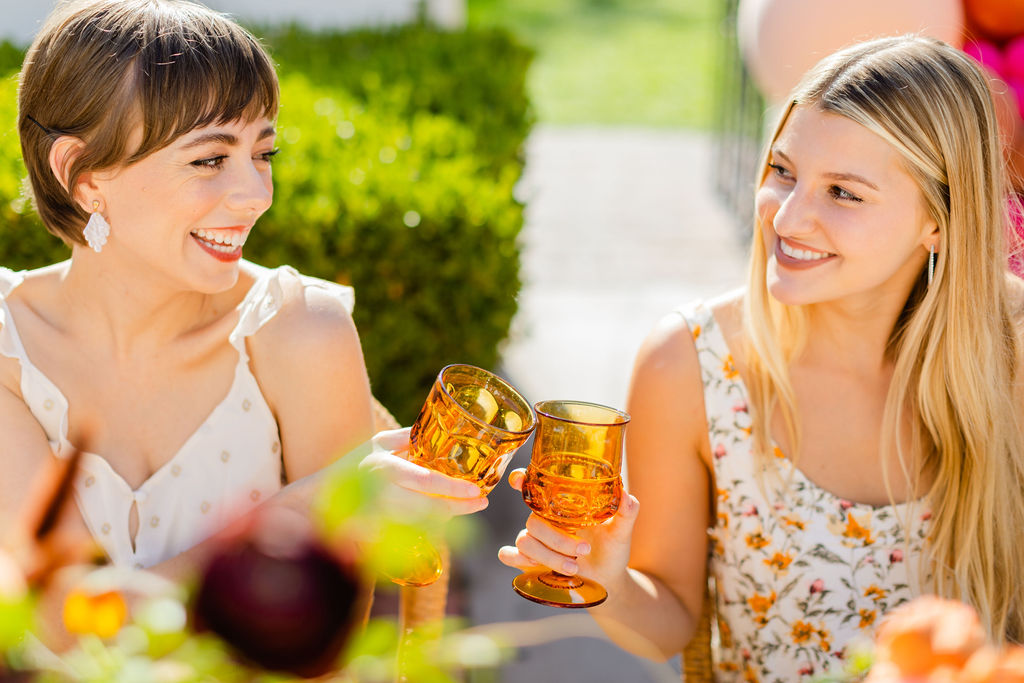 Next up, churros! What better treat at a little Latin soiree than that?! Twisted for Sugar brought their cutie cart which we decked out with The Pop Shop balloons and Inessa Nichols Florals. Let me tell you, they were beyond tasty and everyone was gushing over how delicious they were! Plus their display was way too cute in those terra cotta pots!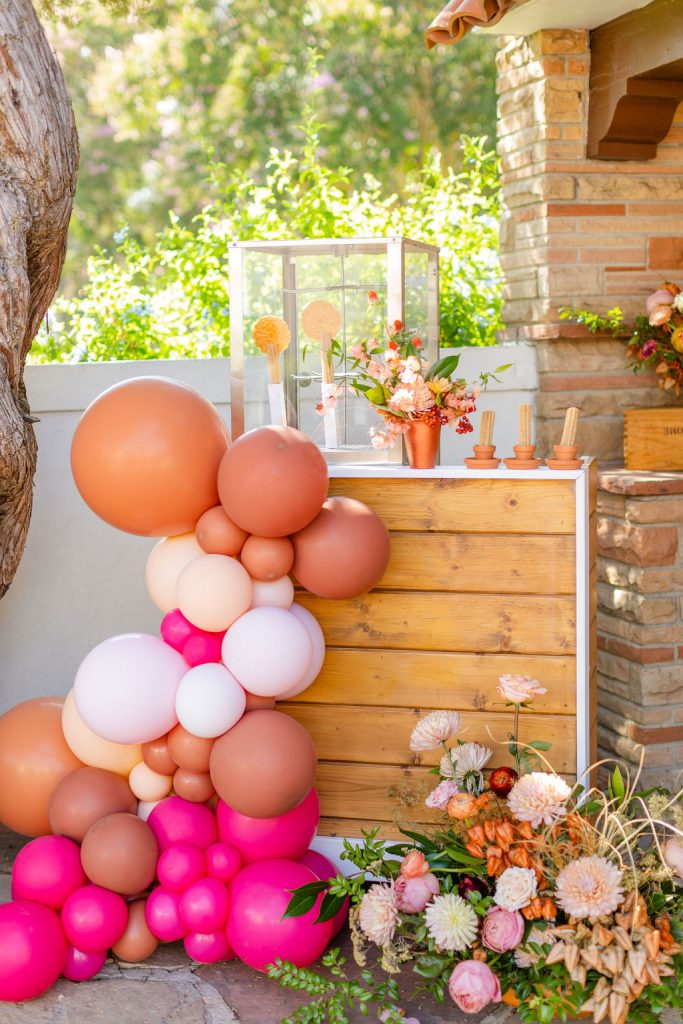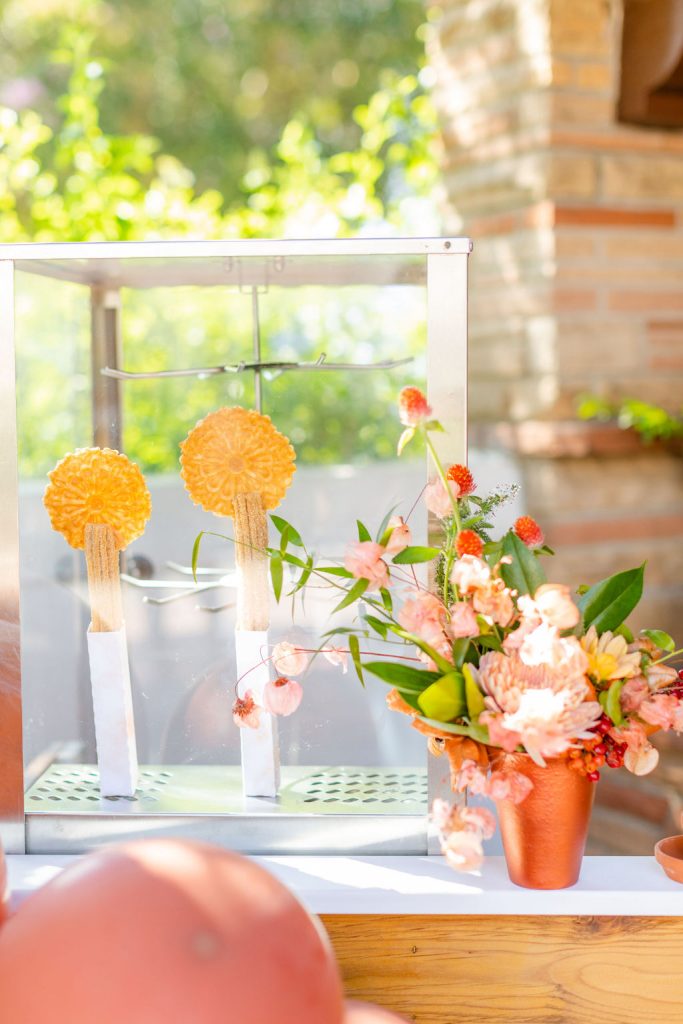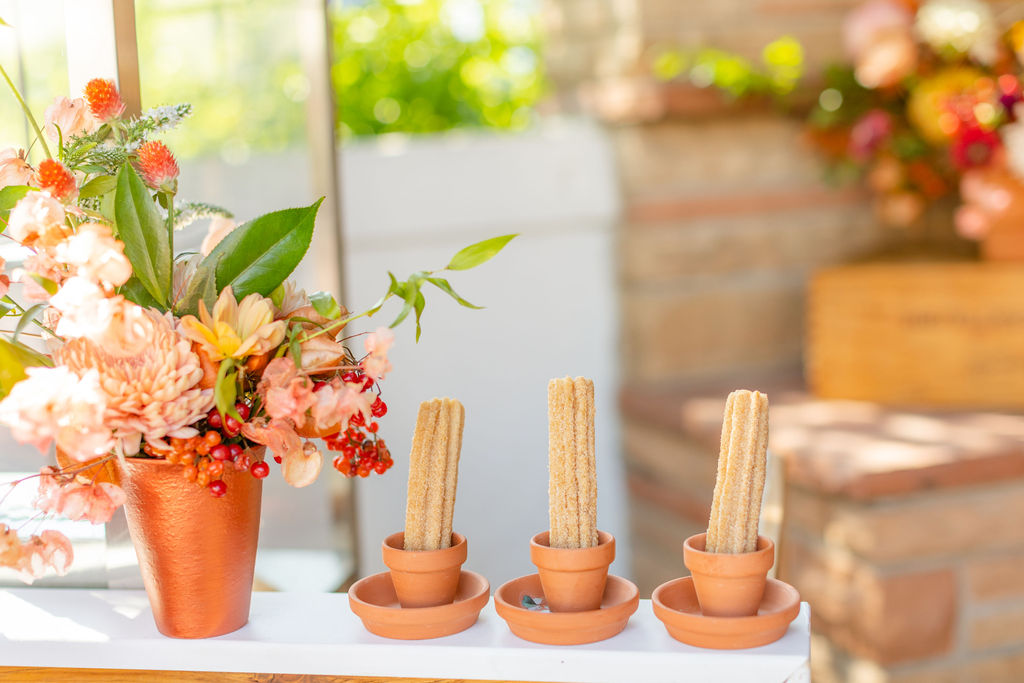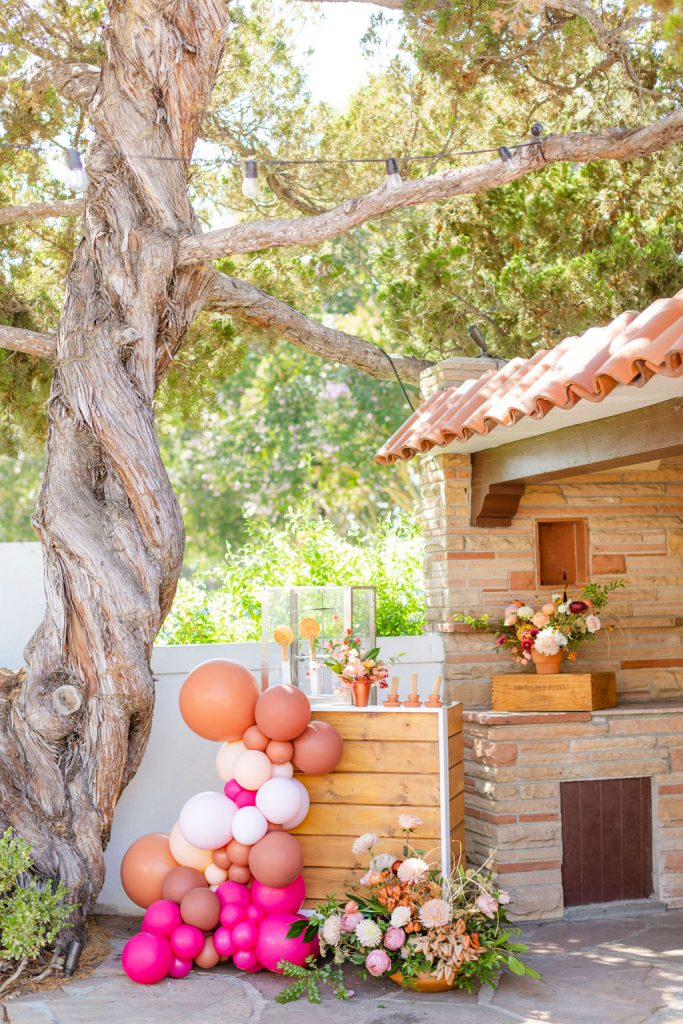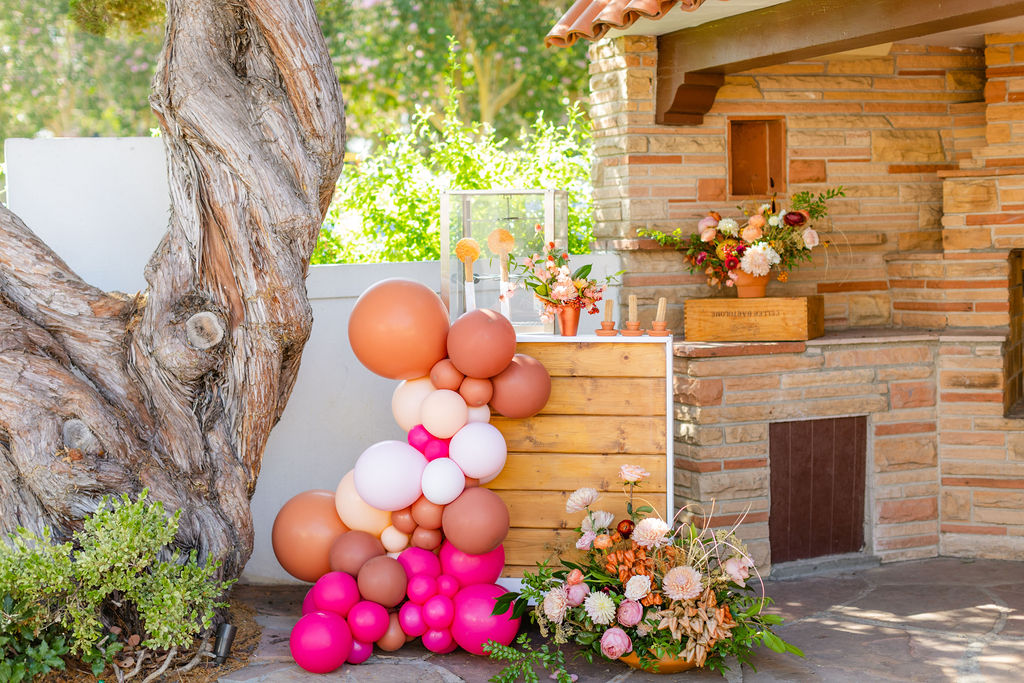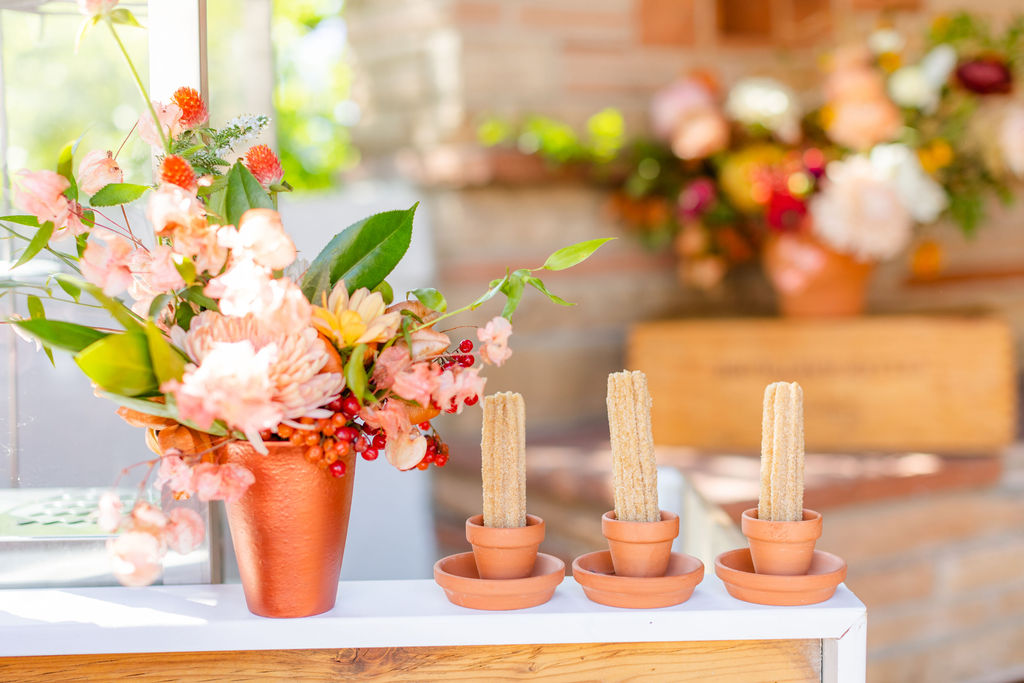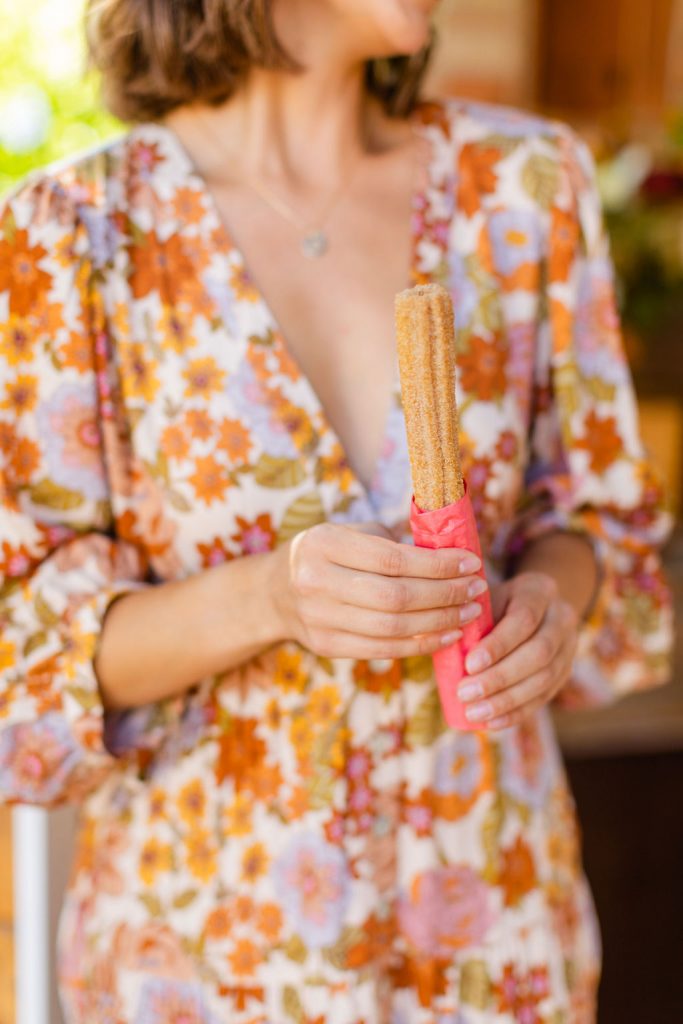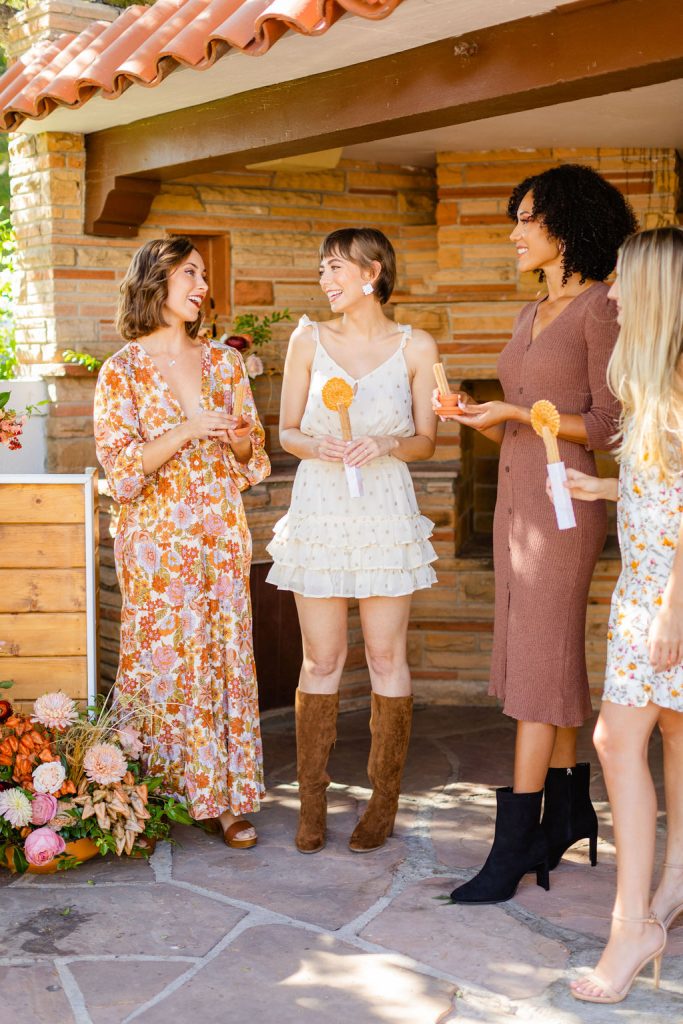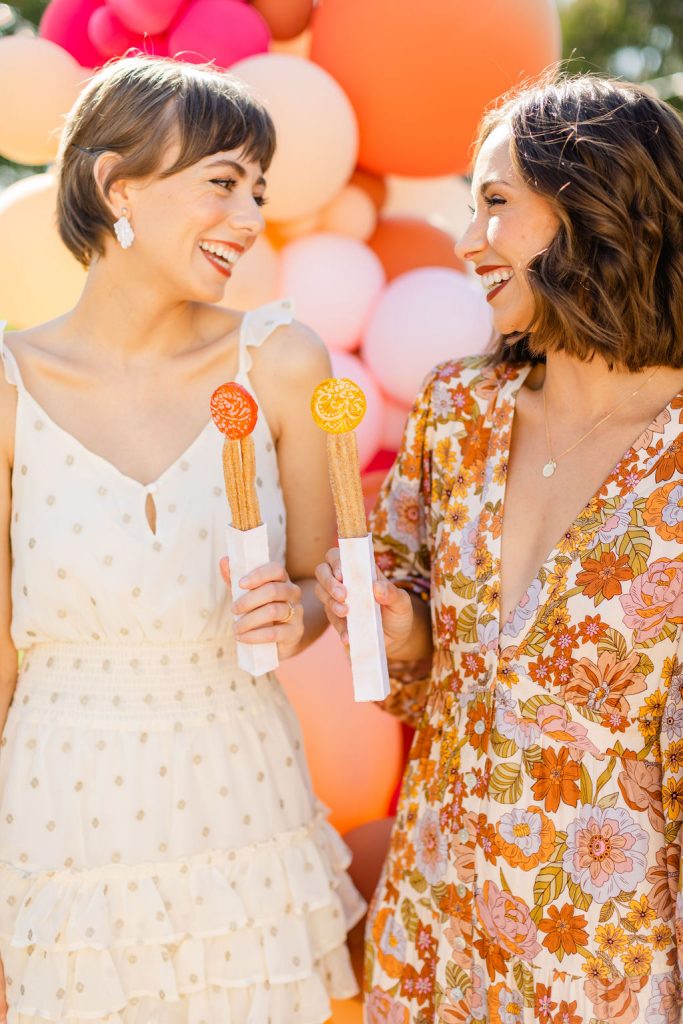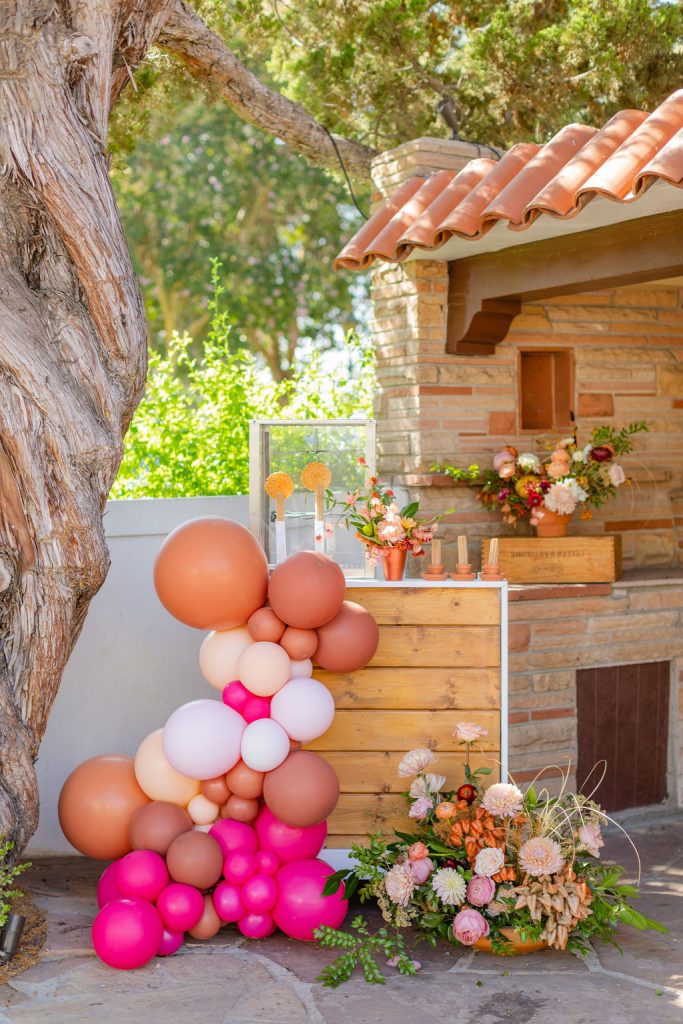 A little spot for the ladies to lounge is a necessity at any shower! Ours was set up in the prettiest spot with those amazing tiles and more balloons of course! Sweet Salvage Rentals has the best collection and this showcases it so well!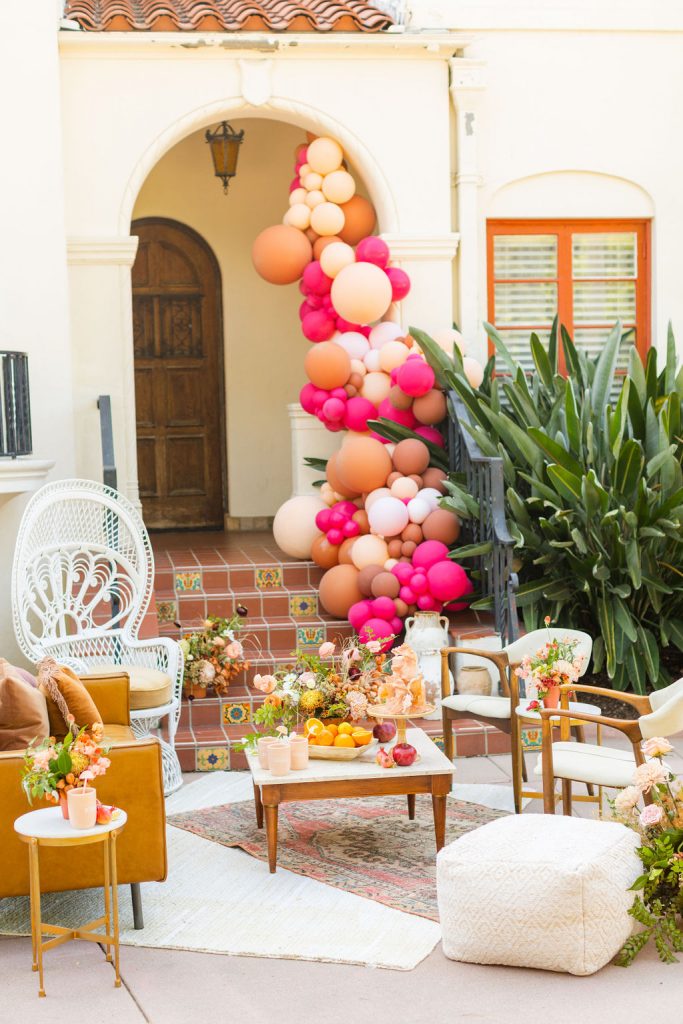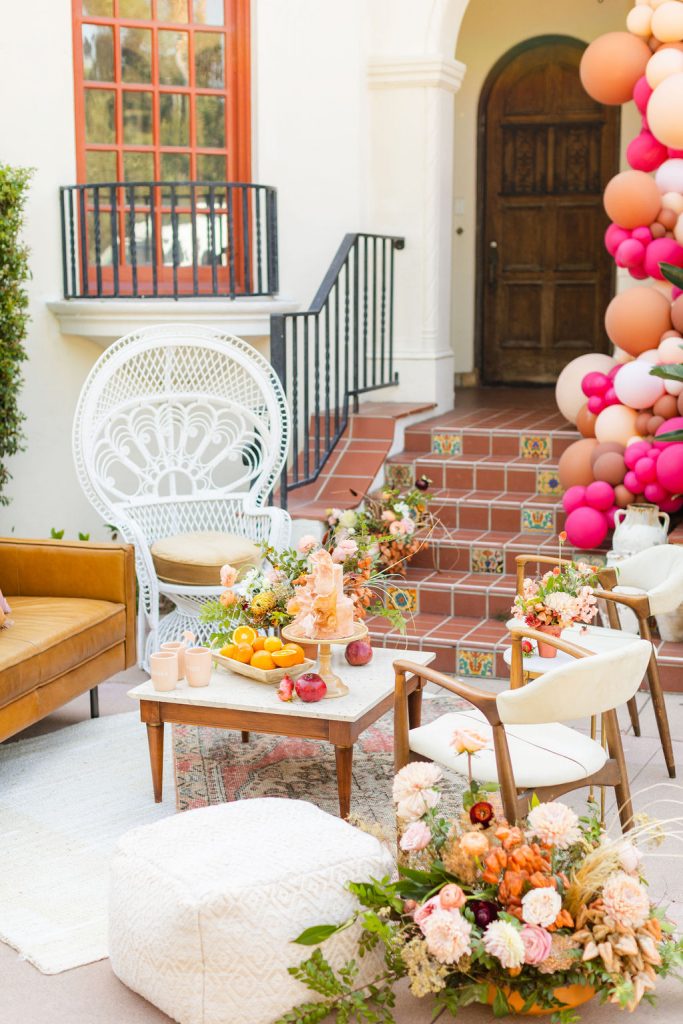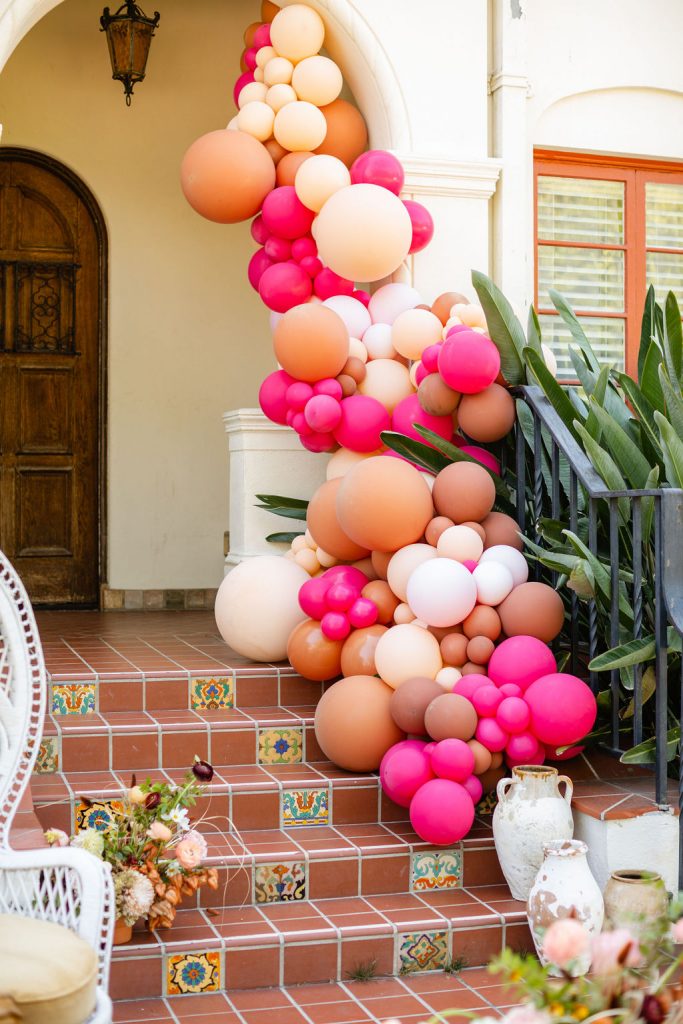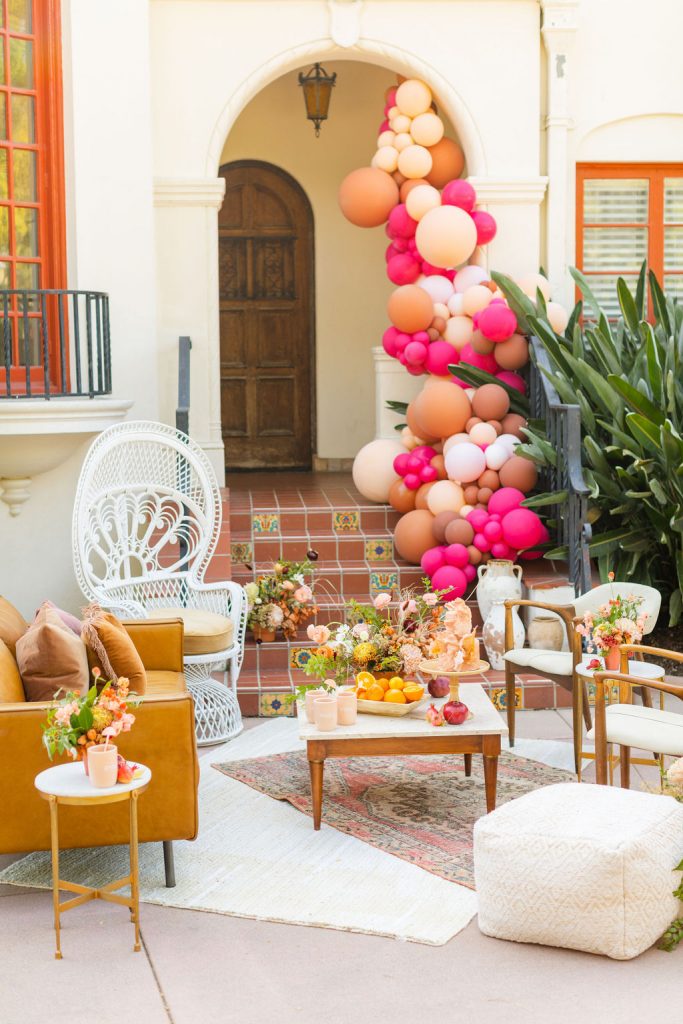 We used lots of fresh fruit throughout the event from oranges, pomegranates, limes, and more! It's always frun to add fresh elements to a design!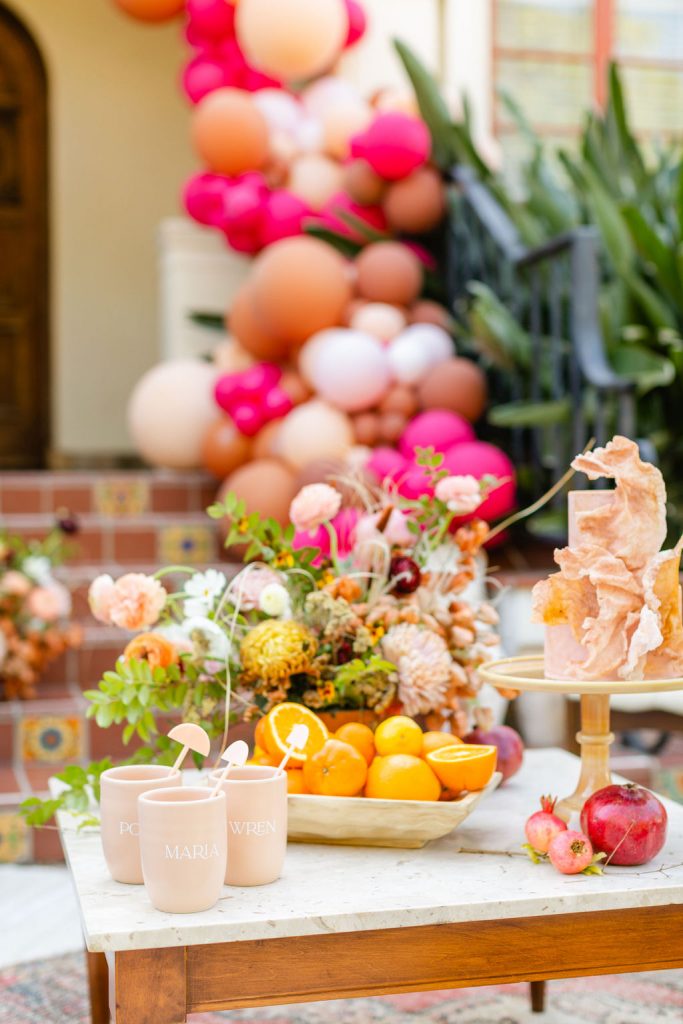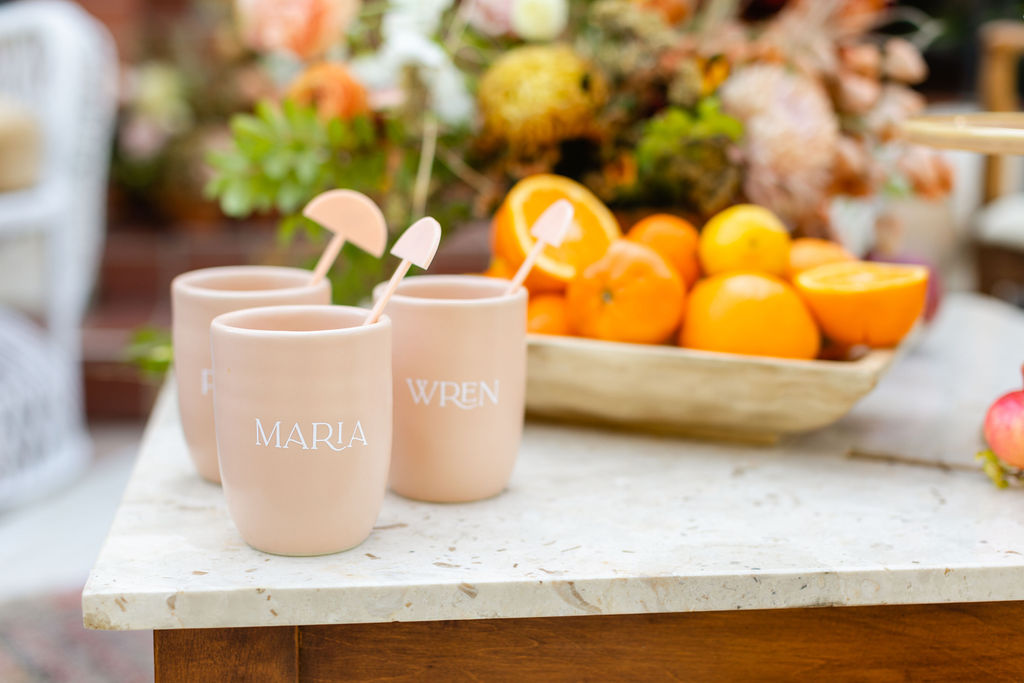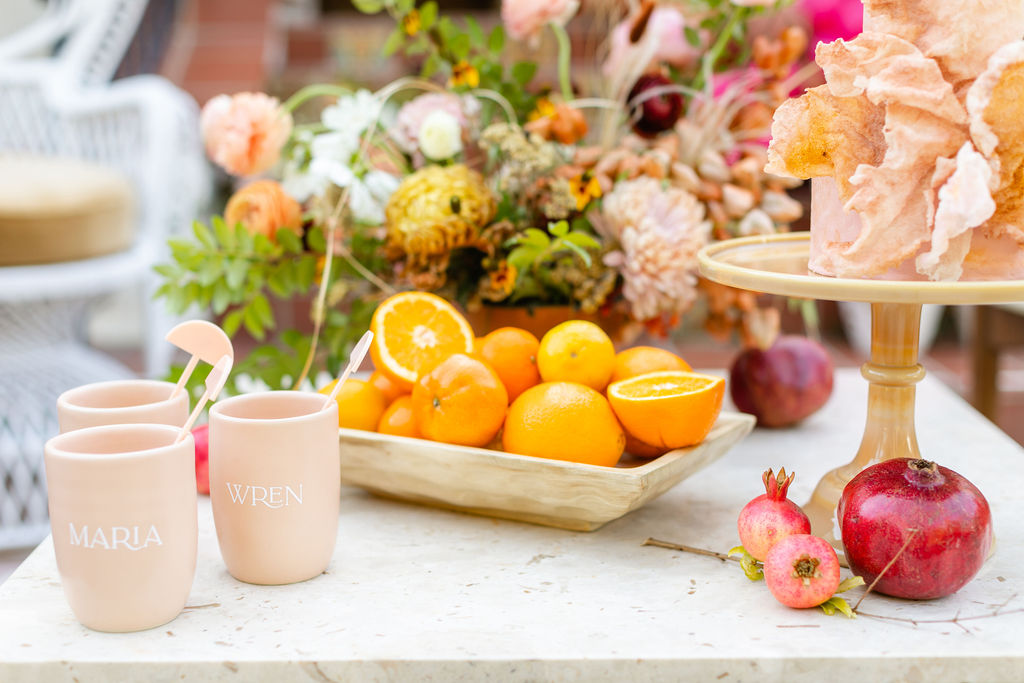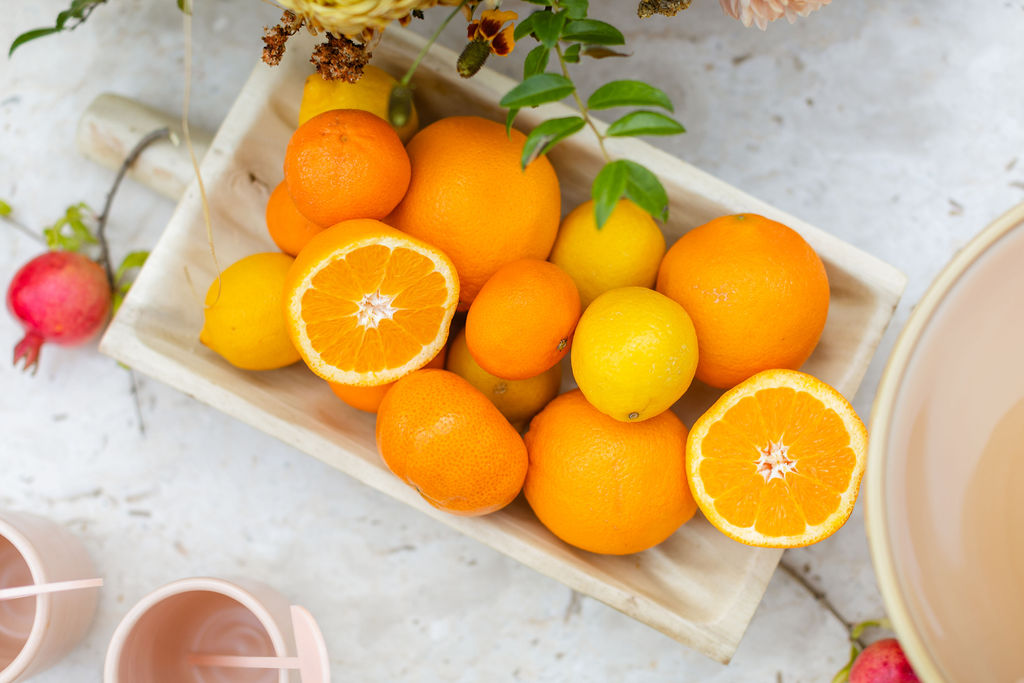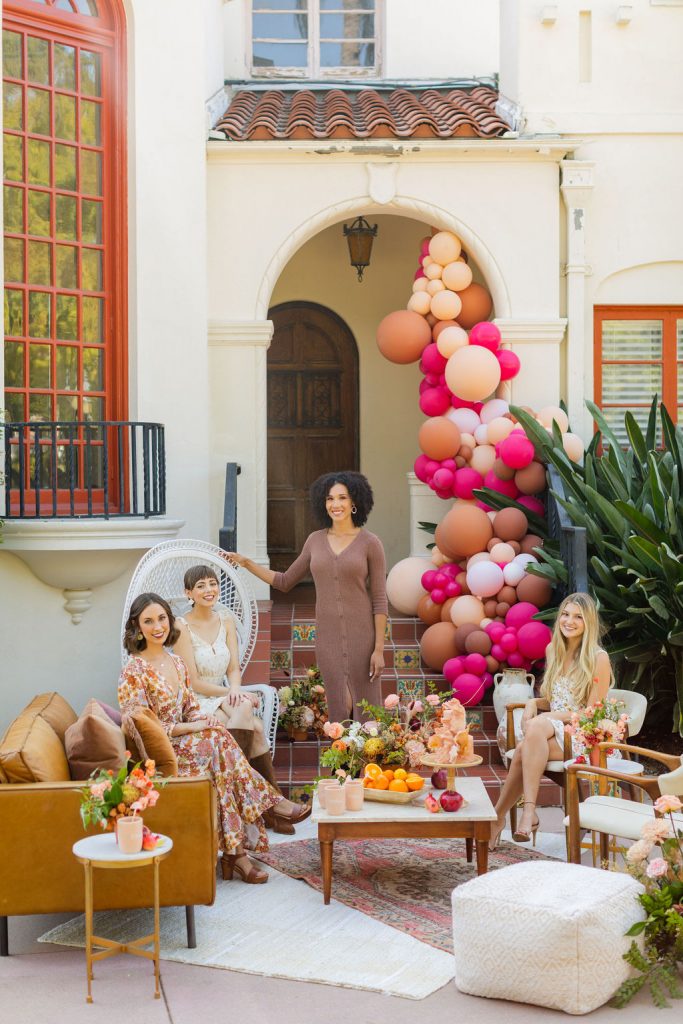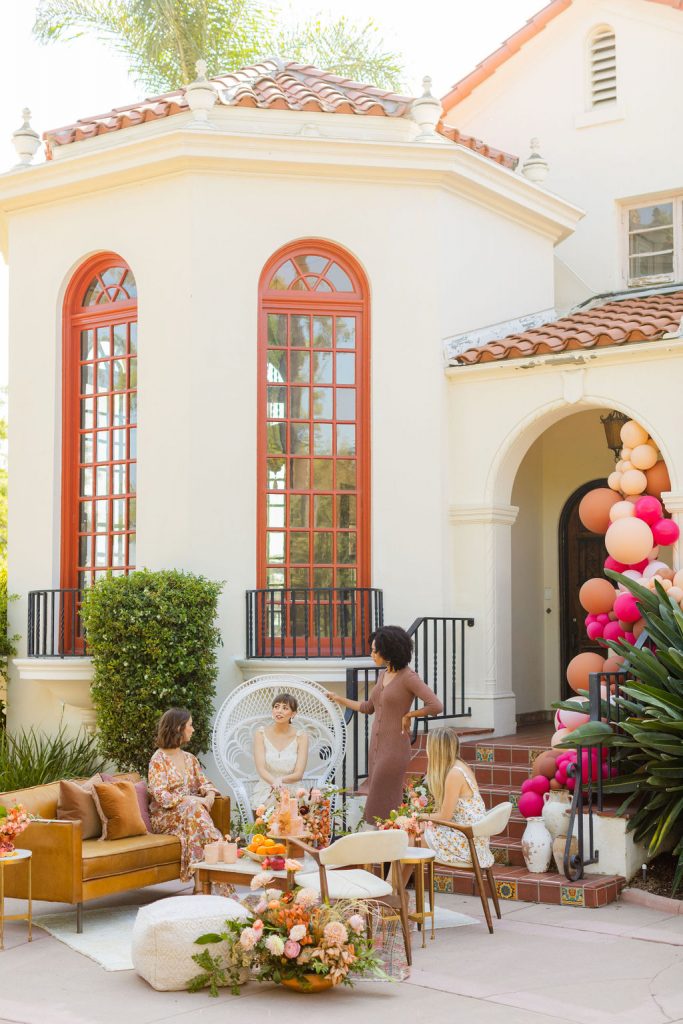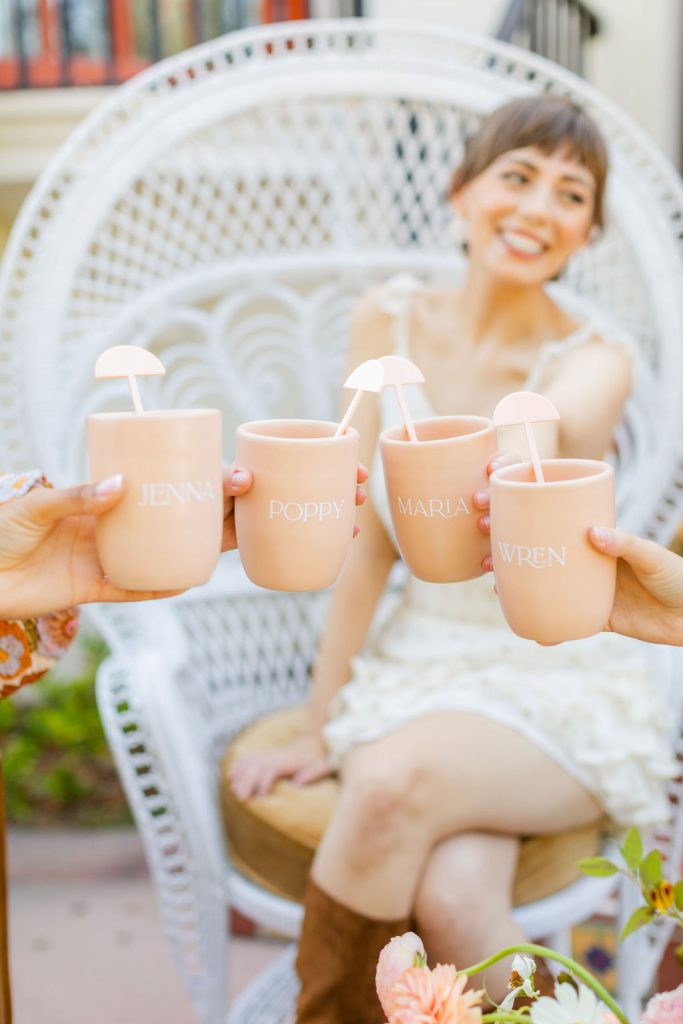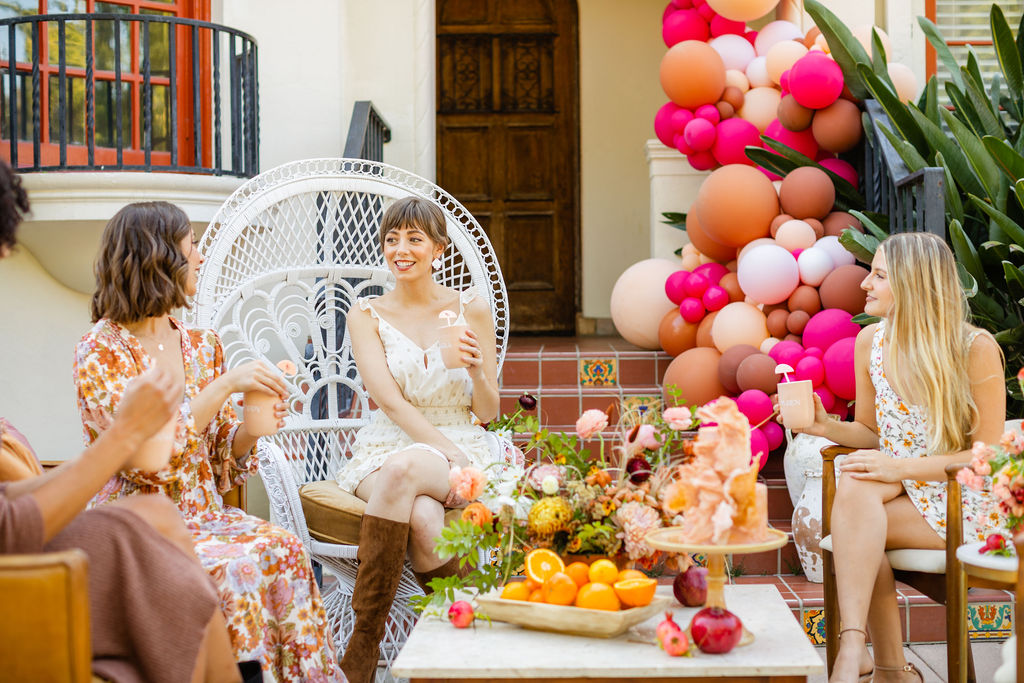 Are you ready to have your jaw drop?! This cake by Sugar Crush Sweets was just incredible!! The textures are breathtaking and her attention to detail is always amazing.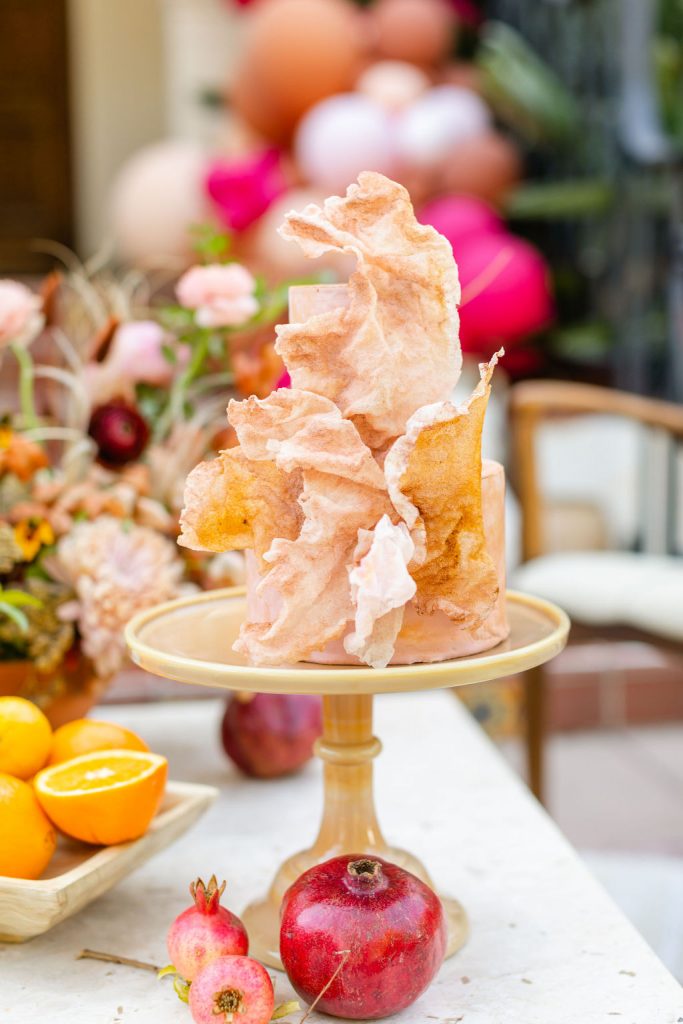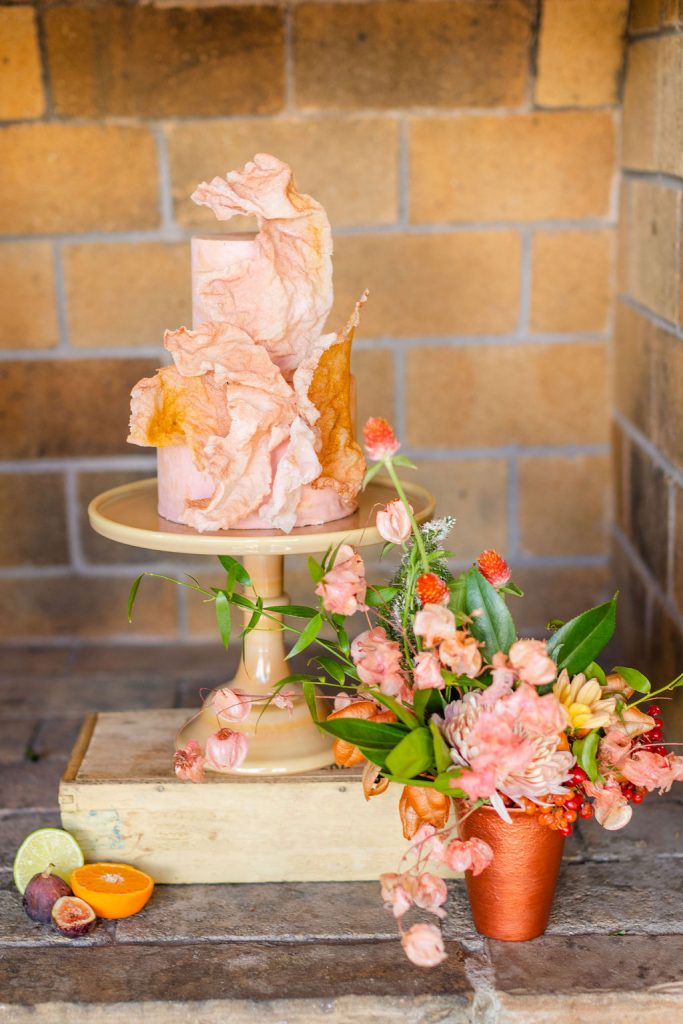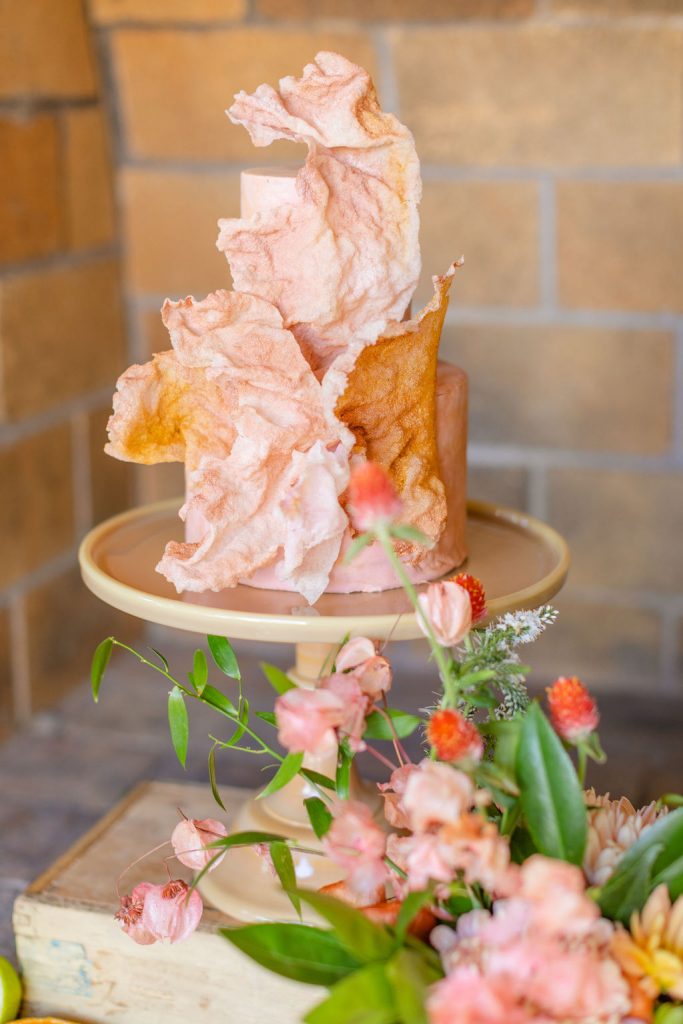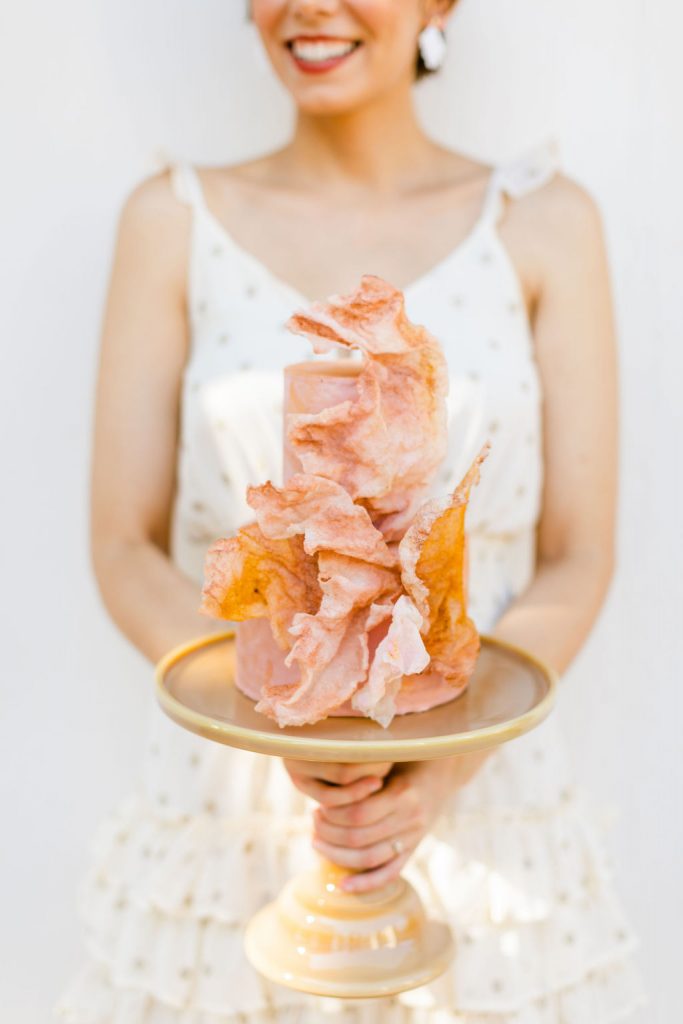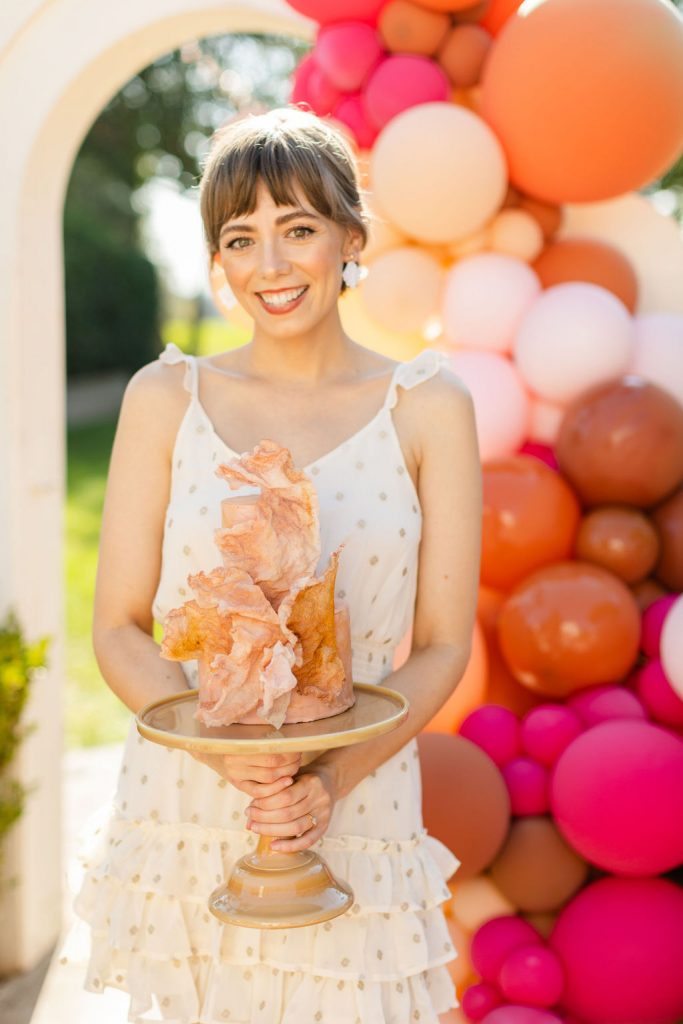 Let's take a moment to appreciate these adorable outfits our models wore!! Saltwater Luxe always has the cutest outfits season after season and we are so lucky to work with them. Kaitlin is wearing the California Gold Catherine Mini Dress and she looks amazing!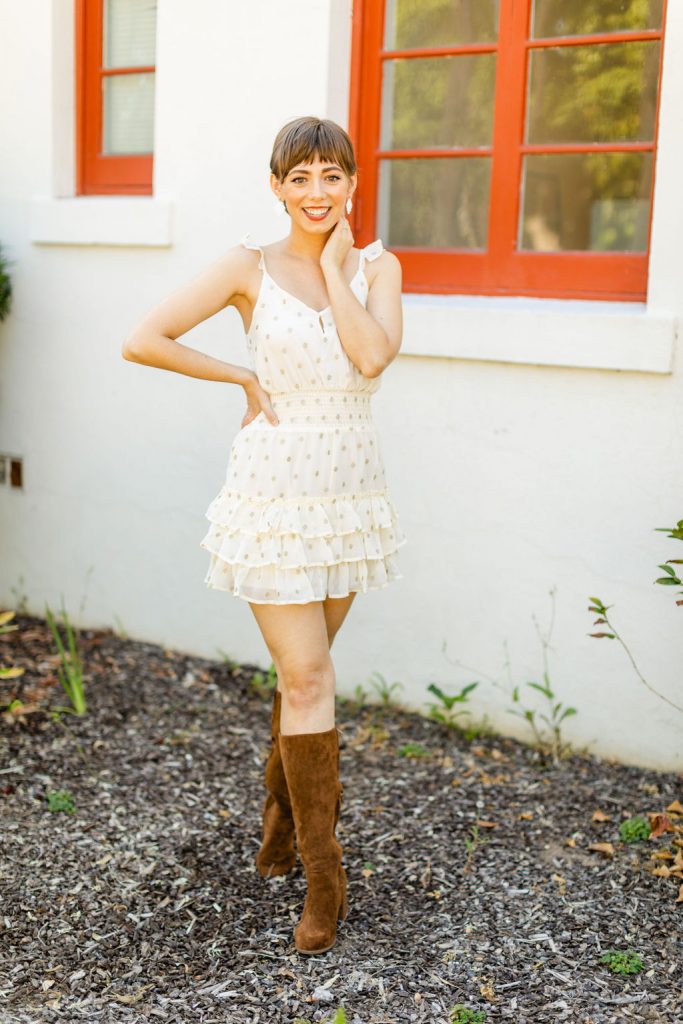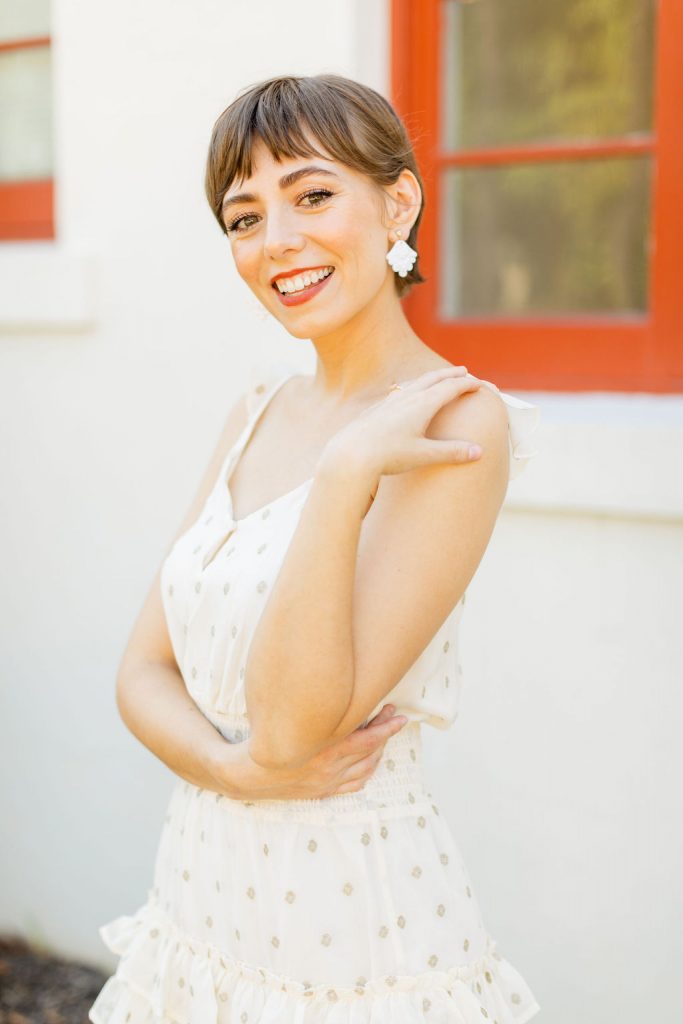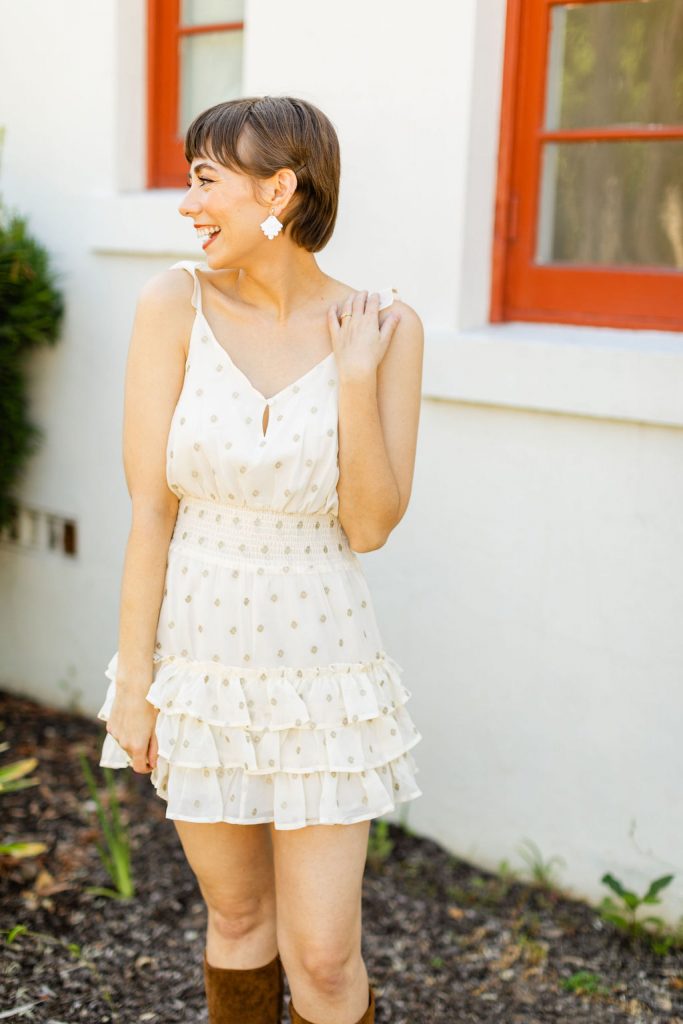 Jessica looks incredible and ready for Fall in this sweet sweater dress, aka the Cara Midi Dress.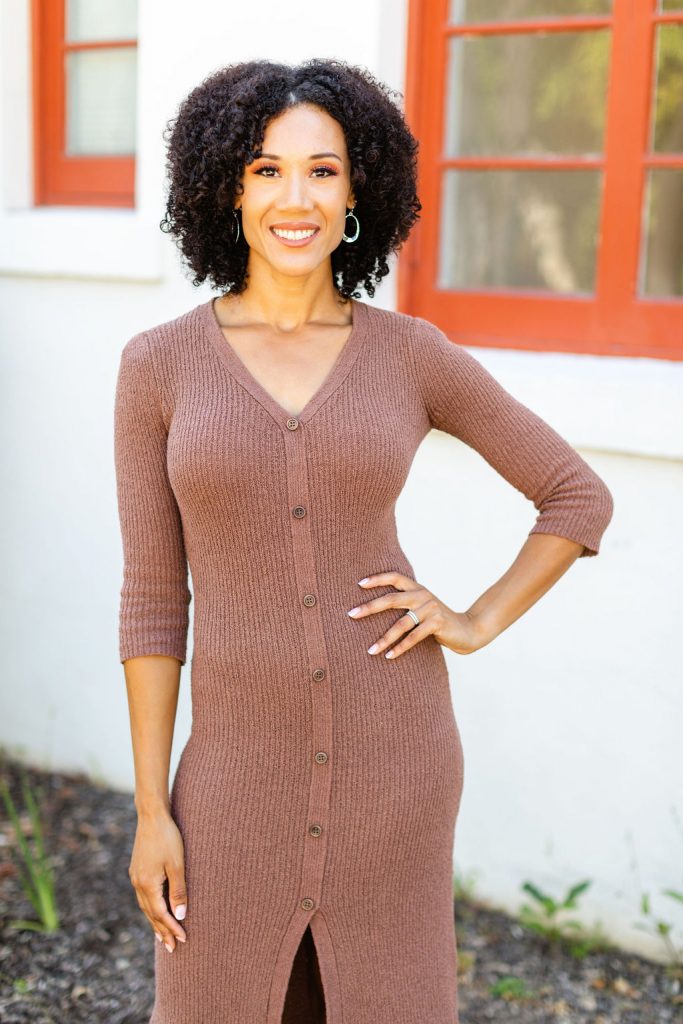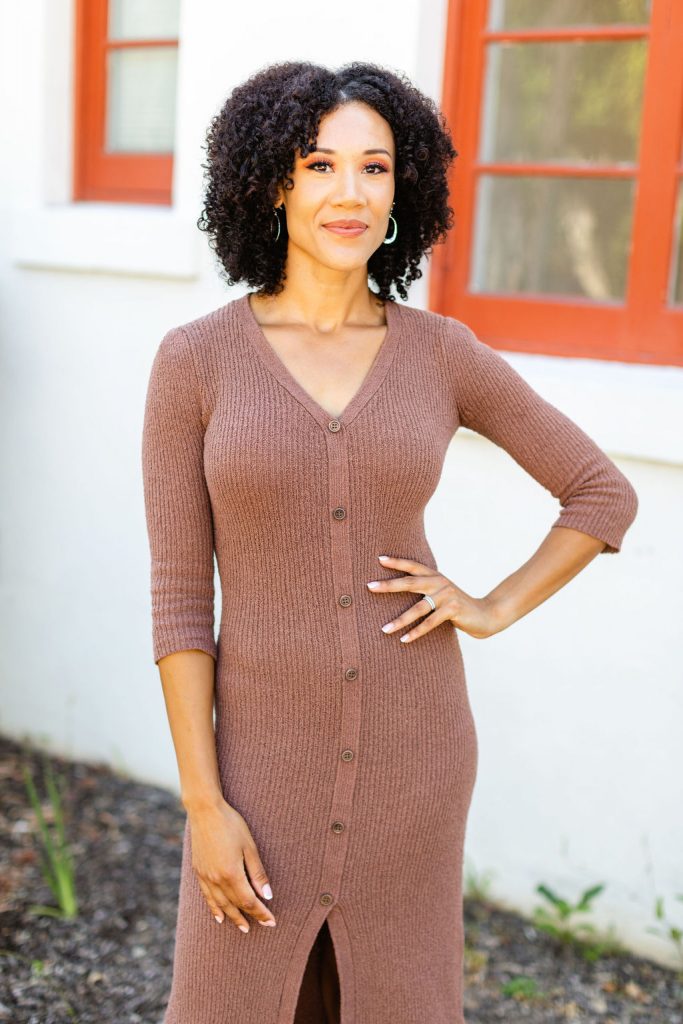 How cute is Callie in this flirty dress! The Noah Mini Dress is a must-have, love that drop waist detail!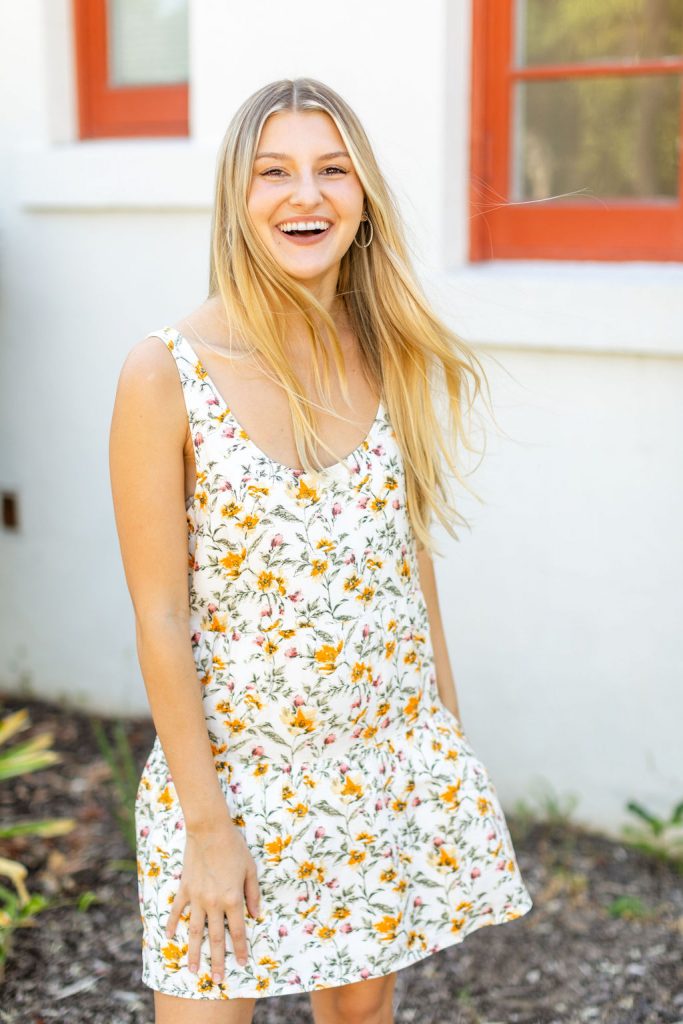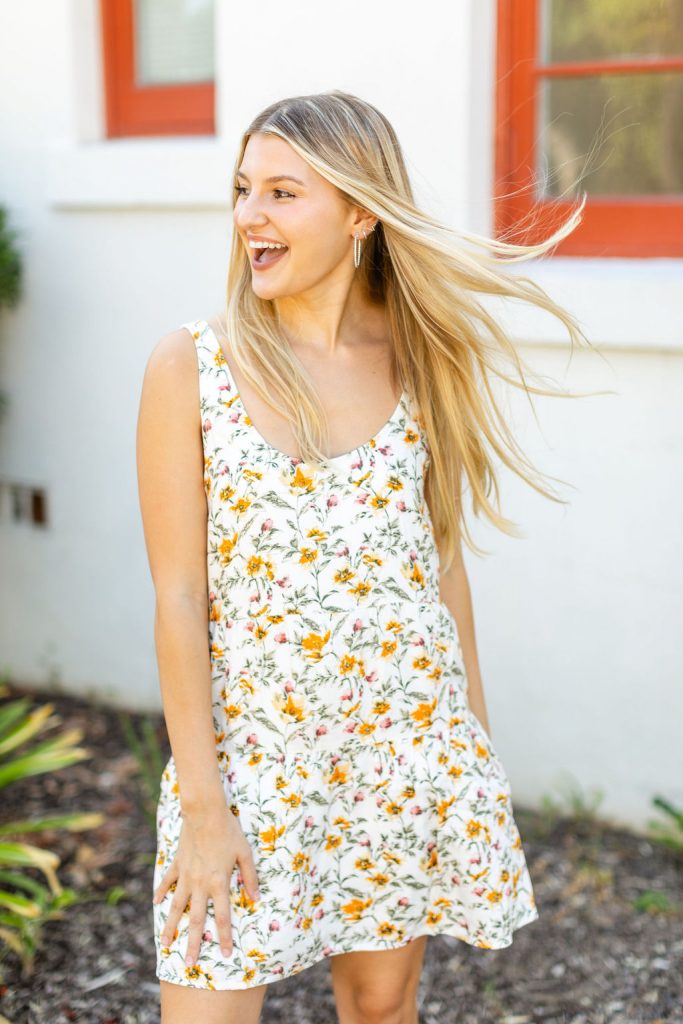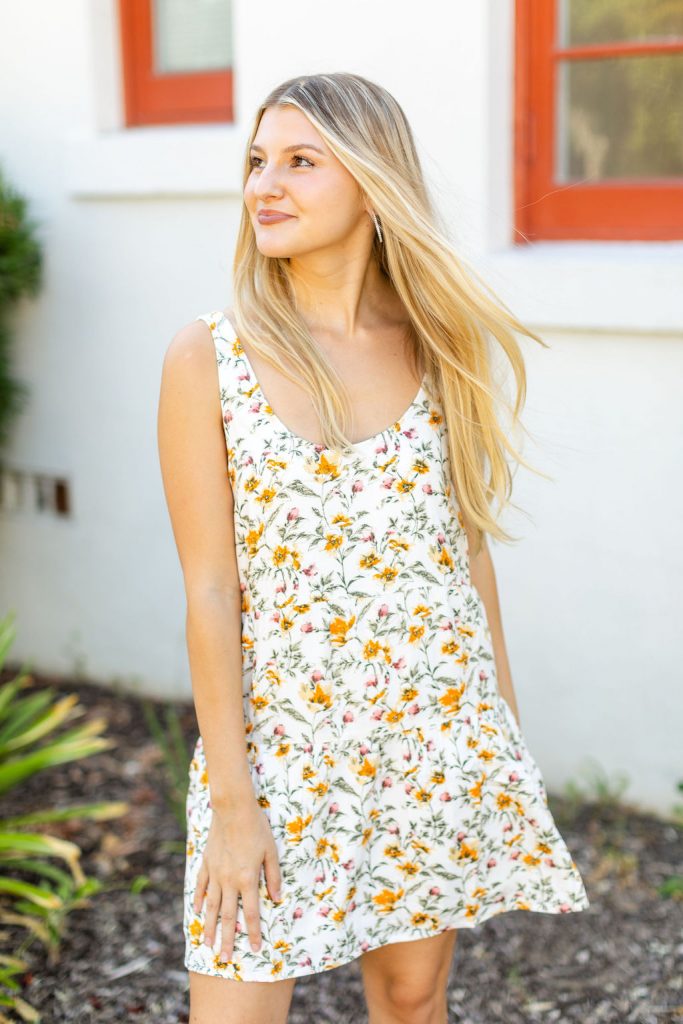 Last but not least was our favorite dress of all! Jessica looked absolutely beautiful in the Idalia Maxi Dress. It's got all of the Fall colors we love, don't you agree?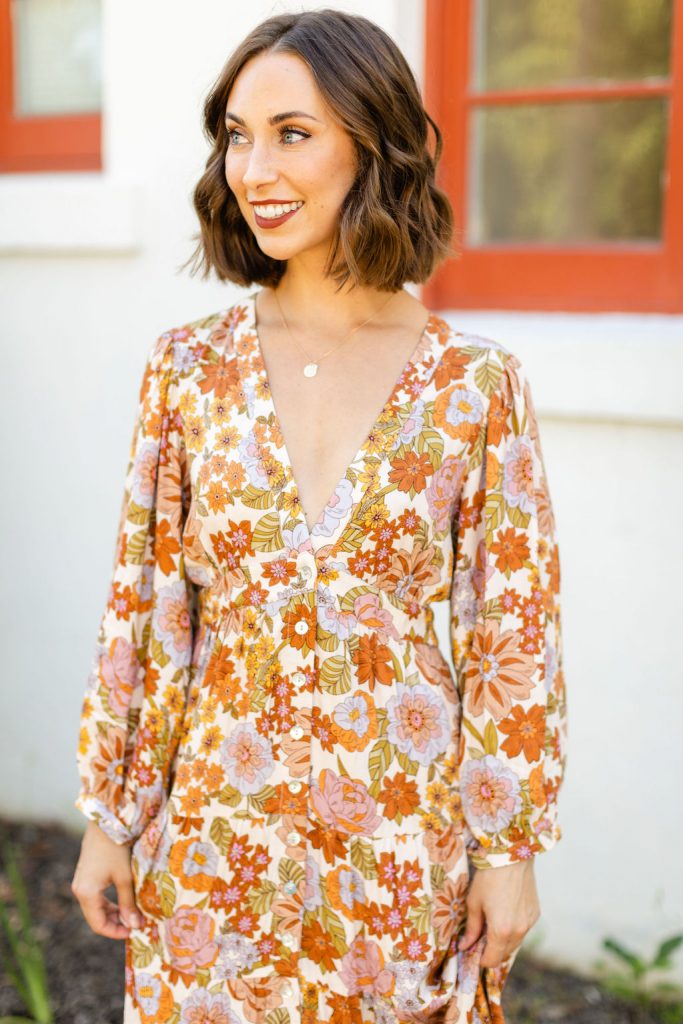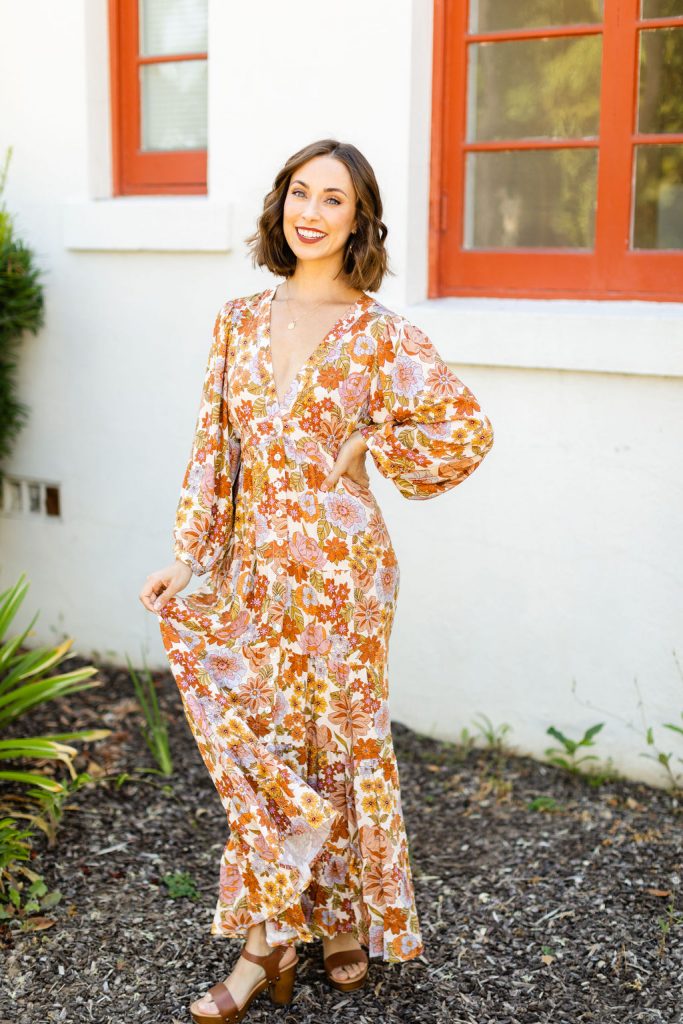 Squad Goals for sure!!! How beautiful are each of these ladies?! Love!!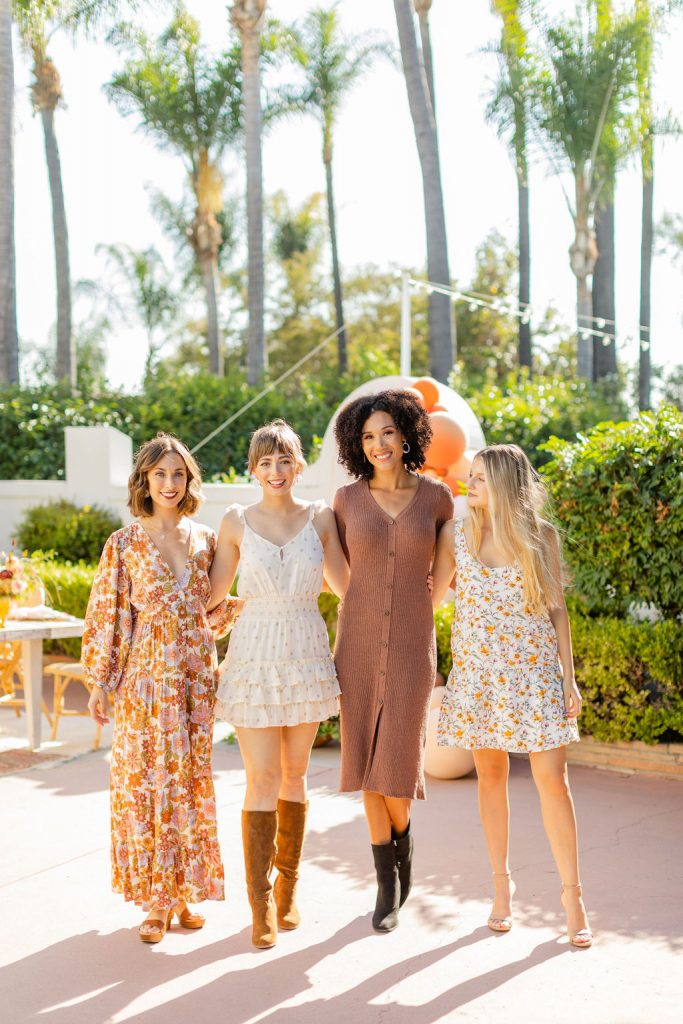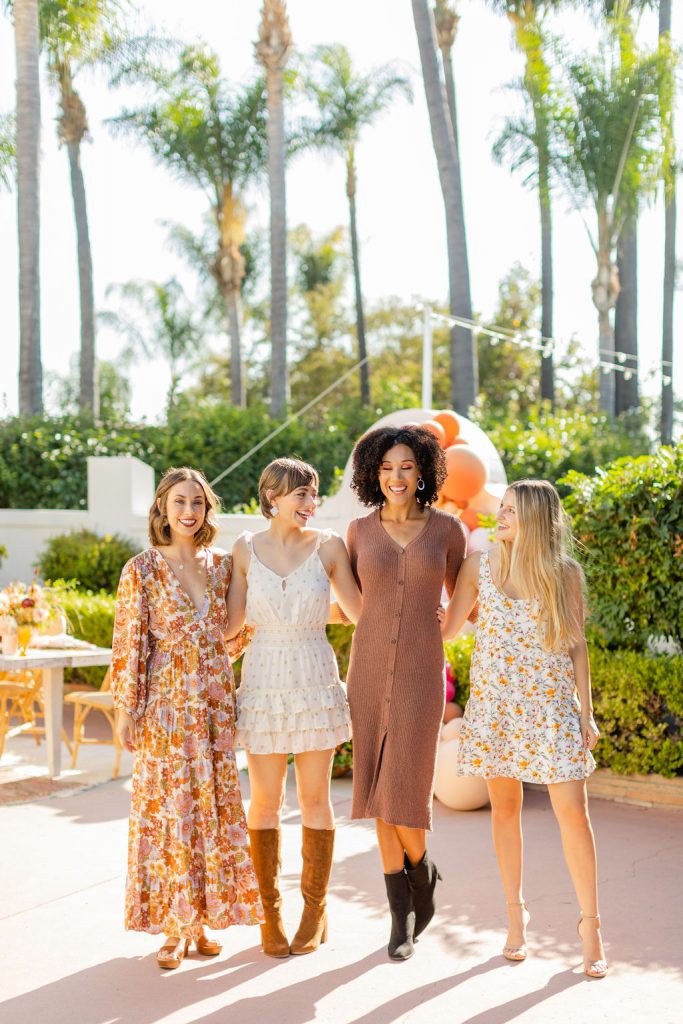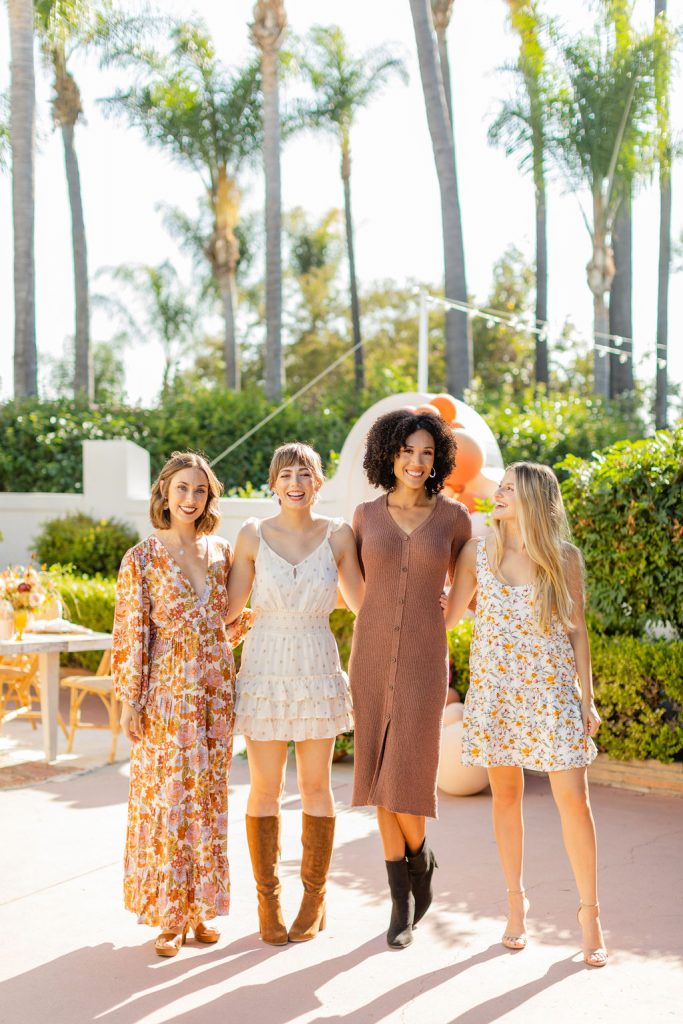 Hope we inspired your next bridal shower or event!!! Stay tuned for our Winter edition, we already have big plans!!
xx
Jacquelyn